Thai Gay Film "Fathers" Makes China Debut
Thai gay-themed film 'Fathers' has made its debut in China. The movie tells the story of a same-sex couple who is struggling to build a family in spite of societal prejudice and legal difficulties.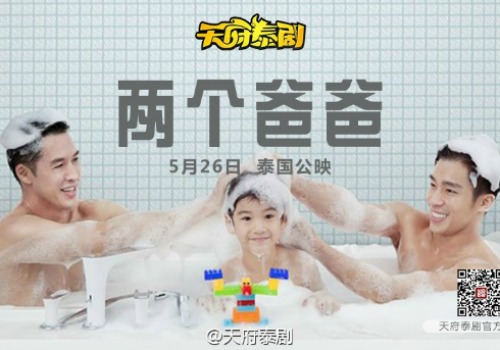 Thai gay-themed film Fathers has made its debut in China. The movie tells the story of a same-sex couple who is struggling to build a family in spite of societal prejudice and legal difficulties. Many netizens are happy to see the movie; especially since gay-themed films and dramas have been met with censorship in China over the past years.
Six months after the Thai gay-themed film Fathers premiered in Thailand, it has now made its debut in China on November 27 under the Chinese title Liǎng gè Bàba 两个爸爸 [Two Fathers].
The film, directed by Platphol Mingpornpichit, tells the story of gay couple Phoon and Yuke, who have adopted an orphan son named Butr and come to face multiple social and legal problems throughout their journey in building a family.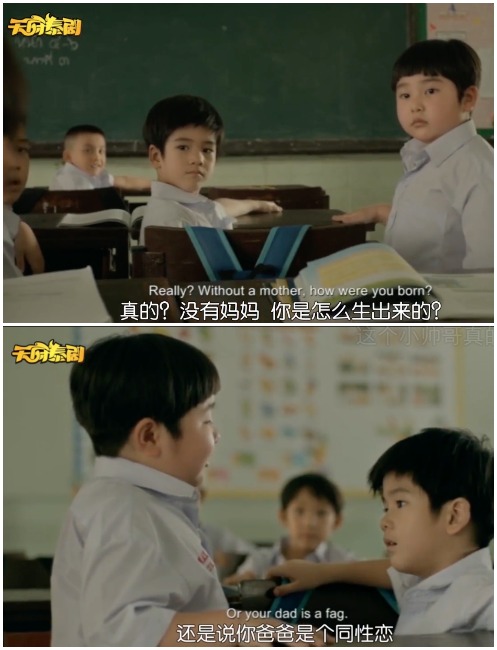 Fathers realistically shows how Phoon and Yuke are confronted with their young son's questions after he is teased in school for having "fag" fathers. In the 95-minute movie, the two fathers struggle to find their roles as fathers while staying true to themselves. "Love starts with two people, but family is more than just the two," the movie's tagline says.
Fathers premiered in China through "Heavenly Thai Drama" (Tianfutaiju), a platform promoting Thai pop culture through Weibo and other Chinese social media sites. On Sina Weibo, Tianfutaiju has over 1.8 million followers (@天府泰剧).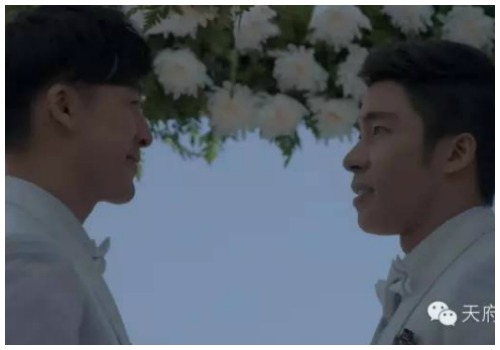 Tianfutaiju released the film, with Chinese and English subtitles, on its official channel on Chinese video platform Bilibili.com.
The film's release is especially noteworthy in light of several incidents over the past year that have shown the general discomfort of Chinese regulators with gay-themed dramas and films. Popular gay-themed web drama Heroin (上瘾) was pulled offline earlier this year.
In early 2016, Chinese State Administration released new regulations that forbid "homosexuality" in filmography, as it supposedly conveys "unnatural" values of love (Guangming Online). The State Administration was sued by Chinese film director and gay activist Fan Popo, as his 2012 documentary on homosexuality Mama Rainbow (彩虹伴我心) was removed from all online video platforms by December 2014.
China's first gay movie Seeking McCarthney (寻找罗麦) by director Wang Chao was supposed to hit Chinese cinemas shortly after March 2016, but according to the film's Weibo page it has still not been officially released.
On Weibo, many netizens appreciate the release of Fathers. "I like this film, it's very realistic," one person says. Within a few hours after the movie's release was announced on the Tianfutaiju Weibo site, it was shared over 690 times.
"I am so thankful to Tianfutaiju [for posting], I am moved to tears," one netizen commented. Other netizens also expressed their joy that the movie was released on the Bilibili platform with Chinese subtitles: "I have been waiting a long time to see this film. Thank you so much."
The film can be viewed here. Comments in the screen can be turned off in settings. (Note: What's on Weibo is in no way associated with Tianfutaiju, its channel or Bilibili).
– By Manya Koetse
Follow on Twitter or Like on Facebook
©2016 Whatsonweibo. All rights reserved. Do not reproduce our content without permission – you can contact us at info@whatsonweibo.com.
Chinese Movie "Sister" Stirs Discussions on Traditional Family Values in China
The movie 'Sister' has sparked online discussions on whether or not personal values should be prioritized over traditional family values.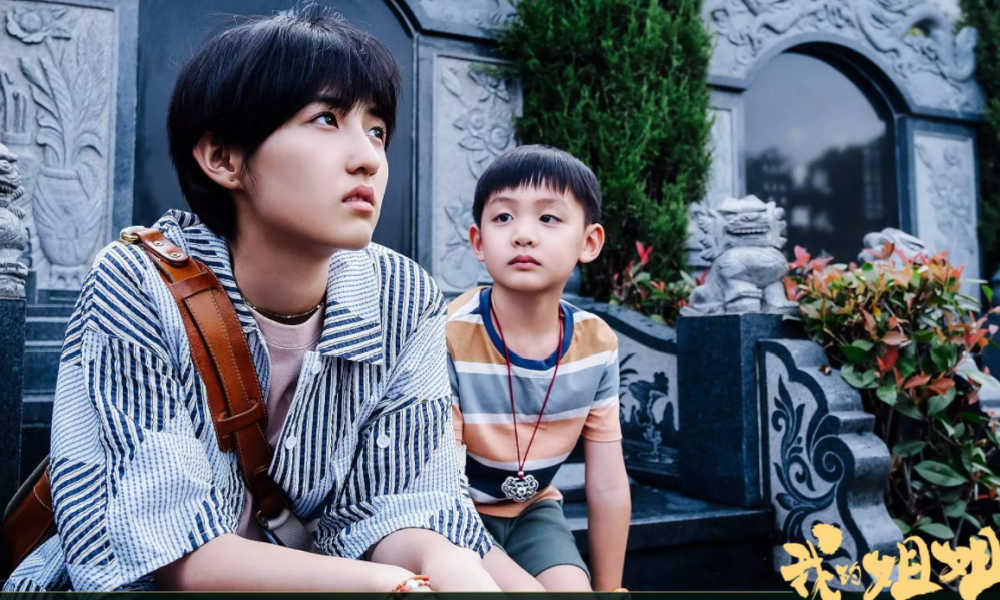 Mainlaind Chinese drama My Sister (我的姐姐, also known as 'Sister') was just released in theatres and is sparking online discussions on family relations and the role of women in China.
After the hit movie Hi, Mom (你好,李焕英) received praise earlier this year for focusing on the role of mothers within Chinese families, this film zooms in on the role of older sisters.
My Sister, directed by Yin Ruoxin (殷若昕), revolves around the story of An Ran, an 18-year-old daughter who is unexpectedly facing the major responsibility for her 6-year-old brother after the tragic loss of their parents. While trying to find her own path in life, she suddenly has to step into the role of caregiver for her younger sibling. But does she want to take on this role?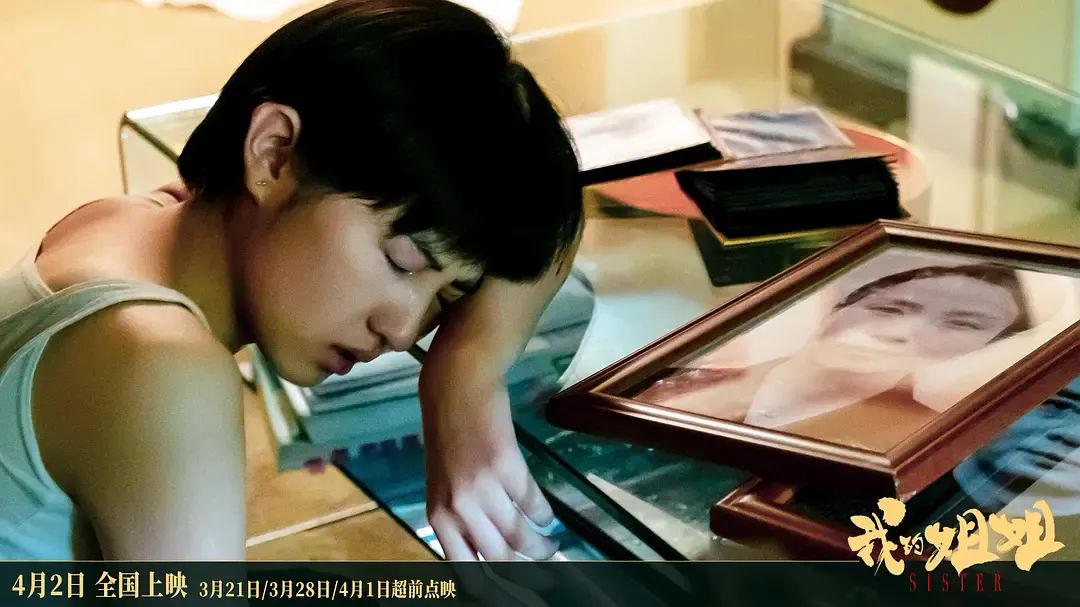 Actress Zhang Zifeng (张子枫) is playing the main lead in this movie, which touches upon the issue of dealing with traditional family values and personal dreams and ambitions. Sister reveals the difficulties women face within the traditional Chinese-style family structure and the sacrifices they make for their parents, their children, siblings, and their husbands; and how the roles and tasks that are expected of them also clash with their own ideas about happiness and fulfillment.
For An Ran, the relationship with her little brother is troublesome. As a young girl, she had to pretend to be disabled in order to allow her parents to have a second child, preferably a son (under the One Child Policy, families with children with disabilities were allowed to have more children). Now, as a young adult, she once again has to sacrifice her own individual freedom in order to let her brother thrive.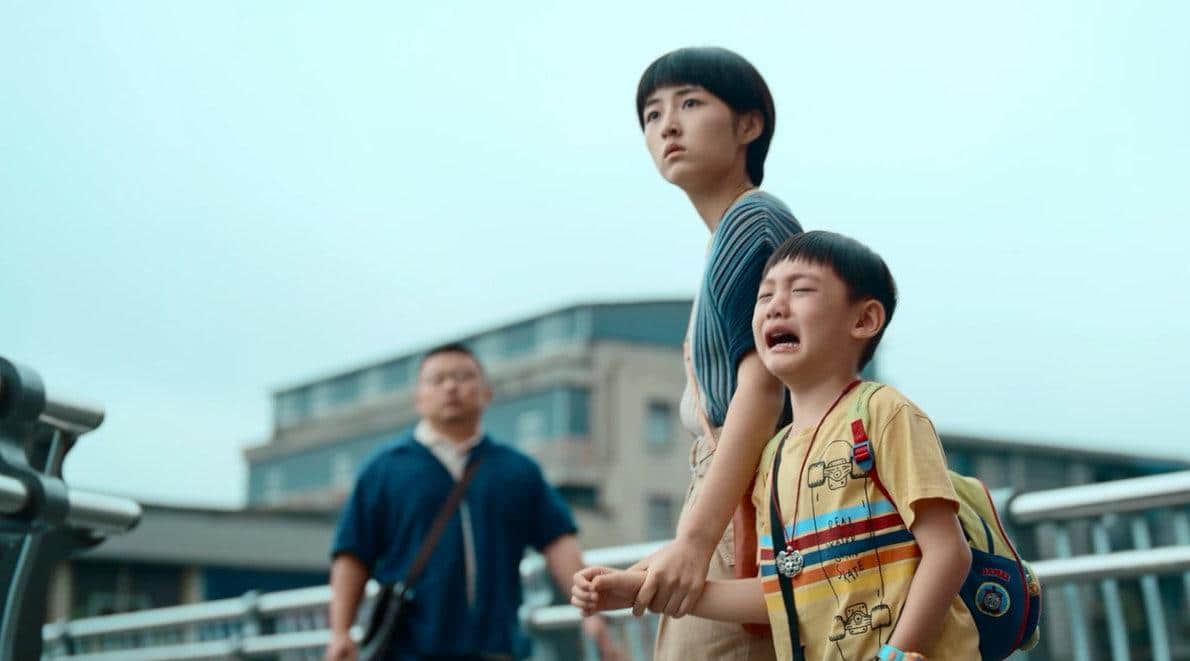 The renowned Chinese sociologist Li Yinhe (李银河) dedicated a lengthy post to the movie on her Weibo account, where she called the film "fascinating" and "thought-provoking."
Li suggests that multiple social issues play a role in this film. First, there is the conflict between individual-oriented values and traditional family-oriented ethics. While traditional Chinese ideas about family require An Ran to put her brother first and move personal self-fulfillment to the backseat, An Ran is a young woman who grew up in a rapidly modernizing China where women are more empowered and independent. Why should she sacrifice her personal education and career in order to devote herself to raising her brother?
Another social topic that plays a major role in this film is the deep-seated cultural preference for sons over daughters. An Ran literally had to make herself weaker in order for her brother to be brought into this world – and in doing so limiting the possibilities for her future career, – with these patriarchal practices prioritizing the thriving of sons over the happiness of daughters. An Ran's anger and resistance show that traditional ideas about male superiority clash with modern-day Chinese society, where profound changes within gender relations are already taking place.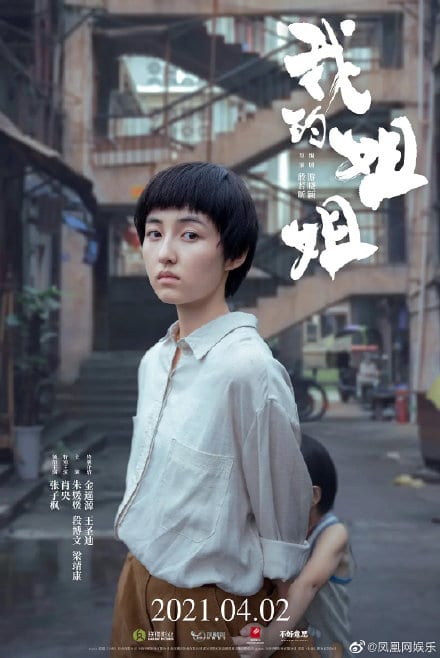 "Sisters do not dislike their little brothers," one Weibo commenter wrote: "What they dislike is the hidden meaning behind their brother."
Another female blogger responded: "Within my family, from my grandpa's generation up to myself, it is actually the women who discriminate against women. I think these are deeply rooted ideas that can't be changed. Look at my second elder aunt; she had seven children, all girls, and only four were left. The others were given away. However, my grandfather has always been good to me, and has never made me feel any less than the boys. Yet my grandma and my mother sometimes make me doubt about my life."
Under the hashtag "How to Evaluate the Movie My Sister" (#如何评价电影我的姐姐#), which attracted 150 million views on Weibo, many ask the question of what they would do if they were An Ran. Would you take care of your little brother? Or would you leave his care up to other family members and choose your own path in life?
"If it were me, I'd raise my brother. Although it's actually the parents' problem, the little brother is innocent."
"If it were me, I wouldn't raise him," another commenter writes: "Although the little brother is innocent, I wouldn't want to sacrifice my life for him. And it might be a better choice to leave him with other family members than with me."
These discussions also triggered the hashtag "Should Personal Values Be More Important Than Family Values?" (#个人价值必须高于家庭价值吗#). One top commenter raised the issue of 'what if this was about a little sister instead of about a little brother,' again provoking the idea that existing gender roles and the preference over sons play a major part in these discussions.
"These traditions no longer suit this era of a developing society. Let me ask you this question: would the little brother also take care of his sister once she grows old?"
"Personal values should always have priority. If you are not happy yourself, how could you ever take care of your family?"
"I have the perception that the family-oriented concept is deep-rooted. Although there consistently are new values and personal-oriented viewpoints, when it comes to real problems, most people will still be family-oriented."
One commenter wrote: "What are 'values'? What is the family in modern-day society? What does it mean to prioritize something? If we don't first clarify this, the discussion becomes meaningless."
Meanwhile, all the online discussions on Sister have boosted the film. By now, the movie has already become a box office hit and defeated the American Godzilla vs. Kong.
By Manya Koetse
Spotted a mistake or want to add something? Please let us know in comments below or email us. First-time commenters, please be patient – we will have to manually approve your comment before it appears.
©2021 Whatsonweibo. All rights reserved. Do not reproduce our content without permission – you can contact us at info@whatsonweibo.com.
"Hi, Mom!" Box Office Hit Sparks 'When My Mum Was Younger' Trend on Weibo
The touching Chinese hit movie "Hi, Mom" has sparked an emotional trend on Weibo.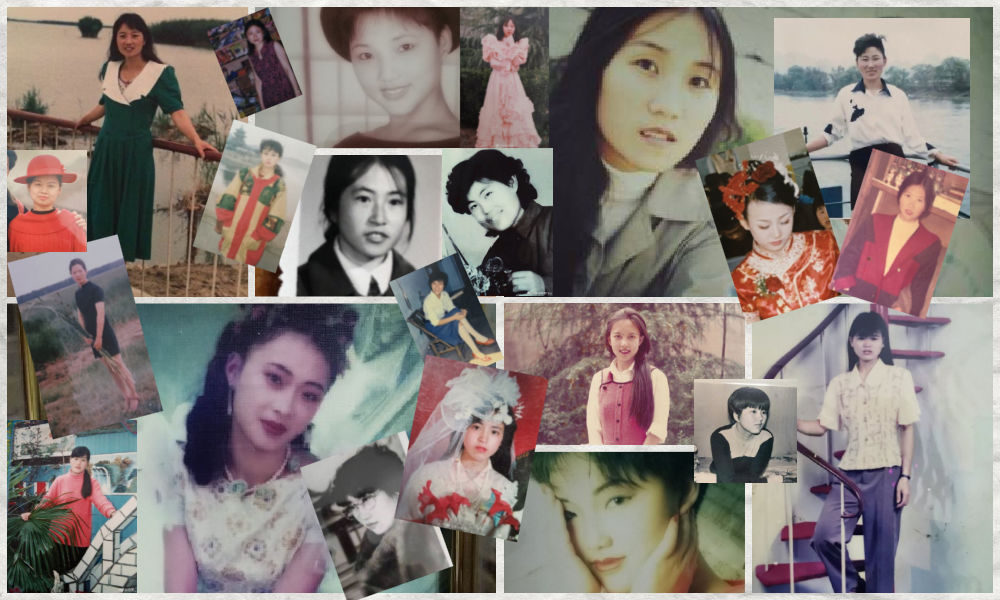 The movie Hi, Mom is all the rage in China, where social media is flooding with hashtags, photos, and texts celebrating moms and the bond between mothers and daughters. One big discussion is focused on all the things daughters would tell their younger moms: "Please don't marry dad."
If you could travel back in time and meet your mum before she had you, what would you say to her? What would you do?
This question is the idea behind Hi, Mom (Chinese title Hi, Li Huanying 你好,李焕英), the box office favorite in China this Spring Festival. The movie is directed by Jia Ling (贾玲), who also plays the female protagonist. For comedian Jia Ling, who is mostly known for her sketches during the Spring Festival Gala, this movie is her directorial debut.
Hi, Mom tells the story of Jia Xiaoling (Jia Ling) who is devastated when her mother Li Huanying has a serious accident one day. Jia is especially grief-stricken because she feels she has not become the daughter she wanted to be for her mother. When she finds herself transported back in time to the year 1981, she meets her young mother before she was her mum, and becomes her friend in the hopes of making her happy and change her life for the better.
Li Huanying is also the name of Jia Ling's own mother, who passed away when Jia was just 19 years old. Jia Ling reportedly did not make the movie because she wanted to be a director, but because she wanted to tell her mother's story.
The film has become super popular since its debut on February 12 and raked in 2.6 billion yuan (over $400 million) within five days. On day five alone, the movie earned $90 million.
The movie has sparked various trends on Chinese social media. One of them is an online 'challenge' for daughters to post pictures of mothers when they were young. The hashtag "Photo of My Mother When She Was Young" (#妈妈年轻时的照片#) received 120 million views on Weibo by Wednesday. Another hashtag used for this 'challenge' is "This is My Li Huanying" (#这是我的李焕英#). The hashtags have motivated thousands of netizens to post photos of their mother before she became a mom.
The trend has not just sparked an online movement to celebrate and appreciate mothers – it also offers an intimate glance into the lives of Chinese older women and shows just how different the times were when they were young. This also gave many daughters a new appreciation of their mothers.
"I used to have many wishes," one female Weibo user wrote: "But now I just hope to make my mum happy." Others praised their mother's beauty ("My mum is so pretty!") and said that they are proud to look like their mom, although some also complained that they had not inherited their mother's looks.
The trend has also provided an opportunity for a moment of self-reflection for some. Seeing the unedited photos of their younger mothers, some called on female web users to stop losing themselves in 'beautifying' photo apps that alter their facial features, saying they will not have normal photos of themselves in the future that show their true (and unedited) natural beauty.
"Don't marry dad, don't believe his sweet talk."
There is also another hashtag trending in light of Hi, Mum. It is "If You Could Go Back to Before Your Mum Married" (#如果穿越回妈妈结婚前#) and started with one popular fashion influencer (@一扣酥) asking her followers what they would want to tell her.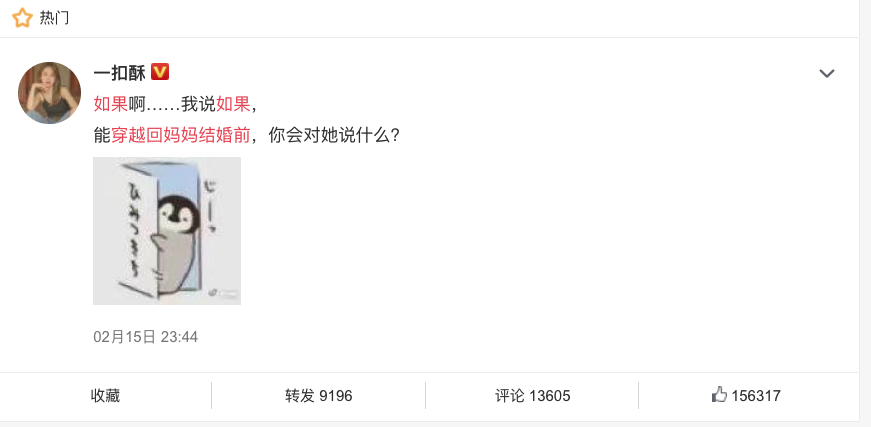 "Don't marry dad. Don't believe his sweet talk," one person replied, with many others also writing that they would want to tell their younger mom not to marry their fathers: "I would tell her to look for someone who loves her, and not for someone she loves," one person responded.
"Please leave dad," another Weibo user writes, adding that her father drank too much and would hit her mother.
"Don't feel like you need to marry because you're older," another daughter writes: "Don't get into a 'lightning wedding' and don't care so much about what other people say."
"Live for yourself for once," a blogger named 'Zhi Zhi El' wrote, with another young woman named Yumiko writing: "Don't close your bookshop, be independent and confident, don't listen to everything dad says, and don't become a housewife."
But there are also those who are happy with the way things turned out: "Mum! Marry dad! He's good!"
In the end, most commenters just want one thing. As this Weibo user (@·__弑天) writes: "Mum, I just hope you have a happy life."

By Manya Koetse
with contributions by Miranda Barnes
Follow @whatsonweibo
Spotted a mistake or want to add something? Please let us know in comments below or email us. First-time commenters, please be patient – we will have to manually approve your comment before it appears.
©2021 Whatsonweibo. All rights reserved. Do not reproduce our content without permission – you can contact us at info@whatsonweibo.com.