Thai Gay Film "Fathers" Makes China Debut
Thai gay-themed film 'Fathers' has made its debut in China. The movie tells the story of a same-sex couple who is struggling to build a family in spite of societal prejudice and legal difficulties.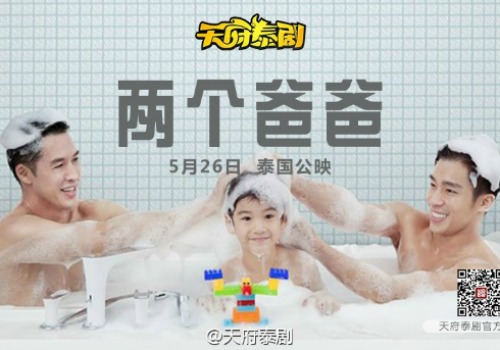 Thai gay-themed film Fathers has made its debut in China. The movie tells the story of a same-sex couple who is struggling to build a family in spite of societal prejudice and legal difficulties. Many netizens are happy to see the movie; especially since gay-themed films and dramas have been met with censorship in China over the past years.
Six months after the Thai gay-themed film Fathers premiered in Thailand, it has now made its debut in China on November 27 under the Chinese title Liǎng gè Bàba 两个爸爸 [Two Fathers].
The film, directed by Platphol Mingpornpichit, tells the story of gay couple Phoon and Yuke, who have adopted an orphan son named Butr and come to face multiple social and legal problems throughout their journey in building a family.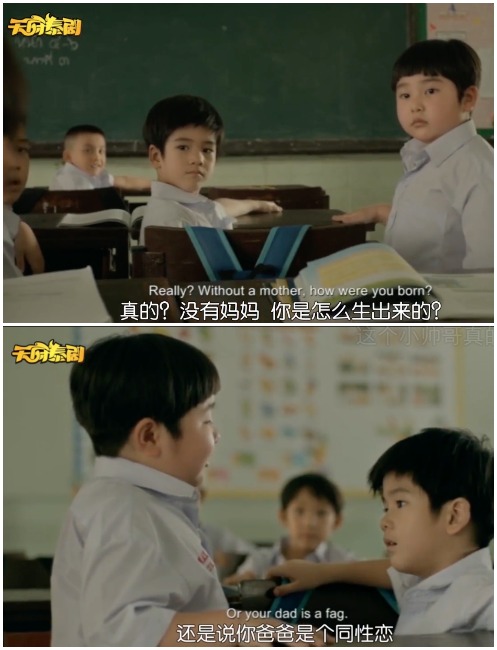 Fathers realistically shows how Phoon and Yuke are confronted with their young son's questions after he is teased in school for having "fag" fathers. In the 95-minute movie, the two fathers struggle to find their roles as fathers while staying true to themselves. "Love starts with two people, but family is more than just the two," the movie's tagline says.
Fathers premiered in China through "Heavenly Thai Drama" (Tianfutaiju), a platform promoting Thai pop culture through Weibo and other Chinese social media sites. On Sina Weibo, Tianfutaiju has over 1.8 million followers (@天府泰剧).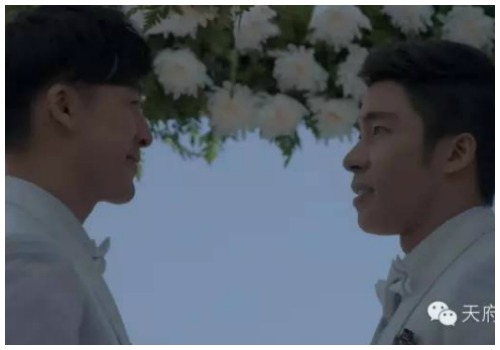 Tianfutaiju released the film, with Chinese and English subtitles, on its official channel on Chinese video platform Bilibili.com.
The film's release is especially noteworthy in light of several incidents over the past year that have shown the general discomfort of Chinese regulators with gay-themed dramas and films. Popular gay-themed web drama Heroin (上瘾) was pulled offline earlier this year.
In early 2016, Chinese State Administration released new regulations that forbid "homosexuality" in filmography, as it supposedly conveys "unnatural" values of love (Guangming Online). The State Administration was sued by Chinese film director and gay activist Fan Popo, as his 2012 documentary on homosexuality Mama Rainbow (彩虹伴我心) was removed from all online video platforms by December 2014.
China's first gay movie Seeking McCarthney (寻找罗麦) by director Wang Chao was supposed to hit Chinese cinemas shortly after March 2016, but according to the film's Weibo page it has still not been officially released.
On Weibo, many netizens appreciate the release of Fathers. "I like this film, it's very realistic," one person says. Within a few hours after the movie's release was announced on the Tianfutaiju Weibo site, it was shared over 690 times.
"I am so thankful to Tianfutaiju [for posting], I am moved to tears," one netizen commented. Other netizens also expressed their joy that the movie was released on the Bilibili platform with Chinese subtitles: "I have been waiting a long time to see this film. Thank you so much."
The film can be viewed here. Comments in the screen can be turned off in settings. (Note: What's on Weibo is in no way associated with Tianfutaiju, its channel or Bilibili).
– By Manya Koetse
Follow on Twitter or Like on Facebook
©2016 Whatsonweibo. All rights reserved. Do not reproduce our content without permission – you can contact us at info@whatsonweibo.com.
Chinese Anti-Bullying Movie "Better Days" Becomes Hit at Box Office and on Social Media
Chinese movie 'Better Days' is praised by online celebrities and experts for addressing the problem of campus bullying.
The Chinese movie Better Days (少年的你) is a hit; not just in Chinese cinemas, but also on social media, where campus bullying – one of the film's main themes – is a recurring topic of debate.
Over the past week, Chinese movie Better Days (少年的你), by Hong Kong director Derek Kwok Cheung Tsang and produced by Jojo Hui, has continued its extraordinary performance in movie theaters across China.
The drama movie, starring two popular celebrities Jackson Yi (易烊千玺) and Zhou Dongyu (周冬雨), reached more than 1.4 billion CNY (almost 200 million US$) in box office revenue this week, already making it one of the most lucrative movies of this year.
Better Days is noteworthy for its narrative, which focuses on campus-bullying. In the film, high school student Chen Nian (Zhou Dongyu) is struggling with the stress of her gaokao exams when her best friend, who is bullied by a group of girls at school, commits suicide by jumping off a building.
While mourning over the loss of her friend and dealing with the aftermath of her suicide, Chen becomes a bullying target herself. The story takes a turn when she meets the small criminal Xiao Bei (Jackson Lee).
China's bullying problem, central to this movie, has been an ongoing topic of discussion in online media over the past few years.
In 2016, a prominent elementary school in Beijing ended up at the center of controversy when various bullying incidents came to light. In that same year, a mother's social media article on her son's severe bullying at school went viral and triggered heated discussions.
In 2017, one bullying case became big news after a student from a Beijing-suburb area junior high school was reportedly forced to swallow feces from the restroom by his fellow classmates.
According to Chinese media outlet Caixin, China has yet to have specialized legislation against bullying. A 2016 study suggests that one-third of Chinese students experience school bullying on a frequent or occasional basis, and the bully problems are even more serious in rural areas, where more than 40% of the school-age children experienced some kind of bullying during their school life.
The heightened use of social media among China's younger generations seems to have only aggravated the bullying problem, with campus violence and bullying being filmed and published online, making victims more vulnerable to further harassment. "Extreme bullying videos" even became a concerning online trend over the past years.
Some argue that China's current legislation on protecting underage children is, in fact, protecting the bullies rather than those being bullied. A China News Service news report suggests that while most bullies are also individuals under 18 years old, penalties of bullying are also undermined because of the protective provisions in the current legal systems on minors.
In addition to calls to toughen related legislation, media commentaries are also calling for more resources to eradicate the bullying culture and toxic environment on campus. Chinese state media outlet Xinhua, for example, recently suggested the problem should be addressed through family education, counselling services, and more training for teachers and practitioners.
By addressing the issue of campus bullying in China, Better Days seems to have won the favor of moviegoing audiences in China. On the Chinese movie commentary site Douban, the film is receiving hundreds of positive comments and high ratings. The movie currently has a Douban score of 8.4 and a 98% "recommendation rate" on Weibo.
Better Days is also praised by online celebrities and experts. Renowned Chinese sociologist Li Yinhe (李银河), actress Ma Yili (马伊琍), and historian Yi Zhongtian (易中天) all complimented the great acting and the themes of the movie recently.
On Weibo, the movie has become tied to anti-bullying campaigns, with people sharing their own experiences and stories on school bullying and linking the film to hashtags such as "Unite in saying no to campus bullying" (#一起对校园欺凌说不#) or "How to combat campus violence" (#校园暴力到底该如何解决#).
By now, the movie's hashtag ("Movie Better Days" #电影少年的你#) has seen over 540 million views on Weibo.
See the trailer of Better Days here (with English subtitles). Better Days is still airing in cinemas across China and is also played at various theaters in Europe, America, and Australia.
By Chauncey Jung
Edited by Manya Koetse
Follow @whatsonweibo
Spotted a mistake or want to add something? Please let us know in comments below or email us. First time commenters, please be patient – we will have to manually approve your comment before it appears.
©2019 Whatsonweibo. All rights reserved. Do not reproduce our content without permission – you can contact us at info@whatsonweibo.com.
The Mulan Makeup Challenge: Traditional Chinese Makeup Goes Trending
Recreating the Mulan make-up look was the biggest beauty challenge on Chinese social media this July.
Will traditional Chinese make-up make a comeback because of Disney's Mulan?
Since Disney released the official trailer for its live-action Mulan movie earlier this month, Mulan is recurringly appearing in the top trending lists on Chinese social media.
Among all the different topics relating to the upcoming Mulan movie, the Mulan make-up challenge is one that jumps out this month.
The Disney live-action trailer showed a scene in which Mulan, played by Chinese American actress Crystal Liu Fei (刘亦菲), has a full face of betrothal makeup. The original animated Disney movie also features a full makeup Mulan.
Although there was also online criticism of the 'exaggerated' makeup, there are many people who appreciate Mulan's colorful makeup look.
On Weibo, many showed off their skills in copying Mulan's makeup look this month.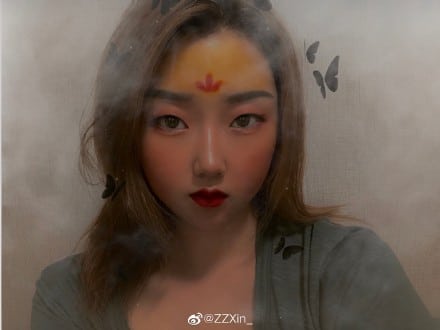 By now, the hashtags "Mulan Makeup Imitation" (#花木兰仿妆#) and "Mulan Makeup Imitation Contest" (#花木兰仿妆大赛#) have attracted over 300 million views.
Makeup such as lipstick has been used in China as far back as two or three thousand years ago.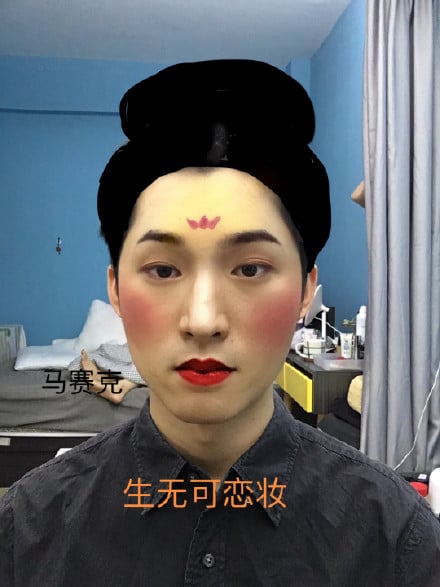 Makeup vlogger Emma Zhou explains more about Tang Dynasty (618-907) makeup customs here; the skin would be whitened with rice flower, followed by the application of 'blush' (pigment of strong-colored flowers) to the cheeks and eyes in a round shape, to emphasize the roundness of the face.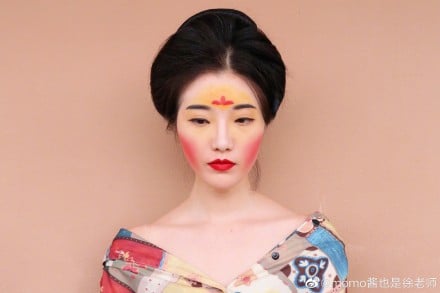 A floral-like decoration would be placed in between the eyebrows.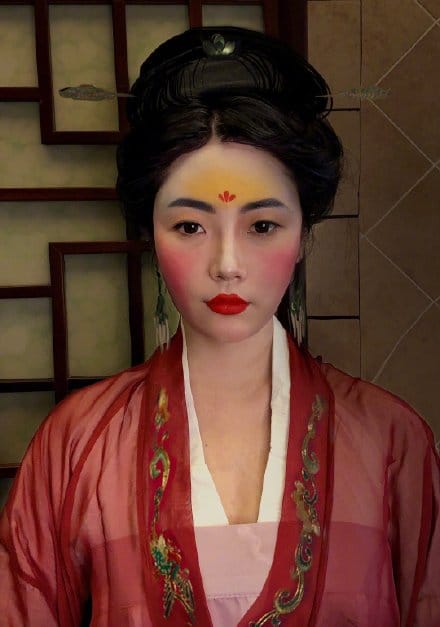 The yellow forehead, as can be seen in the live-action Mulan, is also known as "Buddha's makeup," and was especially popular among ladies during the Tang Dynasty. A yellow aura on the forehead was believed to be auspicious (Schafer 1956, 419).
Although contemporary Chinese makeup trends are much different than those depicted in Mulan, traditional makeup seems to make somewhat of a come-back because of the Disney movie, with hundreds of Chinese netizens imitating the look.
Beauty bloggers such as Nico (@黎千千Nico, image below) receive much praise from Weibo users for their makeup look. Nico wrote: "I even opened the door for the delivery guy this way!"
It is not just girls imitating the look; there are also some boys showing off their Mulan makeup.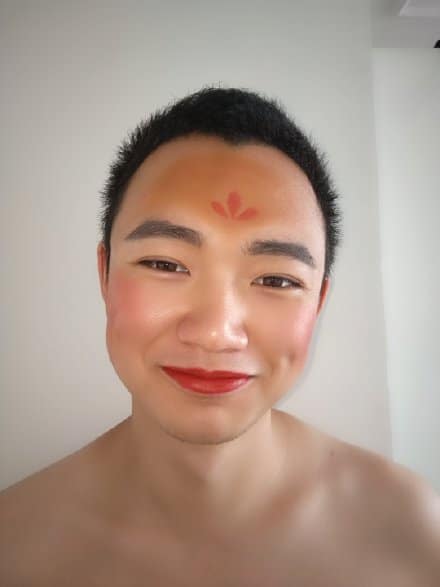 Although many still find the Mulan makeup look exaggerated and even "laughable," there are also those who think it looks really "cool" – of course, depending on whether or not the application is successful.
Want to try it out for yourself? There are various amateur tutorials available on Youtube (in Chinese), such as here, here, or here.
The Mulan make-up hype will probably continue in 2020; the Mulan movie will come out in late March.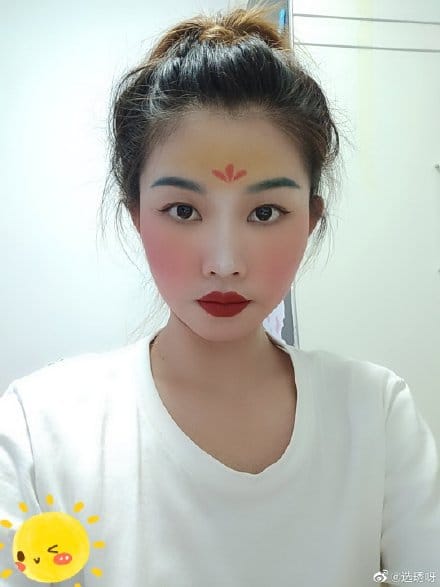 To read more about Mulan, please see our latest feature article on Mulan here.
By Manya Koetse
Follow @whatsonweibo
References
Schafer, Edward H. 1956. "The Early History of Lead Pigments and Cosmetics in China." T'oung Pao, Second Series, 44, no. 4/5: 413-38. http://www.jstor.org/stable/4527434.
Spotted a mistake or want to add something? Please let us know in comments below or email us. Please note that your comment below will need to be manually approved if you're a first-time poster here.
©2019 Whatsonweibo. All rights reserved. Do not reproduce our content without permission – you can contact us at info@whatsonweibo.com