UPDATE: Taiwanese 'Devotion' Game Taken down in Mainland China amid Discussions over "Hidden Insults"
The super popular Devotion game is being blocked in the PRC after users discovered hidden messages insulting President Xi.
First published
Just within days after made-in-Taiwan horror game Devotion was released and became an online hit with Chinese players, the game has been blocked in mainland China amid discussions of the game containing secret insults towards Chinese President Xi Jinping.
Yesterday, we covered how Chinese gamers were going crazy over the first-person atmospheric horror game Devotion (还愿). The popular game took social media by storm this week, triggering discussions all over Weibo; the hashtag #Devotion (#还愿) received over 120 million views on Weibo within no time.
But today the game has been taken offline in mainland China, with discussions focusing on the game allegedly containing hidden insults directed at Chinese President Xi Jinping.
The Devotion game has certain so-called 'Easter Eggs' (小彩蛋) which are hidden jokes and secrets that are concealed throughout games that would only be noticeable to people searching for them or paying extreme attention to the details of the game.
Some of these 'Easter Eggs' in the Devotion game seem to be highly political. One obscure detail on an evil talisman in the game shows an indirect insult of Xi Jinping (featured image and see image below), with four characters on the side of the object (呢嘛叭淇) representing a curse in Hakka while the stamp in the middle of the image showing the characters for 'Winnie,' which refers to Winnie the Pooh – the Chinese President is often compared to the bear for various reasons. The 'curse' would then mean something along the lines of "Xi Winnie the Pooh Moron."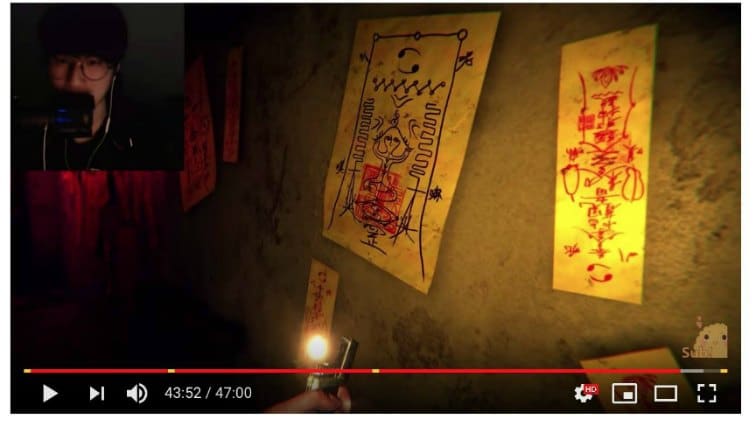 As explained by Spieltimes here, the seal in the middle of the talisman, which is considered evil in traditional Chinese culture, shows the name of the President next to the characters for Winnie.
One of the persons to expose the so-called "Easter Egg" is a well-known Weibo blogger from Shanxi, who is a secretary of the Daoist Society (@全真道士梁兴扬). He wrote that he had stopped playing the game after noticing the insults to the Chinese leader. His post has since been deleted.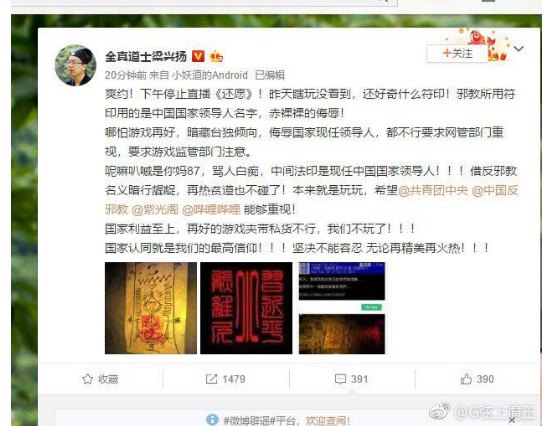 In another part of the game, there allegedly is a newspaper segment that is showing what is believed to be a blurred picture of a younger Xi, with the headline saying that 'Baozi' (also used as a nickname) has been sentenced to prison, even suggesting he has been given "capital punishment."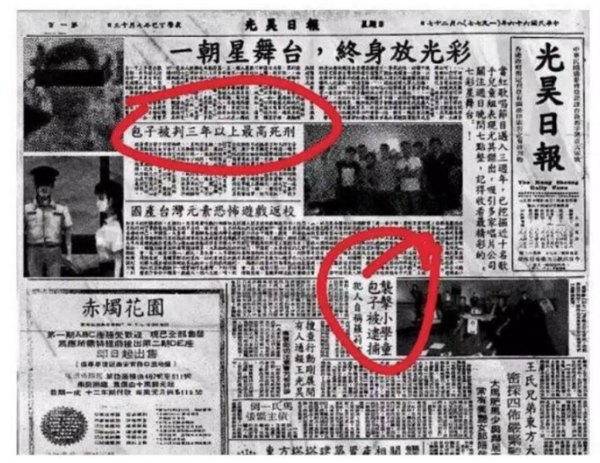 People believe that the blurred image is that of the President. Please keep in mind that this image is being spread online but we have not been able to verify yet if it actually comes up in the game, and consider the fact that it may have been photoshopped (we'll update if more facts surface). Updated later: although this was suggested, it turns out that this is not true.
At time of writing, the live-streaming videos of the game through the online platform Billibili seem to be taken down, or at least, a search for the game now comes up with zero results. When searching for the Chinese name of the game on the Chinese version of online platform Steam, we also found no results at time of writing. The game is still available for international users. For Chinese users, only the soundtrack of the game is available now.
Meanwhile, the Taiwanese developer of the game, Red Candle, has issued an apology through Facebook, stating that the "insults," that were allegedly referring to "internet sub cultures," were already removed from the version released on Thursday night.
The Chinese publisher of the game, Indevient, has also issued an apology and stated it would end its cooperation with the game.
Various discussions across several online platforms show that Chinese netizens are outraged. On Weibo, some commenters said that they felt they were being insulted while the developer was also taking their money. On Steam, Chinese commenters also said that the game was "sh*t" for using its platform as a "political tool."
Hashtags such as "Devotion Game Insults China" (#还愿游戏辱华#), "Reject/Boycott the Devotion Game" (#抵制游戏还愿#), and "Devotion Gate Brings Disaster to Steam" (#游戏《还愿》事件或殃及steam#), are quickly spreading on Weibo.
On the news site Spieltimes, which is focused on reporting on video games and more, the current Devotion scandal is being described as possibly "disastrous" and "a matter of utmost importance for Chinese players and the entire Chinese gaming community," suggesting that this matter might possibly lead to a Chinese ban on the Steam site, which is a leading multi-player platform and game distributor.
As the game is now no longer available in mainland China, some commenters on Weibo are asking for their money back, an issue that Red Candle has not responded to yet.
For more information on this case, also see the coverage on Spieltimes here and its extensive coverage on the issue here.
By Boyu Xiao and Manya Koetse
Spotted a mistake or want to add something? Please email us.
©2019 Whatsonweibo. All rights reserved. Do not reproduce our content without permission – you can contact us at info@whatsonweibo.com.
Chinese Woman Taken Away by Suzhou Police for Wearing Japanese Kimono
The Chinese cosplayer was taken away by police for dressing up as a Japanese manga character: "You are wearing a kimono, as a Chinese. You are Chinese!"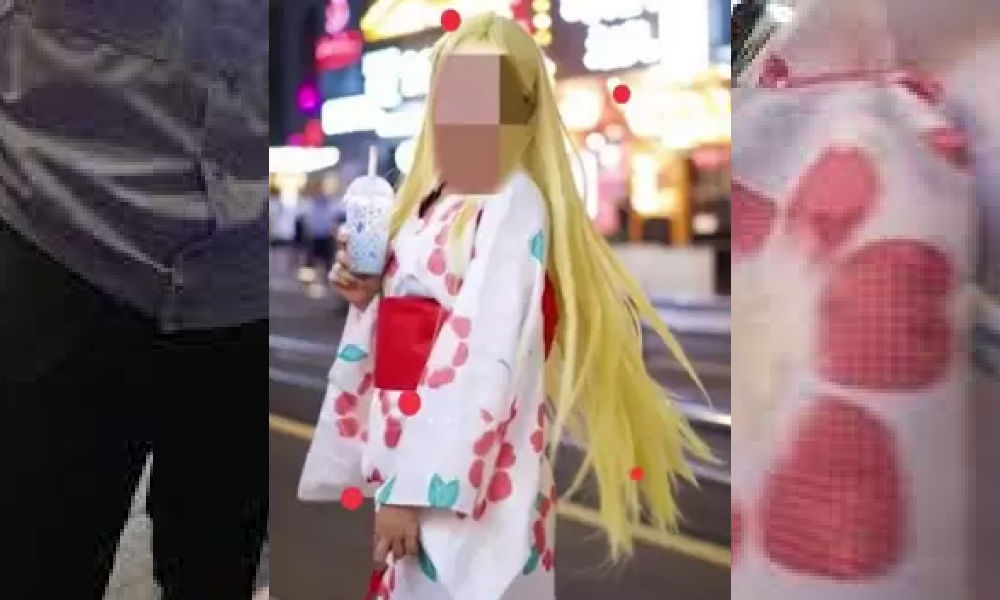 A Chinese female cosplayer who was dressed in a Japanese summer kimono while taking pictures in Suzhou's 'Little Tokyo' area was taken away by local police for 'provoking trouble.' The incident has sparked concerns on Chinese social media.
A Chinese woman who was making street pictures of herself while dressed in a kimono was taken away by local Suzhou police for "picking quarrels" and "provoking trouble."
A video that circulated on Chinese social media this week showed the local policeman talking to the young woman and screaming at her for wearing the Japanese kimono, suggesting she is not allowed to do so as a Chinese person.
A young Chinese woman was taken away by local police in Suzhou last Wednesday because she was wearing a kimono. "If you would be wearing Hanfu (Chinese traditional clothing), I never would have said this, but you are wearing a kimono, as a Chinese. You are Chinese!" pic.twitter.com/et8vWOferQ

— Manya Koetse (@manyapan) August 15, 2022
"If you would be wearing Hanfu [Chinese traditional clothing], I would never have said this," the policeman can be heard saying: "But you are wearing a kimono, as a Chinese. You are Chinese!" The video stops when the girl is taken away.
The incident happened on August 10 at Huaihai Street in Suzhou New District. Huaihai Street is also called "Little Tokyo" because the area is home to many Japanese businesses and restaurants.
The girl, who was previously active on Weibo under the nickname 'Shadow not Self' (是影子不是本人) is known to be a cosplayer, someone who likes to dress up a as a character from anime, TV show, or other works of fiction.
On the evening of August 10, she dressed up as the character Ushio Kofune from the Japanese manga series Summer Time Rendering, wearing a cotton summer kimono, better known as yukata. After she took some pictures to reenact a scene from the fictional work, she waited for her order at a local takoyaki place when the local officers approached her and eventually took her away.
According to a social media post by 'Shadow not Self,' she was released from the police station five hours later after she received some 'education' and police investigated the contents of her phone.
The incident first started surfaced on Chinese social media on the night of August 14 and then went viral on August 15, which marked the 77th anniversary of Japan's surrender in World War II.
"Has even cosplay become dangerous now?" some commenters on Weibo wondered, with others calling the actions by the police "scary."
"It's just cosplay!" "How did she break the law?" many wondered, with some people calling the officer "incompetent."
The kimono worn by 'Shadow not Person' is sold on Taobao for 158 yuan ($23).
Chinese political commentator Hu Xijin (@胡锡进) also weighed in on the issue via his social media channel (#胡锡进谈女孩穿和服被带走#). Although emphasizing the legal right Chinese citizens have to wear a kimono in public, Hu also mentioned that at a time of tense Sino-Japanese relations – noting Japan's cooperation with the U.S. "to contain China" – there is a growing antipathy towards Japan, resulting in different perceptions of what it means to wear a kimono.
Nevertheless, Hu wrote, "a kimono is not a Japanese military uniform, and there is no legal reason why it should be banned."
Hu also warned: "But when someone wants to wear a kimono, I would advise them to pay attention to their surroundings to prevent causing displeasure to those around them and, more importantly, to try to avoid becoming the center of unnecessary controversy themselves. There's nothing wrong with respecting the feelings of the majority."
Later on Monday night, CCTV uncoincidentally promoted a topic (#穿汉服就是回到古代吗#) related to wearing Hanfu or traditional Chinese clothing, writing: "As Chinese national traditional clothing, Hanfu can be fully integrated into modern daily life. (..) Change into Hanfu, let the beautiful culture move forward in a new era!"
By Manya Koetse
With contributions by Miranda Barnes and Xianyu Wang
Get the story behind the hashtag. Subscribe to What's on Weibo here to receive our weekly newsletter and get access to our latest articles:
Spotted a mistake or want to add something? Please let us know in comments below or email us. First-time commenters, please be patient – we will have to manually approve your comment before it appears.
©2022 Whatsonweibo. All rights reserved. Do not reproduce our content without permission – you can contact us at info@whatsonweibo.com.
KFC China's Psyduck Toy is a Viral Hit
As Psyduck goes viral, KFC Children's Day toys are deemed "too childish for children but just perfect for us adults."
American fast-food chain KFC recently introduced three new Pokémon toys to go with its kids' meals in various regions across China, with one of the toys, in particular, becoming a viral hit: Psyduck (可达鸭).
The new Pokémon toys were introduced on May 21st to celebrate Children's Day (June 1). As reported by Shanghai Daily, the toys are randomly distributed in Children's Day meals and will be released in different regions at different times.
Psyduck is a yellow duck-like Pokémon that is known to be confused because it's bothered by headaches. One of the reasons why the Psyduck toy might be more popular than its fellow (Pikachu) toys, is because it dances, with its arms going up and down, and because of the catchy tune that starts once it starts moving. Psyduck is also a bit more dopey and 'uncool' than Pikachu, which makes him all the cooler (remember the Peppa Pig craze?)
Since its release, many people have been going crazy over the KFC toy. Psyduck fans have been hunting for the KFC treasure, and some have even turned it into a side business: they offer their services in getting as many KFC meals as necessary before grabbing the Psyduck toy – you'll have to pay for their meal – and they'll send the toy to their 'customers' later on.
The #Psyduck hashtag saw the first spike on Weibo on May 21st, the day of its release, when it received nearly 135 million views.
Although the toys were released for Children's Day, most of these Psyduck fans are not kids at all. In one interview moment that went viral, an older man was asked about the Psyduck while he was standing in line at KFC. "I'm only here because my son wants it," the man says. When he is asked how old his boy is, he answers: "He's over thirty years old."
A popular comment about the craze over the kids' meal toys said: "This toy is perhaps too childish for children, but it's just perfect for us adults." The comment received nearly 20,000 likes.
If you buy a set meal including the toy, you will spend in between 59-109 yuan ($9-$16), but the reselling price of Psyduck has reportedly been as high as US$200 for just the Pokémon figure alone. KFC China has stated that it does not support this kind of reselling.
Especially among students, it has become popular to stick messages to the arms of the dancing Psyduck with motivational or humorous messages. Some students say the Psyduck keeps them company while they are studying.
Since short funny videos featuring Psyduck are going viral on Weibo and Douyin, a lot of Psyduck's appeal relates to its social media success and joining in on the hype. People post videos of themselves unboxing their Psyduck, introducing it to their cat, imitating it, or they use the Psyduck in various creative ways.
We need to talk about Psyduck. pic.twitter.com/MZSWqrNoTJ

— Manya Koetse (@manyapan) May 28, 2022
This is not the first time for KFC toys to become a national craze. Earlier this year, KFC came out with limited edition blind boxes in a collaboration with Chinese toymaker Pop Mart. To get one of the dolls, customers needed to buy a 99 yuan (US$15.5) family set meal.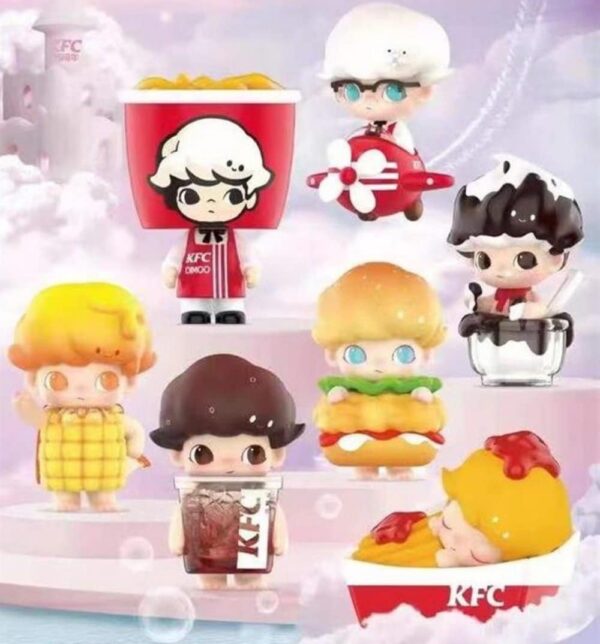 But the blind box sales also sparked criticism from China's Consumer Association for promoting over-purchasing of its food and causing food waste. In order to get all of the six collectible dolls, including the rarest ones, customers would start buying many meals just for the dolls. As reported by SCMP at the time, one customer went as far as to spend US$1,650 on a total of 106 meals to collect all six dolls.
KFC is the most popular fast-food chain in China. People outside of China are sometimes surprised to find that KFC is so hugely popular in the mainland.
As explained in the book written about KFC China's popularity ("Secret Recipe for Success"), its success story goes back to 1987, when the restaurant opened its first doors near Tiananmen Square in Beijing. Some reasons that contributed to KFC's success in China are the popularity of chicken in China, the chain's management system, the restaurant's adaptation to local taste, and its successful marketing campaigns.
Now, Psyduck can be added as one of the ingredients in KFC China's perhaps not-so-secret recipe for success.
By Manya Koetse
With contributions by Miranda Barnes
Featured image via @Baaaaaaaaal, Weibo.com
Get the story behind the hashtag. Subscribe to What's on Weibo here to receive our weekly newsletter and get access to our latest articles:
Spotted a mistake or want to add something? Please let us know in comments below or email us. First-time commenters, please be patient – we will have to manually approve your comment before it appears.
©2022 Whatsonweibo. All rights reserved. Do not reproduce our content without permission – you can contact us at info@whatsonweibo.com.