Why Zhao Wei? Vicky Zhao's Name Removed from China's Online Channels
Recent developments involving Chinese top actress Vicky Zhao (Zhao Wei) are part of a bigger crackdown on China's entertainment industry.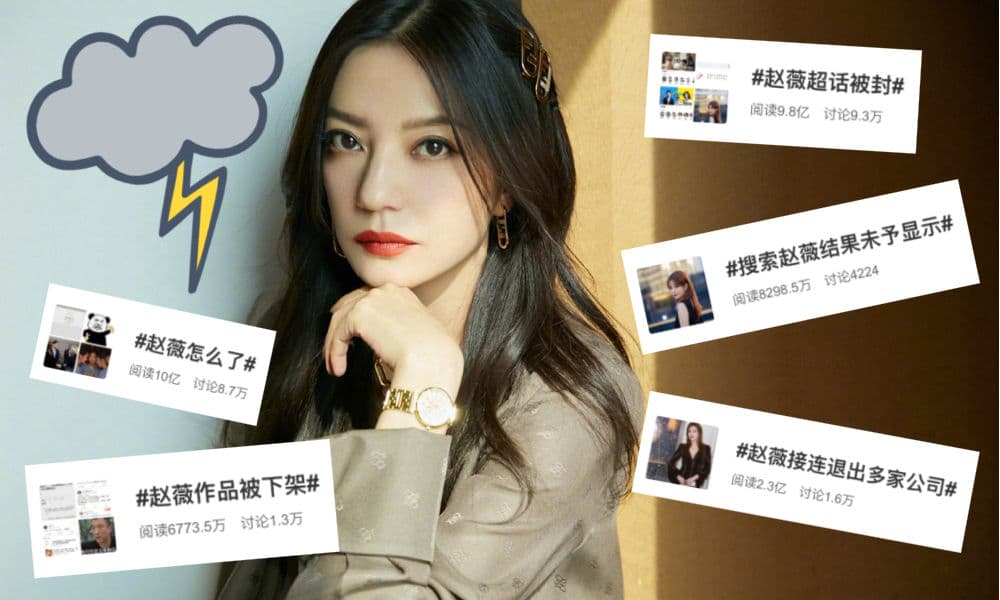 Another earthquake in China's entertainment circles! This time, the name and works of one of the country's most notable actresses, Zhao Wei (赵薇, aka Vicky Zhao) are removed from Chinese online channels.
"Sorry, no related videos found." Searching for Zhao Wei's name (赵薇/Vicky Zhao) on Chinese video platforms Tencent Video, iQiyi, and Youku comes up with zero results as of August 26 of 2021.
Zhao Wei's sudden disappearance from the top websites to watch Chinese TV dramas has sent shockwaves over social media, where Zhao is among the top Chinese celebrities. On Weibo alone, the actress has over 85.6 million followers.
Zhao Wei (1976) is a Chinese film star, singer, entrepreneur, and director. Together with actresses Zhang Ziyi (章子怡), Zhou Xun (周迅) and Xu Jinglei (徐静蕾), she belongs to China's 'Four Dan Actresses' (四大花旦, the four greatest actresses of mainland China) from the early 2000s.
She starred in the highly successful Chinese costume television show My Fair Princess (还珠格格) which first aired in 1998, after which she went on to star in many TV series and big films, including Painted Skin (2008) and Lost in Hong Kong (2015).
Besides being a known ambassador for good causes, Zhao is also known for her work as a brand ambassador for various international companies, which has added to her wealth. She was named the world's wealthiest working actress by Forbes in 2015. Zhao is married to the Chinese businessman Huang Youlong (黄有龙), with whom she has a daughter. The couple made it to a list of the world's wealthiest young billionaires in 2016.
This week, Zhao's name was deleted from the cast lists of various films and dramas she starred in or directed. A super-topic (fan group) dedicated to her was removed from Weibo, and now various productions involving Zhao have seemingly been removed altogether.
Zhao Wei reportedly also withdrew as a shareholder from several companies she was involved in.
On Weibo, the hashtag "Zhao Wei Withdraws from Companies" (#赵薇接连退出多家公司#) received over 240 million views on Friday. Another related topic, namely "Zhao Wei's Super Topic Shut Down" (#赵薇超话被封#) received over 970 million views. Many people want to know why the actress has become the target of official scrutiny.
Chinese state media platform Global Times also wrote about how Zhao Wei's name and works were removed from several video platforms. These online companies reportedly confirmed the removal of Zhao's works, saying they received the request at a short notice and without a clear reason.
Among the potential reasons mentioned for Zhao's name being censored is that it is somehow linked to the scandal involving the fallen Hangzhou Party chief Zhou Jiangyong (周江勇), who is currently being investigated by China's top anti-graft agency. Zhao and Zhou share a social circle, including Jack Ma, an ally of Zhou and a friend of Zhao and her husband, who are major shareholders of Alibaba Pictures.
Another issue mentioned is that of Chinese actor Zhang Zhehan (张哲瀚) who recently came under fire for attending a wedding at a controversial Japanese shrine and taking pictures at Yasukuni, a shrine that is seen as representing Japanese militarism and aggression. Zhang – who is now basically banned from China's entertainment industry – was signed under Zhao Wei's company. Zhao herself also got caught up in history-related controversy as early as 2001, when she posed for a photo shoot wearing a dress printed with the old Japanese naval flag.
Throughout the years, Zhao has been caught up in various controversies. Back in 2016, it was rumored that the actress had financially backed Hillary Clinton when she was still running for president of the United States.
But the actual reasons why Zhao is being banned from China's online channels are still unclear. As of Friday night, Beijing time, Zhao's Weibo page was still up. Her last social media post is from August 15, when the actress commemorated the 76th anniversary of Japan's surrender.
Meanwhile, some of Zhao's celebrity friends, including Huang Xiaoming and Yang Zi, have deleted photos they took together with Zhao Wei from their social media channels.
The developments involving Zhao come at a time when various Chinese celebrities are under scrutiny. What's on Weibo recently reported the scandal involving Kris Wu and the calls for 'raising the bar' for celebrities in China. Online fan clubs (or fan circles 饭圈) have also become a target of online censors, with thousands of posts and accounts removed from Chinese social media earlier in August of 2021.
Chinese actress Zheng Shuang (郑爽), whose 'surrogacy scandal' caused a social media storm in January of this year, also became a trending topic once again. On Friday, authorities stated that she would be fined 299 million yuan ($46.1 million) for tax evasion and undeclared income between 2019 and 2020. The actress published a public apology in which she stated she would pay for all taxes and fines.
Meanwhile, many people are glued to their social media screens. Around seven o'clock at Friday night, Beijing time, the Weibo topic "What's up with Zhao Wei?" (#赵薇怎么了#) had already been viewed over a billion times.
Some commenters think that Zhao Wei is simply caught up in this storm because she was involved in so many controversies throughout the years and that the recent crackdown on China's celebrity and fan circles is just the right timing for authorities to take finally take measures.
"This goes beyond being canceled," others wrote: "There is something bigger going on, we will just have to wait for an announcement to come out."
Read more: 25 'Tainted Celebrities': What Happens When Chinese Entertainers Get Canceled?
By Manya Koetse (@manyapan)
With contributions by Miranda Barnes
Spotted a mistake or want to add something? Please let us know in comments below or email us. First-time commenters, please be patient – we will have to manually approve your comment before it appears.
©2021 Whatsonweibo. All rights reserved. Do not reproduce our content without permission – you can contact us at info@whatsonweibo.com.
Chinese Actor and State Security Ambassador Li Yifeng Detained for Soliciting Prostitutes
Li Yifeng is not exactly living up to his role as spokesperson for the Ministry of State Security.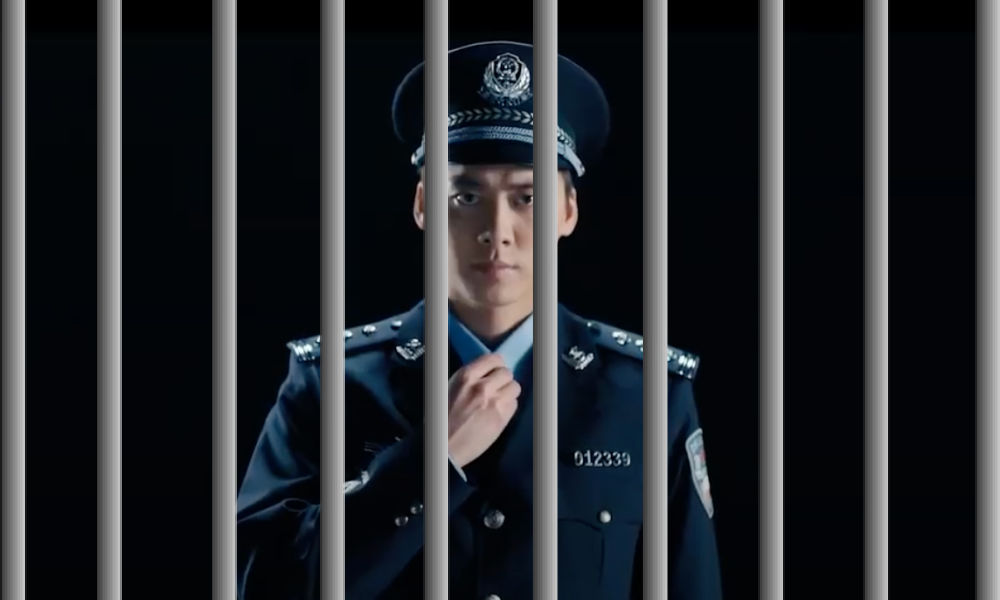 Chinese actor and singer Li Yifeng (李易峰) went top trending on Chinese social media today. The actor, who previously starred as brand ambassador for the Ministry of State Security and played Mao Zedong in The Pioneer, has been detained for visiting prostitutes.
On January 10 of 2021, China celebrated its very first National Police Day to give full recognition to the police and national security staff for their efforts. For this special day, the Ministry of State Security launched a promo video starring Chinese actor Li Yifeng as the National Police Ambassador (#李易峰国安形象传片#). But today, it turned out that Li might not have been the best man for the job.
Chinese official media reported on September 11 that the 35-year-old actor has been detained for soliciting prostitutes. The hashtag "Li Yifeng Detained for Visiting Prostitutes" (#李易峰多次嫖娼被行政拘留#) received nearly two billion views on Weibo on Sunday; the hashtag "Beijing Police Informs that Li Yifeng Solicited Prostitutes" (#北京警方通报李易峰多次嫖娼#) received a staggering three billion views.
Shortly after the news was announced, various brands for which Li served as a brand ambassador announced that they were no longer working with the actor. Lukfook Jewellery, Mengniu Dairy, Honma Golf, Panerai, Prada, Sensodyne, King To Nin Jiom, and other brands declared that they had terminated their contract with Li (#多个品牌终止与李易峰合作#).
Li rose to fame in 2007 when he participated in the Chinese My Hero talent show. He later debuted as a singer and became a successful actor, starring in various Chinese TV dramas and films. Li became especially popular after starring in Swords of Legends and won an award for his role in the 2015 Chinese crime film Mr. Six (老炮儿). He would go on to win many more awards. One of his biggest roles was starring as Mao Zedong in the 2021 blockbuster The Pioneer (革命者).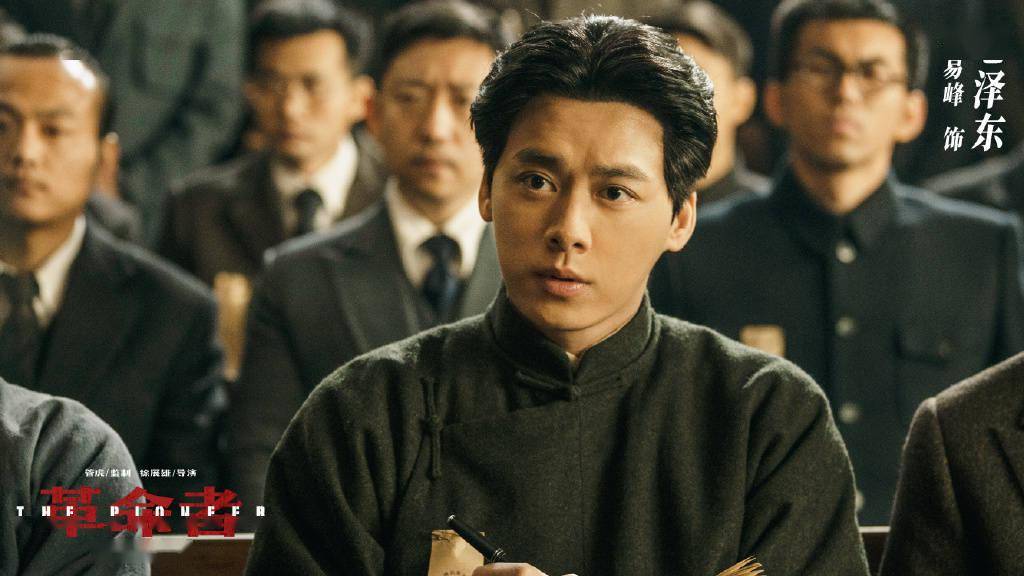 According to Global Times, Li was previously announced as one of the celebrities attending the Mid-Autumn Festival Gala on CCTV on Saturday night, but his name was later deleted from the program.
"I had never expected my idol to collapse like this," some disappointed fans wrote on Weibo.
In a 'super topic' community dedicated to the star, some fans would not give up on their idol yet: "Where is the proof? Besides the Beijing police statement, where is the actual proof?"
On Li Yifeng's Weibo page, where the actor has over 60 million fans, nothing has been posted since September 5.
The Huading Awards, a famous entertainment award in China, announced that they cancelled Li Yifeng's title of "Best Actor in China" (#华鼎奖取消李易峰中国最佳男主角等称号#).
"He lost all he had overnight," some commenters wrote. "Celebrities generally get cancelled for two things: one is evading taxes, the other is sleeping around," one popular comment said: "So in a nutshell, pay your taxes and don't sleep around.*"
"Why do you even need to see a prostitute when you're so good-looking?" others wondered.
One Weibo user (@大漠叔叔) wrote: "Have a good head on your shoulders and just remember one thing. It does not matter how good your reputation is, or how many titles you have, how much the audience loves you, how much the fans embrace you, how many awards you get, it won't protect you. Stay clear-headed, merit does not outweigh faults! You can't cross the moral bottomline nor cross the boundaries of the law. You can be canceled just like that."
By Manya Koetse 
* This comment is loosely translated here, but the Chinese is quite funny because the words 'taxes' and 'sleeping' sound similar. "明星塌房的两个主要原因:一个睡,一个税。 简而言之:该税的税,不该睡的别睡."
Get the story behind the hashtag. Subscribe to What's on Weibo here to receive our weekly newsletter and get access to our latest articles:
Spotted a mistake or want to add something? Please let us know in comments below or email us. First-time commenters, please be patient – we will have to manually approve your comment before it appears.
©2022 Whatsonweibo. All rights reserved. Do not reproduce our content without permission – you can contact us at info@whatsonweibo.com.
Follow-Up to China's Ugly Math Textbook Controversy: 27 People Punished
No ugly illustration goes unpunished. Research results are in after the "tragically ugly" schoolbook gate sparked an official investigation.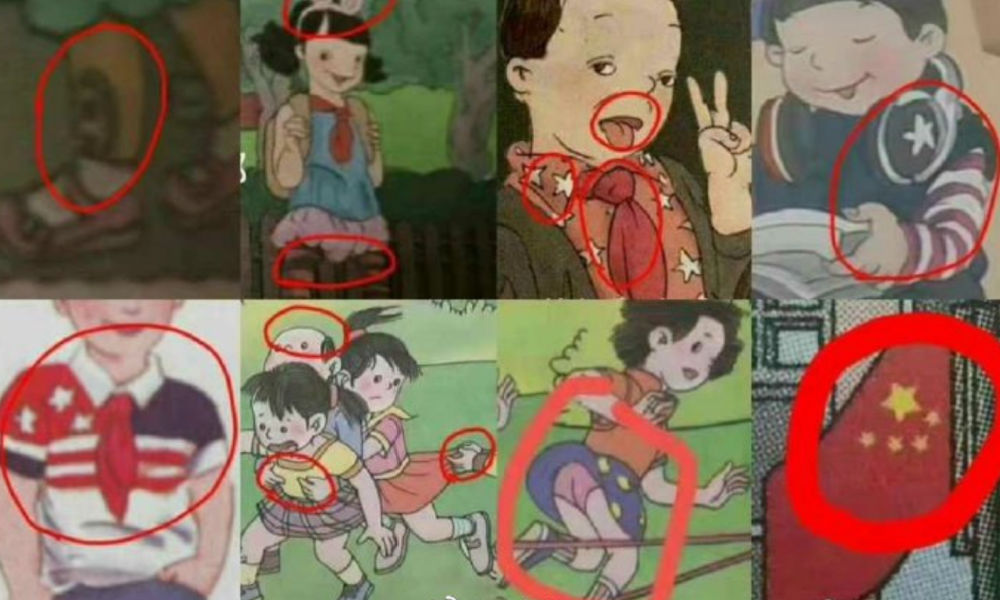 China's Ministry of Education has wrapped up a 3-month long investigation into the textbook illustration controversy that dominated Chinese social media in May of this year. One of their conclusions? The illustrations are ugly. There are serious consequences for those responsible.
The ugly illustrations in a children's math textbook were among the biggest topics on Chinese social media earlier this year.
Although the elementary math schoolbooks were published nearly a decade ago, the schoolbook series (covering grade 1-6) went trending after some parents complained about the illustrations on social media. People mainly took issue with the teaching material because they thought the illustrations were ugly, unrefined, and overall weird (read our previous article here).
Besides the quality of the design, many people also found that some illustrations were inappropriate. There was a girl sticking out her tongue; recurring depictions of the American flag colors; an incorrect depiction of the Chinese flag; a bulge showing in the pants of the depicted boys; a girl in a bunny outfit, a child with something that appeared to be a tattoo, and more.
Now, three months later, China's Ministry of Education has wrapped up its investigation into the matter and published its final findings. According to the Ministry's research team, the textbook illustrations are found to be problematic for the following three reasons.
First, they're ugly. They do not exactly match the aesthetic taste of the general public and do not represent the positive image that is appropriate for China's youth.
Second, they're not right. Some of the illustrations contain errors and are just not up to standard.
Third, they're ambiguous. Because the illustrations were not meticulously done and some poor choices were made, some elements of the illustrations are easy to misinterpret.
The math textbook series was approved in 2012 and published in 2013 by the renowned People's Education Press (PEP) and designed by Beijing Wu Yong Design Studio. Designer Wu Yong (吴勇) allegedly graduated from the prestigious Academy of Arts of Tsinghua University and he also came under fire on social media earlier this year.
According to the Ministry's research, it was found that the PEP failed to thoroughly understand, implement, deploy and review textbook standards set by the central government. They also did not timely rectify the existing problems nor paid enough attention to readers' opinions. The Teaching Material Bureau under the Ministry of Education also was found to have provided "insufficient guidance and supervision."
In accordance with regulations, the relevant units and 27 members of staff were held accountable for their poor performance. Among them were the Party Committee Secretary of the PEP, President Huang Qiang (黄强), who received a "serious warning" from within the Party. The Chief Editor Guo Ge (郭戈) was removed from office, along with some others, including the person in charge of the editorial office for elementary school mathematics textbooks.
Illustrator Wu Yong, along with two others designers, will also need to find another job as they will never be allowed to work on national school textbooks or other related projects again.
A hashtag about the research's findings went trending on Weibo on Monday (#教育部通报教材插图问题调查结果#) and received over 280 million clicks. A hashtag about Wu Yong no longer being employed by the PEP (#不再聘请吴勇从事教材设计工作#) more than 350 million views.
Although many people are glad to read a follow-up to this story, there is also some criticism. Some people mention how the investigation is basically a departmental self-investigation since the People's Education Press (PEP) is a publishing house under the direct leadership of the Ministry of Education. They say that some of the punishments are too light because people are just being disciplined through departmental guidelines and regulations.
Along with the conclusion of the investigation into ugly schoolbooks gate, the new schoolbook illustrations were also published on Monday.
Although most social media users said the new drawing were "much better," there were still some complaints. "They're basic, but at least they're normal," some commenters wrote.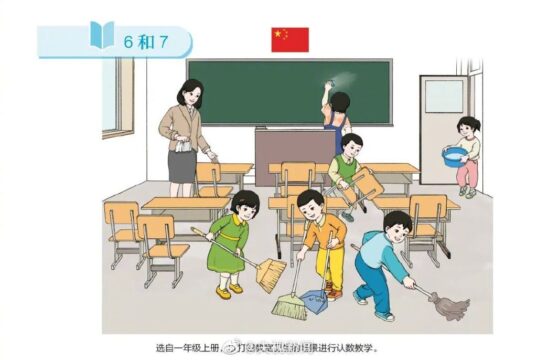 "They changed it, and it's good enough," some Weibo users wrote: "At least these illustrations don't make me uncomfortable."
By Manya Koetse
Get the story behind the hashtag. Subscribe to What's on Weibo here to receive our weekly newsletter and get access to our latest articles:
Spotted a mistake or want to add something? Please let us know in comments below or email us. First-time commenters, please be patient – we will have to manually approve your comment before it appears.
©2022 Whatsonweibo. All rights reserved. Do not reproduce our content without permission – you can contact us at info@whatsonweibo.com.