Zheng Shuang, Zhang Heng, and 'Surrogacy Gate': A Timeline
One celebrity couple breakup, two children born through surrogacy: this sad and messy topic has exploded on Chinese social media.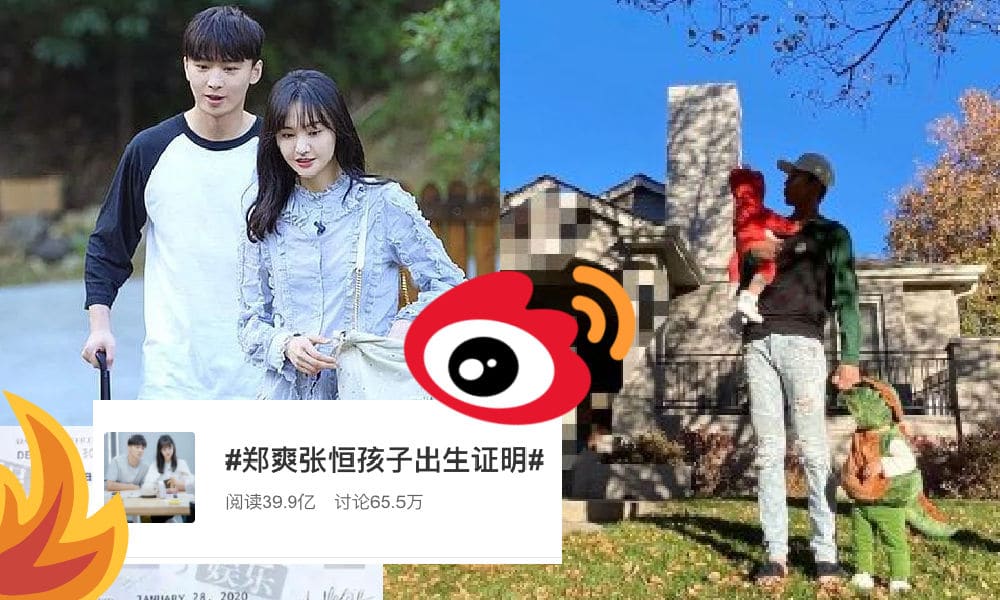 A celebrity surrogacy scandal is dominating discussions on Chinese social media, with one hashtag on the case attracting over 3 4 billion views. The scandal is triggering discussions on the topic of surrogacy in China.
Her name is Zheng Shuang (郑爽, 29), his name is Zhang Heng (张恒, 30). They're both celebrities in China; she is a super famous actress, he is a well-known producer.
This week, it is not their work that made them go viral on Chinese social media, but a surrogacy scandal taking place in the United States that is dominating all trending lists on Weibo.
The social media storm started on Monday, January 18, when rumors surfaced on Weibo and Wechat that the celebrity couple had separated. Some netizens had located a 'dissolution' case concerning the couple through the public access of the US federal court system.
Subsequently, news and rumors began circulating that the couple had two children in the US through a surrogacy arrangement, but that actress Zheng Shuang refused to have them because she and Zhang had broken up – even though her name was on their birth certificate.
The topic soon became known as the Zheng Shuang 'Surrogacy Gate' (郑爽"代孕门").
Chinese media outlet Netease Entertainment published images of the children's birth certificates and confirmed through sources close to producer Zhang Heng that he was stranded in the United States with the two babies, unable to bring them back to China with him since Ms Zheng allegedly did not cooperate with the necessary legal procedures.
It was Zhang Heng himself who spoke out about the situation on his Weibo account (@张恒KN) on January 18. He wrote the following post:
"Hi everyone, I'm Zhang Heng. Long time no see. As everyone has seen, I again hit the hot search lists recently. Since the past year or so, there has been baseless slander, disrespect, and endless online violence against me on the internet. My family is also frustrated, helpless, and mentally exhausted because of my problems. There's no way to lead a normal life or to socialize normally. We're unable to reunite because of this. I really feel so, so bad.   
I realize I can't bury my head in the sand any longer. Because it's not just me facing everything; it's also my cherished family members. I've decided to speak up, for my family and for myself, and to set the record straight. 
The online rumors about me committing fraud, borrowing from loan sharks, evading debts, taking funds and slinking off to America, etc –  they're all rumors and I swear I've never done these things, nor would I ever do them. It is true that I am in America, but my family and I have been in the United States for over a year because we had to take care of and protect our two young and innocent children. We had no choice but to remain here.
I have hired a lawyer to handle related matters, and I believe the actual facts will be restored by the American and Chinese courts. Finally, I hope the media and righteous people can recognize the truth in this matter, and will not be blinded by internet rumors." 
The children caught up in this scandal are one girl, born on January 4 2020, registered in the state of Nevada; and a boy, born on December 19 2019, registered in the state of Colorado. The birth certificates that were leaked to Chinese media show both Ms. Zheng and Mr. Zhang as the legal parents of the two babies.
Also leaked to Chinese media is an older audio recording in which Zheng, Zhang, and both of their parents allegedly discuss what to do with their unborn babies. In the voice recording, Zheng's side argues that the children should be given up for adoption, with Zheng herself even complaining that the babies could not be aborted because the surrogate mothers were already seven months pregnant.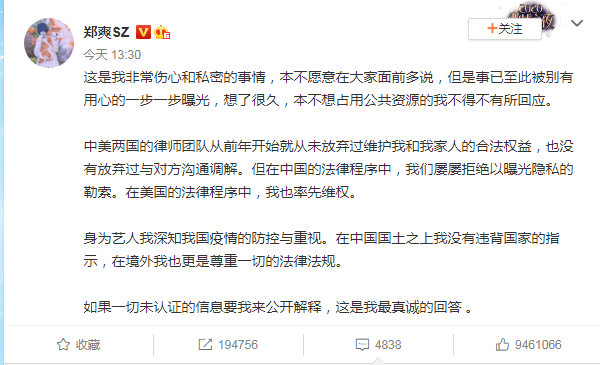 On January 19, Zheng Shuang herself also responded to the matter on Weibo (@郑爽SZ), where she did not address the matter directly but said that this is "a very sad and private matter that I did not want to discuss in front of everybody." She further wrote that legal teams in China and the US "never gave up defending the legal rights of me and my family since last year."
Of the two former partners, Zheng is the most famous celebrity. Born in Shenyang in 1991, she rose to fame when she starred in a popular TV series in 2009 (Meteor Shower 一起来看流星雨). She became an award-winning actress and was chosen as one of the most bankable young actresses of the post-90s generation. On her Weibo account, she has over 12.4 million followers.
'Surrogacy Gate': The Timeline
While this case is unfolding in front of netizens' eyes and through their own research, more and more details are coming up.
Money plays a major role in the falling-out between Zheng and Zhang, and a private lending dispute – involving no less than 20 million yuan (around 3 million dollars) – seems to be one of the reasons for their break-up.
Since the story is somewhat messy and complicated, we will attempt to reconstruct a timeline of events here.

TIMELINE:
2018, May
• Zheng and Zhang meet on the set of the variety show This Is Fighting Robots (这就是铁甲), where Zhang does the show's production. Weeks later, intimate photos of the two surface online.
2018, August
• The couple officially announces their relationship status and start a company together.
2018, November
• Ms Zheng allegedly loans Mr Zhang 20 million yuan ($3 million).
2019, January 19
• Zheng and Zhang 'secretly' get married in the United States on January 19 of 2019. Zheng's dog, "Wolfberry Kris" (@枸杞kris), has its own Weibo account where some 'wedding photos' of the joyous occasion are shared on this day.
2019, Fall/Winter
• Zhang and Zheng both appear on the TV show Meeting Mr. Right (女儿们的恋爱).
• An annual report of Zhang and Zheng's entertainment-meets-tech company, a joint business venture named Shanghai Whale Valley AI Tech (上海鲸谷座人工智能科技有限公司), shows that Zheng Shuang invested over 10 million yuan ($1.5 million) while Zhang – the company's legal representative – only contributed 200,000 yuan ($30,800).
2019, September
• In a Weibo post of January 2021, Zheng Shuang claims that Zhang cheated on her in September of 2019, which is why she left the US and went back to China.
2019, October 31
• Zhang Heng and Zheng Shuang go viral on Chinese social media when Zhang writes a love song for Zheng, and publicly announces his love for her (#张恒给郑爽写歌#).
2019, December 18
• Zhang Heng and Zheng Shuang announce their breakup, and rumors suggest that the two are caught up in a dispute over money.
2019, December 19
• The son of Zhang Heng and Zheng Shuang is born through surrogacy in Colorado.
2020, January
• The daughter of Zhang Heng and Zheng Shuang is born through surrogacy in Nevada on January 4.
• Zheng Shuang files a lawsuit in Shanghai, suing Zhang Heng for borrowing 20 million yuan from high-interest loaners under her name to invest in personal business ventures.
2020, November
• Shanghai Jing'an Court rules that Mr. Zhang needs to pay back 20 million yuan ($3 million) plus overdue interest to Ms. Zheng. Zhang Heng appeals the case, arguing the money involved was never a loan but a financial compensation and advance payment for invested labor, since Zhang also acted as Zheng's manager while they were together.
2020, December
• Zheng Shuang quits as a mentor on the Shine! Super Brothers (追光吧!哥哥) variety TV show after a clip exposing her gossiping about the past relationship of two co-stars circulated online.
2021, January 18
• Zhang posts his story on his Weibo account, stating he is stranded in the United States to take care of his two young children, implying Zheng has abandoned the babies. He also posts a photo of him with the two children.
• A voice recording in which Zheng talks about what to do with her unborn children surfaces in Chinese media, along with the birth certificates. The topic explodes on Chinese social media.
2021, January 19
• Zheng Shuang posts a reply to the matter on her own Weibo account, in which she is vague and evasive about the issue concerning the children. She implies that Zhang has "ulterior motives." She later adds that Zhang cheated on her in the fall of 2019.
• In light of all controversy, Italian fashion brand PRADA cuts ties with Zheng Shuang, with whom they had a cooperation agreement. Zheng was announced as one of the brand's new Chinese ambassadors earlier in 2021.
• London jewelry brand Lola Rose deletes all content including Zheng from their social media.
• Harper Bazaar deletes a feature on Zheng Shuang from their social media.
• Chinese cosmetic brand Chioture also posts a statement on Weibo saying it has terminated its contract with Zheng Shuang, who formerly was a spokesperson for the company.
• The second hearing of the Zheng versus Zhang lawsuit takes place in a Shanghai court over the disputed loan. Zhang and Zheng are both represented by their lawyers. (No news on outcome yet).
• State broadcaster CCTV condemns surrogacy in a post on Weibo.
• Zheng Shuang appears in public in Beijing, where she is followed by paparazzi. She does not respond to any questions, but her appearance still goes viral on social media with over 640 million views (#郑爽风波后首现身#).
2021, January 20
• Huading Awards announces it will revoke the honorary titles of Zheng Shuang, renouncing Zheng's former awards as best actress and favorite TV star. Over 2.2 million people 'liked' this update on Weibo (#华鼎奖取消郑爽荣誉称号#).
• China's State Administration of Radio, Film and Television officially shuts out Zheng Shuang.
• The Weibo hashtag "Birth Certificates of Zheng Shuang and Zhang Heng's Children" (#郑爽张恒孩子出生证明#) reaches a staggering 4 billion views.
2021, March 22
• The hearing for the supposed dissolution of Zheng and Zhang's marriage is scheduled to take place in Denver, US.
Surrogacy Abandonment
Although the timeline of events leading to the current situation might suggest that Ms. Zheng and Mr. Zhang are both at fault for handling matters in an irresponsible way, it is Zheng's "surrogacy abandonment" that mostly triggers the public's anger on social media.
Many people feel that Zheng Shuang is lacking morals for abandoning her children and call her "cold-blooded." There are also those who think the actress has serious mental problems. Despite all backlash, Zheng still has a strong fan base with people who still support her.
The scandal has sparked more discussions on the issue of surrogacy in China, which already was a big topic earlier in January when a story came out on a baby born through surrogacy who had no birth certificate and no legal registration (link here).
Although surrogacy is officially not legal in China, there is a flourishing underground surrogacy market, and many couples who are struggling with fertility issues travel overseas for surrogacy arrangements. It is not clear why Zheng and Zhang used surrogates to have children.
On Weibo, many people speak out against surrogacy practices, arguing that having children is not a business and surrogacy puts vulnerable women at increased risk of exploitation.
The hashtag "Firmly Oppose All Forms of Surrogacy" (#坚决反对一切形式的代孕#) received over 290 million views and thousands of comments.
One person commented: "Children are not a commodity you can buy, sell, or return. They're a life-long responsibility, they are the future of our society."
By Manya Koetse, with contributions by Miranda Barnes
Follow @WhatsOnWeibo
Spotted a mistake or want to add something? Please let us know in comments below or email us. First-time commenters, please be patient – we will have to manually approve your comment before it appears.
©2021 Whatsonweibo. All rights reserved. Do not reproduce our content without permission – you can contact us at info@whatsonweibo.com.
Fandom Meets Matrimony: Sea of Brides at Roy Wang's Concert as Female Fans Show Up in Wedding Gowns
After showing up as brides at Roy Wang's concert, some female fans attempted to return their gowns within the store's 7-day 'No Questions Asked Return Policy'.
A recent concert by Chinese celebrity Roy Wang (Wang Yuan 王源) has become a hot topic on Chinese social media as female fans attending the show collectively decided to wear wedding dresses to express their love for the singer.
Born in 2000, Roy Wang is best known as a member of the hugely popular TFboys idol group that debuted in 2013, but his solo career has also been thriving for years. Wang is an award-winning musician, who is now among China's most influential young celebrities. On Weibo, he has nearly 85 million followers.
The sight of so many fans coming to Wang's Chongqing concert wearing wedding dresses was already remarkable, but it garnered even greater attention when it turned out that some of the women's boyfriends were so upset over their girlfriends wearing a wedding dress for another man that they ended the relationship because of it.
On Douyin (China's TikTok), the related discussion made it to the top 5 trending daily topics list.
The story gained further traction when reports emerged that some female fans who had recently purchased wedding dresses for the concert attempted to return them to the store the next day, taking advantage of the store's policy that allows returns within seven days without requiring a specific reason (7天无理由退货).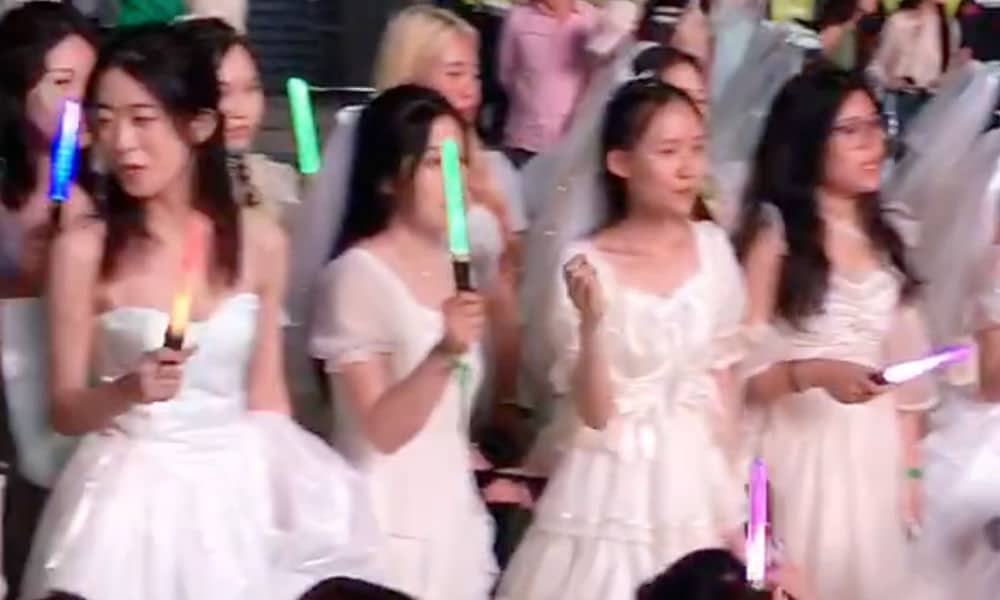 "I already wondered why business was suddenly booming," one Chongqing wedding gown seller wrote on social media, complaining how the return policy was being abused by some of Roy Wang's fans.
Others saw the fact that they wore the wedding dress to the concert as a unique selling point, and tried to resell their gowns online for more than the original price, claiming that the dress still had "a hint of the concert's aroma."
Commenters bombarded these women with negative comments, as the topic also drew wider discussions on how far some fans are willing to go to show their love for their idols.
Some social media users expressed that a wedding dress has a symbolical or even sacred function, and that tying the concept of fandom to matrimony is inappropriate. They condemned the women for showing up to the concert as brides.
Given that many of the commenters criticizing the women were male, there were also feminist voices that condemned these men for their pettiness and chauvinistic attitudes. One comment stood out: "There will always be men whose ego is bruised when women they don't even know won't wear a wedding dress and save their chastity for them. Thanks to Roy Wang's concert, I once again realize the diversity of species."
In an online poll asking people "Can women only wear a wedding dress once in their lives" (#女生一生只能穿一次婚纱吗#) the majority of people replied that they should just wear whatever they like.
"My first thought is that this is romantic," one popular entertainment blogging account (@娱大蜀黍) wrote: "My second thought is that it's actually quite moving. In the midst of their youth, they are writing a passionate chapter for themselves. They will treasure it as a beautiful memory later on in life. They do what they love and they're not bothering anyone. It's perfectly fine."
By Manya Koetse & Miranda Barnes
Get the story behind the hashtag. Subscribe to What's on Weibo here to receive our newsletter and get access to our latest articles:
Spotted a mistake or want to add something? Please let us know in comments below or email us. First-time commenters, please be patient – we will have to manually approve your comment before it appears.
©2023 Whatsonweibo. All rights reserved. Do not reproduce our content without permission – you can contact us at info@whatsonweibo.com.
Let's Plant: China's Variety Show "Become a Farmer" Is Harvesting Success Online
As iQIYI's 'Become a Farmer' gains momentum, it highlights China's growing trend of embracing rural themes in mainstream entertainment.
With its focus on hard farm work and meeting actual targets, Become a Farmer is a fresh breeze of air for China's variety show business, especially among young Chinese viewers who appreciate the show's authenticity and the calmness of the rural scenes that pose a stark contrast with stressful urban life.
The Chinese variety show Become A Farmer has achieved tremendous popularity in China recently through the iQIYI platform, which is often hailed as the Chinese equivalent of Netflix. Become A Farmer recently gained over 4.6 billion (!) views on Weibo through the hashtag #种地吧# (Zhǒng dì ba), which translates to "Let's Plant" or "Let's Farm" in English and also happens to be the show's name in Chinese.
Produced by iQIYI and Blue Sky Media Group (BSMG), Become A Farmer (Young Men edition) is a documentary-style interactive reality show that revolves around the theme of farming, with actual farm work as its central focus.
The show handpicked ten young men out of 300 candidates to assemble a "farming team." With unwavering dedication, they toiled for over 190 days, diligently cultivating 142.8 mu (approximately 95,200 square meters) of land. They actively engaged in every aspect of farm work, starting from planting a single seed and guiding the audience through the complete journey of rice germination, growth, flowering, and ultimately reaping the harvest.
Chinese netizens have drawn comparisons between the show and the British television documentary series Clarkson's Farm. Playfully, they remarked that if Clarkson's Farm were to be introduced in the Chinese market, it could aptly be renamed "Become A Farmer (Old Men Edition)."
Become A Farmer released its first episode on February 4 of this year, initially receiving limited attention. However, as subsequent episodes were released, the show started garnering increased interest, with the audience discovering the genuine dedication of the ten young men towards their farming endeavors – and that it was not just for show.
Its rating on Douban, China's IMDB, has climbed up to 8.9 out of 10. Meanwhile, the series has been nominated for the prestigious Magnolia Award for Best Variety Program at the 28th Shanghai TV Festival.
A Fresh Take on Chinese Idol Survival Shows
Become A Farmer initially caught the attention of many Chinese netizens through the humorous jokes of veteran comedian Pang Bo during the fifth season of the stand-up comedy competition Rock & Roast.
At that time, the show had not yet been aired but its format had already been introduced during a media conference, and Pang Bo (庞博) had heard about it.
In Pang's joke, he compared the show to a farmer version of idol survival shows, proposing that the four individuals who made the greatest contributions to the final harvest could come together as a group, forming a new generation of F4 (referring to the popular Asian boy band), playfully dubbed "Farmer 4."
While Chinese netizens were initially amused by this joke, little did they realize that iQIYI was actually turning it into a reality, albeit without the comedic intent.
"Food is not something we can take lightly with jokes and banter, especially considering the size of our farmland, which spans approximately 140 mu and has the potential to provide sustenance for many people. This is a matter of responsibility and morality," stated Yang Changling (杨长岭), the show's director.
Normally, Chinese entertainers are compensated for their involvement in reality or variety shows, as they play a crucial role in generating engaging content. Such shows often seek out celebrities with a large online fan base to ensure a favorable viewership.
But Become A Farmer is different. Among the ten young men, no one is a typical celebrity that has a huge fan base online. Moreover, they are not paid for filming the show but have to earn from the land rented from local farmers through their own hard work.
To legally sell the products grown on their farmland, the ten young men took the step of registering an official company. This registration allowed Chinese netizens to verify the company's information on the government website, providing evidence of the project's authenticity. As the information about the company circulated, the related hashtag (#种地吧 开公司#) gained traction on Weibo, eventually trending when the ten young men received their official company certificate.
Become A Farmer leans more towards being a documentary rather than a traditional entertainment program. To underscore its authenticity, a novel approach has been adopted in China's variety show landscape. It airs live for one hour every day, beginning at 9:30 am, synchronizing with the young men's start of work. This timing allows netizens, who typically commence their own workday around that time, to actively participate as 'online supervisors,' overseeing the ten young men's daily tasks while starting on their own tasks of the day.
Through livestreaming on both Weibo and Douyin (the Chinese version of TikTok), the show creates a natural teaser for the edited reality series while embodying its interactive nature.
As an additional element, the ten young men occasionally share vlogs on Weibo and Douyin during the filming process. This unique combination of long-form reality show footage + livestreaming + vlogs allows the audience to closely follow and stay updated on the progress of the ten young men's work over the span of more than 190 days.
The show's concept of gathering relatively unknown young men aspiring to make a breakthrough in the entertainment industry bears resemblance to popular shows like Youth With You, also produced by iQIYI. However, Youth With You's third season was suspended in 2021 for wasting large amounts of milk amid the China's strengthened efforts in eradicating wasting food; viewers were ecouraged to buy bottled Mengniu milk and scan QR codes inside the caps to vote for their favorite trainees, which led to fans buying tons of bottles only to vote and getting rid of the milk.
Clearly, iQIYI has learned from the past and taken a different approach with Become A Farmer. In this show, there are no milk-wasting competitions or cutthroat rivalries. Instead, the ten young men are united in their goal to complete the farm work together and to run the company and get rid of its debt.
Focus on Vital China Topics: Empowering Youth, Food Security, and Rural Revitalization
Various topics that are relevant in today's China come together in Become a Farmer. The show also explicitly addressed its objectives in producing this diverse variety show and released a pre-episode to emphasize the importance of food security and shed light on the challenges faced by Chinese youth upon entering the workforce.
In recent years, China has placed significant emphasis on food security, with leaders repeatedly stressing the need to ensure that "the Chinese rice bowl is firmly held in our own hands."
The China Agricultural Outlook Report (2023-2032), released on April 20, outlined the ongoing consolidation of China's food security foundation for the next decade. Notably, all 103 million hectares of permanent farmland will be transformed into high-standard farmland. The report also highlighted plans to diversify import channels for agricultural products, improve the trade structure, and reduce grain imports by 19.7 percent over the next decade.
During the pre-episode of the show, an expert who provided training courses to ten young men emphasized the need to address the aging agricultural workforce in China's agricultural development.
Simultaneously, in 2023, China witnessed a record-breaking number of graduates, reaching 11.58 million.
Given the increasing digitalization in agriculture, encouraging young people to pursue farming careers emerges as a viable solution. By becoming New Era Farmers (新农人) and actively participating in the nine tasks outlined in China's "No. 1 central document" for 2023, which promotes rural vitalization comprehensively, young talent can contribute to the development of rural areas instead of solely pursuing white-collar jobs in urban areas.
A Rural Trend in Chinese Entertainment
The increasing appeal of rural life among young people in China is reflected in a survey conducted by the Social Survey Center of China Youth Daily (中国青年报社社会调查中心) in September 2022. The survey revealed that 70.9% of the respondents believed that the countryside has become more attractive to young individuals. Factors such as a slower pace of life, lower pressure, and reduced costs were cited as the main reasons why young people find rural areas appealing.
As transportation and internet connectivity have gradually improved, rural life in China is no longer seen as isolated and cut off from the rest of the world. This transformation has sparked a growing interest in living in the countryside, particularly among young people. The countryside's allure lies in its simplicity, natural beauty, and the chance to escape the fast-paced and hectic city life.
This growing interest in rural life may explain the popularity of shows like Become a Farmer. The commitment demonstrated by the ten young men to their farm work has garnered applause from Chinese netizens. Overcoming challenges such as working in adverse weather conditions, assisting with difficult births for animals, and engaging in physically demanding tasks have showcased their dedication and hard work. These aspects have resonated with the audience and contributed to the show's success.
Originally planned to conclude after 39 episodes, the show's production team has decided to extend it to 50 episodes due to the abundance of material gathered from over 190 days of farm work and the increasing interest and positive feedback from viewers. This extended episode count goes beyond the typical duration for a variety show, highlighting its exceptional popularity.
It is evident that iQIYI, the broadcasting platform behind the show, is keen on fulfilling its alleged social responsibility to promote the importance of food security and sustainable food production, farming, and showing that young individuals that they can thrive in rural areas.
Capitalizing on the success of the reality show, iQIYI has also released a teaser for an upcoming drama called Romance on the Farm (田耕纪), which also revolves around farming. This drama portrays a contemporary woman unexpectedly finding herself in the countryside during the Song Dynasty and embarking on a journey of farming, prosperity, and love alongside the enigmatic Shen Nuo.
In the last couple of years, there were several countryside-themed dramas that showcased China's rural revitalization efforts and highlighted the involvement of younger generations in supporting their rural hometowns, such as On The Way to Hope (在希望的田野上) or The Story of Xing Fu (幸福到万家) which starred the renowned Chinese actress Zhao Liying.
The success of Become a Farmer, the upcoming Romance on the Farm, and the overwhelming enthusiasm among Chinese viewers for these shows suggest that farming has become the latest 'hip' trend in China's entertainment industry. It seems that plowing fields and tending to crops have now found their place in the limelight. With the growing interest and excitement surrounding these shows, it's safe to say that we can expect a blooming harvest of more Chinese productions focused on farm work and rural life in the near future.
Watch "Become a Farmer" on Youtube here (including English subtitles).
By Wendy Huang
Follow @whatsonweibo
Spotted a mistake or want to add something? Please let us know in comments below or email us. Please note that your comment below will need to be manually approved if you're a first-time poster here.
©2023 Whatsonweibo. All rights reserved. Do not reproduce our content without permission – you can contact us at info@whatsonweibo.com
Subscribe to our newsletter
Stay updated on what's trending in China & get the story behind the hashtag
Sign up here to become a premium member of What's on Weibo today and gain access to all of our latest and premium content, as well as receive our exclusive newsletter. If you prefer to receive just our weekly newsletter with an overview of the latest, you can subscribe for free here.
Would you like to become a contributor, or do you have any tips or suggestions for us? Get in touch with us here.