25 'Tainted Celebrities': What Happens When Chinese Entertainers Get Canceled?
What happens after Chinese celebrities become tainted by scandal? A list of 25 'tainted celebrities' in China.
PREMIUM CONTENT ARTICLE
What happens when Chinese celebrities get tainted by scandal? This is a list of 25 notable Chinese celebrities who got caught up in controversy. What did they do, and where are they now? An overview by What's on Weibo.
This year seems to be a peak year to see China's entertainment stars falling from the sky. After various celebrity scandals occurred earlier in 2021, a major 'entertainment circles earthquake' took place in late August.
Famous actresses Zhao Wei (赵薇) and Zheng Shuang (郑爽), along with Chinese music producer and TV host Gao Xiaosong (高晓松), saw their names and work wiped from various online channels. Online fan groups and 'super topics' dedicated to these celebrities, as well as others, were taken offline.
China's entertainment circles have not seen so many scandals and investigations since 2014, when there were so many Chinese celebrities in prison that netizens spoofed the famous 1987 action movie Prison on Fire (监狱风云) and jokingly made it feature imprisoned stars with the main lead for actor Huang Haibo (黄海波).
The recent blow to Chinese entertainment culture is partly related to a larger "clean up" campaign (清朗专项行动) targeting celebrities and online fan communities.
Many Chinese celebrities from the entertainment industry were 'canceled' over the past years over their illegal behavior and activities. But not all celebrity scandals are related to top-down measures; sometimes there are those whose reputation becomes irreversibly damaged over cheating, sex scandals, inappropriate (leaked) online messages, or by them getting caught up in controversial and sensitive historical or political issues.
Sometimes the 'trial' is by the public, other times it's by authorities, but it always ends up being a trial by media.
We have compiled a top 25 list of Chinese celebrities in the show business who suffered a public fall from grace with updates on where they are now, perhaps giving an idea of what the future might look like for those Chinese stars who have recently been 'blacklisted.'
This list only includes those celebrities whose scandals played out online in the age of social media. It is a top 25 of 'tainted celebrities' within mainland China's entertainment industry, listed in chronological order of when their reputation suffered a blow.
#1 Edison Chen 陈冠希
Edison Chen is a Canadian-born Hong Kong actor, singer, and entrepreneur whose 2008 sex photo scandal ("艳照门") shook Chinese entertainment circles. Although this scandal mostly relates to the Hong Kong entertainment industry, we've still added it to this list since it is also widely known in mainland China.
The scandal erupted when intimate and private photos started circulating on the internet, showing the actor with various women, including actresses Gillian Chung, Bobo Chan, Rachel Ngan, and Cecilia Cheung. The photos were, among others, disseminated on the Chinese internet forum Tianya, where they received over twenty million views.
The photos were stolen from Chen's computer and illegally uploaded online. Over eight people were arrested in relation to this case (see wiki page here). In February of 2008, Chen announced that he would step away from the Hong Kong entertainment industry.
Where is he now?
By now, Edison Chen has become a family man. In 2017, he married Chinese supermodel Qin Shupei and they have a kid together.
Chen is a brand ambassador for Ralph Lauren, and together with his family he also participated in the brand's "Family is who you love" campaign.
Chen has been successful in business – he is the founder of the streetwear label CLOT. He also has a large following on Weibo of over 29,5 million fans (@edc陳冠希).
Nevertheless, the actor can't seem to shake off scandal. In June of 2021, he was caught in scandal again when older posts of a Chinese woman surfaced on Weibo in which she accused the actor of trying to seduce her twice between November 2016 and January 2017.
#2 Man Wenjun 满文军
The drugs scandal involving famous pop star Man Wenjun (满文军, 1969) became major news in China in May of 2009 when the celebrity was busted with heroin during a raid in the Beijing Coco Banana nightclub, where he was celebrating his wife's 40th birthday in a VIP room.
Ma is most famous for songs such as I Understand You (懂你) and Longing for My Hometown (望乡). He was also one of the singers who sang the theme song Beijing Welcomes You (北京欢迎你) for the 2008 Olympics.
The singer and his wife were detained, along with more than ten other people who all tested positive for drug use. At the time, China.org reported that an unnamed drug dealer told media that the celebrity couple were frequent drug users and bought 2.5 grams of heroin from him.
Man eventually only served twenty days in prison. His wife, however, got a much longer sentence. Li Li (李俐) – Man's second wife after a previous divorce – later confessed to giving ecstasy tablets to two people that evening. She received a one-year prison sentence and a 2,000 yuan penalty.
The singer was criticized for testifying against his own wife. When she heard her husband's testimony against her (alleging that she was the one doing drugs), she allegedly called her husband 'inhumane.'
The incident sparked online discussion about the moral standards of celebrities, and China.org published a list of celebrities who previously also got caught up in drug-related scandals.
Man's arrest would just be the beginning of an even longer list of celebrities getting caught with drugs in the years after.
Where is he now?
Unsurprisingly, Man Wenjun and Li Li are now divorced.
The drugs scandal meant a major blow to Man's reputation, and despite still releasing new music and occasional performances, he would never again regain the success he once had. It is rumored that Man now runs his own music training institution, where he is a music teacher.
#3 Li Daimo 李代沫
Li Daimo (李代沫, 1988), is a Chinese singer who rose to fame in 2012 during the first season of The Voice of China (中国好声音).
In July 2013, Li came out as being gay. Many netizens applauded Li for coming out, and he gained overwhelming support from fans and followers.
In March of 2014, however, Li's reputation suffered when he was arrested by Beijing police due to drug possession. Li was found guilty and was sentenced to a fine and nine months in prison.
Where is he now?
After spending seven months behind bars, Li was released from prison in December of 2014. His early release was because of good behavior.
After being released from prison, Li resumed his music career. In 2015, he launched a single titled "Thank You" (谢谢你). Li is still active on Weibo (@李代沫Demon), where he has over a million followers.
Although Li's tainted past is still often mentioned on Weibo, he is one of the few artists who seems to have made some sort of a comeback to the entertainment industry after such a major controversy, although he will probably never go back to the success he once had. During some live streams Li has done, the singer is often scolded by netizens.
#4 Huang Haibo 黄海波
Huang Haibo (黄海波, 1976) is a renowned award-winning Chinese actor who suffered a public fall from grace in 2014 when he was caught soliciting a prostitute in a Beijing hotel. The then-39-year-old was previously known as China's national "son-in-law" for often playing the nice guy and ideal husband in Chinese productions.
In May of 2014, Beijing Municipal Public Security Bureau announced that Huang was arrested on suspicion of hiring prostitutes, and then he was sentenced to 15 days in prison, followed by a six months sentence of "custody and reeducation."
After the scandal made headlines, Huang was no longer offered new roles and his TV and film career in mainland China came to an abrupt end.
Although Huang definitely was shut out from the entertainment industry due to this affair, he was not necessarily 'canceled' by the public. Many people sided with him since they felt he was trapped or even purposely framed – someone must have tipped off the police in order for them to catch him in the act at the Beijing hotel.
Where is he now?
In 2015, just a year after the scandal made headlines, Huang announced he and his partner were expecting a baby. The actor has since moved to the United States.
His partner is Chinese actress Qu Shanshan (曲栅栅), who is still working.
Huang still has over six million followers on his Weibo account. He has not appeared in any Chinese productions since his scandal.
#5 Zhang Mo 张默
Zhang Mo (张默, 1982) was a famous actor in Chinese TV dramas and films who is especially well-known for his leading role in Let the Bullets Fly. He is also the son of famous actor and producer Zhang Guoli (张国立).
In July of 2014, the actor was arrested in Beijing for illegal drug use. He was sentenced to six months in prison and was fined 5,000 yuan ($800) for drug use and providing others with a venue for drug use. The scandal went viral on Chinese social media, with many feeling sorry for father Zhang Guoli having to deal with such a troubled son.
It was not the first time for the actor to be caught up in controversy, and he became known as a rebel. He was involved in another drug-related incident in 2012. Years before, his ex-girlfriend Tong Yao accused Zhang Mo of assaulting her.
Where is he now?
Since his past controversies, Zhang Mo has moved on to work behind the screens. Zhang was photographed on a set together with his father Zhang Guoli in March of 2021.
It is reported that besides working behind the scenes (he allegedly is a senior executive), Zhang Mo is also a major shareholder of at least two film and television companies.
#6 Kai Ko / Ke Zhendong 柯震东
Although the actor and singer Ko Chentung (柯震东 Ke Zhendong, 1991) – also known as 'Kai Ko' – is from Taiwan, he was also very popular in mainland China, which is also where his career-changing scandal took place.
The actor and singer was arrested for possession of drugs in Beijing on August 14 of 2014 together with Jaycee Chan, who is also on this list. Shortly after his arrest, Kai Ko's manager confirmed the actor would be released on August 28th after a detainment of 14 days. He also stated that Kai Ko felt "very ashamed" of himself.
Although the actor was denounced on social media, there were also many fans who showed their support and even some who vowed to use drugs in support of Ko if he would disappear from the entertainment industry.
The arrest of Ko Chentung over drugs abuse was especially controversial because Ko previously appeared in an anti-drug advertisement in 2012, in which he clearly stated: "I don't do drugs!"
Where is he now?
After his detainment, Ko delivered a tearful apology on state broadcaster CCTV before returning to Taiwan. The actor was cut from two movies and brand partnerships and upcoming show engagements were all canceled.
Although Ko has barely done any large projects as an actor or singer over the past eight years, he returned to the big screen in 2021 in the film Moneyboys.
#7 Fang Zuming (Jaycee Chan) 房祖名
Actor and singer Jaycee Chan (房祖名, 1982), the son of the super famous Jackie Chan, was among several people who were arrested during an August 2014 drug bust at his apartment in Beijing.
Investigators found 100 grams of marijuana in his home, and the actor also tested positive for marijuana use. He was sentenced to six months in prison for the possession and distribution of marijuana, and for accommodating drug users at his home.
Before his arrest, Jaycee worked on the film Monk Comes Down the Mountain (道士下山), but his role was not credited due to the drugs scandal. He was also dropped by the brand he previously worked with, including Adidas, Nivea, KFC, and Chevrolet.
Jaycee's drug use and prison sentence were already bad enough, but what made matters worse is that his father Jackie was previously appointed as goodwill Ambassador for the China National Anti-Drug Committee.
Where is he now?
Although Jaycee hinted at a comeback to China's entertainment industry in a public speech he gave after his release from prison, he has never been able to get back the success he had before his arrest. He is now mostly working behind the scenes, and has also become a producer.
With a dad like Jackie Chan, Jaycee hardly has to worry about his financial situation though. Earlier this year, the fallen celebrity was spotted smoking cigars and driving a Mercedes Benz car.
Although he has a Weibo account with 7,4 million followers, Jaycee's account page is empty.
#8 Yin Xiangjie 尹相杰
Yin Xiangjie (尹相杰, 1969) is a Chinese singer, host, and actor, who rose to fame after his performance at the Beijing TV Lantern Festival in 1994. He became very popular afterward and was a regular guest at the Spring Festival Gala.
In December of 2015, the singer was arrested at his home for possessing and consuming illegal drugs. Authorities found over 10 grams of drugs at his residence, including crystal methamphetamine. Yin Xiangjie was sentenced to seven months in prison.
With China having a zero-tolerance attitude to drugs, any drug-related scandal would already be a major blow to the reputation of Chinese celebrities. In the case of Yin, the scandal had an ever deeper effect because the singer was previously appointed as an ambassador in an anti-drug campaign of 2007.
Where is he now?
Yin's first arrest, unfortunately, was not his last. The singer was arrested again in November of 2015, also in relation to drugs, just shortly after he was released from prison.
According to the latest reports, Yun still appears in some obscure advertisements in order to generate an income. But Yin's once so successful career in China's entertainment industry seems to be definitely over.
#9 Le Jia (Tim Le) 乐嘉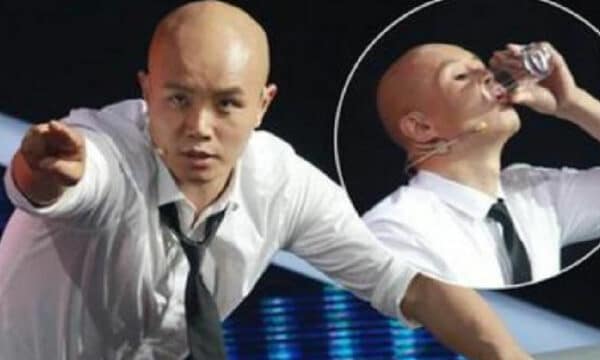 Le Jia (乐嘉, 1975) is a Chinese psychology expert and a published author, who became a famous TV host and entertainer in mainland China, especially after he started participating in the popular TV dating show If You Are The One (非诚勿扰) in 2010.
Le Jia is the founder of the Four-colors Personality Analysis (FPA) and the China Personality Colors Research Center, labeling himself as the first person in China to use colors to identify personality types – a topic about which he published multiple best-selling books.
Le's 2015 participation in the TV show Super Speaker (超级演说家) caused controversy when Le drank baijiu (liquor) during the recording on stage and then got wildly drunk, causing him to act improperly and scold the other hosts on the show (videos of the show are still lingering online). Guests of the show left the stage, and the recording was halted.
The incident was a major blow to Le Jia's reputation and his TV career came to an abrupt stop.
Where is he now?
Because Le Jia career did not fully revolve around China's entertainment business, the controversy did not necessarily end his professional career; it was just the end of a period in which he became a very popular TV host.
As a psychology expert, Le is still selling books and giving trainings. The 46-year-old is also still involved in the Personality Colors Research Center.
Le Jia is also active on Weibo, where he has a following of 43 million (!) fans (@乐嘉).
#10 Fu Yiwei 傅艺伟
Fu Yiwei (傅艺伟, 1964) is an award-winning Chinese actress known for, among others, her role as Su Daiji in the TV series The Investiture of the Gods (封神榜). She was married (and divorced) two times, and has a son.
Fu made headlines in February of 2016 when Beijing police reported the actress was arrested for using drugs and allowing two others to use drugs in her apartment in Liangmahe, Beijing.
It was previously already rumored the actress was using drugs due to her behavior and facial expression when she appeared in talk shows years before.
The actress was sentenced to prison was released in April of 2016, after which she issued a public apology on Weibo.
Where is she now?
Fu has not gone back to the entertainment industry as a major actress after her drugs scandal. According to 2021 reports, Fu Yiwei lives in a luxurious house located in the center of Beijing.
She is still active on Weibo (@演员傅艺伟), where she occasionally posts an update.
#11 Ma Rong 马蓉
The marriage crisis between Chinese film star Wang Baoqiang (王宝强) and Chinese actress Ma Rong (马蓉) became the number one trending topic on Weibo on August 14 in 2016 when Wang published a message on his official Weibo account that he was divorcing his wife Ma Rong and firing his agent Song Zhe (宋喆), accusing the two of having secret affair.
Wang Baoqiang vs Ma Rong became the divorce of the decade, mainly because the story unfolded itself on Weibo. Online debates were fuelled by the public posts and comments published online by both Wang Baoqiang and Ma Rong.
Ma Rong became the main target of online vitriol, as the majority of Weibo's netizens sided with the popular actor Wang Baoqiang, saying that Ma Rong was a cheater who only married Wang for his money.
In December of 2018, Ma Rong accused her ex-husband of attacking her, and dramatic photos of a seemingly injured Ma Rong soon spread on social media. Ma Rong spoke to reporters while lying in her (hospital) bed, tearfully speaking about Wang abusing her. Later on, however, security footage from surveillance cameras at Wang's house leaked online and showed how it was Ma who came to Wang's house, carrying scissors with her to intimidate Wang's family. The actress was then accused of staging the entire incident.
In the midst of all controversy, Ma Rong became one of China's "most-hated" celebrities.
Where is she now?
Ma Rong is still often being scolded on Chinese social media, and her name will probably be tarnished for a long time. Nevertheless, the actress is occasionally still posting on her Weibo account and Xiaohongshu, and whenever she is spotted out in public, she looks well-dressed and always wears expensive clothing and jewelry.
#12 Li Xiaolu 李小璐
Li Xiaolu (李小璐, 1982), also known as Jacqueline Li, is a Chinese actress and singer who was once the youngest actress to win the Golden Horse Award for Best Leading Actress in Xiu Xiu: The Sent Down Girl (天浴). In 2012, Li married the famous Chinese actor Jia Nailiang (贾乃亮), with whom she had a baby shortly after.
In late 2017, Li got into a huge scandal when she was photographed spending the night at the home of The Rap of China rapper PG One. Since Li was still married at the time, social media blew up over this 'cheating gate' (出轨门), especially because Jia Nailiang was asked on live-stream where his wife was and he allegedly replied: "Getting her hair done!"
In October of 2019, older videos leaked online that showed Li and PG One kissing and behaving like a couple. A month later, Jia and Li announced they were getting divorced.
The extramarital affair meant a major blow to Li's reputation as she was now being 'canceled' by the public and labeled as a "bad record performer" (劣迹艺人).
Where is she now?
Li Xiaolu still has her Weibo account with over 44 million followers. She often posts content related to her 8-year-old daughter, and she also does sponsored content and livestreams.
Although Li still has her fans and is probably doing well with selling products online, her name still often comes up in a negative way, and controversy seems to follow her to this day – many netizens think the actress is unethical for her past affair and for the way she dresses and raises her daughter.
#13 Chen Yufan 陈羽凡
Chen Yufan (陈羽凡, 1975) is a Chinese actor and singer-songwriter and half of the popular pop duo Yu Quan (羽泉). In 2018, Chen became a 'tainted celebrity' when Beijing authorities announced on Weibo that the artist had been arrested for drug possession after they had received tips from the public.
As reported by SupChina at the time, the singer at home joined by another person when the police caught him with 7.96 grams of crystal meth and 2.14 grams of marijuana. Both Chen and the 25-year-old female he was with tested positive for illegal drugs.
Chen was detained, labeled a "drug addict," and was ordered to pay regular visits to a local rehab center for three years.
Later, Chen's musical partner and friend of twenty years, Hu Haiquan (胡海泉) posted on Weibo that he was hurt by Chen's actions, which also affected their fans. Their upcoming concert was canceled and the duo band, which was established in 1998, was dissolved.
Where is he now?
Although Chen still has his Weibo account, he barely uses it. The singer has withdrawn from the public eye.
Chen divorced his ex-wife Bai Baihe (白百何) in 2015, but the two are still spotted together since they have a child together. Chen now has a new girlfriend, the much younger He Shizhen (何时珍). Prior to his drugs scandal, Chen's love life was also a trending topic on Chinese social media, as Chen and Bai only disclosed their divorce in 2017 after rumors of cheating surfaced online.
Whenever Chen is seen in public somewhere, netizens comment on his appearance; Chen seems to have gained weight and often looks a bit sloppy.
Chen is a shareholder in various companies and is now working behind the scenes in the music industry. According to the latest articles, Chen has also opened his own recording studio.
#14 Fan Bingbing 范冰冰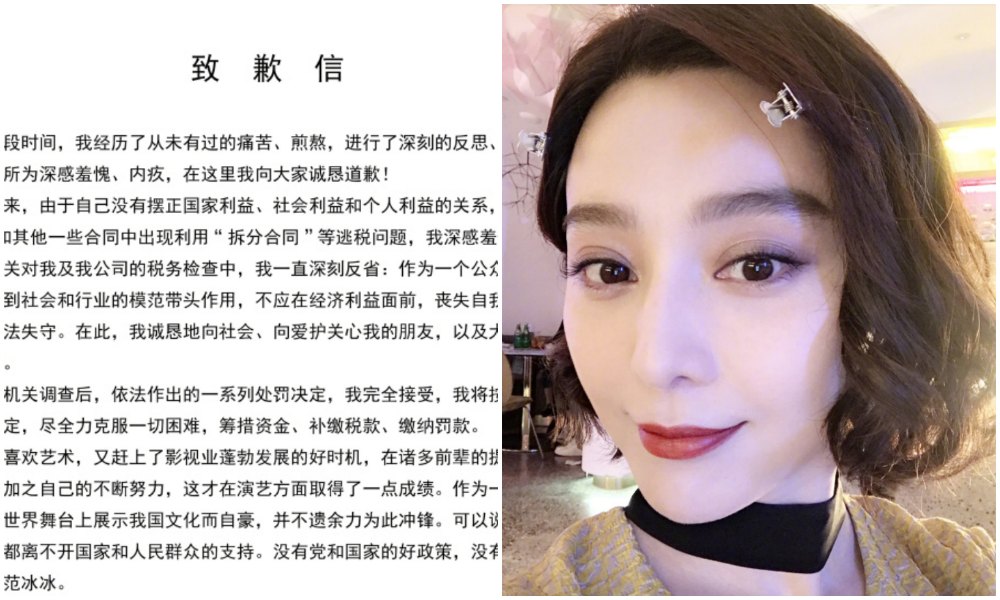 Fan Bingbing, one of the most renowned and highest-paid actresses in China, found herself at the center of a social media storm in late May of 2018.
The actress allegedly received a total payment of 60 million yuan ($9.3 million) for just four days of work on the film Cell Phone 2, of which she supposedly only declared 10 million ($1.56 million) to authorities.
The tax scandal first came to light when Chinese TV host Cui Yongyuan (崔永元) leaked two different contracts on social media; the one that allegedly showed that the actress was paid a total of 10 million RMB for her work, with another showing payment of 50 million RMB for the exact same work. These types of contracts are called yin-yang contracts (阴阳合同), an illegal practice to avoid paying taxes.
What followed after the scandal was months of silence and rumors. The actress was last seen in public on July 1st, and social media rumors alleged the actress might have left the country and that she was banned from acting for three years. At one point it was even rumored that the actress had been arrested.
Where is she now?
In October of 2018, Chinese state media reported that Fan Bingbing had been ordered to pay taxes and fines worth hundreds of millions of yuan over tax evasion and that the actress would not be held criminally liable if she would pay the penalty in time.
That same day, Fan came out with a public apology. Her Weibo account stayed up.
The actress launched her own beauty brand, Fan Beauty Secret (Weibo), in 2019. She has not completely won back the favor of Chinese netizens, who recently slammed her for posting "staged" photos of herself 'working' on her beauty product formulas in a lab.
Despite all controversy, Fan has done remarkably well in staying in the spotlight, unlike most others in this list. She still has over 64 million fans on her Weibo account and she is active as a brand ambassador for various companies, including the Be Strong formula (花冠贝智康) and the Swedish Daniel Wellington.
#15 Wu Xiubo 吴秀波
Beijing-born actor and musician Wu Xiubo (吴秀波, 1968) is famous for his role in many TV dramas and movies, including the television series Before the Dawn and the hit film Finding Mr. Right (北京遇上西雅图). His reputation suffered a serious blow when the actor, who has been married since 2002 and is the father of two children, was rumored to have been involved in various extra-marital affairs.
The scandal started in September 2018, when Chinese actress Chen Yulin (陈昱霖), also known as Ruby Chen, posted the history of her alleged seven-year relationship with the married actor on social media. She described the relationship as being one where Wu was very controlling of her. She also alleged that she received messages from other women, in 2013 and in 2017, who were also sexually involved with Wu.
In January of 2019, Chen's parents published a statement on social media in which they claimed their daughter was asked to deny the allegations she had made against Wu in return for money. After Wu's legal team and Chen had made an arrangement, Chen returned to mainland China to settle the matter. The moment she landed at Beijing airport in November of 2018, she was arrested by local Beijing police for blackmailing Wu.
Chen, who was detained since November of 2018, was eventually sentenced to three years in prison and she was released in 2021.
Although Chen was found guilty, Wu Xiubo's reputation was ruined. Many people felt that how he dealt with Chen was wrong and that he was evil for having extramarital affairs in the first place.
Following the controversies, Wu Xiubo was blocked by major Chinese television stations and some of the programs he appeared in were no longer aired. Wu would originally host the 2019 Spring Gala, but his role was canceled. The romantic drama film Someone Like It Hot 2., that was scheduled to release in 2019, was also canceled and many variety shows that featured Wu were taken down or reshot.
Where is he now?
Since the scandal made headlines, Wu rarely makes public appearances. In late 2019, Wu did post a video message to support arts students preparing for the national college entrance exam. According to Global Times, many did not appreciate his temporary 'comeback,' with some bloggers calling him 'pathetic.'
He is still on Weibo (@吴秀波), where he has 8,5 million followers, but he barely posts updates. On a 'super topic' fan page that is dedicated to the actor, fans still post photos of him every day.
There are ongoing rumors about the financial difficulties the actor is facing. In 2020, he sold his mansion in San Marino, California, at a loss. The actor is a shareholder in multiple companies and he is still married to his wife. A comeback to China's entertainment industry seems unlikely for now.
#16 Zhai Tianlin 翟天临
Zhai Tianlin (翟天临, 1987)- also known as Ronald Zhai – is a well-known actor in China for his work in various films and TV dramas. He starred in, among others, the acclaimed series White Deer Plain (白鹿原).
In 2019, the actor got caught up in controversy over alleged academic misconduct. The actor had been admitted to the Beijing Film Academy in 2014 as a doctoral candidate in Film Science and received his PhD in June 2018. In 2019, the actor shared his joy over being accepted into Peking University for postdoctoral research.
Zhai's new journey, however, led to online investigations into his previous academic works. As reported by BBC at the time, the South China Morning Post spotted discrepancies in Zhai's submissions and widespread doubts over Zhai's academic achievements began to circulate online.
One of Zhai's essays did not contain any citations, and another showed many similarities with an article previously published in 2006. Some netizens started comparing the essays and found that 40% of Zhai's essay was copied.
Doubts about Zhai's academic performance were already raised when, during a live video session, Zhai showed ignorance of the CNKI (China National Knowledge Infrastructure), a digital library that most scholars are usually using, or at least are aware of.
In light of the online controversy, Beijing Film Academy set up an investigation process, which eventually led to Zhai's PhD being revoked in February of 2019 due to plagiarism. The incident meant the end of Zhai's academic career and tarnished his reputation.
Where is he now?
Zhai has not made headlines since his academic plagiarism controversy, which also ended his flourishing career in the entertainment industry. He still has over 10 million followers on his Weibo account (@翟天临), but hasn't participated in any major works since the incident.
According to some reports from 2021, Zhai has started his own acting training classes, suggesting his future career will mainly take place behind the scenes.
#17 Zhao Lixin 赵立新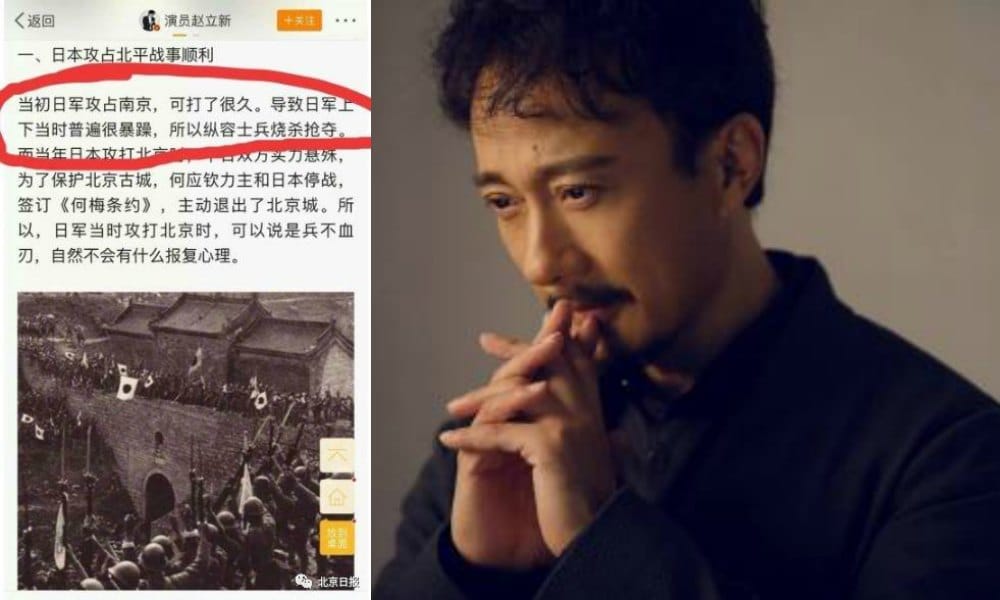 The 2019 case of Zhao Lixin (赵立新, 1968) is arguably the most similar in context to that of Zhang Zhehan, who got caught up in controversy in August of 2021 and is also on this list.
The Weibo account of Zhao Lixin was closed after the Chinese-Swedish actor made controversial comments on the Second Sino-Japanese War. Zhao Lixin was mainly known for his roles in TV dramas such as The Legend of Mi Yue, Memoirs In China, and In the Silence.
On April 2nd of 2019, the actor, who had more than 7 million followers, posted a message on his social media account that questioned why the Japanese military did not pillage and destroy the Beijing Palace Museum during the Second Sino-Japanese War:
"The Japanese occupied Beijing for eight years. Why didn't they steal relics from the Palace Museum and burn it down [during that time]? Is this in line with the nature of an invader?"
The actor also commented on the Nanjing Massacre of 1937, suggesting that it was a consequence of Chinese resistance to the Japanese invasion.
His comments caused a social media storm with people accusing the actor of defending the Japanese. A lengthy apology by Zhao did not help. Besides being blocked from Weibo, he was also criticized and boycotted by state media and his most recent TV production was canceled.
Where is he now?
It has been over two years since Zhao was basically banned and lost the opportunity to do movies and TV dramas. Although it was initially rumored that the actor had been deported (he has Swedish nationality), he actually kept a low profile and made new plans.
The actor actually performs at a 'live theater bar' in Beijing, where people can have drinks and food while enjoying drama performances by professional actors. According to the latest reviews, the bar is always fully booked and there are raving reviews.
Other sources claim the artist also gives theater workshops for aspiring actors. The workshops, that are not cheap, are apparently a success.
Although Zhao has not returned to Weibo, there is a 'super topic' fan club dedicated to him on the platform.
#18 Tong Zhuo 仝卓
Tong Zhuo (仝卓, 1994) is a Chinese singer, actor, and TV host from Shanxi who became a trending topic in June of 2020 when it was discovered he had committed fraud during the gaokao, the national college entrance exam.
The scandal first broke when Tong was chatting with fans during a live stream. While giggling, he admitted that he had forged his identity for the gaokao: "We used a lot of so-called guanxi (connections) and then I became a fresh high school graduate," said Tong, 26, laughing with one hand over his mouth.
Tong Zhuo said he had initially failed his college entrance exam in 2012. In order to be able to get into a top art school that only accepts recent high school graduates, he changed his personal information when he participated in the gaokao the next year in 2013 and faked being a fresh graduate.
Tong's own confession led to an investigation by the Shanxi provincial education department. Another investigation also looked into the role of his stepfather Tong Tianfeng, a deputy secretary-general in Linfen city.
Tong Zhuo was eventually stripped of his graduation certificate by the Central Academy of Drama. His stepfather Tong Tianfeng was removed from office, and three education officials were put under police custody for allegedly forging documents.
Where is he now?
Tong Zhuo is still very active on his social media, posting selfies and vlogs. He also still performs, although he has not participated in any big media performances since the scandal.
#19 Zheng Shuang 郑爽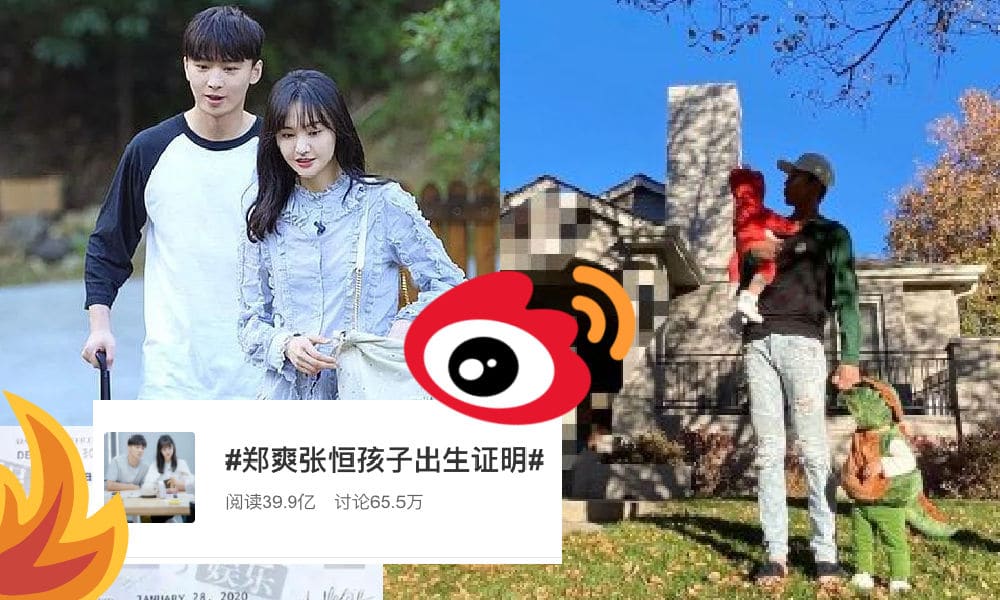 Zheng Shuang (郑爽, 1991) became one of the biggest trending topics of 2021 when the Chinese actress got caught up in a surrogacy scandal. Zheng rose to fame when she starred in a popular TV series in 2009 (Meteor Shower 一起来看流星雨). She became an award-winning actress and was chosen as one of the most bankable young actresses of the post-90s generation. On her Weibo account, she had over 12.4 million followers.
The scandal came to light when it appeared that Zheng's had separated from her partner Zhang Heng (张恒). The former couple had two children in the US through a surrogacy arrangement, but Zheng Shuang allegedly refused to have them because she and Zhang had broken up – even though her name was on their birth certificate.
The situation, which was soon dubbed 'Surrogacy Gate' ('代孕门'), left Zhang Heng stranded in the United States with the two babies. He claimed he was unable to bring them back to China with him since Zheng did not cooperate with the necessary legal procedures.
In light of the controversy, Italian fashion brand PRADA fired Zheng as their brand ambassador, and other companies, including Lola Rose and Chioture, also ended their partnership contracts with the actress.
Zheng's professional career suffered a major blow when Huading Awards announced it would revoke Zheng's honorary titles, including former awards for best actress and favorite TV star. The celebrity was also boycotted by China's State Administration of Radio, Film, and Television.
Where is she now?
Zheng Shuang is still very much caught up in this scandal, and she might not leave it behind her any time soon.
In late July of 2021, her ex-partner posted a lengthy and angry blog on his Weibo where he aired the dirty laundry regarding their legal struggles and personal conflicts. This post came after Zheng herself broke her six-month social media silence to apologize for her surrogacy scandal.
Another apology followed in August of 2021, on the same day when it became known the actress had to pay a $46 million fine for tax fraud. This all happened during the "August 26/27 Chinese celebrity earthquake." Zheng Shuang also saw her online fan circles removed, and several TV dramas Zheng acted in were removed from major video platforms.
Zheng currently has court-ordered visits with her children in the US (her ex-partner has custody). According to Today Online, Zheng has officially moved to America and is not doing well financially.
In social media posts that seem to have been removed later on, Zheng claims that her family's bank accounts have been blocked and that she has no income since she is not allowed to work in the US. She wrote:
"If it makes you feel any better, I can tell you that I drink tap water every day to survive, I own a total of five T-shirts and two pairs of jeans, and I have never ordered delivery," she wrote. "I even need to be frugal when buying sanitary napkins, and toilet paper has to be used sparingly."
What sets Zheng Shuang apart from some of the other 'canceled' celebrities in this list, is that she still has her social media accounts and a loyal fan following. She might lack toilet paper, but she still has 12,3 million followers on her Weibo account.
#20 Zhang Zhehan 张哲瀚
Chinese actor Zhang Zhehan (张哲瀚, 1991) got caught up in controversy in August 2021 when photos of him visiting Japan's Yasukuni Shrine and attending a wedding at Nogi Shrine went viral on social media. The fact that some of these photos were three years old did not seem to matter: Zhang received serious backlash for being 'unpatriotic' and was even accused of being a traitor to his country.
While Nogi Shrine was established to honor General Nogi Maresuke, who led Japan's military during the First Sino-Japanese War (1894-1895), Yasukuni Shrine is dedicated to the Japanese soldiers who sacrificed their lives for the emperor, including those who committed war crimes in China. It is generally seen as a symbol of Japanese military aggression and as a painful reminder of the numerous atrocities committed by Japanese soldiers in China and other Asian countries.
Although Zhang Zhehan rushed to apologize for his "ignorance" regarding these historically sensitive places and expressed his love for China, it did not settle the social media storm. All the companies that previously worked with the Chinese celebrity, including Coca-Cola, Taobao, and Clinique, soon announced the termination of their partnership.

Zhang was also a brand ambassador for Yanjing's Xuelu beer. Thousands of beer cans with his face became virtually useless after the controversy. Photos showing the abandoned beer cans were shared online by people at the warehouse, who claimed the beer would be destroyed since companies allegedly had even refused to get them for free.
On August 15, within 48 hours after the controversy erupted, Sina Weibo announced that it would shut down Zhang Zhehan's personal account, his studio account, and the 'super topic' fan page dedicated to him. The Weibo Administration (@微博管理员) wrote: "As a public figure with a large following and many fans, establishing correct historical views and values is the most basic level of professional ethic and the bottom line that must be adhered to – ignorance can never be an excuse."
That same day, the China Association of Performing Arts also released a notice in which they called on members to boycott the actor for "negatively influencing the mass audience of youths." The actor was also criticized by the official media.
Where is he now?
As the dust has not settled yet, it is still too early to draw any conclusions on how this controversy has affected Zhang, but it is safe to say that Zhang's life radically changed within a matter of just a few days. The photos he took at two historically sensitive Japanese shrines meant a potential end to his career – no social media, no brand partnerships, and an industry boycott. Just a year prior, the actor had been given an award for Rising Artist of the Year.
Despite all controversy, Zhang still has a loyal fanbase. Although Zhang no longer has his own social media accounts, some of his fans on Weibo are posting messages wishing him well. Update: also read this Op-Ed on Zhang Zhehan here: Cyber Bullying and Fake News – What You Should Know About the Zhang Zhehan Story.
#21 Kris Wu 吴亦凡
The Chinese-Canadian superstar Kris Wu, better known as Wu Yifan (吴亦凡) in China, became a trending topic on Chinese social media in the summer of 2021 after he was accused of grooming underage girls and pressuring women into sex.
The 19-year-old student Meizhu Du (都美竹) was the first to accuse Wu of predatory behavior, with at least 24 more women coming forward claiming the celebrity showed inappropriate behavior and luring young women into sexual relationships.
Although Wu denied all allegations, the superstar was detained on suspicions of rape on July 31st. Weibo's servers barely seemed to be able to handle the spike in traffic after the news came out, and comments came pouring in.
Shortly after Wu's detainment, his Weibo account got shut down and more than a dozen firms either cut ties or terminated contracts with him. As the scandal unfolded, various hashtags related to the story received billions of views on Weibo.
Wu was later further erased from Chinese social media; various accounts showing support to the singer were taken offline, and his music was removed from the major Chinese music streaming platforms.
On August 16, Kris Wu was officially arrested.
Where is he now?
At this point, it is still unknown what sentence Kris Wu will face, and whether or not the singer will enter a guilty plea which might speed up the legal procedures.
If the Chinese-Canadian celebrity is convicted, it is probable that he will serve his sentence in China and then be deported to Canada (he holds a Canadian passport). Chinese state media reported that Wu may be sentenced to 10 years to life if all allegations turn out to be true.
Although Kris Wu might face a grim future, it is noteworthy that the star, despite being virtually wiped from social media, still has many loyal fans who would gladly welcome him back.
#22 Zhao Wei 赵薇
On August 26 of 2021, the name and works of one of the country's most notable actresses, Zhao Wei (赵薇 aka Vicky Zhao, 1976) were removed from Chinese online channels. Searching for Zhao Wei's name on Chinese video platforms Tencent Video, iQiyi, and Youku suddenly came up with zero results, and her name had vanished from the cast lists of the many films and dramas she featured in.
Zhao Wei's sudden disappearance from the top entertainment websites sent shockwaves over social media. Zhao Wei was clearly 'canceled' by higher authorities, but the exact reason why was still unknown by September 2021 – although there was much speculation on what the reason could be.
By early September, celebrity friends of Zhao had removed photos taken together with the actress, and Baidu Baike, also known as the Chinese Wikipedia, had even erased the name of the actress from the pages of the TV dramas and films she featured in (although she still had her own wiki page at this time).
This was not the first time that Zhao got caught up in controversy, although it was never this bad before. In 2001, the actress wore a mini-dress printed with the old Japanese naval flag during a fashion shoot, triggering major backlash over her perceived lack of sensitivity to historical matters.
Where is she now?
At the time of writing, Chinese netizens are still waiting for answers on what has caused Zhao Wei being erased on Chinese online channels. Some rumors say the actress has fled to France, where she has property, but nothing is confirmed at this time.
Zhao Wei does still have her Weibo account, where she has over 85.6 million followers.
#23 Qian Feng 钱枫
Just a week after Kris Wu was arrested, the popular Chinese television host Qian Feng was accused of rape in August of 2021. Qian is primarily known as the host of "Day Day Up" (天天问上), a popular Chinese talk show broadcast on Hunan Television.
As reported by Sixth Tone, a woman by the name of Xiao wrote on Weibo that the 37-year-old TV host raped her while she was drunk and unconscious. The incident allegedly happened in 2019.
Although Xiao had reported the incident to the police, it did not lead to an arrest due to a lack of evidence. After Xiao's post went viral, Shanghai authorities issued a statement to explain why the investigations came to an end and that they welcome Xiao to provide new evidence.
Pending investigations, Hunan TV suspended Qian Feng. One Weibo hashtag related to the accusations against Qian received over two billion views (#钱枫被曝性侵#).
Where is he now?
On August 27 of 2021, Qian Feng came out with a statement on his Weibo account (@钱枫oscarqian) in which he indicated that the investigations into the case were already rightfully concluded in 2019 and that he placed his trust in the Chinese legal system.
At the same time, he shared that he had terminated his contract with Hunan TV.
#24 Henry Huo 霍尊 (Huo Zun)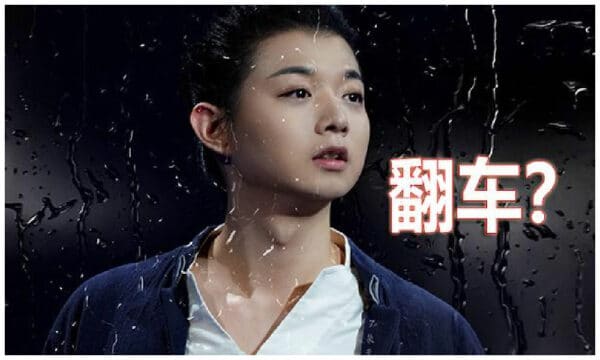 Henry Huo (霍尊, 1990) is a Chinese singer-songwriter and actor who gained nationwide fame after winning the first season of Sing My Song (中国好歌曲). Henry was asked to perform in the CCTV Chinese New Year Eve Gala and was awarded the title '2014 Drama King.'
In the summer of 2021, Huo announced his withdrawal from the popular TV show Call Me By Fire after his ex-girlfriend Chen Lu (陈露) publicly accused him of being a serial cheater and leaking WeChat conversation screenshots to prove that he actually disliked the show.
On August 14, Huo issued an online apology for the recent controversy, saying sorry for his misbehavior and the "bad social influence" he had caused.
Besides Huo's exit from Call Me By Fire, the controversy also led to Huo's first performance on the show being removed.
During China's "entertainment circles earthquake" of August 26 and 27 (more here) online fan groups to Huo were shut down, and his Weibo account was temporarily disabled.
Where is he now?
Henry Huo is still on Weibo (@霍尊), where he has over 8.7 million fans, but his account is still disabled.
Huo's entry in the mainstream online encyclopedia Baike has been altered and now includes the recent controversy. It is not clear at this point if Huo's withdrawal from China's entertainment industry is a temporary or a permanent one.
#25 Gao Xiaosong 高晓松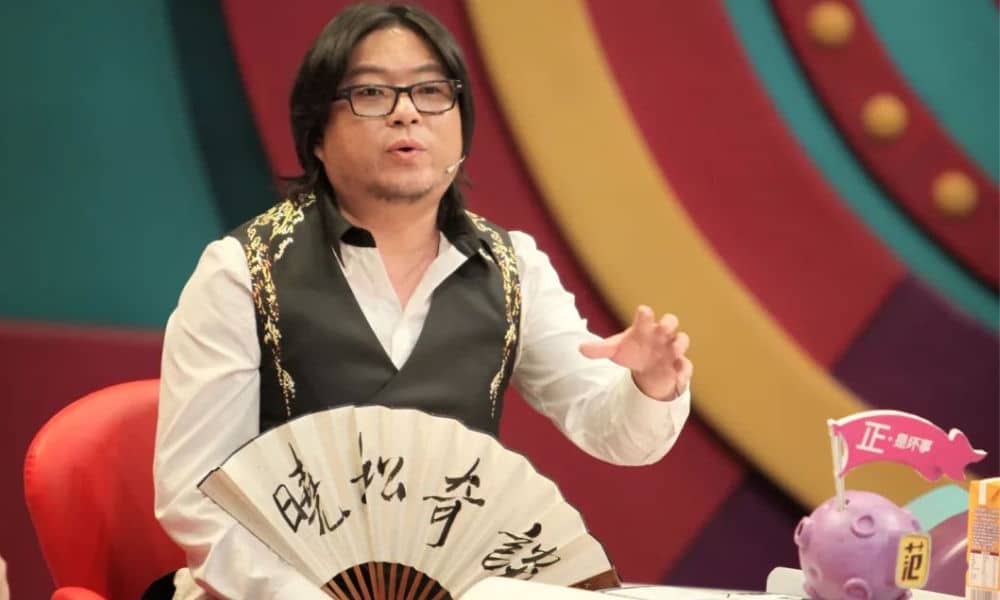 In late August of 2021, the work of the famous musician, TV host and co-founder of Alibaba Music Group Gao Xiaosong (高晓松) was taken offline. Among the erased works are his TV show (Xiaosong Pedia 晓松奇谈, removed from video platforms such as iQiyi) and the books he wrote (no longer available on various e-commerce platforms). There was no official reason given for Gao being canceled like this.
However, the Chinese Historial Research Institute (中国历史研究) published a post on Weibo about Gao, criticizing him for historical nihilism and for "openly attacking and slandering our people's army" during his talks on his TV show.
Throughout his shows, Gao made various remarks about the Sino-Japanese War, sometimes mentioning views or perspectives that go against the official Chinese narrative. Gao also visited the controversial Yasukuni Shrine and allegedly expressed his sympthathy with those Japanese people visiting the shrine to commemorate their loved ones who died in the war.
Yasukuni shrine is dedicated to the Japanese soldiers who sacrificed their lives for the emperor, including those who committed war crimes in China. It is generally seen as a symbol of Japanese military aggression and as a painful reminder of the numerous atrocities committed by Japanese soldiers in China and other Asian countries. In the article by the Chinese Historical Research Insititute, Gao is accused of "defending Japanese militarism."
Where is he now?
Just like other celebrities caught up in the recent 'entertainment circles cleanup', much is still unclear about why Gao was canceled and what his future will look like. Some rumor that the online erasure of both Gao and Zhao Wei might be connected to their links to the Alibaba Group.
At the time of writing, no official statement was given yet by authorities nor by Gao himself.
By Manya Koetse (@manyapan)
Spotted a mistake or want to add something? Please let us know in comments below or email us. First-time commenters, please be patient – we will have to manually approve your comment before it appears.
©2021 Whatsonweibo. All rights reserved. Do not reproduce our content without permission – you can contact us at info@whatsonweibo.com.
Hong Kong Police Find Head of Murdered Model Abby Choi in Soup Pot
"Reality is more gruesome than fiction," some commenters wrote on Weibo, where the Abby Choi murder case has drawn wide attention.
The gruesome murder of the 28-year-old Hong Kong socialite and model Cai Tianfeng (蔡天鳳), better known as Abby Choi, has been all the talk on Chinese social media this week.
The Hong Kong influencer went missing on Tuesday. Just a week ago, Choi was featured on the cover of the magazine L'Officiel Monaco.
On Saturday, South China Morning Post and Hong Kong Free Press reported that Choi's partial remains, including her dismembered legs, were found cooked and stored inside the freezer at a village house and that four people had been arrested for murder.
The village house at Lung Mei Tsuen in Tai Po was allegedly set up as a "butchery site" equipped with a choppers, hammer, an electric saw and a meat grinder that had been used to mince human flesh.
Choi was entangled in a financial dispute with her ex-husband's family over luxury property in Hong Kong's Kadoori Hill. The persons arrested in relation to her murder are her ex-husband named Alex Kwong, his elder brother, his mother and his father, who reportedly is a retired police officer.
Abby Choi and Alex Kwong had two children together, a daughter and a son.
Cho was last seen in Fo Chun Road in Tai Po on Tuesday afternoon. CCTV footage captured her before she went missing. Choi was supposed to pick her daughter up on Tuesday together with Kwong's elder brother, who drove her. She was reported missing after she did not show up to collect her daughter.
While earlier media articles reported that some of Choi's remains had still not been found, news came out on Sunday that the decapitated head had been found in a soup pot. Seeing over 300 million views, the topic went trending on Weibo (#蔡天凤头颅在一大汤煲中找到#), where many people have closely been following the latest developments in the case. Later on Sunday night, the topic hashtag was taken offline.
Local police disclosed that the head remained "intact" although it is believed that someone tried to "smash" it. Some of Choi's ribs were also found.
"Reality is more gruelsome than fiction," some top comments said. "What a terrifying family," others wrote, calling them "inhuman" and "devilish."
Another topic related to the case also went trending on Sunday, namely that Choi's ex-husband and his family allegedly had been planning the murder for a month (#蔡天凤前夫家1个月前开始布局#, 180 million views).
Some Weibo bloggers said the case reminded them of another well-known and gruesome Hong Kong murder case, namely the 2013 murder of Glory Chau and Moon Siu. At age 63, the couple was murdered by their own 28-year-old son Henry Chau Hoi-leung and his friend. After killing them, the two chopped up Chau's and Siu's bodies and cooked their remains and stored them inside the refrigerator. The 2022 crime film The Sparring Partner (正義迴廊) was based on this story.
About the Kwong family, some Weibo users write: "Too bad that Hong Kong law does not have the death penalty." Capital punishment in Hong Kong was formally abolished in 1993.
By Manya Koetse 
Get the story behind the hashtag. Subscribe to What's on Weibo here to receive our newsletter and get access to our latest articles:
Spotted a mistake or want to add something? Please let us know in comments below or email us. First-time commenters, please be patient – we will have to manually approve your comment before it appears.
©2023 Whatsonweibo. All rights reserved. Do not reproduce our content without permission – you can contact us at info@whatsonweibo.com.
South Korean Actor Yoo Ah-in Dropped as Brand Ambassador in China after Propofol Scandal
The current drug scandal involving Yoo Ah-in also has consequences for the South Korean actor's activities in China.
The South Korean actor Yoo Ah-in (刘亚仁) has become a trending topic on Chinese social media for getting caught up in a drugs scandal in his home country.
Yoo Ah-in (1986) is an award-winning actor who is known for starring in various well-known dramas and renowned movies, such as Voice of Silence, Burning, and Hellbound.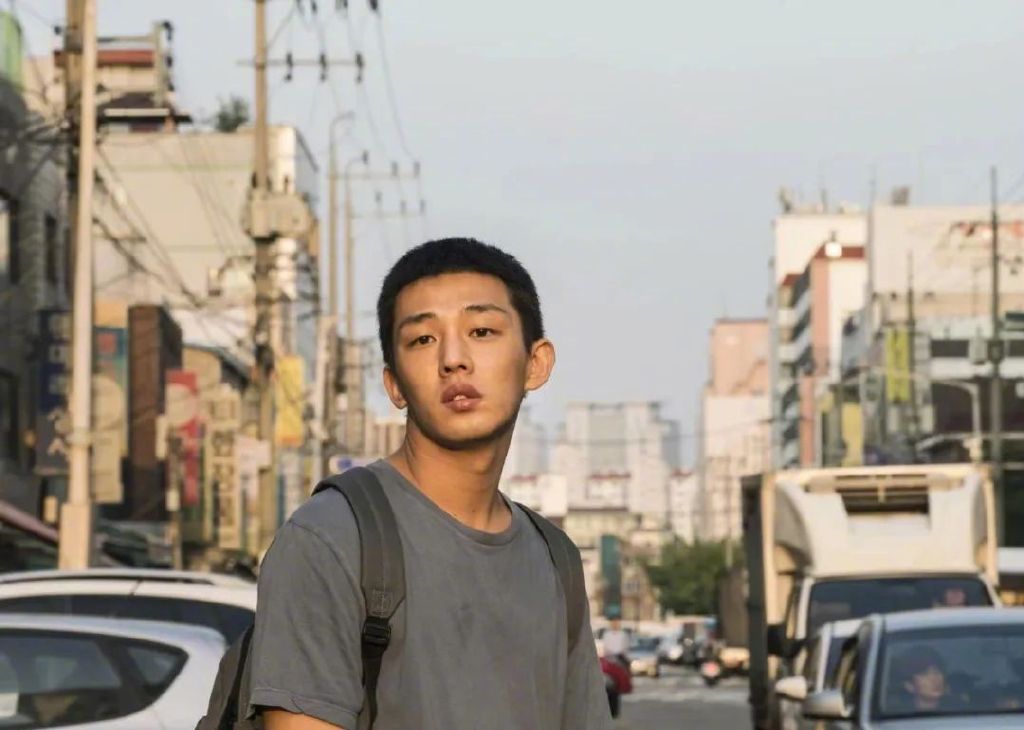 Yoo is currently being investigated for alleged illegal, habitual use of the anesthetic drug propofol and has been banned from overseas travel.
On Thursday, the hashtag "Yoo Ah-in Admits to Using Drugs" (#刘亚仁确认吸毒#) received over 310 million views on Weibo, where several accounts reported that Yoo allegedly started using propofol in 2021.
Yoo issued a statement via his management, saying he is cooperating with the police in the investigation. He also apologized for causing concern among his fans and followers.
The drug scandal also has consequences for the actor's activities in China. Liu was the brand ambassador for the Chinese men's clothing brand Croquis (速写), but Croquis immediately removed him as their representative after the scandal.
Croquis issued a statement saying the company has been closely following the latest developments regarding the investigation into the actor's alleged drugs use, and stated that they have "zero tolerance" when it comes to drug use and therefore would temporarily take all content offline in which Yoo represents their brand.
South Korean media reported on Feb. 9 that Yoo is among a group of 51 people that is part of an illegal drug use investigation initiated by the Food and Drug Administration, which found that Yoo went doctor hopping and "hospital shopping" to obtain multiple prescriptions.
Propofol is a sedative that is widely used by anesthetists for the induction and maintenance of general anesthesia and for long-term sedation. Over recent years, the abuse of propofol in South Korea has been getting more media attention.
Although propofol is classified as a controlled substance in South Korea since 2011, the recreational use of the drugs has been a problem and various celebrities have previously been charged for illegally using the drugs.
On Weibo, some people say that there indeed should be "zero tolerance" for drug abuse among celebrities and artists, but there are also those who think Yoo Ah-in's drug abuse is a result of his alleged (mental) health problems, and that he needs help instead of punishment.
By Manya Koetse 
Get the story behind the hashtag. Subscribe to What's on Weibo here to receive our newsletter and get access to our latest articles:
Spotted a mistake or want to add something? Please let us know in comments below or email us. First-time commenters, please be patient – we will have to manually approve your comment before it appears.
©2023 Whatsonweibo. All rights reserved. Do not reproduce our content without permission – you can contact us at info@whatsonweibo.com.