25 'Tainted Celebrities': What Happens When Chinese Entertainers Get Canceled?
What happens after Chinese celebrities become tainted by scandal? A list of 25 'tainted celebrities' in China.
What happens when Chinese celebrities get tainted by scandal? This is a list of 25 notable Chinese celebrities who got caught up in controversy. What did they do, and where are they now? An overview by What's on Weibo.
This year seems to be a peak year to see China's entertainment stars falling from the sky. After various celebrity scandals occurred earlier in 2021, a major 'entertainment circles earthquake' took place in late August.
Famous actresses Zhao Wei (赵薇) and Zheng Shuang (郑爽), along with Chinese music producer and TV host Gao Xiaosong (高晓松), saw their names and work wiped from various online channels. Online fan groups and 'super topics' dedicated to these celebrities, as well as others, were taken offline.
China's entertainment circles have not seen so many scandals and investigations since 2014, when there were so many Chinese celebrities in prison that netizens spoofed the famous 1987 action movie Prison on Fire (监狱风云) and jokingly made it feature imprisoned stars with the main lead for actor Huang Haibo (黄海波).
The recent blow to Chinese entertainment culture is partly related to a larger "clean up" campaign (清朗专项行动) targeting celebrities and online fan communities.
Many Chinese celebrities from the entertainment industry were 'canceled' over the past years over their illegal behavior and activities. But not all celebrity scandals are related to top-down measures; sometimes there are those whose reputation becomes irreversibly damaged over cheating, sex scandals, inappropriate (leaked) online messages, or by them getting caught up in controversial and sensitive historical or political issues.
Sometimes the 'trial' is by the public, other times it's by authorities, but it always ends up being a trial by media.
We have compiled a top 25 list of Chinese celebrities in the show business who suffered a public fall from grace with updates on where they are now, perhaps giving an idea of what the future might look like for those Chinese stars who have recently been 'blacklisted.'
This list only includes those celebrities whose scandals played out online in the age of social media. It is a top 25 of 'tainted celebrities' within mainland China's entertainment industry, listed in chronological order of when their reputation suffered a blow.
#1 Edison Chen 陈冠希
Edison Chen is a Canadian-born Hong Kong actor, singer, and entrepreneur whose 2008 sex photo scandal ("艳照门") shook Chinese entertainment circles. Although this scandal mostly relates to the Hong Kong entertainment industry, we've still added it to this list since it is also widely known in mainland China.
The scandal erupted when intimate and private photos started circulating on the internet, showing the actor with various women, including actresses Gillian Chung, Bobo Chan, Rachel Ngan, and Cecilia Cheung. The photos were, among others, disseminated on the Chinese internet forum Tianya, where they received over twenty million views.
The photos were stolen from Chen's computer and illegally uploaded online. Over eight people were arrested in relation to this case (see wiki page here). In February of 2008, Chen announced that he would step away from the Hong Kong entertainment industry.
Where is he now?
By now, Edison Chen has become a family man. In 2017, he married Chinese supermodel Qin Shupei and they have a kid together.
Chen is a brand ambassador for Ralph Lauren, and together with his family he also participated in the brand's "Family is who you love" campaign.
Chen has been successful in business – he is the founder of the streetwear label CLOT. He also has a large following on Weibo of over 29,5 million fans (@edc陳冠希).
Nevertheless, the actor can't seem to shake off scandal. In June of 2021, he was caught in scandal again when older posts of a Chinese woman surfaced on Weibo in which she accused the actor of trying to seduce her twice between November 2016 and January 2017.
#2 Man Wenjun 满文军
The drugs scandal involving famous pop star Man Wenjun (满文军, 1969) became major news in China in May of 2009 when the celebrity was busted with heroin during a raid in the Beijing Coco Banana nightclub, where he was celebrating his wife's 40th birthday in a VIP room.
Ma is most famous for songs such as I Understand You (懂你) and Longing for My Hometown (望乡). He was also one of the singers who sang the theme song Beijing Welcomes You (北京欢迎你) for the 2008 Olympics.
The singer and his wife were detained, along with more than ten other people who all tested positive for drug use. At the time, China.org reported that an unnamed drug dealer told media that the celebrity couple were frequent drug users and bought 2.5 grams of heroin from him.
Man eventually only served twenty days in prison. His wife, however, got a much longer sentence. Li Li (李俐) – Man's second wife after a previous divorce – later confessed to giving ecstasy tablets to two people that evening. She received a one-year prison sentence and a 2,000 yuan penalty.
The singer was criticized for testifying against his own wife. When she heard her husband's testimony against her (alleging that she was the one doing drugs), she allegedly called her husband 'inhumane.'
The incident sparked online discussion about the moral standards of celebrities, and China.org published a list of celebrities who previously also got caught up in drug-related scandals.
Man's arrest would just be the beginning of an even longer list of celebrities getting caught with drugs in the years after.
Where is he now?
Unsurprisingly, Man Wenjun and Li Li are now divorced.
The drugs scandal meant a major blow to Man's reputation, and despite still releasing new music and occasional performances, he would never again regain the success he once had. It is rumored that Man now runs his own music training institution, where he is a music teacher.
#3 Li Daimo 李代沫
Li Daimo (李代沫, 1988), is a Chinese singer who rose to fame in 2012 during the first season of The Voice of China (中国好声音).
In July 2013, Li came out as being gay. Many netizens applauded Li for coming out, and he gained overwhelming support from fans and followers.
In March of 2014, however, Li's reputation suffered when he was arrested by Beijing police due to drug possession. Li was found guilty and was sentenced to a fine and nine months in prison.
Where is he now?
After spending seven months behind bars, Li was released from prison in December of 2014. His early release was because of good behavior.
After being released from prison, Li resumed his music career. In 2015, he launched a single titled "Thank You" (谢谢你). Li is still active on Weibo (@李代沫Demon), where he has over a million followers.
Although Li's tainted past is still often mentioned on Weibo, he is one of the few artists who seems to have made some sort of a comeback to the entertainment industry after such a major controversy, although he will probably never go back to the success he once had. During some live streams Li has done, the singer is often scolded by netizens.
#4 Huang Haibo 黄海波
Huang Haibo (黄海波, 1976) is a renowned award-winning Chinese actor who suffered a public fall from grace in 2014 when he was caught soliciting a prostitute in a Beijing hotel. The then-39-year-old was previously known as China's national "son-in-law" for often playing the nice guy and ideal husband in Chinese productions.
In May of 2014, Beijing Municipal Public Security Bureau announced that Huang was arrested on suspicion of hiring prostitutes, and then he was sentenced to 15 days in prison, followed by a six months sentence of "custody and reeducation."
After the scandal made headlines, Huang was no longer offered new roles and his TV and film career in mainland China came to an abrupt end.
Although Huang definitely was shut out from the entertainment industry due to this affair, he was not necessarily 'canceled' by the public. Many people sided with him since they felt he was trapped or even purposely framed – someone must have tipped off the police in order for them to catch him in the act at the Beijing hotel.
Where is he now?
In 2015, just a year after the scandal made headlines, Huang announced he and his partner were expecting a baby. The actor has since moved to the United States.
His partner is Chinese actress Qu Shanshan (曲栅栅), who is still working.
Huang still has over six million followers on his Weibo account. He has not appeared in any Chinese productions since his scandal.
#5 Zhang Mo 张默
Zhang Mo (张默, 1982) was a famous actor in Chinese TV dramas and films who is especially well-known for his leading role in Let the Bullets Fly. He is also the son of famous actor and producer Zhang Guoli (张国立).
In July of 2014, the actor was arrested in Beijing for illegal drug use. He was sentenced to six months in prison and was fined 5,000 yuan ($800) for drug use and providing others with a venue for drug use. The scandal went viral on Chinese social media, with many feeling sorry for father Zhang Guoli having to deal with such a troubled son.
It was not the first time for the actor to be caught up in controversy, and he became known as a rebel. He was involved in another drug-related incident in 2012. Years before, his ex-girlfriend Tong Yao accused Zhang Mo of assaulting her.
Where is he now?
Since his past controversies, Zhang Mo has moved on to work behind the screens. Zhang was photographed on a set together with his father Zhang Guoli in March of 2021.
It is reported that besides working behind the scenes (he allegedly is a senior executive), Zhang Mo is also a major shareholder of at least two film and television companies.
#6 Kai Ko / Ke Zhendong 柯震东
Although the actor and singer Ko Chentung (柯震东 Ke Zhendong, 1991) – also known as 'Kai Ko' – is from Taiwan, he was also very popular in mainland China, which is also where his career-changing scandal took place.
The actor and singer was arrested for possession of drugs in Beijing on August 14 of 2014 together with Jaycee Chan, who is also on this list. Shortly after his arrest, Kai Ko's manager confirmed the actor would be released on August 28th after a detainment of 14 days. He also stated that Kai Ko felt "very ashamed" of himself.
Although the actor was denounced on social media, there were also many fans who showed their support and even some who vowed to use drugs in support of Ko if he would disappear from the entertainment industry.
The arrest of Ko Chentung over drugs abuse was especially controversial because Ko previously appeared in an anti-drug advertisement in 2012, in which he clearly stated: "I don't do drugs!"
Where is he now?
After his detainment, Ko delivered a tearful apology on state broadcaster CCTV before returning to Taiwan. The actor was cut from two movies and brand partnerships and upcoming show engagements were all canceled.
Although Ko has barely done any large projects as an actor or singer over the past eight years, he returned to the big screen in 2021 in the film Moneyboys.
#7 Fang Zuming (Jaycee Chan) 房祖名
Actor and singer Jaycee Chan (房祖名, 1982), the son of the super famous Jackie Chan, was among several people who were arrested during an August 2014 drug bust at his apartment in Beijing.
Investigators found 100 grams of marijuana in his home, and the actor also tested positive for marijuana use. He was sentenced to six months in prison for the possession and distribution of marijuana, and for accommodating drug users at his home.
Before his arrest, Jaycee worked on the film Monk Comes Down the Mountain (道士下山), but his role was not credited due to the drugs scandal. He was also dropped by the brand he previously worked with, including Adidas, Nivea, KFC, and Chevrolet.
Jaycee's drug use and prison sentence were already bad enough, but what made matters worse is that his father Jackie was previously appointed as goodwill Ambassador for the China National Anti-Drug Committee.
Where is he now?
Although Jaycee hinted at a comeback to China's entertainment industry in a public speech he gave after his release from prison, he has never been able to get back the success he had before his arrest. He is now mostly working behind the scenes, and has also become a producer.
With a dad like Jackie Chan, Jaycee hardly has to worry about his financial situation though. Earlier this year, the fallen celebrity was spotted smoking cigars and driving a Mercedes Benz car.
Although he has a Weibo account with 7,4 million followers, Jaycee's account page is empty.
#8 Yin Xiangjie 尹相杰
Yin Xiangjie (尹相杰, 1969) is a Chinese singer, host, and actor, who rose to fame after his performance at the Beijing TV Lantern Festival in 1994. He became very popular afterward and was a regular guest at the Spring Festival Gala.
In December of 2015, the singer was arrested at his home for possessing and consuming illegal drugs. Authorities found over 10 grams of drugs at his residence, including crystal methamphetamine. Yin Xiangjie was sentenced to seven months in prison.
With China having a zero-tolerance attitude to drugs, any drug-related scandal would already be a major blow to the reputation of Chinese celebrities. In the case of Yin, the scandal had an ever deeper effect because the singer was previously appointed as an ambassador in an anti-drug campaign of 2007.
Where is he now?
Yin's first arrest, unfortunately, was not his last. The singer was arrested again in November of 2015, also in relation to drugs, just shortly after he was released from prison.
According to the latest reports, Yun still appears in some obscure advertisements in order to generate an income. But Yin's once so successful career in China's entertainment industry seems to be definitely over.
#9 Le Jia (Tim Le) 乐嘉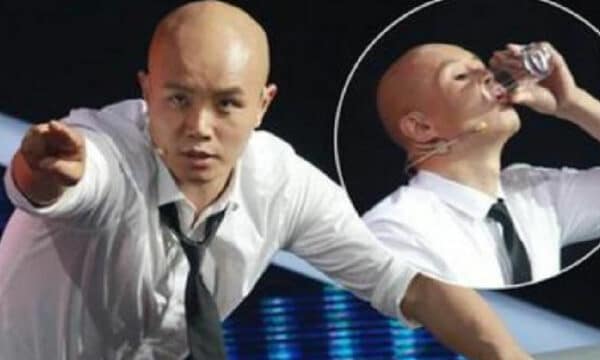 Le Jia (乐嘉, 1975) is a Chinese psychology expert and a published author, who became a famous TV host and entertainer in mainland China, especially after he started participating in the popular TV dating show If You Are The One (非诚勿扰) in 2010.
Le Jia is the founder of the Four-colors Personality Analysis (FPA) and the China Personality Colors Research Center, labeling himself as the first person in China to use colors to identify personality types – a topic about which he published multiple best-selling books.
Le's 2015 participation in the TV show Super Speaker (超级演说家) caused controversy when Le drank baijiu (liquor) during the recording on stage and then got wildly drunk, causing him to act improperly and scold the other hosts on the show (videos of the show are still lingering online). Guests of the show left the stage, and the recording was halted.
The incident was a major blow to Le Jia's reputation and his TV career came to an abrupt stop.
Where is he now?
Because Le Jia career did not fully revolve around China's entertainment business, the controversy did not necessarily end his professional career; it was just the end of a period in which he became a very popular TV host.
As a psychology expert, Le is still selling books and giving trainings. The 46-year-old is also still involved in the Personality Colors Research Center.
Le Jia is also active on Weibo, where he has a following of 43 million (!) fans (@乐嘉).
#10 Fu Yiwei 傅艺伟
Fu Yiwei (傅艺伟, 1964) is an award-winning Chinese actress known for, among others, her role as Su Daiji in the TV series The Investiture of the Gods (封神榜). She was married (and divorced) two times, and has a son.
Fu made headlines in February of 2016 when Beijing police reported the actress was arrested for using drugs and allowing two others to use drugs in her apartment in Liangmahe, Beijing.
It was previously already rumored the actress was using drugs due to her behavior and facial expression when she appeared in talk shows years before.
The actress was sentenced to prison was released in April of 2016, after which she issued a public apology on Weibo.
Where is she now?
Fu has not gone back to the entertainment industry as a major actress after her drugs scandal. According to 2021 reports, Fu Yiwei lives in a luxurious house located in the center of Beijing.
She is still active on Weibo (@演员傅艺伟), where she occasionally posts an update.
#11 Ma Rong 马蓉
The marriage crisis between Chinese film star Wang Baoqiang (王宝强) and Chinese actress Ma Rong (马蓉) became the number one trending topic on Weibo on August 14 in 2016 when Wang published a message on his official Weibo account that he was divorcing his wife Ma Rong and firing his agent Song Zhe (宋喆), accusing the two of having secret affair.
Wang Baoqiang vs Ma Rong became the divorce of the decade, mainly because the story unfolded itself on Weibo. Online debates were fuelled by the public posts and comments published online by both Wang Baoqiang and Ma Rong.
Ma Rong became the main target of online vitriol, as the majority of Weibo's netizens sided with the popular actor Wang Baoqiang, saying that Ma Rong was a cheater who only married Wang for his money.
In December of 2018, Ma Rong accused her ex-husband of attacking her, and dramatic photos of a seemingly injured Ma Rong soon spread on social media. Ma Rong spoke to reporters while lying in her (hospital) bed, tearfully speaking about Wang abusing her. Later on, however, security footage from surveillance cameras at Wang's house leaked online and showed how it was Ma who came to Wang's house, carrying scissors with her to intimidate Wang's family. The actress was then accused of staging the entire incident.
In the midst of all controversy, Ma Rong became one of China's "most-hated" celebrities.
Where is she now?
Ma Rong is still often being scolded on Chinese social media, and her name will probably be tarnished for a long time. Nevertheless, the actress is occasionally still posting on her Weibo account and Xiaohongshu, and whenever she is spotted out in public, she looks well-dressed and always wears expensive clothing and jewelry.
#12 Li Xiaolu 李小璐
Li Xiaolu (李小璐, 1982), also known as Jacqueline Li, is a Chinese actress and singer who was once the youngest actress to win the Golden Horse Award for Best Leading Actress in Xiu Xiu: The Sent Down Girl (天浴). In 2012, Li married the famous Chinese actor Jia Nailiang (贾乃亮), with whom she had a baby shortly after.
In late 2017, Li got into a huge scandal when she was photographed spending the night at the home of The Rap of China rapper PG One. Since Li was still married at the time, social media blew up over this 'cheating gate' (出轨门), especially because Jia Nailiang was asked on live-stream where his wife was and he allegedly replied: "Getting her hair done!"
In October of 2019, older videos leaked online that showed Li and PG One kissing and behaving like a couple. A month later, Jia and Li announced they were getting divorced.
The extramarital affair meant a major blow to Li's reputation as she was now being 'canceled' by the public and labeled as a "bad record performer" (劣迹艺人).
Where is she now?
Li Xiaolu still has her Weibo account with over 44 million followers. She often posts content related to her 8-year-old daughter, and she also does sponsored content and livestreams.
Although Li still has her fans and is probably doing well with selling products online, her name still often comes up in a negative way, and controversy seems to follow her to this day – many netizens think the actress is unethical for her past affair and for the way she dresses and raises her daughter.
#13 Chen Yufan 陈羽凡
Chen Yufan (陈羽凡, 1975) is a Chinese actor and singer-songwriter and half of the popular pop duo Yu Quan (羽泉). In 2018, Chen became a 'tainted celebrity' when Beijing authorities announced on Weibo that the artist had been arrested for drug possession after they had received tips from the public.
As reported by SupChina at the time, the singer at home joined by another person when the police caught him with 7.96 grams of crystal meth and 2.14 grams of marijuana. Both Chen and the 25-year-old female he was with tested positive for illegal drugs.
Chen was detained, labeled a "drug addict," and was ordered to pay regular visits to a local rehab center for three years.
Later, Chen's musical partner and friend of twenty years, Hu Haiquan (胡海泉) posted on Weibo that he was hurt by Chen's actions, which also affected their fans. Their upcoming concert was canceled and the duo band, which was established in 1998, was dissolved.
Where is he now?
Although Chen still has his Weibo account, he barely uses it. The singer has withdrawn from the public eye.
Chen divorced his ex-wife Bai Baihe (白百何) in 2015, but the two are still spotted together since they have a child together. Chen now has a new girlfriend, the much younger He Shizhen (何时珍). Prior to his drugs scandal, Chen's love life was also a trending topic on Chinese social media, as Chen and Bai only disclosed their divorce in 2017 after rumors of cheating surfaced online.
Whenever Chen is seen in public somewhere, netizens comment on his appearance; Chen seems to have gained weight and often looks a bit sloppy.
Chen is a shareholder in various companies and is now working behind the scenes in the music industry. According to the latest articles, Chen has also opened his own recording studio.
#14 Fan Bingbing 范冰冰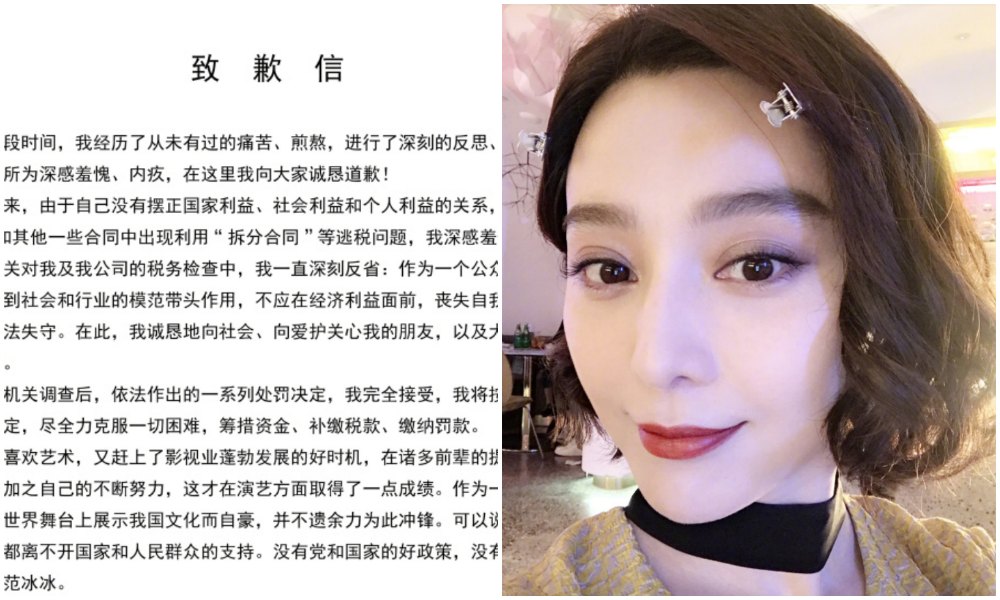 Fan Bingbing, one of the most renowned and highest-paid actresses in China, found herself at the center of a social media storm in late May of 2018.
The actress allegedly received a total payment of 60 million yuan ($9.3 million) for just four days of work on the film Cell Phone 2, of which she supposedly only declared 10 million ($1.56 million) to authorities.
The tax scandal first came to light when Chinese TV host Cui Yongyuan (崔永元) leaked two different contracts on social media; the one that allegedly showed that the actress was paid a total of 10 million RMB for her work, with another showing payment of 50 million RMB for the exact same work. These types of contracts are called yin-yang contracts (阴阳合同), an illegal practice to avoid paying taxes.
What followed after the scandal was months of silence and rumors. The actress was last seen in public on July 1st, and social media rumors alleged the actress might have left the country and that she was banned from acting for three years. At one point it was even rumored that the actress had been arrested.
Where is she now?
In October of 2018, Chinese state media reported that Fan Bingbing had been ordered to pay taxes and fines worth hundreds of millions of yuan over tax evasion and that the actress would not be held criminally liable if she would pay the penalty in time.
That same day, Fan came out with a public apology. Her Weibo account stayed up.
The actress launched her own beauty brand, Fan Beauty Secret (Weibo), in 2019. She has not completely won back the favor of Chinese netizens, who recently slammed her for posting "staged" photos of herself 'working' on her beauty product formulas in a lab.
Despite all controversy, Fan has done remarkably well in staying in the spotlight, unlike most others in this list. She still has over 64 million fans on her Weibo account and she is active as a brand ambassador for various companies, including the Be Strong formula (花冠贝智康) and the Swedish Daniel Wellington.
#15 Wu Xiubo 吴秀波
Beijing-born actor and musician Wu Xiubo (吴秀波, 1968) is famous for his role in many TV dramas and movies, including the television series Before the Dawn and the hit film Finding Mr. Right (北京遇上西雅图). His reputation suffered a serious blow when the actor, who has been married since 2002 and is the father of two children, was rumored to have been involved in various extra-marital affairs.
The scandal started in September 2018, when Chinese actress Chen Yulin (陈昱霖), also known as Ruby Chen, posted the history of her alleged seven-year relationship with the married actor on social media. She described the relationship as being one where Wu was very controlling of her. She also alleged that she received messages from other women, in 2013 and in 2017, who were also sexually involved with Wu.
In January of 2019, Chen's parents published a statement on social media in which they claimed their daughter was asked to deny the allegations she had made against Wu in return for money. After Wu's legal team and Chen had made an arrangement, Chen returned to mainland China to settle the matter. The moment she landed at Beijing airport in November of 2018, she was arrested by local Beijing police for blackmailing Wu.
Chen, who was detained since November of 2018, was eventually sentenced to three years in prison and she was released in 2021.
Although Chen was found guilty, Wu Xiubo's reputation was ruined. Many people felt that how he dealt with Chen was wrong and that he was evil for having extramarital affairs in the first place.
Following the controversies, Wu Xiubo was blocked by major Chinese television stations and some of the programs he appeared in were no longer aired. Wu would originally host the 2019 Spring Gala, but his role was canceled. The romantic drama film Someone Like It Hot 2., that was scheduled to release in 2019, was also canceled and many variety shows that featured Wu were taken down or reshot.
Where is he now?
Since the scandal made headlines, Wu rarely makes public appearances. In late 2019, Wu did post a video message to support arts students preparing for the national college entrance exam. According to Global Times, many did not appreciate his temporary 'comeback,' with some bloggers calling him 'pathetic.'
He is still on Weibo (@吴秀波), where he has 8,5 million followers, but he barely posts updates. On a 'super topic' fan page that is dedicated to the actor, fans still post photos of him every day.
There are ongoing rumors about the financial difficulties the actor is facing. In 2020, he sold his mansion in San Marino, California, at a loss. The actor is a shareholder in multiple companies and he is still married to his wife. A comeback to China's entertainment industry seems unlikely for now.
#16 Zhai Tianlin 翟天临
Zhai Tianlin (翟天临, 1987)- also known as Ronald Zhai – is a well-known actor in China for his work in various films and TV dramas. He starred in, among others, the acclaimed series White Deer Plain (白鹿原).
In 2019, the actor got caught up in controversy over alleged academic misconduct. The actor had been admitted to the Beijing Film Academy in 2014 as a doctoral candidate in Film Science and received his PhD in June 2018. In 2019, the actor shared his joy over being accepted into Peking University for postdoctoral research.
Zhai's new journey, however, led to online investigations into his previous academic works. As reported by BBC at the time, the South China Morning Post spotted discrepancies in Zhai's submissions and widespread doubts over Zhai's academic achievements began to circulate online.
One of Zhai's essays did not contain any citations, and another showed many similarities with an article previously published in 2006. Some netizens started comparing the essays and found that 40% of Zhai's essay was copied.
Doubts about Zhai's academic performance were already raised when, during a live video session, Zhai showed ignorance of the CNKI (China National Knowledge Infrastructure), a digital library that most scholars are usually using, or at least are aware of.
In light of the online controversy, Beijing Film Academy set up an investigation process, which eventually led to Zhai's PhD being revoked in February of 2019 due to plagiarism. The incident meant the end of Zhai's academic career and tarnished his reputation.
Where is he now?
Zhai has not made headlines since his academic plagiarism controversy, which also ended his flourishing career in the entertainment industry. He still has over 10 million followers on his Weibo account (@翟天临), but hasn't participated in any major works since the incident.
According to some reports from 2021, Zhai has started his own acting training classes, suggesting his future career will mainly take place behind the scenes.
#17 Zhao Lixin 赵立新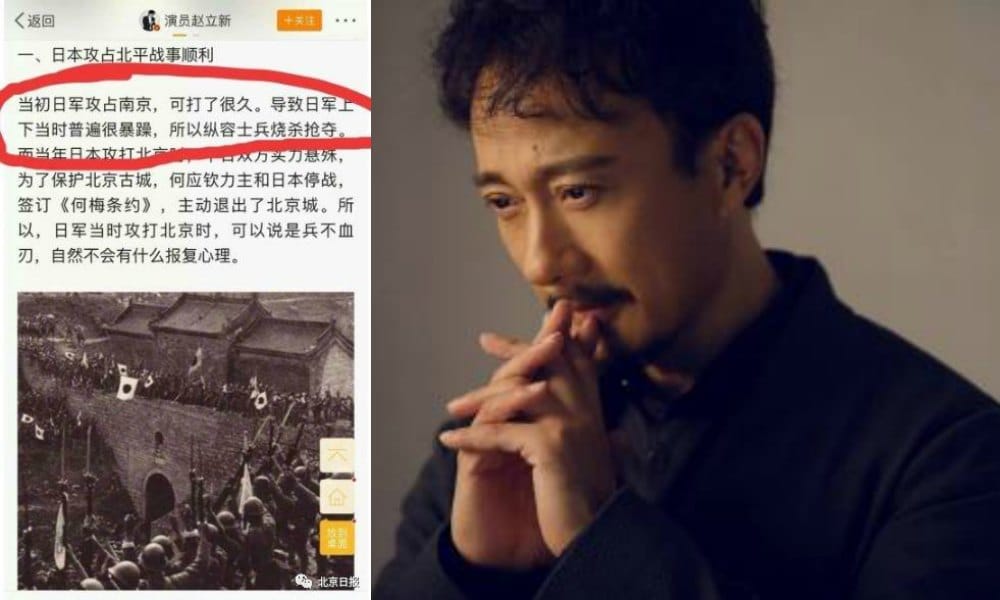 The 2019 case of Zhao Lixin (赵立新, 1968) is arguably the most similar in context to that of Zhang Zhehan, who got caught up in controversy in August of 2021 and is also on this list.
The Weibo account of Zhao Lixin was closed after the Chinese-Swedish actor made controversial comments on the Second Sino-Japanese War. Zhao Lixin was mainly known for his roles in TV dramas such as The Legend of Mi Yue, Memoirs In China, and In the Silence.
On April 2nd of 2019, the actor, who had more than 7 million followers, posted a message on his social media account that questioned why the Japanese military did not pillage and destroy the Beijing Palace Museum during the Second Sino-Japanese War:
"The Japanese occupied Beijing for eight years. Why didn't they steal relics from the Palace Museum and burn it down [during that time]? Is this in line with the nature of an invader?"
The actor also commented on the Nanjing Massacre of 1937, suggesting that it was a consequence of Chinese resistance to the Japanese invasion.
His comments caused a social media storm with people accusing the actor of defending the Japanese. A lengthy apology by Zhao did not help. Besides being blocked from Weibo, he was also criticized and boycotted by state media and his most recent TV production was canceled.
Where is he now?
It has been over two years since Zhao was basically banned and lost the opportunity to do movies and TV dramas. Although it was initially rumored that the actor had been deported (he has Swedish nationality), he actually kept a low profile and made new plans.
The actor actually performs at a 'live theater bar' in Beijing, where people can have drinks and food while enjoying drama performances by professional actors. According to the latest reviews, the bar is always fully booked and there are raving reviews.
Other sources claim the artist also gives theater workshops for aspiring actors. The workshops, that are not cheap, are apparently a success.
Although Zhao has not returned to Weibo, there is a 'super topic' fan club dedicated to him on the platform.
#18 Tong Zhuo 仝卓
Tong Zhuo (仝卓, 1994) is a Chinese singer, actor, and TV host from Shanxi who became a trending topic in June of 2020 when it was discovered he had committed fraud during the gaokao, the national college entrance exam.
The scandal first broke when Tong was chatting with fans during a live stream. While giggling, he admitted that he had forged his identity for the gaokao: "We used a lot of so-called guanxi (connections) and then I became a fresh high school graduate," said Tong, 26, laughing with one hand over his mouth.
Tong Zhuo said he had initially failed his college entrance exam in 2012. In order to be able to get into a top art school that only accepts recent high school graduates, he changed his personal information when he participated in the gaokao the next year in 2013 and faked being a fresh graduate.
Tong's own confession led to an investigation by the Shanxi provincial education department. Another investigation also looked into the role of his stepfather Tong Tianfeng, a deputy secretary-general in Linfen city.
Tong Zhuo was eventually stripped of his graduation certificate by the Central Academy of Drama. His stepfather Tong Tianfeng was removed from office, and three education officials were put under police custody for allegedly forging documents.
Where is he now?
Tong Zhuo is still very active on his social media, posting selfies and vlogs. He also still performs, although he has not participated in any big media performances since the scandal.
#19 Zheng Shuang 郑爽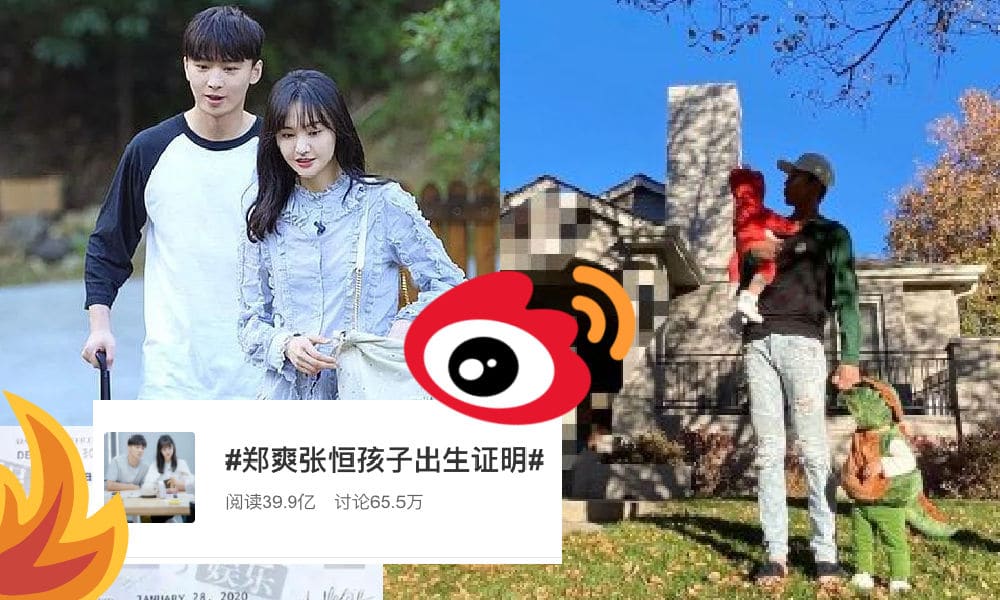 Zheng Shuang (郑爽, 1991) became one of the biggest trending topics of 2021 when the Chinese actress got caught up in a surrogacy scandal. Zheng rose to fame when she starred in a popular TV series in 2009 (Meteor Shower 一起来看流星雨). She became an award-winning actress and was chosen as one of the most bankable young actresses of the post-90s generation. On her Weibo account, she had over 12.4 million followers.
The scandal came to light when it appeared that Zheng's had separated from her partner Zhang Heng (张恒). The former couple had two children in the US through a surrogacy arrangement, but Zheng Shuang allegedly refused to have them because she and Zhang had broken up – even though her name was on their birth certificate.
The situation, which was soon dubbed 'Surrogacy Gate' ('代孕门'), left Zhang Heng stranded in the United States with the two babies. He claimed he was unable to bring them back to China with him since Zheng did not cooperate with the necessary legal procedures.
In light of the controversy, Italian fashion brand PRADA fired Zheng as their brand ambassador, and other companies, including Lola Rose and Chioture, also ended their partnership contracts with the actress.
Zheng's professional career suffered a major blow when Huading Awards announced it would revoke Zheng's honorary titles, including former awards for best actress and favorite TV star. The celebrity was also boycotted by China's State Administration of Radio, Film, and Television.
Where is she now?
Zheng Shuang is still very much caught up in this scandal, and she might not leave it behind her any time soon.
In late July of 2021, her ex-partner posted a lengthy and angry blog on his Weibo where he aired the dirty laundry regarding their legal struggles and personal conflicts. This post came after Zheng herself broke her six-month social media silence to apologize for her surrogacy scandal.
Another apology followed in August of 2021, on the same day when it became known the actress had to pay a $46 million fine for tax fraud. This all happened during the "August 26/27 Chinese celebrity earthquake." Zheng Shuang also saw her online fan circles removed, and several TV dramas Zheng acted in were removed from major video platforms.
Zheng currently has court-ordered visits with her children in the US (her ex-partner has custody). According to Today Online, Zheng has officially moved to America and is not doing well financially.
In social media posts that seem to have been removed later on, Zheng claims that her family's bank accounts have been blocked and that she has no income since she is not allowed to work in the US. She wrote:
"If it makes you feel any better, I can tell you that I drink tap water every day to survive, I own a total of five T-shirts and two pairs of jeans, and I have never ordered delivery," she wrote. "I even need to be frugal when buying sanitary napkins, and toilet paper has to be used sparingly."
What sets Zheng Shuang apart from some of the other 'canceled' celebrities in this list, is that she still has her social media accounts and a loyal fan following. She might lack toilet paper, but she still has 12,3 million followers on her Weibo account.
#20 Zhang Zhehan 张哲瀚
Chinese actor Zhang Zhehan (张哲瀚, 1991) got caught up in controversy in August 2021 when photos of him visiting Japan's Yasukuni Shrine and attending a wedding at Nogi Shrine went viral on social media. The fact that some of these photos were three years old did not seem to matter: Zhang received serious backlash for being 'unpatriotic' and was even accused of being a traitor to his country.
While Nogi Shrine was established to honor General Nogi Maresuke, who led Japan's military during the First Sino-Japanese War (1894-1895), Yasukuni Shrine is dedicated to the Japanese soldiers who sacrificed their lives for the emperor, including those who committed war crimes in China. It is generally seen as a symbol of Japanese military aggression and as a painful reminder of the numerous atrocities committed by Japanese soldiers in China and other Asian countries.
Although Zhang Zhehan rushed to apologize for his "ignorance" regarding these historically sensitive places and expressed his love for China, it did not settle the social media storm. All the companies that previously worked with the Chinese celebrity, including Coca-Cola, Taobao, and Clinique, soon announced the termination of their partnership.

Zhang was also a brand ambassador for Yanjing's Xuelu beer. Thousands of beer cans with his face became virtually useless after the controversy. Photos showing the abandoned beer cans were shared online by people at the warehouse, who claimed the beer would be destroyed since companies allegedly had even refused to get them for free.
On August 15, within 48 hours after the controversy erupted, Sina Weibo announced that it would shut down Zhang Zhehan's personal account, his studio account, and the 'super topic' fan page dedicated to him. The Weibo Administration (@微博管理员) wrote: "As a public figure with a large following and many fans, establishing correct historical views and values is the most basic level of professional ethic and the bottom line that must be adhered to – ignorance can never be an excuse."
That same day, the China Association of Performing Arts also released a notice in which they called on members to boycott the actor for "negatively influencing the mass audience of youths." The actor was also criticized by the official media.
Where is he now?
As the dust has not settled yet, it is still too early to draw any conclusions on how this controversy has affected Zhang, but it is safe to say that Zhang's life radically changed within a matter of just a few days. The photos he took at two historically sensitive Japanese shrines meant a potential end to his career – no social media, no brand partnerships, and an industry boycott. Just a year prior, the actor had been given an award for Rising Artist of the Year.
Despite all controversy, Zhang still has a loyal fanbase. Although Zhang no longer has his own social media accounts, some of his fans on Weibo are posting messages wishing him well. Update: also read this Op-Ed on Zhang Zhehan here: Cyber Bullying and Fake News – What You Should Know About the Zhang Zhehan Story.
#21 Kris Wu 吴亦凡
The Chinese-Canadian superstar Kris Wu, better known as Wu Yifan (吴亦凡) in China, became a trending topic on Chinese social media in the summer of 2021 after he was accused of grooming underage girls and pressuring women into sex.
The 19-year-old student Meizhu Du (都美竹) was the first to accuse Wu of predatory behavior, with at least 24 more women coming forward claiming the celebrity showed inappropriate behavior and luring young women into sexual relationships.
Although Wu denied all allegations, the superstar was detained on suspicions of rape on July 31st. Weibo's servers barely seemed to be able to handle the spike in traffic after the news came out, and comments came pouring in.
Shortly after Wu's detainment, his Weibo account got shut down and more than a dozen firms either cut ties or terminated contracts with him. As the scandal unfolded, various hashtags related to the story received billions of views on Weibo.
Wu was later further erased from Chinese social media; various accounts showing support to the singer were taken offline, and his music was removed from the major Chinese music streaming platforms.
On August 16, Kris Wu was officially arrested.
Where is he now?
At this point, it is still unknown what sentence Kris Wu will face, and whether or not the singer will enter a guilty plea which might speed up the legal procedures.
If the Chinese-Canadian celebrity is convicted, it is probable that he will serve his sentence in China and then be deported to Canada (he holds a Canadian passport). Chinese state media reported that Wu may be sentenced to 10 years to life if all allegations turn out to be true.
Although Kris Wu might face a grim future, it is noteworthy that the star, despite being virtually wiped from social media, still has many loyal fans who would gladly welcome him back.
#22 Zhao Wei 赵薇
On August 26 of 2021, the name and works of one of the country's most notable actresses, Zhao Wei (赵薇 aka Vicky Zhao, 1976) were removed from Chinese online channels. Searching for Zhao Wei's name on Chinese video platforms Tencent Video, iQiyi, and Youku suddenly came up with zero results, and her name had vanished from the cast lists of the many films and dramas she featured in.
Zhao Wei's sudden disappearance from the top entertainment websites sent shockwaves over social media. Zhao Wei was clearly 'canceled' by higher authorities, but the exact reason why was still unknown by September 2021 – although there was much speculation on what the reason could be.
By early September, celebrity friends of Zhao had removed photos taken together with the actress, and Baidu Baike, also known as the Chinese Wikipedia, had even erased the name of the actress from the pages of the TV dramas and films she featured in (although she still had her own wiki page at this time).
This was not the first time that Zhao got caught up in controversy, although it was never this bad before. In 2001, the actress wore a mini-dress printed with the old Japanese naval flag during a fashion shoot, triggering major backlash over her perceived lack of sensitivity to historical matters.
Where is she now?
At the time of writing, Chinese netizens are still waiting for answers on what has caused Zhao Wei being erased on Chinese online channels. Some rumors say the actress has fled to France, where she has property, but nothing is confirmed at this time.
Zhao Wei does still have her Weibo account, where she has over 85.6 million followers.
#23 Qian Feng 钱枫
Just a week after Kris Wu was arrested, the popular Chinese television host Qian Feng was accused of rape in August of 2021. Qian is primarily known as the host of "Day Day Up" (天天问上), a popular Chinese talk show broadcast on Hunan Television.
As reported by Sixth Tone, a woman by the name of Xiao wrote on Weibo that the 37-year-old TV host raped her while she was drunk and unconscious. The incident allegedly happened in 2019.
Although Xiao had reported the incident to the police, it did not lead to an arrest due to a lack of evidence. After Xiao's post went viral, Shanghai authorities issued a statement to explain why the investigations came to an end and that they welcome Xiao to provide new evidence.
Pending investigations, Hunan TV suspended Qian Feng. One Weibo hashtag related to the accusations against Qian received over two billion views (#钱枫被曝性侵#).
Where is he now?
On August 27 of 2021, Qian Feng came out with a statement on his Weibo account (@钱枫oscarqian) in which he indicated that the investigations into the case were already rightfully concluded in 2019 and that he placed his trust in the Chinese legal system.
At the same time, he shared that he had terminated his contract with Hunan TV.
#24 Henry Huo 霍尊 (Huo Zun)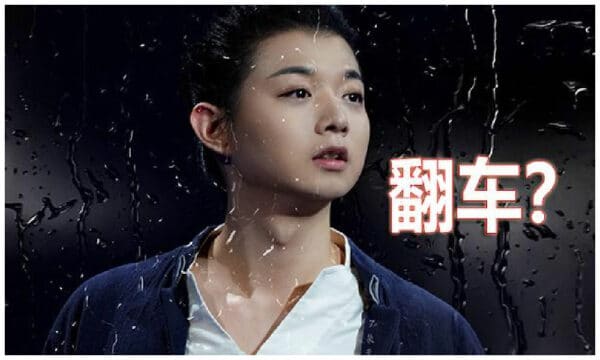 Henry Huo (霍尊, 1990) is a Chinese singer-songwriter and actor who gained nationwide fame after winning the first season of Sing My Song (中国好歌曲). Henry was asked to perform in the CCTV Chinese New Year Eve Gala and was awarded the title '2014 Drama King.'
In the summer of 2021, Huo announced his withdrawal from the popular TV show Call Me By Fire after his ex-girlfriend Chen Lu (陈露) publicly accused him of being a serial cheater and leaking WeChat conversation screenshots to prove that he actually disliked the show.
On August 14, Huo issued an online apology for the recent controversy, saying sorry for his misbehavior and the "bad social influence" he had caused.
Besides Huo's exit from Call Me By Fire, the controversy also led to Huo's first performance on the show being removed.
During China's "entertainment circles earthquake" of August 26 and 27 (more here) online fan groups to Huo were shut down, and his Weibo account was temporarily disabled.
Where is he now?
Henry Huo is still on Weibo (@霍尊), where he has over 8.7 million fans, but his account is still disabled.
Huo's entry in the mainstream online encyclopedia Baike has been altered and now includes the recent controversy. It is not clear at this point if Huo's withdrawal from China's entertainment industry is a temporary or a permanent one.
#25 Gao Xiaosong 高晓松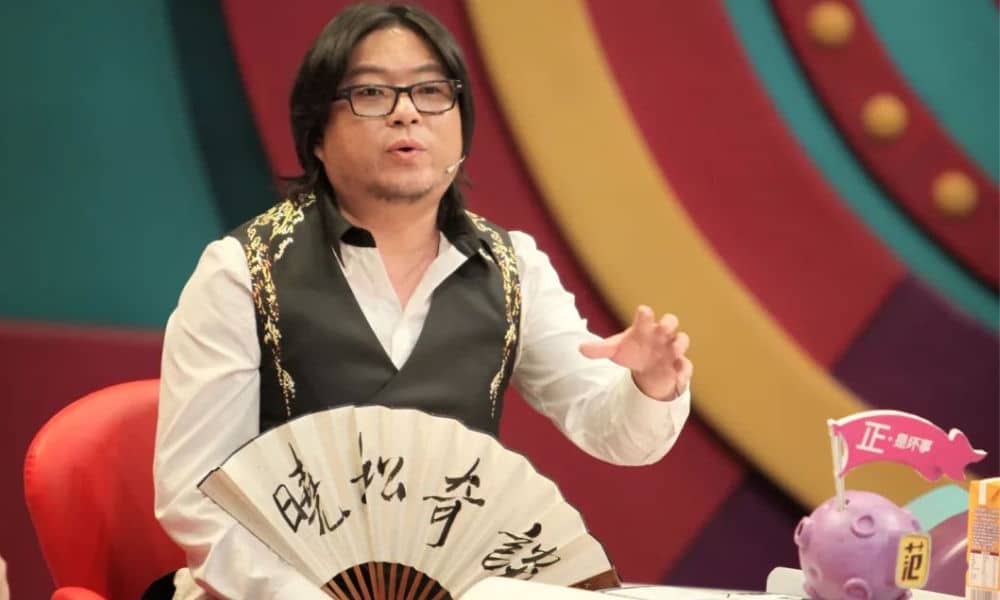 In late August of 2021, the work of the famous musician, TV host and co-founder of Alibaba Music Group Gao Xiaosong (高晓松) was taken offline. Among the erased works are his TV show (Xiaosong Pedia 晓松奇谈, removed from video platforms such as iQiyi) and the books he wrote (no longer available on various e-commerce platforms). There was no official reason given for Gao being canceled like this.
However, the Chinese Historial Research Institute (中国历史研究) published a post on Weibo about Gao, criticizing him for historical nihilism and for "openly attacking and slandering our people's army" during his talks on his TV show.
Throughout his shows, Gao made various remarks about the Sino-Japanese War, sometimes mentioning views or perspectives that go against the official Chinese narrative. Gao also visited the controversial Yasukuni Shrine and allegedly expressed his sympthathy with those Japanese people visiting the shrine to commemorate their loved ones who died in the war.
Yasukuni shrine is dedicated to the Japanese soldiers who sacrificed their lives for the emperor, including those who committed war crimes in China. It is generally seen as a symbol of Japanese military aggression and as a painful reminder of the numerous atrocities committed by Japanese soldiers in China and other Asian countries. In the article by the Chinese Historical Research Insititute, Gao is accused of "defending Japanese militarism."
Where is he now?
Just like other celebrities caught up in the recent 'entertainment circles cleanup', much is still unclear about why Gao was canceled and what his future will look like. Some rumor that the online erasure of both Gao and Zhao Wei might be connected to their links to the Alibaba Group.
At the time of writing, no official statement was given yet by authorities nor by Gao himself.
By Manya Koetse (@manyapan)
Spotted a mistake or want to add something? Please let us know in comments below or email us. First-time commenters, please be patient – we will have to manually approve your comment before it appears.
©2021 Whatsonweibo. All rights reserved. Do not reproduce our content without permission – you can contact us at info@whatsonweibo.com.
Viral Bilibili Video Featuring Rural Carpenter: Disabled & Determined 'Uncle' Becomes Chinese Internet Sensation
Yige Caixiang's touching portrait of his disabled Uncle shows that it's not about the cards you're dealt but about how you play them.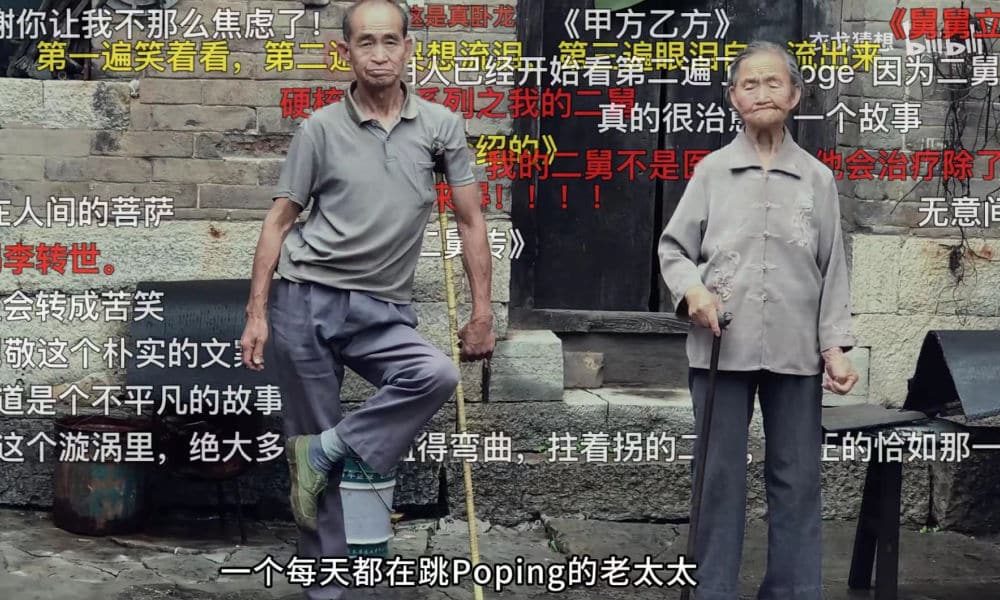 Chinese vlogger Yige Caixiang (衣戈猜想) posted a short film on Bilibili about his disabled uncle living in a poor rural area in China. This portrait of his resilient and resourceful 'Uncle' has touched the hearts of many netizens, and went viral overnight.
A video that was posted on the Chinese video platform Bilibili on Monday, July 25, has gone viral on social media for the inspiring story it tells about a resilient villager who became disabled as a teenager. The video was uploaded by vlogger 'Yige Caixiang' (@衣戈猜想) and received over ten million views in a day, becoming the number one video on the Bilibili platform.

"This is my uncle," the vlogger can be heard saying at the start of the 11:30-minute video, titled "How Uncle Cured My Mental Friction after Being Back in the Village for Three Days" (回村三天,二舅治好了我的精神内耗), introducing his old uncle and grandma standing in front of their home "built at a time when the U.S. didn't even exist yet."
While showing footage of family and village life, Yige Caixiang tells about his uncle through a voice-over, recording his own trip to his family's village by detailing the life of his mother's brother.
His uncle used to be the brightest kid in school, he tells, always getting top grades. One day, as a teenager, he got sick with a high fever. A doctor in a neighboring village 'treated' Uncle with various injections in his backside, after which Uncle could no longer use his leg and ended up being permanently disabled. Feeling depressed and hopeless, he did not return to school and spent weeks lying in bed. The village teachers were unable to convince him to come back to class.
After three years, Uncle stepped outside of the home courtyard for the first time with his crutches. He was inspired to become a carpenter after seeing one at work in the family courtyard, and so he also started doing the same work, and was able to make a living by going around and doing carpentry jobs for villagers. Never formally diagnosed, he was unable to get a disability certificate.
Wanting to visit Tiananmen Square's Mao memorial hall, Uncle traveled to Beijing one time and ended up staying with a cousin who worked in the military, doing carpentry work for the soldiers, with whom he soon became friends. A military chief even rubbed his back in the public bath house ("people in Beijing are good at rubbing backs," he'd later say).
But Uncle eventually returned to his village, and was able to attend his sisters' wedding send-offs and gave them complete furniture sets personally made by him – a rare possession to have for a young rural bride in the 1980s.
Besides taking care of his sisters, Uncle also took care of an abandoned village girl named Ning Ning, whom he adopted. By the time she got married, he was able to help the young couple with the down-payment for their new family home, for which he invested half of his life savings.

"It is only when they are near the end of their lives that people come to realize that the biggest regret in life is always regretting the past."

When Uncle was in his thirties, he became acquainted with a married lady from a nearby village. Although she had a husband and two daughters, she spent a lot of time with Uncle and even cooked and cleaned for him. Treating her as if she was his own wife, he handed over his weekly pay to her and was happy to have a bowl of rice and a warm house waiting for him after a hard day of work.
But as time went on, she never divorced her husband and other family members started seeing her as an intruder who was just out for his money to support her own family. The young Ning Ning even called her an "old fox."
The ending of this peculiar love story remains somewhat of a mystery up to this day, Yige Caixiang says. The woman and her husband passed away in a shed due to carbon monoxide poisoning. Uncle never spoke of it again and also never married another woman.
As the decades passed, Uncle took care of his aging mother while still doing carpentry work, often taking him with her around the area. Years before, he once encountered the doctor who tried to 'cure' him. If this had happened now, the doctor had said, I would've been sued and lost lots of money. But that never would have happened at that time, and it never happened later either.
Grandmother, at 88, is now struggling with her health and does not have the energy to go on living anymore. "In aging and sickness we find a necessary exercise between life and death," the vlogger reflects ("老病是生死之间的必要演习"), suggesting that the pain of growing old also makes it easier to be at peace when having to part with life.
By now, taking care of his old mother has become a full-time job for Uncle, who cooks for her and washes her face in the morning and bathes her feet at night. Besides that, he is also more than just a carpenter; he is the village handyman, repairing electronic devices, door locks, radios, stoves, and even fixing broken toys of the neighborhood children. When it is necessary, he can be an acupuncturist and a painter, too.
Whenever there is a problem, Uncle will find a way to solve it. There's just three things he can't repair, Yige Caixang says: smartphones, cars, and computers – because Uncle never owned any. Although the villagers sometimes jokingly call Uncle "crooked" because of his leg and crutches, they all know how much they care for him and how much the entire village depends on him.
In the final part of the 11-minute video, Yige Caixiang reflects on what life might have looked like for his Uncle if he had not received those injections in the 1970s. He probably would have taken the national exams, would have gone to study at university, and maybe would have become an engineer with a good income and secure financial future. But Uncle does not want to think like that. Refusing to look back, he is happy with his life in the village.
It is only when they are near the end of their lives that people come to realize that the biggest regret in life is always regretting the past, Yige Caixiang says. The main thing that matters in life is not the cards you were dealt, but how you play them. Uncle was dealt a bad card, but played it beautifully through his continuous self-improvement and perseverance.
In an old notebook underneath Uncle's bed, a line of text scribbled on the first page shows a Mao Zedong quote: "Be determined, fear no sacrifice, and surmount every difficulty to win victory" ("下定决心,不怕牺牲,排除万难,去争取胜利").

"Let Uncle quietly live together with grandma in the small mountain village – that is the most beautiful ending this story could have."

A day after it was posted, the resilient Uncle is a much-discussed topic on Chinese social media. The overall tone and setting of the video is so spirit-lifting and humbling, that it is not surprising for both netizens and state media outlets to jump on it, just as they did before with stories shared by Ding Zhen, Fan Yusu, or Zhong Jitao.
One hashtag for the short film – "How Uncle Cured My Mental Friction after Being Back in the Village for Three Days" #二舅治好了我的精神内耗# – received a staggering 630 million clicks by Tuesday. The hashtag "Why Did Uncle Blow Up Like That" (#二舅为什么突然火了#) received over 140 million views on Weibo.
The vlogger who made and posted the video is mostly known by his social media handle, Yige Caixiang (衣戈猜想). The maker himself did not release his own real name nor that of his Uncle. The vlogger apparently used to be an instructor, as multiple netizens claim that he was their previous history teacher.
Yige Caixiang is not a Bilibili newcomer. As a creator, he previously uploaded over thirty videos. They are mostly related to popular science and none of them have blown up like this one has.
After the video flooded the internet, Yige Caixiang responded to the hype on Tuesday and posted the following on Weibo:
"Hi Weibo friends, many of you messaged me after seeing Uncle's video, suggesting I'd let him go livestream on a big streaming site. Thanks to everyone for caring, but now that Uncle is getting some online attention, you want to persuade him to livestream to do what? Repeating his suffering like Xianglin's Wife (t/n: this is a reference to an old woman in one of Lu Xun's famous stories), then playing games with a bunch of people who don't know anything, kneeling and begging them for support, and then suddenly starting to talk them into buying tissue paper? Uncle seriously lived half of his life already, I shared his story now, you heard it and it touched you, this makes a beautiful little story, and it should have a beautiful ending. Didn't we see enough beautiful stories with a rotten ending over the past few years? Let Uncle quietly live together with grandma in the small mountain village – that is the most beautiful ending this story could have."
Addressing rumors that the video was not authentic, Yige Caixiang said about the video that "every single word is true" and that none of the details surrounding Uncle's life had been edited or altered in any way.
The video speaks to netizens for different reasons. Many are inspired due to the life lessons it contains regarding perseverance and not looking back on the things that might have been different. Others praise how Uncle was still able to save so much money for his daughter's down-payment on her new home despite struggling himself. Many just applaud Uncle's unparalleled strength despite their disability. Others appreciate the perspective the video gives on Chinese rural life.
There are also those who are concerned about enthusiastic netizens visiting Uncle in his sleepy hometown. Let's hope the creator's wish to let Uncle and his grandmother continue their quiet life together is the happy ending this viral story will get.
To view the video (no subtitles yet), state media outlet China Daily posted it to YouTube on Tuesday (embedded below):
By Manya Koetse
With contributions by Miranda Barnes
Get the story behind the hashtag. Subscribe to What's on Weibo here to receive our weekly newsletter and get access to our latest articles:
Spotted a mistake or want to add something? Please let us know in comments below or email us. First-time commenters, please be patient – we will have to manually approve your comment before it appears.
©2022 Whatsonweibo. All rights reserved. Do not reproduce our content without permission – you can contact us at info@whatsonweibo.com.
Hundred Flowers Awards 2022: Full List of Nominees and Must-Watch Chinese Movies (Updated)
The complete list of Hundred Flowers Award nominees for 2022.
Which Chinese movies released from February 2020 to February 2022 are nominated for this year's Hundred Flowers Awards? Who are the best directors and which actors could expect an award? Here's all you need to know about the upcoming Hundred Flowers Awards and the list of nominations.
Update July 31st: we've marked the winners in each list in this text. We've also embedded the author's Twitter thread on the Award ceremony below this article, which includes all winners. To go directly to the thread, click here.
This week, China's Hundred Flowers Film Festival and award ceremony will take place in Wuhan from July 28-30; the red carpet ceremony will take place July 30. Earlier this month, on July 20, nominees for the 36th edition of China's Hundred Flowers Awards were announced, with the list of nominees becoming a trending topic on Chinese social media.
Here is all you need to know about the Hundred Flowers Awards and the nominations.
ABOUT THE AWARDS
The Hundred Flowers Awards are one of China's most important government-approved film awards along with the Golden Rooster Awards and Huabiao Awards.
The Hundred Flowers Awards were first established in 1961 by the Association of Chinese film Artists in collaboration with Popular Cinema magazine (大众电影), based on readers' votes. The initial initiative was proposed by Premier Zhou Enlai at the time and approved by the Central Propaganda Department.
Known as the 'people's' awards, the Hundred Flowers' first edition was presented in May of 1962, when 117,000 people voted for the best films. Amid the turmoil and political mobilization of the Cultural Revolution, the awards were suspended from 1963-1979 but were reinstated in 1980. In that year, 700,000 people cast their votes (Wang 2014, p. 136; Nakajima 2019, p. 232).
Since 2004, the Hundred Flowers Award Ceremony is no longer an annual one but a bi-annual one, alternating with the Golden Rooster Awards. The two festivals also share one account (@金鸡百花电影节) on Chinese social media platform Weibo.
As explained by Nakajima (2019, p. 233), the initial selection for the films is made by a group of committee members under the organization of major film theatre managers belonging to the China Film Distribution Exhibition Association. After the approval of the Awards Organising Committee, the nominations are then sent to the China Literary and Art Federation, which decides on the ten final nominees and also selects the individual awards from these movies.
The round-up of the ten nominated films is then publicized and people's votes determine the final five candidates for each category. The final selection comes down to a pre-approved group of 101 audience juries, from students to military staff, to cast votes at the Awards Ceremony.
This year, the official social media account of the Hundred Flowers Awards also clarified that all of the selected movies have been viewed by more than one million people, and were released and screened in nationwide cinemas nationwide from February 1, 2020, to February 28, 2022. There were a total of 108 films meeting the eligibility criteria.
The Nominated Films:
in random order
#1 Battle at Changjin Lake (长津湖) (UPDATE: WINNER)
As one of China's biggest movies of the past few years, the war movie Battle at Lake Changjin became a social media sensation in the fall of 2021. The movie provides a Chinese perspective on the start of the Korean War and the lead-up and unfolding of the battle of Chosin Reservoir, a massive ground attack of the Chinese 9th Army Group against American forces, preventing them from driving Kim Il-Sung and his government out of North Korea. The film specifically follows the Wu brothers, company commander Wu Qianli (Wu Jing) and the young volunteer soldier Wu Wanli (Jackson Yee), and their fellow soldiers fighting side by side in extreme conditions. If you want to read more about this movie, we did a background article on it here. Watch the trailer here.
#2 Hi Mom (你好,李焕英)
Hi Mom was the box office favorite in China during the 2021 Spring Festival period. It tells the story of Jia Xiaoling (Jia Ling) who is devastated when her mother Li Huanying has a serious accident one day and passes away. Jia is especially grief-stricken because she feels she has not become the daughter she wanted to be for her mother. When she finds herself transported back in time to the year 1981, she meets her young mother before she was her mum, and becomes her friend in the hopes of making her happy and change her life for the better. For more about this movie, also check our article here. Watch the trailer here.
#3 Nice View (奇迹·笨小孩)
Released in February 2022, Nice View tells the story of the 20-year-old Jing Hao (Jackson Yee) who comes to live in Shenzhen to look after his little sister Tong Tong after the unexpected death of their mother. Desperate to pay for his little sister's much-needed heart surgery and hoping for a better future, Jing Hao does everything he can to provide an income and create a more stable life for him ad Tong Tong, but he faces many hurdles along the way (think Pursuit of Happyness). Watch the trailer here.
#4 A Little Red Flower (送你一朵小红花)
A Little Red Flower is a touching movie about family, romance, and two cancer patients. The cynical young Wei Yihang – who claims he can see the future – and the open-minded Ma Xiaoyuan meet each other during a particularly tough time in their lives when they are caught between their past and uncertain future. Anyone familiar with American hit film The Fault in Our Stars might feel there is a striking similarity between the two movies, something that has also been discussed in the media. Watch the trailer here.
#5 Chinese Doctors (中国医生)
Chinese Doctors is a medical drama that features the story of a group of doctors at a Wuhan hospital, being the first in the world to deal with the novel coronavirus. The movie, based on true events, shows the struggles of medical front-line workers facing a virus that would change the world as we know it. Watch the trailer here.
Nominated for Best Screenplay:
in random order
#1 Hi Mom (你好,李焕英)
Jia Ling (贾玲) and Sun Jibin (孙集斌) were nominated for the screenplay of Hi Mom. Besides being responsible for the screenplay, which was inspired by events in her own life, Jia Ling also directed the movie and plays the main protagonist. Sun Jibin also wrote the screenplay for the 2017 Trouble Makers.
#2 Battle at Lake Changjin (长津湖)
Lan Xiaolong (兰晓龙) and Huang Xin (黄欣) were nominated for the screenplay of Battle at Lake Changjin. Both screenwriters also did the screenplay for the sequel of this film, titled Water Gate Bridge (长津湖之水门桥).
#3 Be Somebody (扬名立万) (UPDATE: WINNER)
Libashen (里八神), Liu Xunzimo (刘循子墨, also the director), Zhang Benyu (张本煜), and Ke Da (柯达) were nominated for their writing team efforts on the Be Somebody screenplay, which they began writing in 2018 and finished in 2020 before filming began. The small budget film became an unexpected success after National Day in 2021. It is a mystery comedy set during the Republic of China (1912-1949) that follows the story of a group of frustrated filmmakers who gather to plan a new film about a notorious criminal case. Little do they know that the actual murderer is among them. Watch the trailer here (no English subtitles).
#4 Chinese Doctors (中国医生)
Yu Yonggan (于勇敢) was nominated for best screenplay for the movie Chinese Doctors. Yu is also known for his work for The Captain and The Bravest.
#5 Nice View (奇迹·笨小孩)
Zhou Chuchen (周楚岑), Xiu Mengdi (修梦迪), Wen Muye (文牧野), Han Xiaohan (韩晓邯), Zhong Wei (钟伟) were nominated for the screenplay of Nice View.
Nominees for Best Directing:
in random order
#1 Battle at Lake Changjin (长津湖)
The 'dream team' of Chen Kaige (陈凯歌), Tsui Hark (徐克), Dante Lam (林超贤) are nominated for directing The Battle at Changjin Lake.
#2 Hi Mom (你好,李焕英)
For director Jia Ling, this nomination as best director is especially noteworthy since Jia is mostly known as a comedian in China, often performing during the annual Spring Festival Gala. This movie is her directorial debut.
#3 Chinese Doctors (中国医生)
Andrew Lau, known in China as Liu Weiqiang (刘伟强), was nominated as best director for Chinese Doctors (中国医生). The prolific Hong Kong film director, producer, and cinematographer most most notable in the West for his action and crime films.
#4 Be Somebody (扬名立万)
Liu Xunzimo (刘循子墨) is both the director and co-writer for Be Somebody.
#5 Nice View (奇迹·笨小孩)
Director Wen Muye (文牧野) is nominated for Nice View, which is the second feature film by the director. The Chinese film Dying to Survive was the young director's debut in 2018, and it became an absolute box office sensation and one of China's highest-grossing films of all time. For Dying to Survive, Wen also worked together with producer Ning Hao and Jackson Yee, who also stars in Nice View.
Nominated for Best Actor:
in random order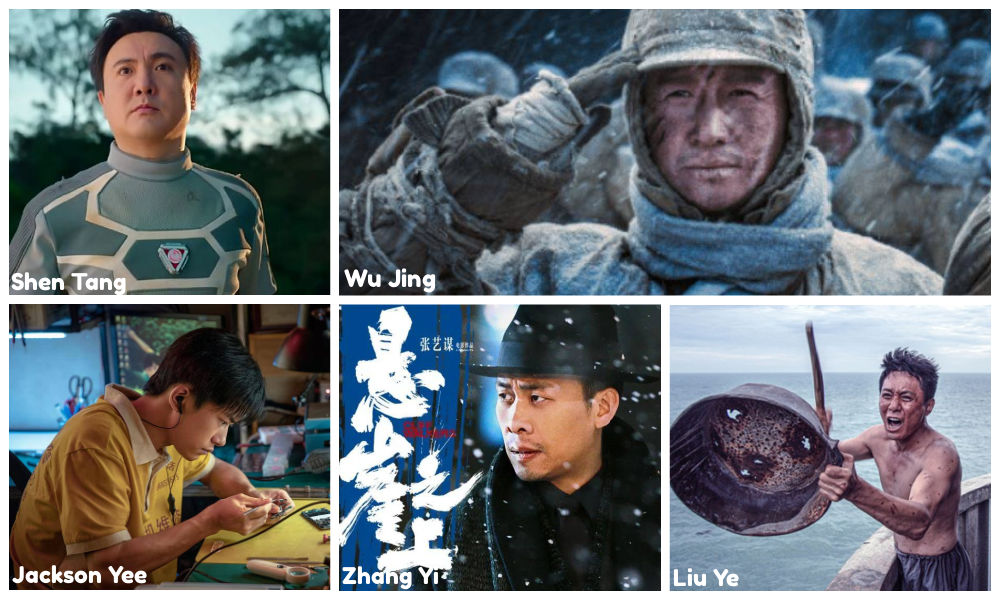 #1 Liu Ye (刘烨)
The renowned actor Liu Ye (1978) is nominated for his role as Wang Jicai (王继才) in Island Keeper (守岛人). Liu already won best actor for the same role during the Golden Deer Awards in December of 2021. Island Keeper is about the true story of Wang Jicai and his wife Wang Shihua who guarded a Chinese border island – Kaishan Island – for 32 years from 1986 to 2018.
#2 Shen Teng (沈腾)
Shen Teng (1979) was nominated for his role as bionic robot Xing Yihao (邢一浩) in My Country, My Parents (我和我的父辈), a four-part anthology drama film directed by four directors, who also each star in their own segment. Shen's segment is called Go Youth. Shen previously also starred in other successful movies, such as Goodbye Mr. Loser and Hello Mr. Billionaire.
#3 Wu Jing (吴京)
Wu Jing (1974) also known as Jacky Wu, is nominated for his role as commander Wu Qianli (伍千里) in Battle at Changjin Lake (长津湖). Wu is a renowned and award-winning actor who starred in some of the most famous Chinese films of the past decade, including The Wandering Earth and Wolf Warrior.
#4 Jackson Yee (易烊千玺)
Jackson Yee is definitely one of the most-discussed people for this award edition. As a singer, dancer, and youngest member of popular boy band TF Boys since 2013, Yee has a major fan base. Over the past years, he has become a notable actor and he starred in the nominated films A Little Red Flower, Nice View, and The Battle at Lake Changjin. This nomination is for his role as Jing Hao (景浩) in Nice View (奇迹·笨小孩). Yee previously also received critical acclaim for his role in Better Days (2019).
#5 Zhang Yi (张译) (UPDATE: WINNER)
Zhang Yi (1978) is nominated for his role as Zhang Xianzhen (张宪臣) in Cliff Walkers (悬崖之上), a film by Zhang Yimou about four Communist Party special agents who embark on a secret mission and find themselves surrounded by threats on all sides.
Nominated for Best Actress:
in random order
#1 Deng Jiajia (邓家佳)
Deng Jiajia (1983) was nominated for her role as Su Mengdie (苏梦蝶) in Be Somebody (扬名立万). Deng starred in various well-known movies and TV dramas, among them the romantic comedy television series iPartment (爱情公寓).
#2 Jia Ling (贾玲)
Besides Jackson Yee, Jia Ling is also one of the names that are nominated multiple times. Besides being nominated for directing and writing Hi Mom, she is also on the nomination list for best actress starring as Jia Xiaoling (贾晓玲).
#3 Yuan Quan (袁泉) (UPDATE: WINNER)
Yuan Quan (1977) was nominated for her role as Wen Ting (文婷) in Chinese Doctors, for which she worked again with director Andrew Lau and co-star Zhang Hanyu like she did for The Captain (2019).
#4 Zhang Xiaofei (张小斐)
Zhang Xiaofei (1936) is nominated for her role as Li Huanying in Hi Mom, which means she is a direct competitor of Jia Ling, who plays her daughter in the film.
#5 Zhang Zifeng (张子枫)
The young Zhang Zifeng (2001) is nominated for her role as An Ran (安然) in Sister (我的姐姐). The movie, directed by Yin Ruoxin (殷若昕), revolves around the story of An Ran, an 18-year-old daughter who is unexpectedly facing the major responsibility for her 6-year-old brother after the tragic loss of their parents. Read more about this film in this article about how the film stirred online discussions on traditional fanily values in 2021.
Best Supporting Actor Nominations:
in random order
#1 Hou Yong (侯勇) (UPDATE: WINNER)
Hou Yong (1967) was nomiated for his role as Wang Changjie (王长杰) in Island Keeper.
#2 Liu Haoran (刘昊然)
Noteworthy enough, this is the only category nomination for the movie 1921, which came out to commemorate the centennial year anniversary of the Chinese Communist Party and tells the story of the founding of the Chinese Communist Party. Liu Haoran (1997) was nominated for his role as Liu Renjing (刘仁静).
#3 Tian Yu (田雨)
Another nomination for Nice View is for Tian Yu (1975) for his role as Liang Yongcheng (梁永诚).
#4 Jackson Yee (易烊千玺)
Besides his other nomination for Best Actor (Nice View), Jackson Yee was also nominated for his role in Chinese Doctors as Yang Xiaoyang (杨小羊).
#5 Zhu Yawen (朱亚文)
Zhu Yawen (1984) was nominiated for his role as political instructor Mei Sheng (梅生) in Battle at Changjin Lake.
Nominations for Best Supporting Actress:
in random order
#1 Hai Qing (海清)
Hai Qing (1978) is nominated in this category for playing the eldest sister in My Country, My Parents.
#2 Liu Jia (刘佳)
Liu Jia (1960) was nominated for playing the middle-aged Li Huanying in Hi, Mom.
#3 Qi Xi (齐溪)
Qi Xi (1984) was nominated for her role as Wang Chunmei, the female worker who helps Jing Hao (Jackson Yee) reach his goals, in Nice View.
#4 Zhou Ye (周也)
Zhou Ye was nominated for starring in Chinese Doctors as Xiao Wen (小文).
#5 Zhu Yuanyuan (朱媛媛)(UPDATE: WINNER)
A second nomination for Sister is for Zhu Yuanyuan (1974) as Antie Rongrong.
Best Newcomer Nomination:
in random order
#1 Chen Halin (陈哈琳)(UPDATE: WINNER)
The little Chen Halin, just nine years old, is was nominated for her role as the little sister 'Tong Tong' in Nice View.
#2 Qin Xiaoshen (秦霄贤)
The Chinese comedian ad host Qin Xiaoshen (1997), also known as Victor Qin was nominated for playing Dahai (大海) in Be Somebody.
#3 Ren Sinuo (任思诺)
Ren is the youngest newcomer at the awards, she starred in My Country, My Parents and is just six years old.
#4 Xu Yu (徐砡)
Xu Yu (2011) is another child star who played Xiao Bao (小宝) in Island Keeper.
#5 Yuan Jinhui (袁近辉)
Yuan Jinhui (2011) was nominated for playing the little brother in My Country, My Parents.

Read more about Chinese cinema here.

Update on ceremony and winners in thread below:
Zhang Xiaofei looking beautiful at the Hundred Flowers Awards ceremony… pic.twitter.com/O0MG7hjxlM

— Manya Koetse (@manyapan) July 30, 2022
By Manya Koetse
Get the story behind the hashtag. Subscribe to What's on Weibo here to receive our weekly newsletter and get access to our latest articles:
References
Nakajima, Seio. 2019. "Official Chinese film awards and film festivals: History, configuration and transnational legitimation." Journal of Chinese Cinemas 13 (3): 228–243
Wang, Zhuoyi, 2014. Revolutionary Cycles in Chinese Cinema, 1951-1979. New York: Palgrave Macmillan.
Spotted a mistake or want to add something? Please let us know in comments below or email us. First-time commenters, please be patient – we will have to manually approve your comment before it appears.
©2022 Whatsonweibo. All rights reserved. Do not reproduce our content without permission – you can contact us at info@whatsonweibo.com.