The 8/26 and 8/27 Blow to Chinese Entertainment Circles: Is the Storm Still Coming?
China's 'socially responsible' celebrity culture will lead to the downfall of various stars.
This month, various Chinese celebrities were investigated, blacklisted, or banned, with an "entertainment circles earthquake" occurring on August 26 and 27, when one of China's most renowned actresses saw her name and work taken off of online channels. Will this blow lead to a greater storm?
Many things were going on in Chinese entertainment circles on Thursday and Friday, August 26-27.
The name of Chinese top actress Zhao Wei (赵薇) was removed from various online channels, and her fan clubs were shut down (read here).
The actress Zheng Shuang (郑爽) was slapped with a US$46.1 million tax evasion fine (her name was also wiped off various platforms & online fan groups were closed), while her ex-partner Zhang Heng (张恒) also became a target of an investigation. The online fan group of Chinese singer-songwriter Henry Huo (霍尊) was removed. The work of the famous musician (and co-founder of Alibaba Music Group) Gao Xiaosong (高晓松) was also taken offline.
The August 26 and 27 "entertainment circle earthquake" comes after a month in which various celebrity scandals were already dominating the top trending lists on social media.
Chinese-Canadian superstar Wu Yifan (吴亦凡), also known as Kris Wu, was detained over rape allegations. Chinese actor Zhang Zhehan (张哲瀚) was canceled for attending a wedding at a controversial Japanese shrine and also taking pictures at Yasukuni. Popular Hunan TV host Qian Feng (钱枫) was suspended after being accused of rape.

A 'Socially Responsible' Celebrity Culture

One thing that is certain, is that Chinese authorities are targeting celebrities in the entertainment industry and are giving off a strong signal that these influential people cannot get away with immoral or illegal acts.
The idea that celebrities should "set the right example" is not new, and has been emphasized by Chinese state media over the past months.
Earlier in 2021, the China Association of Performing Arts (中国演出行业协会), which is run by China's Ministry of Culture and Tourism, officially released new guidelines for Chinese performers in order to promote the idea that they should abide by rules of 'social morality,' stating they could face a permanent ban from their profession if they fail to comply.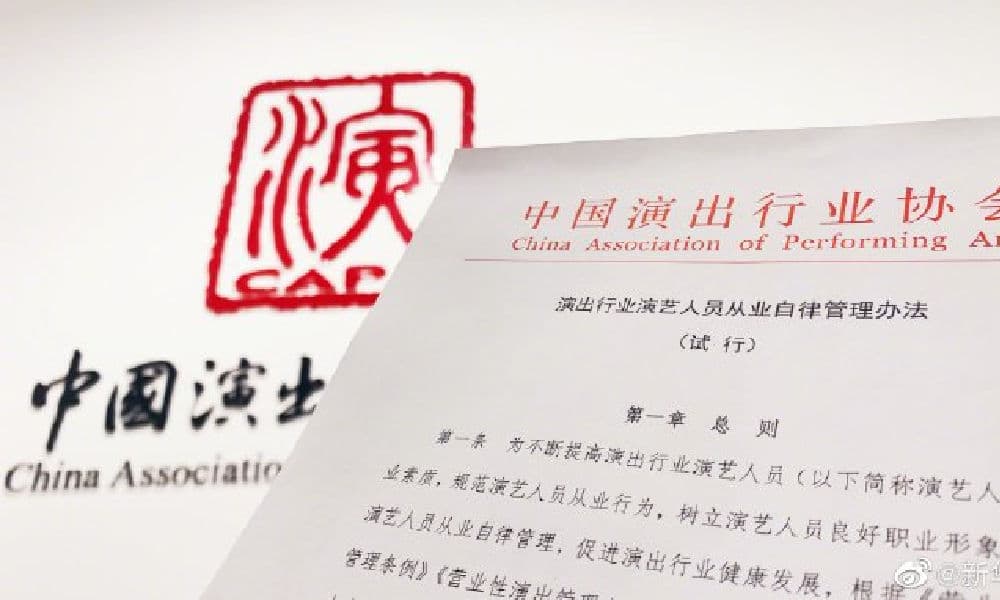 In order to further push this idea of a celebrity culture that is 'socially responsible,' China's Cyberspace Administration also issued new guidelines on August 27 to "resolve the problems of chaos" in online fan circles. These measures include banning online popularity rankings of celebrities and regulating companies that work with them.
But there seems to be more to the story.
Zheng Shuang and her ex-partner Zhang Heng made the news earlier this year when they had a nasty breakup and the 'surrogacy gate' they were involved in went trending (more here), and Henry Huo got caught up in a recent scandal when his ex-girlfriend accused him of being a serial cheater.
But what about Gao Xiaosong and Zhao Wei? Many people on Weibo are still trying to figure out what these celebrities did that would have put them in this pretty dark 'naughty corner' of China's internet.

Connecting the Dots

Especially the fact that Zhao Wei – as one of the most famous actresses in China – is under scrutiny has led to dozens of different online rumors as to what might have caused this.
Zhao Wei, also known as Vicky Zhao, has consistently been among the top celebrities on Weibo (85+ million followers). Not only is she one of the most renowned actresses in the country, she is also a major influencer, brand ambassador, and businesswoman.
At this point, there has been no official announcement yet on Zhao Wei's disappearance from many online video channels.
One recurring rumor is that Wu Yifan, aka Kris Wu, who is currently in custody over rape allegations, might have leaked information to the police. Some sources say he passed on the names of 47 celebrities involved in illegal activities to the police, who are rumored to be in danger of being investigated, blacklisted, or banned. There is no official source to back this up.
Zhao's connections to e-commerce giant Alibaba keep surfacing in online discussions; people link the current developments to the fallen Hangzhou Party chief Zhou Jiangyong (周江勇), who is currently being investigated by China's top anti-graft agency. In May of 2018, Zhou Jianyong became party chief in Hangzhou, the home city of Jack Ma's Ant Group and Alibaba Group Holding.
China Economic Weekly reported that friends and family of Zhou Jiangyong had won in project bidding processes within the areas that Zhou administered.
Zhou previously also set up a company that became a strategic partner of Alibaba Group, Tencent, and Unionpay, and which is partly held by a wholly-owned subsidiary of Ant Financial (蚂蚁金服). As stated by Global Times, the investigation of Zhou has led Chinese media to also look into "the business dealings and questionable economic activities" of Zhou's family and social circle.
Both Zhao Wei and Gao Xiaosong are linked to the Alibaba Group, and they share a social circle with fallen party chief Zhou. Jack Ma is an ally of Zhou Jiangyong, and is also a (close) friend of Gao Xiaosong and Zhao Wei and her husband.
In 2014, Zhao Wei and her husband Huang Youlong became the second-largest shareholder of Alibaba Pictures. It has also been reported that Zhao allegedly used her mother Wei Qiying as a legal representative in 2015 in holding shares in the Ant Group.
Chinese renowned music producer and show host Gao Xiaosong, whose work was also removed from various online channels on the same day as Zhao, is a longtime friend of Jack Ma. He is the co-founder of Alibaba Music Group and previously was the Alibaba Music director.
While netizens are glued to their social media screens awaiting an official announcement of what is going on with Zhao Wei (and Gao Xiaosong), many are trying to connect the dots and are tying the recent crackdown on Chinese entertainment circles to an ongoing anti-corruption campaign.
There are many Chinese celebrities who are investors and are engaged in many other businesses than show-business alone.
After it became clear during this social media storm that actress Zhao Wei had left a number of the companies she was involved in, a 'business map' compiled by a data firm (眼查APP资料) of some Chinese celebrities and their business connections started trending online. The hashtag related to the image (#一张图看懂娱乐圈的资本局#) had received over 780 million views by August 29.
Although the map was unhelpful to many ("too many lines!"), it did clarify just how China's entertainment celebrities have become tangled up with the country's largest companies. One Weibo user commented: "They all start companies and then become each other's shareholders."
Meanwhile, baseless rumors are circulating on Chinese social media that in the middle of this storm, Zhao Wei has already left China for France.
Most commenters think that the latest developments in China's entertainment social circles show that these influential people caught up in controversy can run, but they can no longer hide. This may just be the beginning of what is yet to come.
Read more: 25 'Tainted Celebrities': What Happens When Chinese Entertainers Get Canceled?
By Manya Koetse (@manyapan)
With contributions by Miranda Barnes
Spotted a mistake or want to add something? Please let us know in comments below or email us. First-time commenters, please be patient – we will have to manually approve your comment before it appears.
CAPA Controversy Continued: Li Xuezheng Won't Be Silenced
Despite being censored and threatened, Li Xuezheng believes the force of law is with him.
It has been a stormy week on Weibo following the 'warning list' issued by China's Association of Performing Arts (CAPA) on Tuesday, November 23rd.
It was the ninth time since 2018 for CAPA's livestreaming branch to issue a list of names of people with a 'bad record.' Different from previous lists, its most recent list also included the names of Chinese celebrities who are not necessarily active within the livestreaming industry but should be barred from entering the industry based on their track records.
One of these names is that of Chinese actor Zhang Zhehan (张哲瀚), whose online photos from him visiting the controversial Yasukuni Shrine in Japan in 2018 were one of the major reasons for him to get into trouble in the summer of 2021.
Tokyo's Yasukuni Shrine is a particularly sensitive location when it comes to memories of the Second Sino-Japanese War (1937-1945). The shrine is dedicated to the Japanese soldiers who sacrificed their lives for the emperor, including those who committed war crimes in China. It is generally seen as a symbol of Japanese military aggression and as a painful reminder of the numerous atrocities committed by Japanese soldiers in China and other Asian countries.
Despite apologizing for his supposed lack of historical understanding of the places where he took photos, Zhang saw his career shattered when his social media account was suspended and his brand partnerships were canceled.
Following the inclusion of Zhang's name on the recent CAPA blacklist, famous producer/distributor/actor Li Xuezheng (李学政), director of the Golden Shield Film and Television Center, started posting about the issue on his Weibo account, where he now has over 1.1 million followers.
On November 25th, What's on Weibo reported how Li criticized the blacklist of CAPA, questioning the criteria of the names that are included and how an association or business entity such as CAPA would have the legal power to enforce disciplinary measures over Chinese celebrities beyond the realm of their own association membership circles.
When Li Xuezheng stated he would be willing to help Zhang Zhehan file a lawsuit against CAPA, he received nearly 100,000 likes on his post within 24 hours.
Since Li Xuezheng first posted about the 'warning list' of China's Association of Performing Arts, he published at least twenty posts from November 23 to November 26, including a few videos. His posts have been gaining more traction, and some have received over 140,000 likes within a day.
Li's main stance is that, although he says he supports the general initiative of making blacklists, he wants to know how, why, and if CAPA has the legal authority to ban Chinese celebrities from the industry. Li stresses that China is a law-based society and that these kinds of punitive measures should have a legal basis.
Since Li has worked in anti-corruption-related positions before, he says it is very important to know who oversees the process of compiling celebrity blacklists and which methods are used. Since China's livestreaming industry and the commercial activities of celebrities are of great economic value, people would do anything they can to be removed from such a list. When these kinds of power dynamics play a role, Li argues, the risk of corruption is always there – which is why it is all the more important to know who compiles these kinds of lists and which legal authority they have.
Li argues that China's State Administration of Radio, Film and Television (SARFT) and the Ministry of Culture and Tourism have the authority to 'blacklist' people in the industry. But when people such as Zhang Zhehan are not listed anywhere according to these authorities, it should be questioned why they are still included in lists such as the one issued by CAPA. Going by law is one of the main principles Li stands by.
Although there are also people criticizing Li, saying he is "saving bad performers" to gain clout, there are many who praise him for his courage and perseverance, reiterating the necessity for Chinese organizations to abide by the law. Others are just following the trend for entertainment, writing: "I'm enjoying the spectacle of this, there's the CAPA, there's capital, money laundering, platforms, hiding the truth from the masses…"
Zhang Zhehan still has a loyal group of fans, who support Li in raising awareness for what they believe is the wrongful punishment of their idol.
What is also noteworthy about Li's posts, is how he refuses to be silenced by outside forces. When Weibo censors his posts, he makes it public by posting screenshots. When he is told by people claiming to have authority to delete his Weibo accounts, he reports back to his readers about what has happened to him.
Although there are many Weibo users who worry about Li's safety for speaking out about these matters, Li himself does not seem to be anxious at all. "I am legally responsible for every word I publish," Li writes on November 25th, arguing that nothing he posts is illegal and that he only tries to adhere to the ruling standards and to keep China's online (entertainment) industry healthy by questioning those claiming to have authority.
One of the points raised by Li is that Zhang Zhehan has never really done anything illegal. By visiting the controversial Yasukuni Shrine, he surely caused a social media storm and was criticized, but he did not do anything illegal and did not spread rumors. If visiting Yasukuni Shrine in itself would be a crime, Li argues, many Chinese media reporters would surely need to be punished as well.
By now, Li has started a storm that does not seem to be lying down any time soon. On November 26, the official site of the China Association of Performing Arts removed its list of leaders from its official site. As of now, it is unclear why this has been done.
At the same time, Li writes that there are more people trying to threaten and smear him. Li still says he will not be silenced: "The great power of justice is surrounding us."
To read more on this issue, check out our other related articles here.
By Manya Koetse
Spotted a mistake or want to add something? Please let us know in comments below or email us. First-time commenters, please be patient – we will have to manually approve your comment before it appears.
©2021 Whatsonweibo. All rights reserved. Do not reproduce our content without permission – you can contact us at info@whatsonweibo.com.
Li Xuezheng Defies Online Celebrity 'Blacklist,' Says He'll Help Zhang Zhehan File Lawsuit
China's Association of Performing Arts has issued a blacklist, but Li Xuezheng questions their legal authority to do so.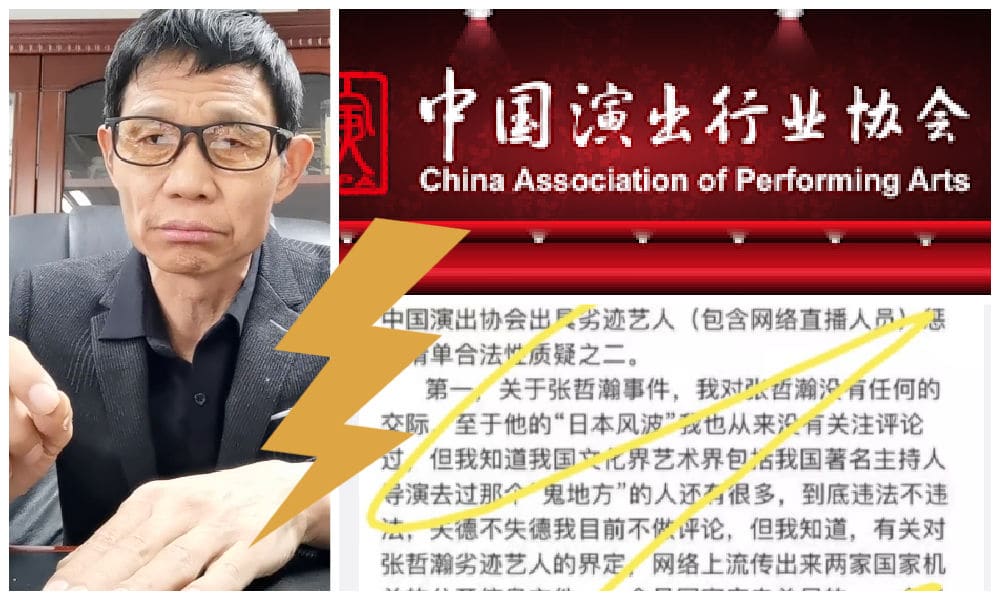 As an important voice within the industry, Li Xuezheng has spoken out against the recent blacklist of Chinese (online) performers issued by the China Association of Performing Arts. Li is willing to help one of the prominent names on the list, Chinese actor Zhang Zhehan, to file a lawsuit against the Association.
Li Xuezheng (李学政), Vice Chairman of the China TV Artists Association and Director of the Golden Shield Television Center, has published a video that has caught the attention of many on Weibo. In his video, Li questions the authority of China's Association of Performing Arts (CAPA/中国演出行业协会), which released a black list of online celebrities earlier this week.
The list went trending on Weibo and contains 88 names of internet personalities who have been reported and registered for their supposedly bad behavior. The people on the list have either violated the law or their actions have allegedly negatively impacted society and public order (more about the list here).
The consequences for the people included in the list are potentially huge, since it not only bans livestreamers from continuing their work but also prohibits performers who were previously 'canceled' from entering China's livestreaming industry to generate an income there. Through the list, CAPA gives an overview of people that should be boycotted and disciplined in the industry.
One of the people on the list is Zhang Zhehan, an actor who got caught up in a Chinese social media storm in August of 2021 over attending a wedding at a controversial Japanese shrine and taking pictures at Yasukuni, a shrine that is seen as representing Japanese militarism and aggression.
Although Zhang apologized, Zhang's account and an affiliated work account were suspended by Weibo and the brand partnerships he was involved in were canceled.
Chinese celebrities who have fallen out of favor with authorities or audiences will sometimes turn to livestreaming. Singer Li Daimo (李代沫), for example, became a livestreamer after his successful singing career ended due to a drugs scandal. But now, even such an alternative career would no longer be possible for someone like Zhang, although he was never legally convicted for anything.
News of CAPA's blacklist was widely published, also by People's Daily, and the measures were presented as a way to tidy up the chaotic online entertainment industry and to create a "healthy and positive" internet environment.
In his video and other recent posts, Li Xuezheng wonders how the so-called 'warning list' was compiled, according to which criteria, by whom it was created, and whether or not the CAPA actually has the legal power to shut people out of China's live streaming industry.
He also raises the issue that CAPA's live streaming branch, that issued the blacklist, is actually a business entity; so how does it have the legal disciplinary powers to impose sanctions against Chinese online influencers and performers?
Li's video, posted on his Weibo account on November 24, has received over 90,000 likes and was shared over 8500 times at the time of writing.
"What I don't understand," one popular comment says: "- are these online influencers [on the list] all members of the Association? Can the Association also punish non-members? Does the authority of the Association cover all media? On what legal basis is their regulatory conduct based?"
The China Association of Performing Arts, founded in 1988, is a national-level organization that falls under the supervision of the Ministry of Culture and Tourism of China. It is a non-profit organization formed by performance operators and performers, according to its official website, which also states that members of the association include performance groups, performance venues and companies, ticketing companies, and more.
Since Li's video was posted on November 24th, he received a lot of support from Chinese netizens but also faced some online censorship. Li himself posted screenshots showing that not all of his posts could be published.
It is noteworthy for someone like Li to speak out against CAPA's blacklist. Li Xuezheng is a familiar face within the industry. Born in Shandong Province in 1965, Li has worked in China's film and TV industry for a long time and has since built an impressive resume as a producer, supervisor, actor, and distributor. He has over a million followers on his Weibo account (@李学政).
On November 25th, Li added another post to his series of posts on the CAPA issue, saying that although his initial goal was just to make sure that CAPA sticks to the rules, he is now also prepared to help Zhang Zhehan in filing a lawsuit against the Association, since Zhang did not violate any laws in order for him to be 'canceled' like this. "I believe in the justice of the law," Li writes.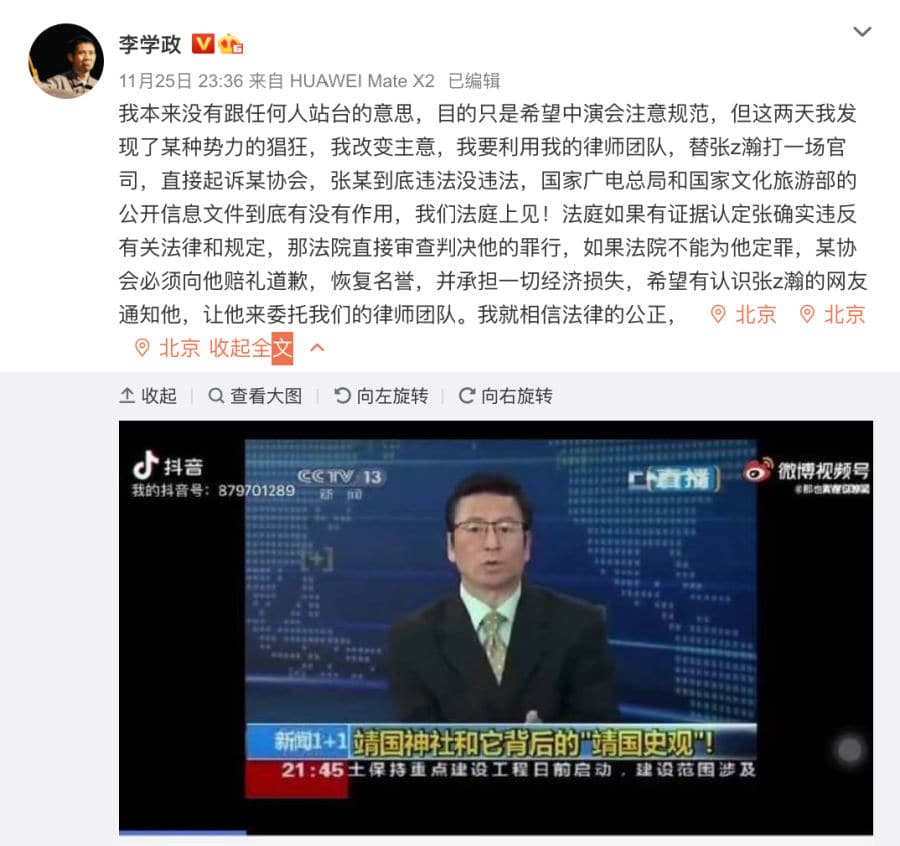 Although Li received a lot of support on social media, there are also those who worry about Li himself: "You first take care of yourself," some say, with others warning him: "Teacher Li, if you go on like this, you will lose your [Weibo] account tomorrow."
Others are moved by Li's courage: "I almost feel like crying reading your words."
"It's been a long time since I've seen someone with this kind of overwhelming righteousness."
For now, Li seems to be unstoppable in his goal to get to the bottom of this case; he seems to be determined to raise awareness within the industry on who is legally allowed to set the rules and who is not.
One popular comment says: "Looking at Teacher Li, I see he is fighting corruption and advocating honesty. Besides listening to the public's opinion, I just hope law-based society will rule according to law."
By Manya Koetse
Spotted a mistake or want to add something? Please let us know in comments below or email us. First-time commenters, please be patient – we will have to manually approve your comment before it appears.
©2021 Whatsonweibo. All rights reserved. Do not reproduce our content without permission – you can contact us at info@whatsonweibo.com.