The 8/26 and 8/27 Blow to Chinese Entertainment Circles: Is the Storm Still Coming?
China's 'socially responsible' celebrity culture will lead to the downfall of various stars.
This month, various Chinese celebrities were investigated, blacklisted, or banned, with an "entertainment circles earthquake" occurring on August 26 and 27, when one of China's most renowned actresses saw her name and work taken off of online channels. Will this blow lead to a greater storm?
Many things were going on in Chinese entertainment circles on Thursday and Friday, August 26-27.
The name of Chinese top actress Zhao Wei (赵薇) was removed from various online channels, and her fan clubs were shut down (read here).
The actress Zheng Shuang (郑爽) was slapped with a US$46.1 million tax evasion fine (her name was also wiped off various platforms & online fan groups were closed), while her ex-partner Zhang Heng (张恒) also became a target of an investigation. The online fan group of Chinese singer-songwriter Henry Huo (霍尊) was removed. The work of the famous musician (and co-founder of Alibaba Music Group) Gao Xiaosong (高晓松) was also taken offline.
The August 26 and 27 "entertainment circle earthquake" comes after a month in which various celebrity scandals were already dominating the top trending lists on social media.
Chinese-Canadian superstar Wu Yifan (吴亦凡), also known as Kris Wu, was detained over rape allegations. Chinese actor Zhang Zhehan (张哲瀚) was canceled for attending a wedding at a controversial Japanese shrine and also taking pictures at Yasukuni. Popular Hunan TV host Qian Feng (钱枫) was suspended after being accused of rape.

A 'Socially Responsible' Celebrity Culture

One thing that is certain, is that Chinese authorities are targeting celebrities in the entertainment industry and are giving off a strong signal that these influential people cannot get away with immoral or illegal acts.
The idea that celebrities should "set the right example" is not new, and has been emphasized by Chinese state media over the past months.
Earlier in 2021, the China Association of Performing Arts (中国演出行业协会), which is run by China's Ministry of Culture and Tourism, officially released new guidelines for Chinese performers in order to promote the idea that they should abide by rules of 'social morality,' stating they could face a permanent ban from their profession if they fail to comply.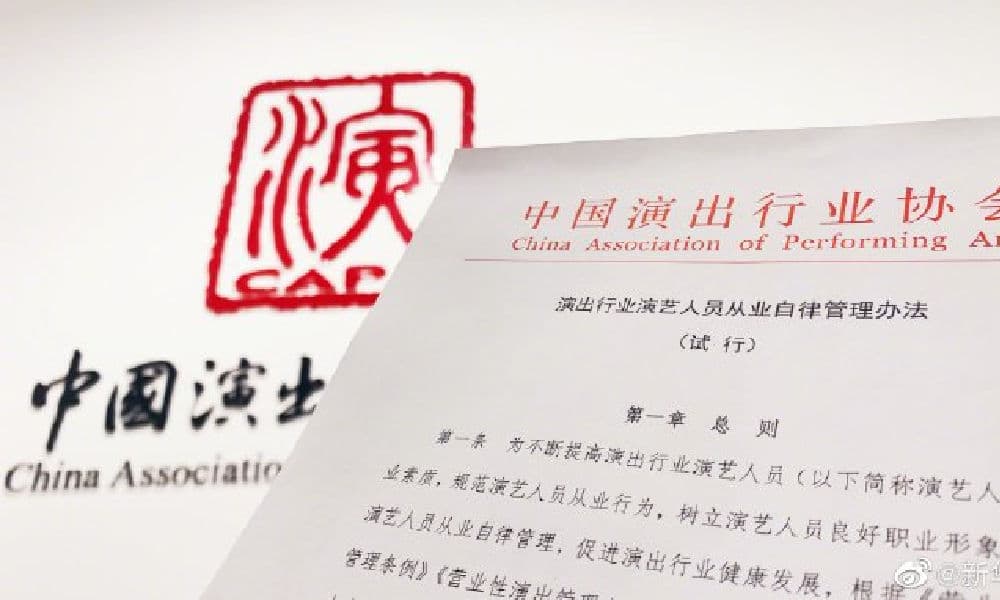 In order to further push this idea of a celebrity culture that is 'socially responsible,' China's Cyberspace Administration also issued new guidelines on August 27 to "resolve the problems of chaos" in online fan circles. These measures include banning online popularity rankings of celebrities and regulating companies that work with them.
But there seems to be more to the story.
Zheng Shuang and her ex-partner Zhang Heng made the news earlier this year when they had a nasty breakup and the 'surrogacy gate' they were involved in went trending (more here), and Henry Huo got caught up in a recent scandal when his ex-girlfriend accused him of being a serial cheater.
But what about Gao Xiaosong and Zhao Wei? Many people on Weibo are still trying to figure out what these celebrities did that would have put them in this pretty dark 'naughty corner' of China's internet.

Connecting the Dots

Especially the fact that Zhao Wei – as one of the most famous actresses in China – is under scrutiny has led to dozens of different online rumors as to what might have caused this.
Zhao Wei, also known as Vicky Zhao, has consistently been among the top celebrities on Weibo (85+ million followers). Not only is she one of the most renowned actresses in the country, she is also a major influencer, brand ambassador, and businesswoman.
At this point, there has been no official announcement yet on Zhao Wei's disappearance from many online video channels.
One recurring rumor is that Wu Yifan, aka Kris Wu, who is currently in custody over rape allegations, might have leaked information to the police. Some sources say he passed on the names of 47 celebrities involved in illegal activities to the police, who are rumored to be in danger of being investigated, blacklisted, or banned. There is no official source to back this up.
Zhao's connections to e-commerce giant Alibaba keep surfacing in online discussions; people link the current developments to the fallen Hangzhou Party chief Zhou Jiangyong (周江勇), who is currently being investigated by China's top anti-graft agency. In May of 2018, Zhou Jianyong became party chief in Hangzhou, the home city of Jack Ma's Ant Group and Alibaba Group Holding.
China Economic Weekly reported that friends and family of Zhou Jiangyong had won in project bidding processes within the areas that Zhou administered.
Zhou previously also set up a company that became a strategic partner of Alibaba Group, Tencent, and Unionpay, and which is partly held by a wholly-owned subsidiary of Ant Financial (蚂蚁金服). As stated by Global Times, the investigation of Zhou has led Chinese media to also look into "the business dealings and questionable economic activities" of Zhou's family and social circle.
Both Zhao Wei and Gao Xiaosong are linked to the Alibaba Group, and they share a social circle with fallen party chief Zhou. Jack Ma is an ally of Zhou Jiangyong, and is also a (close) friend of Gao Xiaosong and Zhao Wei and her husband.
In 2014, Zhao Wei and her husband Huang Youlong became the second-largest shareholder of Alibaba Pictures. It has also been reported that Zhao allegedly used her mother Wei Qiying as a legal representative in 2015 in holding shares in the Ant Group.
Chinese renowned music producer and show host Gao Xiaosong, whose work was also removed from various online channels on the same day as Zhao, is a longtime friend of Jack Ma. He is the co-founder of Alibaba Music Group and previously was the Alibaba Music director.
While netizens are glued to their social media screens awaiting an official announcement of what is going on with Zhao Wei (and Gao Xiaosong), many are trying to connect the dots and are tying the recent crackdown on Chinese entertainment circles to an ongoing anti-corruption campaign.
There are many Chinese celebrities who are investors and are engaged in many other businesses than show-business alone.
After it became clear during this social media storm that actress Zhao Wei had left a number of the companies she was involved in, a 'business map' compiled by a data firm (眼查APP资料) of some Chinese celebrities and their business connections started trending online. The hashtag related to the image (#一张图看懂娱乐圈的资本局#) had received over 780 million views by August 29.
Although the map was unhelpful to many ("too many lines!"), it did clarify just how China's entertainment celebrities have become tangled up with the country's largest companies. One Weibo user commented: "They all start companies and then become each other's shareholders."
Meanwhile, baseless rumors are circulating on Chinese social media that in the middle of this storm, Zhao Wei has already left China for France.
Most commenters think that the latest developments in China's entertainment social circles show that these influential people caught up in controversy can run, but they can no longer hide. This may just be the beginning of what is yet to come.
Read more: 25 'Tainted Celebrities': What Happens When Chinese Entertainers Get Canceled?
By Manya Koetse (@manyapan)
With contributions by Miranda Barnes
Spotted a mistake or want to add something? Please let us know in comments below or email us. First-time commenters, please be patient – we will have to manually approve your comment before it appears.
When a Scene from a 2010 Chinese TV Drama Goes Viral: The 'Cao Cao Flips Rice Bowl' Meme
Cao Cao flipping the rice bowl is another Cao Cao meme that's widely used to convey internal struggles about facing reality.
These days, a viral meme originating from the Chinese TV series Three Kingdoms (三国) has gained significant traction on Chinese social media.
In a memorable scene from the 2010 series, Cao Cao, a prominent warlord in Chinese history played by actor Chen Jianbin (陈建斌), angrily flips his rice bowl upon receiving news of a surprise attack, only to gather the spilled rice back into the bowl later.
This scene featuring an enraged Cao Cao has resurfaced and struck a chord with individuals reluctantly facing reality.
This short scene from the 2010 Chinese historical drama "Three Kingdoms" – in which Cao Cao angrily flips over his rice bowl on the table and then shortly after puts it all back in the bowl – has gained significant traction on Chinese social media recently. pic.twitter.com/DrM3Xgi35F

— What's on Weibo (@WhatsOnWeibo) June 3, 2023
Turning into a popular meme, Cao Cao flipping the rice bowl has become widely employed to convey sentiments of self-inflicted humiliation or the hesitation to undertake certain actions.
The Context of the Scene
The specific scene comes from episode 12 of the Three Kingdoms. Warlord Cao Cao, who is governor of Yan Province, is enjoying his meal when his advisor comes in to inform him about a surprise attack by Chinese military general Lü Bu (吕布), capturing almost the entire province.
Upon receiving this alarming report, Cao Cao's anger flared, and he promptly flipped his rice bowl upside down on the table, an act now commonly referred to as "Cao Cao flips the rice bowl" (曹操盖饭).
Cao Cao's anger was intertwined with disbelief at Lü Bu's audacity to execute such a daring attack. Cao Cao's advisor swiftly clarified that the mastermind behind the attack was Lü Bu's strategist, Chen Gong (陈宫), who was also renowned as a brilliant strategist during the Three Kingdoms era.
As he grasped the true situation, Cao Cao gradually regained his composure and meticulously gathered the spilled rice back into his bowl – an act now known as "Cao Cao retrieving his bowl of rice" (曹操撤回了一碗饭),- before resuming his meal.
The catchphrase that is used to describe Cao Cao retrieving his rice utilizes the word "chèhuí" (撤回), which means "to recall" or "to retract." It can be understood as "Cao Cao recalled his bowl of rice," drawing a parallel to the recall function in WeChat that allows users to retract or cancel a message after it has been sent.
How To Use the Meme
The contrast between the forceful act of flipping the rice bowl and the subsequent unwillingness and silence displayed while putting the scattered rice back into the bowl is a key factor contributing to the meme's viral nature on the internet.
Netizens have creatively applied Cao Cao's meme in various situations to express their own internal struggles or a sense of self-inflicted humiliation they experience (自己打自己脸).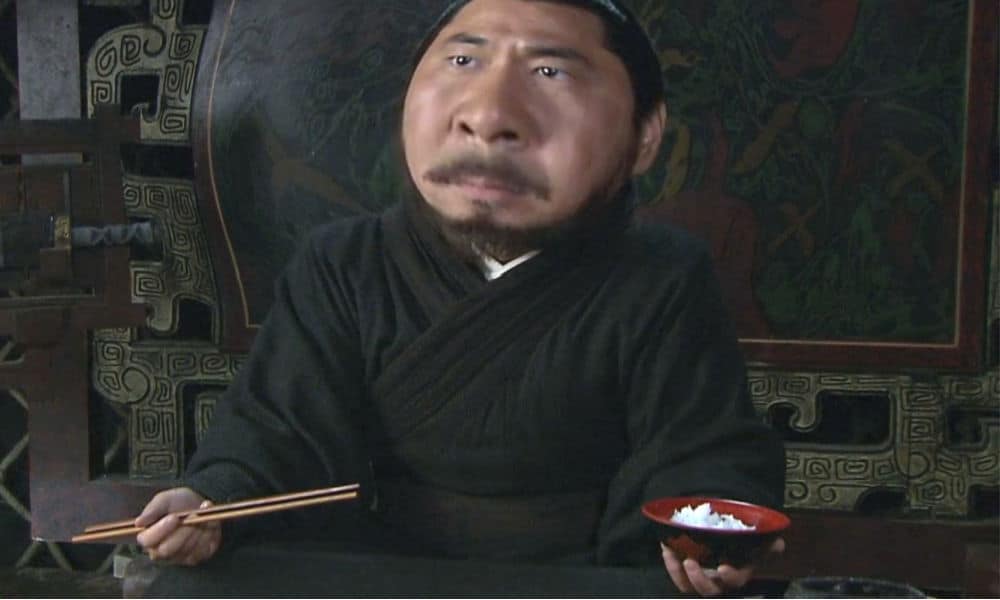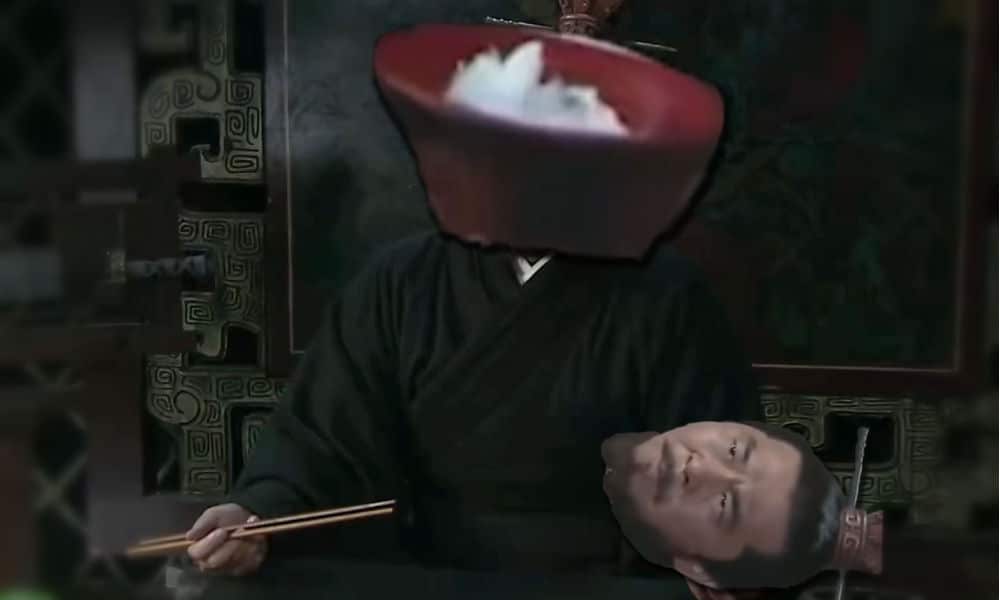 For instance, the meme effectively captures the feelings of both white-collar workers and students who utilize the "Cao Cao flips the rice bowl" meme on Fridays. On this day, they express their frustration with the demanding work week and their eagerness to leave their tasks behind.
On Friday it's f*ck this job… pic.twitter.com/S8cHTQOzgX

— What's on Weibo (@WhatsOnWeibo) June 3, 2023
However, the arrival of Monday brings a sense of reality as they realize the necessity of returning to the office or school. The "Cao Cao retrieves his bowl of rice" meme is then employed to represent the unavoidable resumption of their daily routines.
…on Monday, it's back to work… pic.twitter.com/ST1v8eqjyq

— What's on Weibo (@WhatsOnWeibo) June 3, 2023
In this regard, the meme is somewhat comparable to the English "F*ck This Job, *Goes to Work*" meme (link).
"Not Possible, Absolutely Not Possible"
It is not the first time for Three Kingdom's Cao Cao to achieve viral status through memes.
Prior to the emergence of the 'Cao Cao flips/retrieves the rice' meme, Cao Cao was already well-known for another meme phrase: "Not possible, absolutely not possible" ("不可能,绝对不可能").
This meme originated from a scene where Cao Cao received news of Liu Bei's rebellion, immediately after confidently asserting that Liu Bei, another major warlord, would never betray him.
The meme captures the essence of self-deception and the unwillingness to accept the truth. Similar to the current popular meme, this meme is often used to depict situations where someone unintentionally exposes their own flaws or contradicts their previous statements, symbolizing a self-inflicted "slap in the face."
Read more of our articles about memes in China here.
By Zilan Qian
Get the story behind the hashtag. Subscribe to What's on Weibo here to receive our newsletter and get access to our latest articles:
Spotted a mistake or want to add something? Please let us know in comments below or email us. First-time commenters, please be patient – we will have to manually approve your comment before it appears.
©2023 Whatsonweibo. All rights reserved. Do not reproduce our content without permission – you can contact us at info@whatsonweibo.com.
Fandom Meets Matrimony: Sea of Brides at Roy Wang's Concert as Female Fans Show Up in Wedding Gowns
After showing up as brides at Roy Wang's concert, some female fans attempted to return their gowns within the store's 7-day 'No Questions Asked Return Policy'.
A recent concert by Chinese celebrity Roy Wang (Wang Yuan 王源) has become a hot topic on Chinese social media as female fans attending the show collectively decided to wear wedding dresses to express their love for the singer.
Born in 2000, Roy Wang is best known as a member of the hugely popular TFboys idol group that debuted in 2013, but his solo career has also been thriving for years. Wang is an award-winning musician, who is now among China's most influential young celebrities. On Weibo, he has nearly 85 million followers.
The sight of so many fans coming to Wang's Chongqing concert wearing wedding dresses was already remarkable, but it garnered even greater attention when it turned out that some of the women's boyfriends were so upset over their girlfriends wearing a wedding dress for another man that they ended the relationship because of it.
On Douyin (China's TikTok), the related discussion made it to the top 5 trending daily topics list.
The story gained further traction when reports emerged that some female fans who had recently purchased wedding dresses for the concert attempted to return them to the store the next day, taking advantage of the store's policy that allows returns within seven days without requiring a specific reason (7天无理由退货).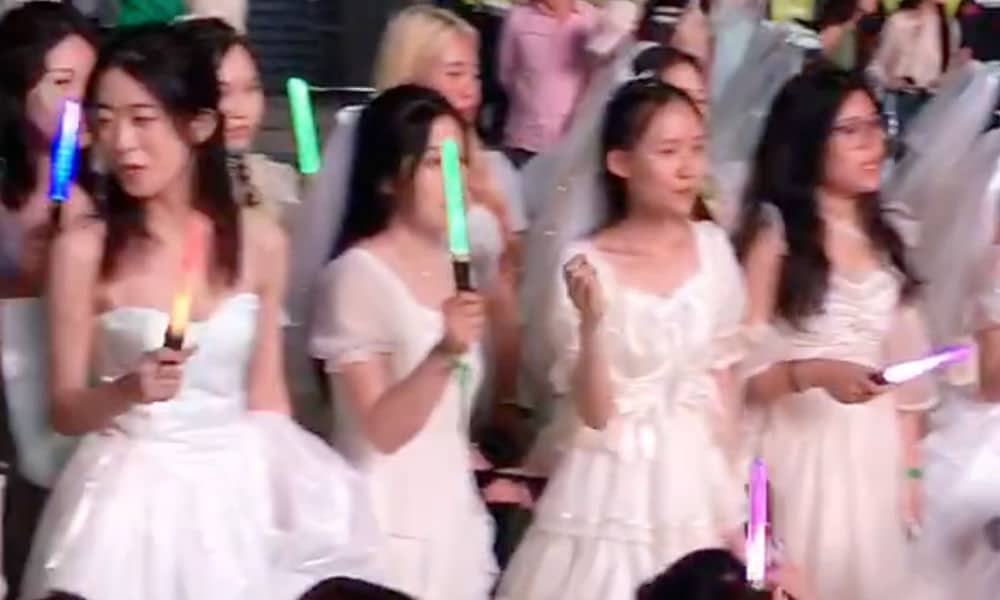 "I already wondered why business was suddenly booming," one Chongqing wedding gown seller wrote on social media, complaining how the return policy was being abused by some of Roy Wang's fans.
Others saw the fact that they wore the wedding dress to the concert as a unique selling point, and tried to resell their gowns online for more than the original price, claiming that the dress still had "a hint of the concert's aroma."
Commenters bombarded these women with negative comments, as the topic also drew wider discussions on how far some fans are willing to go to show their love for their idols.
Some social media users expressed that a wedding dress has a symbolical or even sacred function, and that tying the concept of fandom to matrimony is inappropriate. They condemned the women for showing up to the concert as brides.
Given that many of the commenters criticizing the women were male, there were also feminist voices that condemned these men for their pettiness and chauvinistic attitudes. One comment stood out: "There will always be men whose ego is bruised when women they don't even know won't wear a wedding dress and save their chastity for them. Thanks to Roy Wang's concert, I once again realize the diversity of species."
In an online poll asking people "Can women only wear a wedding dress once in their lives" (#女生一生只能穿一次婚纱吗#) the majority of people replied that they should just wear whatever they like.
"My first thought is that this is romantic," one popular entertainment blogging account (@娱大蜀黍) wrote: "My second thought is that it's actually quite moving. In the midst of their youth, they are writing a passionate chapter for themselves. They will treasure it as a beautiful memory later on in life. They do what they love and they're not bothering anyone. It's perfectly fine."
By Manya Koetse & Miranda Barnes
Get the story behind the hashtag. Subscribe to What's on Weibo here to receive our newsletter and get access to our latest articles:
Spotted a mistake or want to add something? Please let us know in comments below or email us. First-time commenters, please be patient – we will have to manually approve your comment before it appears.
©2023 Whatsonweibo. All rights reserved. Do not reproduce our content without permission – you can contact us at info@whatsonweibo.com.
Subscribe to our newsletter
Stay updated on what's trending in China & get the story behind the hashtag
Sign up here to become a premium member of What's on Weibo today and gain access to all of our latest and premium content, as well as receive our exclusive newsletter. If you prefer to receive just our weekly newsletter with an overview of the latest, you can subscribe for free here.
Would you like to become a contributor, or do you have any tips or suggestions for us? Get in touch with us here.