Jews in Shanghai: Memories of a Nearly Forgotten Community
As modern buildings mushroom and old neighborhoods disappear, the traces of Jewish history are fading in today's Shanghai. But recent initiatives, such as a Jews in Shanghai musical and the launch of a Shanghai Jewish diaspora website, keep the memories of China's Jewish heritage more alive than ever. A short history of Jews in Shanghai and how their history is remembered in 21st century China.

Story by Manya Koetse, photo-reportage by Maarten van der Meer.

Perhaps Jewish history is not the first thing that springs to mind when thinking about Shanghai. Yet the vibrant city harbors a rich history of Jewish heritage – a history that has recently seen a revival in Chinese media and entertainment.
The increased attention for the Jewish community of Shanghai and the history of Jews in China comes at a time when relations between China and Israel are at a new height. The two countries recently signed a visa deal that has encouraged mutual travel. Tel Aviv and Beijing are also making plans to establish a free trade zone.
DISAPPEARING HISTORIES
"While bulldozers are rumbling, discoveries of historically important buildings make the news."
The 'memory revival' of China's Jewish history also comes at a time when old Jewish neighborhoods in Shanghai are being demolished. A reviving Jewish community in the city of Kaifeng is facing an ongoing crackdown by the government, as Judaism does not belong to China's five state-approved religions of Buddhism, Taoism, Islam, Christianity and Protestantism.
Shanghai's northern district of Hongkou is at the heart of Shanghai's old Jewish neighborhood. Although many buildings are well-preserved, large parts of the neighborhood have been demolished over the past few years. Residents are located to other, more remote, areas of the city.
While bulldozers are rumbling, discoveries of historically important buildings sometimes make the news. In 2014, an old residence set for demolition turned out to be a meeting place for Sun Yat-sen and other well-known people during the 1910s. The building was preserved after a Weibo user asked for help to save it.
In February 2016, another Hongkou building remained intact after it was discovered to be be a former 'comfort women' house used by Japanese troops during WWII.
While parts of the old neighborhood are disappearing, new initiatives are keeping its memories alive.
NEW WAYS OF REMEMBERING
"China has seen a 'revival' in remembering China's and Shanghai's Jewish history."
Just 3 kilometers from Shanghai's famous Peace Hotel (its Victor's Café was named after famous Shanghai Jew Sir Victor Sassoon) lies the Shanghai Jewish Refugees Museum; opened in 2007 to commemorate the Jewish refugees who lived in Shanghai during WWII. The museum frequently holds new displays and events to catch the audience's attention.
But the history of Jews in Shanghai is kept alive through more than only the museum. Over the past few years, China has seen a 'revival' in remembering China's and Shanghai's Jewish history. Its historical revival mainly takes place outside museums, namely in popular culture and cyberspace.
China's first animated movie about the Jewish history of Shanghai premiered in 2010. A Jewish Girl in Shanghai (犹太女孩在上海) tells the story and hardships of Jewish girl Rena who flees Nazi persecution by traveling to Shanghai during the WWII. The film has been described as "China's first homegrown Jewish film". A sequel to the anime appeared in 2015.
In the same year (2015), the first musical themed around the Jews in Shanghai saw the light at the Shanghai International Arts Festival in October. The musical Jews in Shanghai (犹太人在上海) revolves around the blossoming love between a Jewish man and Shanghai woman during the chaos of WWII. The Chinese-Israeli musical premiered in Beijing in June of 2016 (Yuan 2016: 30).
Shanghai's Jewish history is also being commemorated through digital channels. On September 28, Shanghai's Hongkou district government released a multilingual website telling different stories of the Jewish diaspora in Shanghai during the World War II. The project, launched by Shanghai International Studies University and the Shanghai Jewish Refugees Museum, has collected stories from the time Jews fled to Shanghai to escape Nazi persecution.
E-learners can now also learn about the Jewish history in China through Coursera. Nanjing University has started offering an online course on Jewish Diaspora in China , taught by Dr. Xu Xin – an expert on the history of Judaism in China. The course requires enrollment but is offered for free.
JEWS IN CHINA/SHANGHAI: A SHORT HISTORY
"They have entirely lost their religion and are scarcely distinguishable in any way from the Chinese."
China has a long history of Jewish diaspora, although it is not entirely clear when and where this history began. What is clear, however, is that China is the only country in East Asia where Jews have consecutively lived for the last 1000 years. Marco Polo already mentioned the presence of Jews in China in 1286, and there is historical evidence that Jews lived in the old city of Kaifeng since the 11th century (Xin 2010: 133).
Although the city of Kaifeng once had a lively Jewish community, it gradually diminished throughout the 19th century. By the early 20th century, it had become nearly non-existent. When a bishop of the Anglican church visited the city in 1867, he already noted about the Kaifeng Jews that "they have entirely lost their religion and are scarcely distinguishable in any way from the Chinese" (Rhee 1973: 118).
The reason for the Jewish demise could be explained through their complete assimilation in China. Throughout time, they took on Confucianism, practiced patrilineal descent, intermarried, and identified with Chinese culture so much that they were no longer really considered "Jewish" at all (1973: 115).
In Shanghai, however, something different was happening. After China was defeated by Britain during the first Opium War (1839-1842), Shanghai became an open port where foreign trade was allowed and where Britain could establish settlements. It was at this time that the first wave of Jewish people came to Shanghai, along with British merchants, to start businesses there. This early Jewish community of modern China, who were Sephardi Jews, settled down in Shanghai and other cities (Hong Kong, Tianjin) to make money and establish companies.
The second wave of Jewish came to Shanghai in the early 20th century. These Ashkenazi Jews came from Eastern Europe and Russia, and also settled down in the bustling city to start small businesses. Together with the first wave of Jews in Shanghai, they had a thriving Jewish community with Jewish synagogues, cemeteries, and institutions.
But the history of Jews in Shanghai is mostly known for the third wave of Jewish diaspora: German and Austrian Jewish who came to Shanghai as refugees before and during the WWII.
THE SHANGHAI GHETTO
"Shanghai became their destination not by choice, but because they had no other choice."
Why Shanghai? For many Jews at the time, Shanghai became their destination not by choice, but because they had no other choice (Xin 2016). As anti-Jewish violence grew strong in Nazi-ruled Germany and Austria, many Jews wanted to leave the country. But despite the 1938 Evian Conference in France, that was joined by 32 nations to resolve the Jewish refugee crisis, other countries remained reluctant to take in Jewish refugees. Without the required visas needed to enter countries such as America, many Jews were desperate.
Shanghai, however, was an exceptional place: it was an open port under the control of foreign powers, and it already was home to two relatively large Jewish communities. There was no need for a visa. For those who could afford to go on a boat to China, it was the best refugee haven (Gao 2011: 203; Meyer 2000: 71). After the anti-Jewish pogroms during the 1938 Kristallnacht, many Jews arrived in China. In the 1933-1940 period, approximately 20,000 European Jews came to China, of which a large majority arrived in Shanghai per boat (Xin 2016; Gao 2011: 203)
The fourth and final wave of Jewish arrived in China via the Japanese city of Kobe. It was a Polish Jewish community who had ended up in Kobe via Siberia, but left again after the outbreak of the Pacific War. By the early 1940s, four different Jewish communities, coming from four different "waves" of diaspora, lived in Shanghai together at the same time.
It was Shanghai's Hongkou district (also spelled as 'Hongkew') that became the main Jewish neighborhood. Since it was amongst the lesser developed areas of Shanghai, the cost of living was cheap there. But under Japanese control, the area's Tilanqiao neighborhood (提篮桥) turned into a "designated area for stateless refugees", simply a "ghetto", where around 20,000 of its 50,000 residents were Jewish. Japanese authorities controlled the district and prohibited Jews from leaving the "Hongkou ghetto" without the required papers, which were hard to obtain.
According to Evelyn Pike Rubin, one of the German-Jewish refugees who survived in Shanghai during the 1939-1947 period, the designated area only came in 1943. She told What's on Weibo: "Until 1943 we could live anywhere. As a matter of fact, I lived with my parents on Avenue Joffre. It was not until May of 1943 that the so-called 'ghetto' was established. Mr. Ghoya gave out the passes – sometimes with difficulty. My mother got a pass and did business outside the ghetto and I and my friends got passes to continue attending the Shanghai Jewish school in the former International Settlerment on Seymour Road."
Evelyn Pike Rubin later published a book about her experiences in Shanghai, titled Ghetto Shanghai (1998: link).
Despite suffering hardships, the Jews in the Shanghai Ghetto were safe and far removed from the horrors of Europe. Jewish children attended school and could freely play around the streets with their Chinese friends.
Nina Admoni, a Polish Jew who spent her childhood in the ghetto, told
Times of Israel
in 2012 that she looked back on her experience in Shanghai fondly and even idyllically: "The Chinese people in Shanghai were very kind, that's what I remember."
GONE, BUT NOT FORGOTTEN
"The last synagogue of Shanghai stopped its services in 1956."
There is a world of difference between what once was the "Shanghai Ghetto" and the same area today. The first synagogue of Hongkou, from the 1920s, now houses the Shanghai Jewish Refugee Museum. The Jewish community is no longer active here. The last synagogue of Shanghai stopped its services in 1956.
After WWII ended, Jews in China gradually left the country. It was not possible for them to become Chinese nationals, as the country did not have a naturalization procedure. The upheaval of the Chinese Civil War followed by the communist victory in 1949 meant that the Jewish could no longer continue to do business in China. As many left for North America, Australia, New Zealand or Palestine, only a few hundred Jews were left across China by the 1960s (Xin 2016).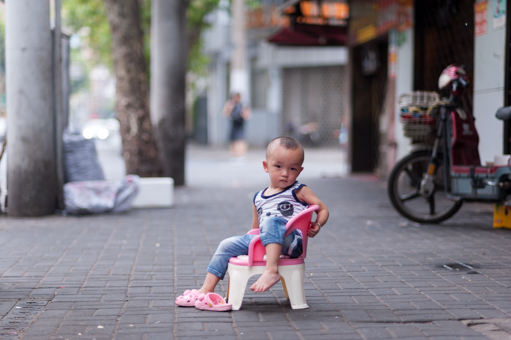 What once was a home and safe haven for thousands of Jews has now turned into a quiet neighbourhood with local shops and a street market. Many parts are being deconstructed for renovation.
Shanghai still has a small Jewish community, but it is not comparable to what it once was.
The Ohel Rachel Synagogue on North Shaanxi Road is now regulated by the Chinese government. The Jews in Shanghai are allowed to hold a religious ceremony no more than three times per year.
In Kaifeng, once home to China's oldest Jewish community, a revival of Judaism amongst around 1000 residents who claim to be of Jewish ancestry has been met by opposition from the local government. It has shut down Jewish heritage organizations and has prohibited residents from gathering to worship for Passover and other holidays. Signs and relics of the city's Jewish past have been removed from public places.
China's Jewish communities have changed through time. They have grown smaller, they have become Chinese, or they have vanished altogether.
Although the visibility of Jewish history might be disappearing from the streets of Shanghai, its stories are kept alive through books, museums, musicals, cinemas and on the internet. Its presence may be gone, but its history will never be lost.
– By Manya Koetse, photographs by Maarten van der Meer
Follow @WhatsOnWeibo
About the photographer:
Maarten van der Meer is an independent/freelance photographer focusing on photographic stories, both fictive & real. He likes to mix various image styles and tries to find the narrative and excitement within everyday scenes. Besides his story projects, Van der Meer shoots portraits & landscapes.
References (news article sources in links)
– Gao, Bei. 2011. "The Chinese Nationionalist Government's Policy Toward European Jewish Refguees During World War II." Modern China 37 (2): 202-237.
– Meyer, Maisie J. 2000. "The Interrelationship of Jewish Communities in Shanghai." Immigrants & Minorities 19 (2): 71-90.
– Rhee, Song Nai. 1973. "Jewish Assimilation: The Case of Chinese Jews." Comparative Studies in Society and History 15(1): 115–126.
– Xin, Xu. 2010. "Tracing Judaism in China." Social Sciences in China 31 (1), 130–161.
– Xin, Xu. 2016. "Jewish Diaspora in China" [online course]. Coursera. https://www.coursera.org/learn/jews-in-china/home/welcome [1.10.16]
– Yuan, Kang. 2016. "Jews in Shanghai: Love is Boundless." Women of China (July): 30-31.
©2016 Whatsonweibo. All rights reserved. Do not reproduce our content without permission – you can contact us at info@whatsonweibo.com.