Jews in Shanghai: Memories of a Nearly Forgotten Community
As modern buildings mushroom and old neighborhoods disappear, the traces of Jewish history are fading in today's Shanghai. But recent initiatives, such as the Jews in Shanghai musical and the launch of a Shanghai Jewish diaspora website, keep the memories of a nearly forgotten community more alive than ever – A short history of Jews in Shanghai and how their history is remembered in 21st century China.
As modern buildings mushroom and old neighborhoods disappear, the traces of Jewish history are fading in today's Shanghai. But recent initiatives, such as a Jews in Shanghai musical and the launch of a Shanghai Jewish diaspora website, keep the memories of China's Jewish heritage more alive than ever. A short history of Jews in Shanghai and how their history is remembered in 21st century China.
Story by Manya Koetse, photo-reportage by Maarten van der Meer.
Perhaps Jewish history is not the first thing that springs to mind when thinking about Shanghai. Yet the vibrant city harbors a rich history of Jewish heritage – a history that has recently seen a revival in Chinese media and entertainment.
The increased attention for the Jewish community of Shanghai and the history of Jews in China comes at a time when relations between China and Israel are at a new height. The two countries recently signed a visa deal that has encouraged mutual travel. Tel Aviv and Beijing are also making plans to establish a free trade zone.
DISAPPEARING HISTORIES
"While bulldozers are rumbling, discoveries of historically important buildings make the news."
The 'memory revival' of China's Jewish history also comes at a time when old Jewish neighborhoods in Shanghai are being demolished. A reviving Jewish community in the city of Kaifeng is facing an ongoing crackdown by the government, as Judaism does not belong to China's five state-approved religions of Buddhism, Taoism, Islam, Christianity and Protestantism.
Shanghai's northern district of Hongkou is at the heart of Shanghai's old Jewish neighborhood. Although many buildings are well-preserved, large parts of the neighborhood have been demolished over the past few years. Residents are located to other, more remote, areas of the city.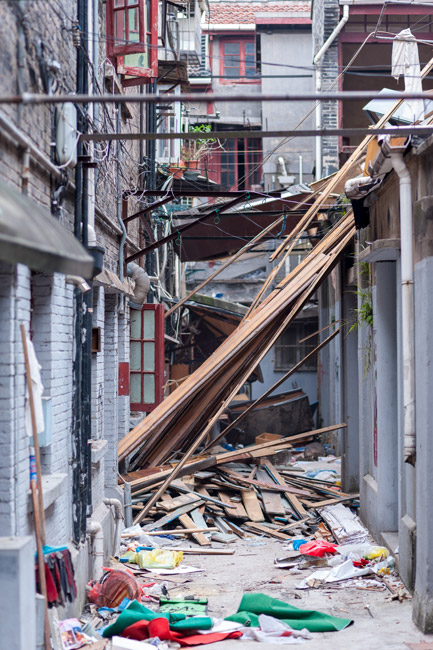 While bulldozers are rumbling, discoveries of historically important buildings sometimes make the news. In 2014, an old residence set for demolition turned out to be a meeting place for Sun Yat-sen and other well-known people during the 1910s. The building was preserved after a Weibo user asked for help to save it.
In February 2016, another Hongkou building remained intact after it was discovered to be be a former 'comfort women' house used by Japanese troops during WWII.
While parts of the old neighborhood are disappearing, new initiatives are keeping its memories alive.
NEW WAYS OF REMEMBERING
"China has seen a 'revival' in remembering China's and Shanghai's Jewish history."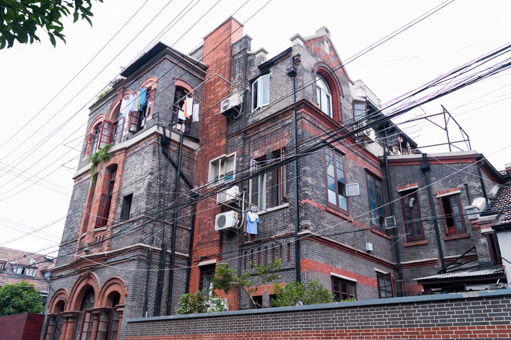 Just 3 kilometers from Shanghai's famous Peace Hotel (its Victor's Café was named after famous Shanghai Jew Sir Victor Sassoon) lies the Shanghai Jewish Refugees Museum; opened in 2007 to commemorate the Jewish refugees who lived in Shanghai during WWII. The museum frequently holds new displays and events to catch the audience's attention.
But the history of Jews in Shanghai is kept alive through more than only the museum. Over the past few years, China has seen a 'revival' in remembering China's and Shanghai's Jewish history. Its historical revival mainly takes place outside museums, namely in popular culture and cyberspace.
China's first animated movie about the Jewish history of Shanghai premiered in 2010. A Jewish Girl in Shanghai (犹太女孩在上海) tells the story and hardships of Jewish girl Rena who flees Nazi persecution by traveling to Shanghai during the WWII. The film has been described as "China's first homegrown Jewish film". A sequel to the anime appeared in 2015.
In the same year (2015), the first musical themed around the Jews in Shanghai saw the light at the Shanghai International Arts Festival in October. The musical Jews in Shanghai (犹太人在上海) revolves around the blossoming love between a Jewish man and Shanghai woman during the chaos of WWII. The Chinese-Israeli musical premiered in Beijing in June of 2016 (Yuan 2016: 30).
Shanghai's Jewish history is also being commemorated through digital channels. On September 28, Shanghai's Hongkou district government released a multilingual website telling different stories of the Jewish diaspora in Shanghai during the World War II. The project, launched by Shanghai International Studies University and the Shanghai Jewish Refugees Museum, has collected stories from the time Jews fled to Shanghai to escape Nazi persecution.
E-learners can now also learn about the Jewish history in China through Coursera. Nanjing University has started offering an online course on Jewish Diaspora in China , taught by Dr. Xu Xin – an expert on the history of Judaism in China. The course requires enrollment but is offered for free.
JEWS IN CHINA/SHANGHAI: A SHORT HISTORY
"They have entirely lost their religion and are scarcely distinguishable in any way from the Chinese."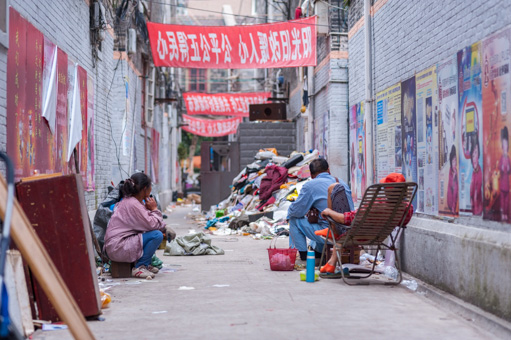 China has a long history of Jewish diaspora, although it is not entirely clear when and where this history began. What is clear, however, is that China is the only country in East Asia where Jews have consecutively lived for the last 1000 years. Marco Polo already mentioned the presence of Jews in China in 1286, and there is historical evidence that Jews lived in the old city of Kaifeng since the 11th century (Xin 2010: 133).
Although the city of Kaifeng once had a lively Jewish community, it gradually diminished throughout the 19th century. By the early 20th century, it had become nearly non-existent. When a bishop of the Anglican church visited the city in 1867, he already noted about the Kaifeng Jews that "they have entirely lost their religion and are scarcely distinguishable in any way from the Chinese" (Rhee 1973: 118).
The reason for the Jewish demise could be explained through their complete assimilation in China. Throughout time, they took on Confucianism, practiced patrilineal descent, intermarried, and identified with Chinese culture so much that they were no longer really considered "Jewish" at all (1973: 115).
In Shanghai, however, something different was happening. After China was defeated by Britain during the first Opium War (1839-1842), Shanghai became an open port where foreign trade was allowed and where Britain could establish settlements. It was at this time that the first wave of Jewish people came to Shanghai, along with British merchants, to start businesses there. This early Jewish community of modern China, who were Sephardi Jews, settled down in Shanghai and other cities (Hong Kong, Tianjin) to make money and establish companies.
The second wave of Jewish came to Shanghai in the early 20th century. These Ashkenazi Jews came from Eastern Europe and Russia, and also settled down in the bustling city to start small businesses. Together with the first wave of Jews in Shanghai, they had a thriving Jewish community with Jewish synagogues, cemeteries, and institutions.
But the history of Jews in Shanghai is mostly known for the third wave of Jewish diaspora: German and Austrian Jewish who came to Shanghai as refugees before and during the WWII.
THE SHANGHAI GHETTO
"Shanghai became their destination not by choice, but because they had no other choice."
Why Shanghai? For many Jews at the time, Shanghai became their destination not by choice, but because they had no other choice (Xin 2016). As anti-Jewish violence grew strong in Nazi-ruled Germany and Austria, many Jews wanted to leave the country. But despite the 1938 Evian Conference in France, that was joined by 32 nations to resolve the Jewish refugee crisis, other countries remained reluctant to take in Jewish refugees. Without the required visas needed to enter countries such as America, many Jews were desperate.
Shanghai, however, was an exceptional place: it was an open port under the control of foreign powers, and it already was home to two relatively large Jewish communities. There was no need for a visa. For those who could afford to go on a boat to China, it was the best refugee haven (Gao 2011: 203; Meyer 2000: 71). After the anti-Jewish pogroms during the 1938 Kristallnacht, many Jews arrived in China. In the 1933-1940 period, approximately 20,000 European Jews came to China, of which a large majority arrived in Shanghai per boat (Xin 2016; Gao 2011: 203)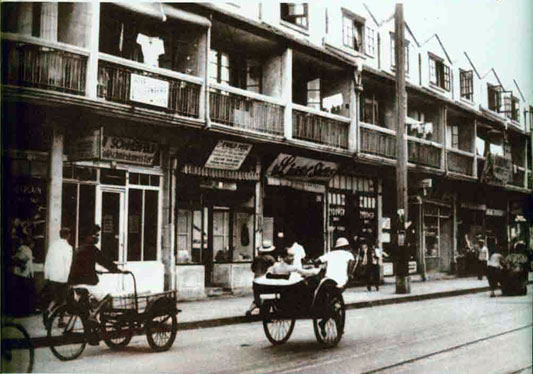 The fourth and final wave of Jewish arrived in China via the Japanese city of Kobe. It was a Polish Jewish community who had ended up in Kobe via Siberia, but left again after the outbreak of the Pacific War. By the early 1940s, four different Jewish communities, coming from four different "waves" of diaspora, lived in Shanghai together at the same time.
It was Shanghai's Hongkou district (also spelled as 'Hongkew') that became the main Jewish neighborhood. Since it was amongst the lesser developed areas of Shanghai, the cost of living was cheap there. But under Japanese control, the area's Tilanqiao neighborhood (提篮桥) turned into a "designated area for stateless refugees", simply a "ghetto", where around 20,000 of its 50,000 residents were Jewish. Japanese authorities controlled the district and prohibited Jews from leaving the "Hongkou ghetto" without the required papers, which were hard to obtain.
According to Evelyn Pike Rubin, one of the German-Jewish refugees who survived in Shanghai during the 1939-1947 period, the designated area only came in 1943. She told What's on Weibo: "Until 1943 we could live anywhere. As a matter of fact, I lived with my parents on Avenue Joffre. It was not until May of 1943 that the so-called 'ghetto' was established. Mr. Ghoya gave out the passes – sometimes with difficulty. My mother got a pass and did business outside the ghetto and I and my friends got passes to continue attending the Shanghai Jewish school in the former International Settlerment on Seymour Road."
Evelyn Pike Rubin later published a book about her experiences in Shanghai, titled Ghetto Shanghai (1998: link).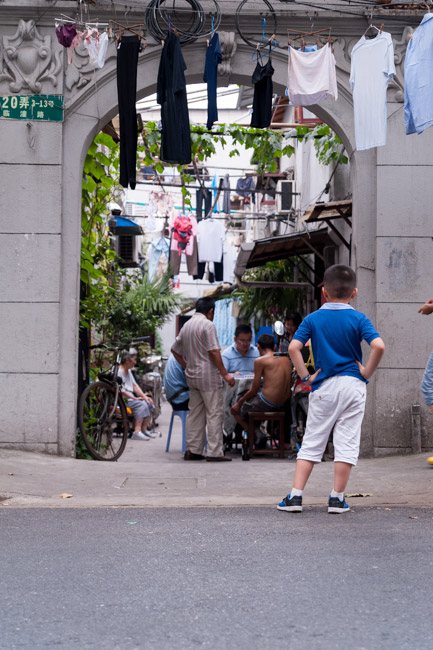 Despite suffering hardships, the Jews in the Shanghai Ghetto were safe and far removed from the horrors of Europe. Jewish children attended school and could freely play around the streets with their Chinese friends.
Nina Admoni, a Polish Jew who spent her childhood in the ghetto, told
Times of Israel
in 2012 that she looked back on her experience in Shanghai fondly and even idyllically: "The Chinese people in Shanghai were very kind, that's what I remember."
GONE, BUT NOT FORGOTTEN
"The last synagogue of Shanghai stopped its services in 1956."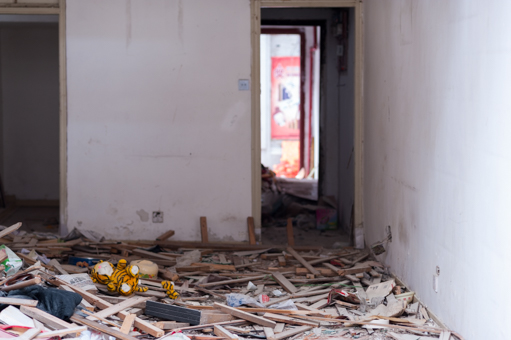 There is a world of difference between what once was the "Shanghai Ghetto" and the same area today. The first synagogue of Hongkou, from the 1920s, now houses the Shanghai Jewish Refugee Museum. The Jewish community is no longer active here. The last synagogue of Shanghai stopped its services in 1956.
After WWII ended, Jews in China gradually left the country. It was not possible for them to become Chinese nationals, as the country did not have a naturalization procedure. The upheaval of the Chinese Civil War followed by the communist victory in 1949 meant that the Jewish could no longer continue to do business in China. As many left for North America, Australia, New Zealand or Palestine, only a few hundred Jews were left across China by the 1960s (Xin 2016).
What once was a home and safe haven for thousands of Jews has now turned into a quiet neighbourhood with local shops and a street market. Many parts are being deconstructed for renovation.
Shanghai still has a small Jewish community, but it is not comparable to what it once was.
The Ohel Rachel Synagogue on North Shaanxi Road is now regulated by the Chinese government. The Jews in Shanghai are allowed to hold a religious ceremony no more than three times per year.
In Kaifeng, once home to China's oldest Jewish community, a revival of Judaism amongst around 1000 residents who claim to be of Jewish ancestry has been met by opposition from the local government. It has shut down Jewish heritage organizations and has prohibited residents from gathering to worship for Passover and other holidays. Signs and relics of the city's Jewish past have been removed from public places.
China's Jewish communities have changed through time. They have grown smaller, they have become Chinese, or they have vanished altogether.
Although the visibility of Jewish history might be disappearing from the streets of Shanghai, its stories are kept alive through books, museums, musicals, cinemas and on the internet. Its presence may be gone, but its history will never be lost.
– By Manya Koetse, photographs by Maarten van der Meer
Follow @WhatsOnWeibo
About the photographer:
Maarten van der Meer is an independent/freelance photographer focusing on photographic stories, both fictive & real. He likes to mix various image styles and tries to find the narrative and excitement within everyday scenes. Besides his story projects, Van der Meer shoots portraits & landscapes.
References (news article sources in links)
– Gao, Bei. 2011. "The Chinese Nationionalist Government's Policy Toward European Jewish Refguees During World War II." Modern China 37 (2): 202-237.
– Meyer, Maisie J. 2000. "The Interrelationship of Jewish Communities in Shanghai." Immigrants & Minorities 19 (2): 71-90.
– Rhee, Song Nai. 1973. "Jewish Assimilation: The Case of Chinese Jews." Comparative Studies in Society and History 15(1): 115–126.
– Xin, Xu. 2010. "Tracing Judaism in China." Social Sciences in China 31 (1), 130–161.
– Xin, Xu. 2016. "Jewish Diaspora in China" [online course]. Coursera. https://www.coursera.org/learn/jews-in-china/home/welcome [1.10.16]
– Yuan, Kang. 2016. "Jews in Shanghai: Love is Boundless." Women of China (July): 30-31.
©2016 Whatsonweibo. All rights reserved. Do not reproduce our content without permission – you can contact us at info@whatsonweibo.com.
What Are Weibo's "Super Topics"?
Explaining Weibo's "Super Topics"
What are Weibo's "Super Topics" (超级话题) and what makes them different from normal hashtags?
Over the past year, Weibo's so-called "Super Topics" (超级话题) have become more popular on the social media platform as online spaces for people to connect and share information.
Weibo's "super topic" function has been around since 2016. The function allows Weibo users to create and join interest-based content community pages that are online groups separated from the main Weibo space. One could perhaps compare these Weibo Super Groups to 'mega-threads' or 'subreddits' on Reddit.
These are the most important things to know about Weibo's Super Topics:
#1 A Super Topic is Not the Same as a Hashtag
Similar to Twitter, hashtags make it possible for Weibo users to tag a topic they are addressing in their post so that their content pops up whenever other people search for that hashtag.
Different from Twitter, Weibo hashtags also have their own page where the hashtag is displayed on top, displaying how many people have viewed the hashtag, how many comments the hashtag is tagged in, and allowing users to share the hashtag page with others.
A Super Topic goes beyond the hashtag. It basically is a community account where all sort of information is shared and organized. People can 'follow' (关注) a Super Topic and can also 'sign in' (签到).
On the main page of every Super Topic page, the main subject or purpose of the super topic is briefly explained, and the number of views, followers, and posts are displayed.
A super topic-page can be created by any Weibo user and can have up to three major hosts, and ten sub-hosts. The main host(s) can decide which content will be featured as essential, they can place sticky notes, and post links to suggested topics.
#2 A Super Topic Is a Way to Organize Content
Super Topic pages allow hosts to organize relevant content in the way they want. Besides the comment area, the page consists of multiple tabs.
A tab right underneath the main featured information on the page, for example, shows the "sticky posts" (置顶帖) that the host(s) of the page have placed there, linking to relevant information or trending hashtag pages. Below the sticky notes, all the posts posted in the Super Topic community are displayed.
One of the most important tabs within the Super Topic page is called "essential content" (精花), which only shows the content that is manually selected by the host(s). This is often where opinion pieces, articles, official news, or photos, etc. are collected and separated from all the other posts.
Another tab is the "Hall of Fame" (名人堂), which mainly functions as a reference page. It features links to the personal Weibo pages of the super topic page host(s), links to the Weibo pages of top contributors, and shows a list of the biggest fans of the Super Topic. Who the biggest fan of the page is, is decided by the number of consecutive days a person has "checked-in" on the page.
#3 Super Topics Are a Place for Fans to Gather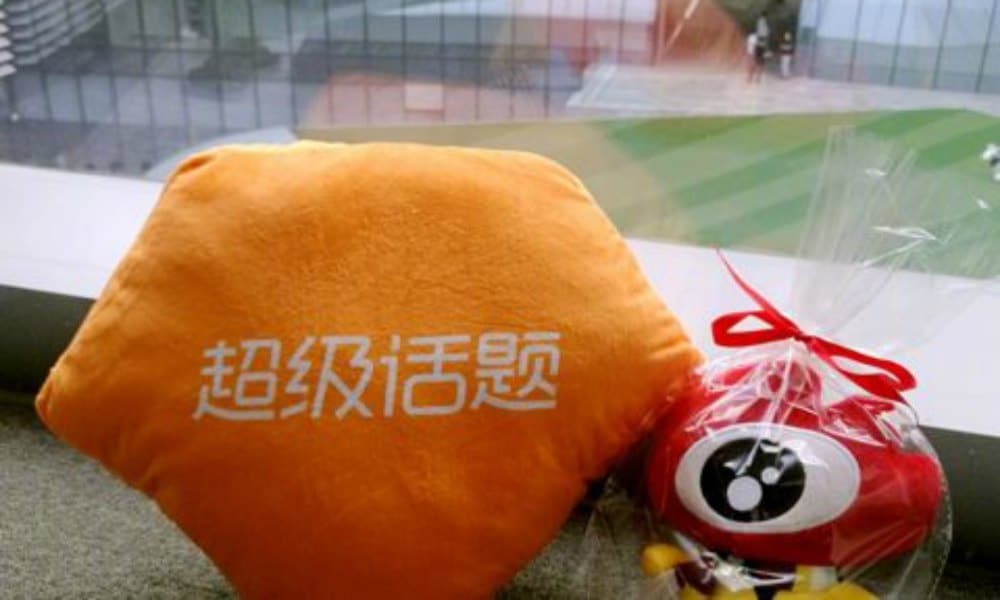 Although a Super Topic could basically be about anything, from cities to products or hobbies, Super Topics are often created for Chinese celebrities, video games, football clubs, or TV dramas.
Through Super Topic pages, a sense of community can be created. People can be ranked for being the most contributive or for checking in daily, and comment on each other's posts, making it a home base for many fan clubs across China.
The host(s) can also help somebody's page (e.g. a celebrity account) grow by proposing them to others within the group.
Super Groups are ranked on Weibo based on their popularity. This also gives fans more reason to stay active in the group, making their Super Topic top ranking within their specific category (TV drama, food, photography, sports, games, etc).
What makes the Super Topic group more 'private' than the common Weibo area, is that people posting within the Super Topic can decide whether or not they also want their comment shared on their own Weibo page or not. If they choose not to, their comments or posts will only be visible within the Super Topic community.
By Manya Koetse & Gabi Verberg, with contributions from Boyu Xiao
Spotted a mistake or want to add something? Please let us know in comments below or email us.
©2019 Whatsonweibo. All rights reserved. Do not reproduce our content without permission – you can contact us at info@whatsonweibo.com
Why Trump Has Two Different Names in Chinese
Why does 'Trump' have multiple names in Chinese?
First published , updated version published March 7, 2019
It is confusing even for Chinese netizens and journalists: why does Donald Trump have multiple names in Chinese? And which is the right one to use? What's on Weibo explains.
Donald Trump has two most commonly used different names in Chinese. In Mandarin*, they are Tèlǎngpǔ (特朗普) and Chuānpǔ (川普). Both names have been used by Chinese mainstream media and netizens for years.
*(Due to the scope of this article, we'll just use the Mandarin pinyin here.)
In the Chinese translation of Donald Trump's autobiography The Art of the Deal (1987), the 'Tèlǎngpǔ' transliteration is used, whereas the translation of the George Ross book Trump-Style Negotiations (2008) uses 'Chuānpǔ' as the Chinese name for Trump.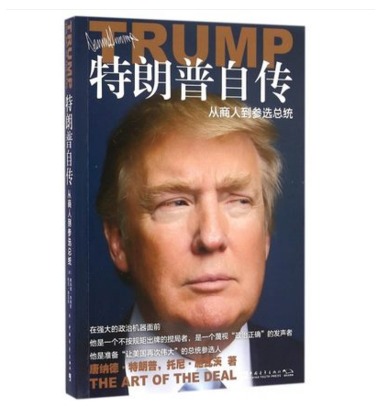 Considering that Trump is making headlines every day, more people are wondering why Trump has two Chinese names, and which one is the correct name to use. There are even discussions about the topic on Chinese social media.
Why are foreign names translated?
Why are non-Chinese names actually translated into Chinese at all? With English and Chinese being such vastly different languages with entirely different phonetics and script, the majority of Chinese people will find it hard to pronounce a foreign name that is written in English.
Writing foreign names or terms in Chinese script has a long history and practical reasons which won't be further elaborated on here. At present, aside from being standardized, it does not just help Chinese speakers to pronounce these words, it also makes it easier to remember them. Most Chinese names usually consist of two or three characters; the first character is the surname, and the last character(s) is the given name.
Translating a name to better adapt to the culture in which it is used does not only happen with English names in China; you often see the same happening with Chinese names in foreign countries.
In that case, the first character (surname) is moved to the back, and the given name changed into an English one. Alibaba's Ma Yun, for example, has become globally known as 'Jack Ma.' Film star Zhao Wei is called 'Vicky Zhao', Tencent's Ma Huateng is known as 'Pony Ma,' and the popular actress Lin Yun is called 'Jelly Lin.'
The right way to translate a foreign name in Chinese
There are multiple ways to translate a foreign name to Chinese. Most commonly, a name is translated into Chinese characters that are phonetically similar to the original name, without necessarily being very meaningful. The transliteration of 'Hillary' (Clinton), for example, is 'Xīlālǐ' (希拉里). 'Bush' is translated as 'Bùshí' (布什).
Another option is to choose a name purely based on meaning rather than phonetics. One example is Elvis Presley, who is called 'Cat King' (Māo Wáng 猫王) in Chinese, which stays close to his nickname "The Hillbilly Cat."
The best option when translating a foreign name into Chinese, however, is to make sure it stays close to its original pronunciation while also using elegant characters. In other words; it is nice when a name's translation makes sense both phonetically and semantically. Marilyn Monroe's last name in Chinese is Mènglù (梦露), for example, which sounds like 'Monroe' and has the characters for 'Dream Dew' – a perfect transliteration for such a dreamy actress.
Even when the characters used for a foreign name in Chinese are not necessarily intended to convey a certain meaning, it is important that they do not have any negative connotations. Nobody wants a character in their name associated with divorce, disease or death – it is believed to bring bad luck.
Another thing is that it is considered helpful for foreign names in Chinese is to maintain a 'foreign flavor' to it, to make it clear that the name is actually a transliteration. To give an example raised in this Nikkei article: President Reagan's name is generally translated as Lǐgēn 里根 in Chinese – the characters being somewhat uncommon for a Chinese name.
The same name could also be written with the characters 李根, very common for a Chinese name, but then it would be difficult to know whether a media report is talking about Reagan the President or just a local Chinese person by the same name. Transliterations of foreign names, therefore, are often easily recognizable as foreign names on purpose.
Trump, Tèlǎngpǔ, and Chuānpǔ
In the case of Trump, his Chinese names are mainly chosen for phonetic reasons, with different sources using different characters. Part of the challenge in deciding the right Chinese translation for his name, is the fact that Chinese does not have consonant cluster 'tr' as one sound.
The Chinese-language Nikkei newspaper dedicated an op-ed written by Chinese scholar Ke Long (柯隆) to the matter, who argues that although it may all seem trivial, it is actually quite confusing and unpractical for president Trump to have more than one name in Chinese.
The Chinese media in Taiwan, Hong Kong, and most overseas Chinese-language media, refer to Trump as 'Chuānpǔ' (川普).* According to the World Journal, the biggest Chinese-language newspaper in the US, it is the only proper way to translate this name, yet most Chinese state media and Chinese-language UK media (such as BBC) all use 'Tèlǎngpǔ.'
* (The Chinese version of The New York Times 纽约时报中文版 is an exception, as 'Tèlǎngpǔ' 特朗普 is generally also used in this publication.)
Author Ke Long explains that Chinese translations of foreign names try to stay as close as possible to the pronunciation of a name in its original language. This is why the name of the city 'Paris' is pronounced 'Bālí' (巴黎) in Mandarin Chinese, staying close to the French pronunciation, and 'Amsterdam' being 'Āmǔsītèdān' (阿姆斯特丹), which follows the city's Dutch pronunciation.
If the British would pronounce 'Trump' as 'te-lan-pu,' then it would thus perhaps be more understandable why media such as the BBC would write Tèlǎngpǔ. But they don't pronounce it like that, Ke Long argues, saying that the use of 'Tèlǎngpǔ' thus does not make sense, and is actually closer to the Japanese way of writing Trump's name ('トランプ': to-ra-n-pu).
More so, the author writes, it does not make sense for Chinese media to take over the British transliteration of the Trump name. Considering Trump is American, Chinese media should follow the translations made by American media. He also notes that if it would be about the Prime Minister of Britain, the Chinese transliteration should follow the one used by the media in the UK.
Although the Nikkei author seems to advocate for a singular use of 'Chuānpǔ' by all media, no Chinese media are necessarily 'wrong' in their transliteration of the name Trump. The 'Tèlǎngpǔ' 特朗普 translation follows the example of outlets such as the BBC, while Chuānpǔ 川普 follows that of other media.
Some Chinese bloggers argue that Chuānpǔ 川普 is the best way to write Trump's name, because the first character, that actually means 'river,' is commonly used in Chinese, making the name sound more 'natural' and easy to pronounce than 'Tèlǎngpǔ.' Moreover, they argue that the Mandarin 'chuan' sound is more appropriate to convey the pronunciation of 'tr' than the 'te-lang' way.
In the end, the reason why Trump has two names most commonly used in Chinese is just a matter of media, with various mainstream outlets adopting different names since Trump first made headlines, and without there being any clear consensus on which Chinese name to use across all these different Chinese-language media platforms around the world.
Chuángpù and Chuángpò?
On Chinese social media, President Trump even has more than two names. There are also netizens referring to him as 床鋪, 闯破 or 床破 (Chuángpù/Chuángpò); these are all transliterations that contain strange or negative characters, making the name unrefined and harsh-sounding on purpose to make the name 'Trump' look and sound bad.
Although there have been online discussions on the right transliteration for the name Trump, it is unlikely that there will be one official Chinese name for the US President in the near future. Xinhua News, China's official state-run press agency, has consistently been using Tèlǎngpǔ 特朗普 for years, and will probably continue to use it.
Many netizens simply use both versions of his name in one post to avoid confusion, and some news reports have even started using both names in its headlines (image below).
Despite the somewhat confusing situation at hand, there are also those who do not seem to mind at all. "Who cares if it is Tèlǎngpǔ or Chuānpǔ anyway?" one netizen says: "In this day and age, we all know who it is we are talking about."
– By Manya Koetse
Follow on Twitter or Like on Facebook
This article first appeared in 2017 and has been republished with various corrections:
– The first version did not properly convey the argument made by author Ke Long in his Nikkei piece, which is more clearly laid out in this version.
– This version has added some extra information coming from sources after 2017.
Spotted a mistake or want to add something? Please email us.
©2019 Whatsonweibo. All rights reserved. Do not reproduce our content without permission – you can contact us at info@whatsonweibo.com