Another Apology to China? One Taiwanese Model and China's Angry Cyber-Nationalism
When a Taiwanese model recently scolded people from mainland China on social media, it triggered a wave of comments from netizens taking it as a personal insult and an attack on China. Anger has become a recurring display of Chinese cyber-nationalism, often ending with a public "apology to China".
When a Taiwanese model recently scolded people from the mainland on social media, it triggered a wave of comments from netizens who took it as a personal insult and an attack on China. Anger has become a recurring display of Chinese cyber-nationalism. Controversies often end with a public "apology to China".
Popular Taiwanese model 'Stella' (史黛拉) stirred controversy on Chinese social media on September 29 for calling mainlanders '426', a Taiwanese term for scolding people from the PRC.
The pronunciation of '426' [死阿陆] sounds similar to 'damned mainlanders' [死大陆人] in Taiwan's Hokkien dialect.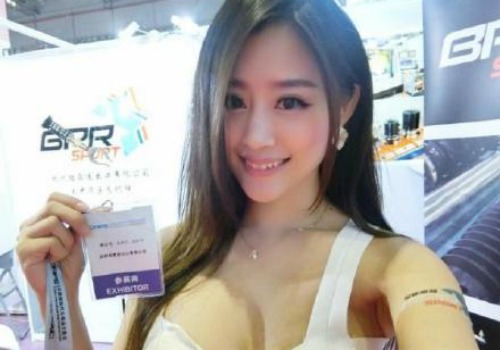 The model made the remarks as she posted pictures on her Facebook page that show her working at the Shanghai International Automobile Fair: "Can you let me take a selfie?! Masses of '426' (damned mainlanders) want to take pictures with me, and Arabic people, Japanese and all kinds of bastards secretly photographing me and asking my number," she complained.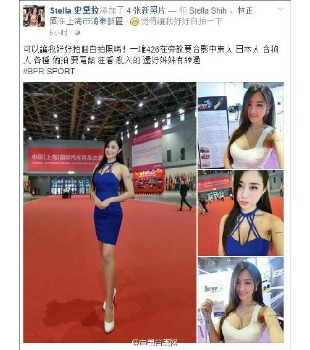 The model's remarks triggered hundreds of reactions on Sina Weibo. Many Chinese saw the post as an indication of Taiwanese attitudes towards mainland China. Some netizens wrote: "Resist Taiwan bastards from earning money in China and then scolding mainlanders. Trash!"
"Taiwanese people have no inner qualities," another Weibo user commented.
"Can't the government take measures against people who insult mainlanders?", another netizen said.
Similar controversies frequently surface on Chinese social media. Last August, Chinese netizens were furious after footwear brand K-Swiss launched a commercial that depicted an alleged Chinese character in a way that was called "insulting" and "humiliating" to China.
Popular Korean actor Park Bo Gum, who featured in the commercial, received a storm of criticism. Many Chinese netizens blamed him for ridiculing their country.
China's Angry Cyber-Nationalism
News of 'China' getting its "feelings hurt" by foreign celebrities or institutions frequently pops up in Chinese media, leading to an angry display of Chinese cyber-nationalism.
According to Ying Jiang, the author of Cyber-Nationalism in China (2012), the roots of the "angry nationalism" expressed by today's Chinese netizens can be traced back to China's "Century of Humiliation" that took place from roughly the mid-1800s until after WWII.
[rp4wp]
During this period, China faced a great deal of hardships brought about by foreign powers. The Opium Wars and unequal treaties led to an economic and military decline, and ultimately caused China to weaken.
In the postwar 20th century, the rise of Chinese nationalism has gone hand in hand with an intensification of anti-foreign sentiments. A new wave of nationalism came about in the 1990s when Western influences on China were considered to negatively influence Chinese traditional culture. It was also the time when the government launched an extensive propaganda campaign of patriotic education, that especially impacted China's younger generations.
Although China's post-1990s generation is generally known for having a strong sense of internationalism, they also have a distinct sense of patriotism.
Author Zheng Jiawen recently wrote how the term 'little pinkos' (小粉红) nowadays refers to a high-profile group of Chinese young female netizens who go online to defend their patriotism. Taking action against foreign "insults" is part of their movement. They are not alone; the sentence "never forget national humiliation" (勿忘國耻) is ubiquitous on Chinese social media.
A Year of Apologies
China's angry cyber-nationalism has become very apparent in 2016, a year in which China has received multiple apologies for "hurting the feelings of the Chinese". Many of these incidents occured during the Rio Olympics.
One of the controversies involved an inaccurate Chinese flag. Chinese Olympic viewers were offended when a wrong version of the Chinese flag was used during several medal ceremonies. While the Chinese embassy in Brazil subsequently rushed to have accurate versions of the Chinese flag made by local manufacturers, netizens started a petition demanding an apology from the Rio Olympic organization.
Subtle difference. This is the incorrect flag. The correct Chinese flag has one large star and four small stars, each of whose points angle towards the main star. See image below by Daily Mail.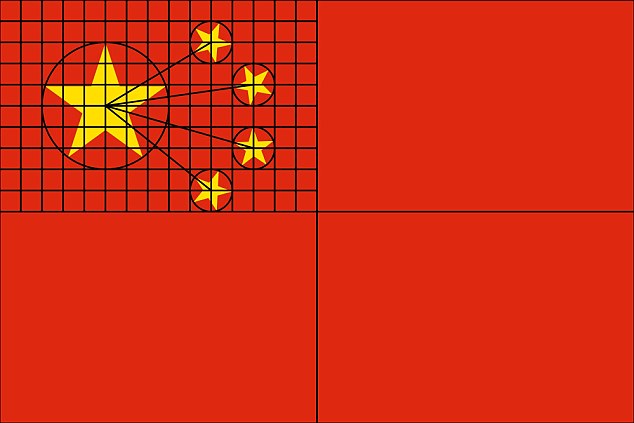 The flag mishaps continued. During the medal ceremony where Chinese swimmer Fu Yuan Hui shared the bronze with Canada's Kylie Masse, the Chinese flag was seen hanging below the Canadian one. Many netizens viewed this as a sign of disrespect. Then there was Australia's Channel 7 flag mix up where China was mistakenly represented by the Chilean flag, leading to furious reactions with another online petition demanding an apology from Channel 7.
Another noteworthy incident involved the Canadian media. When Canadian Olympic TV commentator Byron MacDonald thought his microphone was off, he insulted a Chinese athletic swimmer and caused outrage on Weibo. The presenter apologized shortly after.
The list does not end here. Back in January of this year, 16-year-old Taiwanese K-pop singer Chou Tzuyu got into trouble for waving a Taiwanese flag on a Korean reality show. Netizens criticized the singer for supporting Taiwan's independence by waving the flag, which prompted Chou to release a video on the eve of Taiwan's presidential elections to apologize for her actions.
Later in April, two cast members from No Other Love, a popular Chinese romantic film, also got into trouble for "insulting" China. Taiwanese lead actor Leon Dai was even removed from the film for his alleged support to the Taiwanese independence movement. American-born Japanese actress Kiko Mizuhara was criticized for being anti-Chinese for liking an Instagram photo that offended the Chinese.
She later apologized in a 5-minute video on Weibo.
'Apologize to China Contest'
According to some commentators, the sensitivity over "hurt feelings" sometimes becomes problematic. Last July, Japanese vlogger Kinoshita Yuka, known for eating large quantities of food on camera, came under fire after she posted a video of herself eating 137 bananas. Chinese netizens wondered if Kinoshita was eating bananas that originated from the Philippines, and if the 137 bananas were an allusion to China's 1.37 billion population, as a revenge in reference to the South China Sea verdict.
The YouTube video soon triggered another war of words between Chinese and foreign netizens, as many Chinese netizens viewed the act as a deliberate insult aimed at China .
One comment read: "At a sensitive time like this, you release this video of you eating 137 Philippine-grown bananas to insult the Chinese, are you dumb? Do you think the Chinese are easily bullied?"
In the same month, Lady Gaga caused a 'bad romance' between herself and China after she met with the Dalai Lama. For many netizens, it marked the end of her career in China: "I like your songs, but I choose my country over you."
Seeing this trend of Chinese people easily getting their "feelings hurt", an activist in Taiwan named Wang Yikai started an "Apologize to China" contest in the summer of 2016. The contest soon went viral and attracted the attention of netizens from all over the world, including from China.
The contest received many creative apologies in all shapes and forms, from pictures to videos. The winning apology came from a Hong Kong group and was a parody of the song "Sorry Sorry" by Super Junior. In the parody, the group sings they are sorry for not loving China enough because they don't own a made-in-China iPhone clone.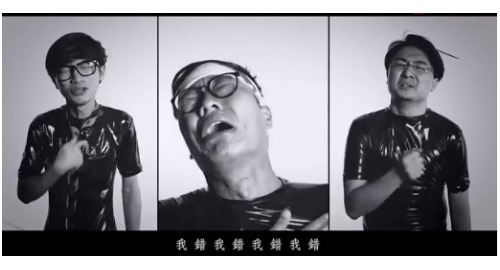 It seems that Taiwanese model Stella has chosen the wrong year to upset Chinese netizens. By now, she has removed her comments from her Facebook page, but the screenshots have already gone viral on Chinese social media.
"Go back to your own island!" many netizens say.
"Why are you Taiwanese always so disgraceful?" another Weibo user comments: "Good for us that you don't call yourselves 'Chinese' when going abroad, otherwise you would give us all a bad name."
The model has not responded to the controversy yet. Perhaps she can start by registering for next year's 'Apologize to China' contest.
– By Manya Koetse and Chi Wen
Follow @WhatsOnWeibo
References
Ying Jiang. 2012. Cyber-Nationalism in China: Challenging Western media portrayals of Internet censorship in China. Adelaide: University of Adelaide Press.
©2016 Whatsonweibo. All rights reserved. Do not reproduce our content without permission – you can contact us at info@whatsonweibo.com.
Can't Enter Uni Because of Daddy's Bad Social Credit – The Blacklist Story That's Got Weibo Talking
When one bad social credit listing affects the entire family.
The story of a Chinese student who got admitted to a renowned university and was then denied access because of his father's bad social credit has got Chinese social media talking.
Getting access to a top university is not easy in China's fiercely competitive education environment. For one student from Wenzhou, Zhejiang province, the results of his gaokao (national university entrance exams) were so good that he received the happy news that he was accepted into one of these renowned universities in Beijing.
Unfortunately for him, that news was later followed up with an update that he could not be accepted due to his father's bad social credit standing.
The story, which was widely covered by Chinese state media (including the English-language CGTN), received much attention on Chinese social media this week.
The young man's father, named only as 'Mr. Rao' (饶先生), ended up with a bad credit standing after owing a debt of 200,000 RMB (±US$29,900) to a local bank for more than two years. Since Rao did not succeed in paying off his debt after warnings given, he was informed by a local court that he had ended up on a so-called "lose trust list" or "black list" (失信名单/失信黑名单).
Towards a More Credit-Based Society
In 2014, China's government first announced plans of its "Social Credit System" (社会信用体系) that focuses on accumulating and integrating information, and will create measures that encourage 'trustworthy behavior' and punishes those who are not 'trustworthy.'
The system is planned to go national by 2020, and is currently implemented in various regions across the country.
However, the public black list was introduced before this time, with Chinese courts in 2013 starting to publicly give out the names online of people who have not complied with court orders.
Additionally, In 2006, the People's Bank of China (PBOC) also already began operating its own independent Credit Reference Center tasked with managing a national commercial and consumer credit reporting system. With the recent launch of the so-called 'trust alliance' (信联), a new unified platform that has access to an enormous number of personal credit data, China's credit-based society has taken another leap – with state level and commercial organizations joining forces in further developing China's credit systems.
In recent (English-language) media reports, the lines are often blurred between the Social Credit system and a number of private programs, including the Sesame Credit program. These misunderstandings partly come from the fact that both the government's plans on introducing their 'Social Credit System' (社会信用体系) and the Central Bank's endeavors to build a stronger personal credit industry (个人征信行业) were major developments in the period from 2013-2015 up to the present. Together with the 2013 judicial online blacklist, these policies and programs all built on a stronger credit-based society that governs both economic and social areas.
The 'system' (there is not one system in place yet) works through rewards and punishment mechanisms. In the city of Zhuhai, for example, individuals or companies with good credit are put on a "red list" which potentially means they could be praised online (Zhuhai credit website) or given rewards, whereas those put on the "black list" (f.e. due to serious misbehavior or promise-breaching) will be subject to various restrictions (Zhang & Zhang 2016, 157).
Those restrictions could include a halt on loans or a national ban from traveling by air or train. Since private programs and institutions also have access to the public blacklists, one company or person's bad credit status can affect their status among various platforms and for various institutions – and thus, potentially, could also influence their children's access to schools and universities.
A Controversial Measure
The recent story of Rao's son paying the price for this father's bad credit listing has stirred controversy online over children being affected by their parents' bad credit listing.
One Weibo news thread on the issue received nearly 30,000 comments.
One of the most popular remarks on the story said: "If it is okay to treat those who are associated with an offender as guilty (连坐), then it's time to punish the sons and daughters of corrupt officials, too."
"A father's bad credit has nothing to do with the children!", another Weibo user said.
But another popular comment called the measure "effective," with others agreeing: "If he waited two years to pay off his debt, he was basically asking to be on the blacklist. That his bad credit influences his child's education is just to reap what one has sown."
Various Chinese media, including financial newspaper Caijing, report that the boy's father was previously warned by the local court that his bad credit standing could potentially have consequences for his children too, but that he still did not comply with court orders to pay back his loans.
Since Rao's son has been denied access to the university as long as his father has a bad credit standing, Rao has allegedly paid back the loan and has asked the local court to be removed from the blacklist.
There are also commenters on Weibo, such as @闪电McQueen, who say the university's actions are nothing newsworthy: "This is just the [political] examination of people's records, it's not specifically about the black list, it's common knowledge, let's not make it all about that black list."
This commenter's reaction reiterates the idea that the social credit system and black list system is actually not that new, as Rogier Creemers has previously described in Foreign Policy (2016): "The Chinese Communist Party government has always sought to keep tabs on its citizens, for instance through the "personal file" (dang'an) system of a few decades ago."
Another person on Weibo says: "The people who are saying the child is the victim here should also know that people who end up on the blacklist are generally not people without money, their kids have enough opportunities, it's just that if they owe money [to the bank], paying the tuition fee for their kids would become a problem."
As for Rao's son, whether or not he will be able to start at his new university in Beijing in the new semester, now that his dad has paid off debts, is yet unclear. Some commenters say it would be better if he didn't: "Who wants to go to a university who does this anyway?"
UPDATE (7.16.18): Jeremy Daum at the ever-insighful China Law Translate blog has further looked into this case and found that the institution in this article, which has not been named in Chinese media, is most probably a private academy. He was also able to verify that this concerns a real story with no fake names used – he was able track Rao down in the public blacklist.
UPDATE: A quick review of published enforcement actions in the relevant region by @yiqinfu was able to identify the case and verify entry onto the judgment defaulters list. This includes name and address etc, so I will not post it here, but can confirm there is a real case. https://t.co/yUw5DVAqgX

— China Law Translate (@ChinaLawTransl8) 16 juli 2018
By Manya Koetse, with contributions from Miranda Barnes
Follow @whatsonweibo
References
Creemers, Rogier; Peter Marris; Samantha Hoffman; Pamela Kyle Crossley. 2016. "What Could China's 'Social Credit System' Mean for its Citizens?" Foreign Policy, Aug 15
http://foreignpolicy.com/2016/08/15/what-could-chinas-social-credit-system-mean-for-its-citizens/ [15.7.18].
Zhang, Keting, and Fang Zhang. 201. "Report on the Construction of the Social Credit System in China's Special Economic Zones." In: Yitao Tao and Yiming Yuan (eds), Annual Report on the Development of China's Special Economic Zones (2016): Blue Book of China's Special Economic Zones, 153-171. Singapore: Social Science Academic Press.
Spotted a mistake or want to add something? Please let us know in comments below or email us.
©2018 Whatsonweibo. All rights reserved. Do not reproduce our content without permission – you can contact us at info@whatsonweibo.com.
China's "University Counseling" Business: High School Graduates Pay over $7,500 to Pick the Right University
How much is the selection of the right university worth?
Many Chinese high school graduates are willing to pay a high price for the right selection of their higher education institutions. Paying over US$7,550 for so-called 'university counselors,' Chinese students pay a higher price for the process preceding their uni years than the total cost of their entire college education.
A recent news item reported by China News Agency on the growing popularity of university counseling services has generated discussions on Chinese social media.
University counseling services have become an especially hot business now that the gaokao, China's national university entrance exams, are over.
These kinds of counseling services help students to choose the best available institution based on their exam results, but they also include personality tests and the exploration of the potential future majors students could take on.
Promising to help students through big data and one-on-one consultations with experts, these university counseling agencies charge high prices. Service prices range from a few thousand Chinese Yuan to as high as ¥50,000 (±US$7,550).
According to Tsinghua University's official admission guidelines, undergraduates are generally charged a ¥5,000 (±US$642) annual tuition fee, meaning that (parents of) high school graduates are willing to pay much more for the selection process of the university than the entire 4-year tuition of the educational institute.
Unlike university applications in western countries, Chinese high school graduates generally face stricter limitations in their selection of future colleges and universities. A high mark in the gaokao does not necessarily guarantee the admission to a top-level university; competition is fierce, and, depending on the location, universities will reserve spots for students depending on their hukou (residence permit).
Chinese universities are generally not flexible in letting students switch university majors, meaning that even if students change their preferences, they are still likely to stick to their majors for their entire undergraduate life. This also adds to the weight of the decision to enroll in a certain university programme.

Real Demands

Besides the high price, there is another downside to these consulting services. According to the China News Agency, these consulting services are not always reliable, as the 'experts' and 'big-data analysis' are not always subjective but promotion-focused.
Those downsides, however, have not halted the boom in demands for these counselling services.
Statistics from the Chinese Ministry of Education show that as of 2016, there are 2596 universities and 506 different majors in China. For high school graduates and parents with little knowledge of university admissions, anyone helping them find their way in this world of higher education is of great value to them.
Chinese media outlet Jiemian notes that China's different provinces have different rules for filing university enrollment applications. In Inner Mongolia, for example, there is only one opportunity to apply for a higher education institution, for which students can select a maximum of six majors. If these students do not have an effective application strategy, they might end up going to a second-level institution.
Those with limited knowledge of Chinese higher education are also more prone to fall for one of the many scams; non-MOE-approved 'universities' take advantage of the sometimes confusing names of Chinese universities by luring students into enrolling at their fake university that has a name very similar to a top-notch one.
Although high school teachers sometimes assist their pupils in the search for the right college, they are not capable of helping all students – most students end up doing the university application themselves.

A Waste of Money?

On Weibo, this topic has sparked some discussions among users, especially those who have negative experiences with these expensive services.
"I spent a lot of money on these services," one Weibo commenter says: "Now I am in a school in a rural suburb that takes 90 minutes to get to. If I were to see that consultant again, I would beat the crap out of him."
Other users deem the services unnecessary: "I don't think it is necessary to spend that money. Asking friends and elders will be enough." Another user also does not believe in wasting money on a service that he sees no value in: "I am glad I saved that ¥50,000."
There are also people, however, who do think the booming university counseling business is helpful: " I think there are many problems people get to deal with at university. If you're clueless, it is good to get other people's advice."
"There are many universities in China. It might be easy for those who can make it to the '985/211' [the top level schools in the PRC], but not for the others," another commenter suggests.
Both sides have a clear point: some counseling services may not be reliable and will not offer their clients the best university selection. But there are also those who actually benefit from getting their advice. In the end, it is the university counseling companies that get the short end of the stick.
By Chauncey Jung
Follow @whatsonweibo
Spotted a mistake or want to add something? Please let us know in comments below or email us.
©2018 Whatsonweibo. All rights reserved. Do not reproduce our content without permission – you can contact us at info@whatsonweibo.com.