Another Apology to China? One Taiwanese Model and China's Angry Cyber-Nationalism
When a Taiwanese model recently scolded people from mainland China on social media, it triggered a wave of comments from netizens taking it as a personal insult and an attack on China. Anger has become a recurring display of Chinese cyber-nationalism, often ending with a public "apology to China".
When a Taiwanese model recently scolded people from the mainland on social media, it triggered a wave of comments from netizens who took it as a personal insult and an attack on China. Anger has become a recurring display of Chinese cyber-nationalism. Controversies often end with a public "apology to China".
Popular Taiwanese model 'Stella' (史黛拉) stirred controversy on Chinese social media on September 29 for calling mainlanders '426', a Taiwanese term for scolding people from the PRC.
The pronunciation of '426' [死阿陆] sounds similar to 'damned mainlanders' [死大陆人] in Taiwan's Hokkien dialect.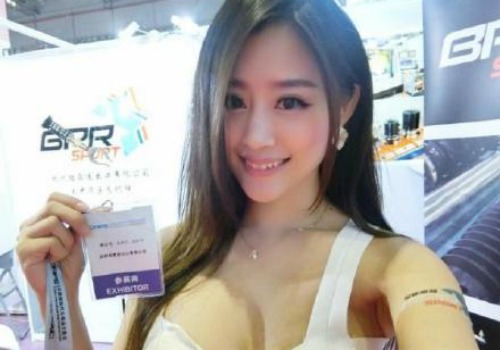 The model made the remarks as she posted pictures on her Facebook page that show her working at the Shanghai International Automobile Fair: "Can you let me take a selfie?! Masses of '426' (damned mainlanders) want to take pictures with me, and Arabic people, Japanese and all kinds of bastards secretly photographing me and asking my number," she complained.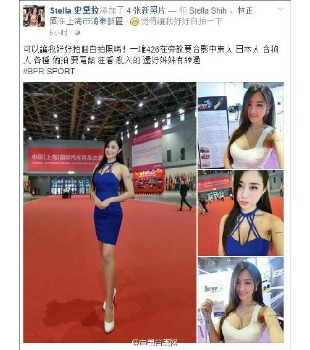 The model's remarks triggered hundreds of reactions on Sina Weibo. Many Chinese saw the post as an indication of Taiwanese attitudes towards mainland China. Some netizens wrote: "Resist Taiwan bastards from earning money in China and then scolding mainlanders. Trash!"
"Taiwanese people have no inner qualities," another Weibo user commented.
"Can't the government take measures against people who insult mainlanders?", another netizen said.
Similar controversies frequently surface on Chinese social media. Last August, Chinese netizens were furious after footwear brand K-Swiss launched a commercial that depicted an alleged Chinese character in a way that was called "insulting" and "humiliating" to China.
Popular Korean actor Park Bo Gum, who featured in the commercial, received a storm of criticism. Many Chinese netizens blamed him for ridiculing their country.
China's Angry Cyber-Nationalism
News of 'China' getting its "feelings hurt" by foreign celebrities or institutions frequently pops up in Chinese media, leading to an angry display of Chinese cyber-nationalism.
According to Ying Jiang, the author of Cyber-Nationalism in China (2012), the roots of the "angry nationalism" expressed by today's Chinese netizens can be traced back to China's "Century of Humiliation" that took place from roughly the mid-1800s until after WWII.
[rp4wp]
During this period, China faced a great deal of hardships brought about by foreign powers. The Opium Wars and unequal treaties led to an economic and military decline, and ultimately caused China to weaken.
In the postwar 20th century, the rise of Chinese nationalism has gone hand in hand with an intensification of anti-foreign sentiments. A new wave of nationalism came about in the 1990s when Western influences on China were considered to negatively influence Chinese traditional culture. It was also the time when the government launched an extensive propaganda campaign of patriotic education, that especially impacted China's younger generations.
Although China's post-1990s generation is generally known for having a strong sense of internationalism, they also have a distinct sense of patriotism.
Author Zheng Jiawen recently wrote how the term 'little pinkos' (小粉红) nowadays refers to a high-profile group of Chinese young female netizens who go online to defend their patriotism. Taking action against foreign "insults" is part of their movement. They are not alone; the sentence "never forget national humiliation" (勿忘國耻) is ubiquitous on Chinese social media.
A Year of Apologies
China's angry cyber-nationalism has become very apparent in 2016, a year in which China has received multiple apologies for "hurting the feelings of the Chinese". Many of these incidents occured during the Rio Olympics.
One of the controversies involved an inaccurate Chinese flag. Chinese Olympic viewers were offended when a wrong version of the Chinese flag was used during several medal ceremonies. While the Chinese embassy in Brazil subsequently rushed to have accurate versions of the Chinese flag made by local manufacturers, netizens started a petition demanding an apology from the Rio Olympic organization.
Subtle difference. This is the incorrect flag. The correct Chinese flag has one large star and four small stars, each of whose points angle towards the main star. See image below by Daily Mail.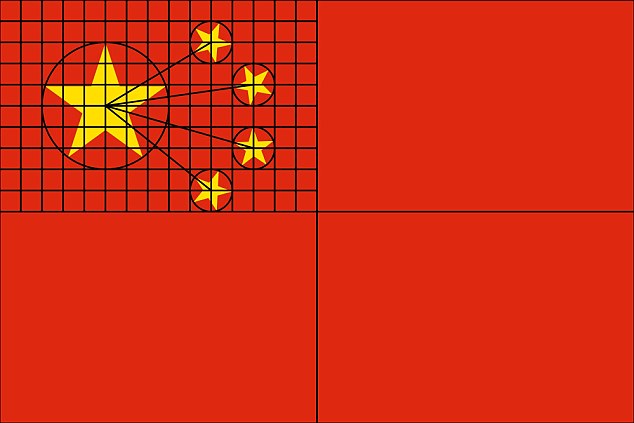 The flag mishaps continued. During the medal ceremony where Chinese swimmer Fu Yuan Hui shared the bronze with Canada's Kylie Masse, the Chinese flag was seen hanging below the Canadian one. Many netizens viewed this as a sign of disrespect. Then there was Australia's Channel 7 flag mix up where China was mistakenly represented by the Chilean flag, leading to furious reactions with another online petition demanding an apology from Channel 7.
Another noteworthy incident involved the Canadian media. When Canadian Olympic TV commentator Byron MacDonald thought his microphone was off, he insulted a Chinese athletic swimmer and caused outrage on Weibo. The presenter apologized shortly after.
The list does not end here. Back in January of this year, 16-year-old Taiwanese K-pop singer Chou Tzuyu got into trouble for waving a Taiwanese flag on a Korean reality show. Netizens criticized the singer for supporting Taiwan's independence by waving the flag, which prompted Chou to release a video on the eve of Taiwan's presidential elections to apologize for her actions.
Later in April, two cast members from No Other Love, a popular Chinese romantic film, also got into trouble for "insulting" China. Taiwanese lead actor Leon Dai was even removed from the film for his alleged support to the Taiwanese independence movement. American-born Japanese actress Kiko Mizuhara was criticized for being anti-Chinese for liking an Instagram photo that offended the Chinese.
She later apologized in a 5-minute video on Weibo.
'Apologize to China Contest'
According to some commentators, the sensitivity over "hurt feelings" sometimes becomes problematic. Last July, Japanese vlogger Kinoshita Yuka, known for eating large quantities of food on camera, came under fire after she posted a video of herself eating 137 bananas. Chinese netizens wondered if Kinoshita was eating bananas that originated from the Philippines, and if the 137 bananas were an allusion to China's 1.37 billion population, as a revenge in reference to the South China Sea verdict.
The YouTube video soon triggered another war of words between Chinese and foreign netizens, as many Chinese netizens viewed the act as a deliberate insult aimed at China .
One comment read: "At a sensitive time like this, you release this video of you eating 137 Philippine-grown bananas to insult the Chinese, are you dumb? Do you think the Chinese are easily bullied?"
In the same month, Lady Gaga caused a 'bad romance' between herself and China after she met with the Dalai Lama. For many netizens, it marked the end of her career in China: "I like your songs, but I choose my country over you."
Seeing this trend of Chinese people easily getting their "feelings hurt", an activist in Taiwan named Wang Yikai started an "Apologize to China" contest in the summer of 2016. The contest soon went viral and attracted the attention of netizens from all over the world, including from China.
The contest received many creative apologies in all shapes and forms, from pictures to videos. The winning apology came from a Hong Kong group and was a parody of the song "Sorry Sorry" by Super Junior. In the parody, the group sings they are sorry for not loving China enough because they don't own a made-in-China iPhone clone.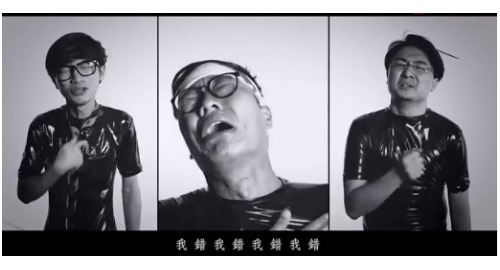 It seems that Taiwanese model Stella has chosen the wrong year to upset Chinese netizens. By now, she has removed her comments from her Facebook page, but the screenshots have already gone viral on Chinese social media.
"Go back to your own island!" many netizens say.
"Why are you Taiwanese always so disgraceful?" another Weibo user comments: "Good for us that you don't call yourselves 'Chinese' when going abroad, otherwise you would give us all a bad name."
The model has not responded to the controversy yet. Perhaps she can start by registering for next year's 'Apologize to China' contest.
– By Manya Koetse and Chi Wen
Follow @WhatsOnWeibo
References
Ying Jiang. 2012. Cyber-Nationalism in China: Challenging Western media portrayals of Internet censorship in China. Adelaide: University of Adelaide Press.
©2016 Whatsonweibo. All rights reserved. Do not reproduce our content without permission – you can contact us at info@whatsonweibo.com.
Insights into the Social Credit System on Chinese Online Media vs Its Portrayal in Western Media
In many international media, China's nascent Social Credit System is presented as a gloomy sci-fi storyline with clickbait titles. In Chinese mass media, the story is not nearly as 'sexy'.
First published
The lurid scenario of how China's nascent Social Credit System (SCS) might unfold as presented by many international media, stands in stark contrast to how the topic is discussed on Chinese online media. Not only is the SCS discussed and presented much differently within the PRC, the topic is also not nearly getting as much attention as it does in the West.
"The year 2018 has been a crucial year in the development of China's Social Credit System (社会信用体系)," lawyer Ju (居小森律师) writes on Weibo this week.
The past year has indeed been the year of China's Social Credit System: it was an important year for the system's implementation, and it also became one of the most discussed China-related news topics in international media1 – using sci-fi vocabulary, powerful emotional words, suspenseful music, and dramatic images in their SCS-focused stories, the SCS is presented much differently in Western media than it is within the PRC.
SCS: From Google to Weibo Trends
From October 2017 to October 2018 alone, the Google search engine comes up with more than six million results in a search for the term "China social credit system" in English. Showing all results from before this time, there are 160 million results for the term in total.
Google Trends statistics show that worldwide interest in China's Social Credit System had its absolute peak in the past year, and that Black Mirror, the British science fiction series exploring the dark consequences of new technologies, is one of the terms that is most associated with the web search query 'China's social credit system.'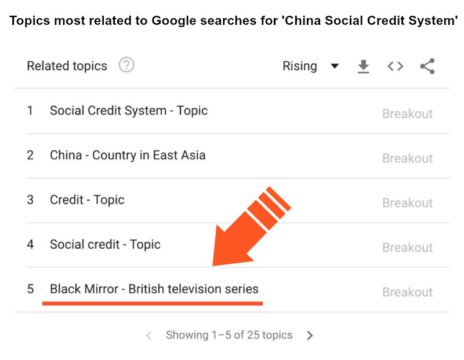 Black Mirror is a highly popular series on Netflix, of which one 2016 episode called 'Nosedive' revolved around a dystopian society where people are judged by a numeric rating given to them by their interactions with other people, affecting their opportunities in life. This episode is often connected to China's SCS by Western blogs or news sites.
The Black Mirror association with 'social credit' does not only come up on Google Trends. On Twitter, for example, some of the hashtags most related to the term also includes "#blackmirror."
In contrast to the English term, with 160 million results, the Chinese term for the social credit system (社会信用体系) comes up with only 19,2 million total search results on Google. Google Trends also shows a rather minimal interest in the Chinese term compared to its English equivalent.
Although that result is somewhat flawed (the Google search engine is blocked in mainland China), Baidu, one of China's most popular search engines, also gives a comparatively small total of 7,7 million results for the same Chinese web search query.
All in all, there are clear indications that the attention for the Chinese Social Credit System in the international English-language online media environment is much bigger than that within China.
While the Social Credit System (SCS) is being mentioned on Twitter almost every five to ten minutes at time of writing, it is only being discussed on Weibo with intervals of minimally one or two hours by posts that are barely getting likes or comments.2
This is especially noteworthy when considering that Sina Weibo has around 100 million more monthly active users (±430 million) than Twitter has (±326 million).
So what does this all mean? How come that there is so much appetite for this topic outside of China, while inside the PRC, where the 'system' is well underway, there is a lesser public interest in its development?
What Actually is the Social Credit System?
In the book Social Credit Law: Principles, Rules and Cases, author Luo Peixin explains Social Credit as follows:
"Social Credit is a management system that takes big data as its basis, is supported by technological capacities, and is backed by law [legal provisions]; it is an important modern method to forward the country's governance systems and management capabilities" (3).
Rather than one system or database, the Social Credit System is an overall policy or ideology, a mechanism of punishments and rewards, that is allegedly "meant to improve the integrity and trust level of the whole society" (creditchina.gov.cn).
In 2014, the Chinese government announced its first plans on the construction of a nationwide Social Credit System to be rolled out by 2020. For now, there is not one system in place, but rather a collection of different implementations and experiments across various regions and cities across China.
What they all have in common, though, is that individuals, corporations, or agencies are being assessed based on their 'trustworthiness' (Kostka 2018, 1).
The past summer has seen some important developments in the realization of a national Social Credit System. In the Chinese state media article "The Credit Society is Coming, Are You Ready for It?" ["信用社会来临,你准备好了吗"], People's Daily notes that new Social Credit terms such as "blacklists" (黑名单) will become more ubiquitous in daily life from now on.
Earlier this year, the first names on the 'lose trust list' (失信人名单) – meaning those who have failed in complying with their public commitments or court orders – were reported to the Chinese railway and aviation departments by the China Securities Regulatory Commission (CSRC) to block these people from traveling.
At the beginning of 2018, twelve cities have been announced as successfully laying out the foundations of a Social Credit management system.3
Other Chinese cities are frequently added to the 'credit cities' list. Dalian, for example, is one of the cities that is highlighted by Chinese media this month for "steadily advancing" its Social Credit System implementation. The city has introduced an automated administrative process at its Public Resources Trading Center, in which people who are found to have bad credit will automatically be refused the handling of business.
It is just one among dozens of examples of how various cities and regions in China are experimenting with Social Credit and both punitive and rewarding measures.
Besides the SCS initiatives being implemented by local governments, commercial companies are also participating in making China a more credit-based society. Users who opt in to Alibaba's Sesame Credit loyalty program system, for example, can enjoy many benefits if they have a good credit score (650+), such as borrowing books from the local library for free, or using share bikes without deposit (more on Sesame Credit and its perks here).
According to Weibo user 'Lawyer Ju', the broad credit system "covers both economic credit systems and social integrity systems," within which the blacklist system is getting "more and more important", adding that "the joint structure of 'lose trust in one place, and there's no place to go' [一处失信、处处受限] will soon be here."
Weibo Focus: No Bad Deed Should Go Unpunished
Lawyer Ju is not the only Weibo user who seems rather optimistic and happy about the implementation of a system that governs society based on trust.
Although major discussions on the actual 'Social Credit System' – using that exact term (社会信用体系) – are practically non-existent on Weibo, there are other examples of trending topics linked to the system that have gone viral lately.
One noteworthy example is the topic of two 'Train Tyrants' that went trending on Chinese social media since August of this year.
It all started with the "Highspeed Train Tyrant" (高铁霸座男) in September. It is a nickname that was given to a man who refused to give up the seat he took from another passenger on the G334 express train to Beijing in late August, and whose bizarre and rude behavior was caught on video.
The other train bully that went viral in September, is a woman from Hunan who was dubbed 'High-Speed Train Tyrant Woman' (高铁霸座女) by Weibo netizens.
She had taken a seat assigned to another passenger while riding the train from Yongzhou to Shenzhen. A video (YouTube link here) shows how the woman makes a scene when the train conductor tells her she is in the wrong seat; she refuses to get up, raises her voice, talks rudely to the conductor, and simply claims she has bought a ticket and will not change to another seat until she has reached her final destination.
With more than 600 million combined views on the stories of the highspeed 'Train Tyrants', making them one of the bigger news stories of the year, the unruly behavior of passengers on Chinese public transport system made headlines. When news came out that both 'bullies' were fined and blacklisted by the Chinese railways (banning them from boarding trains for 180 days, see this article by Jeremy Daum for more on the legal aspects), many commenters applauded the system – although some deemed it not punitive enough ("180 days and a 200 yuan [$28] fine is nothing!").
Although this case concerned a Railway-specific blacklist, many people commented that this blacklisting system should also be applied to people disturbing the order in hospitals, for example, and that it should be linked with the nationwide Social Credit System.
Moreover, many deemed that the Social Credit System should be even more punitive to people disturbing the public order, saying they "only had themselves to blame" ("咎由自取"), and it is a mere matter of "how karma works."
Twitter Focus: China's Scary Social Credit System
Meanwhile, on Twitter, a very different Social Credit story is going viral. A two-minute short video published by the Economist on October 26 titled "How Does China's Social Credit System Work?" has more than 275,000 views on Twitter alone at time of writing (Update 23.00 China time: Economist has removed the video within hours after this article was posted).
Accompanied by suspenseful music, the video starts by captioning that by 2020, "the Chinese government will give all 1.4bn of its citizens a personal score based on how they behave."
It further alleges that the 'system' will "track people's activities on the Internet," and that "what they buy, view, and say online will all be analysed," followed by the claim that "this data will then be evaluated and distilled into a single number according to rules set by the government."
The Economist video then focuses on surveillance cameras "that track people's behavior in public", suggesting that someone's "score" could be lowered by crossing a red light, and that 12 million people have already been "punished for having a low score" through domestic travel bans.
Among thousands of reactions on the video, many compared China to an "Orwellian surveillance state" or a "Black Mirror episode."
This recent Economist video is but one of dozens of examples of international media outlets describing China's Social Credit System within a certain framework, mainly linking it to terms such as 'punishment,' 'surveillance,' and 'individual scores.'
Many of these news stories suggest that every Chinese citizen will be assigned a 'score', or that people's mere way behaving in public will be able to lower that 'score', resulting in 'punishment' (FYI: there is no indication that there will be one 'score' for citizens in a nationwide SCS, also see this article).
These stories are often grossly conflating the (optional) commercial credit systems, such as Sesame Credit, with national government policies and local experiments. (For more about this, also check this article).
Dramatically Different Approaches
By just comparing the previously mentioned examples of the Train Tyrant viral story in China, and the Economist viral video, one can get a glimpse of the great gap in (social) media approaches of the Social Credit System in China and in Western media.4
In the international media headlines, powerful emotional words like 'chilling', 'creepy', or 'dystopian' are often used. Perhaps not coincidentally, marketers since long know that readers react more strongly to 'alert words' that make us feel anxious, such as 'afraid', 'scare', 'risk', and 'alarm' – which are all great words to get more engagement with social media users, and thus will result in more clicks.
As 'sexy' as the SCS might seem in Western media, as 'dry' it can seem in the Chinese media context, where the most powerful words used in headlines are terms as 'trust', 'harmony' or 'blacklist', and where there are no dramatic images; occasionally there is a featured photo of officials having a meeting (to see more on how state media propagates the SCS through cartoons, click here).
This difference in the framing of SCS between Western publications and Chinese articles can also be seen in the specific words used in SCS-focused news stories.
The word clouds below show the most used words in three typical SCS articles from Western mainstream media (Independent, Guardian, and ABC), and three typical English-language Chinese state media articles on SCS (namely Global Times, Xinhua, and China Daily ).
While there are many words overlapping between the two examples, the most-used words in these Western media sources (left) are words as 'system', 'list', 'citizen', 'behaviour', 'score', and 'government', whereas the Chinese state media sources (right) more commonly use words as 'business', 'law', 'market', and 'build.'
Doing the same experiment with Chinese-language state media articles on the SCS (Sina News, People's Daily, and Guangming Daily) shows that 'trust' or 'credit' (信用) and 'building' (建设) are among the most-used words, with terms such as 'enjoy together', 'cooperate', or 'unite' frequently popping up.
The different public attitude towards the SCS implementation in China versus the Western media discourse on the issue, is also illustrated in a recent study by Genia Kostka (2018), that investigates Chinese citizens' attitudes towards social credit systems. Rather than thinking of it as a 'creepy' or 'dystopian' system, it showed that SCSs actually have very high levels of approval across the respondent groups in the study (her work can be viewed here).
Social Credit Accounts without Followers
Ever since the 2014 plans of China's Social Credit implementation were announced, Chinese social media has seen dozens of regional, urban, district-based 'Social Credit' accounts pop up on Weibo and WeChat to inform netizens of local developments.
The online presence of these local social credit programmes signals that Weibo and Wechat may have hundreds of these accounts in the future informing citizens/netizens of new measures and guidelines.
However, the fanbase numbers of these accounts, again, reflect that there does not seem to be that much interest for the nascent SCS implementations.
A brief overview of some of these Weibo accounts:
* Credit Suzhou @苏州工业园区信用平台
Followers: 391
First post on record: September 29, 2015
* Liaoning Credit @信用辽宁
Followers at time of writing: 764
First post on record: August 1, 2012
* Wuhu Credit
@信用芜湖
Followers at time of writing: 14
First post on record: August 22, 2016
* Beijing City Social Credit Building Promotional Association @北京市社会公信建设促进会
Followers at time of writing: 14913
First post on record: September 17, 2014
* China Trustworthy Guangzhou @中国诚信广州
Followers at time of writing: 383
First post on record: June 20, 2012
* Honest Suqian @诚信宿迁
Followers at time of writing: 21
First post on record: September 9, 2014
With more than 24,000 followers, the Weibo account of commercial credit system Sesame Credit (@芝麻信用) is much more popular than the government-related management programmes.
Perhaps the topic of SCS, for many Chinese, is lacking the 'Black Mirror' appeal it has for many Western consumers of news. Perhaps 'harmony' and 'trust' are not as click-worthy as 'creepy' and 'dystopian'?
On Weibo, Lawyer Ju is confident in the future of SCS in China: "Whether it's from a social, corporate, or individual perspective," he writes: "'trust' is now everywhere; it's become a necessary 'virtual asset.' The gradual improvement of the construction of a legal credit system is the fundamental policy in order to regulate the market economy."
Although his message is sound and clear, it is perhaps also somewhat boring and dry: it has not received any likes or shares to date. Meanwhile, on Twitter, the Economist's suspenseful video on China's grim SCS future has received more than 280,000 views, and counting. "Oh my god!", one popular reply to the video says: "This is just like that Black Mirror episode!"
(Update 23.00 China time: Economist has removed the video within hours after this article was posted).
By Manya Koetse
Follow @whatsonweibo
1 This article talks about 'international' or 'Western' media to show a clear difference from Chinese media. Although the term can be understood in many ways, we mean it here to address mainstream English-language (news) sources of media outlets from mainly the US, Europe, and Australia.
2 Please note that there is currently no reason to assume that discussions of this specific topic are being censored: censorship scanning sites such as Free Weibo show no signs that posts using the term are specifically targeted, and state media and local governments are actually trying to start up discussions on this topic, as I will briefly touch upon later on in this article.
3 Namely Hangzhou, Nanjing, Xiamen, Chengdu, Suzhou, Suqian, Huizhou, Wenzhou, Weihai, Weifang, Yiwu, and Rongcheng.
4 Note that these are just small examples within a big and complicated discourse that has more sides to it than this article allows to zoom in on.
References
Kostka, Genia. 2018. "China's Social Credit Systems and Public Opinion: Explaining High Levels of Approval" SSRN, July 23. Available at https://ssrn.com/abstract=3215138 or http://dx.doi.org/10.2139/ssrn.3215138 [29.10.18].
Luo Peixin 罗培新. 2018. Social Credit Law: Principles, Rules and Cases [社会信用法:原理、规则、案例]. Beijing: Peking University Press.
People's Daily. 2018. "Observing the Social Credit System: The Credit Society is Coming, Are You Ready for It? [观察社会信用体系:信用社会来临,你准备好了吗]." Xinhua June 4. Available online at http://www.xinhuanet.com/2018-06/04/c_1122931164.htm [29.10.18].
Directly support Manya Koetse. By supporting this author you make future articles possible and help the maintenance and independence of this site. Donate directly through Paypal here. Also check out the What's on Weibo donations page for donations through creditcard & WeChat and for more information.
Spotted a mistake or want to add something? Please let us know in comments below or email us.
©2018 Whatsonweibo. All rights reserved. Do not reproduce our content without permission – you can contact us at info@whatsonweibo.com
No WeChat, No Access – How China's Digital Revolution is Leaving behind Its Elderly Population
With apps and QR code scanning taking over day-to-day life necessities in China, elderly citizens are feeling increasingly alienated from society.
First published
As daily life in China becomes ever more digitally dependent, China's elderly find themselves increasingly excluded from a wide range of services. Here's an overview of this new societal problem by What's on Weibo's Brydon Brancart.
"If you don't take cash then put a sign up!", yelled 67-year old Mr. Xie after trying to use cash to pay for his groceries at a checkout isle reserved for mobile payments.
Enraged at his treatment, Xie's initial reaction was to cause a ruckus, lunging at the security guards surrounding him. "You shame me, an old guy, for not being able to use WeChat!", Xie explained later on, after regaining his composure.
The video, posted on Weibo in late September of this year, quickly made its way around Chinese social media, renewing a controversy that goes right to the heart of China's fast-paced digital revolution: can the elderly keep up?
No App, No Access: Seniors without Wechat
"Sorry, as you're already over 70, you're not fit to keep on living"
The issue became prominent last year after writer Xiao Ao (小奥) published an article titled: "Sorry, as you're already over 70, you're not fit to keep on living" ["对不起,由于你已经超过70岁,你已经不适合活下去了!"].
In the article, Xiao voiced her frustration over how difficult it was for her 90-year-old grandfather to receive a package she had mailed him.
"I thought it would be a simple delivery," Xiao recalls. "My grandfather would just have to walk to his door, open it, open the package, and then could [retrieve the gift]. But I was wrong."
Packages sent to her grandfather's housing complex are stored for pickup in new delivery lockers – which can only be unlocked by the intended recipient using their Wechat account.
"My grandfather is only able to receive calls and can only make them with his glasses on. He can't text, so Wechat is even more [out of the question]," Xiao explained.
According to her, there is a widespread alienation of China's elderly from the digital economy, evident from countless reports of elderly struggling to use digitalized services that come second nature to younger generations: cab-hailing, queing in a bank or hospital, bike-sharing, the list goes on and on.
"I've realized that the 'convenient life; before my eyes is, in fact, a great disaster impeding our parents' everyday necessities, one they can neither dodge nor escape…", Xiao concluded.
Wang Qipeng, writing for the Beijing Evening Paper, presents a similar viewpoint.
"One can say that we live in a 'scanning' age," Qipeng writes: "Yet (…) there are many elderly people who, because they cannot scan, have no way of using bike-sharing, have no way of getting discounts at the store, and can't even open the smart-boxes that are delivered to them."
Wang's reference to "the scanning age" is no overstatement. Whether unlocking a bicycle through a bike-sharing app such as Mobike or Ofo, or ordering lunch in the office through the meal delivery app Eleme, all transactions are performed through apps that in turn rely on mobile payment apps.
Even public institutions are adapting to the scanning age, for purposes ranging from public announcements to dispensing toilet paper.
QR codes are ubiquitous across China's public and commercial landscapes. They are posted on walls in vegetable stalls, sit beside registers at department stores, and are even used by beggars in first-tier cities.
Their function is simple. In order to access them, one opens up the relevant app and selects 'scan'. The app opens the phone's camera function and scans the QR code. Then, all one has to do is simply select an amount to pay or agree to terms of service. Whether it 's scanning a QR code, or producing one to be scanned, the process takes seconds.
Reliance on mobile payments has been increasing globally, but nowhere has that growth been faster and more extensive than along China's Eastern seaboard. According to the South China Morning Post, in the third quarter of 2017, earnings in the mobile payment sector reached 29.5 trillion RMB (almost 4.25 trillion USD), a three-fold increase in just one year.
For younger urban residents, doing away with cumbersome cash is a welcome change. A 2017 Penguin Intelligence study found that 92% of those polled in China's cities primarily use mobile payments methods. Cash, on the other hand, is preferred by less than 10% of this group.
Handing the elderly a smartphone is in no way a solution. The replacement of the wallet by the smartphone comes with its own set of rules and requirements. Using mobile payments does not solely depend on familiarity with smartphones, it also assumes an eyesight keen enough to read the small print on phone screens.
Operations such as linking a bank account to a phone can be a nightmare for the technologically illiterate. In the absence of easily accessible courses suited to the learning speed of elderly citizens, mobile payment's effect on this age group is precisely the opposite of what it intends, adding rather than alleviating the chores of everyday life.
Viral Stories of Seniors in Digital Trouble Resurface
"To refuse taking on cash is actually a type of discrimination for those who do not understand how mobile payments work."
Besides Xie's viral rant, a plethora of online essays and news reports highlighted just how ill-equipped China's eldery citizens are in today's digital era.
In January of this year, Xin Lan News reported the story of an elderly man who, in what seems like a foreshadowing of Xie, broke down into tears at a train station after having to admit he did not know how buy a ticket online.
Around the same time, another story described the plight of a sweet potato salesman who complained that his son took advantage of his unfamiliarity of scanning to steal a large portion of his salary. And only a few days after Chinese netizens moved on from Xie's rant, news came of an elderly woman who was tricked by a man pretending to help her use scan a QR code.
On Weibo, many commenters support the elderly in these stories. A typical comment said: "To refuse taking on cash is actually a type of discrimination for those who do not understand how mobile payments work."
Unfortunately, despite the frequency of these stories, there is little consensus on how to better prepare the elderly for an increasingly digitalized tomorrow.
Proactive Solutions with Long-Term Consequences
"Society ought to accommodate the needs of the elderly, it ought to consider their necessities."
.

Charities have sought to implement educational programs to tackle this issue. The most proactive of these organizations, See Young (夕阳再晨), a volunteer organization that started in Beijing, is now operating in sixteen Chinese provinces, having already provided individualized support to over 18,000 elderly citizens, and helped educated over a million.
The government has been supportive of See Young, mentioning them in the 13th five-year plan. Li Zhihong, head of the policy research division of the China National Working Commission on Ageing, commented to the People's Daily that, "when it comes to helping the elderly become immersed in the information age, there are already organizations actively working [towards this]."
Yet, many disagree with forcing the elderly to continually learn, including the founder of See Young, Zhang Jiaxin (张佳鑫). In Wang Qipeng's article "Does Scanning Leave the Elderly Without Money to Spend?" ["扫码让老人无钱可花?"], an interview with Zhang is cited where the philanthropist states:
"Society ought to accommodate the needs of the elderly, it ought to consider their necessities. [Society] mustn't force them to expend all their energy in learning this or learning that, forcing them to act in this way. Only through such [a change] will [society] truly help and respect the elderly."
Zhang worries that continued pressure on the elderly to keep up to date on the newest technologies will only make them feel that "at home, and in society, they exist in an inferior position."
By Brydon Brancart, edited by Eduardo Baptista
Follow @whatsonweibo
Spotted a mistake or want to add something? Please let us know in comments below or email us.
©2018 Whatsonweibo. All rights reserved. Do not reproduce our content without permission – you can contact us at info@whatsonweibo.com