Lao Gan Ma: The Story of China's Most Spicy Godmother Tao Huabi
China's 'Old Godmother' Tao Huabi, creator of Lao Gan Ma, is China's hottest businesswoman.
She is China's 'Old Godmother': Tao Huabi (陶华碧) is the creator of one of China's most famous chili sauces and is the embodiment of the 'Chinese dream.' By following her own path and relying on her business instinct, Tao rose from poverty and became a multi-billionaire. China's spiciest businesswomen has now quietly retired.
'Old Godmother' (Lao Gan Ma) is a household name in China. Anyone who frequents Chinese restaurants or supermarkets is familiar with the brand of chili sauces that is made in China since the 1990s – known for the little portrait of a Chinese woman on its label.
That woman is Tao Huabi (陶华碧), who did not only develop the famous chili sauce, but also became the founder and CEO of the privately owned 'Lao Gan Ma Foodstuff Company' (老干妈风味食品有限责任公司). The company was established in south-central China's Guiyang, Guizhou Province, in 1997.
On February 14 2017, Tao Huabi hit the top trending lists on Chinese social media with the hashtag "The Spiciest [Feistiest] Woman of China" (#曾经中国最火辣的女人), when several Chinese media reported that Tao Huabi had already quietly retired from her company in 2014 and that she is no longer a stockholder of the Lao Gan Ma brand.
ROUGH START IN LIFE
"The noodle shop business soon flourished – but not because of her noodles."
With her journey from extreme poverty to ultimate wealth (she is even included in the Forbes list of China's richest), Tao Huabi's story reads like a novel.
Tao was born in 1947 in a remote mountain village in Zun'yi, Guizhou province. Since her family was too poor to send her to school, Tao was not taught how to read and write. When Tao was 20 years old, she married a local geologist and had two sons.
When her husband fell ill, Tao Huabi unexpectedly became widowed within a few years after she got married. She was forced to work outside the village to provide for her family; Tao worked around the clock to make rice tofu at night, which she sold at schools during the day.
In 1989, Tao set up a small noodle shop in the Nanming District of Guiyang. Although she just served simple noodles, she mixed them with her own spicy hot sauce with soybeans (豆豉麻辣酱). Tao was beloved in the neighborhood, where she became a 'godmother' to poor students which she would always give discount and some extra food.
With many local students and patrons visiting her little diner, the noodle shop business soon flourished – but not because of her noodles.
Tao Huabi discovered the popularity of her condiment when customers came in to purchase the sauce without the noodles. One day, when her sauce had sold out, she found that customers would not even eat her noodles without her special sauce.
When Tao learned that other noodle shops in the neighborhood were all doing good business by using her home-made sauce in their noodles, she realized the potential of her product.
FROM NOODLE SHOP TO CHILI SAUCE FACTORY
"At the age of 49, Tao took the plunge and set up her own sauce factory called 'Old Godmother.'"
By the early 1990s, more truck drivers passed by Tao's shop due to the construction of a new highway in the area. Tao took this as a chance to promote her condiments outside the realm of her own neighborhood and started giving out her sauces for free for the truckers to take home.
This form of word-of-mouth marketing soon paid off when people from outside the city district came to visit Tao's shop to buy her chili sauces and other condiments.
By 1994, she had stopped selling noodles and had turned her little restaurant into a sauce shop. Two years later, at the age of 49, Tao took the plunge to rent a house in Guiyang, recruited 40 workers, and set up her own sauce factory called 'Old Godmother': 'Lao Gan Ma' (老干妈). In 1997, the company was officially listed and open for business.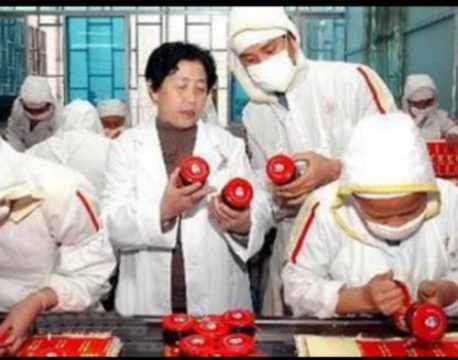 Although the Lao Gan Ma brand became successful almost immediately, Tao Huabi still struggled for years as a handful of competitors launched fake Lao Gan Ma sauces with similar packaging, and nearly ruined her business.
In 2001, when Tao Huabi was 54, the high court in Beijing finally ruled that other similar products could not use the "Lao Gan Ma" name nor imitate her packages. She received 400,000 RMB in compensation (±60,000$). Twelve years later, her company had an annual sales volume of 540 million US$ (3.7 billion RMB).
"THE MIRACLE OF GUIZHOU"
"Tao was included in the Forbes list richest families in China with an estimated worth of $1.05 billion."
By now, Tao's 'chili empire' has gone international, as her condiments are sold from the USA to Africa. She is known as the "Miracle of Guizhou." Despite the many offers she had throughout her career to set up her business elsewhere, she always stayed true to her home-province – much to the delight of local government officials who have continuously shown their support for Tao.
The businesswoman is a true blessing for the province; not just because her brand has become known as a unique 'product of Guizhou', but mainly because she offers employment to 4100 people, and directly and indirectly generates income for ten-thousands of farmers.
Lao Gan Ma is by far the largest chili brand of China, with over 20 differently-flavored condiments.
In 2015, Tao was included in the Forbes list of richest families in China with an estimated worth of $1.05 billion.
Besides that Tao, now 70 years old, allegedly loves driving cars (she owns two Rolls-Royces, a Mercedez-Benz and a BMW), she is also politically active and has become a committee member of the People's Congress at the provincial level.
According to the latest Chinese media reports, Tao Huabi has quietly retired in 2014, which was unknown to the public. She and her youngest son Li Hui (李辉) are no longer on the list of shareholders. Her oldest son Li Guishan (李贵山), however, is still a company shareholder.
"Somehow this makes me a bit emotional," some Weibo commenters said.
"I just hope the quality will remain as good as ever," some netizens responded on Weibo. "As a kid I always thought there was drugs in this sauce because it was so addictive."
Others praised her life story, saying: "Old Godmother is an example that you can still make it in life without any education."
"We actually have a lot of women here in Guizhou who can make their own delicious chili sauce," another netizen wrote: "But of course, Old Godmother's hot sauce is delicious and has its own characteristics. And in the era of Old Godmother, there were very few people who would rely on chili sauce to make a living. She has persisted and kept her prices low."
A bottle of Lao Gan Ma is generally sold at around 8-10 RMB (±1-1,5US$). Overseas, prices vary from 8$ to 15$.
"Every great business person has to retire one day," one commenter writes: "That does not diminish her legendary successful career!"
Others are surprised to find such a life story behind the Lan Gao Ma product: "Who knew our Old Godmother was such a fascinating person?"
– By Manya Koetse
Follow on Twitter or Like on Facebook
Sources and Further Reading
Baidu Page Tao Huabi (in Chinese): http://baike.baidu.com/view/117848.htm#reference-[1]-117848-wrap.
Phoenix News (in Chinese) http://finance.ifeng.com/a/20151202/14103739_0.shtml
Sina News (in Chinese) https://zx.sina.cn/n/2017-02-14/zx-ifyamkzq1302308.d.html
Sina Video (in Chinese) http://video.sina.com.cn/p/news/o/doc/2017-02-13/112965694793.html?wm=3049_0022&from=qudao
What's on Weibo is an independent blog. Want to donate? You can do so here.
©2017 Whatsonweibo. All rights reserved. Do not reproduce our content without permission – you can contact us at info@whatsonweibo.com
Would You Like Coffee with Your Sneakers? Chinese Sports Brand Li-Ning Registers Its 'Ning Coffee' Brand
Li-Ning enters the coffee market: "Will they sell sneaker-flavored coffee?"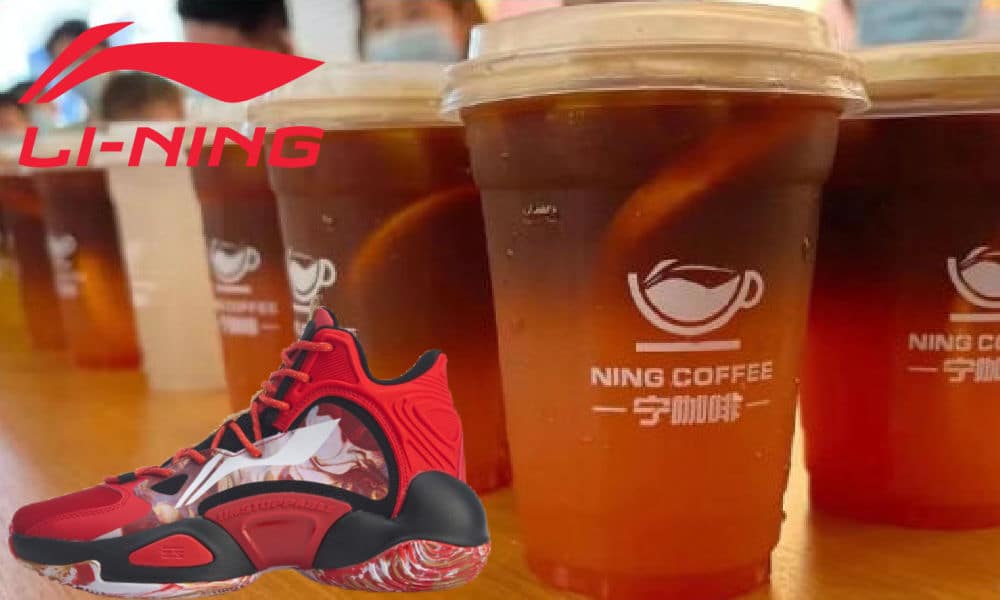 An unexpected competitor is joining China's coffee market. With over 7000 stores in the country, Li-Ning has the potential to become the biggest athletic coffee chain yet.
Another player is joining mainland China's growing coffee market. It's not an American coffee giant, nor a coffee house chain from Hong Kong – it is China's leading sportswear brand Li-Ning Sports (李宁体育).
Li-Ning registered its coffee brand under the 'NING COFFEE' trademark. As reported in an article written by 'Investment Group' (@投资界) and published by Toutiao News (@头条新闻), Li-Ning has confirmed on May 6 that it will provide in-store coffee services to enhance customers' shopping experiences in the near future.
The move means that Li-Ning could potentially become a big player in China's coffee market, competing with major brands such as Starbucks, Luckin Coffee, Costa and Pacific. If the in-store coffee cafes would roll out in most of its shops, there could be over 7000 Ning Coffee cafes in China in the future. By the end of 2021, Li-Ning Sports had a total of 7,137 stores in China.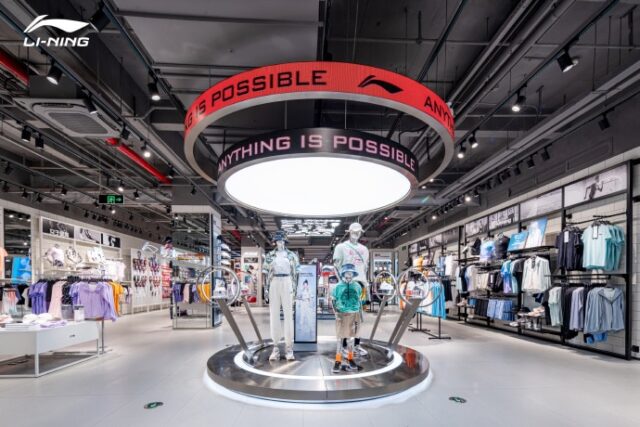 Starbucks has 5,400 stores in China. Leading domestic coffee chain Luckin Coffee expanded to over 6000 stores last year. Costa Coffee, although closing some of its China stores in 2021, announced that it aims to have a total of 1,200 stores open in China later this year. Looking at Li-Ning's presence across China, its in-store coffee cafes could be serious competition for the leading coffee chains in the country.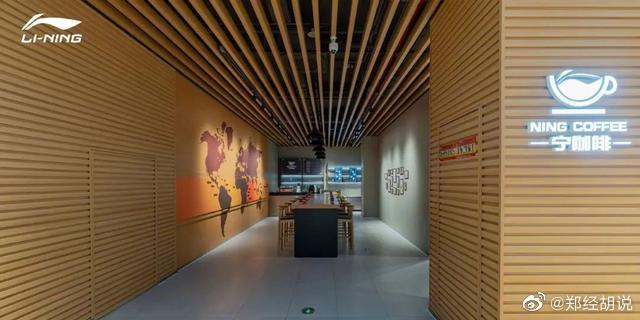 Over the past few years, various Chinese sportswear brands, including Anta Sports and Erke, have seen a rise in popularity, but Li-Ning is still China's most famous brand name for athletic apparel and shoes. The company was founded in the early 1990s by Chinese Olympic gymnast and business entrepreneur Li Ning (1963) and was generally seen as a Nike copycat – the original logo was even similar to the Nike swoosh. Although Li-Ning looked like Nike, the brand is more appealing to many Chinese consumers due to the fact that it is cheaper and made in China.
Li-Ning markets itself as being "deeply and uniquely Chinese" (Li Ning official website 2022), which has made it more popular in an era of "proudly made in China" (read more about that here). Moreover, it also promises to offer high-quality sportwear at a price that is cheaper than the American Nike or German Adidas.
Li-Ning's success is also owed to its marketing strategies. Besides being the official marketing partner of many major sports events, including the NBA in China, the brand has also contracted with many household athletes and famous global ambassadors.
Over a decade ago, marketing observers already noted that despite the remarkable success of Li-Ning in China, the brand still had a long way to go in order to strengthen its image as a long-term brand, recommending Li-Ning to "create excitement around the brand" by building more associations related to lifestyle and coolness to better resonate with younger Chinese customers (Bell 2008, 81; Roll 2006, 170).
With its latest move into the coffee market, it is clear that Li-Ning is moving its brand positioning more toward the direction of lifestyle, trendiness, and luxury. Although purchasing a coffee at Starbucks or Luckin is part of the everyday routine for many urban millennials, coffee is still viewed as a trendy luxury product for many, relating to both cultural factors as well as economic reasons. As noted by Cat Hanson in 2015, the price of a single cup of coffee was equal to a month's worth of home broadband internet (read more).
Previously, other fashion brands have also opened up coffee stores in China. As reported by Jing Daily, international luxury brands Prada, Louis Vuitton, and FENDI also opened up coffee cafes in mainland China.
Another unexpected coffee cafe is that of China Post, which opened its first in-store 'Post Coffee' in Xiamen earlier this year. On social media, many netizens commented that the brand image of the national post service clashed with that of a fairly expensive coffee house (coffee prices starting at 22 yuan / $3,3).
"The postal services are located in cities and in the countryside and are often used by migrant workers, and generally this demographic isn't buying coffee," one person commented, with another netizen writing: "This does not suit the taste of ordinary people, it would've been better if they sold milk tea."
On Weibo, Li-Ning's journey into the competitive coffee market was discussed using the hashtags "Li-Ning Enters the Coffee Race" (#李宁入局咖啡赛道#) and "Li-Ning Starts Selling Coffee" (##李宁开始卖咖啡##).
Like with China Post, many commenters say the combination of sportswear and coffee is not something they immediately find logical. "Will they also sell sneaker-flavored coffee?" one person wondered, with others thinking selling coffee – seen as a product from western countries – does not exactly match with Li-Ning as a 'proudly made-in-China' brand.
"How would you feel about trying on some clothes at Li-Ning while sipping on Li-Ning coffee? I understand Li-Ning is jumping on what's popular, and this time it's coffee," one Weibo user writes, with others also writing: "I think it has potential."
"I'm willing to try it out," various commenters write. For others, they want to see the menu first: "It all depends on the price."
For more about the coffee and tea market in China, check our other articles here.
By Manya Koetse
Get the story behind the hashtag. Subscribe to What's on Weibo here to receive our weekly newsletter and get access to our latest articles:
References
Bell, Sandra. 2008. International Brand Management of Chinese Companies. Heidelberg: Physia-Verlag.
Roll, Martin. 2006. Asian Brand Strategy: How Asia Builds Strong Brands. New York: Palgrave Macmillan.
Spotted a mistake or want to add something? Please let us know in comments below or email us. First-time commenters, please be patient – we will have to manually approve your comment before it appears.
©2022 Whatsonweibo. All rights reserved. Do not reproduce our content without permission – you can contact us at info@whatsonweibo.com.
Weibo Has Still Blocked 'Shanghai Buy Groceries' Hashtag
"It's easier to get a Shanghai license plate than groceries around here."
While Shanghai is promising to improve food supplies for locked-down residents, many households are still struggling to get their groceries and complain about high prices for basic food items. Over the past week, Weibo has blocked a hashtag page about the issue.
On April 8, during the seventh day of Shanghai's phased citywide lockdown, the Chinese social media platform Weibo removed the 'Shanghai Buy Food' or 'Shanghai Groceries' (#上海买菜#) hashtag while many in the city were facing difficulties in getting food delivered to their house and were venting their anger online. Getting daily necessities has become a problem for millions of residents not allowed to leave their homes due to the city's coronavirus prevention measures.
The hashtag censorship coincided with state media news reports about Shanghai ensuring life supplies for residents and improving delivery capacities at a time when most stores, restaurants, supermarkets, and wet markets have shut down normal operations. Shanghai has registered over 253,000 Covid-19 infections since March 1st of this year, reporting another daily record of 26,330 confirmed cases on Wednesday.
Some joked that just censoring the problem was also a way of dealing with it. "Oh great, they solved the grocery shopping problem," popped up as a recurring joke on Weibo after the hashtag page was removed.
The hashtag 'Shanghai Buy Groceries' first started trending on Chinese social media on March 23, when Shanghai residents started worrying about an impending lockdown amid spiking Covid19 cases.
Although Chinese state media reported on March 24 that Shanghai health authorities reiterated they had no plans to impose a citywide lockdown – and two people accused of spreading rumors about an alleged citywide lockdown were even placed under police investigation -, the city announced its phased lockdowns three days later and scenes of panic buying at local supermarkets ensued.
So stressful to have to think about getting enough food for the family, having to line up and struggle to buy whatever you can and then dealing with this kind of violence erupting too. "is this really 2022?", one commenter said 😔 #shanghai pic.twitter.com/0XF9eIseyf

— Manya Koetse (@manyapan) March 27, 2022
But around April 8, the moment when the hashtag's popularity surged, many residents faced food shortages as their home supplies ran out and grocery orders did not come through. While some residents started receiving food boxes issued by the local government, most compounds and buildings also set up their own community WeChat group to place bulk orders at certain food vendors which then deliver the group purchase to the community, where it is distributed by volunteers or property management employees.
Earlier this week, Shanghai implemented a new measure that divides residential units into three risk categories depending on whether or not there have been any cases of Covid in their communities for a stretch of two weeks. For at least 15 million residents, their locked-down status remains unchanged – and for those in the 'precautionary' communities, their status could also be downgraded to the 'locked down' level the moment a positive case pops up again.
E-commerce and food delivery platforms such as Ele.me and JD have been sending more staff to Shanghai from other parts of China to help ensure quicker and smoother sorting and delivery processes. On April 13, many households also received their first (free) food boxes.
By Wednesday, hashtags such as "Shanghai Residents Are One by One Receiving Supplies" (#上海市民陆续收到物资#) and "Delivery Drivers Increased to Help Shanghai" (#多地快递小哥增援上海#) were circulating on social media. But on Weibo, the hashtag page for "Shanghai Groceries" still comes up with no results.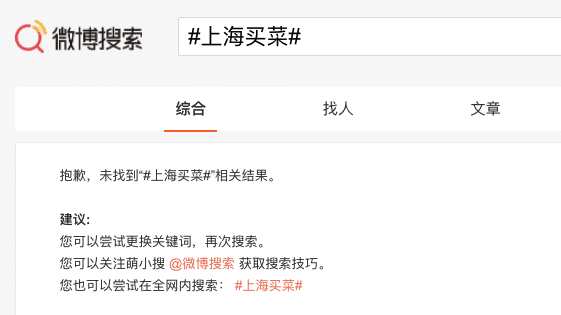 For some Shanghai residents, the pace of food delivery, even with improved delivery logistics, hasn't been quick enough to alleviate their current food shortages. Others are also complaining about the costs of their ordered groceries, some spending 285 yuan ($45) or more on some basic groceries including noodles and vegetables.
One Weibo user asks: "Please, where can I buy reasonably priced meat, eggs, and green onions?"
"It's easier to get a Shanghai license plate than groceries around here," another netizen complained.
For some, doing online groceries has become an Olympic game; netizens are posting videos of setting a 5AM alarm clock, jumping out of bed, and entering their online orders as fast as they can. One video showed a wife cheering on her husband while his thumb was going as fast as possible to place grocery orders via his smartphone e e-commerce app.
Remember that viral game where you had to tap the screen endlessly to "applaud" Xi Jinping's speech at the 19th Party Congress? This is like that. Except totally different. This guy is getting cheered on and even has a support tool while grabbing online groceries during lockdown. pic.twitter.com/Qeh8In3AJZ

— Manya Koetse (@manyapan) April 13, 2022
"If I have to keep grabbing groceries like this, I'm gonna have a nervous breakdown," one thirty-something lady from Shanghai wrote on Weibo: "I really hope the situation in Shanghai gets better soon. What happened to the city I grew up in?"
For more articles on the Covid-19 topics on Chinese social media, check here.
By Manya Koetse
Get the story behind the hashtag. Subscribe to What's on Weibo here to receive our weekly newsletter and get access to our latest articles:
Spotted a mistake or want to add something? Please let us know in comments below or email us. First-time commenters, please be patient – we will have to manually approve your comment before it appears.
©2022 Whatsonweibo. All rights reserved. Do not reproduce our content without permission – you can contact us at info@whatsonweibo.com.