Lao Gan Ma: The Story of China's Most Spicy Godmother Tao Huabi
She is China's 'Old Godmother': Tao Huabi (陶华碧) is the creator of one of China's most famous Lao Gan Ma chili sauces and the embodiment of the 'Chinese dream.' By following her own path and relying on her instinct, Tao rose from poverty and became a multi-billionaire. China's spiciest businesswomen has now quietly retired
She is China's 'Old Godmother': Tao Huabi (陶华碧) is the creator of one of China's most famous chili sauces and is the embodiment of the 'Chinese dream.' By following her own path and relying on her business instinct, Tao rose from poverty and became a multi-billionaire. China's spiciest businesswomen has now quietly retired.
'Old Godmother' (Lao Gan Ma) is a household name in China. Anyone who frequents Chinese restaurants or supermarkets is familiar with the brand of chili sauces that is made in China since the 1990s – known for the little portrait of a Chinese woman on its label.
That woman is Tao Huabi (陶华碧), who did not only develop the famous chili sauce, but also became the founder and CEO of the privately owned 'Lao Gan Ma Foodstuff Company' (老干妈风味食品有限责任公司). The company was established in south-central China's Guiyang, Guizhou Province, in 1997.
On February 14 2017, Tao Huabi hit the top trending lists on Chinese social media with the hashtag "The Spiciest [Feistiest] Woman of China" (#曾经中国最火辣的女人), when several Chinese media reported that Tao Huabi had already quietly retired from her company in 2014 and that she is no longer a stockholder of the Lao Gan Ma brand.
ROUGH START IN LIFE
"The noodle shop business soon flourished – but not because of her noodles."
With her journey from extreme poverty to ultimate wealth (she is even included in the Forbes list of China's richest), Tao Huabi's story reads like a novel.
Tao was born in 1947 in a remote mountain village in Zun'yi, Guizhou province. Since her family was too poor to send her to school, Tao was not taught how to read and write. When Tao was 20 years old, she married a local geologist and had two sons.
When her husband fell ill, Tao Huabi unexpectedly became widowed within a few years after she got married. She was forced to work outside the village to provide for her family; Tao worked around the clock to make rice tofu at night, which she sold at schools during the day.
In 1989, Tao set up a small noodle shop in the Nanming District of Guiyang. Although she just served simple noodles, she mixed them with her own spicy hot sauce with soybeans (豆豉麻辣酱). Tao was beloved in the neighborhood, where she became a 'godmother' to poor students which she would always give discount and some extra food.
With many local students and patrons visiting her little diner, the noodle shop business soon flourished – but not because of her noodles.
Tao Huabi discovered the popularity of her condiment when customers came in to purchase the sauce without the noodles. One day, when her sauce had sold out, she found that customers would not even eat her noodles without her special sauce.
When Tao learned that other noodle shops in the neighborhood were all doing good business by using her home-made sauce in their noodles, she realized the potential of her product.
FROM NOODLE SHOP TO CHILI SAUCE FACTORY
"At the age of 49, Tao took the plunge and set up her own sauce factory called 'Old Godmother.'"
By the early 1990s, more truck drivers passed by Tao's shop due to the construction of a new highway in the area. Tao took this as a chance to promote her condiments outside the realm of her own neighborhood and started giving out her sauces for free for the truckers to take home.
This form of word-of-mouth marketing soon paid off when people from outside the city district came to visit Tao's shop to buy her chili sauces and other condiments.
By 1994, she had stopped selling noodles and had turned her little restaurant into a sauce shop. Two years later, at the age of 49, Tao took the plunge to rent a house in Guiyang, recruited 40 workers, and set up her own sauce factory called 'Old Godmother': 'Lao Gan Ma' (老干妈). In 1997, the company was officially listed and open for business.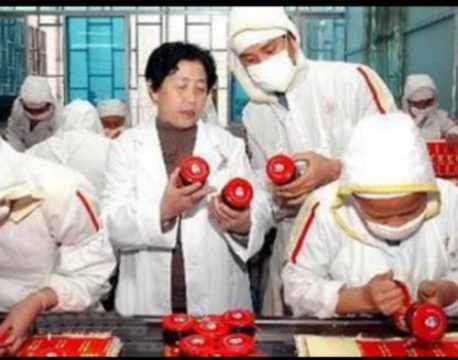 Although the Lao Gan Ma brand became successful almost immediately, Tao Huabi still struggled for years as a handful of competitors launched fake Lao Gan Ma sauces with similar packaging, and nearly ruined her business.
In 2001, when Tao Huabi was 54, the high court in Beijing finally ruled that other similar products could not use the "Lao Gan Ma" name nor imitate her packages. She received 400,000 RMB in compensation (±60,000$). Twelve years later, her company had an annual sales volume of 540 million US$ (3.7 billion RMB).
"THE MIRACLE OF GUIZHOU"
"Tao was included in the Forbes list richest families in China with an estimated worth of $1.05 billion."
By now, Tao's 'chili empire' has gone international, as her condiments are sold from the USA to Africa. She is known as the "Miracle of Guizhou." Despite the many offers she had throughout her career to set up her business elsewhere, she always stayed true to her home-province – much to the delight of local government officials who have continuously shown their support for Tao.
The businesswoman is a true blessing for the province; not just because her brand has become known as a unique 'product of Guizhou', but mainly because she offers employment to 4100 people, and directly and indirectly generates income for ten-thousands of farmers.
Lao Gan Ma is by far the largest chili brand of China, with over 20 differently-flavored condiments.
In 2015, Tao was included in the Forbes list of richest families in China with an estimated worth of $1.05 billion.
Besides that Tao, now 70 years old, allegedly loves driving cars (she owns two Rolls-Royces, a Mercedez-Benz and a BMW), she is also politically active and has become a committee member of the People's Congress at the provincial level.
According to the latest Chinese media reports, Tao Huabi has quietly retired in 2014, which was unknown to the public. She and her youngest son Li Hui (李辉) are no longer on the list of shareholders. Her oldest son Li Guishan (李贵山), however, is still a company shareholder.
"Somehow this makes me a bit emotional," some Weibo commenters said.
"I just hope the quality will remain as good as ever," some netizens responded on Weibo. "As a kid I always thought there was drugs in this sauce because it was so addictive."
Others praised her life story, saying: "Old Godmother is an example that you can still make it in life without any education."
"We actually have a lot of women here in Guizhou who can make their own delicious chili sauce," another netizen wrote: "But of course, Old Godmother's hot sauce is delicious and has its own characteristics. And in the era of Old Godmother, there were very few people who would rely on chili sauce to make a living. She has persisted and kept her prices low."
A bottle of Lao Gan Ma is generally sold at around 8-10 RMB (±1-1,5US$). Overseas, prices vary from 8$ to 15$.
"Every great business person has to retire one day," one commenter writes: "That does not diminish her legendary successful career!"
Others are surprised to find such a life story behind the Lan Gao Ma product: "Who knew our Old Godmother was such a fascinating person?"
– By Manya Koetse
Follow on Twitter or Like on Facebook
Sources and Further Reading
Baidu Page Tao Huabi (in Chinese): http://baike.baidu.com/view/117848.htm#reference-[1]-117848-wrap.
Phoenix News (in Chinese) http://finance.ifeng.com/a/20151202/14103739_0.shtml
Sina News (in Chinese) https://zx.sina.cn/n/2017-02-14/zx-ifyamkzq1302308.d.html
Sina Video (in Chinese) http://video.sina.com.cn/p/news/o/doc/2017-02-13/112965694793.html?wm=3049_0022&from=qudao
What's on Weibo is an independent blog. Want to donate? You can do so here.
©2017 Whatsonweibo. All rights reserved. Do not reproduce our content without permission – you can contact us at info@whatsonweibo.com
"Zang Zang Bao" – The Hype Surrounding Beijing's "Dirty Dirty" Chocolate Bread
Being dirty has never been this sweet.
The so-called 'Zang Zang Bao' (Dirty Dirty Bread) has become a hype in Beijing and beyond. Showing off one's chocolate-covered face after eating the pastry is the latest online fad. Even with minus ten degrees, crowds of people are queuing up for their piece of dirty bread.
Those who have wandered around downtown Shanghai or Beijing's Sanlitun recently might have noticed the long queues of people in front of various bakeries and tea shops, wondering what's so special about their tea or sandwiches. But it is not the tea and sandwiches people are waiting for in the freezing cold – it is their dirty dirty chocolate bread.
"Zang zang bao" (脏脏包), literally meaning "dirty dirty bread", has become an online craze in China over the past few months. The Chinese chocolate croissant was already named "one of the most popular baked goods in China in 2017" by CGTN (CCTV International) in December, but the social media hype over the bread has carried on well into 2018 and is now making it to the top trending topics on Weibo.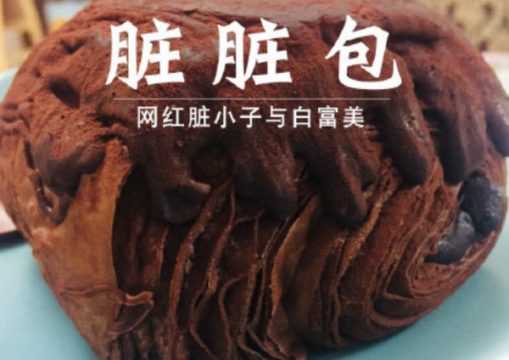 The bread's name comes from the fact that it actually looks dirty and that is virtually impossible to eat the snack without getting messy. Containing large amounts of chocolate, cream, and cocoa powder, people eating this bread are bound to end up with chocolate stains all over; which is one of the main reasons that sparked the online craze for it in the first place.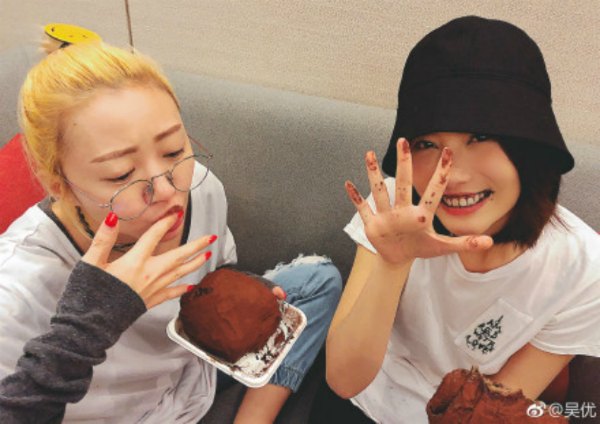 Hundreds of people – specifically young women – are recently posting photos of themselves on Wechat and Weibo eating the bread and then having their hands and mouths covered in chocolate, triggered by celebrities and online influencers (KOL) who have previously done the same. Showing off their chocolate-covered faces is another way of being 'cute' and playful.
The bread's recipe originally comes from the Japanese version of the chocolate croissant, and first started gaining attention in China when a Beijing bakery named Bad Farmers & Our Bakery started selling the pastry at limited hours during the afternoons in 2017.
According to the online media platform AI Finance (AI财经社), the trend then blew over to Shanghai, where LeLe Tea (乐乐茶) started selling the buns in June of 2017 with much success – within six months, the tearoom franchise was able to open four additional shops in Shanghai.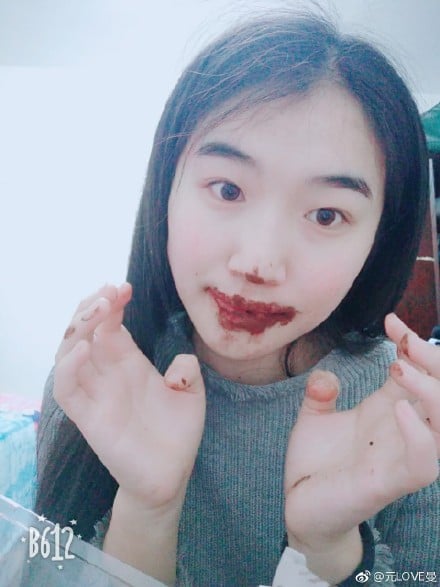 The Zang Zang Bao success has now triggered teashops across China to sell their own version of the popular bread. A shop of a franchise called HeyTea (喜茶) in Sanlitun, Beijing, is gathering large crowds of people who are curious to try out its "dirty bread".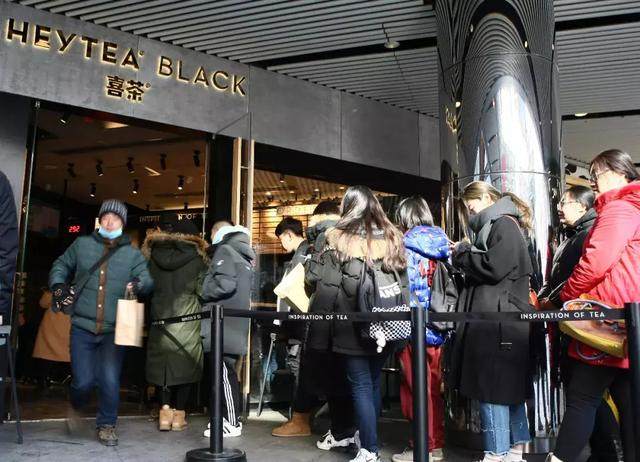 The spokesperson of HeyTea, however, denied to AI Finance that its company has become an 'internet hype.' In the end, many companies dislike becoming a 'hype', which suggests that there is a peek of interest which will soon blow over. Companies such as HeyTea hope that the Zang Zang Bao will not be a "short-lived glory" but a classic item on their menus.
On January 29, Zhejiang University warned on Weibo (@浙江大学) that fans of the bread should not eat their favorite new snack too often: one roll of Zang Zang Bao holds no less than 450 kilocalories.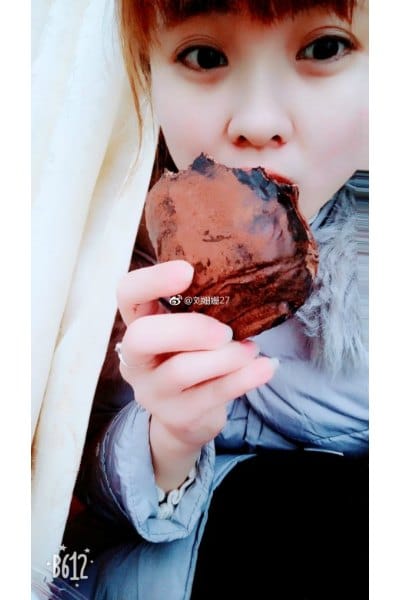 But many netizens do not seem to care too much about the calories: "It's only two bowls of rice," some said: "I've already bought another dirty bread today!"
There are also others, however, who do not understand what all the fuss is about: "What's so delicious about this stuff?", one netizen wonders: "It indeed tastes as if it is stuffed with dirt."
By Manya Koetse
Follow @whatsonweibo
Spotted a mistake or want to add something? Please let us know in comments below or email us.
©2018 Whatsonweibo. All rights reserved. Do not reproduce our content without permission – you can contact us at info@whatsonweibo.com.
8-Year-Old Boy Loses Eye After Playing with Desiccant 'Dry Pack'
One Chinese mother is on a mission to warn other parents that this small packet can pose a big risk.
Most are familiar with those little "do not eat" packets that can be found in various food and household items packaging, but their potential danger might be less well-known. A Chinese mum is now warning others to keep the dry packs away from children after her son lost his eye because of them.
An 8-year-old boy named Keke was recently blinded in one eye after playing around with a desiccant pack. Keke's mother is now seeking media attention for his case to warn others not to make the same mistake.
According to Chinese media, the incident occurred just after the mid-term exam period, when Keke was enjoying some snacks on the couch while watching cartoons. His mother was busy cooking in the kitchen when she heard Keke screaming. As she rushed towards him, she saw that something was terribly wrong with his eye. She saw a deformed bottle filled with fluid on the floor and hurried her son to the hospital.
Keke's mother recounts: "After the examination, the doctor told us that Keke's right eye tissue was completely dissolved by an alkaline fluid (..), and that there was nothing to do about it."
"When the doctor asked how the accident happened, my son told him that he found a small packet in his bag of snacks and that he had played around with it. He first smelled it, and then later put it inside a bottle that contained his beverage. He had never expected the bottle to explode shortly afterward."
The moment some fluid entered his right eye, the little boy lost his eyesight and felt immense pain. Shocking photos shown by a local Chinese tv station show that the boy's eye has been severely damaged by the acid fluid.
Keke's parents later found out the 'small packet' mentioned by Keke was, in fact, a food desiccant (食品干燥剂), which is used to keep products dry and in good condition.
Desiccant packs are usually made with silica gel grains, which can adsorb up to 40% of their weight in moisture. It is useful for keeping things dry and 'sucking up' excess moisture. It is generally not considered to be harmful; the big "do not eat" warnings are more about choking hazard than the packets being toxic. Apart from coming with new shoes or electronics, the little packets can also often be found in various snacks (such as the Japanese nori seaweed).
On Weibo, news about the boy has generated much discussion, especially after it was shared by People's Daily. "If this stuff is so dangerous, then why is it not replaced by something that is safe?" a typical comment said.
A very similar news item made headlines in China in August 2015, when a 5-year-old boy was also blinded in one eye because of a desiccant pack when he put a package inside a pet bottle, causing it to explode.
Public health professor Liu Ping (刘萍) from Shandong University explained to Iqilu.com at the time that apart from the silica gel desiccants, there is also another type of desiccants which is made from calcium oxide (氧化钙), also known as quicklime. Cheaper than silica gel, it is also commonly used but is also relatively more dangerous than silica gel desiccant and other desiccants.
Quicklime has a chemical reaction when it is mixed with water, making it possible for a closed bottle with fluid and quicklime to explode. The fluid then becomes dangerously corrosive (as many science experiment tutorials will show).
A Chinese local television station also broadcasted footage today of experiments done with desiccants in bottles, showing that a violent explosion can occur within 80 seconds.
"Why do we use these desiccants at all," some people wonder on Weibo: "Isn't a tight seal enough to keep it fresh?"
"These desiccants need to be harmless, odorless, and non-corrosive. Strong alkalic desiccants such as the quicklime one should be eliminated," one commenter writes: "In Europe and America, the harmless silica gel desiccants are generally used, why do we still need to go through these tragedies? Why are these standards different?"
As for Keke's mother – she just hopes other parents will now understand the potential dangers of the small packets. "I greatly regret my negligence as a mother," she told Chinese media: "I knew that you're not supposed to eat these desiccants, but I never knew they posed such a great risk that could lead to such a severe outcome."
– By Manya Koetse
Follow @WhatsOnWeibo
Spotted a mistake or want to add something? Please let us know in comments below or email us.
©2017 Whatsonweibo. All rights reserved. Do not reproduce our content without permission – you can contact us at info@whatsonweibo.com.