Move Over 'A4 Waist', Here Comes the 'iPhone6 Legs' Hype – Growing Concerns Over China's Online Skinny Trends
Now that China's 'A4 waist' online challenge has swept across Sina Weibo, it is time for another trend to show off how skinny you are: the 'iPhone 6 legs' (iPhone6腿) rage. Despite the wide propagation of slimming trends, voices opposing these sort of hypes are growing louder.
Now that China's 'A4 waist' online challenge has swept across Sina Weibo, it is time for another trend to show off how skinny you are: the 'iPhone 6 legs' (iPhone6腿) rage. Despite the wide propagation of slimming trends on Chinese social media, voices opposing these sort of hypes are growing louder.
A new trend has taken over Chinese social media. Over the past few days, 'iPhone 6 legs' have become a trending topic, with thousands of female netizens posting pictures that show how their smartphones can cover their skinny legs. Although many netizens ridicule the trend, there are also some who worry that these hypes propagate unhealthy beauty standards.
From A4 waist to iPhone legs
Lately, China has seen several trends that have propagated a thin figure as the ruling beauty standard. Since September 2015, an online challenge swept across Sina Weibo, WeChat and other major social media in China, where the goal was for people to try and reach their belly button backhand. Soon, two new challenges emerged, that focused on putting coins on your collarbone and holding a pencil with the bottom line of your breast. The latter is believed to come from Japan, but was no less popular amongst Chinese netizens.
Along with these challenges came an online obsession with the so-called 'mermaid line', 'vest line' and 'bikini bridge' – the former two referring to the shape of one's abs, the latter concerns the visible ends of one's pelvis.
Recently, 'A4 waist' (A4腰) pictures took Chinese social media by storm. For this rage, girls posed with an A4 paper before their waist; if there was no waist visible besides the paper, their figure was slim enough for the challenge.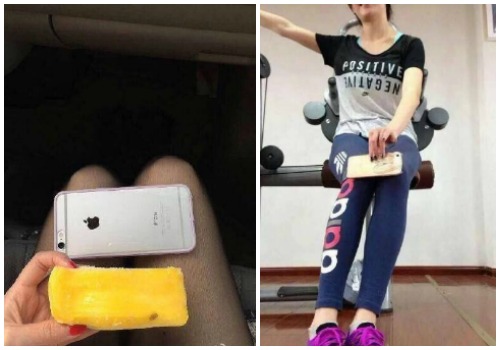 Social media's propagation of beauty criteria does not stop here. Another hype has now become trending on Weibo, where girls are showing off their legs with an iPhone6 in front of it. The supposed rule is: when the iPhone6 covers the width of your legs (knee area), your legs conform to the standard beauty ideal.
Trends like these are quickly followed by others. Sina Weibo now also shows a series of photos where young girls are wrapping paper money around their wrist to show off their slenderness under the hashtag of '50 RMB Wrist' (50元手腕).
Unhealthy standards
On Weibo, not all netizens are pleased with yet another beauty trend. "These everyday trends bore me," one netizen says: "Your standard of beauty is not healthy!"
Weibo's recent trends in attaining a slim figure have resulted in a tremendous amount of individual postings, where mostly women are either showing off their perfect figure by succeeding the challenge, or where they are expressing their firm resolution to achieve these results. Influential social media users have released various tips to acquire the perfect figure. As iRead (@壹读), a popular media source on Sina Weibo, states in its video: "One no longer has the courage to post to their friends if one does not have the right body lines."
Although people are still posting pictures hiding their waist behind a vertically held piece of paper and public Weibo accounts still provide tips to slim your waist, the voices opposing these kinds of trends are becoming louder; Chinese (social) media are becoming seemingly more aware about the beauty ideals it promotes.
Most importantly, people now voice their concerns about the potential health risks of China's recent slimming trends. One article on Weibo has suggested that trends like the A4 waist could potentially lead to eating disorders, stating that 95% of people suffering from them are young girls who are obsessed with losing weight to meet the ruling "beauty standards".
iPad legs
But health is not the only concern. Feminist online platform Voice of Feminists (@女权之声) recently published two articles (article 1; article 2) criticising the new trends. They pointed out that such beauty standards are not just "unhealthy", but also indicate that women are being objectified in a masculine society. The articles argue against homogeneous and male-dominated beauty standards. They have also launched a campaign for women to love their waists – regardless of whether it is A4 size or not.
The A4 waist phenomenon has now also traveled to other international social media platforms, and netizens outside of China post their responses to the trend on Facebook and Twitter. Some women have posed with their diploma's in front of their waists, propagating that brains go above beauty. Their message, similar to that of Voice of Feminists, is yet again imported back to Sina Weibo. iRead and Nouvelle d'Europe (@欧洲时报) both published articles about these foreign netizens, stating that "A4 paper is only made to prove how clever and creative you can be. Women don't need to be compared by a fuc*ing sheet of paper".
With the new 'iPhone6 trend', many netizens seem fed up with China's skinny trends, calling the girls who post these pictures "brain-dead", and wondering how the general beauty trend has come to be so unrealistic.
Some netizens have a different problem, with many stating: "I don't even have an iPhone 6." Other netizens want to start their own trends: "I don't have iPhone 6 legs," one Weibo users comment: "but I have iPad legs."
"Forget the iPhone 6 legs," yet another says: "These are Macbook legs."
One thing's for sure – with China's latest skinny trend, everyone seems to wants Apples.
– By Diandian Guo & Manya Koetse
Follow @WhatsOnWeibo
©2016 Whatsonweibo. All rights reserved. Do not reproduce our content without permission – you can contact us at info@whatsonweibo.com.
"Living a Nightmare" – Chinese Beauty Guru Yuya Mika Shares Shocking Story of Domestic Abuse
Famous makeup artist Yuya Mika shared her story in a video that has since gone viral on Weibo.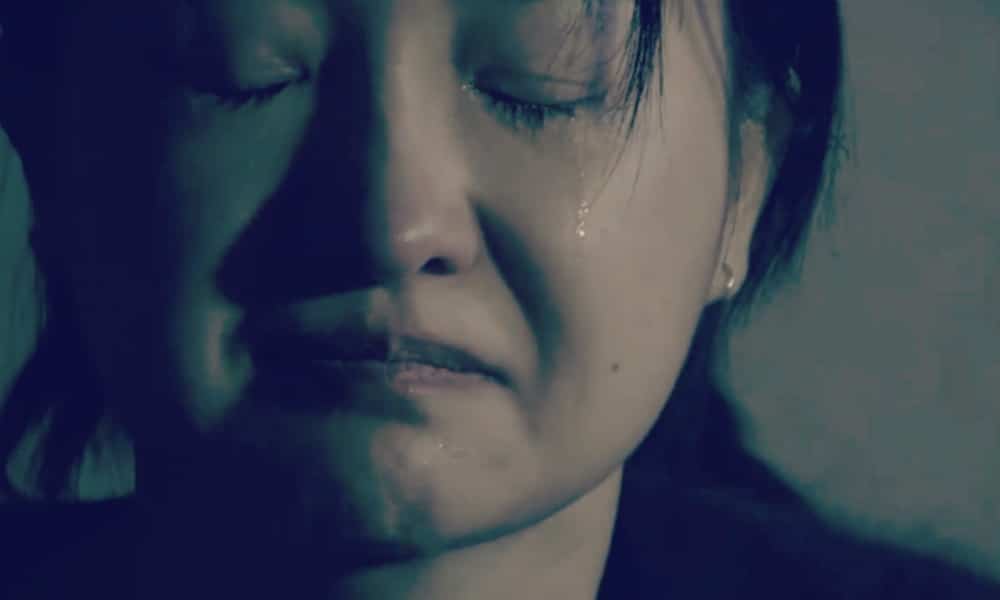 First published
Chinese famous makeup vlogger Yuya Mika has come out and shared her experience of being physically abused by her former boyfriend. Yuya's story – told in a documentary-style video that is now going viral – does not just raise online awareness about the problem of domestic violence, it also shows the raw realness behind the glamorous facade of China's KOLs' social media life.
Fashion and makeup blogger He Yuyong, better knowns as Yuya (宇芽) or Yuya Mika (@宇芽YUYAMIKA), has gone viral on China's social media platform Weibo for sharing her personal story of suffering domestic abuse at the hands of her ex-partner.
On Monday afternoon, November 25 – which is the International Day for the Elimination of Violence against Women – Yuya, a KOL (Key Opinion Leaders/online influencer) who has over 800,000 followers on her Weibo account, wrote: "I'm a victim of domestic violence. The past six months, I feel like I've been living a nightmare. I need to speak up about domestic violence here!"
With her post, Yuya shared a 12-minute documentary-style video in which she tells how she has been abused by her partner of one year, with whom she has now separated.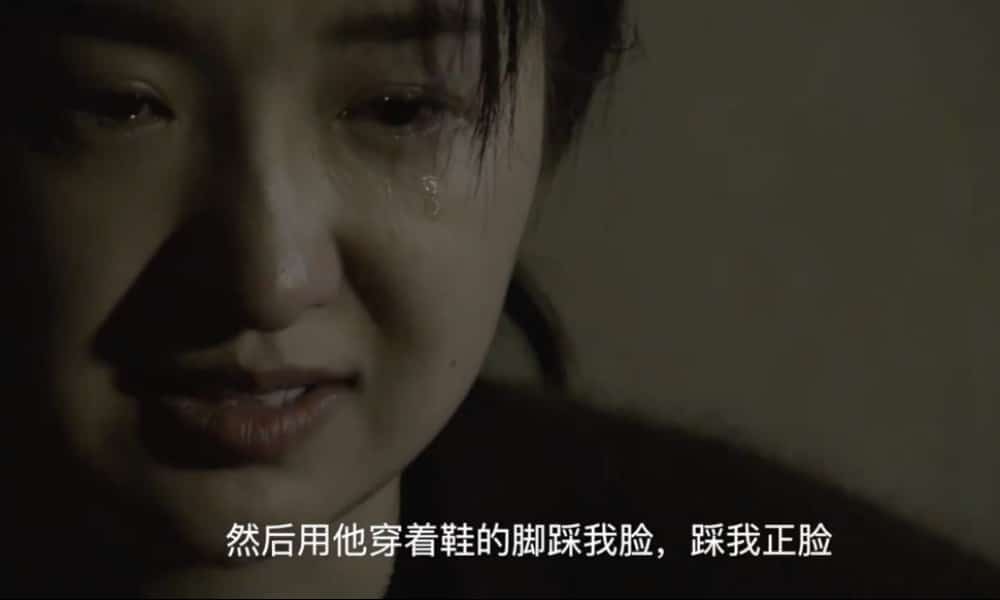 The short doc does not just tell Yuya's story, it also features the experiences of her former partner's ex-wives, who allegedly also suffered domestic violence at his hands.
Besides the shocking accounts of the women, the video contains also footage of Yuya's ex-boyfriend trying to violently drag her out of an elevator – a moment that was caught on security cameras in August of this year.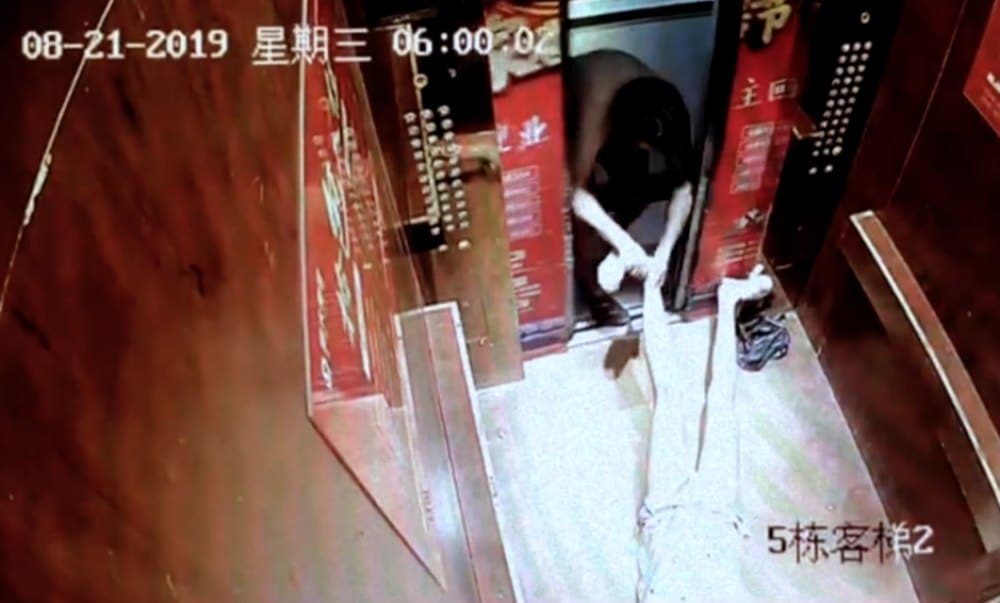 Yuya identifies her former boyfriend and abuser as the 44-year-old artist and Weibo blogger 'Toto River' (@沱沱的风魔教), who was married three times before starting a relationship with the famous beauty blogger.
The two met each other through social media, and Yuya initially fell for his talent and kindness. But, as she says, his perfect social media image soon turned out to be nothing but a fake facade, and the nightmare began.
The beauty blogger explains that the domestic violence went hand in hand with mental abuse, with Yuya being brainwashed into believing she was lucky to be with a man such as her boyfriend.
As the abuse became a regular occurrence, Yuya tearfully explains how she sometimes could not work for a week because her face was too bruised for shooting videos.
Yuya also writes on Weibo that she shares her story so that the experiences she and her ex-boyfriend's former wives suffered will not happen to other women, and to warn others from ending up in a similar situation.
Meanwhile, the Weibo account of Yuya's former boyfriend has been closed for comments.
Yuya Mika is not just popular on Weibo and video ap Tiktok. The beauty guru – famous for doing imitation makeup of celebrities and famous icons such as Mona Lisa – also has over 750k fans on her Instagram account and thousands of subscribers on her YouTube Channel, where she posts makeup tutorials.
Yuya is part of the company of Papi Jiang (aka Papi Chan), a Chinese vlogger and comedian who became an internet celebrity in 2016. On Tuesday, the Papi Jiang company also responded to Yuya's video, saying they fully support the makeup artist in coming forward with her story.
At time of writing, Yuya's story has been shared over 425,000 times, with a staggering thread of more than 280,000 comments on Weibo.
Many commenters respond in shock that the tearful woman in the video is actually Yuya, as the makeup artist is usually always smiling and shining in front of the camera. Other Weibo users express their hopes that Yuya's ex-boyfriend will be punished for what he did.
With over 160 million views, the hashtag "Yuya Suffers Domestic Abuse" (#宇芽被家暴#) is now in the top five of most-discussed topics on Weibo.
Over the past few years, the issue of domestic violence has received more attention on Chinese social media, especially since China's first national law against domestic violence came into effect on March 1, 2016. More women have come forward on Chinese social media to share their personal experiences with domestic abuse.
According to Chinese media reports of Tuesday afternoon, local authorities are currently investigating Yuya's story.
By Manya Koetse, with contributions from Miranda Barnes
Follow @whatsonweibo
It's almost Black Friday! We've already listed the best VPN deal for you here.
Spotted a mistake or want to add something? Please let us know in comments below or email us. First-time commenters, please be patient – we will have to manually approve your comment before it appears.
©2019 Whatsonweibo. All rights reserved. Do not reproduce our content without permission – you can contact us at info@whatsonweibo.com.
Turning Drinks into Fashion – Chinese Designer Yang Yang Personifies Popular Beverages
Personified beverage fashion – trending because it's cool.
Every now and then there are posts on Weibo that just seem to keep on making their rounds. The 'beverage fashion' drawings collection by Yang Yang (杨杨) is one of these posts, first popping up on Chinese social media in June of this year.
Yang Yang is a 28-year-old designer from Anhui, who started drawing when she was 13 years old. She has been active in the fashion business for eight years now and has become popular on Kuaishou, China's popular short video and live-streaming app.
If Coca Cola were a fashionista, what would she look like? In the eyes of Yang Yang, this would be her:
Wahaha (哇哈哈) purified water, produced by the largest beverage company in China, is personified here:
Energy drink brand Red Bull China, a Sino-foreign joint venture company, uses different colors than cans in the US or Europe.
One particularly striking illustration by Yang Yang is that of Nongfu icea tea drink Cha π (茶兀).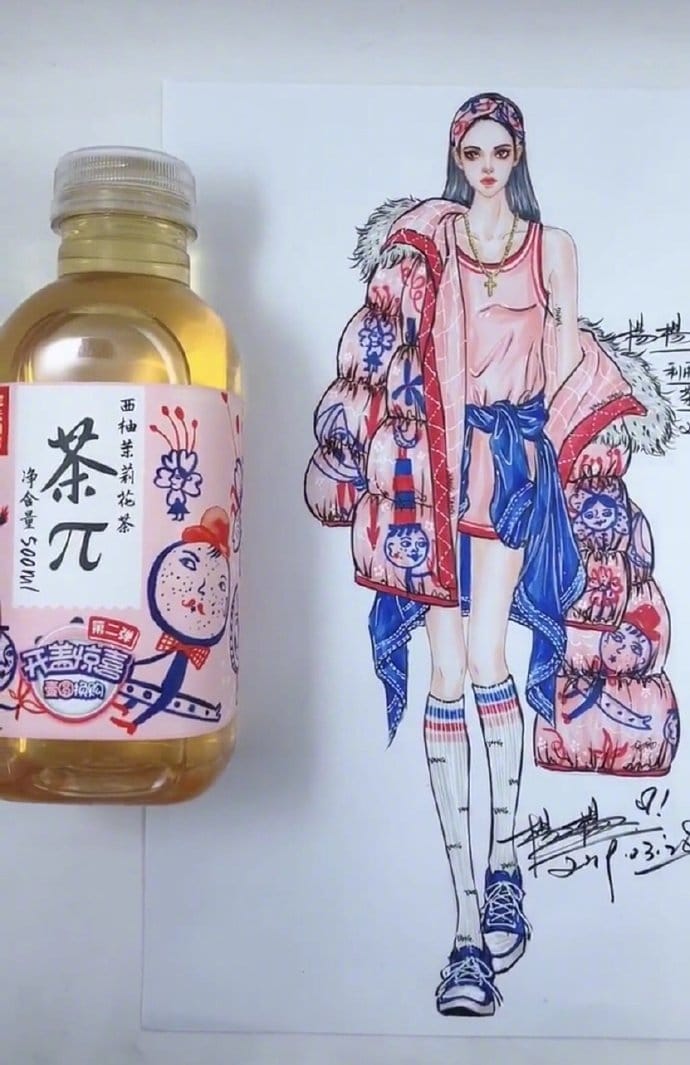 Nongfu Spring, one of the most common brands of bottled water in China, suddenly seems very trendy now.
This is the fashion version of Sea Crystal Lemon, known for its bright blue and yellow.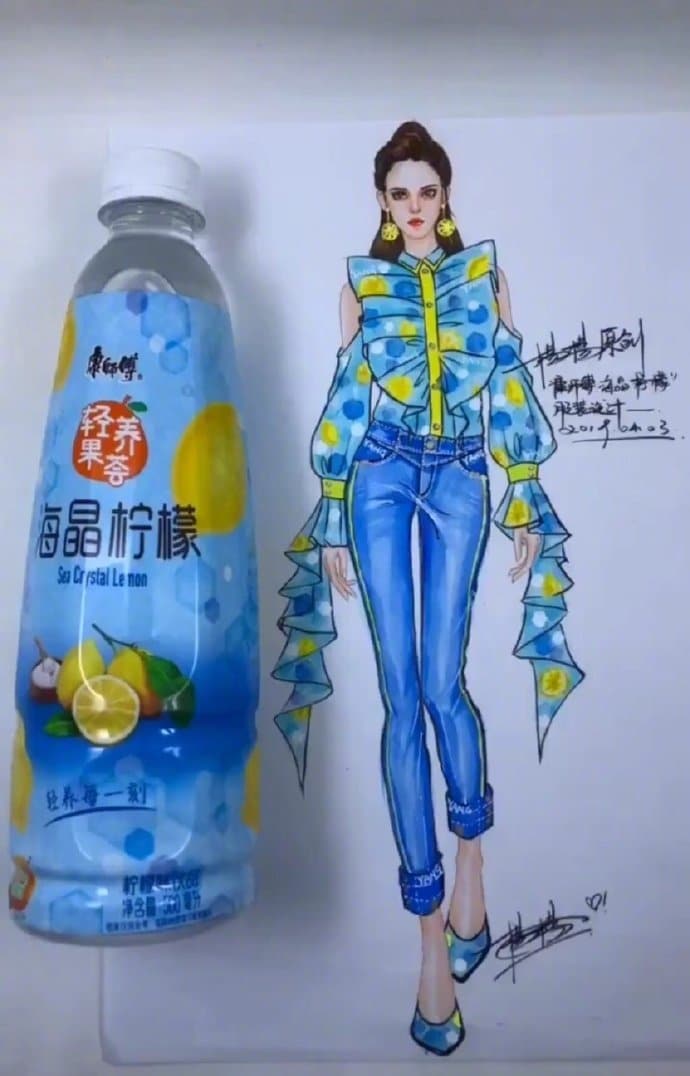 Following the various Weibo posts that are making their rounds with the illustrations by Yang Yang, more drawings seem to have been added later via other channels, including that of Pepsi, Wong Lo Kat, and Snow Beer.
Although Yang Yang's designs have gone viral this year, it is not known if they will have a chance to be turned into wearable fashion. As for Yang, she says she was just "playing around" to keep a creative mind.
Also read: From Stay-at-Home Dad to Fashion Designer – 'Super Dad' Rises to Fame
By Manya Koetse
Sources:
https://k.sina.com.cn/article_1872762823_p6fa017c702700xosj.html
https://new.qq.com/rain/a/20190619A0POST
Spotted a mistake or want to add something? Please let us know in comments below or email us. First time commenters, please be patient – we will have to manually approve your comment before it appears.
©2019 Whatsonweibo. All rights reserved. Do not reproduce our content without permission – you can contact us at info@whatsonweibo.com