Chinese Woman Taken Away by Suzhou Police for Wearing Japanese Kimono
The Chinese cosplayer was taken away by police for dressing up as a Japanese manga character: "You are wearing a kimono, as a Chinese. You are Chinese!"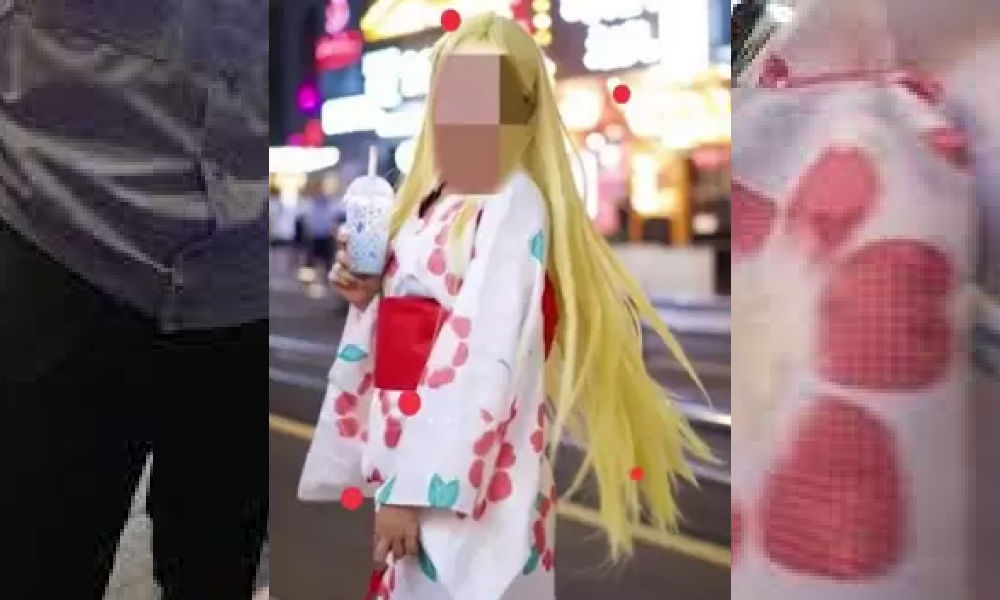 A Chinese female cosplayer who was dressed in a Japanese summer kimono while taking pictures in Suzhou's 'Little Tokyo' area was taken away by local police for 'provoking trouble.' The incident has sparked concerns on Chinese social media.
A Chinese woman who was making street pictures of herself while dressed in a kimono was taken away by local Suzhou police for "picking quarrels" and "provoking trouble."
A video that circulated on Chinese social media this week showed the local policeman talking to the young woman and screaming at her for wearing the Japanese kimono, suggesting she is not allowed to do so as a Chinese person.
A young Chinese woman was taken away by local police in Suzhou last Wednesday because she was wearing a kimono. "If you would be wearing Hanfu (Chinese traditional clothing), I never would have said this, but you are wearing a kimono, as a Chinese. You are Chinese!" pic.twitter.com/et8vWOferQ

— Manya Koetse (@manyapan) August 15, 2022
"If you would be wearing Hanfu [Chinese traditional clothing], I would never have said this," the policeman can be heard saying: "But you are wearing a kimono, as a Chinese. You are Chinese!" The video stops when the girl is taken away.
The incident happened on August 10 at Huaihai Street in Suzhou New District. Huaihai Street is also called "Little Tokyo" because the area is home to many Japanese businesses and restaurants.
The girl, who was previously active on Weibo under the nickname 'Shadow not Self' (是影子不是本人) is known to be a cosplayer, someone who likes to dress up a as a character from anime, TV show, or other works of fiction.
On the evening of August 10, she dressed up as the character Ushio Kofune from the Japanese manga series Summer Time Rendering, wearing a cotton summer kimono, better known as yukata. After she took some pictures to reenact a scene from the fictional work, she waited for her order at a local takoyaki place when the local officers approached her and eventually took her away.
According to a social media post by 'Shadow not Self,' she was released from the police station five hours later after she received some 'education' and police investigated the contents of her phone.
The incident first started surfaced on Chinese social media on the night of August 14 and then went viral on August 15, which marked the 77th anniversary of Japan's surrender in World War II.
"Has even cosplay become dangerous now?" some commenters on Weibo wondered, with others calling the actions by the police "scary."
"It's just cosplay!" "How did she break the law?" many wondered, with some people calling the officer "incompetent."
The kimono worn by 'Shadow not Person' is sold on Taobao for 158 yuan ($23).
Chinese political commentator Hu Xijin (@胡锡进) also weighed in on the issue via his social media channel (#胡锡进谈女孩穿和服被带走#). Although emphasizing the legal right Chinese citizens have to wear a kimono in public, Hu also mentioned that at a time of tense Sino-Japanese relations – noting Japan's cooperation with the U.S. "to contain China" – there is a growing antipathy towards Japan, resulting in different perceptions of what it means to wear a kimono.
Nevertheless, Hu wrote, "a kimono is not a Japanese military uniform, and there is no legal reason why it should be banned."
Hu also warned: "But when someone wants to wear a kimono, I would advise them to pay attention to their surroundings to prevent causing displeasure to those around them and, more importantly, to try to avoid becoming the center of unnecessary controversy themselves. There's nothing wrong with respecting the feelings of the majority."
Later on Monday night, CCTV uncoincidentally promoted a topic (#穿汉服就是回到古代吗#) related to wearing Hanfu or traditional Chinese clothing, writing: "As Chinese national traditional clothing, Hanfu can be fully integrated into modern daily life. (..) Change into Hanfu, let the beautiful culture move forward in a new era!"
By Manya Koetse
With contributions by Miranda Barnes and Xianyu Wang
Get the story behind the hashtag. Subscribe to What's on Weibo here to receive our weekly newsletter and get access to our latest articles:
Spotted a mistake or want to add something? Please let us know in comments below or email us. First-time commenters, please be patient – we will have to manually approve your comment before it appears.
©2022 Whatsonweibo. All rights reserved. Do not reproduce our content without permission – you can contact us at info@whatsonweibo.com.
KFC China's Psyduck Toy is a Viral Hit
As Psyduck goes viral, KFC Children's Day toys are deemed "too childish for children but just perfect for us adults."
American fast-food chain KFC recently introduced three new Pokémon toys to go with its kids' meals in various regions across China, with one of the toys, in particular, becoming a viral hit: Psyduck (可达鸭).
The new Pokémon toys were introduced on May 21st to celebrate Children's Day (June 1). As reported by Shanghai Daily, the toys are randomly distributed in Children's Day meals and will be released in different regions at different times.
Psyduck is a yellow duck-like Pokémon that is known to be confused because it's bothered by headaches. One of the reasons why the Psyduck toy might be more popular than its fellow (Pikachu) toys, is because it dances, with its arms going up and down, and because of the catchy tune that starts once it starts moving. Psyduck is also a bit more dopey and 'uncool' than Pikachu, which makes him all the cooler (remember the Peppa Pig craze?)
Since its release, many people have been going crazy over the KFC toy. Psyduck fans have been hunting for the KFC treasure, and some have even turned it into a side business: they offer their services in getting as many KFC meals as necessary before grabbing the Psyduck toy – you'll have to pay for their meal – and they'll send the toy to their 'customers' later on.
The #Psyduck hashtag saw the first spike on Weibo on May 21st, the day of its release, when it received nearly 135 million views.
Although the toys were released for Children's Day, most of these Psyduck fans are not kids at all. In one interview moment that went viral, an older man was asked about the Psyduck while he was standing in line at KFC. "I'm only here because my son wants it," the man says. When he is asked how old his boy is, he answers: "He's over thirty years old."
A popular comment about the craze over the kids' meal toys said: "This toy is perhaps too childish for children, but it's just perfect for us adults." The comment received nearly 20,000 likes.
If you buy a set meal including the toy, you will spend in between 59-109 yuan ($9-$16), but the reselling price of Psyduck has reportedly been as high as US$200 for just the Pokémon figure alone. KFC China has stated that it does not support this kind of reselling.
Especially among students, it has become popular to stick messages to the arms of the dancing Psyduck with motivational or humorous messages. Some students say the Psyduck keeps them company while they are studying.
Since short funny videos featuring Psyduck are going viral on Weibo and Douyin, a lot of Psyduck's appeal relates to its social media success and joining in on the hype. People post videos of themselves unboxing their Psyduck, introducing it to their cat, imitating it, or they use the Psyduck in various creative ways.
We need to talk about Psyduck. pic.twitter.com/MZSWqrNoTJ

— Manya Koetse (@manyapan) May 28, 2022
This is not the first time for KFC toys to become a national craze. Earlier this year, KFC came out with limited edition blind boxes in a collaboration with Chinese toymaker Pop Mart. To get one of the dolls, customers needed to buy a 99 yuan (US$15.5) family set meal.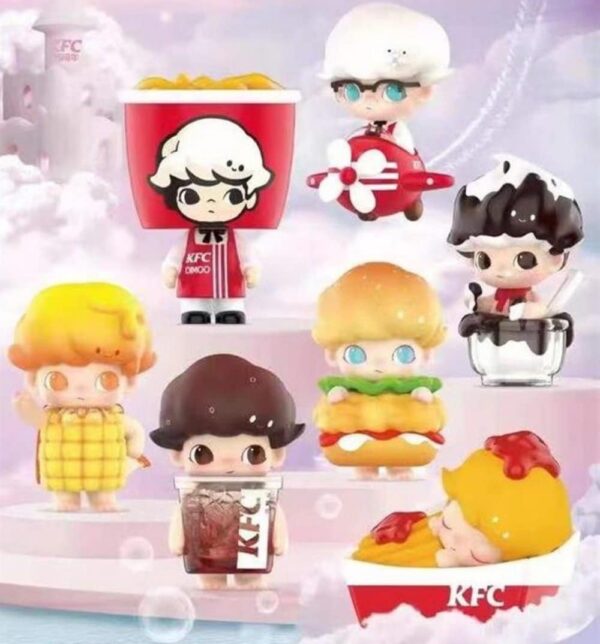 But the blind box sales also sparked criticism from China's Consumer Association for promoting over-purchasing of its food and causing food waste. In order to get all of the six collectible dolls, including the rarest ones, customers would start buying many meals just for the dolls. As reported by SCMP at the time, one customer went as far as to spend US$1,650 on a total of 106 meals to collect all six dolls.
KFC is the most popular fast-food chain in China. People outside of China are sometimes surprised to find that KFC is so hugely popular in the mainland.
As explained in the book written about KFC China's popularity ("Secret Recipe for Success"), its success story goes back to 1987, when the restaurant opened its first doors near Tiananmen Square in Beijing. Some reasons that contributed to KFC's success in China are the popularity of chicken in China, the chain's management system, the restaurant's adaptation to local taste, and its successful marketing campaigns.
Now, Psyduck can be added as one of the ingredients in KFC China's perhaps not-so-secret recipe for success.
By Manya Koetse
With contributions by Miranda Barnes
Featured image via @Baaaaaaaaal, Weibo.com
Get the story behind the hashtag. Subscribe to What's on Weibo here to receive our weekly newsletter and get access to our latest articles:
Spotted a mistake or want to add something? Please let us know in comments below or email us. First-time commenters, please be patient – we will have to manually approve your comment before it appears.
©2022 Whatsonweibo. All rights reserved. Do not reproduce our content without permission – you can contact us at info@whatsonweibo.com.
Luo Tianyi and the Booming Virtual Idol Market in China
The virtual entertainment market is exploding in China.
They are featured on China's biggest TV shows and on the covers of fashion magazines: they're virtual idols yet their success is very real.

This is the "WE…WEI…WHAT?" column by Manya Koetse, original publication in German by Goethe Institut China, see Goethe.de: WE…WEI…WHAT? Manya Koetse erklärt das chinesische Internet.

At the Spring Festival Gala of 2021, the Chinese state media's annual televised event that only invites the country's top-notch performers, the virtual idol Luo Tianyi (洛天依) made a guest appearance.
It was a big media moment that showed the growing importance of virtual superstars in Chinese pop culture. Luo's performance was even announced on the show's promo posters, making this the first time ever for a virtual star to be on the show like this.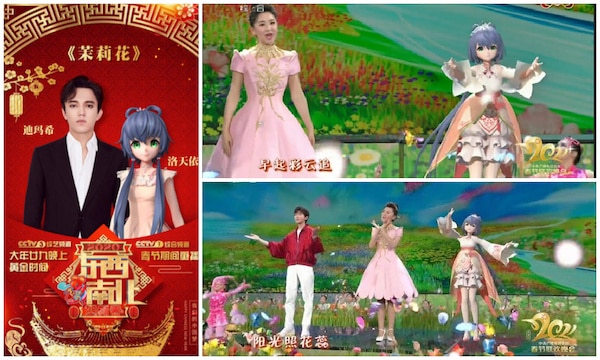 Virtual celebrities such as Luo Tianyi are also called 'vsingers' and often have an enormous fanbase. What is the story behind Luo Tianyi and the boom of virtual superstars in China, leading to the remarkable appearance of a non-human celebrity in the country's biggest mainstream TV show?

Luo Tianyi: The First Chinese Vsinger

Although it was the first time for Luo Tianyi to appear at the Spring Festival Gala, it was not her first big performance. The superstar previously showed up as holograph live at big events such as the Bilibili night, and in 2019 she shared a stage with renowned Chinese pianist Lang Lang.
Such a performance does not come easy. It takes months to design the looks and the moves. The holographic appearance of Luo Tianyi and the spectacular two-hour show took around six months of preparation by around 200 professionals involved in the production of Luo Tianyi.
Luo Tianyi is a so-called 'vocaloid' singer – a Mandarin Chinese language virtual character that was originally featured in the voice synthesizer software called VOCALOID developed by Yamaha, using third parties to create the characters. Vocaloid is a commercial product (released in 2004) with the purpose of enabling users to get a singer for lyrics and melodies without needing to hire an actual human singer.
The Shanghai Henian company collaborated with Tokyo-based Bplats in developing Luo Tianyi. The character was based on the winner of a contest that was organized in support of creating the first Chinese Vocaloid. The real-life singer whose voice was used for the creation of Tianyi is Chinese singer Shan Xin (山新).
Luo Tianyi was officially launched in 2012 as a 15-year-old entertainer and vsinger. By now, she has around five million followers on her Weibo account (@Vsinger_洛天依) where she posts about her performances, with thousands of people liking and sharing these posts.

Virtual Idol Boom: From Japan to China

According to Chinese state media outlet Global Times, 2020 was the year that virtual idols really took off in China, going hand in hand with the growing popularity of livestreaming.
Chinese video-sharing site Bilibili has contributed to the growing success of virtual idols in China. Bilibili is a homebase for many fan communities in China, since it is mainly themed around animation, comic, and games (ACG). It is one of the earliest platforms in China to broadcast virtual idol concerts, and in 2020 it held China's first concert consisting solely of virtual performers under the title 'BML-VR 2020' (link).
The Bilibili concert featured a performance by various virtual entertainers, including the popular Hiseki Erio. Hiseki Erio is not Chinese, but Japanese. So is Hatsune Miki, one of the most famous virtual idols ever.
You could say Japan is the birthplace of virtual idols – a history that goes back to 1996 when Kyoko Date, also known as DK-96 or 'Digital Kid 1996,' made her debut as the first virtual talent.
Virtual idols come in various shapes, forms, and subgenres, and they all have their different background stories. Hatsune Miki was released in 2007 as the embodiment of the Vocolaid software developed by Crypton Future, and then there are the popular virtual Youtubers, 'vtubers', with virtual talent agencies such as Hololive also thriving in Japan.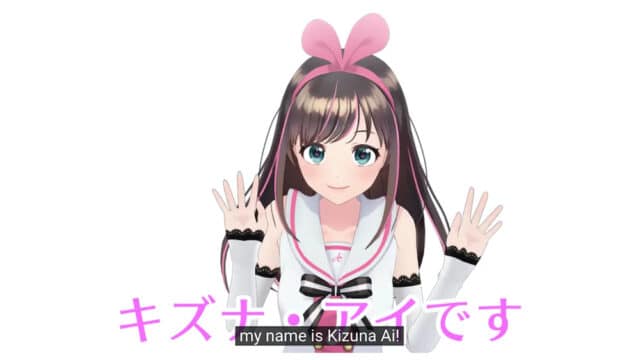 The term 'virtual Youtuber' came with the arrival of Kizuna AI, who posted her first introduction Youtube video in late 2016. Kizuna, who later became a cultural ambassador for the Japan National Tourism Organization, is still considered one of the most popular vtubers on earth.
With the great popularity of Japanese manga and anime on the Chinese market, Japanese virtual idols also gained a strong foothold in the People's Republic since around 2017. Hatsune Miki alone already has over 3,4 million fans on Weibo (@初音未来CryptonFutureMedia).
The virtual entertainment market is now exploding in China, where the online ACG culture is flourishing on Bilibili and beyond.
Since Japanese popular culture products began to gain popularity in China in the early 1990s, there have been various developments that have shown the government's dislike of the 'Japanese cultural invasion' in the country. As a counter-reaction, there has been stronger promotion of the production of made-in-China animations and other ACG products.
While China is seeing a steady release of domestic animated films and series, there is now also a wave of new China-born virtual stars, such as the Bilibili idol Yousa (冷鸢), or Xing Tong (星瞳), a virtual idol from Tencent. Chinese gaming company Papergames made the virtual character Nuan Nuan (暖暖) to also live outside of the gaming world; she is now a singer, a stylist, and a popular fashion ambassador.
There is also Ling (翎), the Chinese virtual influencer who loves Peking opera, tea culture, and calligraphy. Ling, who was created by Next Generation studio and Shanghai AI startup Xmov, appeared on the CCTV show Bravo Youngsters (上线吧华彩少年) and was featured on the cover of Vogue Me in February 2021 alongside actual real-life celebrities.
The number of Chinese virtual celebrities is expected to grow along with the growing market. In October of 2020, the Chinese variety show Dimension Nova (跨次元新星) first aired as a talent show scouting new virtual talent.

Virtual Commercials and Controversies

The growing influence of the virtual entertainment economy and culture in China is becoming more and more noticeable in pop music, commercial culture, and even in the sphere of politics.
Virtual celebrities are so popular that brands are also jumping in on this craze by hiring them as brand ambassadors or by creating their own cyber stars. Tencent's Xing Tong, for example, modeled for Levi's and sportswear brand Li Ning. Nuan Nuan, among others, was featured in a commercial for hair care brand LUX. Luo Tianyi appeared in campaigns for Huawei, Pizza Hut and KFC.
In January of 2021, McDonald's China announced their own virtual idol "Happy Sister" (开心姐姐) as a brand ambassador. They are not the only one: there are over thirty companies in China now using a virtual brand ambassador. The new McDonald's idol was welcomed by Weibo users, where the news of her launch received 200 million views.
The virtual idol influence also became apparent when Japanese 'Hololive' virtual celebrities Akai Haato and Kiryu Coco recently got caught up in a diplomatic row because they referred to Taiwan as a "country" when discussing their YouTube channel analytics during a livestream, leading to controversy among their Chinese fanbase.
In a statement published on Bilibili by Cover (the Japanese company behind the Hololive talent agency that the virtual celebrities in question were under), the agency apologized for what had happened. Nevertheless, both virtual stars involved in the controversy were banned from Bilibili and eventually the entire Chinese Hololive branch was shut down.
This example shows that although virtual idols are generally regarded as a safe option for brands and companies because, unlike real celebrities, they are not likely to get caught up in scandals, it is still possible for them to spark controversy.
Nevertheless, the future looks bright for virtual stars in China with still an enormous market for Luo Tianyi and others to conquer, with plenty of room for growth. From concerts to fashion shows to live streaming channels, from Weibo to Bilibili and beyond, we are bound to see virtual stars increasingly become a part of everyday life in China.
By Manya Koetse
Follow @whatsonweibo
This text was written for Goethe-Institut China under a CC-BY-NC-ND-4.0-DE license (Creative Commons) as part of a monthly column in collaboration with What's On Weibo.
Spotted a mistake or want to add something? Please let us know in comments below or email us. First-time commenters, please be patient – we will have to manually approve your comment before it appears.