Overview of China's 2016 Top TV Dramas
These are the 10 most popular TV dramas in mainland China in 2016.
The titles of Chinese TV dramas consistently pop up in the daily top trending lists of Sina Weibo. After featuring an overview of the most-watched Chinese TV dramas in 2015, What's on Weibo has now compiled a list of 10 popular TV dramas in mainland China in 2016. These are the most-watched and most-discussed dramas according to Weibo and Baidu charts of March 2016.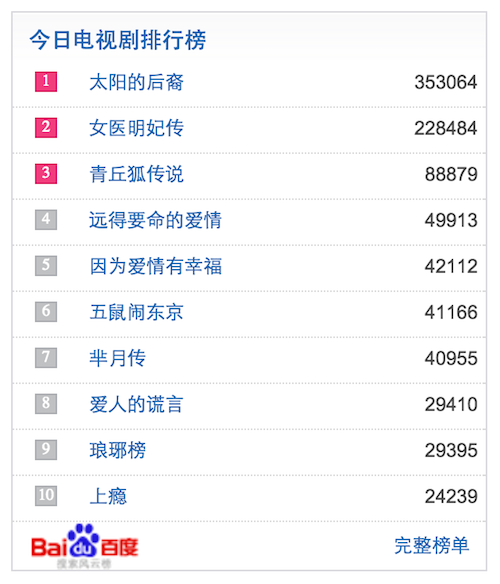 Update: Also Read Our Top 10 of China's 2017 Top TV Dramas Now!
(Note: Depending on where you live, the websites where these series are listed might have geo restrictions. You can circumvent this with a VPN to change your IP geo-location. We recommend NordVPN for this, as it is known for its fast streaming of online video content online.)
#1 Descendents of the Sun (太阳的后裔/태양의 후예)

War & Romance Drama / 2016 South Korea
Aired since February 24 2016 / KBS2 / 16 episodes
Directed by Li Yingfu / Lee Eung-Bok (李应福)
The number one of this list is the only drama out of these ten that was not produced in mainland China; it was made in South Korea, and it is a huge success both in Korea as in the PRC.
'Descendents of the Sun' tells the story of the unlikely romance between special forces captain Shi-Jin (Song Joong-Ki) and surgeon Mo-Yeon (Song Hye-Kyo). After their initial love-at-first-sight encounter, Shi-Jin and Mo-Yeon soon discover they have very different outlooks on life.
While out on a military mission, Shi-Jin has to fight and hurt people in order to protect his people, whereas Mo-Yeon does all she can to keep people alive – no matter what ethnicity, religion or culture they have. But despite their strong differences, Shi-Jin and Mo-Yeon cannot let go of each other.
A large part of this drama was filmed in Greece. The series can be viewed on Viki.
#2 The Imperial Doctress (明代女医师)

Costume Drama / 2016 Mainland China
Aired since February 16 2016 / Online Drama / 50 episodes
Directed by Li Guoli (李国立), Zheng Weiwen (郑伟文) & Lu Zeliang (卢泽良)
'The Imperial Doctress', also known as 'Ming Medicine Woman', brings the most famous female doctor of the Ming Dynasty to the TV screen. Tan Yunxian (谈允贤) lived in the Ming Dynasty from 1461-1554, and was a female physician in a time when Confucian ethics played a crucial role in everyday life and women had a low status in society.
The costume drama tells the story of the Tans, a family that has the doctor profession in its bloodline – even its past ancestors were imperial doctors. But when the family is set up by a grudgeful enemy, the royal court no longer allows them to practice medicine. Young daughter Tan Yunxian, played by Liu Shi Shi (刘诗诗, a.k.a. Cecelia Liu) secretly learns the art of medicine from her grandmother and helps to cure plagues and illnesses among the common people. The drama follows her as she grows up and struggles with her pursuit to become the doctor she wants to be. Emperor Zhu Qi Zhen (actor Wallace Huo) comes to play an important role in fulfilling her destiny (Viki 2016).
#3 Legend of the Qing Qiu Fox (青丘狐传说)

Costume & Fantasy Drama / 2016 Mainland China
Aired Since February 8, 2016 / Hunan TV / 40 episodes
Directed by Lin Yufen (林玉芬), Gao Linbao (高林豹) and Xu Huikang (徐惠康)
'The Legend of the Qing Qiu Fox' aka 'The Legend of the Nine Tails Fox' is a drama that consists of different supernatural stories and folktales about fox spirits and ghosts, based on work by Pu Songling.
Pu Songling was a Qing dynasty writer. His most famous work is the classical Chinese Liaozhai Zhiyi (Strange Tales from a Make-do Studio), a collection of stories about ghosts, spirits, and other extraordinary phenomena.
The drama can be watched through Viki.
#4 Far Away Love (远得要命的爱情)

Urban & Family Drama / 2016 Mainland China
First aired March 1 / 36 episodes
Directed by Niu Le (牛乐) and Zhu Shimao (朱时茂)
'Far Away Love' tells the story of the romance between Shen An (沈岸, played by Korean actor Park Haejin) and Meng Chuxia (孟初夏, played by Li Fei'er).
Meng Chuxia is a kind-hearted and optimistic single 28-year-old 'shengnu' ('leftover woman') who takes care of the son of her long lost sister. Shen An is a businessman who has returned to China from overseas to start a new company. When Shen An and Meng Chuxia meet, they are both not expecting to find love. Shen An is engaged to be married and Meng Chuxia is struggling to raise her teenage nephew. But despite their life situations, different (hidden) pasts and prejudices, you can probably guess what happens..
AsiaStarz writes that this drama was already produced in 2013, but was only aired now due to the strict Chinese TV censorship policies.
This drama is popular in both China and Korea because of the lead played by Park Haejin, who is very popular in South Korea and mainland China. The actor also stars in the Korean television series "Cheese in the Trap," which is also extremely popular in China. The series were sold to Chinese video platforms Youku and Tudou for $125,000 per episode – the highest price ever paid for a Korean cable drama according to the Korea Herald.
Check out the rest of our top 10 of Chinese dramas 2016 on the next page.
CCTV Spring Festival Gala 2018 (Live Blog)
It's time for the CCTV 2018 New Year's Gala – follow the highlights and the low points here.
It is time for the CCTV Spring Festival Gala, one of the most-watched, most-discussed, and most mocked lived television events in the world, taking place on the Lunar New Year's Eve. What's on Weibo discusses the ins & outs of the 2018 edition and the social media frenzy surrounding it in this live blog.
The biggest live televised event in the world, the CCTV New Year's Gala, also known as the Spring Festival Gala or Chunwan (春晚), is a true social media spectacle. On February 15th 2018, the 36th edition of the 4-hour-long live production is taking place.
The show, that is organized and produced by the state-run CCTV since 1983, is not just a way for millions of viewers to celebrate the Lunar New Year (除夕); it is also an important opportunity for the Communist Party to communicate official ideology to the people and to showcase the nation's top performers.
Watch the live stream here on What's on Weibo (if you have no access to YouTube, please check the CCTV live stream here).
What's on Weibo provides you with the ins & outs of the 2018 Gala and its social media frenzy, with updates before, during and after the show. Follow our liveblog below (we recommend you keep your browser open – you'll hear a 'beep' when updated). (Note: this live blog is now closed, thank you!).
By Manya Koetse, with contributions via WeChat from Boyu Xiao, Diandian Guo, and Tim Peng
Follow @whatsonweibo
Spotted a mistake or want to add something? Please let us know in comments below or email us.
If you enjoy What's on Weibo and support the way we report the latest trends in China, we would appreciate your donation. It does not need to be much; we can use every penny to help pay for the upkeep, maintenance, and betterment of this site. See this page for more information.
©2018 Whatsonweibo. All rights reserved. Do not reproduce our content without permission – you can contact us at info@whatsonweibo.com.
Chinese Media Ascribe 'Traveling Frog' Game Hype to China's Low Birth Rates
Is the Traveling Frog more like a husband or like a baby? It's a topic of debate on Weibo.
The Japanese mobile game 'Traveling Frog' is a hit among young working – mainly female – adults in China. According to various Chinese media, the 'virtual frog' fills a void in a society that faces year-on-year declining birth rates.
"Has your frog returned home yet?" – it is a somewhat odd question that has become normal since the 'Traveling Frog' (旅行青蛙/旅かえる) mobile game has become all the rage in China.
In the Traveling Frog game, that is now dominating China's online mobile gaming charts, players have to help a little frog prepare for his travels across Japan.
The app is characterized by its unique design and revolves around a frog who lives in a stone cave and goes on frequent trips. Once he goes traveling, the frog comes back with local delicacies and snapshots of his adventures – but players are never sure how long their virtual friend stays away from home.
With its cute design and stress-free strategy, the hype surrounding Traveling Frog is somewhat comparable to that of the Tamagotchi in the 1990s and early 2000s. The frog, which players can give its own name, is like a mobile cyber pet that players have to keep an eye on and take care of.
Although the game was initially meant for young girls, it is now a hit amongst young working adults, mainly women.

A Virtual Baby

Over the past week, various Chinese media outlets have connected the success of the game to China's low birth rates. Caijing.com writes: "Facing higher house prices, intensive jobs, the collapse of the [hierarchical] pyramid family structure, and huge medical and educational costs, we can no longer deny the reality that more and more young people are choosing not to get married and not to have children. And 'nursing a frog' is one kind of psychological substitute for 'nursing a baby.'"
The news site reports that the obsession of some people over their frog is comparable to a parent's worries over a child; players are so upset when their frog does not return home during the night, that they cannot sleep.
Despite the shift from China's One Child Policy to the Two Child Policy, China's birth rates have been declining year-on-year; 17.23 million newborns were added to China's population last year – 630,000 less than the year before.
China News also reports about the deep attachment some players show for their virtual pet, and suggest that the Traveling Frog is a "low-cost way" in which people can "fill an emotional gap" in their lives.

Baby or Husband?

The suggestion that the virtual frog is like a baby has stirred discussions on Weibo about the matter, with some wondering if the frog really is like a baby, or if he is more like a friend, partner, or husband; the matter in itself has become an online squabble between netizens and media.
According to gamer's platform 17173 (@17173游戏网), the designer of the game, Mayuko Mura (村真裕子), recently refuted the idea that the traveling frog is like a child. In an interview, she said: "For Japanese players, the frog is actually more like their husband, who goes on business trips and then comes home with some local specialties and photos."
Many Chinese netizens were not too happy with the explanation. "If my husband would stay away a night and a day, I'd be infuriated!", some said. "So now you're telling me I'm raising a guy?!", others commented.
The interview even led some people to wonder about the butterfly that is often depicted on the snapshots the frog sends players from his travels, suspecting she represents his mistress.
But according to news outlet Pear Video, Mura's words have been misinterpreted. In a recorded phone conversation, she does say that for many Japanese players, the frog is more like a 'husband,' but that the original intention of the game was never to turn the frog into anything but itself.
"We just want players to freely enjoy the game and turn the frog's role into whatever they want," one of the game's developers told Pear Video.
One author on Weibo (@魔力的真髓) reflects on the idea that the Traveling Frog apparently plays a different role in Japan than in China, and writes: "How comfortable it must be to be a husband in Japan, where you don't have to do anything around the house, your wife serves you, and then you just take off with the things your wife prepared for you, and go out and seek an extramarital affair."
"Whatever, the island nation turns it into a husband, we turn it into a child," one pragmatic netizen concludes. Another Weibo user adds: "What's the difference – husbands nowadays are like babies anyway."
Others commenting on the issue, however, are too occupied with the real important matters: "It's been three days, and he still isn't back," one unhappy commenter writes. Another one has the same worries: "All I want to know is why my baby has gone traveling for a week, and still hasn't come home.."
By Manya Koetse
Follow @whatsonweibo
Spotted a mistake or want to add something? Please let us know in comments below or email us.
©2018 Whatsonweibo. All rights reserved. Do not reproduce our content without permission – you can contact us at info@whatsonweibo.com.