Confucius goes Commercial – China's TV Hit 'Good Wife'
Big hit drama 'Good Wife' (贤妻/Xianqi) is a much-discussed topic on Sina Weibo: the traditional housewife is a hot item in modern-day China. Confucius Goes Commercial.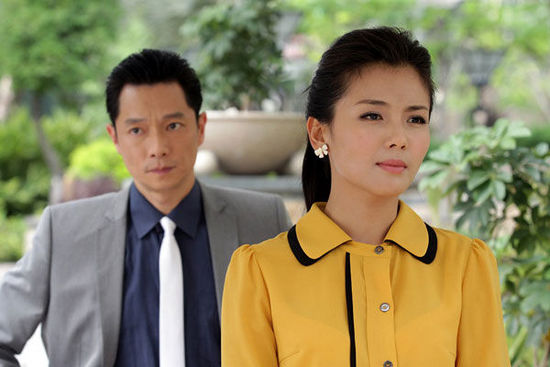 A great number of trending topics on Weibo focus on China's most-liked television dramas. Big hit drama 'Good Wife' (贤妻/Xianqi) is a much-discussed topic on Sina Weibo: the traditional housewife is a hot item in modern-day China.
After the success of China's  "Swordsmen" tv series, the new "Good Wife" television drama has turned out to be China's next big tv hit, scoring record-breaking ratings. This drama of 35 episode, produced by Hunan Satellite TV, tells the story of mother and housewife Han Dayun (played by actress Liu Tao), who struggles with the challenges of family-life and her role as a mother, wife and daughter-in-law.
After marrying the rich and aristocratic Zhao Boxuan, Han Dayun becomes a stay-at-home mother for her daughter and takes care of the household consisting of a dominant mother-in-law, a shrewd sister-in-law and her somewhat foolish husband. Whilst her mother-in-law continuously plagues Dayun for not conceiving a son (the male heir), her husband is having an affair behind her back. Despite her tribulations, Han Dayun maintains her role as the "good wife"- a virtuous, honest, warm and kind woman who will do whatever it takes to save her marriage and keep the family together.
As the ratings for 'Good Wife' went sky-high when the final episode was aired in March 2013, discussions on the show dominated Sina Weibo. Topic of discussion: housewife Dayun. Despite being bullied by her family-in-law and badgered by her husband's mistress, she remains calm, respectful and patient- thereby "setting the example of a good wife" (Sina Weibo 2013). Why are tv dramas such as these so popular in Mainland China? And how can their seemingly old-fashioned topics be explained in the context of a rapidly modernizing China?
TV Drama in China
Over fifty-five years have passed since China aired its very first television drama titled 'A Mouthful of Pancake' (Yikou Caibingzi, 1958), a tv show themed around frugality and class struggle that was mainly used as a tool for political education (Zhu et al 2008, 4-5). Much has changed since those days – not only in China's television system that now holds a mix of national, provincial and local stations, but also in the topics that are discussed in television dramas. Since the 1990s, TV dramas telling the stories of everyday family life have become increasingly popular. They depict the domestic lives of Chinese families and the concerns they face in issues such as marriage, courtship, and show the existing frictions between traditional values and modern developments (Zhu 2008, 3-11). Despite new genres of television shows emerging over the decades, the television drama has remained the most popular item on Chinese television. According to research, "the 'Chinese viewer' watches an average of fifty-two minutes of television drama per day", turning China into the world's largest consumer of television dramas (Zhu et al 2008, 1; Zhu 2008, 9).
With a myriad of television channels around, does the Chinese government still take note of the content of television shows? The answer is yes. Although Hunan Satellite TV (that airs 'Good Wife') is owned by a mixed group of investors, and could therefore said to be "genuinely commercialized", it is still directly connected to the Provincial Radio TV Bureau that implements the guidelines of the Party (Yong 2010, 660). Producers of a television show have to both take the wishes of the audience (the commercial profits) and the requirements of the government (the guidelines) in account when making a television drama. China arguably still is among "the most controlled media environments in the world" (Schneider 2012, 4).
Commerce and government go hand in hand: "(..) letting commerce into China does not mean taking the state out; the financial base has changed without substantially reducing the state's regulatory power or its inclination to exercise ideological and moral oversight of the media" (Zhu 2008, 11).
The propagation within TV dramas of married life as the number one priority and as the "ultimate achievement in contemporary Chinese society" is no coincidence (Scheider 2012, 2); policy makers who aim at reviving Confucian traditions can operate through the content of television programs. Especially in times of rapid modernization where traditional views and values are continually under debate, the restoration and confirmation of these values are of great political concern (Li 2011, 335). Chinese TV dramas such as 'Good Wife' clearly represent Confucian values, and portray the family as the primary social institution and the key to happiness (Schneider 2012, 2; Zhu 2008, 3).
Confucian Values in 'Good Wife'
Maintaining hierarchical relations and preserving harmony are key points to Confucianism that that are underlined in the 'Good Wife' tv show.
Zhao Boxuan (Dayun's husband) standing behind a picture of his mother, who can be considered the head of the household since his father passed away. 
The whole idea of the 'good wife' actually is an integral part of Chinese tradition, where a clear distinction is made between men and women. While the men are occupied with all things that are "outside" (wai) the family (such as business or official matters), the women assign themselves to all the tasks that count as being "inside" (nei) the family home, such as taking care of the household, children and parents (Wang 2012).
In the scene pictured above, Boxuan (Dayun's husband) sees his wife in the streets while he is on his way to a meeting. He is displeased when he hears she is helping her sister 
Cui Ping with some business. He says: "Why do you keep yourself busy with Cui Ping- aren't you busy enough with matters inside the house?"
For a married woman it is the family of her husband that counts as her own. The relationship with her mother-in-law is especially vital for her role in the family – some even say that being a 'good wife' actually means being a "good daughter-in-law" (2012, 65). This holds true for the narrative of 'Good Wife'. The protagonist Han Dayun is bullied by her own mother-in-law (whom she refers to as 'mother') for not giving her the grandson she desired. Instead, Han Dayun and her husband have a daughter, who also happens to be weak due to a heart condition. Although gender should not matter in present-day Chinese society, Han Dayun understands her mother's preference for a son.
In the scene above, Dayun is at the hospital with her sister-in-law to convince the nurse to tell their mother that her youngest daughter is pregnant with a son (although this is not the case). The nurse says: "What era are we living in?! Why do you still value the gender difference between boys and girls?" Dayun answers: "I know it is difficult, but for older people it takes time to grasp this whole concept [of gender equality]; it does not change overnight."
Dayun talks to her mother-in-law, saying: "From the moment I married into your family (the Zhao family),
 I have considered you as my own mother." 
While Dayun's husband makes long hours at work, she takes care of the household. Despite the daily nagging of her 'mother' she remains calm, virtuous and obedient. Nothing seems to infuriate the 'good wife'; even when her family-in-law and her husband's secret girlfriend make her life into a misery, Dayun maintains balanced and does everything in her power to defend her marriage and preserve the harmony within the family.
By making the 'good one' suffer and let her be persecuted by evil, the show highlights traditional Confucian values about good versus evil and right versus wrong (Yan 1999, 269; Li 2011, 337). In the end the 'evil ones', who employ dishonesty and corruption to gain profit, end up empty-handed. The evil mistress goes to prison, and her little son is raised by Dayun and the family. The 'good wife' conquers all; she wins back her husband, succeeds in getting a son and achieves the ultimate goal: harmonious family life.
Confucius goes Commercial
Despite the great success of 'Good Wife', the series did have its fair share of criticism and satire. Many netizens thought the script to be flat, too melodramatic and overdone- the Zhao family did not seem like a 'real family' to them (Xuan 2013). Nevertheless, most viewers did appreciate the positive message the drama gave to society- "that family itself is a community, and that family members should help each other out when facing a crisis" (Zhuocai 2013).
TV shows such as 'Good Wife' are an embodiment of China's commercialization, cultural values and the state's conception of a "harmonious society"; they are a way for Chinese viewers to make sense of the changing cultural environment and new types of societal relations (Li 2011, 327-339). The 'Good Wife' TV drama fulfilled all the goals it was produced for: it moved an audience of millions, satisfied government's requirements and generated commercial revenues – a true happy end.
China's top-watched drama's of early 2013:
 'Good Wife' is number one. 
Weibo Commenters
One Guangzhou commenter says on Sina Weibo: "This mother-in-law in #GoodWife#- what a rigid-minded woman. How can people value the male gender and belittle female so much? I'm happy my mother is not like that. Where does one still find a daughter-in-law like that? (..) People like that are hard to find nowadays. Now that I have seen how their divorce went about [between Han Dayu and Zhao Boxuan], I am afraid to get married. After watching 'Good Wife' I am definitely not becoming a housewife.. Television dramas nowadays…"
Weibo user Zou Chun Yan says: "When we finished watching this video, my godfather had tears in his eyes." Another user, Xiao Juan Juan, comments: "I am somewhat disappointed after watching #GoodWife#. Liu Tao [Han Dayun, the protagonist] doesn't really go through a transformation throughout the serie. I expected her to show a bit more personality. So being a 'good wife' means being maltreated? People like the sister-in-law [of Han Dayun] really do exist, but does forgiveness make them any better? Hong Xiao Ling [who plays the secret girlfriend] is also shameful- why didn't the production team show a bit more taste? They ruined it all. (..)"
Want to Watch? 
Are you curious about China's popular television programmes and want to take a peek? You can find scenes of practically all top-TV shows online. Check out my overview of the China's 2013 top 15 TV drama's here: Overview of China's 2013 Popular TV Drama's.
– by Manya Koetse
[button link="http://www.twitter.com/whatsonweibo" type="icon" icon="heart" newwindow="yes"] Follow us on Twitter[/button]
References
Li Li. 2011. "The Television Play, Melodramatic Imagination and Envisioning the 'Harmonious Society' in Post-1989 China." Journal of Contemporary China 20(69): 327-341.
Schneider, Florian. 2012. Visual Political Communication in Popular Chinese Television Series. Leiden/Boston: Koninklijke Brill NV.
Sina Weibo 2013. '#贤妻#' [#GoodWife#]. Sina Weibo, March 25. Accessed March 25, 2013. http://huati.weibo.com/28839?from=501&order=time.
Wang Fengxian. 2012. "The "Good Wife and Wise Mother" as a Social Discourse of Gender." Chinese Studies in History 45(4): 58-69.
Xuan Shao Qiang. 2013. "''贤妻'引频繁吐槽 ['Good Wife' receives frequent mockery]" China News, March 7. Accessed March 25, 2013. http://www.chinanews.com/yl/2013/03-07/4624073.shtml.
Yan Haiping. 1999. "Urbanizing Woman and her Sisters: the Ethics of Gender in Chinese Television Dramas." Theatre Research International 24(3): 268-275.
Yong Zhong. 2010."Relations between Chinese Television and the Capital Market: Three Case Studies." Media Culture Society 32(4): 649-668.
Zhang, Yan Bing and Jake Harwood. 2002. "Television Viewing and Perceptions of Traditional Chinese Values Among Chinese College Students." Journal of Broadcasting & Electronic Media 46(2): 245-264.
Zhuocai. 2013. "电视剧《贤妻》收官刘涛诠释完美女性 [The final part of TV Drama 'Good Wife'- Liu Tao performs the perfect woman]. " Qianlong, March 25. Accessed March 25, 2013. http://life.qianlong.com/36311/2013/03/25/7144@8586128.htm.
Zhu Ying. 2008. Television in Post-Reform China: Serial Dramas, Confucian Leadership and the Global Television Market. New York: Routledge.
Zhu Ying, Michael Kane & Ruoyun Bai. 2008. "Introduction". In TV Drama in China, Ying Zhu, Michael Keane & Ruoyun Bai (eds), 1-19. Hong Kong: Hong Kong University Press.
©2013 Whatsonweibo. All rights reserved. Do not reproduce our content without permission – you can contact us at info@whatsonweibo.com.
"Opposing Dog Meat Consumption Is Hypocritical" – Weibo Discussions on Anti-Dog Meat Protests
Eating dog meat is a personal choice, many commenters argue.
Last week's anti-dog meat protests in South Korea have triggered discussions on Chinese social media on the status quo of the dog meat industry in China. An overview of the sentiments on social media and the background of dog eating in the PRC.
South Korea's dog meat industry made headlines on Friday after protesters in Seoul, joined by actress Kim Basinger, called for an end to the decade-old dog meat trade in the country.
Not far from the protesters were farmers who raise dogs that are sold to restaurants. They brought steamed dog meat and ate it with kimchi (featured image).
In China, where the eating of dog meat has a long history, the Seoul protests triggered some discussions on social media.
The hashtags "Hundred People Gather in South Korea to Stop the Eating of Dog Meat" (#韩国百人集会呼吁停食狗肉#) and "Big Protest in South Korea against Eating of Dog Meat" (#韩国大规模抗议吃狗肉#) received over 83 million views.
In South Korea, the overall demand for dog meat has plummeted over the years. Earlier this month, one of the largest dog meat markets in the country, the Gupo dog meat market, was shut down. In November of 2018, Seongnam city already demolished South Korea's largest dog slaughterhouse.
Friday's protesters hope to shut down dog meat trade in the country completely. The latest protests have put the thorny issue of the dog meat industry back in the limelight.
HYPOCRITICAL PROTESTS?
"I don't eat dog meat, but I don't oppose it."
On Chinese social media site Weibo, hundreds of netizens expressed their opinion on the matter, that has been a hot topic in China for years.
According to polls from the past and present, the topic of dog meat in China is clearly a divisive one.
But over the past few days a seeming majority of commenters on Weibo spoke out about the issue in a remarkably similar way, with thousands of netizens highlighting one issue in the matter: hypocrisy.
"I won't oppose to the eating of dog meat," one person writes: "Because if I support the anti-dog meat movement today, then tomorrow it will turn against the eating of cows, then the eating of pigs, and then the eating of fish.."
Many people on social media agree with this point of view, arguing that no matter one's personal ideas about dog meat, condemning the dog meat practice in specific would be hypocritical: "Pigs are so cute, why do we eat pigs then?" many say, with others arguing: "Aren't cows also spiritual animals?"
"I also raise dogs, I also love dogs," another commenter says: "But I think that if they legally breed dogs for the dog meat [industry], then we have no right to prevent them from doing so."
"I don't eat dog meat, but I don't oppose it, as long as it's legal it's ok," with others writing: "I am opposed to the eating of any living creature."
"Eating dog is not illegal, why all this sentimental nonsense? Why don't you also defend chickens, ducks, geese, pigs, sheep, and cows?!"
"As long as they're not abused, I don't see a problem with it."
"Dog meat is tasty," one commenter from Zhejiang writes: "I like it, although I rarely eat it. I don't see a problem with it, it's a personal choice."
SHORT OVERVIEW OF DOG EATING IN CHINA
"To them, dog meat was just like any other meat."
The tradition of dog eating in China can be traced back as far as the Shang Dynasty (ca. 1558 to 1046 BC), when dog meat was considered a delicacy for the upper class.
Later on in Chinese history, during the Han Dynasty (202 BC-220 AD), it became more and more common until the practice saw a general decline, especially in northern China, during and after the tenth century (Li et al 2017, 513-514).
Despite the rising and declining popularity of dog meat throughout China's history, the practice of eating dog has never completely disappeared, particularly in southern China.
In a book on China from 1878 by John Henry Gray, the author notes the popularity of restaurants serving dog and cat meat in 'Canton' (Guangzhou):
"I do not think (..) that I exaggerate in saying that there are no fewer than twenty such places in Canton. Each restaurant contains only one public apartment. The approach to this dining-room is generally through the kitchen, where cooks may be seen standing in front of slow fires over which the flesh of cats and dogs is being cooked. The flesh is cut into small pieces and fried with water chestnuts and garlic in oil. In the windows of the restaurant dogs' carcasses are suspended, for the purpose, I suppose, of attracting the attention of passengers" (75).
He further writes:
"The flesh of black dogs and cats is generally preferred because it is supposed to possess more nutriment than that of cats and dogs of any other color. At Ying-tong, a suburban district of Canton, a fair is held at which dogs are sold for food; and in one of the streets dogs and cats are daily exposed for sale. The dogs are put to death by strangling, stabbing, or felling with clubs" (76).
Something that has not changed since the days described in Gray's book is the belief in the medicinal benefits of dog meat.
Especially in summer, dog's flesh is believed to serve as an antidote against summer heat, and to be nutritious and beneficial as a source to enhance male virility or to boost the liver. Even at present, Chinese media promote the eating of dog meat to boost the immune system and help stimulate better blood circulation.
It should be noted that although China has a long history of dog meat consumption, it also has a long history of dog domestication and dog-human comradery. Dogs were pets, guarded the house, used in hunting, and also used in rituals of sacrifice.
Most of the 20th century (1900-1978) was a tough time for people in mainland China, and it was a tough time for dogs too. In many times, there was barely enough food to eat, and under Mao's rule, dogs were considered "parasites" and were outlawed as pets (Coren 2018; Li et al 2017, 514).
Those who kept pets were seen as part of the 'bourgeoisie,' and during the Cultural Revolution, pet dogs were reportedly seized and beaten to death in front of their owners (Coren 2008, ch. 21).
Much has changed since those days. Although (stray) dogs, as carriers of diseases and potentially aggressive, are often still considered a drain on society, having a dog as a pet has become much more commonplace in China since the late 1980s and early 1990s.
Eating dog meat has become less popular, especially among young people in China, who have grown up very differently from their parents and have different perceptions of dogs.
Chinese writer Bang Xiao looks back on the first time his mother served him dog meat during Chinese New Year, writing:
"For them, dog meat was just like any of the other meats, and coming from a generation who lived through famine and the Cultural Revolution, I was told I should be grateful. For me though, it meant I was eating my own pet Duo Duo. I cried."
Later on, he writes about his parents:
"They weren't "dog eaters". They were just people that happened to have a different history that led to different animals being on the menu."
THE YULIN DOG MEAT FESTIVAL
"Don't go, don't eat it, don't pay attention to it."
Despite the general unpopularity of dog meat in China, there is one time of the year when the discussions on the practice of dog eating flare up again, and that is during the Yulin Lychee & Dog Meat Festival, an annual event that's been held over the past decade in the Chinese city of Yulin intended to generate income from tourism (Brown 2018).
Some 10,000 to 15,000 dogs and cats are slaughtered during the 10-day event that starts on June 21st every year. The event attracts hundreds of people every day. There is a restaurant strip and a market where dozens of vendors cook various dog meat dishes in large woks and where live dogs are sold and slaughtered.
Although the voices of those people protesting the festival seem to grow louder year on year, the dog meat festival continues. It is not illegal, and its economic benefits have become of crucial importance for many in the city of Yulin.
A 2016 media survey held among 2000 people from various ages and places in China found that 64% of the people opposed to the festival, 52% thinks that dog meat should be banned in China, and 70% said they had never had dog meat themselves.
"Don't go, don't eat it, don't pay attention to it. When there's no business, the killing will stop," one Weibo commenter suggests.
A MURKY MARKET
"There does not seem to be a Chinese dog meat market that is both cruel-free and completely legal."
Apart from Yulin, the eating of dog meat is barely a celebrated tradition in China anymore.
For a What's on Weibo article from 2015, we could still find 122 restaurants listed as 'dog meat' specialty restaurants in the city of Beijing on restaurant site Dianping. But at present, Dianping no longer publicly lists any restaurants when searching for 'dog meat' specialty places (note that there still are restaurants serving dog meat, but they might not be listed due to controversy or for fear for activists).
China's biggest e-commerce websites sell different herb mixes for dog stews or dog meat hotpots (see tweet below), but the market could hardly be called thriving.
What to put on a package for spicy dog meat stew? A happy dog, of course🙄 #taobao #dubiousmarketing pic.twitter.com/XYsXBebYbB

— Manya Koetse (@manyapan) July 12, 2019
Yet, despite all those people on Chinese social media saying that eating dog meat should not be a problem for those who still want to eat it, China's dog meat market does actually have a problem.
China has no law that bans the eating of dogs; eating dog meat is a personal freedom. But what makes the issue murky and troublesome is that China actually has no large-scale legal dog farms, nor legal dog slaughterhouses.
The very few dog farms in existence in China would never be adequate to provide the meat for the industry in southern China, let alone for the estimated 10,000+ dogs slaughtered in Yulin every year.
It is therefore not clear where the dogs that are used for their meat in China come from. Are they stray dogs? Are they stolen from the streets? And if so, would this not be considered illegal (Brown 2018; Cao 2014; Yan 2015, 46)?
Every now and then scandals appear in the media of restaurants slaughtering and killing dogs that were actually people's pets (for example, this scandal in Jilin in 2018 or in Chengdu this year).
Another issue making the dog meat market a problematic one is the cruel treatment of the dogs.
China has seen countless of food scandals over the years, and some of them involve the selling of poisoned dog meat. As a result, many people have a general distrust in (frozen) meat products and want to make sure they are consuming good quality meat.
Dog meat markets such as Yulin, therefore, often sell living dogs. They are virtually like 'wet markets' for dogs, where those who want to eat dog meat can do so with the assurance that the meat they are eating is fresh and safe. The dogs are slaughtered at the spot or are sold alive for home consumption (Brown 2018).
The process of being transported, being displayed in tiny cases in the summer heat, and being killed in often cruel ways all add to the enormous stress and pain the animals at the live dog market are suffering.
China currently has no laws from the perspective of animal welfare to minimize the pain and suffering during transport, the selling, or at the point of slaughter (Brown 2018).
For the aforementioned reasons and more, festivals such as the Yulin Dog Meat one are getting more controversial year on year, with more and more Chinese calling for a boycott and a ban.
DISTORTED DISCUSSIONS
"If you eat dog meat of unknown origin, you might be participating in the killing of someone else's pet."
As the discussions on dog meat in China are ongoing following the South Korea protests, one blogger posted a survey asking netizens if they support the eating of dog meat.
Despite the many commenters who also defend the practice of dog eating, a majority of 67% percent among the 32.000 participants said they do not support it as "dogs are our friends."
A recurring sentiment expressed on Chinese social media on the issue is that there essentially is nothing wrong with eating dog meat – and that it would be hypocritical to only oppose to eating dog without also opposing eating sheep, cows, chickens, and so on – as long as it is legal, and as long as the dogs are not stolen, poisoned, or abused.
But that's the whole issue at hand: all those things are in fact happening in the dog meat industry today. It is difficult to discuss the eating of dogs based on the hypothetical assumption that these things are not occurring.
Consumers are not buying (frozen) meat from legal dog farms and certified dog slaughterhouses, they are mostly buying living dogs or dog meat from unknown origins, and the process of selling and slaughtering often goes hand in hand with cruel treatment.
"I don't oppose to eating dog, but I hate the dog trafficking market," one person says. Another commenter agrees, writing: "I don't oppose to the eating [of dogs] that are bred for it, but I do oppose to those who steal other people's dogs. Most of the dog meat I've seen comes from unknown origins. (..) If you eat dog meat that you don't know the origin of, you might be participating in the killing of someone else's pet."
For now, China and South Korea are very different when it comes to their dog meat industries and their (legal) changes. The countries do seem to have one thing in common, which is that the practice of eating dog meat is no longer popular among the younger generations.
This might suggest that as sales are dropping, the dog meat market will shrink and might eventually disappear altogether if there is no interest in it.
"Don't hype the dog meat festival," one Weibo commenter writes: "It's the hype that made it big and that led to more dogs being killed.
This basically reiterates the advice of one of the aforementioned commenters: don't go, don't eat it, don't pay attention to it, and the business will, eventually, die out.
Want to read more? Also see:
20 Facts About Dogs & Dog-Eating in China
The Yulin Dog Meat Festival: 10 Views From Chinese Netizens
Tradition or Abuse? Chinese Views on the Yulin Dog Meat Festival
By Manya Koetse
Want to see more articles such as these? Please donate to keep What's on Weibo going.
References
Brown. Hannah. 2018. "Yulin Lychee and Dog Meat Festival: A Shift in Focus." In: Tourism Experiences and Animal Consumption: Contested Values, Morality and Ethics, Carol Kline (eds), Chapter 15. London: Routledge.
Cao Yin. 2014. "Experts: Dog Meat Festival 'Illegal'." China Daily (June 16). Online at http://www.chinadaily.com.cn/china/2014-06/16/content_17589087.htm [6.23.16].
Coren, Stanley. 2008. The Modern Dog: A Joyful Exploration of How We Live with Dogs Today. New York: Free Press.
–. 2018. "What Is China's Current Attitude Concerning Dogs?" Psychology Today, Feb 21 https://www.psychologytoday.com/us/blog/canine-corner/201802/what-is-chinas-current-attitude-concerning-dogs [7.15.19].
Gray, John Henry. 1878. China: A History of the Laws, Manners, and Customs of the People (Volume II). London: MacMillan & Co.
Li, P. J., Sun, J., & Yu, D. 2017. "Dog "Meat" Consumption in China: A Survey of the Controversial Eating Habit in Two Cities." Society and Animals, 25(6), 513–532. http://doi.org/10.1163/15685306-12341471
Xiao, Bang. 2018. "Chinese New Year: Remembering how I first ate dog meat, and how differences bring us together." ABC, February 17 https://www.abc.net.au/news/2018-02-17/chinese-dog-meat-eating-linked-to-history-of-famine/9454394 [7.15.19].
Yan Wei. 2015. "Dog Meat Festival: Traditional Custom or Abuse?" Beijing Review (29): 46-47.
Spotted a mistake or want to add something? Please let us know in comments below or email us. Please note that your comment below will need to be manually approved if you're a first-time poster here.
©2019 Whatsonweibo. All rights reserved. Do not reproduce our content without permission – you can contact us at info@whatsonweibo.com
Over a Third of China's Babies Are Delivered via C-Section – The National Health Commission Wants to Change That
Fear of pain is a major reason for nonmedical cesarian deliveries on maternal request.
China's National Health Commission wants to lower the nation's high C-section rates. On Chinese social media, many women argue it should be up to the mother to decide how she wants to give birth.
In 2018 the percentage of deliveries by cesarean was 36.7% in mainland China, according to the latest Report on Women's & Children's Health (中国妇幼健康事业发展报告) that was launched by the National Health Commission on May 27.
This means that together with Hong Kong, Taiwan, Brazil, Egypt, and Turkey, the People's Republic of China (PRC) now has the highest C-section rates in the world.
A World Health Organization report from 2010 estimated that 46% of Chinese babies were delivered via C-section. In 2017, another study found that this percentage was incorrect, although some urban and wealthier regions in China, such as Shanghai, did see C-section (CS) rates as a high as 68% (Black & Bhattacharya 2018, 1; McNeil 2017).
China's CS rates have recently become a hot topic in Chinese newspapers and on social media. On May 27, the National Health Commission of the People's Republic of China held a Beijing news conference in which Qin Geng (秦耕), the director, announced that more actions will be taken to encourage natural childbirth among Chinese women.
These actions will, among others, include stricter regulation of cesarian section operations and the provision of more support and pain relief for laboring women, as well as a higher hospital income for natural births. The National Health Comission hopes to significantly reduce the number of unneccesssary C-sections without medical indication in this way (Beijing News 2019; Caijing 2019).
Since 1985, the international healthcare community has considered 10-15% to be "the ideal rate" for C-sections, of which the highest percentage are those CS deliveries with medical indications that can actually save the lives of mothers and babies.
Although the worldwide rates for CS deliveries have increased throughout the years, there is no evidence for the benefits of nonmedically indicated C-sections for women or children, according to the World Health Organization.
This is not the first time Chinese authorities try to combat the country's high CS rates. After reports by the World Health Organization from 2010 and 2015 pointing out the potential hazards of unnecessary C-sections, there have been various state efforts to reduce the number of nonmedical cesarian surgeries.
Besides the introduction of free prenatal education classes, these efforts included monitoring public hospital CS rates and removing bonuses or cutting portions of a hospital's income once their CS rates reached a certain threshold (e.g. 40%) (Wang 2017, 3). These government initiatives seem to have had effect: the country's C-section growth rates have slowed down, but were not decreasing yet.
Since the Chinese government announced an end to its one-child policy in 2015, lowering cesarean sections rates has become a more urgent matter, as Chinese couples are now allowed to have a second child.
Although various studies from mainland China and beyond challenge the idea that nonmedical C-sections are less 'safe' than vaginal births for single deliveries, this risk changes when a woman who previously had a CS section plans another pregnancy: multiple cesarean sections are associated with additional risks including CS scar rupture and abnormal placental invasion (Biler et al 2017, 1074; Black & Bhattacharya 2018, 2; Liu et al 2015, 817).
Why So Many C-sections in China?
But why does China have such a high cesarian delivery rate at all? Since the early 1990s, mainland China saw a more dramatic rise in CS rates than, for example, the USA; from less than 10% (with only 3.4% in 1988), China went to one of the highest in the world (Hellerstein 2011; Wolf 2018, 13).
The answer to why this is, is not so straightforward and relates to socio-economic changes as well as cultural factors that come into play.
One reason is that there is a general belief in the 'safety' of cesarian births that influence women's choices for a (nonmedical and planned) C-section (Black & Bhattacharya 2017, 2).
An insightful study into this matter is that of researcher Eileen Wang (2017), who found that anxiety about giving birth and fear of pain is also a major reason for nonmedical cesarian deliveries on maternal request, especially considering that only a minority of Chinese women are given any form of pain relief during labor. Besides traditional concepts, this is also because China faces a shortage of anesthetists and because obstetricians are not always well-informed to prescribe other forms of pain medication (2017, 5).
As noted by Wang, epidurals are denied to laboring women not just because anesthesiologists are too busy, but also because of various other factors: different from a scheduled C-section on their agenda, they are not always available during nighttimes and in weekends to administer anesthesia to women in labor, do not have the time to monitor a patient for hours during labor (whereas a cesarean could be done in an hour), or were not even trained to administer epidurals (2017, 5).
According to Wang, the concerns about labor pain result in more requests for C-sections, both before and during labor. With relatively low awareness and availability of labor pain relief methods many Chinese women simply opt for a C-section as a way to control their pain.
But there are also other factors that contribute to the relatively high rate of women requesting C-sections for nonmedical reasons. One of them is the importance placed in the astrological calendar: having a baby on that one 'lucky day' or within that 'lucky year' is considered enough reason to plan a cesarian birth for many Chinese families.
In early 2015, ahead of the Chinese New Year, many women rushed to the hospital to make sure their baby was born in the Year of the Horse (2014) as the Year of the Goat (2015) was coming up. There is an old Chinese saying that nine out of ten people born in the Year of the Goat are incomplete and will suffer from great misfortune throughout their life ("十羊九不全").
Another factor that leads to more cesareans on maternal request relates to the existing concerns among women that vaginal delivery will affect their figure or sex life (Wang 2017, 2).
Responses on Chinese Social Media
Since the Beijing news conference of May 27, the hashtag "Reducing Unnecessary Cesarean Section Surgery" (#减少非必需剖宫产手术#) has taken off on Chinese social media.
On Weibo, the hashtag page received 340 million views at time of writing. One thread about this topic even received over 28400 comments.
"What do you call 'unnecessary cesarian'?" one of the most popular comments said: "Isn't it that so many women in labor choose to have a C-section because natural childbirth is too painful?"
Other commenters also called for a normalization of pain relief in labor, saying that the high percentage of C-sections lies in the fact that Chinese women lack access to "wútòng fēnmiǎn" (无痛分娩) or "painless birth," meaning vaginal delivery with pain relief.
Some Weibo users also stress that women should have the freedom of choice on how they wish to give birth, saying: "C-section or natural should be my own choice" and "If you leave me no choice I might as well not give birth at all."
Multiple commenters write: "The lower the C-section rate, the higher the suicides," referring to an incident that occurred in Shaanxi in 2017 when a pregnant woman committed suicide by jumping from the fifth floor of the hospital after she was allegedly denied a CS delivery.
Other Chinese netizens also complain about the fact that it seems to be men who are promoting the new policies to combat the high C-section rates, writing: "Isn't there a way to have them suffer the pain of labor instead?"
In her study, scholar Eileen Wang also argues that the lack of pain relief is one of the major issues that should be addressed by policymakers who are hoping to reduce the number of C-sections in China. Further improving the childbirth experience by, for example, integrating a midwifery model, is also essential in making natural childbirth more attractive for Chinese women, Wang argues.
For now, many hospitals in China are still offering C-section "packages": some prices start at RMB 5800 ($840) for a C-section, other hospitals have packages that start from RMB 88,000 ($12,741) including a three-day hospital stay in a private room.
"It's a pregnant's woman body, so she should decide how she wants to deliver her baby," one commenter on Weibo writes: "It should be a woman's right to decide."
By Manya Koetse
Follow @whatsonweibo
References
Biler, A., Ekin, A., Ozcan, A., Inan, A. H., Vural, T., & Toz, E. 2017. "Is It Safe to Have Multiple Repeat Cesarean Sections? A High Volume Tertiary Care Center Experience." Pakistan Journal of Medical Sciences 33(5): 1074–1079.
Black, Mairead & Sohinee Bhattacharya. 2018. "Cesarean Section in China, Taiwan, and Hong Kong— A Safe Choice for Women and Clinicians?" PLOS Medicine 15(10): 1-3.
Caijing. 2019. "卫健委:全国剖宫产率为36.7% 积极推广分娩镇痛." Caijing , May 27 http://economy.caijing.com.cn/20190527/4591594.shtml [5.31.19].
Hellerstein, Susan Celia. 2011. "Cesarean Delivery in China Analysis of Cesarean Deliveries Without Indication." The American College of Obstetricians and Gynecologists: 20s.
McNeil, Donald. 2017. "Study Finds Lower, but Still High, Rate of C-Sections in China." New York Times, Jan 9 https://www.nytimes.com/2017/01/09/health/c-section-births-china.html [6.2.19].
Wang, Eileen. 2017. "Requests for Cesarean Deliveries: The Politics of Labor Pain and Pain Relief in Shanghai, China." Social Science and Medicine (173): 1–8.
WHO. 2015. "WHO statement on caesarean section rates." World Health Organization, April https://www.who.int/reproductivehealth/publications/maternal_perinatal_health/cs-statement/en/ [6.2.19].
Wolf, Jacqueline H. 2018. Cesarean Section – An American History of Risk, Technology, and Consequence. Baltimore, Maryland: Johns Hopkins University Press.
Featured image by Sohu News.
Spotted a mistake or want to add something? Please let us know in comments below or email us. Please note that your comment below will need to be manually approved if you're a first-time poster here.
©2019 Whatsonweibo. All rights reserved. Do not reproduce our content without permission – you can contact us at info@whatsonweibo.com