Overview of China's 2017 Top TV Dramas
These are the Chinese TV dramas you should've seen in 2017.
China has one of the most booming TV drama industries in the world. As millions of drama fans tune into their favorite show, What's on Weibo has compiled a list of China's top TV dramas of 2017.
Note: Also see China's top tv dramas to watch winter 2017/2018
Nothing is trending more often on Chinese social media than TV drama. What is the best drama, who is the hottest star, how will that nerve-wracking cliffhanger end? It is all part of the daily discussions on Sina Weibo.
The Chinese TV drama industry is booming and among the most vibrant in the world, with no signs of slowing down.
We have compiled this Top 10 of 2017 Chinese TV dramas by checking the February 2017 top ranking TV drama's on Sina Weibo and Baidu, and netizen blogs. We have also taken into consideration a Weibo poll of the 'most-anticipated TV dramas of 2017' that had over 10,000 votes.
Chinese TV dramas are becoming more popular across the world, with thousands of people volunteering to do subtitles for them in their own language. A great website to watch Chinese dramas is Viki.com, but most are also available on YouTube and of course on their native sites such as iQiyi or LeTV.
Depending on where you live, these sites might have geo restrictions. You can circumvent this with a VPN to change your IP geo-location. We recommend ExpressVPN for this, as it is known for its fast streaming of online video content online (see our top 3 of recommended VPN here).
Keep in mind that many of China's big TV drama productions are launched in the period around Chinese New Year – a time when TV drama fans are looking forward to seeing their favorite shows. It's around this time to spot the TV dramas you can binge on later in the year.
What is remarkable about the 2017 year's list (check out our lists of 2016, 2015, and 2013) is that it does not include any historical genre television dramas themed around the history of the War of Resistance against Japan.
China's war dramas previously always made it to the top ranking TV dramas. In 2015, China's official censorship bureau spoke out against war-themed TV dramas that are "overly entertaining." One popular war drama this year is Brothers in the Fire of War (战火中的兄弟), but it did not make it to this list.
What is also noteworthy is that this year's top 10 tv drama's are all made in mainland China. Last year, the number one TV series was a South-Korean tv drama.
There are no series in this year's list that revolve around any 'risque' topics. Last year, the gay-themed TV show Addicted was pulled offline by censors when TV dramas that 'exaggerate dark side of society' were banned from TV. Off-limit topics included homosexuality and adultery.
Here is our top 10 of China's most popular TV dramas of this moment:
UPDATE: Don't forget to also check out our top 10 of best dramas in winter 2017/2018!
#1. Eternal Love 三生三世十里桃花
Genre: Fantasy, martial arts
Other title: Three Lives Three Worlds, Ten Miles of Peach Blossoms
Directed by Lin Yufen (林玉芬), 58 episodes
Within a week after its first episode on January 30, this TV drama already attracted over 29 million comments on Sina Weibo, and ranked number 1 drama in both the Weibo and Baidu 'most popular' lists. It is also one of most-anticipated dramas of 2017.
From gods and demons, from reincarnation to never-ending love affairs – nothing is impossible in Chinese fantasy drama. This drama evolves around the High Goddess and the Crown Prince played by Yang Mi and Mark Chao, who were once lovers in another world and another lifetime. According to Dramafever, this fantasy story shows that love goes beyond worlds and lifetimes.
The success of this TV drama is partly linked to its timing; like many dramas in this list, the first episode was aired in the middle of the Spring Festival.
Starring: Yang Mi, Mark Chao, Zhang Zhiyao, Dili Reba (also known as Dilraba Dilmurat), and Gao Weiguang (杨幂, 赵又廷, 张智尧, 迪丽热巴 高伟光). The show is broadcasted every day on Dongfang and Zhejiang TV, as well as on Youku, Tencent, iQiyi, LeTV, Sohu and PPTV.
#2. Rush to the Dead Summer 夏至未至
Genre: Romance, Youth
Directed by Chen Mingzhuang (陳銘章), 40 episodes
Rush to the Dead Summer (夏至未至) is a TV drama based on the novel by Guo Jingming (郭敬明) that follows a group friends as they go from their highschool life and each start their own life in society. The main actors are Zheng Shuang, Chen Xuedong (Cheney Chen), and Bai Jingting.
Many fans have been waiting for this TV drama to come out, as its airing was already announced in the summer of 2016. By now, its official Weibo account has well over a million followers.
#3. Love, Just Come 爱来的刚好
Genre: Urban drama, Romance
Other title: Perfume Woman
Directed by Wang Lianping (王连平), 60 episodes
Love, Just Come (爱来的刚好) first aired in late January. Its main cast includes actors Han Dong, Jiang Kaitong, Li Wei, Zhang Xiyuan, Wang Wei, Liang Aiqi (韩栋, 江铠同, 李威, 张熙媛, 王伟, 梁爱琪). The drama revolves around an orphan girl (Jiang Kaitong) with an absolute sense of smell, who dreams of becoming a successful perfume maker. The series follows the struggles she faces on the road to reaching her dreams, during which, of course, she finds love. The show can be viewed here.
#4. Fighter of the Destiny 择天记
Genre: Fantasy, Martial arts, costume/period drama
Directed by Zhong Shujia (钟澍佳)
This series ranked number one in the Weibo poll of most-anticipated TV dramas of 2017, as netizens have been talking about this series for months.
Fighter of the Destiny is based on a novel by the same name of author Mao Ni, and involves the timetravelling adventures of the young man Chen Changsheng (Luhan) who leaves his master (Eric Tsang) in search for a cure to his terminal illness.
#5. Ruyi's Royal Love in the Palace 如懿传
Genre: Costume/period drama
Directed by Wang Jun (汪俊), 90 episodes.
Ruyi's Royal Love in the Palace tells the story of the marriage of the Qianlong Emperor and Ulanara the Step Empress during the Qing dynasty. The drama, broadcasted by Dragon TV and Jiangsu TV, features major leading roles by Zhou Xun and Wallace Huo. Read more about this TV drama at the Cfensi blog.
#6. Double Happiness 双喜盈门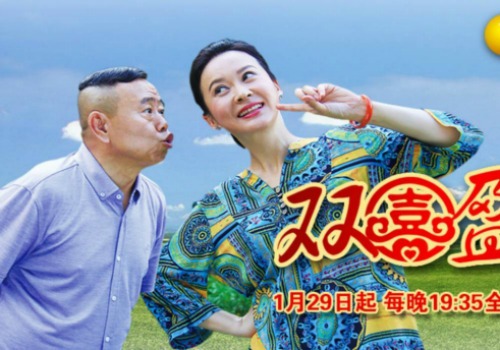 Genre: Comical drama, Rural comedy
Directed by Han Zhao (韩兆).
This successful drama has famous leading actors Pan Changjiang, Ding Ziling, Xiao Guangyi, and Zhang Dajing. Especially Pan Changjiang (1957) is a famous as a skit actor and a recurring performer at the CCTV New Year's Gala. This comical drama focuses on a big rural family and follows their ups and downs. The show is available on YouTube (no subtitles).
#7. City Still Believe in Love 北上广依然相信爱情
Genre: Romance
Directed by Li Jun, Mou Xiaojie (李骏, 牟晓杰), 44 episodes
This drama that stars Zhu Yawen and Michelle Chen revolves around the relationship between a Taiwanese woman who has arrived in Beijing to work and her temperamental boss. Despite their misunderstandings, their professional relationship eventually is bound to become personal.
#8. The Glory of Tang Dynasty 大唐荣耀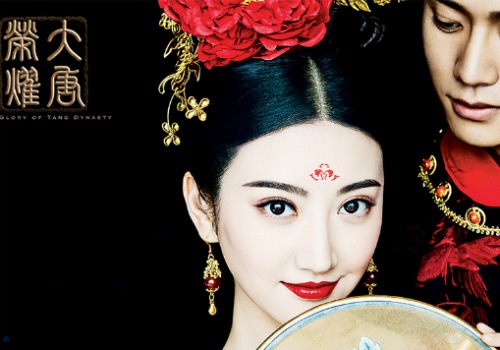 Genre: Fantasy, Costume
Directed by Liu Guonan, Yin Tao (刘国楠、尹涛), 60 episodes
The series is about the ups and downs in the life of Shen Zhen Zhu (played by Jing Tian 景甜), a exceptional beauty living in the royal court during the most turbulent period of the Tang dynasty, that is challenged by rebellion, unrest and opposing forces.
#9. Ode to Joy 2 欢乐颂2
Genre: Urban drama, Romance
Directed by Jian Chuanhe, Zhang Kaizhou, 52 episodes
This is one of the only shows in this list that has not been broadcasted yet – it is planned to air in May of this year. It is the sequal to Ode to Joy, a highly popular 2016 Chinese TV series produced by Dragon Television (here with subtitles). It is about five single, independent career women who live in the Ode to Joy apartment building together and try to find the balance between love and career, looking for their personal happiness.
For Liu Tao, a leading actress in this TV drama, Ode to Joy is not her first hit TV drama. In 2013, the series Good Wife (贤妻) was also a major success.
#10. The Starry Night, The Starry Sea 那片星空那片海
Genre: Romance, Fantasy
Directed by Wei Hantao and Deng Yancheng (卫翰韬 邓衍成)
This mainland drama that stars Feng Shaofeng, Bea Hayden, Wang Zixi, Huang Ming and Sunny Wang (冯绍峰, 郭碧婷, 王梓薇, 黄明, 王彦霖), premiered on February 6 2017 on Hunan TV. It is based on a book by the same name by the Chinese contemporary novelist Tong Hua (桐华), whose previous novels were also turned into television series.
The story revolves around girl-next-door Shen Luo who moves from the big city to a small island cottage, where she meets the mysterious Wu Julan – a man wirh mystical powers that help Shen yo overcome her obstacles. The show can be viewed on Viki, where fans graded the drama with a 9.7.
Want to read more? Check out:
– Top 10 of TV Drama in China 2018
– Top 5 of Best Drama Series Winter 2017/2018
– Best TV Dramas in China Summer 2017
– Most Popular Television Series in China in 2016
– Top TV Drama 2015
– By Manya Koetse
Follow on Twitter or Like on Facebook
What's on Weibo is an independent blog. Want to donate? You can do so here.
©2017 Whatsonweibo. All rights reserved. Do not reproduce our content without permission – you can contact us at info@whatsonweibo.com
China's Top Mobile Gaming Apps
In a booming online gaming market, these are some of the apps most appreciated by Chinese online gamers today.
China has the largest mobile gaming market in the world. It's an exciting market not just for game-lovers, but also for those into marketing and advertising.
One of the key drivers behind this online gaming environment is the fact that China is a mobile-first country. China's average mobile user owns a relatively cheap but high-performance mobile phone, which enables them to play mobile games. As the quality of China's smartphones keeps on rising, so are the possibilities and developments within China's mobile gaming market.
The Chinese gaming industry is flourishing, but also highly controlled. Online games are allowed to be imported, but have to pass the content censorship procedures and must be 'ideologically compatible' for the Chinese market. Many games, such as this year's Resident Evil 2, are not allowed into mainland China.
To gain more insights in this enormous market, we list five of the mobile apps that currently play an important role in the mobile gaming industry. We made our selection based on the data from the Android app stores Tencent, Baidu, Huawei, and Zhushou360. We tried our best to give you a representative overview of a variety of apps that are currently most used in China, but want to remind you that these lists are by no official "top 5" charts.
This article is part of a series of five articles, listing popular Chinese apps in the categories of short video & live streaming, news, health & sports, and knowledge & education. We'll list the other categories for you below this article, but let's move over to review these popular mobile gaming apps now.
#1 PlayerUnknown's Battlegrounds 绝地求生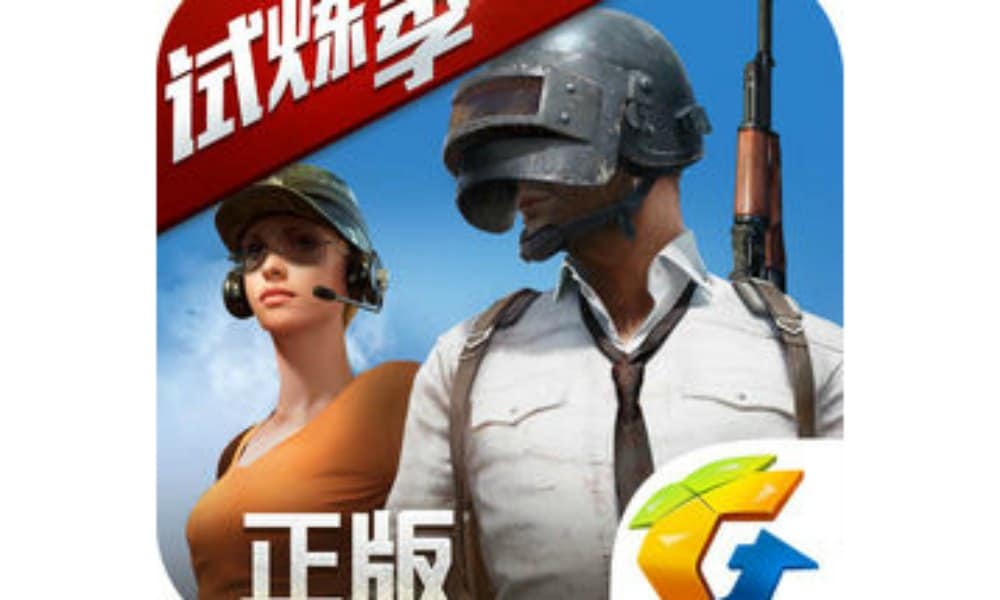 PlayersUnknown's Battleground (PUGB) is a so-called 'sandbox style' survival game, which basically means that gamers are allowed to freely roam and change the game, that does not have a set storyline, and that they are required to do all they can to survive as long as possible by eliminating its competitors.
In this online multiplayer game, that is called a Fortnite rival, players are placed together with up to 100 other players on an island. As the game proceeds, the battlefield gradually shrinks, putting more pressure on its players. The users have to assemble weapons and other necessities, and in doing so, need to kill their competitors and take their possessions. The last person left is the winner.
PUBG, which is currently the most popular mobile phone game app in China, was created by the South Korean Bluehole. In 2017, Chinese gaming giant Tencent launched the mobile app version of the game. The Chinese version is not entirely the same: it has been adapted to make sure it aligns with 'socialist values.'
At the moment, there are two versions of PUGB games: Exciting Battlefield (刺激战场) and Full Ahead (全军出击). The games Exciting Battlefield and Full Ahead subsequently ranked most and third most popular game app in the Chinese Apple stores in 2018, with Exciting Battlefield reaching 14,9 million daily active users at the end of 2018. Currently, Exciting Battlefield still ranks the most popular game app in both the Tencent and Zhushou360 app stores.
#2 Honor of Kings or Kings of Glory 王者荣耀
Honor of Kings is a game developed and published by Tencent which was first launched in 2015. The game is a multiplayer online battle arena game, where players have to team up for a five-to-five battle.
Every user can personally assemble their hero and equip it with certain features such as appearance, powers, etc. The goal of the game is to destroy the opponent's base.
In 2018, Honor of Kings was the second most popular game app in the Chinese Apple store with 53,8 million daily active users in the last quarter. This year, the game especially rose in popularity during the Chinese Lunar New Year: in the week from 4-10 February, Honor of Kings reached 92 million daily active users.
But the game's popularity isn't limited to China. In 2017, Tencent launched an international adaption of the game called Arena of Valor. The game was adopted as one of the games at the eSport Demonstration Event at the 2018 Asian Games, where the Chinese team won the gold medal.
#3 Speed QQ / QQ飞车
Speed QQ is a 3D game that combines both casual and competitive racing. The game has three kingdoms: wind, fire, and fantasy.
In each kingdom, there are different kinds of races, and players can move up levels if they beat other players. In the end, the strongest player of all will be crowned 'king.' To prove their skills, the best players of each kingdom can also race against each other in races played on racetracks on the border of the several kingdoms.
The game can be played by either a single player or multiplayer, with a maximum of six players.
Speed QQ, just as Honor of Kings and PUBG, is a game by Tencent  – it is the world's largest game distributor by revenue. Speed QQ was first launched in January 2008 as a PC version, and it was not until 2017 that the mobile app version was released.
In 2018, it became the fourth most popular game app in Chinese Apple stores, with nearly 25 million downloads in that same year.
#4 Identity V 第5人格  
Identity V is a so-called asymmetric warfare game, meaning that the game is a wargame between individuals or a group of players and their hostile opponent.
The horror game, designed in gothic art style, is a one-versus-four multiplayer game. Later in the game, players can decide whether they want to play either the hunter or one of the four survivors.
However, the game is mainly a survivor-based game. The player first enters the game as a detective who receives a mysterious letter inviting the player to investigate an abandoned estate and search for a missing girl. As the player is searching for clues about the missing girl, a hunter will try to catch the player and strap it to a rocket ready for blast off. This is where the three other survivors come in; those are the ones who can free their fellow-survivor from the racket. But if they are too late, the player will be fired off and lose.
Identity V is the newest game app in our selection as it was launched in April of last year by NetEase. Despite its short period on the market, the game gained significant success. The app was the fifth most popular game app in Chinese Apple stores in 2018, with over 26 million downloads.
#5 Mini World 迷你世界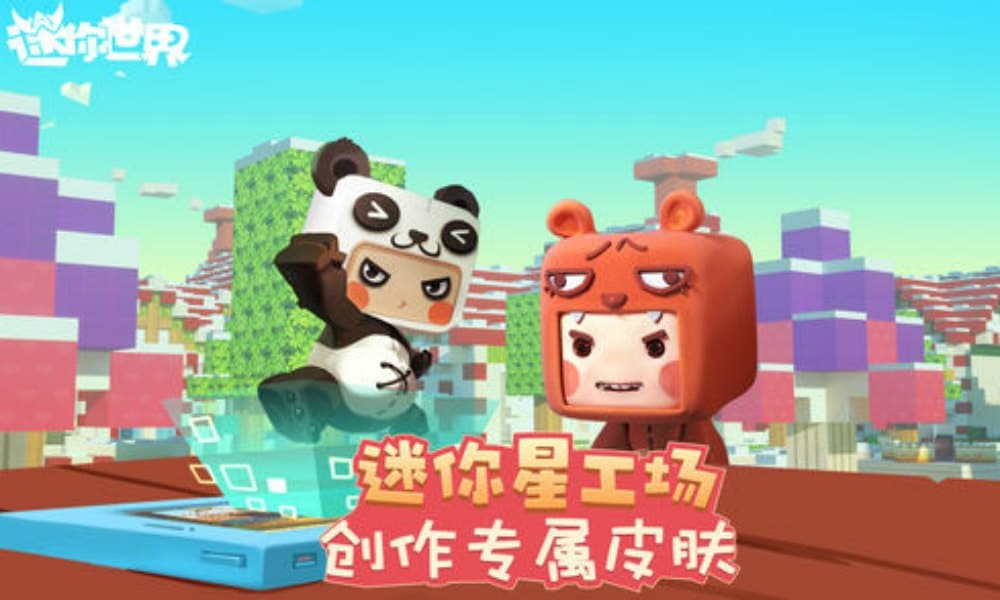 Mini World is a 3D sandbox style game, allowing its users to roam around in the virtual world of the game.
Mini World, also called a block art game, allows its players to build their world by moving around blocks and placing other elements. They can do this alone, but they can also invite friends and create a dream world together. The game closely resembles the Swedish game Minecraft (我的世界), which is also available in China.
Mini World was first launched in December 2015 by a Shenzhen based company. A couple of years later, the game was available in both Android and Apple stores. In 2018, Mini World became the fourth most popular game app in China with 3.7 million daily active users in the third quarter.
At the beginning of this year, Mini World released a new version of its game, which brings it back in the top ten most popular apps in both the Zhushou360 Appstore and Baidu Appstore.
Also see:
By Gabi Verberg, edited by Manya Koetse
Spotted a mistake or want to add something? Please let us know in comments below or email us.
©2019 Whatsonweibo. All rights reserved. Do not reproduce our content without permission – you can contact us at info@whatsonweibo.com
Here Comes Trump the Chinese Opera, Starring Mao Zedong and Kim Jong-un
In "Trump the Opera", Trump sings and plays ping pong.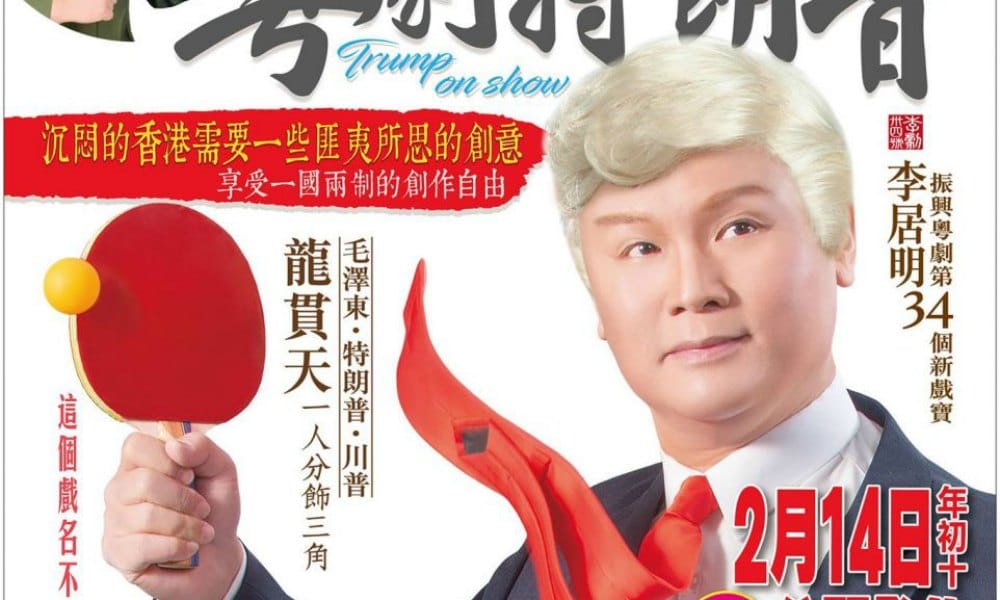 First published
Hong Kong playwright Li Kuiming is not afraid to take on sensitive topics in his productions. After an opera about Mao Zedong, this upcoming Cantonese opera focuses on US President Trump and explores China-US relations.
"Enjoy this 'one country, two systems' creative freedom," is one of the slogans promoting a new Hong Kong opera production that features US President Trump – played by the same actor who also played Mao Zedong – and North-Korean leader Kim Jong-un, presenting a story revolving around the modern history and current situation of China-US relations and international politics in the form of traditional Chinese art.
The opera, titled "Cantonese Opera Trump" (粵劇特朗普) was written by Fengshui master and playwright Li Kuiming (李居明), who likes to mix up traditional opera with creative new storylines. In this production, 'Trump' allegedly will not just be singing; he'll be playing ping-pong, too.
Promotion posters for the show have attracted the attention of some Weibo netizens, with some calling it "unimaginable."
This opera is the 34th production made by Li Kuiming, who has some 1,4 million fans on Weibo. Three years ago, Li made headlines for his controversial Chairman Mao opera that explored the private life of Mao Zedong and also featured a scene in which Mao comes back from the dead to talk to Chiang Kai-shek.
The current opera is a sequel to the 2016 production, featuring the same actor, Long Guantian (龍貫天), as President Trump. The role of Kim Jong-un will be performed by Chen Hongjin (陳鴻進).
The press conference for the new opera took place on March 1st, just after the Trump-Kim summit in Hanoi ended without a deal. The actors taking on the roles of Trump and Kim, however, posed together shaking hands.
Despite the somewhat controversial theme of the opera, the Singtao Daily writes that Li Kuiming's production "avoids politically sensitive topics as much as possible."
"Through this opera, I want to analyze China-USA relations," Li told reporters: "China and the US have had very good relations for a long time (..), Nixon's [1972] visit to China marked the friendship between the two countries. At present, the China-US friendship has turned into a struggle."
Li called it "a gift from heaven" that he was able to get performer Long Guantian to play Mao Zedong previously, praising his "enormous flexibility" in the roles he is able to take on. "For [his] role of Trump, I've read many books and thoroughly researched the life and thinking of Trump."
One reason for the opera to stir some discussions on Chinese social media, is the fact that its promotional poster states that the "three roles" of "Trump, Trump, and Mao Zedong" are all performed by the same actor (Long Guantian).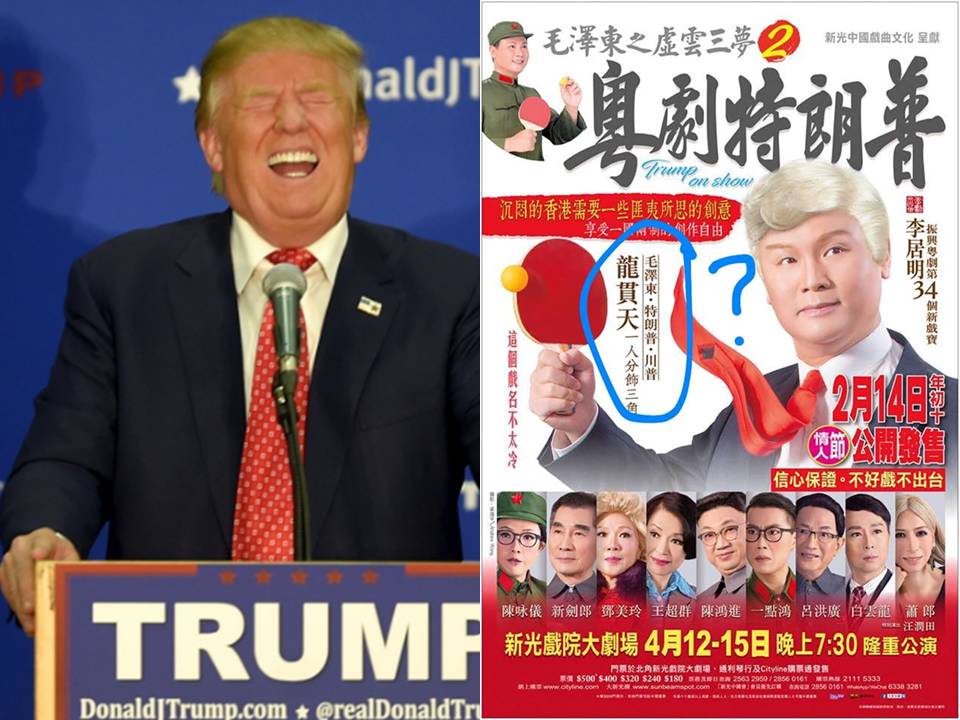 The name of 'Trump' is written in two different ways on the poster, causing much confusion among netizens, who write: "I thought there was only one Trump?!" (To understand more about the two Chinese names of Trump, check this article).  It is not clear if there will indeed be two 'Trumps' starring in the production or why the poster mentions the name of Trump two times.
The Mingpao newspaper reported that Li has high hopes for this production, quoting: "I have a friend who knows Trump, and who suggested bringing this opera to the White House so that Trump can enjoy it. We could translate it. If I'd ever be invited, of course, I wouldn't say no." He also added that he "wouldn't have the courage" to perform the opera in North Korea.
The opera will be performed at the Hong Kong Sunbeam Theatre from April 12 to April 15. "I guarantee it will be good," Li says: "If it wouldn't be good, I wouldn't put it on stage."
By Manya Koetse 
Spotted a mistake or want to add something? Please email us.
©2019 Whatsonweibo. All rights reserved. Do not reproduce our content without permission – you can contact us at info@whatsonweibo.com.