Overview of China's 2017 Top TV Dramas
These are the Chinese TV dramas you should've seen in 2017.
China has one of the most booming TV drama industries in the world. As millions of drama fans tune into their favorite show, What's on Weibo has compiled a list of China's top TV dramas of 2017.
Note: Also see China's top tv dramas to watch winter 2017/2018
Nothing is trending more often on Chinese social media than TV drama. What is the best drama, who is the hottest star, how will that nerve-wracking cliffhanger end? It is all part of the daily discussions on Sina Weibo.
The Chinese TV drama industry is booming and among the most vibrant in the world, with no signs of slowing down.
We have compiled this Top 10 of 2017 Chinese TV dramas by checking the February 2017 top ranking TV drama's on Sina Weibo and Baidu, and netizen blogs. We have also taken into consideration a Weibo poll of the 'most-anticipated TV dramas of 2017' that had over 10,000 votes.
Chinese TV dramas are becoming more popular across the world, with thousands of people volunteering to do subtitles for them in their own language. A great website to watch Chinese dramas is Viki.com, but most are also available on YouTube and of course on their native sites such as iQiyi or LeTV.
Depending on where you live, these sites might have geo restrictions. You can circumvent this with a VPN to change your IP geo-location. We recommend ExpressVPN for this, as it is known for its fast streaming of online video content online (see our top 3 of recommended VPN here).
Keep in mind that many of China's big TV drama productions are launched in the period around Chinese New Year – a time when TV drama fans are looking forward to seeing their favorite shows. It's around this time to spot the TV dramas you can binge on later in the year.
What is remarkable about the 2017 year's list (check out our lists of 2016, 2015, and 2013) is that it does not include any historical genre television dramas themed around the history of the War of Resistance against Japan.
China's war dramas previously always made it to the top ranking TV dramas. In 2015, China's official censorship bureau spoke out against war-themed TV dramas that are "overly entertaining." One popular war drama this year is Brothers in the Fire of War (战火中的兄弟), but it did not make it to this list.
What is also noteworthy is that this year's top 10 tv drama's are all made in mainland China. Last year, the number one TV series was a South-Korean tv drama.
There are no series in this year's list that revolve around any 'risque' topics. Last year, the gay-themed TV show Addicted was pulled offline by censors when TV dramas that 'exaggerate dark side of society' were banned from TV. Off-limit topics included homosexuality and adultery.
Here is our top 10 of China's most popular TV dramas of this moment:
UPDATE: Don't forget to also check out our top 10 of best dramas in winter 2017/2018!
#1. Eternal Love 三生三世十里桃花
Genre: Fantasy, martial arts
Other title: Three Lives Three Worlds, Ten Miles of Peach Blossoms
Directed by Lin Yufen (林玉芬), 58 episodes
Within a week after its first episode on January 30, this TV drama already attracted over 29 million comments on Sina Weibo, and ranked number 1 drama in both the Weibo and Baidu 'most popular' lists. It is also one of most-anticipated dramas of 2017.
From gods and demons, from reincarnation to never-ending love affairs – nothing is impossible in Chinese fantasy drama. This drama evolves around the High Goddess and the Crown Prince played by Yang Mi and Mark Chao, who were once lovers in another world and another lifetime. According to Dramafever, this fantasy story shows that love goes beyond worlds and lifetimes.
The success of this TV drama is partly linked to its timing; like many dramas in this list, the first episode was aired in the middle of the Spring Festival.
Starring: Yang Mi, Mark Chao, Zhang Zhiyao, Dili Reba (also known as Dilraba Dilmurat), and Gao Weiguang (杨幂, 赵又廷, 张智尧, 迪丽热巴 高伟光). The show is broadcasted every day on Dongfang and Zhejiang TV, as well as on Youku, Tencent, iQiyi, LeTV, Sohu and PPTV.
#2. Rush to the Dead Summer 夏至未至
Genre: Romance, Youth
Directed by Chen Mingzhuang (陳銘章), 40 episodes
Rush to the Dead Summer (夏至未至) is a TV drama based on the novel by Guo Jingming (郭敬明) that follows a group friends as they go from their highschool life and each start their own life in society. The main actors are Zheng Shuang, Chen Xuedong (Cheney Chen), and Bai Jingting.
Many fans have been waiting for this TV drama to come out, as its airing was already announced in the summer of 2016. By now, its official Weibo account has well over a million followers.
#3. Love, Just Come 爱来的刚好
Genre: Urban drama, Romance
Other title: Perfume Woman
Directed by Wang Lianping (王连平), 60 episodes
Love, Just Come (爱来的刚好) first aired in late January. Its main cast includes actors Han Dong, Jiang Kaitong, Li Wei, Zhang Xiyuan, Wang Wei, Liang Aiqi (韩栋, 江铠同, 李威, 张熙媛, 王伟, 梁爱琪). The drama revolves around an orphan girl (Jiang Kaitong) with an absolute sense of smell, who dreams of becoming a successful perfume maker. The series follows the struggles she faces on the road to reaching her dreams, during which, of course, she finds love. The show can be viewed here.
#4. Fighter of the Destiny 择天记
Genre: Fantasy, Martial arts, costume/period drama
Directed by Zhong Shujia (钟澍佳)
This series ranked number one in the Weibo poll of most-anticipated TV dramas of 2017, as netizens have been talking about this series for months.
Fighter of the Destiny is based on a novel by the same name of author Mao Ni, and involves the timetravelling adventures of the young man Chen Changsheng (Luhan) who leaves his master (Eric Tsang) in search for a cure to his terminal illness.
#5. Ruyi's Royal Love in the Palace 如懿传
Genre: Costume/period drama
Directed by Wang Jun (汪俊), 90 episodes.
Ruyi's Royal Love in the Palace tells the story of the marriage of the Qianlong Emperor and Ulanara the Step Empress during the Qing dynasty. The drama, broadcasted by Dragon TV and Jiangsu TV, features major leading roles by Zhou Xun and Wallace Huo. Read more about this TV drama at the Cfensi blog.
#6. Double Happiness 双喜盈门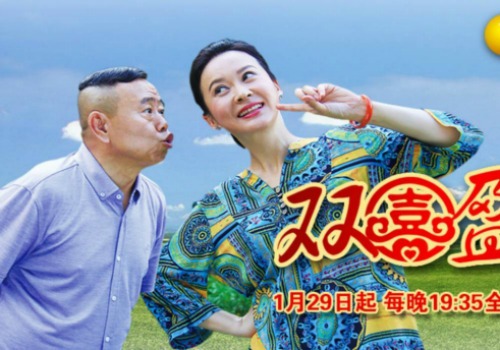 Genre: Comical drama, Rural comedy
Directed by Han Zhao (韩兆).
This successful drama has famous leading actors Pan Changjiang, Ding Ziling, Xiao Guangyi, and Zhang Dajing. Especially Pan Changjiang (1957) is a famous as a skit actor and a recurring performer at the CCTV New Year's Gala. This comical drama focuses on a big rural family and follows their ups and downs. The show is available on YouTube (no subtitles).
#7. City Still Believe in Love 北上广依然相信爱情
Genre: Romance
Directed by Li Jun, Mou Xiaojie (李骏, 牟晓杰), 44 episodes
This drama that stars Zhu Yawen and Michelle Chen revolves around the relationship between a Taiwanese woman who has arrived in Beijing to work and her temperamental boss. Despite their misunderstandings, their professional relationship eventually is bound to become personal.
#8. The Glory of Tang Dynasty 大唐荣耀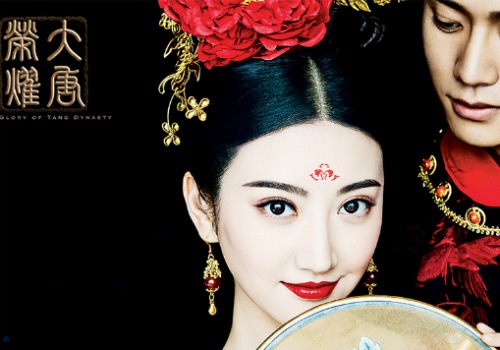 Genre: Fantasy, Costume
Directed by Liu Guonan, Yin Tao (刘国楠、尹涛), 60 episodes
The series is about the ups and downs in the life of Shen Zhen Zhu (played by Jing Tian 景甜), a exceptional beauty living in the royal court during the most turbulent period of the Tang dynasty, that is challenged by rebellion, unrest and opposing forces.
#9. Ode to Joy 2 欢乐颂2
Genre: Urban drama, Romance
Directed by Jian Chuanhe, Zhang Kaizhou, 52 episodes
This is one of the only shows in this list that has not been broadcasted yet – it is planned to air in May of this year. It is the sequal to Ode to Joy, a highly popular 2016 Chinese TV series produced by Dragon Television (here with subtitles). It is about five single, independent career women who live in the Ode to Joy apartment building together and try to find the balance between love and career, looking for their personal happiness.
For Liu Tao, a leading actress in this TV drama, Ode to Joy is not her first hit TV drama. In 2013, the series Good Wife (贤妻) was also a major success.
#10. The Starry Night, The Starry Sea 那片星空那片海
Genre: Romance, Fantasy
Directed by Wei Hantao and Deng Yancheng (卫翰韬 邓衍成)
This mainland drama that stars Feng Shaofeng, Bea Hayden, Wang Zixi, Huang Ming and Sunny Wang (冯绍峰, 郭碧婷, 王梓薇, 黄明, 王彦霖), premiered on February 6 2017 on Hunan TV. It is based on a book by the same name by the Chinese contemporary novelist Tong Hua (桐华), whose previous novels were also turned into television series.
The story revolves around girl-next-door Shen Luo who moves from the big city to a small island cottage, where she meets the mysterious Wu Julan – a man wirh mystical powers that help Shen yo overcome her obstacles. The show can be viewed on Viki, where fans graded the drama with a 9.7.
Want to read more? Check out:
– Top 10 of TV Drama in China 2018
– Top 5 of Best Drama Series Winter 2017/2018
– Best TV Dramas in China Summer 2017
– Most Popular Television Series in China in 2016
– Top TV Drama 2015
– By Manya Koetse
Follow on Twitter or Like on Facebook
What's on Weibo is an independent blog. Want to donate? You can do so here.
©2017 Whatsonweibo. All rights reserved. Do not reproduce our content without permission – you can contact us at info@whatsonweibo.com
Two Hour Time Limit for KTV: China's Latest Covid-19 Measures Draw Online Criticism
China's latest COVID-19 infection prevention and control measures are drawing criticism from social media users.
First published
No more never-ending nights filled with singing and drinking at the karaoke bar for now, as new pandemic containment measures put a time limit as to how long people can stay inside entertainment locations and wangba (internet cafes).
On June 22nd, China's Ministry of Culture and Tourism (文旅部) issued an adjusted version to earlier published guidelines on Covid-19-related prevention and control measures for theaters, internet cafes, and other indoor entertainment venues.
Some of the added regulations have become big news on Chinese social media today.
According to the latest guidelines, it will not be allowed for Chinese consumers to stay at various entertainment locations and wangba for more than two hours.
Singing and dancing entertainment venues, such as KTV bars, can only operate at no greater than 50% maximum occupancy. This also means that private karaoke rooms will be much emptier, as they will also only be able to operate at 50% capacity.
On Weibo, the news drew wide attention today, with the hashtag "KTV, Internet Cafe Time Limit of Two Hours" (#KTV网吧消费时间不得超2小时#) receiving over 220 million views at the time of writing. One news post reporting on the latest measures published on the People's Daily Weibo account received over 7000 comments and 108,000 likes.
One popular comment, receiving over 9000 likes, criticized the current anti-coronavirus measures for entertainment locations, suggesting that dining venues – that have reopened across the country – actually pose a much greater risk than karaoke rooms due to the groups of people gathering in one space without a mask and the "saliva [drops] flying around."
The comment, that was posted by popular comic blogger Xuexi, further argues that cinemas – that have suffered greatly from nationwide closures – are much safer, as people could wear masks inside and the maximum amount of seats could be minimized by 50%. Karaoke rooms are even safer, Xuexi writes, as the private rooms are only shared by friends or colleagues – people who don't wear face masks around each other anyway.
Many people agree with the criticism, arguing that the latest guidelines do not make sense at all and that two hours is not nearly enough for singing songs at the karaoke bar or for playing online games at the internet cafe. Some wonder why (regular) bars are not closed instead, or why there is no two-hour time limit for their work at the office.
Most comments are about China's cinemas, with Weibo users wondering why a karaoke bar, where people open their mouths to sing and talk, would be allowed to open, while the cinemas, where people sit quietly and watch the screen, remain closed.
Others also suggest that a two-hour limit would actually increase the number of individuals visiting one place in one night, saying that this would only increase the risks of spreading the virus.
"Where's the scientific evidence?", some wonder: "What's the difference between staying there for two hours or one day?"
"As a wangba owner, this really fills me with sorrow," one commenter writes: "Nobody cares about the financial losses we suffered over the past six months. Our landlord can't reduce our rent. During the epidemic we fully conformed to the disease prevention measures, we haven't opened our doors at all, and now there's this policy. We don't know what to do anymore."
Among the more serious worries and fears, there are also some who are concerned about more trivial things: "There's just no way we can eat all our food at the KTV place within a two-hour time frame!"
By Manya Koetse
Follow @WhatsOnWeibo
*" 餐饮其实才更严重,一群人聚在一起,而且不戴口罩,唾沫横飞的。开了空调一样也是密闭空间。电影院完全可以要求必须戴口罩,而且座位可以只出售一半。KTV其实更安全,都是同事朋友的,本身在一起都不戴口罩了,在包间也无所谓。最危险的餐饮反而都不在意了"
Spotted a mistake or want to add something? Please let us know in comments below or email us. First-time commenters, please be patient – we will have to manually approve your comment before it appears.
©2020 Whatsonweibo. All rights reserved. Do not reproduce our content without permission – you can contact us at info@whatsonweibo.com.
Chinese Idol Survival Shows – The Start of a New 'Idol Era'
Idol reality survival shows are riding a new wave of popularity in China.
China has a vibrant online popular culture media environment, where new trends and genres come and go every single day. Chinese idol survival shows, however, have seen continued success and now seem to go through another major peak in popularity. What's on Weibo's Yin Lin explains.
On May 30, the finale of Chinese online video platform iQIYI's Youth With You 2 (青春有你2) broke the Internet. Official videos on iQIYI's Youtube channel garnered over 300 million views. At the time of writing, the hashtag "Youth With You 2 Finale" (#青春有你2总决赛#) has 3.15 billion views; the hashtag "Youth With You 2" (#青春有你2#) has 14.5 billion views. 
In recent years, China has produced a slew of so-called 'idol survival shows.' They have enjoyed much popularity among local audiences, as well as overseas—more than 393 hashtags related to Youth With You 2 trended in Asia, Europe, South America, and North America. In this overview, we explore the background, status quo, and future of China's idol survival shows.
The Start of The 'Idol Wave' in China 
In China's idol survival reality shows, so-called 'trainees', or aspiring idols, participate in a series of different challenges to compete for a chance to debut.
The 'idol culture' (偶像文化) has been dominating popular culture in Japan and South Korea for many years. An idol is, in short, a heavily commercialized multi-talented entertainer that is marketed – sometimes as a product – for image, attractiveness, and personality, either alone or with a group.
Especially K-pop and the Korean entertainment industry have since long been extremely popular among Chinese youth, heavily influencing pop culture in China today (more about Korean and Japanese idols here and here, and also read our article "Why Korean Idol Groups Got So Big in China and are Conquering the World").
These kinds of shows are ubiquitous in South Korea's popular culture, with Produce 101 (2016) becoming one of the most popular and successful South Korean reality series ever. 
The concept is simple. Every week, viewers vote for their favorite contestant. Trainees with insufficient votes during elimination rounds are eliminated from the competition. 
The group formed from the final trainees then goes on to 'promote' for a period of time, usually one to two years.
This method of creating an idol group, in which the members are basically selected by their own fans, is a major way to bridge existing distances between fans and their idols. Fan participation is a key factor in the success of idol reality shows.
While China has had several idol survival shows, iQIYI's Idol Producer (青春有你, 2018) was the first to reach levels of popularity similar to that of South Korea's Produce 101. 
Idol Producer premiered in January 2018 with Zhang Yixing as the host and Li Ronghao, MC Jin, Cheng Xiao, Zhou Jieqiong, and Jackson Wang serving as mentors.
This first season of Idol Producer brought together a total of hundred trainees. Though most trainees were from China, there were a few from overseas, such as You Zhangjing from Malaysia and Huang Shuhao from Thailand. The younger brother of Chinese actress Fan Bingbing, Fan Chengcheng, also participated in the show.
The first episode of Idol Producer attracted more than 100 million views within the first hour of broadcasting. In the final episode, more than 180 million votes were cast, with first-place winner Cai Xukun raking in more than 47 million votes.  
Two months after Idol Producer, Tencent launched Produce 101 China (创造101) in March 2018. Both shows marked the start of the 'idol wave' in China. 
In the next two years, more idol survival shows would dominate the Chinese entertainment scene. iQIYI released Youth With You 1 (青春有你) and Youth With You 2 (青春有你2) in 2019 and 2020 respectively. Tencent, too, released Produce Camp 2019 (创造营2019) and Produce Camp 2020 (创造营2020), the latter of which is currently airing. 
China's New Idol Survival Show Era 
In 2018, both Produce 101 China and Idol Producer enjoyed overwhelming popularity, accumulating more than 4.73 billion views and 3 billion views respectively. Their sequels, however, have failed to achieve the same level of success.
At the time of writing, 150,000 viewers have completed Youth With You 1 on Chinese community site Douban, versus 470,000 viewers for its predecessor, Idol Producer. Additionally, the number of votes cast for the first episode of Youth With You 1 was much lower compared to its Idol Producer equivalent. 
As for Produce 101 China, 510,000 viewers have completed the show on Douban, but only 340,000 viewers have finished watching its sequel. 
Groups formed from these shows have met with varying amounts of success and have run into problems regarding scheduling conflicts. 
Nine Percent, the boy group formed from Idol Producer in 2018, was known as a group that rarely met. Their second album was a compilation of tracks from solo members. Members had existing contracts with their own companies while simultaneously promoting with Nine Percent; hence, due to scheduling conflicts, members would often forgo Nine Percent activities for those of their own company. 
Rocket Girls, formed from Produce 101 China, also faced problems after debuting. Due to conflicts between Tencent and their management company, Yuehua Entertainment, Meng Meiqi and Wu Xuanyi, who placed first and second respectively, left the group two months after debut.
Despite the problems faced by groups formed from such shows, some idols were able to ride on the momentum they gained from participating.
For instance, Cai Xukun, first-place winner of Idol Producer, swiftly rose to become one of the most popular trainees on the show, consistently ranking first place in every round of elimination. He was also the host of the recently concluded Youth With You 2.
Other trainees have also seen individual success. Liu Yuxin, the first-place winner of Youth With You 2, gained attention for her androgynous look: short hair, a cool personality, and wearing shorts instead of a skirt. Her hashtag "Liu Yuxin" (#刘雨昕#) has been viewed more than 550 million times on Weibo. In the final episode, she received more than 17 million votes.
Despite the lowering audience ratings for other recent idol shows, the success of Youth With You 2 might mark the start of a new 'idol era'. Even Chinese netizens wondered why the show is so popular compared to Youth With You 1.
Just one day after the finale premiered, the hashtag "Youth With You 2 Finale" had already been viewed more than 2.2 billion times on Weibo. On Douban, 580,000 viewers have finished the show—more than any of the previous idol survival shows by iQIYI and Tencent.
The Future of Idol Survival Shows 
Chinese idol survival shows were received with much fanfare when they first entered mainstream popular culture in 2018. But the ensuing conflicts that the resulting groups ran into resulted in netizens doubting the success and effectiveness of these shows. 
This year, however, the popularity of both Youth With You 2 and Produce Camp 2020 might signal a comeback for the idol era in China.
And this time around, Chinese idol survival shows are also gaining more traction outside of the PRC, becoming more and more popular among global audiences. Both Youth With You 2 and Produce Camp 2020 have been well-received by viewers from many different countries.
On social media, online commenters praise the two shows – and Chinese idol survival shows in general – for having a more "laid-back atmosphere" between the trainees and mentors. Web users also comment that they enjoy how the shows highlight the friendship between the trainees, rather than the feuds.
It seems that what sets Chinese idol survival shows apart from the South Korean ones is precisely why some viewers prefer them. The longer running times, for example, makes it possible to give more screen time to the different trainees and to give a deeper understanding of the relations between them.
With the popularity of idols like Liu Yuxin and Wang Ju who challenge conventional beauty standards, shows can also look into moving away from the cookie-cutter aesthetic that idols usually adhere to. 
Furthermore, management companies and broadcasting companies have to come to an agreement regarding what scheduling arrangement would benefit all parties and be conducive towards the idols' physical and mental health. 
It remains to be seen whether THE9, the newly formed group from Youth With You 2, will be able to flourish in the time to come and avoid the troubles that other groups ran into. 
As for Produce Camp 2020, it seems set to enjoy just as much success as Youth With You 2 did – if not more. Only five episodes have been released, but the show's hashtag already has 16.1 billion views.
A reviewer on Douban writes: "The trainees are all confident, taking opportunities to express themselves and actively showcase their talents. So much youthful and positive energy!" 
The latest newcomers to the idol reality show genre further consolidate the success of the format. Recently, Mango TV released Sisters Who Make Waves (乘风波浪的姐姐们, 2020), where female celebrities above 30 years old compete to make it into the final five-member girl group. The first episode was viewed more than 370 million times within the first three days of release and immediately became top trending on Weibo.
The number of survival shows in China right now and their growing popularity shows that audiences seemingly can't get enough of the genre. It is an indication that, despite setbacks in the past, China's idol survival reality show genre is still going strong and might be here to stay.
You can watch the currently airing Produce Camp 2020 and Sisters Who Make Waves here and here.
By Yin Lin Tan
Follow @WhatsOnWeibo
 Spotted a mistake or want to add something? Please let us know in comments below or email us. First-time commenters, please be patient – we will have to manually approve your comment before it appears.
©2020 Whatsonweibo. All rights reserved. Do not reproduce our content without permission – you can contact us at info@whatsonweibo.com.