Overview of China's 2017 Top TV Dramas
These are the Chinese TV dramas you should've seen in 2017.
China has one of the most booming TV drama industries in the world. As millions of drama fans tune into their favorite show, What's on Weibo has compiled a list of China's top TV dramas of 2017.
Note: Also see China's top tv dramas to watch winter 2017/2018
Nothing is trending more often on Chinese social media than TV drama. What is the best drama, who is the hottest star, how will that nerve-wracking cliffhanger end? It is all part of the daily discussions on Sina Weibo.
The Chinese TV drama industry is booming and among the most vibrant in the world, with no signs of slowing down.
We have compiled this Top 10 of 2017 Chinese TV dramas by checking the February 2017 top ranking TV drama's on Sina Weibo and Baidu, and netizen blogs. We have also taken into consideration a Weibo poll of the 'most-anticipated TV dramas of 2017' that had over 10,000 votes.
Chinese TV dramas are becoming more popular across the world, with thousands of people volunteering to do subtitles for them in their own language. A great website to watch Chinese dramas is Viki.com, but most are also available on YouTube and of course on their native sites such as iQiyi or LeTV.
Depending on where you live, these sites might have geo restrictions. You can circumvent this with a VPN to change your IP geo-location. We recommend ExpressVPN for this, as it is known for its fast streaming of online video content online (see our top 3 of recommended VPN here).
Keep in mind that many of China's big TV drama productions are launched in the period around Chinese New Year – a time when TV drama fans are looking forward to seeing their favorite shows. It's around this time to spot the TV dramas you can binge on later in the year.
What is remarkable about the 2017 year's list (check out our lists of 2016, 2015, and 2013) is that it does not include any historical genre television dramas themed around the history of the War of Resistance against Japan.
China's war dramas previously always made it to the top ranking TV dramas. In 2015, China's official censorship bureau spoke out against war-themed TV dramas that are "overly entertaining." One popular war drama this year is Brothers in the Fire of War (战火中的兄弟), but it did not make it to this list.
What is also noteworthy is that this year's top 10 tv drama's are all made in mainland China. Last year, the number one TV series was a South-Korean tv drama.
There are no series in this year's list that revolve around any 'risque' topics. Last year, the gay-themed TV show Addicted was pulled offline by censors when TV dramas that 'exaggerate dark side of society' were banned from TV. Off-limit topics included homosexuality and adultery.
Here is our top 10 of China's most popular TV dramas of this moment:
UPDATE: Don't forget to also check out our top 10 of best dramas in winter 2017/2018!
#1. Eternal Love 三生三世十里桃花
Genre: Fantasy, martial arts
Other title: Three Lives Three Worlds, Ten Miles of Peach Blossoms
Directed by Lin Yufen (林玉芬), 58 episodes
Within a week after its first episode on January 30, this TV drama already attracted over 29 million comments on Sina Weibo, and ranked number 1 drama in both the Weibo and Baidu 'most popular' lists. It is also one of most-anticipated dramas of 2017.
From gods and demons, from reincarnation to never-ending love affairs – nothing is impossible in Chinese fantasy drama. This drama evolves around the High Goddess and the Crown Prince played by Yang Mi and Mark Chao, who were once lovers in another world and another lifetime. According to Dramafever, this fantasy story shows that love goes beyond worlds and lifetimes.
The success of this TV drama is partly linked to its timing; like many dramas in this list, the first episode was aired in the middle of the Spring Festival.
Starring: Yang Mi, Mark Chao, Zhang Zhiyao, Dili Reba (also known as Dilraba Dilmurat), and Gao Weiguang (杨幂, 赵又廷, 张智尧, 迪丽热巴 高伟光). The show is broadcasted every day on Dongfang and Zhejiang TV, as well as on Youku, Tencent, iQiyi, LeTV, Sohu and PPTV.
#2. Rush to the Dead Summer 夏至未至
Genre: Romance, Youth
Directed by Chen Mingzhuang (陳銘章), 40 episodes
Rush to the Dead Summer (夏至未至) is a TV drama based on the novel by Guo Jingming (郭敬明) that follows a group friends as they go from their highschool life and each start their own life in society. The main actors are Zheng Shuang, Chen Xuedong (Cheney Chen), and Bai Jingting.
Many fans have been waiting for this TV drama to come out, as its airing was already announced in the summer of 2016. By now, its official Weibo account has well over a million followers.
#3. Love, Just Come 爱来的刚好
Genre: Urban drama, Romance
Other title: Perfume Woman
Directed by Wang Lianping (王连平), 60 episodes
Love, Just Come (爱来的刚好) first aired in late January. Its main cast includes actors Han Dong, Jiang Kaitong, Li Wei, Zhang Xiyuan, Wang Wei, Liang Aiqi (韩栋, 江铠同, 李威, 张熙媛, 王伟, 梁爱琪). The drama revolves around an orphan girl (Jiang Kaitong) with an absolute sense of smell, who dreams of becoming a successful perfume maker. The series follows the struggles she faces on the road to reaching her dreams, during which, of course, she finds love. The show can be viewed here.
#4. Fighter of the Destiny 择天记
Genre: Fantasy, Martial arts, costume/period drama
Directed by Zhong Shujia (钟澍佳)
This series ranked number one in the Weibo poll of most-anticipated TV dramas of 2017, as netizens have been talking about this series for months.
Fighter of the Destiny is based on a novel by the same name of author Mao Ni, and involves the timetravelling adventures of the young man Chen Changsheng (Luhan) who leaves his master (Eric Tsang) in search for a cure to his terminal illness.
#5. Ruyi's Royal Love in the Palace 如懿传
Genre: Costume/period drama
Directed by Wang Jun (汪俊), 90 episodes.
Ruyi's Royal Love in the Palace tells the story of the marriage of the Qianlong Emperor and Ulanara the Step Empress during the Qing dynasty. The drama, broadcasted by Dragon TV and Jiangsu TV, features major leading roles by Zhou Xun and Wallace Huo. Read more about this TV drama at the Cfensi blog.
#6. Double Happiness 双喜盈门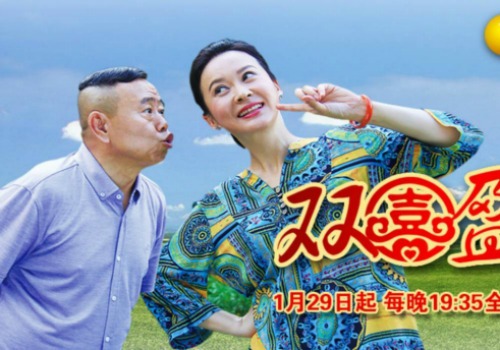 Genre: Comical drama, Rural comedy
Directed by Han Zhao (韩兆).
This successful drama has famous leading actors Pan Changjiang, Ding Ziling, Xiao Guangyi, and Zhang Dajing. Especially Pan Changjiang (1957) is a famous as a skit actor and a recurring performer at the CCTV New Year's Gala. This comical drama focuses on a big rural family and follows their ups and downs. The show is available on YouTube (no subtitles).
#7. City Still Believe in Love 北上广依然相信爱情
Genre: Romance
Directed by Li Jun, Mou Xiaojie (李骏, 牟晓杰), 44 episodes
This drama that stars Zhu Yawen and Michelle Chen revolves around the relationship between a Taiwanese woman who has arrived in Beijing to work and her temperamental boss. Despite their misunderstandings, their professional relationship eventually is bound to become personal.
#8. The Glory of Tang Dynasty 大唐荣耀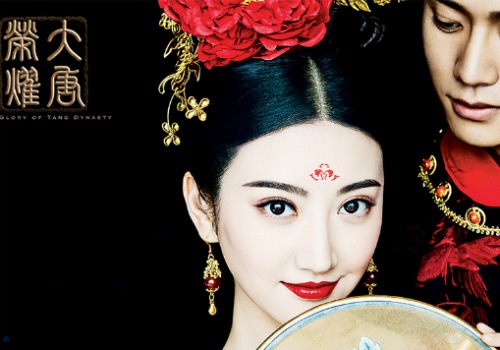 Genre: Fantasy, Costume
Directed by Liu Guonan, Yin Tao (刘国楠、尹涛), 60 episodes
The series is about the ups and downs in the life of Shen Zhen Zhu (played by Jing Tian 景甜), a exceptional beauty living in the royal court during the most turbulent period of the Tang dynasty, that is challenged by rebellion, unrest and opposing forces.
#9. Ode to Joy 2 欢乐颂2
Genre: Urban drama, Romance
Directed by Jian Chuanhe, Zhang Kaizhou, 52 episodes
This is one of the only shows in this list that has not been broadcasted yet – it is planned to air in May of this year. It is the sequal to Ode to Joy, a highly popular 2016 Chinese TV series produced by Dragon Television (here with subtitles). It is about five single, independent career women who live in the Ode to Joy apartment building together and try to find the balance between love and career, looking for their personal happiness.
For Liu Tao, a leading actress in this TV drama, Ode to Joy is not her first hit TV drama. In 2013, the series Good Wife (贤妻) was also a major success.
#10. The Starry Night, The Starry Sea 那片星空那片海
Genre: Romance, Fantasy
Directed by Wei Hantao and Deng Yancheng (卫翰韬 邓衍成)
This mainland drama that stars Feng Shaofeng, Bea Hayden, Wang Zixi, Huang Ming and Sunny Wang (冯绍峰, 郭碧婷, 王梓薇, 黄明, 王彦霖), premiered on February 6 2017 on Hunan TV. It is based on a book by the same name by the Chinese contemporary novelist Tong Hua (桐华), whose previous novels were also turned into television series.
The story revolves around girl-next-door Shen Luo who moves from the big city to a small island cottage, where she meets the mysterious Wu Julan – a man wirh mystical powers that help Shen yo overcome her obstacles. The show can be viewed on Viki, where fans graded the drama with a 9.7.
Want to read more? Check out:
– Top 10 of TV Drama in China 2018
– Top 5 of Best Drama Series Winter 2017/2018
– Best TV Dramas in China Summer 2017
– Most Popular Television Series in China in 2016
– Top TV Drama 2015
– By Manya Koetse
Follow on Twitter or Like on Facebook
What's on Weibo is an independent blog. Want to donate? You can do so here.
©2017 Whatsonweibo. All rights reserved. Do not reproduce our content without permission – you can contact us at info@whatsonweibo.com
China's 'Masculinity Crisis': The Internet Slang That Stereotypes Chinese Men
How a Chinese boyband triggered social media discussions on what it means to be 'masculine'.
This month, a well-known Chinese educational program for children that featured a 'feminine-looking' boyband ignited discussions on masculinity in China. What's on Weibo provides an overview of Chinese media's stance on the recent discussion, and an introduction to five popular social media slang terms stereotyping Chinese men.

At the beginning of this month, a discussion about the meaning of 'masculinity' sparked discussions on Chinese social media. Discussions started when Chinese state broadcaster CCTV aired Back to School: The First Class (开学第一课).
The programme is an annual educational television program by CCTV and the Ministry of Education, dedicated to the celebration of the new school year. The show, that had one of the highest viewers ratings since years, opened with a performance of the boy band New F4 (新F4).
The boy band New F4 consists of Guan Hong (官鸿), Dylan (王鹤棣), Wu Xize (吴希泽), and Liang Jingkang (梁靖康). In China, the four young men are known to be 'feminine-looking' or so-called 'sissies' (娘炮男), meaning they pay much attention to their clothing, hair, and make-up.
Since the airing of the 'Back to School' programme, many parents questioned the suitability of the performance of New F4, calling for some more 'masculinity' ("阳刚之气") on social media. They criticized the program for being "too entertaining" and having "not enough educational value."
SISSY BOYS? CHINESE MEDIA RESPOND
A few days after the controversial show broadcasted, state media outlet Xinhua News published a commentary calling the New F4 'sissies' (娘炮). Xinhua stated:
" (..) "these sissies promote an unhealthy and unnatural culture which has a not-to-underestimate negative impact on the youth. The sissy culture, driven by consumption, challenges the public order and worships a decadent lifestyle."
Within a few hours after Xinhua News published the article, a column published on the platform of Party newspaper People's Daily (author @百家号) responded with an article titled 'People's Daily Review: What Should Today's 'Masculine Traits' be?' (人民日报评论:什么是今天该有的"男性气质") questioning the definition and purpose of masculinity in modern society.
People's Daily Review column's author stated that:
" (..) modern society broadened the perception of aesthetics, and in a mature society, people should be tolerant towards other people and no longer [should] evaluate a person based on its gender characteristics only."
Later in the article, the author proposes a new construction of masculinity; one that has not much to do with one's appearance but more with one's inner qualities. It also criticizes the use of derogatory terms such as 'sissy' for failing to "respect individual choices."
This is not the first time that a voice featured on a People's Daily platform supports so-called feminine-looking men. On the 13th of August this year, the People's Daily Overseas Edition also published an editorial article, calling for tolerance towards this new lifestyle.
DISCUSSIONS ON WEIBO
On Chinese social media, there are also many netizens who see no threat in the rising popularity of the androgyne looking men. A typical comment said:
"What is a good man? A good man's most essential qualities are to have an idea and be responsible, be brave and kind. These are the things that are important. Only looking at somebody's appearance is too simplistic."
Other Weibo users responded: "Determining whether a man is effeminate or not has nothing to do with his appearance. It can be found his sense of responsibility."
Also, the hashtag "I've deleted the names of people who call feminine-looking men names" (#骂娘炮的人已经被我拉黑了#), initiated by the Chinese edition of News China, has since gone viral on Chinese social media.
But the supposed 'disappearance of masculinity' also led many to worry about an alleged 'masculinity crisis.'
One Weibo user wrote a typical comment saying: "Men should stand up and be more masculine!", with many more praising Xinhua for sending out a strong and clear message, warning society for the rise of 'sissy-culture'.
5 TERMS STEROTYPING CHINESE MEN
This is not the first time that there is talk of a supposed 'crisis of masculinity'. Throughout the years, various terms have popped up on Chinese social media defining certain types of men and their traits. These are five popular examples:
1. Sissy boy (娘炮男, pinyin: niángpàonán)
Derogatory term for androgyne men whose personality and appearance is quite feminine. They often like to put much care into their appearance, including wearing makeup, and a love for shopping. On social media, many claim the reason for this alleged 'soft behavior' is said to be nurtured by the overprotection of children and the lack of gender awareness in upbringing.
2. The Chauvinist(男子汉,pinyin: nánzǐhàn; or 'Straight Man Cancer' 直男癌 zhínán'ái)
Refers to men who live in their own world, with their own values and who tend to reveal their dissatisfaction towards other people. The general view is that these 'Chauvinist men' are self-righteous and indifferent to women's values. Their way of getting acquainted with a woman is often through buying her gifts and spending a lot of money.
3. Phoenix man (凤凰男,pinyin: fènghuángnán)
'Phoenix male' refers to those men who came from poor rural areas and who have been admitted to college after hard work and dwelling in the city to work after graduation. Although they have left the countryside, they still hold on to many rural and traditional concepts and ideas.
4. Wretched or Vulgar Man (猥琐男,pinyin: wěisuǒnán), also often referred to as loser (男屌丝,pinyin: nándiǎosī)
The terms 'vulgar man', 'loser' or 'pervert' are given to a person making other people feel uneasy and uncomfortable. These men are said to be shameless and show an abnormal and inferior behavior caused by long-term sexual repression.
5. Mommy's Boy (妈宝男,pinyin: mābǎonán)
The 'mommy's boy' label refers to men who listen to everything their mother says. Whatever it is that their mother says, they regard it as the truth, and they live by the decisions their mother takes – including what job to take on, who to marry, and where to live.
For now, discussions on what a 'real man' is seem to be continuing on Chinese social media. In the meanwhile, the Weibo page of the 'feminine-looking boyband' New F4 already received 110 million views- a number that just keeps on growing.
Link to the New F4 performance on the CCTV program Back to School: The first class (开学第一课): here.
By Gabi Verberg
Follow @whatsonweibo
Spotted a mistake or want to add something? Please let us know in comments below or email us.
©2018 Whatsonweibo. All rights reserved. Do not reproduce our content without permission – you can contact us at info@whatsonweibo.com.
An Overview of Chinese Nominations at Busan Film Festival (Part I)  
These are the Chinese films that have been nominated for the Busan Film Festival.
From Chinese dissident filmmakers to government-funded films, you can find it all at Busan, Asia's biggest film festival. In the weeks leading up to the event, What's on Weibo's Gabi Verberg provides an overview of the Chinese nominees. This week: part I.
On the 4th of October, the 23th Busan International Film Festival in South Korea will roll out its red carpet to open this year's film festival season in Asia. With the screening of 323 films from 79 countries, it is one of Asia's biggest international film festivals, with China as one of the main suppliers of films.
Popular sections of the festival include:
– 'A Window on Asian Cinema', which showcases new and representative films by Asian filmmakers;
– 'New Current', which features the first or the second work by future directors of Asian cinema; and
– 'Wide Angle', an assembly of documentaries, short films, Cinekid, and showcases.
It is these three sections in which most Chinese directors received their nominations.
In the upcoming weeks, we will provide you with more in-depth information on the Chinese films nominated for the festival. Please note that most of these films have not been officially released yet, so it might take some time before the (subtitled) films are available for all audiences.
This week, we will introduce to you to the first five of the Chinese nominees.
1. Savages (Xuěbào 雪暴)
China Mainland
Genre: Drama, Action, Crime, Suspense
Selected in the category: New Currents
Director: Siwei Cui (崔斯韦)
Weibo hashtag: #雪暴# (240.000+ views)
Premiere: October 2018, Busan International Film Festival
Starring: Chen Chang (张震), Nini (倪妮), Fan Liao (廖凡), Jue Huang (黄觉), Hua Liu (刘桦), Guangjie Li (李光洁), Taili Wang (王太利), Xiaojun Yue (岳小军), Yicong Zhang (张弈聪)
About the Director:
Siwei Cui is best known for his successes as a screenwriter. In 2009, he got nominated for best screenplay at the Chinese Film Media Awards, and for best script at the Taipei Golden Horse Film Festival for his work Crazy Racer (疯狂的赛车). Other works he wrote include The Island ( 一出好戏), which is selected in the A Window on Asian Cinema section at this year's Busan Film Festival, and No Man's Land (无人区). Siwei Cui once before directed a film in 2013 in cooperation with Zusong Lü (吕祖松) named Piano Trojan (钢琴木马). Savages will be his second work as a director.
Storyline:
Set against the backdrop of a desolate mountain village in the midst of a snow storm, a confrontation between the police and a criminal gang goes down.
Why you should watch it:
It is interesting to see how a relatively unexperienced director assembled so many well-known actors, including Nini (20 million followers on Weibo), Guangjie Li (5.51 million followers on Weibo), Jue Huang (3.73 million followers on Weibo) and Chen Chang (1.69 million followers on Weibo).
2. Vanishing Days (Mànyóu 漫游)
China Mainland
Genre: Drama
Selected in the category: New Currents
Director: Xin Zhu (祝新)
Premiere: October 2018, Busan International Film Festival
Main Characters: Yan Jiang (姜郦), Jing Huang (黄菁), Yan Chen (陈燕), Xiaoxing Li (李小杏), Haiqing Luo (骆海清), Jiehe Lu (卢嘉禾), Jiajun Zhao (赵家俊)
About the Director:
The young director Xin Zhu was born in 1996 and recently graduated from the Film and Television Department of the China Academy of Art. His first short film Community (午山社区) was nominated for an Exploration Award at the Amphibia Youth Film Festival (双栖青年影展). Other works of Xin Zhu are the short films A Folk Song (山野之歌) and Homesick (嘉年华). Vanishing Days is Xin Zhu's first feature film.
Storyline:
The film is set in a crazy hot summer in 2009. Li Senlin struggles with her essay project, when Aunt Qiuqiu suddenly pays a visit. Reality and memory entangle as her aunt recalls a strange homicide case on a deserted island, while everyone else seems more concerned about the heat.
Why you should watch it:
Xin Zhu is amongst the youngest directors at the Busan Film Festival, and instead of professionals, Xin casted amateur actors for this film. The blog Deep Focus also mentions director Xin Zhu when they talk about the start of 'a new wave' of Chinese directors – those born after 1995. Xin Zhu uses an unclear tone to, presumably, let the viewers again experience the feeling of novelty, surprise, and doubt we had when we were younger. The film is full of mismatched stories, dreams and fantasy.
3. A Family Tour (Zìyóu xíng 自由行)
Taiwan/China Mainland/Hong Kong/Singapore/Malaysia
Genre: Drama
Selected in the category: A Window on Asian Cinema
Director: Liang Ying (应亮)
Premiere: 1st August 2018 on Locarno International Film Festival
Main Characters: Zhe Gong (宫哲), An Nai (耐安)
About the Director:
It's not the first time Liang Ying attends an international film festival. In 2012, he was nominated for a Golden Leopard Award and won an award for best direction at the Locarno International Film Festival for his film When Night Falls (我还有话要说). It is this award-winning film that caused Liang Ying to flee the country after the government allgedly intimidated him and his family members to sell the government the rights of the film. Liang Ying refused, and then continued to live in exile in Hong Kong. A few years later, he won an award at the Taipei Golden Horse Film Festival for his work A Sunny Day (九月二十八日·晴) in the category Best Short Feature Film. Liang Ying's other famous works include The Other Half (另一半), and Taking Father Home (背鸭子的男孩) – which both received nominations from film festivals worldwide.
Storyline:
The film revolves around Yang Shu, a Chinese director, who has been exiled from Hong Kong for making a film that offended the government. After 5 years, she desperately wants to reunite with her ailing mother who is visiting Taiwan and let her hold the grandson she misses.
Why you should watch it:
The story is semi-biographical from the director's experiences since his exile from China in 2012. Variety wrote about the film: "[it is an] intelligently affecting story of exile and displacement," and said it is "Ying Liang's most highly polished film to date." Indiewire called the film "heartbreaking." The film was nominated for the Golden Leopard Award at the 71st Locarno International Film Festival.
4. The Enigma of Arrival (Dǐdá zhī mí 抵达之谜)
Mainland China
Genre: Crime
Selected in the category: A Window on Asian Cinema
Director: Song Wen (宋文)
Reads on Weibo: 35000 (#抵达之谜#)
Premiere: October 2018, Busan International Film Festival
Starring: Xian Li (李现), Borui Dong (董博睿), Xuan Gu (顾璇)
About the Director:
Some might know director Song Wen as the founder of FIRST International Film Festival, a festival for young directors, which celebrated its 12th edition this year. In 2015 Song Wen started his career as a producer and director. The Enigma of Arrival is his first work.
Storyline:
After many years, a group of high school friends reunites. They have not seen each other since the disappearance of Dondong, a girl they all secretly fancied. The circumstances of her disappearance cause the end of their friendship. Although a long time has passed, there are still things unspoken about what exactly happened during those crucial years.
Why you should watch it:
The main character in the film is played by the popular young actor Xian Li (李现), who currently has over 3.8 million followers on Weibo. He is best known for his roles in Chinese TV dramas such as Medical Examiner Dr. Qin. The second reason to watch this film is the contribution of Berlin Film Festival and The Golden Rooster award-winning producer Fei Xie (谢飞). He and Song Wen have been closely cooperating for this work for over three years.
5. Jinpa (Zhuàng Sǐle Yī Zhǐ Yáng 撞死了一只羊)
China Mainland
Genre: Drama
Selected in the category: A Window on Asian Cinema
Director: Pema Tseden (万玛才旦)
Weibo Reads: 340.000 (#撞死了一只羊#)
Premiere: 4th September 2018, Venice International Film Festival
Leading Actors: Jinpa (金巴), Genden Phuntsok (更登彭措), Sonam Wangmo (索朗旺姆)
About the Director:
Pema Tseden is an acknowledged director, screenwriter, producer and writer from Tibet. He started his career as a writer and started publishing stories in 1991. In the years that followed he published more than forty short stories in Tibetan and Chinese. His writing has been acknowledged with many awards. In 2002. he first entered the film industry as editor of the film The Silent Holy Stone (静静的嘛呢石) which received international attention. This is where Pema Tseden's film career took off. His famous other works include The Search (寻找智美更登) and Tharlo (塔洛) which both received several nominations from in and outside China.
Storyline:
On a dusty highroad in Tibet, a truck-driver gives a young man a ride. As he chats with the hitchhiker, he notices a knife strapped to his leg…
Why you should watch it:
The film is an adaption of the short story Killer (杀手) by Cirenluobo (次仁罗布), and from a short story of the director himself. They are both rewarded writers from Tibet who give a rare glimpse into the lives of the Tibet people. Jinpa was shortlisted for this year's 75th Venice International Film Festival in the Orizzonti section.
Stayed tuned for more! Meanwhile, also check out our must-see Chinese film list of 2017 here.
By Gabi Verberg
Follow @whatsonweibo
Spotted a mistake or want to add something? Please let us know in comments below or email us.
©2018 Whatsonweibo. All rights reserved. Do not reproduce our content without permission – you can contact us at info@whatsonweibo.com.