Overview of China's 2017 Top TV Dramas
These are the Chinese TV dramas you should've seen in 2017.
China has one of the most booming TV drama industries in the world. As millions of drama fans tune into their favorite show, What's on Weibo has compiled a list of China's top TV dramas of 2017.
Note: Also see China's top tv dramas to watch winter 2017/2018
Nothing is trending more often on Chinese social media than TV drama. What is the best drama, who is the hottest star, how will that nerve-wracking cliffhanger end? It is all part of the daily discussions on Sina Weibo.
The Chinese TV drama industry is booming and among the most vibrant in the world, with no signs of slowing down.
We have compiled this Top 10 of 2017 Chinese TV dramas by checking the February 2017 top ranking TV drama's on Sina Weibo and Baidu, and netizen blogs. We have also taken into consideration a Weibo poll of the 'most-anticipated TV dramas of 2017' that had over 10,000 votes.
Chinese TV dramas are becoming more popular across the world, with thousands of people volunteering to do subtitles for them in their own language. A great website to watch Chinese dramas is Viki.com, but most are also available on YouTube and of course on their native sites such as iQiyi or LeTV.
Depending on where you live, these sites might have geo restrictions. You can circumvent this with a VPN to change your IP geo-location. We recommend ExpressVPN for this, as it is known for its fast streaming of online video content online (see our top 3 of recommended VPN here).
Keep in mind that many of China's big TV drama productions are launched in the period around Chinese New Year – a time when TV drama fans are looking forward to seeing their favorite shows. It's around this time to spot the TV dramas you can binge on later in the year.
What is remarkable about the 2017 year's list (check out our lists of 2016, 2015, and 2013) is that it does not include any historical genre television dramas themed around the history of the War of Resistance against Japan.
China's war dramas previously always made it to the top ranking TV dramas. In 2015, China's official censorship bureau spoke out against war-themed TV dramas that are "overly entertaining." One popular war drama this year is Brothers in the Fire of War (战火中的兄弟), but it did not make it to this list.
What is also noteworthy is that this year's top 10 tv drama's are all made in mainland China. Last year, the number one TV series was a South-Korean tv drama.
There are no series in this year's list that revolve around any 'risque' topics. Last year, the gay-themed TV show Addicted was pulled offline by censors when TV dramas that 'exaggerate dark side of society' were banned from TV. Off-limit topics included homosexuality and adultery.
Here is our top 10 of China's most popular TV dramas of this moment:
UPDATE: Don't forget to also check out our top 10 of best dramas in winter 2017/2018!
#1. Eternal Love 三生三世十里桃花
Genre: Fantasy, martial arts
Other title: Three Lives Three Worlds, Ten Miles of Peach Blossoms
Directed by Lin Yufen (林玉芬), 58 episodes
Within a week after its first episode on January 30, this TV drama already attracted over 29 million comments on Sina Weibo, and ranked number 1 drama in both the Weibo and Baidu 'most popular' lists. It is also one of most-anticipated dramas of 2017.
From gods and demons, from reincarnation to never-ending love affairs – nothing is impossible in Chinese fantasy drama. This drama evolves around the High Goddess and the Crown Prince played by Yang Mi and Mark Chao, who were once lovers in another world and another lifetime. According to Dramafever, this fantasy story shows that love goes beyond worlds and lifetimes.
The success of this TV drama is partly linked to its timing; like many dramas in this list, the first episode was aired in the middle of the Spring Festival.
Starring: Yang Mi, Mark Chao, Zhang Zhiyao, Dili Reba (also known as Dilraba Dilmurat), and Gao Weiguang (杨幂, 赵又廷, 张智尧, 迪丽热巴 高伟光). The show is broadcasted every day on Dongfang and Zhejiang TV, as well as on Youku, Tencent, iQiyi, LeTV, Sohu and PPTV.
#2. Rush to the Dead Summer 夏至未至
Genre: Romance, Youth
Directed by Chen Mingzhuang (陳銘章), 40 episodes
Rush to the Dead Summer (夏至未至) is a TV drama based on the novel by Guo Jingming (郭敬明) that follows a group friends as they go from their highschool life and each start their own life in society. The main actors are Zheng Shuang, Chen Xuedong (Cheney Chen), and Bai Jingting.
Many fans have been waiting for this TV drama to come out, as its airing was already announced in the summer of 2016. By now, its official Weibo account has well over a million followers.
#3. Love, Just Come 爱来的刚好
Genre: Urban drama, Romance
Other title: Perfume Woman
Directed by Wang Lianping (王连平), 60 episodes
Love, Just Come (爱来的刚好) first aired in late January. Its main cast includes actors Han Dong, Jiang Kaitong, Li Wei, Zhang Xiyuan, Wang Wei, Liang Aiqi (韩栋, 江铠同, 李威, 张熙媛, 王伟, 梁爱琪). The drama revolves around an orphan girl (Jiang Kaitong) with an absolute sense of smell, who dreams of becoming a successful perfume maker. The series follows the struggles she faces on the road to reaching her dreams, during which, of course, she finds love. The show can be viewed here.
#4. Fighter of the Destiny 择天记
Genre: Fantasy, Martial arts, costume/period drama
Directed by Zhong Shujia (钟澍佳)
This series ranked number one in the Weibo poll of most-anticipated TV dramas of 2017, as netizens have been talking about this series for months.
Fighter of the Destiny is based on a novel by the same name of author Mao Ni, and involves the timetravelling adventures of the young man Chen Changsheng (Luhan) who leaves his master (Eric Tsang) in search for a cure to his terminal illness.
#5. Ruyi's Royal Love in the Palace 如懿传
Genre: Costume/period drama
Directed by Wang Jun (汪俊), 90 episodes.
Ruyi's Royal Love in the Palace tells the story of the marriage of the Qianlong Emperor and Ulanara the Step Empress during the Qing dynasty. The drama, broadcasted by Dragon TV and Jiangsu TV, features major leading roles by Zhou Xun and Wallace Huo. Read more about this TV drama at the Cfensi blog.
#6. Double Happiness 双喜盈门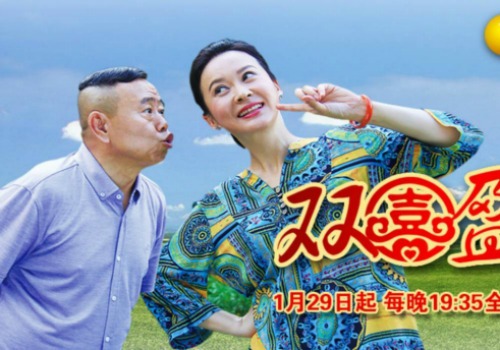 Genre: Comical drama, Rural comedy
Directed by Han Zhao (韩兆).
This successful drama has famous leading actors Pan Changjiang, Ding Ziling, Xiao Guangyi, and Zhang Dajing. Especially Pan Changjiang (1957) is a famous as a skit actor and a recurring performer at the CCTV New Year's Gala. This comical drama focuses on a big rural family and follows their ups and downs. The show is available on YouTube (no subtitles).
#7. City Still Believe in Love 北上广依然相信爱情
Genre: Romance
Directed by Li Jun, Mou Xiaojie (李骏, 牟晓杰), 44 episodes
This drama that stars Zhu Yawen and Michelle Chen revolves around the relationship between a Taiwanese woman who has arrived in Beijing to work and her temperamental boss. Despite their misunderstandings, their professional relationship eventually is bound to become personal.
#8. The Glory of Tang Dynasty 大唐荣耀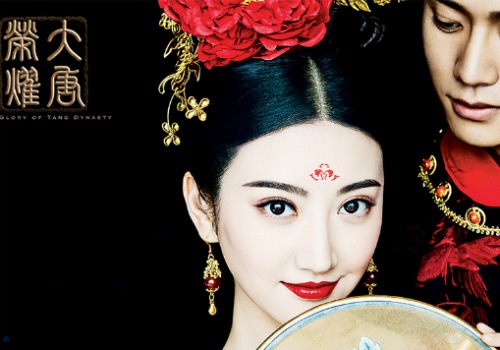 Genre: Fantasy, Costume
Directed by Liu Guonan, Yin Tao (刘国楠、尹涛), 60 episodes
The series is about the ups and downs in the life of Shen Zhen Zhu (played by Jing Tian 景甜), a exceptional beauty living in the royal court during the most turbulent period of the Tang dynasty, that is challenged by rebellion, unrest and opposing forces.
#9. Ode to Joy 2 欢乐颂2
Genre: Urban drama, Romance
Directed by Jian Chuanhe, Zhang Kaizhou, 52 episodes
This is one of the only shows in this list that has not been broadcasted yet – it is planned to air in May of this year. It is the sequal to Ode to Joy, a highly popular 2016 Chinese TV series produced by Dragon Television (here with subtitles). It is about five single, independent career women who live in the Ode to Joy apartment building together and try to find the balance between love and career, looking for their personal happiness.
For Liu Tao, a leading actress in this TV drama, Ode to Joy is not her first hit TV drama. In 2013, the series Good Wife (贤妻) was also a major success.
#10. The Starry Night, The Starry Sea 那片星空那片海
Genre: Romance, Fantasy
Directed by Wei Hantao and Deng Yancheng (卫翰韬 邓衍成)
This mainland drama that stars Feng Shaofeng, Bea Hayden, Wang Zixi, Huang Ming and Sunny Wang (冯绍峰, 郭碧婷, 王梓薇, 黄明, 王彦霖), premiered on February 6 2017 on Hunan TV. It is based on a book by the same name by the Chinese contemporary novelist Tong Hua (桐华), whose previous novels were also turned into television series.
The story revolves around girl-next-door Shen Luo who moves from the big city to a small island cottage, where she meets the mysterious Wu Julan – a man wirh mystical powers that help Shen yo overcome her obstacles. The show can be viewed on Viki, where fans graded the drama with a 9.7.
Want to read more? Check out:
– Top 10 of TV Drama in China 2018
– Top 5 of Best Drama Series Winter 2017/2018
– Best TV Dramas in China Summer 2017
– Most Popular Television Series in China in 2016
– Top TV Drama 2015
– By Manya Koetse
Follow on Twitter or Like on Facebook
What's on Weibo is an independent blog. Want to donate? You can do so here.
©2017 Whatsonweibo. All rights reserved. Do not reproduce our content without permission – you can contact us at info@whatsonweibo.com
Oh, the Drama! Chinese Opera Performance Turns into Stage Fight as Drunken Man Attacks Actors
This local traditional opera performance unexpectedly turned into a stage fight.
On October 9 in Zhejiang's Lishui city (Laozhu Town), a theatrical performance unexpectedly turned very dramatic when a drunken man stormed on stage to fight with the performers.
A video showing the Chinese opera performance being disturbed by the drunkard, turning it into a chaotic stage scene, is gaining major attention on Chinese social media.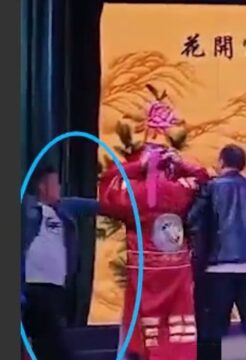 The incident occurred Friday night around 9 pm, when the Laozhu Theatrical Troupe was performing.
Videos of the incident that are circulating online show how one man comes on stage, attacking one of the actors. The scene escalates into a big fight when others try to intervene. The police were quick to arrive at the scene.
Oh, the drama! A Peking Opera performance turned into an explosive fight this weekend when a drunken village chief's son stormed on stage. He was allegedly rejected by one of the (Huadan) actresses.

Can't help but think the audience still got a spectacular show. pic.twitter.com/DPg3Q6QGOh

— Manya Koetse (@manyapan) October 11, 2020
Various news reports suggest the man started to act out after getting into an argument with one of the 'Huadan' (花旦) performers of the troupe. In traditional Chinese opera, the Huadan characters are young female roles, often seductive in appearance and quick with their words.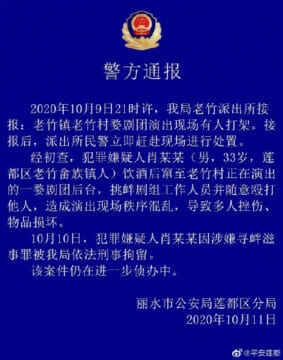 Local police posted on Weibo that the chaos was caused by a 33-year-old local who started to become aggressive after he had too much to drink. The man is charged with disorderly conduct and is currently detained.
The case received even more attention on social media when it turned out that the 33-year old troublemaker is the son of the head of a neighboring village.
Many Chinese netizens feel that the man is spared by Chinese news media outlets, which only report about a "drunken man" who was "causing trouble." They insist that the real story should be properly reported.
"The son of the village chief took liberties with a huadan actress who rejected him, and then he kicked her, causing her to lose consciousness. He then beat up other actors," some commenters explain.
"He is not just a 'drunkard', he's the son of the village secretary."
"What an explosive performance it was!" one Weibo blogger writes.
By Manya Koetse
Follow @WhatsOnWeibo
Spotted a mistake or want to add something? Please let us know in comments below or email us. First-time commenters, please be patient – we will have to manually approve your comment before it appears.
©2020 Whatsonweibo. All rights reserved. Do not reproduce our content without permission – you can contact us at info@whatsonweibo.com.
Rotten Girls: China's Thriving Online Boys' Love Culture
It is an online subculture that has been around for more than a decade, and it is not likely to die out any time soon.
They are mocked, hated, and misunderstood, yet China's so-called 'Rotten Girls' are at the core of an online subculture that has been thriving for years.

This is the "WE…WEI…WHAT?" column by Manya Koetse, original publication in German by Goethe Institut China (forthcoming), see Goethe.de: WE…WEI…WHAT? Manya Koetse erklärt das chinesische Internet.

China's ever-buzzing social media sphere sees trends, topics, and movements pop up every single day and then fade away quickly when their novelty is gone. But there are some trends that turn into something bigger, bringing forth communities and online subcultures that keep on thriving for years, with the participants building their own spaces in the online environment.
One such space belongs to those who, with some self-mockery, define as "Rotten Girls" (fǔnǚ 腐女), derived from the Japanese fujoshi. In the Chinese context, 'Rotten Girls' are young women with a passion for fictional stories, drama series, and manga (comic books) featuring gay male erotica and romantic relationships called 'yaoi.'
'Rotten girls' do not just consume these stories, primarily written by and for women, they also create and share them with others to discuss.
In Chinese, the gay erotica known as yaoi is also called 'danmei' (耽美) or 'BL' (for 'Boys' Love') – all umbrella terms for contents of male-male homoerotic fiction. The genre plays a major role in various corners of the Chinese internet. It is an online subculture that has been around for more than a decade, and it is not likely to die out any time soon.
Media and technology both play a big part in the sharing of fǔnǚ fantasies. These fantasies can range from boys holding hands to more pornographic ones, but the main point of the imaginary is love and intimacy (Galbraith 2011, 213).
Always Another BL Trend
There is always something different trending in the world of Rotten Girls. This summer, for example, the release of the Japanese 18+ games 'Lkyt' by BL game brand Parade received a lot of attention. A previous game by Parade, 'Room No. 9,' is also still popular among BL fans in China. The game revolves around two young men, long-time friends, who get locked inside a room where they are subjected to a behavioral analysis experiment. The two have to make some taunting decisions, including possibly being forced into sexual activity with each other, in order to make it out alive.
Another major topic that went trending within the Rotten Girls community some years ago, even attracting the attention of western news media, was the British crime drama Sherlock. Many Chinese viewers in the BL scenes were convinced that detective Sherlock Holmes (played by Benedict Cumberbatch) and his sidekick Watson (Martin Freeman) were not just professional partners, but a romantic couple. This practice of imagining a relationship between two characters is also known as 'CP,' an abbreviation for "coupling" or "character pairing."
The ambiguous relationship between Holmes and Watson – and the very fact that they are not explicitly homosexual – suits the fantasies harbored by China's fǔnǚ. There are countless examples of how BL fans photoshopped Sherlock images into homoerotic scenes, making up their own stories and endlessly discussing the relationship between Holmes and Watson.
BL fans are active in various online spaces. There are Rotten Girls communities on Chinese literature websites, discussion boards, and on ACG-focused platforms such as Bilibili (ACG is a popular abbreviation of "Anime, Comic and Games"). Boys' Love is practically everywhere: short stories, web novels, manga, anime, games, and series are all actively created, consumed, and shared within the BL fandom.
The Chinese Jinjiang Literature City site (1998) is one of the earliest and most influential websites for the danmei genre, where some top channels receive millions of clicks. The Chinese web novel author 'Priest' is among one of the most successful authors (some translations in English can be found here).
But besides the special BL fiction forums, there are also many fǔnǚ accounts on the more mainstream social media platforms such as WeChat and Weibo. Under Weibo hashtags such as "Fǔnǚ Daily" (#腐女日常#), "BL Webtoons" (#bl条漫#), "BL Manga" (#bl漫画#), "Original Danmei" (#原创耽美#), and many more, Rotten Girls discuss their favorite danmei works and the latest news on a daily basis.
Although the Rotten Girls have been increasing their sphere of influence, it hasn't been without controversy. Not only are they often looked down upon for their love for male homoeroticism, some LGBT people also criticize them for silencing the voices of actual gay men or erasing real-life gay experiences.
From Japanese Toy Boys to Chinese Danmei
Where did this all begin? China's BL subculture finds it roots in Japan. The popularity of danmei came up with the growing influence of Japanese popular culture in China.
In the early 1990s, Japanese manga and anime titles started flooding the Chinese market, often as unauthorized (pirated) copies. With this wave of Japanese entertainment products hitting the Chinese market, there were also those belonging to the genre of BL.
In Japanese fiction and manga, the theme of male-male romance intended for a female audience emerged as early as the 1970s but did not really rise to popularity until the early 1990s, when Japanese mainstream media saw a 'gay boom' and representations of male homosexuality became in vogue.
The year 1993 truly was a 'gay year' in the Japanese media and entertainment industry. In "Producing Gayness" (1997), Sho Ogawa describes how one Japanese magazine even offered readers a "Gay Toybox": full color paper gay dolls to cut out, including matching clothes from jackets to sports uniforms and even leather bondage gear. Instructions that came with the paper dolls encouraged readers to play with them, "give them a lovely name" and "imagine a campus love affair" between them.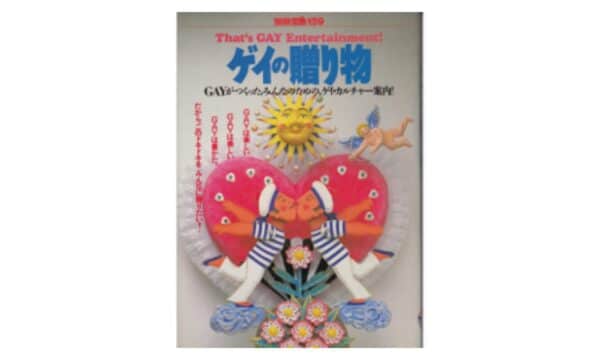 It was also in this same year of 1993 that many Chinese young women first discovered the genre of Japanese Boys' Love, mainly through the dissemination of pirate manga, novels, and magazines in Chinese bookstores.
Throughout the years, the Chinese genre of danmei has become much more than just an imported entertainment genre from Japan, and it is also somewhat different from the subgenre of 'slash fiction' in the West.
Danmei literally means "to indulge in beauty," and it has developed its own characteristics, taking a predominantly literary form while also strongly resonating with Japanese visual culture (Madill et al 2018, 5). Since the first Chinese BL-focused monthly magazine appeared in 1999, the genre has mixed with various local and other foreign media and celebrity cultures (e.g. that of South Korean and Thailand), and has become a truly Chinese fan culture phenomenon (Chen 2017, 7; Yang & Xu 2017, 3).
Safe, Subversive, and Pure Love
Those outside the danmei subculture often wonder what makes 'Boys' Love' so appealing to so many young women. There are various explanations and interpretations of why female fans enjoy writing and reading about male homoeroticism.
Chen Xin, who studied the topic of Boys' Love at the University of British Columbia, offers "safety" as one explanation for the popularity of danmei, as it gives its readers, mostly straight women, the freedom to fantasize in a way that is removed from their own romantic lives. This is also reiterated by other scholars, who argue that BL provides a safe fantasy where female fans can avoid the objectification of women while exploring the boundaries of their own sexuality.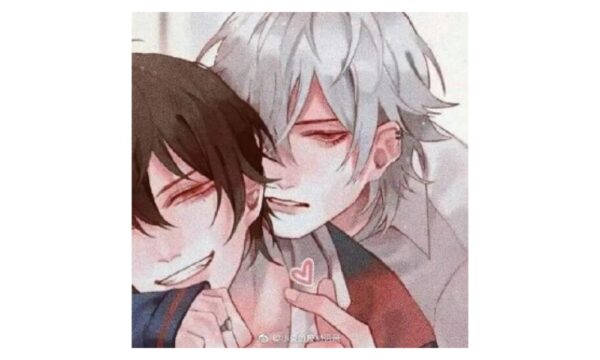 The concept of 'pure love' is one of the funü's greatest attraction to BL. According to them, it is the most romantic type of love because it transcends the boundaries of gender. The male protagonists in these stories do not identify as gay, but fall in love with other men nevertheless. "It doesn't matter if you are male or female, I just love you" and "It's not that I am gay, I just love a man" are classic sentences within Rotten Girls' fiction (Dai 2013, 34).
Zhang Chunyu (2016) also highlights the genre as an outlet for female writers and readers to explore sexuality and pleasure in a "subversive" way. Rotten girls position males as the objects of female desire, and in doing so, they challenge traditional gender stereotypes and appreciate gender fluidity.
China's Rotten Girls subculture is also 'subversive' in another way. Because of its focus on homosexuality and eroticism, danmei fandom is subject to online censorship. According to China's cyberspace regulations, online content should adhere to the "correct political direction" and "strive to disseminate contemporary Chinese values." Over the past few years, there have been various moments when displays of homosexuality were targeted by censors.
An anti-pornography campaign of 2014 resulted in the shutdown of hundreds of websites and social media accounts. Throughout the years, dozens of danmei authors have been arrested and many sites were closed or deleted for creating and distributing homoerotic content (Chen 2017, 9; Madill et al 2018, 6; Zhang 2016, 250).
Despite the strict internet control, fǔnǚ and BL content are still going strong. In order to circumvent censorship, the words and images used are often coded or nuanced enough not to get deleted – but BL fans will still understand and enjoy the subtext.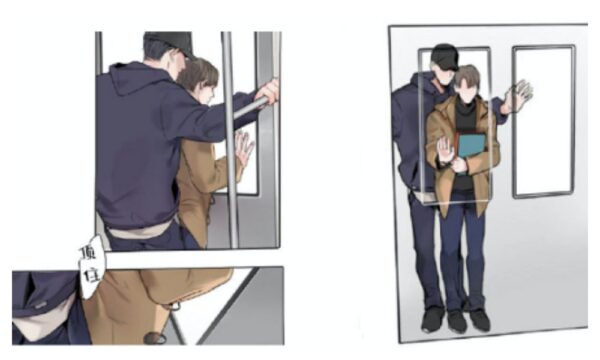 Over the past years, China's Rotten Girls have grown from a niche community to a force to reckon with on the Chinese internet. They have become a phenomenon that is often discussed in the media and is even researched by many academics.
"We've become professionals now," one 'Rotten Girl' joked on Weibo recently.
Another commenter replied that the rise and possible fall of the danmei community is, eventually, intrinsically linked to how much room is given by China's internet regulators. Although the past decade has demonstrated that Rotten Girls are not easily scared away by censorship and shutdowns, their future eventually does depend on the online accessibility to BL media and forums.
"If there is no relaxed online environment, it doesn't matter how professional we are," one commenter writes: "We might come to a standstill."
What the future will hold for China's Rotten Girls remains to be seen. Whether met with controversy or censorship, for now it seems impossible to put the Rotten Girls back into the closet they came from.
By Manya Koetse
Follow @whatsonweibo

This text was written for Goethe-Institut China under a CC-BY-NC-ND-4.0-DE license (Creative Commons) as part of a monthly column in collaboration with What's On Weibo.

References
Chen, Xin. 2017. "Boys' Love (Danmei) Fiction On The Chinese Internet: Wasabi Kun, The Bl Forum Young Nobleman Changpei, And The Development Of An Online Literary Phenomenon." MA Thesis, University of British Colombia https://www.semanticscholar.org/paper/Boys%27-Love-(Danmei)-fiction-on-the-Chinese-internet-Chen/63e7b494653bc1d849461b7a8f3d57aad05be452 [Aug 30, 2020].
Cohane (阿扣-绝赞爬墙中). 2020. "第二章 中国内地BL文化发展历史整理 [Part Two: A History of Development of Mainland China BL Culture Development]" (In Chinese). Weibo Article, Aug 8, https://weibo.com/ttarticle/p/show?id=2309404536531036799045 [Aug 26 2020].
Dai, Fei 戴非. 2013. "腐女心理 [Funu Psychology]" (In Chinese). 大众心里学 Popular Psychology (12): 34-35.
Galbraith, Patrick W. 2011. "Fujoshi: Fantasy Play and Transgressive Intimacy among "Rotten Girls" in Contemporary Japan." Signs 37 (1): 211-232.
Larigakis, Sophia. 2017. "Boys' Love: The Gay Erotica Taking China by Storm." Sophialarigakis.com, Nov 6 https://www.sophialarigakis.com/writing/boys-love-china [Aug 29, 2020].
Madill, A., Zhao, Y. and Fan, L. 2018. "Male-male marriage in Sinophone and Anglophone Harry Potter Danmei and Slash." Journal of Graphic Novels and Comics, 9 (5): 418-434.
Ogawa, Sho. 2017. "Producing Gayness: The 1990s "Gay Boom" in Japanese Media." PhD Dissertation, University of Kansas.
Yang, Ling and Yanrui Xi. 2016. "Danmei, Xianqing, and the making of a queer online public sphere in China." Communication and the Public 1 (2): 251-256.
Yang, Ling and Yanrui Xu. 2017. "Chinese Danmei Fandom and Cultural Globalization from Below." In: Lavin, Maud, Ling Yang, and Jing Jamie Zhao (eds). 2017. Boys' Love, Cosplay, and Androgynous Idols – Queer Fan Cultures in Mainland China, Hong Kong, and Taiwan. Hong Kong: Hong Kong University Press, page 3-20.
Zhang, Chunyu. 2016. "Loving Boys Twice as Much: Chinese Women's Paradoxical Fandom of "Boys' Love" Fiction." Women's Studies In Communication 39 (3): 249–267.
Spotted a mistake or want to add something? Please let us know in comments below or email us. First-time commenters, please be patient – we will have to manually approve your comment before it appears.