The Yulin Dog Meat Festival: 10 Views From Chinese Netizens
These are ten different Chinese perspectives on the controversial Yulin Dog Meat Festival.
The Yulin Dog Meat Festival is an annual event that has become more and more controversial, both in China as well as internationally. What are the main views on the controversial dog-eating festival on Chinese social media? Here are 10 opinions and comments from Weibo users.
The annual Yulin Dog Meat Festival (玉林狗肉节) is taking place again this year, starting from June 21. Although many dog lovers and animal welfare campaigners from around the world call on the Chinese government to stop the festival and its dog meat industry, China's Foreign Ministry spokesperson Hua Chunying already clarified in 2016 that the Yulin government has never supported nor organized the festival.
The annual event, that celebrates the summer solstice by eating lychees and dog meat, has been drawing controversy since 2010. It is a ten-day festival that is organized by locals. Since China has no law that bans the eating of dogs, the festival itself is not illegal.
Its legal status, however, does not stop the controversy. It is estimated that around 10.000 dogs are slaughtered during the ten-day festival, and Chinese welfare groups gather in Yulin to protest the tradition. In previous years, there have been altercations between stall owners and activists trying to rescue dogs.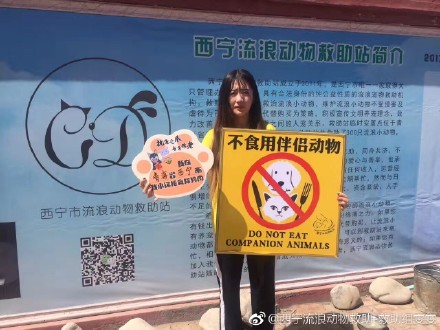 This year, it is likely that more clashes will occur. One activist in Yulin told BBC she was prevented by police from entering the market where live dogs presumably were on sale. The night before the festival, China-based Dutch journalist Marcel Vink said on Twitter that he was put out of his Yulin hotel: "Wow, kicked out of my hotel in the night, suddenly no foreigner acceptance, after hours. And all hotels in town suddenly full."
What do people on Weibo have to say about the festival amidst all the contention? Here are ten different views and comments on the Dog Meat Festival controversy, from ten different Weibo netizens.
1. "I oppose the dog meat festival!"
Many people on Chinese social media deem the eating of dog meat immoral due to the relationship between humans and dogs, and the role of dogs in human lives.
One message that was copy-pasted and shared by dozens of netizens on Weibo today says:
"I oppose the dog meat festival! I don't eat dog meat! I would dread eating the dog that has guarded and protected his family for the most part of his life. I would dread eating the playmate of a young child. I would dread eating a retired police dog. I would dread eating the eyes of a blind man."
Overall, many netizens on Weibo express this sentiment. A young woman from Xinjiang responds:
"Every time I say that I am against eating dog meat, there is always a group of people who will say: 'Chickens, ducks, fish, and cows are all living animals too, then you shouldn't eat them either!' Well, have you ever seen a duck guiding the blind, or a chicken tracking down narcotics? Will a fish come and welcome you when you come home? After an earthquake, whose paws are it that will drag you from underneath the ground? What cow will stay by your side in times of danger? Resist the dog meat festival! It's okay not to love dogs, but don't hurt them."
2. "Just a Chinese tradition."
One person writes:
"I find this all [all the controversy] very strange, the Dog Meat Festival is just a tradition. We can't do this anymore, we can't do that anymore – what's actually left of Chinese traditions with thousands of years of history? (..) Look at yourself before judging another."
This is a sentiment that is expressed by many other people on Weibo. A typical comment says: "I don't eat dog meat myself, but I do respect other people's right to eat dog meat."
3. "You're giving China a hard time."
There are also people who think the protestors do not reflect well on China.
One man from Nanning, Guangxi, writes:
"Even if there is no Dog Meat Festival, there are still dog meat traders. All you pure leftists should stop your useless actions. Those of you scolding Yulin should know that Yulin is a part of Guangxi, and Guangxi is a part of China. If you're giving Yulin a hard time, you're giving Guangxi a hard time, you're giving China a hard time."
4. "What else should we do with unsold dogs on the dog market?"
Weibo netizen @sven_shi points out the alleged hypocrisy of the anti-Yulin campaigners when he says:
"If you run into people who want to rescue dogs, you can ask them one thing and they'll look foolish. What should we do with the dogs on the dog breeding [pet] market that still aren't sold after six months? The answer, in fact, is really clear: they will be sold for slaughter. The market can't provide for the dogs that aren't sold. The Tibetan mastiffs that aren't sold will go into a dog stew. If the real dog lovers ideally don't want any dogs to be killed, they should block the door to the dog market, and take home all the dogs that are left over. Because the reason that dogs are killed is in the dog market."
5. "Don't rob people of their livelihood because of your love for dogs."
A popular blogger from Beijing holds a similar view when he says:
"Since you are animal activists, you should go and buy all living dogs and pay the price for which their meat is sold."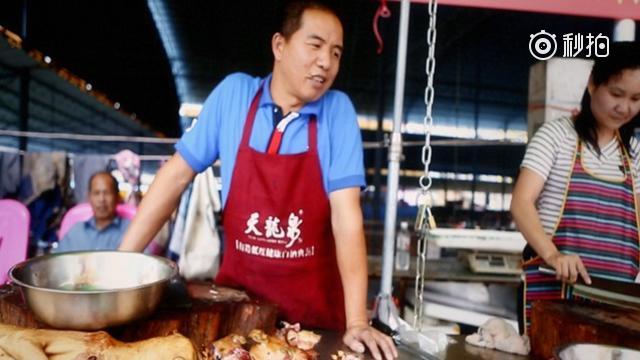 They continue:
"Those people there make a living by selling dog meat. Does your love for dogs mean that you should rob other people of their livihood? In any way, I won't go there and buy dog meat, but you also won't allow other people to buy it. Then go and buy it all yourself!"
6. "You shouldn't blame all Yulin people for this."
Some people who come from Yulin (a city of 6.9 million people) also respond on Weibo. This girl writes:
"As a person from Yulin, I feel innocent. Firstly, because I don't eat dog meat. Second, because I don't kill. Third, I am just one small citizen. It's enough for you to curse the dog meat festival – you shouldn't curse all people of Yulin. Some of you keyboard warriors are just too vulgar. You are the ones with a problem, even more so than those who eat dog meat!"
7. "Don't force your moral point of view on other people."
Another person from Yulin also comments on Weibo, and says that loving dogs and eating dogs can go together.
"When it comes to the Dog Meat Festival, loving dogs and eating dogs are two separate things. To the dog activists I would like to say: don't force your moral point of view on other people. I am from Yulin, and I'm also a dog lover. I've raised dogs. But that doesn't mean I don't like eating dog meat. Mao Zedong said: 'Only when you eat dog meat will you know how tasty it is.'"
One woman from Guangdong takes a similar stance, but points out that the abuse that often comes with the dog meat market is unacceptable. She says:
"These days on Weibo I've seen so many 'oppose the dog meat festival' posts. Actually I also love cats, dogs, and animals a lot. But to be honest, I don't really oppose it. Many people like to eat dog meat and it's part of the food chain. I can understand it. But I do oppose the stealing of dogs, the abuse of dogs, and other illegal and immoral actions. I despise this behaviour."
8. "I'm going, but I won't touch any dog meat."
There are also people who say they will visit the festival but not eat dog meat. The Lychee and Dog Meat Festival celebrates the Summer Solstice.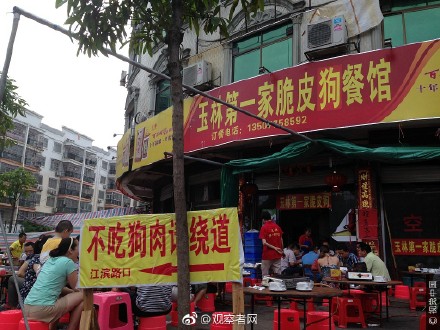 "Today is the Summer Solstice, and the Yulin Lychee and Dog Meat Festival. I am meeting up with some friends. We'll go out to eat some lychees. I won't touch any dog meat."
9. "Turning this into a special treat day for dogs."
For other people, the Yulin festival is another reason to treat their own dog to snacks today. A female netizen by the name of 'Flying Lolita' writes:
"Since the Yulin dog meat festival has started, I can't help but notice how fat our own little Harry has become! Haha. I love him. And I just hope you all won't eat dog meat."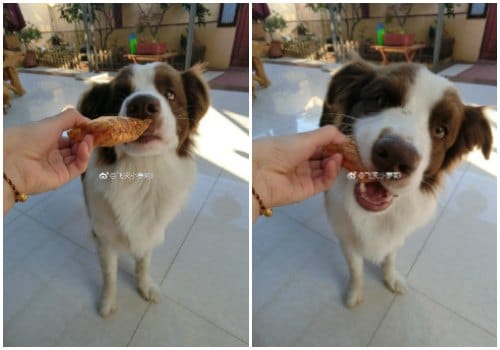 Many other people also post pictures of them cuddling their own dogs or cats on this day, turning the dog meat festival into a dog-loving day.
10. "The festival has become world famous."
Ironically enough, there are also people who think the growing controversy and international attention for the festival is a positive thing. The dog meat festival hardly received any attention before the previous few years. The national focus on Yulin bring many outsiders to the city – some come to eat dog meat, others come to protest it.
As one young netizen from Guangxi says:
"The Lychee & Dog Meat Festival is here. Yesterday on the train, I heard people say: 'Even foreigners are now coming to Yulin for the dog meat! Never in my life would I've imagined that the traditional feast I grew up with would at one time become so world-famous!"
As the 'world-famous' Yulin festival has started, so has the turmoil surrounding it. On June 21st around 18.00 Beijing time, some netizens post photos of cars driving around the festival with 'dog activists belong to an evil cult' signs, and other photos of people holding up signs to condemn the festival. Despite all the disagreements and different views, one thing is certain: as long as the Yulin festival continues, so will the controversy.
By Manya Koetse
Follow @WhatsOnWeibo
©2017 Whatsonweibo. All rights reserved. Do not reproduce our content without permission – you can contact us at info@whatsonweibo.com.
'Welcome Home, Molly' – Chinese Zoo Elephant Returns to Kunming after Online Protest
One small step for animal protection in China, one giant leap for Molly the elephant.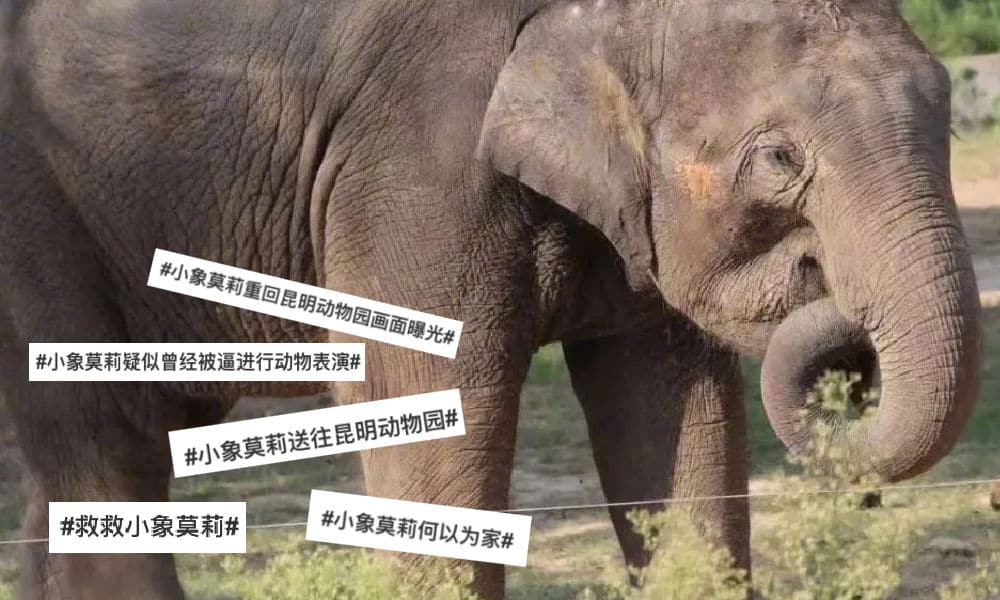 Following online protest and the efforts of animal activists, Molly has returned to the Kunming Zoo where she was born and where mother elephant Mopo is.
The little elephant named Molly is a big topic of discussion on Chinese social media recently.
The popular Asian elephant, born in the Kunming Zoo in 2016, was separated from her mother at the age of two in April of 2018. Molly was then transferred from Kunming Zoo to Qinyang, Jiaozuo (Henan), in exchange for another elephant. Over the past few years, fans of Molly started voicing their concerns online as the elephant was trained to do tricks and performances and to carry around tourists on her back at the Qinyang Swan Lake Ecological Garden (沁阳天鹅湖生态园), the Qinyang Hesheng Forest Zoo (沁阳和生森林动物园), the Jiaozuo Forestry Zoo (焦作森林动物园), and the Zhoukou Safari Park (周口野生动物世界).
Since the summer of 2021, more people started speaking out for Molly's welfare when they spotted the elephant chained up and seemingly unhappy, forced to do handstands or play harmonica, with Molly's handlers using iron hooks to coerce her into performing.
Earlier this month, Molly became a big topic on Chinese social media again due to various big accounts on Xiaohongshu and Weibo posting about the 'Save Molly' campaign and calling for an elephant performance ban in China (read more).
Due 2 pandemic prevention measures in China, Molly's zoo had been closed for long. It was just re-open & a Molly Group friend went to see her 2 days ago, shared a video and photos. The zoo was under much pressure from netizens, so no 🐘 shows, rides, at the moment. #FreeMolly pic.twitter.com/4BjoVk2DBC

— Diving paddler (@KU09814701) April 25, 2022
Although zookeepers denied any animal abuse and previously stated that the elephant is kept in good living conditions and that animal performances are no longer taking place, Molly's story saw an unexpected turn this week. Thanks to the efforts of online netizens, Molly fans, and animal welfare activists, Molly was removed from Qinyang.
On May 15, the Henan Forestry Bureau – which regulates the holding of all exotic species, including those in city zoos – announced that Molly would return to Kunming in order to provide "better living circumstances" for the elephant. A day later, on Monday, Molly left Qinyang and returned to the Kunming Zoo where she was born. In Kunming, Molly will first receive a thorough health check during the observation period.
Good news. After many people's working together for months, Molly's going back to Kunming Zoo to stay with her mom. Though Kunming Zoo has a very dark history, we will keep monitoring it to ensure Molly living in good condition. We will save other performing 🐘. #FreeMolly https://t.co/kC1uByyVpG pic.twitter.com/KhFlLpQgaa

— Diving paddler (@KU09814701) May 16, 2022
Many online commenters were happy to see Molly returning home. "Finally! This is great news," many wrote, with others saying: "Please be good to her" and "Finally, after four years of hardship, Molly will be reunited with her mother."
Besides regular Weibo accounts celebrating Molly's return to Kunming, various Chinese state media accounts and official accounts (e.g. the Liaocheng Communist Youth League) also posted about Molly's case and wished her a warm welcome and good wishes. One Weibo post on the matter by China News received over 76,000 likes on Monday.
Although many view the effective online 'Save Molly' campaign as an important milestone for animal welfare in China, some animal activists remind others that there are still other elephants in Chinese zoos who need help and better wildlife protection laws. Among them are the elephant Kamuli (卡目里) and two others who are still left in Qinyang.
For years, animal welfare activists in China and in other countries have been calling for Chinese animal protection laws. China does have wildlife protection laws, but they are often conflicting and do not apply to pets and there is no clear anti-animal abuse law.
"I'll continue to follow this. What are the next arrangements? What is the plan for Molly and the other elephants? How will you guarantee a safe and proper living environment?"
Another Weibo user writes: "This is just a first step, there is much more to be done."
To follow more updates regarding Molly, check out Twitter user 'Diving Paddler' here. We thank them for their contributions to this article.
To read more about zoos and wildlife parks causing online commotion in China, check our articles here.
By Manya Koetse
References (other sources linked to within text)
Arcus Foundation (Ed.). 2021. State of the Apes: Killing, Capture, Trade and Ape Conservation. Cambridge: Cambridge University Press.
China Daily. 2012. "Animal Rights Groups Seek Performance Ban." China Daily, April 16 http://www.china.org.cn/environment/2012-04/16/content_25152066.htm [Accessed May 1 2022].
Li, Peter J. 2021. Animal Welfare in China: Culture, Politics and Crisis. Sydney: Sydney University Press.
Get the story behind the hashtag. Subscribe to What's on Weibo here to receive our weekly newsletter and get access to our latest articles:
Spotted a mistake or want to add something? Please let us know in comments below or email us. First-time commenters, please be patient – we will have to manually approve your comment before it appears.
©2022 Whatsonweibo. All rights reserved. Do not reproduce our content without permission – you can contact us at info@whatsonweibo.com.
Huizhou Pet Dog Beaten to Death by Health Workers while Owners Are in Quarantine
First in Shangrao, now in Huizhou.
Last November, Chinese social media users were outraged after anti-epidemic workers in Shangrao killed a pet dog while its owner was undergoing quarantine at a nearby hotel. This week, a similar incident has again sparked outrage on Weibo.
On March 2nd, a Samoyed dog was beaten to death by anti-epidemic workers in Huizhou, Guangdong Province. Home security footage of the incident was shared by the dog's owner (有只雪球), who wrote about it on Weibo on March 4th. Her post was shared over 100,000 times on Saturday afternoon.
The 3-year-old dog named Snowball was left at home while its owners were quarantined elsewhere in Huizhou. The female owner's boyfriend was confirmed to have Covid-19 and was sent to a designated hospital on March 2nd, while the woman also needed to quarantine due to being a close contact.
That very same day, two epidemic prevention staff members entered the house to disinfect it. The dog owner shared screenshots of a WeChat conversation with the health workers, in which she told them in which room the dog was staying and also told them he was harmless and did not bite. The conversation suggests that the owner was under the assumption that the dog would just be tested for Covid19.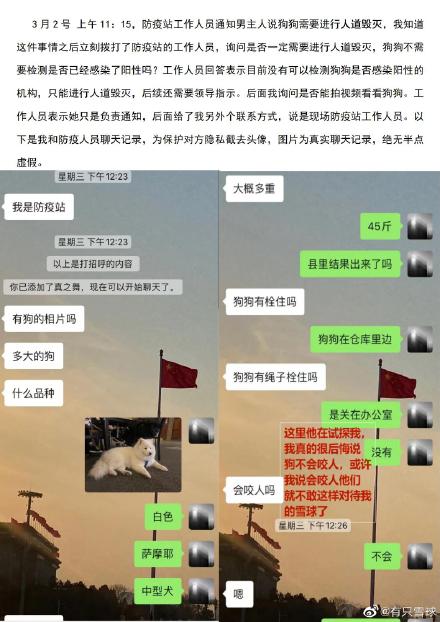 But much to the horror of the owners, their home security camera system allowed them to see how workers used a long stick to hit the dog, and how they continued to beat the dog to death. A video of the incident was also posted on Twitter by @realsexycyborg (warning, viewer discretion is advised, distressing footage and sound).
On March 5th, the official Weibo account of the Huizhou Propaganda Department released a statement on the incident, confirming that the incident had indeed occurred and apologizing for it.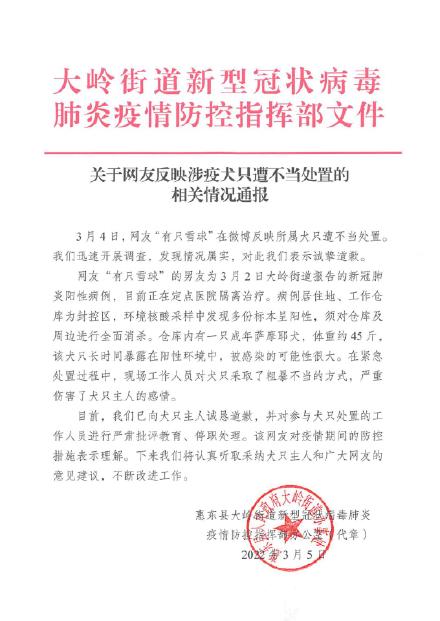 Although the statement said the anti-epidemic workers used a "cruel manner" to kill the dog, it also said that this large dog had been exposed to Covid19 for a prolonged period through its owner and that there allegedly was a high chance that the dog also had caught the Covid19 virus.
The statement further said that the health workers in question have been suspended from their duties and that authorities have contacted the dog's owners and apologized to them.
Many people on Weibo expressed anger and disbelief that such an incident had occurred again: "This epidemic has been going on for several years, why does this keep happening? First Shangrao, now Huizuo. It's heartbreaking."
"Snowball was so scared. I couldn't breathe when clicking on the video, and Paipai [pet dog] immediately scurried to me with his tail down when he heard the video, dogs can empathize with other dogs, Paipai could hear that Snowball was in danger."
Other commenters also claimed that more dogs were recently killed by health workers. Guangdong province recently saw a spike in Covid-19 cases, with virtually all cases originating from neighboring Hong Kong.
Some Weibo users pleaded for Chinese laws to prohibit the mistreatment of animals. For many years, animal welfare activists have been calling for better legal protection of animals in China. China currently has no laws preventing animal abuse but over the past few years, the voices calling for the legal protection of animals in China have become louder – in 2020, state media outlet CCTV also called for animal protection laws.
Online anger was further fuelled when hashtag pages relating to this incident were taken offline on Weibo, with the topic being left out of the top trending topics and hot search lists. The Huizhou authorities closed the comment sections underneath their statement.
"What? You're clamping down on this topic now? Do you think we're idiots?", one Weibo user wrote. Another person said "It's fine if this gets deleted. For communism, your dog is my dog, you beat my death to death, just apologize and it's ok."
Another person wrote: "As a Huizhou resident and a pet lover, I really feel horrible about this. Epidemic prevention is important, but it should protect life, not harm life. The loss of moral preventive measures and the indifferent attitude in which this incident was handled afterward is really a disgrace to Huizhou!"
This is ALL over Weibo-

Any Pro-China influencers avoiding it?
They're getting paid.

Any obfuscating, whatabouting or defending it?
They're getting paid.

You want to know who's getting fat envelopes of cash from🇨🇳? Ask them about this and you'll see.

JUSTICE FOR SNOWBALL! https://t.co/a5FIrcN6sC pic.twitter.com/UZu23pDlWh

— Naomi Wu 机械妖姬 (@RealSexyCyborg) March 5, 2022
By Manya Koetse
Spotted a mistake or want to add something? Please let us know in comments below or email us. First-time commenters, please be patient – we will have to manually approve your comment before it appears.
©2022 Whatsonweibo. All rights reserved. Do not reproduce our content without permission – you can contact us at info@whatsonweibo.com.