The Yulin Dog Meat Festival: 10 Views From Chinese Netizens
These are ten different Chinese perspectives on the controversial Yulin Dog Meat Festival.
The Yulin Dog Meat Festival is an annual event that has become more and more controversial, both in China as well as internationally. What are the main views on the controversial dog-eating festival on Chinese social media? Here are 10 opinions and comments from Weibo users.
The annual Yulin Dog Meat Festival (玉林狗肉节) is taking place again this year, starting from June 21. Although many dog lovers and animal welfare campaigners from around the world call on the Chinese government to stop the festival and its dog meat industry, China's Foreign Ministry spokesperson Hua Chunying already clarified in 2016 that the Yulin government has never supported nor organized the festival.
The annual event, that celebrates the summer solstice by eating lychees and dog meat, has been drawing controversy since 2010. It is a ten-day festival that is organized by locals. Since China has no law that bans the eating of dogs, the festival itself is not illegal.
Its legal status, however, does not stop the controversy. It is estimated that around 10.000 dogs are slaughtered during the ten-day festival, and Chinese welfare groups gather in Yulin to protest the tradition. In previous years, there have been altercations between stall owners and activists trying to rescue dogs.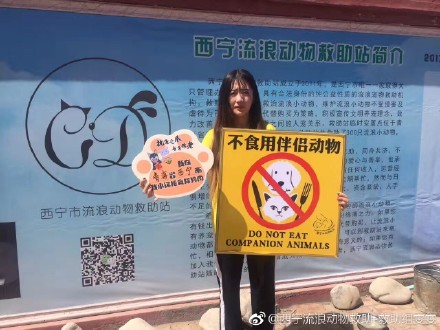 This year, it is likely that more clashes will occur. One activist in Yulin told BBC she was prevented by police from entering the market where live dogs presumably were on sale. The night before the festival, China-based Dutch journalist Marcel Vink said on Twitter that he was put out of his Yulin hotel: "Wow, kicked out of my hotel in the night, suddenly no foreigner acceptance, after hours. And all hotels in town suddenly full."
What do people on Weibo have to say about the festival amidst all the contention? Here are ten different views and comments on the Dog Meat Festival controversy, from ten different Weibo netizens.
1. "I oppose the dog meat festival!"
Many people on Chinese social media deem the eating of dog meat immoral due to the relationship between humans and dogs, and the role of dogs in human lives.
One message that was copy-pasted and shared by dozens of netizens on Weibo today says:
"I oppose the dog meat festival! I don't eat dog meat! I would dread eating the dog that has guarded and protected his family for the most part of his life. I would dread eating the playmate of a young child. I would dread eating a retired police dog. I would dread eating the eyes of a blind man."
Overall, many netizens on Weibo express this sentiment. A young woman from Xinjiang responds:
"Every time I say that I am against eating dog meat, there is always a group of people who will say: 'Chickens, ducks, fish, and cows are all living animals too, then you shouldn't eat them either!' Well, have you ever seen a duck guiding the blind, or a chicken tracking down narcotics? Will a fish come and welcome you when you come home? After an earthquake, whose paws are it that will drag you from underneath the ground? What cow will stay by your side in times of danger? Resist the dog meat festival! It's okay not to love dogs, but don't hurt them."
2. "Just a Chinese tradition."
One person writes:
"I find this all [all the controversy] very strange, the Dog Meat Festival is just a tradition. We can't do this anymore, we can't do that anymore – what's actually left of Chinese traditions with thousands of years of history? (..) Look at yourself before judging another."
This is a sentiment that is expressed by many other people on Weibo. A typical comment says: "I don't eat dog meat myself, but I do respect other people's right to eat dog meat."
3. "You're giving China a hard time."
There are also people who think the protestors do not reflect well on China.
One man from Nanning, Guangxi, writes:
"Even if there is no Dog Meat Festival, there are still dog meat traders. All you pure leftists should stop your useless actions. Those of you scolding Yulin should know that Yulin is a part of Guangxi, and Guangxi is a part of China. If you're giving Yulin a hard time, you're giving Guangxi a hard time, you're giving China a hard time."
4. "What else should we do with unsold dogs on the dog market?"
Weibo netizen @sven_shi points out the alleged hypocrisy of the anti-Yulin campaigners when he says:
"If you run into people who want to rescue dogs, you can ask them one thing and they'll look foolish. What should we do with the dogs on the dog breeding [pet] market that still aren't sold after six months? The answer, in fact, is really clear: they will be sold for slaughter. The market can't provide for the dogs that aren't sold. The Tibetan mastiffs that aren't sold will go into a dog stew. If the real dog lovers ideally don't want any dogs to be killed, they should block the door to the dog market, and take home all the dogs that are left over. Because the reason that dogs are killed is in the dog market."
5. "Don't rob people of their livelihood because of your love for dogs."
A popular blogger from Beijing holds a similar view when he says:
"Since you are animal activists, you should go and buy all living dogs and pay the price for which their meat is sold."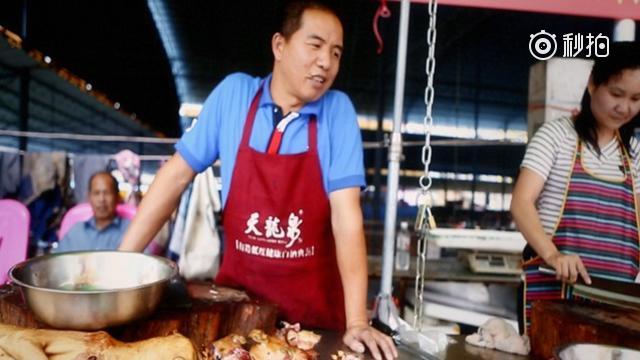 They continue:
"Those people there make a living by selling dog meat. Does your love for dogs mean that you should rob other people of their livihood? In any way, I won't go there and buy dog meat, but you also won't allow other people to buy it. Then go and buy it all yourself!"
6. "You shouldn't blame all Yulin people for this."
Some people who come from Yulin (a city of 6.9 million people) also respond on Weibo. This girl writes:
"As a person from Yulin, I feel innocent. Firstly, because I don't eat dog meat. Second, because I don't kill. Third, I am just one small citizen. It's enough for you to curse the dog meat festival – you shouldn't curse all people of Yulin. Some of you keyboard warriors are just too vulgar. You are the ones with a problem, even more so than those who eat dog meat!"
7. "Don't force your moral point of view on other people."
Another person from Yulin also comments on Weibo, and says that loving dogs and eating dogs can go together.
"When it comes to the Dog Meat Festival, loving dogs and eating dogs are two separate things. To the dog activists I would like to say: don't force your moral point of view on other people. I am from Yulin, and I'm also a dog lover. I've raised dogs. But that doesn't mean I don't like eating dog meat. Mao Zedong said: 'Only when you eat dog meat will you know how tasty it is.'"
One woman from Guangdong takes a similar stance, but points out that the abuse that often comes with the dog meat market is unacceptable. She says:
"These days on Weibo I've seen so many 'oppose the dog meat festival' posts. Actually I also love cats, dogs, and animals a lot. But to be honest, I don't really oppose it. Many people like to eat dog meat and it's part of the food chain. I can understand it. But I do oppose the stealing of dogs, the abuse of dogs, and other illegal and immoral actions. I despise this behaviour."
8. "I'm going, but I won't touch any dog meat."
There are also people who say they will visit the festival but not eat dog meat. The Lychee and Dog Meat Festival celebrates the Summer Solstice.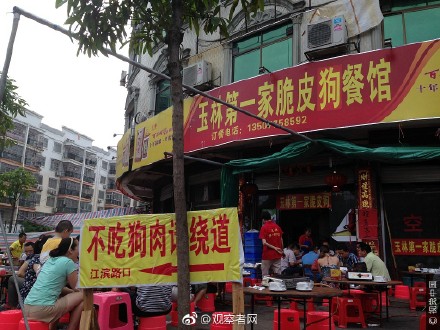 "Today is the Summer Solstice, and the Yulin Lychee and Dog Meat Festival. I am meeting up with some friends. We'll go out to eat some lychees. I won't touch any dog meat."
9. "Turning this into a special treat day for dogs."
For other people, the Yulin festival is another reason to treat their own dog to snacks today. A female netizen by the name of 'Flying Lolita' writes:
"Since the Yulin dog meat festival has started, I can't help but notice how fat our own little Harry has become! Haha. I love him. And I just hope you all won't eat dog meat."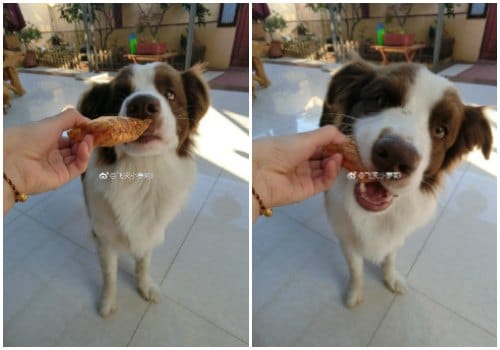 Many other people also post pictures of them cuddling their own dogs or cats on this day, turning the dog meat festival into a dog-loving day.
10. "The festival has become world famous."
Ironically enough, there are also people who think the growing controversy and international attention for the festival is a positive thing. The dog meat festival hardly received any attention before the previous few years. The national focus on Yulin bring many outsiders to the city – some come to eat dog meat, others come to protest it.
As one young netizen from Guangxi says:
"The Lychee & Dog Meat Festival is here. Yesterday on the train, I heard people say: 'Even foreigners are now coming to Yulin for the dog meat! Never in my life would I've imagined that the traditional feast I grew up with would at one time become so world-famous!"
As the 'world-famous' Yulin festival has started, so has the turmoil surrounding it. On June 21st around 18.00 Beijing time, some netizens post photos of cars driving around the festival with 'dog activists belong to an evil cult' signs, and other photos of people holding up signs to condemn the festival. Despite all the disagreements and different views, one thing is certain: as long as the Yulin festival continues, so will the controversy.
By Manya Koetse
Follow @WhatsOnWeibo
©2017 Whatsonweibo. All rights reserved. Do not reproduce our content without permission – you can contact us at info@whatsonweibo.com.
Adapted to the Desert: This Yurt-Style KFC Opened in Inner Mongolia
Special KFC in Inner-Mongolia: "Is home delivery done by camelback?"
A KFC restaurant that has opened up in Ordos Prefecture, Inner-Mongolia, is attracting online attention in China for its yurt-style building.
The KFC restaurant is located in Xiangshawan, also known as Whistling Dune Bay, a tourist area – China's first desert-themed tourism resort – in the Kubuqi Desert.
Some web users praise the fast-food giant for "following local customs" ("入乡随俗"). Others jokingly wonder if their home delivery services are also done by camelback.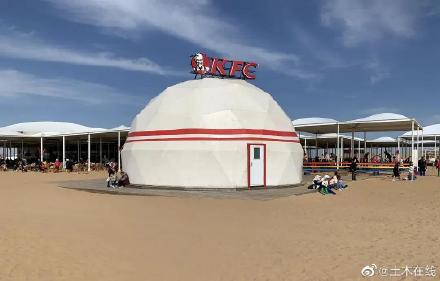 Although KFC is not China's first fast-food restaurant, it is one of the most popular ones. Nowhere else outside of the US has KFC expanded so quickly as in China. Since the first KFC opened in Beijing in 1987, the chain had an average of 50% growth per year.
With thousands of locations across the country, KFC often adapts its restaurants' style to the local environment. On Weibo, web users share various examples of local KFCs.
One Weibo user (@阳山花非花) points out that KFC is not the only chain to adapt to the local environment in Ordos. Chinese fast-food chain Dicos (德克士) apparently also has a special restaurant in the area.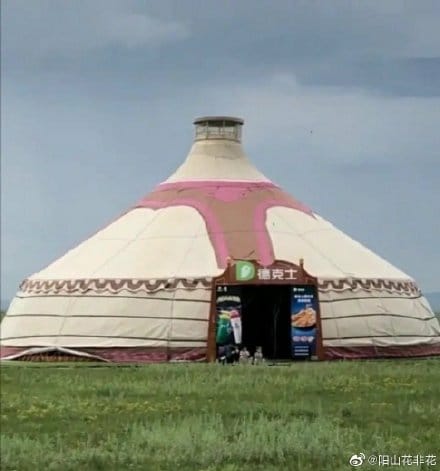 Besides adapting its buildings, KFC is also known to be quite localized in its product offerings. KFC China offers products such as Chinese-style porridge, Beijing chicken roll, and youtiao (deep-fried strip of dough commonly eaten for breakfast).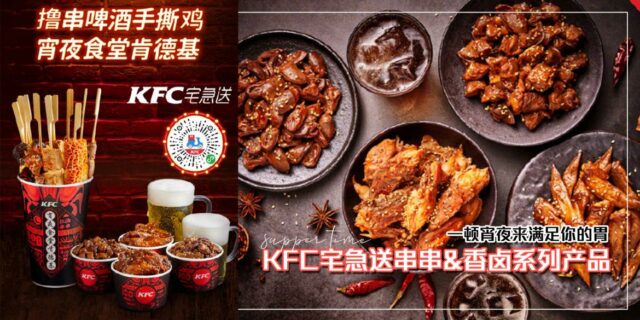 In 2019, KFC also made headlines in China for adding, among other things, hot and spicy skewers (麻辣串串) to its menu.
For now, the KFC yurt-style location is bound to gain more visitors who are coming to check it out. Already, various Weibo users are sharing their own pics of their KFC visit.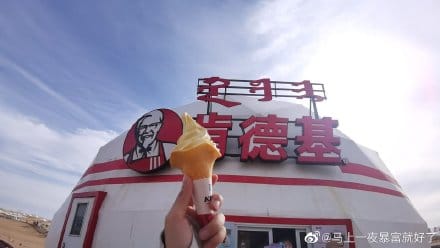 You might also like to read:
By Manya Koetse (@manyapan)
With contributions by Miranda Barnes
Spotted a mistake or want to add something? Please let us know in comments below or email us. First-time commenters, please be patient – we will have to manually approve your comment before it appears.
©2021 Whatsonweibo. All rights reserved. Do not reproduce our content without permission – you can contact us at info@whatsonweibo.com.
"There's a Cockroach in My Hotpot" – 'Pengci' Tries to Scam Haidilao Restaurant
Two hotpot cockroaches in one day, but the real cockroach didn't get away.
A man in Shenzhen has been arrested after trying to pull a scam in Haidilao hotpot restaurants twice in one day.
The man, Mr Cai (蔡), visited two different locations of China's Haidilao chain of hotpot restaurants within twenty-four hours, and both times he managed to 'discover' a cockroach in his hotpot.
Cai complained to the staff about the roach in his food. According to Sohu.com, in order to keep the peace, both Haidilao stores compensated their unhappy guest; they gave him a free meal and 1000 yuan ($156) and 800 yuan ($124) respectively.
When the restaurants later inspected their security camera footage, they suspected they had been scammed and reported the incident to the police. Further investigation of the security videos revealed that the man actually held the cockroach in his hand, behind his phone, and dropped it on the table, after which he put it in the hotpot together with the vegetables.
When the man scooped the insect out of the hotpot, he immediately called the waiter to show the cockroach in his food.
After being exposed as a 'pengci' (碰瓷), a scammer focused on pretending to a victim in order to get compensation, Cai was detained by the local police.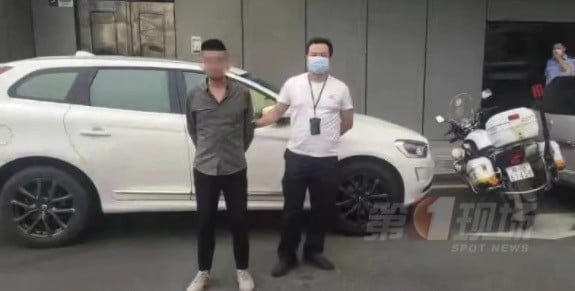 A similar incident occurred in 2018, when a man named Guo (郭) dropped a dead rat in the hotpot at a Haidilao restaurant, and then demanded a compensation of 5 million yuan ($780,000). That incident also went viral on Chinese social media at the time.
Guo was later sentenced to three years in prison for his scam, for damaging Haidilao's reputation, and for filing a false report with regulatory authorities.
Also in 2018, a woman claimed she had found a sanitary pad in her Haidilao hotpot. This incident later also turned out to be a scam – the woman had placed the item there herself.
Haidilao is one of China's most famous hotpot brands, and its restaurants have been in business for over 25 years. The restaurant is known for its good service, quality, and cleanliness.
On Weibo, the Haidilao 'cockroach incident' is attracting a lot of attention today, with one hashtag page regarding the issue receiving over 230 million views (#男子在海底捞自导自演吃出蟑螂#).
Although scams such as these are not uncommon, many people are surprised that someone would still attempt to fraud Haidilao in this way in 2021, when there are cameras set up everywhere in the restaurant.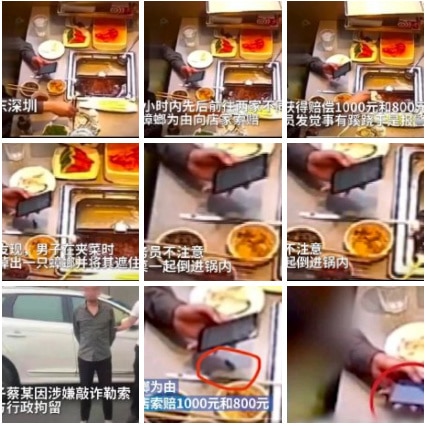 Haidilao's surveillance cameras have become a topic of discussion on social media before. The restaurant's alleged reason for putting up so many cameras is in order to take better care of their customers, to monitor employee service standards, and to rely on their security footage when personal belongings go missing. The cameras also register the entire hotpot dining process; if something comes up in the hotpot that is not supposed to be there, the cameras will have captured how it ended up there.
"In this case, it's good that there are so many security cameras," one commenter writes.
Many others scold Cai for trying to scam Haidilao like this: "They should really make him eat cockroaches."
– By Manya Koetse (@manyapan)
Spotted a mistake or want to add something? Please let us know in comments below or email us. First-time commenters, please be patient – we will have to manually approve your comment before it appears.
©2021 Whatsonweibo. All rights reserved. Do not reproduce our content without permission – you can contact us at info@whatsonweibo.com.