How These 10 New KOL 'Rules' on Weibo Could Affect Luxury Brands in China
With recently new rules implemented by Sina, China's online influential public figures (aka KOLs) can no longer do as they please on Weibo. An overview of Weibo's new KOL rules here. This article was originally posted by our friends at Jing Daily.
The Purported Rules
If you're a KOL with a Weibo account, don't even think of linking your post to any e-commerce website other than to one of Alibaba's properties. So says one of the 10 alleged new rules that Sina Weibo has recently implemented to regulate its gigantic KOL ecosystem, according to ParkLu, a digital advertising platform that connects China's online influencers and brands.
Without further ado, here are the rules ParkLu posits:
1. Link blocking to all e-commerce sites, except Alibaba properties.
2. KOL accounts need to seek permission before promoting more than one brand in a single post.
3. All posts with external links will receive a 20% media exposure penalty.
4. Posts containing plagiarized content will receive a 50% page weight penalty.
5. Posts containing long form images will receive a page weight penalty.
6. Accounts that only repost will receive a page weight penalty.
7. Posts containing a QR code will receive a page weight penalty.
8. Posts that mention WeChat will receive max page weight penalty, limited to 10% total visibility.
9. Accounts that mention a marketing, sales, or advertising businesses could receive a page weight penalty.
10. Lucky draw campaigns must use Weibo's official lucky draw function or receive a page weight penalty.
ParkLu contends that these 10 new rules, though not officially announced by Sina Weibo, have been uncovered by the agency based on talks with their insider sources, KOL surveys, and independent testing. If they're true, they could have a huge impact on luxury brands' businesses in China, as brands and KOLs have formed a symbiotic relationship in recent years. Sina Weibo have not responded to our request for comment.
"It just matters to KOLs and brands because their livelihood or sales depend on successful posting," Elijah Whaley, the Chief Marketing Officer of ParkLu, told Jing Daily over WeChat.
Some well established online fashion bloggers including gogoboi, Mr. Bags and Miss Shopping Li all fall into the targeted group of the new rules.
Luxury Brands Now Have to Consider the Cost of the Gatekeeper: Weibo
For the past several years, many luxury labels have benefitted from the promotion by online influencers of their products and services, especially those influencers with large followings. Brands also frequently use them as a bridge to better understand the interests and preferences of Chinese consumers. Sometimes they'll even collaborate with bloggers to launch events and release new collections because a carefully selected KOL can generate much more engagement than any one brand's official social media account can.
However, if the new rules have indeed come into force, KOL accounts now have to seek Weibo's permission if they hope to promote more than one brand in a single post (Rule #2—as per ParkLu's list), and pay to mention any marketing, sales and advertising businesses (Rule #9).
"Luxury brands need to take these new regulations into account when working with KOLs," said Kim Leitzes, the CEO of ParkLu, when explaining the underlying implication of the new rules on luxury businesses. "There is the cost of content creation, distribution and then the gatekeeper (Weibo)."
Leitzes also pointed out that the rule about "the blocked links to non-Tmall sites" (Rule #1) is going to pose some huge challenges to the operation of the luxury and fashion e-commerce sites such as Farfetch and Yoox Net-A-Porter in China.
"Their investment in Weibo for traffic is jeopardized," she said.
The Rules Are Related to China's Heightened Regulation and Competition of Alibaba and Tencent
However, the new purported Weibo rules did not come as a total surprise. Whaley viewed the action as resulting from a combination of the recent heightening of online regulation by the Chinese government as well as the growing competition between China's two internet giants Alibaba and Tencent.
"Some of these rules are believed to be related to new Cyber Laws, others are protections against zombie style accounts," said Whaley, "and some are believed to be directed at companies like Tencent."
Therefore, Whaley contends, luxury brands in China have to embrace the new reality, which is that they "need to start promoting their e-commerce stories in natively accepted social platforms, namely, JD.com for WeChat and Taobao and Tmall for Weibo."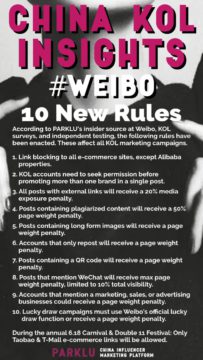 – By Yiling (Sienna) Pan for @JingDaily
Follow us on Twitter
Follow @whatsonweibo
[showad block=1]
©2017 Whatsonweibo. All rights reserved. Do not reproduce our content without permission – you can contact us at info@whatsonweibo.com.
Featured image: KOLs Mr. Bags and Leaf Greener. Image via VCG / Via www.jingdaily.com
IKEA Being Sued in China over "Exploding" Drinking Glass
This IKEA glass case is blowing up.
March 15 is not only China's Consumer's Day, it is also the day that IKEA was scheduled to go to court in China over an exploding glass.
On May 20, 2017, a woman in Beijing was about to drink cooling boiled water from a 'Stelna' IKEA cup when the glass exploded in her face. The woman, whose name is Wang, lost consciousness and was sent to the hospital, where she needed four stitches in her lip. She also broke her front tooth due to the incident.
Wang is now suing IKEA for delivering a "flawed product," Chinese news outlet The Hour reports on Weibo. She is asking one million yuan (±158,000$) in compensation.
For now, however, the court case has been rescheduled because IKEA reportedly returned the court papers with no response. The Stelna IKEA glasses are also still being sold in its stores.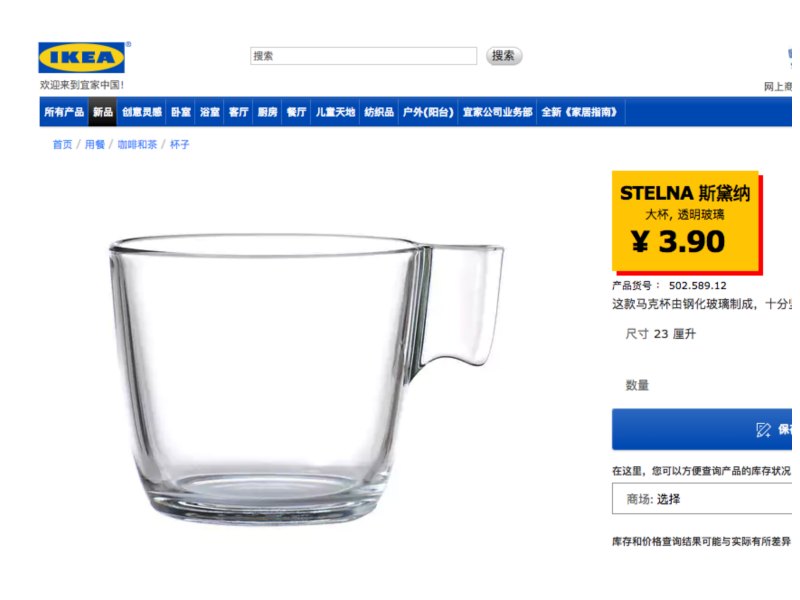 The 'exploding' glass case became a big topic on Weibo on March 15, receiving thousands of comments.
It is not the first time flawed IKEA products make the news. In 2013, the store's 'Lyda' glasses were recalled when at least ten people got injured after pouring hot liquids into it, causing the glass to break.
"My family has also bought IKEA glasses, and they also exploded," one commenter from Chongqing said: "Luckily, nobody got hurt."
"I poured boiling water into an IKEA glass the other day to prepare instant noodles in it, and it instantly exploded," another Weibo user (@宝先生的_太太) wrote.
Other commenters also complain over IKEA products, saying they've had things spontaneously breaking too.
Some worried people ask: "Is this just a normal risk of using glass, or does it really have to do with IKEA? Do we have to throw out our glasses now?"
But many netizens are more concerned about the legal aspect of the case. "In America, people can receive compensation [in court] as if they're the emperor, and in China they cannot even serve court papers!", some said.
"How is it even possible to ignore court papers?", others also wondered.
Cases such as this one often make the news on China's Consumer's Day (March 15). This year marks the 28th edition of the special day, when an annual consumer rights report is released and a special CCTV program is dedicated to protecting consumer rights and uncovering malpractices by companies.
In November of last year, English-language media also reported about glass IKEA products spontaneously exploding, including glass tables shattering without people being nearby.
In this particular case, the IKEA court case will be postponed to a later date. Sina News wrote that IKEA's customer relations manager said the company was not aware about the lawsuit until it was very close to the date. The court will resend the legal papers and schedule the case to appear later this year.
By Manya Koetse
Follow @whatsonweibo
Spotted a mistake or want to add something? Please let us know in comments below or email us.
©2018 Whatsonweibo. All rights reserved. Do not reproduce our content without permission – you can contact us at info@whatsonweibo.com.
15 Chinese Ad Campaigns That Make Abortion Procedures Look Glamorous
With pink flowers and dreamlike imageries, these prevalent advertisements promise Chinese women a fast and 'glamorous' abortion.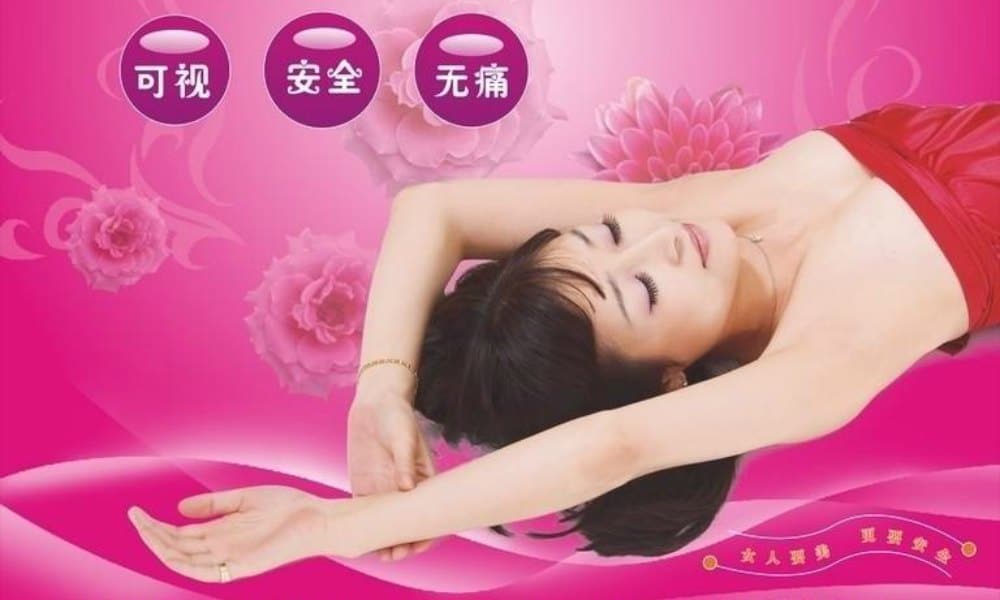 From bus stops to magazines, advertisements of clinics promising women a 'fast' and 'painless' abortion are commonplace in China, sending out the message that terminating a pregnancy is as easy as getting your nails done.
When it is rush hour in Beijing, street marketers often pass out flyers to people around busy subway stations. Most of the time, these pamphlets promote a new neighborhood restaurant or an upcoming real estate project.
Often, however, they promote abortion procedures at a local clinic. The pink and shiny ad campaigns advertise their abortion procedures in similar ways as beauty parlors or nail salons would market their services – a phenomenon which would be unimaginable in many western countries.
China's "Abortion Culture"
The legal and moral obstacles to abortion that are ubiquitous in the US or elsewhere are much less pervasive in China, a country that has one of the highest abortion rates in the world. According to the National Health and Family Planning Commission, approximately 13 million abortions are carried out in China every year (Yang 2015).
The actual number, however, is probably much higher. The official figures do not include the abortion statistics from private clinics, nor the estimated 10 million induced abortions per year through medicine (Xinhua 2014), let alone the numbers of sex-selective abortions– a practice that has officially been illegal since 2004.
There are various reasons why China's abortion rates are so high. In "Women's Health and Abortion Culture in China: Policy, Perception, and Practice," author Naomi Bouchard describes how the "visible abortion culture" in China today is an (indirect) consequence of the 1979 Family Planning Policy (better known as the One-Child Policy), family pressure, traditional values, and insufficient sexual education (2014, 2).
Especially the last dimension leads to unplanned pregnancies, notably in young women. According to official data, 4% of China's unmarried female teenagers experience an unplanned pregnancy, with 90% of them ending in abortion (Pan 2013). According to a doctor quoted in Bouchard's study, it is both lack of knowledge as well as embarrassment about buying condoms or other contraceptives that contributes to unplanned pregnancies in young women (2014, 17).
Thriving Abortion Industry
Besides the social factors that play an important role in China's "abortion culture," there is also the legal aspect that makes abortion procedures relatively common in the PRC. Unlike many other countries, China allows abortion for any reason (Theodorou & Sandstrom 2015).
The upper limit for legal abortions depends on circumstances. According to Hemmenki et al (2005), China's 1979 abortion law sets 28 weeks of gestation as the upper limit for pregnancy termination, although some provinces "have made their own laws stipulating the place and performer of the abortion." Other literature suggests that there is no limit fixed by statue (Jackson 2013, 423), and that abortions can take place up to the ninth month if the pregnancy is affected by severe anomalies (Deng et al 2015, 312).
All the aforementioned components have led to the existence of a thriving medical industry focused on abortion procedures in China, which comes with a strong commercial marketing of these procedures – advertised anywhere from bus stops to magazines and through flyers.
Scroll through the slider below (move arrows below) to see a selection of 15 advertisements for abortion procedures. The majority of these ads use the color pink and show young women either by themselves or with their partner. Besides addressing the women, their slogans also often speak to their partners ("If you love her, give her the best").
This ad by Jinzhong Friendship Hospital offers the service of "Korea JRS's dream abortions," persuading people to choose for their services with the underline: "You love her, give her the best." The main slogan says: "Bye bye pain, hello happiness."