How These 10 New KOL 'Rules' on Weibo Could Affect Luxury Brands in China
With recently new rules implemented by Sina, China's online influential public figures (aka KOLs) can no longer do as they please on Weibo. An overview of Weibo's new KOL rules here. This article was originally posted by our friends at Jing Daily.
The Purported Rules
If you're a KOL with a Weibo account, don't even think of linking your post to any e-commerce website other than to one of Alibaba's properties. So says one of the 10 alleged new rules that Sina Weibo has recently implemented to regulate its gigantic KOL ecosystem, according to ParkLu, a digital advertising platform that connects China's online influencers and brands.
Without further ado, here are the rules ParkLu posits:
1. Link blocking to all e-commerce sites, except Alibaba properties.
2. KOL accounts need to seek permission before promoting more than one brand in a single post.
3. All posts with external links will receive a 20% media exposure penalty.
4. Posts containing plagiarized content will receive a 50% page weight penalty.
5. Posts containing long form images will receive a page weight penalty.
6. Accounts that only repost will receive a page weight penalty.
7. Posts containing a QR code will receive a page weight penalty.
8. Posts that mention WeChat will receive max page weight penalty, limited to 10% total visibility.
9. Accounts that mention a marketing, sales, or advertising businesses could receive a page weight penalty.
10. Lucky draw campaigns must use Weibo's official lucky draw function or receive a page weight penalty.
ParkLu contends that these 10 new rules, though not officially announced by Sina Weibo, have been uncovered by the agency based on talks with their insider sources, KOL surveys, and independent testing. If they're true, they could have a huge impact on luxury brands' businesses in China, as brands and KOLs have formed a symbiotic relationship in recent years. Sina Weibo have not responded to our request for comment.
"It just matters to KOLs and brands because their livelihood or sales depend on successful posting," Elijah Whaley, the Chief Marketing Officer of ParkLu, told Jing Daily over WeChat.
Some well established online fashion bloggers including gogoboi, Mr. Bags and Miss Shopping Li all fall into the targeted group of the new rules.
Luxury Brands Now Have to Consider the Cost of the Gatekeeper: Weibo
For the past several years, many luxury labels have benefitted from the promotion by online influencers of their products and services, especially those influencers with large followings. Brands also frequently use them as a bridge to better understand the interests and preferences of Chinese consumers. Sometimes they'll even collaborate with bloggers to launch events and release new collections because a carefully selected KOL can generate much more engagement than any one brand's official social media account can.
However, if the new rules have indeed come into force, KOL accounts now have to seek Weibo's permission if they hope to promote more than one brand in a single post (Rule #2—as per ParkLu's list), and pay to mention any marketing, sales and advertising businesses (Rule #9).
"Luxury brands need to take these new regulations into account when working with KOLs," said Kim Leitzes, the CEO of ParkLu, when explaining the underlying implication of the new rules on luxury businesses. "There is the cost of content creation, distribution and then the gatekeeper (Weibo)."
Leitzes also pointed out that the rule about "the blocked links to non-Tmall sites" (Rule #1) is going to pose some huge challenges to the operation of the luxury and fashion e-commerce sites such as Farfetch and Yoox Net-A-Porter in China.
"Their investment in Weibo for traffic is jeopardized," she said.
The Rules Are Related to China's Heightened Regulation and Competition of Alibaba and Tencent
However, the new purported Weibo rules did not come as a total surprise. Whaley viewed the action as resulting from a combination of the recent heightening of online regulation by the Chinese government as well as the growing competition between China's two internet giants Alibaba and Tencent.
"Some of these rules are believed to be related to new Cyber Laws, others are protections against zombie style accounts," said Whaley, "and some are believed to be directed at companies like Tencent."
Therefore, Whaley contends, luxury brands in China have to embrace the new reality, which is that they "need to start promoting their e-commerce stories in natively accepted social platforms, namely, JD.com for WeChat and Taobao and Tmall for Weibo."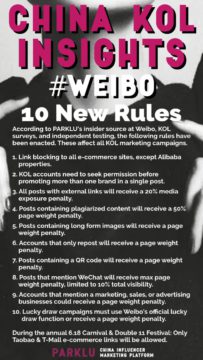 – By Yiling (Sienna) Pan for @JingDaily
Follow us on Twitter
Follow @whatsonweibo
[showad block=1]
©2017 Whatsonweibo. All rights reserved. Do not reproduce our content without permission – you can contact us at info@whatsonweibo.com.
Featured image: KOLs Mr. Bags and Leaf Greener. Image via VCG / Via www.jingdaily.com
The Fisherman's Advantange? China Post Starts Partnership with Huawei
Today marks the start of an unexpected 'romance' between Huawei and China Post, as the two just announced their strategic cooperation.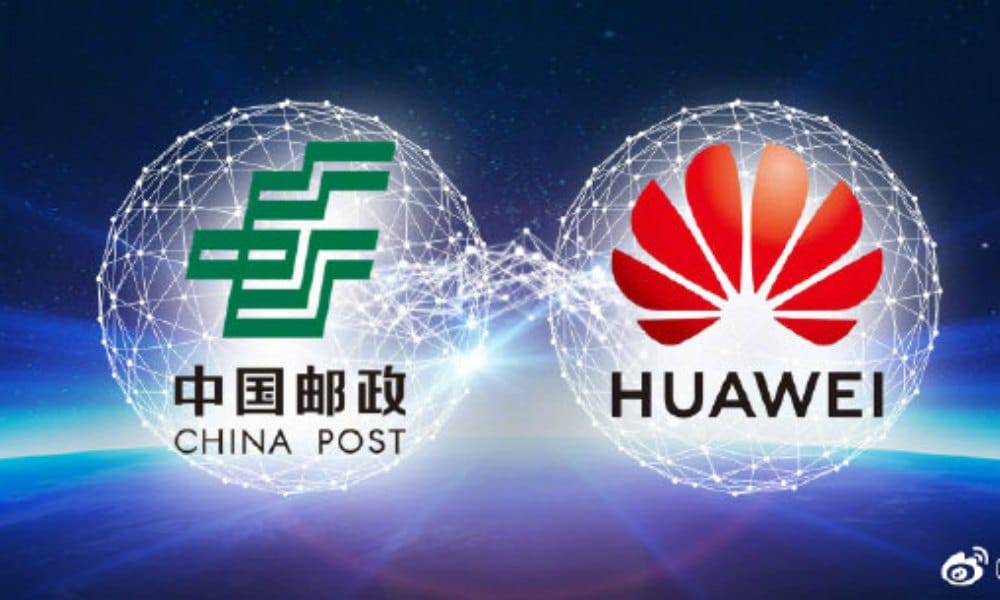 First published
Just in! Huawei and China Post announce a close partnership. Is China Post profiting from Huawei's tough spot amid China-US trade tensions? The strategic cooperation inspired the creative writing of Weibo users today.
On June 5, the topic "China Post Starts Cooperation with Huawei" (#中国邮政与华为合作#) became one of the hottest topics on social media site Weibo shortly after the state-owned China Post Group Corporation announced that it would start a strategic partnership with the Chinese multinational tech company.
According to CNbeta.com, one of China's major tech news sites, China Post and Huawei will start a close partnership and set up a "China Post Huawei New Technology Application Lab" (中国邮政·华为新技术应用实验室) to jointly develop strategies concerning financial services, tech innovation, big data, post logistics, and more.
News of the cooperation was widely shared on Chinese social media today by various state media outlets, with some threads attracting thousands of comments.
For many Chinese netizens, the press release apparently was the right time to complain about China Post being "too slow," expressing hopes that the new partnership would make the postal services run more smoothly.
"Little Huawei crying on the shoulders of China Post."
Others suggested that the recent trade war with the US, in which Huawei plays a key role, might have to do with this new move. "This is like little Huawei was being bullied outside, and then came back home to cry on the shoulders of China Post," one Weibo user jokingly writes, soon receiving over 10,000 likes.
Others called China Post the "the fisherman with an advantage." This comes from a Chinese saying, that goes 鹬蚌相争,渔翁得利 Yù bàng xiāng zhēng, yúwēng dé lì : "When the snipe and the clam fight, the fisherman has an advantage," with the 'fisherman' being the third party who catches both the snipe and the clam, profiting from the conflict of two others.
The Chinese telecom giant Huawei was added to a trade blacklist earlier last month, as the China-US trade war reached another tipping point. Some experts suggest that US President Trump is using Huawei as a bargaining chip after he earlier stated that Huawei could be included in "some kind of trade deal" with China.
News of the Huawei/China Post partnership also comes days after China's postal regulator said it would launch an investigation into US delivery company FedEx, which diverted two parcels destined for Huawei in China to the US. Chinese government authorities reportedly issued a statement saying that FedEx's actions had "violated Chinese laws and regulations on the express delivery sector."
"China Post kissed Huawei's face and said: I will handle this for you."
Chinese netizens seem to be creatively inspired by Huawei's tough spot in the China-US trade war situation and the sudden appearance of China Post in this story. Many commenters personify 'Little Huawei' and 'Big China Post,' imagining that China Post comforts the crying Huawei and takes it in its arms.
One person writes:
"One day, Hua returned home, and went straight to bed. China Post saw it, and softly asked 'What happened, who made you upset?' Huawei pulled the blanket over his head and sighed: 'Nothing, it's a trivial matter, I can handle it myself.' But the Post pulled down the blanket, bowed down to kiss Huawei's face and said: 'You go and rest now. I will handle this for you.'"
"They're so cute together!", multiple Weibo users write, suggesting that the Huawei China Post partnership has a 'romantic' element to it.
Although some people expect that there are ulterior motives behind the sudden cooperation between China Post and Huawei, many do applaud the fact that it is truly a 'Chinese' cooperation. "In crucial times we always rely most on our own family," a student remarks.
By now, the cooperation is not just triggering people's fictional creativity, it is also setting off the online meme machine, with a potential new logo for the China Post x Huawei company circulating online (see below).
Whether or not Huawei and China Post indeed get to live happily ever after? We'll just have to wait and see.
Also read: Waves of Support for Huawei on Chinese Social Media following US Blacklisting
Also read: CNN Question "What Do You Think Is the Main Reason Behind the US Campaign against Huawei?" Goes Trending on Weibo
By Manya Koetse
Follow @whatsonweibo
Spotted a mistake or want to add something? Please let us know in comments below or email us. Please note that your comment below will need to be manually approved if you're a first-time poster here.
©2019 Whatsonweibo. All rights reserved. Do not reproduce our content without permission – you can contact us at info@whatsonweibo.com
Chinese Shoppers Are Going Absolutely Crazy over UNIQLO x KAWS Collection
Everybody wants KAWS – Chinese shoppers were even spotted fighting in front of a UNIQLO store today.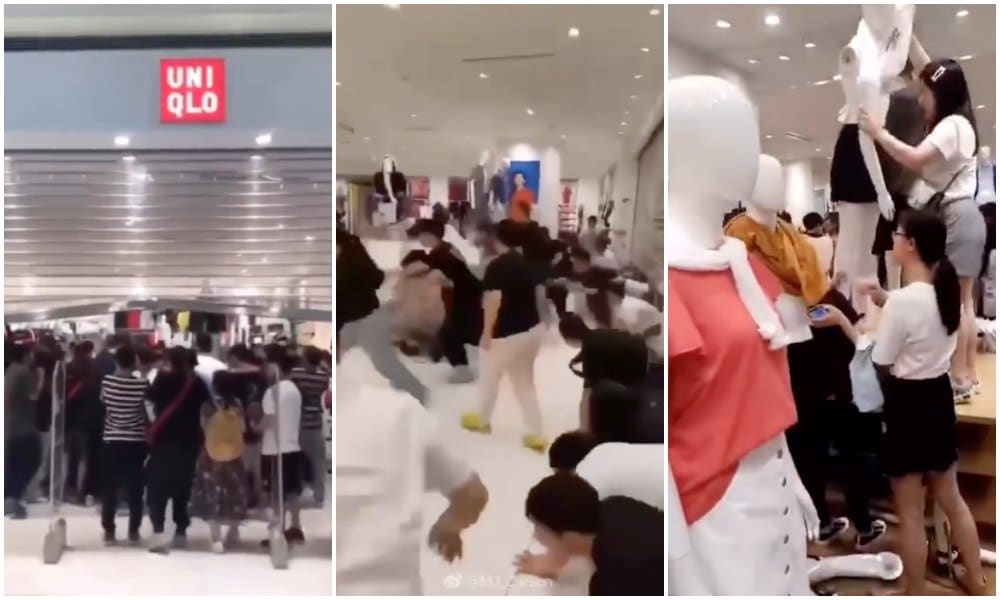 First published
The Chinese sales of the UNIQLO KAWS collection are so crazy that the craze itself has become an online hit. "I don't even like UNIQLO, I just like to compete," some shoppers say.
Chinese shoppers are going completely crazy over the latest collection sold by Japanese fashion company UNIQLO (优衣库) today. The summer collection is a cooperation between UNIQLO and the renowned American artist and designer KAWS (Brian Donnelly).
It is not the first time for the American street artist to partner with the Japanese chain: they previously also collaborated on a Sesame Street-themed collection.
The current collection first started selling in mainland China stores in the early morning of Monday, June 3, and soon became a top trending topic on social media.
The online sales reportedly were sold out in seconds.
Photos and videos circulating on Weibo show people fighting to get into UNIQLO stores, pulling clothes off the shop mannequins, and buying piles of clothes from the stores (see embedded tweet below):
Chinese shoppers are going absolutely crazy over UNIQLO x KAWS collection: https://t.co/DeC9xNgpOk pic.twitter.com/T01gYCAHXB

— Manya Koetse (@manyapan) 3 juni 2019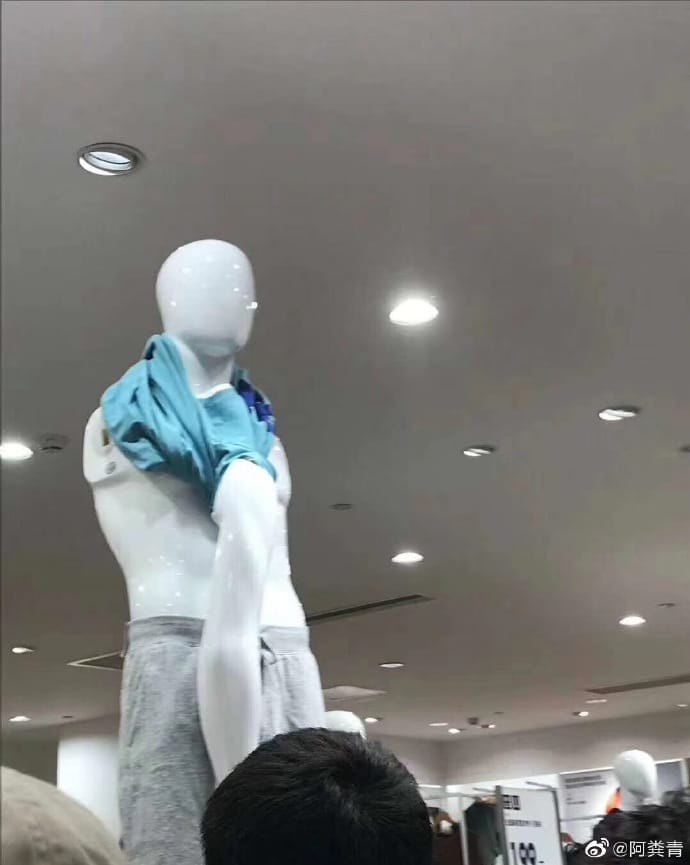 The hashtag "Everybody KAWS" (#全员kaws#) had received 140 million views on Weibo by Monday evening, China time.
Many netizens on Weibo are confused about the big hype surrounding the latest UNIQLO selection, with some wondering who KAWS is, and why people are so eager to wear his design.
Some commenters joke that it actually is not really about the KAWS collection at all, but more about the competition between shoppers on who can score the most clothes from the special product line.
The topic has set off various memes and online jokes, with some people saying: "I don't think there is any need to learn self-defense skills. I only need to wear UNIQLO KAWS clothes, and no one will dare to touch me. They will all know that I can not only fight very well but also run very fast!"
Some memes suggest that KAWS sales have been so successful that everybody on the street or at work will walk around in the same t-shirts this week.
"I finally understand now," one Weibo user writes: "What I love is not UNIQLO, nor KAWS – what I love is to rush and clash with all these people!"
The online sales of the UNIQLO x KAWS collection will start on June 6 in Europe. Its American sales started on Monday 10 AM ET.
Meanwhile, in China, the T-shirts that were bought for RMB 99 ($14) today are being resold online for four-five times their original price.
This is not the first time the Japanese UNIQLO brand becomes a viral hit on Chinese social media, albeit for different reasons. In 2015, the brand became the talk of the week when a naked girl and a man recorded an adult video in the fitting room of their Beijing flag store.
Also read:
* Chinese Kid Destroys Lego Sculpture Within Hour After It Is Displayed
* Kidnappers? Crazy Fans? No, It's Chinese Parents on Their Kids' First Day at School
By Manya Koetse and Miranda Barnes
Follow @whatsonweibo
Spotted a mistake or want to add something? Please let us know in comments below or email us. Please note that your comment below will need to be manually approved if you're a first-time poster here.
©2019 Whatsonweibo. All rights reserved. Do not reproduce our content without permission – you can contact us at info@whatsonweibo.com