How These 10 New KOL 'Rules' on Weibo Could Affect Luxury Brands in China
With recently new rules implemented by Sina, China's online influential public figures (aka KOLs) can no longer do as they please on Weibo. An overview of Weibo's new KOL rules here. This article was originally posted by our friends at Jing Daily.
The Purported Rules
If you're a KOL with a Weibo account, don't even think of linking your post to any e-commerce website other than to one of Alibaba's properties. So says one of the 10 alleged new rules that Sina Weibo has recently implemented to regulate its gigantic KOL ecosystem, according to ParkLu, a digital advertising platform that connects China's online influencers and brands.
Without further ado, here are the rules ParkLu posits:
1. Link blocking to all e-commerce sites, except Alibaba properties.
2. KOL accounts need to seek permission before promoting more than one brand in a single post.
3. All posts with external links will receive a 20% media exposure penalty.
4. Posts containing plagiarized content will receive a 50% page weight penalty.
5. Posts containing long form images will receive a page weight penalty.
6. Accounts that only repost will receive a page weight penalty.
7. Posts containing a QR code will receive a page weight penalty.
8. Posts that mention WeChat will receive max page weight penalty, limited to 10% total visibility.
9. Accounts that mention a marketing, sales, or advertising businesses could receive a page weight penalty.
10. Lucky draw campaigns must use Weibo's official lucky draw function or receive a page weight penalty.
ParkLu contends that these 10 new rules, though not officially announced by Sina Weibo, have been uncovered by the agency based on talks with their insider sources, KOL surveys, and independent testing. If they're true, they could have a huge impact on luxury brands' businesses in China, as brands and KOLs have formed a symbiotic relationship in recent years. Sina Weibo have not responded to our request for comment.
"It just matters to KOLs and brands because their livelihood or sales depend on successful posting," Elijah Whaley, the Chief Marketing Officer of ParkLu, told Jing Daily over WeChat.
Some well established online fashion bloggers including gogoboi, Mr. Bags and Miss Shopping Li all fall into the targeted group of the new rules.
Luxury Brands Now Have to Consider the Cost of the Gatekeeper: Weibo
For the past several years, many luxury labels have benefitted from the promotion by online influencers of their products and services, especially those influencers with large followings. Brands also frequently use them as a bridge to better understand the interests and preferences of Chinese consumers. Sometimes they'll even collaborate with bloggers to launch events and release new collections because a carefully selected KOL can generate much more engagement than any one brand's official social media account can.
However, if the new rules have indeed come into force, KOL accounts now have to seek Weibo's permission if they hope to promote more than one brand in a single post (Rule #2—as per ParkLu's list), and pay to mention any marketing, sales and advertising businesses (Rule #9).
"Luxury brands need to take these new regulations into account when working with KOLs," said Kim Leitzes, the CEO of ParkLu, when explaining the underlying implication of the new rules on luxury businesses. "There is the cost of content creation, distribution and then the gatekeeper (Weibo)."
Leitzes also pointed out that the rule about "the blocked links to non-Tmall sites" (Rule #1) is going to pose some huge challenges to the operation of the luxury and fashion e-commerce sites such as Farfetch and Yoox Net-A-Porter in China.
"Their investment in Weibo for traffic is jeopardized," she said.
The Rules Are Related to China's Heightened Regulation and Competition of Alibaba and Tencent
However, the new purported Weibo rules did not come as a total surprise. Whaley viewed the action as resulting from a combination of the recent heightening of online regulation by the Chinese government as well as the growing competition between China's two internet giants Alibaba and Tencent.
"Some of these rules are believed to be related to new Cyber Laws, others are protections against zombie style accounts," said Whaley, "and some are believed to be directed at companies like Tencent."
Therefore, Whaley contends, luxury brands in China have to embrace the new reality, which is that they "need to start promoting their e-commerce stories in natively accepted social platforms, namely, JD.com for WeChat and Taobao and Tmall for Weibo."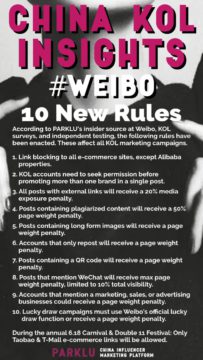 – By Yiling (Sienna) Pan for @JingDaily
Follow us on Twitter
Follow @whatsonweibo
[showad block=1]
©2017 Whatsonweibo. All rights reserved. Do not reproduce our content without permission – you can contact us at info@whatsonweibo.com.
Featured image: KOLs Mr. Bags and Leaf Greener. Image via VCG / Via www.jingdaily.com
From Teacher to Livestreamer: Ecommerce Move is Game Changer for China's New Oriental Education
New Oriental is going from classroom to e-commerce. Online shopping has never been more educational.
After laying off 60,000 staff last year, Chinese private education company New Oriental is now offering unexpected new employment opportunities for teachers in the livestream market. Changing e-commerce channels into virtual classrooms, New Oriental has hit the sweet spot with Chinese netizens.
Last year, an unprecedented crackdown on China's private education sector left many teachers unemployed and worried about their future.
China's so-called 'double reduction' (双减) policy was announced in August of 2021 and targeted "excessive homework" and off-campus tutoring for students in the mandatory nine-year education system. The new regulations imposed strict sanctions on existing private education institutions, forcing them to register as non-profit organizations. Foreign investment in the private tutoring sector was also banned.
One of the companies that was hit particularly hard by this policy is New Oriental (新东方), the largest provider of private educational services in China. Following the crackdown, the company suffered huge losses and dismissed 60,000 employees.
Facing the new regulations, including the ban on for-profit tutoring in subjects on the school curriculum, New Oriental tried to keep its head above water by exploring new markets and ideas within the private education sector. For example, the company launched a special program to train parents on how to tutor their K-12 children themselves. New Oriental called it their "excellent parenting" (优质父母) training class.
Now, nearly a year later, another initiative by New Oriental has become an online hit. Inspired by the success of livestream e-commerce in China, the tutoring company started its own livestream channels. Although New Oriental already introduced its e-commerce business in late 2021, with founder Yu Minhong (俞敏洪) sometimes hosting the sessions himself, it had not been as much of an online success until it recently introduced bilingual livestream e-commerce sessions.
Now, tutors-turned-sellers are teaching viewers English – or sometimes other subjects – while selling (agricultural) products via the Douyin app. Whether they are selling fruit, rice, or even shrimp, New Oriental's livestream hosts are grabbing every opportunity to teach their viewers a new word or concept, often using a whiteboard to introduce new vocabulary.
One reason for New Oriental becoming a viral hit is because of Dong Yuhui (董宇辉), who is one of the experienced teachers now selling products online. Dong's bilingual livestreams are particularly successful among viewers because of his enthusiasm, fluency in English, witty jokes, personal stories, and talent for singing.
Teacher Dong recently had a breakthrough moment with his June 10th livestream, during which he sold bags of rice using English. He has since attracted over nine million viewers. While thanking all viewers for their support in a recent Weibo post, Dong described himself as a "ordinary peasant boy."
Besides Dong, there are also other popular hosts. English teachers Ming Ming, Yoyo, and Dun Dun are all loved by viewers for their charm and wit.
Although various kinds of social e-commerce categories are particularly popular in China, this new phenomenon of combining education + e-commerce + livestream is appreciated by many netizens who like to learn something while being entertained and perhaps also buying something. "I don't know whether to place an order or to make notes," has become a popular comment. Another commenter said: "As a kid I took your class, and now I buy your goods."
Others say that they like the calm way in which the livestreams are presented, posing a stark contrast to other livestreams where the hosts are hyping up products and urging people to buy fast and buy more.
On June 15th, news came out that New Oriental's stocks had surged by more than 25% following its livestreaming success.
Although some Weibo users predict that this is just a temporary trend, others think that the educational livestream model is here to stay: "New Oriental really started a new business venture, and I'm learning a lot through their livestream sessions."
By Manya Koetse
With contributions by Miranda Barnes
Read related article: China's Crackdown on Tutoring Schools: Concerned Parents and Teachers on Weibo
Get the story behind the hashtag. Subscribe to What's on Weibo here to receive our weekly newsletter and get access to our latest articles:
Spotted a mistake or want to add something? Please let us know in comments below or email us. First-time commenters, please be patient – we will have to manually approve your comment before it appears.
©2022 Whatsonweibo. All rights reserved. Do not reproduce our content without permission – you can contact us at info@whatsonweibo.com.
Why Is Kindle Leaving China?
Many netizens are not happy over Kindle exiting the Chinese market: "We never know when the online services we use suddenly stop working."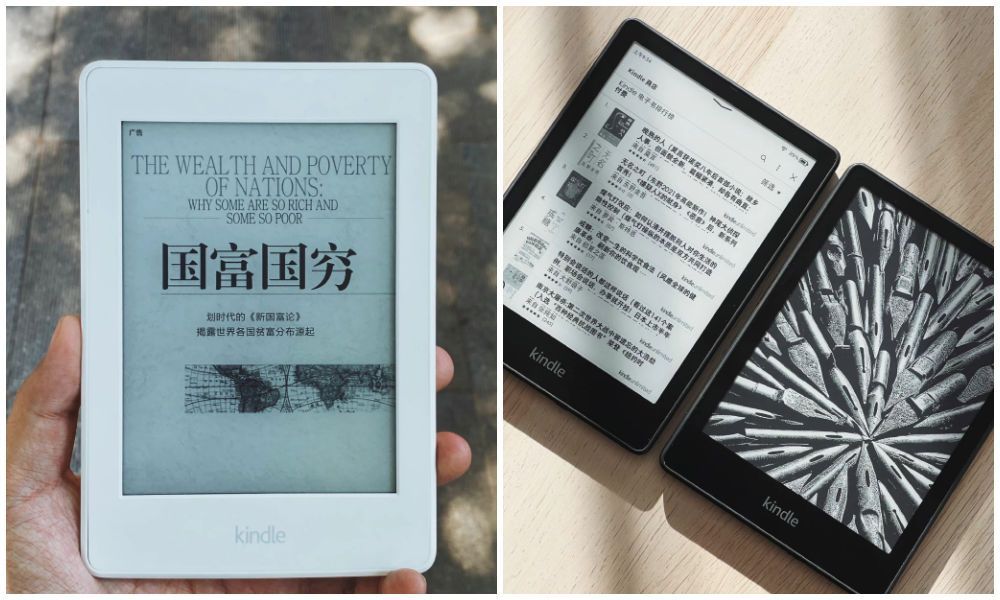 Amazon announced on Thursday that it has stopped supplying retailers in China with its Kindle e-readers and that it will discontinue its Kindle e-bookstore in the Chinese market on June 30, 2023.
Amazon announced its Kindle exit in a statement on its official WeChat account, saying it was because of a shift in the strategic focus of its company's operations.
For Chinese customers who have purchased e-books through Kindle, they will be able to continue downloading them until June 30 of 2024. Customers who would rather return the Kindle devices they bought in 2022 can get a refund.
On Weibo, the hashtags "Kindle Will Be Discontinued in China Next Year" (#Kindle中国明年停止电子书运营#) and "Why Wasn't Kindle Able to Make It in China?" (#为什么Kindle在中国活不下去#) were hot topics on Thursday and Friday.
Some commenters said they were upset about Kindle being discontinued in China: "Why why why!! I really like Kindle and their e-bookstore, I check for interesting and new books on sale on a weekly basis. Which e-reader and e-bookstore are suitable substitutes?"
"Zhangyue, Hisense, Huawei, Onyx Boox, Tencent, Readmoo,.. there are actually a lot of brands," one person responded, but some others said they still preferred Kindle.
"What do I do with my Kindle now? Just use it to cover my noodles?"
In 2021, Amazon's Kindle was among the most popular e-book brands in China. Besides Amazon's Kindle, China's most popular e-reader brands include Onyx Boox, iFlytech, Zhangyue, Xiaomi, Hanvon, Tencent, Boyue, Obook, and Sony (see list).
Some commenters wrote that they understand that companies such as Amazon have to make some tough choices after facing pandemic-related setbacks in China, while there were also many netizens who blamed Kindle's China exit on Chinese consumers illegally downloading pirated books instead of buying them at the Kindle store.
Others said that Kindle e-bookstore prices were often about the same as paper book prices, making the latter more appealing to people who like to read, especially if they also like to make notes in their books. In other words, they say the Kindle e-bookstore is simply too expensive for the Chinese market, where consumers can find many other options, both paper and digital ones.
"It's not so complicated," one Weibo user wrote: "It's all because of market competition reasons. Kindle is facing the impact of Tencent's influence on the e-reading market."
Some people are really disappointed that the books they have bought through Kindle will become unavailable to them, and some wondered if this was legal with regards to consumer rights.
One popular economic blogger wrote: "Kindle has now withdrawn [from China]. Many years ago, when different kinds of online storage spaces starting closing down, I learned one thing: never fully trust internet storage services. Your study material, the things you wrote, your video records, you need to back them up. We never know when the online services we use suddenly stop working."
By Manya Koetse
Featured images by Weibo blogger @钟文泽.
Get the story behind the hashtag. Subscribe to What's on Weibo here to receive our weekly newsletter and get access to our latest articles:
Spotted a mistake or want to add something? Please let us know in comments below or email us. First-time commenters, please be patient – we will have to manually approve your comment before it appears.
©2022 Whatsonweibo. All rights reserved. Do not reproduce our content without permission – you can contact us at info@whatsonweibo.com.