How These 10 New KOL 'Rules' on Weibo Could Affect Luxury Brands in China
With recently new rules implemented by Sina, China's online influential public figures (aka KOLs) can no longer do as they please on Weibo. An overview of Weibo's new KOL rules here. This article was originally posted by our friends at Jing Daily.
The Purported Rules
If you're a KOL with a Weibo account, don't even think of linking your post to any e-commerce website other than to one of Alibaba's properties. So says one of the 10 alleged new rules that Sina Weibo has recently implemented to regulate its gigantic KOL ecosystem, according to ParkLu, a digital advertising platform that connects China's online influencers and brands.
Without further ado, here are the rules ParkLu posits:
1. Link blocking to all e-commerce sites, except Alibaba properties.
2. KOL accounts need to seek permission before promoting more than one brand in a single post.
3. All posts with external links will receive a 20% media exposure penalty.
4. Posts containing plagiarized content will receive a 50% page weight penalty.
5. Posts containing long form images will receive a page weight penalty.
6. Accounts that only repost will receive a page weight penalty.
7. Posts containing a QR code will receive a page weight penalty.
8. Posts that mention WeChat will receive max page weight penalty, limited to 10% total visibility.
9. Accounts that mention a marketing, sales, or advertising businesses could receive a page weight penalty.
10. Lucky draw campaigns must use Weibo's official lucky draw function or receive a page weight penalty.
ParkLu contends that these 10 new rules, though not officially announced by Sina Weibo, have been uncovered by the agency based on talks with their insider sources, KOL surveys, and independent testing. If they're true, they could have a huge impact on luxury brands' businesses in China, as brands and KOLs have formed a symbiotic relationship in recent years. Sina Weibo have not responded to our request for comment.
"It just matters to KOLs and brands because their livelihood or sales depend on successful posting," Elijah Whaley, the Chief Marketing Officer of ParkLu, told Jing Daily over WeChat.
Some well established online fashion bloggers including gogoboi, Mr. Bags and Miss Shopping Li all fall into the targeted group of the new rules.
Luxury Brands Now Have to Consider the Cost of the Gatekeeper: Weibo
For the past several years, many luxury labels have benefitted from the promotion by online influencers of their products and services, especially those influencers with large followings. Brands also frequently use them as a bridge to better understand the interests and preferences of Chinese consumers. Sometimes they'll even collaborate with bloggers to launch events and release new collections because a carefully selected KOL can generate much more engagement than any one brand's official social media account can.
However, if the new rules have indeed come into force, KOL accounts now have to seek Weibo's permission if they hope to promote more than one brand in a single post (Rule #2—as per ParkLu's list), and pay to mention any marketing, sales and advertising businesses (Rule #9).
"Luxury brands need to take these new regulations into account when working with KOLs," said Kim Leitzes, the CEO of ParkLu, when explaining the underlying implication of the new rules on luxury businesses. "There is the cost of content creation, distribution and then the gatekeeper (Weibo)."
Leitzes also pointed out that the rule about "the blocked links to non-Tmall sites" (Rule #1) is going to pose some huge challenges to the operation of the luxury and fashion e-commerce sites such as Farfetch and Yoox Net-A-Porter in China.
"Their investment in Weibo for traffic is jeopardized," she said.
The Rules Are Related to China's Heightened Regulation and Competition of Alibaba and Tencent
However, the new purported Weibo rules did not come as a total surprise. Whaley viewed the action as resulting from a combination of the recent heightening of online regulation by the Chinese government as well as the growing competition between China's two internet giants Alibaba and Tencent.
"Some of these rules are believed to be related to new Cyber Laws, others are protections against zombie style accounts," said Whaley, "and some are believed to be directed at companies like Tencent."
Therefore, Whaley contends, luxury brands in China have to embrace the new reality, which is that they "need to start promoting their e-commerce stories in natively accepted social platforms, namely, JD.com for WeChat and Taobao and Tmall for Weibo."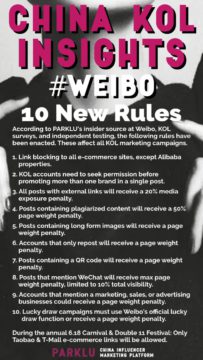 – By Yiling (Sienna) Pan for @JingDaily
Follow us on Twitter
Follow @whatsonweibo
[showad block=1]
©2017 Whatsonweibo. All rights reserved. Do not reproduce our content without permission – you can contact us at info@whatsonweibo.com.
Featured image: KOLs Mr. Bags and Leaf Greener. Image via VCG / Via www.jingdaily.com
Chinese Comedian Li Dan under Fire for Promoting Lingerie Brand with Sexist Slogan
Underwear so good that it can "help women lie to win in the workplace"? Sexist and offensive, according to many Weibo users.
Popular talk show host and comedian Li Dan (李诞) has sparked controversy on Chinese social media this week for a statement he made while promoting female underwear brand Ubras.
The statement was "让女性轻松躺赢职场", which loosely translates to "make it easy for women to win in the workplace lying down" or "make women win over the workplace without doing anything," a slogan with which Li Dan seemed to imply that women could use their body and sex to their advantage at work. According to the underwear brand, the idea allegedly was to convey how comfortable their bras are. (The full sentence being "一个让女性躺赢职场的装备": "equipment that can help women lie to win in the workplace").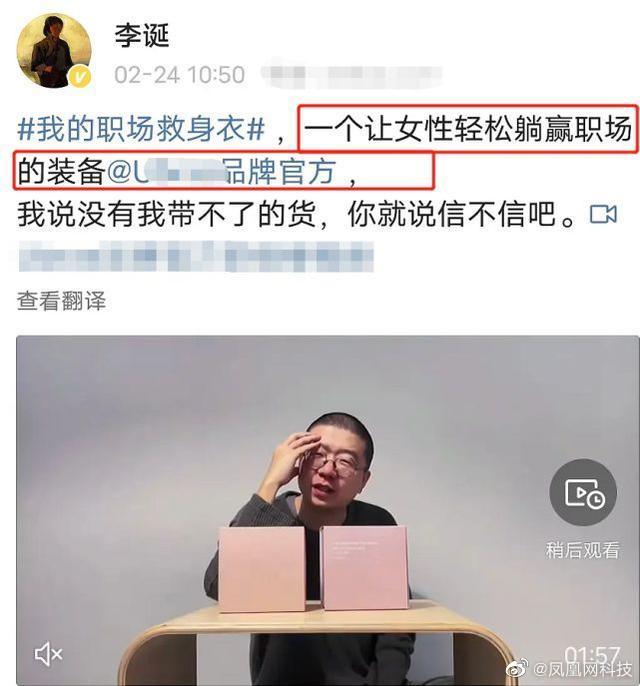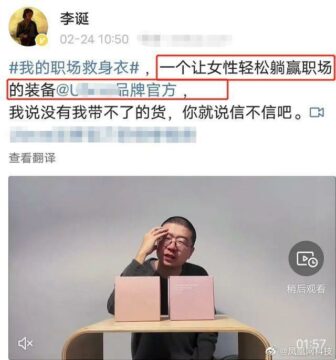 Li Dan immediately triggered anger among Chinese netizens after the controversial content was posted on his Weibo page on February 24. Not only did many people feel that it was inappropriate for a male celebrity to promote female underwear, they also took offense at the statement. What do lingerie and workplace success have to do with each other at all, many people wondered. Others also thought the wording was ambiguous on purpose, and was still meant in a sexist way.
Various state media outlets covered the incident, including the English-language Global Times.
By now, the Ubras underwear brand has issued an apology on Weibo for the "inappropriate wording" in their promotion campaign, and all related content has been removed.
The brand still suggested that the slogan was not meant in a sexist way, writing: "Ubras is a women's team-oriented brand. We've always stressed 'comfort and wearability as the essence of [our] lingerie, and we're committed to providing women with close-fitting clothing solutions that are unrestrained and more comfortable so that more women can deal with fatigue in their life and work with a more relaxed state of mind and body."
Li Dan also wrote an apology on Weibo on February 25, saying his statement was inappropriate. Li Dan has over 9 million followers on his Weibo account.
The objectification of women by brands and media has been getting more attention on Chinese social media lately. Earlier this month, the Spring Festival Gala was criticized for including jokes and sketches that were deemed insensitive to women. Last month, an ad by Purcotton also sparked controversy for showing a woman wiping away her makeup to scare off a male stalker, with many finding the ad sexist and hurtful to women.

By Manya Koetse
with contributions by Miranda Barnes
Follow @whatsonweibo
Spotted a mistake or want to add something? Please let us know in comments below or email us. First-time commenters, please be patient – we will have to manually approve your comment before it appears.
©2021 Whatsonweibo. All rights reserved. Do not reproduce our content without permission – you can contact us at info@whatsonweibo.com.
Hard Measures for Durex in China after "Vulgar" Ads
One Durex sex toy ad gave off the wrong vibrations to Chinese regulators.
As if it wasn't already bad enough that fewer people are having sex during COVID19 lockdowns, leading to a decline in condom sales, condoms & sex toys brand Durex is now also (again) punished for the "vulgar" contents of its advertisements in China.
News of Durex facing penalties in China became top trending on Thursday, with one Weibo hashtag page about the matter receiving over 1,2 billion views.
Durex has over three million fans on its official Weibo account (@杜蕾斯官方微博), which is known for its creative and sometimes bold posts, including spicy word jokes. Durex opened its official Weibo account in 2010.
A post by Durex published on Wednesday about the release of Apple's super speedy new 5G iPhone, for example, just said: "5G is very fast, but you can take it slow," adding: "Some things just can't be quick." The post received over 900,000 likes.
Other ads have also received much praise from Chinese netizens. One ad's slogan just shows a condom package, saying "Becoming a father or [image of condom] – it's all a sign of taking responsibility."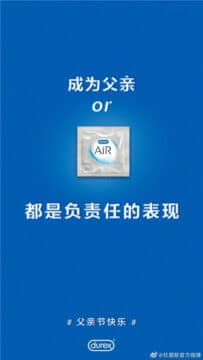 According to various Chinese news outlets, Durex has been penalized with a 810,000 yuan ($120,400) fine for failing to adhere to China's official advertisement guidelines, although it is not entirely clear to us at this point which fine was given for which advertisement, since the company received multiple fines for different ads over the past few years.
One fine was given to Durex Manufacturer RB & Manon Business (Shanghai) for content that was posted on e-commerce site Tmall, Global Times reports.
According to the state media outlet, "the ad used erotic words to describe in detail multiple ways to use a Durex vibrator." The fine was already given out in July of this year, but did not make headlines until now.
In another 2019 case, the condom brand did a joint social media campaign cooperation with Chinese milk tea brand HeyTea, using the tagline "Tonight, not a drop left," suggesting a connection between HeyTea's creamy topping and semen.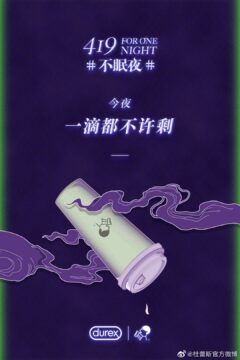 According to China's Advertisement Examination System (广告审查制度), there are quite some no-goes when it comes to advertising in China. Among many other things, ads are not allowed to be deceptive in any way, they cannot use superlatives, nor display any obscene, scary, violent or superstitious content.
Chinese regulators are serious about these rules. In 2015, P&G's Crest was fined $963,000 for "false advertising", at it promised that Crest would make your teeth whiter in "just one day."
However, advertisement censorship can be a grey area. Any ads that "disturb public order" or "violate good customs," for example, are also not allowed. For companies, it is not always clear when they are actually crossing a line.
On Weibo, there are also contrasting opinions on this matter. Many people, however, support Durex and enjoy their exciting ads and slogans. With the case dominating the top trending charts and discussions on social media the entire day, the latest penalty may very well be one of Durex's most successful marketing campaigns in China thus far.
By Manya Koetse
Follow @WhatsOnWeibo
Spotted a mistake or want to add something? Please let us know in comments below or email us. First-time commenters, please be patient – we will have to manually approve your comment before it appears.
©2020 Whatsonweibo. All rights reserved. Do not reproduce our content without permission – you can contact us at info@whatsonweibo.com.