Chinese Netizens on World Refugee Day: "Don't Come to China"
A heightened focus on China's role in solving the refugee crises on World Refugee Day has triggered waves of criticism on Chinese social media.
A heightened focus on China's role in solving the refugee crises on World Refugee Day has triggered waves of criticism on Chinese social media. The general sentiment: "Refugees are not welcome in China."
The topic of World Refugee Day has unleashed thousands of comments on Chinese social media this week after the United Nations Refugee Agency raised awareness for refugees on Sina Weibo. Earlier this month, UNHCR chief Filippo Grandi visited Beijing and stated that China can play key role in solving refugee crises.
China became a member of the International Organization for Migration in June of 2016.
Chinese celebrity Yao Chen participated in a World Refugee Day event on Tuesday in Beijing, where the film Welcome to Refugeestan was screened. The popular actress is the Goodwill Ambassador of the UN Refugee Agency.
With over 80 million fans on Weibo, Yao Chen is one of the most influential celebrities on Weibo. She is the first-ever Chinese UNHCR Goodwill Ambassador and has been a strong voice for refugees over the last seven years.
REFUGEES TRENDING
"China will not take in refugees! "
On Tuesday, the UN Refugee Agency posted on Weibo:
"Because June 20 is #World Refugee Day#, the UNHCR has hosted a public welfare event in Beijing to pay tribute to the world's 65.6 million people who are displaced and homeless, and to pay tribute to all those who support and care for the refugees. @NicholasRosellini @United Nations Development Program @YaoChen #westandtogetherwithrefugees#."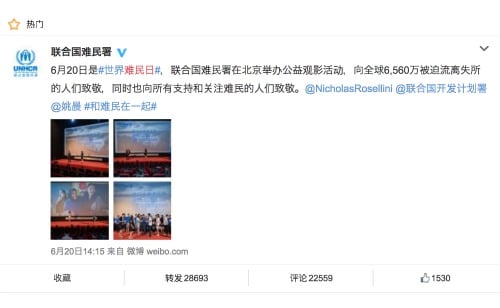 The post soon attracted over 28,000 shares and 20,000 comments – many were negative about China's role in solving the refugee crisis. The topic 'Should China accept refugees?' (中国要不要接收难民) eventually became one the week's biggest topics on social media.
"Let the USA and Europe take in refugees, they started this war to begin with," many said: "China will not take in refugees! We can give some money, but don't come here!"
"Why should we pay our respects to people simply because they are refugees?", one popular comment said: "How do we know if they are all virtuous people? Did they become terrific people because they became refugees? What kind of logic is this? What is the UNHRC teaching us?"
Hosting refugees is currently not a prominent issue on China's current state agenda, and there is no national legislation for refugees in China. According to UN Refugee data, there were 317,923 "persons of concern" (refugees, asylum-seekers, stateless persons and others) in China in 2016 – a figure that is very small compared to the country's native population.
Of this number 317,098 people are refugees from Vietnam – mostly ethnically Chinese. As for Syria, the data shows that China in 2016 had a mere 20 refugees from Syria and 35 Syrian asylum seekers. From Afghanistan, there were 20 asylum seekers. There were 102 refugees from Somalia and 5 from Iraq.
THREE VIEWS ON CHINA TAKING IN REFUGEES
"We didn't have 30 years of One-Child Policy in order to let in other people now."
The overall negative view on social media about China accepting refugees generally has three different perspectives.
Firstly, people on Weibo refer to the situation in Europe and say that taking in refugees will negatively impact a country's society. They want to protect a stable Chinese society.
"We would not be so hateful [about refugees] if they were more well-behaved and had better morals. What became of Germany because of the refugees? They have led in wolves in sheep's clothes. It's not easy to create a stable Chinese society and we must treasure and protect it," one netizen says.
They also say that China already has enough domestic issues with migrants and poverty.
Second, many refer to China's One-Child Policy, that lasted from the late 1970s to 2015. The policy was implemented to reduce the growth rate of China's population. If China would now take in large numbers of refugees, many say, then why could Chinese families not have more than one child for over three decades?
As one person writes: "China shouldn't just let in refugees. We didn't have 30 years of family planning [one-child policy] in order to let in other people now."
A third perspective behind the negative comments on refugees coming to China is people's anti-Islam stance.
"Many netizens have this logic," one US-based Weibo female netizen writes: "Refugee = Middle Eastern refugee = Islam = Terrorism."
"We're not really against taking in refugees," one man from Shanghai writes: "We're against taking in islamic refugees."
MOST WELCOMING TO REFUGEES?
"Your core mission should be to tell the world how China maintains peace."
Many netizens turned their negative comments against Yao Chen. "Yao Chen should take in some refugee children herself and raise them together with her daughter. Does she dare?", some said. Many blamed Yao Chen for standing up for international refugees while China has "enough issues" to deal with already.
"Yao Chen, as the Chinese UNHCR goodwill ambassador, your core mission should be to tell the world how China maintains peace, and how it contributes to taking in neighboring refugees," others say.
One year ago, the issue of China taking in refugees also became a trending topic when Amnesty International published a global survey that ranked Chinese, German and British people as "most welcoming to refugees" among the 27 countries surveyed. Russia ranked as 'least welcoming' in the so-called 'refugees welcome index.'
The survey triggered controversy on Weibo, where many people questioned how representative it was (also see our 2016 video about this topic).
The wave of criticism on Weibo shows that most netizens do not share the 'refugees welcome' sentiments portrayed in Amnesty's survey.
"China shouldn't receive 'green' [Muslim] refugees, we must refuse. We haven't even sorted out our own problems with Chinese Muslims. I must ask: Why do Syrian and other war refugees do not go to Saudi Arabia and their other rich neighbours? That's simply the best place for them to adapt seamlessly. But instead they do everything in their power to go to Europe, not Eastern Europe, but to Western Europe where the welfare and economy is good," one netizen named Alex writes.
An editorial by Global Times editor Hu Xijin (胡锡进) of June 22 questions what all the fuss is about on Weibo: "Refugees from the Middle East don't even want to come to China. Why should we worry about whether or not China should take in refugees?"
Although it is unlikely that China will take in large numbers of refugees from Africa or the Middle East in the near future, the government does play an active role in refugee aid by donating money to refugee camps and humanitarian assistance.
By Manya Koetse
Follow @WhatsOnWeibo
©2017 Whatsonweibo. All rights reserved. Do not reproduce our content without permission – you can contact us at info@whatsonweibo.com.
China's Online 'Baoman' Community Shut Down: Behind Rage Comics (Baozou Manhua)
Why have China's most popular Rage Comics (Baozou Manhua) channels been shut down?
Rage Comics, known as Baozou Manhua in Chinese, have become a widespread phenomenon on Chinese social media over the past decade. Online censors are now targeting channels spreading these popular webcomics, which serve as a humorous weapon to China's younger generations. What's on Weibo explains.
Sixteen Weibo accounts relating to Rage Comics (暴走漫画) were shut down by Sina Weibo administrators this week for allegedly "insulting" and "slandering" the names of Chinese heroes and martyrs.
The official Weibo administrator account (@微博管理员) issued a statement in the evening of May 17, writing:
"In accordance with the Law on the Protection of Heroes and Martyrs (英雄烈士保护法), the Cybersecurity Law (网络安全法), and other legal guidelines, Weibo has fulfilled its corporate responsibility (..) and has focused on disposing of harmful information that insults, slanders, or in any other way infringes on the name, portrayal, or reputation of heroes."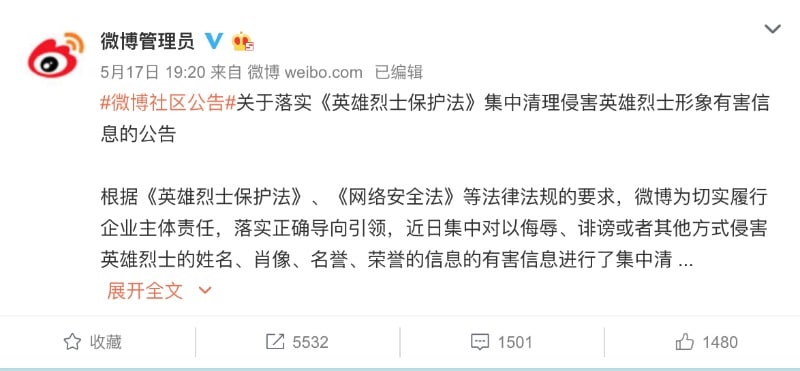 Among the banned Weibo accounts are @Baozoumanhua (@暴走漫画), @Baozoudashijian (@暴走大事件), @HuangJiguang (@黄继光砸缸) and @DongCunRuiattheoffice (@办公室的董存瑞) – all very popular channels through which China's so-called 'Rage Comics' are created and spread.
The ban also goes beyond Weibo, affecting Rage Comics accounts on Q&A platform Zhihu.com, video-streaming sites Youku and iQIYI, and official Baozou Manhua websites.

China's Online 'Baoman' Community

What are Rage Comics? Many internet users will be familiar with the online crude and simple online comics featuring various characters, often created with simple drawing software such as MS Paint, telling stories about everyday annoyances or personal embarrassments, and ending with a punchline. The jokes are often straightforward and politically incorrect (MacDonald 2016).
This genre of webcomics first surfaced in North America on the English-language website 4chan, after which it became more widespread in online communities such as Tumblr, Reddit, and beyond.
The Chinese translation of 'Rage Comics' is Bàozǒu Mànhuà (暴走漫画), with 'baozou' literally meaning 'out of control', and 'manhua' meaning 'sketches', popularized through the Japanese manga term. The term baozou manhua is also abbreviated as Baoman (暴漫).
Baoman became more popular in mainland China when 'Wang Nima' (@王尼玛 on Weibo) launched the website baozoumanhua.com (now offline) in 2008, inspired by the success of the webcomics on English-language online communities (Chen 2014, 690).
The website baozoumanhua.com became a thriving online community and media platform – allowing users to create their own Baoman through the creator's tool (制作器), and to browse the popular comics of the day through its many channels, the 'Baozou Daily', an online forum, videos, and gif collection.
In 2012, the website officially registered the copyright of their Baoman products, as baozoumanhua.com started receiving 5000 to 8000 daily submissions of new comics (Chen 2014, 692-695); Chinese 'rage comics' then also became more widespread on platforms such as Weibo or Wechat, where these 'rage faces' are commonly sent as emoticon-like stickers during chat conversations.
Some of the popular Baoman characters are the same in China as in the US, such as 'rage guy' or 'troll face', or the 'B*tch please' meme – which is actually the face of Chinese retired professional basketball player Yao Ming responding to a journalist's question during a post-game press conference.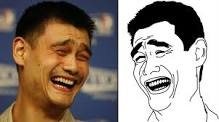 The Yao Ming image is typically used as a 'reaction face' to convey a dismissive attitude towards comments in online discussions (Knowyourmeme 2018).
But there are also typically Chinese characters or biaoqing (表情 'expressions'), for example, those based on Chinese celebrities or referencing to Chinese pop culture (Chen 2014, 695; Xu 2016).
As described by Christina Xu in the Field Guide to China's Most Indispensible Meme; although Chinese 'Baoman' and/or 'biaoqing' all started as a Chinese response to the American Rage Comics, and still use some original characters, an "entirely separate pantheon has emerged" in the PRC (Xu 2016), in which Chinese netizens have collectively built a uniquely Chinese online 'subculture' and Baoman community.
Baoman have been especially functional in China for urban Chinese youth to "vent their frustration about the inequalities they face on a daily basis," as Chen (2014) points out in "Baozou Manhua, Internet Humour and Everyday Life."
These issues go from rising unemployment to the high cost of living, or the difficulty of entering Chinese universities through the gaokao (national entrance exam) system.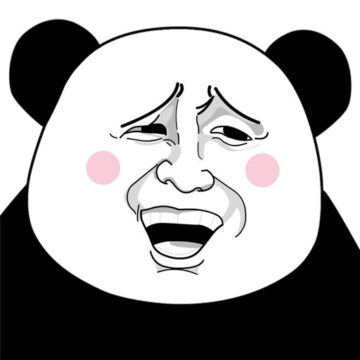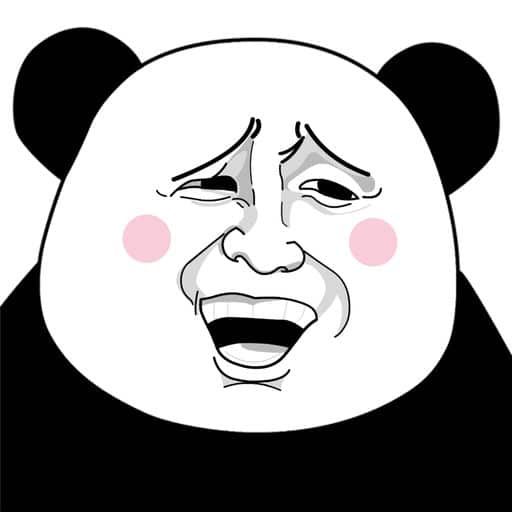 Self-mockery and self-satire is an important part of China's so-called "diaosi tribe": a huge group of Chinese youths who've labeled themselves 'diaosi' (屌丝), basically meaning "losers", as they struggle with the hardships of everyday life and growing social inequality. The ugly, amateuristic graphics of the Baozou manhua suit this youth culture, meeting their need for expression in a culture that focuses on 'keeping face' (Ma 2016, 20).
According to baozoumanhua.com founder Wang Nima, the Baoman genre provides Chinese gao gen (grassroots) netizens "a 'lance' to express themselves" (Chen 20154, 693); meaning this kind of humour can also serve as a frivolous way of resistance, using humor as a weapon to talk about daily frustrations.

No Disrepect for Chinese Heroes: A 'Ban' on Baoman

The recent ban on Baoman directly relates to a 2015 image and a 2014 short Baozou manhua video clip, which was reposted to online news app Jinri Toutiao earlier this month. Both the image and the clip joked about some of China's renowned heroes, including Chinese civil war figures Ye Ting (叶挺, military leader) and Dong Cunrui (董存瑞, PLA soldier who destroyed an enemy bunker in a suicide bombing) (Lin 2018).

(The clip in question; some commenters say the words have been taken out of context.)
In the clip, Sixth Tone reports, video host Wang Nima – wearing a 'rage face' mask as always – narrates: "Dong Cunrui stared at the enemy's bunker, his eyes bursting with rays of hate. He said resolutely, 'Commander, let me blow up the bunker. I am an eight-point youth, and this is my eight-point bunker.'" The script, Qiqing Lin writes, was meant as a pun on a KFC sandwich that was broadcasted in 2014.
Although sarcasm and crudeness are very much inherent in the Baoman humor, this does not mix well with the new law that has recently been implemented in mainland China to 'protect' its national heroes.
The Law on the Protection of Heroes and Martyrs (yīngxióng lièshì bǎohùfǎ, 英雄烈士保护法), has been introduced in March of 2018, as China Daily writes, "so that the country and the people forever remember the sacrifices made by the nation's heroes and martyrs for the good of the country."
It has thus become illegal to make fun of Chinese heroes, and people who "defame" them can now face criminal punishment.
But is this law really the only reason for the shutdown of Baoman channels? Or is it the fact that the all too popular Rage Comics are a representation of an online subculture that goes against the government's view of "healthy developments" of Chinese youth and cultural industries?
Baozoumahua.com founder 'Wang Nima', who now has over 16.6 million followers on Weibo, responded to the ban on the Baoman channels on Thursday, saying he offered his "profound apologies" for bringing an "unhealthy influence" into society. The 40,000 comments to his post were not available to view at time of writing.

The Future of China's Baozou Comics

Over the past few days, the ban on Baozou Manhua has been a huge topic of discussion on Chinese social media, although most comment threads have become publicly unavailable.
Current bans on China's most important online webcomics channels do not necessarily predict their existence and survival in the future. Over the past few months, various online (announced) bans were overturned or denied after triggering controversy (e.g. the ban on gay content or the alleged Douyin targeting of Peppa Pig).
Although channels and hashtags are easy to take offline for censors, the actual creation and spread of new and existing Baoman is virtually impossible to combat. No sources thus far have pointed towards a current ban on the actual comics themselves (just their channels).
Besides the shutdown of the various social media channels, the closure of the baozoumanhua.com media empire is a huge blow to its fans and creators. The website's founder Wang Nima's net worth is estimated to be around 4 billion yuan (±US$628 million), according to Daily Economic News (每日经济新闻).
Netflix recently paid $30 million for the Chinese animated film 'Next Gen', which is also based on the original webcomic '7723' by Wang Nima. Baozou financed and produced the film, which Chinese majors Alibaba and Wanda will reportedly release in China this summer (Amidi 2018).
Whether or not that will happen, and whether or not baozoumanhua.com will be allowed to go online again, is something to be seen.
For many netizens on Weibo, the fact that Baozuo Manhua has been punished for things in the past with a new law that has just been introduced, is something they find unjust. But there are also those who say it serves them right and that the names of Chinese heroes can not be slandered.
"Why Baozuo Manhua?", one netizen says: "Why not other programs with vulgar content? (..) It's unfair!"
Another Weibo commenter says: "China is a big country with many people, and since their education levels are unequal we need a level of control, but it doesn't mean we should control absolutely everything. If there's a problem it gets blocked and deleted, but problems do not get solved at their root."
"Wang Nima I love you, I wait for your return," one fan writes.
By Manya Koetse
Follow @whatsonweibo
References
Amidi, Amid. 2018. "Why Did Netflix Pay $30 Million At Cannes For The Chinese Animated Film 'Next Gen'?" Cartoon Brew, May 13. https://www.cartoonbrew.com/feature-film/why-did-netflix-pay-30-million-at-cannes-for-the-chinese-animated-film-next-gen-158348.html [20.5.18].
Chen, Shih-Wen. 2014. "Baozou manhua (rage comics), Internet humour and everyday life." Continuum: Journal of Media & Cultural Studies 28(5): 690-708.
China Daily. 2018. "英雄烈士保护法(yīngxióng lièshì bǎohùfǎ): Law on the protection of heroes and martyrs." China Daily, May 3. http://www.chinadaily.com.cn/a/201805/03/WS5aea50e6a3105cdcf651ba95.html [20.5.18]
Know Your Meme. 2018. "Yao Ming Face / Bitch Please." Know your Meme. http://knowyourmeme.com/memes/yao-ming-face-bitch-please [20.5.18].
Lin, Qiqing. 2018. "Popular 'Rage Comics' Brand Gagged for Making Fun of Martyrs." Sixth Tone, May 18. https://www.sixthtone.com/news/1002298/popular-rage-comics-brand-gagged-for-making-fun-of-martyrs [19.5.18].
Ma, Xiaojun. 2016. "From Internet Memes to Emoticon Engineering: Insights from the Baozou Comic Phenomenon in China." HCI (3) 9733, Lecture Notes in Computer Science (Springer): 15-27.
Xu, Christina. 2016. "A Field Guide to China's Most Indispensible Meme." Motherboard, August 1. https://motherboard.vice.com/en_us/article/bmvd74/china-meme-face-a-biaoqing-field-guide [20.5.18].
MacDonalds, Sean. 2016. Animation in China: History, Aesthetics, Media. London: Routledge.
Spotted a mistake or want to add something? Please let us know in comments below or email us.
Directly support Manya Koetse. By supporting this author you make future articles possible and help the maintenance and independence of this site. Donate directly through Paypal here. Also check out the What's on Weibo donations page for donations through creditcard & WeChat and for more information.
©2018 Whatsonweibo. All rights reserved. Do not reproduce our content without permission – you can contact us at info@whatsonweibo.com.
Big Teacher Is Watching You! Hangzhou High School Introduces Facial Recognition to Monitor Classroom Behavior
Now parents can monitor their children's behavior in class.
A high school in Hangzhou recently introduced a classroom behavior management system. News of the facial recognition cameras has triggered controversy on Weibo.
On May 16, Chinese state media Xinhua News posted a short video produced by Zhejiang Daily on Weibo.
In the one-minute long video, school officials from Hangzhou No.11 High School introduce a recently developed classroom behavior management system that enables parents to monitor their kids' performances at school.
With the help of in-class cameras, students' attendances and facial expressions are captured and recorded. The system can identify key classroom behaviors, such as standing, writing, reading, listening, raising hands, and sleeping in class.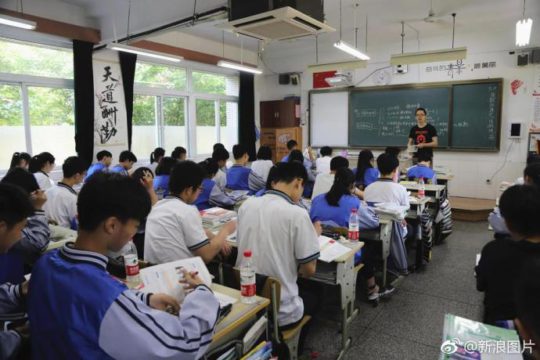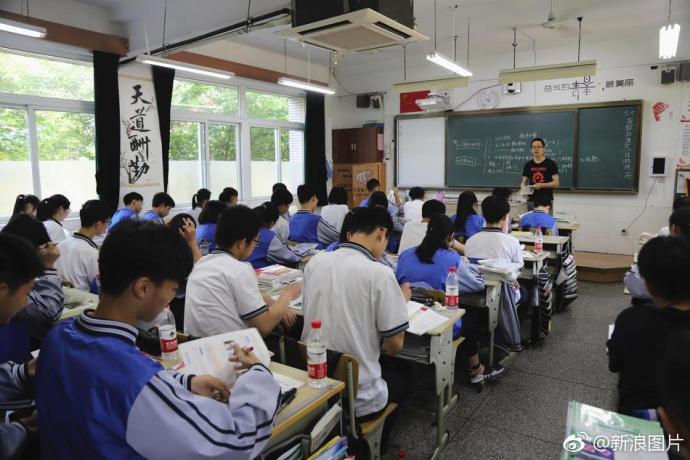 With the collected data, the system can then analyze the students' attentiveness and generates a report to list all students who are not paying enough attention in class and can then send the report results to their parents.
"The system is advanced enough to capture the subtle facial expressions in class," one of the school officials told Chinese media: "This data system can be used to analyze the behavior of the entire class. And of course, this is a very efficient way to check class attendance."
The system can measure students' emotions based on their expressions. These expressions include anger, sadness, surprise, and annoyance.
One of the students told reporters: "It is a way to monitor us. We see the cameras whenever we are about to fall asleep in class. And we are going to stay more alert because of that. It encourages us to behave well."
Perhaps that one student was reluctant to highlight the more negative sides of the monitoring system to Chinese state media, but netizens on Weibo are certainly not afraid of speaking out: "This is so scary! I am glad that I graduated so early," one commenter said.
"Technologies are supposed to serve people, not monitor people," another commenter wrote.
One of the commenters who criticized the incentives of the school also received hundreds of likes.
"I will not enroll my kid into this school," another person noted, expressing their disagreement towards the school's decision to install such a system.
It is not the first time that Hangzhou No.11 High School introduces facial recognition. In 2017, the 'innovative' school already adapted a facial recognition system in its on-campus cafeteria. By registering students' faces, the cafeteria system can process their information and give out their ordered meal in less than 8 seconds.
Additionally, the school cafeteria system can also send out weekly reports to students' parents on their daily meal routines.
Mass Surveillance Becoming a Trend in China
Although the Hangzhou school's sophisticated facial recognition system is shocking to many netizens, it is not the first time that China's advanced facial recognition technology is triggering controversy.
In December 2017, Chinese media outlet The Paper reported on just how advanced China's massive surveillance system had become. BBC correspondent John Sudworth was invited to test the facial recognition system in Guiyang, China. It took local police less than 7 minutes to locate Sudworth and to 'arrest' him on the spot.
Chinese authorities are now using facial recognition technologies in many areas. A Sina news story in March 2018 reported that police officers in Shenzhen are experimenting with advanced facial recognition technologies to identify the jaywalkers and show their faces on screens located at the city's major intersections. According to Shenzhen police, the facial recognition technology successfully captured 13,390 'guilty' jaywalkers within a period of six months.
The misbehaviors captured by these surveillance systems can also affect local citizen's social credit scores; frequent offenders could be recognized as individuals with a low social-credit score, which may mean, for example, that someone will have difficulties in applying for loans in the future.
Researchers believe that there should be a balance between protecting individual's privacy and punishing frequent offenders. For now, this balance is seemingly hard to find. Despite more surveillance devices being installed on Chinese streets, there has been little progress in passing relevant laws and policies to also protect the privacy of Chinese citizens.
By Chauncey Jung
Follow @whatsonweibo
Spotted a mistake or want to add something? Please let us know in comments below or email us.
©2018 Whatsonweibo. All rights reserved. Do not reproduce our content without permission – you can contact us at info@whatsonweibo.com.