Police Notification: Fatal Stabbing in Kunshan Road-Rage Incident Ruled Self-Defense
The Kunshan road-rage incident is the biggest topic on Chinese social media this week. Police now state that the cyclist who killed his attacker is acquitted, ruling the controversial stabbing as 'self-defense.'
With more than 880 million 1.8 billion views, it was the biggest topic of this week on Chinese social media: the Kunshan road-rage incident with a bizarre twist, in which the cyclist being attacked by a BMW driver with a knife, ended up killing the man with his own weapon. Police have now ruled the case self-defense.
According to a police statement released on Saturday afternoon, September 1st, the bike rider who fatally stabbed the BMW driver who attacked him has handled out of self-defense. (We reported about this case earlier this week here).
The statement was published on the official Weibo account of the Kunshan police (@昆山公安), and received over 77,000 shares within an hour.
On Weibo, netizens are happy about the news; the majority of people sided with the cyclist, a 41-year-old hotel worker by the name of Yu Haiming (于海明). Some people even organized crowd-funding campaigns to help pay for his legal costs, and the past week has seen a flood of memes about the incident in support of the cyclist.
Bizarre Road-Rage Incident
The incident occurred on the night of August 27, when a BMW vehicle in Kunshan, Jiangsu, turned into a bike line, colliding with the cyclist who refused to give way. Two men then stepped out of their BMW vehicle to confront the cyclist, with one man going back to his vehicle, suddenly pulling out a long knife.
Surveillance videos [YouTube link] capture the moment, which show how the muscular and tattooed BMW driver attacks Yu with the big knife – but then suddenly loses grip and drops the knife on the ground.
That is the pivotal moment when Yu quickly grabs the knife and starts attacking the BMW driver. Various videos show how the bike driver runs after the man, hitting and stabbing him with the knife at least five or six times – eventually killing him.
The BMW driver turned out to be the somewhat notorious Liu Hailong (刘海龙) aka 'Brother Long' (龙哥) a 36-year-old ex-convict who previously spent years in prison for robbery, theft, and another knifing incident.
He had been drinking the night of the incident.
"Brother Long Terminator"
The topic was a trending topic on Chinese social media all week, which a main question being: To what degree is self-defence legitimate?
Some lawyers quoted in various news articles (read our report here) alleged that Yu might be held responsible for intentional injury and death, since the video footage showed that Liu tried to get away once Yu came after him with the knife – making the stabbing incident one of attack instead of defense.
The fact that Yu stabbed his attacker many times (the video shows at least six instances) was also considered to go beyond self-defense, making it possible for him to face up to ten years in prison.
But as more information about the case emerged, most netizens concluded that ex-con 'Brother Long' had deserved his own death.
The 41-year-old Yu, who is known as a hard-working man with no criminal records, was even called the "Brother Long Terminator" by some, who compared the incident to a video game in which the main character defeats his enemy with his own knives.
Detailed Report Rules Legitimate Self-Defense
According to the police statement that was issued today, in the first moments of the violent stabbing, cyclist Yu was stabbed in the neck, waist, and leg by Liu. Once Yu succeeded in grabbing the machete, he stabbed Liu Hailong in the abdomen, buttocks, right chest, left shoulder, and left elbow.
The BMW driver then flees the scene and falls into a grass field some 30 meters away from the car. (This image on YouTube shows Liu in the grass with severe injuries- viewer discretion is advised). Meanwhile, Yu has stopped his pursuit and turns to the BMW vehicle to take out Liu's mobile phone, out of fear that Liu or others might call other people for reinforcement in the attack.
When police arrived at the scene, Yu immediately handed them over the mobile phone and the weapon, which has since been identified as a sharp-edged double-sided blade with a total length of 59 cm.
Liu Hailong was soon taken to the hospital but died that same night. Yu did not sustain any life-threatening injuries.
Forensic researchers have now found that in the first seven seconds in which Yu stabbed Liu with the knife he grabbed from the ground, he stabbed him a total of five times, of which the first stab might have been the most lethal one; stabbing him in the left abdomen, causing the large abdominal vein to rupture. The fact that the first strike allegedly was the lethal one might have also helped in the self-defense ruling.
"The behavior of Yu Haiming is [ruled as] legitimate defense and he does not bear criminal responsibility," the police notifiation states, in accordance with Article 20 of the Criminal Law of the People's Republic of China that defines self-defense.
The statement also says that Yu's personal safety was "seriously endangered" when Liu Hailong first attacked him with his bare hands, and then continued to hit him with a knife. It suggests that throughout the incident, Yu was constantly in danger – even when he had the knife – thereby denying any claims that Yu's actions were excessive and illegal.
The police report further reveals that BMW driver Liu was found to have a blood-alcohol level of 87mg/100ml (0.087).
The night of the incident, there were three other passengers in the BMW car. One of them, the male passenger who can be seen first getting out of the car in the video, gets a ten-day prison sentence for his involvement in the incident. The two other passengers, both female, have been acquitted.
Besides being happy about the ruling, many netizens also praise the Kunshan police for their work. "I've never seen such a detailed police report, thumbs up for Kunshan police!", some commenters write.
"It's a good thing we have surveillance cameras nowadays," another person says: "Ten years ago, he might have been held responsible."
Others write: "Wonderful news, justice has prevailed! This restores some faith among the common people."
By Manya Koetse and Miranda Barnes
Follow @whatsonweibo
Spotted a mistake or want to add something? Please let us know in comments below or email us.
©2018 Whatsonweibo. All rights reserved. Do not reproduce our content without permission – you can contact us at info@whatsonweibo.com.
Online Anger over "Special Treatment" for Quarantined Foreigners in China
Are foreigners in quarantine being treated better than Chinese nationals? This Nanjing Daily article has triggered controversy.
On March 27, an article titled "For the Good Health of 684 Foreigners" ("为了684个"老外"的安康") sparked controversy online over the alleged special treatment of foreign nationals during their mandatory 14-day quarantine period.
According to the article published by Nanjing Daily, Nanjing's Xianlin Subdistrict set up a special WeChat group for foreign nationals and their families returning to the city after the Spring Festival holiday, which coincided with the outbreak of the new coronavirus.
In special WeChat groups, subdistrict officers, doctors, translators, and property managers provide assistance and daily services to these China-based foreigners. Examples of such "daily services" include delivering fresh bread or contacting pet boarding facilities.
"One young man loved online shopping on Taobao, and once we delivered twenty packages for him within one day," one member of the service group told Nanjing Daily.
Although foreign residents in China and foreigners with previously issued visas are currently no longer allowed to enter China, they needed to undergo a two-week quarantine period upon entry until the travel ban of a few days ago.
Jiangsu Province, of which Nanjing is the capital, tightened quarantine rules on March 23, making every traveler from abroad subject to a centralized quarantine (e.g. in a hotel) for fourteen days.
The special services for returning foreigners reported by Nanjing Daily triggered controversy on Chinese social media this week. Many netizens criticized it as a "supra-nationals treatment" (超国民待遇).
Under one Weibo post by media outlet The Cover (@封面新闻), which received over one million views, many people are criticizing local officers' favorable treatment of foreigners. One commenter writes: "Will they provide the same comprehensive services to their compatriots?"
Another person writes: "Why don't they also adhere to the slogan of 'Serve the People' (..) when dealing with Chinese citizens?"
In discussing the supposed inequality between the treatment of foreigners and Chinese nationals in quarantine, many netizens raise a recent example of a quarantined Chinese student who asked the civil police staff for mineral water. In a video that circulated online in mid-March, the girl quarrels with the police for not being offered mineral water. The student, demanding mineral water over the available boiled tap water, was ridiculed for suggesting that having mineral spring water is a "human right."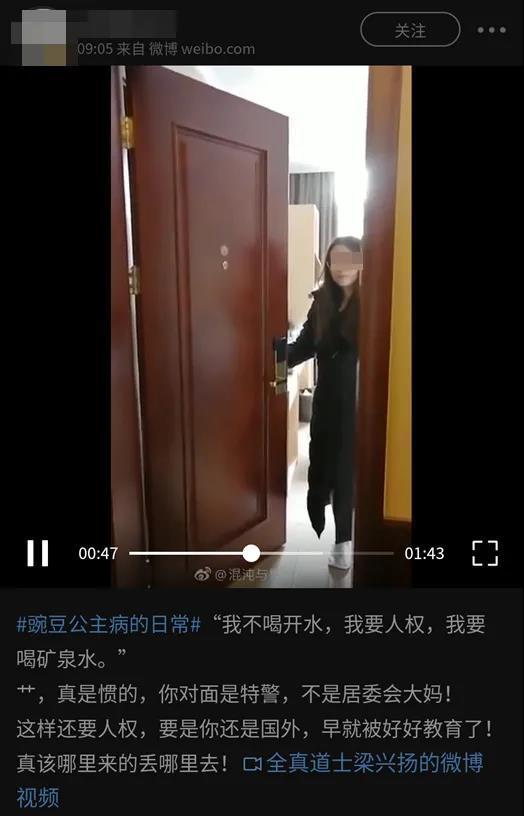 Ironically, the Nanjing Daily article explicitly mentions how the Xianlin Subdistrict deals with foreigners drinking purified water: "[This] Laowai [foreigner] wants to drink bottled purified water, [so] we bought four barrels for him (..) and carried them from the community gate to his apartment."
The contrast in treatment of quarantined foreigners versus Chinese nationals prompted some Weibo users to reflect on their previous remarks on the female student: "I apologize for previously mocking the Chinese student at the quarantine center in Pudong, Shanghai, for demanding to drink mineral water," one commenter writes.
In response to the online controversy, the office of the Xianlin Subdistrict clarified that Chinese nationals would receive "corresponding services" during their quarantine period. Some netizens question what these alleged "corresponding services" exactly entail.
In another media report, the official reply was that "the Subdistrict treats Chinese and foreign citizens the same."
Over recent years, there have been many online controversies on the issue of privilege in China. Earlier this year, there was public outrage over two women driving a Benz SUV into the Palace Museum, where cars are usually not allowed.
The issue of the perceived privileges of foreigners in China has particularly triggered anger among netizens. The "preferential treatment" of overseas students and the "dorm disparities" between Chinese and foreign students in China, for example, previously became major topics of online discussion.
A popular WeChat article that comments on the Nanjing controversy of this week also lists examples of special treatment for foreigners, including cases where foreigners were not fined when breaking rules in China or being "treated better" in other ways. By now, the article has received over 100,000 views.
For more COVID-19 related articles, please click here.
By Bobby Fung (@bobbyfungmr)
Spotted a mistake or want to add something? Please let us know in comments below or email us. First-time commenters, please be patient – we will have to manually approve your comment before it appears.
©2020 Whatsonweibo. All rights reserved. Do not reproduce our content without permission – you can contact us at info@whatsonweibo.com.
Children of Hubei Medical Workers to Receive 10 Extra Points on High School Enrolment Examination
Hubei officials announced a controversial measure to reward frontline medical workers.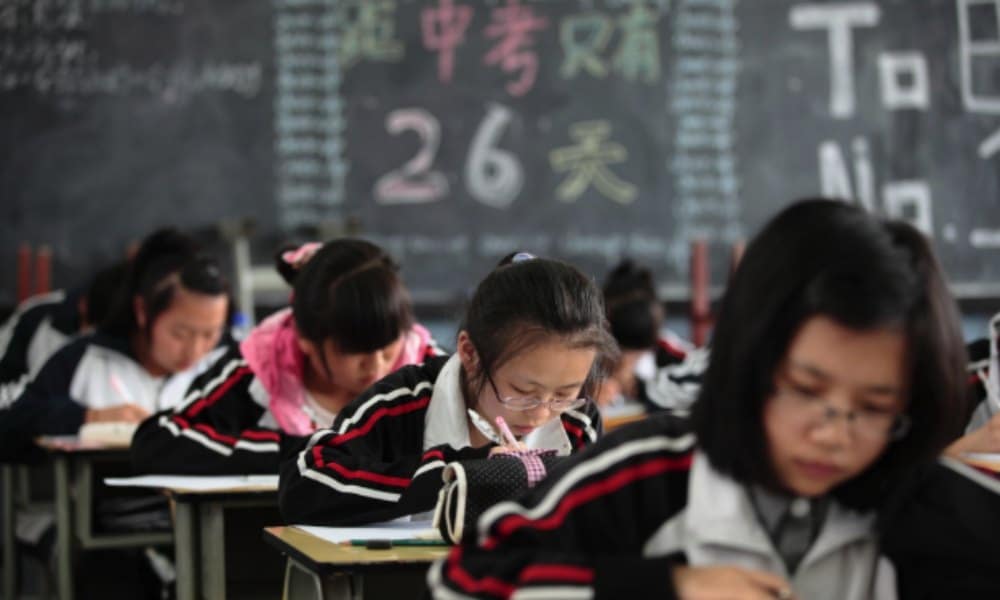 First published
Hubei authorities announced new measures on Tuesday to encourage and support the work of Hubei's front-line medical workers during the coronavirus crisis.
One of these measures, rewarding the children of medical staff an extra ten points in their zhongkao examination, became a somewhat controversial top trending topic on Chinese social media today.
The zhongkao is an important academic examination in China taken during the last year of junior high school, right before entering education institutions at the senior high school level. These enrollment examinations are held annually in June or July, depending on the region.
A good mark on the exam is of crucial importance for many students, as it will give them admission to their preferred senior high school, which then could have more profound effects on their education after high school and their further career.
According to the new policy, children of Hubei's medical workers would be rewarded with ten extra points on top of their overall score for the exams if they take it. Since the exams are highly competitive, every extra point could mean a world of difference since it will mean leaving hundreds of other students behind you.
On Weibo, one announcement of the new measure published by Chinese news source The Paper received over 938.000 likes and more than 11.000 comments. Many Weibo users do not agree with the policy.
"It should be the medical workers themselves who are rewarded through promotion or a salary increase," a top comment says: "It shouldn't be their children who are rewarded."
Although a majority of commenters say that medical workers should be given special rewards in these times of hardships, most also agree that rewarding their children in their exam results is not the way to go. "This only makes the exam system more unfair," a recurring comment says.
With 610 million views at the time of writing, the hashtag "The kids of Hubei frontline medical staff will get extra 10 points on zhongkao score" (#湖北一线医务人员子女中考加10分#) is one of the most-dicussed topics on Weibo of the day.
For more COVID-19 related articles, please click here.
By Manya Koetse (@manyapan)
Follow @whatsonweibo
Spotted a mistake or want to add something? Please let us know in comments below or email us. First-time commenters, please be patient – we will have to manually approve your comment before it appears.
©2020 Whatsonweibo. All rights reserved. Do not reproduce our content without permission – you can contact us at info@whatsonweibo.com.