Police Notification: Fatal Stabbing in Kunshan Road-Rage Incident Ruled Self-Defense
The Kunshan road-rage incident is the biggest topic on Chinese social media this week. Police now state that the cyclist who killed his attacker is acquitted, ruling the controversial stabbing as 'self-defense.'
With more than 880 million 1.8 billion views, it was the biggest topic of this week on Chinese social media: the Kunshan road-rage incident with a bizarre twist, in which the cyclist being attacked by a BMW driver with a knife, ended up killing the man with his own weapon. Police have now ruled the case self-defense.
According to a police statement released on Saturday afternoon, September 1st, the bike rider who fatally stabbed the BMW driver who attacked him has handled out of self-defense. (We reported about this case earlier this week here).
The statement was published on the official Weibo account of the Kunshan police (@昆山公安), and received over 77,000 shares within an hour.
On Weibo, netizens are happy about the news; the majority of people sided with the cyclist, a 41-year-old hotel worker by the name of Yu Haiming (于海明). Some people even organized crowd-funding campaigns to help pay for his legal costs, and the past week has seen a flood of memes about the incident in support of the cyclist.
Bizarre Road-Rage Incident
The incident occurred on the night of August 27, when a BMW vehicle in Kunshan, Jiangsu, turned into a bike line, colliding with the cyclist who refused to give way. Two men then stepped out of their BMW vehicle to confront the cyclist, with one man going back to his vehicle, suddenly pulling out a long knife.
Surveillance videos [YouTube link] capture the moment, which show how the muscular and tattooed BMW driver attacks Yu with the big knife – but then suddenly loses grip and drops the knife on the ground.
That is the pivotal moment when Yu quickly grabs the knife and starts attacking the BMW driver. Various videos show how the bike driver runs after the man, hitting and stabbing him with the knife at least five or six times – eventually killing him.
The BMW driver turned out to be the somewhat notorious Liu Hailong (刘海龙) aka 'Brother Long' (龙哥) a 36-year-old ex-convict who previously spent years in prison for robbery, theft, and another knifing incident.
He had been drinking the night of the incident.
"Brother Long Terminator"
The topic was a trending topic on Chinese social media all week, which a main question being: To what degree is self-defence legitimate?
Some lawyers quoted in various news articles (read our report here) alleged that Yu might be held responsible for intentional injury and death, since the video footage showed that Liu tried to get away once Yu came after him with the knife – making the stabbing incident one of attack instead of defense.
The fact that Yu stabbed his attacker many times (the video shows at least six instances) was also considered to go beyond self-defense, making it possible for him to face up to ten years in prison.
But as more information about the case emerged, most netizens concluded that ex-con 'Brother Long' had deserved his own death.
The 41-year-old Yu, who is known as a hard-working man with no criminal records, was even called the "Brother Long Terminator" by some, who compared the incident to a video game in which the main character defeats his enemy with his own knives.
Detailed Report Rules Legitimate Self-Defense
According to the police statement that was issued today, in the first moments of the violent stabbing, cyclist Yu was stabbed in the neck, waist, and leg by Liu. Once Yu succeeded in grabbing the machete, he stabbed Liu Hailong in the abdomen, buttocks, right chest, left shoulder, and left elbow.
The BMW driver then flees the scene and falls into a grass field some 30 meters away from the car. (This image on YouTube shows Liu in the grass with severe injuries- viewer discretion is advised). Meanwhile, Yu has stopped his pursuit and turns to the BMW vehicle to take out Liu's mobile phone, out of fear that Liu or others might call other people for reinforcement in the attack.
When police arrived at the scene, Yu immediately handed them over the mobile phone and the weapon, which has since been identified as a sharp-edged double-sided blade with a total length of 59 cm.
Liu Hailong was soon taken to the hospital but died that same night. Yu did not sustain any life-threatening injuries.
Forensic researchers have now found that in the first seven seconds in which Yu stabbed Liu with the knife he grabbed from the ground, he stabbed him a total of five times, of which the first stab might have been the most lethal one; stabbing him in the left abdomen, causing the large abdominal vein to rupture. The fact that the first strike allegedly was the lethal one might have also helped in the self-defense ruling.
"The behavior of Yu Haiming is [ruled as] legitimate defense and he does not bear criminal responsibility," the police notifiation states, in accordance with Article 20 of the Criminal Law of the People's Republic of China that defines self-defense.
The statement also says that Yu's personal safety was "seriously endangered" when Liu Hailong first attacked him with his bare hands, and then continued to hit him with a knife. It suggests that throughout the incident, Yu was constantly in danger – even when he had the knife – thereby denying any claims that Yu's actions were excessive and illegal.
The police report further reveals that BMW driver Liu was found to have a blood-alcohol level of 87mg/100ml (0.087).
The night of the incident, there were three other passengers in the BMW car. One of them, the male passenger who can be seen first getting out of the car in the video, gets a ten-day prison sentence for his involvement in the incident. The two other passengers, both female, have been acquitted.
Besides being happy about the ruling, many netizens also praise the Kunshan police for their work. "I've never seen such a detailed police report, thumbs up for Kunshan police!", some commenters write.
"It's a good thing we have surveillance cameras nowadays," another person says: "Ten years ago, he might have been held responsible."
Others write: "Wonderful news, justice has prevailed! This restores some faith among the common people."
By Manya Koetse and Miranda Barnes
Follow @whatsonweibo
Spotted a mistake or want to add something? Please let us know in comments below or email us.
©2018 Whatsonweibo. All rights reserved. Do not reproduce our content without permission – you can contact us at info@whatsonweibo.com.
Nanjing To Implement Security Partitions in Public Buses and Introduce "Grievance Awards" for Drivers
After the Chongqing bus crash, the safety on Chinese public buses is the talk of the day, with Nanjing taking new security measures.
Amidst safety concerns over disruptive passengers in China's public transport system, Nanjing is introducing security partitions in buses and special awards for drivers who do not respond to aggressive behavior by passengers.
This week, the safety on China's public buses is one of the most-discussed issues on Chinese social media, following the horrific crash of a bus in Chongqing caused by passenger's aggression – which is just one but many incidents involving disruptive passengers on public transport.
On November 3rd, Chinese media report that the city of Nanjing will implement security partitions in all of its city buses to protect drivers against passenger abuse.
The Nanjing Public Transportation Group will arrange that around 8000 buses in Nanjing will be equipped with such dividers in 2019, People's Daily writes on Weibo.
Nanjing bus drivers are also requested not to respond to (angry) passengers and not to hit or talk back. Drivers who suffer abuse and do not react to it will receive a special compensation for pain and suffering called wěiqujiǎng ("委屈奖"), literally: "Grievance Award," with prices going from 10 yuan ($1,4) to 200 yuan ($30).
Such a compensation was previously already introduced in some places in Anhui province.
In the case of the Chongqing crash, that killed 15 people, security footage from the bus's black box showed that the driver fought back when he was hit by a female passenger, leading him to lose control over the steering wheel and plunging into a river.
Among the thousands of people commenting on Nanjing's new safety measures, there are those in favor of the dividers and those against it. Those who are not supportive of the measure say that the partition might be dangerous because it would not allow passengers to help out in case the bus driver suddenly becomes unwell.
Public opinions seem to be less divided over the idea of the "Grievance Award" for drivers, with many criticizing it and finding it "laughable," saying that one cannot put a price on several levels of feeling wronged, or that it is "undignified" and "irrational" to expect of drivers not to defend themselves against aggression.
Many comments also mention that the focus of these kinds of measures should lie on the punishments for disruptive passengers, instead of awarding drivers for suffering abuse.
"The bus should also have a system where people swipe their [public transport] card that is tied to their identity, so that troublemakers can be blacklisted," some suggest.
Others say that bus drivers should be equipped with a taser gun to fend off aggressive passengers.
Some commenters write: "Bus drivers are also people, people who work in the service industry, not in the maltreatment industry!"
By Manya Koetse
Follow @whatsonweibo
Spotted a mistake or want to add something? Please let us know in comments below or email us.
©2018 Whatsonweibo. All rights reserved. Do not reproduce our content without permission – you can contact us at info@whatsonweibo.com
Abandoned Dog 'Deng Deng' Becomes Viral Hit after Being Put up for Auction by Beijing Court
Deng Deng the dog was listed as "movable property" by the Chaoyang courthouse.
First published
Little Deng Deng has become somewhat of a celebrity on Chinese social media this week, since a local Beijing court put the dog up for auction after a pet hotel sued its owner for abandoning Deng Deng years ago.
On the night of October 26th, the peculiar news story that a dog was being put up for auction for by a local Beijing court made its rounds on WeChat and Weibo.
The dog that is being put up for auction is the four-year-old Shiba Inu breed 'Deng Deng' (登登), that was left by its owner at the Beijing 'Happy Pampering Pet Hotel' (北京宠乐会) three years ago, according to Beijing Youth Daily (@北京青年报).
Pet hotels are booming business in cities such as Beijing, where pet owners are often willing to spend pay large amounts of money to give their pet the time of their lives while they are out of town.
When the 'Happy Pampering Pet Hotel' gave up hopes of Deng Deng's owner ever returning, they sued the dog's owner and demanded compensation for the care provided by them over the past few years.
However, as the Beijing Chaoyang court was not able to track down the owner, they instead put Deng Deng up for auction, so that the dog care center could at least retrieve part of the money owed to them.
The online auction, that is to be held on November 10th, will start at a bidding price of 500 RMB ($72).
Although cars or houses are put up for auction by local courts all the time, it is highly unusual, if not unheard of, for dogs to be put up for auction like this. This is why initially, many netizens thought the news was fake – until they saw the actual court ad.
The ad, under the 'movable property' category (动产), describes Deng Deng as being around 40 cm tall, 50 cm long, and weighing about 10 kilograms. The Japanese Inu has been spayed and vaccinated.
At time of writing, the auction ad has been viewed more than 226.000 times, with nearly 2200 people having registered to participate in the upcoming auction.
On Weibo, many people express their sympathies for the little dog, and denounce the owner who never came back for him. "Where is their sense of responsibility?", many wondered, with some saying: "They should be blacklisted and blocked from ever raising pets again."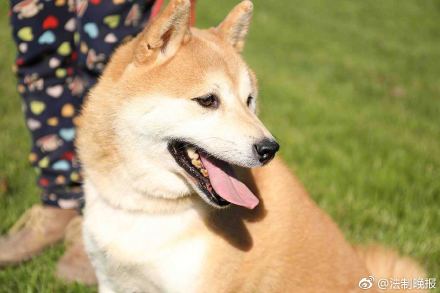 "I really felt sad for the dog," one person on Weibo wrote: "But I couldn't help but laugh when seeing he was labeled as 'movable property'."
"Deng Deng, I really hope you'll find a good owner now," one comment said.
By Manya Koetse and Miranda Barnes
Follow @whatsonweibo
Spotted a mistake or want to add something? Please let us know in comments below or email us.
©2018 Whatsonweibo. All rights reserved. Do not reproduce our content without permission – you can contact us at info@whatsonweibo.com