Victim of Violence or Rage-driven Killer? BMW Owner Attacking a Bike Driver Stabbed to Death with Own Knife
The BMW driver pulled a long knife to stab the biker, but the knife killed himself instead.
A road rage incident occurring in Kunshan, Jiangsu province, has become a trending topic on Chinese social media this week, when the driver of a BMW pulled a knife to attack a man riding a bike. Unexpectedly, it was the BMW driver who turned out to be a victim of his own violence. Is this a case of "self-defense" (防卫过当) or "intentional injury" (故意伤害)?
An incident in which a BMW driver hit a man on a bike was captured on surveillance cameras and attracted major attention on Weibo and Wechat this week.
Update: Video link here (YouTube) (NOTE! Viewer discretion advised, this video is the direct surveillance video and is not blurred.)
The incident occurred in the night of August 27 in Kunshan, Jiangsu, when a BMW switched from the car lane to the bicycle lane, colliding with a man driving his bike, who seemingly refused to give way.
Two men then stepped out of their BMW vehicle to confront the cyclist, with one man going back to his vehicle, suddenly pulling out a long knife.
Circulating videos of the incident show that the BMW driver tries to attack the bike driver with the knife, the bike-driver (in white shirt) seemingly not fighting back.
In the midst of the fight, however, the BMW owner suddenly lets the knife slip out of his hands, after which the bike owner quickly picks it up. With the knife in his hands, he now starts attacking the BMW driver.
Various videos (another angle here) show how the bike driver runs after the man, hitting and stabbing him with the knife at least five or six times.
When the police and rescuers arrived at the scene, the BWM driver had already died from his injuries, Kunshan authorities stated.
According to various sources, the man had been drinking before stepping into the car.
"I support the bike driver. He is not guilty; this is justifiable defense. He did well."
In response to the incident, a hot discussion sparked on Chinese social media, where a main point of discussion was whether or not the stabbing, which led to the death of the BMW driver, could be called a "legitimate act of self-defense."
Some netizens argue that the bike owner acted in self-defense, and therefore must not be held criminally responsible for his death. In doing so, many refer to Article 20 of the Criminal Law of the People's Republic of China, which states that people who act out of "legitimate defense" to protect themselves against personal danger should not bear criminal responsibility.[1]
The question is whether the cyclist exceeded the necessary limits to defend himself.
In the Legal Evening News, lawyer Zhou Baomin (周保民), a partner of the Beijing Asia-Pacific Law Firm, states that the bicycle owner might in fact be held responsible for intentional injury and death.
Zhou argues that the video shows that the bicycle rider chases the BMW driver once he gets hold of the knife. At that point, the BMW owner clearly wants to escape, and is not attacking the man anymore – making the stabbing incident one of attack instead of defense.
Although the fatal stabbing is not visible in the videos, the bike rider stabs his attacker many times, which, according to lawyer Zhou, also goes beyond self-defense, since it would require a situation in which the one being attacked is powerless.
Zhou further states that causing deliberate injury leading to death is generally sentenced with more than ten years in prison or the death penalty. However, they add, the supposed fact that the cyclist is not committing a premeditated crime and that he does not own the lethal weapon, are factors that would be taken into consideration by the court.
Most netizens still feel sympathy for the bike owner, saying: 'If you encounter such a situation, between life or death, the desire to survive will dominate everything. I think that the bicycle owner is not crazy. If he hadn't defended himself, it would have been him who would have been stabbed to death instead."
Many Weibo users express their hope that the man will not be punished too severely for his deed, with some even writing: "I support the bike owner. He is not guilty; this is justifiable defense. He did well."
"There are very few purely good or bad people. Most people are neither very good nor very bad."
The appearance and background of the BMW owner also seem to play a role in netizens' perceptions of the events.
Various media sources report that the deceased man, who is now dubbed 'BMW Guy' (Bǎomǎ nán 宝马男), was the 36-year-old infamous 'Liu Hailong (刘海龙), commonly known as 'Brother Long,' who was known to have a criminal record.
But in March of this year, this same man, as Sina News reports, also was allegedly rewarded a certificate of Justice and Courage (见义勇为奖励) from a Kunshan foundation for giving out valuable information to the police about drugs trafficking.
However, many Weibo users write: "Having a long knife in your car that you can use whenever needed – is that what you call being prepared to be brave and handle in the name of justice?!"
Or: "Still talking about his behavior being justified and courageous? Why not talk about him being jailed five times?"
And: "If a person like this, who has the habit of stabbing and driving while being intoxicated by alcohol, with a criminal record as thick as a book, still has recently gained recognition from the government [for his justice and courage], then this is not the tragedy of the people involved in this matter, it's the tragedy of this country; a tragedy of society."
But there are also those who express a more nuanced opinion, writing: "Come on, are you all primary school students? It's not all black or white, not being a very good person doesn't mean you are a bad person. Most people are grey; they have a good side and a bad side to themselves. There are very few purely good or bad people. Most people are neither very good nor very bad. Could we please discuss such matters in a slightly more mature way?"
This case is currently under police investigation. Meanwhile, the hashtag "Man Chasing Biker with Knife is Killed Himself" (#追砍电动车主遭反杀#) has gathered over 390 million views on Weibo today.
UPDATE: August 30 17:00 (China time):
A day later, this topic is still among the biggest topics being discussed on Chinese social media, as more information emerges on the cyclist in this story. What's on Weibo was the first news blog to cover this topic in English (just sayin'!), but now other foreign news outlets are following with more information, too.
China Daily USA reports that the cyclist is a 41-year-old man by the name of Yu.
Meanwhile, photos are circulating that show that Yu has injuries to his face. Netizens, siding with the cyclist, are nicknaming Yu "the Terminator of Brother Long":
Yu is currently being detained by police and has no life-threatening injuries. The hashtag for this incident has now received over 670 million views on Weibo.
By Gabi Verberg,Manya Koetse, with contributions from Miranda Barnes
Follow @whatsonweibo
[1]"In order to protect the state, the public interest, the personal, property and other rights of the person or others from being illegally infringed upon, and causing damage to the unlawful infringer, it is a legitimate defense and does not bear criminal responsibility. Unlimited legitimate defense refers to violent crimes committed in the situation of serious dangers to personal safety, and the use of defensive behaviors, resulting in unlawful infringement of human casualties. […] If the defense exceeds the necessary limit and causes severe damage, it shall be criminally liable, but the punishment shall be alleviated or exempted."
Spotted a mistake or want to add something? Please let us know in comments below or email us.
©2018 Whatsonweibo. All rights reserved. Do not reproduce our content without permission – you can contact us at info@whatsonweibo.com.
What Happened to Hu Xinyu? Disappearance and Death of 15-Year-Old Student Attracts Widespread Attention in China
Although Hu Xinyu's school had 119 cameras, his disappearance remained a mystery for 106 days. Near Hu's remains, a voice recorder was found.
After 106 days of searching, Hu Xinyu's parents now know their son has passed away. The student's remains were found at a grain warehouse near his school, but questions still linger on what happened to the 15-year-old and why it took so long to find him.
The case of a Chinese 15-year-old student named Hu Xinyu (胡鑫宇) has been trending on Chinese social media over the past few days. Ever since October of 2022, Hu Xinyu's case has been a much-discussed topic.
The young man from Jiangxi was missing for 106 days before his body was discovered, leaving many unanswered questions surrounding his death and why search teams were unable to find Hu in the months before.
One of the reasons why Hu Xinyu's disappearance has been attracting widespread attention is because many people believe there are some details or occurrences surrounding Hu's case that are purposely being hidden or not revealed to the public.

Hu Goes Missing: A Timeline
The story begins on Oct. 14, 2022, when Hu Xinyu, a student at the Zhiyuan Middle School (致远中学), first went missing in Yanshan County, Shangrao City. The Zhiyuan Middle School is a private school where students live in the dorms, only going home to their families on days off. Hu allegedly had good grades as a student at Zhiyuan.
The incident attracted attention due to the peculiar circumstances surrounding it. It was first reported that security cameras allegedly had not recorded the student leaving the school's premises and that Hu's family suspected that the security camera system had been tampered with. The school reportedly has a total of 119 cameras installed on its premises.
Later reports claimed that security cameras did in fact capture how Hu left the dorms at 17:51 that day, but there was no footage of him actually leaving the school premises.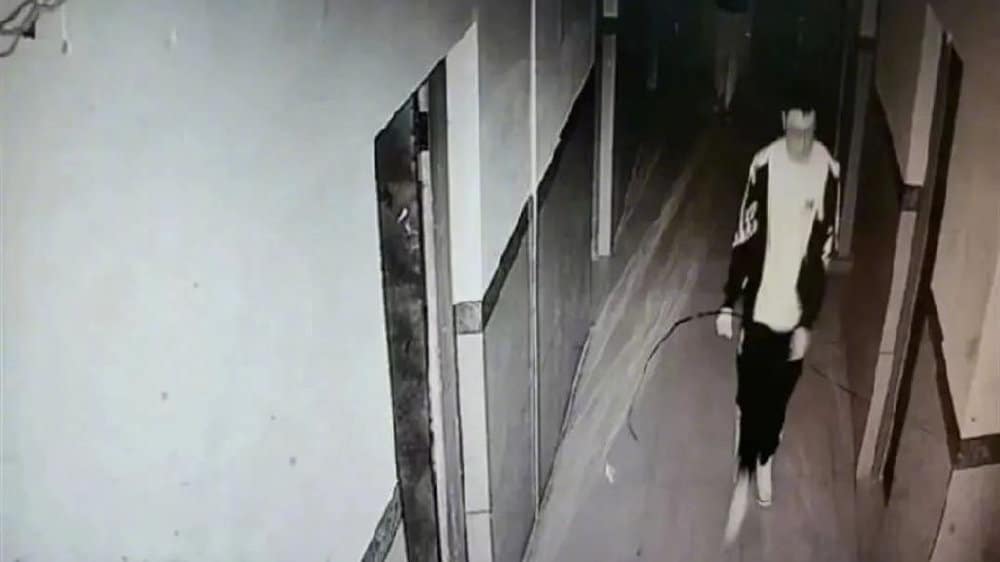 On Oct. 15, after unsuccessful attempts by friends and family to locate Hu Xinyu, he was reported as a missing person at the local police office.
On Nov. 20, when Hu had already been missing for over a month, local authorities set up a joint task force to try and speed up efforts to find Hu and further investigate his disappearance. Hu's social media and bank accounts reportedly had zero activity since he went missing.
On Nov. 22, 2022, Chinese media reported that rescue and search teams still had not found a single clue about where Hu might be. Meanwhile, his parents were gradually losing hope of finding their son back alive.
On Nov. 29, 2022, 46 days since Hu went missing, a chemistry teacher by the name of Wang was called in for questioning but he was later released. Weeks later, on Jan. 1, the police informed Hu's relatives that – despite rumors – they ruled out the possibility of school staff being involved in Hu's disappearance.
On Dec. 25, 2022, Hu Xinyu's mother shared some more information via social media about some contents in her son's old notebooks, in which Hu allegedly had noted how he felt that it was not easy for him to adapt to his living environment at the school and that he felt hindered by his introvert personality. These contents were later deleted again.
After Jan. 7, 2023, the search for Hu continued, including teams with search dogs, and thousands of people volunteered to join.
On Jan. 28, 2023, a body was found hanging near the woods in the Jinji mountain area in the town of Hekou. A voice recorder was also found at the scene.
The body was reportedly found by a local guard who was near the premises with his dog to look for a chicken that had wandered off. The dog started barking at something, and the guard then discovered the remains, which were not immediately clearly visible.
One day later, on Jan. 29, Chinese media reported that DNA research confirmed that the remains belonged to Hu Xinyu. He was wearing his school uniform when his remains were found. Hu's parents decided to have a post-mortem examination of the body to determine the cause of death. The voice recorder found near Hu's body was sent for analysis.
The hashtag "Hu Xinyu's Remains Found" (#胡鑫宇遗体被发现#) was viewed over two billion times on Weibo.

The Latest Details Surrounding Hu Xinyu's Death
Chinese news outlet The Paper reported that the location where Hu's remains were discovered is a large grain warehouse just about 300 meters or a 5-minute walk southeast of the Zhiyuan Middle School.
According to a spokesperson of the search & rescue team, the area where Hu was found had been previously included in search efforts (#搜救队曾去胡鑫宇被发现地周围搜寻#).
The biggest questions that remain and that are asked by so many on Chinese social media are: how is it possible that search teams previously did not find Hu if this is where he was all along? Is the place where Hu was found a crime scene or not? How is it possible that security cameras did not capture Hu beyond the dorms?
Some details that surfaced over the past few days provide further information on the case.
On Jan. 31, Chinese media reported that one of Hu's teachers had discovered something written down by Hu Xinyu on the last page of his notebook: "What would it be like if I'm not longer here?" (#胡鑫宇曾写如果我不活了将会变得怎么样#).
It has also become known that Hu Xinyu purchased the voice recorder that was found with his remains. He purchased the 4GB-capacity recorder on October 4, 2022.
At the time of writing, the data on the recorder was not able to be retrieved (#胡鑫宇购买录音笔数据删除后无法恢复#). A recording device such as the one found near Hu's body might become damaged due very low or high temperatures or by moist and liquid (#胡鑫宇录音笔已送深圳检测#).
If the original manufacturer would be able to get the data on the recorder, Hu's relatives finally might get some of the answers they have been waiting for for so long.
According to Hu Xinyu's father, search and rescue staff previously had in fact been inside the grain warehouse, but apparently did not come to the exact location within the warehouse where Hu was later found (#胡鑫宇父亲称未到达遗体发现点#).
On February 2nd, 2023, a press conference on the latest developments is planned to take place in Yanshan county in Shangrao at 10:00 AM.

Societal Distrust, Armchair Detectives, and Social Media
There are multiple reasons why the Hu Xinyu case is attracting such wide attention, and in some ways, the case is similar to the 2021 'Chengdu 49 Middle School Incident.'
At the time, the death of 16-year-old Lin Weiqi (林唯麒) also attracted nationwide attention and led to a wave of online rumors and theories on what might have happened to him.
Although Lin never went missing – he fell to his death from the school building, – there was also online speculation about corporal punishment and abuse taking place in the school, with one theory suggesting Lin had been hurt by a chemistry teacher. Just as in the Hu Xinyu case, netizens speculated that the school was trying to cover up the incident.
According to a joint statement later issued by the local propaganda department, police, and the Education Bureau said that they had come to the conclusion that the student had taken his own life due to personal problems.
The Lin Weiqi story sparked concerns at a time when security cameras had become a part of everyday lives. The fact that there were blind spots in the surveillance footage and that cameras never captured how and if Lin actually took his own life triggered doubts among Lin's relatives and netizens alike.
Many reasoned that since there are security cameras all over the school, there must be a cover-up going on if the incident was not captured on camera. A similar thing happened in the case of the Tangshan BBQ Restaurant Incident in which female customers were assaulted and beaten by a group of men. Although the beating incident was captured by security cameras, the last part of the incident occurred at a nearby alley and was not captured by the outdoor security cameras. This led to a lot of speculation on what happened there and if local government officials were covering something up.
Another factor that plays a role is that there have actually been stories about schools or other institutes covering up scandals in recent years, such as in the RYB Education incident of 2017 that shocked the nation and did not help in improving trust in educational institutes.
Social media also plays an important role in how and why the Hu Xinyu case received so much attention. For some online communities of armchair detectives, identifying suspects and uncovering clues becomes like solving a puzzle, while following the latest details in these high-profile cases also becomes like a form of infotainment for others – comparable to the online sleuthing and major attention for the case of Gabby Petito in the U.S.
Furthermore, those who are closely related to the case also use social media to attract more attention. In Hu Xinyu's case, his family members personally turned to social media and media reporters to ask for help or update with information. This also makes social media users more involved since they get the feeling they know the family, and sympathize with them. Very different from just reading a headline in the local newspaper, social media users feel involved and get involved.
For now, many social media users would like to see some clarity in this case and a conclusion so that Hu's family can finally get some of their questions answered.
While many think it is highly likely that local authorities will soon come out with a statement that Hu committed suicide, others think there might still be other outcomes.
"It's lasted long enough now," some Weibo commenters write: "What is most important now is to finally know the truth."
By Manya Koetse 
with contributions by Miranda Barnes
Get the story behind the hashtag. Subscribe to What's on Weibo here to receive our newsletter and get access to our latest articles:

For information and support on mental health and suicide, international helplines can be found at www.befrienders.org.

Spotted a mistake or want to add something? Please let us know in comments below or email us. First-time commenters, please be patient – we will have to manually approve your comment before it appears.
©2023 Whatsonweibo. All rights reserved. Do not reproduce our content without permission – you can contact us at info@whatsonweibo.com.
'Divorce Day': Queuing Up to Get Divorced after Chinese Spring Festival Holiday
The first day after the Spring Festival holiday is a busy one at the Bureau of Civil Affairs as couples are lining up to register a divorce.
On the first day after the Chinese Spring Festival holiday (Jan. 21-27), there are long lines at the Civil Affairs Bureau in several places across China.
In Jiangxi, one resident shared how couples were queuing up to file for divorce on the first day the local Bureau of Civil Affairs reopened its doors. The lines were allegedly so long that people had to wait outside. Another video showed similar scenes at a local bureau in Anhui province. A third video showed crowded scenes of people lining up to register a divorce in Henan.
Chinese media accounts such as Toutiao News (@头条新闻), Vista (@Vista看天下), and Phoenix News (@凤凰周刊) all posted about the long divorce lines on Jan. 29, with one post about the topic receiving 70,000 likes.
"I thought they were lining up to get married, then I watched the news and saw they were actually lining up to get divorced..," one commenter wrote. Others wondered if the busy lines for the divorce registration office might have something to do with the Covid outbreak over the past weeks, with some couples finding out that their partner actually is not very sympathetic when they are sick (also read this article).
The Chinese media outlets posting about the divorce registration lines mentioned how the ones who suffer the most in a divorce are the children, but many commenters did not agree with this statement, arguing that children suffer the most when parents stay together for the sake of the children and then continue fighting.
The divorce trend after the Chinese Lunar New Year has also been discussed in Chinese media and on social media in previous years ("春节后离婚潮").
In Western countries, it is a known fact that divorce rates increase after Christmas time; the Monday after Christmas break is also dubbed "Divorce Day." Some sources claim this is often due to quarrels that occur during Christmas and the financial pressures that come with the festive season.
It is arguably not much different for the Chinese New Year, when incidents taking place during family gatherings could be the straw that broke the camel's back.
"The Spring Festival is like a big marriage minefield," one commenter wrote: "When you return to your family home, it doesn't just mean reuniting with your close relatives, there are also various tests of human relations and etiquette. A careless moment can cause conflicts between a married couple, leading to quarrels or even divorce. Is your marriage good or not? You will know during the Chinese New Year. After the New Year, there will be a wave of divorces."
But the pandemic situation of the past years, in including the lockdowns, mental stress and financial difficulties, inescapably also play a role in the recent divorce wave.
In December of 2022, this Chinese blog article already predicted that more people would file for divorce after the Chinese New Year since the end of the holiday would coincide with the end of the Covid peak. In times of lockdown, and especially in times of sickness, couples easily get annoyed with each other and their love is put to the test.
Earlier this month, some Chinese media also reported that three years after the pandemic began, cities were already seeing a "divorce wave" (#疫情后一线城市离婚预约爆满#).
Some netizens comment that the 'cool-off' period that was introduced to allow couples a month's time to think and revoke their divorce does not seem to have much effect.
Some people sympathize with those standing in line: "Celebrating the New Year can bring about a war in some families. The divorce season has started."
By Manya Koetse 
Get the story behind the hashtag. Subscribe to What's on Weibo here to receive our newsletter and get access to our latest articles:
Spotted a mistake or want to add something? Please let us know in comments below or email us. First-time commenters, please be patient – we will have to manually approve your comment before it appears.
©2023 Whatsonweibo. All rights reserved. Do not reproduce our content without permission – you can contact us at info@whatsonweibo.com.