A primary school student's essay about a teacher's scoldings and beatings has gone viral on Chinese social media. "Teacher, What I Want To Tell You" has stirred widespread discussions about emotional abuse and corporal punishment in China's classrooms.
An essay of 2000 characters written by a primary school student from Lüliang in Shanxi province has gone viral on WeChat and Sina Weibo. The essay, titled "Teacher, What I Want to Tell You" ("老师我想对您说"), has triggered thousands of shares and comments from Chinese netizens.
Over recent years, the issue of corporal punishment at school has been a recurring topic of debate on Chinese social media.
In the much-shared essay, a fourth grader writes about how she1 feels when her teacher punishes and degrades her. In seven pages, she writes down what she wants to tell her teacher after suffering abuse since the first grade. China's first graders in primary school are usually around the age of 6; fourth graders are 9-10 years of age.
"I try all I can to be a good kid in your eyes."
The young student writes:
"Teacher, I really do not know what I did for you to be so dissatisfied with me. I clearly remember when I first had you as my teacher in the first grade, on the fifth day you flung my book in my face (..) I will never forget your expression at that time. I have been scared of you ever since."
Further on in the essay she writes:
"I try all I can to be a good kid in your eyes, but it seems to have the opposite effect. I am always that kid who takes a scolding and a beating without knowing what she did wrong. (..) I often have dreams about you beating me. When I wake up in the middle of the night, it's hard to fall asleep again."
"Teacher, oh teacher, we spend every day looking at the expression on your face. If you're happy, then we're happy too. If you're angered, then we are scared."
Besides sharing her confusion about why she is punished, her willingness to do her homework right, and her hopes to be a good pupil in her teacher's eyes, the child also writes that the abuse over the years has deeply affected her: "My dreams have been crushed."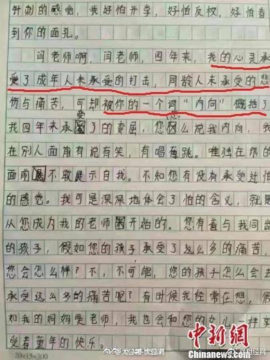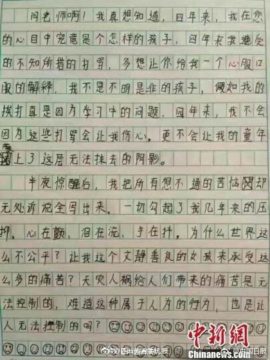 The student's writings were first accidentally discovered by the child's own parents on August 6. They found the papers in a school book while cleaning up the desk.
Upset by what their daughter had written down, they photographed the pages and shared them with friends on WeChat. From there, it was soon shared from group to group and made its way to Weibo, where some threads on the matter received over 450,000 comments and 22,000 shares.
On August 10, the essay was also picked up by Chinese media (link in Chinese), who contacted the school to verify the story.
The parents of the student knew the teacher was disciplining their child inappropriately, and had already reported it to the school in June. Several Chinese media now write that relevant educational departments did look into the matter. They said it concerned a 'substitute teacher,' who has already resigned.
"15.4% of Chinese students suffered corporal punishment as a form of discipline at school."
China has outlawed corporal punishment in schools in 1986. Corporal punishment as discipline goes against the Compulsory Education Law, Law on Protection of Minors, and the Teacher Law.2
Chinese teachers generally have various forms of disciplining, such as detention, time-out (outside or in the back of the classroom), confiscation of possessions, verbal reprimands, physical labor (cleaning the classroom), or exercise.3
But despite its illegality, corporal punishment of students also still remains relatively common. A widespread survey across ten provinces in China among elementary and junior secondary school students showed that 15.4% suffered corporal punishment as a form of discipline at school.4
With the spread of social media and smartphones with cameras, abuse by teachers is now often exposed by students. In 2016, Weibo netizens shared footage of a teacher in Shandong beating and humiliating students during a military training. In the video, the teacher can be seen pushing and kicking one of the students for being late to class.
"A teacher is never supposed to hit a child in the first place."
Online reactions at the time also showed that Chinese traditions of teaching children discipline through corporal punishment run deep. Although many denounced the teacher, who was fired after the incident was exposed, there were also people who spoke out in his favor: "You say the teacher is cruel, and that's not right. But what about the students coming late?"
A surveillance video showing an altercation between a teacher and student also went viral on Weibo this week. The video shows a female teacher yelling at a male student. When she slaps him in the face he immediately slaps her back in her face.
The scene led to the question: 'Can a student strike back when they are hit by a teacher?' In a poll done by an educational organization's Weibo account, over 87% of the participants said a student could hit a teacher back once they are slapped themselves, although there were also many commenters who said: "This is a misleading discussion; a teacher is never supposed to hit a child in the first place."
"Up to this day, I sometimes still dream about my teacher hitting me."
Both the young child's essay and the classroom video have stirred discussions on abuse in the classroom. "Up to this day, I sometimes still dream about my teacher hitting me," one netizen writes: "When I wake up, I feel all worked up and angry. Coincidentally, I saw this essay of the primary school child today, and I wish I could just take the child in my arms and help them."
Many people on Chinese social media are touched by the essay and angered about the issue. They find the school's response unacceptable: "A 'substitute teacher' for four years?! That's ridiculous!"
Although some comment that "these kinds of teachers are everywhere," there are also many who say they are shocked: "How can a person like this be qualified to teach?"
Many people speak out against giving children corporal punishment: "It will mentally affect a child for the rest of their life."
Some say the system is to blame, since it is difficult to qualify as a teacher and the pay is low. With a lack of proper teachers, many schools, therefore, take on 'temporary workers' or 'substitute teachers' to teach the children.
Due to the overwhelming media attention for the case, the school has now openly spoken out on August 12, offering their sincere apologies to the student for the abuse suffered at their institution. They guarantee that the child will have a different teacher after the summer vacation.
By Manya Koetse
Follow @whatsonweibo
1 According to various blogs, the young writer of the essay is a girl, although this is not confirmed by official media.
2 (Russo et al 2014: 24).
3 (Russeo et al 2014: 25).
4 (Russo et al 2014, 25-26).
References and further reading
Russo, Charles J., Izak Oousthuizen, Charl C. Wolhuter. 2014. International Perspectives on Student Behavior: What We Can Learn. Lanham: Rowman & Littlefield.
©2017 Whatsonweibo. All rights reserved. Do not reproduce our content without permission – you can contact us at info@whatsonweibo.com.