Chinese Experts: There Will Be No Second "Resist America and Aid Korea"
As tensions are rising in the US standoff with North Korea, the question of China's position in the conflict is growing more important by the day. Although state media earlier said China would help North Korea if the US would attempt to overthrow its government, some renowned Chinese experts hold a different view.
As tensions are rising in the US standoff with North Korea, the question of China's position in the conflict is growing more important by the day. Although state media earlier said China would help North Korea if the US would attempt to overthrow its government, some renowned Chinese experts hold a different view.
On the evening of August 10, Chinese state media outlet Global Times published an editorial that clarified that in the case of an altercation between North Korea and the US, it would not help North Korea if it would first launch missiles on US territory, but that it would intervene if the US attacked first and would try to overthrow North Korea's government.
Now, the United Morning Paper (Lianhe Zaobao 联合早报), the largest Singapore-based Chinese-language newspaper, says that some of China's most prominent experts on the issue hold a different view.
"The Cold War is over – there will be no re-staging of the 1950s 'Resist USA, Help North Korea.'"
The United Morning Paper spoke to Zhang Liangui (张琏瑰), a professor at the International Department of the Central Committee of the Communist Party and a noted North Korea specialist. According to Professor Zhang, China will be unlikely to intervene in the matter, no matter who attacks first. "The Cold War is over, and there will be no re-staging of the 1950s 'Resist USA, Help North Korea' [抗美援朝]."
'Resist the USA, Help North Korea' (or: "Resist American Aggression and Aid North Korea") was a propaganda slogan launched in October 1950. China came to the assistance of North Korea after the war with the South had broken out in June that year, and the UN forces intervened in September. The government, led by Mao Zedong, sent troops to fight in the war. Mao's own son, Mao Anying, was killed in action by an air strike a month after the start of this 3-year war against US aggression in support of North Korea. The war ended with the armistice of July 1953.
Zhang said that North Korea is now destroying peace and stability in Northeast Asia, and that taking military actions against Pyongyang would not be unreasonable: "According to Chapter VII of the United Nations Charters, if the Security Council considers the actions of a state an endangerment to world peace, they can take sanctions against this state – also military ones."
The professor added: "Although China principally does not agree with resolving disputes through military force, it is clear that the culprit of this problem is North Korea. (..) China has no reason to get involved in this conflict."
"It is better to keep a neutral position than to side with North Korea."
The United Morning Paper also quoted the international relations scholar Deng Yuwen (邓聿文), who said: "China should consider how any involvement in [this] war would impact Sino-US relations. It is better to keep a neutral position than to side with North Korea."
The article made its rounds on Weibo on August 13. The Weibo post by the United Morning Paper attracted over 218 shares, 800 likes and 430 reactions, but they all remained invisible to others; just showing a message that said "no comments."
Although discussions of the issue seem to be controlled by Weibo's censors, some people did vent their opinion on the issue.
"Not only should we not 'Resist America, Aid North Korea,'; we should oppose it," essayist Wang Ruoguo wrote.
"Sooner or later, North Korea's nuclear weapons are going to cause great suffering. There is no shame in working together with America."
But there were also other voices. An anonymous Weibo user wrote: "Not 'Resisting America and Aiding North Korea' goes against Mao's thoughts; it goes against everything he stood for."
"We should not even think of it as 'abandoning' North Korea. China has wiped North Korea's ass for too long."
It is not the first time the relations between China and North Korea become a topic of debate in the Chinese media. In 2014, the question of 'how should China deal with North Korea?' was also a central one, as two prominent figures in the China-North Korea debate publicly announced their perspectives on the future of the bilateral relationship.
At the time, What's on Weibo reported how the retired People's Liberation Army (PLA) Lieutenant Wang Hongguang both shared his views on the future of the China-North Korea alliance, saying that "China is not North Korea's savior," and that "China has wiped North Korea's ass for too long."
General Wang's essay "China's Non-Existent 'Abandoning North Korea' Problem" ("中国不存在"放弃朝鲜"的问题") attracted much attention in December of 2014, as Wang stated that North Korea was never really China's true ally to begin with, and that their 'non-existent' alliance, therefore, could never be 'abandoned.'
In Wang's view, North Korea jeopardizes the peace and security of the entire region – and therefore does not share any interests with China: "China has to think from its own perspective and has to take a stance against North Korea harming our interests. (..) We should not even think of it as 'abandoning' North Korea. China has wiped North Korea's ass for too long."
He also said that China should not go to war for North Korea: "China's younger generations should not fight a battle for a country that is not theirs."
Although the rising tensions between USA and North Korea are making international headlines, the issue is not among the main trending topics on Sina Weibo.
The announcement that China, implementing UN sanctions, will stop importing coal, iron ore, fish, and other goods did trigger some online discussions on August 14.
Most commenters say that they still think it is too weak of a sanction, and wonder why China announces it beforehand: "Would North Korea announce it before it shoots a missile?" Another commenter wrote: "Why don't they intervene stronger in their regime, and bring back socialism instead of a dictatorship?"
There are also many people who feel that there are other countries, mainly India, deserving more punishment than North Korea. As China-Indian relations are worsening over the Doklam border dispute, many netizens seem to think that a possible conflict with India is currently a more relevant topic to discuss than the heightening tensions between the US and North Korea.
By Manya Koetse
Follow @whatsonweibo
©2017 Whatsonweibo. All rights reserved. Do not reproduce our content without permission – you can contact us at info@whatsonweibo.com.
10-Year-Old Girl from Jiangsu Commits Suicide For 'Not Doing Well at School', Leaves Farewell Video
"This is something I have to do," the 10-year-old told her parents in a video message.
News of the suicide of a young girl by self-poisoning has shocked Chinese netizens. Pressure at school, circumstances at home, and the ease of availability of pesticides in China have all potentially contributed to the girl's death.
A 10-year-old girl from Xuzhou city in Jiangsu province died this week after self-poisoning in her own home. She left behind a 3-minute video and a 2-page farewell letter to her family, Beijing News reports through Weibo.
In the video, the girl calmly says: "Mum, dad, I'm off. I want to tell you I am sorry. I want to go to heaven, and want to bid you all farewell."
"When my birthday comes up, don't forget to place a cake in front of my grave. (..) Thanks mum and dad, for taking care of me all these years."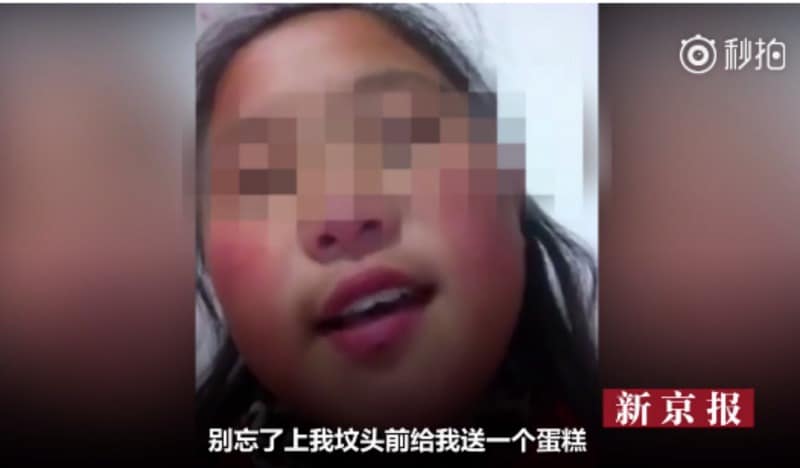 "You beat me and you scold me," the girl added: "But I know it is all for my own good. I will take care of you from heaven. I don't want to let you down. This is something I need to do."
The young girl stated in her farewell message that she wanted to go to heaven because she was "not doing well at school."
Too Much Pressure
According to Sina News, the young girl died after drinking pesticides on November 14 – just 3 days before the mid-term exams would be held at her school.
The girl reportedly was receiving low grades this semester and was punished for it by her teacher, who did not want her to take part in the mid-term exams because she would allegedly bring down the average grade of the whole class.
Her mother told Chinese news outlet The Paper that the pressure at school might have led to the child's suicide.
According to a 2010 study, one third of Chinese primary school children suffer from psychological stress because of the pressure at school and their parents' expectations.
In November of 2014, the suicide of a 10-year-old boy from Guangzhou after his mid-term exams also shocked netizens. The boy, who received just 39 points for an English exam, hung himself after writing about his low grade in his diary.
A year prior, in 2013, another 10-year-old committed suicide by jumping from a building after being scolded by a teacher after failing to complete an assignment.
Pesticide Suicides in China
Suicide is the top cause of death among Chinese youth; school stress is often a major factor. But in the case of the Jiangsu girl, the availability of pesticides might also relate to her death.
"When I was that age, I also thought of committing suicide," one person on Weibo wrote: "I found a person through QQ who could sell me pesticides. He asked 900 for it [±135$] and I thought it was too expensive so I didn't buy it. I don't even know how I'm still alive now."
Suicide by pesticide poisoning is the most common method of suicide in China, both for males and females. Pesticides are readily available, especially in China's rural areas, where the occurrence of self-poisoning are much higher than in urban areas (Page et al 2017).
A recent study published in BMC Public Health this year (Yimaer et al 2017) found that pesticide poisoning for children is a serious problem in China. In the 2006-2015 period, a total of 2952 children were poisoned by pesticides in the province of Zhejiang alone.
Weibo Discussions
On Weibo, the young girl's death has led to many discussions. Some people blame the parents for the girl's death, others say that Chinese children are too pressured by the school system. There are also those who do not believe that such a prepared suicide could really be the work of a 10-year-old alone, and wonder if someone perhaps made her do it.
"At 10 years old, she does not even grasp the what death is," some say.
There are also people who share their own childhood problems. "When I was that age I also had suicidal thought," one commenter writes: "But I never had the courage. She is more courageous than I am."
On November 16, the local education department stated that authorities are currently further investigating the case.
By Manya Koetse
@manyapan
Follow @whatsonweibo
References
Page, A., Liu, S., Gunnell, D., Astell-Burt, T., Feng, X., Wang, L., & Zhou, M. 2017. "Suicide by pesticide poisoning remains a priority for suicide prevention in China: Analysis of national mortality trends 2006–2013." Journal of Affective Disorders, 208(November 2016): 418–423.
Yimaer A., Chen G., Zhang M., Zhou L., Fang X., Jiang W. 2017. "Childhood pesticide poisoning in Zhejiang, China: a retrospective analysis from 2006 to 2015." BMC Public Health 17(1): 602.
Spotted a mistake or want to add something? Please let us know in comments below or email us.
©2017 Whatsonweibo. All rights reserved. Do not reproduce our content without permission – you can contact us at info@whatsonweibo.com.
Here's Xi the Cartoon – Online Animations Are China's New 'Propaganda Posters'
Easy to click, view & share – short cartoons and gifs are the propaganda posters of China's new digital era.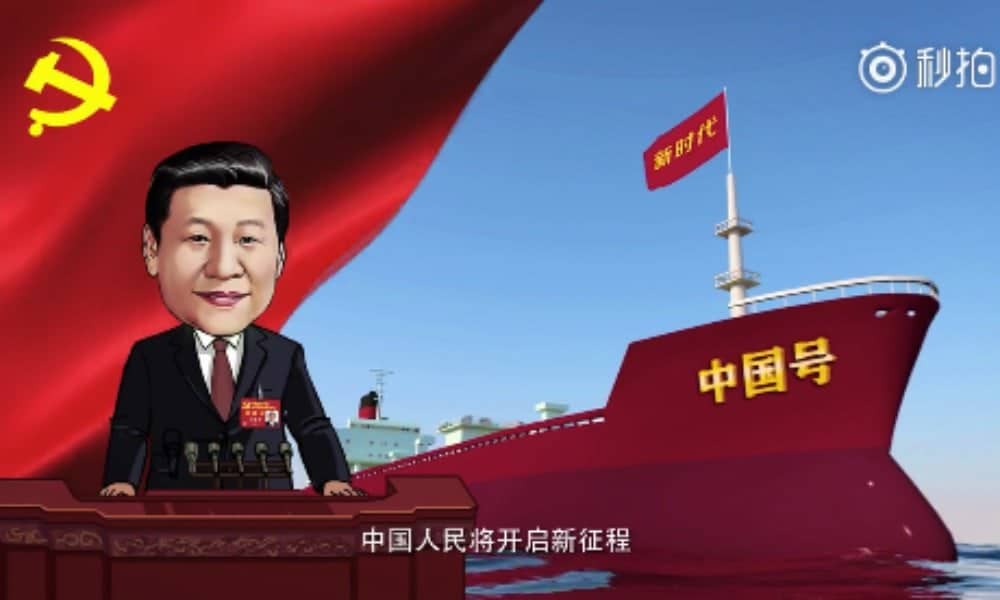 In an era where China's young generations are practically glued to their smartphone screens, China's propaganda departments are stepping up their game. Online animated videos and gifs use bright colors, simple design, and a very likable Xi to deliver strong political messages.
The speech that was delivered by president Xi Jinping at the APEC summit last week made its rounds on Chinese social media this Tuesday – not as a video, but as an animated cartoon.
The APEC Economic Leaders' Meeting took place in Vietnam's Da Nang from November 10-11, and was attended by international world leaders such as Japanese Prime Minister Shinzo Abe, American President Donald Trump, and South Korean President Moon Jae-in.
As one of the keynote speakers to the APEC CEO summit, Xi talked about his views on the Asian region's future. The speech was especially momentous since it marked Xi's first public address at an international multilateral meeting since the conclusion of the 19th National Congress of the Communist Party of China.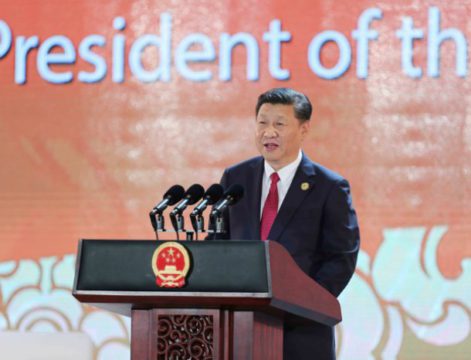 In his address, Xi spoke about China's commitment to regional multilateralism and open economic globalization, and the importance of promoting inclusive development.
The animated cartoon version of the speech presents China as a leader in the region, with Xi as the main cartoon character. It was widely shared on Chinese social media by state media outlets for the past few days, at a time when cartoons and gifs seem to have become the new way of communicating Xi's important visits and speeches to the online population.
Xi's Animated Speech: China Leads the Way
The recent APEC cartoon that made its rounds on Weibo this week summarizes Xi Jinping's speech in a 3,5 minute animation. It first shows a group of cranes, flying from China to the coastline of Vietnam's Da Nang where Xi is holding his keynote speech.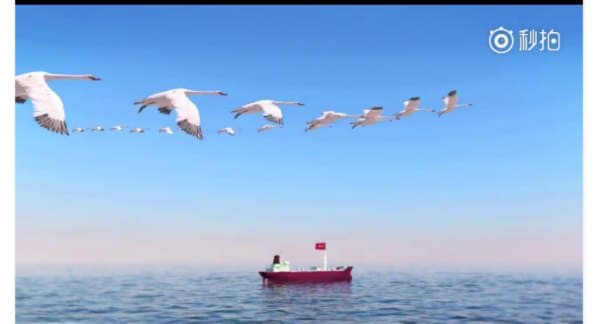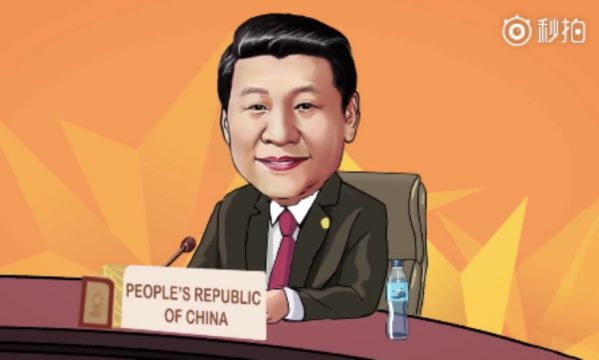 As Xi talks about the development of China and the start of the PRC's "New Era," this concept is visualized through a boat that is going forward under the leadership of Xi Jinping (see featured image).
The short animation video then shows another vessel by the name of "APEC" that is in rough weather, passing icebergs of "terrorism," "natural disasters," or "food safety issues." But luckily, there is a lighthouse standing up to the huge waves – and it is marked by the flag of China.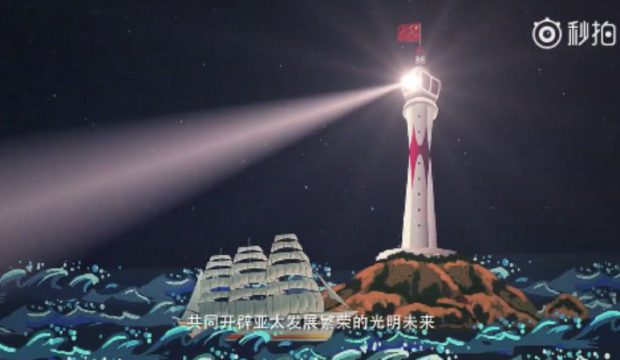 While the audio from Xi's speech continues throughout the animation, talking about stability in the region, the cartoon presents the APEC group of leaders and Xi meeting with various leaders, leading to the final part that shows a world connected through boats, trains, airplanes, and the internet.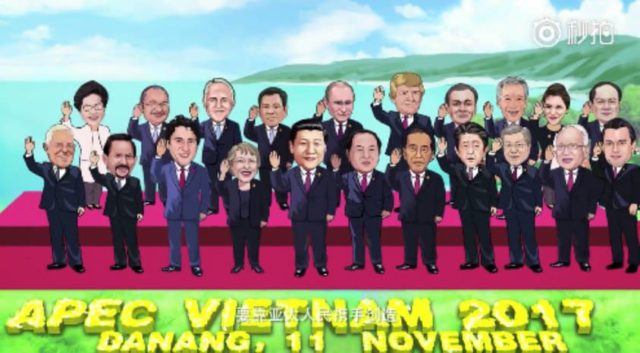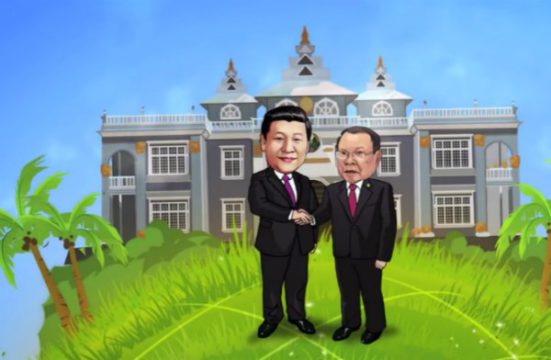 The very last fragment of the animation shows a fleet of boats going forward, "together building a better tomorrow for the Asia-Pacific," with the leading boat carrying the Chinese flag.
The animation was shared on video platform Miaopai and Weibo by state media such as CCTV (@央视网), Global Times (@环球网), China Economy (@中国经济网), and others.
Xi Jinping the Cartoon
It is not the first time that the cartoon image of President Xi is propagated online by Chinese state media. Over the past years, various key political concepts, events, and ideological messages have been spread online through animations, with a central role for Xi Jinping.
This trend became particularly apparent earlier this year during the launch of the Belt and Road Initiative and during the 19th National Party Congress; both crucial moment for Beijing's top leadership in 2017.
Xi Jinping was first launched as a cartoon image in 2013, when a video titled 'How a Political Leader was Tempered' (领导人是怎样炼成的) went viral online. At the time , Chinese state media reported that the identity of the video's author "remained unknown."
But not long after this success, the first official release of a Xi Jinping cartoon followed. The series 'Where did Xi's Time Go?' (习主席的时间都去哪了) was designed by media outlet Qianlong.com, and was propagated on major websites as well as new apps.
"More attractive than text news, the comic graphic news could reach readers' heart and it suits modern reading habits," the chief editor of Qianlong proudly said about the Xi cartoon.
In 2014, another cartoon series of Xi Jinping was released by Chinese state media. According to People's Daily, the image of cartoon Xi, drawn by cartoonist Jiao Haiyang (焦海洋), made it possible for the media to depict the country's leader in a "fun and vivid way", showing the President as "modest," "approachable," and "in touch with the people."
In 2015, Xi made another return as a cartoon hero fighting corruption. The cartoon, uploaded to Youku by the mysterious 'Chaoyang Studios,' was widely shared by state media outlets such as People's Daily (Gan 2015).
The exposure of Xi as a cartoon image increased thereafter in 2016 and 2017, with China Daily even launching a 'cartoon commentary' section. The 'cartoon commentary' section posts short animations of Xi Jinping during and after important political events, such as Xi's Europe-Asia tour in June 2016, the Central Asia tour in June of 2017 or the Hong Kong visit in July.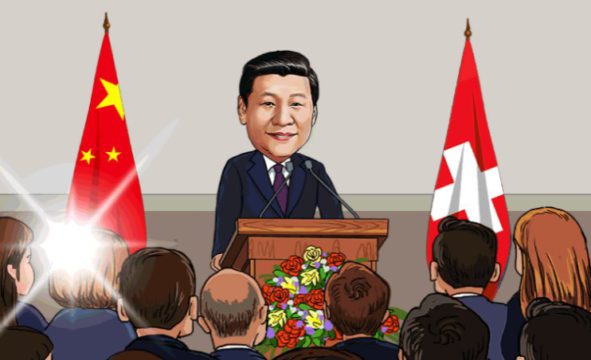 Most of the animated Xi cartoons that are widely shared on Chinese social media over the recent two years, including the official media 'cartoon commentaries', have been credited to a cartoonist named Liao Tingting (廖婷婷).
'Liao's' cartoons have a distinct style that is different from that of Jiao Haiyang or the Qianlong designers; Xi always has the same friendly face, which is relatively big for his body. The cartoons have bright colors and often have a simplicity to them which is comparable to the drawings in children's books.
'Propaganda Poster' in the Social Media Age
Colorful images depicting important events or developments, often with a special focus on Mao Zedong, have played an important role in Chinese state propaganda since the founding of the PRC in 1949. The propaganda poster was an especially relevant medium within this type of state-sponsored propaganda art. With bright colors and powerful images, posters could easily grab the attention of the people, and could also transmit messages to the many illiterate Chinese (Landsberger 2001, 541; Van der Heijden&Landsberger 2008).
But in an era of fast online media and smartphone-scrolling youth, Chinese leaders are changing their propaganda tactics. As noted by Chow (2017) in The Diplomat:
"China is hoping to reinforce belief in the Communist Party, Chinese nationalism, and socialist values through social media. The ruling party fears that it is losing the battle for hearts and minds – particularly among Internet-savvy millennials who have grown up with Western movies, music, and television."
Besides other new ways to disseminate political messages (such as rap music, mobile games), short animated cartoons or gifs are now an important vehicle for propaganda; they can communicate strong audiovisual messages in bite-sized chunks, making it easy to digest for an audience that is overwhelmed by online information and is not interested in listening to hour-long speeches.
Although the step from propaganda poster to online animation seems big, the idea remains the same: using bright colors and simple design to attract people's attention and communicate a strong message through a medium that can be easily placed in many locations, reaching a great number of people.
Besides communicating messages about China's development and its role in the world today, state-sponsored Xi cartoons also convey a different message. Namely that Xi Jinping is a very likable and approachable leader.
The manner in which this message is conveyed matters greatly: the control should lie with Chinese authorities. When Chinese netizens compared President Xi to Winnie the Pooh, images of the friendly bear were censored soon after they went viral.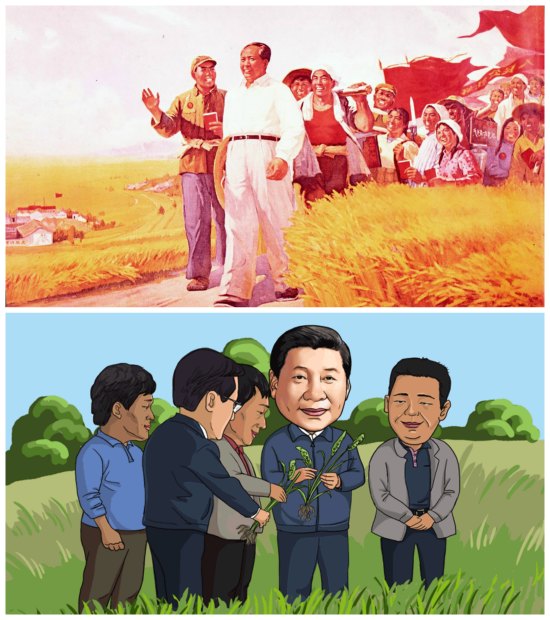 On Weibo, the animated cartoons of Xi's speeches and important moments already seem to have become a normal part of the everyday social media landscape. While the reactions to the first series were generally positive, with netizens calling them "so cute" (好萌), the later videos seem to have become accepted as just another way for state media to communicate news to the people.
'Xi the cartoon' has become part of netizens' daily online-scrolling routines. In this regard,  propaganda departments have succeeded in bringing a likable and approachable Xi "in touch with the people."
By Manya Koetse
Follow @whatsonweibo
References & Further Reading
Chow, Eugene. 2017. "China's Propaganda Goes Viral." The Diplomat, June 29 https://thediplomat.com/2017/06/chinas-propaganda-goes-viral/ [14.11.17].
Creemers, Rogier. 2017. "Cyber China: Upgrading Propaganda, Public Opinion Work and Social Management for the Twenty-First Century." Journal of Contemporary China (26): 85-100.
Gan, Nectar. 2015. "Cartoon Xi Jinping Returns in New Animated Adventures." South China Morning Post, February 21 http://www.scmp.com/news/china/article/1719881/cartoon-xi-jinping-returns-new-animated-adventures [14.11.17].
Landsberger, Stefan R. 2001. "Learning by What Example? Educational Propaganda in Twenty-first Century China." Critical Asian Studies 33(4): 541-571.
Van der Heijden, Marien & Stefan Landsberger. 2008. Chinese Propaganda Posters. Amsterdam: International Institute of Social History. Available online at http://www.iisg.nl/publications/chineseposters.pdf [14.11.17].
Spotted a mistake or want to add something? Please let us know in comments below or email us.
©2017 Whatsonweibo. All rights reserved. Do not reproduce our content without permission – you can contact us at info@whatsonweibo.com.