As tensions are rising in the US standoff with North Korea, the question of China's position in the conflict is growing more important by the day. Although state media earlier said China would help North Korea if the US would attempt to overthrow its government, some renowned Chinese experts hold a different view.
On the evening of August 10, Chinese state media outlet Global Times published an editorial that clarified that in the case of an altercation between North Korea and the US, it would not help North Korea if it would first launch missiles on US territory, but that it would intervene if the US attacked first and would try to overthrow North Korea's government.
Now, the United Morning Paper (Lianhe Zaobao 联合早报), the largest Singapore-based Chinese-language newspaper, says that some of China's most prominent experts on the issue hold a different view.
"The Cold War is over – there will be no re-staging of the 1950s 'Resist USA, Help North Korea.'"
The United Morning Paper spoke to Zhang Liangui (张琏瑰), a professor at the International Department of the Central Committee of the Communist Party and a noted North Korea specialist. According to Professor Zhang, China will be unlikely to intervene in the matter, no matter who attacks first. "The Cold War is over, and there will be no re-staging of the 1950s 'Resist USA, Help North Korea' [抗美援朝]."
'Resist the USA, Help North Korea' (or: "Resist American Aggression and Aid North Korea") was a propaganda slogan launched in October 1950. China came to the assistance of North Korea after the war with the South had broken out in June that year, and the UN forces intervened in September. The government, led by Mao Zedong, sent troops to fight in the war. Mao's own son, Mao Anying, was killed in action by an air strike a month after the start of this 3-year war against US aggression in support of North Korea. The war ended with the armistice of July 1953.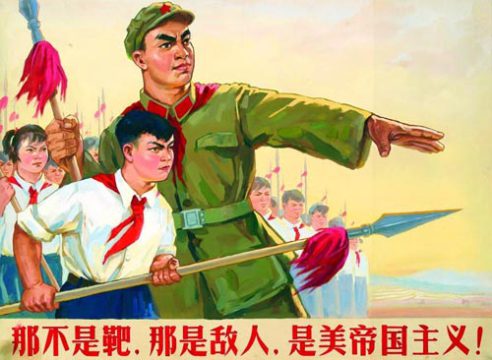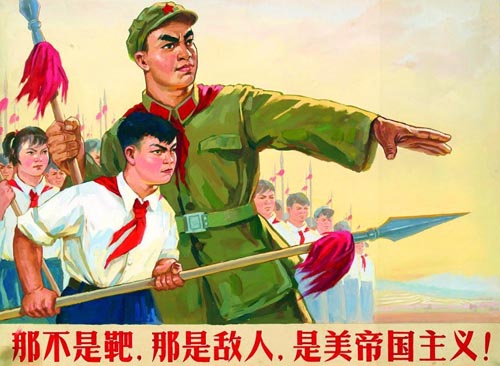 Zhang said that North Korea is now destroying peace and stability in Northeast Asia, and that taking military actions against Pyongyang would not be unreasonable: "According to Chapter VII of the United Nations Charters, if the Security Council considers the actions of a state an endangerment to world peace, they can take sanctions against this state – also military ones."
The professor added: "Although China principally does not agree with resolving disputes through military force, it is clear that the culprit of this problem is North Korea. (..) China has no reason to get involved in this conflict."
"It is better to keep a neutral position than to side with North Korea."
The United Morning Paper also quoted the international relations scholar Deng Yuwen (邓聿文), who said: "China should consider how any involvement in [this] war would impact Sino-US relations. It is better to keep a neutral position than to side with North Korea."
The article made its rounds on Weibo on August 13. The Weibo post by the United Morning Paper attracted over 218 shares, 800 likes and 430 reactions, but they all remained invisible to others; just showing a message that said "no comments."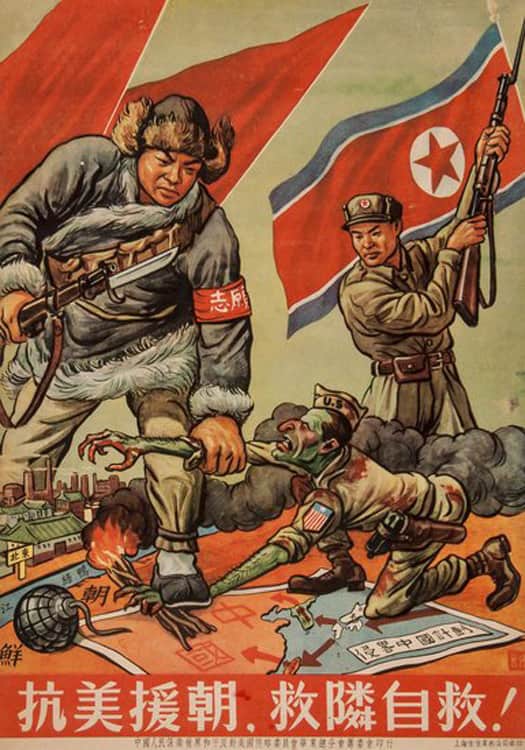 Although discussions of the issue seem to be controlled by Weibo's censors, some people did vent their opinion on the issue.
"Not only should we not 'Resist America, Aid North Korea,'; we should oppose it," essayist Wang Ruoguo wrote.
"Sooner or later, North Korea's nuclear weapons are going to cause great suffering. There is no shame in working together with America."
But there were also other voices. An anonymous Weibo user wrote: "Not 'Resisting America and Aiding North Korea' goes against Mao's thoughts; it goes against everything he stood for."
"We should not even think of it as 'abandoning' North Korea. China has wiped North Korea's ass for too long."
It is not the first time the relations between China and North Korea become a topic of debate in the Chinese media. In 2014, the question of 'how should China deal with North Korea?' was also a central one, as two prominent figures in the China-North Korea debate publicly announced their perspectives on the future of the bilateral relationship.
At the time, What's on Weibo reported how the retired People's Liberation Army (PLA) Lieutenant Wang Hongguang both shared his views on the future of the China-North Korea alliance, saying that "China is not North Korea's savior," and that "China has wiped North Korea's ass for too long."
General Wang's essay "China's Non-Existent 'Abandoning North Korea' Problem" ("中国不存在"放弃朝鲜"的问题") attracted much attention in December of 2014, as Wang stated that North Korea was never really China's true ally to begin with, and that their 'non-existent' alliance, therefore, could never be 'abandoned.'
In Wang's view, North Korea jeopardizes the peace and security of the entire region – and therefore does not share any interests with China: "China has to think from its own perspective and has to take a stance against North Korea harming our interests. (..) We should not even think of it as 'abandoning' North Korea. China has wiped North Korea's ass for too long."
He also said that China should not go to war for North Korea: "China's younger generations should not fight a battle for a country that is not theirs."
Although the rising tensions between USA and North Korea are making international headlines, the issue is not among the main trending topics on Sina Weibo.
The announcement that China, implementing UN sanctions, will stop importing coal, iron ore, fish, and other goods did trigger some online discussions on August 14.
Most commenters say that they still think it is too weak of a sanction, and wonder why China announces it beforehand: "Would North Korea announce it before it shoots a missile?" Another commenter wrote: "Why don't they intervene stronger in their regime, and bring back socialism instead of a dictatorship?"
There are also many people who feel that there are other countries, mainly India, deserving more punishment than North Korea. As China-Indian relations are worsening over the Doklam border dispute, many netizens seem to think that a possible conflict with India is currently a more relevant topic to discuss than the heightening tensions between the US and North Korea.
By Manya Koetse
Follow @whatsonweibo
©2017 Whatsonweibo. All rights reserved. Do not reproduce our content without permission – you can contact us at info@whatsonweibo.com.