Game Time: 5 Must-Knows About China's Mobile Gaming Market
China has the largest mobile gaming market in the world – an exciting market not just for game-lovers, but also for those into marketing and advertising. Shanshan Cao, Senior market analyst China at Newzoo, recently shared the ins and out of China's hot gaming world. What's on Weibo was there to take note.
China has the largest mobile gaming market in the world – an exciting market not just for game-lovers, but also for those into marketing and advertising. Shanshan Cao, senior market analyst China at Newzoo, recently shared the ins and out of China's hot gaming world. What's on Weibo joined the event, that was hosted by Digital China.
China has the largest gaming market in the world – and it is booming business. During the Digital China event (中国数码), a Sino-Dutch initiative focused on Chinese digital innovation, Shanshan Cao, senior market analyst at Newzoo, recently discussed the latest developments and opportunities in China's gaming market, that is more and more focused on mobile gaming.
China's Mobile Gaming Industry
"I love to play games," Shanshan Cao smilingly starts her talk. Every day after work, she comes home to her favorite PC games. The rise of mobile gaming has now also made it possible to enjoy her games outside of the house. Not many people are that familiar with 'mobile gaming', but without realizing, she says, many of us already are mobile gamers. The great success of mobile games like Candy Crush or Angry Birds has proved that mobile gaming is quickly taking over a huge chunk of the international gaming market.
The US currently has around 139 million mobile gamers. The numbers vary, but according to Cao, China now has approximately 183 million gamers, and it is believed that 71% of the online population of China is an (occasional) online gamer, making it the largest online game market in the world.
One of the key drivers behind this online gaming environment is the fact that China is a mobile-first country. China's average mobile user owns a relatively cheap but high-performance mobile phone, which enables them to play mobile games. As the quality of China's smartphones keeps on rising, so are the possibilities and developments within China's mobile gaming market.
What makes the market so interesting for companies, Cao explains, is their audience: China's mobile gamers are young, mainly living in the first and second-tier cities of China, and half of them are female. Most importantly, they generally are fervent users of QQ, WeChat, and other social media, and like to spend money online as digital consumers who do not mind paying for movies, music, or games.
There are many different ways in which mobile games can bring revenue. There are paid games, or games with in-game payment options where users can generate a new life after they are game over by paying for it.
But the commercial power of free mobile games also should not be underestimated, Cao says: in-game advertising could earn money in various ways. The social-media-loving audiences of mobile games make them very interesting for brands who can advertise through precise targeting and crossover cooperations.
For example, Cao mentions, brands could make their products extra appealing by giving away in-game rewards. In this way, one would not only buy a L'Oreal shampoo, but also get 'extra lives' or other in-game rewards with it, making both a product and a game more attractive for gamers.
China's Mobile Gaming Market: 5 Things You Need to Know
By now, China's mobile games market has risen to 41% of the total Chinese games market. Shanshan Cao names the 5 main characteristics of this market; the must-know facts for anyone interested in being part of it.
1. Highly Competitive Market
China's mobile games market is a highly competitive one. Right now, it is dominated by big players Netease and Tencent, that, amongst many others, produced the hugely popular Kāixīn Xiāo Xiāo Lè 开心消消乐 (see image).
Besides these giants, there are also many other big players – such as independent mobile game company iDreamsky. This makes it challenging for smaller companies to enter the market.
It is especially difficult for non-Chinese companies to enter China's mobile gaming market, but there are also many opportunities for marketers and gaming companies that make it worthwhile. China has the world's largest gaming market that is still continuing to grow; an exciting and booming place to be for companies that are not afraid of a challenge.
2. Restrictions & Censorship
Even without the big players, the Chinese gaming market is somewhat hard to enter for non-Chinese companies due to local restrictions and censorship. There is no Google Play Store, for example, as all Google products including Gmail, Google search, and the app store have been blocked since 2010.
This is just one of the many local restrictions foreign companies would have to deal with. But, Shanshan notes, one major possibility for foreign companies to tap into the market is to establish an own company in China or to work with a local partner that has a thorough understanding of the market and its restrictions and possibilities.
Swedish gaming company Mojang recently opted for the latter, as it teamed up with Chinese game giant Netease to develop a China-tailored version of their hugely popular Minecraft game. It currently holds the number one spot in the popular mobile games rank in China under the name of 'My World' (我的世界).
3. Fan Economy
Many of China's popular online game are based on popular Chinese literature, comics, anime or reality TV shows – this 'crossover success' is an important part of China's mobile gaming market.
Star Wars is a good example of how 'fan economy' can benefit multiple markets, including the gaming one; the Star Wars: Commander game became a number one hit in China earlier this year, generating more than 1 million downloads in just four days within its release.
Shanshan encourages foreign companies to use mobile big data to help them understand Chinese consumers and their preferences.
4. Going Global
The competitive domestic gaming market has led to an increasing internationalization of China's gaming companies. One of these companies is Snail Games, that was established in Suzhou, China, in 2000, and set up its LA-based USA company in 2010.
Going global poses a challenge for these companies, as they have to adjust their design to a more western taste, which often means making it less 'cute' or adding some game elements and promotion methods that speaks to a western audience. For the USA launch of the game Taichi Panda, for example, Snail Games hired famous American martial artist, judoka and actress Ronda Rousey to be their spokesman to make the game more 'American'.
There are also companies, including Tencent and Alibaba, that are all about buying; they enter the western market and buy up local companies like Miniclip or Pocket Gems.
Shanshan notes that the internationalisation of China's mobile gaming market also forms an opportunity for foreign gaming companies; if they do not have a strategy to enter China themselves, it is also commercially interesting to help Chinese games to do localisation in countries outside of China.
5. Mobile E-Sport Games
Mobile e-sport is bigger in China than it is in the West. Many bestseller games have proven that e-sport can make much money on console – but it is even more interesting when people can play it on their phone whenever they want to play it. Adding a competitive feature, like is done in Hero Pro League, makes it even more appealing to players.
One of the people who have made this market bigger is e-sports lunatic Wang Sicong, who also happens to be the son of the richest man in China.
Shanshan stresses that e-sports are important within China's mobile gaming, but that it is not necessarily the dominant genre: "At this moment, China's mobile gaming market has so much potential – anything is possible," she says – again reaffirming that China's mobile gaming market is anything but game over.
– By Manya Koetse
Follow @WhatsOnWeibo
[rp4wp]
©2016 Whatsonweibo. All rights reserved. Do not reproduce our content without permission – you can contact us at info@whatsonweibo.com.
Discussions on Didi After $1.2 Billion Fine for User-Data Violations
"Don't even worry about rectifying, just go away," some commenters wrote about Didi after learning the car-hailing company illegally and excessively collected user data.
One of the topics trending on Chinese social media this week is Chinese ride-hailing giant Didi and the precarious situation the company is in. Online discussions are ongoing after the Cyberspace Administration of China (CAC) imposed a fine of 8.026 billion yuan [US$1.19 billion] on Didi Global on July 21 due to its alleged violation of at least three major laws, namely China's Network Security Law, Data Security Law, and the Personal Information Protection Law.
Didi CEO Cheng Wei and President Liu Qing also each received a fine of one million yuan (US$148,000) personally as they were held responsible for the company's violations.
Beijing launched a cybersecurity investigation into Didi on July 2nd of 2021, just days after the company's June 30 US$4.4 billion initial public offering in New York. The investigation was launched "to protect national security and the public interest," and also came at a time when Didi reportedly went against the CAC by pressing ahead with its New York stock listing despite allegedly being urged to wait until a cybersecurity review of its data practices was conducted. Shortly after, the CAC ordered domestic app stores to remove all of Didi's services.
Now that the investigation into Didi is completed, the CAC states that there is conclusive evidence that Didi committed 16 law violations including illegally obtaining information from users' smartphones – such as collecting information from users' clipboards and photo albums – and "excessively" collecting personal data, including facial recognition and information relating to age, occupation, home/work addresses, and family relations (also see Zichen Wang's write-up on this here).
Didi Chuxing, China's biggest taxi-hailing service, has over 550 million users and 31 million drivers. Besides taxi-hailing, Didi also offers other app-based transportation services, such as private car-hailing and social ride-sharing.
It is not the first time for the company to be in hot water. In 2018, the murders of two young women by Didi drivers caused national outrage and sparked concerns over customers' safety when hailing a car through the Didi company.
On Weibo, various hashtags relating to Didi went trending over the past week, such as "Didi fined 8.026 billion yuan" (#滴滴被处80.26亿元罚款#), "Didi excessively collected 107 million pieces of passengers' facial recognition information" (#滴滴过度收集1.07亿条乘客人脸识别信息#), and "Cyberspace Administration of China imposes administrative penalty on Didi" (#网信办对滴滴作出行政处罚#).
Some Weibo users wonder why Didi is just receiving a fine rather than being immediately shut down over the serious violations they committed. "You still not shutting them down?" was a popular recurring comment. Although rumors surfaced over Didi's car-sharing business going bankrupt, some expert bloggers claimed the company still would have enough financial power to go on after paying the fine.
The CAC has not provided details about the exact nature of the previously reported government's "national security concerns" regarding Didi, but on Weibo, some netizens share their ideas on the matter: "Didi has a lot of people's data. Just by hailing a car, they determine your cellphone number, your occupation, address, family member information, The U.S. could carry out targeted bribery or intimidation of some important people in China, as well as obtaining the geographic data Didi has, which would mean a heavy blow to China's cyber security." Another commenter wrote: "Didn't they already sell this illegally obtained user information? Is it a threat to national security?"
Others worry about their own privacy, writing: "Do people still have privacy nowadays? We talk about one thing today, tomorrow we'll be bombarded with advertisements for that very same thing."
But others mentioned that the general consumer will keep using Didi when booking a taxi via app, simply because it's still the major player in the market.
On Weibo, Didi responded to the administrative punishment via their official Weibo account, writing:
"We sincerely thank the departments in charge for their inspection and guidance, and we thank the public for their criticism and supervision. We will draw a lesson from this, and will pay equal attention to the importance of security and development, and we will further strengthen the construction of our network security and data security, enhance the protection of personal information, effectively fulfill our social responsibility, serve all of our passengers, drivers, and partners, for the company's safe, healthy, and sustainable development."
"Don't even worry about rectifying, just go away," some commenters wrote.
Read more of our articles about Didi Chuxing here.
By Manya Koetse
With contributions by Miranda Barnes
Get the story behind the hashtag. Subscribe to What's on Weibo here to receive our weekly newsletter and get access to our latest articles:
Spotted a mistake or want to add something? Please let us know in comments below or email us. First-time commenters, please be patient – we will have to manually approve your comment before it appears.
©2022 Whatsonweibo. All rights reserved. Do not reproduce our content without permission – you can contact us at info@whatsonweibo.com.
Beijing Communities Asking People to Wear Electronic Monitoring Wristband during Home Quarantine
"It's almost like wearing electronic handcuffs. I don't want to wear this," one tech blogger wrote after being asked to wear a monitoring wristband during home quarantine.
Social media posts from Beijing residents claiming that they were asked to wear electronic monitoring wristbands during home quarantine have prompted angry reactions on Weibo.
"Last week, I went on a work trip to Guangzhou and before I returned to Beijing I did the nucleic acid tests in time. I also reported my home isolation to authorities and received the antigen tests. In the middle of the night, I then received a notification from my community that they are giving me an electric bracelet to wear," one Beijing resident writes on Weibo on July 14: "If they need to monitor my health, I'll cooperate with temperature checks and nucleic acid tests at the door, but I cannot accept this so-called 24-hour electronic monitoring."
Similar stories by Beijing residents returning back to the city after traveling have popped up on Chinese social media over the past few days. Tech blogger Dahongmao (@大红矛) – who has over 170,000 followers on Weibo – also shared their wristband experience, writing:
"After returning to Beijing from a business trip, I reported to the community on my own initiative, and also volunteered to take the tests and stay in home isolation. Seeing that I could go out, a lady from the community called me and said that there was a new policy again and that all people in home quarantine must wear an electronic bracelet, and that it would be delivered to me that night. She explained that it is used to check the body temperature and that they could conveniently monitor body temperature data on the phone. I said that I had already strictly followed Beijing's requirements in accordance with the anti-epidemic work. If this bracelet can connect to the internet, it definitely is also able to record my movements and it's almost like wearing electronic handcuffs. I don't want to wear this. If you want to know my temperature, just come to the door and check me, that's fine, I'm also still clocking in to do antigen testing everyday. She said it's a requirement from higher-up and that I shouldn't make it difficult for her, I said I would not want to make it difficult for her but that she could tell those above her that I won't wear it. If you insist that I wear it, you'll have to come up with the documents that prove that it's a Beijing government requirement and that this is not some unlicensed company trying to make a profit."
As more stories started surfacing about Beijing compounds asking residents to wear electronic bracelets during their home isolation, various hashtags related to the issue made their rounds on Chinese social media and photos taken by people wearing the bracelets also were posted online.
Photos of the wristband's packaging show the electronic wristband is manufactured by Beijing Microsense Technology (北京微芯感知科技有限公司), a local Beijing company established in April of 2020 that is located in the city's Haidian District.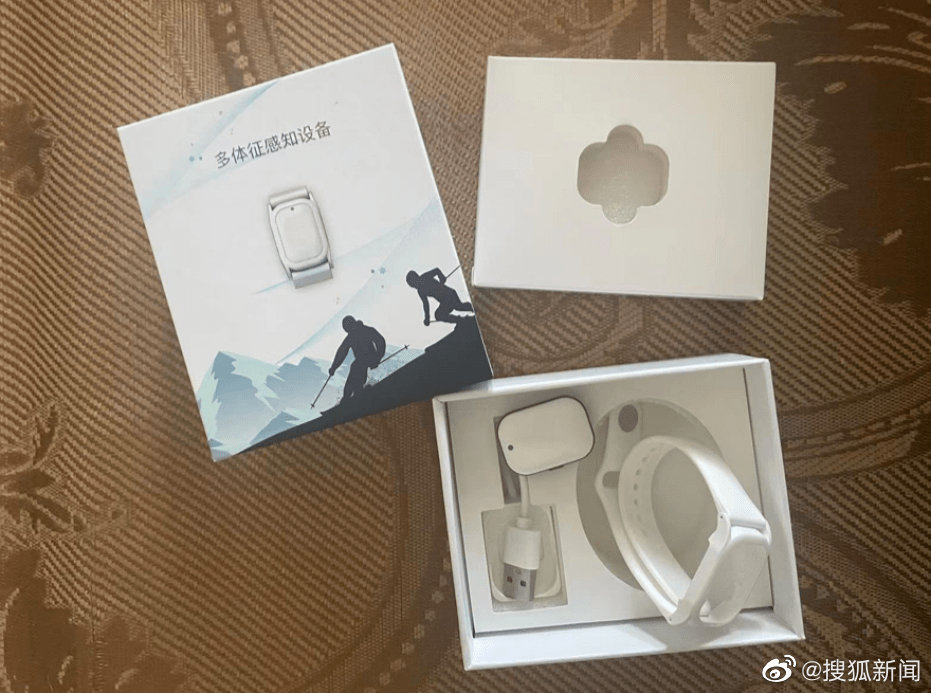 These stories raised concerns online, especially because the wristband had not been announced as a policy by the city's official health authorities.
"Resist the craziness," one Weibo user wrote: "Our personal freedom is covertly being limited, and there's people making a profit behind it." "This is becoming more and more like one big prison," one Zhejiang-based blogger wrote.
Tech blogger Dahongmao later updated their Weibo story about the bracelets, saying the community staff had come back to retrieve the electronic bracelets on Thursday afternoon because they had received "too many complaints." News of the wristbands being recalled after too many complaints also became a hashtag on Weibo (#大量投诉质疑后社区回收电子手环#).
Chinese state media commentator Hu Xijin (@胡锡进), who is Beijing-based, also responded to the controversy, emphasizing that the bracelets had already been retrieved by community workers and that Beijing city would not force people to wear electronic wristbands during home quarantine. "I wonder if this adjustment was made due to the pressure of public opinion," Hu wrote: "But even if it was, let us encourage this kind of respect shown in the face of public discontent and opposition." He also made a video about the incident for his Hu Says series.
Earlier on Thursday, Hu had called some of the posts about the electronic wristbands "unfounded rumors" because people returning to Beijing from low-risk regions inside of China do not even need to isolate at home at all.
According to the official guidelines, individuals arriving (back) in Beijing must have a green health code and a negative nucleic acid test obtained within 48 hours. Only those individuals coming in from overseas must complete a 7-day centralized quarantine plus 3-day home isolation. Secondary contacts of confirmed cases will also be asked to do 7 days of home quarantine.
"Don't say it's just rumors," one Weibo user wrote: "I'm wearing one [a wristband] right now. I had to, because my roommate returned from a trip."
Blogger Dahongmao responded to Hu's post about the wristband, saying: "Hu, if you are really concerned about this, then help to ask the relevant departments about these three questions. 1) Why doesn't this consumer electronic product have the nationally required 3C certificate? 2) How come this anti-epidemic product doesn't have medical device certification? 3) Without these two certificates, how did this [company] enter the purchasing list of the government for the Winter Olympics?"
As reported by Jiemian News, the same company that allegedly produced these wristbands also manufactured a smart wearable temperature measurement device called a "temperature band-aid," which was used in the Olympic Village during the Beijing Winter Olympics.
On the late afternoon of July 14, the Beijing Municipal Health Commission responded to the online concerns about the electronic wristband, reportedly saying that home isolation is only necessary for people returning to Beijing from inside of China if they are coming from high-risk areas, and that there is no official policy in place regarding the need to wear electronic bracelets.
To read more about Covid-19 in China, check our articles here.
By Manya Koetse
With contributions by Miranda Barnes
Get the story behind the hashtag. Subscribe to What's on Weibo here to receive our weekly newsletter and get access to our latest articles:
Spotted a mistake or want to add something? Please let us know in comments below or email us. First-time commenters, please be patient – we will have to manually approve your comment before it appears.
©2022 Whatsonweibo. All rights reserved. Do not reproduce our content without permission – you can contact us at info@whatsonweibo.com.