The Perfect Selfie: China vs America
People are taking selfies all over the world. The way they take them, however, differs per culture. In China, taking the perfect selfie is not about full face make-up and sexy looks, but about snow white skin and big eyes, Claire Kane writes.
Selfies are an integral part of the world of social media. With smartphones and selfie sticks, it is easier than ever before for people to take a 'self-portrait' and share it with the world through social media platforms such as Instagram, Weibo, Wechat, Facebook or Twitter.
Self-representation through digital technology is not just a way of presenting ourselves to others, it is also a way for us to record moments in our lives to remember for the future. In Seeing Ourselves Through Technology, Jill Walker Rettberg explores the phenomenon of selfies; why people take them and how they are perceived.
Website Style.Mic recently published an article by Clare Kane (@clare_kane) about what the difference in selfies between America and China can tell us about beauty standards. According to the article, although there are many overlaps in selfie esthetics, there are some basic differences between beauty ideals in America and China that are discernible in how women take selfies. Chinese 'selfie culture' is influenced by South Korea and Japan, that have similar beauty standards.
One of the main differences, according to the article, is that Chinese women prefer to be pale. Whereas the majority of women in the US prefer a bronzed skin, this is not the case in China. In Chinese language 'Miss Perfect' translates as 'baifumei' (白富美), literally meaning white-skinned, rich and beautiful. For the perfect selfie, the skin is therefore made to look as white as possible, either through make-up, lighting, or through a photo app that enhances one's skin.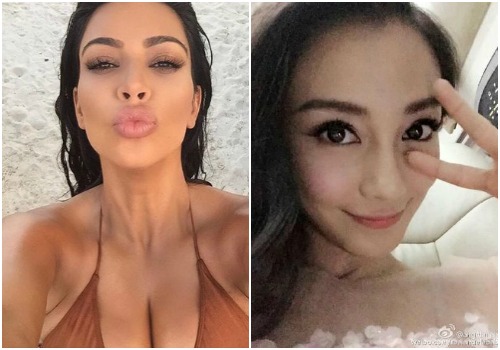 American celebrity Kim Kardashian (left), and Chinese celebrity 'Angelababy' (right).
Except for pale skin, big eyes are also a prerequisite for the 'perfect selfie'. China's beauty industry benefits from these beauty ideals, and does not only offer a myriad of products that help women whiten their skin; it also sells a selection of products that are supposed to make the eyes look bigger.
Influenced by Western and Japanese beauty ideals, a small face and pointed chin have also become part of Chinese beauty ideals. Well-known Weibo blogger Vincent Lau has become famous for his selfies with an extremely pointed face and big eyes.
Another difference, according to the article, is that women in the US like selfies that portray themselves as  sexy and curvy. In China, it is not about sex but about looking 'cute'. Being 'cute' often means looking as innocent as possible.
American celebrity Katy Perry selfie versus Chinese celebrity Fan Bingbing selfie. 
Chinese beauty standards are most easily attained through the use of photo app Pitu (天天P图 ), that comes with many possibilities. Like the Meitu app (美图), which is also popular, Pitu is a camera and retouch app that offers a myriad of different filters to take the prettiest selfie. It allows users to make themselves whiter, make the face smaller and enlarge eyes.
Selfies in China and America do not always follow the general beauty esthetics. Last year's Weibo trend of taking selfies showing of armpit hair also made it in America, where even Madonna showed off some natural hair.
The message: women should not feel pressured to comply with society's beauty standards. What is most important is that they feel comfortable with themselves.
– By Manya Koetse
Follow @WhatsOnWeibo
Featured image: selfie of Kim Kardashian versus Chinese celebrity Fan Bing Bing.
©2016 Whatsonweibo. All rights reserved. Do not reproduce our content without permission – you can contact us at info@whatsonweibo.com.
The Mulan Makeup Challenge: Traditional Chinese Makeup Goes Trending
Recreating the Mulan make-up look was the biggest beauty challenge on Chinese social media this July.
Will traditional Chinese make-up make a comeback because of Disney's Mulan?
Since Disney released the official trailer for its live-action Mulan movie earlier this month, Mulan is recurringly appearing in the top trending lists on Chinese social media.
Among all the different topics relating to the upcoming Mulan movie, the Mulan make-up challenge is one that jumps out this month.
The Disney live-action trailer showed a scene in which Mulan, played by Chinese American actress Crystal Liu Fei (刘亦菲), has a full face of betrothal makeup. The original animated Disney movie also features a full makeup Mulan.
Although there was also online criticism of the 'exaggerated' makeup, there are many people who appreciate Mulan's colorful makeup look.
On Weibo, many showed off their skills in copying Mulan's makeup look this month.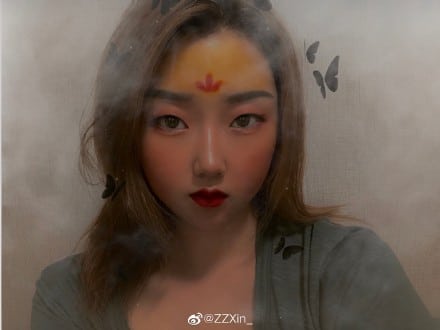 By now, the hashtags "Mulan Makeup Imitation" (#花木兰仿妆#) and "Mulan Makeup Imitation Contest" (#花木兰仿妆大赛#) have attracted over 300 million views.
Makeup such as lipstick has been used in China as far back as two or three thousand years ago.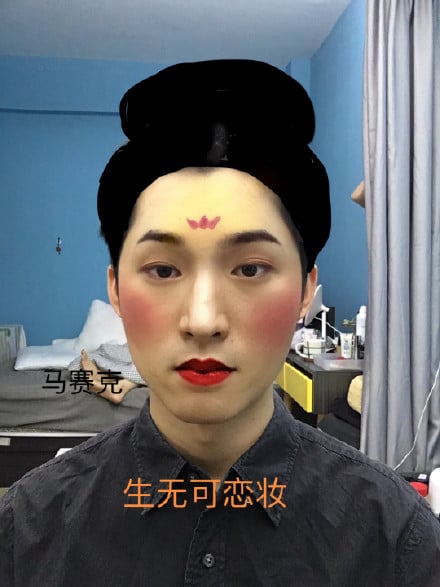 Makeup vlogger Emma Zhou explains more about Tang Dynasty (618-907) makeup customs here; the skin would be whitened with rice flower, followed by the application of 'blush' (pigment of strong-colored flowers) to the cheeks and eyes in a round shape, to emphasize the roundness of the face.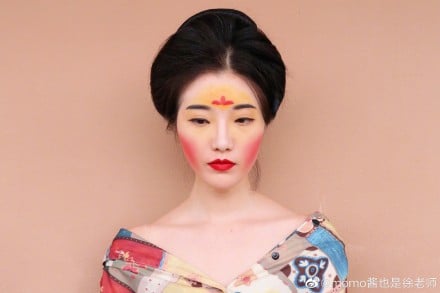 A floral-like decoration would be placed in between the eyebrows.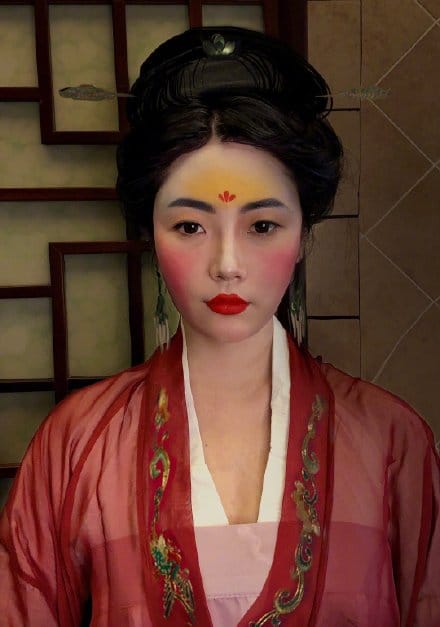 The yellow forehead, as can be seen in the live-action Mulan, is also known as "Buddha's makeup," and was especially popular among ladies during the Tang Dynasty. A yellow aura on the forehead was believed to be auspicious (Schafer 1956, 419).
Although contemporary Chinese makeup trends are much different than those depicted in Mulan, traditional makeup seems to make somewhat of a come-back because of the Disney movie, with hundreds of Chinese netizens imitating the look.
Beauty bloggers such as Nico (@黎千千Nico, image below) receive much praise from Weibo users for their makeup look. Nico wrote: "I even opened the door for the delivery guy this way!"
It is not just girls imitating the look; there are also some boys showing off their Mulan makeup.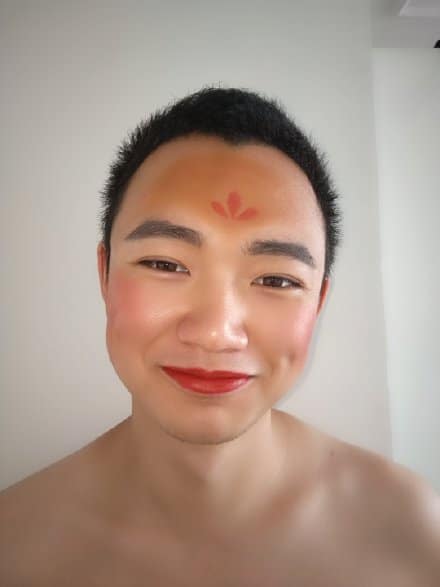 Although many still find the Mulan makeup look exaggerated and even "laughable," there are also those who think it looks really "cool" – of course, depending on whether or not the application is successful.
Want to try it out for yourself? There are various amateur tutorials available on Youtube (in Chinese), such as here, here, or here.
The Mulan make-up hype will probably continue in 2020; the Mulan movie will come out in late March.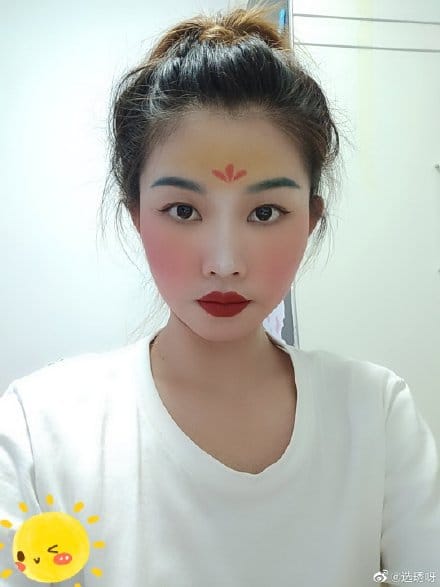 To read more about Mulan, please see our latest feature article on Mulan here.
By Manya Koetse
Follow @whatsonweibo
References
Schafer, Edward H. 1956. "The Early History of Lead Pigments and Cosmetics in China." T'oung Pao, Second Series, 44, no. 4/5: 413-38. http://www.jstor.org/stable/4527434.
Spotted a mistake or want to add something? Please let us know in comments below or email us. Please note that your comment below will need to be manually approved if you're a first-time poster here.
©2019 Whatsonweibo. All rights reserved. Do not reproduce our content without permission – you can contact us at info@whatsonweibo.com
Iconic Shanghai Singer Yao Lee Passes Away at the Age of 96
Yao Li, one of the seven great singing stars of Shanghai in the 1940s, has passed away.
Chinese singer Yao Lee (姚莉), the 'Queen of Mandarin pop,' passed away on July 19 at the age of 96.
The singer, with her 'Silvery Voice,' was known as one of the seven great singing stars ("七大歌星") of Shanghai of the 1940s.
For those who may not know her name, you might know her music – one of her iconic songs was used in the hit movie Crazy Rich Asians.
Yao's most famous songs include "Rose, Rose, I Love You" (玫瑰玫瑰我爱你), "Meet Again" (重逢), and "Love That I Can't Have" (得不到的爱情).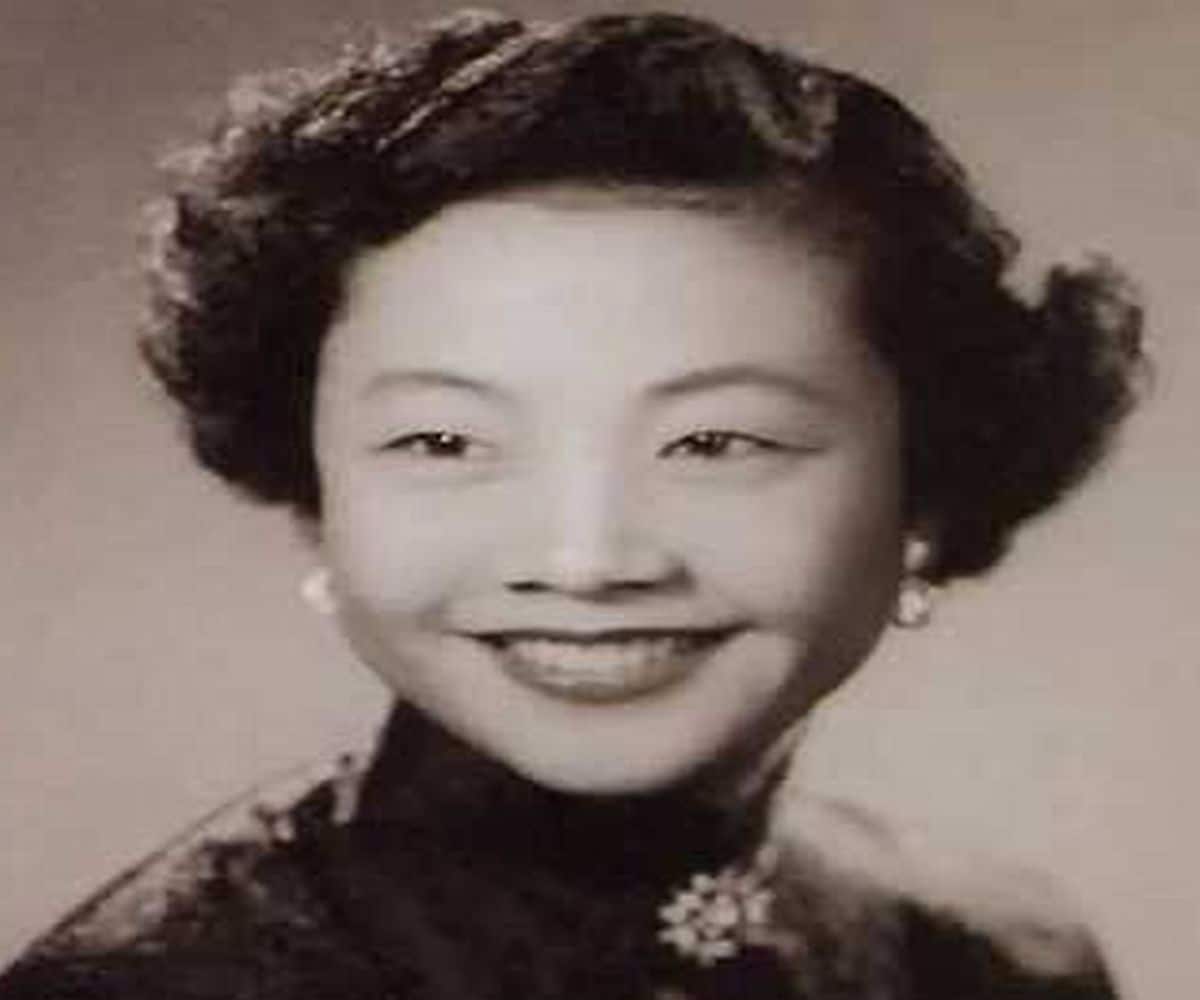 Yao, born in Shanghai in 1922, started singing at the age of 13. Her brother Yao Min was a popular music songwriter.
When popular music was banned under Mao in the 1950s, Hong Kong became a new center of the Mandarin music industry, and Yao continued her career there.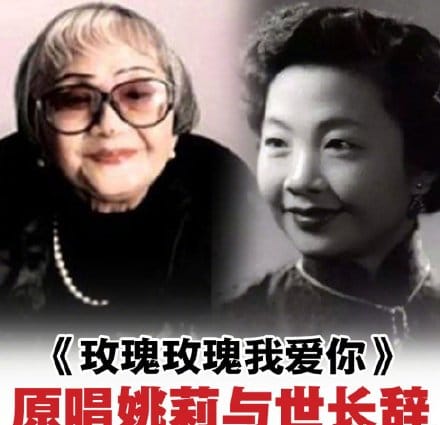 On Weibo, the hashtag Yao Lee Passes Away (#姚莉去世#) already received more than 200 million views at time of writing.
Many Chinese netizens post candles to mourn the death of the popular singer, some call her passing "the end of an era."
"Shanghai of those years is really where it all started," others say.
Listen to one of Yao's songs below:
By Manya Koetse
Follow @whatsonweibo
Spotted a mistake or want to add something? Please let us know in comments below or email us. Please note that your comment below will need to be manually approved if you're a first-time poster here.
©2019 Whatsonweibo. All rights reserved. Do not reproduce our content without permission – you can contact us at info@whatsonweibo.com