The Perfect Selfie: China vs America
People are taking selfies all over the world. The way they take them, however, differs per culture. In China, taking the perfect selfie is not about full face make-up and sexy looks, but about snow white skin and big eyes, Claire Kane writes.
Selfies are an integral part of the world of social media. With smartphones and selfie sticks, it is easier than ever before for people to take a 'self-portrait' and share it with the world through social media platforms such as Instagram, Weibo, Wechat, Facebook or Twitter.
Self-representation through digital technology is not just a way of presenting ourselves to others, it is also a way for us to record moments in our lives to remember for the future. In Seeing Ourselves Through Technology, Jill Walker Rettberg explores the phenomenon of selfies; why people take them and how they are perceived.
Website Style.Mic recently published an article by Clare Kane (@clare_kane) about what the difference in selfies between America and China can tell us about beauty standards. According to the article, although there are many overlaps in selfie esthetics, there are some basic differences between beauty ideals in America and China that are discernible in how women take selfies. Chinese 'selfie culture' is influenced by South Korea and Japan, that have similar beauty standards.
One of the main differences, according to the article, is that Chinese women prefer to be pale. Whereas the majority of women in the US prefer a bronzed skin, this is not the case in China. In Chinese language 'Miss Perfect' translates as 'baifumei' (白富美), literally meaning white-skinned, rich and beautiful. For the perfect selfie, the skin is therefore made to look as white as possible, either through make-up, lighting, or through a photo app that enhances one's skin.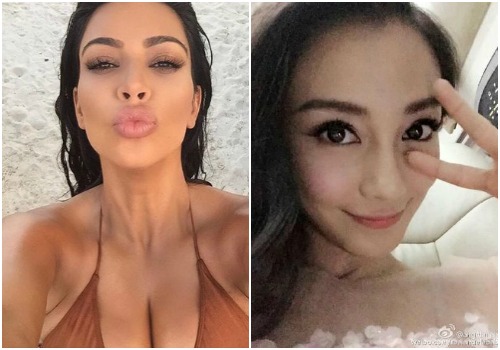 American celebrity Kim Kardashian (left), and Chinese celebrity 'Angelababy' (right).
Except for pale skin, big eyes are also a prerequisite for the 'perfect selfie'. China's beauty industry benefits from these beauty ideals, and does not only offer a myriad of products that help women whiten their skin; it also sells a selection of products that are supposed to make the eyes look bigger.
Influenced by Western and Japanese beauty ideals, a small face and pointed chin have also become part of Chinese beauty ideals. Well-known Weibo blogger Vincent Lau has become famous for his selfies with an extremely pointed face and big eyes.
Another difference, according to the article, is that women in the US like selfies that portray themselves as  sexy and curvy. In China, it is not about sex but about looking 'cute'. Being 'cute' often means looking as innocent as possible.
American celebrity Katy Perry selfie versus Chinese celebrity Fan Bingbing selfie. 
Chinese beauty standards are most easily attained through the use of photo app Pitu (天天P图 ), that comes with many possibilities. Like the Meitu app (美图), which is also popular, Pitu is a camera and retouch app that offers a myriad of different filters to take the prettiest selfie. It allows users to make themselves whiter, make the face smaller and enlarge eyes.
Selfies in China and America do not always follow the general beauty esthetics. Last year's Weibo trend of taking selfies showing of armpit hair also made it in America, where even Madonna showed off some natural hair.
The message: women should not feel pressured to comply with society's beauty standards. What is most important is that they feel comfortable with themselves.
– By Manya Koetse
Follow @WhatsOnWeibo
Featured image: selfie of Kim Kardashian versus Chinese celebrity Fan Bing Bing.
©2016 Whatsonweibo. All rights reserved. Do not reproduce our content without permission – you can contact us at info@whatsonweibo.com.
"Not Just a Style, But a Mission" – China's Online Hanfu Movement
What started with a 2003 internet sensation grew into a massive movement – Hanfu is booming on Weibo and beyond.
It's been nearly two decades since the Chinese traditional clothing trend named Hanfu 汉服 first became noticeable as a popular social phenomenon in mainland China. Throughout the years, Hanfu has gone from a fashion style to a full-fledged movement that is flourishing on Chinese social media. Koen van der Lijn reports.

When objects meet social media, two websites meet as well. This is a collaboration between What's on Weibo and Things That Talk (follow on Insta @thingsthattalk).

This last Christmas, Hanfu was once again a trending topic on Weibo. Enthusiasts of the traditional Chinese clothing trend posed online in their Christmas inspired Chinese clothing.
It was yet another development in the Hanfu Movement, which has been a hot topic with hundreds of hashtags and thousands of pictures, videos, and stories on Weibo, with the official Weibo Hanfu @微博汉服 account boasting a whopping 1.8 million followers and a Weibo 'supertopic' on Hanfu being joined by nearly half a million fans.
One example of the manifold of Hanfu content on Weibo is a video recently posted by Chinese actress Xu Jiao (徐娇). In the short video, which is an advertisement by the e-commerce platform RED (小红书), the actress wears Hanfu in various settings while talking about the meaning behind the fashion. Xu Jiao, being 23 years of age, is part of Generation Z (mid-1990s – early 2010s), who are adept users of social media and make up the mass of Hanfu enthusiasts.
Though Hanfu enthusiasts seldomly go out on the streets whilst wearing the clothing style,1 Hanfu sales have been increasing a lot over the past few years.2 Possibly linked to the popularity of Chinese costume dramas, many Chinese youth have started to wear Hanfu in the past two decades. However, it is not just a form of cosplay or a new clothing style. As Xu Jiao says herself in the video: "It's not just a style, it's a mission."
Background of the Hanfu Movement
It was November 2003 when Wang Letian walked the streets of Zhengzhou in Hanfu. News of his action rapidly spread over the internet through websites such as hanminzu.net.3
Besides online discussions, an article was also written about Wang Letian's bold move in the Singaporean newspaper Lianhe Zaobao 联合早报, helping spread word about the young man's actions. This moment was seen as the start of the Hanfu Movement.
Now, roughly twenty years later, the wearing of Hanfu has developed into a true movement, with many young Chinese participating in the wearing of the traditional Chinese dress. Especially on college campuses, the trend is very much alive.
In its most basic idea, the Hanfu Movement can be described as a social movement that supports the wearing of Han Chinese ethnic clothing. The emphasis on the Han ethnicity is of importance here. Han Chinese make up the vast majority of the population in China, accounting for more than 90% of China's total population. However, aspects famous outside China for being typically Chinese, such as the queue, are actually of Manchu origin.
The Manchus are an ethnic group from Northeastern China, showing cultural similarities to the Mongols, who ruled China's last dynasty, the Qing dynasty (1644-1912). Their clothing style has influenced foreign perceptions of China, due to the fact that the Manchus were the ruling class in the last Chinese imperial dynasty.
Hence the emphasis on the Han ethnicity. Central to the Hanfu Movement is the idea that ethnic Han clothing, as worn during Han Chinese ruled dynasties, such as the Han dynasty (202BC-220AD), the Tang dynasty (618-907), and the Ming dynasty (1368-1644), has much value in its own and should be worn and appreciated by contemporary Han Chinese, just as the ethnic clothing of China's minorities is appreciated in contemporary China.4
The Mission
On 4 December 2020, blogger Mi Qiujun posted a video with the hashtag #How to make the world understand Hanfu?#, (#如何让世界了解汉服#), gaining many likes and comments. Showing clips of herself wearing Hanfu in Egypt, the United States, France, and Japan, she tells how she became determined to make people around the globe understand China's traditional culture after her clothing being wrongly identified as a Japanese kimono at her first stop in Nepal.
Mi Qiujun discusses an important aspect of the Hanfu movement. Hanfu enthusiasts feel that their ethnic clothing is not understood well enough by others, and showing the rest of the world their clothing is a true mission.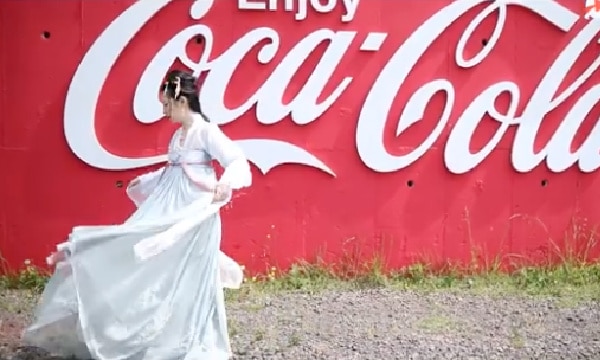 Hanfu enthusiasts have found themselves in online quarrellings about what can be defined as Hanfu, and what cannot be defined as Hanfu. It is worth noting that some scholars have disputed the existence of a uniform Hanfu throughout Chinese history.5 Instead, Hanfu is seen to have been popularised by students through the internet, without strong knowledge of Han Chinese clothing traditions.6 This makes it difficult to assess what does and what does not count as Hanfu.
Online quarrelings have therefore become part of the Hanfu Movement. In November 2020, for instance, Chinese netizens found themselves in an online discussion with their Korean neighbours. That month, Chinese actor Xu Kai (许凯) posted a photo of himself in traditional costume from the set of the Chinese drama titled Royal Feast (尚食), which is set in the Ming Dynasty.
After South Korean web users pointed out that the traditional costume worn by Xu resembled Korean traditional clothing named Hanbok, the drama's producer Yu Zheng (于正) posted a response on social media in which he firmly stated that this clothing was not Hanbok but Hanfu, adding that Korea was a vassal state of China at the time and that only "uncivilized people" would call it 'Hanbok.'
A Nationalist Movement?
These kinds of discussions also show another side of the Hanfu Movement. For some Hanfu enthusiasts, Hanfu is more than a mission to let others understand Han ethnic culture; instead, it is a way to construct a purified Han Chinese identity, free from foreign influence.7
This foreign influence is often linked back to the Manchus once again. 'Uncivilised practices' in contemporary Chinese society are attributed to the Manchus. This rhetoric reinforces the belief of Han supremacy, which has existed long before the invention of the internet, where the 'civilized' Han Chinese believe themselves to be superior to the 'uncivilized' barbarians, such as the Manchus.
This rise in Han Chinese nationalism started in the past few decades.8 The Hanfu Movement thus has followers who are a part of this new turn, where Han Chinese want to restore the glory of their past and turn away from Western and Manchu influences.9
These hardcore Han nationalists are but a small part of the movement. The Hanfu Movement encompasses a large and diverse group of people, who all share a certain belief that Hanfu should gain more appreciation in China and abroad. These are, for instance, some of the comments under Xu Jiao's video:
– "(…) Xu Jiao speaks for Hanfu!!" (@怪物与约翰)
– "Do not be afraid to doubt, never forget the original intention, Hanfu is a style, it's a mission, it's culture, and it's an attitude." (@打翻废纸篓)
– "I am so thankful we have you! I really like your work and your attitude towards Hanfu!" (@小瓦肯Shail)
What connects most Hanfu enthusiasts then? Hanfu enthusiasts take pride in wearing Hanfu, and they wear Hanfu simply because they like wearing it. Moreover, they believe it to be important to make others, both in and outside China, gain a deeper understanding of Han Chinese ethnic culture. Hanfu is more than a fad. It is a subculture, it is a style, and for Xu Jiao and many others, it is their mission.

By Koen van der Lijn
Follow @WhatsOnWeibo
Koen van der Lijn (China Studies, BA) is a ResMa student Asian Studies at Leiden University focused on Chinese history and its international relations. He is a student ambassador at Things That Talk.
This story was made in collaboration with ThingsThatTalk.net – exploring humanities through the life of objects. Things That Talk is an educational digital project where staff and students produce narratives and metadata about objects in Leiden collections and beyond. A story focused on the background of the Hanfu Movement and objects associated with this movement has previously been published on Things that Talk, go check it out!

Notes (other sources hyperlinked within the article)
1 Buckley, Chris, and Katrina Northrop. 2018. "A Retro Fashion Statement in 1,000-Year-Old Gowns, With Nationalist Fringe." New York Times, Nov 22 https://www.nytimes.com/2018/11/22/world/asia/china-hanfu-gowns-clothing.html [Jan 16 2021].
2 Zhou Xing 周兴. 2020. "Report: Hanfu turnover on Taobao platform exceeded 2 billion yuan in 2019 [报告:2019年淘宝平台上汉服成交金额突破20亿元]." Dianshangbao, August 2 2020 https://www.dsb.cn/124836.html [Jan 16 2021].
3 Cui Chentao 崔晨涛. 2016. "Han Costume Movement and National Culture Rejuvenation [汉服运动"与民族文化复兴的诉求]." Journal of Yunyang Teachers College 36(5): 19-24.
4 Cui Chentao 崔晨涛. 2016. "Han Costume Movement and National Culture Rejuvenation [汉服运动"与民族文化复兴的诉求]." Journal of Yunyang Teachers College 36(5): 19-24.
5 Carrico, Kevin. 2017. The Great Han: Race, Nationalism, and Tradition in China Today. Oakland, California: University of California Press.
6 Zhang Xian 张跣. 2009. "'Hanfu Movement': Ethnic Nationalism in the Internet Age ["汉服运动":互联网时代的种族性民族主义]." Journal of China Youth University for Political Sciences (4): 65-71.
7 Carrico, Kevin. 2017. "Imaginary Communities: Fantasy and Failure in Nationalist Identification," in The Great Han: Race, Nationalism, and Tradition in China Today, chapter 1. Oakland, California: University of California Press.
8 Dikötter, Frank. 2001. "Nationalist Myth-making: The Construction of the Chinese Race." Human Rights in China, 27 April https://www.hrichina.org/en/content/4573 [16 Jan 2021].
9 Carrico, Kevin. 2017. "Imaginary Communities: Fantasy and Failure in Nationalist Identification," in The Great Han: Race, Nationalism, and Tradition in China Today, chapter 1. Oakland, California: University of California Press.
Featured image: Photo by zhang kaiyv on Unsplash
Spotted a mistake or want to add something? Please let us know in comments below or email us. First-time commenters, please be patient – we will have to manually approve your comment before it appears.
©2021 Whatsonweibo. All rights reserved. Do not reproduce our content without permission – you can contact us at info@whatsonweibo.com.
The 'Fake Rich' of Shanghai: Peeking Inside a Wannabe Socialite WeChat Group
A Shanghai fake 'rich girl WeChat group' has become the talk of the day after a Chinese blogger went undercover in their bizarre social media circle.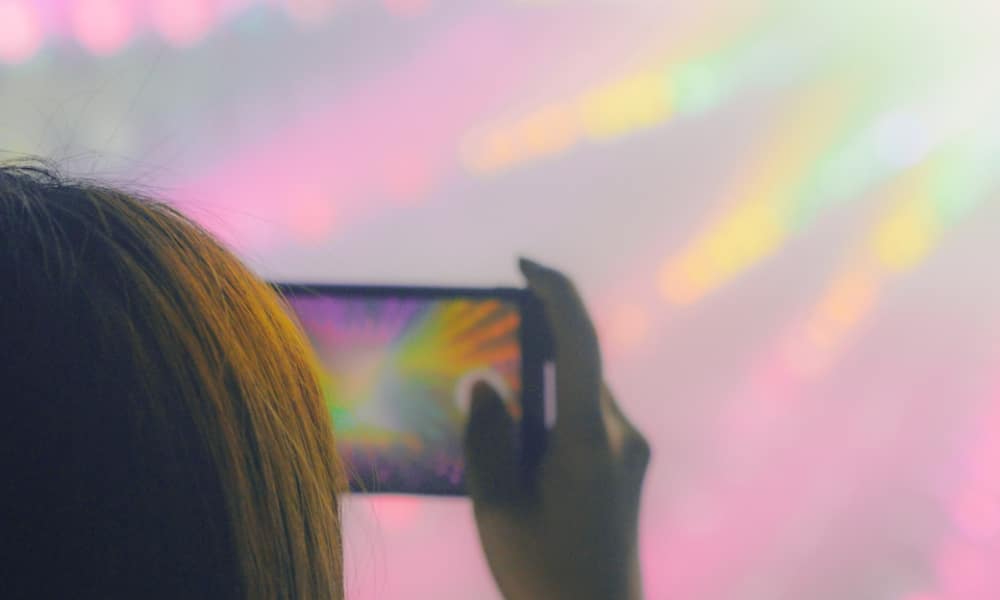 A Shanghai Lady Socialite WeChat Group has become top trending on Chinese social media after a blogger exposed its workings. From splitting the costs for an afternoon high tea at The Ritz to sharing a Gucci pantyhose, these girls are taking the phrase 'fake it 'til you make it' a bit too literally.

By Manya Koetse, with contributions from Miranda Barnes

How to become part of Shanghai's super-rich social circles? Some people think joining a WeChat group is the way to go.
A Shanghai 'Female Socialite WeChat Group' has gone mega trending on Chinese social media today after a blogger went undercover in the group for two weeks, giving netizens a peek inside a world that's all about faking it. The topic reached over 1.2 billion views on Weibo on Monday.
The Chinese blogger Lizhonger (李中二) invested 500 yuan ($75) and pretended to be a girl in order to become a member of the WeChat group after one of his readers tipped him off about its existence.
The group profiles itself as the 'Shanghai Female Socialite' group that is all about "Young / Fashion / Money". The profile poster states that the WeChat group is a place to share information about (Hermes, Dior, etc) luxury products, to have afternoon tea together, to get to know social media influencers and to share updates on wealthy and eligible bachelors.
Besides a 500 yuan membership fee, new members are required to provide proof of having at least 100,000 yuan ($15,000) in their savings account.
Faking such proof is probably not too difficult; most of the active members of the 'Shanghai Ladies' WeChat group appear to be anything but nouveau riche – nor old rich, for that matter.
Lizhonger discovered that instead of being an actual WeChat group for rich girls to talk about their latest Louis Vuitton bags, the group is in fact all about finding ways to appear rich. Part of it is sharing resources and splitting the costs of experiences where these luxury-loving girls can post photos of themselves.
"It turned out to be a high-end version of Pinduoduo," Lizhonger writes. Pinduoduo, sometimes referred to as 'the Groupon of China,' is an interactive group-buying shopping platform that offers quality goods at extremely low prices.
As exposed by Lizhonger, the members of the WeChat group would do things such as sharing the cost for an afternoon high tea at the Ritz-Carlton. The high tea, which is meant for two people, was split among six people, with each person paying 85 yuan ($12.5). The girls then took turns to attend the high tea, with the first girls promising not to touch any of the food so the other girls could still take pictures of it once it was their turn to show up at the Ritz.
Likewise, the booking costs for a 3000 yuan hotel room at the Ritz was shared among 15 members of the WeChat group, with each person paying 200 yuan ($30).
The price for a room at the glamorous and expensive Bvlgari Hotel Shanghai was shared with no less than 40 people, each person paying 125 yuan ($18) just to go up, take a pic, and share their location on social media.
The madness does not stop there. Lizhonger also exposed how the group members would rent one designer bag with four persons, passing them on to each other to wear on a date with a prospective boyfriend.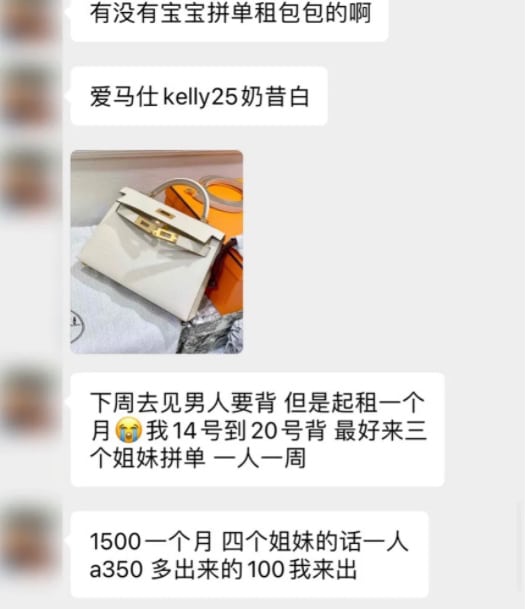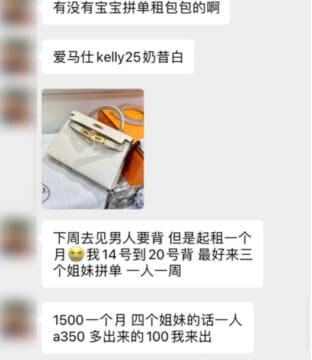 Or how about renting a white Ferrari for one day with 60 people? For 100 yuan ($15) per person, each lady got to take a picture to post on social media.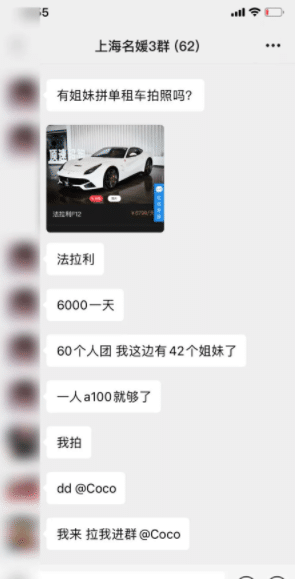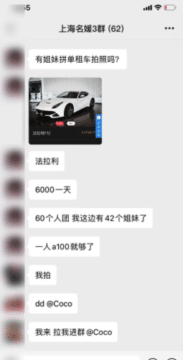 The girls even went as far as sharing the costs for a second-hand Gucci pantyhose, while also discussing how guys driving a BMW or Benz are just not good enough.
One WeChat group can hold a maximum of 500 people. Groups that are popular, such as the one described here, are sometimes split up in multiple groups (A, B, and C) so that more than 500 people can participate.
Since Lizhonger posted his article on WeChat on Sunday, it's become all the talk on Chinese social media. One post about the topic on Weibo reached over 1,4 million likes.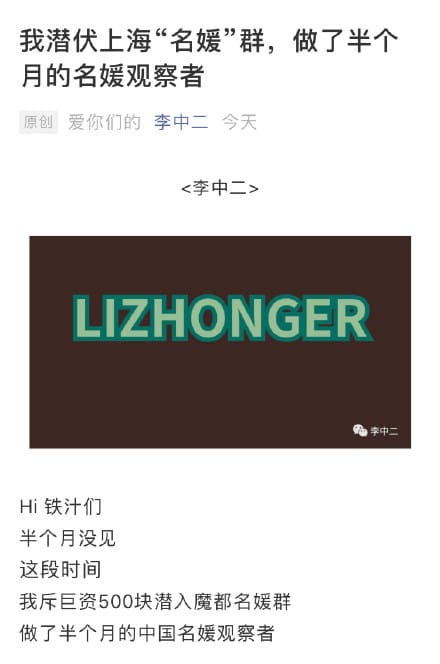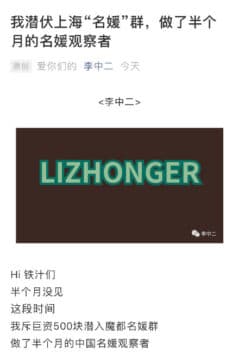 Although many people laugh about the matter, there are also many who criticize these Shanghai women for pretending to be rich and chasing after money in order to increase their social status in order to find a wealthy husband.
"They are faking their appearances, but actually they are just faking themselves," some commented.
Others are not surprised that these kinds of groups are popular. "Did you think this was rare? There are so many of these groups!"
Although this group goes to extremes, the fake socialite life is not just a Shanghai thing. Since some years ago, it was reported that influencers in Russia were booking grounded jets for photoshoots. More recently, some influencers in the US were exposed for renting a photo studio made to look like a private plane for their Instagram photos.
By Manya Koetse, with contributions from Miranda Barnes
Follow @WhatsOnWeibo
Featured image by Yuan Zhe Ma
Spotted a mistake or want to add something? Please let us know in comments below or email us. First-time commenters, please be patient – we will have to manually approve your comment before it appears.
©2020 Whatsonweibo. All rights reserved. Do not reproduce our content without permission – you can contact us at info@whatsonweibo.com.