The Perfect Selfie: China vs America
People are taking selfies all over the world. The way they take them, however, differs per culture. In China, taking the perfect selfie is not about full face make-up and sexy looks, but about snow white skin and big eyes, Claire Kane writes.
Selfies are an integral part of the world of social media. With smartphones and selfie sticks, it is easier than ever before for people to take a 'self-portrait' and share it with the world through social media platforms such as Instagram, Weibo, Wechat, Facebook or Twitter.
Self-representation through digital technology is not just a way of presenting ourselves to others, it is also a way for us to record moments in our lives to remember for the future. In Seeing Ourselves Through Technology, Jill Walker Rettberg explores the phenomenon of selfies; why people take them and how they are perceived.
Website Style.Mic recently published an article by Clare Kane (@clare_kane) about what the difference in selfies between America and China can tell us about beauty standards. According to the article, although there are many overlaps in selfie esthetics, there are some basic differences between beauty ideals in America and China that are discernible in how women take selfies. Chinese 'selfie culture' is influenced by South Korea and Japan, that have similar beauty standards.
One of the main differences, according to the article, is that Chinese women prefer to be pale. Whereas the majority of women in the US prefer a bronzed skin, this is not the case in China. In Chinese language 'Miss Perfect' translates as 'baifumei' (白富美), literally meaning white-skinned, rich and beautiful. For the perfect selfie, the skin is therefore made to look as white as possible, either through make-up, lighting, or through a photo app that enhances one's skin.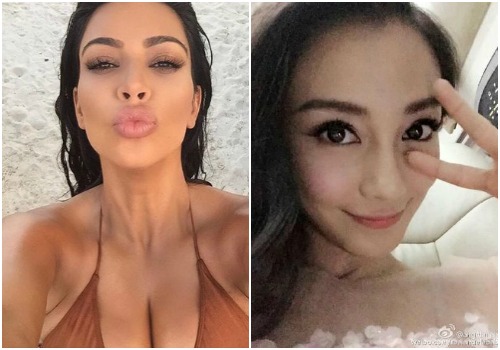 American celebrity Kim Kardashian (left), and Chinese celebrity 'Angelababy' (right).
Except for pale skin, big eyes are also a prerequisite for the 'perfect selfie'. China's beauty industry benefits from these beauty ideals, and does not only offer a myriad of products that help women whiten their skin; it also sells a selection of products that are supposed to make the eyes look bigger.
Influenced by Western and Japanese beauty ideals, a small face and pointed chin have also become part of Chinese beauty ideals. Well-known Weibo blogger Vincent Lau has become famous for his selfies with an extremely pointed face and big eyes.
Another difference, according to the article, is that women in the US like selfies that portray themselves as  sexy and curvy. In China, it is not about sex but about looking 'cute'. Being 'cute' often means looking as innocent as possible.
American celebrity Katy Perry selfie versus Chinese celebrity Fan Bingbing selfie. 
Chinese beauty standards are most easily attained through the use of photo app Pitu (天天P图 ), that comes with many possibilities. Like the Meitu app (美图), which is also popular, Pitu is a camera and retouch app that offers a myriad of different filters to take the prettiest selfie. It allows users to make themselves whiter, make the face smaller and enlarge eyes.
Selfies in China and America do not always follow the general beauty esthetics. Last year's Weibo trend of taking selfies showing of armpit hair also made it in America, where even Madonna showed off some natural hair.
The message: women should not feel pressured to comply with society's beauty standards. What is most important is that they feel comfortable with themselves.
– By Manya Koetse
Follow @WhatsOnWeibo
Featured image: selfie of Kim Kardashian versus Chinese celebrity Fan Bing Bing.
©2016 Whatsonweibo. All rights reserved. Do not reproduce our content without permission – you can contact us at info@whatsonweibo.com.
"Living a Nightmare" – Chinese Beauty Guru Yuya Mika Shares Shocking Story of Domestic Abuse
Famous makeup artist Yuya Mika shared her story in a video that has since gone viral on Weibo.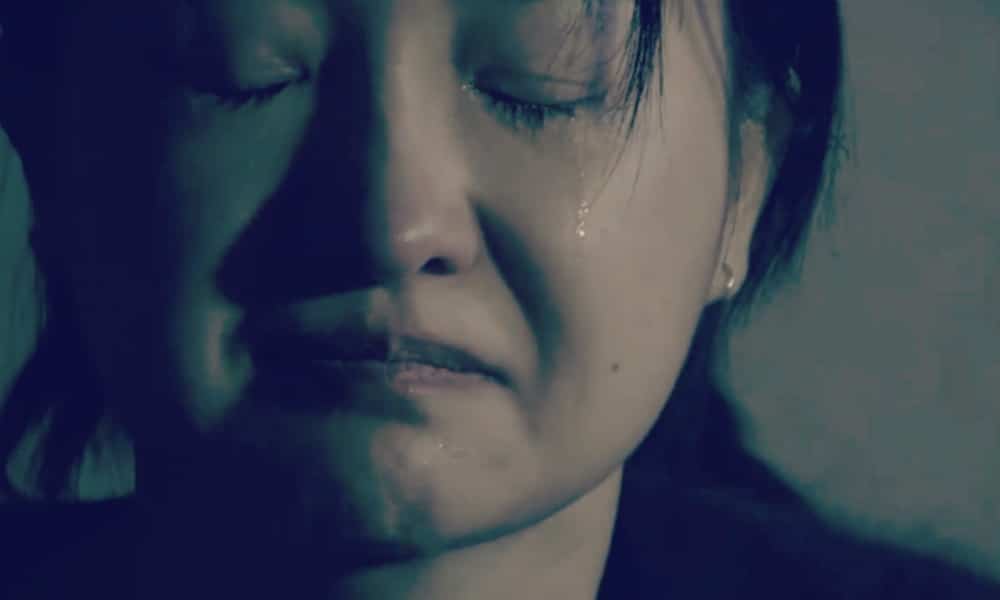 First published
Chinese famous makeup vlogger Yuya Mika has come out and shared her experience of being physically abused by her former boyfriend. Yuya's story – told in a documentary-style video that is now going viral – does not just raise online awareness about the problem of domestic violence, it also shows the raw realness behind the glamorous facade of China's KOLs' social media life.
Fashion and makeup blogger He Yuyong, better knowns as Yuya (宇芽) or Yuya Mika (@宇芽YUYAMIKA), has gone viral on China's social media platform Weibo for sharing her personal story of suffering domestic abuse at the hands of her ex-partner.
On Monday afternoon, November 25 – which is the International Day for the Elimination of Violence against Women – Yuya, a KOL (Key Opinion Leaders/online influencer) who has over 800,000 followers on her Weibo account, wrote: "I'm a victim of domestic violence. The past six months, I feel like I've been living a nightmare. I need to speak up about domestic violence here!"
With her post, Yuya shared a 12-minute documentary-style video in which she tells how she has been abused by her partner of one year, with whom she has now separated.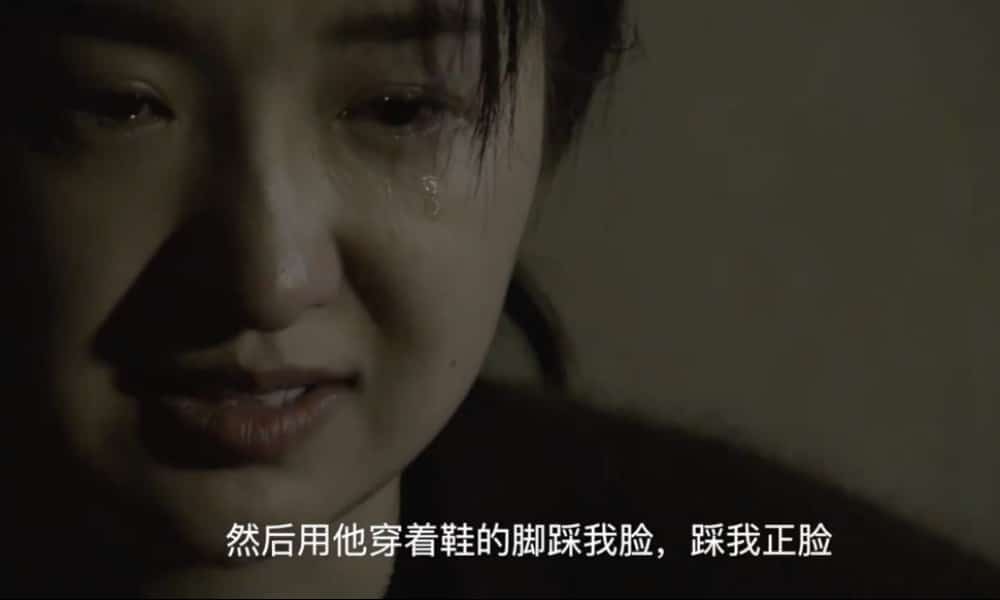 The short doc does not just tell Yuya's story, it also features the experiences of her former partner's ex-wives, who allegedly also suffered domestic violence at his hands.
Besides the shocking accounts of the women, the video contains also footage of Yuya's ex-boyfriend trying to violently drag her out of an elevator – a moment that was caught on security cameras in August of this year.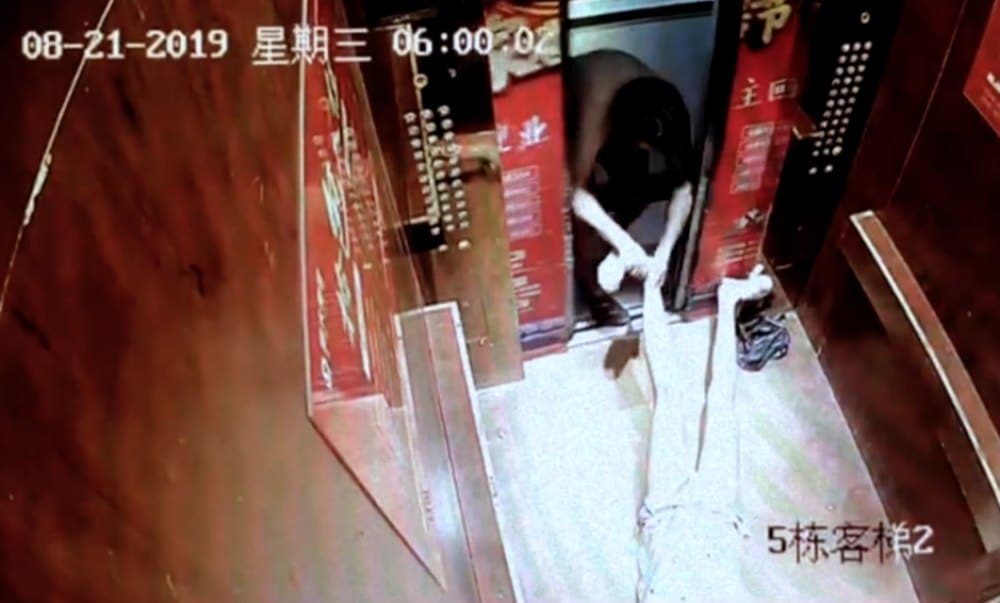 Yuya identifies her former boyfriend and abuser as the 44-year-old artist and Weibo blogger 'Toto River' (@沱沱的风魔教), who was married three times before starting a relationship with the famous beauty blogger.
The two met each other through social media, and Yuya initially fell for his talent and kindness. But, as she says, his perfect social media image soon turned out to be nothing but a fake facade, and the nightmare began.
The beauty blogger explains that the domestic violence went hand in hand with mental abuse, with Yuya being brainwashed into believing she was lucky to be with a man such as her boyfriend.
As the abuse became a regular occurrence, Yuya tearfully explains how she sometimes could not work for a week because her face was too bruised for shooting videos.
Yuya also writes on Weibo that she shares her story so that the experiences she and her ex-boyfriend's former wives suffered will not happen to other women, and to warn others from ending up in a similar situation.
Meanwhile, the Weibo account of Yuya's former boyfriend has been closed for comments.
Yuya Mika is not just popular on Weibo and video ap Tiktok. The beauty guru – famous for doing imitation makeup of celebrities and famous icons such as Mona Lisa – also has over 750k fans on her Instagram account and thousands of subscribers on her YouTube Channel, where she posts makeup tutorials.
Yuya is part of the company of Papi Jiang (aka Papi Chan), a Chinese vlogger and comedian who became an internet celebrity in 2016. On Tuesday, the Papi Jiang company also responded to Yuya's video, saying they fully support the makeup artist in coming forward with her story.
At time of writing, Yuya's story has been shared over 425,000 times, with a staggering thread of more than 280,000 comments on Weibo.
Many commenters respond in shock that the tearful woman in the video is actually Yuya, as the makeup artist is usually always smiling and shining in front of the camera. Other Weibo users express their hopes that Yuya's ex-boyfriend will be punished for what he did.
With over 160 million views, the hashtag "Yuya Suffers Domestic Abuse" (#宇芽被家暴#) is now in the top five of most-discussed topics on Weibo.
Over the past few years, the issue of domestic violence has received more attention on Chinese social media, especially since China's first national law against domestic violence came into effect on March 1, 2016. More women have come forward on Chinese social media to share their personal experiences with domestic abuse.
According to Chinese media reports of Tuesday afternoon, local authorities are currently investigating Yuya's story.
By Manya Koetse, with contributions from Miranda Barnes
Follow @whatsonweibo
It's almost Black Friday! We've already listed the best VPN deal for you here.
Spotted a mistake or want to add something? Please let us know in comments below or email us. First-time commenters, please be patient – we will have to manually approve your comment before it appears.
©2019 Whatsonweibo. All rights reserved. Do not reproduce our content without permission – you can contact us at info@whatsonweibo.com.
Turning Drinks into Fashion – Chinese Designer Yang Yang Personifies Popular Beverages
Personified beverage fashion – trending because it's cool.
Every now and then there are posts on Weibo that just seem to keep on making their rounds. The 'beverage fashion' drawings collection by Yang Yang (杨杨) is one of these posts, first popping up on Chinese social media in June of this year.
Yang Yang is a 28-year-old designer from Anhui, who started drawing when she was 13 years old. She has been active in the fashion business for eight years now and has become popular on Kuaishou, China's popular short video and live-streaming app.
If Coca Cola were a fashionista, what would she look like? In the eyes of Yang Yang, this would be her:
Wahaha (哇哈哈) purified water, produced by the largest beverage company in China, is personified here:
Energy drink brand Red Bull China, a Sino-foreign joint venture company, uses different colors than cans in the US or Europe.
One particularly striking illustration by Yang Yang is that of Nongfu icea tea drink Cha π (茶兀).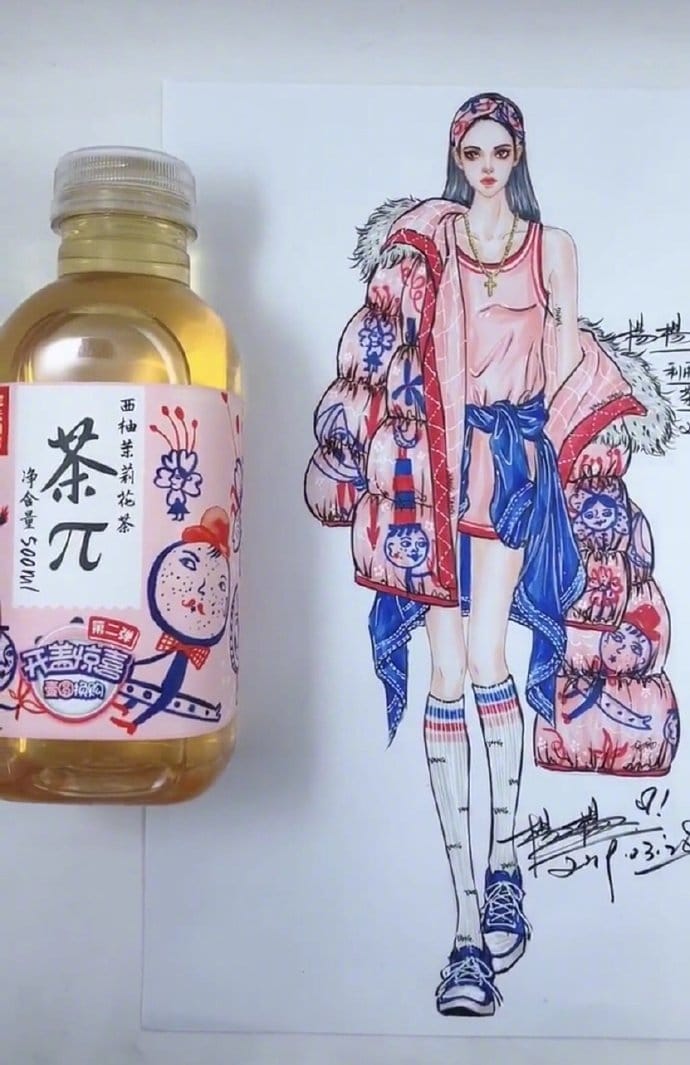 Nongfu Spring, one of the most common brands of bottled water in China, suddenly seems very trendy now.
This is the fashion version of Sea Crystal Lemon, known for its bright blue and yellow.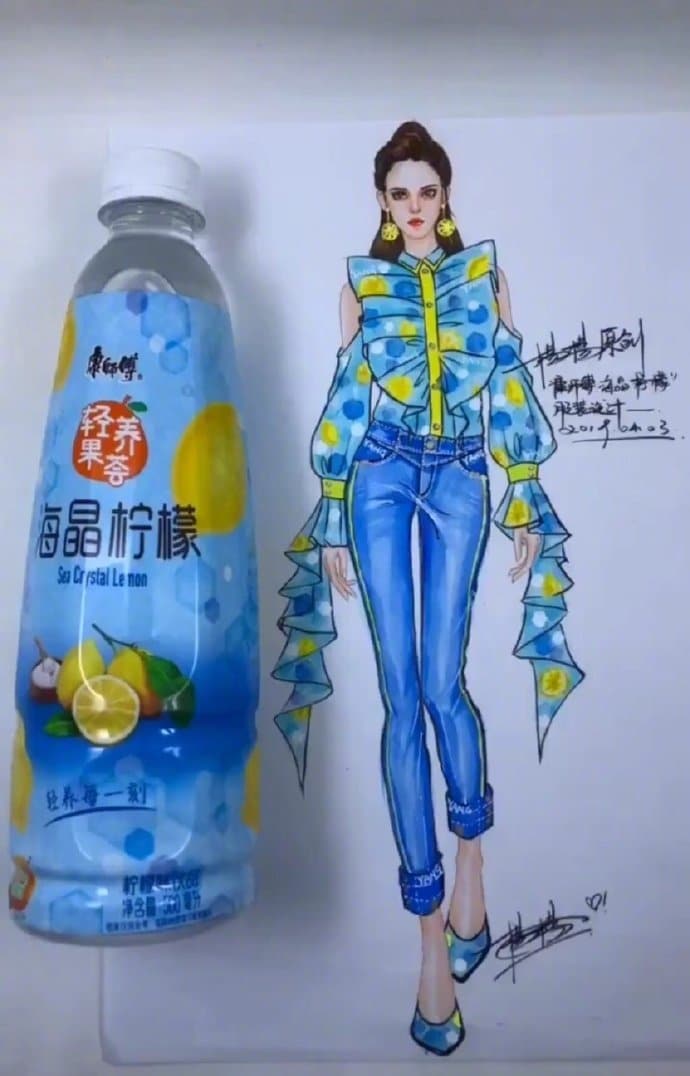 Following the various Weibo posts that are making their rounds with the illustrations by Yang Yang, more drawings seem to have been added later via other channels, including that of Pepsi, Wong Lo Kat, and Snow Beer.
Although Yang Yang's designs have gone viral this year, it is not known if they will have a chance to be turned into wearable fashion. As for Yang, she says she was just "playing around" to keep a creative mind.
Also read: From Stay-at-Home Dad to Fashion Designer – 'Super Dad' Rises to Fame
By Manya Koetse
Sources:
https://k.sina.com.cn/article_1872762823_p6fa017c702700xosj.html
https://new.qq.com/rain/a/20190619A0POST
Spotted a mistake or want to add something? Please let us know in comments below or email us. First time commenters, please be patient – we will have to manually approve your comment before it appears.
©2019 Whatsonweibo. All rights reserved. Do not reproduce our content without permission – you can contact us at info@whatsonweibo.com