Weibo Night: All the Winners and the Highlights of the 2022-2023 Weibo Awards Ceremony
The main winners and trending topics surrounding the 2022/2023 Weibo Night Awards Ceremony.
PREMIUM CONTENT ARTICLE
The biggest Weibo stars gathered at the main Sina Weibo event of the year: the annual Weibo Night. Which movies were the most popular, which influencers had their big breakthrough, and what went trending? This is an overview with a full list of all the winners and the moments that got people talking online [Premium Content].
Weibo Night was one of the biggest trends on Weibo this week. Weibo Night (#微博之夜#) is the yearly much-anticipated live-broadcasted ceremony that looks back on Sina Weibo's hottest celebrities, entertainment productions, and happenings of the last year.
Hosted by the Sina media company, the night has been a recurring event since 2003 – long before the Sina Weibo platform was launched. The night was initially known as the 'Sina Grand Ceremony' (新浪网络盛典) until it turned into the 'Weibo Night' (微博之夜) in 2010.
During the ceremony of Weibo Night, which took place on the evening of March 25 in Shanghai and was broadcasted live on Weibo and on Sina, various prices were awarded in categories such as 'The Hottest Weibo Celebrity of the Year' (微博年度热度人物), 'The Movie of the Year' (年度电影), 'Drama of the Year' (年度电视剧), 'Weibo Original Musician of the Year', and 'Weibo King & Queen.'
The award ceremony is always much anticipated since it is attended by all the big stars of the Chinese entertainment world, including the most famous actors/actresses, musicians, and online influencers.
What they are wearing is a big part of online discussions on Weibo Night, and with some celebrities changing their outfits during the night, talking about what they wear and who shines the brightest on the red carpet and who sits where is part of the fun.
The hype surrounding the event begins long before the actual award ceremony as Weibo users can vote for their preferred candidates, and the shortlist of winners, based on Sina Weibo's annual "Weibo Index," is also published prior to the event.
The event is an important one for Weibo as a platform, not just because it drives massive traffic to the site, but also because all the celebrities have a strong Weibo presence and, throughout the night, express their love for the platform.
It is also important for celebrities, as it is an opportunity for them to promote themselves and the projects they are working on. Many celebrities do special photoshoots before the event and change outfits multiple times to make the most of their participation in the event.
As you can see below, there are so many categories during the award show, and some are actually really similar. This gives the idea that more important than the awards themselves is the showcasing of Weibo's most popular celebrities.
On Weibo, the event was promoted using the slogan "Make the world more beautiful with the power of Weibo" ("以微博之力•让世界更美").
Although the award ceremony is taking place in 2023, they are referred to as the 2022 Weibo Night since it mostly covers the year 2022, but also part of 2023, up to Spring Festival. For an overview by What's on Weibo on the biggest topics of 2022 see this article.
THE RED CARPET
On Weibo, the hashtag "Weibo Night Red Carpet Livestream" (#微博之夜红毯直播#) received a staggering 610 million views this week.
The live stream of the red carpet was suddenly canceled midway, as there allegedly were too many fans gathering, and cancellation was done as a safety precaution.
Some videos surfacing on social media during the day also showed many fans around the area and some food delivery staff shouting out names to bring the right order to the right customer in the midst of the crowds.
MOST IMPACTFUL EVENTS
Weibo Night started with the presenters (Nigermaidi Zechman 尼格买提·热合曼 being one of them) announce an overview of the Weibo news topics that became a part of people's collective memory over the past year.
The video shows different topics that went trending on Weibo in 2022-2023 with news footage. The video is divided into different segments.
▶︎ Under the topic of "conflict and disaster," they listed the following (please note that not all hashtags are literally translated, but conveying the meaning so that everyone will understand what it is about):
• Tonga Volcanic Eruption and Tsunami #汤加火山喷发# (780 million clicks on Weibo)
• Russia-Ukraine War (#俄乌局势#) (10.1 billion clicks on Weibo) (read more)
• US Federal Reserve Interest Increase (#美联储加息#)(320 million clicks on Weibo)
• Europe's Cold Winter (#欧洲寒潮#) (110 million clicks on Weibo) (related article)
• China Eastern Airlines Flight 5735 (#MU5735#) (5.6 billion clicks on Weibo) (read more)
• Turkey-Syria Earthquake (#土耳其强震#) (510 million clicks on Weibo) (related article)
• Assassination of Japan's former Prime Minister Shinzo Abe (#安倍普三身亡#) (2.5 billion clicks on Weibo) (more here)
▶︎ A text on the screen then emphasizes how love and kindness can shine through in times of struggle and catastrophe, and the following events are listed:
• Sichuan Luding Earthquake (#四川泸定地震#) (1.59 billion clicks on Weibo) (read here)
• Missing Man Found 17 Days after Luding Earthquake (#泸定地震中失联17天的甘字找到了#) (2 billion clicks on Weibo)
• Building a Great Wall of Fire [to Prevent Wild Fire from Spreading] (#他们用微光筑起防火长城#) (1.43 billion clicks on Weibo) (read)
• Young Courageous Heroes to the Rescue (#这些娃儿侠肝义胆#) (540 million clicks on Weibo) (more)
▶︎ Then the text on the screen says: "There will always be people who create miracles by challenging oneself."
• Kipchoge Won Men's Marathon World Record (#吉普乔格打破男子马拉松世界纪录#) (120 million clicks on Weibo)
• Argentina Wins World Cup (#阿根廷冠军#) (3.9 billion clicks on Weibo)
• Eileen Gu Wins Gold (#谷爱凌金牌#) (4.1 billion clicks on Weibo) (related articles)
• Su Yiming Wins Gold (#苏翊鸣金牌#) (1.7 billion clicks on Weibo)
• Xu Mengtao Wins Gold (#徐梦挑金牌#) (1 billion clicks on Weibo)
• China Wins Its First Gold of the Games (#短道速滑中国队北京冬奥会首金#) (1.37 billion clicks on Weibo)
• China Wins in Women's Asian Cup (#中国女足亚洲杯冠军#) (2.8 billion clicks on Weibo)
▶︎ The text on the screen then says: "There will always be people who firmly believe that there will be Spring after longing for it."
• China Cancels Circuit Breaker Measures for Inbound Flights (#入境航班熔断机制取消#) (150 million clicks on Weibo)
• End to [Covid-19] Travel Code Service (#行程卡下线#) (550 million clicks on Weibo)
• Goodbye Health Code (#告别健康吗#) (1.19 billion clicks on Weibo) (read here)
• Hello, 2023 (#你好2023#) (670 million clicks on Weibo)
▶︎ Text: "There will always be people who restart first after facing difficulties."
• Full River Red Breaks 4.5 Billion at Box Office (#满江江实时票房破45亿#) (170 million views on Weibo)
• Wandering Earth 2 Breaks Box Office 4 Billion (流浪地球2票房破40亿) (290 million clicks on Weibo)
• Boonie Bears Guardian Code Breaks 1.4 Billion at Box Office (#熊出没之伴我熊芯票房破14亿#) (120 million clicks on Weibo)
• The Knockout (#狂飙#) (1 billion clicks on Weibo)
• A Lot of Concerts (#好多演唱会#) (110 million views)
▶︎ "There will always be people who turn a seed once planted into glory."
• China Discovers New Moon Mineral (#月亮上发现嫦娥石#) (160 million clicks on Weibo)
• China Launches Third Aircraft Carrier (#我国第三艘航母下#) (1 billion clicks on Weibo)
• China's C919 Jet Obtains Certificates for Commercial Flight (C919交付准备工作正有序推进) (190 million views)
• China's Shenzhou-14 Manned Space Mission (#神十四发射成功#) (490 million clicks on Weibo)
• China Space Station Completes T-shape Basic Structure Assembly (#中国空间站"T"字基本构型在轨组装完成#) (140 million clicks on Weibo)
• Chinese Astronauts' Firt Space Meeting (中国航天员首次太空会师) (110 million views on Weibo)
• China's Shenzhou 14 Returns on Earth (#神十四返回地球#) (490 million clicks on Weibo)
Highlighted events: Tribute to China's Firefighting Heroes
After the overview of all of these big topics, Chinese spaceflight Shenzhou 14 was highlighted and honored as one of the most important Weibo events of the year, together with the Chongqing wild fires.
Yang Zi, dressed in a black dress, was the actress to deliver a speech to pay tribute to the heroes of the Chongqing wildfires.
MOST INFLUENTIAL IN MUSIC
Weibo Breakthrough Artist of the Year
Voted as musicians that made the biggest breakthrough were:
• Liu Yuxin (刘雨昕), Guizhou-born singer/dancer
• Ouyang Nana (歐陽娜娜), Taiwanese singer, musician, and actress
• Shan Yicun (单依纯), Chinese singer and former winner of The Voice of China
▶︎ In this same category, the group INTO1 received the award for the most notable breakthrough pop group of the year. The group received attention on social media for their extremely correct posture during the award ceremony.
Best Newcomer and Rising Stars
In the category of rising star awards – or those having made the biggest "leap" (微博年度飞跃音乐人), – are:
• Ayunga (阿云嘎), Mongolian musical theater actor, singer, and songwriter
• Gina Alice Redlinger (吉娜爱丽丝), German-Korean pianist who happens to be married to the renowned Chinese pianist Lang Lang
• Dany Lee (李斯丹妮), Chengdu-born singer
▶︎ Boy band BOYSTORY was among the first to receive an award during Weibo Night, namely that of the best newcomer pop group (微博年度新锐团体).
Weibo's Original and Influential Musician of the Year
• Wang Yuan (王源)
▶︎ Wang Yuan (王源, also known as Roy Wang) won the award for Original Musician of the Year. Born in 2000, Wang is mostly known as a member of the hugely popular TFboys idol group that debuted in 2013, but his solo career has also been thriving for years.
• Li Yuchun (李宇春)
▶︎ Li Yuchun (李宇春), once known as China's "most handsome supergirl," received the award for Weibo Influential Musician of the Year. Since winning the nationwide talent show 'Supergirl' (Chaoji Nüsheng) and appearing on the cover of Time Magazine Asia in 2005, Li Yuchun has become a household name in China and managed to stay popular. During Weibo night, she wore a beautiful white suit and was one of the few ladies not wearing a long dress for the occasion (Eileen Gu also wore pants!). Li Yuchun also performed at the event later on in the show.
Weibo Outstanding Musician of the Year
In the "Outstanding Singers" category, the awards went to the popular female singers:
• Yu Wenwen (于文文)
• Yuan Yawei (袁娅维)
• Zheng Suyan (郑秀妍)
Weibo Music of the Year
The award for Weibo Music of the Year (微博年度人气音乐) went to the following songs:
• "Just Like Sunshine" (像阳光那样) – Wang Yibo (王一博)
• "To Find You" (寻一个你) – Liu Yuning (刘宇宁)
• "Worry-Free" (花开忘忧) – Zhou Shen (周深)
MOST INFLUENTIAL IN ACTING
Weibo Breakthrough Actor of the Year
• Wang Yibo (王一博)
▶︎ Wang Yibo (王一博) is the winner of the Weibo Breakthrough Film Star of the Year. Wang (1997) has been super popular in China for years. Born in Henan, he is a multi-talent and is active as an actor, singer, dancer, rapper, and professional road motorcycle racer. In 2014, Wang debuted as a member of the South Korean-Chinese boyband UNIQ. Since then, his career has been thriving and he has starred in various popular productions, such as 2019 drama The Untamed (陈情令).
The Weibo Breakthrough Actor of the Year Award (微博年度突破演员), given to those actors who made a significant breakthrough in their careers during the past year, went to:
• Han Dongjun (韩东君)
• Jin Chen (金晨)
• Li Yitong (李一桐)
• Liu Yuning (刘宇宁)
• Xu Kai (许凯)
• Zhang Jingyi (张婧仪)
Newcomers, Rising, and Eye-Catching Actors of the Year
The award for best newcomer went to young actors:
• Hu Lianxin'er (胡连新儿)
• Wang Churan (王楚然)
• Wang Jiayi (王家义)
• Wu Xuanyi (吴宣仪)
• Zhang Yifan (张艺凡)
• Zhou Yiran (周艺然)
The Rising Actors Award (微博年度飞跃演员) went to:
• Bai Lu (白鹿)
• Guan Xiaotong (关晓彤)
• Mao Xiaotong (毛晓彤)
• Song Yi (宋轶)
• Tang Jianji (檀健次).
The 'Eye-Catching Actors' award (微博年度瞩目演员), which is about those actors who have achieved significant popularity and influence on social media, went to:
• Wang Jun (王俊)
• Wang Hedi (王鹤棣)
• Wu Lei (吴磊)
• Yu Shuxin (虞书欣).
The Weibo award for most promising or hard-working actors (微博年度进取演员) went to:
• Chen Zheyuan (陈哲远)
• Hou Minghao (侯明昊)
• Li Landi (李兰迪)
• Shen Yue (沈月)
• Tian Xiwei (田曦薇)
• Wang Ziyi (王子异)
• Zhang Linghe (张凌赫)
▶︎ Chinese actress Tian Xiwei stood out with a beautifully designed pink dress by Sophie Couture.
Weibo Attractive Actors of the Year
Honored as the most "attractive" actors of the year are:
• Gao Ye (高野)
• Pan Yueming (潘粤明)
• Tong Yao (童瑶)
• Wang Yang (王洋)
Weibo Night Performers of the Year
The Weibo award for performance of the year (微博年度表现力演员) went to:
• Dilraba Dilmurat (迪丽热巴), Chinese actress who recently starred in the popular series You Are My Glory (这个杀手不太冷静)
• Li Xian (李现), Chinese actor who starred in TV series Meet Yourself (which actually boosted Yunnan tourism)
• Yang Zi (杨紫), one of the big stars of the night who starred in multiple successful productions recently
Weibo Public Favorite Actors of the Year
The Weibo Public Favorites Actors of the Year awards, also called the Weibo Word-of-Mouth Actors of the Year (微博年度口碑演员) award, went to:
• Ma Li (马丽)
• Song Jia (宋佳)
• Yao Chen (姚晨)
▶︎ Of course, Yao Chen should be on this list – although Yao Chen is not necessarily China's number one actress, she was one of the first celebrities to share her personal life on Weibo since 2009,and interact with her fans. On Weibo, she talks about her everyday life, family, news-related issues, work, and fashion. She posts a lot personal pictures every day. Yao Chen's popularity as an actress and philanthropist combined with her frequent Weibo updates and closeness to her fans have made her a huge Weibo celebrity.
▶︎ Ma Li (马丽) has been in the limelight a lot reently. The Chinese actress starred in Too Cool to Kill (这个杀手不太冷静) and was a hit star during the Spring Festival Gala.
Weibo Quality Actor of the Year
They received the Quality Actor of the Year (微博年度品质演员) Award at the Weibo Award stage:
• Xiao Zhan (肖战)
• Liu Yifei (刘亦菲, Crystal Liu)
• Zhang Ruoyun (张若昀)
▶︎ Zhang is known for his acting work in various productions and well-known dramas, such as Joy for Life (2019). In 2022, he starred in Under The Microscope, a series about a math genius who ends up in a complex web of corruption and lies after he discovers a major tax discrepancy in his county's finances.
Weibo Awards for Fine Acting of the Year
The award for realistic acting / fine acting (微博年度质感演员) went to some of China's most renowned actresses, namely:
• Yang Mi (杨幂), the super popular actress who recently starred in Thank You Doctor (谢谢你医生)
• Angelababy (杨颖), the multitalented celebrity who often makes it to Weibo's top trends
• Tong Liya (佟丽娅), actress and dancer of Xibo ethnicity who won many awards for her acting work
• Liu Shishi (刘诗诗), the renowned actress who is commonly praised for her quality acting
▶︎ This became a much talked about moment since it was the first time for Angelababy to be at an event with Chinese actor Huang Xiaoming. The moment Angelababy went on stage, the camera focused on Huang who spoke a few words with Li Bingbing who sat right next to him. This sparked discussions on what he said at that moment, and simlarly, when Huang was on stage, people wanted to know what Angelababy was saying to Yang Mi. Oh, if only you could be a fly on the wall!
Weibo Award for Influential Actor
The award for actor that had the most influence / impact on Chinese social media thi year (微博年度影响力演员) went to:
• Li Bingbing (李冰冰)
▶︎ Li Bingbing shared the stage with Li Yuchun for this award, as Li Yuchun was honored for being the most influential musician.
MOST INFLUENTIAL IN MOVIES
Weibo Breakthrough in Film
The awards for the most notable breakthrough in film (微博年度突破电影人) went to:
• Wang Yibo (王一博)
• Da Peng (大鹏)
• Zhang Chiyu (张吃鱼/张迟昱)
▶︎ Da Peng, who is always quite active on Weibo (@大鹏董成鹏), is the director and screenwriter for the Chinese comedy movie Post Truth (保你平安) about a former mob boss who has now ventured in the business of selling burial plots and finds himself in the middle of a rumor scandal after the death of one of his clients.
Weibo Quality and Impactful Films of the Year
Honored in the category of "quality film" of the year (微博年度品质电影):
• Moon Man (独行月球)
• Song of Spring (妈妈)
• Lighting Up the Stars (人生大事)
• Hidden Blade (无名)
Honored in the category of films that made the most impact on Weibo (微博年度影响力电影), meaning they generated the most online discussions and often topped the Weibo trending lists:
• Wandering Earth 2 (流浪地球2)
• Full River Red (满江红)
• Home Coming (万里归途)
Weibo Quality Filmmakers of the Year
The award for quality film influentials of the year (微博年度品质电影人) went to:
• Lei Jiayin (雷佳音)
• Jackson Yee (易烊千玺)
• Rao Xiaozhi (饶晓志)
• Wen Muye (文牧野)
▶︎ Wen Muye directed the 2022 movie Nice View (奇迹·笨小孩) which stars Jackson Yee and tells the story of the 20-year-old Jing Hao who comes to live in Shenzhen to look after his little sister Tong Tong after the unexpected death of their mother. Rao Xiaozhi directed Home Coming, one of the major box office hits of 2022.
Best Movies of the Year
The most beloved movies of the year on Weibo (微博年度人气电影) are:
• Hidden Blade (无名)
• Wandering Earth 2 (流浪地球2)
• Home Coming (万里归途)
▶︎ Hidden Blade is a 2023 Chinese World War II espionage thriller directed by Cheng Er. 'Home Coming' (万里归途) is inspired by China's overseas citizens protection response during the 2011 Libya crisis, and it sparked waves of nationalistic sentiments earlier in 2022.
▶︎ The sci-film Wandering Earth 2 became a box office hit in 2023 and has already become a part of China's online culture in terms of visuals, memes, and vocabulary.
Weibo Most-Watched Movie Person of the Year
The award for Weibo Most-Watched Movie Personality (微博年度关注电影人) went to:
• Karry Wang (王俊凯)
• Li Yu (李玉)
• Yang Lina (杨荔钠)
▶︎ Yang Lina wrote and directed the 2022 film Song of Spring (妈妈), which tells the moving story of an 85-year-old mother caring for a 65-year-old daughter with Alzheimer's disease.
Weibo Most Influential Director of the Year
▶︎ Zhang Yimou (张艺谋) received the award for most influential director of the year. The renowned director's latest film Full River Red (满江红), a historical suspense comedy film starring Shen Teng and Jackson Yee, became a hit during the Spring Festival holiday and is China's sixth highest-grossing box office entry of all time.
MOST INFLUENTIAL IN TV
Weibo Drama of the Year
This honors the Weibo serialized dramas of the year (微博年度剧集):
• Love Between Fairy and Devil (苍兰诀)
• Draw The Line (底线)
• Wild Bloom (风吹半夏)
• The Knockout (狂飙)
• The Three-Body Problem (三体)
• Bright Future (县委大院)
• Love Like the Galaxy (星汉灿烂·月升沧海)
• The Story Of Xing Fu (幸福到万家)
• The Blue Whisper (驭鲛记之与君初相识·恰似故人归)
Weibo Drama of the Year
• The Oath of Love (余生,请多指教) – Yang Zi and Xiao Zhan both star in this drama about a romance between a doctor and pianist
• Being A Hero (冰雨火) – crime and mystery drama featuring Chen Xiao and Wang Yibo
• Immortal Samsara (沉香如屑·沉香重华) – xianxia drama starring Yang Zi and Cheng Yi
Variety Show of the Year
• Street Dance of China 5 (这就是街舞5) – reality competition show focused on street dance
• Time Concert: Season 2 (时光音乐会2) – music variety show
• Hello, Saturday! (你好星期六) – variety show including games, interviews, and more
MOST INFLUENTIAL WEIBO CELEBRITIES
Weibo Influential Sports Personality of the Year
The award for Weibo's Annual Most Influential Sport Person (微博年度影响力体育人物) went to:
• Eileen Gu (Gu Ailing)
• Ren Ziwei (任子威)
▶︎ 2022 really was the big year of Eileen Gu (@青蛙公主爱凌, 6.5 million fans), the America-born Olympic freestyle skier and gold medalist who came out for China. Although Gu could not attend the Spring Festival Gala earlier this year, she did attend Weibo Night, wher she changed outfits twice and also gave some interviews. For more about the Year of Eileen Gu, see our article here.
Hottest Celebrities of the Year
• Xiao Zhan (肖战)
• Yang Zi (杨紫)
• Wang Yibo (王一博)
▶︎ Xiao Zhan, Yang Zi, and Wang Yibo were the big winners of the Weibo Night. They all received the awards as the most popular Weibo celebrities. Xiao Zhan has over 31 million followers on Weibo (@X玖少年团肖战DAYTOY); Yang Zi has over 60 million (@杨紫); Wang Yibo (@UNIQ-王一博) has over 40 million.
▶︎ Besides both being super popular on Weibo, Xiao Zhan and Wang Yibo have more in common: they both starred together in the 2019 Chinese television series The Untamed, which is also very popular within online boys' love communities.
The popular actress and singer Yang Zi, also known as Andy Yang, is also known for starring in various hit dramas such as Ode to Joy, Ashes of Love, Go Go Squid!, and Oath to Love.
Weibo Annual Favorite Person
The Weibo celebrities with the most likability are:
• Chinese table tennis player Sun Yingsha (孙颖莎)
• Professional esports multigame player Yi Nuo (一诺)
• South-Korean-born Chinese short track speed skater Lin Xiaosha (林孝埈)
The Queen and King of Weibo
• Hu Ge (胡歌)
• Liu Yifei (刘亦菲, Crystal Liu)
▶︎ The most anticipated awards of Weibo Night are those of the Weibo Queen and King. This year, Hu Ge (胡歌) was voted Weibo King while Liu Yifei (刘亦菲, Crystal Liu) accepted the Weibo Queen award. Liu Yifei is a Chinese-American actress who is most famous outside of China for starring in Disney's Mulan live-action movie. Liu Yifei, who was recently announced as the new global spokesperson for Bvlgari, wore a spectacular Elie Saab dress to the Weibo night awards.
▶︎ Liu was reunited on stage with Weibo King Hu Ge, with whom she starred in the popular Chinese TV drama series Chinese Paladin. Hu Ge has previously won numerous awards for his acting, including the Best Actor Award at the 2013 Golden Eagle Awards and the Best Actor Award at the 2016 China Britain Film Festival. He is also popular as is a singer in China.
By Manya Koetse 
This is original What's on Weibo content for you as a premium member, please do not reproduce without permission.
Get the story behind the hashtag. Subscribe to What's on Weibo here to receive our newsletter and get access to our latest articles:
Spotted a mistake or want to add something? Please let us know in comments below or email us. First-time commenters, please be patient – we will have to manually approve your comment before it appears.
©2023 Whatsonweibo. All rights reserved. Do not reproduce our content without permission – you can contact us at info@whatsonweibo.com.
Rock 'n' Troll Chaos: The Controversy Surrounding Thefts at China's Central Midi Festival
A theft scandal rocked China's Midi Festival, which took place in Nanyang this week. Midi, however, blames online trolls for hyping the case.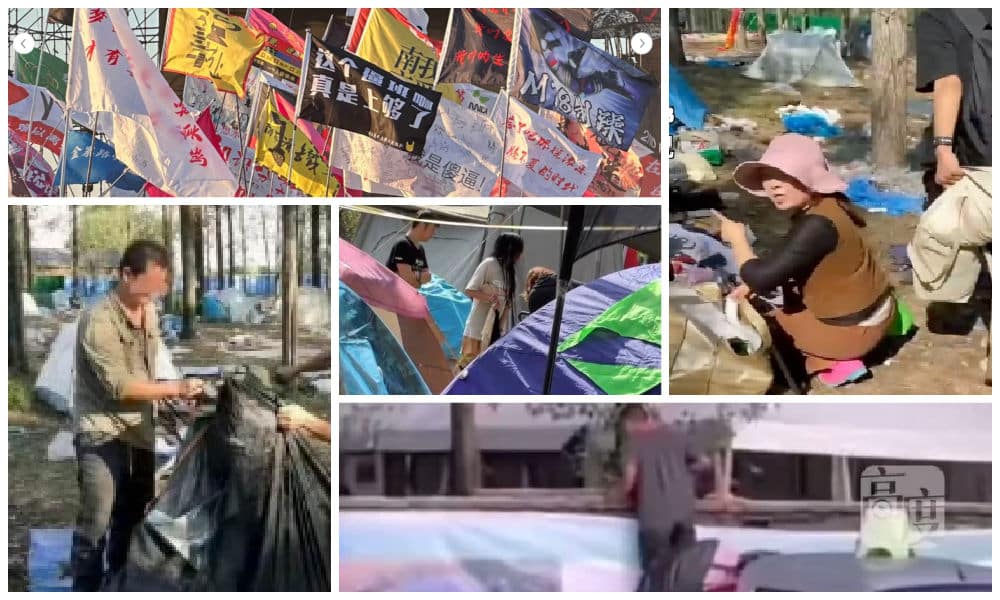 What was supposed to be celebration of music, mud, and Midi freedom turned into a controversy that captured widespread attention on Chinese social media this week, as reports of looting surfaced online. As online discussions continue, people do not agree on who is to blame for the incident and the widespread attention for it.
The city of Nanyang in Henan has been all the talk on Chinese social media over the past few days due to large amounts of personal belongings getting stolen during the Central Midi Festival (中原迷笛音乐节).
The Midi Festival, founded by the Beijing Midi School of Music, is among China's largest and most influential rock music festivals. Midi has been around for some thirty years, with variations in themes and taking place in different locations.
The most recent edition was held in Nanyang from September 29 to October 2nd. It drew approximately 150,000 visitors who flocked to Henan to have a good time, enjoy the music, dance in the mud, and stay at the camp site throughout the multi-day festival.
The local government had hoped that hosting the festival would help promote the city and make it more popular among young people. To create a positive impression, the entire city, including a remarkable 40,000 volunteers, local authorities, hotels, and transportation companies, dedicated their efforts to ensure the success of the Midi Festival. The mayor even personally welcomed festival-goers at the train station.

Free-for-all Festival

However, it seems that some locals had different intentions. They watched the festivities from behind the fences, and then started coming in and entering the camp sites. When they found unattended tents, as the owners were enjoying the music, they started stealing items from inside.
What began as isolated incidents soon escalated. More people joined in, more items were stolen, and the thieves grew bolder, sometimes even stealing from tents while their owners were present and trying to stop them.
There's a video circulating showing an older lady rummaging through a festivalgoer's tent while he filmed the scene. The lady casually stated, "I'll take your camp light, dear," and informed him of her theft.
Even sponsors and official vendors at the festival site fell victim to theft, as people entered their areas and stole their products and merchandise to resell later. There were reports of chairs and cables being stolen – essential items for a smooth-running festival.
Although security guards and police did intervene when the looting began, they allegedly just sent the thieves away at first without apprehending them. Some festivalgoers claimed to have lost personal items valued at over 10,000 RMB ($1,388).
By now, as the incident has gained national attention via social media, the case is being thorougly researched. The local police have received a total of 73 reports and they have confirmed 65 cases of theft. Some of the thieves have been arrested, and some of the stolen items have been recovered.

It Started with a Rumor

How could the festival looting get so out of control? According to local authorities in Nanyang, the incident began when a short video platform user known as "Wuyu" (无语) posted a video on October 2nd, falsely claiming that all the tents at the festival were available for taking as the event had ended and the premises needed to be cleared.
This rumor soon widely circulated, and prompted nearby villagers to come to the site to see what they could get.
The person behind the "Wuyu" account, identified as Chen Feng (陈峰), has since been identified and was taken into custody by the police.
On October 5, the Midi Festival released a statement on Weibo, reassuring the public that the festival and the local government are working together to try their best and recover all stolen items.
Midi also lashed out against online 'trolls' who were hyping up the situation at Midi to smear the festival and the city's reputation. The festival condemned both the small group of thieves and the larger group of online trolls.

Provincial Prejudice

The controversy has generated a lot of anger, not just among visitors and the festival organization staff, but also among local Nanyang authorities who had invested considerable effort into making the festival a success.
The incident has cast a shadow over Midi. In an online poll conducted by Fengmian Redian (@封面热点), a majority of respondents indicated that they would not want to attend the festival after this happened, expressing their disappointment over the looting.
The controversy also reflects badly on Henan, where people already face provincial prejudice. Henan is often characterized as a poor and unrefined province, associated with phone scammers or people who would even steal manhole covers to sell them for scrap metal, causing dangerous situations.
The Midi Festival controversy has perpetuated these stereotypes about the people of Henan, much to the dismay of local residents who have been actively working to challenge and dispel public biases against the province.

Rock 'n' Roll Chaos

While many Weibo users come to Nanyang's defense, there are also those who stress that the local authorities should have taken more steps to improve security around the festival site.
Others, however, do not agree. They argue that the Midi Festival, in Woodstock style, is about chaos, rock 'n' roll, and freedom. They think that the festival should not be overly controlled and that people should not blame the organization or local governments for not looking after their stuff.
Festival attendees and dedicated rock music enthusiasts argue that Midi, Nanyang, and the Chinese fans and musicians turned the festival into a great success.
They suggest that the theft incident should not be attributed to them nor reflect badly on China's thriving music scene; it was simply the result of immoral behavior from a few individuals who failed to grasp the spirit of the event.
Meanwhile, the entire incident has not just triggered anger; it has also become a source of banter and online jokes.
Some Henan natives are not exactly helping to promote their home province. One widely-shared comment referred to the Henan bank protests, stating: "If even the money we deposit in the bank can disappear, it's no surprise that things can go missing at a music festival."
By Manya Koetse and Miranda Barnes
with contributions by Miranda Barnes
Get the story behind the hashtag. Subscribe to What's on Weibo here to receive our newsletter and get access to our latest articles:
Spotted a mistake or want to add something? Please let us know in comments below or email us. First-time commenters, please be patient – we will have to manually approve your comment before it appears.
©2023 Whatsonweibo. All rights reserved. Do not reproduce our content without permission – you can contact us at info@whatsonweibo.com.
Three Reasons Why Lipstick King's 'Eyebrow Pencil Gate' Has Blown Up
From beauty guru to betrayal: why one livestream moment is shaking China's internet.
PREMIUM CONTENT
Li Jiaqi, also known as Austin Li the 'Lipstick King,' has become the focus of intense media attention in China over the past days.
The controversy began when the popular beauty influencer responded with apparent annoyance to a viewer's comment about the high price of an eyebrow pencil. As a result, his fans began unfollowing him, netizens started scolding him, Chinese state criticized him, and the memes started flooding in.
Li Jiaqi's tearful apology did not fix anything.
We reported about the incident here shortly after it went trending, and you can see the translated video of the moment here:
China's famous make-up influencer #LiJiaqi is in hot water due to an e-commerce livestream he did on Sunday. When viewers complained about an eyebrow pencil being too expensive (79 RMB/$10.9), he got annoyed, insisting that the product was not expensive at all. Translated video: pic.twitter.com/JDKGMKovDX

— Manya Koetse (@manyapan) September 11, 2023
The incident may seem minor at first glance. Li was merely promoting Florasis brand (花西子) eyebrow pencils, and some viewers expressed their opinion that the pencils, priced at 79 yuan ($11), had become more expensive.
In response, Li displayed irritation, questioning, "Expensive how?" He went on to suggest that viewers should also reflect on their own efforts and whether they were working hard enough to get a salary increase.
But there is more to this incident than just an $11 pencil and an unsympathetic response.
#1 The King Who Forgot the People Who Crowned Him
The initial reaction of netizens to Li Jiaqi's remarks during the September 10th livestream was characterized by a strong sense of anger and disappointment.
Although celebrities often face scrutiny when displaying signs of arrogance after their rise to fame, the position of Li Jiaqi in the wanghong (internet celebrity) scene has been especially unique. He initially worked as a beauty consultant for L'Oreal within a shopping mall before embarking on his livestreaming career through Alibaba's Taobao platform.
In a time when consumers have access to thousands of makeup products across various price ranges, Li Jiaqi established himself as a trusted cosmetics expert. People relied on his expertise to recommend the right products at the right prices, and his practice of personally applying and showcasing various lipstick colors made him all the more popular. He soon garnered millions of online fans who started calling him the Lipstick King.
By 2018, he had already amassed a significant fortune of 10 million yuan ($1.53 million). Fast forward three years, and his wealth had ballooned to an astonishing 18.5 billion yuan ($2.5 billion).
Despite his growing wealth, Li continued to enjoy the support of his fans, who appreciated his honest assessments of products during live testing sessions. He was known for candidly informing viewers when a product wasn't worth buying, and the story of his humble beginnings as a shop assistant played a major role in why people trusted him and wanted him to succeed.
However, his recent change in tone, where he no longer seemed considerate of viewers who might find an $11 brow pencil to be expensive, suggests that he may have lost touch with his own customer base. Some individuals perceive this shift as a form of actual "betrayal" (背叛), as if a close friend has turned their back on them.
One cartoon shared on social media shows Li Jiaqi, with mouse ears, as he initially begs his online viewers for money. However, as he becomes more prosperous, the cartoon portrays him gradually growing arrogant and eventually scolding those who helped him rise to fame.
Many people accuse Li of being insincere, suggesting that he revealed his true colors during that short livestream moment. This is also one of the reasons why most commenters say they do not believe his tears during his apology video.
"He betrayed China's working class," one popular vlog suggested.
#2 Internet Celebrity Crossing the Lines
Another reason why the incident involving Li Jiaqi is causing such a storm is related to the media context in which Chinese (internet) celebrities operate and what is expected of them.
Whether you are an actor, singer, comedian, or a famous livestreamer/e-commerce influencer, Chinese celebrities and performers are seen as fulfilling an exemplary role in society, serving the people and the nation (Jeffrey & Xu 2023). This is why, as explained in the 2019 research report by Jonathan Sullivan and Séagh Kehoe, moral components play such a significant role in Chinese celebrity culture.
In today's age of social media, the role of celebrities in society has evolved to become even more significant as they have a vast reach and profound influence that extends to countless people and industries.
Their powerful influence makes celebrities important tools for authorities to convey messages that align with their goals – and definitely not contradict them. Through the media and cultural industries, the state can exert a certain level of control within the symbolic economy in which celebrities operate, as discussed by Sullivan and Kehoe in their 2019 work (p. 242).
This control over celebrities' actions became particularly evident in the case of Li Jiaqi in 2022, following the 'cake tank incident' (坦克蛋糕事件). This incident unfolded during one of his livestreams when Li Jiaqi and his co-host introduced a chocolate cake in the shape of a tank, with an assistant in the back mentioning something about the sound of shooting coming from a tank ("坦克突突"). This livestream took place on June 3rd, on the night before the 33rd anniversary of the crackdown on the Tiananmen protests.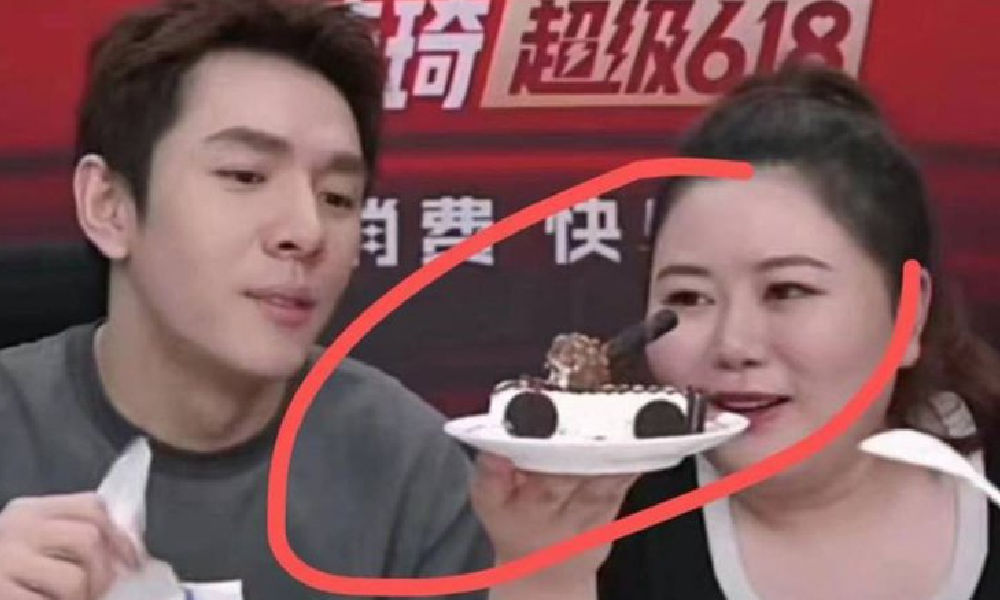 While Li Jiaqi did not directly touch upon a politically sensitive issue with his controversial livestream, his actions were perceived as a disregard for customer loyalty and displayed an arrogance inconsistent with socialist core values. This behavior garnered criticism in a recent post by the state media outlet CCTV.
Other state media outlets and official channels have joined in responding to the issue, amplifying the narrative of a conflict between the 'common people' and the 'arrogant influencer.'
#3 Striking a Wrong Chord in Challenging Times
Lastly, Li Jiaqi's controversial livestream moment also became especially big due to the specific words he said about people needing to reflect on their own work efforts if they cannot afford a $11 eyebrow pencil.
Various online discussions and some media, including CNN, are tying the backlash to young unemployment, tepid consumer spending, and the ongoing economic challenges faced by workers in China.
Since recent years, the term nèijuǎn ('involution', 内卷) has gained prominence when discussing the frustrations experienced by many young people in China. It serves as a concept to explain the social dynamics of China's growing middle class who often find themselves stuck in a "rat race"; a highly competitive education and work environment, where everyone is continually intensifying their efforts to outperform one another, leading to this catch 22 situation where everyone appears to be caught in an unending cycle of exertion without substantial progress (read more here).
Weibo commenters note that, given China's current employment situation and wage levels, hard work is not necessarily awarded with higher income. This context makes Li Jiaqi's comments seem even more unnecessary and disconnected from the realities faced by his customers. One Shanghai surgeon responded to Li's comments, saying that the fact that his salary has not increased over the last few year certainly is not because he is not working hard enough (#上海胸外科医生回应李佳琦言论#).
Some observers also recognize that Li, as an e-commerce professional, is, in a way, trapped in the same cycle of "inversion" where brands are continuously driving prices down to such low levels that consumers perceive it as the new normal. However, this pricing strategy may not be sustainable in the long run. (Ironically, some brands currently profiting from the controversy by promoting their own 79 yuan deals, suggesting their deal is much better than Li's. Among them is the domestic brand Bee & Flower 蜂花, which is offering special skin care products sets for 79 yuan in light of the controversy.)
Many discussions therefore also revolve around the question of whether 79 yuan or $11 can be considered expensive for an eyebrow pencil, and opinions are divided. Some argue that people pay much more for skincare products, while others point out that if you were to weigh the actual quantity of pencil color, its price would surpass that of gold.
The incident has sparked discussions about the significance of 79 yuan in today's times, under the hashtag "What is 79 yuan to normal people" (#79元对于普通人来说意味着什么#).
People have shared their perspectives, highlighting what this amount means in their daily lives. For some, it represents an entire day's worth of home-cooked meals for a family. It exceeds the daily wages of certain workers, like street cleaners. Others equate it to the cost of 15 office lunches.
Amid all these discussions, it also becomes clear that many people are trying to live a frugal live in a time when their wages are not increasing, and that Li's comments are just one reason to vent their frustrations about the situation they are in, In those regards, Li's remarks really come at a wrong time, especially coming from a billionaire.
Will Li be able to continue his career after this?
Some are suggesting that it is time for Li to take some rest, speculating that Li's behavior might stem from burn-out and mental issues. Others think that Li's hardcore fans will remain loyal to their e-commerce idol.
For now, Li Jiaqi must tread carefully. He has already lost 1.3 million followers on his Weibo account. What's even more challenging than regaining those one million followers is rebuilding the trust of his viewers.
Update: On September 19, the Florasis/Huaxizi brand finally apologized for its late response to the controversy, and the brand stated that the controversy provided an opportunity for them to listen to "the voice of their consumers." Their decision to release a statement seemed fruitful: they gained 20,000 new followers in a night.
By Manya Koetse
with contributions by Miranda Barnes
Jeffreys, Elaine, and Jian Xu. 2023. "Governing China's Celebrities." Australian Institute of International Affairs, 18 May https://www.internationalaffairs.org.au/australianoutlook/governing-chinas-celebrities/ [12 Sep 2023].
Sullivan, Jonathan, and Séagh Kehoe. 2019. "Truth, Good and Beauty: The Politics of Celebrity in China." The China Quarterly 237 (March): 241–256.
Spotted a mistake or want to add something? Please let us know in comments below or email us. First-time commenters, please be patient – we will have to manually approve your comment before it appears.
©2023 Whatsonweibo. All rights reserved. Do not reproduce our content without permission – you can contact us at info@whatsonweibo.com.
Subscribe to our newsletter
Stay updated on what's trending in China & get the story behind the hashtag
Sign up here to become a premium member of What's on Weibo today and gain access to all of our latest and premium content, as well as receive our exclusive Weibo Watch newsletter. If you prefer to only receive our free newsletter with an overview of the latest articles, you can subscribe for free here.
Would you like to become a contributor, or do you have any tips or suggestions for us? Get in touch with us here.