Weibo Women's "Armpit Hair Contest"
An online "Armpit Hair Contest" has fuelled discussions on China's female aesthetics. As many women posted selfies showing off their hairy armpits, not all netizens agreed on their beauty. For initiator Xiao Meili, the contest has fulfilled its purpose.
An online "Armpit Hair Contest" has fuelled social media discussions on female aesthetics in China. As many women posted selfies on Sina Weibo showing off their hairy armpits, not all netizens agreed on their beauty. But for initiator Xiao Meili, the contest has fulfilled its purpose.
On May 26, Chinese women's rights advocate Xiao Meili initiated a contest of women's underarm hair on   Sina Weibo. She encouraged women to send 'selfies' with their arms proudly raised, showing off their hairy armpits. Forty-six women participated in the contest and posted photos under the hashtag "women underarm hair contest" (#女子腋毛大赛#). Amongst them were three of China's five feminists who drew worldwide attention for their detention in March this year over their campaign for gender equality.
Xiao Meili, initiator of the armpit contest.
The contest, which ended on June 10, has been viewed over 1.54 million times on Sina Weibo and gained more than 1,300 comments up to June 11. Six winners were selected from the photo competition, based on the number of reposts and 'likes'. The first place winner received a hundred free condoms, the second place got a vibrator, and the third place winners were rewarded with ten female urination devices.
"Why are hairy armpits a taboo for women?"
Weibo user "Zhu Xixi Loves Eating Fish" is the first-prize winner of the "Women's Underarm Hair Contest". She said she enjoyed her underarm hair and posted a picture of herself revealing her unshaved armpits while smiling with her eyes closed. In the added comment, she says: "When I was still heterosexual, my boyfriend at the time just took it for granted that I shaved my armpits for the sake of wearing sleeveless T-shirts – until I shaved all of his underarm hair and let him experience what girls go through."
Some of the participants. Winner Zhu Xixi is in the center.
"Chacha", one of the second-prize winners, wrote on the contest page: "I love my underarm hair. It's part of my body. I hope girls can reveal it without fear." Another Weibo user called "Mimosa" commented to show her support and emphasize the importance of being true to oneself: "I think my hairy armpits look just fine, I never shave them," she says: "I still wear vests in summer and I don't feel ashamed of it. Most women have underarm hair. Why do we have to shave it? Why does it have to be a taboo? Do shaved armpits look beautiful?" She believes that there's no point of listening to other people's judgement as long as you are comfortable with yourself.
Second-prize winner 'Chacha'.
User "Poor and Bored" says that women shouldn't shave their armpits for medical reasons: "Pulling or shaving armpits might lead to skin infection, as there are many lymph nodes in the armpits. It's not good for your health. Nobody cares if you shave your armpits as long as you keep it clean."
However, some netizens hold the idea that armpit hair is ugly and smelly. User "VansChan", together with many other users, commented that shaving armpits has nothing to do with feminism. "Why is it relevant to women's rights? Whether it's men or women, revealing hairy armpits when wearing sleeveless tops is inelegant. We can smell it on the bus and subway. Allegedly, less than 30 percent of Chinese people use antiperspirants."
"Shaving armpits has nothing to do with feminism"
User "Miseryzoe" is also an opponent of hairy armpits, and continuing the debate by stressing that men and women can't be completely equal. She added: "I think hairy armpits for girls are ugly and disgusting. Shaving armpits has nothing to do with feminism. Most of these women who don't shave their armpits are probably just lazy. I don't believe they don't think it looks terrible."
After the storm of comments on the issue of women (not) shaving their armpits, Xiao Meili posted the history of shaving armpits on the Sina Weibo contest page. Shaving armpits started in the United States in 1915, when the fashion magazine BAZAAR published a photo of a woman raising her arms revealing shaved armpits. Then Gillette launched the razor for women to shave their armpits. The advertisement persuaded women to shave and "remove the objectionable hair" so that women would be beautiful, attractive and sanitary.
1920s marketing campaign pursuading women to shave their armpits.
Xiao Meili had stated that the purpose of Weibo's "Women Underarm Hair Contest" is to free women's armpits and open up the discussion on the "definition of feminine beauty". Women should have the right to choose whether they want to shave their armpits or not. One of the users "Tender 10384" showed her support for Xiao, stating that "the goal of this contest is not to suggest that women should have hairy armpits, but to make women realise that they have the ownership to their own body – women shouldn't be forced to shave armpits under the pressure of stereotypes or the mainstream aesthetic."
Shaving armpits is relatively new in China. According to Xiao Meili, it was not a widespread custom in until the 1990s. Since then, similarly to America and Europe in the 1920s, the idea was spread that women have to shave their armpits – making many believe that they have to in order to be accepted by society. The contest on Weibo has created a buzz amongst young Chinese women, helping them understand the difference between "can" and "have to": they can shave their armpits, but they don't have to.
By Yiying Fan, edited by Manya Koetse
Follow @WhatsOnWeibo
©2015 Whatsonweibo. All rights reserved. Do not reproduce our content without permission – you can contact us at info@whatsonweibo.com.
"Hideous" and "Scary": Giant Chongqing Rabbit Lantern Gets Roasted by Residents
More rabbits are getting roasted this year. This giant Chongqing rabbit was removed after sparking criticism for being ugly.
Earlier this month, the design of the latest zodiac stamp by China Post when viral after the little blue rabbit with red eyes and human hands triggered controversy for being "monster-like." Now, another rabbit is criticized for its questionable design. This time, it concerns a giant rabbit lantern in Chongqing.
The giant rabbit lantern appeared at Sanxia Square in Chongqing's Shapingpa District. As the Year of the Rabbit is about to start, huge rabbit decorations have popped up all over China.
But this particular Chongqing rabbit was received with disapproval from residents who said it looked uncanny and so ugly it almost made them cry. "Giant Chongqing rabbit lantern gets roasted for being scary," Beijing Headlines wrote (#重庆巨型兔子灯被吐槽吓人#).
The rabbit is different from a more standard and cute cartoon rabbit, as it has human-like eyes and eyebrows and a serious expression on its face. Its body has festive orange, green, and yellow colors.
Although its design was not received well by many, others also said they liked the more traditional paper cutting-style of the rabbit.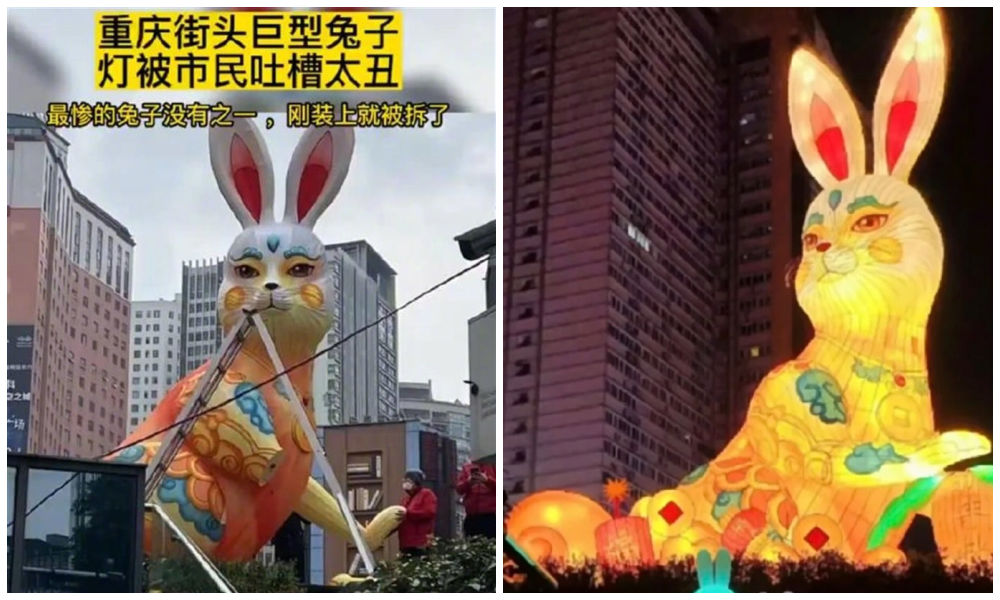 "I don't think it's ugly," one person commented: "But it's certainly not pretty."
Nevertheless, it was apparently decided that the bunny needed to go, and workers came to Sanxia Square to get rid of the rabbit lantern (hashtag #被吐槽吓人巨型兔子灯已被拆除#).
The district management committee told Chinese reporters on January 18 that they gave orders to dismantle the lanterns after receiving reports from residents that the giant rabbit was "appalling" (#官方回应巨型兔子灯被吐槽吓人#).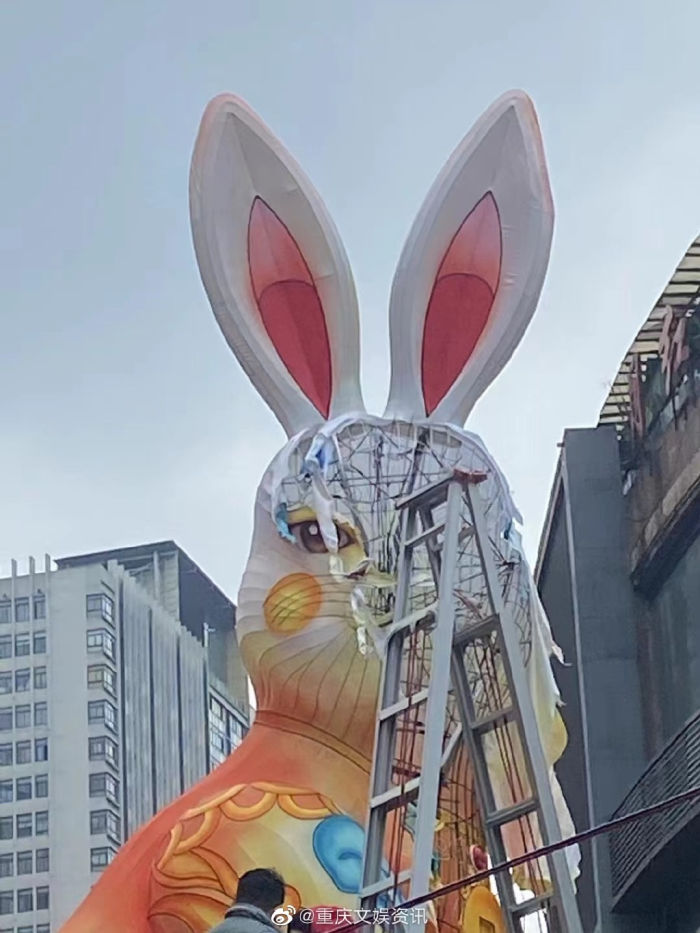 In the case of the blue rabbit stamp, a mascot that was specially designed to celebrate the launch of the zodiac stamp and the Year of the Rabbit was also discarded after people said they found the red-eyed rabbit "rat-like" and "horrible."
Earlier this week, an art sculpture created by artist Xu Hongfei (许鸿飞) which is displayed inside Guangzhou Airport, also became a topic of discussion on Chinese social media as many could not appreciate the work of art and its representation of women. Airport management is reportedly now "investigating" how to deal with the controversy and the sculpture itself (#机场回应大厅雕塑被指有损女性形象#).
The Shanghai Morning Post (新闻晨报) wrote a post about the rabbit incident on Weibo, in which the newspaper – that falls under the Shanghai party newspaper Jiefang Daily – implicitly criticized the way in which both the blue rabbit stamp and the colorful Chongqing rabbit have recently come under fire and how the situations were handled.
"Give creativity some room!", the news outlet wrote, arguing that rabbits aren't always only "cute," and that works that are more innovative, unique, and creative inevitably will cause some controversy because they make more impact and people have different views on what is considered beautiful and what is considered ugly.
Simply getting rid of artworks or public installations because many people don't like them is unconstructive and a waste of public resources, according to the post. It would be better to actively engage in conversations, in the earlier phases of a project, but also once a work of art is already completed and if it is met with some controversy, the post argues; let people think about it, explore it, reflect on it – but do not just cover it up, tear it down, and throw the baby out with the bathwater.
Although some Weibo commenters applauded how Chongqing authorities listened to the people, others did not agree with the rabbit being removed because people thought it was ugly: "What are you taking it down for? If it's ugly, just let it be ugly, at least it's unforgettable!"
In light of the discussion, other social media users, including Zhihu user 'Hǎiniú móumóu' (海牛眸眸) and Weibo blogger Kai Lei (凯雷), took the initiative to make a collection of other rabbits on display in Chinese cities for the Year of the Rabbit. Some of them made the Chongqing rabbit look perfectly normal.
Such as the cyberpunk rabbit on display in Zigong.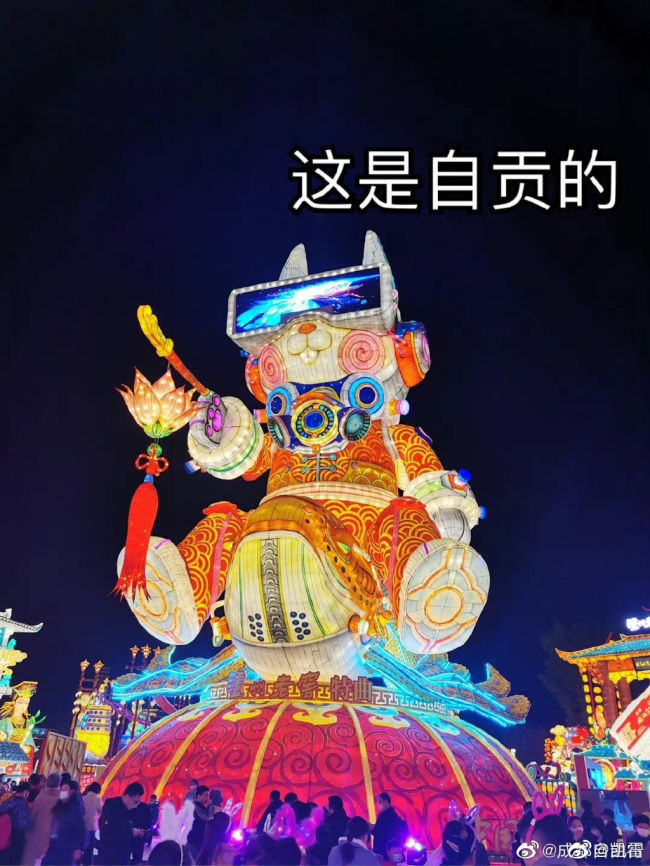 Or the peaceful bunny from Quanzhou.
The big-eyed Nanjing one.
The Shanghai angry, boxing bunny.
But the one in Nanning takes the crown, as it left people utterly confused (#南宁兔子灯被嘲羊不羊兔不兔#).
"I guess you can't please everyone," one Weibo user wrote: "But you can displease everyone."
By Manya Koetse , with contributions by Zilan Qian
Get the story behind the hashtag. Subscribe to What's on Weibo here to receive our newsletter and get access to our latest articles:
Spotted a mistake or want to add something? Please let us know in comments below or email us. First-time commenters, please be patient – we will have to manually approve your comment before it appears.
©2023 Whatsonweibo. All rights reserved. Do not reproduce our content without permission – you can contact us at info@whatsonweibo.com.
Chinese Blue Rabbit Zodiac Stamp Becomes Unexpected Viral Hit for Looking "Horrific"
This year's China Post zodiac stamp triggered controversy and immediately sold out. Some think it's cute, others say it's "nightmare fuel."
A zodiac stamp issued by China Post on the occasion of the Year of the Rabbit has become an unexpected viral hit. Not because of its pretty design, but because the red-eyed blue rabbit triggered controversy for being "monster-like."
This year's Chinese New Year's stamp has become an absolute hit after heated online discussions about the striking stamp design.
Every year since 1980, China Post releases official zodiac stamps before the Spring Festival. This year, to celebrate the upcoming Year of the Rabbit, China Post released two stamps: one featuring a blue rabbit with hands holding a pen (a wordplay because 'blue rabbit' and 'blueprint' sound similar in Chinese), the other showing three rabbits jumping in a circle.
Although the design of the stamps already came out on 26 December, when advance sales commenced, China Post did not officially release the stamps until 5 January.
The blue rabbit design has become a topic of discussion on Chinese social media, where some think the red-eyed blue rabbit looks like a rat. Others think it looks "evil" or "monster-like," and some even called it "horrific."
Others wondered if the blue rabbit on the official Spring Festival zodiac stamp looked so wild because it just had Covid.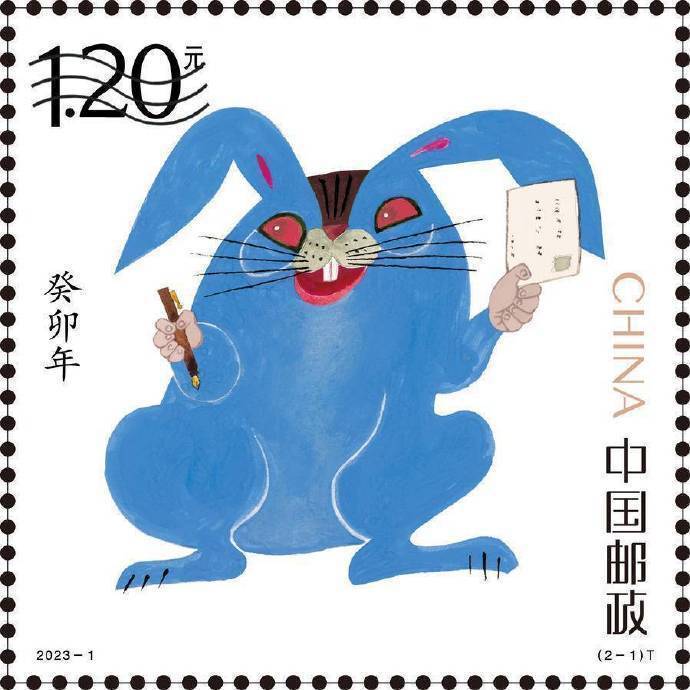 The stamps were designed by the 99-year-old artist Huang Yongyu (黄永玉), who previously also designed the iconic monkey zodiac stamp in 1980, which was the first year that China Post started issuing its annual zodiac stamps. Huang is therefore also referred to as "the father of the monkey stamp" (猴票之父).
Despite the controversy – or actually because of it – the stamps were reportedly sold out within an hour. The stamp was called "ugly cute" (丑萌 chǒuméng) by some, meaning something can be considered somewhat charming for being so unattractive.
"I first saw it and thought it was ugly, then the more I looked at it, I started to think it was ugly cute and maybe even cute," one Chongqing-based commenter wrote.
The stamps were sold both online and offline, and some netizens shared photos of people lining up in front of the post office on Thursday. The stamps were completely sold out on Taobao.
Taobao also initiated a ceremony to launch the stamps where the blue rabbit appeared as an actual character. The blue rabbit mascot costume did not actually change public opinion and arguably even made it worse. "The [rabbit] theme itself is so good," one commenter wrote: "This is just inexcusable."
One Weibo commenter called old Huang's artwork "interesting," saying that "people have different tastes." Others also expressed their surprise about the stamps being sold out so soon, although they did think the unusual design increases its value as a collectible item.
On January 5th, the designer Huang Yongyu spoke about the stamps in a livestream. The 99-year-old artist claimed he had just drawn the rabbit to make everyone happy and celebrate the new year, also saying: "Painting a rabbit stamp is a happy thing. Everyone could draw my rabbit. It's not like I'm the only one who can draw this."
Huang's response also went viral, with one Weibo hashtag dedicated to the topic receiving over 12 million views (#蓝兔邮票设计者直播回应争议#).
"His original intention was just to make people happy, I don't know why everyone's so mean about it," one popular comment said.
"But it doesn't make us happy," some replied.
"Is he 99 or 9 years old?" one person wondered, another wrote: "It's not cute, it's bizarre." Some commenters were really upset about the stamp design, and blamed the artist for purposely making it look ugly.
There were also netizens who defended Huang's artistic talent. "If you look at his other designs, you can understand his humor," one person wrote. "Just look him up, he is a painter who has a very strong individual style," another Weibo user said.
Chinese blogger Wulongxu (@乌龙徐) also wrote: "I won't evaluate if Huang Yongyu's rabbit is ugly or not, but he's had this painting style all along. He even has an entire series of rabbits. Don't say he purposely made it look ugly, he's 99 years old, show some kindness."
The blue rabbit controversy made some social media commenters draw comparisons to the math schoolbook controversy of 2022. The schoolbook series went trending after some parents complained about the illustrations on social media. People mainly took issue with the teaching material because they thought the illustrations were ugly and overall weird.
In 2016, CCTV launched its mascot 'Kang Kang' for the Year of the Monkey. That design was also mocked on social media, as many called Kang Kang ugly and wondered if the two balls near its head were tumors.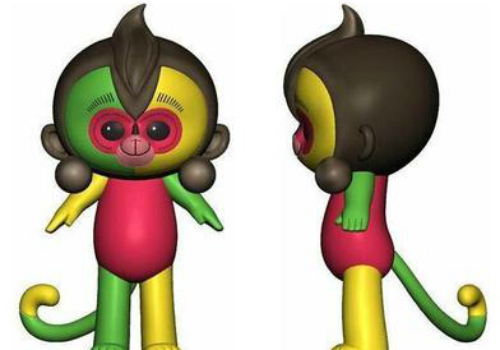 People started sympathizing with Kang Kang when he was eliminated from the CCTV Spring Festival Gala after the criticism. "He was just so ugly that he did not dare go on stage," some wrote, reposting images of a crying Kang Kang.
Although Huang's blue rabbit stamp will definitely not be eliminated – au contraire, it's a collector's item now – the Guangxi Museum in Nanning where the blue rabbit mascot was prancing around did decide to get rid of it following controversy.
Although some commenters replied that they liked how "wacky" the blue rabbit looked, most people did not agree: "It's nightmare fuel."
By Manya Koetse 
Get the story behind the hashtag. Subscribe to What's on Weibo here to receive our newsletter and get access to our latest articles:
Spotted a mistake or want to add something? Please let us know in comments below or email us. First-time commenters, please be patient – we will have to manually approve your comment before it appears.
©2023 Whatsonweibo. All rights reserved. Do not reproduce our content without permission – you can contact us at info@whatsonweibo.com.