Weibo Women's "Armpit Hair Contest"
An online "Armpit Hair Contest" has fuelled discussions on China's female aesthetics. As many women posted selfies showing off their hairy armpits, not all netizens agreed on their beauty. For initiator Xiao Meili, the contest has fulfilled its purpose.
An online "Armpit Hair Contest" has fuelled social media discussions on female aesthetics in China. As many women posted selfies on Sina Weibo showing off their hairy armpits, not all netizens agreed on their beauty. But for initiator Xiao Meili, the contest has fulfilled its purpose.
On May 26, Chinese women's rights advocate Xiao Meili initiated a contest of women's underarm hair on   Sina Weibo. She encouraged women to send 'selfies' with their arms proudly raised, showing off their hairy armpits. Forty-six women participated in the contest and posted photos under the hashtag "women underarm hair contest" (#女子腋毛大赛#). Amongst them were three of China's five feminists who drew worldwide attention for their detention in March this year over their campaign for gender equality.
Xiao Meili, initiator of the armpit contest.
The contest, which ended on June 10, has been viewed over 1.54 million times on Sina Weibo and gained more than 1,300 comments up to June 11. Six winners were selected from the photo competition, based on the number of reposts and 'likes'. The first place winner received a hundred free condoms, the second place got a vibrator, and the third place winners were rewarded with ten female urination devices.
"Why are hairy armpits a taboo for women?"
Weibo user "Zhu Xixi Loves Eating Fish" is the first-prize winner of the "Women's Underarm Hair Contest". She said she enjoyed her underarm hair and posted a picture of herself revealing her unshaved armpits while smiling with her eyes closed. In the added comment, she says: "When I was still heterosexual, my boyfriend at the time just took it for granted that I shaved my armpits for the sake of wearing sleeveless T-shirts – until I shaved all of his underarm hair and let him experience what girls go through."
Some of the participants. Winner Zhu Xixi is in the center.
"Chacha", one of the second-prize winners, wrote on the contest page: "I love my underarm hair. It's part of my body. I hope girls can reveal it without fear." Another Weibo user called "Mimosa" commented to show her support and emphasize the importance of being true to oneself: "I think my hairy armpits look just fine, I never shave them," she says: "I still wear vests in summer and I don't feel ashamed of it. Most women have underarm hair. Why do we have to shave it? Why does it have to be a taboo? Do shaved armpits look beautiful?" She believes that there's no point of listening to other people's judgement as long as you are comfortable with yourself.
Second-prize winner 'Chacha'.
User "Poor and Bored" says that women shouldn't shave their armpits for medical reasons: "Pulling or shaving armpits might lead to skin infection, as there are many lymph nodes in the armpits. It's not good for your health. Nobody cares if you shave your armpits as long as you keep it clean."
However, some netizens hold the idea that armpit hair is ugly and smelly. User "VansChan", together with many other users, commented that shaving armpits has nothing to do with feminism. "Why is it relevant to women's rights? Whether it's men or women, revealing hairy armpits when wearing sleeveless tops is inelegant. We can smell it on the bus and subway. Allegedly, less than 30 percent of Chinese people use antiperspirants."
"Shaving armpits has nothing to do with feminism"
User "Miseryzoe" is also an opponent of hairy armpits, and continuing the debate by stressing that men and women can't be completely equal. She added: "I think hairy armpits for girls are ugly and disgusting. Shaving armpits has nothing to do with feminism. Most of these women who don't shave their armpits are probably just lazy. I don't believe they don't think it looks terrible."
After the storm of comments on the issue of women (not) shaving their armpits, Xiao Meili posted the history of shaving armpits on the Sina Weibo contest page. Shaving armpits started in the United States in 1915, when the fashion magazine BAZAAR published a photo of a woman raising her arms revealing shaved armpits. Then Gillette launched the razor for women to shave their armpits. The advertisement persuaded women to shave and "remove the objectionable hair" so that women would be beautiful, attractive and sanitary.
1920s marketing campaign pursuading women to shave their armpits.
Xiao Meili had stated that the purpose of Weibo's "Women Underarm Hair Contest" is to free women's armpits and open up the discussion on the "definition of feminine beauty". Women should have the right to choose whether they want to shave their armpits or not. One of the users "Tender 10384" showed her support for Xiao, stating that "the goal of this contest is not to suggest that women should have hairy armpits, but to make women realise that they have the ownership to their own body – women shouldn't be forced to shave armpits under the pressure of stereotypes or the mainstream aesthetic."
Shaving armpits is relatively new in China. According to Xiao Meili, it was not a widespread custom in until the 1990s. Since then, similarly to America and Europe in the 1920s, the idea was spread that women have to shave their armpits – making many believe that they have to in order to be accepted by society. The contest on Weibo has created a buzz amongst young Chinese women, helping them understand the difference between "can" and "have to": they can shave their armpits, but they don't have to.
By Yiying Fan, edited by Manya Koetse
Follow @WhatsOnWeibo
©2015 Whatsonweibo. All rights reserved. Do not reproduce our content without permission – you can contact us at info@whatsonweibo.com.
Chinese Shoppers Are Going Absolutely Crazy over UNIQLO x KAWS Collection
Everybody wants KAWS – Chinese shoppers were even spotted fighting in front of a UNIQLO store today.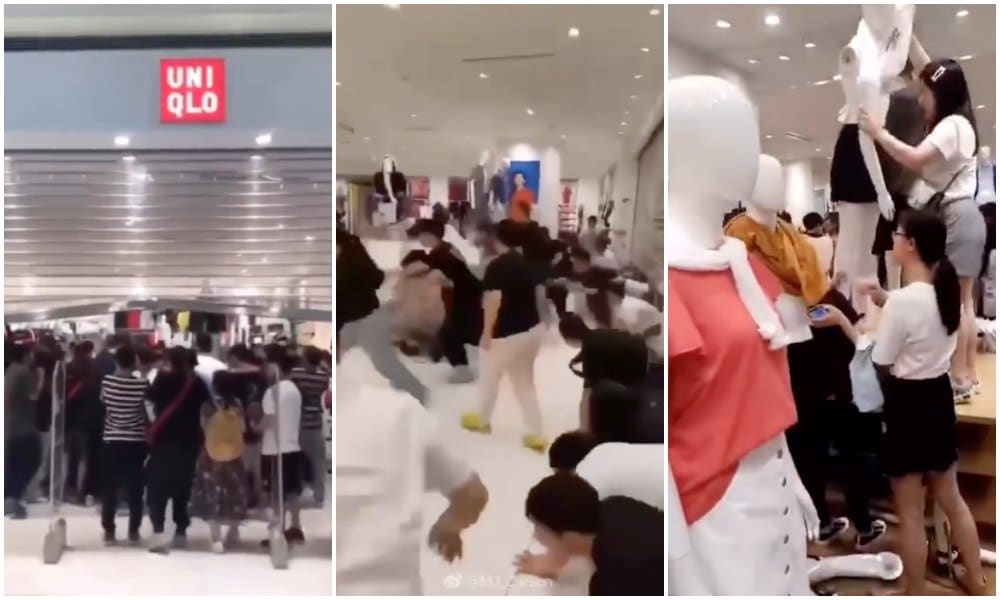 First published
The Chinese sales of the UNIQLO KAWS collection are so crazy that the craze itself has become an online hit. "I don't even like UNIQLO, I just like to compete," some shoppers say.
Chinese shoppers are going completely crazy over the latest collection sold by Japanese fashion company UNIQLO (优衣库) today. The summer collection is a cooperation between UNIQLO and the renowned American artist and designer KAWS (Brian Donnelly).
It is not the first time for the American street artist to partner with the Japanese chain: they previously also collaborated on a Sesame Street-themed collection.
The current collection first started selling in mainland China stores in the early morning of Monday, June 3, and soon became a top trending topic on social media.
The online sales reportedly were sold out in seconds.
Photos and videos circulating on Weibo show people fighting to get into UNIQLO stores, pulling clothes off the shop mannequins, and buying piles of clothes from the stores (see embedded tweet below):
Chinese shoppers are going absolutely crazy over UNIQLO x KAWS collection: https://t.co/DeC9xNgpOk pic.twitter.com/T01gYCAHXB

— Manya Koetse (@manyapan) 3 juni 2019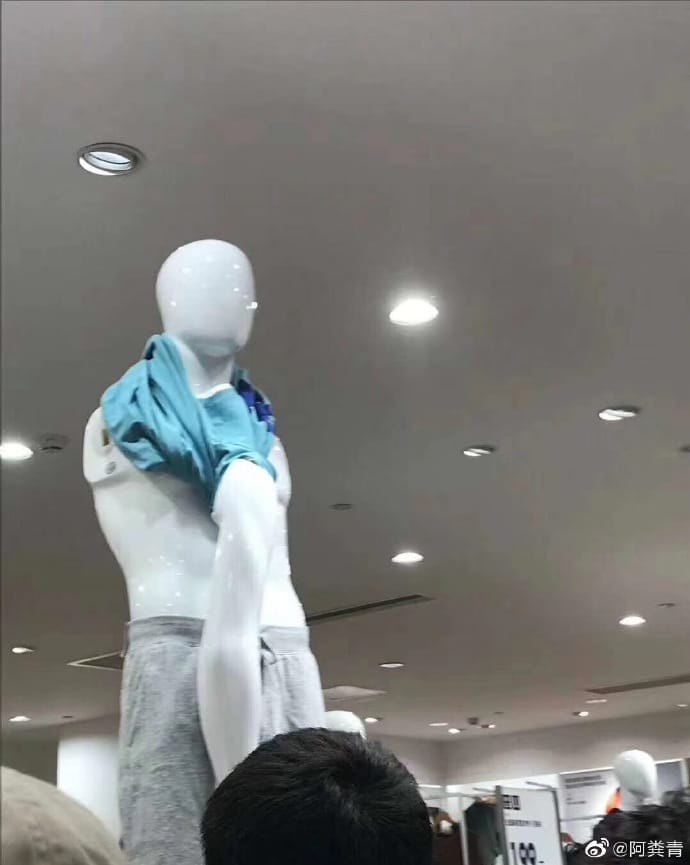 The hashtag "Everybody KAWS" (#全员kaws#) had received 140 million views on Weibo by Monday evening, China time.
Many netizens on Weibo are confused about the big hype surrounding the latest UNIQLO selection, with some wondering who KAWS is, and why people are so eager to wear his design.
Some commenters joke that it actually is not really about the KAWS collection at all, but more about the competition between shoppers on who can score the most clothes from the special product line.
The topic has set off various memes and online jokes, with some people saying: "I don't think there is any need to learn self-defense skills. I only need to wear UNIQLO KAWS clothes, and no one will dare to touch me. They will all know that I can not only fight very well but also run very fast!"
Some memes suggest that KAWS sales have been so successful that everybody on the street or at work will walk around in the same t-shirts this week.
"I finally understand now," one Weibo user writes: "What I love is not UNIQLO, nor KAWS – what I love is to rush and clash with all these people!"
The online sales of the UNIQLO x KAWS collection will start on June 6 in Europe. Its American sales started on Monday 10 AM ET.
Meanwhile, in China, the T-shirts that were bought for RMB 99 ($14) today are being resold online for four-five times their original price.
This is not the first time the Japanese UNIQLO brand becomes a viral hit on Chinese social media, albeit for different reasons. In 2015, the brand became the talk of the week when a naked girl and a man recorded an adult video in the fitting room of their Beijing flag store.
Also read:
* Chinese Kid Destroys Lego Sculpture Within Hour After It Is Displayed
* Kidnappers? Crazy Fans? No, It's Chinese Parents on Their Kids' First Day at School
By Manya Koetse and Miranda Barnes
Follow @whatsonweibo
Spotted a mistake or want to add something? Please let us know in comments below or email us. Please note that your comment below will need to be manually approved if you're a first-time poster here.
©2019 Whatsonweibo. All rights reserved. Do not reproduce our content without permission – you can contact us at info@whatsonweibo.com
Shanghai Disney's Crystal Castle Sold for RMB 1.8 Million
Shanghai Disney's cherished object was sold off to the "dirty rich."
Who'd spend RMB 1.8 million on a small crystal Disney castle? For most Weibo commenters, it's just a castle in the air.
Almost three years after Shanghai Disney first opened its doors, its sparkling 'enchanted storybook' crystal castle has now been sold for RMB 1.8 million ($276.500).
The minitiature bling bling castle has been an eyecatcher and a much-photographed object at the Disney resort.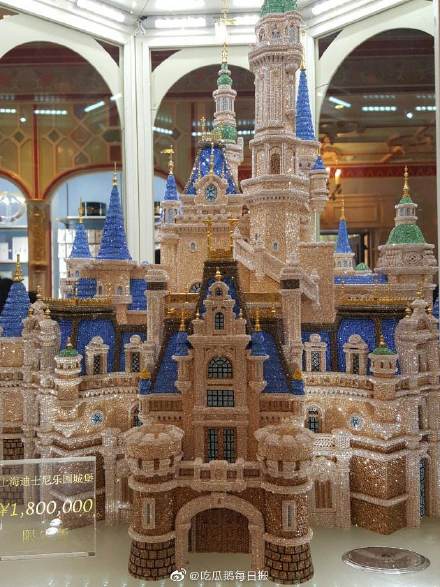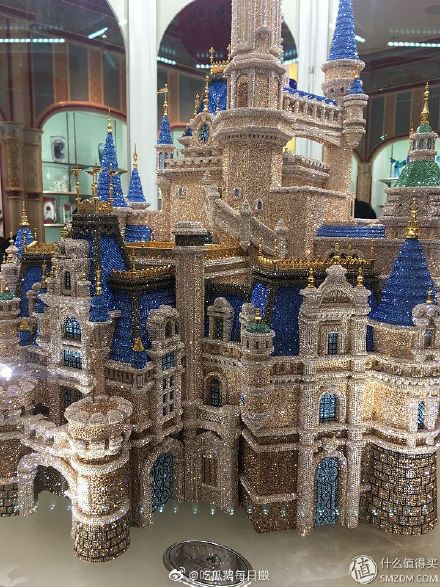 Today, the hashtag "1.8 Million Shanghai Disney Crystal Castle Sold" (#迪士尼180万水晶城堡被买走#) went trending on Sina Weibo with some 180 million views, with many people wondering what kind of person would spend so much money on a decorative crystal castle.
According to a Weibo user, the castle was bought by a "tuhao" (土豪), Chinese slang for a "dirty rich" or extravagantly wealthy person (more info).
"Even if was RMB 180 [$27], I still wouldn't be able to afford it," a popular comment said.
"I went there just some days ago and was joking about whether someone would actually ever buy it – now it's sold!"
"I'm happy I was still able to see it [before it was sold]," many commenters write, with hundreds of people sharing their own photos of the little castle. In 2017 alone, the park attracted 11 million visitors.
For the same price of the small crystal castle, the buyer could have visited the park 3706 times during high season (a peak season entrance ticket is priced at RMB 499/$75).
The display where the crystal palace was shined now shows a bronze statue of Frozen.
By Manya Koetse
Spotted a mistake or want to add something? Please let us know in comments below or email us.
©2019 Whatsonweibo. All rights reserved. Do not reproduce our content without permission – you can contact us at info@whatsonweibo.com