Top 10 Most Popular Smartphones in China 2017 (According to Weibo)
Just before the biggest online shopping events of the year, these are the most popular smartphone brands in China 2017 – a top 10 list compiled by What's on Weibo.
The sales of smartphones are going through the roof during China's annual e-commerce shopping festival Single's Day (11/11). What smartphone brands and models are the most popular on Chinese social media this year?

UPDATE! Now read our Top 10 of Most Popular Chinese Smartphones in 2018.

The countdown to Single's Day, China's annual largest online shopping event on November 11, is about to start. Smartphones are always amongst the top-selling items during the yearly big sale, and the various newly-launched models are hitting the social media top trending topic lists on a daily basis weeks before. Time to take a look into what phones are currently most popular amongst Chinese netizens.
Sina News recently reported that an increasing number of young Chinese consumers are willing to spend their entire monthly income or even more on a new mobile phone. Since more than 95% of Internet users in China use mobile devices rather than desktop computers to go online, chosing the right mobile is all the more important for Chinese consumers.
And for this season, the 'right mobile' (1) has a futuristic 'bezel-less' screen without edges: the bigger, the brighter, the better. With the growing importance of selfies in this social media era, the perfect phone of the moment (2) also has a high-performing front facing camera. It is also noteworthy that (3) many of the hottest phones of this moment come in various sizes and especially in various trendy colors to offer buyers more choice, tailored to their personal taste.
To create more insight into the most popular smartphone brands in China, we have compiled a list of ten Weibo smartphone brands with the most followers here.* Note that we did not include the iPhone, because despite the various channels related to iPhone on Weibo, there is no official iPhone channel.
To give you an indication, however, the Sina Weibo iPhone User Channel (@微博iPhone客户端) has a staggering 53.3 million followers – which would still make it one of China's most popular mobile phones on social media, despite its declining popularity due to competition from domestic brands. The launch of the iPhone X on Friday is also a much-anticipated one in China.
The following smartphones currently have the largest following on Sina Weibo. With Single's Day coming up, all brands are promoting their latest models, giving a hint to consumers on what to buy for the big November 11 online sales:
27.222.000+ followers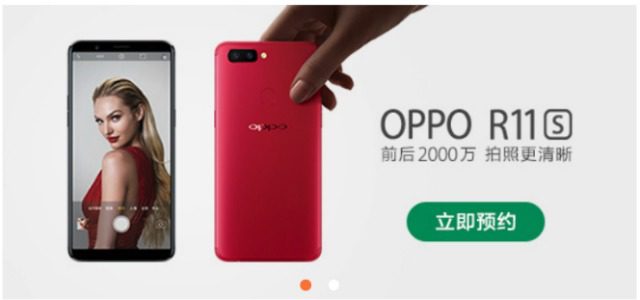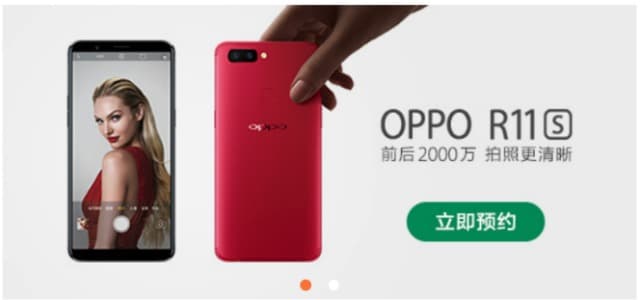 The number one smartphone brand in China – according to Weibo – is Oppo, a Guangdong-based brand officially launched in 2004. Oppo is mainly known for targeting China's young consumers with its trendy designs and smart marketing. In 2016, the brand was ranked as the number 4 smartphone brand globally.
Right before Single's Day, Oppo is now pushing forward its newest Oppo R11s model phone on social media. The phone will be released on November 2, and together with the much-anticipated R11s Plus model, could become one of the top-sellers on November 11.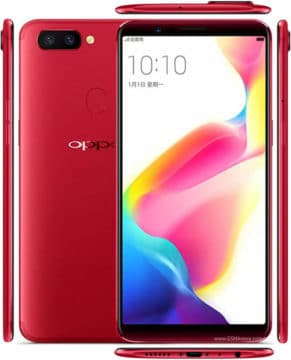 Oppo is launching the Oppo R11s as a smartphone that is not just beautiful (with an all-screen 'bezel-less' display), but also smart. The phone can be unlocked within 0.08 seconds through the latest facial recognition technology.
Oppo's smartphones are known as excellent selfie-making-tools, and its latest model is also promoted for having a 20-megapixel front and back camera. Oppo uses the Weibo hashtag 'Oppo's All-New 20MP Front&Back R11s' (#OPPO全新前后2000万R11s#) to discuss the new model. On Tuesday, two days before the official launch, the hashtag was already viewed over 640 million times. There's no pricing announced yet (will update). Update: prices start at CNY 2999 (±450$).
23.337.000+ followers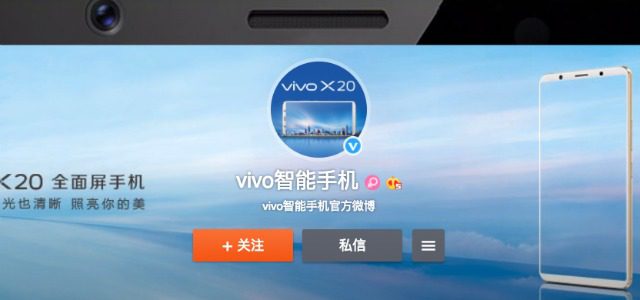 Vivo is another Chinese domestic brand that has gained worldwide success, first entering the market in 2009. Its headquarters are based in Dongguan, Guangdong.
On September 30, Vivo launched its Vivo X20 Plus and VivoX20, the successor of best-seller Vivo X9. With a price of CNY 2,998 (±$450) on JD.com, it is a popular phone that offers some advanced features, 6.01 inch (18:9) full view display, and dual camera setup, for a very reasonable price.
The popularity of the Vivo X20 is evident on Weibo. Hashtag (#vivo全面屏手机X20#) has been viewed over a billion times.
(NB: there is something noteworthy about the Weibo account of Vivo, which had 23+ million followers on October 26, and a staggering 29+ million followers only five days later. Although most reputable brands do not want to associate their brand with fake accounts, it is possible that some fans were bought – or perhaps the brand has just hugely gained popularity over the past week. In that case, it is actually Vivo that is the number one on this list. For now, we'll stick to the follower numbers as counted between October 24-27.)
3. Xiaomi @小米
16.872.000+ followers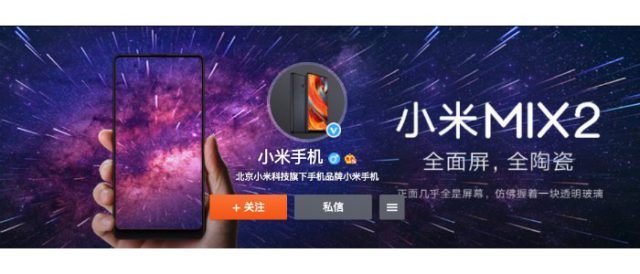 Since the launch of its first smartphone in 2011, Beijing-brand Xiaomi has become one of the world's largest smartphone makers.
The Xiaomi (Mi) brand was initially often called an 'iPhone copycat,' but it is now a trendsetting brand in the smartphone business. With its 2016 Mi Mix model, the brand was among the first to ditch thick bezels and go beyond the 16:9 aspect ratio to introduce the 'all screen' or 'bezel-less' screens, which are all the buzz now. The Mi Mix became one of the year's hottest smartphones.
The Mi Mix 2, Xiaomi 6, and Xiaomi Note 3 are the devices currently being promoted through the Xiaomi official Weibo channel.
With a Phillipe Starck design and premium IPS LCD screen, the Mi Mix 2 has already been getting ravenous reviews on tech sites. Some reviews, however, do note its 'underperforming camera.'
The 'Xiaomi Note 3' topic #小米Note3# is also very popular on Weibo, where it has received 560 million views thus far.
It is sold for CNY 2199 (±330$) on JD.com; much cheaper than the Mix 2 which is sold for approximately CNY 3299 (±496$). With a price of CNY 2999 (±450$), the Xiaomi 6 is in between.
4. Honor (荣耀) @荣耀手机
16.638.000+ followers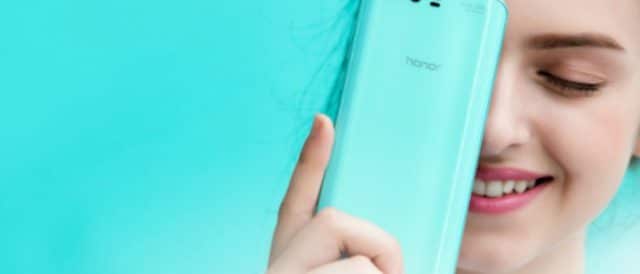 Honor, established in 2013, is the budget-friendly sister of the Huawei brand. The company's sub-brand has been doing very well over the past year. Rather than focusing on hyping up its brand name through celebrity campaigns, Honor focuses on great value for money.
On the brand's Weibo account, it promotes its Honor V9 and Honor V9 Play as the to-buy models for November 11. The latter is currently sold for as low as CNY 999 (±150$). The Honor V9 starts at CNY 2599 (±390$).
Both the Honor V9 (#荣耀V9#) and Honor V9 Play (#荣耀V9play#) have received a lot of attention on social media this year, with millions of views and comments.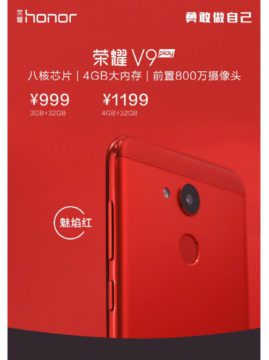 The Honor V9 has a 5.7-inch curved glass screen. It has dual SIM and an internal storage of either 64GB or 128GN expandable to 256GB by microSD.
The latest Honor models are available in multiple trendy colors. But above all of this, it is the affordability that makes this phone popular.
5. Huawei @华为
14.631.000+ followers.

Huawei remains to be one of China's top smartphone brands. Its new model Huawei Mate 10, the follow-up to last year's Mate 9, became a trending topic on Weibo earlier this week, with the hashtag #华为Mate10# receiving over 480 million views in some days time.
In China, the Mate 10 (128GB) is available at approximately CNY 4499.00 (±675$). With its thin bezels, 5.9-inch display, fingerprint sensor, fast-charging battery, and trendy colors (Midnight Blue, Titanium Gray, Mocha Brown, Pink Gold), this model forms a serious competition to the iPhone X.
13.509.000+ followers.

Meizu is another Chinese homegrown brand, established by high school dropout Jack Wong (Huáng Zhāng 黄章) in 2003. Since then, it has grown out to be the 11th best-selling smartphone maker in the world.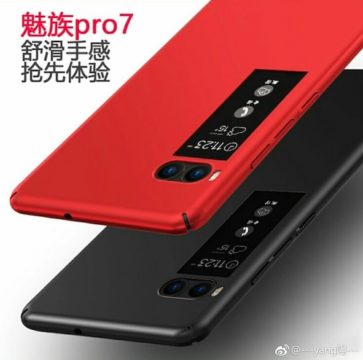 Its newest model is the Pro 7, starting from CNY 2499 (±375$), follows all the latest trends: it has thin bezels, a strong battery and dual camera, and a slick design. The model is also available in various colors, which is one of the major trends of the season – of course, a pink edition is crucial nowadays.
7. Samsung @三星
8.690.000+ followers.

Samsung has three official accounts on Weibo; Samsung Electronics, Samsung China, and Samsung Galaxy. The latter, by far, has the most followers of the three. This account, with well over 8,5 million followers, is fully dedicated to Samsung's high-end mobile phones.
The brand is now especially highlighting its Samsung Galaxy Note 8 model. Starting from CNY 6980 (±1050$) this is amongst the most expensive popular smartphones around.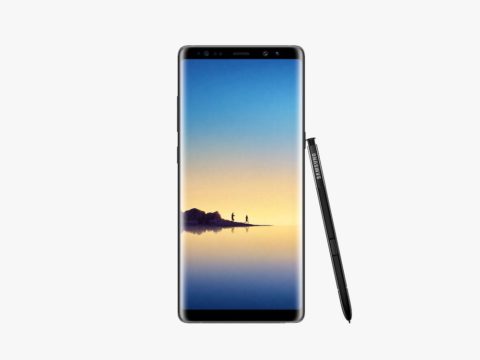 Despite the fact that it is high-tech, the phone has not seen a very warm welcome in China. There could be various reasons for this; political tensions between Korea and China over THAAD, Samsung's harmed reputation over its battery catastrophe, or simply the fact that Chinese consumers are value-oriented.
The Note 8 is barely any bigger than the cheaper Galaxy S8+. Although Samsung's Note series became all the rage when they set the 'phablet' trend, the newest flagship models of other brands all have comparably large, bezel-less screens. With phones such as the Huawei Mate 10, the Xiaomi Mix 2, Oppo R11s, iPhone X, and Vivo X20, Samsung Note 8 is facing some serious competition within its range.
4.471.900+ followers.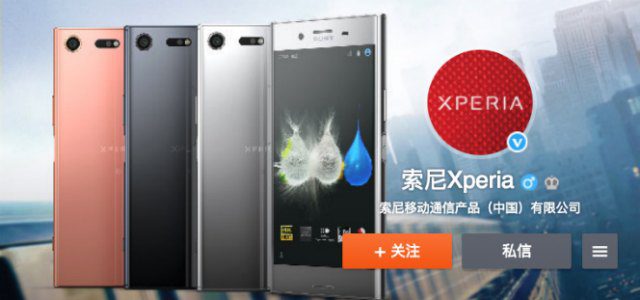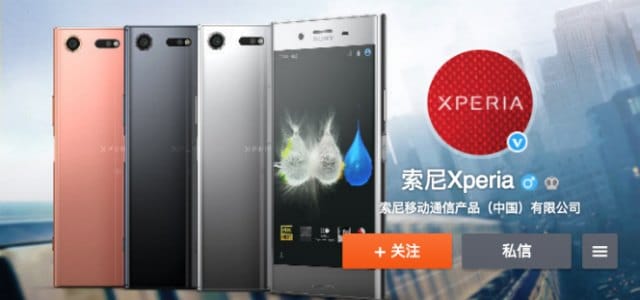 Sony Xperia is the only Japanese brand amongst China's most popular smartphone brands.
The brand is currently promoting its Xperia XZ Premium, which was first spotted in red back in May when it appeared on Weibo.
The Xperia XZ Premium has a 5.2-inch LCD display and specific rectangular design. With 1,3 million views for the 'Xperia XZ Premium Launch' (#索尼xperia xz1发布#) topic on Weibo, the phone is currently not amongst the top hottest models in China.
The brand is promoting its smartphone's "3D Creator" on Weibo. This feature allows users to scan their face, food, or other objects and makes a 3D avatar of it that can be shared on social media or 3D print. "Can I take a picture of an Xperia XZ Premium and then make a 3D print of an Xperia XZ Premium?", some netizens jokingly comment.
The model was officially launched in China on October 27, its price (64GB/red) is approximately CNY 6399 (±962$) – a lot more expensive than the budget-friendly red Honor V9.
9. Gionee @金立
3.134.000+ followers.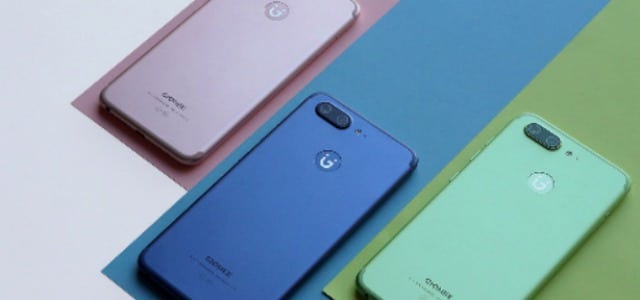 Gionee is a Chinese smartphone manufacturer based in Shenzhen, Guangdong. Founded in 2002, it is one of China's largest mobile phone manufacturers.
Gionee is now actively promoting the successor of last year's M6: the M7 model, which was launched in September 2017.
Its campaign for this phone actively focuses on China's 30-something generation who are worried about their career and (young) children. Perhaps because Gionee is one of the older brands amongst its new smartphone competitors, it tells the 30-somethings "we're growing (and advancing) together."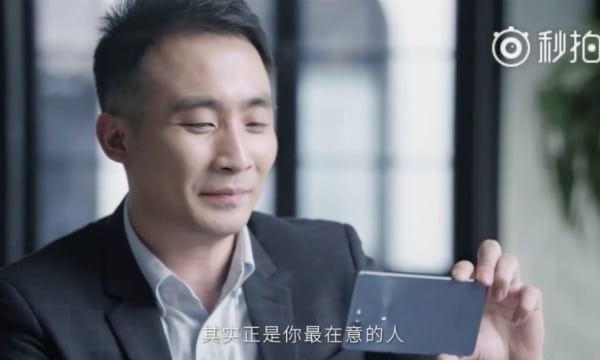 The M7 has a 6.01-inch full HD display, fingerprint sensor, DUAL-sim, and goes with the trend with its full view 18:9 display. It is priced around CNY 2799 (±420$).
10. Nubia @努比亚
2.518.000+ followers.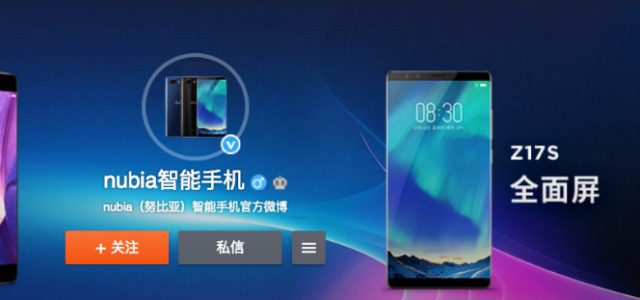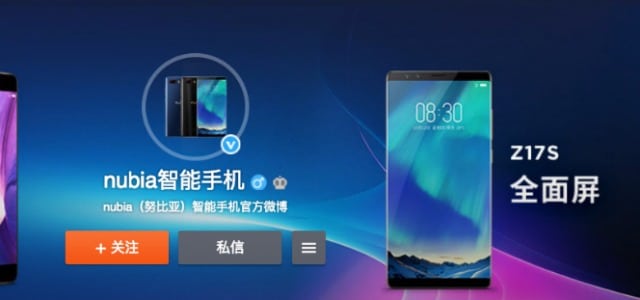 As with Meizu and Gionee, Nubia is a Chinese brand that is generally less well-known in Europe or America than other Chinese brands such as Xiaomi or Huawei. Nevertheless, Nubia, owned by parent company ZTE, has been doing very well in China's top-scoring smartphone lists since it was officially launched in 2015.
Before Single's Day, the brand is now promoting its newly-launched Z17S and Z17 Mini S model. The first is priced around CNY 2999 (±450$) and the latter is more budget-friendly with CNY 1999 (±300$).
The Z17S (#努比亚Z17S#) competes with all the more expensive flagship models in offering users a 5.73 inch full HD+ screen of 18:9 ratio, and two cameras on the front. It comes in colors black and blue.
An addition to the list
With 2.2+ million followers on Sina Weibo, OnePlus (@一加手机) should also be mentioned here.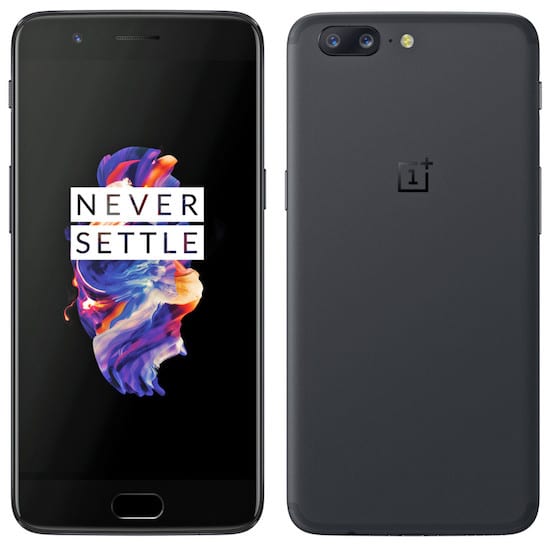 Founded in 2013, OnePlus (一加科技) is a relatively new Chinese smartphone brand. Its headquarters are based in Guangdong. The brand's One Plus 5 model is currently also popular on Sina Weibo, despite being the most expensive phone (CNY 4288/645$) the brand has ever made.
Recent top-selling lists
A recent top 30 list (in Chinese, September 27) of best-sold smartphones on e-commerce platform Tmall shows the following top 10:
1. Honor8 32 GB (¥1099/±165$)
2. iPhone7 Plus 32GB (¥5198/±785$)
3. Vivo X9 64GB (¥2598/±392$)
4. Huawei Mate9 32 GB (¥2899/±437$)
5. Oppo RII 64GB (¥2999/±452$)
6. Samsung Galaxy S8 64GB (¥5688/±858$)
7. Honor V9 64GB (¥2699/±407$)
8. Oppo R9S Plus 64 GB (¥3199/±482$)
9. Gionee M2017 128 GB (¥6999/)
10. Moto Z 65 GB (¥3699/±558$)
According to this week's (last week of October) best-selling smartphones (热卖排行), Suning and JD.com – some of China's top mobile phone retailers – both show a different top 3:
Suning:
1. Apple iPhone 8 64GB
2. Apple iPhone 8 Plus
3. Xiaomi Redmi 4x 64GB
JD.com:
1. Xiaomi Mix2 64GB
2. Xiaomi 6 128 GB
3. Vivo X20 64 GB
The many different top smartphone lists on Chinese tech and e-commerce sites show that smartphone trends are changing fast, and also suggests that best-phone-lists on Chinese media sites often differ from each other for various reasons.
According to some predictions by experts on Weibo, the hottest phones of this year's online e-commerce festival on November 11 will be the iPhone X, Xiaomi MIX2, Meizu Pro 7, Oppo R11, Vivo X20 and the OnePlus 5.
By Manya Koetse
Follow @whatsonweibo
* This list does not take the possible use of manipulated followers into account here.
Spotted a mistake or want to add something? Please let us know in comments below or email us.
©2017 Whatsonweibo. All rights reserved. Do not reproduce our content without permission – you can contact us at info@whatsonweibo.com.
Weibo's Digital Graveyard: Remembering the Dead on Chinese Social Media
'The Dead' honors the deceased and tries to break existing taboos on death in China.
First published
With China's rapid digitalization and flourishing online media environment, there's one crucial societal topic that, although taboo, also now finds its place on Chinese social media: this Weibo account collects the stories of the dead and writes their online eulogies. In doing so, they are trying to break longstanding taboos around death in China.
"My grandmother passed away due to illness in 2016. She was 78 years old. My grandmother was a kind soul. She married my grandfather after his divorce. They had never even seen each other before [her] mother and father prepared the marriage, and yet she lovingly cared for him her entire life." This eulogy was posted on Weibo on February 12th of this year.
Within hours after it was posted, over 100 people had replied with the most popular emoji for these type of posts: the candle.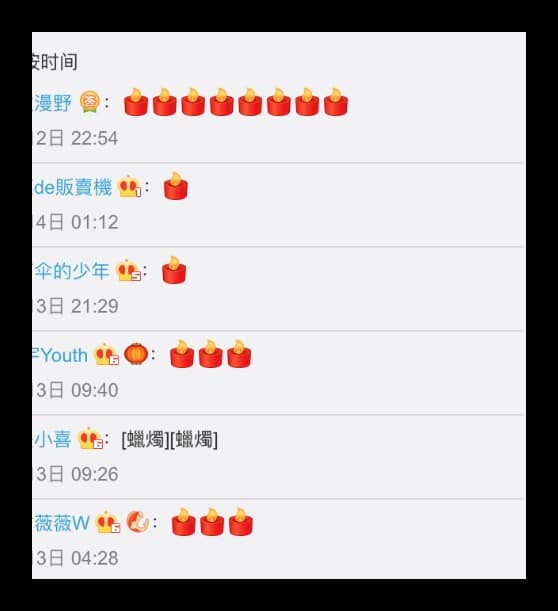 Since 2011, thousands of these kinds of posts have appeared on Weibo, one of China's biggest microblogs, thanks to "The Dead" (@逝者如斯夫dead), an account run by a small team dedicated to memorializing the deceased. Through their online memorials, they have encouraged conversation of a taboo topic.
HUNTING FOR THE DEAD ON WEIBO
"We wanted to provide a place for people to remember those who had passed away"
Starting small, 'The Dead,' which borrows its Chinese name from the Confucian phrase "All passes like a river" (逝者如斯夫 Shì zhě rú sī fū), has amassed over half a million followers. "We wanted to provide a place for people to remember those who had passed away," a team member recently explained to What's on Weibo.
Weibo users typically contact the account requesting eulogies about their deceased loved one, but such direct requests were rare just a few years ago. Instead, the account started by hunting for the dead among Weibo's pages. They searched for signs of a user's passing, like comments about mourning, and then monitoring the account for inactivity.
'The Dead' told What's on Weibo that "while at present most of our information comes from Weibo users," its team will still "go through the deceased's page…looking through comments in the discussion section and asking about the user's current condition" to confirm a death and glean facts for a memorial posting.
Few of its half a million followers personally know the people in the obituaries. But their reaction to its eulogies reveals a deep and often emotional connection to the topic of death.
"Every now and then I go to their page and scroll through the memorials," one follower writes: "Those people, who were so full of life, passed away just like that. It's so moving that sometimes I scroll until my eyes fill with tears."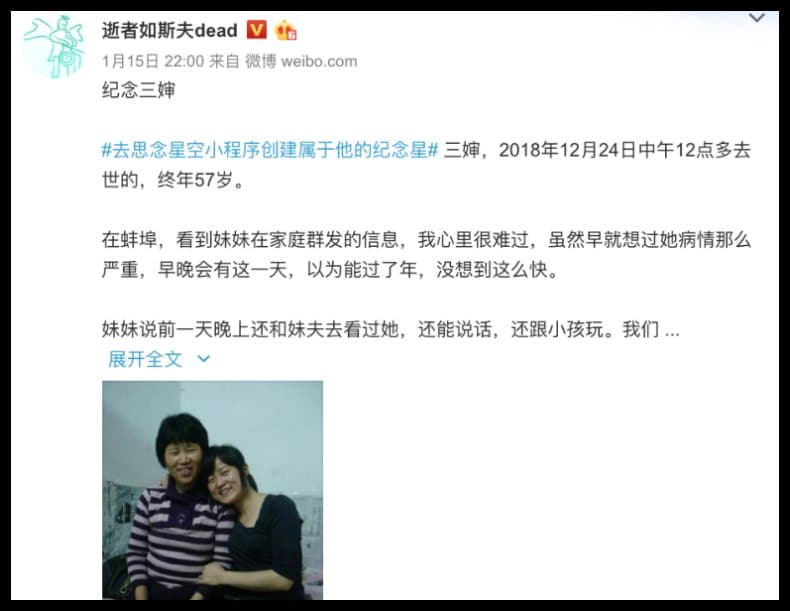 Another follower comments: "Whenever I'm feeling low I go and scroll through [the page], it always calms me down. I've been very inspired by it, thank you." For many Chinese, such an open discussion of death would have been unthinkable in the past.
DEATH AS TABOO
"This taboo has an independent power in shaping human action"
Every culture confronts death differently and few do it well. Traditional Chinese culture shunned discussions of death, notes Cheris Shun-Ching Chan, professor of sociology at Hong Kong University.
Chan believes that Confucian silence on questions of death and folk Buddhist references to "a dark world (yinjian) and a cruel hell (diyue)" account for the topic's avoidance. She also points to fears that a premature death could mark the end of one's lineage (Chan 2012,37).
Chan's survey research found that avoidance of any discussion about death was so widespread that it had become taboo. "The taboo manifests as an observable avoidance of the topic," Chan writes, "particularly unexpected, accidental, or premature death, among not only the elderly but also the generation in their late 20s and 30s" (Chan 2012,36).
While religious belief waned during the tumult of the 20th century, the taboo persisted. "Today, this taboo has an independent power in shaping human action," Chan argues: "In other words, one does not need to hold beliefs about hell, the dark world, ghosts, evils, and precipitating death in order to observe the taboo" (2012,38-40).
Stifling discussion about death has consequences, big and small. Individuals unwilling to acknowledge death are reluctant to write wills or register as organ donors. Respecting the death taboo, doctors avoid delivering a terminal diagnosis to patients, informing family members instead.
One news story from 1993 exemplifies this taboo on death; when residents near China's first hospice care center protested the presence of death in their neighborhood, matters turned violent. They started shattering the center's windows, driving doctors and their patients from the center in the middle of the night. As the health needs of China's population evolves with its economic growth, the death taboo threatens much more.
In a rapidly aging China, people live longer and deaths cost more than ever before. The World Health Organization reports that eight of the top ten causes of death in China are now due to non-communicable diseases.
As deaths caused by accidents and communicable diseases have dropped, death by stroke, heart disease, Alzheimer's, and cancer have jumped double digits and with that jump, a commensurate increase in the costly treatments of these diseases.
A 2013 study of the cost of non-communicable disease on the Chinese economy predicted that between 2012-2030, China will spend 27.6 trillion dollars remedying non-communicable disease. The death taboo threatens to leave China unprepared to care for a population living longer thanks to better medical care but dying at higher rates of chronic illness.
Health care in China is free, to a point. According to the Economist, China's national health-insurance system caps reimbursements for treatment of serious chronic illness like heart disease and end of life care. The death taboo poses a risk to families in a country where it is still considered unfilial by many to pursue a course of treatment other than one meant to cure the patient.
Hospice care, which should be cheaper, is rarely considered and seldom available. While hospice care is now part of the standard course of treatment for end of life care in EU and North America, the death taboo undermines demand for the service. This, in turn, removes pressure on medical insurers to provide hospice coverage. Insurance coverage for hospice care is so limited that families are forced to pay out of pocket for most hospice care.
ADDRESSING DEATH
"Everyone ought to admit death's existence and face up to its realities"
Addressing these challenges starts with acknowledging death as a part of life. "People have slowly become more willing to discuss death," the Weibo 'The Dead' team observes: "You can see this in Weibo users openly posting about the passing of loved ones."
Beyond Weibo, the account's rejection of the death taboo has also found powerful allies elsewhere. In Beijing, Chen Yi and Luo Ruiqing, children of prominent CCP members, launched the Beijing Living Will Promotion Association, advocating for individuals and families to openly discuss and plan for end of life care.
Yi and Ruiqing explain to Caixin that watching the slow and painful death of their parents with few options for palliative care moved them to take action.
Their website provides information to help individuals decide about the kind of end of life care they want and how to ensure their wishes are followed through the use of a living will, a standard feature of Western health care but new to China.
In Shanghai, Wang Ying, a psychologist who now specializes in end-of-life, is taking a different approach to addressing the same problem. Ying founded Hand in Hand, an organization that encourages individuals to openly discuss their deaths as a form of preparation.
Like Yi and Ruiqing, Ying's determination to challenge the death taboo stemmed from her conviction that repressing a discussion about end of life care and death causes his elder relatives needless suffering at the end of their lives.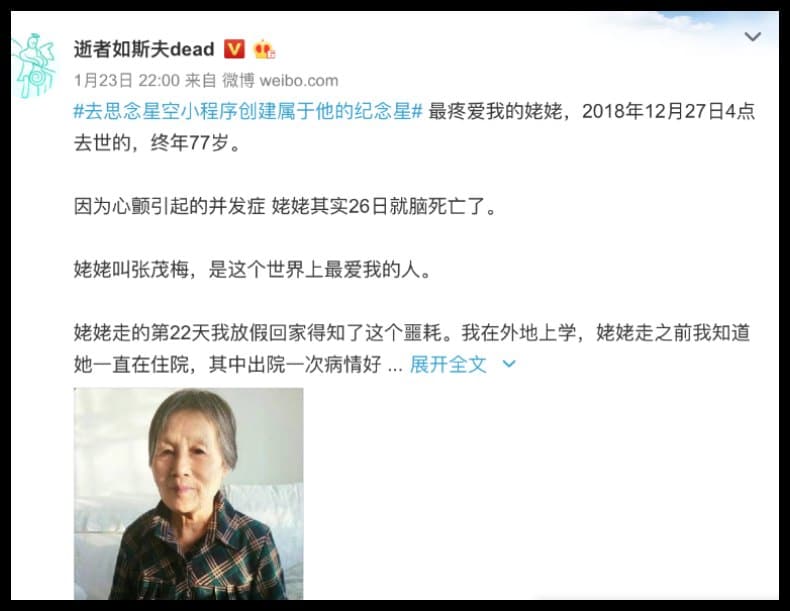 Noting the rising interest in their Weibo account, 'The Dead' has recently started a Wechat mini app where users can send manage their own memorials and share them with others. The team believes that Weibo and Wechat allow them to reach out to a large audience all over the country.
They admit, however, that problems of economic disparity have limited their reach, and guess that most of their subjects and contributors are urban dwellers. Still, they are hopeful that their work can help change many people's perspectives.
"Everyone ought to admit death's existence and face up to its realities," they say: "Working hard to live with an understanding of death is a lesson every Chinese person must learn."
By Brydon Brancart
Follow @whatsonweibo
References (other sources in-text through hyperlinks)
Chan, Cheris Shun-Ching. 2012. Marketing Death: Culture and the Making of a Life Insurance Market in China. Oxford: Oxford University Press.
Spotted a mistake or want to add something? Please let us know in comments below or email us.
©2019 Whatsonweibo. All rights reserved. Do not reproduce our content without permission – you can contact us at info@whatsonweibo.com.
Mimeng and 'Self-Media' under Attack for Promoting Fake News Stories to Chinese Readers
Chinese 'zimeiti' or 'self media' have become a topic of discussion after this Mimeng scandal.
First published
China's "Queen of Self-media," Mimeng, is under attack after publishing a story that has been labeled 'fake news.' The scandal has triggered discussions on the status-quo of Zimeiti (自媒体/We Media) on the Chinese internet.
It was one of the most-discussed topics on Weibo and WeChat right before the Chinese New Year: the scandal involving Chinese blogging account 'Mimeng' (咪蒙), which sparked discussions on Mimeng herself and on the regulation and responsibility of 'we media' accounts on the Chinese internet.
Who or what is 'Mimeng'? First and foremost, Mimeng is an online social media account with an enormous fanbase: 13 million followers on WeChat, 2.6 followers on Weibo.
The person behind the Mimeng blogging account is Ma Ling (马凌), a Chinese female author and Literature graduate who was born in 1976 in Sichuan's Nanchong.
Over the past few years, 'Mimeng' has grown into a so-called 'we media' or 'self media' platform (zimeiti 自媒体), referring to private, independent, online publishing accounts that get their content across through blogs, podcasts, and other online channels. Mimeng is now more than Ma Ling alone: there's an entire team behind it.
Mimeng has been controversial for years because of its clickbait titles and controversial stances on various issues. The topics most addressed in Mimeng's publications are relationships between men and women, love, marriage, quarreling, and extramarital affairs.
Previous articles published by Mimeng, who is a self-labeled 'feminist' (and often mocked for it), include titles such as "This Is Why You're Poor," "Jealously Means Progress," "I Love Money, It's True," "Men Don't Cheat for Sex," or "How to Kill Your Wife."
Besides its content, there are also other reasons why Mimeng has triggered controversy in the past. The fact that Mimeng charges a staggering amount of money to advertisers, for example, is also something that previously became a topic of discussion – Mimeng allegedly charges some 750,000 yuan ($113,000) for a post mention.
SELLING FAKE STORIES
"As an influential We Media source, we must take on our social responsibility"
This time, however, Mimeng is hit by the biggest controversy thus far. The media group is under attack after publishing a story that turned out to be (partly) fabricated. The story was published on a WeChat account called Talented Limited Youth (才华有限青年), which is registered under the same legal entity as Mimeng. Its primary author, according to Sixth Tone, is a former intern of Ma Ling called Yang Yueduo.
The publication in question is a long story titled "The Death of a Top Scorer from a Poor Family" ("一个出身寒门的状元之死") which allegedly portrayed the short life of the author's old classmate: a young, bright mind, born in an impoverished family in Sichuan province. In the story, the protagonist did all he could to create a better life for him and his family.
He studied hard, got the best university entrance score of his city, and successfully graduated from university. But despite his efforts to start a life in the big city, he failed to succeed and tragically died of cancer at the young age of 24.
Shortly after publication, the moving and tragic story went viral on social media. However, several details made online readers doubt the story's authenticity. It did not take long before readers proved that several aspects of the story were indeed untrue.
In light of the fake news allegations, Talented Limited Youth quickly deleted the story from WeChat. They also issued a statement defending the story's authenticity, explaining that for privacy reasons, various details of the story were altered. According to Beijing News, Talented Limited Youth was then banned from posting on WeChat for 60 days.
In response to the allegations, Mimeng offered its "sincerest apologies" on Weibo on February 1st, saying: "The Mimeng Group has decided to completely withdraw from Weibo and take a two-month break from WeChat. We will use that time to carry out serious and profound self-reflection." The post continued saying that "as an influential We Media source, we must take on our social responsibility and pass on positive energy and values."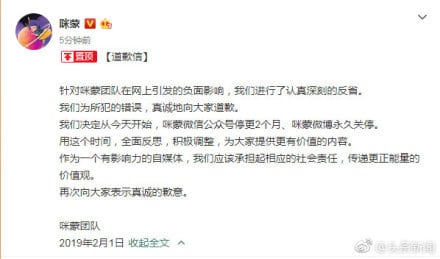 The announcement went trending under the hashtag "Mimeng Shuts Down Weibo Indefinitely" (#咪蒙微博永久关停#), which has received over 210 million views at time of writing.
POISONED CHICKEN SOUP
"Mimeng, for you, patriotism is only business"
On social media, there is a clear divide between those who support and oppose Mimeng. While some are calling for a "complete shutdown" of Mimeng, there are also those who say they will keep on following Mimeng and that they enjoy their publications.
The controversial Mimeng account has even brought about a so-called "Following Mimeng Rate" (含咪率), a number based on how many of your WeChat friends are following Mimeng's public WeChat account (by checking Mimeng's account on WeChat, WeChat users can see how many of their friends are following this account).
Mimeng opposers allege that the more friends you have that follow the Miming account, the more likely you are "to fail in life."
The official Weibo account of the Jiangsu Public Security's Bureau of 'Internet Safety' (@江苏网警) is also a clear Mimeng opposer. Last week, they lashed out against Mimeng in a post titled "Mimeng, for you, patriotism is only business."
The post hints at Mimeng's inconsistent stance on patriotism, and it included screenshots from two earlier Mimeng posts from 2013 and 2016, one in which patriotism is referred to as a kind of "forced love," and the other one saying: "I'll love my country forever, its greatness will forever move me to tears."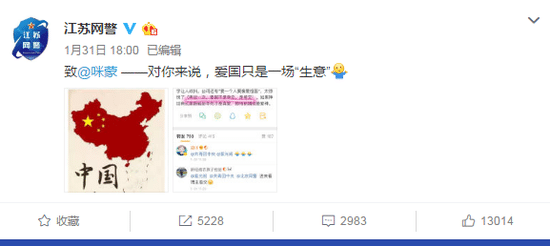 The post by the Jiangsu Bureau itself then also blew up on Weibo, with the hashtag "Jiangsu Internet Police calls out Mimeng" (#江苏网警点名咪蒙#) soon gaining over 210 million views. In the comment sections, many people criticize Mimeng for "deceiving people," "promoting negative values" and "using anything to get clicks."
One person wrote: "These self-regulated media only care about making money, they have no sense of social responsibility."
Others said that the fake news story was nothing but 'poisoned chicken soup' (毒鸡汤).
This is a term that is often used to describe Mimeng's content, and that of other self-media accounts, meaning that from the outside, it looks like "feel-good content" or "chicken soup [for the soul]" while it is actually 'poisonous' content with a marketing strategy or money-making machine behind it.
ZIMEITI CHAOS
"Self- media cannot become a spiritual pyramid scheme"
The Mimeng case has led to discussions in Chinese media on the status of 'we media' or 'self-media' platforms and their influence.
People's Daily responded to the Mimeng scandal with a post on February 1st titled "Self-media Cannot Become a Spiritual Pyramid Scheme" ("自媒体不能搞成精神传销"), which argued that unless self-media accounts such as Mimeng actually work on establishing "healthy social values," their apologies are only a way to temporarily dodge negative public attention.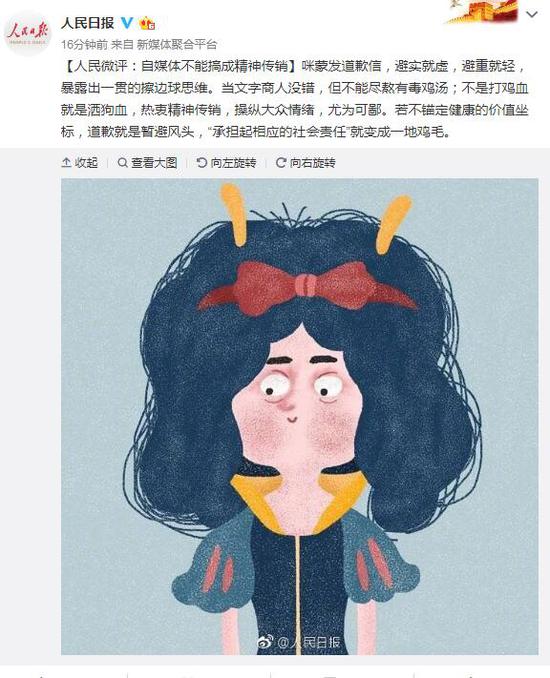 In late January, Chongqing Internet authorities launched an investigation into 48 'self-media' accounts, suspending two for spreading "fake news."
State media outlet China News published an article, also this week, that describes 'self-media' as a 'hypermarket' where publishers will go to extreme measures, such as selling 'fake news' for clicks, spreading negative influences and anxiety among the people.
But these discussions are somewhat blurred, as it is not entirely clear what 'self-media' actually is in this context. Generally speaking, the term could include any micro-blogger who identifies themselves as 'self-media' or 'we media' (zimeiti 自媒体). But in the current discussion, it seems to only relate to those publishing accounts that have a certain influence on social media and the (online) media environment, posing a challenge to traditional news outlets.
Some definitions of Chinese 'we media' say it is basically is "an umbrella term for self-posted content on social media platforms" (Qin 2016; Jiang & Sun 2017) – this suggests that everyone who is active on WeChat and Weibo or elsewhere is basically in 'self-media.'
A clearer description is given by Week in China, writing that "zimeiti typically operate as social media accounts run by individuals or as small firms established by a handful of former journalists."
What makes it different from any other social media account, is that in 'we-media' or 'zimeiti' "the blogging has been professionalized and that the authors can make a living from it" (WiC 2018). It is a trend that has become especially visible in China's online environment since 2012-2014.
This highly commercial side of 'we media' matters. If a publisher, such as Mimeng, charges advertisers exorbitant amounts of money, they also have to maintain a certain number of readers. They don't just post as a hobby, it is serious business.
In a highly competitive online media environment, where hundreds of media outlets are fighting over the clicks of China's online population of over 800 people, clickbait titles have almost become somewhat of a necessity for some of these publishers, with some even resorting to publishing "fake news" to get the attention – and the clicks.
China's Newsweek Magazine (新闻周刊) calls the situation at hand a "self-media chaos" (自媒体乱象) that poses an "unprecedented challenge" for governing society in the 3.0 era. They call for "healthy development of self-media" and better legislation to control the mushrooming zimeiti, that, despite strong online censorship, are not as tightly controlled as China's traditional media.
"Nowadays, we have less and less intellectuals, and more and more 'people selling words.' The chaos of self-media needs to be controlled," one commenter on Weibo says (@ZY盒子).
But other people deem that readers themselves should pick what they read instead of authorities regulating it for them: "The important thing is that every reader must have the independence to judge for themselves [what they read]; just let the 'poisonous chicken soup' [naturally] lose their market."
The Mimeng scandal shows that for social media accounts with a large following, one misstep can have huge consequences. This is something that Papi Jiang, a 'self-media' personality who became huge in 2015/2016, also experienced; she was reprimanded for disseminating "vulgar language and content" in April of 2016.
Very similar to Mimeng's statement, Papi also issued an apology at the time, saying she supported the requirement for correction, and that she would attempt to convey "positive power" (正能量) in the future. "As a media personality," she said, "I will watch my words and my image." Papi's CEO also expressed the company's willingness to produce "healthier contents." At the time, her videos were temporarily taken offline.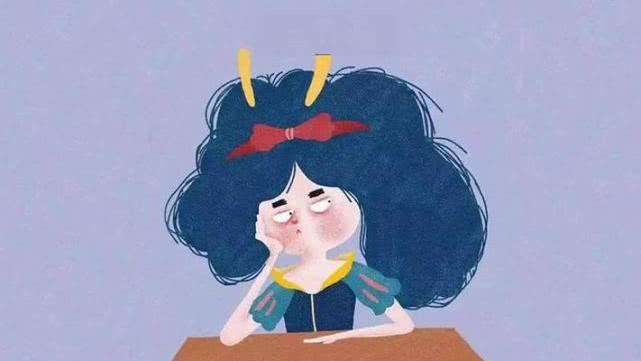 Meanwhile, some people think that the fact that Mimeng will stay silent for the coming two months is not necessarily a bad thing for the publisher: "They can take an extra long Spring Festival holiday." As for Mimeng's Weibo 'holiday' – that one is likely to be permanent.
By Gabi Verberg and Manya Koetse
References
-Qin, Amy. 2016. "China's Viral Idol: Papi Jiang, a Girl Next Door With Attitude." New York Times, 24 Aug https://www.nytimes.com/2016/08/25/arts/international/chinas-viral-idol-papi-jiang-a-girl-next-door-with-attitude.html [2.6.19].
-Sun, Yanran and Jiang. 2017. "A Study on the Effectiveness of We-Media as a Platform for Intercultural Communication." In New Media and Chinese Society, Ke Xue & Mingyang Yu (Eds.), 271-284. Singapore: Springer.
-WiC. 2018. "Headline earnings – Zimeiti hunt media profits but they still need to play by the rules." Week in China, 15 June https://www.weekinchina.com/2018/06/headline-earnings/ [2.6.19].
Spotted a mistake or want to add something? Please let us know in comments below or email us.
©2019 Whatsonweibo. All rights reserved. Do not reproduce our content without permission – you can contact us at info@whatsonweibo.com