Questions Surrounding the Death of 14-Year-Old Russian Model in China
"A 14-year-old model, isn't that considered child labor?," netizens wonder.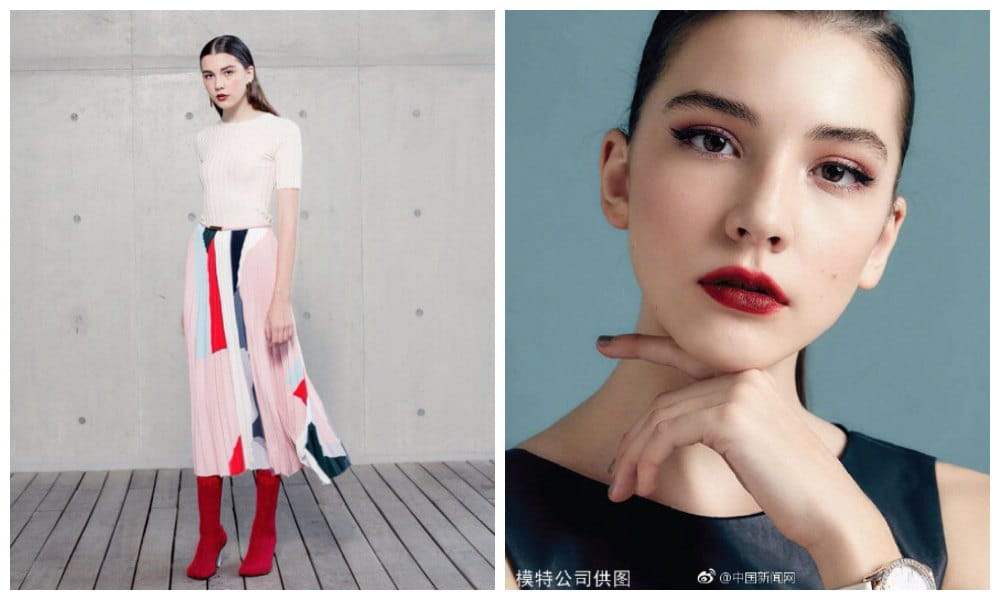 The passing of a 14-year-old Russian model made headlines this week after media reports claim excessive hours and bad employment conditions contributed to the girl's sudden death. The Chinese model agency that hired her denies allegations of her alleged "slave contract."
The death of the 14-year-old Russian model Vlada Dzyuba has sparked discussion both inside and outside China about the working circumstances of foreign models in China. The young model passed away on October 27 during a two-month stay in China for the Shanghai Fashion Week.
Various media, including English-language newspaper Siberian Times, reported the girl fell ill due to exhaustion and meningitis after a 13-hour Shanghai fashion show, blaming the heavy workload for her condition.
It is also claimed the young model only made approximately $8 a day after paying her airfares, hotels, and food, and that she had no medical insurance in China.
Dzyuba's mother told a Russian television channel that her daughter had called her from her work in China saying: "Mama, I am so tired. I so much want to sleep."
The girl, originally from Perm, was hired by Chinese model agency ESEE and has been in China for more than 60 days before she got sick. She was legally allowed to work as a model in the PRC.
ESEE Model Management issued a statement on Weibo about Dzyuba's death on October 29.
In the statement, the modeling agency says: "Friends from the media, colleagues from the fashion world, we are so sorry to have lost an angel. We're grieving over Vlada's passing."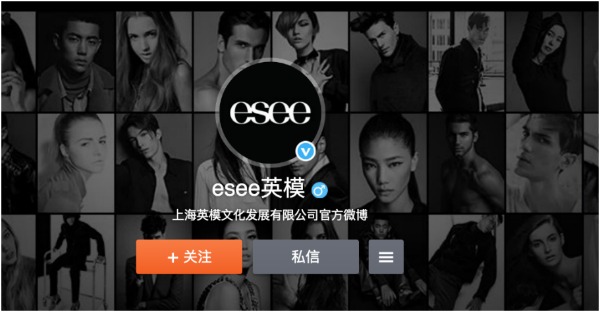 The agency also reports the details about the final days of Dzyuba, saying she was hired by ESEE for a total of three months. After the Shanghai Fashion Week ended on October 18, the model was sent out to Yiwu, Zhejiang, for a project from October 23 to 27.
Although the model agency claims Dzyuba has various moments of rest during October 24 (at 10:00, 12:00 and 17:00), she started feeling unwell during the night and was sent back to Shanghai on the 25th where she was taken to a hospital at 18:00.
Her Russian contacts were informed when her health deteriorated the next day. Dzyuba passed away on Friday, October 27, at 7:36.
While the statement included no medical details, Voice of America reports that a hospital record provided by the agency listed multiple causes of death, including sepsis, a life-threatening illness caused by the body's response to an infection.
On Weibo, Dzyuba's death sparked many discussions, with netizens wondering: "14 years old? Why was she allowed to work in China?" or "Wouldn't this be considered child labor?"
"Children are children, do not let them become money-making machines," another Weibo user said.
"Even if she passed away from an infection, was this not brought about due to a lowered immune system because of overwork?," others wonder.
There are also netizens who ask about the responsibility of the Russian modeling agency: "Generally the treatment of foreign models in China is very good (..) Either this model already had health issues, or the Russian company arranged too much work for her in China."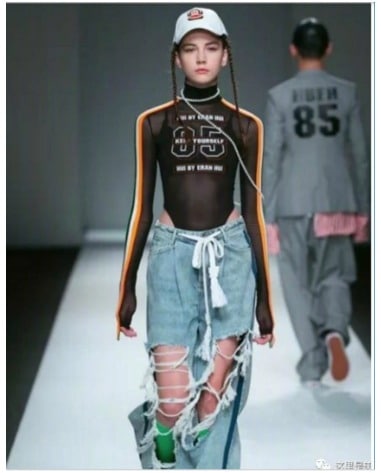 South China Morning Post reported about foreign models in China last year, writing that there is an increased demand in China for foreign models, especially from eastern Europe, where the wages are comparatively low and from where the air fair to the PRC is relatively inexpensive.
With so many questions remaining unanswered, Russian diplomatic staff have reportedly been asked to investigate the circumstances of Dzyuba's death.
By Manya Koetse
Follow @whatsonweibo
Spotted a mistake or want to add something? Please let us know in comments below or email us.
©2017 Whatsonweibo. All rights reserved. Do not reproduce our content without permission – you can contact us at info@whatsonweibo.com.
The Mulan Makeup Challenge: Traditional Chinese Makeup Goes Trending
Recreating the Mulan make-up look was the biggest beauty challenge on Chinese social media this July.
Will traditional Chinese make-up make a comeback because of Disney's Mulan?
Since Disney released the official trailer for its live-action Mulan movie earlier this month, Mulan is recurringly appearing in the top trending lists on Chinese social media.
Among all the different topics relating to the upcoming Mulan movie, the Mulan make-up challenge is one that jumps out this month.
The Disney live-action trailer showed a scene in which Mulan, played by Chinese American actress Crystal Liu Fei (刘亦菲), has a full face of betrothal makeup. The original animated Disney movie also features a full makeup Mulan.
Although there was also online criticism of the 'exaggerated' makeup, there are many people who appreciate Mulan's colorful makeup look.
On Weibo, many showed off their skills in copying Mulan's makeup look this month.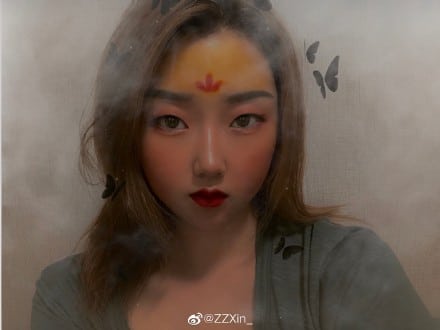 By now, the hashtags "Mulan Makeup Imitation" (#花木兰仿妆#) and "Mulan Makeup Imitation Contest" (#花木兰仿妆大赛#) have attracted over 300 million views.
Makeup such as lipstick has been used in China as far back as two or three thousand years ago.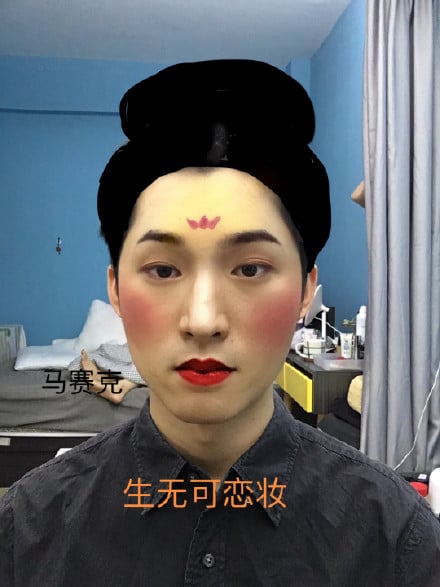 Makeup vlogger Emma Zhou explains more about Tang Dynasty (618-907) makeup customs here; the skin would be whitened with rice flower, followed by the application of 'blush' (pigment of strong-colored flowers) to the cheeks and eyes in a round shape, to emphasize the roundness of the face.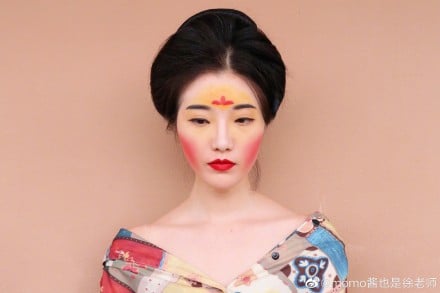 A floral-like decoration would be placed in between the eyebrows.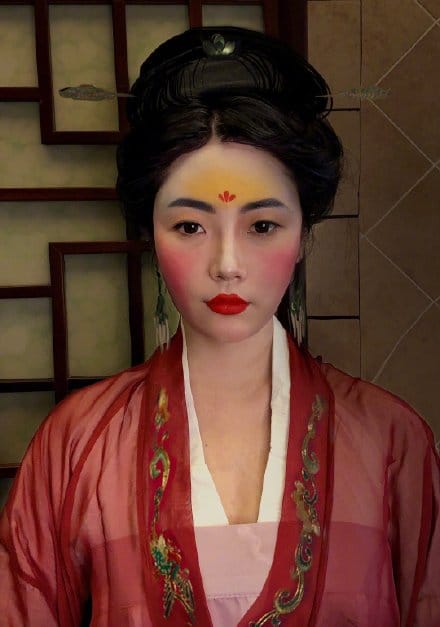 The yellow forehead, as can be seen in the live-action Mulan, is also known as "Buddha's makeup," and was especially popular among ladies during the Tang Dynasty. A yellow aura on the forehead was believed to be auspicious (Schafer 1956, 419).
Although contemporary Chinese makeup trends are much different than those depicted in Mulan, traditional makeup seems to make somewhat of a come-back because of the Disney movie, with hundreds of Chinese netizens imitating the look.
Beauty bloggers such as Nico (@黎千千Nico, image below) receive much praise from Weibo users for their makeup look. Nico wrote: "I even opened the door for the delivery guy this way!"
It is not just girls imitating the look; there are also some boys showing off their Mulan makeup.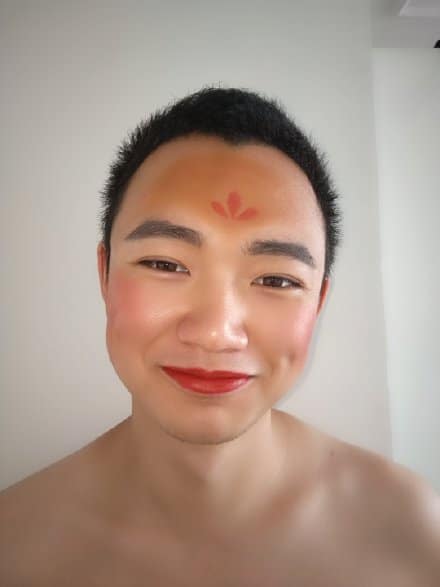 Although many still find the Mulan makeup look exaggerated and even "laughable," there are also those who think it looks really "cool" – of course, depending on whether or not the application is successful.
Want to try it out for yourself? There are various amateur tutorials available on Youtube (in Chinese), such as here, here, or here.
The Mulan make-up hype will probably continue in 2020; the Mulan movie will come out in late March.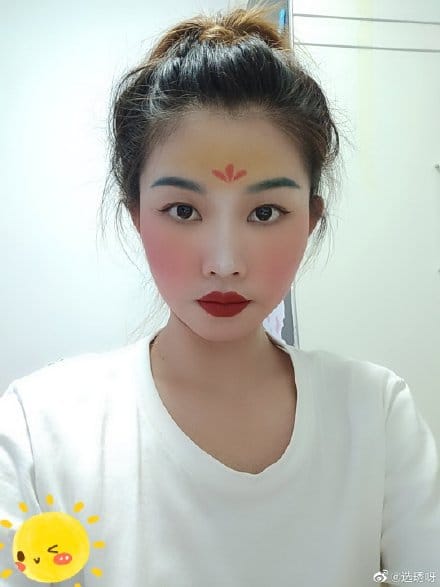 To read more about Mulan, please see our latest feature article on Mulan here.
By Manya Koetse
Follow @whatsonweibo
References
Schafer, Edward H. 1956. "The Early History of Lead Pigments and Cosmetics in China." T'oung Pao, Second Series, 44, no. 4/5: 413-38. http://www.jstor.org/stable/4527434.
Spotted a mistake or want to add something? Please let us know in comments below or email us. Please note that your comment below will need to be manually approved if you're a first-time poster here.
©2019 Whatsonweibo. All rights reserved. Do not reproduce our content without permission – you can contact us at info@whatsonweibo.com
Iconic Shanghai Singer Yao Lee Passes Away at the Age of 96
Yao Li, one of the seven great singing stars of Shanghai in the 1940s, has passed away.
Chinese singer Yao Lee (姚莉), the 'Queen of Mandarin pop,' passed away on July 19 at the age of 96.
The singer, with her 'Silvery Voice,' was known as one of the seven great singing stars ("七大歌星") of Shanghai of the 1940s.
For those who may not know her name, you might know her music – one of her iconic songs was used in the hit movie Crazy Rich Asians.
Yao's most famous songs include "Rose, Rose, I Love You" (玫瑰玫瑰我爱你), "Meet Again" (重逢), and "Love That I Can't Have" (得不到的爱情).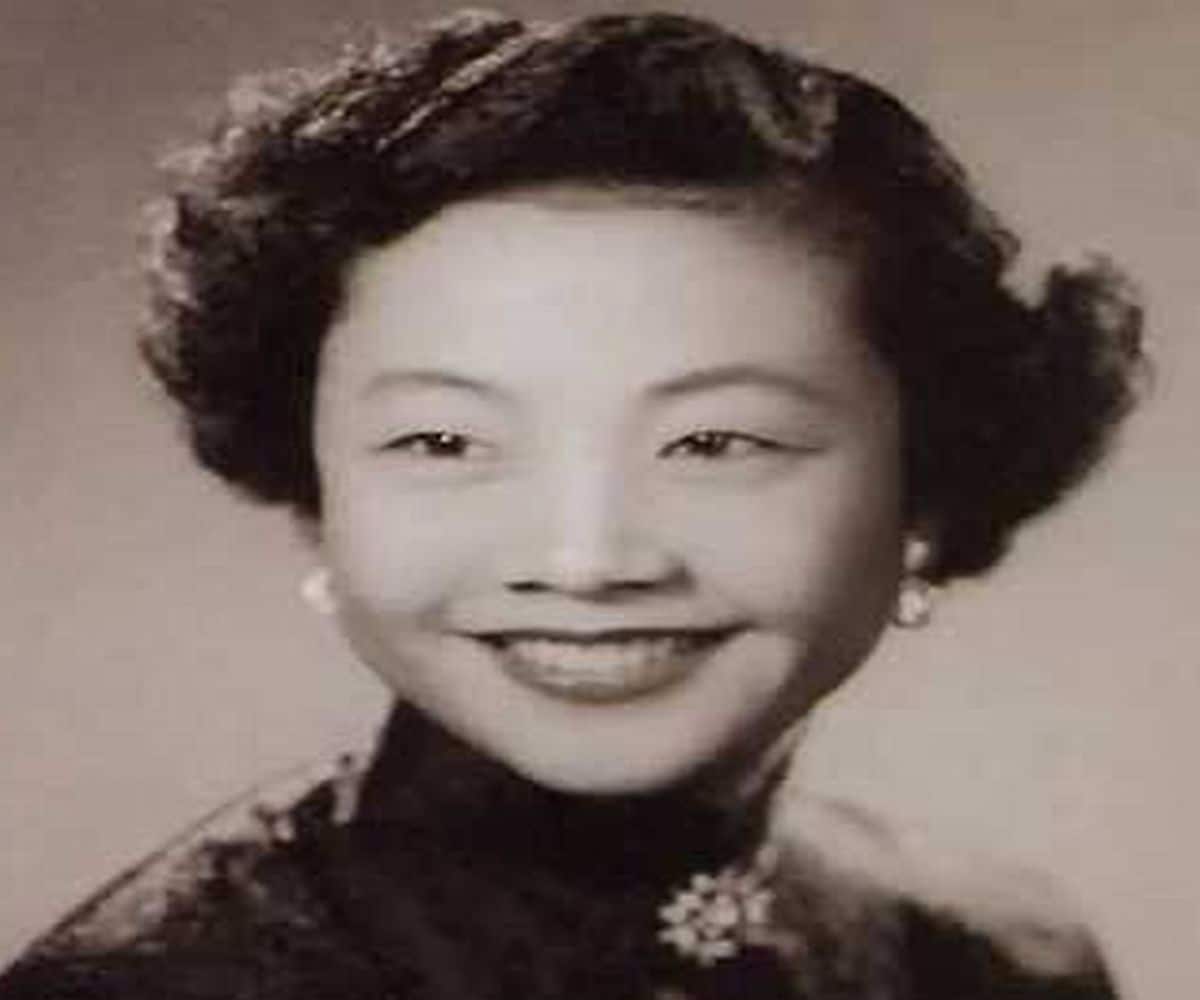 Yao, born in Shanghai in 1922, started singing at the age of 13. Her brother Yao Min was a popular music songwriter.
When popular music was banned under Mao in the 1950s, Hong Kong became a new center of the Mandarin music industry, and Yao continued her career there.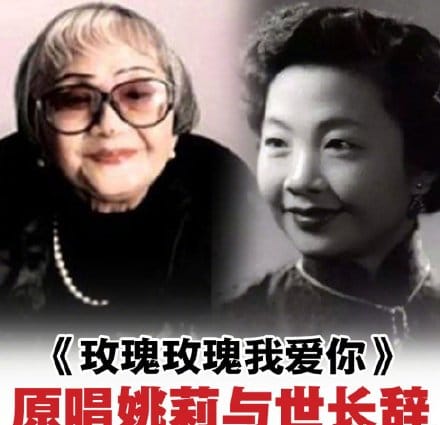 On Weibo, the hashtag Yao Lee Passes Away (#姚莉去世#) already received more than 200 million views at time of writing.
Many Chinese netizens post candles to mourn the death of the popular singer, some call her passing "the end of an era."
"Shanghai of those years is really where it all started," others say.
Listen to one of Yao's songs below:
By Manya Koetse
Follow @whatsonweibo
Spotted a mistake or want to add something? Please let us know in comments below or email us. Please note that your comment below will need to be manually approved if you're a first-time poster here.
©2019 Whatsonweibo. All rights reserved. Do not reproduce our content without permission – you can contact us at info@whatsonweibo.com