Weilong's "Patriotic Spicy Sticks" Become Internet Hit In Lotte Boycott
Weilong's 'spicy sticks' (辣条) have been declared a national snack since their boycott of Lotte. Snacking away has never felt more noble.
As the Lotte Group has come under fire in China due to a conflict over the installment of the controversial US anti-missile system on a golf course owned by Lotte, Chinese companies show their patriotism by boycotting the South Korean conglomerate. For Chinese snack brand Weilong, the boycott seems like a smart strategy: their 'spicy sticks' (辣条) are now declared a 'national snack' on Weibo.
A Chinese large-scale boycott of South Korea's Lotte Group (乐天集团) is in full swing since the retail giant agreed to provide land to the controversial THAAD (萨德) anti-missile system on Monday.
The American THAAD (Terminal High Altitude Area Defence) system will be placed on grounds that are part of a golf course owned by the Lotte Group in Seongju.
Chinese state media have responded with anger to the deal, as THAAD is perceived as a threat to China's security. The deployment of the missile system comes at a time of growing nuclear threat from Pyongyang.
The Lotte conglomerate engages in diverse industries in China, including candy manufacturing, entertainment, beverages, and more. In China, Lotte has more than 80 'Lotte Mart' (乐天玛特) supermarkets.
The brand Lotte (乐天) has been a top trending topic on Chinese social media over the past week. Its Chinese site was hacked one day after it signed the deal for the placement of the defense system on its land.
A large-scale boycott of Lotte products has followed. Big e-commerce site JD.com has now removed the Lotte shopping site from its platform.
WEILONG'S 'PATRIOTIC' HOT STICKS
"I will never eat spicy snacks by any other brand than Weilong"
On Wednesday, Chinese food product brand Weilong (@卫龙食品), that produces 'hot stick' (辣条) snacks, announced on its Weibo account that it would no longer supply its products to Lotte supermarkets nationwide, and that it would cancel any future cooperations.
As a consequence, shelves ran empty of Weilong products at Lotte supermarkets; the pictures were shared thousands of times on Weibo, where netizens praised Weilong's patriotism.
Other brands followed and showed their support on Weibo by replying on the Weilong announcement. Taodo snacks (@淘豆) replied to Weilong that it had also taken all Lotte products out of its website.
Other Chinese companies, including Xiaomi (@小米主题), Yizi Job (@椅子网), Malan Mount (@马栏山苹果酒), Little Pig Rentals (@小猪短租网), and many others all expressed their support for the Lotte boycott.
For Weilong, the boycott turned out to be a smart marketing strategy, as the brand is now greatly gaining in popularity because of it. Many netizens state they will buy and eat Weilong hot sticks today as a patriotic act to show their support of the boycott.
"I will never eat spicy snacks by any other brand than Weilong," ("以后辣条 我只吃卫龙") many netizens say.
Commenters describe the Weilong brand as "loyal", "genuine", and declare Weilong's "hot sticks" as the "national hot snack" or the "nation-loving hot sticks" (爱国辣条).
BLINDLY BOYCOTTING
"Is this still a rational way to show your patriotism?"
The majority of Weibo netizens fully support the boycott campaign, saying: "China strikes back! Fully boycott Lotte!"
They swear not to buy any more Lotte products, and some people post pictures of their broken Lotte customer cards.
There are also people who have taken their protest to the streets, such as in Yancheng in Jiangsu, where they call for a boycott of Lotte supermarkets.
But some netizens also question the boycott. "Is this still a rational way to show your patriotism?", one Weibo user asks.
"Do you all even understand what THAAD (萨德) actually is?", another person wonders.
Other people also ask why the Lotte Group is targeted instead of American companies. "Why don't we boycott General Motors or Ford? Isn't THAAD American?", they say.
But for Chinese companies, following the Lotte boycott campaign seems like the right choice to improve their brand image. Electronics brand Pisen writes: "Brother Weilong has set the right example for us. As another national business, Pisen salutes you!" ("卫龙兄弟,好样的。同为民族企业,品胜为你点个大赞").
In the meantime, Chinese official newspaper People's Daily has also praised Weilong for boycotting Lotte. A post dedicated to the event on Weibo has now been shared over 19000 times.
The heightened popularity of Weilong snacks is likely to continue for some time to come. "Of course I will choose to eat Weilong Hot Sticks!", many people say. Snacking away has never felt more noble.
– By Manya Koetse
Follow @WhatsOnWeibo
©2017 Whatsonweibo. All rights reserved. Do not reproduce our content without permission – you can contact us at info@whatsonweibo.com.
Looking at Your Phone While Crossing the Road Will Now Cost You Money in Zhejiang
Pedestrians looking at their phones while crossing the road are getting a red light in Zhejiang.
Zhejiang Province in eastern China has recently launched a new policy: pedestrians crossing the road while looking at their phone risk getting a 50 RMB ($7) fine.
The policy has been attracting the attention of netizens on Chinese social media, where the so-called "Bowed head clan" (dītóuzú 低头族) – a slang word for smartphone-addicted people – has been a recurring hot topic.
People paying more attention to their phone than watching traffic while crossing the road can lead to very dangerous situations. Some graphic videos making their rounds on Weibo today show security camera footage of people getting run over by cars while looking at their phone.
The majority of people responding to the hashtag "Should people be fined for looking down to their phone while crossing the road?" (#低头玩手机过马路该罚款吗#) agree that this kind of behaviour is a risk to traffic safety, but some wonder if a small fine would be effective in combating this problem.
Some cities in China have introduced sidewalks with a "phone lane" and "no phone lane" over previous years, with Chongqing being the first city to do so in 2014.
As of earlier this year, the Pedestrian Council of Australia is also looking to implement a law that makes it possible to fine pedestrians who cross the road while looking at their phones.
In Honolulu, the 'distracted walking law' already makes it illegal for people to be distracted by their cellphones while walking in a crosswalk.
"Fine them!", some commenters on Weibo say: "And also fine those people using their phone while driving their electric bicycles!"
"I'm not sure about the fine," another person says: "I only know I bumped into a tree today walking looking at my phone.."
For many commenters, however, the issue is a no-brainer: "Just don't use your phone while crossing the road. Personal safety comes first."
Also read: The 'Bowed Head Clan' (低头族): Mother Watches Phone While Son Drowns in Pool
By Manya Koetse, with contributions by Jialing Xie.
Spotted a mistake or want to add something? Please let us know in comments below or email us.
©2019 Whatsonweibo. All rights reserved. Do not reproduce our content without permission – you can contact us at info@whatsonweibo.com
'American Factory' Sparks Debate on Weibo: Pro-China Views and Critical Perspectives
'American Factory' stirs online discussions in China.
Award-winning documentary American Factory is not just sparking conversations in the English-language social media sphere. The film is also igniting discussions in the PRC, where pro-China views are trumpeted, while some critical perspectives are being censored.
By Anna Wang and Eduardo Baptista
Even as China posts its lowest industrial output growth since 2002, Weibo's ongoing reaction to Netflix documentary American Factory is rife with declarations of the Chinese manufacturing sector's impending victory over its US rival. This, however, is not the full story.
The first documentary distributed by Higher Ground Productions, owned by former US President and First Lady, Barack and Michelle Obama, American Factory painted a damning picture of Trump's protectionist policies.
US manufacturing cannot keep up with the brute efficiency of its Chinese competitors. The story of a shuttering American factory revived by Chinese investment and an influx of Chinese workers, opening up a Pandora's Box of cultural clashes, paints a telling, but pessimistic, picture of the current strategic conflict between the two superpowers, from the ground-up.
Despite the Great Firewall, Chinese netizens found ways to watch the documentary, that was made by Ohio filmmakers Steve Bognar and Julia Reichert. Temporary links to streaming and subtitle services litter the Chinese Internet, making any accurate count of total mainland viewership nigh-impossible. However, one indication of the film's popularity among mainlanders was the 259,000 views for a trailer posted on Bilibili.
One likely reason for netizens' interest is that it neatly plays into Chinese state media rhetoric on the US-China trade war.
The inevitability of China's rise up the global supply chain (and a corresponding decline on the US side) is a recurring theme in opinion pieces penned by the likes of Xinhua and Global Times, but also an increasingly louder cacophony of bloggers.
"American Factory shows that the US will probably lose out to China in manufacturing."
One Chinese company (Wind资讯) posted on Weibo that "what Obama means in this film, in a very oblique way, is that anti-globalization will produce a lose-lose scenario."
The official Weibo account of Zhisland, a Chinese networking platform for entrepreneurs around the world (@正和岛标准) posted a review of the Netflix film titled: "Behind the Popularity of American Factory: Time Might Not Be on America's Side" ("《美国工厂》走红背后:时间,或许真的不在美国那边了").
It warns the audience right off the bat to "not assume that this film will promote cooperation between China and the United States. In contrast, it will surely stir up mixed feelings among both audiences."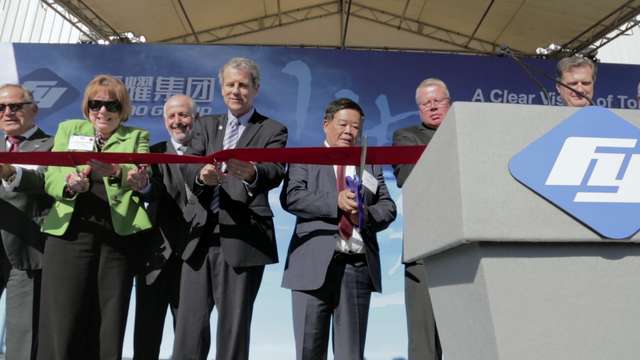 "American Factory shows that the US will probably lose out to China in manufacturing," Zhisland writes. The article argues that China will win out due to its lower labor costs, lack of trade unions, and more disciplined managerial styles. "It's an uneven playing field," the author continues: "Time may not be on America's side."
Toward the end, the author claims: "We are about to enter a new era in which China will gradually become the most dominant player in the global marketplace."
The fact that many on Weibo shared these kinds of pieces as a reaction to the documentary suggests there is confirmation bias at work here. As is common on Weibo and other social media, comments on the pieces like the above simply rattle unsubstantiated claims, frequently descending into ad hominems.
Another Weibo user (@用户Mr.立早) adds comments when sharing the above article: "The American workers repeat Trump's mantra, but won't act on it. They've been idling for almost a century. They're hopeless."
"American Factory tells you: separate the US economy from China, and the US will go bankrupt."
Chinese state media also chimed in on how American Factory proved their most important talking points on the ongoing US-China trade conflict.
Xinmin Evening News, an official newspaper run by the Communist Party's Shanghai Committee, published an article by Wu Jian called "American Factory Tells You: Separate the US Economy from China, and the US Will Go Bankrupt" ("《美国工厂》告诉你:将美国经济从中国分离,美国会破产").
In this piece, Jian claims that "in the age of globalization, ties between China and the US cannot be cut. Using high tariffs to force U. S. manufacturing return to the States… is simply not realistic. Separate the US economy from China, and the U.S. will go bankrupt."
The article was also shared widely on Weibo. Thepaper.cn, an online news site affiliated with Shanghai United Media Group, published a review titled "American Factory: The Things that Are Spelled Out and the Things that are Implied" ("《美国工厂》:那些说出来的,和没有说的").
The author, Xu Le, writes: "What struck me most about the film was the look on the faces of the American workers. All of them … had the same burnt-out expression… Their faces reminded me of photos of people in the late Qing Dynasty. That dull expression reflects a civilization in decline."
In the film, When American foremen visit a factory run by glass manufacturer Fuyao in China, they are alarmed to see Chinese workers picking up glass shards without safety glasses or cut-resistant gloves.
Xu comments: "Why is it that Chinese workers are able to put up with even more drudgery while being paid far less than their American counterparts? This is something we Chinese are very familiar with."
"Are you the glory, or are you the cost of the glory?"
Qin Hui, professor of history at Tsinghua University, once argued that China's economic growth isn't because of economic liberalism or government oversight, but because of China's refusal to guarantee certain basic human rights.
In Maoist China, the state stripped the underprivileged of all political power in the name of the greater good dictated by socialist dogma. Post-Mao China continues to exploit the underprivileged, but now for monetary gain. He called it China's "advantage" of "low human rights."
Despite the nationalism sentiment fanned by American Factory, it has also provoked reflection on China's advantage of low human rights summarized by Qin Hui.
Weibo user 'Zhi21' (@ZHI2i), a recent college graduate, writes on Weibo: "I just finished an internship at a factory. I worked 12 hours a day. More than 11 hours of every shift was spent on my feet without stopping, just to keep up with the assembly line. It didn't make sense to me. After watching American Factory, I feel like American workers are lucky to only work 8 hours a day. That's why the production costs are higher in the States. They pay too much attention to whether or not workers are comfortable."
Another Weibo blogger (@GhostSaDNesS) notes that "in American Factory, Fuyao employees believe that to work is to live. They defend the interests of capitalists while they are actively exploited. Unions in the West chose human rights, Chinese capitalists chose profit, and Chinese workers have no choice at all."
Some of these posts were apparently censored; threads that displayed as having over 200 comments only showed 12, and users complained that their posts were being deleted or made invisible to other users by Weibo censors. "They didn't give any explanation," one blogger wrote: " I only expressed that I felt sorry for the people at the bottom. I didn't question the system. I didn't ask to change society."
Views like that of @Crimmy_Excelsior ("I was confused. Which country is the capitalist one and which country is the socialist one?") are apparently sensitive enough to be taken offline – they touch upon the tension between the CCP's espousal of Marxist-Leninism and the plight faced by hundreds of millions of Chinese that have their working conditions driven down by capitalist markets.
Many users don't buy into nationalist interpretations of the film, and argue that economic gain achieved at the expense of human rights is shameful. @陈生大王 raises a poignant question: "This is a glorious time for China, but I hope this film inspires you to think about who you really are as an individual. Are you the glory, or are you the cost of the glory?"
"The cost of the glory" is derived from a quip popular on China's internet. The Chinese government often urges its citizens to rally together, using the rhetoric, "We must win this trade war at all cost." Some netizens then twisted the phrase, saying, "We must win this trade war at all cost, and we later find out that we are the cost."
"China's prosperity did not just happen overnight – Chinese people worked hard to make it happen."
Even among those in favor of China's controversial work ethics, there have been concerns over the status quo. Earlier this year, engineers in the tech industry publicly aired their grievances about their "996" lifestyle. The term refers to a high-pressure work schedule of 9am to 9pm, six days a week. This is the kind of life workers in Fuyao are living, with no hope of improvement – they are that the company would find a replacement in no time, making any form of complaining moot.
Recent events in mainland China only increase the credibility of this representation. Factory workers at Jasic, a maker of welding machinery in Shenzhen, attempted to start a union last year. All those involved were fired. A number of college students and activists who actively supported the workers were detained and persecuted.
According to the "China Labor Movement Report (2015-2017)" by China Labor Bulletin (a NGO based in Hong Kong that promotes and defends workers' rights in the People's Republic of China) "intensification of social conflicts, including labor-capital conflicts, has crossed a tipping point, and directly threatens the legitimacy of the regime."
More conspicuously, there are netizens that don't buy the narrative that Chinese workers are innately "tougher" than their American counterparts. As user @胡尕峰 observes: "(In the film), a new Chinese CEO explains to his fellow Chinese that Americans have been encouraged too much growing up, and can't take criticism. Chinese born after 2000 have been raised the same way! In my circle of friends, some mothers nearly faint when their babies are finally able to poop. Is China going to end up the same as America?"
American Factory's objective portrayal of cultural shocks between American and Chinese workforces clearly generated thoughtful reflections and incisive criticism from a sizeable number of netizens, while also being another reason for Chinese state media to highlight the rise of China in the global market.
The chairman of Fuyao Group, Cao Dewang, made headlines this week with the quote: "China's prosperity did not just happen overnight – Chinese people worked hard to make it happen." "We indeed worked hard for it," some commenters agreed: "That's definitely true."
By Anna Wang and Eduardo Baptista
Follow @whatsonweibo
Edited by Eduardo Baptista
Spotted a mistake or want to add something? Please let us know in comments below or email us. Please note that your comment below will need to be manually approved if you're a first-time poster here.
©2019 Whatsonweibo. All rights reserved. Do not reproduce our content without permission – you can contact us at info@whatsonweibo.com