Top 10 Most Popular Smartphones in China 2017 (According to Weibo)
Just before the biggest online shopping events of the year, these are the most popular smartphone brands in China 2017 – a top 10 list compiled by What's on Weibo.
The sales of smartphones are going through the roof during China's annual e-commerce shopping festival Single's Day (11/11). What smartphone brands and models are the most popular on Chinese social media this year?

UPDATE! Now read our Top 10 of Most Popular Chinese Smartphones in 2018.

The countdown to Single's Day, China's annual largest online shopping event on November 11, is about to start. Smartphones are always amongst the top-selling items during the yearly big sale, and the various newly-launched models are hitting the social media top trending topic lists on a daily basis weeks before. Time to take a look into what phones are currently most popular amongst Chinese netizens.
Sina News recently reported that an increasing number of young Chinese consumers are willing to spend their entire monthly income or even more on a new mobile phone. Since more than 95% of Internet users in China use mobile devices rather than desktop computers to go online, chosing the right mobile is all the more important for Chinese consumers.
And for this season, the 'right mobile' (1) has a futuristic 'bezel-less' screen without edges: the bigger, the brighter, the better. With the growing importance of selfies in this social media era, the perfect phone of the moment (2) also has a high-performing front facing camera. It is also noteworthy that (3) many of the hottest phones of this moment come in various sizes and especially in various trendy colors to offer buyers more choice, tailored to their personal taste.
To create more insight into the most popular smartphone brands in China, we have compiled a list of ten Weibo smartphone brands with the most followers here.* Note that we did not include the iPhone, because despite the various channels related to iPhone on Weibo, there is no official iPhone channel.
To give you an indication, however, the Sina Weibo iPhone User Channel (@微博iPhone客户端) has a staggering 53.3 million followers – which would still make it one of China's most popular mobile phones on social media, despite its declining popularity due to competition from domestic brands. The launch of the iPhone X on Friday is also a much-anticipated one in China.
The following smartphones currently have the largest following on Sina Weibo. With Single's Day coming up, all brands are promoting their latest models, giving a hint to consumers on what to buy for the big November 11 online sales:
27.222.000+ followers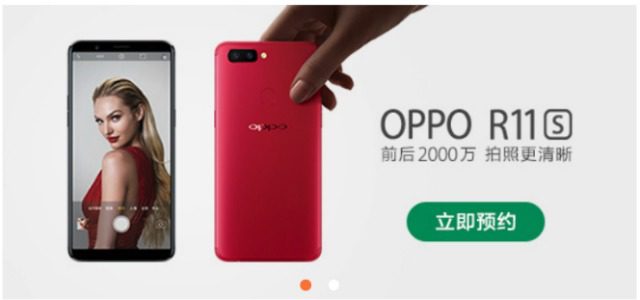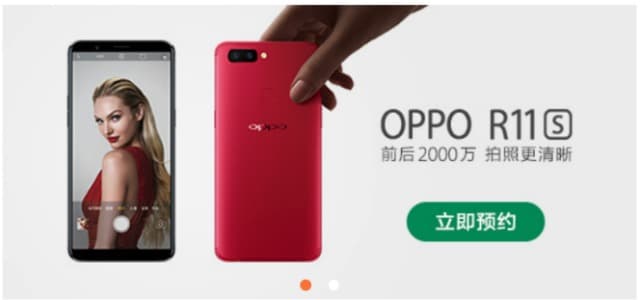 The number one smartphone brand in China – according to Weibo – is Oppo, a Guangdong-based brand officially launched in 2004. Oppo is mainly known for targeting China's young consumers with its trendy designs and smart marketing. In 2016, the brand was ranked as the number 4 smartphone brand globally.
Right before Single's Day, Oppo is now pushing forward its newest Oppo R11s model phone on social media. The phone will be released on November 2, and together with the much-anticipated R11s Plus model, could become one of the top-sellers on November 11.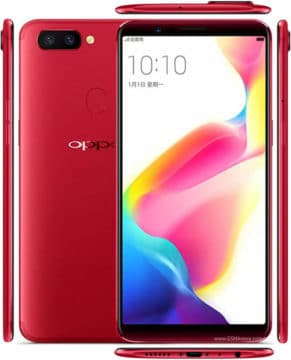 Oppo is launching the Oppo R11s as a smartphone that is not just beautiful (with an all-screen 'bezel-less' display), but also smart. The phone can be unlocked within 0.08 seconds through the latest facial recognition technology.
Oppo's smartphones are known as excellent selfie-making-tools, and its latest model is also promoted for having a 20-megapixel front and back camera. Oppo uses the Weibo hashtag 'Oppo's All-New 20MP Front&Back R11s' (#OPPO全新前后2000万R11s#) to discuss the new model. On Tuesday, two days before the official launch, the hashtag was already viewed over 640 million times. There's no pricing announced yet (will update). Update: prices start at CNY 2999 (±450$).
23.337.000+ followers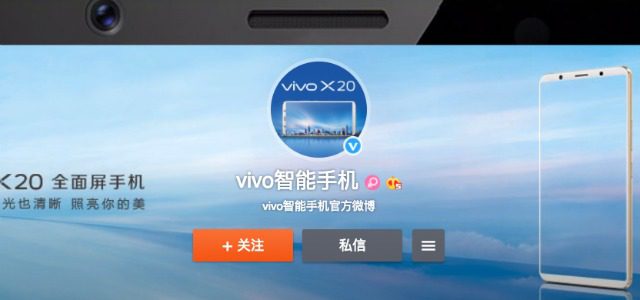 Vivo is another Chinese domestic brand that has gained worldwide success, first entering the market in 2009. Its headquarters are based in Dongguan, Guangdong.
On September 30, Vivo launched its Vivo X20 Plus and VivoX20, the successor of best-seller Vivo X9. With a price of CNY 2,998 (±$450) on JD.com, it is a popular phone that offers some advanced features, 6.01 inch (18:9) full view display, and dual camera setup, for a very reasonable price.
The popularity of the Vivo X20 is evident on Weibo. Hashtag (#vivo全面屏手机X20#) has been viewed over a billion times.
(NB: there is something noteworthy about the Weibo account of Vivo, which had 23+ million followers on October 26, and a staggering 29+ million followers only five days later. Although most reputable brands do not want to associate their brand with fake accounts, it is possible that some fans were bought – or perhaps the brand has just hugely gained popularity over the past week. In that case, it is actually Vivo that is the number one on this list. For now, we'll stick to the follower numbers as counted between October 24-27.)
3. Xiaomi @小米
16.872.000+ followers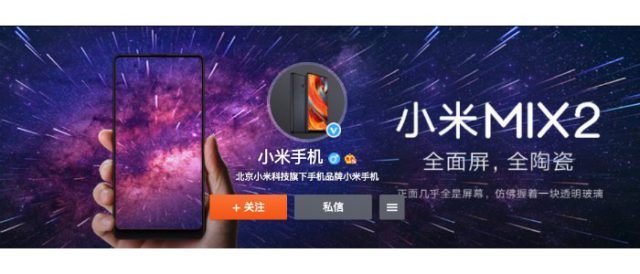 Since the launch of its first smartphone in 2011, Beijing-brand Xiaomi has become one of the world's largest smartphone makers.
The Xiaomi (Mi) brand was initially often called an 'iPhone copycat,' but it is now a trendsetting brand in the smartphone business. With its 2016 Mi Mix model, the brand was among the first to ditch thick bezels and go beyond the 16:9 aspect ratio to introduce the 'all screen' or 'bezel-less' screens, which are all the buzz now. The Mi Mix became one of the year's hottest smartphones.
The Mi Mix 2, Xiaomi 6, and Xiaomi Note 3 are the devices currently being promoted through the Xiaomi official Weibo channel.
With a Phillipe Starck design and premium IPS LCD screen, the Mi Mix 2 has already been getting ravenous reviews on tech sites. Some reviews, however, do note its 'underperforming camera.'
The 'Xiaomi Note 3' topic #小米Note3# is also very popular on Weibo, where it has received 560 million views thus far.
It is sold for CNY 2199 (±330$) on JD.com; much cheaper than the Mix 2 which is sold for approximately CNY 3299 (±496$). With a price of CNY 2999 (±450$), the Xiaomi 6 is in between.
4. Honor (荣耀) @荣耀手机
16.638.000+ followers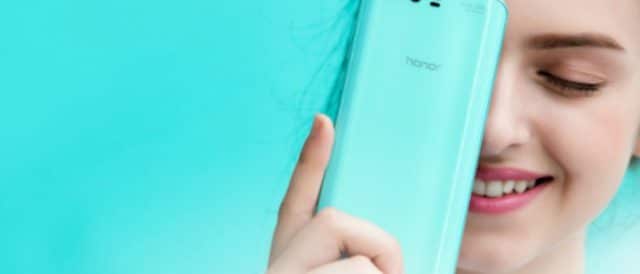 Honor, established in 2013, is the budget-friendly sister of the Huawei brand. The company's sub-brand has been doing very well over the past year. Rather than focusing on hyping up its brand name through celebrity campaigns, Honor focuses on great value for money.
On the brand's Weibo account, it promotes its Honor V9 and Honor V9 Play as the to-buy models for November 11. The latter is currently sold for as low as CNY 999 (±150$). The Honor V9 starts at CNY 2599 (±390$).
Both the Honor V9 (#荣耀V9#) and Honor V9 Play (#荣耀V9play#) have received a lot of attention on social media this year, with millions of views and comments.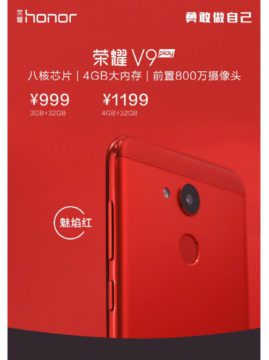 The Honor V9 has a 5.7-inch curved glass screen. It has dual SIM and an internal storage of either 64GB or 128GN expandable to 256GB by microSD.
The latest Honor models are available in multiple trendy colors. But above all of this, it is the affordability that makes this phone popular.
5. Huawei @华为
14.631.000+ followers.

Huawei remains to be one of China's top smartphone brands. Its new model Huawei Mate 10, the follow-up to last year's Mate 9, became a trending topic on Weibo earlier this week, with the hashtag #华为Mate10# receiving over 480 million views in some days time.
In China, the Mate 10 (128GB) is available at approximately CNY 4499.00 (±675$). With its thin bezels, 5.9-inch display, fingerprint sensor, fast-charging battery, and trendy colors (Midnight Blue, Titanium Gray, Mocha Brown, Pink Gold), this model forms a serious competition to the iPhone X.
13.509.000+ followers.

Meizu is another Chinese homegrown brand, established by high school dropout Jack Wong (Huáng Zhāng 黄章) in 2003. Since then, it has grown out to be the 11th best-selling smartphone maker in the world.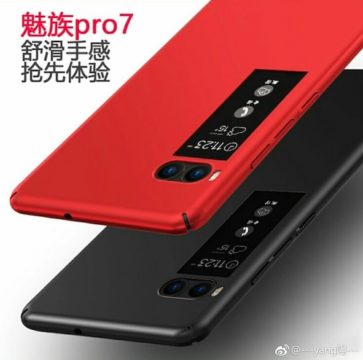 Its newest model is the Pro 7, starting from CNY 2499 (±375$), follows all the latest trends: it has thin bezels, a strong battery and dual camera, and a slick design. The model is also available in various colors, which is one of the major trends of the season – of course, a pink edition is crucial nowadays.
7. Samsung @三星
8.690.000+ followers.

Samsung has three official accounts on Weibo; Samsung Electronics, Samsung China, and Samsung Galaxy. The latter, by far, has the most followers of the three. This account, with well over 8,5 million followers, is fully dedicated to Samsung's high-end mobile phones.
The brand is now especially highlighting its Samsung Galaxy Note 8 model. Starting from CNY 6980 (±1050$) this is amongst the most expensive popular smartphones around.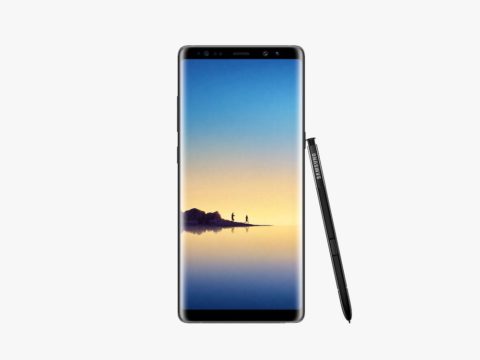 Despite the fact that it is high-tech, the phone has not seen a very warm welcome in China. There could be various reasons for this; political tensions between Korea and China over THAAD, Samsung's harmed reputation over its battery catastrophe, or simply the fact that Chinese consumers are value-oriented.
The Note 8 is barely any bigger than the cheaper Galaxy S8+. Although Samsung's Note series became all the rage when they set the 'phablet' trend, the newest flagship models of other brands all have comparably large, bezel-less screens. With phones such as the Huawei Mate 10, the Xiaomi Mix 2, Oppo R11s, iPhone X, and Vivo X20, Samsung Note 8 is facing some serious competition within its range.
4.471.900+ followers.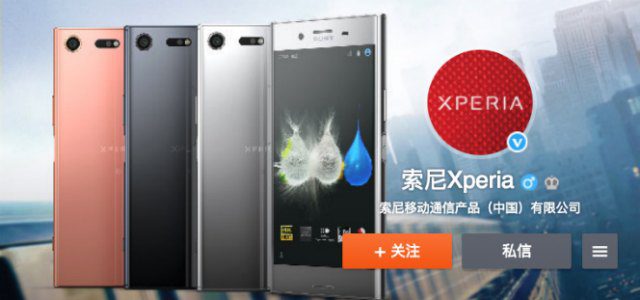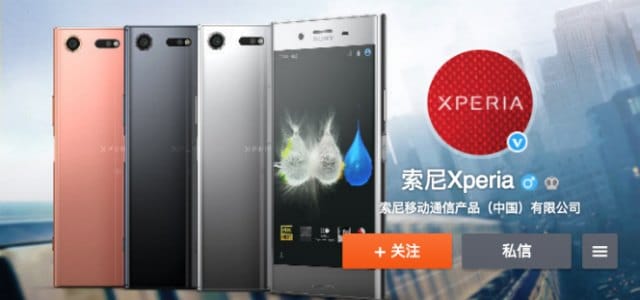 Sony Xperia is the only Japanese brand amongst China's most popular smartphone brands.
The brand is currently promoting its Xperia XZ Premium, which was first spotted in red back in May when it appeared on Weibo.
The Xperia XZ Premium has a 5.2-inch LCD display and specific rectangular design. With 1,3 million views for the 'Xperia XZ Premium Launch' (#索尼xperia xz1发布#) topic on Weibo, the phone is currently not amongst the top hottest models in China.
The brand is promoting its smartphone's "3D Creator" on Weibo. This feature allows users to scan their face, food, or other objects and makes a 3D avatar of it that can be shared on social media or 3D print. "Can I take a picture of an Xperia XZ Premium and then make a 3D print of an Xperia XZ Premium?", some netizens jokingly comment.
The model was officially launched in China on October 27, its price (64GB/red) is approximately CNY 6399 (±962$) – a lot more expensive than the budget-friendly red Honor V9.
9. Gionee @金立
3.134.000+ followers.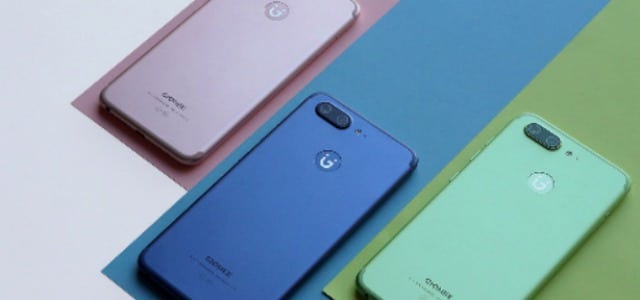 Gionee is a Chinese smartphone manufacturer based in Shenzhen, Guangdong. Founded in 2002, it is one of China's largest mobile phone manufacturers.
Gionee is now actively promoting the successor of last year's M6: the M7 model, which was launched in September 2017.
Its campaign for this phone actively focuses on China's 30-something generation who are worried about their career and (young) children. Perhaps because Gionee is one of the older brands amongst its new smartphone competitors, it tells the 30-somethings "we're growing (and advancing) together."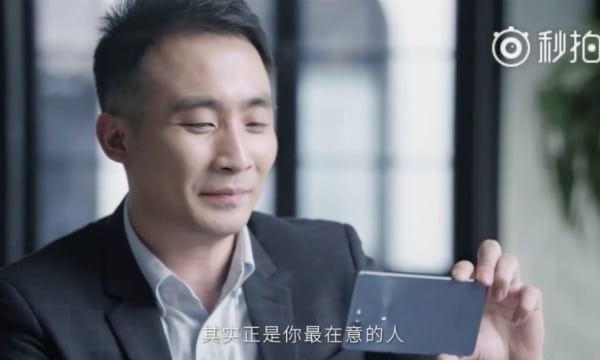 The M7 has a 6.01-inch full HD display, fingerprint sensor, DUAL-sim, and goes with the trend with its full view 18:9 display. It is priced around CNY 2799 (±420$).
10. Nubia @努比亚
2.518.000+ followers.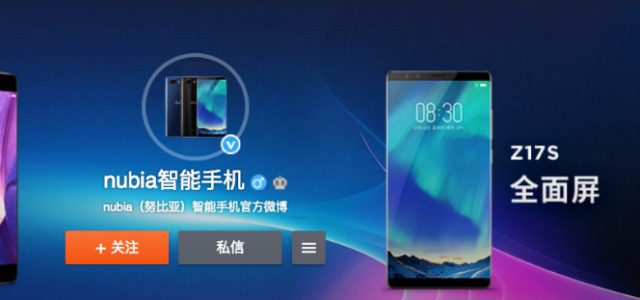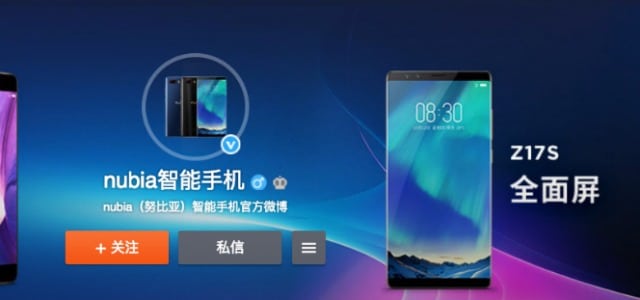 As with Meizu and Gionee, Nubia is a Chinese brand that is generally less well-known in Europe or America than other Chinese brands such as Xiaomi or Huawei. Nevertheless, Nubia, owned by parent company ZTE, has been doing very well in China's top-scoring smartphone lists since it was officially launched in 2015.
Before Single's Day, the brand is now promoting its newly-launched Z17S and Z17 Mini S model. The first is priced around CNY 2999 (±450$) and the latter is more budget-friendly with CNY 1999 (±300$).
The Z17S (#努比亚Z17S#) competes with all the more expensive flagship models in offering users a 5.73 inch full HD+ screen of 18:9 ratio, and two cameras on the front. It comes in colors black and blue.
An addition to the list
With 2.2+ million followers on Sina Weibo, OnePlus (@一加手机) should also be mentioned here.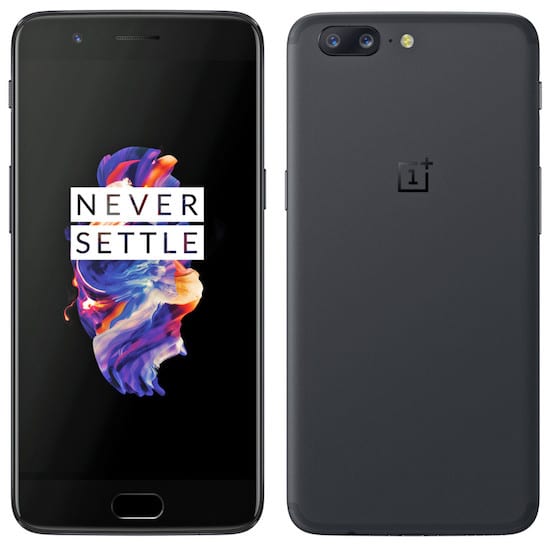 Founded in 2013, OnePlus (一加科技) is a relatively new Chinese smartphone brand. Its headquarters are based in Guangdong. The brand's One Plus 5 model is currently also popular on Sina Weibo, despite being the most expensive phone (CNY 4288/645$) the brand has ever made.
Recent top-selling lists
A recent top 30 list (in Chinese, September 27) of best-sold smartphones on e-commerce platform Tmall shows the following top 10:
1. Honor8 32 GB (¥1099/±165$)
2. iPhone7 Plus 32GB (¥5198/±785$)
3. Vivo X9 64GB (¥2598/±392$)
4. Huawei Mate9 32 GB (¥2899/±437$)
5. Oppo RII 64GB (¥2999/±452$)
6. Samsung Galaxy S8 64GB (¥5688/±858$)
7. Honor V9 64GB (¥2699/±407$)
8. Oppo R9S Plus 64 GB (¥3199/±482$)
9. Gionee M2017 128 GB (¥6999/)
10. Moto Z 65 GB (¥3699/±558$)
According to this week's (last week of October) best-selling smartphones (热卖排行), Suning and JD.com – some of China's top mobile phone retailers – both show a different top 3:
Suning:
1. Apple iPhone 8 64GB
2. Apple iPhone 8 Plus
3. Xiaomi Redmi 4x 64GB
JD.com:
1. Xiaomi Mix2 64GB
2. Xiaomi 6 128 GB
3. Vivo X20 64 GB
The many different top smartphone lists on Chinese tech and e-commerce sites show that smartphone trends are changing fast, and also suggests that best-phone-lists on Chinese media sites often differ from each other for various reasons.
According to some predictions by experts on Weibo, the hottest phones of this year's online e-commerce festival on November 11 will be the iPhone X, Xiaomi MIX2, Meizu Pro 7, Oppo R11, Vivo X20 and the OnePlus 5.
By Manya Koetse
Follow @whatsonweibo
* This list does not take the possible use of manipulated followers into account here.
Spotted a mistake or want to add something? Please let us know in comments below or email us.
©2017 Whatsonweibo. All rights reserved. Do not reproduce our content without permission – you can contact us at info@whatsonweibo.com.
Insights into Sesame Credit & Top 5 Ways to Use a High Sesame Score
These are the top ways in which netizens' high Sesame Credit scores can be used in daily life.
First published
There's been much talk about China's 'credit score' recently, with many media conflating the country's Social Credit System with the commercial Sesame Credit programme. In this article, we will explain the latter: what is Sesame Credit and what can users do with their high score?
Note: for more about the Social Credit System and differences in its media coverage in China and the West, please see this article.
With all the talks about China's nascent Social Credit system and commercial social credit programmes, it is becoming clear that Chinese netizens are entering a 'credit lifestyle' (信用生活).
"All Chinese citizens now have a score," is an idea that has popped up in many foreign media over the past years, often conflating it with China's nascent 'Social Credit System.' To read more about the Social Credit System see our articles about this here or here. In this article, we will solely focus on Sesame Credit.
On Weibo, the official Sesame Credit account (@芝麻信用), which has over 240,840 followers, often announces new ways for people to profit from their (high) Sesame Credit score.
What's on Weibo explores and lists five different ways in which a high Sesame Credit score can be used in China today. But first – what actually is Sesame Credit?
About Sesame Credit
Sesame Credit (Zhīma xìnyòng 芝麻信用) was launched on January 28, 2015, by Alibaba's Ant Financial, after it had received permission by the PBOC (People's Bank of China) to be one of the eight Chinese companies to experiment with personal credit reporting.
According to the Sesame Credit company, its major goal is to make credit more widely available to consumers and small business owners, and to "enable credit providers to make holistic and accurate decisions," while also "empowering merchants to provide more credit-related services."
Because Sesame Credit is part of Jack Ma's Alibaba Group family (Ant Financial is an affiliate of the Chinese Alibaba Group), Sesame Credit has an enormous amount of data at its disposal, from e-commerce sites to finance products. China's biggest shopping websites Taobao and Tmall belong to Alibaba's vast online ecosystem, as does payment app Alipay.
It is not mandatory for users to opt into Sesame Credit. Some have compared the system to a loyalty program, although it is a bit more than that. Since 2015, for example, Sesame Credit also cooperates with the popular online dating service company Baihe.com (百合网), so that people can link their dating profile to their credit score. Sesame Credit already had 520 million users as of 2017.
Since its launch, various foreign media have written about Sesame Credit as an 'Orwellian system.' Among others, one of the reasons for this, is that Sesame Credit incorporates a publicly available 'blacklist' into its scoring process. The 'blacklist' is a Chinese courts' list with the names of people that have an effective court justice against them; inclusion on this list can make users' existing Sesame Credit drop dramatically, which would make people miss out on all perks of having a high Sesame Score.
Earlier in 2018, Alibaba, along with the seven other private credit programmes that were allowed to run their trial in 2015, become shareholders and active contributors to a new unified platform that has access to an enormous number of personal credit data. At the so-called 'trust alliance' (信联) Baihang Credit (百行征信), state level and commercial organizations join forces in further developing China's credit systems.
About the Score
Within the Sesame Credit programme, the lowest score one can get is 350. The highest is 950. This score is based on users' behavior across various platforms. A score of 550 to 600 is an intermediate/normal score. 600-650 is considered a 'good' score. Those in the 700-950 range are exceptionally high in score.
For those who first opt-in to Sesame Credit, and who have not had any violations, 600 is usually the score to receive.
Some of the important elements the score is allegedly based on, are –
• (35%) general credit history: past payment history and indebtedness – if persons still have enough credit on their credit card when purchasing items, if they pay their gas & electricity on time [often done through Alipay in China], pay violations tickets on time, etc.
• (25%) general financial status/fulfillment capacity: the available amount on users' Alipay account, if they are renting a car/house etc. and are able to pay for it, status of Huabei (a credit card function within the Alipay wallet), etc.
• (20%) online behavior and preference: the extent to which an account is actively used, how many purchases are done, etc.
• (15%) people's personal characteristics: educational background, address, real-name registrations, etc.
• (5%) contact network and interpersonal relationships: how many online contacts one has, ones's influential power in contact list, interactions between user and friends, etc.
For those who opt in to Sesame Credit and have a high score, there are many different ways to benefit from it, as listed below.
The Top Ways to Benefit from Sesame Credit
Please note that there are more ways to benefit from a high Sesame Credit score, but we have listed five popular ones below.
#1 'Credit Treatment' at Hospitals
In November of 2017, Sesame Credit first launched its "Credit Medical Treatment" (信用就医) services for people with a score over 650, with Shanghai's Huashan hospital being the country's first hospital to implement the function.
With "Credit Medical Treatment," patients could save up to 60% of waiting time at hospitals by cutting lines and not needing to pay for treatments upfront. Payments are done through Sesame Credit's in-app credit function Huabei (花呗).
While a normal procedure at Chinese hospitals can be time-consuming, the Sesame Credit procedure is much more efficient, mainly because people do not need to line up to pre-pay for their medical check-up and the medications.
Normal procedure:
(±20 min) 1. Arrive and register at the hospital and pay for it
(±60 min) 2. Waiting time to see a doctor
(±10 min) 3. Doctor's appointment/consultation
(±20 min) 4. Line up for payment [of examination]
(±20 min) 5. Check-up/Examination
(±20 min) 6. Queue up for payment
(±10 min) 7. Pick up medicine
The procedure with Sesame Credit:
(±3 min) 1. Register at hospital and payment by phone.
(±10 min) 2. Automatically get a number to see the doctor.
(±10 min) 3. Doctor's consultation.
Payment [for examination]
(±20 min) 4. Examination.
Payment [for medicine]
(±10 min) 5. Pick up medicine
There are also other ways in which people with a good Sesame Credit score can enjoy extra services and benefits at hospitals. Those with a score over 600, for example, can rent a wheelchair in hospitals without deposit.
#2 Try First, Pay Later
Since September 2018, Sesame Credit offers the possibility to "try out" purchases from Tmall for consumers who have a Credit Score of over 700, promoting the idea of "never regretting a purchase."
With this concept, people can order clothes or other items from e-commerce platform Tmall (天猫 Tiānmāo in Chinese) without any risk, having the guarantee to always being able to send back items that are unsatisfactory without paying for them.
There are also frequent promotions done by brands and companies in collaboration with Sesame Credit, such as offering people with a high credit score (over 750) to try out the newest Ford for three days, or to use the latest Meitu phone for 30 days for free, without necessarily needing to buy it afterward.
Sesame Credit also makes it more tempting for its users to spend money on (Alibaba) platforms in other ways. The higher one's credit is, the more one is able to lend from online lending service Huabei; those with a credit higher than 750 can lend up to 20,000 RMB (±$2890). Unsurprisingly, the literal translation of Alipay's 'online credit card' service Huabei (花呗) is "Just Spend."
#3 No Deposit on Shared Bikes (and other things)
Sesame Credit has a partnership with bike sharing platforms Hello Bike (哈罗单车) and Ofo, allowing users with a credit over 650 points to rent these bicycles, that can be found anywhere in bigger cities in China, without paying a deposit.
It is not the only service that does not require a deposit for those with a high Credit score; using a shared umbrella, or a publicly available shared phone charger, or even renting apartments, often no longer needs a deposit for those with a higher score.
#4 Open Access to Libraries
In many places in China, people who have a Sesame Credit score over 550 no longer need to pay a downpayment and can set up a library card for free, in other places people with a higher Sesame score no longer need a library card at all to borrow books at their local libraries and/or their automated self-service street libraries (just their ID).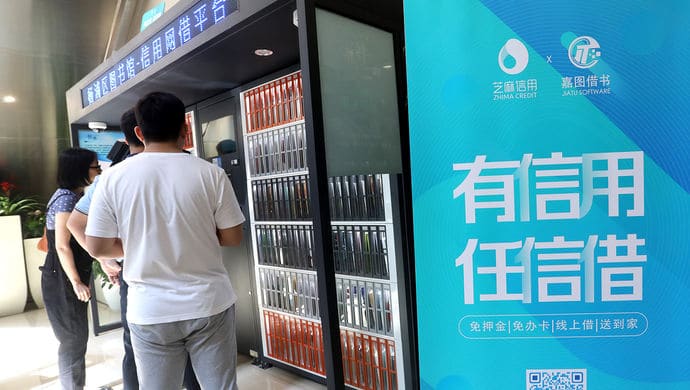 Since April of 2018, this special service for Sesame Credit users (not needing a card) was introduced in the entire Zhejiang province. Public libraries in other places, such as Shanghai, have already been experimenting with Sesame Credit perks for library lovers since 2015.
#5 Special Lounges at Train Stations
Especially during peak seasons such as the National Day holidays or Spring Festival, China's train stations can get exceptionally busy. For Sesame Credit members with a score over 650, there are now special lounges to relax.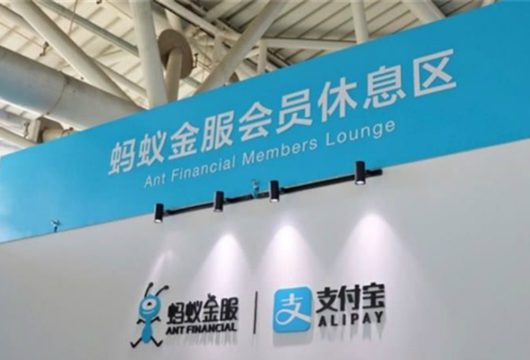 Sina notes that the lounge is only available to those members who have also bought a higher fair ticket (first class), or who have a platinum status.
By Manya Koetse
Follow @whatsonweibo
Spotted a mistake or want to add something? Please let us know in comments below or email us.
©2018 Whatsonweibo. All rights reserved. Do not reproduce our content without permission – you can contact us at info@whatsonweibo.com
Making China's Healthcare More Mobile: Wuxi Launches 'Smart Medical App'
The Wuxi Medical App makes Chinese health care more digital.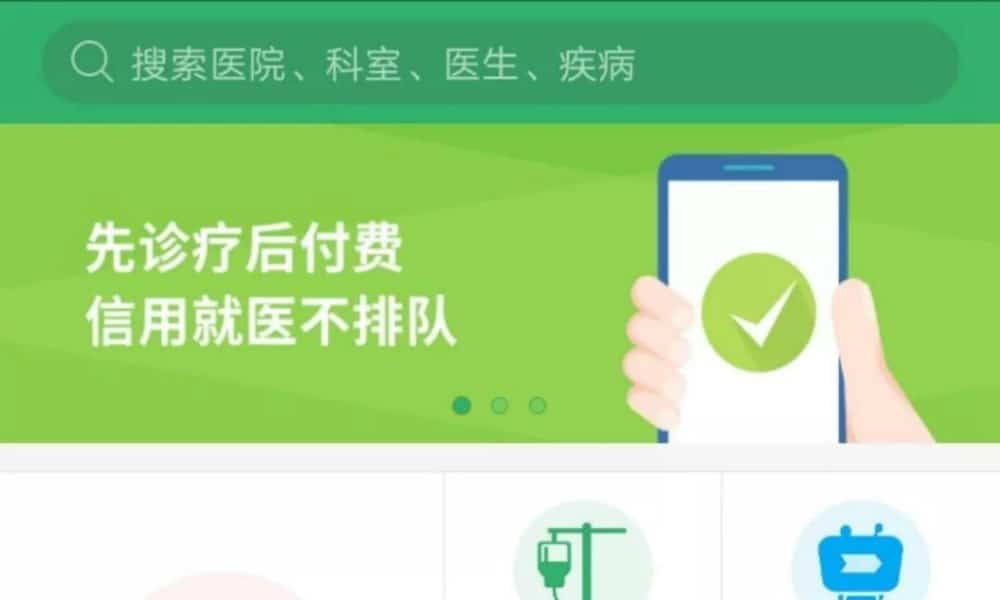 With the trial launch of the Wuxi Smart Medical app [无锡智医APP], patients of eight different Wuxi hospitals can now experiment with navigating their healthcare through mobile.
In late October, the Wuxi Municipal Health Planning Commission launched a trial version of the so-called "Wuxi Smart Medical App" [无锡智医APP] in cooperation with eight hospitals in the city of Wuxi, Jiangsu province – a city with a population of more than six million people.
The app is meant to make the navigation of health services more convenient for both patients and people who work in the medical sector.
According to Wuxi Daily, one of the reasons why the app was designed is to alleviate the widespread problem of long queues at local hospitals.
Especially in China's bigger cities, many patients have to wait in line for hours or sometimes even days before they can register for an appointment (a process known as guàhào 挂号), and receive medical treatment.
With the free app, users can now efficiently register for a doctor's appointment at one of the eight cooperating hospitals through their mobile phone, without having to stand in line at the hospital. The app also allows patients to see and pay for their medical bills, check medical information, and see their examination results.
"When I needed medical consultation or treatment, I never knew what department or doctor I had to queue for," Liu Xingyu (刘星宇), director of the Information Department of the Municipal Health Planning Commission, tells Wuxi Daily: "I was not the only one facing this problem. But with the app, patients can now insert a type of medical issue, their symptoms, etc., and the app will recommend the [relevant] department."
To get insights into examination results, patients using the app no longer have to spend entire afternoons waiting in the hospital. The app stores all examination results going back one year.
As for the payment of medical fees, the app provides users with a self-service payment option. By following a few steps, people can pay their medical bills on their phone through Alipay.
The Wuxi app is a new app, but the idea of bringing China's digitalization into the health care system is not new. As reported by Technode, Tencent already launched WeChat Intelligent Healthcare (微信智慧医疗) in 2014, a platform that allows users to do things such as book appointments, make payments, and more, at hospitals and other medical facilities through WeChat public accounts.
China's healthcare system has also become more digitalized through options offered by some hospitals in China for people with a relatively high score on their Sesame Credit to receive certain 'perks', such as being able to skip lines, or use wheelchairs without paying deposits. (For more about Sesame Credit, an opt-in commercial credit programme by Ant Financial (Alipay), also see this article).
Perhaps Wuxi's trial app will lead the way for other hospitals in China to become more mobile-focused. For now, the Android version of the Wuxi app is available on Huawei and Xiaomi app stores. The iOS version is expected to be available in the Apple Store soon, as is the added option to pay for medical bills through WeChat.
By Gabi Verberg, with contributions by Manya Koetse
Follow @whatsonweibo
Spotted a mistake or want to add something? Please let us know in comments below or email us.
©2018 Whatsonweibo. All rights reserved. Do not reproduce our content without permission – you can contact us at info@whatsonweibo.com