Top 10 China's Most Popular Smartphone Brands & Models (May/June 2019)
These are the ten most popular smartphone brands and models in China right now.
There is one topic that is always buzzing on Chinese social media: the latest smartphone trends. This is a top 10 of the most popular Chinese smartphone brands and their hottest models of the moment.
In 2018, What's on Weibo listed the top 10 most popular smartphone brands in China. With a smartphone market that is dynamic and rapidly changing, it's time for an update to see which smartphones brands are currently most popular in the PRC.
Since 2017, we've seen various smartphone trends coming and going. Bezel-less devices, increasing the size of the screen, have gone from trend to norm. In the selfie era, the same holds true for high-performing front-facing cameras. More temporary trends have given way to more sophisticated gadget design. It's all about superzoom cameras, full-view displays, pop-up selfie cameras, and let's not forget about 5G.
One other major trend that is ongoing for the past years is that despite the popularity of Apple and Samsung, 'made in China' brands are dominating the smartphone and tablet market.
But the biggest trend now, more so than trendy and colorful design or smooth edges, is photography: the latest devices from different brands are now, more than ever, competing over who has the best (main) camera.
Looking at popularity charts on Baidu and Zol.com, leading IT portal website in China, the brands Oppo, Vivo, and Huawei are still the top popular smartphone brands in China. Huawei, Oppo, and Vivo were also the best-selling smartphones on the market in Q1 (Sohu), followed by Xiaomi, Apple, and Samsung.
Making an absolute top 10 of most popular smartphone brands in China at this moment is not so straightforward, however, since the rankings are different depending on the source and on which phone models are sold the most at a particular time.
The charts of leading e-commerce platforms JD.com and Suning, for example, are not exactly the same as Zol's smartphone popularity rankings. We will stick to the Zol rankings for this article, looking at brands first and matching them with their most popular device models.
#10 Realme and the Realme X
Realme is a Shenzhen-based company that was established in 2018: it is the youngest smartphone brand in this list. Previously, it was a subbrand of OPPO but became independent in May of last year.
Realme has 1,2 million followers on Weibo. Realme is recently promoting its Realme X device, of which the hashtag page has a staggering 120 million views.
The Realme phone price starts at ¥1499 ($216) for the 4GB + 64GB storage variant. It has a a 6.53-inch full-HD+ (1080×2340 pixels) AMOLED screen, and features a 48-megapixel primary camera.
On social media, the Realme is mostly praised for its strong camera and friendly price.
#9 OnePlus (一加) and OnePlus7 Pro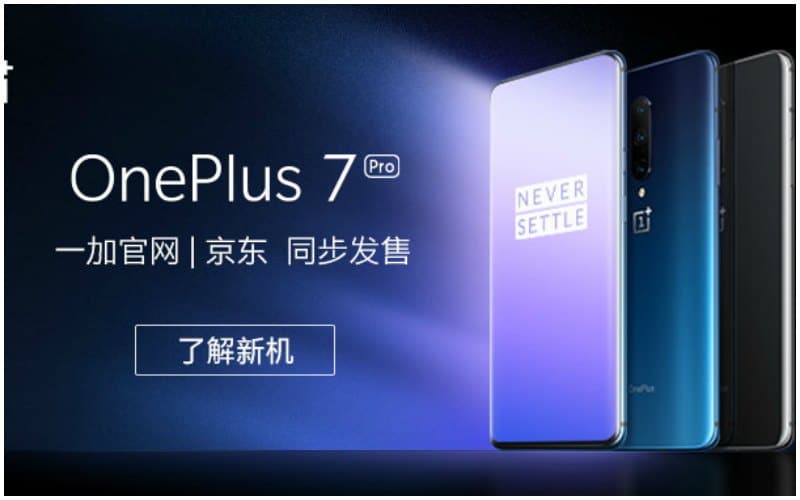 OnePlus is a Shenzhen based Chinese smartphone manufacturer founded by Pete Lau and Carl Pei in December 2013. The company officially serves 32 countries and regions around the world as of January 2018.
The OnePlus 7 Pro of ¥4999 ($722) is currently listed as the number one popular smartphone by Zol.com; the brand itself is on the lower end of the top 10 most popular smartphone brands in China.
The 7 Pro device was called "one of the best Android phones you can buy" by AndroidCentral, on top of being "the best phone OnePlus has released to-date."
The phone is big: it features a 6.67-inch display with a screen resolution of 1440 x 3120 pixels. It has fingerprint sensor, a 4000 mAh battery, and a rear 48MP + 16MP + 8MP camera.
#8 Meizu (魅族) and the Meizu 16s
Meizu is another Chinese homegrown brand, established by high school dropout Jack Wong (Huáng Zhāng 黄章) in 2003.
The Meizu device that is currently ranked in the top 10 hot-selling lists is the 16S that was released in April and is priced at ¥3198 ($462). The device has a 6.2 inch AMOLED screen (1080 x 2232 px). The main camera is a 48 MP, and the device is equipped with a 3600mAh battery.
The cheaper 16Xs (#魅族16Xs#) was a popular topic on social media on May 30, which is when it was launched.
#7 Xiaomi (小米) and the Redmi Note
Since the launch of its first smartphone in 2011, Beijing-brand Xiaomi has become one of the world's largest smartphone makers. In the Zol rankings the brand is currently listed at number 7, in JD.com's hot-selling lists, it's ranked 3. The Redmi is actually a sub-brand of Xiaomi, but it's still listed as Xiaomi in ranking lists such as that of JD.com.
The Xiaomi Redmi Note 7, Redmi K20, and Xiaomi 9 are all doing well, with the Redmi being the more popular device within the PRC. Techradar describes the Redmi Note 7 as a "great budget smartphone" with "stellar battery life."
The Xiaomi Redmi Note 7 has a 6.3 inch (1080 x 2340) full-HD display (Full HD+) and a 12 MP main camera(the Redmi Note 7S has a 48 MP main camera). The cheapest models of ¥998 ($144) are among the lowest priced devices in this list.
#6 Apple (苹果) and the iPhone XR/XS Max
The position of Apple in China's smartphone market has become a hot topic of discussion on social media recently in light of the rising China-US trade tensions. Although iPhone sales in China have indeed been dropping according to news reports, the iPhone XR and iPhone XS Max currently rank number 8 and number 10 most popular devices according to Zol at time of writing, with Apple ranking 6 in the top 10 smartphone brand charts. In the current list of best-selling smartphones on e-commerce site JD.com, the iPhone XR even ranks number one.
The iPhone XS Max is bigger than ever: it has a 6.5-inch OLED (2,688 x 1,242 pixels) screen whereas the XR has a 6.1-inch LCD (1,792 x 828 pixels). The camera of the XS Max has a dual 12-megapixel camera with wide-angle and telephoto. The XR has a single 12-megapixel wide-angle.
Some Chinese bloggers don't understand why the iPhone is still so popular in China. Influential Weibo tech blogger Keji Xinyi (@科技新一) recently wrote: "The exterior of all Android flagship devices looks better than iPhone, they take better pictures too, why do girls still like the iPhone so much?"
Some of the popular answers include that people like iOS, that they prefer the "uncomplicated" use of the iPhone, and praise it for being "stable."
With its ¥8399 ($1214) price tag, the iPhone XS Max is the most expensive phone around. The XR is currently priced at ¥5399 ($780).
#5 Honor (荣耀) and the Honor V20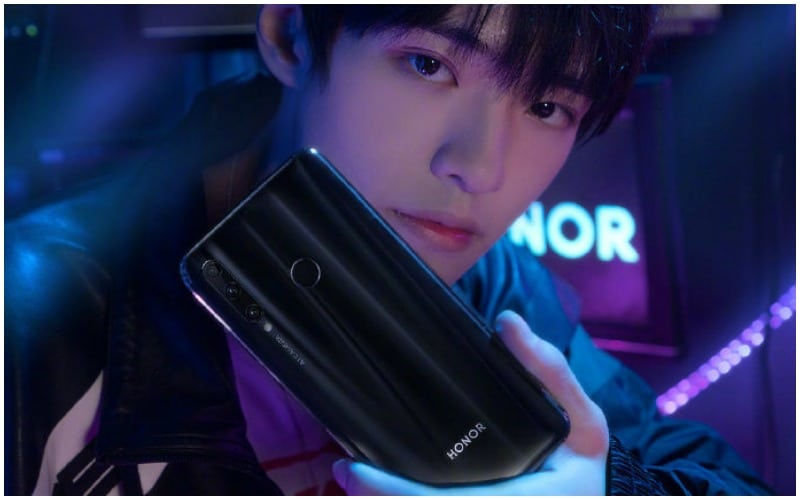 Honor, established in 2013, is the budget-friendly sister of the Huawei brand. The company's sub-brand has been doing very well over the past years. Honor focuses on great value for money.
The brand has over 21 million fans on Weibo. Honor targets younger consumers, not just with its relatively low prices, but also with its trendy designs, often offering phones in vibrant blue, pink and purple colors.
While the Honor brand currently ranks 5 on China's nationwide smartphone brands popularity charts, its most popular device, the Honor V20, now ranks number 9 within smartphone device rankings. Another bestseller is the Honor Magic 2.
Priced at ¥2799 ($404), the V20 device is one of the cheaper ones in the popularity charts. It has a 6.40-inch display with a resolution of 1080×2310 pixels. Its rear camera is a 48-megapixel camera, with its selfie camera being a 25-megapixel one. It is available in colors Charm Sea Blue, Magic Night Black, Charm Red, Phantom Red, and Phantom Blue.
#4 Samsung (三星) and the Galaxy S10
Samsung currently is the most popular smartphone brand in the PRC that is not made-in-China. The brand seems to have been able to win back consumer's trust after its previous problems with overheating and exploding batteries. In the first half of 2018, China actually replaced the US as the biggest market for Samsung.
The Galaxy S10 is the most popular Samsung device of this moment, and recent reports on bugs that allegedly come with a recent update have not seemed to impact its ranking.
The S10 has a 6.1-inch Super AMOLED QHD+ screen with 1440 x 3040-pixel display resolution.  Like most devices on this list, its camera is good: a triple rear camera (12 MP x 12 MP x 16 MP) that can shoot panorama shots on ultra wide.  The device has a dual-SIM tray/microSD card slot, and is water-resistant.
Price: ¥5999 ($867).
#3 Huawei (华为) and its P30 Series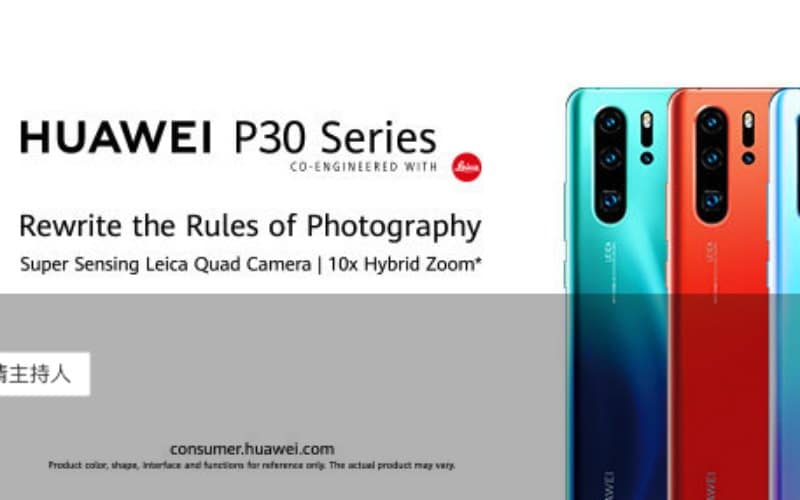 In light of the China-US trade war, Huawei has been making international headlines recently. Judging from e-commerce ranking lists and ZOL.com popularity lists, Huawei's popularity within the PRC seems to be unaffected by the recent consternation; if anything, it has only made the brand more popular within mainland China. Huawei remains to be one of China's top smartphone brands.
The most popular device of the Huawei brand currently is the Huawei P30 Pro mobile, ranking fifth in Chinas most popular smartphone charts of this moment. The Huawei P30 is slightly less popular, ranked at number 8.
The P30 Pro features a Full HD+ OLED 6.47 inches display, an integrated fingerprint sensor in the display, with a screen resolution of 1080 x 2340 pixels. It has a 40MP + 16MP + 8MP camera that is the best part of the device, with an impressive zoom function: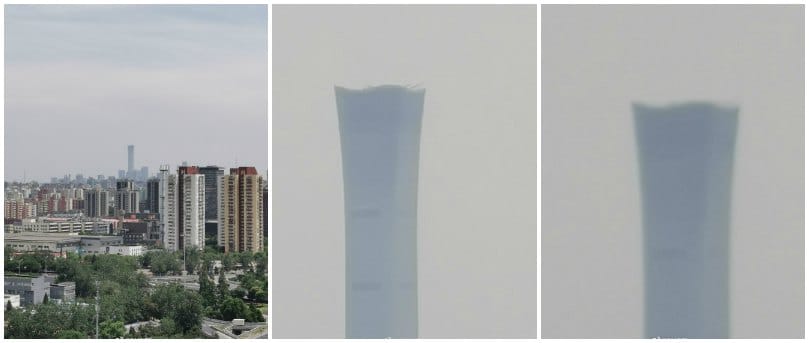 The device has been called "one of the best and most unique phones" to be released this year, and is an absolute winner for its camera compared to the Samsung S10 or the iPhone XS Max. The Pro price is set at ¥5488 ($793), also making it one of the most expensive phones in the top lists of this moment.
#2 Vivo and its Vivo X27

Vivo is another Chinese brand that has gained worldwide success since it first entered the market in 2009. Its headquarters are based in Dongguan, Guangdong.
Vivo often cooperates with Chinese celebrities in its marketing campaigns, such as Chinese singer and actor Lu Han (born 1990) or Chinese actress Zhou Dongyu (born 1992), clearly targeting the post-90s consumer group.
The brand has over 37 million followers on its Weibo account, making it the most popular brand in terms of online fans.
The Vivo X27 device was launched in China in March of 2019 and is specifically marketed as a "night photo" wonder tool.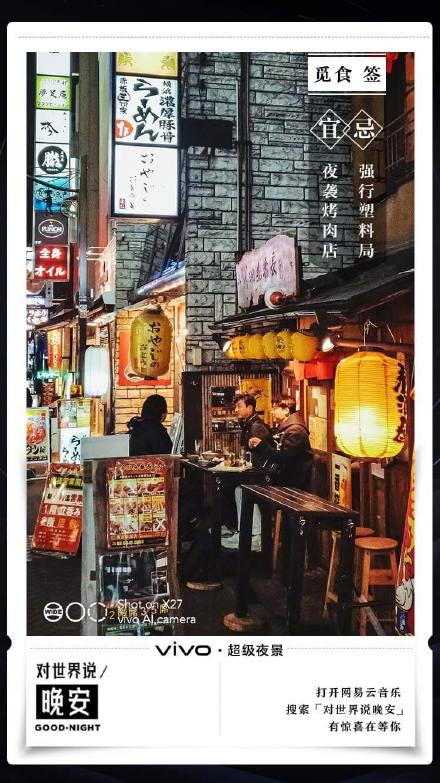 The VivoX27 is a 6.39-inch dual-sim device with a super AMOLED screen. It has a 48 MP main camera and 12 MP selfie camera, and in-display fingerprint sensor.
The Vivo X27 Pro hashtag (#vivo X27 Pro#) has over 96 million views on Weibo at time of writing, with most netizens mostly praising the device for its ability to make good photos at night. The device is currently also ranked number one on Zol.com in the best mobile gaming device category.
Priced around ¥3598 ($520).
#1 Oppo and its OPPO Reno Series

2019 is the year of 5G, and OPPO Reno is ready for it. Oppo launched its latest 5G supported OPPO Reno smartphone in April of 2019 and has since been a hit on Chinese social media. The OPPO Reno hashtag (#OPPO全新Reno#) has a staggering 560 million views on the Sina Weibo platform at the time of writing, with the launch of the orange Reno becoming a trending topic in late May.
OPPO is a Guangdong-based brand that officially launched in 2004. The brand is known for targeting China's young consumers with its trendy designs and smart celebrity marketing. In 2016, the brand hit international top smartphone lists and ranked as the number 4 smartphone brand globally.
OPPO currently has over 25 million fans on Weibo.
The OPPO Reno has a 6.4-inch AMOLED display, a 48-megapixel main camera, a wedge-shaped pop-up camera (16-megapixel front-facing), and in-display fingerprint scanner. Besides the standard Oppo Reno, there is also the OPPO Reno's 10x Hybrid Zoom, and that model is mostly praised on Chinese social media for its photo quality under the OPPO Reno 10 X Zoom hashtag (#OPPOReno10倍变焦版#). Check the photos below of one Weibo user (@塔湾小魔王) trying out the zoom.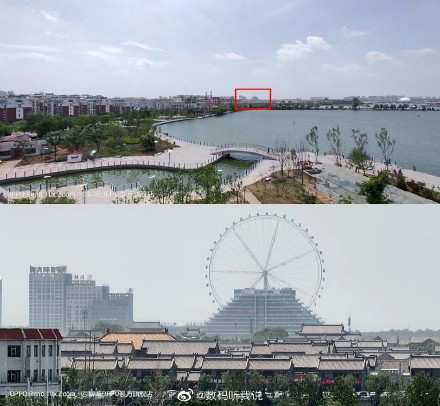 Price starting from: ¥3599 ($520).
Worth mentioning:
Some brands that did not make this top 10 list are still worth mentioning. One of them is Nubia (努比亚): Nubia may not be a very well-known brand outside of China, but in the PRC it's been consistently hitting top brand lists. Nubia, owned by parent company ZTE, has been doing very well in China's top-scoring smartphone lists since it was officially launched in 2015.
Other popular brands include Lenovo, ZTE, and Smartisan, Meitu: all Chinese companies.
"China has so many domestically produced smartphone," Chinese tech blogger Keji Xinyi (@科技新一) recently wrote on Weibo: "Xiaomi, OPPO, vivo, OnePlus, Meizu, Lenovo, etc. etc. Why is it that if we're talking about Chinese phones we're always talking about Huawei?"
Among the hundreds of responses, many think Huawei is simply the best, with others saying it just has a very strong marketing campaign. Most people, however, agree that Chinese smartphone market has much more to offer than Huawei alone.
By Manya Koetse
Spotted a mistake or want to add something? Please let us know in comments below or email us.
©2019 Whatsonweibo. All rights reserved. Do not reproduce our content without permission – you can contact us at info@whatsonweibo.com
WeChat's New Emoji Are Here (Including a Watermelon-Eating and Doge One)
WeChat's new emoji are based on popular memes.
On January 14, Tencent's Wechat introduced new emoji to its existing emoji set. The new emoji include, among others, a watermelon-eating emoji and a smiling Shiba Inu.
On Weibo, the new emoji have become a topic of discussion under the hashtags "WeChat's New Emoji" (#微信上线新表情#), "WeChat's Watermelon Eating Emoji" (#微信上线吃瓜表情#), and "WeChat's Dog Emoji" (#微信上线狗头表情#).
Different from the Unicode emoji (see Emojipedia), WeChat and Weibo have their own sets of emoji, although there is overlap.
The reason why especially the watermelon-eating and dog emoji are being discussed on social media, is because these emoji are based on popular internet memes.
"Eating watermelon" (吃瓜 chī guā) is an online expression that comes from "watermelon-eating masses" (吃瓜群众 chī guā qúnzhòng), which describes a common mentality of Internet users who have no idea what is actually going on but are still commenting or following online stories for their enjoyment – perhaps comparable to the "popcorn memes" that are ubiquitous on Western social media platforms.
The smiling dog has been around since 2013 and is known as the doge meme, based on a photo of a Shiba inu. The meme was originally spread on social media platforms such as Reddit, but then also became hugely popular in China, where it became a symbol of sarcasm (also read this Abacus article on this topic).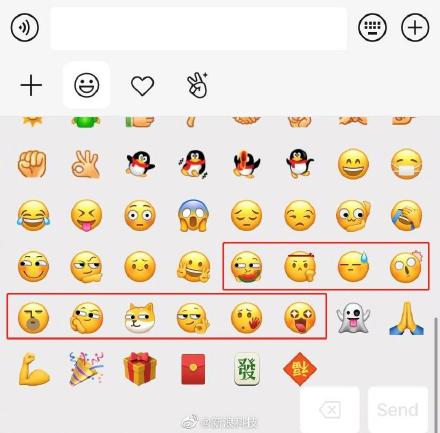 Other new emoji are the "wow" emoji, and others to express "ok," "add oil," "emm," "oh!"
There's also a "shehui shehui" (社会社会, lit. "society society") emoji, which also comes from online culture and is a way among friends to (self-mockingly) talk about being 'gangsters,' 'brothers.' or 'scoundrels.'
As the new emoji are still in their testing phase, not all WeChat users can use the new emoji yet, so you might have to wait a bit before being able to try them out.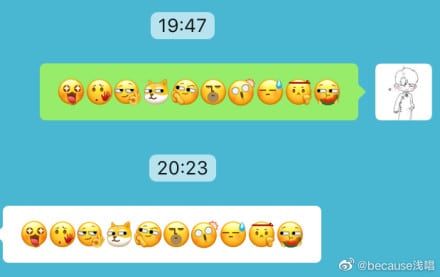 By Manya Koetse, with thanks to @caaatchina
Follow @whatsonweibo
Spotted a mistake or want to add something? Please let us know in comments below or email us. First-time commenters, please be patient – we will have to manually approve your comment before it appears.
©2020 Whatsonweibo. All rights reserved. Do not reproduce our content without permission – you can contact us at info@whatsonweibo.com.
'Good Doctor', Digital Hospitals: How Mobile Apps Are Alleviating China's Healthcare Problems
With the rapid digitalization of China's healthcare, Chinese patients now have more ways than one to receive medical assistance.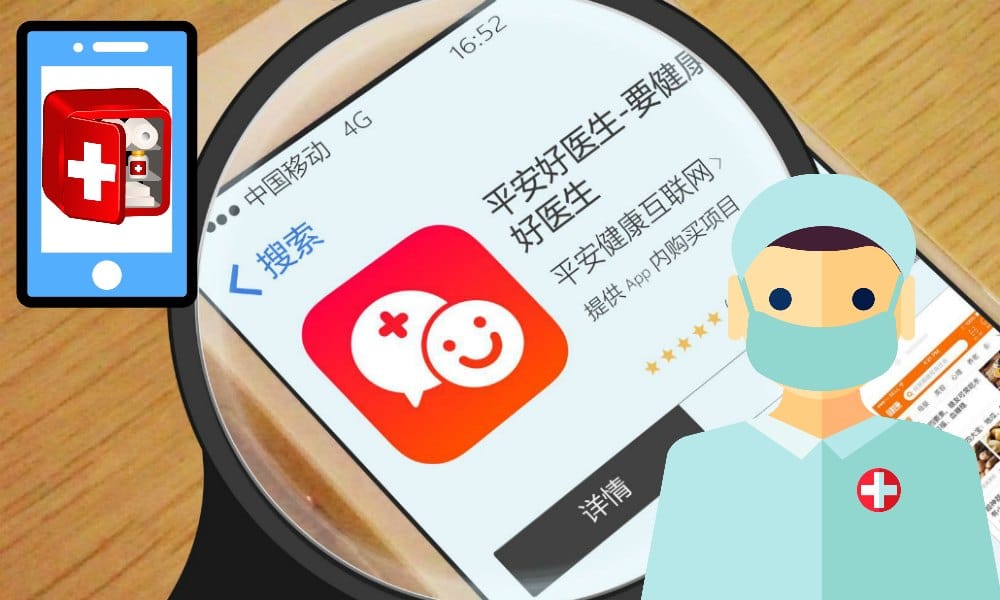 China's healthcare industry is facing some serious challenges. As Chinese society is rapidly digitalizing, mobile apps now provide innovative solutions to alleviate pressing problems in the country's health services sector.

This is the "WE…WEI…WHAT?" column by Manya Koetse, originally published in German by Goethe Institut China on Goethe.de: "Good-Doctor Apps und Digitale Krankenhäuser." 

Social Credit System, artificial intelligence, surveillance cameras; these are some of the hottest topics making headlines in mainstream Western media when discussing China-related developments recently.
With the rapid digitalization of Chinese society, these topics certainly have come to play a more important role in social media discussions within the People's Republic of China (PRC). But if there is one issue that seems to concern Chinese social media users the most, it is not facial recognition nor their 'Sesame score': it is the topic of healthcare.
In December of 2017, a photo showing a crying mother kneeling down beside a toddler on the sidewalk in front of a Shanghai hospital went viral overnight. The moment was captured on camera by a reporter who was visiting Shanghai's Children's Hospital.
The mother, Guo Yinzhen, is a single parent who had traveled from a remote village to seek medical help for her 3-old-son, who was suffering from congenital hydrocephalus or 'water on the brain.' Already having traveled to the city multiple times and spending all her money on medical bills, Guo could not afford the additional 100.000 yuan (€ 12.600) for medical procedures needed to save her son's life.
Guo's story struck a chord with Chinese netizens, who continue to share the heartbreaking photo on social media to this day. It has become emblematic of China's healthcare problems.
Crowded Hospitals and 'Healthcare Disturbance'
The key to an adequate healthcare system, no matter where in the world, is that there is a right balancing in the "iron triangle" of efficiency/cost containment, high quality care, and patient access.[1] China, however, struggles with all three sides of this triangle.
Guo's case is an extreme example, but many people in China dealing with less serious health issues and needing basic medical services also struggle to afford and access the healthcare they need.
Over 95% of people in China have health insurance, but people from different regions do not enjoy the same benefits and their out-of-pocket expenses can vary greatly. Uncovered medical costs can sometimes be catastrophic and simply unaffordable for patients and their families.
As more money flows are going to healthcare facilities in China's cities, there is also the issue of varying levels of providers' medical education and the overall healthcare quality, with the substantial majority of modern hospitals still existing in urban areas.
Easy access to the right kind of healthcare can be especially problematic for China's rural population, as people often need to travel long distances and have to go through the lengthy process of registering and waiting for their doctor's appointment, which sometimes requires them to stay in the city overnight.
For all of these reasons, China's bigger public hospitals can get super crowded, sometimes resembling shopping malls on an end-of-season sales day. On social media, both patients and medical workers often complain about the stress brought about by the huge crowds and the shortage of doctors in hospitals across the country.
Perhaps it is no wonder that China even has a word to describe outbursts of violence between patients and doctors: 'Yī nào' (医闹, literally: "healthcare disturbance").
One major problem within China's healthcare conundrum is the lack of local family or primary-care doctors, which often makes bigger hospitals the first stop to any kind of medical treatment for Chinese patients.
The reasons for this issue are manifold. There is a general lack of trust in private and smaller local healthcare clinics, for example, and patients often choose to go directly to a bigger hospital to avoid making extra costs.
This makes it extra difficult for many community health care centers – that are already struggling – to make enough money and to retain qualified staff. In a society that is rapidly aging, the challenges facing China's healthcare industry are only becoming more pressing.
A Doctor Today, Just an App Away
As China's online environment is thriving, new innovative online apps are popping up on a daily basis. Some of these apps, that have found their ways into China's most popular app rankings, are offering solutions to some of the country's most pressing healthcare problems.
One of these apps is Ping'an Good Doctor (平安好医生), which was developed by health insurance provider Ping'an in 2015 and calls itself China's "one-stop healthcare ecosystem."
Employing some 1000 medical staff in its in-house team, contracting over 5,200 external doctors, and collaborating with 3000 hospitals and thousands of pharmacy outlets across the country, the app is somewhat of an "online hospital."
Through the app, users can look through an online database of medical professionals, order medicine at nearby pharmacies, get 24/7 online medical consultancy, search for information about both Western and Chinese Traditional Medicine, etc., but they can also use Ping'an Good Doctor as a fitness app to track their own health.
When looking for a specific doctor for a one-on-one consult, the app first lets users select an area of expertise (e.g. dermatology or gynecology), and then offers a list of different specialists in various price categories.
Doctors from well-known hospitals, for example, or those with excellent ratings, have a one-time consultation fee of 100 yuan (€ 12,60). Other doctors can be consulted starting from 30 yuan (€3,70). All costs can be paid efficiently via online payment apps.
Ping'an Good Doctor uses an AI-driven system to ask patients various questions about their symptoms and to automatically create a user's medical record to save time. Based on the AI-generated record and the conversation with the patients – files such as photos can also be uploaded to the app -, the doctors can prescribe medicine or refer the patient to a hospital for an offline appointment if needed.
Ping'an recently announced that its number of registered users exceeded 300 million users, with 62 million monthly active users. Because the app keeps building on its AI-driven system, Ping'an Good Doctor can be expected to only become a 'smarter' smart health app the more popular it gets.
Although Ping'an is now leading within China's medical app category, there are many other apps providing similar services, such as Chunyu Yisheng (春雨医生), Haodafu Online (好大夫在线), or DingXiang Doctor (丁香医生).
The emergence of these apps is just one of the many ways in which China's digital developments, online media, and tech giants are impacting the healthcare industry, profoundly changing how patients receive healthcare information and access medical services now and in the future.
In a way, China's medical consultation apps fill the void in offline primary care. Patients who would otherwise turn to hospital care as their first stop can now  access medical consultations any time, any day, at a relatively low cost. Those who suffer from relatively harmless conditions could be diagnosed by a medical specialist via the app and get the medicine they need within a matter of minutes. With the growing popularity of these kinds of apps, many patients no longer need to visit a hospital at all.
Are smart health apps such as Ping'an Good Doctor the solution to China's healthcare problems? No, they're not. Struggling mums like Guo Yinzhen will not find the help they need there. But they do contribute to a more efficient healthcare environment where crowd flows in hospitals can be reduced, and patients do not need to spend a lot of time and money to stand in hour-long queues to get five minutes of their doctor's time.
Although smart health apps could not help Guo Yinzhen and her son, social media apps could. As soon as their story went viral in late 2017, Shanghai Children's Welfare Foundation Xiaoxingxin offered to cover medical treatments for the little boy, with a notable pediatric neurosurgeon operating the child. According to the latest updates, the boy's situation was "looking good."
Hopefully, the same holds true for the challenging sides of China's healthcare industry.
By Manya Koetse
Follow @whatsonweibo
[1] Burns & Liu, 2017: 3-4.
References/Linked Sources
Burns, Lawton Robert, and Gordon G. Liu. 2017. "Introduction." In China's Healthcare Industry: A System Perspective, Lawton Robert Burns and Gordon G. Liu (eds), pp-1-116. Cambridge: Cambridge University Press.
Economist, 2017. "China needs many more primary-care doctors." The Economist, May 11 https://www.economist.com/china/2017/05/11/china-needs-many-more-primary-care-doctors [20.10.19].
Zhou, Viola. 2018. "Does China Have Universal Healthcare? A Long (And Better) Answer." Inkstone, Oct 10 https://www.inkstonenews.com/health/china-translated-does-china-have-universal-health-care/article/2167579
This text was first published by Goethe-Institut China under a CC-BY-NC-ND-4.0-DE license (Creative Commons) as part of a monthly column in collaboration with What's On Weibo.