Clean Your Plate, Waste No Food – China's Anti Food Waste Campaign Is Sweeping the Nation
These are the main trends and topics in the context of China's nationwide 'Clean Plate campaign.'
Empty plates, small orders, stop promoting excessive eating – China's anti-food waste campaign is alive and kicking all across the country. These are some of the main social media topics and trends in the context of the 'Clean Plate campaign.'
Since the call by President Xi Jinping to fight against food waste earlier this month, new regulations, initiatives and trends are popping up all over the nation to curb the problem of food loss.
Following China's COVID-19 crisis, the ongoing trade war with the US, and mass flooding, President Xi called the issue of food waste "shocking and distressing," as he stressed that the country needs to "maintain a sense of crisis about food security."
According to numbers posted in online information sheets by state media, some 38% of the food at Chinese banquets goes to waste. In 2015 alone, an estimated 17 million to 18 million tons of food was wasted.
This is the second time in a decade for China to launch a 'Clean Plate' campaign (光盘行动). There was a previous campaign in 2013 that used the slogan "I'm proud of my clear plate." The estimated annual wastage of grain in China at the time was estimated to be 50 million tons.
On Chinese social media, the 2020 "Operation Clean Plate" is receiving a lot of attention. These are some of the trending topics we have seen on Weibo in relation to the anti-food waste campaign.
RESTAURANTS
"N-1" Is the Way to Order, the "Waste Prevention Supervisor" Will Help You
One way restaurants are now addressing the problem of food waste is implementing the "N-1 ordering mode" (N-1点餐模式) which basically means that instead of a group of ten people ordering eleven dishes (N+1), they are advised to only order nine.
Famous Peking roast duck restaurant company Quanjude (全聚德) now advises groups of, for example, seven people to either take their set meal or to order no more than five or six dishes from the menu to avoid wasting food.
They have even appointed a "Waste Prevention Supervisor" (制止浪费监督员) in their restaurants to oversee customers' orders.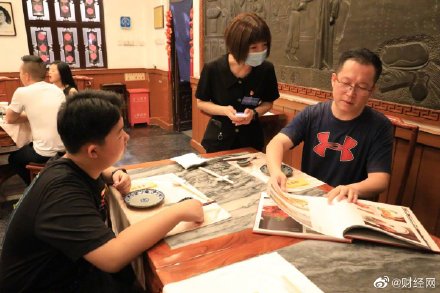 The "N-1" idea is now being implemented in various cities across China.
Earlier this month, Sixth Tone reported that the Wuhan Catering Industry Association (武汉餐饮行业协会) was taking measures to limit the number of portions restaurant patrons can order. Now, the same measures are also being taken in other cities, like in Shijiazhuang (Hebei), Xianning (Hubei), Xinyang (Henan), Guangzhou (Guangdong), Quanzhou (Fujian), and other places.
One restaurant in Changsha got a bit too carried away recently, as it encouraged customers to weigh themselves and order food accordingly. The restaurant apologized after causing some controversy on social media.
TRAINS
Smaller Portions on the Gaotie
In line with the country's anti-food waste campaign, some Chinese highspeed railway trains have also started introducing smaller portions for their in-train food services.
Instead of larger portioned rice meals or noodles, the Nanchang Highspeed Train now offers customers different small size portions in 'blue and white porcelain' bowls.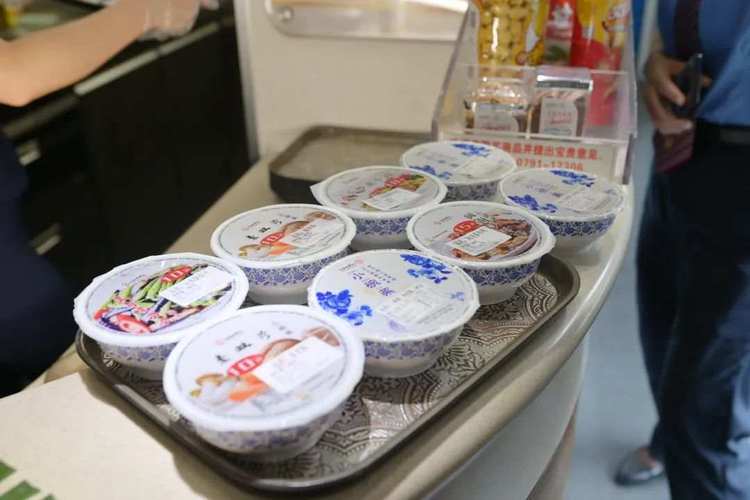 The initiative became a topic of discussion on Weibo (#南昌高铁推出青花瓷小碗菜#), where some applauded it while others complained that the meals were still relatively expensive while being small.
SCHOOLS
Be an "Empty Plate Hero"
China's anti-food waste campaign is also actively promoted in schools across the country. Hundred primary schools in Jinan, for example, teach their students about combating food waste with a slogan along the lines of "Don't leave food behind, be a 'clean plate' hero" (*the original slogan "不做"必剩客",争做"光盘侠"" also has some word jokes in it).
The schools have also set up various activities to raise awareness of food waste.
ONLINE MEDIA
Operation Clean Plate: Empty Plates Snapshot
"Operation Clean Plate" is not just actively promoted in Chinese restaurants and in schools; Chinese state media and official (government) accounts are also promoting the campaign through social media.
The Weibo hashtag "Operation Clean Plate" (#光盘行动#), initiated by the Chinese Communist Youth League, had over 610 million views by August 21st, promoting the idea of "treasuring food, and refusing to waste it."
Besides the Communist Youth League, other official accounts including China Youth Daily and People's Daily also actively promote awareness on wasting food and encourage people to empty their plates. China Youth Daily even initiated the online trend of posting a pic of your own empty plate under the hashtag "Clean Plate Snapshots" (#光盘随手拍#)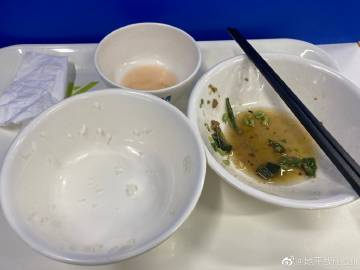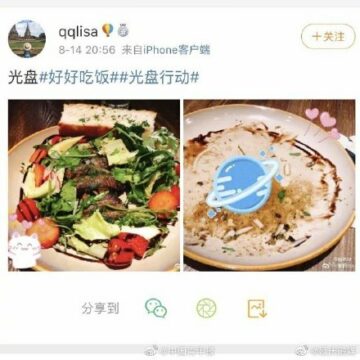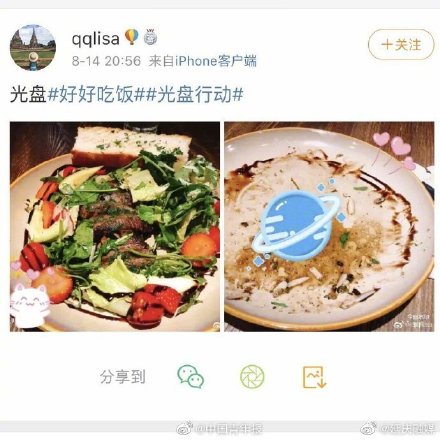 Another hashtag, the Big Clean Plate Challenge (#光盘挑战大赛#), initiated by People's Daily, had 290 million views by August 21, with hundreds of netizens posting photos of their before and after dinner plates.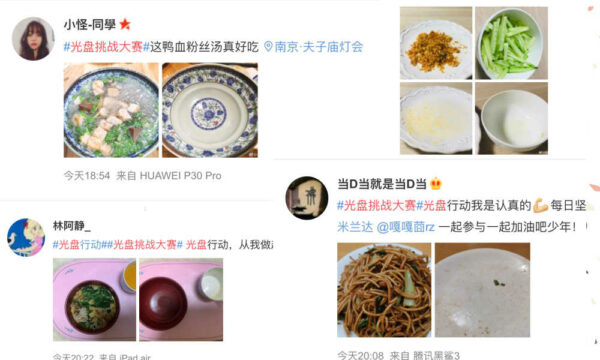 Using the "clean plate" hashtags, many netizens are posting evidence that they are not squandering food.
EATING INFLUENCERS
Big Stomach Stars Need to Turn it Down a Notch
In 2018, we wrote about the trend of China's "big stomach stars" (大胃王) or "eating vloggers' (吃播女博主), an online video genre in which hosts will consume extremely large amounts of food (also known as the 'mukbang' phenomenon in South Korea).
Since attempting to eat 17 kg (35 pounds) of meat by oneself – something that is actually done on camera by these kinds of vloggers – does not exactly fit the idea of China's anti-food waste campaign, these eating vloggers are now being criticized in Chinese media.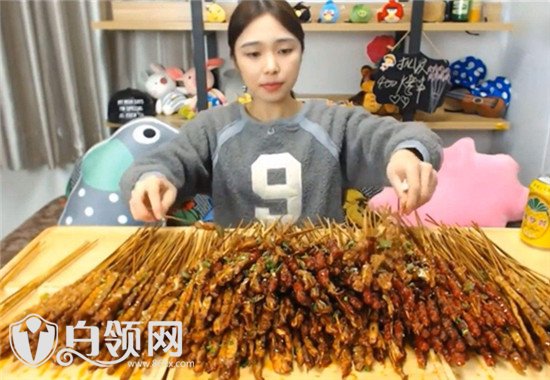 Social media platforms such as Douyin (the Chinese Tiktok) have also taken action against the 'big stomach stars.' On August 12, the Douyin Safety Center published a video saying the app will not allow any behavior on its platform showing food-wasting or otherwise promoting activities that lead to food loss.
For now, popular Chinese eating influencers will have to adjust the content of their videos. Little Pigs Can Eat (逛吃小猪猪) is one of these influencers who recently has showed smaller portions and more empty plates in her videos.
By Manya Koetse, with contributions by Miranda Barnes
Follow @WhatsOnWeibo
Spotted a mistake or want to add something? Please let us know in comments below or email us. First-time commenters, please be patient – we will have to manually approve your comment before it appears.
©2020 Whatsonweibo. All rights reserved. Do not reproduce our content without permission – you can contact us at info@whatsonweibo.com.
From Baijiu Latte to DIY Liquor Coffee: China's Coffee Culture Takes a Shot at Coffee + Alcohol Fusion
The recent buzz surrounding the Luckin x Maotai collaboration shows that blending coffee + alcohol might just become the next major trend in Chinese coffee culture.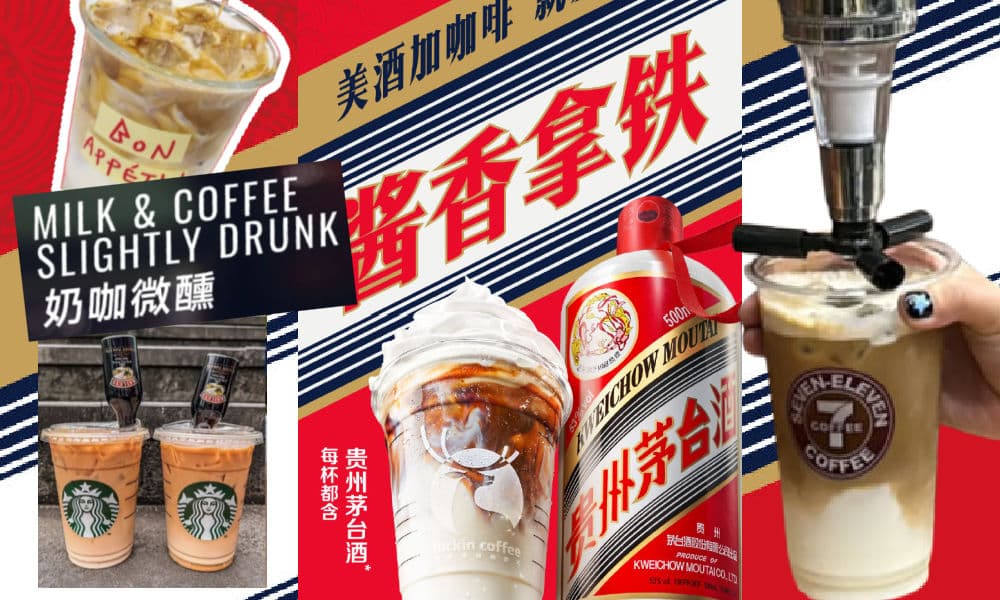 China's coffee culture is brewing up something new as it embraces the fusion of coffee and alcohol. This blossoming trend, currently a hot topic online thanks to the Luckin x Maotai collaboration, is sparking curiosity and discussions about its lasting impact on coffee culture in China.
Would you like a shot with that? Recently, a trend involving the fusion of alcohol and coffee seems to be taking off in China, blending established liquor brands with popular domestic coffee labels.
The concept of mixing alcohol with coffee is relatively new in China, where classics like Irish Coffee never achieved the same recognition as they did in Western countries.
But also, the way in which 'coffee + alcohol' is introduced to consumers is different, with brands such as 7-Eleven and Luckin promoting their 'coffee + liquor shot' or 'alcohol lattes.'
As a tea drinking nation, coffee culture is not part of Chinese traditional culture. However, over the past decade, China has witnessed the remarkable growth of a distinct and immensely popular Chinese coffee culture. In this evolving landscape, companies and consumers are continuously finding innovative ways to incorporate coffee into daily city life.
Coffee in China is typically an out-of-home purchase, particularly favored by the middle class (Ferreira & Ferreira 2018, 785). It has become intrinsically linked with modern urban life in China, taking on new cultural meanings related to status, lifestyle, aesthetics, urban communities, and the acquisition of new tastes. Millennials and Gen Z are at the forefront of shaping China's coffee culture.
The pursuit of unique flavors is a defining aspect of China's coffee culture, with a strong emphasis on specialty coffee. In fact, Shanghai alone boasts over 7,000 independent coffee houses, surpassing coffee hubs like London or New York (Xu & Ng 2022, 2349). Chinese coffee shops are known for introducing innovative concepts such as fruit-infused coffee, spicy chili coffee, garlic coffee, and liquor-flavored coffees.
Rather than introducing coffee into China's drinking culture, alcohol is now being integrated into China's coffee culture, providing consumers with yet another way to enjoy their coffee and explore new flavor experiences.

7-Eleven Blending Coffee with Alcohol

At various 7-Eleven convenience stores in China, you can now purchase a shot of alcohol to go with your coffee. For just 5 yuan ($0.70), customers can add a shot of their preferred liquor, such as Havana or Malibu, to their take-away coffee. It's also possible to add it to your soda.
While we first noticed this option at a Beijing 7-eleven somewhere during the summer of 2023, Radii and Phoenix News reported that the first DYI counter was piloted at a Beijing store in October of 2022.
The counter, that specifically promotes the coffee + alcohol combo, is meant to serve customers who would previously purchase their coffee and then separately buy a full-priced mini bottle of liquor for anywhere in between 20-40 yuan ($2.75-$5.50) for 50ml.
In late 2022, 7-Eleven in Taiwan also promoted the liquor + coffee combo as it exclusively offered the Hennessy cognac x City Prima coffee "Liquor Latte Set."

Luckin x Maotai Collab: Introducing Baijiu Latte

While the trend of adding alcohol to coffee seems to be taking off in China, Luckin coffee became all the talk on Chinese social media this week for its collaboration with Maotai (茅台), also known as Moutai, a renowned Chinese brand of baijiu – a type of strong distilled liquor.
Luckin launched the drink on Monday for 38 yuan ($5.20) under the name "酱香拿铁" (jiàng xiāng ná tiě) or "Sauce-Flavored Latte," soon selling out at various stores and becoming a trending topic online. The 'sauce' reference is because of the distinct flavor profile associated with Maotai, often described as having a soy sauce-like aroma ("酱香型").
The collaboration has become super popular for various reasons, one major one being the unexpected yet exciting combination of two such well-known Chinese brands coming together.
Luckin Coffee (瑞幸咖啡) was founded in Beijing in 2017, opened its first shops in early 2018, and it has seen incredible growth over the past five years. The brand's primary emphasis lies in providing top-notch coffee at accessible prices in convenient locations. Due to its ubiquity and dominant position in the market, it's sometimes also referred to as "China's Starbucks" ("中国星巴克").
Maotai, made in Maotai in Guizhou Province, prides itself for its 2000-year history and it became the first Chinese liquor to be produced in large-scale production. The strong luxury spirit (53%), known as China's national liquor, is especially popular among middle-aged and elderly men.
With Luckin being particular popular among China's younger generations, while Maotai is especially loved among the elder generations, one popular Weibo post about the recent collaboration said: "For young people, it's their first cup of Maotai, for the elderly, it's their first cup of Luckin."
It is also one of the reasons why the trend has become so big this week: many consumers are just curious to try this novel combination, although not everyone likes its special taste.
The blend of coffee with alcohol is really more about the flavor than the buzz; the baijiu-flavored Luckin coffee only has an alcohol content of about 0.5%. One Weibo hashtag related to the question of whether or not people should drive after consuming the drink amassed an astonishing 640 million views (#瑞幸回应喝茅台联名咖啡能否开车#). Despite the very low alcohol content, Luckin still advises that minors, pregnant women, and drivers should avoid consuming the beverage.
Some social media users add some extra Maotai to their coffee themselves, calling it the "Chinese version of Irish coffe" ("中国版的爱尔兰咖啡").

"Milk Tea for Grown-Ups"

Luckin is not the only Chinese coffee house offering a Maotai-flavored latte. Other Chinese coffee shops have independently introduced their own versions of Maotai coffee, without official partnerships.
In addition to company-driven innovations, consumers are also experimenting with their own coffee + liquor blends. On the social media platform Xiaohongshu, numerous users are enthusiastically sharing their personalized methods infusing coffee with Maotai and various other types of alcohol, including adding miniature bottles of Baileys to Starbucks takeaway coffee.
Others are going beyond the coffee trend, and mix their milk tea or fruit tea with Jameson, Kahlua, or other liquors, turning them into "grown-up milk tea" beverages (成年人的奶茶).
While such practices might receive disapproval in many countries, where daytime drinking and adding spirits to coffee could be seen as indicative of alcoholism and irresponsible behavior, in China, these actions generally lack these negative connotations. Many young people just view it as an innovative way to enjoy new tastes, describing it as "a new trendy way to drink coffee" (or tea).
Is the coffee + alcohol mix a temporary trend, or will it become a permanent part of China's out-of-home coffee culture? On social media, most people are curious to try it out but they are also not convinced the combination is one to stay.
"I don't really know the flavor of coffee + alcohol, but judging from their effects – alcohol makes me sleepy and coffee wakes me up – I'm afraid it would mix up my nerves, so I don't dare to try" one commenter (@无边桃炎) wrote.
"It's just the taste [of mixing coffee with alcohol] that's really good – apart from the Maotai Luckin one," one person responded.
They are not alone; numerous young Chinese internet users are speculating that the recent Luckin collaboration is Maotai's strategy to appeal to China's younger generations, who do not necessarily appreciate its distinct flavor. These younger demographics have moved away from the traditional drinking culture in which baijiu plays a significant role.
"It's just so unpleasant to drink," others write. "Is it alcohol or is it coffee?" another person wonders: "In the end, it's actually neither."
While Luckin's "Sauce-Flavored Latte" might not secure a permanent place on its menu, it's clear that the trend of adding alcohol to coffee has gained popularity among China's younger consumers. With 7-Eleven's DIY counter offering a variety of sweeter liquors for customers to blend with their coffee, it appears they've found the perfect "shot" in this coffee and liquor trend.
By Manya Koetse
with contributions by Miranda Barnes
References
Ferreira, Jennifer, and Carlos Ferreira. 2018. "Challenges and Opportunities of New Retail Horizons in Emerging Markets: The Case of a Rising Coffee Culture in China." Business Horizons 61, no. 5: 783-796.
Xu, Xinyue, and Aaron Yikai Ng. 2023. "Cultivation of New Taste: Taste Makers and New Forms of Distinction in China's Coffee Culture." Information, Communication & Society 26, no. 11: 2345-2362.
Get the story behind the hashtag. Subscribe to What's on Weibo here to receive our newsletter and get access to our latest articles:
Spotted a mistake or want to add something? Please let us know in comments below or email us. First-time commenters, please be patient – we will have to manually approve your comment before it appears.
©2023 Whatsonweibo. All rights reserved. Do not reproduce our content without permission – you can contact us at info@whatsonweibo.com.
Japanese Restaurant in Shanghai Faces Backlash for Offering "Anti-Radiation" Meals
Amidst the panic surrounding Fukushima, this Shanghai-based Japanese-style restaurant ventured into a new business approach.
Since August 24th, when Japan started the release of treated radioactive water from the damaged Fukushima power plant into the ocean, a myriad of related topics have surged across Chinese social media platforms.
The dissemination of news concerning the Fukushima wastewater discharge, amplified by Chinese media outlets, has sparked considerable unrest in various ways.
Among these is the phenomenon of salt hoarding. There have been dozens of posts on Weibo showing extreme examples of people stockpiling salt. In some places, people queued for up to an hour to buy salt while early-bird shoppers left stores with heavily laden shopping carts.
China also saw instances of salt hoarding in 2011, just after the tsunami and Fukushima disaster. Some people equate 'salt' to 'sea salt' and they are concerned that salt stocks could potentially become contaminated due to the Fukushima wastewater. But there is also a general belief that salt consumption could provide protection against exposure to radioactivity.
Nonetheless, regular table salt does not actually provide protection against radiation, and consuming excessive amounts of iodized salt could potentially pose health risks on its own.
While scientists and critics find the recent panic to be unfounded – emphasizing that Japan's actions fall within the safety limits of the Atomic Energy Agency and that the environmental impact is minimal, – a prevailing skepticism toward Western powers combined with official media boosting news concerning the discharge of radioactive water, ensures that Fukushima-related fears and misconceptions remain pervasive.
The concerns surrounding Fukushima have already had negative consequences for many business owners in China, especially for some Japanese-style restaurant owners who felt the need to change their theme, change their name, or explicitly state that their ingredients are not actually coming from Japan.
Meanwhile, there are also some who are trying to capitalize on the situation for profit.
One Japanese-style restaurant in Shanghai's Hongqiao recently starting offering a so-called "anti radiation" set meal ("防辐射"套餐). The set meal, which was first introduced on online platform Dianping, included ingredients such as tomatoes, edamame, tofu, and spinach.
The Japanese restaurant introduced the menu on the 25th, a day after Japan started discharging the first batch of wastewater into the ocean. While various Chinese media write that there is no scientific basis for the radiation-blocking effects of these foods, the restaurant stated they no longer use any products from Japan and that ingredients used are all sourced locally.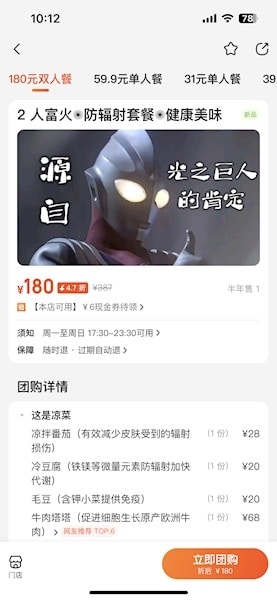 According to various news posts, the restaurant compiled the menu through research and seeking advice from a nutritionist. The restaurant also associated each dish with particular benefits, including claims of "reducing skin damage" or "stimulating cell growth."
But soon after the restaurant had put their anti-radiation menu online, it became a big topic of discussion, with one related hashtag on Weibo getting over 140 million views (#上海一日料店上架防辐射套餐#).
"Of course, the next step is to make a quick buck by pushing anti-radiation products," one popular comment said (using the phrase gē jiǔcài 割韭菜, 'harvesting chives,' also explained in our latest newsletter).
Other people wondered why one would order such a menu if you might as well cook the exact same things at home. "Why would I pay 28 yuan for tomato with seasoning?"
Meanwhile, Chinese media outlets, citing legal experts, focused more on the legal problems surrounding the menu, suggesting that making false claims is against the law.
Following the controversy, the restaurant has now pulled its menu offline.
Nonetheless, the restaurant won't be the first or the last business owner to profit from Fukushima fear and anger. While some are selling anti-radiation tablets, others are selling t-shirts with slogans opposing Japan's decision to discharge the wastewater.
On Weibo, local authorities and media accounts are cautioning consumers against purchasing ineffective products that offer no protection against radiation exposure, reiterating that buying loads of salt will not help either.
By Manya Koetse
Get the story behind the hashtag. Subscribe to What's on Weibo here to receive our newsletter and get access to our latest articles:
Spotted a mistake or want to add something? Please let us know in comments below or email us. First-time commenters, please be patient – we will have to manually approve your comment before it appears.
©2023 Whatsonweibo. All rights reserved. Do not reproduce our content without permission – you can contact us at info@whatsonweibo.com.
Subscribe to our newsletter
Stay updated on what's trending in China & get the story behind the hashtag
Sign up
here
to become a premium member of What's on Weibo today and gain access to all of our latest and premium content, as well as receive our exclusive Weibo Watch newsletter. If you prefer to only receive our free newsletter with an overview of the latest articles, you can
subscribe for free
here.
Would you like to become a contributor, or do you have any tips or suggestions for us? Get in touch with us here.