Clean Your Plate, Waste No Food – China's Anti Food Waste Campaign Is Sweeping the Nation
These are the main trends and topics in the context of China's nationwide 'Clean Plate campaign.'
Empty plates, small orders, stop promoting excessive eating – China's anti-food waste campaign is alive and kicking all across the country. These are some of the main social media topics and trends in the context of the 'Clean Plate campaign.'
Since the call by President Xi Jinping to fight against food waste earlier this month, new regulations, initiatives and trends are popping up all over the nation to curb the problem of food loss.
Following China's COVID-19 crisis, the ongoing trade war with the US, and mass flooding, President Xi called the issue of food waste "shocking and distressing," as he stressed that the country needs to "maintain a sense of crisis about food security."
According to numbers posted in online information sheets by state media, some 38% of the food at Chinese banquets goes to waste. In 2015 alone, an estimated 17 million to 18 million tons of food was wasted.
This is the second time in a decade for China to launch a 'Clean Plate' campaign (光盘行动). There was a previous campaign in 2013 that used the slogan "I'm proud of my clear plate." The estimated annual wastage of grain in China at the time was estimated to be 50 million tons.
On Chinese social media, the 2020 "Operation Clean Plate" is receiving a lot of attention. These are some of the trending topics we have seen on Weibo in relation to the anti-food waste campaign.
RESTAURANTS
"N-1" Is the Way to Order, the "Waste Prevention Supervisor" Will Help You
One way restaurants are now addressing the problem of food waste is implementing the "N-1 ordering mode" (N-1点餐模式) which basically means that instead of a group of ten people ordering eleven dishes (N+1), they are advised to only order nine.
Famous Peking roast duck restaurant company Quanjude (全聚德) now advises groups of, for example, seven people to either take their set meal or to order no more than five or six dishes from the menu to avoid wasting food.
They have even appointed a "Waste Prevention Supervisor" (制止浪费监督员) in their restaurants to oversee customers' orders.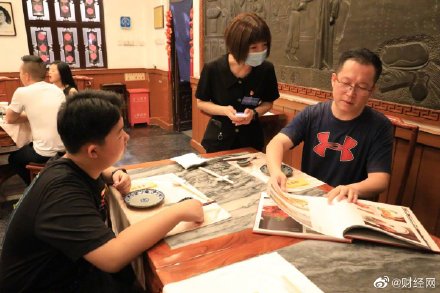 The "N-1" idea is now being implemented in various cities across China.
Earlier this month, Sixth Tone reported that the Wuhan Catering Industry Association (武汉餐饮行业协会) was taking measures to limit the number of portions restaurant patrons can order. Now, the same measures are also being taken in other cities, like in Shijiazhuang (Hebei), Xianning (Hubei), Xinyang (Henan), Guangzhou (Guangdong), Quanzhou (Fujian), and other places.
One restaurant in Changsha got a bit too carried away recently, as it encouraged customers to weigh themselves and order food accordingly. The restaurant apologized after causing some controversy on social media.
TRAINS
Smaller Portions on the Gaotie
In line with the country's anti-food waste campaign, some Chinese highspeed railway trains have also started introducing smaller portions for their in-train food services.
Instead of larger portioned rice meals or noodles, the Nanchang Highspeed Train now offers customers different small size portions in 'blue and white porcelain' bowls.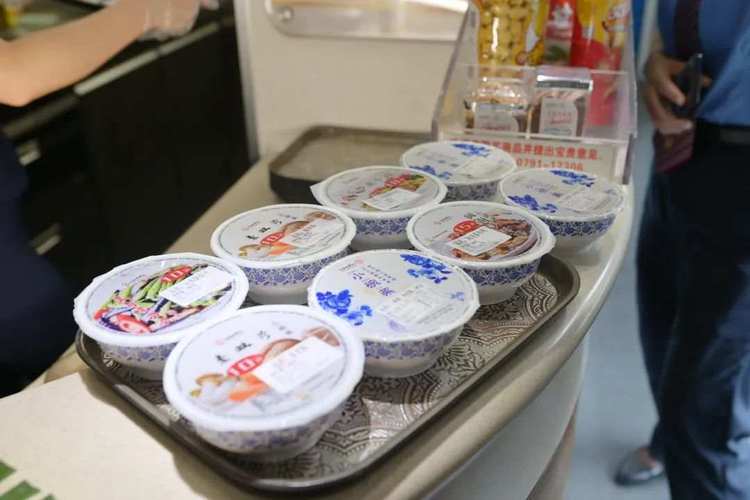 The initiative became a topic of discussion on Weibo (#南昌高铁推出青花瓷小碗菜#), where some applauded it while others complained that the meals were still relatively expensive while being small.
SCHOOLS
Be an "Empty Plate Hero"
China's anti-food waste campaign is also actively promoted in schools across the country. Hundred primary schools in Jinan, for example, teach their students about combating food waste with a slogan along the lines of "Don't leave food behind, be a 'clean plate' hero" (*the original slogan "不做"必剩客",争做"光盘侠"" also has some word jokes in it).
The schools have also set up various activities to raise awareness of food waste.
ONLINE MEDIA
Operation Clean Plate: Empty Plates Snapshot
"Operation Clean Plate" is not just actively promoted in Chinese restaurants and in schools; Chinese state media and official (government) accounts are also promoting the campaign through social media.
The Weibo hashtag "Operation Clean Plate" (#光盘行动#), initiated by the Chinese Communist Youth League, had over 610 million views by August 21st, promoting the idea of "treasuring food, and refusing to waste it."
Besides the Communist Youth League, other official accounts including China Youth Daily and People's Daily also actively promote awareness on wasting food and encourage people to empty their plates. China Youth Daily even initiated the online trend of posting a pic of your own empty plate under the hashtag "Clean Plate Snapshots" (#光盘随手拍#)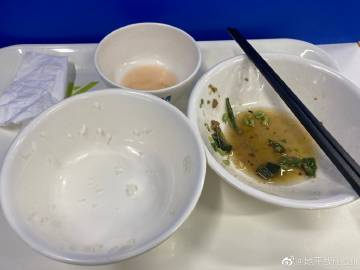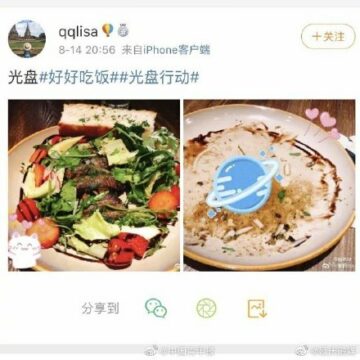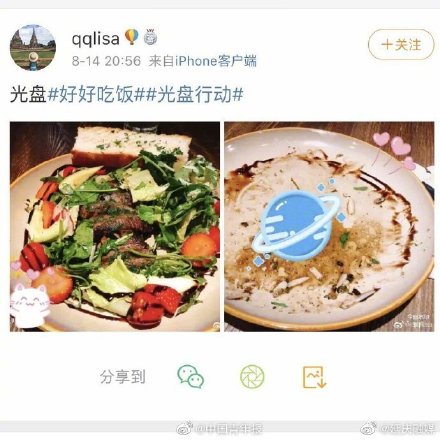 Another hashtag, the Big Clean Plate Challenge (#光盘挑战大赛#), initiated by People's Daily, had 290 million views by August 21, with hundreds of netizens posting photos of their before and after dinner plates.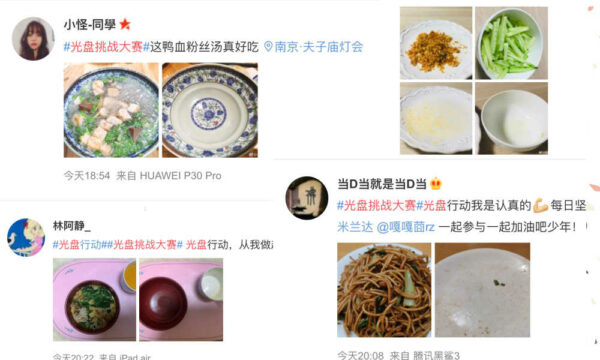 Using the "clean plate" hashtags, many netizens are posting evidence that they are not squandering food.
EATING INFLUENCERS
Big Stomach Stars Need to Turn it Down a Notch
In 2018, we wrote about the trend of China's "big stomach stars" (大胃王) or "eating vloggers' (吃播女博主), an online video genre in which hosts will consume extremely large amounts of food (also known as the 'mukbang' phenomenon in South Korea).
Since attempting to eat 17 kg (35 pounds) of meat by oneself – something that is actually done on camera by these kinds of vloggers – does not exactly fit the idea of China's anti-food waste campaign, these eating vloggers are now being criticized in Chinese media.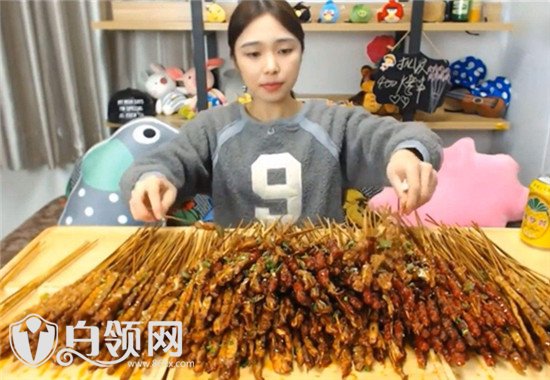 Social media platforms such as Douyin (the Chinese Tiktok) have also taken action against the 'big stomach stars.' On August 12, the Douyin Safety Center published a video saying the app will not allow any behavior on its platform showing food-wasting or otherwise promoting activities that lead to food loss.
For now, popular Chinese eating influencers will have to adjust the content of their videos. Little Pigs Can Eat (逛吃小猪猪) is one of these influencers who recently has showed smaller portions and more empty plates in her videos.
By Manya Koetse, with contributions by Miranda Barnes
Follow @WhatsOnWeibo
Spotted a mistake or want to add something? Please let us know in comments below or email us. First-time commenters, please be patient – we will have to manually approve your comment before it appears.
©2020 Whatsonweibo. All rights reserved. Do not reproduce our content without permission – you can contact us at info@whatsonweibo.com.
The Price is Not Right: Corn Controversy Takes over Chinese Social Media
It's corn! The "6 yuan corn" debate just keeps going.
Recently there have been fierce discussions on Chinese social media about the price of corn after e-commerce platform Oriental Selection (东方甄选) started selling ears of corn for 6 yuan ($0.80) per piece.
The controversy caught the public's attention when the famous Kuaishou livestreamer Simba (辛巴, real name Xin Youzhi), who has labeled himself as a 'farmer's son,' criticized Oriental Selection for their corn prices.
Founded in 2021, Oriental Selection is an agricultural products e-commerce platform under New Oriental Online. In its company mission statement, Oriental Selection says its intention is to "help farmers" by providing the channels to sell their high-quality agricultural goods to online consumers.
Simba suggested that Oriental Selection was being deceitful by promising to help farmers while selling their corn for a relatively high price. According to Simba, they were just scamming ordinary people by selling an ear of corn that is worth 0.70 yuan ($0.10) for 6 yuan ($0.80), and also not really helping the farmers while taking 40% of their profits.
During one of the following livestreams, Oriental Selection's host Dong Yuhui (董宇辉) – who also happens to be a farmer's son – responded to the remarks and said there was a valid reason for their corn to be priced "on the high side." Simba was talking about corn in general, including the kind being fed to animals, while this is high-quality corn that is already worth 2 yuan ($0.30) the moment it is harvested.
Despite the explanation, the issue only triggered more discussions on the right price for corn and about the fuzzy structure of the agricultural e-commerce livestreaming business.
Is it really too expensive to sell corn for 6 yuan via livestreaming?
The corn supplier, the Chinese 'Northeast Peasant Madame' brand (东北农嫂), is actually selling their own product for 3.6 yuan ($0.50) – is that an honest price? What amount of that price actually goes to the farmers themselves?
One person responding to this issue via her Tiktok channel is the young farmer Liu Meina (刘美娜), who explained that Simba's suggested "0.70 yuan per corn" was simply unrealistic, saying since it does not take the entire production process into account, including maintenance, packaging, transportation, and delivery.
Another factor mentioned by netizens is the entertainment value added to e-commerce by livestreaming channels. Earlier this year, Oriental Selection's host Dong Yuhui and his colleagues became an online hit for adding an educational component to their livestreaming sessions.
These hosts were actually previously teachers at New Oriental. Facing a crackdown on China's after-school tutoring, the company ventured into different business industries and let these former teachers go online to sell anything from peaches to shrimp via livestreaming, teaching some English while doing so (read more here). So this additional value of livestream hosts entertaining and educating their viewers should also be taken into account when debating the price of corn. Some call it "Dong Yuhui Premium" ("董宇辉溢价").
In light of all the online discussions and controversy, netizens discovered that Oriental Selection is currently no longer selling corn (#东方甄选回应下架玉米#), which also became a trending topic on Weibo on September 29.
But the corn controversy does not end here. On September 28, Chinese netizens discovered that corn by the 'Northeast Peasant Madame' brand (东北农嫂) was being sold for no less than 8.5 yuan ($1.2) at the Pangdonglai supermarket chain (胖东来), going well beyond the price of Oriental Selection.
Trying to avoid a marketing crisis, the Pangdonglai chain quickly recalled its corn, stating there had been an issue with the supply price that led to its final store price becoming too high. That topic received over 160 million views on Weibo on Friday (#胖东来召回8.5元玉米#).
Behind all these online discussions are consumer frustrations about an untransparent market where the field of agricultural products has become more crowded and with more people taking a share, including retailers, e-commerce platforms, and livestreaming apps. Moreover, they often say they are "helping farmers" while they are actually just making money themselves.
One Weibo user commented: "Currently, 'helping farmers' is completely different from the original intention of 'helping farmers.' Right now, it's not about helping farmers anymore, but about helping the companies who have made agricultural products their business."
"I bought a corn at a street shop today for 4 yuan ($0.55)," one Weibo blogger wrote: "It was big, sweet, and juicy, the quality was good and it was tasty – and people are still making money off of it. So yes, 6 yuan for a corn is certainly too expensive."
By Manya Koetse 
Get the story behind the hashtag. Subscribe to What's on Weibo here to receive our weekly newsletter and get access to our latest articles:
Spotted a mistake or want to add something? Please let us know in comments below or email us. First-time commenters, please be patient – we will have to manually approve your comment before it appears.
©2022 Whatsonweibo. All rights reserved. Do not reproduce our content without permission – you can contact us at info@whatsonweibo.com.
Young Chinese Woman Dies at Haidilao Hotpot Restaurant
The woman allegedly choked while having beef tripe.
On September 8, a woman from Putian in Fujian Province unexpectedly passed away while having hotpot at a Haidilao restaurant in a local mall.
The incident went trending on Chinese social media on Thursday, with the hashtags "Woman Suddenly Passes Away While Having Haidilao Hotpot" (#女孩海底捞吃火锅意外身亡#) and "Haidilao Responds to Female Customer Passing Away During Dinner" (#海底捞回应女顾客就餐时身亡#) receiving 50 million and 300 million views respectively.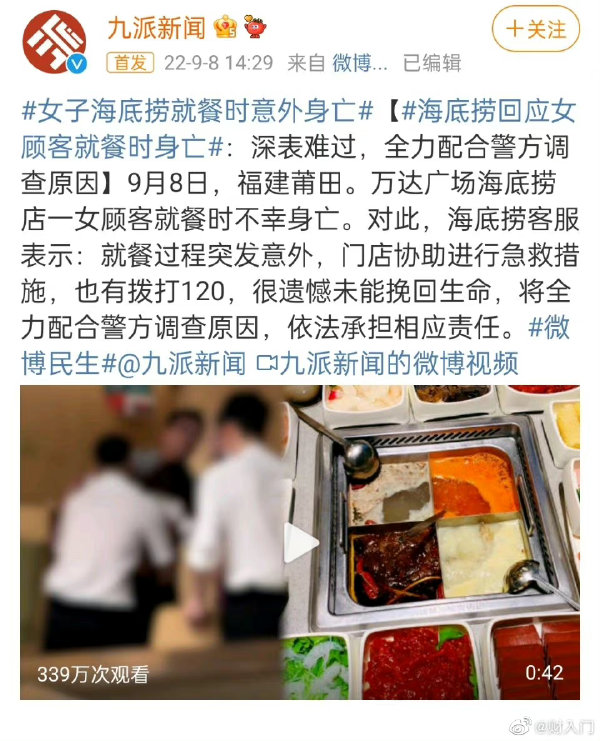 According to various Chinese news reports, the 21-year-old woman had just finished eating beef tripe, the edible lining from the cow stomach, and drank some water after which she suddenly became unwell.
Footage circulating on Chinese social media shows how restaurant staff gave first aid to the woman by performing the Heimlich maneuver while emergency workers were underway.
Although it is rumored the young woman choked on the tripe, this has not yet been confirmed as an investigation into the cause of death is ongoing. The Haidilao restaurant where the incident happened is currently closed, and Haidilao responded that they are deeply saddened and will do all they can to fully cooperate with the police to investigate the case.
Haidilao (海底捞) is one of China's most popular restaurant chains serving authentic Sichuan hotpot, a dining style where fresh meat and vegetables are dipped in simmering broth. Besides its tasty hotpot and wide selection of ingredients and drinks, Haidilao is known for its high-quality service. The staff is thoroughly trained in providing the best customer service, and Haidilao has introduced new concepts throughout the years to enhance the customer experience.
Haidilao is a very reputable company and is known to respond quickly to avert social media crises (example here and here).
As the story goes trending, many Chinese netizens point out the choking hazard of beef tripe. One lung doctor (@呼吸科大夫胡洋) also responded to the incident, suggesting that the Heimlich maneuver might not have been life-saving in this case since beef tripe is long and soft and could block the respiratory tract if the Heimlich maneuver is performed while the person is standing up, since it could potentially cause the tripe to go deeper instead of being pushed out.
The doctor recommends in these kind of emergency situations that if possible, for a chance of survival, the person could then be placed into an upside down, upper body down position for the Heimlich maneuver.
Other doctors on Weibo also use this moment to provide more information about how to perform the Heimlich maneuver.
Many online commenters think Haidilao is not necessarily to blame for what happened. "Judging from the video, the staff was quick and correct in their response. As for why the woman could not have been rescued, we'll have to wait for the final reports."
By Manya Koetse 
Get the story behind the hashtag. Subscribe to What's on Weibo here to receive our weekly newsletter and get access to our latest articles:
Spotted a mistake or want to add something? Please let us know in comments below or email us. First-time commenters, please be patient – we will have to manually approve your comment before it appears.
©2022 Whatsonweibo. All rights reserved. Do not reproduce our content without permission – you can contact us at info@whatsonweibo.com.