Clean Your Plate, Waste No Food – China's Anti Food Waste Campaign Is Sweeping the Nation
These are the main trends and topics in the context of China's nationwide 'Clean Plate campaign.'
Empty plates, small orders, stop promoting excessive eating – China's anti-food waste campaign is alive and kicking all across the country. These are some of the main social media topics and trends in the context of the 'Clean Plate campaign.'
Since the call by President Xi Jinping to fight against food waste earlier this month, new regulations, initiatives and trends are popping up all over the nation to curb the problem of food loss.
Following China's COVID-19 crisis, the ongoing trade war with the US, and mass flooding, President Xi called the issue of food waste "shocking and distressing," as he stressed that the country needs to "maintain a sense of crisis about food security."
According to numbers posted in online information sheets by state media, some 38% of the food at Chinese banquets goes to waste. In 2015 alone, an estimated 17 million to 18 million tons of food was wasted.
This is the second time in a decade for China to launch a 'Clean Plate' campaign (光盘行动). There was a previous campaign in 2013 that used the slogan "I'm proud of my clear plate." The estimated annual wastage of grain in China at the time was estimated to be 50 million tons.
On Chinese social media, the 2020 "Operation Clean Plate" is receiving a lot of attention. These are some of the trending topics we have seen on Weibo in relation to the anti-food waste campaign.
RESTAURANTS
"N-1" Is the Way to Order, the "Waste Prevention Supervisor" Will Help You
One way restaurants are now addressing the problem of food waste is implementing the "N-1 ordering mode" (N-1点餐模式) which basically means that instead of a group of ten people ordering eleven dishes (N+1), they are advised to only order nine.
Famous Peking roast duck restaurant company Quanjude (全聚德) now advises groups of, for example, seven people to either take their set meal or to order no more than five or six dishes from the menu to avoid wasting food.
They have even appointed a "Waste Prevention Supervisor" (制止浪费监督员) in their restaurants to oversee customers' orders.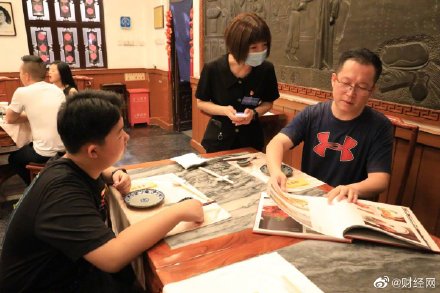 The "N-1" idea is now being implemented in various cities across China.
Earlier this month, Sixth Tone reported that the Wuhan Catering Industry Association (武汉餐饮行业协会) was taking measures to limit the number of portions restaurant patrons can order. Now, the same measures are also being taken in other cities, like in Shijiazhuang (Hebei), Xianning (Hubei), Xinyang (Henan), Guangzhou (Guangdong), Quanzhou (Fujian), and other places.
One restaurant in Changsha got a bit too carried away recently, as it encouraged customers to weigh themselves and order food accordingly. The restaurant apologized after causing some controversy on social media.
TRAINS
Smaller Portions on the Gaotie
In line with the country's anti-food waste campaign, some Chinese highspeed railway trains have also started introducing smaller portions for their in-train food services.
Instead of larger portioned rice meals or noodles, the Nanchang Highspeed Train now offers customers different small size portions in 'blue and white porcelain' bowls.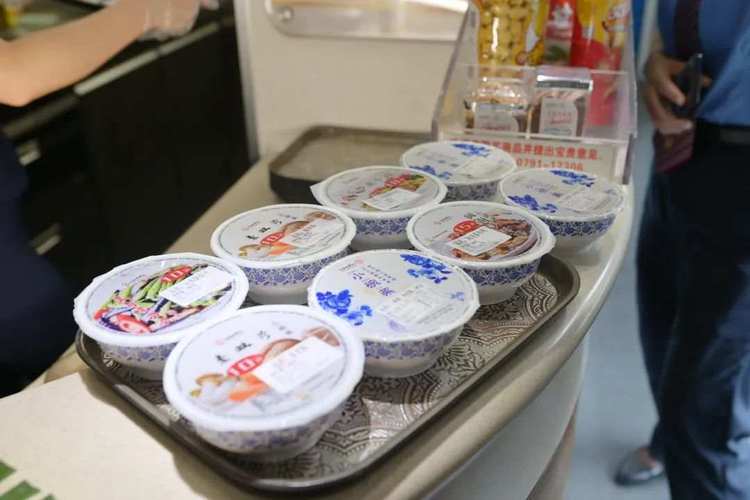 The initiative became a topic of discussion on Weibo (#南昌高铁推出青花瓷小碗菜#), where some applauded it while others complained that the meals were still relatively expensive while being small.
SCHOOLS
Be an "Empty Plate Hero"
China's anti-food waste campaign is also actively promoted in schools across the country. Hundred primary schools in Jinan, for example, teach their students about combating food waste with a slogan along the lines of "Don't leave food behind, be a 'clean plate' hero" (*the original slogan "不做"必剩客",争做"光盘侠"" also has some word jokes in it).
The schools have also set up various activities to raise awareness of food waste.
ONLINE MEDIA
Operation Clean Plate: Empty Plates Snapshot
"Operation Clean Plate" is not just actively promoted in Chinese restaurants and in schools; Chinese state media and official (government) accounts are also promoting the campaign through social media.
The Weibo hashtag "Operation Clean Plate" (#光盘行动#), initiated by the Chinese Communist Youth League, had over 610 million views by August 21st, promoting the idea of "treasuring food, and refusing to waste it."
Besides the Communist Youth League, other official accounts including China Youth Daily and People's Daily also actively promote awareness on wasting food and encourage people to empty their plates. China Youth Daily even initiated the online trend of posting a pic of your own empty plate under the hashtag "Clean Plate Snapshots" (#光盘随手拍#)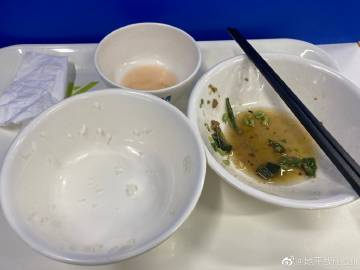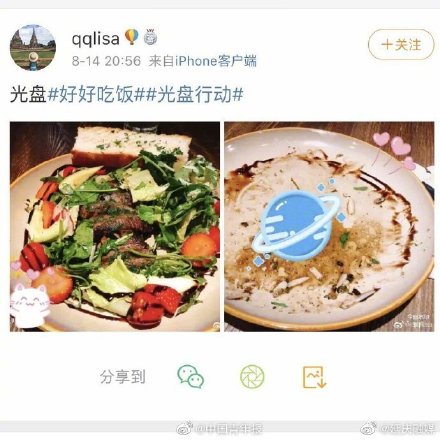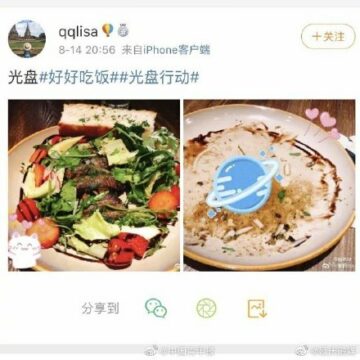 Another hashtag, the Big Clean Plate Challenge (#光盘挑战大赛#), initiated by People's Daily, had 290 million views by August 21, with hundreds of netizens posting photos of their before and after dinner plates.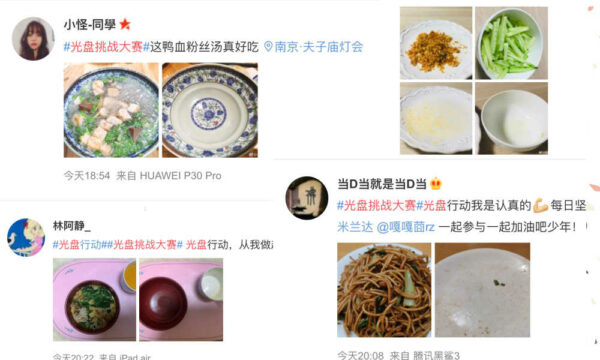 Using the "clean plate" hashtags, many netizens are posting evidence that they are not squandering food.
EATING INFLUENCERS
Big Stomach Stars Need to Turn it Down a Notch
In 2018, we wrote about the trend of China's "big stomach stars" (大胃王) or "eating vloggers' (吃播女博主), an online video genre in which hosts will consume extremely large amounts of food (also known as the 'mukbang' phenomenon in South Korea).
Since attempting to eat 17 kg (35 pounds) of meat by oneself – something that is actually done on camera by these kinds of vloggers – does not exactly fit the idea of China's anti-food waste campaign, these eating vloggers are now being criticized in Chinese media.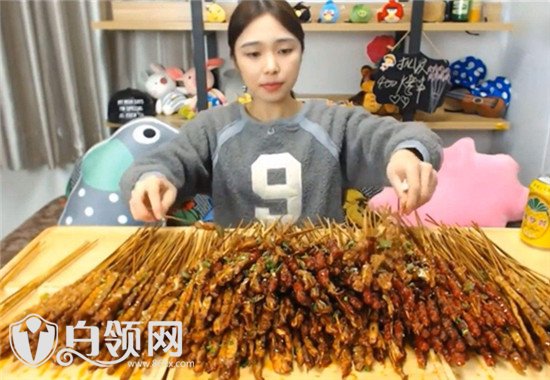 Social media platforms such as Douyin (the Chinese Tiktok) have also taken action against the 'big stomach stars.' On August 12, the Douyin Safety Center published a video saying the app will not allow any behavior on its platform showing food-wasting or otherwise promoting activities that lead to food loss.
For now, popular Chinese eating influencers will have to adjust the content of their videos. Little Pigs Can Eat (逛吃小猪猪) is one of these influencers who recently has showed smaller portions and more empty plates in her videos.
By Manya Koetse, with contributions by Miranda Barnes
Follow @WhatsOnWeibo
Spotted a mistake or want to add something? Please let us know in comments below or email us. First-time commenters, please be patient – we will have to manually approve your comment before it appears.
©2020 Whatsonweibo. All rights reserved. Do not reproduce our content without permission – you can contact us at info@whatsonweibo.com.
Adapted to the Desert: This Yurt-Style KFC Opened in Inner Mongolia
Special KFC in Inner-Mongolia: "Is home delivery done by camelback?"
A KFC restaurant that has opened up in Ordos Prefecture, Inner-Mongolia, is attracting online attention in China for its yurt-style building.
The KFC restaurant is located in Xiangshawan, also known as Whistling Dune Bay, a tourist area – China's first desert-themed tourism resort – in the Kubuqi Desert.
Some web users praise the fast-food giant for "following local customs" ("入乡随俗"). Others jokingly wonder if their home delivery services are also done by camelback.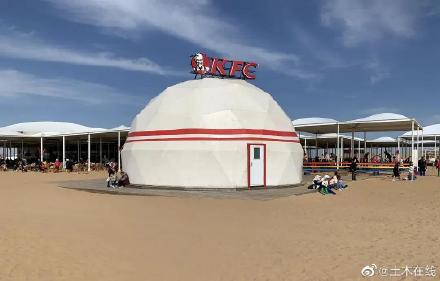 Although KFC is not China's first fast-food restaurant, it is one of the most popular ones. Nowhere else outside of the US has KFC expanded so quickly as in China. Since the first KFC opened in Beijing in 1987, the chain had an average of 50% growth per year.
With thousands of locations across the country, KFC often adapts its restaurants' style to the local environment. On Weibo, web users share various examples of local KFCs.
One Weibo user (@阳山花非花) points out that KFC is not the only chain to adapt to the local environment in Ordos. Chinese fast-food chain Dicos (德克士) apparently also has a special restaurant in the area.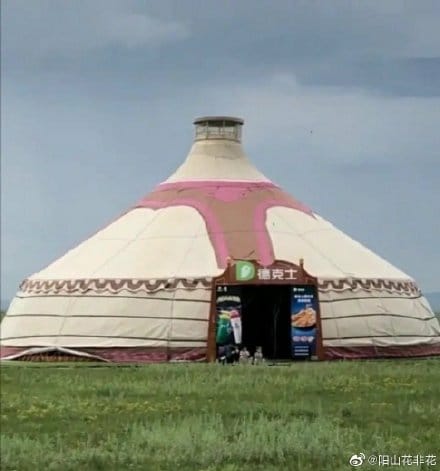 Besides adapting its buildings, KFC is also known to be quite localized in its product offerings. KFC China offers products such as Chinese-style porridge, Beijing chicken roll, and youtiao (deep-fried strip of dough commonly eaten for breakfast).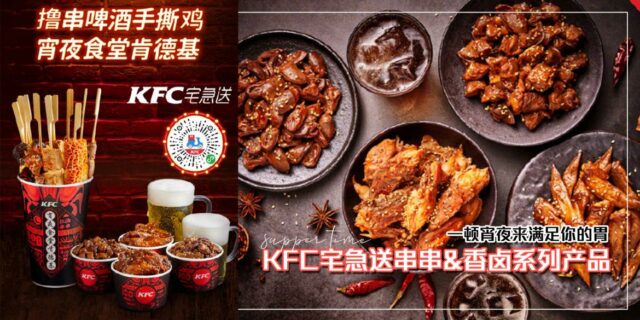 In 2019, KFC also made headlines in China for adding, among other things, hot and spicy skewers (麻辣串串) to its menu.
For now, the KFC yurt-style location is bound to gain more visitors who are coming to check it out. Already, various Weibo users are sharing their own pics of their KFC visit.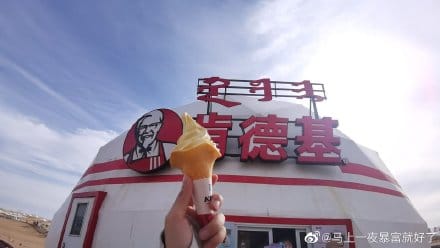 You might also like to read:
By Manya Koetse (@manyapan)
With contributions by Miranda Barnes
Spotted a mistake or want to add something? Please let us know in comments below or email us. First-time commenters, please be patient – we will have to manually approve your comment before it appears.
©2021 Whatsonweibo. All rights reserved. Do not reproduce our content without permission – you can contact us at info@whatsonweibo.com.
"There's a Cockroach in My Hotpot" – 'Pengci' Tries to Scam Haidilao Restaurant
Two hotpot cockroaches in one day, but the real cockroach didn't get away.
A man in Shenzhen has been arrested after trying to pull a scam in Haidilao hotpot restaurants twice in one day.
The man, Mr Cai (蔡), visited two different locations of China's Haidilao chain of hotpot restaurants within twenty-four hours, and both times he managed to 'discover' a cockroach in his hotpot.
Cai complained to the staff about the roach in his food. According to Sohu.com, in order to keep the peace, both Haidilao stores compensated their unhappy guest; they gave him a free meal and 1000 yuan ($156) and 800 yuan ($124) respectively.
When the restaurants later inspected their security camera footage, they suspected they had been scammed and reported the incident to the police. Further investigation of the security videos revealed that the man actually held the cockroach in his hand, behind his phone, and dropped it on the table, after which he put it in the hotpot together with the vegetables.
When the man scooped the insect out of the hotpot, he immediately called the waiter to show the cockroach in his food.
After being exposed as a 'pengci' (碰瓷), a scammer focused on pretending to a victim in order to get compensation, Cai was detained by the local police.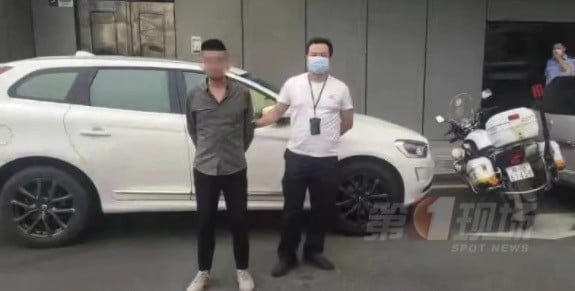 A similar incident occurred in 2018, when a man named Guo (郭) dropped a dead rat in the hotpot at a Haidilao restaurant, and then demanded a compensation of 5 million yuan ($780,000). That incident also went viral on Chinese social media at the time.
Guo was later sentenced to three years in prison for his scam, for damaging Haidilao's reputation, and for filing a false report with regulatory authorities.
Also in 2018, a woman claimed she had found a sanitary pad in her Haidilao hotpot. This incident later also turned out to be a scam – the woman had placed the item there herself.
Haidilao is one of China's most famous hotpot brands, and its restaurants have been in business for over 25 years. The restaurant is known for its good service, quality, and cleanliness.
On Weibo, the Haidilao 'cockroach incident' is attracting a lot of attention today, with one hashtag page regarding the issue receiving over 230 million views (#男子在海底捞自导自演吃出蟑螂#).
Although scams such as these are not uncommon, many people are surprised that someone would still attempt to fraud Haidilao in this way in 2021, when there are cameras set up everywhere in the restaurant.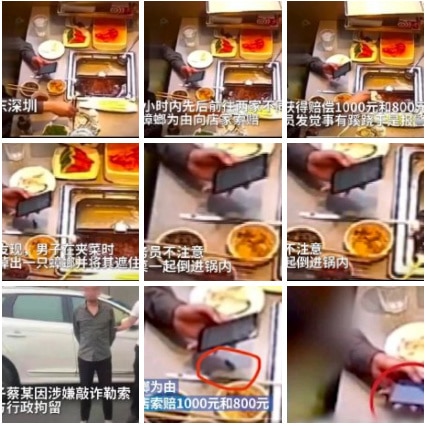 Haidilao's surveillance cameras have become a topic of discussion on social media before. The restaurant's alleged reason for putting up so many cameras is in order to take better care of their customers, to monitor employee service standards, and to rely on their security footage when personal belongings go missing. The cameras also register the entire hotpot dining process; if something comes up in the hotpot that is not supposed to be there, the cameras will have captured how it ended up there.
"In this case, it's good that there are so many security cameras," one commenter writes.
Many others scold Cai for trying to scam Haidilao like this: "They should really make him eat cockroaches."
– By Manya Koetse (@manyapan)
Spotted a mistake or want to add something? Please let us know in comments below or email us. First-time commenters, please be patient – we will have to manually approve your comment before it appears.
©2021 Whatsonweibo. All rights reserved. Do not reproduce our content without permission – you can contact us at info@whatsonweibo.com.