Chinese Fashion First: Consumer Nationalism and 'China Chic'
Consumer sentiments on Western brands and made-in-China fashion are changing.
At a time when Chinese media, celebrities, and consumers are condemning and boycotting Western brands, Chinese fashion and luxury brands are flourishing in a new era of "proudly made in China."

This is the "WE…WEI…WHAT?" column by Manya Koetse, original publication in German by Goethe Institut China, see Goethe.de: WE…WEI…WHAT? Manya Koetse erklärt das chinesische Internet.

"The first thing Chinese fashion magazines should do is support the Chinese fashion industry, Chinese domestic brands, and Chinese designers!" In a video that went viral on social media, Hung Huang (洪晃), the famous American-Chinese television host and publisher of fashion magazine iLook, called out for a healthy development of China's fashion industry that does not rely on Western brands to continue growing.
Hung Huang's remarks were made in late March of 2021, around the time when a social media storm broke out in China over the Better Cotton Initiative (BCI) and its brand members – including H&M, Nike, and Adidas – for no longer sourcing cotton from China's Xinjiang region. This boycott generated a huge backlash in mainland China. The online anger was mainly directed at H&M, since the Swedish retailer is a top member of the BCI and had previously released a statement on its site in which the company said it was "deeply concerned" over reports of alleged forced labor in the production of cotton in Xinjiang.
The news developments were followed by a wave of social media boycott campaigns and Chinese brand ambassadors cutting ties with international brands. It also ignited a social media movement in support of domestic brands, 'made in China,' and Xinjiang as China's largest cotton-growing area.
The hashtag "I support Xinjiang cotton" (#我支持新疆棉花#) received a staggering 7.9 billion views on Weibo within a few weeks time. Simultaneously, a rising confidence in national brands became increasingly visible on social media, where the calls for supporting domestic brands are growing louder.
A recent survey by state media outlet Global Times suggests that most Chinese consumers believe that Western brands could be replaced by Chinese ones. The article claims that 75 percent of its survey respondents agree that "national products could fully or partially replace Western products."

Proudly Made in China

Recent years have not just seen a rise in Chinese fashion brands, but also the emergence of a fashion scene where traditional Chinese elements play a major role. The Hanfu movement, for example, seeks to revitalize the wearing of Han Chinese ethnic clothing. But beyond that, brands are also weaving more Chinese themes into everyday fashion items such as sneakers and t-shirts.
The rise in popularity of Chinese fashion brands and styles was dubbed the "China Chic" trend by CGTN in 2020. "China Chic" is a translation of "guócháo" (国潮), which literally means "national tide," referring to the rise of domestic brands, with their designs often incorporating culturally Chinese elements into the latest trends. In 2021, for the first time ever, the Spring Festival Gala (Chinese state media's biggest live televised event) also included a fashion show to show the beauty of Chinese costumes to "demonstrate cultural confidence."
With celebrity endorsements being one of the most important strategies for social media marketing, Chinese celebrities play a crucial role in this trend as guócháo ambassadors. Chinese actor and singer Xiao Zhan (肖战) was praised on social media for becoming the new brand ambassador of the Chinese sportswear brand Lining. When celebrity Wang Yibo became the spokesperson for the domestic brand Anta Sports, one Weibo hashtag page on the topic received over one billion views (#王一博代言安踏#) in late April of 2021. The promotional poster featuring Wang Yibo shows him wearing a t-shirt with "China" on it, including the national flag – profiling Anta as a nation-loving brand.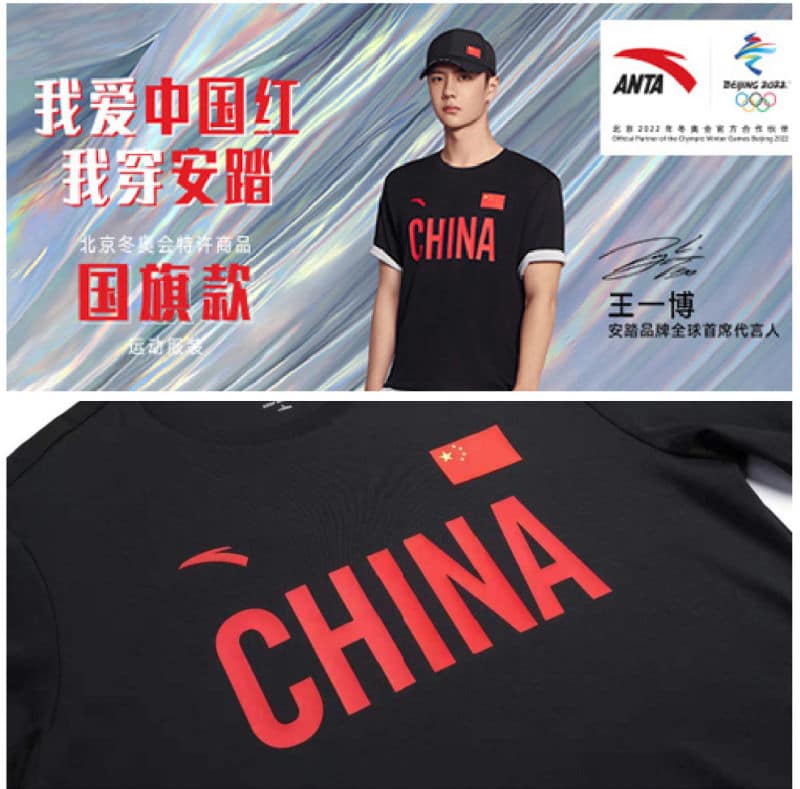 The rising popularity of 'made in China' fashion is noteworthy in a consumer culture where Western brands are often viewed as being of higher quality than domestically produced fashion. The very fact that these foreign brands succeeded in gaining access to China's market is, in the eyes of many consumers, a reason to believe they must be of higher quality.[1] Those sentiments now seem to be shifting.
A recent Chinese short documentary produced by Tmall titled "Proudly Made in China" (爆款中国) discusses how Western brands have dominated the Chinese fashion and luxury market for years, making it more difficult for Chinese brands to become big players in their own field.
"Why are Chinese brands not as highly accepted by Chinese consumers?", asks Li Jiaqi (李佳琦), an influencer and new brand recruiter for Tmall who is featured in the short film: "Why do Chinese consumers seem to have a preconceived and biased view that Chinese products are of poor quality?"
In the short film, Li explains that Chinese consumers have since long had worries about buying Chinese brands, and that one slight problem with a product will automatically negatively reflect on the entire brand.
Existing consumer preferences for Western brands have even created the idea that Chinese brands should register abroad and pose as a foreign brand to enlarge their chances to succeed in the Chinese market.
China's flourishing live-streaming market and domestic e-commerce platforms have provided new opportunities for Chinese brands to shine once their products gain consumer recognition. Especially younger consumers, those born after 1995 or 2000, show more confidence in Chinese brands than the generations before them.
In the "Proudly Made in China" film, this growing trust in domestic brands among Chinese younger generations is linked to a striking confidence and pride in China, its national identity, and its culture. On Weibo, some commenters replied: "This is the era of domestic brands!"

Western Brand Controversies

Although the influence of national pride on China's young consumers might already have been strong before, there are also changing dynamics in the relation between Chinese consumers and Western brands which seem to have boosted the 'guócháo' and domestic brand trend; Chinese brands have been cast in a more positive light over the past few years due to the controversies involving Western brands.
In 2018, Italian fashion house Dolce & Gabbana (D&G) faced consumer outrage in China for publishing a culturally insensitive advertising campaign that showed a Chinese model clumsily using chopsticks to eat Italian dishes such as pizza, cannoli, and spaghetti. The campaign, which was titled "D&G Loves China," completely backfired with many finding it racist and sexist and vowing to boycott the brand. The controversy became so big that a big D&G fashion show in Shanghai was canceled and the company saw a slump in its business on the mainland.
In 2019, many different international fashion brands, including Versace, Coach, Calvin Klein, Givenchy, and ASICS, were condemned by Chinese netizens for listing Hong Kong, Macau, and Taiwan as separate countries or regions – not part of China – on their official websites or brand T-shirts. Chinese celebrities cut their collaborations with many of these brands.
When in 2020 the aforementioned Better Cotton Initiative (BCI) announced that it was ceasing all operations in northwest China's Xinjiang Uygur Autonomous Region amid accusations of "forced labor" there, backlash in China further grew against the organization and the brands affiliated to it. As reported by CGTN, BCI has recently removed its statement on Xinjiang cotton from its website (allegedly this was related to a cyber attack), but the discussions on the position of Western brands in China continue, with both state media and netizens sending out the message that "foreign companies that slander China" are not welcome in the country.

The Future of Fashion Brands in China

"Boycott Nike? Support domestic brands? What are we supposed to do now?" It is a question posed by the Chinese 'Sneakersbar' vlogger Fang (@鞋吧Sneakersbar), a sportswear-focused self-media account with over 3,5 million followers on Weibo. The question resonates with many consumers, who are caught between politics, patriotism, and personal preferences for certain brands.
In their latest video, Sneakersbar makes up the balance on where Western brands, especially those affiliated with BCI, stand in the Chinese market today. On the one hand, Fang argues, many foreign brands, including Adidas, Nike, H&M, Uniqlo, and others, have already become part of China's commercial fashion landscape and many consumers love these brands and their products. On the other hand, these foreign brands are also making political choices that Chinese consumers cannot ignore. But does this mean they should be boycotted forever? Does it mean that you should look down on others buying these products?
The answer is that consumers should stay rational in their choices, Fang argues. This means that choosing Chinese brands out of a form of "rational patriotism" is fine, but people should not attack others merely because they wear foreign brands or work in their shops. The same goes for those consumers who only want to buy foreign brands just because they are foreign; they could also consider Chinese products to support domestic brands – especially those brands which refrain from copying foreign ones and have developed their own unique designs and styles.
Many commenters on Weibo support Fang's message of "reasonable patriotism without blind worship" ("理性爱国,也不盲目崇拜"), supporting the idea that Western and Chinese brands can co-exist and that they can be competitors in a market where Chinese fashion labels are getting more room to grow.
"Nationalism and patriotism offer opportunities for Chinese brands," one Weibo user writes: "China Chic and China fashion trends are putting more pressure on foreign brands. Because of the speedy rise of Chinese domestic brands, which are producing high-quality products and are applying smart marketing methods, more and more patriotic young people are buying their products."
It is clear that many consumers in China support domestic brands and hope that Chinese fashion can flourish within its own market. But there are also those voices stressing the importance of consumers' freedom to buy the brands that suit them, wherever they are from and regardless of politics. One person commented: "Western or Chinese brand, I just want to wear the shoes that are most comfortable for me to walk in."
By Manya Koetse
Follow @whatsonweibo

[1] Tian, Kelly and Lily Dong. 2011. Consumer-Citizens of China: The Role of Foreign Brands in the Imagined Future of China. London & New York: Routledge. Page 7.

This text was written for Goethe-Institut China under a CC-BY-NC-ND-4.0-DE license (Creative Commons) as part of a monthly column in collaboration with What's On Weibo.
Spotted a mistake or want to add something? Please let us know in comments below or email us. First-time commenters, please be patient – we will have to manually approve your comment before it appears.
Chinese Tourism Bureau Chiefs Go Viral for Trying Really, Really Hard to Attract More Post-Covid Domestic Tourists
It's a Culture & Tourism Bureau social media battle: China's local tourist offices are fighting to go viral to attract more visitors.
Hoping to attract more domestic tourists in the post-Covid-era, Chinese local government officials are trying really hard to promote their hometowns. Various tourism bureau chiefs from across China are going viral on Weibo, Douyin, and beyond for dressing up in traditional outfits and creating original videos with low to zero budget.
Another local Chinese tourism bureau chief went viral today – it's an entire trend by itself. Tourist department offices under several local governments in China are trying really hard to promote their hometowns these days in hopes of attracting more domestic tourists in China's post-Covid era.
Government officials are showing their best side – and their most creative one – on social media to convince tourists to visit their region. In doing so, these local bureau chiefs have been attracting online attention for appearing in promo videos in various creative ways (#为了让你去玩儿文旅局长们能有多拼#).
Since early 2020, China's tourism industry has been heavily impacted by the pandemic and China's strict Covid measures and lockdowns. At various moments during the pandemic, China's domestic tourism saw an increase in holiday bookings as tourists still wanted to travel but could not easily travel abroad.
Now that China has lifted blockades on foreign travel, the post-zero-Covid itch to travel is back in full swing. As travel to other countries is seeing a boom again (while tourist visas to mainland China are still halted), local tourist offices are doing all they can with a minimal budget to encourage domestic travel to their lovely hometowns.
The trend of China's tourist bureau chiefs finding innovative ways to promote their regions or towns via social media has been going on for some time already, but it wasn't until recently that they really gained nationwide attention for their efforts.
The recent viral trend is not only generating more attention for the specific towns and regions promoted in the videos, it is also bringing more recognition for the drive of China's Culture & Tourism Bureau chiefs – officials who usually rarely get the limelight. Many Chinese netizens agree that it must take a lot of talent and creativity to become a local tourism bureau chief nowadays.
1. TOURISM BUREAU DIRECTOR OF ZHAOSU COUNTY (XINJIANG)
Riding a horse through a windy snowy country, He Jiaolong (贺娇龙) was the first local official to feature in a social media video to promote the Yili region. The video of the vice-county head of Zhaosu, all dressed up, went viral in the winter of 2020.
Chief He later told reporters that she did not expect the video to go as viral as it did. According to Shine, He Jiaolong said: "I invited two horse lovers to help us promote local tourism on social media. We borrowed the costume from a local art troupe. They posted my horse-riding videos on Douyin and received enthusiastic responses."
A 'behind the scenes' video later published on Douyin showed He falling over and battling the cold during the filming, only making the local official more popular for her dedication.
2. TOURISM BUREAU DIRECTOR OF SUIZHOU (HUBEI)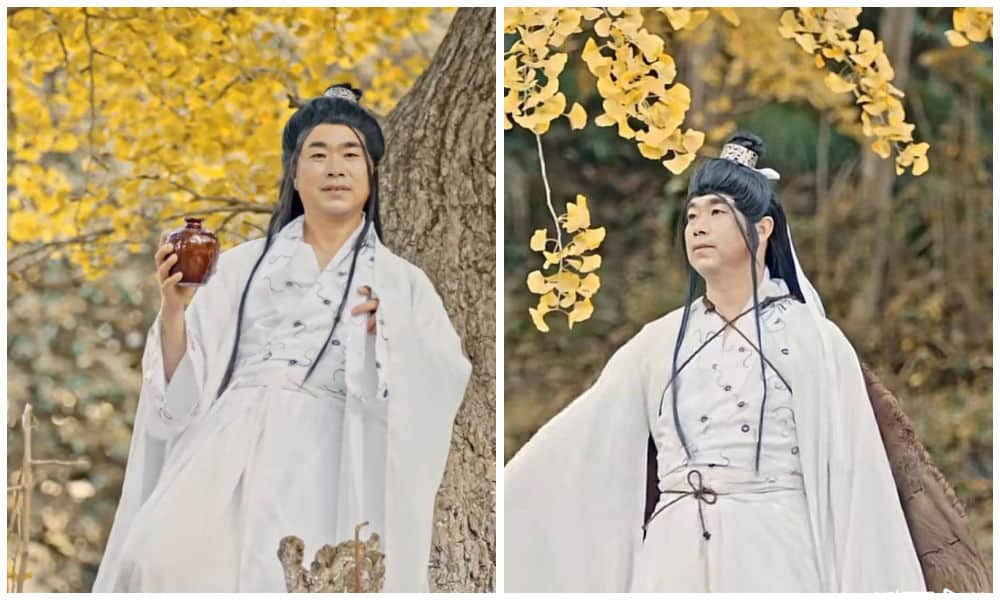 In October of 2022, Xie Wei (解伟), director of the Suizhou Municipal Bureau of Culture and Tourism in Hubei province, made headlines for his performance in videos produced and directed by himself.
As reported by South China Post, Xie made the videos himself because the local tourism bureau did not have the budget for a professional production. Although the videos made by Xie went viral, they also received some criticism because of how Xie was role-playing and dressing up as an ancient knight.
Nevertheless, Xie Wei did breathe new life into this creative approach to destination marketing, inspiring other Culture and Tourism Bureaus across China to take a similar social media strategy and join on the battleground to win over the hearts of domestic travelers.
3. TOURISM BUREAU DIRECTOR OF TIBETAN AUTONOMOUS PREFECTURE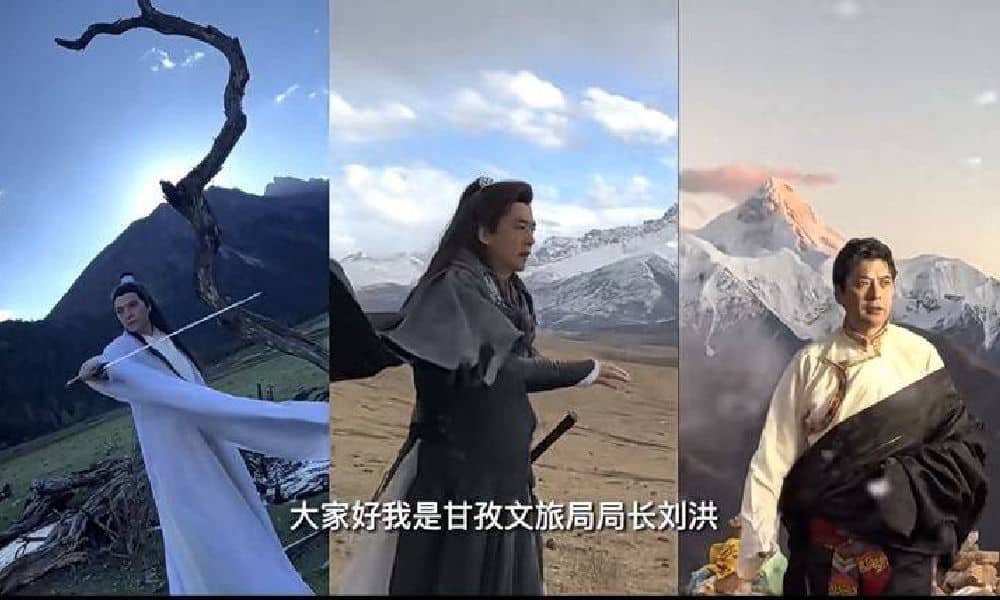 In February of 2023, it was the bureau chief of the Garzê Tibetan Autonomous Prefecture Tourism Office, Liu Hong (@甘孜刘洪), who went viral with various videos featuring him in traditional clothing, which earned him the nickname of "most handsome bureau chief" ("最帅局长").
It was not the first time for Liu to star in his own tourism promotion video, as there was another video in 2022 in which he also did some cosplay to promote the Garze region (Sichuan).
Liu Hong is now known as one of China's "celebrity tourism bureau chiefs" (网红文旅局长). The videos actually helped to promote the region but also turned Liu into a celebrity.
4. TOURISM BUREAU DIRECTOR OF DAWU COUNTY (SICHUAN)
On February 10 of 2023, it was the Cultural Tourism Bureau chief Jiangze Duoji (@降泽多吉) of Dawu County who professionalized the social media video trend and featured in a super slick 3-minute video with beautfiul shots and a creative idea.
In the intro of the video, Jiangze Duoji speaks English when he talks about his life question of "Who am I?" The video then shows the local official dancing in an astronaut's costume in Moshi Park, one of the area's most beautiful scenic spots that will make you feel like you're in outer space.
The local official is then dressed as a Tang emperor at the Daowu dwellings, moves on to be a an old painter in the Yuke grasslands and King Gasar while galloping over the Longdeng prairie.
The video did not just go viral, it was also promoted by several state media outlets, making it among the most famous videos in this list. It's also on Youtube here.
5. TOURISM BUREAU DIRECTOR OF TAHE COUNTY (HEILONGJIANG)
On February 27, the Heilongjiang Tahe Culture and Tourism Bureau (Daxing'anling prefecture) released a video in which a team of 34 people simulated a rocket launch in the snow.
Du Bo (都波), director of the Tahe County Bureau of Culture and Tourism, told reporters that the decision to shoot the video like this was made during lunch, with the position plan drawn out on a napkin.
With this original video, the local tourist office literally took the social media battle to another level (#塔河县文旅局长卷出新高度#). But Du Bo also stated that other tourist offices in China should not hold back and be scared to join the social media battle, saying they were all in this together to recover China's domestic tourism industry ("不要怕卷,这种卷是一件好事,大家凝聚在一起,共同期待文旅行业的复苏").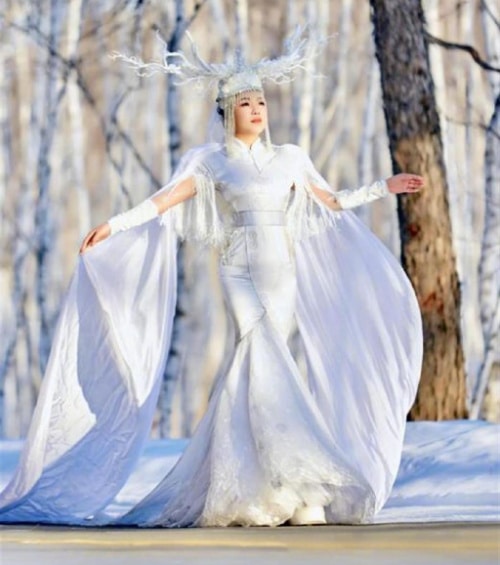 The tourist office also released a second video that gained popularity online, featuring a 'snow queen' in beautiful snowy landscape.
6. TOURISM BUREAU DIRECTOR OF MEISHAN (SICHUAN)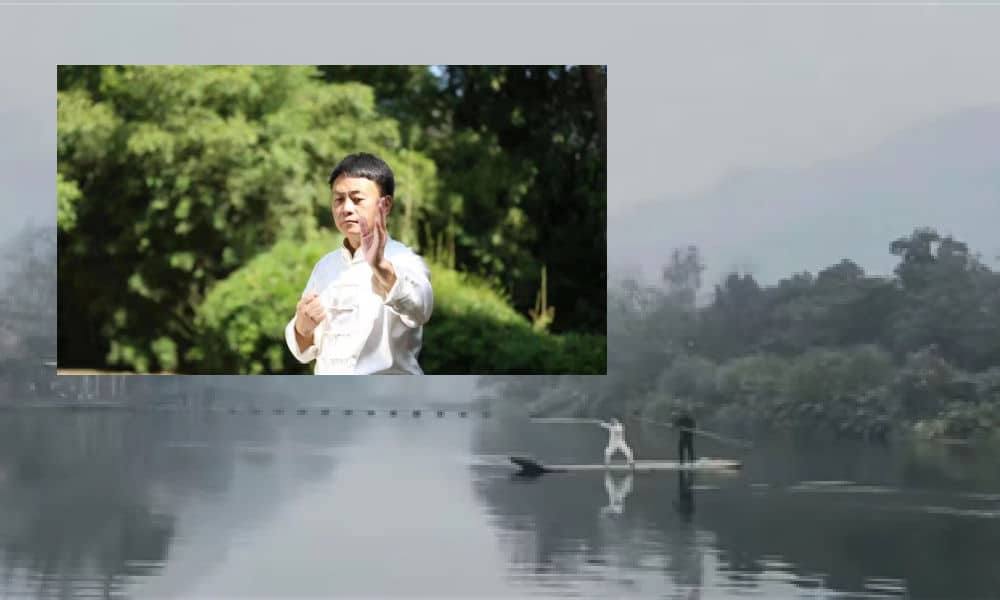 This video, which premiered late February of 2023, is also professionally made, with the Meishan Tourism Office taking the video trend very seriously.
The bureau chief demonstrates the beauty of kung fu in this short film, which also received many thumbs up on social media (#文旅局长用功夫带你游眉山#).
7. TOURISM BUREAU DIRECTOR OF GAOPING (SHANXI)
On March 7, a video from the tourist office in Gaoping, a county-level city in Shanxi's Jincheng, also went viral on Chinese social media as "yet another tourist office chief joining the war" (#又一文旅局长申请出战#).
The video shows the local tourist bureau chief "going to war" in traditional costume to promote Gaoping as the hometown of Emperor Yan (#文旅局长戏服代言炎帝故里#).
8: TOURISM BUREAU DIRECTOR OF HUANGGANG (HUBEI)
The video posted on social media 'on behalf of' the Tourism Bureau of Huanggang, Hubei, also attracted a lot of attention online since many people believed the cosplaying bureau chief had suddenly turned into a handsome young idol.
It later turned out that this video was actually not an official one and was posted on social media without the permission of the tourist office by enthusiastic locals.
9. TOURISM BUREAU DEPUTY DIRECTOR OF SUQIAN (JIANGSU)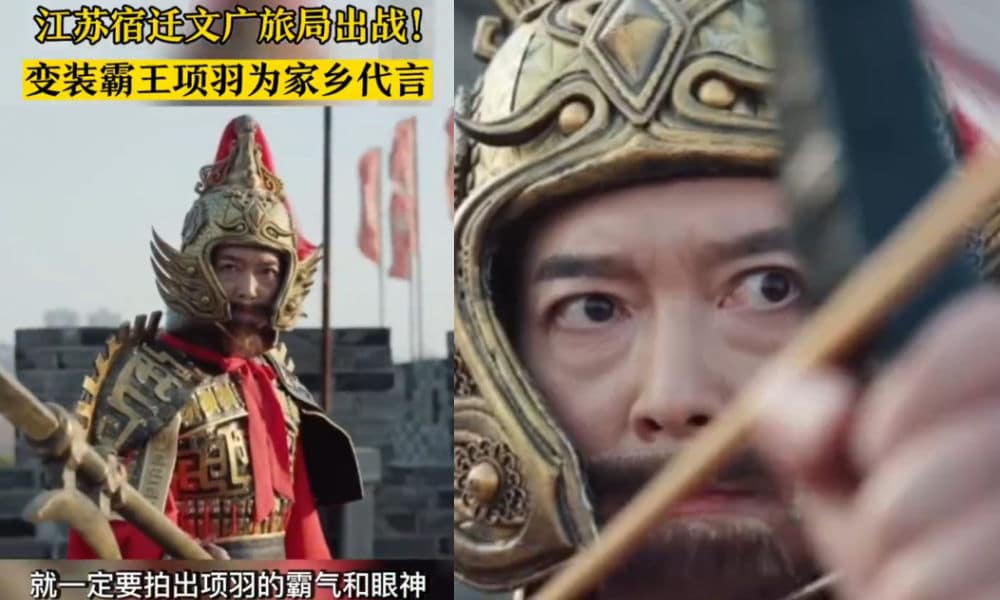 The hashtag is "Jiangsu's Culture and Tourist Office Bureau Chief Joins the Battle" (#江苏文旅局长卷起来了#). Liu Bing (刘冰), the deputy director of the Tourism and Culture Bureau in Suqian, Jiangsu, is another local official who is going viral these days for his appearance in a self-produced promo video on social media (#江苏一文旅局长变装项羽代言家乡#).
In the video, Liu Bing is dressed as Xiang Yu (项羽), Hegemon-King of Western Chu, to endorse Suqian tourism. Suqian is the hometown of Xiang Yu (232–202 BC), who is considered one of the greatest military leaders in ancient China.
Although Suqian is one of the later Tourism Bureau hypes to join the hype, the video – published on March 9 – is still welcomed by netizens and is actually putting some pressure on other Chinese cities and regions to come up with their own videos featuring their own historical local heroes.
10. TOURISM BUREAU STAFF OF FUJIAN
Fujian might be a bit late in "going to war" and joining the social media battle between the Chinese Tourism and Culture Bureau chiefs, its new video (March 9) obviously took a lot of effort, as it features different members of staff in various tourist spots in Fujian province.
The hashtag "Fujian Culture and Tourism Bureau Joins the Battle" (#福建的文旅局长卷起来了#) circulated on Thursday, attracting nearly five million views on Weibo in one day.

By Manya Koetse 
with contributions by Miranda Barnes
Get the story behind the hashtag. Subscribe to What's on Weibo here to receive our newsletter and get access to our latest articles:
Spotted a mistake or want to add something? Please let us know in comments below or email us. First-time commenters, please be patient – we will have to manually approve your comment before it appears.
©2023 Whatsonweibo. All rights reserved. Do not reproduce our content without permission – you can contact us at info@whatsonweibo.com.
Haidilao No Longer Allows Customers to Bring Their Own Food
While Haidilao is banning its bring-your-own-food option, customers can still bring their own drinks.
It was listed as one of the most popular topics on Weibo on Thursday, February 23: Chinese hotpot chain Haidilao bans customers from bringing their own food (#海底捞禁止自带菜#).
Starting from Feb. 21, 2023, the popular hotpot restaurant strictly enforces its policy of not allowing guests to bring outside food.
Previously, some Haidilao locations did allow customers to bring small amounts of their own food or ingredients, as long as they would sign a waiver. Haidilao stated that the recent ban on bringing in own food is in line with the restaurant's food management and safety policies.
Haidilao has hundreds of restaurants across China, and people often line up to get a table. Dining at Haidilao is known to be an experience in itself, as the hospitality of Haidilao staff is widely praised; staff members are thoroughly trained to give customers the best possible service. Throughout the years, the chain has introduced many new concepts to enhance customer experience.
Haidilao is all about hotpot, where you put fresh ingredients in a big pot filled with simmering broth. The pot is placed in the middle of the table, accompanied by plates of various meats, vegetables, noodles, condiments, dipping sauces, etc. The ingredients are to be cooked in the broth – Haidilao offers many different options from spicy to mild -and then taken out and dipped into the chosen sauce before eating. Because of this dining style, it would be relatively easy for people to bring their own ingredients as they could just cook them at the table.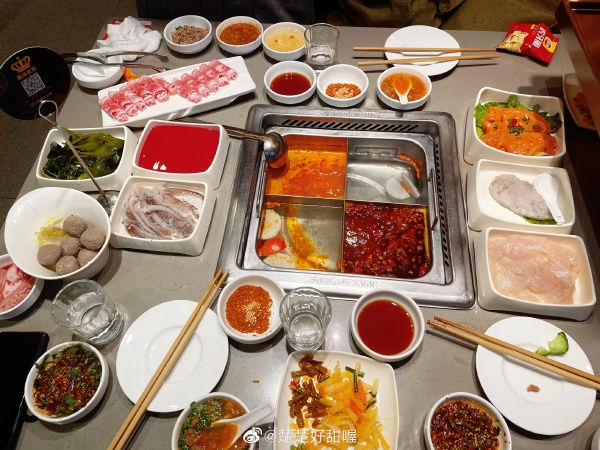 Although most commenters on Weibo think it is only reasonable for Haidilao to prohibit people from bringing in their own food, there are still many discussions about the topic. On Thursday night, the topic had over 260 million views on Weibo. By Friday, the hashtag had over 420 million clicks.
The most recurring comments are from those people who did not know that it was previously allowed to bring some of your own food. They wonder why people would do that in the first place. "If you go out for hotpot and bring your own food, why would you not just have hotpot at home?"
Haidilao's 'bring your own food' option was reportedly introduced in 2017 as part of the restaurant's 'customer always comes first' marketing concept, allowing people to bring an ingredient or dish they especially liked to the restaurant.
Some people say they appreciated the option. One commenter posted a photo showing how they brought their own seafood to Haidilao, writing: "Bringing your own food can be so delicious (..), we did it and we still ordered from the restaurant. They made us sign a waiver."
Another Weibo user (@王铜根) wrote: "I've been going to Haidilao for many years and only this year did I bring my own food on two occasions. Once, I bought a very nice beef at the supermarket but I was afraid it was going to thaw on my way home and then I realized I could bring my own food to Haidilao and I went and ate it there. While I was eating it, I thought, Haidilao is so amazing, I vowed that I'd always support them."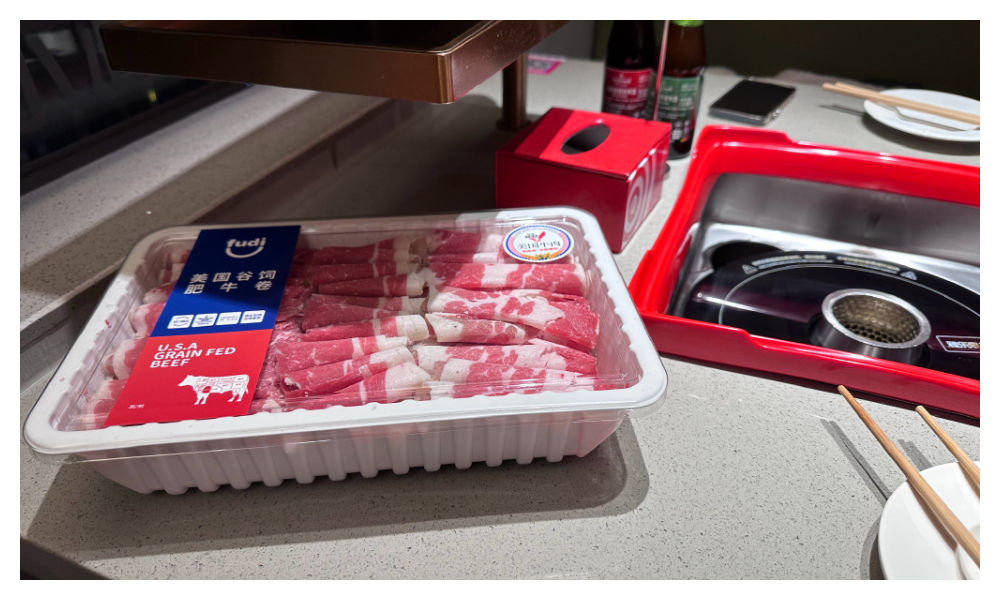 Over a year ago, Haidilao announced that it was closing about 300 of its restaurants which had been doing worse than expected.
Haidilao suffered because of Covid and local lockdowns. Due to the restaurant's increased labor costs, its menu prices went up, much to the dismay of many netizens, who already thought the prices at Haidilao were steep before the pandemic. In October of 2021, the story of a Haidilao customer in Zhengzhou discovering that the 200 grams of tripe he ordered for 72rmb ($11) was actually only 138 grams also went viral on Weibo, stirring discussions on the Haidilao menu prices.
While Haidilao's choice to ban its bring-your-own-food option could be a strategic business choice, it also could have other motives related to marketing and legal reasons. (Also read our story on this scammer pretending to find coackroaces in his hotpot to get money from Haidilao.)
Haidilao still allows customers to bring their own beverages to the restaurant.
By Manya Koetse 
Featured image via weibo @咚咚东_ddd
Get the story behind the hashtag. Subscribe to What's on Weibo here to receive our newsletter and get access to our latest articles:
Spotted a mistake or want to add something? Please let us know in comments below or email us. First-time commenters, please be patient – we will have to manually approve your comment before it appears.
©2023 Whatsonweibo. All rights reserved. Do not reproduce our content without permission – you can contact us at info@whatsonweibo.com.