Haidilao: Taking Chinese Hotpot to the Next Level
Twenty-three years after opening its first restaurant, China's Haidilao hot pot chain is hotter than ever before. With its special business model and service creativity, people happily wait in line for two hours before getting served. At Haidilao, even the lonely eaters never eat alone – they get a teddy bear to dine with them.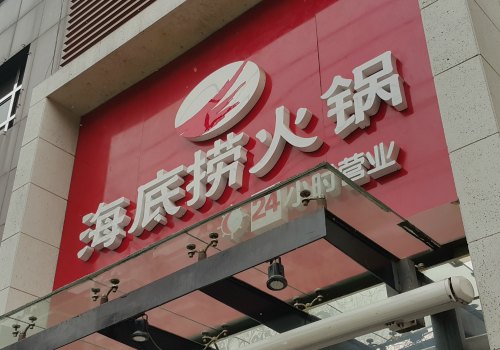 Twenty-three years after opening its first restaurant, China's Haidilao hot pot chain is hotter than ever. With its special business model and service creativity, people happily wait in line for two hours to get a table. At Haidilao, even the lonely eaters never eat alone – they get a teddy bear to dine with them.
It has been over two decades since Zhang Yong, the owner of Haidilao (海底捞), set up his first hot pot restaurant in Jianyang, Sichuan, with a mere investment of 10,000 yuan (±1470$). Now, 23 years later, it has become the dominant hot pot chain in the country. The restaurant is popular across China, where it has an annual turnover of approximately 450 million dollars.
In Beijing alone, the chain has 36 locations. From Shanghai to Shenzhen, Haidilao has 176 outlets in 53 Chinese cities. The chain allegedly opens 20 new restaurants every year. By now, Haidilao has over 15,000 people working for them and has also gone international, with more restaurants opening up in Singapore, the USA, and Seoul.
How did a restaurant serving such a traditional and ubiquitous Chinese dish become such a success? Hot pot restaurants, where fresh meat and vegetables are dipped in simmering broth, are extremely common across China. But Zhang Yong chose to market Haidilao and its authentic Sichuan hot pot with an innovative strategy: high-service, high-tech, and high-quality.
High-Service Hot Pot: "Brainwashing" Staff
Except for the tasty hotpot, anyone who has ever visited Haidilao will surely remember one thing: here, you can get a free manicure while you wait. The restaurant has become so popular that waiting in line for one or two hours to get a table is no exception. But with an entertainment area that provides customers with board games, free snacks, drinks, manicures, massages, and even shoe polish services, queuing has become part of the Haidilao experience.
The 'entertainment area' is just of the many ways in which Haidilao accommodates to its customers' desires. There is ample staff for every table. Customers with longer hair get free hairbands to tie their hair back while eating. Customers with glasses are provided with eyeglass cleaning tissue. There are special aprons to avoid stained clothing, and even handbags get their own protection. At the Haidilao toilets, staff will hand out hand towels and provide customers with any toiletry items they may need.
Anyone working at Haidilao is thoroughly trained. On question-and-answer platform Zhihu.com, former Haidilao servers shared their experiences of working at the restaurant. They explain that all Haidilao workers have to follow a compulsory training after they are accepted to come work at the restaurant.
The training is provided by people who have worked at the chain for at least 3 to 5 years, who teach new workers about corporate culture and Haidilao food. The staff learns how to welcome guests, how to make small talk to set a good atmosphere, and learn about the restaurant rules (always smile, never quarrel with customers, etc).
According to some former workers, working at Haidilao is a bittersweet experience. Since the staff works, lives, and eats together, their whole lives basically revolve around their work, except for the 4 days off they have per month.
Although there are some who applaud the company for setting the work ethic and for its relatively luxurious common dorms and good canteen, there are also those who say that Haidilao "brainwashes" its staff by creating its own community with "ridiculous rules" (staff cannot use customer's toilets, all workers have to turn in their mobile phones before their shifts, working very long hours, etc).
Haidilao's staff management and training have become a popular topic for marketers and scholars in China. Over recent years, many Chinese academic books and articles have been published that focus on Haidilao's business model innovation, its service creativity, and customer satisfaction.
High-Tech Hot Pot: Ordering through iPad
Although Haidilao is not as digital as 'newcomer' Wodi Huoguo, it does fully incorporate China's digital developments into its restaurants.
All tables are equipped with a charge station for mobile phones (iPhone, Android), and a personal tablet for customers to go through the menu to order the hot pot and all ingredients and drinks. Items ordered through the tablet arrive at the table within minutes. The restaurant also provides free Wi-fi in all areas. Needless to say, they accept WeChat and Alipay as payment methods.
Haidilao also provides online reservation and ordering services. Customers can order the Haidilao hotpot to their home – they'll even bring the pot itself. Afterward, they will come to pick up the dirty dishes.
The Haidilao Wechat app has several features. One especially fun one is its online gaming area, where gamers can compete and win discounts on their next hot pot bill.
High-Quality Hot Pot: Outstanding
No matter how good the service is, eventually it all comes down to taste and quality in order to make customers come back. The Haidilao chain has strict rules on quality control, and carefully selects its suppliers. This is something that is especially important to Chinese customers, since China has seen ample food scandals over the last decade.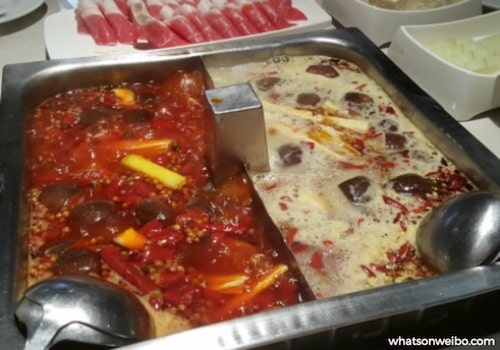 Haidilao offers new variations on standard hot pot recipes, adding new recipes and dishes every year.
Haidilao also offers a condiment bar with over 20 dipping sauces, from sesame dip to spicy oil, as well as side dishes such as cucumbers, peanuts, and fresh fruit.
The restaurant consistently gets good reviews, also from the expat community. In the restaurant awards by magazines such as Time Out and Beijinger, Haidilao has often won prices throughout the year, including those for "Best Hot Pot," "Outstanding Service," or "Outstanding Chinese Restaurant of the Year."
You Never Eat Alone
On Weibo, Haidilao is also praised by many netizens, although some say that "the service is so good that it actually becomes embarrassing." ("I just needed a band-aid but the servant personally came and helped me put it on.")
Recently, netizens find Haidilao's latest service addition especially funny; whoever eats alone at Haidilao is now provided with a teddy bear to accompany them at the table. "I am happy with this new friend Haidilao picked out for me," one netizen posted.
Many netizens post pictures of their Teddy friend on Weibo.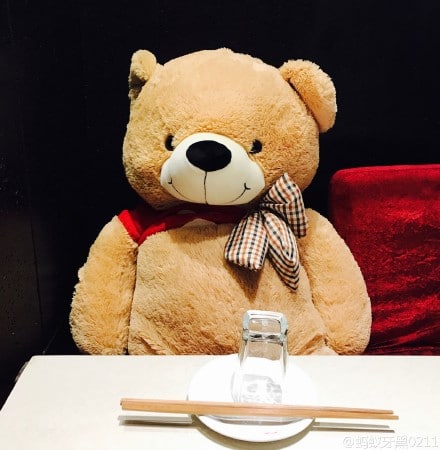 There are also those who post pictures of guests at other tables, saying: "So it really is true that people at Haidilao dine with teddy bears!"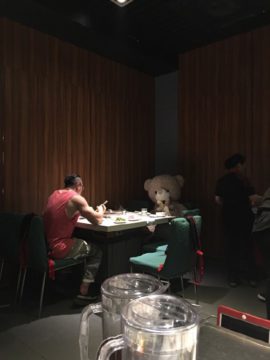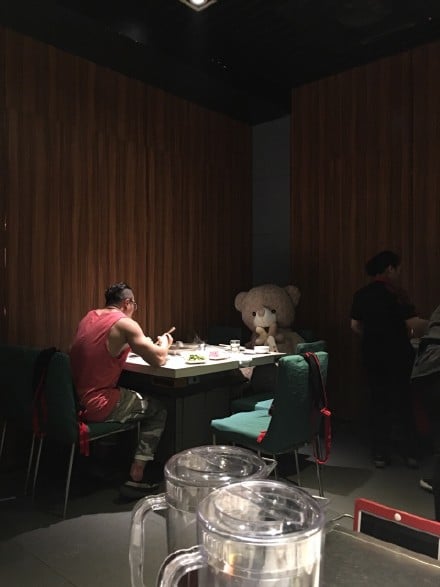 One Haidilao story especially attracted attention when this WeChat conversation surfaced online. "I went to eat at Haidilao by myself (..) and I asked the waiter if it was true that I would get a teddybear to eat together with me. They said their restaurant didn't have teddies and I said never mind. After a while they came up with this one [picture of a cat], and they asked me: 'Is a cat ok too?'"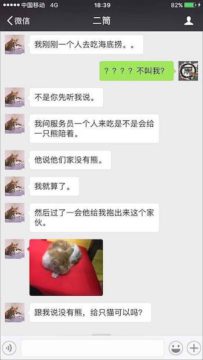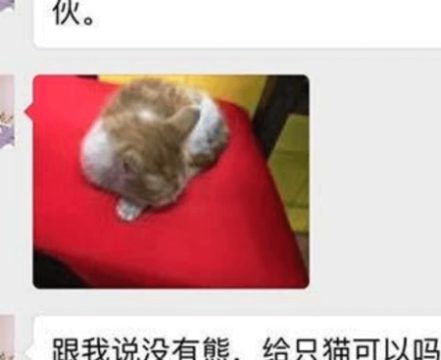 For more about dining at Haidilao, check out our recent video blog here:
By Manya Koetse
Follow @WhatsOnWeibo
Notice: What's on Weibo is an independent blog and is in no way affiliated with Haidilao.
©2017 Whatsonweibo. All rights reserved. Do not reproduce our content without permission – you can contact us at info@whatsonweibo.com.
Another Hotpot Controversy: Famous Food Critic Wants Hotpot Gone
Hotpot discussions are getting heated.
One of China's most famous food critics would rather see hotpot disappear, but hundreds of Chinese netizens do not agree at all.
After a hotpot restaurant became top trending on Weibo yesterday for recruiting 'Ivy League' graduates as waiters, another hotpot controversy has hit Chinese social media.
This time, the renowned Hong Kong food critic and cookbook writer Chua Lam (蔡瀾, Cai Lan) has stirred discussions among Chinese netizens over comments he made during an appearance on the Hunan TV talk show Day Day Up (天天向上/Tiantian Shangtian), SupChina and The Guardian reported on January 3rd.
When asked by one of the hosts of the show what dishes he would love to see disappear from the world, Chua answered: hotpot.
"Hotpot is the cooking style that lacks culture the most," the food critic added: "You just throw the ingredients in there, there's nothing tasty about it." Because the hotpot allegedly has no cultural significance and because the cooking style is so easy, the critic suggested it might as well disappear altogether.
Chua Lam is a popular personality on social media. On his Weibo account, he has more than ten million fans.
Read the full story at Hotpot Ambassador here.
By Manya Koetse
Follow @whatsonweibo
Spotted a mistake or want to add something? Please let us know in comments below or email us.
©2019 Whatsonweibo. All rights reserved. Do not reproduce our content without permission – you can contact us at info@whatsonweibo.com
Hotpot Restaurant with High Standards Goes Viral: Waiters Required to Have 'Ivy League' Diploma
Top-notch hotpot restaurant asks for top-notch waiters – stirring controversy online.
Marketing stunt or serious job requirement? This new Zhengzhou hotpot restaurant, that seeks to recruit ten 'Ivy League' graduates as waiters, has become the talk of the day on Chinese social media.
The job announcement of a new Chinese hotpot restaurant has gone viral on Weibo, as the new establishment requires that persons who apply to work as a server to have a degree at a "985" ('Ivy League') university.
The job requirements of the restaurant, which is located in Zhengzhou, Henan province, started attracting online attention on December 30. By January 2nd, the hashtag 'Hotpot Restaurant Requires 985 Diploma in Recruiting Waiters' (#火锅店招服务员要求985#) had received over 290 million views (!) on Sina Weibo.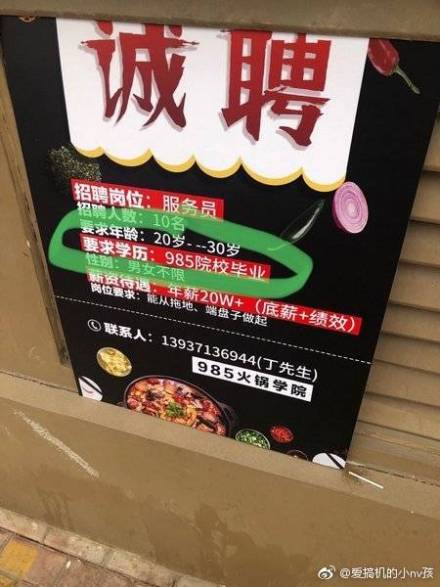 Some Weibo netizens said the recruitment announcement was an "insult" to those who have graduated from one of China's top universities, while others denounced the hotpot restaurant for purposely building hype to drive more customers to the new establishment.
"What does being a '985' graduate have to do with being a waiter?", one popular comment said: "To be kind-hearted and responsible is what matters." Others sarcastically comment that home delivery staff might be required to hold a PhD degree in the future.
The so-called "985 Project" was launched in 1998 by former President Jiang Zemin at the 100th anniversary of Peking University on May 4th of that year (985 refers to 1998, May). It was meant to raise the number of (internationally recognized) first-rate universities within China. China's '985' universities include, among others, Fudan University, Peking University, and Tsinghua.
The job announcement of the new Zhengzhou hotpot restaurant does not completely come out of the blue. The restaurant itself is also called "985 Hotpot College" (985火锅学院), and its outside appearance seems to be themed around the '985' idea.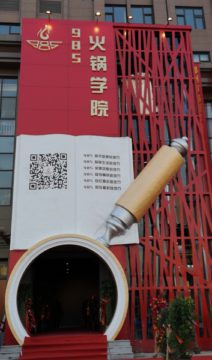 The restaurant's job advertisement states that the establishment is looking to recruit ten graduates between the ages of 20 and 30. The annual salary is approximately 200,000 RMB (±US$29,000), which is almost 2,5 times more than the local average pay and up to 8 times more than what waiters in Zhengzhou usually make, according to this Beijing Evening News article.
On January 2nd, the restaurant responded to all the commotion its job advertisement has caused, saying that "every person and organization has the right to pursue their dreams" and that they were hoping to find the right talents to "grow [the business] together."
Despite the fact that hundreds of netizens condemn the restaurant's call for 'Ivy League' waiters, there are also those who do not see a problem: "The business has the freedom to choose their own standards, and graduates also have the freedom to apply there or not," some write.
Hotpot restaurants are incredibly popular and common in China. The ubiquity leads to hotpot establishments becoming more and more competitive. In recent years, 'themed' hotpot restaurants have popped up like mushrooms in China's bigger cities, trying to attract customers with their unique concepts, such as revolution-themed hot pot restaurants, robot-themed hotpot places, or even classroom-themed hotpot.
The "985 Hotpot College" will have its highly educated waiters as a unique selling point. Whether or not their hot pot is tasty or not, however, is still unsure – despite the recent hype around the restaurant, its Dianping rating page is still awfully empty.
Want to know more about hotpot? Visit our sister site Hotpotambassador.com here.
By Manya Koetse
Follow @whatsonweibo
Spotted a mistake or want to add something? Please let us know in comments below or email us.
©2019 Whatsonweibo. All rights reserved. Do not reproduce our content without permission – you can contact us at info@whatsonweibo.com