Bizarre Buildings & Ambitious Architecture of Rural China: Here's Chinese Vlogger 'Schlieffen'
Chinese vlogger Schlieffen explores a bizarre and amazing side of rural China many have never seen before.
"Making Hebei great again" is one of his slogans. Schlieffen is China's first self-proclaimed 'agritourism' vlogger, showing Chinese netizens the unexpected sides of Hebei, an "almost invisible" province in Northern China. Anna Wang explains.
It all started in May of 2018 when Schlieffen (@史里芬Shǐlǐfēn) launched his first video titled "World's Biggest Tortoise" ("世界上最大的王八"), introducing a 1680-square-meter turtle-shaped sports venue at Hebei's Lake Baiyangdian.
Ever since that time, Schlieffen has grown out to become a popular Chinese vlogger and blogger who is active on various social media platforms. Focusing on unexpected architecture in lesser-known parts of China, he has a fanbase of thousands of followers, from Weibo to Bilibili.
His fourth video, "A Trip to Hogwarts Hebei" ("霍格沃茨河北分校之旅") launched him to stardom in his channel's first month.
The video documents the bizarre architecture of the Hebei Academy of Fine Arts, which has been compared to the 'Hogwarts' School of Witchcraft and Wizardry from Harry Potter due to its bizarre castle campus.
Schlieffen's 4-minute video shows the vlogger's exploration of the 'Hogwarts'-like area. After a long drive down a country road, he arrives at the so-called 'Empire Square', which is surrounded by three magnificent rococo, Renaissance and Gothic-style buildings.
The center building, adorned with dramatic towers and turrets, is the school's administration building. Imagine grading student work in a medieval castle in the middle of a cornfield!
Guiding the viewer through the premises, Schlieffen shows the hotel and conference center on the left; the interior is crammed with densely arranged pillars and painted ceilings  – which might be a homage to the Sistine Chapel, without the high ceilings.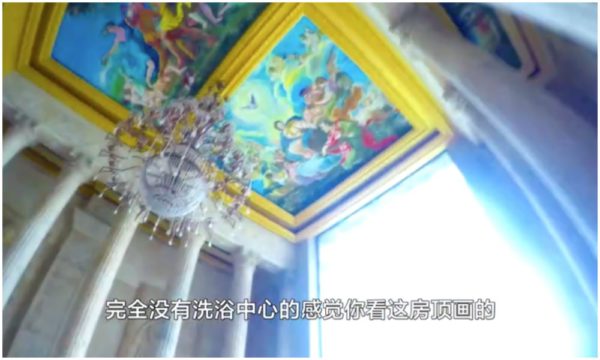 The pseudo-European buildings are somewhat laughable on their own, but there's a lot more. The campus is divided in two halves: one is European-themed, and the other one focuses on ancient China. The two are separated by a manmade "Mediterranean" lake complete with manmade islands covered in artificial palm trees.
Schlieffen's videos always follow a similar pattern. He often uses a wide-angle lens and speeds up the video to four or even eight times its normal speed, with quick edits – no shot lasts longer than 3 seconds. Each video begins with the vlogger getting off from a train or getting out of a car from where he starts his tour. "Please hold on and sit tight," is one of his signature phrases.
"They suddenly seemed to realize that there were parts of China they had no clue about."
"A Trip to Hogwarts Hebei" soon started making its rounds on Chinese social media, and was especially shared among well-educated netizens and white-collar workers, who suddenly seemed to realize that there were parts of China they had no clue about.
The Chinese term "shanzhai" (山寨) is a derogatory term for "knock-off goods," but it literally means "mountain village." The assumption is that people from rural mountain villages cannot afford real luxury goods, so they buy cheap counterfeits made in poorly run factories. The metropolitan middle class already knew about shanzhai Louis Vuitton bags, but they weren't aware that hillbillies were capable of building a 288-acre shanzhai Hogwarts.
Schlieffen's video on the noteworthy Hebei Academy of Fine Arts has currently been viewed over nine million times on Miaopai alone.
After the success of his initial videos, Schlieffen continued filming knock-off world wonders in Hebei. By now, he has made fifty vlogs, including those on wondrous places such as Hebei Jerusalem or Hebei Venice.
Through the course of his vlogging career, Schlieffen expanded his field of interest to include any attraction teetering on the thin line between ambitious and ridiculous.
Whether sharing images and videos on the world's largest cement elephant or the biggest turtle sculpture, Schlieffen's posts always attract hundreds of likes. One of his other popular videos explores the somewhat bizarre site of the Baoding Zoo.
"Hebei is an almost invisible province, as transparent as the air – I used that invisibility to make myself visible."
There are not many online influencers focusing on Hebei, a place that is not exactly known for its glamor and charm. At a December 2018 event hosted by Chinese tech news site Huxiu.com, Schlieffen said that "Hebei is an almost invisible province, as transparent as the air – I used that invisibility to make myself visible."
Hebei, a coastal province in Northern China, contains two municipalities under the direct control of the central government: Beijing and Tianjin. People often say that Beijing and Tianjin are the flavorful 'fillings of a dumpling' while Hebei is 'the plain wrapper.'
Under the current household registration system, being a resident of Beijing or Tianjin means better social welfare than the rest of Hebei. Thus, the 'brain drain' from Hebei to the cities has been ongoing for decades.
When people talk about Hebei, they usually describe it as an uneventful place, but Schlieffen's representation of Hebei completely changes their idea of the region, turning it into a place where people can be wildly ambitious.
Their ambitions can take on two forms: first, they are obsessed with huge, grand buildings. Second, they want to include every aesthetic they can think of, Chinese or European, ancient or contemporary. These ambitions come together in a brazenly unsophisticated form of architecture.
Schlieffen (1992) was born and raised in Hebei. After college, he went to England for graduate school until 2018.
While he was studying abroad, a new wave of Chinese vloggers launched their careers in mainland China. Many of them, such as the female vlogger Zhuzi (@你好_竹子), were studying abroad in Western countries. They shot and shared short videos of their daily lives, satisfying their audience's curiosity about life in a strange land.
Schlieffen began to seriously consider vlogging as a career after finishing his studies and returning to his hometown. He found that his prospective audience seemed to have grown tired of watching Chinese exchange students living happy, fashionable lives overseas. As a lover of traveling, he decided to start his own travel vlog.
In an interview with Li Dangxin for Huxiu.com, Schlieffen explains: "You have to ask yourself time and time again why the audience wants to watch your videos." Careful consideration led him to shoot the bizarre buildings in Hebei.
There are tens of thousands of Hebei natives working in big cities, Schlieffen thought; they care about what's going on in their hometowns, but they haven't necessarily seen these incredible buildings in person. They would be his first audience and if they shared his posts, his videos would surely go viral.
Things happened just as Schlieffen expected. Well-educated white-collar workers who had left their hometowns behind were stunned by Schlieffen's discoveries and collectively reposted his videos with their friends.
"Making Hebei great again."
Even after having produced dozens of vlogs and posts, Schlieffen is not worried about running out of stories. After his initial success, he also began covering stories in other provinces.
Schlieffen found that if a village's richest man happens to be the local party secretary and is also a Chinese People's Political Consultative Conference (CPPCC) member, you're sure to find ridiculous architecture in that village.
These locally powerful people often want to put up monuments and realize impressive structures to build on their legacy. Their power often goes largely unchecked in the various corners of Chinese -more rural- provinces, and their subordinates will not question them – those with the ability to challenge them aesthetically have probably already fled to bigger cities.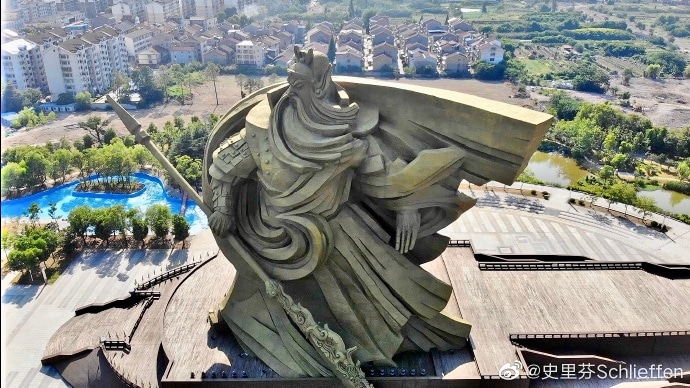 One example features in Schlieffen's video on the Long Wish Hotel International. Boasting an elevation of 328 meters, the hotel is ranked No. 8 in China and No. 15 worldwide in terms of height. It isn't in densely populated Beijing or Shanghai, but in Huaxi village in Jiangsu province. When asked why one would build such a gigantic hotel in a rural area, the village party secretary answered: "Because we can."
The hotel in Huaxi has nouveau riche written all over it. Every corner is decorated with glittering sculptures made with gold, silver or crystal. There are miniatures of Tiananmen, the White House and Arc De Triomphe in the village. On top of the White House stands a miniature Statue of Liberty.
In reporting on all these wondrous places and buildings, Schlieffen avoids making strong statements about them. Instead, he often makes playful or edgy comments. His slogan "Make Hebei great again" also means different things to different people. Some instantly understand his application of the phrase, while others simply take it literally.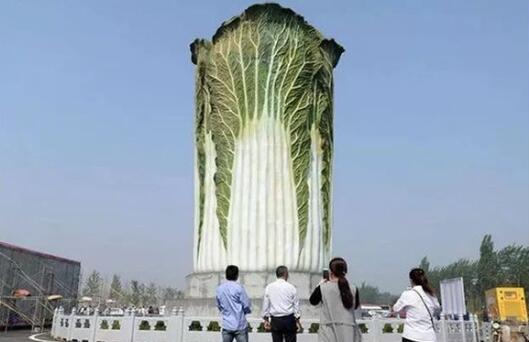 What is noteworthy is that Schlieffen rarely offends locals. He's welcomed wherever he visits. After he made a video about Wan Jia Li, a hotel/shopping mall in Hunan, the owner supposedly even invited Schlieffen to visit his home, saying: "My home is more fun than my business."
Being featured in one of Schlieffen's video can be lucrative for places in Hebei and elsewhere, as these places in rural areas will suddenly see a flux of visitors. Hebei Academy of Fine Arts has even become a popular destination for wedding photos.
Schlieffen is convinced he has found the right perspective from which to observe China's rapidly changing areas. Meanwhile, his next video is on its way. "Please hold on and sit tight," Schlieffen says again. Enjoy the ride. 
By Anna Wang
Follow @whatsonweibo
Spotted a mistake or want to add something? Please let us know in comments below or email us. Please note that your comment below will need to be manually approved if you're a first-time poster here.
©2019 Whatsonweibo. All rights reserved. Do not reproduce our content without permission – you can contact us at info@whatsonweibo.com
Chinese Social Media Users Stand up Against Body Shaming
Recent photos of famous actress Gong Li that showed her curvier figure have gone viral on Sina Weibo, receiving over 850 million clicks. With Gong Li's weight gain becoming all the talk on Weibo, the public's focus on her appearance has sparked an online wave of body positivity posts, with web users rejecting the all-too-common phenomenon of body shaming on Chinese social media.
First, there was the 'A4 Waist' hype, then there was the 'iPhone6 Legs' trend, the 'belly button backhand,' and the online challenge of putting coins in your collarbone to show off how thin you are (锁骨放硬币). Over the past five years, China has seen multiple social media trends that propagated a thin figure as the ruling beauty standard.
But now a different kind of trend is hitting Weibo's hotlists: one that rejects body shaming and promotes the acceptance of a greater diversity in body sizes and shapes in China.
On August 26, Weibo user @_HYIII_ from Shanghai posted several pictures, writing:
"Reject body shaming! Why should we all have the same figure? Tall or short, thin or fat, all have their own characteristics. Embrace yourself, and show off your own unique beauty!"
The post was soon shared over 900 times, receiving more than 32,000 likes, with the "body shame" phrase soon reaching the top keyword trending list of Sina Weibo.
Gong Li Weight Gain
The body positivity post by '_HYIII_' is going viral on the same day that the apparent weight gain of Chinese actress Gong Li (巩俐) is attracting major attention on Chinese social media platforms such as Weibo and Douyin.
The 54-year-old actress, who is known for starring in famous movies such as Farewell My Concubine, To Live, and Memoirs of a Geisha, was spotted taking a walk with her husband in France on August 24. The photos went viral, with media outlets such as Sina Entertainment noting how Gong Li had become "much rounder" and had put on some "happy fat" (幸福肥).
By now, the hashtag page "Gong Li's Figure" (#巩俐身材#) has received more than 850 million (!) views on Weibo, with thousands of people commenting on the appearance of the actress. In the comment sections, there were many who lashed out against the focus on Gong Li's weight gain.
"She just has a regular female body shape. Stop using 'white / skinny / young' as the main beauty standard to assess other people," one commenter said, with another person writing: "Why do you all keep focusing on her figure, did she steal your rice and eat it?!"
"Why do you all keep focusing on her figure, did she steal your rice and eat it?"
Some people suggested that the COVID19 pandemic might have to do with Gong Li's weight gain, with others writing: "If she is healthy is what matters, skinny or fat is not the way to assess her beauty."
What stands out from the discussions flooding social media at this time, is that a majority of web users seem to be fed up with the fact that a skinny body is the common standard of women's beauty in China today – and that accomplished and talented women such as Gong Li are still judged by the size of their waist.
Say No to Body Shaming
In light of the controversy surrounding Gong Li's recent photos and the following discussions, posts on 'body shaming' (身材羞辱) are now flooding Weibo, with many Weibo users calling on people to "reject body shaming" (拒绝#body shame#) and to stop imposing strict beauty standards upon Chinese women.
The pressure to be thin, whether it comes from the media or from others within one's social circle, is very real and can seriously affect one's self-esteem. Various studies have found an association between body dissatisfaction and social pressure to be thin and body shaming in Chinese adolescents and young adults (Yan et al 2018).
The main message in this recent Weibo grassroots campaign against body shaming, is that there are many ways in which women can be beautiful and that their beauty should not be merely defined by limited views on the ideal weight, height, or skin color.
Over the past decades, women's beauty ideals have undergone drastic changes in China, where there has been a traditional preference for "round faces" and "plump bodies." In today's society, thin bodies, sharp faces, and a pointy chin are usually regarded as the standard of female ideal beauty (Jung 2018, 68). China's most popular photo apps, such as Meitu or Pitu, often also include features to make one's face pointier or one's legs more skinny.
This is not the first time Weibo sees a growing trend of women opposing strict beauty standards. Although the word 'body shaming' has not often been included in previous trends, there have been major trends of women opposing popular skinny challenges and even one social media campaign in which young women showed their hairy armpits to trigger discussions on China's female aesthetics.
Especially in times of a pandemic, many netizens now stress the importance of health: "Skinny or fat, it really doesn't matter how much you weigh, as long as you're healthy – that's what counts."
Also read:
By Manya Koetse
Follow @WhatsOnWeibo
References
Jung, Jaehee. 2018. "Young Women's Perceptions of Traditional and Contemporary Female Beauty Ideals in China." Family and Consumer Sciences Research Journal 47 (1): 56-72.
Yan, Hanyi ; Wu, Yingru ; Oniffrey, Theresa ; Brinkley, Jason ; Zhang, Rui ; Zhang, Xinge ; Wang, Yueqiao ; Chen, Guoxun ; Li, Rui ; Moore, Justin. 2018. "Body Weight Misperception and Its Association with Unhealthy Eating Behaviors among Adolescents in China." International Journal of Environmental Research and Public Health 15 (5): 936.
Spotted a mistake or want to add something? Please let us know in comments below or email us. First-time commenters, please be patient – we will have to manually approve your comment before it appears.
©2020 Whatsonweibo. All rights reserved. Do not reproduce our content without permission – you can contact us at info@whatsonweibo.com.
China's New Hit Drama 'Nothing But Thirty' Thrives in the "She Era"
Chinese latest hit drama 'Nothing but Thirty' has 20 billion views on its Weibo hashtag page.
China's latest TV drama hit Nothing But Thirty is flooding Weibo discussions. With over 20 billion views on its hashtag page, the show is one of the most popular shows of the season and demonstrates that China's 'she era' (ta shidai 她时代) dramas are all the rage. What's on Weibo's Yin Lin Tan explains.
"Have you heard of 'independent at the age of thirty' (sān shí ér lì 三十而立)?" Wang Manni asks, her hair pulled back neatly and white shirt cleanly pressed. "I hope that, before I'm thirty, I'll be promoted to supervisor."
Riding on the wave of female protagonist ('heroine' 大女主) shows that have been taking over China's entertainment scene, Nothing But Thirty (三十而已) is a 43-episode drama by Dragon Television that follows the challenges of three different women who have reached the ever-important age of thirty.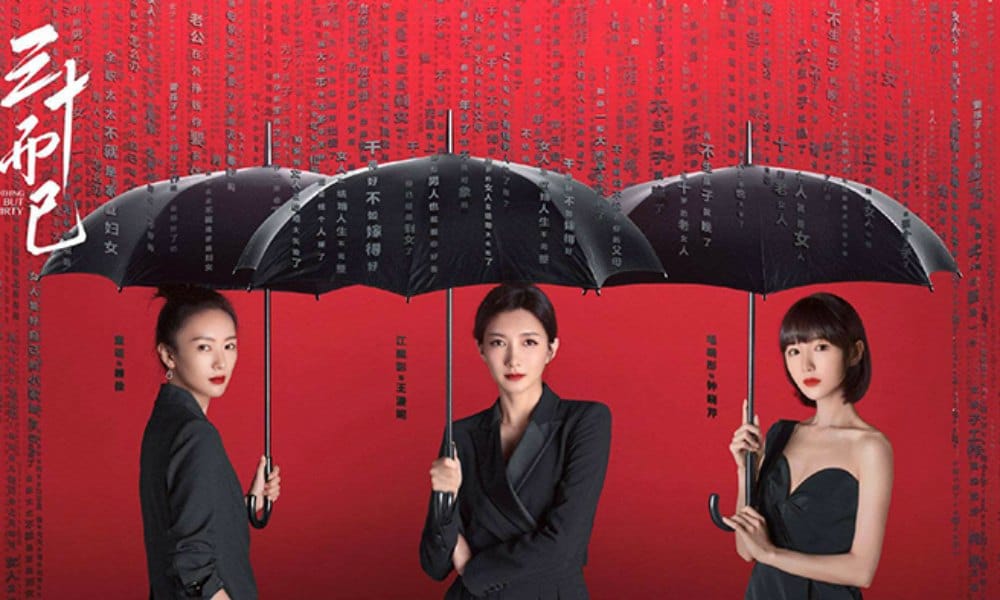 In a society where women are often expected to be married by their late twenties, a show like this, which tackles women's present-day struggles, both in their personal and professional lives, has resonated with many.
In fact, the show is so popular that at the time of writing, the show's hashtag ("Nothing But Thirty", #三十而已#) has over 20 billion (!) views on Weibo.
Depicting the struggles of China's thirty-something women
Nothing But Thirty revolves around the lives of three female leads from different walks of life. Gu Jia (Tong Yao) is a capable businesswoman turned full-time housewife; Wang Manni (Jiang Shuying) is an independent, career-oriented sales assistant; and Zhong Xiaoqin (Mao Xiaotong) is your run-of-the-mill office lady.
For Gu Jia, the birth of her son was what truly transformed her into a full-fledged housewife. In many ways, she seems like a perfect wife and mother: well-educated, capable, and thoughtful. But, eventually, she too has to face life's challenges.
Driven and hardworking, Wang Manni is confident in both her looks and abilities. Her immediate goal, at least at the start of the show, is to achieve professional success. Throughout the show, her resilience is put to the test, personally and professionally.
Zhong Xiaoqin is described by many netizens as the most "average" or "normal" character. She is kind-hearted -sometimes to the point of being a pushover -, and has spent years at the same company without rising the ranks. Though her story might seem mundane at first, this peace is disrupted when her marriage takes a turn for the worse.
A story that resonates with the masses
"The show attracted wide attention, and it strongly resonated with female audiences. Many thirty-something working women saw their own lives reflected in the show," Xinhua recently wrote about the show.
Nothing but Thirty currently carries a 7.6 out of 10 rating on Douban, an online reviewing platform.
Though some reviewers criticized how the later episodes of the show were unnecessarily draggy, most praised it for its portrayal of strong female characters, good acting, and largely realistic depiction of women above the age of thirty.
"I saw myself, and also saw the friends beside me," a reviewer notes.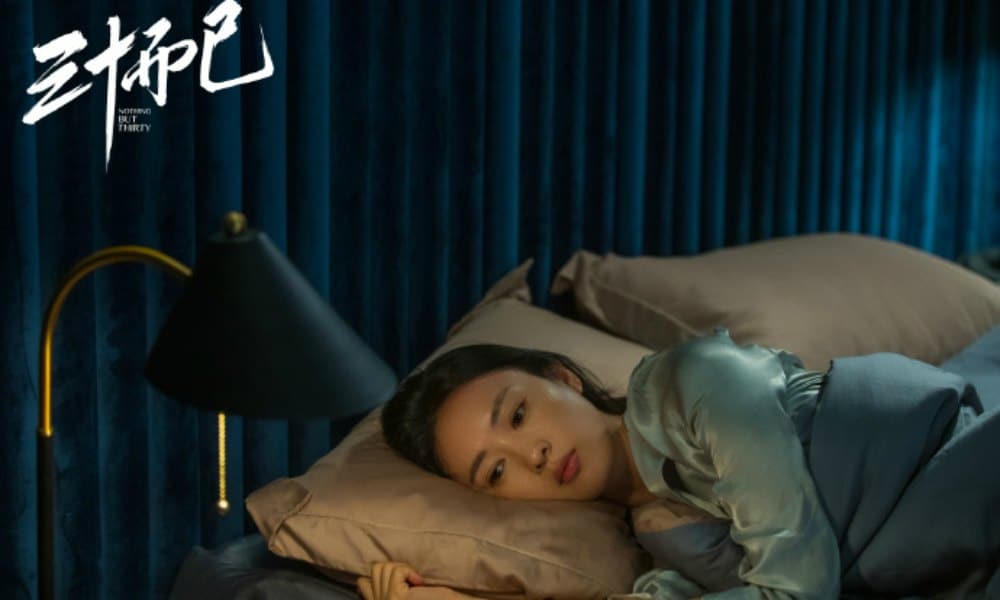 In China, women are, more often than not, burdened with expectations of getting married and settling down by the time they are in their late twenties. If you're single and thirty, that's made even worse.
Those who fall into this category carry the derogatory label of "leftover women" (剩女), a term that reflects how single women above the age of thirty are seen as consolation prizes or even unwanted goods.
Thirty is thus an incredibly important number, especially for women — something that's clearly reflected in the show's concept trailer.
Aside from societal expectations of starting a family, some women now also take it upon themselves to build their careers. In fact, you can chase after professional success without burdening yourself with the idea that you must be married – a notion exemplified by the character of Wang Manni.
Nothing But Thirty also showcases the sheer diversity of experiences for women above thirty: you don't have to be married, you don't have to be super capable, and you don't have to be thinking about having children. Each woman goes through her own unique struggles and isn't necessarily endowed with the so-called "protagonist's halo."
Ultimately, the popularity of the show is driven by the three female leads and the actresses who bring these strong characters to life.
By telling a story that is relatable and touches on relevant social issues, namely on expectations of women in society, Nothing But Thirty was able to achieve widespread popularity and is adding another notch on the trend of China's ta shidai (她时代) dramas. 
The rise of ta shidai shows
Ta shidai literally translates to "her era" or "the 'she' era."
Ta shidai shows explore what it's like to be a woman in China today. The female characters are diverse when it comes to both their backgrounds and character arcs; they might have different jobs, different levels of education, or different personalities. These shows mostly center around a strong female lead and/or a main cast that is primarily female.
More importantly, they often feature capable women and how these women overcame the odds to achieve success.
Recent shows like The Romance of Tiger and Rose (传闻中的陈芊芊) and Sisters Who Make Waves (乘风破浪的姐姐) also fall under this category, as do somewhat older hit shows such as Ode to Joy (欢乐颂) and Women in Beijing (北京女子图鉴).
The Romance of Tiger and Rose is set in a society in which women are in charge and men are subordinate, in a daring reversal of gender roles. Though the show has been criticized for using social issues to attract attention, it gained a decent following for tackling topics like gender inequality and women's rights.
A reality TV competition that swept the Chinese entertainment scene, Sisters Who Make Waves attempted to rebuke stereotypes of women over 30 as "leftover women."
The show brought together female celebrities above the age of 30 (the oldest competitor was 52), and had them go through a series of challenges, culminating in a girl group formed by the final competitors.
Nothing But Thirty is just another example of a show that's attempted to depict the realistic struggles of women in modern-day China.
More Chinese dramas that feature women — specifically, their struggles and the expectations that society places on them — are slated to be released in 2020.
Over the past few years, more attention has been focused on women's rights in China. As feminism becomes an increasingly important topic of discussion in China, strongly facilitated by social media and not without controversy, companies are likely to hop on the bandwagon and continue producing shows that fall squarely in the ta shidai category, given the genre's rising popularity.
Though we can't expect every single show to perfectly, accurately, and realistically portray women's struggles, the fact that more stories like these are being produced already helps bring such conversations into the mainstream. 
Hopefully, the trend of ta shidai shows is a sign that these issues won't just be tackled on camera, but in real life as well. 

Read more about Chinese TV dramas here.

By Yin Lin Tan
Follow @WhatsOnWeibo
 Spotted a mistake or want to add something? Please let us know in comments below or email us. First-time commenters, please be patient – we will have to manually approve your comment before it appears.
©2020 Whatsonweibo. All rights reserved. Do not reproduce our content without permission – you can contact us at info@whatsonweibo.com.