Bizarre Buildings & Ambitious Architecture of Rural China: Here's Chinese Vlogger 'Schlieffen'
Chinese vlogger Schlieffen explores a bizarre and amazing side of rural China many have never seen before.
"Making Hebei great again" is one of his slogans. Schlieffen is China's first self-proclaimed 'agritourism' vlogger, showing Chinese netizens the unexpected sides of Hebei, an "almost invisible" province in Northern China. Anna Wang explains.
It all started in May of 2018 when Schlieffen (@史里芬Shǐlǐfēn) launched his first video titled "World's Biggest Tortoise" ("世界上最大的王八"), introducing a 1680-square-meter turtle-shaped sports venue at Hebei's Lake Baiyangdian.
Ever since that time, Schlieffen has grown out to become a popular Chinese vlogger and blogger who is active on various social media platforms. Focusing on unexpected architecture in lesser-known parts of China, he has a fanbase of thousands of followers, from Weibo to Bilibili.
His fourth video, "A Trip to Hogwarts Hebei" ("霍格沃茨河北分校之旅") launched him to stardom in his channel's first month.
The video documents the bizarre architecture of the Hebei Academy of Fine Arts, which has been compared to the 'Hogwarts' School of Witchcraft and Wizardry from Harry Potter due to its bizarre castle campus.
Schlieffen's 4-minute video shows the vlogger's exploration of the 'Hogwarts'-like area. After a long drive down a country road, he arrives at the so-called 'Empire Square', which is surrounded by three magnificent rococo, Renaissance and Gothic-style buildings.
The center building, adorned with dramatic towers and turrets, is the school's administration building. Imagine grading student work in a medieval castle in the middle of a cornfield!
Guiding the viewer through the premises, Schlieffen shows the hotel and conference center on the left; the interior is crammed with densely arranged pillars and painted ceilings  – which might be a homage to the Sistine Chapel, without the high ceilings.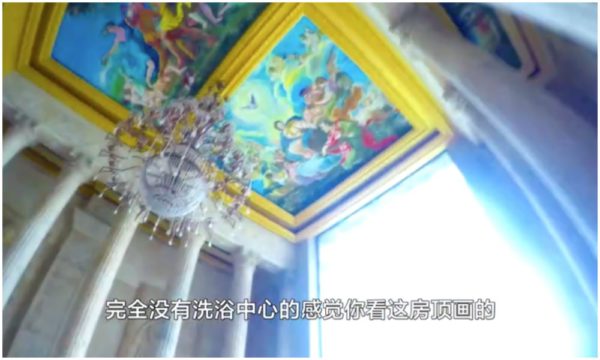 The pseudo-European buildings are somewhat laughable on their own, but there's a lot more. The campus is divided in two halves: one is European-themed, and the other one focuses on ancient China. The two are separated by a manmade "Mediterranean" lake complete with manmade islands covered in artificial palm trees.
Schlieffen's videos always follow a similar pattern. He often uses a wide-angle lens and speeds up the video to four or even eight times its normal speed, with quick edits – no shot lasts longer than 3 seconds. Each video begins with the vlogger getting off from a train or getting out of a car from where he starts his tour. "Please hold on and sit tight," is one of his signature phrases.
"They suddenly seemed to realize that there were parts of China they had no clue about."
"A Trip to Hogwarts Hebei" soon started making its rounds on Chinese social media, and was especially shared among well-educated netizens and white-collar workers, who suddenly seemed to realize that there were parts of China they had no clue about.
The Chinese term "shanzhai" (山寨) is a derogatory term for "knock-off goods," but it literally means "mountain village." The assumption is that people from rural mountain villages cannot afford real luxury goods, so they buy cheap counterfeits made in poorly run factories. The metropolitan middle class already knew about shanzhai Louis Vuitton bags, but they weren't aware that hillbillies were capable of building a 288-acre shanzhai Hogwarts.
Schlieffen's video on the noteworthy Hebei Academy of Fine Arts has currently been viewed over nine million times on Miaopai alone.
After the success of his initial videos, Schlieffen continued filming knock-off world wonders in Hebei. By now, he has made fifty vlogs, including those on wondrous places such as Hebei Jerusalem or Hebei Venice.
Through the course of his vlogging career, Schlieffen expanded his field of interest to include any attraction teetering on the thin line between ambitious and ridiculous.
Whether sharing images and videos on the world's largest cement elephant or the biggest turtle sculpture, Schlieffen's posts always attract hundreds of likes. One of his other popular videos explores the somewhat bizarre site of the Baoding Zoo.
"Hebei is an almost invisible province, as transparent as the air – I used that invisibility to make myself visible."
There are not many online influencers focusing on Hebei, a place that is not exactly known for its glamor and charm. At a December 2018 event hosted by Chinese tech news site Huxiu.com, Schlieffen said that "Hebei is an almost invisible province, as transparent as the air – I used that invisibility to make myself visible."
Hebei, a coastal province in Northern China, contains two municipalities under the direct control of the central government: Beijing and Tianjin. People often say that Beijing and Tianjin are the flavorful 'fillings of a dumpling' while Hebei is 'the plain wrapper.'
Under the current household registration system, being a resident of Beijing or Tianjin means better social welfare than the rest of Hebei. Thus, the 'brain drain' from Hebei to the cities has been ongoing for decades.
When people talk about Hebei, they usually describe it as an uneventful place, but Schlieffen's representation of Hebei completely changes their idea of the region, turning it into a place where people can be wildly ambitious.
Their ambitions can take on two forms: first, they are obsessed with huge, grand buildings. Second, they want to include every aesthetic they can think of, Chinese or European, ancient or contemporary. These ambitions come together in a brazenly unsophisticated form of architecture.
Schlieffen (1992) was born and raised in Hebei. After college, he went to England for graduate school until 2018.
While he was studying abroad, a new wave of Chinese vloggers launched their careers in mainland China. Many of them, such as the female vlogger Zhuzi (@你好_竹子), were studying abroad in Western countries. They shot and shared short videos of their daily lives, satisfying their audience's curiosity about life in a strange land.
Schlieffen began to seriously consider vlogging as a career after finishing his studies and returning to his hometown. He found that his prospective audience seemed to have grown tired of watching Chinese exchange students living happy, fashionable lives overseas. As a lover of traveling, he decided to start his own travel vlog.
In an interview with Li Dangxin for Huxiu.com, Schlieffen explains: "You have to ask yourself time and time again why the audience wants to watch your videos." Careful consideration led him to shoot the bizarre buildings in Hebei.
There are tens of thousands of Hebei natives working in big cities, Schlieffen thought; they care about what's going on in their hometowns, but they haven't necessarily seen these incredible buildings in person. They would be his first audience and if they shared his posts, his videos would surely go viral.
Things happened just as Schlieffen expected. Well-educated white-collar workers who had left their hometowns behind were stunned by Schlieffen's discoveries and collectively reposted his videos with their friends.
"Making Hebei great again."
Even after having produced dozens of vlogs and posts, Schlieffen is not worried about running out of stories. After his initial success, he also began covering stories in other provinces.
Schlieffen found that if a village's richest man happens to be the local party secretary and is also a Chinese People's Political Consultative Conference (CPPCC) member, you're sure to find ridiculous architecture in that village.
These locally powerful people often want to put up monuments and realize impressive structures to build on their legacy. Their power often goes largely unchecked in the various corners of Chinese -more rural- provinces, and their subordinates will not question them – those with the ability to challenge them aesthetically have probably already fled to bigger cities.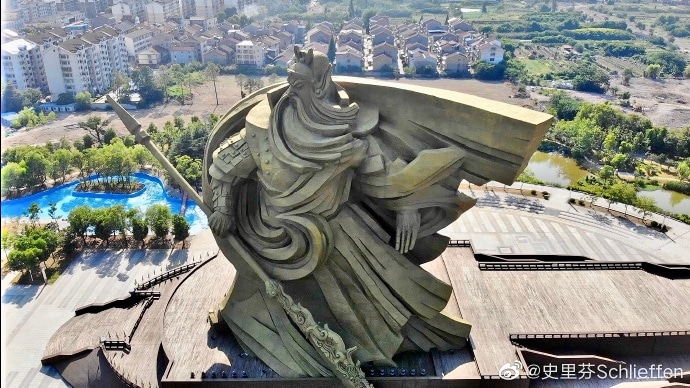 One example features in Schlieffen's video on the Long Wish Hotel International. Boasting an elevation of 328 meters, the hotel is ranked No. 8 in China and No. 15 worldwide in terms of height. It isn't in densely populated Beijing or Shanghai, but in Huaxi village in Jiangsu province. When asked why one would build such a gigantic hotel in a rural area, the village party secretary answered: "Because we can."
The hotel in Huaxi has nouveau riche written all over it. Every corner is decorated with glittering sculptures made with gold, silver or crystal. There are miniatures of Tiananmen, the White House and Arc De Triomphe in the village. On top of the White House stands a miniature Statue of Liberty.
In reporting on all these wondrous places and buildings, Schlieffen avoids making strong statements about them. Instead, he often makes playful or edgy comments. His slogan "Make Hebei great again" also means different things to different people. Some instantly understand his application of the phrase, while others simply take it literally.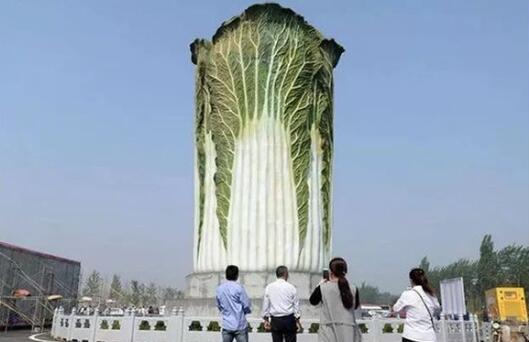 What is noteworthy is that Schlieffen rarely offends locals. He's welcomed wherever he visits. After he made a video about Wan Jia Li, a hotel/shopping mall in Hunan, the owner supposedly even invited Schlieffen to visit his home, saying: "My home is more fun than my business."
Being featured in one of Schlieffen's video can be lucrative for places in Hebei and elsewhere, as these places in rural areas will suddenly see a flux of visitors. Hebei Academy of Fine Arts has even become a popular destination for wedding photos.
Schlieffen is convinced he has found the right perspective from which to observe China's rapidly changing areas. Meanwhile, his next video is on its way. "Please hold on and sit tight," Schlieffen says again. Enjoy the ride. 
By Anna Wang
Follow @whatsonweibo
Spotted a mistake or want to add something? Please let us know in comments below or email us. Please note that your comment below will need to be manually approved if you're a first-time poster here.
©2019 Whatsonweibo. All rights reserved. Do not reproduce our content without permission – you can contact us at info@whatsonweibo.com
King of Workout Livestream: Liu Genghong Has Become an Online Hit During Shanghai Lockdown
Liu Genghong (Will Liu) is leading his best lockdown life.
With their exercise livestreams, Liu and his wife are bringing some positive vibes to Shanghai and the rest of China in Covid times, getting thousands of social media users to jump along with them.
On Friday, April 22, the hashtag "Why Has Liu Genghong Become An Online Hit" (#为什么刘畊宏突然爆火#) was top trending on Chinese social media platform Weibo.
Liu Genghong (刘畊宏, 1972), who is also known as Will Liu, is a Taiwanese singer and actor who is known for playing in dramas (Pandamen 熊貓人), films (True Legend 苏乞儿), and releasing various music albums (Rainbow Heaven 彩虹天堂). He is a devout Christian.
Besides all of his work in the entertainment business, Liu is also a fitness expert. In 2013, Liu participated in the CCTV2 weight loss programme Super Diet King (超级减肥王, aka The Biggest Loser) as a motivational coach, and later also became a fitness instructor for the Jiangsu TV show Changing My Life (减出我人生), in which he also helped overweight people to become fit. After that, more fitness programs followed, including the 2017 Challenge the Limit (全能极限王) show.
During the Covid outbreak in Shanghai, the 50-year-old Liu Genghong has unexpectedly become an online hit for livestreaming fitness routines from his home. Together with his wife Vivi Wang, he streams exercise and dance videos five days of the week via the Xiaohongshu app and Douyin.
In his livestreams, Liu and his wife appear energetic, friendly, happy and super fit. They exercise and dance to up-beat songs while explaining and showing their moves, often encouraging those participating from their own living rooms ("Yeah, very good, you're doing well!"). Some of their livestreams attract up to 400,000 viewers tuning in at the same time.
The couple, both in lockdown at their Shanghai home, try to motivate other Shanghai residents and social media users to stay fit. Sometimes, Liu's 66-year-old mother in law also exercises with them, along with the children.
"I've been exercising watching Liu and his wife for half an hour, they're so energetic and familiar, they've already become my only family in Shanghai," one Weibo user says.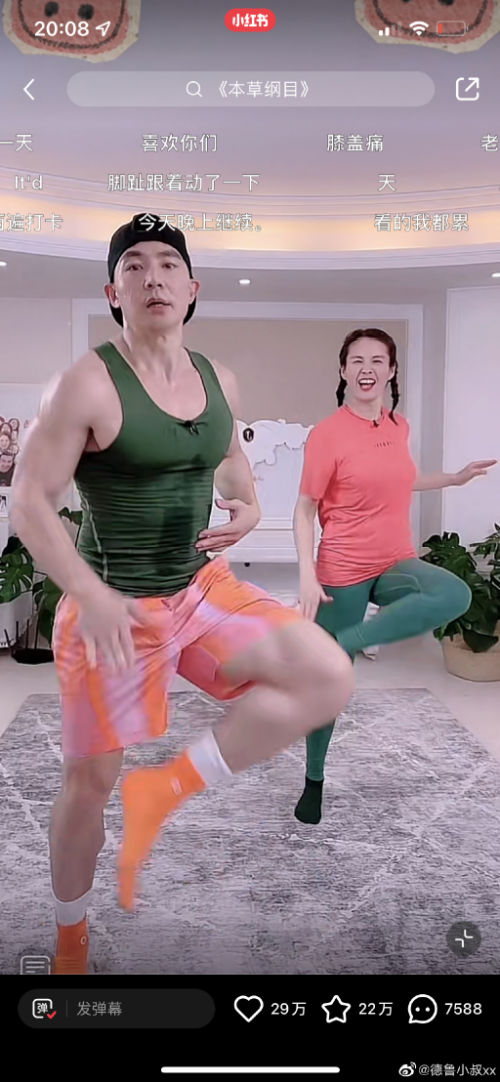 "I never expected Liu Genghong to be a 'winner' during this Covid epidemic in Shanghai," another person writes.
Along with Liu's online success, there's also a renewed interest in the Jay Chou song Herbalist's Manual (本草纲目), which is used as a workout tune, combined with a specific dance routine. Liu is also a good friend and fitness pal to Taiwanese superstar Jay Chou.
This week, various Chinese news outlets such as Fengmian News and The Paper have reported on Liu's sudden lockdown success. Livestreaming workout classes in general have become more popular in China since the start of Covid-19, but there reportedly has been no channel as popular as that of Liu Genghong.
The channel's success is partly because of Liu's fame and contagious enthusiasm, but it is also because of Vivi Wang, whose comical expressions during the workouts have also become an online hit.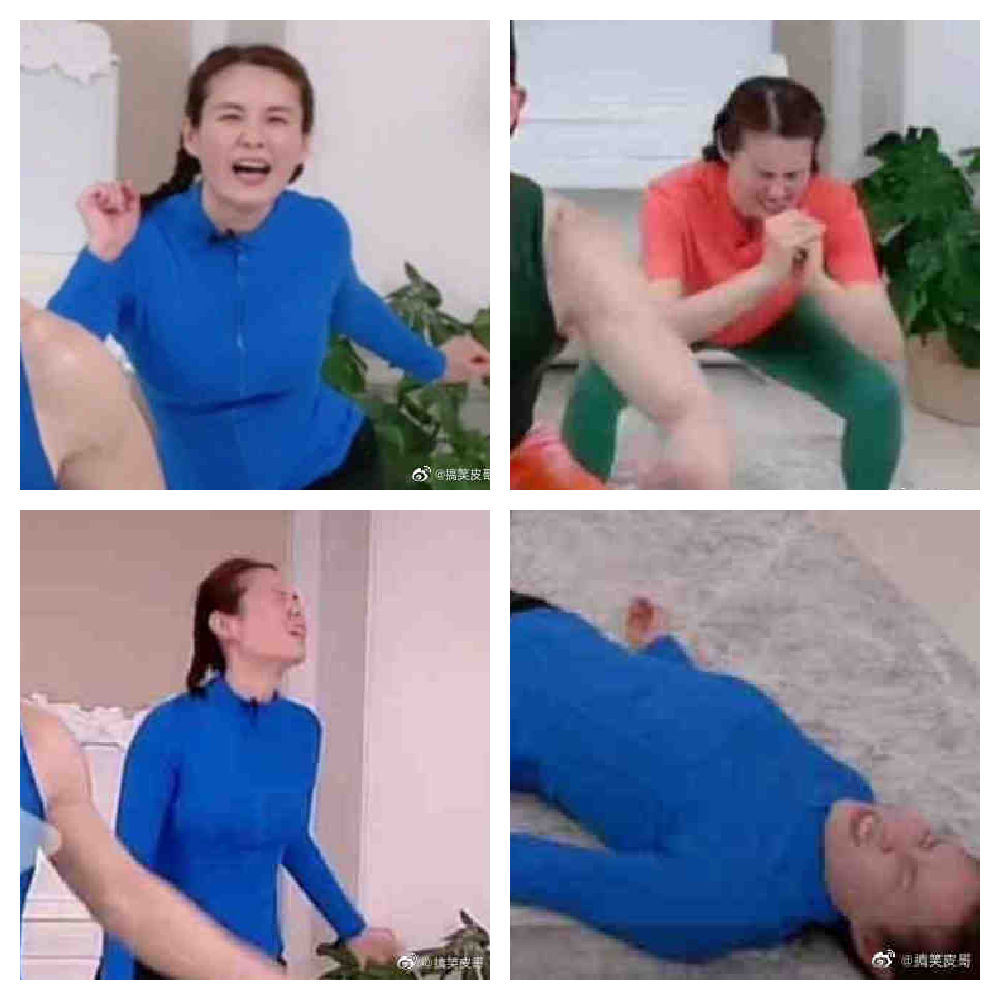 While many netizens are sharing their own videos of exercizing to Liu's videos, there are also some who warn others not to strain themselves too quickly.
"I've been inside for over 40 days with no exercise" one person writes: "I did one of the workouts yesterday and my heart nearly exploded." "I feel fine just watching," others say: "I just can't keep up."
Will Liu (刘畊宏) has become an online sensation in China together with his wife for their livestreamed workout sessions from Shanghai, especially inspiring those in lockdown to break a sweat. This routine to Jay Chou's song Herbalist's Manual (本草纲目) is the hit of the moment. pic.twitter.com/X4VvEBWvFU

— Manya Koetse (@manyapan) April 22, 2022
Watch one of Liu's routines via Youtube here, or here, or here.
For more articles on the Covid-19 topics on Chinese social media, check here.
By Manya Koetse
Get the story behind the hashtag. Subscribe to What's on Weibo here to receive our weekly newsletter and get access to our latest articles:
Spotted a mistake or want to add something? Please let us know in comments below or email us. First-time commenters, please be patient – we will have to manually approve your comment before it appears.
©2022 Whatsonweibo. All rights reserved. Do not reproduce our content without permission – you can contact us at info@whatsonweibo.com.
Weibo is Watching the DJs & Sports Presentation Team at the Winter Olympics Venues
Chinese netizens are not just closely following the athletes, they are also paying more attention to the "atmosphere enliveners" at the 2022 Beijing Winter Olympics.
Chinese netizens are not just closely watching the athletes at the 2022 Winter Olympics – the DJs who are performing at the various venues and their noteworthy song selections have also become a popular topic on social media.
On Feb 8th, the US-born freestyle skier Eileen Gu (谷爱凌, Gu Aling) became the youngest ever gold medalist in freestyle skiing, winning the big air event for China. The American-born Gu has become a superstar in China, and everything related to her is going viral these days, including the songs that were playing when Gu had won gold.
The hashtag "When Gu Ailing Won the Gold, Jay Chou's Song Huo Yuan Jia is Played" (#谷爱凌夺冠现场放周杰伦的霍元甲#) has received more than 29 million on Weibo. Chinese netizens praised the DJs for the song selection, saying it perfectly captured the scene as the song has a strong rhythm, and is also known as 'Fearless.'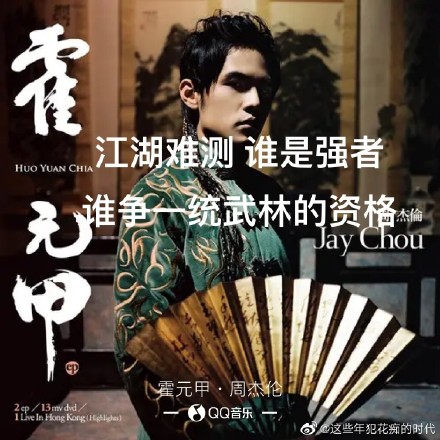 Before the hashtag about Gu went trending, the DJ team already attracted attention on Chinese social media for the interesting and noteworthy music selection at various events.
During the Ice Hockey Women's Preliminary Round Group A, when Team US competed against Team ROC, there was a conflict between the two teams and the DJ played a remixed version of Katyusha, a Russian song that became famous during World War II. The dramatic effect of the scene and wartime song pairing made the song's name (#喀秋莎#) and a video of the DJ trying to 'make some noise' on the venue go trending on Weibo with over 53 million views. Many netizens thought the music selection was humorous, with some joking that the DJ was adding oil to a burning fire.
Xie Xiao (@篮球DJ小牛), the ice hockey stadium music director for the 2022 Beijing Winter Olympics who played the song that day, later clarified on Douyin that the selection of Katyusha was not a response to the conflict. Before that game, he allegedly had already planned to use it because it is a famous song in Russia, and he already played a lot of well-known American songs.
Another creative song choice by this DJ team that resonated with Chinese netizens occurred during another ice hockey match between Team China and Team Japan, when an American DJ performed Defending the Yellow River on a keyboard. In China, Defending the Yellow River is a famous patriotic song. It was the seventh chapter of the classic Yellow River Cantata, written in 1939 to praise the fighting spirit of the Chinese people (#美国DJ现学后现场弹奏保卫黄河#).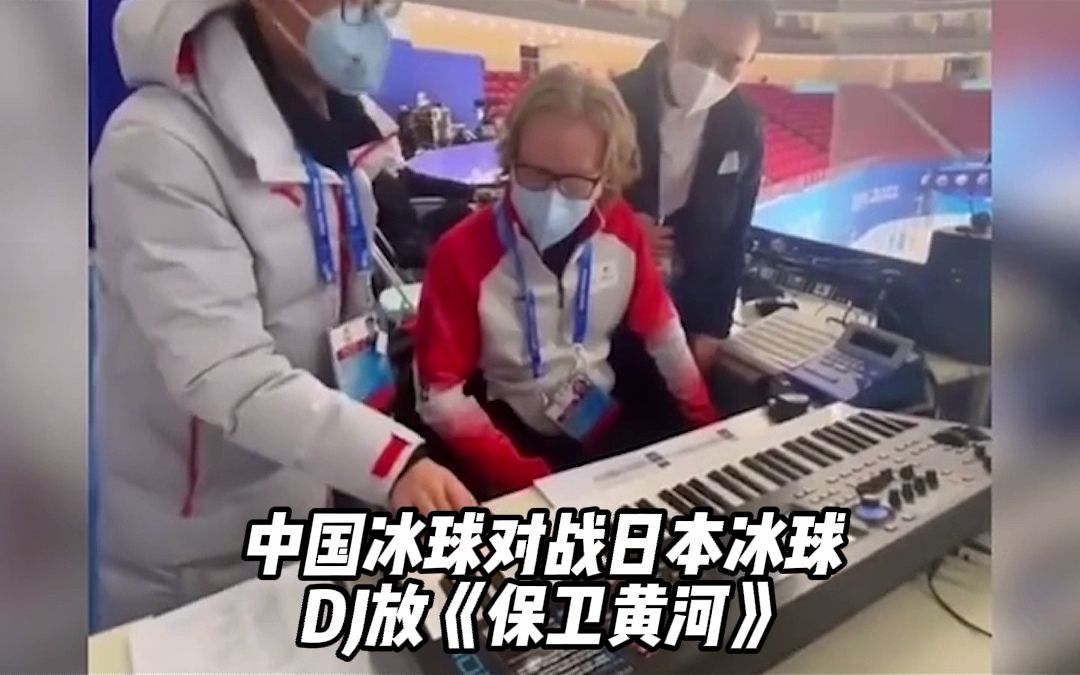 A list of popular hashtags on Weibo relating to which songs are played at the venue of the Winter Olympics also demonstrates that music has become a more relevant and popular part of the Olympics, and is also an attractive component of the event that is encouraging more people, especially younger generations, to watch and participate in the Games.
Xie also said that the team is only allowed to select songs from a specific Winter Olympics music library due to copyright and licensing. The library includes 16000 musical tracks divided into various (sub)categories based on music styles, language, and themes, covering many hit songs and different music from all across the world. On the first event day of speed skating, for example, Adele's Rolling in the Deep blasted through the speakers.
The pandemic has made the role of so-called 'atmosphere enliveners' or 'vibe teams' (气氛组, 氛围组) more important. This already became clear during the Tokyo Olympics, where we saw empty stadiums due to coronavirus measures, with DJs creating playlists to motivate athletes in the absence of cheering fans. This shift has also brought more online attention for DJs and other crew members, who would usually stay behind the scenes.
On the venues, the atmosphere is raised by Olympic mascots walking, jumping, and running around the venues interacting with smaller audiences. Meanwhile, the DJs are playing energetic tracks or are creating remixes and mash-ups while producers use different elements at the venue to enhance the audience's experience.
Li Helin, the deputy manager of the venue operations team at Beijing National Speed Skating Oval, takes care of the event presentation at the venue. He also worked as an MC at the volleyball stadium during the 2020 Tokyo Olympics. Li has also been in charge of some popular music selections played by the DJs during events involving the China team, including Calorie (卡路里) by the Chinese idol girl group Rocket Girls 101 and Immortal Sound Above Cloud Palace (云宫迅音), the opening theme of Journey to the West, a 1986 TV series that is still considered one of China's most popular TV dramas. These song selections also were popular on Weibo.
Li previously said he believed that using DJs to connect with the audiences and to enliven the atmosphere at the venues will become a bigger trend for big sports events in the future. As the standard of sports presentation and fan engagement rises, more new elements, such as spectacular lighting, drones, 3D projects, etc. will also be included: "Sports presentation serves the game, but also adds fresh elements to it."
Meanwhile, many social media users praise the music crew: "This time, the DJs at the Olympics are really awesome and their song selection is on point."  "If you don't know what kind of work you want to do, becoming an Olympic DJ is a good choice," one Weibo user writes, with others agreeing: "Seriously, if I cannot be an Olympic athlete, then I'll strive to be an Olympic DJ."
By Wendy Huang
Follow @whatsonweibo
Spotted a mistake or want to add something? Please let us know in comments below or email us. Please note that your comment below will need to be manually approved if you're a first-time poster here.
©2022 Whatsonweibo. All rights reserved. Do not reproduce our content without permission – you can contact us at info@whatsonweibo.com