Bizarre Buildings & Ambitious Architecture of Rural China: Here's Chinese Vlogger 'Schlieffen'
Chinese vlogger Schlieffen explores a bizarre and amazing side of rural China many have never seen before.
"Making Hebei great again" is one of his slogans. Schlieffen is China's first self-proclaimed 'agritourism' vlogger, showing Chinese netizens the unexpected sides of Hebei, an "almost invisible" province in Northern China. Anna Wang explains.
It all started in May of 2018 when Schlieffen (@史里芬Shǐlǐfēn) launched his first video titled "World's Biggest Tortoise" ("世界上最大的王八"), introducing a 1680-square-meter turtle-shaped sports venue at Hebei's Lake Baiyangdian.
Ever since that time, Schlieffen has grown out to become a popular Chinese vlogger and blogger who is active on various social media platforms. Focusing on unexpected architecture in lesser-known parts of China, he has a fanbase of thousands of followers, from Weibo to Bilibili.
His fourth video, "A Trip to Hogwarts Hebei" ("霍格沃茨河北分校之旅") launched him to stardom in his channel's first month.
The video documents the bizarre architecture of the Hebei Academy of Fine Arts, which has been compared to the 'Hogwarts' School of Witchcraft and Wizardry from Harry Potter due to its bizarre castle campus.
Schlieffen's 4-minute video shows the vlogger's exploration of the 'Hogwarts'-like area. After a long drive down a country road, he arrives at the so-called 'Empire Square', which is surrounded by three magnificent rococo, Renaissance and Gothic-style buildings.
The center building, adorned with dramatic towers and turrets, is the school's administration building. Imagine grading student work in a medieval castle in the middle of a cornfield!
Guiding the viewer through the premises, Schlieffen shows the hotel and conference center on the left; the interior is crammed with densely arranged pillars and painted ceilings  – which might be a homage to the Sistine Chapel, without the high ceilings.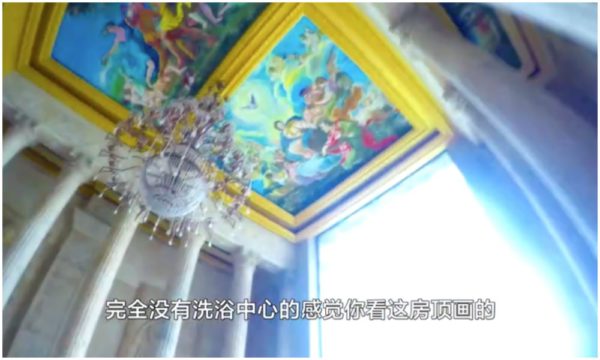 The pseudo-European buildings are somewhat laughable on their own, but there's a lot more. The campus is divided in two halves: one is European-themed, and the other one focuses on ancient China. The two are separated by a manmade "Mediterranean" lake complete with manmade islands covered in artificial palm trees.
Schlieffen's videos always follow a similar pattern. He often uses a wide-angle lens and speeds up the video to four or even eight times its normal speed, with quick edits – no shot lasts longer than 3 seconds. Each video begins with the vlogger getting off from a train or getting out of a car from where he starts his tour. "Please hold on and sit tight," is one of his signature phrases.
"They suddenly seemed to realize that there were parts of China they had no clue about."
"A Trip to Hogwarts Hebei" soon started making its rounds on Chinese social media, and was especially shared among well-educated netizens and white-collar workers, who suddenly seemed to realize that there were parts of China they had no clue about.
The Chinese term "shanzhai" (山寨) is a derogatory term for "knock-off goods," but it literally means "mountain village." The assumption is that people from rural mountain villages cannot afford real luxury goods, so they buy cheap counterfeits made in poorly run factories. The metropolitan middle class already knew about shanzhai Louis Vuitton bags, but they weren't aware that hillbillies were capable of building a 288-acre shanzhai Hogwarts.
Schlieffen's video on the noteworthy Hebei Academy of Fine Arts has currently been viewed over nine million times on Miaopai alone.
After the success of his initial videos, Schlieffen continued filming knock-off world wonders in Hebei. By now, he has made fifty vlogs, including those on wondrous places such as Hebei Jerusalem or Hebei Venice.
Through the course of his vlogging career, Schlieffen expanded his field of interest to include any attraction teetering on the thin line between ambitious and ridiculous.
Whether sharing images and videos on the world's largest cement elephant or the biggest turtle sculpture, Schlieffen's posts always attract hundreds of likes. One of his other popular videos explores the somewhat bizarre site of the Baoding Zoo.
"Hebei is an almost invisible province, as transparent as the air – I used that invisibility to make myself visible."
There are not many online influencers focusing on Hebei, a place that is not exactly known for its glamor and charm. At a December 2018 event hosted by Chinese tech news site Huxiu.com, Schlieffen said that "Hebei is an almost invisible province, as transparent as the air – I used that invisibility to make myself visible."
Hebei, a coastal province in Northern China, contains two municipalities under the direct control of the central government: Beijing and Tianjin. People often say that Beijing and Tianjin are the flavorful 'fillings of a dumpling' while Hebei is 'the plain wrapper.'
Under the current household registration system, being a resident of Beijing or Tianjin means better social welfare than the rest of Hebei. Thus, the 'brain drain' from Hebei to the cities has been ongoing for decades.
When people talk about Hebei, they usually describe it as an uneventful place, but Schlieffen's representation of Hebei completely changes their idea of the region, turning it into a place where people can be wildly ambitious.
Their ambitions can take on two forms: first, they are obsessed with huge, grand buildings. Second, they want to include every aesthetic they can think of, Chinese or European, ancient or contemporary. These ambitions come together in a brazenly unsophisticated form of architecture.
Schlieffen (1992) was born and raised in Hebei. After college, he went to England for graduate school until 2018.
While he was studying abroad, a new wave of Chinese vloggers launched their careers in mainland China. Many of them, such as the female vlogger Zhuzi (@你好_竹子), were studying abroad in Western countries. They shot and shared short videos of their daily lives, satisfying their audience's curiosity about life in a strange land.
Schlieffen began to seriously consider vlogging as a career after finishing his studies and returning to his hometown. He found that his prospective audience seemed to have grown tired of watching Chinese exchange students living happy, fashionable lives overseas. As a lover of traveling, he decided to start his own travel vlog.
In an interview with Li Dangxin for Huxiu.com, Schlieffen explains: "You have to ask yourself time and time again why the audience wants to watch your videos." Careful consideration led him to shoot the bizarre buildings in Hebei.
There are tens of thousands of Hebei natives working in big cities, Schlieffen thought; they care about what's going on in their hometowns, but they haven't necessarily seen these incredible buildings in person. They would be his first audience and if they shared his posts, his videos would surely go viral.
Things happened just as Schlieffen expected. Well-educated white-collar workers who had left their hometowns behind were stunned by Schlieffen's discoveries and collectively reposted his videos with their friends.
"Making Hebei great again."
Even after having produced dozens of vlogs and posts, Schlieffen is not worried about running out of stories. After his initial success, he also began covering stories in other provinces.
Schlieffen found that if a village's richest man happens to be the local party secretary and is also a Chinese People's Political Consultative Conference (CPPCC) member, you're sure to find ridiculous architecture in that village.
These locally powerful people often want to put up monuments and realize impressive structures to build on their legacy. Their power often goes largely unchecked in the various corners of Chinese -more rural- provinces, and their subordinates will not question them – those with the ability to challenge them aesthetically have probably already fled to bigger cities.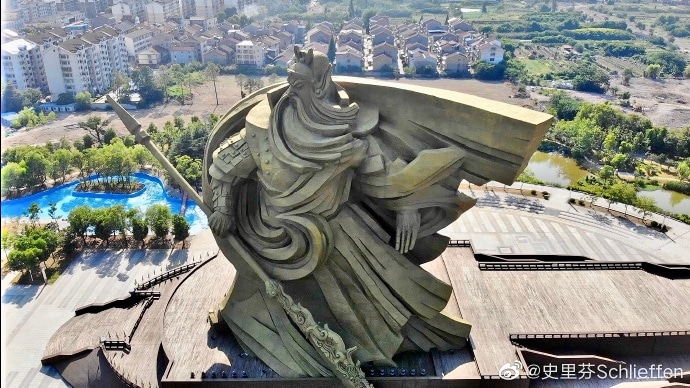 One example features in Schlieffen's video on the Long Wish Hotel International. Boasting an elevation of 328 meters, the hotel is ranked No. 8 in China and No. 15 worldwide in terms of height. It isn't in densely populated Beijing or Shanghai, but in Huaxi village in Jiangsu province. When asked why one would build such a gigantic hotel in a rural area, the village party secretary answered: "Because we can."
The hotel in Huaxi has nouveau riche written all over it. Every corner is decorated with glittering sculptures made with gold, silver or crystal. There are miniatures of Tiananmen, the White House and Arc De Triomphe in the village. On top of the White House stands a miniature Statue of Liberty.
In reporting on all these wondrous places and buildings, Schlieffen avoids making strong statements about them. Instead, he often makes playful or edgy comments. His slogan "Make Hebei great again" also means different things to different people. Some instantly understand his application of the phrase, while others simply take it literally.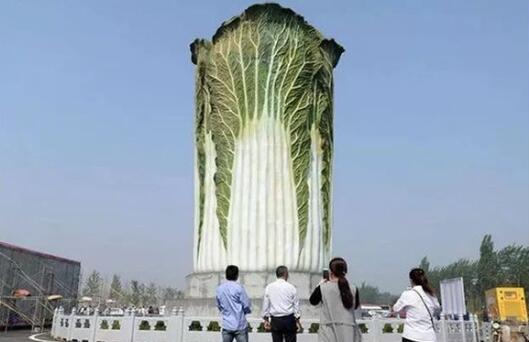 What is noteworthy is that Schlieffen rarely offends locals. He's welcomed wherever he visits. After he made a video about Wan Jia Li, a hotel/shopping mall in Hunan, the owner supposedly even invited Schlieffen to visit his home, saying: "My home is more fun than my business."
Being featured in one of Schlieffen's video can be lucrative for places in Hebei and elsewhere, as these places in rural areas will suddenly see a flux of visitors. Hebei Academy of Fine Arts has even become a popular destination for wedding photos.
Schlieffen is convinced he has found the right perspective from which to observe China's rapidly changing areas. Meanwhile, his next video is on its way. "Please hold on and sit tight," Schlieffen says again. Enjoy the ride. 
By Anna Wang
Follow @whatsonweibo
Spotted a mistake or want to add something? Please let us know in comments below or email us. Please note that your comment below will need to be manually approved if you're a first-time poster here.
©2019 Whatsonweibo. All rights reserved. Do not reproduce our content without permission – you can contact us at info@whatsonweibo.com
When a Scene from a 2010 Chinese TV Drama Goes Viral: The 'Cao Cao Flips Rice Bowl' Meme
Cao Cao flipping the rice bowl is another Cao Cao meme that's widely used to convey internal struggles about facing reality.
These days, a viral meme originating from the Chinese TV series Three Kingdoms (三国) has gained significant traction on Chinese social media.
In a memorable scene from the 2010 series, Cao Cao, a prominent warlord in Chinese history played by actor Chen Jianbin (陈建斌), angrily flips his rice bowl upon receiving news of a surprise attack, only to gather the spilled rice back into the bowl later.
This scene featuring an enraged Cao Cao has resurfaced and struck a chord with individuals reluctantly facing reality.
This short scene from the 2010 Chinese historical drama "Three Kingdoms" – in which Cao Cao angrily flips over his rice bowl on the table and then shortly after puts it all back in the bowl – has gained significant traction on Chinese social media recently. pic.twitter.com/DrM3Xgi35F

— What's on Weibo (@WhatsOnWeibo) June 3, 2023
Turning into a popular meme, Cao Cao flipping the rice bowl has become widely employed to convey sentiments of self-inflicted humiliation or the hesitation to undertake certain actions.
The Context of the Scene
The specific scene comes from episode 12 of the Three Kingdoms. Warlord Cao Cao, who is governor of Yan Province, is enjoying his meal when his advisor comes in to inform him about a surprise attack by Chinese military general Lü Bu (吕布), capturing almost the entire province.
Upon receiving this alarming report, Cao Cao's anger flared, and he promptly flipped his rice bowl upside down on the table, an act now commonly referred to as "Cao Cao flips the rice bowl" (曹操盖饭).
Cao Cao's anger was intertwined with disbelief at Lü Bu's audacity to execute such a daring attack. Cao Cao's advisor swiftly clarified that the mastermind behind the attack was Lü Bu's strategist, Chen Gong (陈宫), who was also renowned as a brilliant strategist during the Three Kingdoms era.
As he grasped the true situation, Cao Cao gradually regained his composure and meticulously gathered the spilled rice back into his bowl – an act now known as "Cao Cao retrieving his bowl of rice" (曹操撤回了一碗饭),- before resuming his meal.
The catchphrase that is used to describe Cao Cao retrieving his rice utilizes the word "chèhuí" (撤回), which means "to recall" or "to retract." It can be understood as "Cao Cao recalled his bowl of rice," drawing a parallel to the recall function in WeChat that allows users to retract or cancel a message after it has been sent.
How To Use the Meme
The contrast between the forceful act of flipping the rice bowl and the subsequent unwillingness and silence displayed while putting the scattered rice back into the bowl is a key factor contributing to the meme's viral nature on the internet.
Netizens have creatively applied Cao Cao's meme in various situations to express their own internal struggles or a sense of self-inflicted humiliation they experience (自己打自己脸).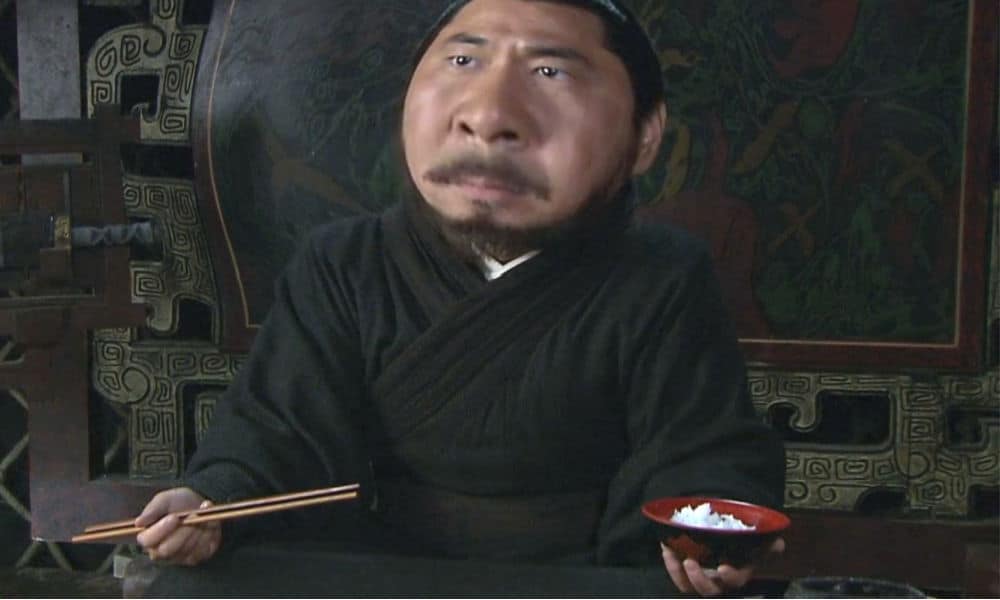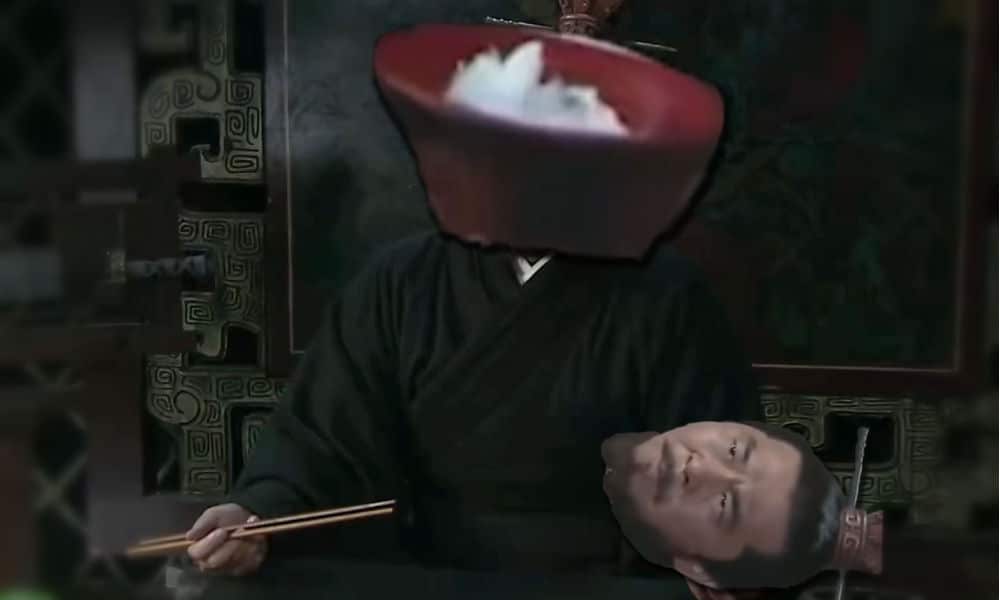 For instance, the meme effectively captures the feelings of both white-collar workers and students who utilize the "Cao Cao flips the rice bowl" meme on Fridays. On this day, they express their frustration with the demanding work week and their eagerness to leave their tasks behind.
On Friday it's f*ck this job… pic.twitter.com/S8cHTQOzgX

— What's on Weibo (@WhatsOnWeibo) June 3, 2023
However, the arrival of Monday brings a sense of reality as they realize the necessity of returning to the office or school. The "Cao Cao retrieves his bowl of rice" meme is then employed to represent the unavoidable resumption of their daily routines.
…on Monday, it's back to work… pic.twitter.com/ST1v8eqjyq

— What's on Weibo (@WhatsOnWeibo) June 3, 2023
In this regard, the meme is somewhat comparable to the English "F*ck This Job, *Goes to Work*" meme (link).
"Not Possible, Absolutely Not Possible"
It is not the first time for Three Kingdom's Cao Cao to achieve viral status through memes.
Prior to the emergence of the 'Cao Cao flips/retrieves the rice' meme, Cao Cao was already well-known for another meme phrase: "Not possible, absolutely not possible" ("不可能,绝对不可能").
This meme originated from a scene where Cao Cao received news of Liu Bei's rebellion, immediately after confidently asserting that Liu Bei, another major warlord, would never betray him.
The meme captures the essence of self-deception and the unwillingness to accept the truth. Similar to the current popular meme, this meme is often used to depict situations where someone unintentionally exposes their own flaws or contradicts their previous statements, symbolizing a self-inflicted "slap in the face."
Read more of our articles about memes in China here.
By Zilan Qian
Get the story behind the hashtag. Subscribe to What's on Weibo here to receive our newsletter and get access to our latest articles:
Spotted a mistake or want to add something? Please let us know in comments below or email us. First-time commenters, please be patient – we will have to manually approve your comment before it appears.
©2023 Whatsonweibo. All rights reserved. Do not reproduce our content without permission – you can contact us at info@whatsonweibo.com.
Fandom Meets Matrimony: Sea of Brides at Roy Wang's Concert as Female Fans Show Up in Wedding Gowns
After showing up as brides at Roy Wang's concert, some female fans attempted to return their gowns within the store's 7-day 'No Questions Asked Return Policy'.
A recent concert by Chinese celebrity Roy Wang (Wang Yuan 王源) has become a hot topic on Chinese social media as female fans attending the show collectively decided to wear wedding dresses to express their love for the singer.
Born in 2000, Roy Wang is best known as a member of the hugely popular TFboys idol group that debuted in 2013, but his solo career has also been thriving for years. Wang is an award-winning musician, who is now among China's most influential young celebrities. On Weibo, he has nearly 85 million followers.
The sight of so many fans coming to Wang's Chongqing concert wearing wedding dresses was already remarkable, but it garnered even greater attention when it turned out that some of the women's boyfriends were so upset over their girlfriends wearing a wedding dress for another man that they ended the relationship because of it.
On Douyin (China's TikTok), the related discussion made it to the top 5 trending daily topics list.
The story gained further traction when reports emerged that some female fans who had recently purchased wedding dresses for the concert attempted to return them to the store the next day, taking advantage of the store's policy that allows returns within seven days without requiring a specific reason (7天无理由退货).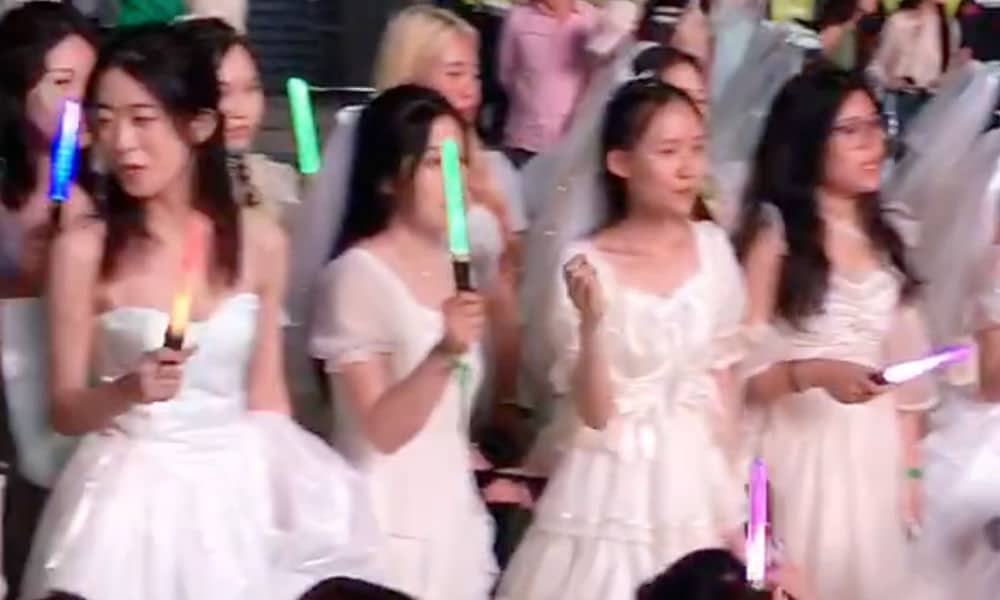 "I already wondered why business was suddenly booming," one Chongqing wedding gown seller wrote on social media, complaining how the return policy was being abused by some of Roy Wang's fans.
Others saw the fact that they wore the wedding dress to the concert as a unique selling point, and tried to resell their gowns online for more than the original price, claiming that the dress still had "a hint of the concert's aroma."
Commenters bombarded these women with negative comments, as the topic also drew wider discussions on how far some fans are willing to go to show their love for their idols.
Some social media users expressed that a wedding dress has a symbolical or even sacred function, and that tying the concept of fandom to matrimony is inappropriate. They condemned the women for showing up to the concert as brides.
Given that many of the commenters criticizing the women were male, there were also feminist voices that condemned these men for their pettiness and chauvinistic attitudes. One comment stood out: "There will always be men whose ego is bruised when women they don't even know won't wear a wedding dress and save their chastity for them. Thanks to Roy Wang's concert, I once again realize the diversity of species."
In an online poll asking people "Can women only wear a wedding dress once in their lives" (#女生一生只能穿一次婚纱吗#) the majority of people replied that they should just wear whatever they like.
"My first thought is that this is romantic," one popular entertainment blogging account (@娱大蜀黍) wrote: "My second thought is that it's actually quite moving. In the midst of their youth, they are writing a passionate chapter for themselves. They will treasure it as a beautiful memory later on in life. They do what they love and they're not bothering anyone. It's perfectly fine."
By Manya Koetse & Miranda Barnes
Get the story behind the hashtag. Subscribe to What's on Weibo here to receive our newsletter and get access to our latest articles:
Spotted a mistake or want to add something? Please let us know in comments below or email us. First-time commenters, please be patient – we will have to manually approve your comment before it appears.
©2023 Whatsonweibo. All rights reserved. Do not reproduce our content without permission – you can contact us at info@whatsonweibo.com.
Subscribe to our newsletter
Stay updated on what's trending in China & get the story behind the hashtag
Sign up here to become a premium member of What's on Weibo today and gain access to all of our latest and premium content, as well as receive our exclusive newsletter. If you prefer to receive just our weekly newsletter with an overview of the latest, you can subscribe for free here.
Would you like to become a contributor, or do you have any tips or suggestions for us? Get in touch with us here.