Silence! The Xianzi Versus Zhu Jun Court Case Has Begun
As the Xianzi versus Zhu Jun court case begins, Chinese official media stay silent and social media posts are being removed.
On December 2nd, 13:30 Beijing time, a landmark court case commenced in Beijing's Haidian district court, namely that of Xianzi versus Zhu Jun, the famous 56-year-old TV host and actor.
Xianzi (弦子) is a nickname for Zhou Xiaoxuan, a 27-year-old scriptwriter from Beijing who published a personal essay on social media in 2018 in which she accused Zhou Jun of sexually assaulting her while she was interning at CCTV for the Art Life (艺术人生) TV show in 2014. On Weibo, she is active under the name of 'Xianzi and her Friends' (@弦子与她的朋友们 over 271,000 followers).
Xianzi accuses Zhu of forcibly kissing and groping her in his dressing room, where she had come to interview him on June 10th, 2014. She had managed to escape the situation when another person entered the room. As previously reported by New York Times, Xianzi ran to the police after the incident had occurred. They reportedly urged her to drop the complaints.
For years, Xianzi stayed silent on the case, until that day in July 2018 when the American 'Metoo' campaign was in full swing and Xianzi spotted a friend's story of experiencing sexual assault. Xianzi then posted her own story online, and it went viral.
The person she accuses of sexual intimidation, Zhu Jun, is a household name in China. In his teenage years, Zhu joined the People's Liberation Army where he also joined the Military Band. He later started a career as a professional actor and became a familiar face on the Chinese state media outlet CCTV in 1993. He frequently appeared as a host for the annual CCTV Spring Festival Gala, the most-watched live broadcasted program in China.
After Xianzi's story gained widespread attention, Zhu Jun did not only deny all accusations, he also proceeded to sue Xianzi for damaging his reputation and for inflicting emotional distress, demanding a compensation of 655,000 yuan ($99,800). In October 2018, Xianzi filed a sexual misconduct lawsuit against the TV host and is asking for a public apology as well as 50,000 yuan ($7600) in damages.
As the court case was ongoing on Tuesday afternoon, Weibo feeds were filling up with people showing their support for Xianzi, even though the hashtag page for "Go Xianxi" (#弦子加油#) was taken offline.
Photos that quickly spread on Weibo showed dozens of supporters of Xianzi standing outside the court demanding justice. Some were holding posters showing the "Me Too" hashtag. Photos of Xianzi standing outside the court before entering also made their rounds.
Many people on Weibo are eager to hear the outcome of the case and complain about the lack of coverage of this news in Chinese media. This week, official Chinese news channels have stayed silent on the topic.
People are also complaining about the apparent online censorship of hashtags and comments relating to the case: "When I checked at 3 pm this afternoon, I saw plenty of Weibo posts relating to this hashtag. Now they're all gone."
"All content relating to the Zhu Jun sexual harassment case is gone from Douban," one commenter said, referring to another popular Chinese social media platform: "I'm puzzled."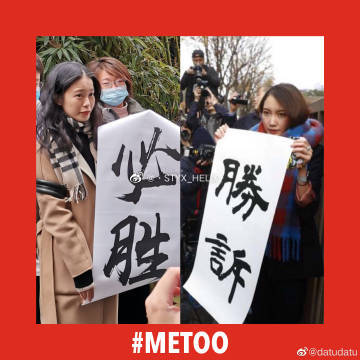 Some commenters also claimed that images, such as the one pictured above, were being taken offline. At the time of writing, one of the few hashtag pages that was still open and being used to discuss this topic (#弦子诉朱军性骚扰案今天开庭#) also seems to have been deleted.
Even a hashtag that was previously used by state-run news site The Observer (#弦子诉朱军性骚扰案将于12月2日开庭#) has by now been taken offline.
While waiting for more news to come out, some creative expressions of support are also coming out on Weibo, including drawings and edited photos.
Meanwhile, videos circulating online show how food and warm drinks were delivered to the 'Friends of Xianzi' waiting in the dark in front of the courthouse.
Update Dec 3, 0.15 Beijing Time
Footage of Xianzi leaving the courthouse was shared on social media on late Tuesday night, with her thanking all her supporters who have been waiting outside in the cold all day.
Xianzi came out addressing the crowd waiting outside pic.twitter.com/agjKysBxso

— Bo An (@bo__an) December 2, 2020
For now, the latest news is that the trial is being adjourned.
By Manya Koetse
Follow @WhatsOnWeibo
Spotted a mistake or want to add something? Please let us know in comments below or email us. First-time commenters, please be patient – we will have to manually approve your comment before it appears.
©2020 Whatsonweibo. All rights reserved. Do not reproduce our content without permission – you can contact us at info@whatsonweibo.com.
"I'm Icelandic, Please Get Me Home!" – Weibo Post by Embassy of Iceland Sparks Wave of Jokes
Wanting to get away from China's sweeping Covid-19 lockdowns, everybody is suddenly from Iceland now.
After the Embassy of Iceland posted about its bustling 'post-pandemic' travel season – suggesting the Covid-19 "gloom is over" – everybody on Weibo is suddenly from Iceland, homesick, needing to return to their country.
A Weibo post by the Embassy of Iceland in Beijing has attracted the attention of Chinese netizens for how it describes the Covid situation in Iceland, followed by a stream of online jokes.
On May 9, the Embassy of Iceland wrote on Weibo:
"Now that entry restrictions for Iceland are lifted, more and more people are preparing to travel to Iceland for the summer. Travel agency staff have indicated that in some areas, hotels and car rentals have already become harder to find and that most regions are fully booked for the peak season. The General Manager of Icelandhotels says that all hotels are fully booked across the country for July and August, and that the time that people staying for has become longer. It looks like the tourism industry is picking up again, and people seem to be getting out of the gloom."
Within two days time, the post received over 110,000 likes and thousands of comments, with many people claiming they are also Icelandic and need to return home.
"I want to go home, when will you come and pick me up?" some said, with one popular comment saying: "I was abducted from Iceland at the age of three and taken to Henan."
Another wrote: "I'm hard working and speak English, would you take me as a refugee?"
Over the past weeks, China has seen a tightening of zero-Covid policies across the country. Although residents in Covid-stricken Shanghai have endured particularly harsh restrictions, over 80 bigger cities across the country have seen some kind of lockdown since mid-April.
Since the chaotic lockdown in Xi'an earlier this year followed by the mismanagement of the phased Shanghai lockdown, there have been more online discussions about China's stringent measures to control the virus as well as some social media protests against the lockdowns and online censorship.
The post by the Icelandic Embassy on Weibo is a stark reminder of the contrast between China and other countries at this time. At the same time, it is perhaps also a welcome occasion for some online banter and sarcasm.
One commenter wrote: "I will never stop loving my country, I will always love my country, that's my unwavering belief, even if my country really doesn't want me and I'm left behind as a global nomad, I'm still an Icelandic."
Others also joked about the ongoing narrative regarding Western countries supposedly doing so bad, writing: "Please take me to this evil, capitalist country, I wish to experience the hell of suffering!"
Another person wondered: "Can't you just pick a prize winner from the comment section and award them Icelandic nationality?"
The Embassy of Iceland in Beijing is just one among dozens of foreign embassies active on the Chinese social media platform. The Embassy currently has over 88,000 followers.
"Do you take in Shanghai refugees?", one commenter asked.
Meanwhile, there are also Weibo users criticizing the thread full of jokes, saying Iceland has its own problems and calling the viral post an 'internet spectacle' generated by students: "Most of them are high school students or university undergraduates, they haven't suffered from the so-called 996 [overworking] culture, nor have they really participated in the labor market or earned money, nor had children."
But not everyone appreciates the criticism: "Can't you all see it's just satire?" Another person replies: "There are more 'Icelandic people' on the Chinese internet right now than there actually are in Iceland."
For more articles on the Covid-19 topics on Chinese social media, check here.
By Manya Koetse and Miranda Barnes
Get the story behind the hashtag. Subscribe to What's on Weibo here to receive our weekly newsletter and get access to our latest articles:
Spotted a mistake or want to add something? Please let us know in comments below or email us. First-time commenters, please be patient – we will have to manually approve your comment before it appears.
©2022 Whatsonweibo. All rights reserved. Do not reproduce our content without permission – you can contact us at info@whatsonweibo.com.
Would You Like Coffee with Your Sneakers? Chinese Sports Brand Li-Ning Registers Its 'Ning Coffee' Brand
Li-Ning enters the coffee market: "Will they sell sneaker-flavored coffee?"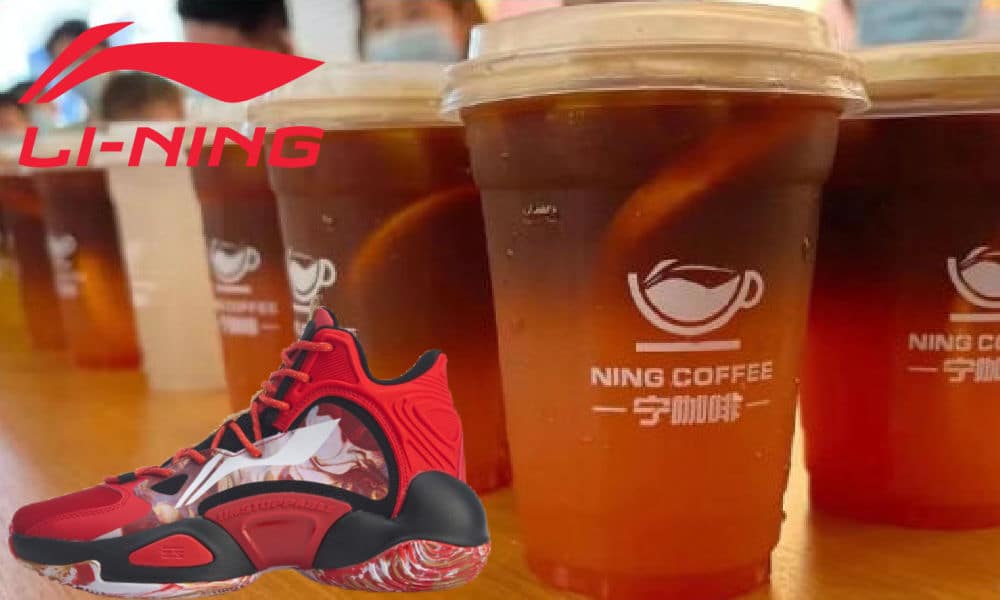 An unexpected competitor is joining China's coffee market. With over 7000 stores in the country, Li-Ning has the potential to become the biggest athletic coffee chain yet.
Another player is joining mainland China's growing coffee market. It's not an American coffee giant, nor a coffee house chain from Hong Kong – it is China's leading sportswear brand Li-Ning Sports (李宁体育).
Li-Ning registered its coffee brand under the 'NING COFFEE' trademark. As reported in an article written by 'Investment Group' (@投资界) and published by Toutiao News (@头条新闻), Li-Ning has confirmed on May 6 that it will provide in-store coffee services to enhance customers' shopping experiences in the near future.
The move means that Li-Ning could potentially become a big player in China's coffee market, competing with major brands such as Starbucks, Luckin Coffee, Costa and Pacific. If the in-store coffee cafes would roll out in most of its shops, there could be over 7000 Ning Coffee cafes in China in the future. By the end of 2021, Li-Ning Sports had a total of 7,137 stores in China.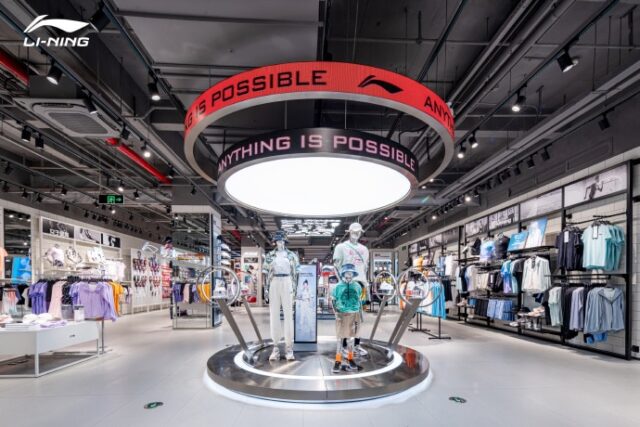 Starbucks has 5,400 stores in China. Leading domestic coffee chain Luckin Coffee expanded to over 6000 stores last year. Costa Coffee, although closing some of its China stores in 2021, announced that it aims to have a total of 1,200 stores open in China later this year. Looking at Li-Ning's presence across China, its in-store coffee cafes could be serious competition for the leading coffee chains in the country.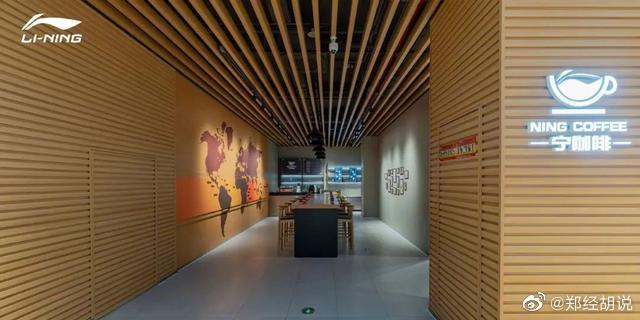 Over the past few years, various Chinese sportswear brands, including Anta Sports and Erke, have seen a rise in popularity, but Li-Ning is still China's most famous brand name for athletic apparel and shoes. The company was founded in the early 1990s by Chinese Olympic gymnast and business entrepreneur Li Ning (1963) and was generally seen as a Nike copycat – the original logo was even similar to the Nike swoosh. Although Li-Ning looked like Nike, the brand is more appealing to many Chinese consumers due to the fact that it is cheaper and made in China.
Li-Ning markets itself as being "deeply and uniquely Chinese" (Li Ning official website 2022), which has made it more popular in an era of "proudly made in China" (read more about that here). Moreover, it also promises to offer high-quality sportwear at a price that is cheaper than the American Nike or German Adidas.
Li-Ning's success is also owed to its marketing strategies. Besides being the official marketing partner of many major sports events, including the NBA in China, the brand has also contracted with many household athletes and famous global ambassadors.
Over a decade ago, marketing observers already noted that despite the remarkable success of Li-Ning in China, the brand still had a long way to go in order to strengthen its image as a long-term brand, recommending Li-Ning to "create excitement around the brand" by building more associations related to lifestyle and coolness to better resonate with younger Chinese customers (Bell 2008, 81; Roll 2006, 170).
With its latest move into the coffee market, it is clear that Li-Ning is moving its brand positioning more toward the direction of lifestyle, trendiness, and luxury. Although purchasing a coffee at Starbucks or Luckin is part of the everyday routine for many urban millennials, coffee is still viewed as a trendy luxury product for many, relating to both cultural factors as well as economic reasons. As noted by Cat Hanson in 2015, the price of a single cup of coffee was equal to a month's worth of home broadband internet (read more).
Previously, other fashion brands have also opened up coffee stores in China. As reported by Jing Daily, international luxury brands Prada, Louis Vuitton, and FENDI also opened up coffee cafes in mainland China.
Another unexpected coffee cafe is that of China Post, which opened its first in-store 'Post Coffee' in Xiamen earlier this year. On social media, many netizens commented that the brand image of the national post service clashed with that of a fairly expensive coffee house (coffee prices starting at 22 yuan / $3,3).
"The postal services are located in cities and in the countryside and are often used by migrant workers, and generally this demographic isn't buying coffee," one person commented, with another netizen writing: "This does not suit the taste of ordinary people, it would've been better if they sold milk tea."
On Weibo, Li-Ning's journey into the competitive coffee market was discussed using the hashtags "Li-Ning Enters the Coffee Race" (#李宁入局咖啡赛道#) and "Li-Ning Starts Selling Coffee" (##李宁开始卖咖啡##).
Like with China Post, many commenters say the combination of sportswear and coffee is not something they immediately find logical. "Will they also sell sneaker-flavored coffee?" one person wondered, with others thinking selling coffee – seen as a product from western countries – does not exactly match with Li-Ning as a 'proudly made-in-China' brand.
"How would you feel about trying on some clothes at Li-Ning while sipping on Li-Ning coffee? I understand Li-Ning is jumping on what's popular, and this time it's coffee," one Weibo user writes, with others also writing: "I think it has potential."
"I'm willing to try it out," various commenters write. For others, they want to see the menu first: "It all depends on the price."
For more about the coffee and tea market in China, check our other articles here.
By Manya Koetse
Get the story behind the hashtag. Subscribe to What's on Weibo here to receive our weekly newsletter and get access to our latest articles:
References
Bell, Sandra. 2008. International Brand Management of Chinese Companies. Heidelberg: Physia-Verlag.
Roll, Martin. 2006. Asian Brand Strategy: How Asia Builds Strong Brands. New York: Palgrave Macmillan.
Spotted a mistake or want to add something? Please let us know in comments below or email us. First-time commenters, please be patient – we will have to manually approve your comment before it appears.
©2022 Whatsonweibo. All rights reserved. Do not reproduce our content without permission – you can contact us at info@whatsonweibo.com.