The Comeback of Calligraphy in China
In the digital age, calligraphy has not just maintained its relevancy in China; it has made a comeback. Calligraphy researcher Laura Vermeeren talks about the power of calligraphy and the status quo of this ancient art in modern China.
In the digital age, calligraphy has not just maintained its relevancy in China; it has made a comeback. Calligraphy researcher Laura Vermeeren talks about the power of calligraphy and the status quo of this ancient art in modern China.
This interview with Laura Vermeeren, sinologist and Ph.D. researcher in Chinese calligraphy, was conducted and condensed by Manya Koetse in Beijing.
The word 'calligraphy' comes from the ancient Greek kallos "beauty" and graphein "writing", referring to the visual art of decorative writing by pen or brush. In China, it is known as shufa (书法), literally meaning the method or law of writing. Calligraphy was the main form of art in traditional China, and it was appreciated as a fine art long before painting became more common.
Calligraphy has seen a boom in recent years, as part of the surge in popularity of guoxue (国学), the learning of traditional Chinese culture. It was partly fuelled by President Xi Jinping promoting Chinese traditions, which is seen by some as a way for the Communist Party to legimitize their ruling power, reinventing themselves as the "inheritor and savior of a 5000-year-old civilization".
Dutch sinologist Laura Vermeeren moved to Beijing this year to dive into the world of Chinese calligraphy. The research is part of a larger project by University of Amsterdam on creativity in China, a 5-year programme where ten researchers collaborately research China's shift from a "made in China" towards a "created in China" country.
What's on Weibo sat down with Laura to ask her about her love for calligraphy, its status quo in Chinese society, and its link to the digital era.
MORE THAN PAPER AND INK
"Calligraphy is entwined with Chinese language and history."
"Calligraphy is a very honest form of art. Many forms of western art are about redoing, resculpting, and repainting until something is right. Painters can spend months on end working on one oil painting. But in calligraphy, it has to be right at once. You only get one chance to put your character on paper. Any hesitation in the calligrapher will reflect in the calligraphy. You can see by the strokes of the characters if it was done fast or slow, how the ink was used, how the paper is filled up. It is virtually always done with black on white, so every little drop of ink is noticeable. There is no way to hide."
Laura at her Beijing home.
"Calligraphy is an art with so many layers. There are millions of things written about it, there are thousands of years of history behind it. You cannot separate the art from its history. It might seem like a simple form of art, that just needs the right paper, ink and brush, but the entire tradition and culture around it makes it deep and complex. It is entwined with Chinese language and history."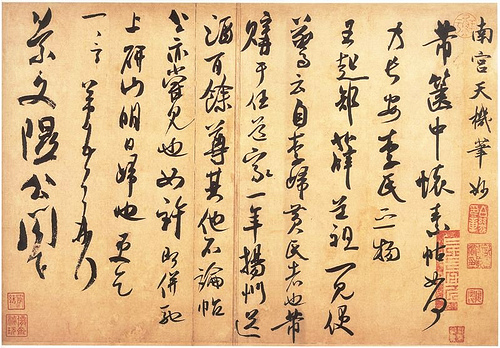 Mi Fu calligraphy, China Online Museum.
"One of my favorite calligraphers is Mi Fu [米芾, Chinese calligrapher who lived from 1051–1107]. I cannot explain why – it is a feeling. It always makes me realize that there is so much to calligraphy; it is beautifully written, and there is an actual message. It is visual art with textual content."
ALIVE AND KICKING
"It is often said that calligraphy has revived, but it has actually never been dead."
"It is often said that Chinese calligraphy has been revived, but it has actually never been dead. I would prefer saying it went into some sort of hibernation mode for some time."
"Unlike other forms of art, calligraphy was not abolished during the Mao years because Mao Zedong loved calligraphy. He has done quite a lot of famous calligraphy, just think about the People's Daily logo (Renmin Ribao) – those are Mao's characters. During the Mao years, calligraphy was indeed practiced, but mainly by higher officials. There were no lessons in calligraphy at the time for the common people."
Logo of People's Daily, by Mao Zedong.
"After Mao's death, in the 1980s, contemporary calligraphy emerged. It was brought to life by a group of modern calligraphers who did not want to return to previous styles. They wanted to define what Chinese calligraphy should look like in the new age, and created their own style. They were influenced by modern abstract art forms from America. People like Gu Wenda and Xu Bing belong to this group of calligraphers. Xu Bing is especially famous for his square characters."
Xu Bing. Square Word Calligraphy, 2011, Columbia University.
"One of the reasons why calligraphy is experiencing a comeback now is because Xi Jinping is pushing for a revival of Chinese traditions. Calligraphy is an easy tradition to implement, and a relevant one: it is said that calligraphy is the source of all art in China."
"The government will soon implement the teaching of calligraphy in schools. Because there are not enough teachers in the country, there will also be government-funded schools to train people to become calligraphy teachers. So that is one part of the 'revival'."
"The other part has to do with the times we live in. In the digital era, you see more and more people who turn to basic activities that are not related to their computer screens. In Europe, I have noticed that gardening is becoming a popular activity again, with some people getting busy with rooftop farming. Coloring books for adults have even become a hype. In that way, calligraphy is also part of this global movement where people turn their attention to things, from farming to knitting, that have nothing to do with the digital age."
WILL THE REAL CALLIGRAPHER PLEASE STAND UP?
"There is an entire world behind Chinese calligraphy that will remain a mystery to me."
"There is an entire world behind Chinese calligraphy that will remain a mystery to me. What is good or bad calligraphy? When is somebody really a calligrapher? Most people I have encountered during my interviews and research do not call themselves that, they mostly say they are doing it as a hobby. They sometimes say you have to study calligraphy for a century before you can really be good at it, and understand it. The people I spoke to who call themselves a calligrapher actually have a university degree in it – it implies that there always has to be a theoretical background to being a 'calligrapher'. But in the Netherlands, anyone could call themselves 'an artist' without having done any studies for it. It is not the same with calligraphy."
"I have spoken to calligraphy students at Renmin University here, who argue that getting up at 5.00 am is the best way to really get into the habit of practicing their brush strokes. Their teacher urges them to practice at least 4 hours a day. In the morning, your head is still 'empty', so you can focus. You have to practice calligraphy for years before you can give a personal touch to it."
"Thinking of calligraphers, the cliché image of the old Chinese wise man with a beard might pop up, but there are actually many trendy twenty-somethings who practice it, both men and women. They study the theory and practice the brush. But it is not just a fashion craze: calligraphy is something they take very seriously."
WHEN WEIBO MEETS CALLIGRAPHY
"Calligraphy brings some spirituality to the digital age."
"In China's digitized society, most people are on their phones and computers all the time. Calligraphy is meaningful in the digital age in multiple ways. It can reach many people through social media, so the bigger calligraphy centers have their own accounts on Weixin and Weibo so people can follow them and stay updated on any events."
"But it is also a powerful art form in another way, which is that people are writing and less and less now that everything can be done through phone. They then tend to forget how to actually write characters, and practicing calligraphy helps with this. New media can help people practicing their calligraphy. There are even apps now where people can train calligraphy."
"Big brands also want to tie their name to calligraphy. Take Apple for example; they used the calligraphy of Wang Dongling for the opening of their flagship store in Hangzhou. It shows that calligraphy is, actually, very modern again."
"In a rushed society, practicing calligraphy is very meditative. You have to rewrite the same characters again and again, you have to focus and mind your breathing. Calligraphy brings some spirituality to the digital age."
THE POWER OF CALLIGRAPHY
"Practicing calligraphy requires you to dare and be impulsive, but at the same time, be in complete control of your impulses."
"The more I know about calligraphy, the more I realize how complicated it is. There are so many sides to it. The way a piece is composed, how close the characters stand next to each other, how much space it takes up on the paper, the paper and ink you use, the style you choose, the way you hold your wrist. But those are just practicalities, there is also the mindset that goes with it."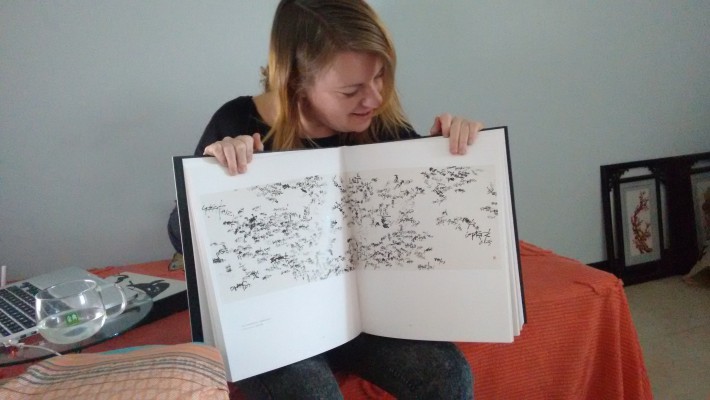 "Doing calligraphy is actually very exciting. You can fail within seconds, possibly messing up a very expensive piece of paper. Practicing calligraphy requires you to dare and be impulsive, but at the same time, be in complete control of your impulses."
"Calligraphy is everywhere in Chinese society. If you pay attention to the streets, you will notice its influences from adverts using calligraphy fonts to people gathering in parks to do calligraphy; it is all around. Now that there are more and more schools teaching calligraphy, it is really becoming part of people's lives again. That means that China is still continuing to build on the thousands of years of calligraphy history- it is history in motion. It makes calligraphy a very powerful phenomenon, and a very Chinese one."
To stay updated on Laura's research, check out her blog on the Power of Social Calligraphy, and like her page on Facebook.
– By Manya Koetse
Follow @WhatsOnWeibo
featured image by Laura Vermeeren.
©2015 Whatsonweibo. All rights reserved. Do not reproduce our content without permission – you can contact us at info@whatsonweibo.com.
Social Media Blows up over Chinese Teen Celebrity Roy Wang Smoking in Beijing Restaurant
The star, who recently featured in a 'social credit' song, triggered controversy for smoking indoors and breaking the law.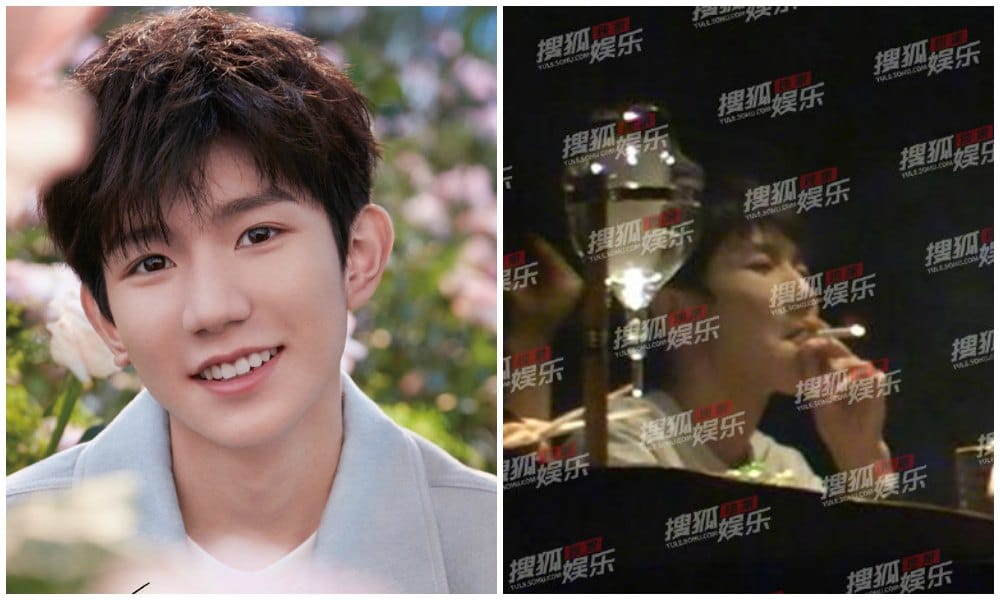 Roy Wang (Wang Yuan 王源), who is considered one of the most influential teens in China, was caught smoking during a '520' banquet in Beijing. May 20 (5.20) is China's unofficial second Valentine's Day.
The Sohu Entertainment channel published the exclusive photos of Wang smoking a cigarette. The hashtag 'Wang Yuan Smoking' (#王源抽烟#) received a staggering 1,4 billion views on Weibo on Tuesday, making it the number one trending topic of the day.
Wang was having dinner at a Japanese restaurant near Beijing's Worker's Stadium together with Chinese actor Jia Nailiang (贾乃亮) and teen idol Yang Chaoyue (杨超越) when the pictures were taken.
Roy Wang, who is now 18 years old, is a member of the super popular boy band TFBoys, but also has a solo career as a singer-songwriter and actor.
Wang often appears in high profile (government) events and media campaigns. With the TFBoys, he performed for the CCTV Spring Gala multiple times. Recently, he also starred in the 'social credit song' that was released by the Communist Youth League.
The fact that Wang's smoking has blown up on Chinese social media relates to two things. Beijing has banned smoking in all public indoor spaces since 2015, meaning that Wang was breaking the law by lighting up in a restaurant. Then there is also the fact that Wang, as a teen icon, is young and influential, with many people considering it inappropriate for him to smoke at all.
One popular comment on Weibo summarized the issue as follows: "Actually, smoking is quite normal. But 1) as a very influential teen idol you must surely avoid it – the fans are all young and they can easily be influenced. 2) It is not okay for him to smoke in a public place. It is forbidden by regulations, should you break those [regulations] as a celebrity?"
The incident led to Sina Headlines introducing the Weibo hashtag "Can You Accept that [Your] Idol Smokes?" (#你能接受偶像吸烟吗#), which received over 21 million views on Tuesday.
"Smoking is not a problem. It is harmful to one's health, and that's an individual choice. But smoking in a public place is inappropriate and bothers other people," some said, with others being less forgiving, writing: "If Wang does it again, he'll surely lose fans. It's unacceptable."
A poll, that 530,000 responded to, asked people if they could accept their idol smoking. A majority of people (50.3%) responded: "No, it's not setting a good example." Over 49% of respondents said they could forgive their idol for smoking.
Wang Yuan has now expressed regret on his social media account, after getting a warning from health authorities. He reportedly has been fined for smoking indoors.
Wang has nearly 73 millions fans on his Weibo page.
"I'm so sorry!" he wrote on May 21st: "This issue has made me deeply reflect on my actions, and how they negatively affect society. I feel sorry and ashamed. I apologize for setting the wrong example. I take on all responsibility and will accept punishment. As a public figure, I will now pay more attention to my words and actions. I hope nobody will follow my wrongful actions. I apologize again, and I will take this as a lesson to become a better person."
His post received over 219,000 shares.
Meanwhile, the restaurant where Wang smoked has received a visit from local inspectors, who found that there were no stipulated "No Smoking" signs on the premises. The restaurant has been ordered to adhere to local regulations as soon as possible, Phoenix News reports.
Update May 22: The first memes relating to Wang's smoking scandal have now also appeared online:
I was already expecting some 'Wang Yuan breaks the internet by smoking' memes. Voila. pic.twitter.com/nFJsoQDfgF

— Manya Koetse (@manyapan) 22 mei 2019
By Manya Koetse
Follow @whatsonweibo
Spotted a mistake or want to add something? Please let us know in comments below or email us. Please note that your comment below will need to be manually approved if you're a first-time poster here.
©2019 Whatsonweibo. All rights reserved. Do not reproduce our content without permission – you can contact us at info@whatsonweibo.com
Surprise Attack: CCTV6 Unexpectedly Airs Anti-American Movies as China-US Trade War Intensifies
"They have no new anti-American films, so they're showing us the old ones instead."
First published
CCTV 6, the movie channel of China's main state television broadcaster, has gone trending on Chinese social media today for changing its schedule and playing three anti-American movies for three days in a row.
Some suggest the selection for the movies is no coincidence, and that it's sending out a clear anti-US message while the trade war is heating up.
The three movies are the Korean war movies Heroic Sons and Daughters (英雄儿女, 1964), Battle on Shangganling Mountain (上甘岭, 1954), and Surprise Attack (奇袭, 1960), airing from May 17-19 during prime time at 20:15.
Ongoing trade tensions between China and the United States heightened when Trump raised an existing 10 percent tax on many Chinese imports to 25 percent earlier this month. Chinese authorities responded by raising taxes on many American imports.
Over the past week, anti-American propaganda has intensified in Chinese state media, with the slogan "Wanna talk? Let's talk. Wanna fight? Let's do it. Wanna bully us? Dream on!"* ("谈,可以!打,奉陪!欺,妄想!") going viral on Chinese social media.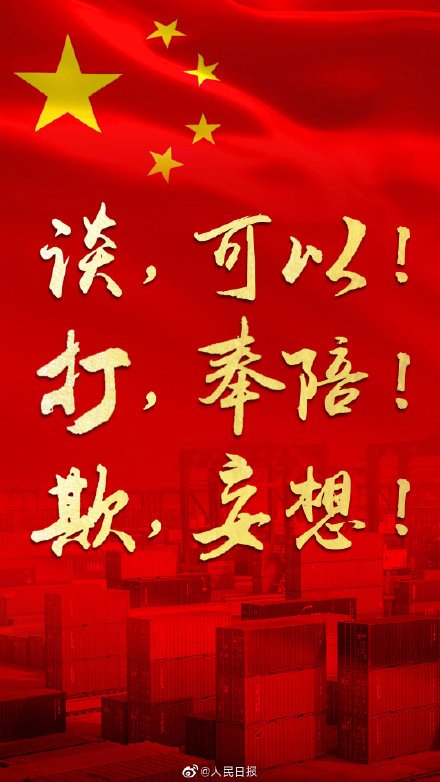 The movies broadcasted by CCTV these days are so-called "Resist America, Help North Korea" movies ("抗美援朝影片").
The 'Resist the USA, Help North Korea' (or: "Resist American Aggression and Aid North Korea") was a propaganda slogan launched in October 1950 during the Korean War (1950-1953). China came to the assistance of North Korea after the war with the South had broken out in June that year and the UN forces intervened in September.
The government, led by Mao Zedong, sent troops to fight in the war. Mao's own son, Mao Anying, was killed in action by an air strike a month after the start of this 3-year war against US aggression in support of North Korea. The war ended with the armistice of July 1953.
All three movies aired on CCTV6 are set during the "War to Resist US Aggression and Aid Korea."
Battle on Shangganling Mountain focuses on a group of Chinese People's Volunteer Army soldiers who are holding Triangle Hill for several days against US forces.
Heroic Sons and Daughters tells the story of a political commissar in China's volunteer army who finds his missing daughter on the Korean battlefield.
Surprise Attack revolves around the mission of the Chinese army to blow up the strategic Kangping Bridge, cutting off supplies to the American army and allowing the Chinese to engage in a full attack.
On Chinese social media, the unexpected decision of the CCTV to change its original schedule and to air the three historical films has become a much-discussed topic, with many people praising CCTV6 for showing these movies.
The issue was also widely reported on by Chinese media, from Sohu News to Global Times, which called the broadcast programming itself a "Surprise Attack."
Not all netizens praise the initiative, however, with some commenting: "It seems that there are no new anti-American TV series or movies now, so they've come up with these old films to brainwash us." Others said: "This kind of brainwashing is not useful."
Many Weibo users, however, just enjoy seeing classic movies, saying "They don't make movies like this anymore," and "It's good for the younger generation to also see these classics."
If you're reading this article on Saturday night China Central Time, you're still in time to watch the airing of Battle on Shangganling Mountain on CCTV6 here.
Update 18th May CST: It seems that a fourth movie has been added to the series now. This might just become the CCTV6 Anti-American movies month! We'll keep you updated.
By Manya Koetse and Miranda Barnes
*Translation suggested by @kaiserkuo.
Spotted a mistake or want to add something? Please let us know in comments below or email us.
©2019 Whatsonweibo. All rights reserved. Do not reproduce our content without permission – you can contact us at info@whatsonweibo.com