Underground Plastic Surgery in China: Paying a High Price
People are promised a beautiful transformation for just 200 yuan (31 US$) – but what price do they really pay? Underground plastic surgery shops are popping up like mushrooms in China.
People are promised a beautiful transformation for just 200 yuan (31 US$) – but what price do they really pay? Underground plastic surgery shops are popping up like mushrooms in China, and they bring about more ugliness than beauty.
Getting a beautiful transformation within ten minutes – many underground beauty parlours promise customers cosmetic surgery that would have otherwise cost them thousands of dollars, just for 200 RMB (31 US$). It is also called "plastic surgery fast food" (整形快餐), and it can have some serious consequences.
This week, Guangzhou police busted an illegal plastic surgery shop in the district of Tianhe. The clinic is suspected of illegally carrying out medical treatments and using fake drugs, making over 5 million yuan (±786,000 US$) in doing so.
Tencent News tells the story of Mrs. Chen, who did a small procedure at the clinic after she saw an ad for it. For the filler injections in her face, no disinfectant was used, and the 'doctors' did not were professional attire. The Guangzhou police came in and arrested six people, just after the hyaluronic acid was injected in her face.
The police later discovered the use of illegal substances, which can cause blood vessel blockages. Some of the 'medical staff' only had three days of training, and no more than junior high school education. The 'doctor' had no qualifications at all.
The Guangzhou clinic is not the only one carrying out unqualified medical treatments. In late September, Sina News reported that "underground cosmetic surgery" (地下美容) is quickly spreading throughout China, with 'clinics' also selling counterfeit fillers through WeChat. A woman who paid 1500 yuan (235 US$) for such a filler later got a swollen face. Although the seller was caught, her face has not returned to normal.
A growing number of women in China are having (minor) plastic surgery, also referred to as "mini-plastic surgery". China is now the third largest market in the world for cosmetic surgery, just behind the United States and Brazil. Some people have become famous on Weibo for undergoing extreme cosmetic surgery, such as the 15-year-old girl from Henan (featured image), or Vincent Lau.
The growing popularity of cosmetic surgery gives rise to the underground circuit, where unqualified clinics recruit cheap staff and train them to do medical procedures within four days. As this Chinese news report exposes, apprentices are told to practice on each other, even injecting into eyeballs – leading to dangerous situations.
Underground clinics often promote their business through social media. Their low prices are attractive for women who cannot spend too much money on their beauty transformation, or for those who do not have the necessary information on proper procedures.
When unqualified clinics inject fillers, there is a potential risk of blood clots, infections or more.
Underground surgery is not only a problem in China. A group of Chinese women protested against unsafe plastc surgery in Seoul, Korea, earlier this month. Many Chinese women go to Korea to undergo plastic surgery. The women protested for better regulation of the plastic surgery market, as their surgery went wrong; one woman could no longer eat due to wrongly placed teeth, one women had assymatric eyes, and one woman appeared twenty years older after her face-lift.
The police emphasizes that plastic surgery, even smaller procedures like fillers or botox, always needs to be carried out qualified medical institutions, which can be recognised by their license and national registration and permit.
– By Manya Koetse
Follow @WhatsOnWeibo
©2015 Whatsonweibo. All rights reserved. Do not reproduce our content without permission – you can contact us at info@whatsonweibo.com.
Chinese Consumers Indifferent to Diplomatic Spat Between China and Canada as "Canada Goose Boycott" Backlashes
Despite Canada-China tensions, the Canada Goose store in Beijing is faring well.
Chinese consumers and netizens appear indifferent to the diplomatic tensions between China and Canada, a surprising reaction in light of the previous vitriol these two groups threw at governments, celebrities, or brands that offended or defied their country.
On December 28, Canada Goose opened its very first store in mainland China at a renowned Beijing shopping district, Sanlitun (三里屯), two weeks later than originally scheduled due to "ongoing construction." The announcement of the delay came amidst growing tensions between China and Canada following the arrest of Huawei chief financial officer Meng Wanzhou in Vancouver on December 1.
The Canadian brand, known for its luxury winter jackets and parkas, has been facing great difficulties since the arrest, with its shares dropping 37 percent in value according to Reuters.
The company's struggles have also received extensive coverage on Chinese social media. On Weibo, the hashtags "Canada Goose Value Crashing" (加拿大鹅暴跌) and "Canada Goose Mainland store opening canceled"(加拿大鹅内地开业取消) registered over 230 million and 170 million views, respectively, with some netizens calling for a boycott of the Canadian brand. The nationalist tabloid Global Times quoted 'experts' and 'consumers' in suggesting that "if Canada keeps detaining a senior Huawei executive in a complicit move to woo the US, the repudiation of Canadian goods will expand."
However, no boycott materialized as the brand's first Mainland store was packed with Chinese consumers on its opening day, to the point where store employees had to restrict entry, forcing many to wait over thirty minutes in -12oC temperatures.
The same Reuters article also revealed the store's popularity was no one-day fad; three days after the opening, consumers were still having to queue for an hour.
"Why would I boycott an enterprise that didn't do anything wrong?"
Such  "unpatriotic" consumerism has not been ignored by Chinese netizens, prompting many to ask about the much-trumpeted boycott. This time, however, calls for a boycott were by and large dismissed, with some defending the unassailable right of consumption ("why would I boycott Canada Goose? If Meng Wanzhou can buy houses and a Canadian residence permit, why can't I buy some Canadian clothes?") while others questioned the validity of making a Canadian company responsible for the Canadian government's action. ("Why would I boycott an enterprise that didn't do anything wrong?").
Unintended side-effects of patriotic shrilling for a boycott, namely increasing Canada Goose's brand awareness among Chinese consumers, were also mocked by netizens. As one Weibo user wrote: "Before the boycott, my colleague had never heard of the brand. Now my colleague is rushing to the new store to buy something. The irony."
More comic relief was provided by the self-mockery of some netizens who observed, tongue planted firmly in cheek, that they didn't boycott the brand but neither did they go to the store – long queues hide the fact that luxury products remain unaffordable to the vast majority of the Chinese people.
"Young people driven by fashion tastes, not politics."
All this accords with the prediction made by some pundits that the boycott would quickly blow over as the biggest buyers of the products in China are young people "driven by fashion tastes, not politics".
The numbers also show the slump in share value preceding the store opening was not fatal: On Monday 31, Canada Goose's stocks registered a 6 percent increase from the previous week.
Are Chinese consumers less patriotic than in the past? After all, Canada Goose's success is a marked contrast to the concerted effort Chinese consumers made to boycott South Korean products during the THAAD dispute between China and South Korea that began in September 2017 and lasted a whole year before a truce was called.
Perhaps luxury is patriotism's kryptonite; perhaps Canadian ambassadors of Chinese culture like entertainer Mark Rowswell, the first foreigner to ever perform comedy for a Chinese audience in Mandarin, have made netizens subconsciously more tolerant of the Canadian government. Whatever the reason, this whole episode shows that Chinese public opinion is not always boringly predictable and subservient to the Chinese state.
By Gabi Verberg, edited by Eduardo Baptista
Contributions by Miranda Barnes
Spotted a mistake or want to add something? Please let us know in comments below or email us.
©2019 Whatsonweibo. All rights reserved. Do not reproduce our content without permission – you can contact us at info@whatsonweibo.com
Overview of the Dolce&Gabbana China Marketing Disaster Through Weibo Hashtags
The D&G China marketing crisis in hashtags.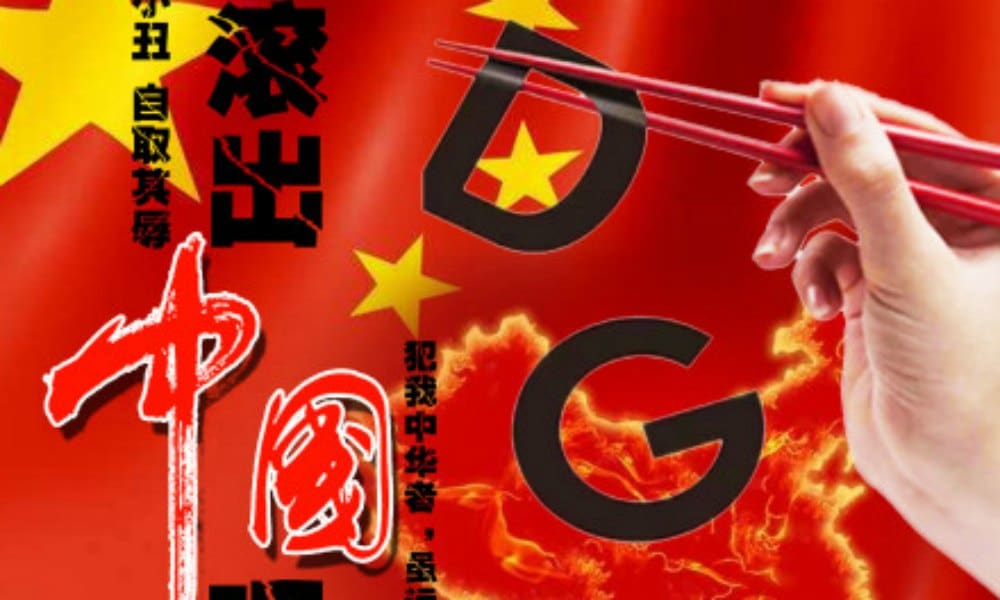 First published
The controversies surrounding Italian fashion brand D&G in China have been dominating Weibo's top trending lists this week. Because it's a somewhat messy affair, we'll explain the story hashtag by hashtag.
November of 2018 will go down in Dolce & Gabbana history for the China marketing nightmare that has been unfolding over the recent days.
The Italian fashion house, that has been founded in 1985 by designers Domenico Dolce and Stefano Gabbana, is now facing consumer outrage and backlash on Chinese social media. Chinese e-commerce sites have removed Dolce & Gabbana products and Chinese netizens are posting photos of empty D&G stores.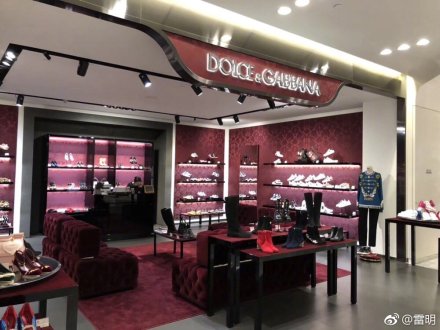 An overview of what has happened over the past week through Weibo hashtags:

SUNDAY, NOVEMBER 18
"DG LOVES CHINA" #DG爱中国#
15,7 MILLION VIEWS – On Sunday, November 18, Dolce & Gabbana posted three videos to social media in a series titled "Eating With Chopsticks" in light of its "DG Loves China" campaign, promoting its upcoming big fashion show in Shanghai that would take place on Wednesday, November 21st.
The brand had been doing quite well in China in the month before. The Digital Crew website wrote in October that D&G had "hit the nail on the right spot" with their recent move to cast Chinese celebrity Dilraba Dilmurat and Chinese stylist Han Huohuo at their Milan fashion show catwalk, receiving praise from Chinese netizens.
Its new video campaign, however, was not received with praise. The videos feature a Chinese-looking model dressed in D&G clothes using chopsticks to eat Italian dishes such as pizza, cannoli, and spaghetti. Unsuccessful at clumsily trying to eat these dishes, a male Chinese voice-over in the video then suggests things such as that the cannoli might be "too big" for the lady, and that she could try by digging in and eating smaller pieces with her chopsticks.
(Watch all clips here on Youtube and judge for yourself.)
The clips were not much appreciated for various reasons. Some Chinese netizens thought the campaign was making fun of Chinese chopsticks, others thought the comment of the Italian bread being "too big" for the Chinese model had a sexist undertone.
"A disgusting campaign," some called it.
Meanwhile, English-language media wrote that Dolce & Gabbana's latest campaign was called "racism" by Chinese. Although the ad was indeed called racist by some Chinese on Weibo, the majority of commenters were mainly upset about the portrayal of chopsticks in the series. The hashtag "D&G Ad" (#DG广告#) received 170 million views.

WEDNESDAY, NOVEMBER 23
"D&G SUSPECTED OF INSULTING CHINA" #DG涉嫌辱华#
410 MILLION VIEWS – The social media storm snowballed out of control after screenshots of comments attributed to fashion designer Stefano Gabbana went viral on Wednesday, also being reposted by major Chinese state media accounts such as Global Times.
Various Instagram screenshots showed how, from the account of Stefano Gabbana, statements were made about China being a "shit country" and other derogatory remarks.
The screenshots were posted by Instagram user Michaela Phuong Thanh Tranova (@michaelatranova), a fashion business student, although it is still unclear why this Instagram user would have a private Instagram conversation with Stefano Gabbana and whether or not they are acquainted.
The statements went viral on Chinese social media, where they led to waves of criticism and anger, with people defending China and calling for a boycott of D&G.
Amid the allegations, the designer on Wednesday said that his Instagram account had been hacked and posted an image with the words "NOT ME" written across one of Tranova's screenshots. The company similarly claimed to have been hacked in a statement posted on its official Instagram page. "We have nothing but respect for China and the people of China," the statement read.

WEDNESDAY, NOVEMBER 21
"DG BIG SHOW CANCELED" #DG大秀取消#
820 MILLION VIEWS – Later on Wednesday, the D&G issue hit the topic trending lists on Weibo, when it was announced that the big Shanghai fashion show was called off.
According to Jing Daily, it was China's Cultural and Tourism Department that ordered Dolce & Gabbana to cancel the event, just a few hours before it was scheduled to take place and amid reports that Chinese celebrities were canceling their attendance at the show for the fact that the brand was "insulting to China" (辱华).
The official D&G account did not mention the reason for the cancelation, nor who ordered it, but just wrote on Weibo: "The fashion show that was planned on November 21st at 20.00 has been rescheduled due to circumstances, we deeply regret any inconvenience caused."
By now, the online anger about D&G insulting China through its ad and Gabbana's statements had grown so big, that most people simply wished for the Italian fashion house to "get lost."

FRIDAY, NOVEMBER 23
"DG USES CHINESE TO APOLOGIZE" #DG用中文道歉#
360 MILLION VIEWS – On Friday afternoon, China time, Dolce and Gabbana released an apology video on its official Weibo account. The video shows Domenico Dolce and Stefano Gabbana sitting at a table with grave expressions on their face (see embedded Tweet below).
The founder of @dolcegabbana said sorry in Chinese to all Chinese people around the world, saying that they will respect Chinese culture more. The apology video was posted on its official Weibo account in China. pic.twitter.com/ADflYhMIhC

— Global Times (@globaltimesnews) 23 november 2018
The two speak in Italian as they say that they "feel very grieved" over what their "statements and actions" have brought about "for Chinese people and their country" over the past few days, and that they hope they can be forgiven for their "misunderstanding of [Chinese] culture."
They end the video by apologizing in Chinese, saying "duibuqi".
Before midnight, the video had received more than 166,000 comments and more than half a million shares. Over 100,000 people 'liked' the post.
Among the most popular comments, there were those inquiring if Gabbana's Instagram had been hacked or not, since the video does not mention it. "Were you hacked or not, because if you weren't, then I won't accept your apology," one of the most popular comments said.

FRIDAY, NOVEMBER 23
"Requesting D&G Money Back" #DG柜姐回应退预存金#
160 MILLION VIEWS – Meanwhile, a screenshot of a WeChat conversation between a customer seeking a refund and a representative from Dolce & Gabbana Hangzhou also has gone viral on Chinese social media, ending up in the top ten charts of the day.
The screenshots show that the woman demands back a deposit she paid D&G of 2400 yuan ($346), saying she no longer wants to wear the brand for fear people would "throw sh*t at her."
D&G Hangzhou then responded to the issue, saying that they would not refund money because of this "temporary crisis."
"A temporary storm can also turn into a permanent one," some commenters said.
Whether or not this "temporary" storm will indeed turn into a serious long-term China marketing crisis for D&G is yet to be seen. In the past, Daimler China also found itself at the center of a social media storm in China after using a Dalai Lama quote in its advertisement in March of this year (listen to this BBC news fragment here), which seemingly had little consequences for the brand, as it is still expanding in China.
The Lotte group also faced serious backlash in China in light of the THAAD crisis. The Lotte boycott of 2017 in the end turned out to be critical for the brand's presence in China, with the group losing $46 million every quarter due to the China situation.
By Manya Koetse, with contributions from Miranda Barnes
Follow @whatsonweibo
Spotted a mistake or want to add something? Please let us know in comments below or email us.
©2018 Whatsonweibo. All rights reserved. Do not reproduce our content without permission – you can contact us at info@whatsonweibo.com