Chinese Actor Zhao Lixin Banned from Weibo over Comments on Second Sino-Japanese War
The actor was banned for "downplaying" the Japanese aggression in China during the Second Sino-Japanese War.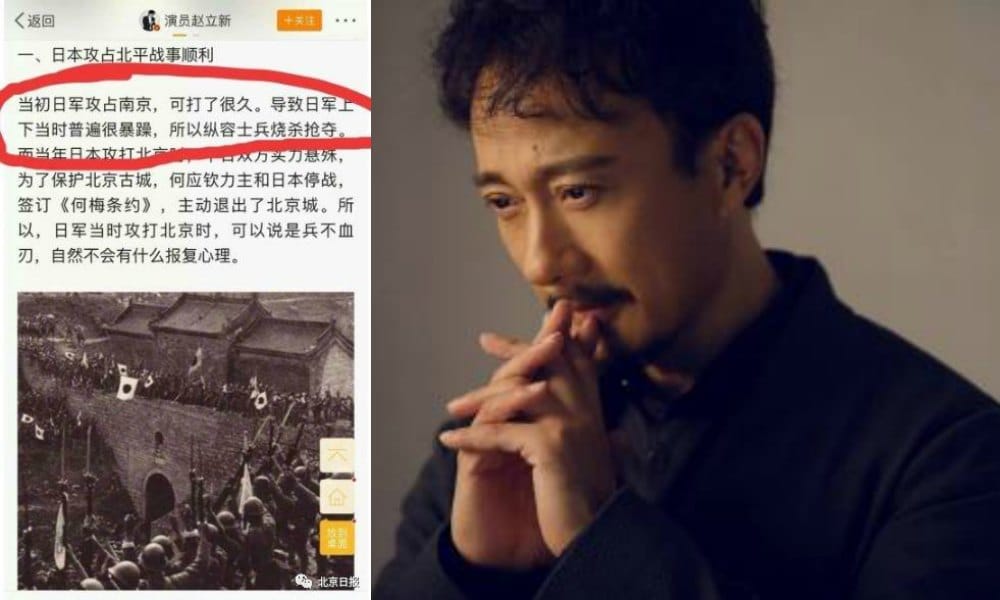 Sina Weibo issued a statement on April 16 that the Weibo account of the Chinese-Swedish actor Zhao Lixin has been terminated following remarks he made about Japan's invasion of China and the Second Sino-Japanese War.
The Weibo account of Zhao Lixin (赵立新, 1968) has been closed after the Chinese-Swedish actor made controversial comments on the Second Sino-Japanese War.
On April 2nd, Zhao Lixin, who had more than 7 million followers, posted a message on Weibo that questioned why the Japanese military did not pillage and destroy the Beijing Palace Museum during the Second Sino-Japanese War:
"The Japanese occupied Beijing for eight years. Why didn't they steal relics from the Palace Museum and burn it down [during that time]? Is this in line with the nature of an invader?"
The actor also commented on the Nanjing Massacre of 1937, suggesting that it was a consequence of Chinese resistance to the Japanese invasion.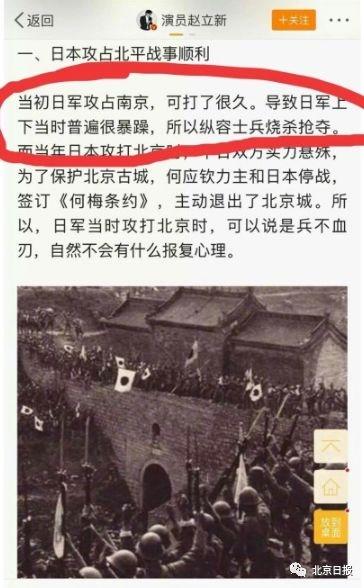 Zhao's post led to much controversy in early April, followed by a lengthy apology statement from the actor on April 3rd, in which he said he did not phrase his comments carefully enough and that he was remorseful over the storm of criticism he had ignited. His controversial Weibo post was soon taken offline.
Many people were mostly angered because they felt Zhao's comments "defended" the Japanese invaders. "Zhao's permit to work in China should be terminated forever!", some commenters posted on Weibo.
The Second Sino-Japanese War is still a highly sensitive topic in China today, with anti-Japanese sentiments often flaring up when Japan-related topics go trending on Chinese social media.
The 'Nanjing massacre' or 'Rape of Nanjing' is an especially sensitive topic within the history of the Second Sino-Japanese War, also because some Japanese politicians and scholars consistently deny it even happened, heightening the tension between the two countries. For a Chinese celebrity to seemingly 'downplay' the aggression and atrocities committed by Japanese invaders in the 1937-1945 period is therefore highly controversial.
Despite Zhao's apologies, Sina Weibo issued a notice on April 16 "Relating to Harmful Political Information" (关于时政有害信息的处理公告), stating that the account of Zhao Lixin, along with some others, had been closed for spreading this kind of information.
The hashtag relating to Zhao's social media suspension received more than 57 million views on Weibo today.
"It's good that his account was taken down," a popular comment said: "It's insulting our country." Others said that Zhao should not have posted something that is "out of line" "considering his position as an actor."
Zhao Lixin is mainly known for his roles in TV dramas such as The Legend of Mi Yue, Memoirs In China, and In the Silence.
Zhao is not the first KOL (Key Opinion Leader) to have been banned from Weibo after making controversial remarks relating to China's history. In 2016 the famous entrepreneur Ren Zhiqiang disappeared from Weibo after publishing various posts on his experience with communism in the past, and the status quo of media in China.
By Manya Koetse , with contributions from Miranda Barnes
Spotted a mistake or want to add something? Please email us.
©2019 Whatsonweibo. All rights reserved. Do not reproduce our content without permission – you can contact us at info@whatsonweibo.com.
The Yico Zeng Controversy: Chinese Singer Falls from Grace after Beijing Airport Misconduct
Chinese celebrity Yico Zeng triggered major controversy on Weibo over the past week for failing to comply with security regulations at Beijing airport.
Chinese singer Yico Zeng seems to have fallen out of favor with Chinese netizens after refusing to comply with Beijing airport security rules and exposing the personal details of an officer on her Weibo account.
Just a month ago, Weibo blew up when the inluential Chinese entertainer Roy Wang, a participant of the popular reality show I'm CZR (我是唱作人), was caught smoking inside a Beijing restaurant.
Now, another participant of the I'm CZR entertainment show has triggered major controversy for breaking the rules in multiple ways. Yico Zeng (曾轶可) was occupying the hot charts of Weibo earlier this week for causing a scene at Beijing Airport and for posting personal details of airport security staff.
The Weibo Post that Backfired
Noteworthy enough, it was Yico Zeng herself who brought the issue to the public's attention. On June 17, the 29-year-old celebrity published a post on her social media account account (1.4 million followers) in which she criticized the way she had been handled at the Immigration Inspection at Beijing Airport.
The former talent show singer described her unpleasant run-in with an airport officer who had ordered her to take off her cap at the passport checkpoint. In that post and in a later one, Zeng accused the officer of wrongfully detaining her in a separate room, and posted a series of pictures of the officer's badge, exposing his personal information for all of her followers to see.
Zeng's posts – which have since been deleted – drew major criticism on Weibo, followed by an official statement issued by the Beijing Immigration Inspection (@北京边检) on June 19. According to that statement, soon receiving over 20,000 shares, Zeng had refused to take off her cap for identification when using the inspection E-channel and thus failed to pass the tunnel.
Beijing Immigration Inspection also condemned the Chinese singer for refusing a manual check, using offensive language, and exposing the officer's personal information on social media.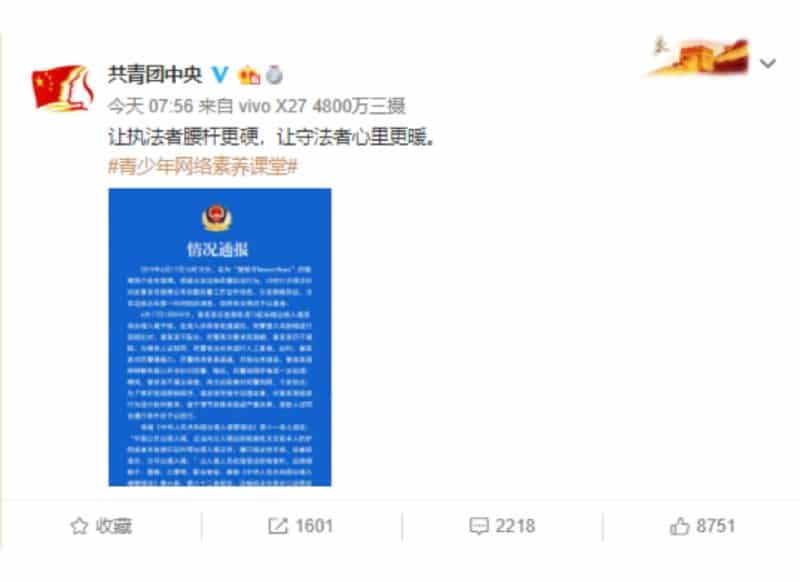 The Weibo account of China's Communist Youth League also reposted the statement, expressing their "strong support" for law-enforcement and for law-abiding citizens.
Zeng soon posted an apology on Weibo over her "inappropriate words and behavior." She wrote: "I cannot believe that I was so emotional at that moment. I apologize to all, and I'd like to personally apologize to the officer if I have the chance."
The post received more than 100,000 comments within a day after it was posted, but many commenters rejected Zeng's apologies, suggesting the celebrity only said sorry because of public pressure.
Fallen out of Favor
The airport incident has not been without consequence for Yico Zeng. Since the controversy, the popular Strawberry Festival has canceled Zeng's upcoming show, and it is reported that more of her work for the upcoming time, including her participation in the reality show I'm CZR, will be postponed or called off indefinitely.
Shanghaiist reports that Zeng could face up to ten days of detention and a fine of up to 500 yuan if she is convicted of resisting the officer.
An article published by Sina News on June 24 argued that Zeng had not just done one thing wrong, but had actually committed three wrongdoings: she ignored laws and regulations, she breached the privacy of others, and used her celebrity status to demand certain privileges.
Zeng is not the first celebrity to fall from grace after breaking the law. One of the most noteworthy years regarding Chinese celebrity scandals is probably 2014 when various singers and actors triggered controversy and received legal punishment for possession of drugs, illegal gambling, or visiting prostitutes.
Although Zeng is condemned by the majority of commenters on social media, there are still some loyal fans who are actively participating in the Yico Zeng 'supertopic' Weibo community, hoping for a quick comeback of the singer.
Other commenters, however, are hoping that the star will receive legal punishment instead.
"We're all equal before the law," various people write on Weibo.
By Wendy Huang, Manya Koetse
Follow @whatsonweibo
Spotted a mistake or want to add something? Please let us know in comments below or email us. Please note that your comment below will need to be manually approved if you're a first-time poster here.
©2019 Whatsonweibo. All rights reserved. Do not reproduce our content without permission – you can contact us at info@whatsonweibo.com
Top 3 Much-Anticipated Chinese TV Dramas (2019)
These are some of the upcoming Chinese TV dramas to keep an eye on this summer!
Featuring talented directors and popular superstars, these are some much-anticipated Chinese TV dramas to keep an eye on this year.
Summer is finally coming! Although for many people, summer is the time of the year to open the doors and windows and spend time outside, it also the Chinese peak season for drama series. This year, according to the 365 TV Series site, a total of 105 Chinese drama series will be released from June to September 2019. This includes new seasons of existing series and the launch of new original series.
Most of us, however, don't have the time or patience to watch all the new releases that are out there. To make it easier for you, What's on Weibo has selected three promising TV dramas that are coming out this summer.
Different from our other "Top Drama Series" articles, this list is not based on audience ratings. Instead, we have scanned various relevant mainland Chinese TV drama blogs and looked at social media to list these much-anticipated releases.
#1 Novoland Eagle Flag
Chinese title: 九州缥缈录 Jiǔzhōu piāomiǎo lù
Genre: Fantasy, Ancient, Martial Arts
Directed by: Zhang Xiaobo (张晓波)
Release date: June 3, 2019 at Zhejiang TV, Youku and Tencent
Update: release has been postponed, read more here.
The heroic epic drama Novolang Eagle Flag is an adapted screenplay from the immensely popular like-named novel by Jiang Nan (江南) and is part of a six-volume collection. The book was released in 2015, and only a few years later it was director Zhang Xiaobo who took up this story to turn it into a drama series.
Despite Zhang's one-time experience with directing a fantasy story in 2005, his most recent successes include To Be A Better Man (好先生) and The Nanny Man (我爱男保姆): all romantic contemporary dramas. Many TV drama lovers are therefore curious to see if Zhang can be as successful with this upcoming drama as he was with his contemporary ones.
Besides the director, the cast of this drama is also quite outstanding. Three of the four main characters are in their early twenties. The leading role is played by the 21-year-old award-winning actor Liu Yuran (刘吴然). Liu gained national fame with his appearance in the popular military propaganda reality series Takes A Real Man (真正男子汉) in 2015, and ever since he has played in numerous TV series, ranging from fantasy to historical, and comedy to contemporary works.
The story of Novolang Eagle Flag revolves around Lu Guichen, the heir of the nomadic Qingyang tribe. When he is sent to the Eastern Land, he meets Ji Ye, an illegitimate son who is training to become a warrior, and princess Yu Ran. In the process of helping each other, the three become friends. The situation gets complicated when both boys start having romantic feelings for Yu Ran. But a bigger challenge is awaiting them when they join forces to fight the powerful warlord Ying Wuyi.
The airing of Novolang Eagle Flag is very much anticipated on Chinese social media, where the drama's hashtag (#九州缥缈录#) has already been viewed over 690 million times.
#2 Wait In Beijing
Chinese title: 我在北京等你 Wǒ zài Běijīng Děng Nǐ
Genre: Coming of Age, Romance
Directed by: Yan Po (鄢颇) and Eddie Tse (解航)
Release date: Expected August 2019 at Youku, Tencent
Wait in Beijing is the only series in our list that is partly filmed outside of China, namely in New York City. The series is a collaboration between the directors Yan Po and Eddie Tse. The latter studied in New Zealand and authored four books which were all published in China. All of his novels revolve around young people dealing with societal problems.
Wait in Beijing is Tse's second series. Netizens are curious to see if the rawness of Tse's previous works will still be visible in this seemingly perfect love story.
The main characters are played by super idols Li Yifen (李易峰) and Jiang Shuying (江疏影), who have 19 million and 55 million followers on Weibo. The series was already filmed and completed in 2018.
Wait in Beijing tells the story of Sheng Xia and Xu Tian. The latter is a Chinese orphan who grew up in Brooklyn, New York, while Sheng was born and raised in China. Xu is a cynical young man striving to become a famous lawyer. Shang is equally ambitious as she seeks to develop her own brand and open a fashion boutique on Fifth Avenue.
Both equally ambitious and eager to pursue their goals, Xu and Sheng one day cross paths. From then on, their feelings and dreams become intertwined. But with Xu's American and Sheng's Chinese upbringing, the cultural differences and contrasting views between the two lovers keep them from coming closer together.
The upcoming drama has received 190 million views on its Weibo hashtag page at time of writing.
#3 City of Desire/Yearning Life
Chinese title: 欲望之城 Yùwàng zhī Chéng, later changed to 渴望生活 Kěwàng Shēnghuó
Genre: Contemporary, Romance, Psychological
Directed by: Liu Jin (刘进)
Release date: Expected September 2019 at Zhejiang TV, Dongfang TV, Youku, iQiyi and Tencent
City of Desire is directed by Liu Jin (刘进), who also produced some of the most successful and largest Chinese TV drama productions in recent years including White Deer Plain (白鹿原). With his new drama series, Liu raises awareness for more contemporary social problems such as anxiety and depression.
This upcoming drama features some of China's biggest superstars. The two main characters are played by Wu Xiubo (吴秀波) and Angelababy (Yang Ying 杨颖). Wu has received several best actor awards. Angelababy is one of China's most popular actresses and fashion icons. She's social media celebrity with more than a staggering 100 million followers on Weibo.
City of Desire follows the life of a man named Jiang Nianhua and the younger woman Lin Li. After a bitter divorce, the childless Jiang gradually builds up his life again and accumulates considerable wealth. To others, it seems as if Jiang got his life all back on track, but in reality, Jiang is battling with severe depression. Just when he decides he cannot take life any longer, he meets the young Lin.
Not long after their encounter, Lin also has to endure emotional hardships and career struggles. When Lin is at the verge of leaving her job because she cannot handle the stress, it is Jiang who motivates her to stay and fight for her position. In the process of Jiang helping Lin getting back on her feet, something changes within him.
Want to see more? Also see our top 10 of February 2019 here, or our list of best Chinese TV dramas of all-time here.
By Gabi Verberg
PS All three series will be available for viewing online, some also with English subtitles. If you need a VPN to circumvent any geo restrictions, we recommend either NordVPN or ExpressVPN to do so.
Spotted a mistake or want to add something? Please let us know in comments below or email us. Please note that your comment below will need to be manually approved if you're a first-time poster here.
©2019 Whatsonweibo. All rights reserved. Do not reproduce our content without permission – you can contact us at info@whatsonweibo.com