Fan Bing Bing is Back! The 'Missing' Actress is Ordered to Pay $130 Million & Apologizes on Weibo (Full Translation)
After months of silence, there is finally clarity about the situation of Fan Bing Bing: she is ordered to pay millions, and she is sorry.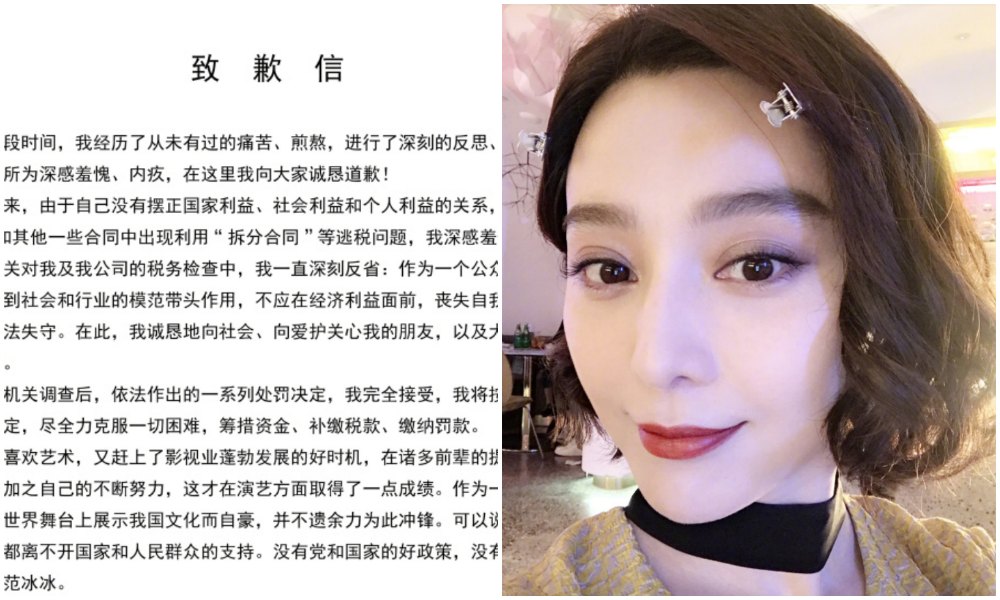 First published
Chinese actress Fan Bing Bing, who has been "missing" for months since she was at the center of a tax evasion scandal, is back in the public eye. Hours after authorities issued the news that the actress has to pay millions in tax penalties, she returned to Weibo with an apology.
Fan Bing Bing (范冰冰), one of China's most renowned actresses whose disappearance from the public eye has been at the center of a social media storm since July of this year, is back.
Earlier today, on October 3rd, news came out on Chinese state media that the tax investigations by authorities had been completed, with Xinhua News stating that the actress "has been ordered to pay taxes and fines worth hundreds of millions of yuan over tax evasion."
Other sources said the actress had to pay 883 million yuan in tax fines; approximately 128,5 million US dollars. According to CGNT, the 37-year-old actress will not be held criminally liable if she pays the penalty in time.
The Tax Evasion Scandal
"What followed after the scandal was months of silence and rumors."
Earlier this year, the news that Fan Bing Bing allegedly received a total payment of 60 million yuan ($9.3 million) for just four days work on the film Cell Phone 2, of which she would have only declared 10 million ($1.56 million) to authorities, became a huge trending topic on Chinese social media.
The tax scandal first came to light when Chinese TV host Cui Yongyuan (崔永元) leaked two different contracts on social media; the one that allegedly showed that the actress was paid a total of 10 million RMB for her work, with another showing a payment of 50 million RMB for the exact same work. These types of contracts are called yin-yang contracts (阴阳合同), an illegal practice to avoid paying taxes.
What followed after the scandal was months of silence and rumors. The actress was last seen in public on July 1st, and social media rumors alleged the actress might have left the country or that she was banned from acting.
Last month, one particularly strong rumor surfaced, saying that Fan had been arrested in Wuxi, in Jiangsu province, where Fan's studio is based.
Hours after today's news on her penalty came out, Fan issued an apology letter on Chinese social media site Weibo, in which she expressed shame about her actions. Fan has 62,6 million fans on her Weibo, and the apology letter is the first time she has posted on social media since June 2nd.
The Apology Letter
"Without the good policies of the Party and the state, without the love of the people, there would be no Fan Bing Bing."
Full letter translation here in English (by What's on Weibo):
---
Apology Letter
Over the past period, I have gone through unprecedented pain and suffering, and have done in-depth self-reflection and soul-searching. I feel deeply ashamed and guilty of everything I have done. Here, I want to express my sincere apologies to you.
For a long time, because of the fact that I did not correctly lay out the relations between the interests of the state, society, and myself, I used "split contracts" (拆分合同) for the film "Unbreakable Spirit" (大轰炸) and others, to evade the tax problem, and I am ashamed of that. These days, during the tax authorities' tax inspections of me and my company, I have been deeply questioning myself the whole time: as public figures, we should abide by the law, and be a role model within the industry and society at large. We should not lose ourselves by putting economic interests first and loosening the supervision, which leads to breaking the law. Here, I sincerely apologize to society, to my cherished friends, to the public, and to the tax authorities.
After completing their investigation, the tax servation services have issued a series of penalties. I fully accept them and will try my best to overcome all difficulties and raise the funds and pay the taxes and fines in accordance with the tax authorities' finalized penalty order.
I've loved arts since I was young, and because I was right on time for the booming developments within the film and TV industry, and thanks to the guidance of my seniors and loving support from the audience, along with my own continuous efforts, I have been able to acquire some achievements within the performing arts. As an actress, I am always proud of being able to showcase my culture in the international limelight, and I'll do what I can to fight for that goal.
You could say that my every achievement is owed to my country and the support of its people. Without the good policies of the Party and the state, without the love and protection of the people, there would be no Fan Bing Bing.
Today, I feel very disquieted about my mistakes. I let down the country that educated me, the society that trusted me, and the fans who loved me. Here, again, I offer my sincerest apologies to everyone. Please forgive me!
I believe that, after going through this rectification, I emphasize rules, order, and responsibility. While offering everyone good work, I will also supervise the management of my company, engage in law-abiding business, keep my promises, and strive to have a company full of meaningful cultural content so I can bring out positive energy to the whole society!
Once again, to the society, to the fans who have always supported me, to the friends and family who care for me, I sincerely say sorry!
Fan Bingbing
October 3, 2018
---
On Weibo, Fan's letter was soon shared more than 135,000 times (and ongoing), receiving ten thousands of likes.
The Criticism and Online Control
"Especially when looking at my own small salary, I have mixed feelings about all of this."
The comments underneath the letter, however, were severely restricted – by Sina Weibo or by Fan herself-, and only displayed the six reactions of five different people who showed their support and sent their love to the actress.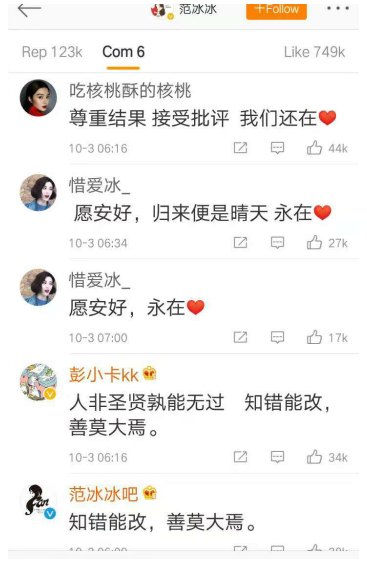 Elsewhere on Weibo, however, there are more critical responses to the apology letter, with people wondering why the actress did not get any criminal charges for tax evasion, and also questioning the decision to let this story come out during the national holidays.
"From now on, all actors can do tax evasion, and just fix it once it's discovered," some netizens respond, writing: "Especially when looking at my own small salary, I have mixed feelings about all of this."
Others are not too confident that there is still a brilliant future ahead for the actress, although one commenter writes: "It's ok, if she's no longer able to perform, she could still be an internet celebrity and do some commercials."
The more supportive reactions include those saying: "She knows her mistakes and she will correct them, I believe she will only do better in the future."
The strict control of information flows surrounding Fan's apology is also attracting attention on social media, with some wondering why the topic is not showing up on the 'hot search' or 'trending' lists, although it obviously is a big trending topic. "May I ask why such a topic that is all over CCTV is not on Weibo's trending lists," one Weibo user asked: "Has Weibo been bribed or something?"
The State Media
"Those film and television companies and related employees who investigate themselves and correct any [open] tax payments before December 31st, can avoid any potential administrative penalties and fines.."
Xinhua News Agency issued an article on Weibo following today's news, saying that "the case of Fan Bing Bing is a lesson for those in the film and tv industry to obey the law" (范冰冰案教育警示文艺影视从业者遵纪守法).
The article, by authors Bai Ying (白瀛) and Luo Sha (罗沙), was soon read more than 400,000 times.
It called Fan's case the "biggest yet" when it comes to personal tax evasion in China, and also stated it played a strong role in being an "educational warning" for similar tax violating behavior of others.
Xinhua states that according to Chinese law, people who make false tax returns or evade tax payments for an amount that is more than 10% of the payable tax, can be sentenced to up to three years in prison, along with receiving payable penalties. If that amount is more than 30% of the payable tax, they can be sentenced to a maximum of seven years (and a minimum of three years) in prison.
But the law also states that people can prevent going to prison (or being "held criminally liable"), if they pay their tax payments and the full penalties tax payment within a proposed time frame. They can still be sentenced if they get another administrative penalty.
The state media article, noteworthy enough, further reveals that the State Administration of Taxation (国家税务总局) will carry out "special actions to regulate the tax orders within the film and television industry": those film and television companies and related employees who investigate themselves and correct any [open] tax payments before December 31 of this year, can avoid any potential administrative penalties and fines (see screenshot of segment below).
In other words; this might suggest that there are many other (albeit much smaller) Fan Bing Bing cases out there, and that those involved are now getting the chance to correct themselves in the coming three months to avoid the fines and penalties that Fan does need to pay; meaning that the renowned actress and her tax scandal is used a 'killing the chicken to scare the monkeys' (杀鸡吓猴) case, as the Chinese saying goes: punishing an individual to set an example to others.
On Weibo, a typical comment says that the way in which this entertainment industry case was handled "is not really fair to ordinary people," with many saying: "If you do not have the money or the fame [like Fan Bing Bing], you would be treated as a criminal for much smaller issues."
By Manya Koetse and Miranda Barnes
Follow @whatsonweibo
Full letter here in Chinese
致歉信
最近一段时间,我经历了从未有过的痛苦、煎熬,进行了深刻的反思、反省,我对自己的所作所为深感羞愧、内疚,在这里我向大家诚恳道歉!
长期以来,由于自己没有摆正国家利益、社会利益和个人利益的关系,在影片《大轰炸》和其他一些合同中出现利用"拆分合同"等逃税问题,我深感羞愧。这些天在配合税务机关对我及我公司的税务检查中,我一直深刻反省:作为一个公众人物,应该遵纪守法,起到社会和行业的模范带头作用,不应在经济利益面前,丧失自我约束,放松管理,以致违法失守。在此,我诚恳地向社会、向爱护关心我的朋友,以及大众,向国家税务机关道歉。
对税务机关调查后,依法作出的一系列处罚决定,我完全接受,我将按照税务部门的最终处罚决定,尽全力克服一切困难,筹措资金、补缴税款、缴纳罚款。
我从小喜欢艺术,又赶上了影视业蓬勃发展的好时机,在诸多前辈的提携和观众朋友的爱护下,加之自己的不断努力,这才在演艺方面取得了一点成绩。作为一个演员,我常为自己能在世界舞台上展示我国文化而自豪,并不遗余力为此冲锋。可以说,我每一点成绩的取得,都离不开国家和人民群众的支持。没有党和国家的好政策,没有人民群众的爱护,就没有范冰冰。
今天,我对自己的过错深感惶恐不安!我辜负了国家对我的培养,辜负了社会对我的信任,也辜负了影迷对我的喜爱!在此,我再次向大家诚恳道歉!请大家原谅!
我相信,经过这次整顿,我会讲规矩、遵秩序、重责任,在把好的作品献给大家的同时,也要监督公司管理,守法经营,诚实守信,争做富有文化内涵的好公司,为全社会传播正能量!
再次向社会,向一直支持我的影迷,向关爱我的朋友家人,真诚的说一句,对不起!
范冰冰
2018年10月3日
Spotted a mistake or want to add something? Please let us know in comments below or email us.
©2018 Whatsonweibo. All rights reserved. Do not reproduce our content without permission – you can contact us at info@whatsonweibo.com
(Op-Ed) The Forgotten Genres & Loss of "Intellectual Taste" in Chinese TV Drama
"We need to recall those TV dramas and genres that have vanished into oblivion," Zhao writes.
First published
When What's on Weibo published a list of classics of Chinese TV dramas, Beijing Film Academy graduate Zhao B. felt the list was missing relevant titles and genres. These are the top classic TV dramas that should be added to the list, according to an article sent in to What's on Weibo by Zhao.
The entertainment industry is a hot topic in present-day China, where online videos are being watched by millions of internet users every day. The way in which these videos are created, spread, and consumed, signals a new kind of emotional consumerism.
TV drama is still a benchmark of China's popular culture, but it is no longer the newest one – and might even have started to be somewhat worn out. It has gone into a phase of systematically deleting conflicting memories, in sync with the loud internet environment and the pop culture factory.
Not only has the length of TV drama episodes been shortened for today's 'online binging,' but streaming sites are also filled with certain algorithms and tracking codes that accelerate the obliteration of certain television dramas. The mass 'industrialization' of popular culture has shortened the lifespan of television dramas and its genres.
Which is why if a list such as the Top 30 Classic TV Dramas in China is based on rankings provided by social media sites or online video platforms such as Sougo or Douban, there are certain blind spots.
It is not out of mere nostalgia that we need to recall those TV dramas and genres that have vanished into oblivion. It gives us an overview of marginalized genres and taste, that are different from the current mainstream ones. They are the working memories for contemporary life.
Genres that have come up and have since been forgotten in the People's Republic of China from roughly 1978 to 2018, are:
-the "rural genre" (农村题材)
-the "youth genre" (青少年题材)
-the "army genre" (军旅题材), a sub-category of the military genre.
Theme Productions versus Genre
There is a socio-historical difference in Chinese and English popular culture industries in use of the term 'genre' that should be noted here. Chinese TV dramas are often categorized in 'topics' or 'themes' (tícái 题材) rather than in 'genres' (lèixíng 类型).
Thematic terms were used in planning and reviewing art productions (literature, film, TV drama) in PRC history, but this practice has been transforming over the past forty years. 
With the rise of the pop culture industry, the term 'genre' (类型) also became more popularized, with 'theme' and 'genre' now existing together.
Some productions have been recognized as either an old-fashioned 'theme' product, while also being categorized as a genre. For example, the TV drama Era of Peace (和平年代, 1996) marks the transition from the thematic categorization of 'Revolutionary History theme' (革命历史题材) to the categorization of 'Era genre' (年代戏). Later, the famous production The Year of Burning Passion (激情燃烧的岁月, 2001) was simply categorized as a typical 'Era Genre' rather than a theme production.
But there are also those thematic productions that did not have a 'genre offspring.' One of those is the established "intellectual theme" (知识分子题材) in Chinese literature, film, and TV drama, which is not reflected in today's TV drama industry. Although educated identity plays a key role in today's medical genre (医疗剧) – a subcategory of the 'professional genre' TV drama (职业剧) – the agenda and rhetoric are very different.
To avoid long discussions on the complex nature of theme versus genre productions and categories in Chinese TV dramas, the following overview mixes both thematic and genre TV dramas, using the terms interchangeably.
'Forgotten' TV Dramas
An overview of some series in supplement to the Top 30 Classic Chinese TV dramas article:
#1 'Trilogy of Women's Fate' (女人命运三部曲)
* 篱笆、女人和狗  'Fence, Woman and Dog'
Year: 1989
Episodes: 12
Genre: Rural/Family
Directed by 陈雨田 Chen Yutian
* 辘轳、女人和井 'Windlass, Woman and Well'
Year: 1991
Episodes: 12
Genre: Rural/Family
Directed by 陈雨田 Chen Yutian 可人 Ke Ren
* 古船、女人和网 Ancient Ship, Woman and Net
Year: 1993
Episodes: 14
Genre: Rural/Family
Directed by 吴珊 Wu Shan 张扬 Zhang Yang
In this 1990s 'Trilogies of Country Life' (农村三部曲), China's rural community is still presented as being in a stage of self-reflecting amidst a time of transformation. This portrayal of China's countryside stands in stark contrast to present-day productions that often represent the rural community as either 'to be developed' or to be laughed about, caught in a discourse of urban-rural binary opposition. These series are still available for viewing on sites such as QQ (no English subs).
#2. 'The Flowering Season of Being Sixteen' (十六岁的花季)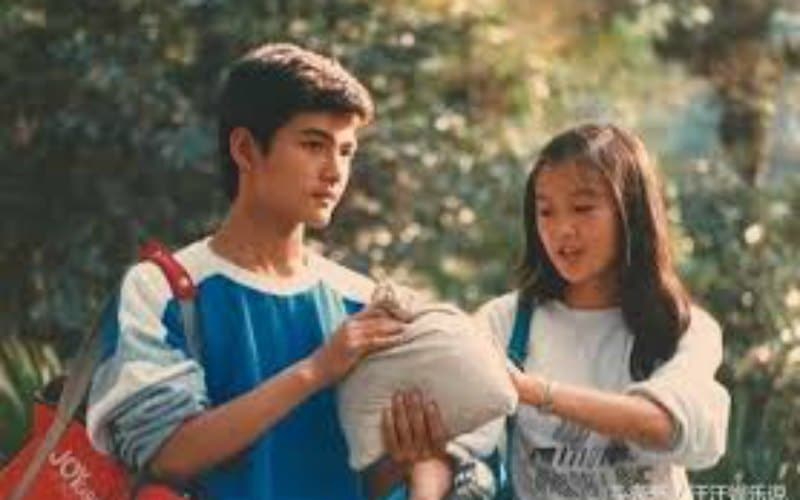 Year: 1990
Episodes: 12
Genre: Youth
Directed by Directed by 富敏 Fu Min 张弘 Zhang Hong
This TV drama, spoken in Shanghai accent, tells the coming-of-age story of a group of middle school students. It represents Chinese youth as being in the age of poetic self-reflection, rather than the 'young idol' genre that is ubiquitous today. The actors and narrator's voice directly reflect on society and question it. The episodes are available for viewing on Youtube here (no English subtitles).
#3. Young Special Force 少年特工
Year: 1992
Episodes: 16
Genre: Military
Directed by 郑方南 Zheng Fangnan
This TV drama, set in contemporary China, tells the story of the experiences of children during a military camp in Shandong, where these young scouts are thrown into a 'battle' between the 'Red Army' and the 'Blue Army.' The military setting and modern timeframe ironically reveal the hidden elite and historical subtext. Link to episodes on Youtube here.
#4. Era of Peace (和平年代)
Year: 1996
Episodes: 23
Genre: Army/History
Directed by 李舒 Li Shu 张前 Zhang Qian
This title represents the difference between the army sub-genre and military genre. It is a retrospective story that describes the transformation of China's armed troops from the Reform and Opening Up (改革开放) (1978-1996) period, going from war preparations to a period of peace.
Over the last two decades, the army sub-genre has gradually allowed new components into the military TV drama genre, which has also led to those narratives in the late 2010s that focus on overseas operations by elite soldiers.
#5. Fortress Besieged (围城)
Year: 1990
Episodes: 10
Genre: No (some will say Historical)
Directed by 黄蜀芹 Huang Shuqin
This drama, a classic adaptation of the same-titled 1947 novel by Qian Zhongshu, is set in the 1930s and portrays Chinese intellectuals, while focusing on the misadventures of Fang Hongjian, who returns to China after studying in Europe. The mild, cautious, ironic yet effortless taste from 1940 Shanghai and the figures of Republic of China's bourgeois intellectuals, showed itself for the very first time to PRC audiences in this classic.
Nobody would like to admit they forgot about this classic adaptation. Actually, people tend to forget it not because of itself, but for its isolation from any current trends. Intellectual taste and artistic pursuit are quite alien to China's current TV drama culture. Intellectual influence and TV as art was a cultural feature of the late socialist planned economy of the 20th century, when the Communist war against intellectuals had ended, and the capitalist front was yet to be developed.
Various episodes are available for viewing on Youtube.
#6. Sinful Debt (孽债)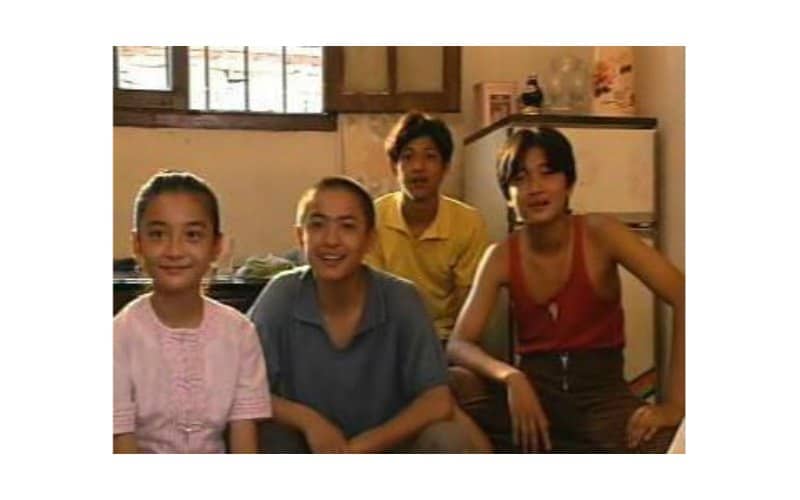 Year: 1995
Episodes: 20
Genre: Family
Directed by 黄蜀芹 Huang Shuqin
This drama, from the same female director Huang Shuqin (黄蜀芹) of Fortress Besieged, tells the story of five left-behind children in pursuit of their fathers – former sent-down "educated youths" as part of the Cultural Revolution crusade. It is a drama of middle-aged males, females and children, affected by historical, geographical, social and ethnic displacement. These series represent a delayed response to Scar Literature on TV.
The portrayal of Shanghai intellectuals in 1990s TV drama was very different from the 1980s intellectual idealism on TV, which then later transformed in the full-fledged populism in today's political discourse of pop culture. In policy and critiques after 1990s, the once legit intellectual theme (知识分子题材) was completely erased.
Episodes of Sinful Debt are available for viewing on Youtube here.
By Zhao B.
Edited for clarity by Manya Koetse
Spotted a mistake or want to add something? Please let us know in comments below or email us.
©2018 Whatsonweibo. All rights reserved. Do not reproduce our content without permission – you can contact us at info@whatsonweibo.com
The Never-Ending Drama: Ma Rong Accuses Wang Baoqiang of Violent Attack, Netizens Don't Buy It
A messy story is flooding Weibo today, as Chinese celebrity Ma Rong accuses ex-husband Wang Baoqiang of assault.
First published
It is the never-ending drama: China's most famous divorced celebrity couple Ma Rong and Wang Baoqiang once again hit the top trending lists on Chinese social media. This time, it concerns an alleged violent outburst during which Ma Rong was injured.
Ever since the 2016 split between Chinese celebrities Wang Baoqiang (王宝强) and his ex-wife Ma Rong (马蓉), the former couple keeps on making headlines. On Sunday, December 2nd, the hashtag "Wang Baoqiang Beats Up Ma Rong" (#王宝强殴打马蓉#) went trending on Weibo, receiving some 520 million views at time of writing (update: the hashtag page has since been taken offline).
According to various Chinese media, Chinese actress Ma Rong stated that her ex-husband attacked her when she wanted to take her children with her in the early morning on Sunday. The children allegedly were not present when the altercation occurred.
Ma Rong claimed that she was hit and kicked in the head and back by Wang, who was accompanied by "four or five" others.
Dramatic photos of a seemingly injured Ma Rong have spread on social media, along with photos of her in the hospital.
A video issued by Sina Entertainment News on Sunday shows Ma Rong lying in her (hospital) bed crying, telling the interviewer that Wang has previously been abusive towards her and their two children.
But there is also another side to this murky story, as security footage from surveillance cameras at Wang's house have leaked, reportedly showing that Ma came to Wang's house with her mother on Saturday night around 19.00 to "cause a scene", carrying scissors with her to intimidate Wang's family. The footage shows how a woman, said to be Ma Rong, jumps up to the camera in an apparent attempt to sabotage it.
According to an "insider" quoted by Sina Entertainment, Ma and her mother were apparently involved in an altercation with Wang Baoqiang's mother, although these rumors have since been refuted by Ma's family.
A report on Jinri Toutiao also claims that the altercation had already started on Saturday night, and that police were present at the scene around 23.00 in an ongoing confrontation that allegedly lasted the entire night.
Wang's mother, who was present at the scene, was apparently so shaken by the turmoil, that she reportedly was also checked into a local hospital with "palpitations" on Saturday night.
As the situation is somewhat messy, and details are still unclear, most netizens side with Wang Baoqiang and are not buying Ma's story, suggesting the photos of the injured actress have been staged. Ma Rong has become very unpopular since her divorce from Wang, with many calling her a "gold digger."
"She's a very good actress," many commenters say. "There's seriously something wrong with her," others write.
The first memes on today's case are also surfacing on WeChat and Weibo, with some photoshopping Ma's photo on a magazine cover of Zhiyin (知音), an old Chinese magazine known for telling dramatic and sensationalized social stories.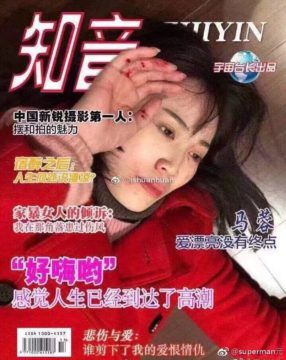 Others post the dramatic photo with the underline: "Oh, my head hurts."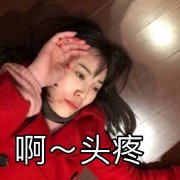 Chinese actor Wang Baoqiang, known for his roles in films such as Blind Shaft (2003) and A Touch of Sin (2013), is highly popular in China. Born into a poor rural family in Hebei Province, the former migrant construction worker rose to fame when he was cast in his first movie. With his rural-to-urban, migrant-to-actor story, Wang has come to represent the Chinese dream in the eyes of many.
In 2016, Wang Baoqiang publicly announced on Weibo that after seven years of marriage, he was divorcing Ma Rong as an exposed illicit affair between his wife and his manager Song Zhe (宋喆) had damaged his marriage "beyond repair."
At the time, the exposure of the alleged relationship between Ma Rong and manager Song Zhe hit Weibo like an earthquake, with millions of netizens jumping on the discussion – many of them scolded Ma and alleged she had only married the Chinese film star for his money. With ten billion views, it became one of the all-time biggest topics on Weibo.
The story has continued to attract people's attention. A year after the initial separation, Song Zhe was arrested in Beijing for embezzlement – a topic that immediately became trending on Chinese social media.
The various court cases between Wang and Ma Rong, who first sued her estranged husband for defamation of character and then refused to sign the divorce papers, has also recurrently been in the media.
According to the latest reports, Ma has now left the hospital. A video that is spreading on Weibo shows how a woman, supposedly Ma Rong, is carried out of the hospital and is put inside a car, while reporters are running after her (see embedded tweet below).
Super bizarre. Videos show how Ma Rong (supposedly) is carried out of the hospital after allegedly being attacked by ex-husband Wang Baoqiang, chased by group of reporters. Why are reporters allowed in there at all? This is like Britney Spears in 2007. https://t.co/ldP8oVO1sY pic.twitter.com/XQFrD49nBq

— Manya Koetse (@manyapan) 2 december 2018
At time of writing, Wang has not posted any statement regarding this incident on his Weibo page, where he has more than 28 million fans.
By Manya Koetse and Miranda Barnes
Follow @whatsonweibo
Spotted a mistake or want to add something? Please let us know in comments below or email us.
©2018 Whatsonweibo. All rights reserved. Do not reproduce our content without permission – you can contact us at info@whatsonweibo.com