Fan Bing Bing is Back! The 'Missing' Actress is Ordered to Pay $130 Million & Apologizes on Weibo (Full Translation)
After months of silence, there is finally clarity about the situation of Fan Bing Bing: she is ordered to pay millions, and she is sorry.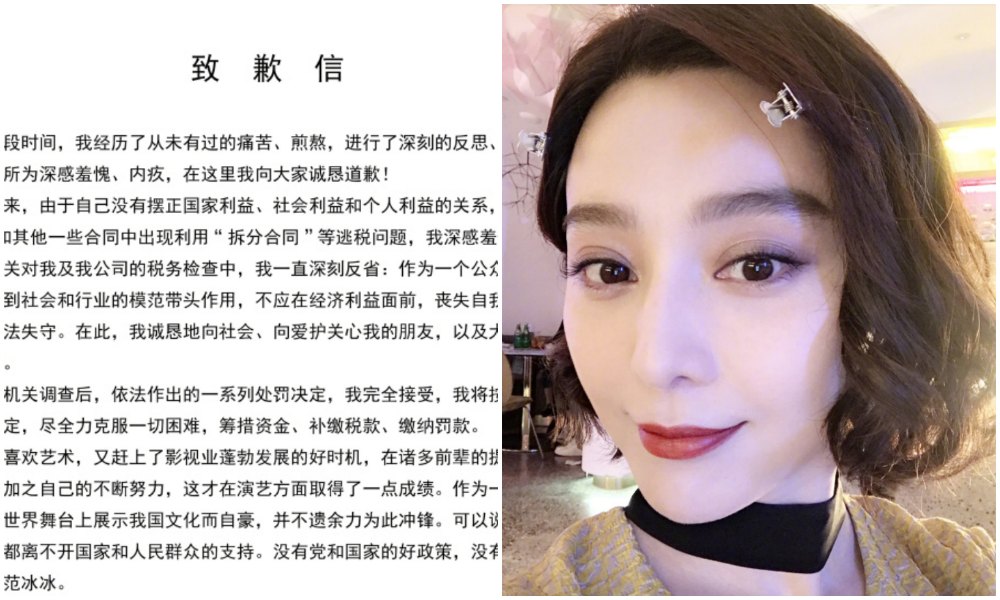 First published
Chinese actress Fan Bing Bing, who has been "missing" for months since she was at the center of a tax evasion scandal, is back in the public eye. Hours after authorities issued the news that the actress has to pay millions in tax penalties, she returned to Weibo with an apology.
Fan Bing Bing (范冰冰), one of China's most renowned actresses whose disappearance from the public eye has been at the center of a social media storm since July of this year, is back.
Earlier today, on October 3rd, news came out on Chinese state media that the tax investigations by authorities had been completed, with Xinhua News stating that the actress "has been ordered to pay taxes and fines worth hundreds of millions of yuan over tax evasion."
Other sources said the actress had to pay 883 million yuan in tax fines; approximately 128,5 million US dollars. According to CGNT, the 37-year-old actress will not be held criminally liable if she pays the penalty in time.
The Tax Evasion Scandal
"What followed after the scandal was months of silence and rumors."
Earlier this year, the news that Fan Bing Bing allegedly received a total payment of 60 million yuan ($9.3 million) for just four days work on the film Cell Phone 2, of which she would have only declared 10 million ($1.56 million) to authorities, became a huge trending topic on Chinese social media.
The tax scandal first came to light when Chinese TV host Cui Yongyuan (崔永元) leaked two different contracts on social media; the one that allegedly showed that the actress was paid a total of 10 million RMB for her work, with another showing a payment of 50 million RMB for the exact same work. These types of contracts are called yin-yang contracts (阴阳合同), an illegal practice to avoid paying taxes.
What followed after the scandal was months of silence and rumors. The actress was last seen in public on July 1st, and social media rumors alleged the actress might have left the country or that she was banned from acting.
Last month, one particularly strong rumor surfaced, saying that Fan had been arrested in Wuxi, in Jiangsu province, where Fan's studio is based.
Hours after today's news on her penalty came out, Fan issued an apology letter on Chinese social media site Weibo, in which she expressed shame about her actions. Fan has 62,6 million fans on her Weibo, and the apology letter is the first time she has posted on social media since June 2nd.
The Apology Letter
"Without the good policies of the Party and the state, without the love of the people, there would be no Fan Bing Bing."
Full letter translation here in English (by What's on Weibo):
---
Apology Letter
Over the past period, I have gone through unprecedented pain and suffering, and have done in-depth self-reflection and soul-searching. I feel deeply ashamed and guilty of everything I have done. Here, I want to express my sincere apologies to you.
For a long time, because of the fact that I did not correctly lay out the relations between the interests of the state, society, and myself, I used "split contracts" (拆分合同) for the film "Unbreakable Spirit" (大轰炸) and others, to evade the tax problem, and I am ashamed of that. These days, during the tax authorities' tax inspections of me and my company, I have been deeply questioning myself the whole time: as public figures, we should abide by the law, and be a role model within the industry and society at large. We should not lose ourselves by putting economic interests first and loosening the supervision, which leads to breaking the law. Here, I sincerely apologize to society, to my cherished friends, to the public, and to the tax authorities.
After completing their investigation, the tax servation services have issued a series of penalties. I fully accept them and will try my best to overcome all difficulties and raise the funds and pay the taxes and fines in accordance with the tax authorities' finalized penalty order.
I've loved arts since I was young, and because I was right on time for the booming developments within the film and TV industry, and thanks to the guidance of my seniors and loving support from the audience, along with my own continuous efforts, I have been able to acquire some achievements within the performing arts. As an actress, I am always proud of being able to showcase my culture in the international limelight, and I'll do what I can to fight for that goal.
You could say that my every achievement is owed to my country and the support of its people. Without the good policies of the Party and the state, without the love and protection of the people, there would be no Fan Bing Bing.
Today, I feel very disquieted about my mistakes. I let down the country that educated me, the society that trusted me, and the fans who loved me. Here, again, I offer my sincerest apologies to everyone. Please forgive me!
I believe that, after going through this rectification, I emphasize rules, order, and responsibility. While offering everyone good work, I will also supervise the management of my company, engage in law-abiding business, keep my promises, and strive to have a company full of meaningful cultural content so I can bring out positive energy to the whole society!
Once again, to the society, to the fans who have always supported me, to the friends and family who care for me, I sincerely say sorry!
Fan Bingbing
October 3, 2018
---
On Weibo, Fan's letter was soon shared more than 135,000 times (and ongoing), receiving ten thousands of likes.
The Criticism and Online Control
"Especially when looking at my own small salary, I have mixed feelings about all of this."
The comments underneath the letter, however, were severely restricted – by Sina Weibo or by Fan herself-, and only displayed the six reactions of five different people who showed their support and sent their love to the actress.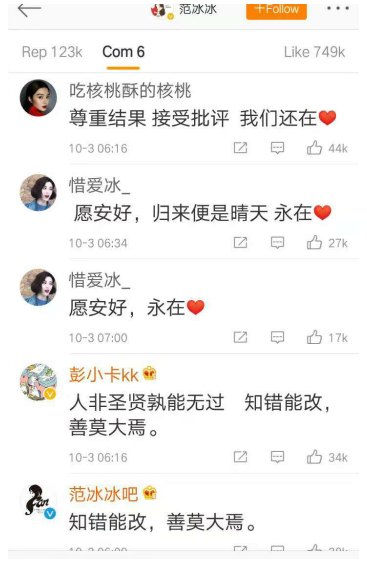 Elsewhere on Weibo, however, there are more critical responses to the apology letter, with people wondering why the actress did not get any criminal charges for tax evasion, and also questioning the decision to let this story come out during the national holidays.
"From now on, all actors can do tax evasion, and just fix it once it's discovered," some netizens respond, writing: "Especially when looking at my own small salary, I have mixed feelings about all of this."
Others are not too confident that there is still a brilliant future ahead for the actress, although one commenter writes: "It's ok, if she's no longer able to perform, she could still be an internet celebrity and do some commercials."
The more supportive reactions include those saying: "She knows her mistakes and she will correct them, I believe she will only do better in the future."
The strict control of information flows surrounding Fan's apology is also attracting attention on social media, with some wondering why the topic is not showing up on the 'hot search' or 'trending' lists, although it obviously is a big trending topic. "May I ask why such a topic that is all over CCTV is not on Weibo's trending lists," one Weibo user asked: "Has Weibo been bribed or something?"
The State Media
"Those film and television companies and related employees who investigate themselves and correct any [open] tax payments before December 31st, can avoid any potential administrative penalties and fines.."
Xinhua News Agency issued an article on Weibo following today's news, saying that "the case of Fan Bing Bing is a lesson for those in the film and tv industry to obey the law" (范冰冰案教育警示文艺影视从业者遵纪守法).
The article, by authors Bai Ying (白瀛) and Luo Sha (罗沙), was soon read more than 400,000 times.
It called Fan's case the "biggest yet" when it comes to personal tax evasion in China, and also stated it played a strong role in being an "educational warning" for similar tax violating behavior of others.
Xinhua states that according to Chinese law, people who make false tax returns or evade tax payments for an amount that is more than 10% of the payable tax, can be sentenced to up to three years in prison, along with receiving payable penalties. If that amount is more than 30% of the payable tax, they can be sentenced to a maximum of seven years (and a minimum of three years) in prison.
But the law also states that people can prevent going to prison (or being "held criminally liable"), if they pay their tax payments and the full penalties tax payment within a proposed time frame. They can still be sentenced if they get another administrative penalty.
The state media article, noteworthy enough, further reveals that the State Administration of Taxation (国家税务总局) will carry out "special actions to regulate the tax orders within the film and television industry": those film and television companies and related employees who investigate themselves and correct any [open] tax payments before December 31 of this year, can avoid any potential administrative penalties and fines (see screenshot of segment below).
In other words; this might suggest that there are many other (albeit much smaller) Fan Bing Bing cases out there, and that those involved are now getting the chance to correct themselves in the coming three months to avoid the fines and penalties that Fan does need to pay; meaning that the renowned actress and her tax scandal is used a 'killing the chicken to scare the monkeys' (杀鸡吓猴) case, as the Chinese saying goes: punishing an individual to set an example to others.
On Weibo, a typical comment says that the way in which this entertainment industry case was handled "is not really fair to ordinary people," with many saying: "If you do not have the money or the fame [like Fan Bing Bing], you would be treated as a criminal for much smaller issues."
By Manya Koetse and Miranda Barnes
Follow @whatsonweibo
Full letter here in Chinese
致歉信
最近一段时间,我经历了从未有过的痛苦、煎熬,进行了深刻的反思、反省,我对自己的所作所为深感羞愧、内疚,在这里我向大家诚恳道歉!
长期以来,由于自己没有摆正国家利益、社会利益和个人利益的关系,在影片《大轰炸》和其他一些合同中出现利用"拆分合同"等逃税问题,我深感羞愧。这些天在配合税务机关对我及我公司的税务检查中,我一直深刻反省:作为一个公众人物,应该遵纪守法,起到社会和行业的模范带头作用,不应在经济利益面前,丧失自我约束,放松管理,以致违法失守。在此,我诚恳地向社会、向爱护关心我的朋友,以及大众,向国家税务机关道歉。
对税务机关调查后,依法作出的一系列处罚决定,我完全接受,我将按照税务部门的最终处罚决定,尽全力克服一切困难,筹措资金、补缴税款、缴纳罚款。
我从小喜欢艺术,又赶上了影视业蓬勃发展的好时机,在诸多前辈的提携和观众朋友的爱护下,加之自己的不断努力,这才在演艺方面取得了一点成绩。作为一个演员,我常为自己能在世界舞台上展示我国文化而自豪,并不遗余力为此冲锋。可以说,我每一点成绩的取得,都离不开国家和人民群众的支持。没有党和国家的好政策,没有人民群众的爱护,就没有范冰冰。
今天,我对自己的过错深感惶恐不安!我辜负了国家对我的培养,辜负了社会对我的信任,也辜负了影迷对我的喜爱!在此,我再次向大家诚恳道歉!请大家原谅!
我相信,经过这次整顿,我会讲规矩、遵秩序、重责任,在把好的作品献给大家的同时,也要监督公司管理,守法经营,诚实守信,争做富有文化内涵的好公司,为全社会传播正能量!
再次向社会,向一直支持我的影迷,向关爱我的朋友家人,真诚的说一句,对不起!
范冰冰
2018年10月3日
Spotted a mistake or want to add something? Please let us know in comments below or email us.
©2018 Whatsonweibo. All rights reserved. Do not reproduce our content without permission – you can contact us at info@whatsonweibo.com
Oh, the Drama! Chinese Opera Performance Turns into Stage Fight as Drunken Man Attacks Actors
This local traditional opera performance unexpectedly turned into a stage fight.
On October 9 in Zhejiang's Lishui city (Laozhu Town), a theatrical performance unexpectedly turned very dramatic when a drunken man stormed on stage to fight with the performers.
A video showing the Chinese opera performance being disturbed by the drunkard, turning it into a chaotic stage scene, is gaining major attention on Chinese social media.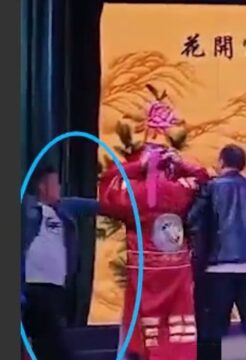 The incident occurred Friday night around 9 pm, when the Laozhu Theatrical Troupe was performing.
Videos of the incident that are circulating online show how one man comes on stage, attacking one of the actors. The scene escalates into a big fight when others try to intervene. The police were quick to arrive at the scene.
Oh, the drama! A Peking Opera performance turned into an explosive fight this weekend when a drunken village chief's son stormed on stage. He was allegedly rejected by one of the (Huadan) actresses.

Can't help but think the audience still got a spectacular show. pic.twitter.com/DPg3Q6QGOh

— Manya Koetse (@manyapan) October 11, 2020
Various news reports suggest the man started to act out after getting into an argument with one of the 'Huadan' (花旦) performers of the troupe. In traditional Chinese opera, the Huadan characters are young female roles, often seductive in appearance and quick with their words.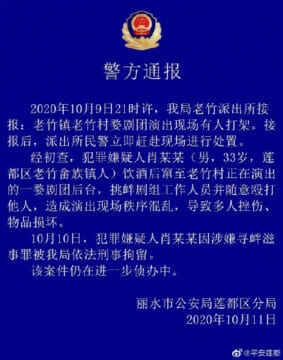 Local police posted on Weibo that the chaos was caused by a 33-year-old local who started to become aggressive after he had too much to drink. The man is charged with disorderly conduct and is currently detained.
The case received even more attention on social media when it turned out that the 33-year old troublemaker is the son of the head of a neighboring village.
Many Chinese netizens feel that the man is spared by Chinese news media outlets, which only report about a "drunken man" who was "causing trouble." They insist that the real story should be properly reported.
"The son of the village chief took liberties with a huadan actress who rejected him, and then he kicked her, causing her to lose consciousness. He then beat up other actors," some commenters explain.
"He is not just a 'drunkard', he's the son of the village secretary."
"What an explosive performance it was!" one Weibo blogger writes.
By Manya Koetse
Follow @WhatsOnWeibo
Spotted a mistake or want to add something? Please let us know in comments below or email us. First-time commenters, please be patient – we will have to manually approve your comment before it appears.
©2020 Whatsonweibo. All rights reserved. Do not reproduce our content without permission – you can contact us at info@whatsonweibo.com.
Rotten Girls: China's Thriving Online Boys' Love Culture
It is an online subculture that has been around for more than a decade, and it is not likely to die out any time soon.
They are mocked, hated, and misunderstood, yet China's so-called 'Rotten Girls' are at the core of an online subculture that has been thriving for years.

This is the "WE…WEI…WHAT?" column by Manya Koetse, original publication in German by Goethe Institut China (forthcoming), see Goethe.de: WE…WEI…WHAT? Manya Koetse erklärt das chinesische Internet.

China's ever-buzzing social media sphere sees trends, topics, and movements pop up every single day and then fade away quickly when their novelty is gone. But there are some trends that turn into something bigger, bringing forth communities and online subcultures that keep on thriving for years, with the participants building their own spaces in the online environment.
One such space belongs to those who, with some self-mockery, define as "Rotten Girls" (fǔnǚ 腐女), derived from the Japanese fujoshi. In the Chinese context, 'Rotten Girls' are young women with a passion for fictional stories, drama series, and manga (comic books) featuring gay male erotica and romantic relationships called 'yaoi.'
'Rotten girls' do not just consume these stories, primarily written by and for women, they also create and share them with others to discuss.
In Chinese, the gay erotica known as yaoi is also called 'danmei' (耽美) or 'BL' (for 'Boys' Love') – all umbrella terms for contents of male-male homoerotic fiction. The genre plays a major role in various corners of the Chinese internet. It is an online subculture that has been around for more than a decade, and it is not likely to die out any time soon.
Media and technology both play a big part in the sharing of fǔnǚ fantasies. These fantasies can range from boys holding hands to more pornographic ones, but the main point of the imaginary is love and intimacy (Galbraith 2011, 213).
Always Another BL Trend
There is always something different trending in the world of Rotten Girls. This summer, for example, the release of the Japanese 18+ games 'Lkyt' by BL game brand Parade received a lot of attention. A previous game by Parade, 'Room No. 9,' is also still popular among BL fans in China. The game revolves around two young men, long-time friends, who get locked inside a room where they are subjected to a behavioral analysis experiment. The two have to make some taunting decisions, including possibly being forced into sexual activity with each other, in order to make it out alive.
Another major topic that went trending within the Rotten Girls community some years ago, even attracting the attention of western news media, was the British crime drama Sherlock. Many Chinese viewers in the BL scenes were convinced that detective Sherlock Holmes (played by Benedict Cumberbatch) and his sidekick Watson (Martin Freeman) were not just professional partners, but a romantic couple. This practice of imagining a relationship between two characters is also known as 'CP,' an abbreviation for "coupling" or "character pairing."
The ambiguous relationship between Holmes and Watson – and the very fact that they are not explicitly homosexual – suits the fantasies harbored by China's fǔnǚ. There are countless examples of how BL fans photoshopped Sherlock images into homoerotic scenes, making up their own stories and endlessly discussing the relationship between Holmes and Watson.
BL fans are active in various online spaces. There are Rotten Girls communities on Chinese literature websites, discussion boards, and on ACG-focused platforms such as Bilibili (ACG is a popular abbreviation of "Anime, Comic and Games"). Boys' Love is practically everywhere: short stories, web novels, manga, anime, games, and series are all actively created, consumed, and shared within the BL fandom.
The Chinese Jinjiang Literature City site (1998) is one of the earliest and most influential websites for the danmei genre, where some top channels receive millions of clicks. The Chinese web novel author 'Priest' is among one of the most successful authors (some translations in English can be found here).
But besides the special BL fiction forums, there are also many fǔnǚ accounts on the more mainstream social media platforms such as WeChat and Weibo. Under Weibo hashtags such as "Fǔnǚ Daily" (#腐女日常#), "BL Webtoons" (#bl条漫#), "BL Manga" (#bl漫画#), "Original Danmei" (#原创耽美#), and many more, Rotten Girls discuss their favorite danmei works and the latest news on a daily basis.
Although the Rotten Girls have been increasing their sphere of influence, it hasn't been without controversy. Not only are they often looked down upon for their love for male homoeroticism, some LGBT people also criticize them for silencing the voices of actual gay men or erasing real-life gay experiences.
From Japanese Toy Boys to Chinese Danmei
Where did this all begin? China's BL subculture finds it roots in Japan. The popularity of danmei came up with the growing influence of Japanese popular culture in China.
In the early 1990s, Japanese manga and anime titles started flooding the Chinese market, often as unauthorized (pirated) copies. With this wave of Japanese entertainment products hitting the Chinese market, there were also those belonging to the genre of BL.
In Japanese fiction and manga, the theme of male-male romance intended for a female audience emerged as early as the 1970s but did not really rise to popularity until the early 1990s, when Japanese mainstream media saw a 'gay boom' and representations of male homosexuality became in vogue.
The year 1993 truly was a 'gay year' in the Japanese media and entertainment industry. In "Producing Gayness" (1997), Sho Ogawa describes how one Japanese magazine even offered readers a "Gay Toybox": full color paper gay dolls to cut out, including matching clothes from jackets to sports uniforms and even leather bondage gear. Instructions that came with the paper dolls encouraged readers to play with them, "give them a lovely name" and "imagine a campus love affair" between them.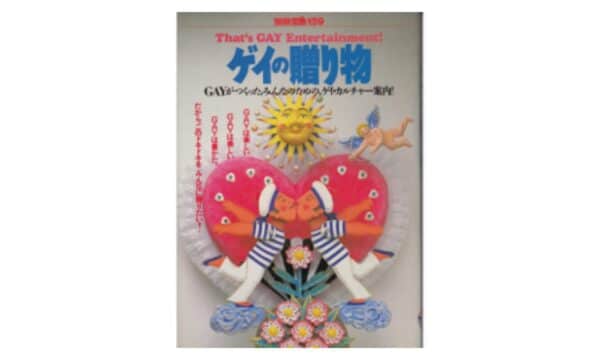 It was also in this same year of 1993 that many Chinese young women first discovered the genre of Japanese Boys' Love, mainly through the dissemination of pirate manga, novels, and magazines in Chinese bookstores.
Throughout the years, the Chinese genre of danmei has become much more than just an imported entertainment genre from Japan, and it is also somewhat different from the subgenre of 'slash fiction' in the West.
Danmei literally means "to indulge in beauty," and it has developed its own characteristics, taking a predominantly literary form while also strongly resonating with Japanese visual culture (Madill et al 2018, 5). Since the first Chinese BL-focused monthly magazine appeared in 1999, the genre has mixed with various local and other foreign media and celebrity cultures (e.g. that of South Korean and Thailand), and has become a truly Chinese fan culture phenomenon (Chen 2017, 7; Yang & Xu 2017, 3).
Safe, Subversive, and Pure Love
Those outside the danmei subculture often wonder what makes 'Boys' Love' so appealing to so many young women. There are various explanations and interpretations of why female fans enjoy writing and reading about male homoeroticism.
Chen Xin, who studied the topic of Boys' Love at the University of British Columbia, offers "safety" as one explanation for the popularity of danmei, as it gives its readers, mostly straight women, the freedom to fantasize in a way that is removed from their own romantic lives. This is also reiterated by other scholars, who argue that BL provides a safe fantasy where female fans can avoid the objectification of women while exploring the boundaries of their own sexuality.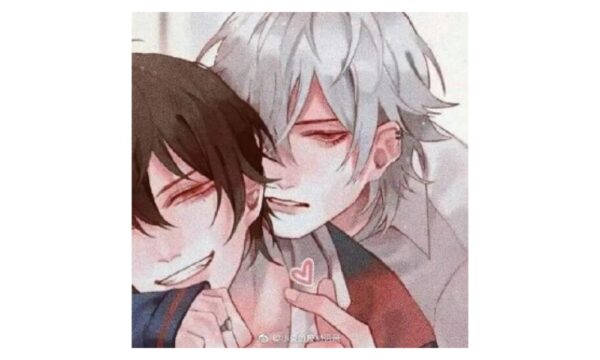 The concept of 'pure love' is one of the funü's greatest attraction to BL. According to them, it is the most romantic type of love because it transcends the boundaries of gender. The male protagonists in these stories do not identify as gay, but fall in love with other men nevertheless. "It doesn't matter if you are male or female, I just love you" and "It's not that I am gay, I just love a man" are classic sentences within Rotten Girls' fiction (Dai 2013, 34).
Zhang Chunyu (2016) also highlights the genre as an outlet for female writers and readers to explore sexuality and pleasure in a "subversive" way. Rotten girls position males as the objects of female desire, and in doing so, they challenge traditional gender stereotypes and appreciate gender fluidity.
China's Rotten Girls subculture is also 'subversive' in another way. Because of its focus on homosexuality and eroticism, danmei fandom is subject to online censorship. According to China's cyberspace regulations, online content should adhere to the "correct political direction" and "strive to disseminate contemporary Chinese values." Over the past few years, there have been various moments when displays of homosexuality were targeted by censors.
An anti-pornography campaign of 2014 resulted in the shutdown of hundreds of websites and social media accounts. Throughout the years, dozens of danmei authors have been arrested and many sites were closed or deleted for creating and distributing homoerotic content (Chen 2017, 9; Madill et al 2018, 6; Zhang 2016, 250).
Despite the strict internet control, fǔnǚ and BL content are still going strong. In order to circumvent censorship, the words and images used are often coded or nuanced enough not to get deleted – but BL fans will still understand and enjoy the subtext.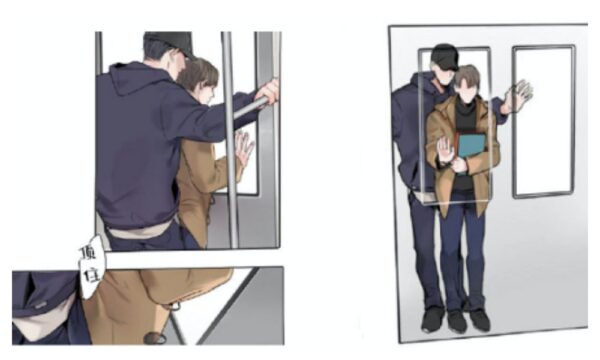 Over the past years, China's Rotten Girls have grown from a niche community to a force to reckon with on the Chinese internet. They have become a phenomenon that is often discussed in the media and is even researched by many academics.
"We've become professionals now," one 'Rotten Girl' joked on Weibo recently.
Another commenter replied that the rise and possible fall of the danmei community is, eventually, intrinsically linked to how much room is given by China's internet regulators. Although the past decade has demonstrated that Rotten Girls are not easily scared away by censorship and shutdowns, their future eventually does depend on the online accessibility to BL media and forums.
"If there is no relaxed online environment, it doesn't matter how professional we are," one commenter writes: "We might come to a standstill."
What the future will hold for China's Rotten Girls remains to be seen. Whether met with controversy or censorship, for now it seems impossible to put the Rotten Girls back into the closet they came from.
By Manya Koetse
Follow @whatsonweibo

This text was written for Goethe-Institut China under a CC-BY-NC-ND-4.0-DE license (Creative Commons) as part of a monthly column in collaboration with What's On Weibo.

References
Chen, Xin. 2017. "Boys' Love (Danmei) Fiction On The Chinese Internet: Wasabi Kun, The Bl Forum Young Nobleman Changpei, And The Development Of An Online Literary Phenomenon." MA Thesis, University of British Colombia https://www.semanticscholar.org/paper/Boys%27-Love-(Danmei)-fiction-on-the-Chinese-internet-Chen/63e7b494653bc1d849461b7a8f3d57aad05be452 [Aug 30, 2020].
Cohane (阿扣-绝赞爬墙中). 2020. "第二章 中国内地BL文化发展历史整理 [Part Two: A History of Development of Mainland China BL Culture Development]" (In Chinese). Weibo Article, Aug 8, https://weibo.com/ttarticle/p/show?id=2309404536531036799045 [Aug 26 2020].
Dai, Fei 戴非. 2013. "腐女心理 [Funu Psychology]" (In Chinese). 大众心里学 Popular Psychology (12): 34-35.
Galbraith, Patrick W. 2011. "Fujoshi: Fantasy Play and Transgressive Intimacy among "Rotten Girls" in Contemporary Japan." Signs 37 (1): 211-232.
Larigakis, Sophia. 2017. "Boys' Love: The Gay Erotica Taking China by Storm." Sophialarigakis.com, Nov 6 https://www.sophialarigakis.com/writing/boys-love-china [Aug 29, 2020].
Madill, A., Zhao, Y. and Fan, L. 2018. "Male-male marriage in Sinophone and Anglophone Harry Potter Danmei and Slash." Journal of Graphic Novels and Comics, 9 (5): 418-434.
Ogawa, Sho. 2017. "Producing Gayness: The 1990s "Gay Boom" in Japanese Media." PhD Dissertation, University of Kansas.
Yang, Ling and Yanrui Xi. 2016. "Danmei, Xianqing, and the making of a queer online public sphere in China." Communication and the Public 1 (2): 251-256.
Yang, Ling and Yanrui Xu. 2017. "Chinese Danmei Fandom and Cultural Globalization from Below." In: Lavin, Maud, Ling Yang, and Jing Jamie Zhao (eds). 2017. Boys' Love, Cosplay, and Androgynous Idols – Queer Fan Cultures in Mainland China, Hong Kong, and Taiwan. Hong Kong: Hong Kong University Press, page 3-20.
Zhang, Chunyu. 2016. "Loving Boys Twice as Much: Chinese Women's Paradoxical Fandom of "Boys' Love" Fiction." Women's Studies In Communication 39 (3): 249–267.
Spotted a mistake or want to add something? Please let us know in comments below or email us. First-time commenters, please be patient – we will have to manually approve your comment before it appears.