Fan Bing Bing is Back! The 'Missing' Actress is Ordered to Pay $130 Million & Apologizes on Weibo (Full Translation)
After months of silence, there is finally clarity about the situation of Fan Bing Bing: she is ordered to pay millions, and she is sorry.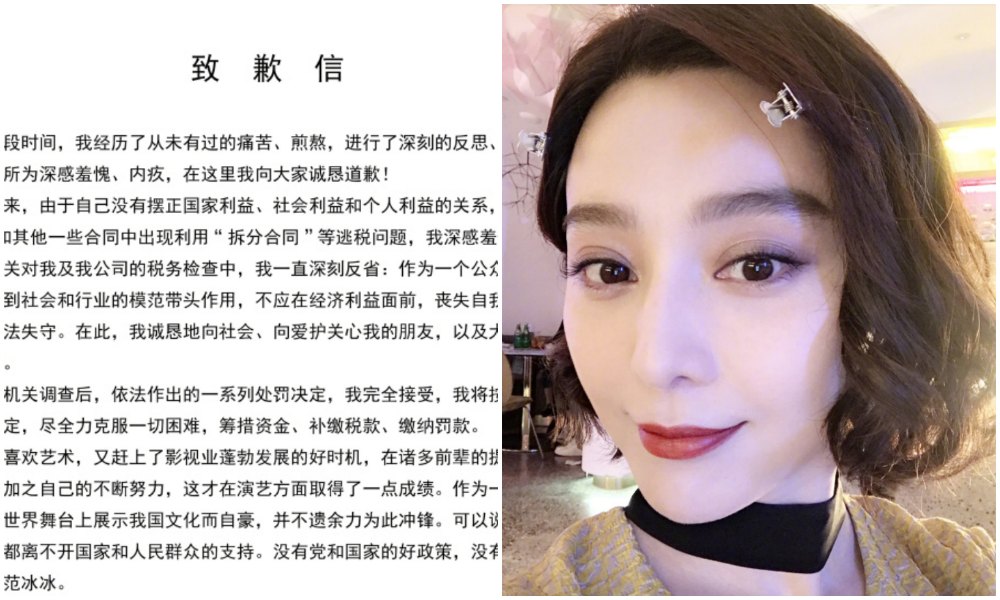 First published
Chinese actress Fan Bing Bing, who has been "missing" for months since she was at the center of a tax evasion scandal, is back in the public eye. Hours after authorities issued the news that the actress has to pay millions in tax penalties, she returned to Weibo with an apology.
Fan Bing Bing (范冰冰), one of China's most renowned actresses whose disappearance from the public eye has been at the center of a social media storm since July of this year, is back.
Earlier today, on October 3rd, news came out on Chinese state media that the tax investigations by authorities had been completed, with Xinhua News stating that the actress "has been ordered to pay taxes and fines worth hundreds of millions of yuan over tax evasion."
Other sources said the actress had to pay 883 million yuan in tax fines; approximately 128,5 million US dollars. According to CGNT, the 37-year-old actress will not be held criminally liable if she pays the penalty in time.
The Tax Evasion Scandal
"What followed after the scandal was months of silence and rumors."
Earlier this year, the news that Fan Bing Bing allegedly received a total payment of 60 million yuan ($9.3 million) for just four days work on the film Cell Phone 2, of which she would have only declared 10 million ($1.56 million) to authorities, became a huge trending topic on Chinese social media.
The tax scandal first came to light when Chinese TV host Cui Yongyuan (崔永元) leaked two different contracts on social media; the one that allegedly showed that the actress was paid a total of 10 million RMB for her work, with another showing a payment of 50 million RMB for the exact same work. These types of contracts are called yin-yang contracts (阴阳合同), an illegal practice to avoid paying taxes.
What followed after the scandal was months of silence and rumors. The actress was last seen in public on July 1st, and social media rumors alleged the actress might have left the country or that she was banned from acting.
Last month, one particularly strong rumor surfaced, saying that Fan had been arrested in Wuxi, in Jiangsu province, where Fan's studio is based.
Hours after today's news on her penalty came out, Fan issued an apology letter on Chinese social media site Weibo, in which she expressed shame about her actions. Fan has 62,6 million fans on her Weibo, and the apology letter is the first time she has posted on social media since June 2nd.
The Apology Letter
"Without the good policies of the Party and the state, without the love of the people, there would be no Fan Bing Bing."
Full letter translation here in English (by What's on Weibo):
---
Apology Letter
Over the past period, I have gone through unprecedented pain and suffering, and have done in-depth self-reflection and soul-searching. I feel deeply ashamed and guilty of everything I have done. Here, I want to express my sincere apologies to you.
For a long time, because of the fact that I did not correctly lay out the relations between the interests of the state, society, and myself, I used "split contracts" (拆分合同) for the film "Unbreakable Spirit" (大轰炸) and others, to evade the tax problem, and I am ashamed of that. These days, during the tax authorities' tax inspections of me and my company, I have been deeply questioning myself the whole time: as public figures, we should abide by the law, and be a role model within the industry and society at large. We should not lose ourselves by putting economic interests first and loosening the supervision, which leads to breaking the law. Here, I sincerely apologize to society, to my cherished friends, to the public, and to the tax authorities.
After completing their investigation, the tax servation services have issued a series of penalties. I fully accept them and will try my best to overcome all difficulties and raise the funds and pay the taxes and fines in accordance with the tax authorities' finalized penalty order.
I've loved arts since I was young, and because I was right on time for the booming developments within the film and TV industry, and thanks to the guidance of my seniors and loving support from the audience, along with my own continuous efforts, I have been able to acquire some achievements within the performing arts. As an actress, I am always proud of being able to showcase my culture in the international limelight, and I'll do what I can to fight for that goal.
You could say that my every achievement is owed to my country and the support of its people. Without the good policies of the Party and the state, without the love and protection of the people, there would be no Fan Bing Bing.
Today, I feel very disquieted about my mistakes. I let down the country that educated me, the society that trusted me, and the fans who loved me. Here, again, I offer my sincerest apologies to everyone. Please forgive me!
I believe that, after going through this rectification, I emphasize rules, order, and responsibility. While offering everyone good work, I will also supervise the management of my company, engage in law-abiding business, keep my promises, and strive to have a company full of meaningful cultural content so I can bring out positive energy to the whole society!
Once again, to the society, to the fans who have always supported me, to the friends and family who care for me, I sincerely say sorry!
Fan Bingbing
October 3, 2018
---
On Weibo, Fan's letter was soon shared more than 135,000 times (and ongoing), receiving ten thousands of likes.
The Criticism and Online Control
"Especially when looking at my own small salary, I have mixed feelings about all of this."
The comments underneath the letter, however, were severely restricted – by Sina Weibo or by Fan herself-, and only displayed the six reactions of five different people who showed their support and sent their love to the actress.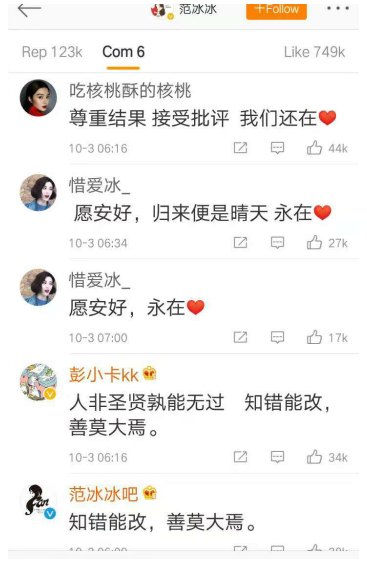 Elsewhere on Weibo, however, there are more critical responses to the apology letter, with people wondering why the actress did not get any criminal charges for tax evasion, and also questioning the decision to let this story come out during the national holidays.
"From now on, all actors can do tax evasion, and just fix it once it's discovered," some netizens respond, writing: "Especially when looking at my own small salary, I have mixed feelings about all of this."
Others are not too confident that there is still a brilliant future ahead for the actress, although one commenter writes: "It's ok, if she's no longer able to perform, she could still be an internet celebrity and do some commercials."
The more supportive reactions include those saying: "She knows her mistakes and she will correct them, I believe she will only do better in the future."
The strict control of information flows surrounding Fan's apology is also attracting attention on social media, with some wondering why the topic is not showing up on the 'hot search' or 'trending' lists, although it obviously is a big trending topic. "May I ask why such a topic that is all over CCTV is not on Weibo's trending lists," one Weibo user asked: "Has Weibo been bribed or something?"
The State Media
"Those film and television companies and related employees who investigate themselves and correct any [open] tax payments before December 31st, can avoid any potential administrative penalties and fines.."
Xinhua News Agency issued an article on Weibo following today's news, saying that "the case of Fan Bing Bing is a lesson for those in the film and tv industry to obey the law" (范冰冰案教育警示文艺影视从业者遵纪守法).
The article, by authors Bai Ying (白瀛) and Luo Sha (罗沙), was soon read more than 400,000 times.
It called Fan's case the "biggest yet" when it comes to personal tax evasion in China, and also stated it played a strong role in being an "educational warning" for similar tax violating behavior of others.
Xinhua states that according to Chinese law, people who make false tax returns or evade tax payments for an amount that is more than 10% of the payable tax, can be sentenced to up to three years in prison, along with receiving payable penalties. If that amount is more than 30% of the payable tax, they can be sentenced to a maximum of seven years (and a minimum of three years) in prison.
But the law also states that people can prevent going to prison (or being "held criminally liable"), if they pay their tax payments and the full penalties tax payment within a proposed time frame. They can still be sentenced if they get another administrative penalty.
The state media article, noteworthy enough, further reveals that the State Administration of Taxation (国家税务总局) will carry out "special actions to regulate the tax orders within the film and television industry": those film and television companies and related employees who investigate themselves and correct any [open] tax payments before December 31 of this year, can avoid any potential administrative penalties and fines (see screenshot of segment below).
In other words; this might suggest that there are many other (albeit much smaller) Fan Bing Bing cases out there, and that those involved are now getting the chance to correct themselves in the coming three months to avoid the fines and penalties that Fan does need to pay; meaning that the renowned actress and her tax scandal is used a 'killing the chicken to scare the monkeys' (杀鸡吓猴) case, as the Chinese saying goes: punishing an individual to set an example to others.
On Weibo, a typical comment says that the way in which this entertainment industry case was handled "is not really fair to ordinary people," with many saying: "If you do not have the money or the fame [like Fan Bing Bing], you would be treated as a criminal for much smaller issues."
By Manya Koetse and Miranda Barnes
Follow @whatsonweibo
Full letter here in Chinese
致歉信
最近一段时间,我经历了从未有过的痛苦、煎熬,进行了深刻的反思、反省,我对自己的所作所为深感羞愧、内疚,在这里我向大家诚恳道歉!
长期以来,由于自己没有摆正国家利益、社会利益和个人利益的关系,在影片《大轰炸》和其他一些合同中出现利用"拆分合同"等逃税问题,我深感羞愧。这些天在配合税务机关对我及我公司的税务检查中,我一直深刻反省:作为一个公众人物,应该遵纪守法,起到社会和行业的模范带头作用,不应在经济利益面前,丧失自我约束,放松管理,以致违法失守。在此,我诚恳地向社会、向爱护关心我的朋友,以及大众,向国家税务机关道歉。
对税务机关调查后,依法作出的一系列处罚决定,我完全接受,我将按照税务部门的最终处罚决定,尽全力克服一切困难,筹措资金、补缴税款、缴纳罚款。
我从小喜欢艺术,又赶上了影视业蓬勃发展的好时机,在诸多前辈的提携和观众朋友的爱护下,加之自己的不断努力,这才在演艺方面取得了一点成绩。作为一个演员,我常为自己能在世界舞台上展示我国文化而自豪,并不遗余力为此冲锋。可以说,我每一点成绩的取得,都离不开国家和人民群众的支持。没有党和国家的好政策,没有人民群众的爱护,就没有范冰冰。
今天,我对自己的过错深感惶恐不安!我辜负了国家对我的培养,辜负了社会对我的信任,也辜负了影迷对我的喜爱!在此,我再次向大家诚恳道歉!请大家原谅!
我相信,经过这次整顿,我会讲规矩、遵秩序、重责任,在把好的作品献给大家的同时,也要监督公司管理,守法经营,诚实守信,争做富有文化内涵的好公司,为全社会传播正能量!
再次向社会,向一直支持我的影迷,向关爱我的朋友家人,真诚的说一句,对不起!
范冰冰
2018年10月3日
Spotted a mistake or want to add something? Please let us know in comments below or email us.
©2018 Whatsonweibo. All rights reserved. Do not reproduce our content without permission – you can contact us at info@whatsonweibo.com
No 'Novoland': This Really Is a Tough Year for Chinese Costume Dramas
After the sudden cancellation of the much-anticipated 'Novoland' premiere, Chinese fantasy costume dramas are facing grim prospects.
First published
With 1,4 billion views on its Weibo page, the Chinese fantasy drama Novoland: Eagle Flag was one of the most-anticipated series of the year. This week, the show was suddenly canceled twenty minutes ahead of its premiere. The incident is indicative of recent tensions within China's TV drama industry, where some costume dramas have apparently failed to win the support of official regulators.
Just a week ago, What's on Weibo reported about the Chinese fantasy drama Novoland: Eagle Flag (九州缥缈录, Jiǔzhōu piāomiǎo lù) being one of the most anticipated TV dramas in China this summer. On June 3rd at 21:40 CST, however, just twenty minutes before the drama's much-awaited premiere on Tencent, Youku, and Zhejiang TV, the show was suddenly canceled.
Novoland: Eagle Flag, which has been called China's answer to Game of Thrones, is a costume drama that tells a story of war, conspiracy, love, and corruption in a fantasy universe called Novoland. It is based on a popular web fantasy novel series by Jiang Nan (江南), and produced by Linmon Pictures. Production costs reportedly were as high as RMB 500 million ($72 million).
Why was the show's premiere suddenly canceled? The only reason given for it on June 3rd was that there was a 'medium problem' ("介质原因").
China's English-language state tabloid Global Times reported on June 4th that their official sources also did not know the reason for the withdrawal, although they did admit to having received an order from "higher level," which would come from China's National Radio and Television Administration (NRTA,国家广播电视总局).
In March of 2018, China's State Administration of Press, Publication, Radio, Film, and Television (SAPPRFT), the former top regulatory body overseeing television productions, was officially abolished and replaced by three different state administrations in the ideological sector.
The NRTA is responsible for media control on radio and TV, and falls directly under the State Council. It is led by Nie Chenxi (聂辰席), who is also the deputy director of the Publicity Department of the Communist Party of China. This appears indicative that the Party now has more direct influence over this industry, as also recently suggested by Global Policy Watch, SupChina, and Variety. Under the NRTA, the regulation and censorship of Chinese TV dramas are as strict, and arguably stricter, than under the SAPPRFT.
Costume dramas: not enough "spiritual guidance"?
The strict control of the NRTA over China's TV industry is especially visible this year. As reported by CCTV News, China's regulatory body started to severely crack down on the rising popularity of Chinese costume dramas (古装剧) in March of 2019.
Regulatory rules were supposedly issued for costume dramas with 'themes' (题材) such as martial arts, fantasy, history, mythology, or palace, stating that they should not air or were to be taken down from online video homepages. The strictest crackdown would allegedly last until July.
From early on in 2019, it was already rumored that Chinese costume dramas would face a tough year.
On January 28 of 2019, Beijing Daily, the official newspaper of the CPC Beijing Municipal Committee, published a critical post on its social media account listing negative influences of court-themed TV dramas (宫廷剧).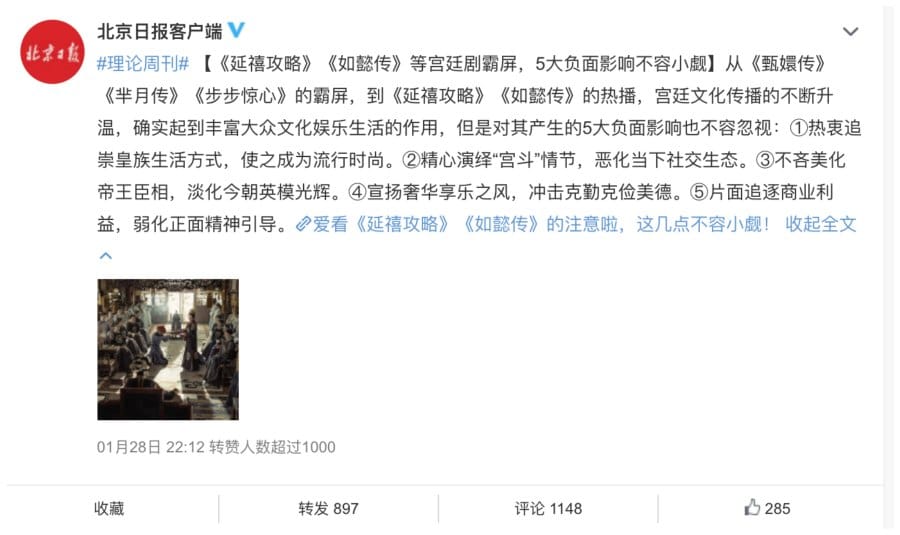 The critique included arguments such as that the imperial lifestyle was being hyped in these dramas, that the social situation of the dynastic era was being negatively dramatized, and that these productions are just aimed at commercial interests while weakening China's "positive spiritual guidance."
In February of this year, two weeks after the Beijing News post, Eduardo Baptista at CNN.com reported on the abrupt cancelation of the planned rebroadcasting of two costume dramas that were also targeted by Beijing News, namely the super TV drama hit Story of Yanxi Palace (延禧攻略) and period drama Ruyi's Royal Love in the Palace (如懿传).
Other costume dramas such as iQiyi's The Legend of White Snake (新白娘子传奇) or The Longest Day in Chang'an (长安十二时辰) were also withdrawn (or postponed) in March. Investiture of the Gods (封神) was replaced by another drama on Hunan TV this month.
"Historical dramas in many cases twisted the narrative of the country's past and the image of historical figures," TV critic Shi Wenxue was quoted by Global Times recently: "[they are] having an adverse effect on teenagers who may regard such fictional stories as real history."
A state and marketplace collusion
With China being the world's largest consumer of TV dramas in the world, the drama industry is a powerful channel for spreading Party ideology.
The political and cultural agenda is especially apparent in those TV dramas that are official propaganda productions. But since the TV drama industry has become increasingly commercialized and TV dramas became more market-oriented in the 1990s, their programming is no longer a mirror reflection of 'Party narratives.'
The number of profit-driven productions has grown over the past 25 years and has skyrocketed with the arrival of video streaming sites such as iQiyi or Tencent Video.
Although non-official productions are ultimately still regulated and overseen by the relevant state departments, they also have to compete for viewer ratings in a highly competitive (online) media environment.
There are many visible trends in China's TV drama industry. There have been peaks of popularity in those TV dramas depicting rural struggles or urban family life, for example, but historical costume dramas (especially dynasty dramas) have consistently been popular and rising since the mid-90s.
One reason for the growing popularity of these historical or fantasy costume dramas is that official censors initially had different standards for them than for more contemporary storylines, resulting in more creative freedom for scriptwriters (see Zhu et al 2008, 7).
There also have been many popular Chinese dynasty dramas that were commercial successes while also serving as propaganda tools.
As pointed out by Shenshen Cai in her work Television Drama in Contemporary China (2017), for example, TV drama serials such as Yongzheng Dynasty (雍正王朝) or The Great Han Emperor Wu (汉武大帝) promoted the ideal of strong central government, harmonious relations between the fatherly ruler and his devoted people, or the exemplary ruler cracking down on corruption – these narratives contributed to the leadership agenda in "stabilizing and re-energizing the dominant moral order" (Cai 3-4; also see Schneider 2012).
But more recent historical dramas have taken a fantasy route that, apparently, resonates with viewers but does not successfully appropriate the official propaganda apparatus.
The sudden withdrawal of new costume dramas is actually not about costume dramas at all. It just shows that although China's TV drama industry is no longer the propaganda machine it once used to be, it still needs to adhere to those narratives that are in line with Party ideology.
Even if their scripts and productions were apparently given the green light in earlier stages, the official supervision bodies still have the power to intervene until the last moment before airing – even if that, apparently, means that moment is twenty minutes ahead of the grand premiere.
"Things don't look too optimistic"
For Chinese drama fans, the recent cancellations have been a real slap in the face. The Novoland: Eagle Flag TV serial was super popular before it even aired: its hashtag page has a staggering 1.4 billion views on Weibo.
"I cried," one 'Novoland' fan comments: "Why such a sudden and abrupt withdrawal?"
"When can we finally see this show?" others wonder.
[Eng Sub] #Novoland: #EagleFlag director's edition – Dir. #ZhangXiaobo talks about his vision for the drama, his understanding of the three main characters (ft. #LiuHaoran, #SongZuer, and #ChenRuoxuan), the harsh conditions during filming, and more

Full – https://t.co/Jqa2z7LMEm pic.twitter.com/2RvsrMcsNW

— NOVOLAND: EAGLE FLAG (@eagleflag_intl) 3 juni 2019
For now, the show's premiere has officially been "postponed" and is "waiting for specific broadcasting time." Whether or not the 55-episode series will be allowed to broadcast after June is still to be seen.
On Twitter, the fan account of Liu Haoran (刘昊然), one of the show's main stars, writes: "You're going to see rumors of tentative dates flying around this week, but note that it's more of a deadline to get things sorted, not an air date. As of right now, things don't look too optimistic. We'll just have to be patient!
More: For an overview of all of our articles on Chinese TV Dramas, please check this list.
By Manya Koetse
Follow @whatsonweibo
References
Cai, Shenshen. 2017. Television Drama in Contemporary China: Political, social and cultural phenomena. London and New York: Routledge Taylor & Francis Group.
Schneider, Florian. 2012. Visual Political Communication in Popular Chinese Television Series. Leiden and Boston: Koninklijke Brill NV.
Zhu, Ying, Michael Keane, Ruoyun Bai (eds). 2008. TV Drama in China. Hong Kong University Press.
Spotted a mistake or want to add something? Please let us know in comments below or email us. Please note that your comment below will need to be manually approved if you're a first-time poster here.
©2019 Whatsonweibo. All rights reserved. Do not reproduce our content without permission – you can contact us at info@whatsonweibo.com
Chinese Shoppers Are Going Absolutely Crazy over UNIQLO x KAWS Collection
Everybody wants KAWS – Chinese shoppers were even spotted fighting in front of a UNIQLO store today.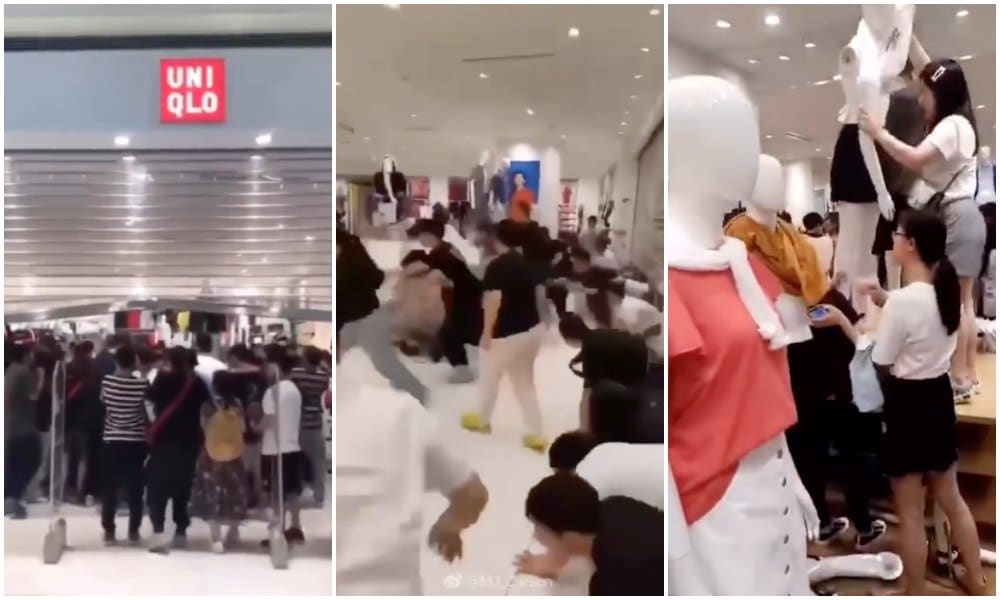 First published
The Chinese sales of the UNIQLO KAWS collection are so crazy that the craze itself has become an online hit. "I don't even like UNIQLO, I just like to compete," some shoppers say.
Chinese shoppers are going completely crazy over the latest collection sold by Japanese fashion company UNIQLO (优衣库) today. The summer collection is a cooperation between UNIQLO and the renowned American artist and designer KAWS (Brian Donnelly).
It is not the first time for the American street artist to partner with the Japanese chain: they previously also collaborated on a Sesame Street-themed collection.
The current collection first started selling in mainland China stores in the early morning of Monday, June 3, and soon became a top trending topic on social media.
The online sales reportedly were sold out in seconds.
Photos and videos circulating on Weibo show people fighting to get into UNIQLO stores, pulling clothes off the shop mannequins, and buying piles of clothes from the stores (see embedded tweet below):
Chinese shoppers are going absolutely crazy over UNIQLO x KAWS collection: https://t.co/DeC9xNgpOk pic.twitter.com/T01gYCAHXB

— Manya Koetse (@manyapan) 3 juni 2019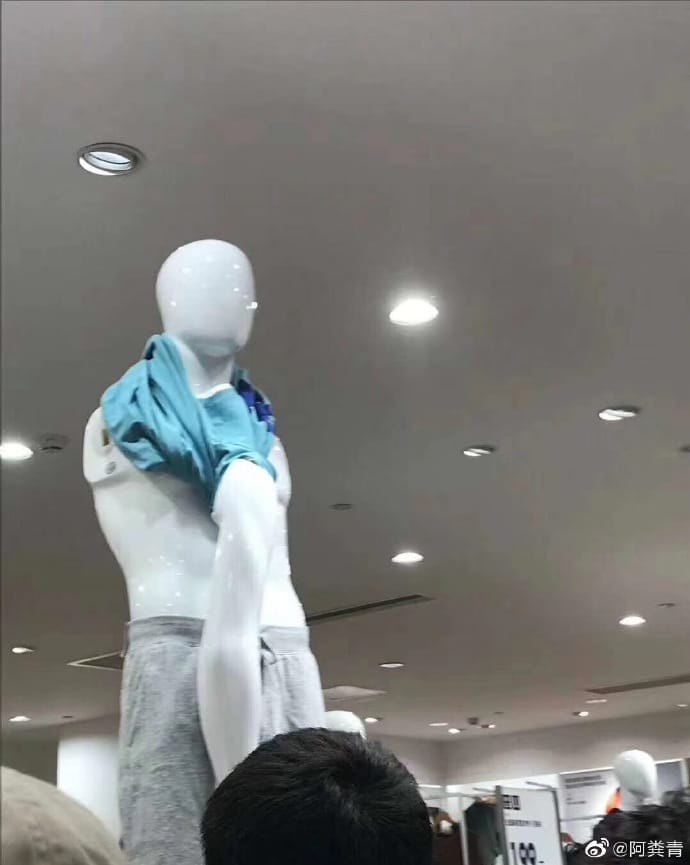 The hashtag "Everybody KAWS" (#全员kaws#) had received 140 million views on Weibo by Monday evening, China time.
Many netizens on Weibo are confused about the big hype surrounding the latest UNIQLO selection, with some wondering who KAWS is, and why people are so eager to wear his design.
Some commenters joke that it actually is not really about the KAWS collection at all, but more about the competition between shoppers on who can score the most clothes from the special product line.
The topic has set off various memes and online jokes, with some people saying: "I don't think there is any need to learn self-defense skills. I only need to wear UNIQLO KAWS clothes, and no one will dare to touch me. They will all know that I can not only fight very well but also run very fast!"
Some memes suggest that KAWS sales have been so successful that everybody on the street or at work will walk around in the same t-shirts this week.
"I finally understand now," one Weibo user writes: "What I love is not UNIQLO, nor KAWS – what I love is to rush and clash with all these people!"
The online sales of the UNIQLO x KAWS collection will start on June 6 in Europe. Its American sales started on Monday 10 AM ET.
Meanwhile, in China, the T-shirts that were bought for RMB 99 ($14) today are being resold online for four-five times their original price.
This is not the first time the Japanese UNIQLO brand becomes a viral hit on Chinese social media, albeit for different reasons. In 2015, the brand became the talk of the week when a naked girl and a man recorded an adult video in the fitting room of their Beijing flag store.
Also read:
* Chinese Kid Destroys Lego Sculpture Within Hour After It Is Displayed
* Kidnappers? Crazy Fans? No, It's Chinese Parents on Their Kids' First Day at School
By Manya Koetse and Miranda Barnes
Follow @whatsonweibo
Spotted a mistake or want to add something? Please let us know in comments below or email us. Please note that your comment below will need to be manually approved if you're a first-time poster here.
©2019 Whatsonweibo. All rights reserved. Do not reproduce our content without permission – you can contact us at info@whatsonweibo.com