Fan Bing Bing is Back! The 'Missing' Actress is Ordered to Pay $130 Million & Apologizes on Weibo (Full Translation)
After months of silence, there is finally clarity about the situation of Fan Bing Bing: she is ordered to pay millions, and she is sorry.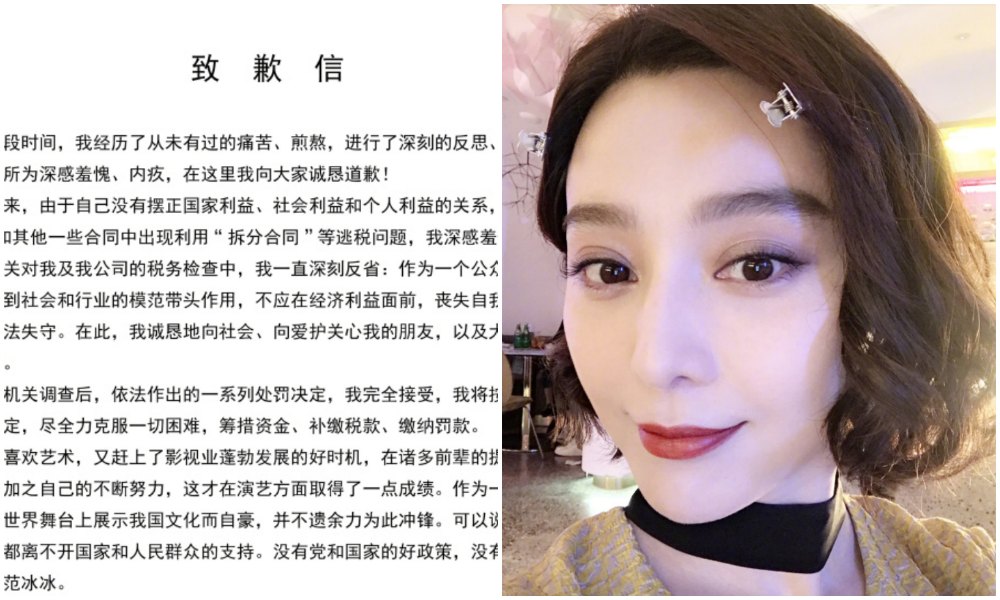 First published
Chinese actress Fan Bing Bing, who has been "missing" for months since she was at the center of a tax evasion scandal, is back in the public eye. Hours after authorities issued the news that the actress has to pay millions in tax penalties, she returned to Weibo with an apology.
Fan Bing Bing (范冰冰), one of China's most renowned actresses whose disappearance from the public eye has been at the center of a social media storm since July of this year, is back.
Earlier today, on October 3rd, news came out on Chinese state media that the tax investigations by authorities had been completed, with Xinhua News stating that the actress "has been ordered to pay taxes and fines worth hundreds of millions of yuan over tax evasion."
Other sources said the actress had to pay 883 million yuan in tax fines; approximately 128,5 million US dollars. According to CGNT, the 37-year-old actress will not be held criminally liable if she pays the penalty in time.
The Tax Evasion Scandal
"What followed after the scandal was months of silence and rumors."
Earlier this year, the news that Fan Bing Bing allegedly received a total payment of 60 million yuan ($9.3 million) for just four days work on the film Cell Phone 2, of which she would have only declared 10 million ($1.56 million) to authorities, became a huge trending topic on Chinese social media.
The tax scandal first came to light when Chinese TV host Cui Yongyuan (崔永元) leaked two different contracts on social media; the one that allegedly showed that the actress was paid a total of 10 million RMB for her work, with another showing a payment of 50 million RMB for the exact same work. These types of contracts are called yin-yang contracts (阴阳合同), an illegal practice to avoid paying taxes.
What followed after the scandal was months of silence and rumors. The actress was last seen in public on July 1st, and social media rumors alleged the actress might have left the country or that she was banned from acting.
Last month, one particularly strong rumor surfaced, saying that Fan had been arrested in Wuxi, in Jiangsu province, where Fan's studio is based.
Hours after today's news on her penalty came out, Fan issued an apology letter on Chinese social media site Weibo, in which she expressed shame about her actions. Fan has 62,6 million fans on her Weibo, and the apology letter is the first time she has posted on social media since June 2nd.
The Apology Letter
"Without the good policies of the Party and the state, without the love of the people, there would be no Fan Bing Bing."
Full letter translation here in English (by What's on Weibo):
---
Apology Letter
Over the past period, I have gone through unprecedented pain and suffering, and have done in-depth self-reflection and soul-searching. I feel deeply ashamed and guilty of everything I have done. Here, I want to express my sincere apologies to you.
For a long time, because of the fact that I did not correctly lay out the relations between the interests of the state, society, and myself, I used "split contracts" (拆分合同) for the film "Unbreakable Spirit" (大轰炸) and others, to evade the tax problem, and I am ashamed of that. These days, during the tax authorities' tax inspections of me and my company, I have been deeply questioning myself the whole time: as public figures, we should abide by the law, and be a role model within the industry and society at large. We should not lose ourselves by putting economic interests first and loosening the supervision, which leads to breaking the law. Here, I sincerely apologize to society, to my cherished friends, to the public, and to the tax authorities.
After completing their investigation, the tax servation services have issued a series of penalties. I fully accept them and will try my best to overcome all difficulties and raise the funds and pay the taxes and fines in accordance with the tax authorities' finalized penalty order.
I've loved arts since I was young, and because I was right on time for the booming developments within the film and TV industry, and thanks to the guidance of my seniors and loving support from the audience, along with my own continuous efforts, I have been able to acquire some achievements within the performing arts. As an actress, I am always proud of being able to showcase my culture in the international limelight, and I'll do what I can to fight for that goal.
You could say that my every achievement is owed to my country and the support of its people. Without the good policies of the Party and the state, without the love and protection of the people, there would be no Fan Bing Bing.
Today, I feel very disquieted about my mistakes. I let down the country that educated me, the society that trusted me, and the fans who loved me. Here, again, I offer my sincerest apologies to everyone. Please forgive me!
I believe that, after going through this rectification, I emphasize rules, order, and responsibility. While offering everyone good work, I will also supervise the management of my company, engage in law-abiding business, keep my promises, and strive to have a company full of meaningful cultural content so I can bring out positive energy to the whole society!
Once again, to the society, to the fans who have always supported me, to the friends and family who care for me, I sincerely say sorry!
Fan Bingbing
October 3, 2018
---
On Weibo, Fan's letter was soon shared more than 135,000 times (and ongoing), receiving ten thousands of likes.
The Criticism and Online Control
"Especially when looking at my own small salary, I have mixed feelings about all of this."
The comments underneath the letter, however, were severely restricted – by Sina Weibo or by Fan herself-, and only displayed the six reactions of five different people who showed their support and sent their love to the actress.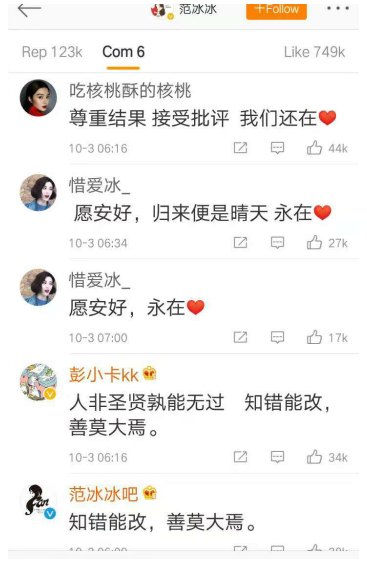 Elsewhere on Weibo, however, there are more critical responses to the apology letter, with people wondering why the actress did not get any criminal charges for tax evasion, and also questioning the decision to let this story come out during the national holidays.
"From now on, all actors can do tax evasion, and just fix it once it's discovered," some netizens respond, writing: "Especially when looking at my own small salary, I have mixed feelings about all of this."
Others are not too confident that there is still a brilliant future ahead for the actress, although one commenter writes: "It's ok, if she's no longer able to perform, she could still be an internet celebrity and do some commercials."
The more supportive reactions include those saying: "She knows her mistakes and she will correct them, I believe she will only do better in the future."
The strict control of information flows surrounding Fan's apology is also attracting attention on social media, with some wondering why the topic is not showing up on the 'hot search' or 'trending' lists, although it obviously is a big trending topic. "May I ask why such a topic that is all over CCTV is not on Weibo's trending lists," one Weibo user asked: "Has Weibo been bribed or something?"
The State Media
"Those film and television companies and related employees who investigate themselves and correct any [open] tax payments before December 31st, can avoid any potential administrative penalties and fines.."
Xinhua News Agency issued an article on Weibo following today's news, saying that "the case of Fan Bing Bing is a lesson for those in the film and tv industry to obey the law" (范冰冰案教育警示文艺影视从业者遵纪守法).
The article, by authors Bai Ying (白瀛) and Luo Sha (罗沙), was soon read more than 400,000 times.
It called Fan's case the "biggest yet" when it comes to personal tax evasion in China, and also stated it played a strong role in being an "educational warning" for similar tax violating behavior of others.
Xinhua states that according to Chinese law, people who make false tax returns or evade tax payments for an amount that is more than 10% of the payable tax, can be sentenced to up to three years in prison, along with receiving payable penalties. If that amount is more than 30% of the payable tax, they can be sentenced to a maximum of seven years (and a minimum of three years) in prison.
But the law also states that people can prevent going to prison (or being "held criminally liable"), if they pay their tax payments and the full penalties tax payment within a proposed time frame. They can still be sentenced if they get another administrative penalty.
The state media article, noteworthy enough, further reveals that the State Administration of Taxation (国家税务总局) will carry out "special actions to regulate the tax orders within the film and television industry": those film and television companies and related employees who investigate themselves and correct any [open] tax payments before December 31 of this year, can avoid any potential administrative penalties and fines (see screenshot of segment below).
In other words; this might suggest that there are many other (albeit much smaller) Fan Bing Bing cases out there, and that those involved are now getting the chance to correct themselves in the coming three months to avoid the fines and penalties that Fan does need to pay; meaning that the renowned actress and her tax scandal is used a 'killing the chicken to scare the monkeys' (杀鸡吓猴) case, as the Chinese saying goes: punishing an individual to set an example to others.
On Weibo, a typical comment says that the way in which this entertainment industry case was handled "is not really fair to ordinary people," with many saying: "If you do not have the money or the fame [like Fan Bing Bing], you would be treated as a criminal for much smaller issues."
By Manya Koetse and Miranda Barnes
Follow @whatsonweibo
Full letter here in Chinese
致歉信
最近一段时间,我经历了从未有过的痛苦、煎熬,进行了深刻的反思、反省,我对自己的所作所为深感羞愧、内疚,在这里我向大家诚恳道歉!
长期以来,由于自己没有摆正国家利益、社会利益和个人利益的关系,在影片《大轰炸》和其他一些合同中出现利用"拆分合同"等逃税问题,我深感羞愧。这些天在配合税务机关对我及我公司的税务检查中,我一直深刻反省:作为一个公众人物,应该遵纪守法,起到社会和行业的模范带头作用,不应在经济利益面前,丧失自我约束,放松管理,以致违法失守。在此,我诚恳地向社会、向爱护关心我的朋友,以及大众,向国家税务机关道歉。
对税务机关调查后,依法作出的一系列处罚决定,我完全接受,我将按照税务部门的最终处罚决定,尽全力克服一切困难,筹措资金、补缴税款、缴纳罚款。
我从小喜欢艺术,又赶上了影视业蓬勃发展的好时机,在诸多前辈的提携和观众朋友的爱护下,加之自己的不断努力,这才在演艺方面取得了一点成绩。作为一个演员,我常为自己能在世界舞台上展示我国文化而自豪,并不遗余力为此冲锋。可以说,我每一点成绩的取得,都离不开国家和人民群众的支持。没有党和国家的好政策,没有人民群众的爱护,就没有范冰冰。
今天,我对自己的过错深感惶恐不安!我辜负了国家对我的培养,辜负了社会对我的信任,也辜负了影迷对我的喜爱!在此,我再次向大家诚恳道歉!请大家原谅!
我相信,经过这次整顿,我会讲规矩、遵秩序、重责任,在把好的作品献给大家的同时,也要监督公司管理,守法经营,诚实守信,争做富有文化内涵的好公司,为全社会传播正能量!
再次向社会,向一直支持我的影迷,向关爱我的朋友家人,真诚的说一句,对不起!
范冰冰
2018年10月3日
Spotted a mistake or want to add something? Please let us know in comments below or email us.
©2018 Whatsonweibo. All rights reserved. Do not reproduce our content without permission – you can contact us at info@whatsonweibo.com
Bizarre Buildings & Ambitious Architecture of Rural China: Here's Chinese Vlogger 'Schlieffen'
Chinese vlogger Schlieffen explores a bizarre and amazing side of rural China many have never seen before.
"Making Hebei great again" is one of his slogans. Schlieffen is China's first self-proclaimed 'agritourism' vlogger, showing Chinese netizens the unexpected sides of Hebei, an "almost invisible" province in Northern China. Anna Wang explains.
It all started in May of 2018 when Schlieffen (@史里芬Shǐlǐfēn) launched his first video titled "World's Biggest Tortoise" ("世界上最大的王八"), introducing a 1680-square-meter turtle-shaped sports venue at Hebei's Lake Baiyangdian.
Ever since that time, Schlieffen has grown out to become a popular Chinese vlogger and blogger who is active on various social media platforms. Focusing on unexpected architecture in lesser-known parts of China, he has a fanbase of thousands of followers, from Weibo to Bilibili.
His fourth video, "A Trip to Hogwarts Hebei" ("霍格沃茨河北分校之旅") launched him to stardom in his channel's first month.
The video documents the bizarre architecture of the Hebei Academy of Fine Arts, which has been compared to the 'Hogwarts' School of Witchcraft and Wizardry from Harry Potter due to its bizarre castle campus.
Schlieffen's 4-minute video shows the vlogger's exploration of the 'Hogwarts'-like area. After a long drive down a country road, he arrives at the so-called 'Empire Square', which is surrounded by three magnificent rococo, Renaissance and Gothic-style buildings.
The center building, adorned with dramatic towers and turrets, is the school's administration building. Imagine grading student work in a medieval castle in the middle of a cornfield!
Guiding the viewer through the premises, Schlieffen shows the hotel and conference center on the left; the interior is crammed with densely arranged pillars and painted ceilings  – which might be a homage to the Sistine Chapel, without the high ceilings.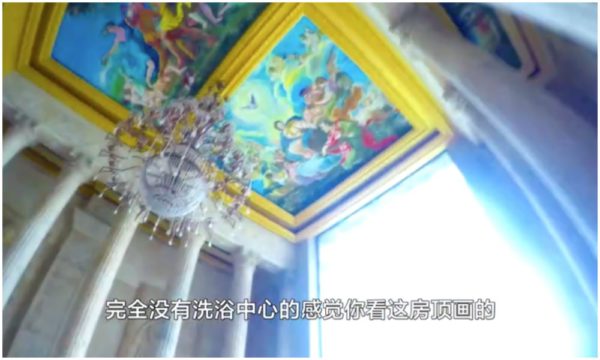 The pseudo-European buildings are somewhat laughable on their own, but there's a lot more. The campus is divided in two halves: one is European-themed, and the other one focuses on ancient China. The two are separated by a manmade "Mediterranean" lake complete with manmade islands covered in artificial palm trees.
Schlieffen's videos always follow a similar pattern. He often uses a wide-angle lens and speeds up the video to four or even eight times its normal speed, with quick edits – no shot lasts longer than 3 seconds. Each video begins with the vlogger getting off from a train or getting out of a car from where he starts his tour. "Please hold on and sit tight," is one of his signature phrases.
"They suddenly seemed to realize that there were parts of China they had no clue about."
"A Trip to Hogwarts Hebei" soon started making its rounds on Chinese social media, and was especially shared among well-educated netizens and white-collar workers, who suddenly seemed to realize that there were parts of China they had no clue about.
The Chinese term "shanzhai" (山寨) is a derogatory term for "knock-off goods," but it literally means "mountain village." The assumption is that people from rural mountain villages cannot afford real luxury goods, so they buy cheap counterfeits made in poorly run factories. The metropolitan middle class already knew about shanzhai Louis Vuitton bags, but they weren't aware that hillbillies were capable of building a 288-acre shanzhai Hogwarts.
Schlieffen's video on the noteworthy Hebei Academy of Fine Arts has currently been viewed over nine million times on Miaopai alone.
After the success of his initial videos, Schlieffen continued filming knock-off world wonders in Hebei. By now, he has made fifty vlogs, including those on wondrous places such as Hebei Jerusalem or Hebei Venice.
Through the course of his vlogging career, Schlieffen expanded his field of interest to include any attraction teetering on the thin line between ambitious and ridiculous.
Whether sharing images and videos on the world's largest cement elephant or the biggest turtle sculpture, Schlieffen's posts always attract hundreds of likes. One of his other popular videos explores the somewhat bizarre site of the Baoding Zoo.
"Hebei is an almost invisible province, as transparent as the air – I used that invisibility to make myself visible."
There are not many online influencers focusing on Hebei, a place that is not exactly known for its glamor and charm. At a December 2018 event hosted by Chinese tech news site Huxiu.com, Schlieffen said that "Hebei is an almost invisible province, as transparent as the air – I used that invisibility to make myself visible."
Hebei, a coastal province in Northern China, contains two municipalities under the direct control of the central government: Beijing and Tianjin. People often say that Beijing and Tianjin are the flavorful 'fillings of a dumpling' while Hebei is 'the plain wrapper.'
Under the current household registration system, being a resident of Beijing or Tianjin means better social welfare than the rest of Hebei. Thus, the 'brain drain' from Hebei to the cities has been ongoing for decades.
When people talk about Hebei, they usually describe it as an uneventful place, but Schlieffen's representation of Hebei completely changes their idea of the region, turning it into a place where people can be wildly ambitious.
Their ambitions can take on two forms: first, they are obsessed with huge, grand buildings. Second, they want to include every aesthetic they can think of, Chinese or European, ancient or contemporary. These ambitions come together in a brazenly unsophisticated form of architecture.
Schlieffen (1992) was born and raised in Hebei. After college, he went to England for graduate school until 2018.
While he was studying abroad, a new wave of Chinese vloggers launched their careers in mainland China. Many of them, such as the female vlogger Zhuzi (@你好_竹子), were studying abroad in Western countries. They shot and shared short videos of their daily lives, satisfying their audience's curiosity about life in a strange land.
Schlieffen began to seriously consider vlogging as a career after finishing his studies and returning to his hometown. He found that his prospective audience seemed to have grown tired of watching Chinese exchange students living happy, fashionable lives overseas. As a lover of traveling, he decided to start his own travel vlog.
In an interview with Li Dangxin for Huxiu.com, Schlieffen explains: "You have to ask yourself time and time again why the audience wants to watch your videos." Careful consideration led him to shoot the bizarre buildings in Hebei.
There are tens of thousands of Hebei natives working in big cities, Schlieffen thought; they care about what's going on in their hometowns, but they haven't necessarily seen these incredible buildings in person. They would be his first audience and if they shared his posts, his videos would surely go viral.
Things happened just as Schlieffen expected. Well-educated white-collar workers who had left their hometowns behind were stunned by Schlieffen's discoveries and collectively reposted his videos with their friends.
"Making Hebei great again."
Even after having produced dozens of vlogs and posts, Schlieffen is not worried about running out of stories. After his initial success, he also began covering stories in other provinces.
Schlieffen found that if a village's richest man happens to be the local party secretary and is also a Chinese People's Political Consultative Conference (CPPCC) member, you're sure to find ridiculous architecture in that village.
These locally powerful people often want to put up monuments and realize impressive structures to build on their legacy. Their power often goes largely unchecked in the various corners of Chinese -more rural- provinces, and their subordinates will not question them – those with the ability to challenge them aesthetically have probably already fled to bigger cities.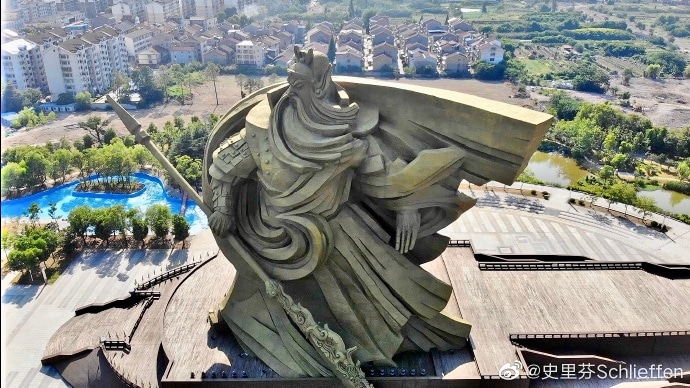 One example features in Schlieffen's video on the Long Wish Hotel International. Boasting an elevation of 328 meters, the hotel is ranked No. 8 in China and No. 15 worldwide in terms of height. It isn't in densely populated Beijing or Shanghai, but in Huaxi village in Jiangsu province. When asked why one would build such a gigantic hotel in a rural area, the village party secretary answered: "Because we can."
The hotel in Huaxi has nouveau riche written all over it. Every corner is decorated with glittering sculptures made with gold, silver or crystal. There are miniatures of Tiananmen, the White House and Arc De Triomphe in the village. On top of the White House stands a miniature Statue of Liberty.
In reporting on all these wondrous places and buildings, Schlieffen avoids making strong statements about them. Instead, he often makes playful or edgy comments. His slogan "Make Hebei great again" also means different things to different people. Some instantly understand his application of the phrase, while others simply take it literally.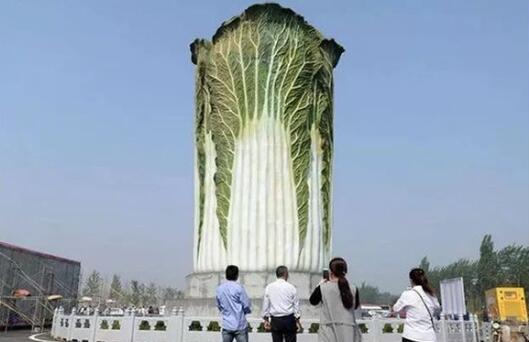 What is noteworthy is that Schlieffen rarely offends locals. He's welcomed wherever he visits. After he made a video about Wan Jia Li, a hotel/shopping mall in Hunan, the owner supposedly even invited Schlieffen to visit his home, saying: "My home is more fun than my business."
Being featured in one of Schlieffen's video can be lucrative for places in Hebei and elsewhere, as these places in rural areas will suddenly see a flux of visitors. Hebei Academy of Fine Arts has even become a popular destination for wedding photos.
Schlieffen is convinced he has found the right perspective from which to observe China's rapidly changing areas. Meanwhile, his next video is on its way. "Please hold on and sit tight," Schlieffen says again. Enjoy the ride. 
By Anna Wang
Follow @whatsonweibo
Spotted a mistake or want to add something? Please let us know in comments below or email us. Please note that your comment below will need to be manually approved if you're a first-time poster here.
©2019 Whatsonweibo. All rights reserved. Do not reproduce our content without permission – you can contact us at info@whatsonweibo.com
'First Lady of Hong Kong TV' Lily Leung Passes Away at Age 90
Chinese netizens pay their respects to veteran actress Lily Leung Shun-Yin (1929-2019), who passed away on August 13.
While the Hong Kong protests are dominating the headlines, the death of Hong Kong veteran actress Lily Leung Shun-Yin (梁舜燕) has become a top trending topic on social media site Sina Weibo under the hashtag "Hong Kong Actress Liang Shunyan Dies from Illness" (#香港演员梁舜燕病逝#).
The actress was born in Hong Kong in 1929. She starred in dozens of television series, including the first TV drama to be locally broadcasted. She became known as "the first lady of Hong Kong TV."
Leung acted for TVB and other broadcasters. Some of her more well-known roles were those in Kindred Spirit (真情) and Heart of Greed (溏心风暴).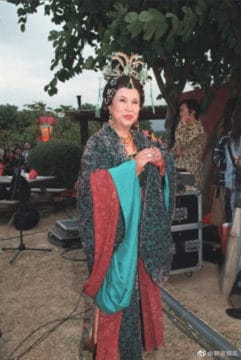 Leung, also nicknamed 'Sister Lily' (Lily姐), passed away on August 13. According to various Chinese media reports, the actress passed peacefully surrounded by family after enduring illness. She was 90 years old.
"I've seen so much of her work," many Weibo netizens say, sharing the favorite roles played by Leung. "I always watched her on TVB while growing up, and will cherish her memory," one commenter wrote.
Another well-known Hong Kong actress, Teresa Ha Ping (夏萍), also passed away this month. She was 81 years old when she died. Her passing away also attracted a lot of attention on Chinese social media (
#演员夏萍去世#).
Many people express their sadness over the fact that not one but two grand ladies from Hong Kong's 20th-century entertainment era have passed away this month.
"Those people from our memories pass away one by one, and it represents the passing of an era," one Weibo user wrote.
"Two familiar faces and old troupers of Hong Kong drama – I hope they rest in peace."
By Manya Koetse
Follow @whatsonweibo
Spotted a mistake or want to add something? Please let us know in comments below or email us. Please note that your comment below will need to be manually approved if you're a first-time poster here.
©2019 Whatsonweibo. All rights reserved. Do not reproduce our content without permission – you can contact us at info@whatsonweibo.com