56 Flowers: The All-Girl Group Promoting Socialist Values
The all-girl group '56 Flowers' (五十六朵花) is all about promoting China's core socialist values. Although many Chinese are happy with the group's "positive energy", there are also those who are fearful for its revival of the Cultural Revolution.
The girl group '56 Flowers' (五十六朵花) is all about promoting China's core socialist values. Although some Chinese netizens are happy with the group's "positive energy", there are also those who are fearful for its rekindling of the Cultural Revolution-era .
Chinese idol girl group '56 Flowers' had the debut performance of their latest concert in the Great Hall of the People on April 23, 2016, and has since been a popular topic on Chinese social media.
The Great Hall of the People (人民大会堂), located near Beijing's Tiananmen Square, is generally used for legislative and ceremonial activities by the PRC and the Communist Party of China.
The 56 Flowers program consists of "red songs" about the Chinese nation, the socialist regime and its core values. The girl group's combination of political propaganda and pop culture has drawn much attention from Chinese netizens, who have contrasting opinions about the new pop group.
"China's Dream, the Most Beautiful"
56 Flowers (五十六朵花; 56朵花吧) is a girl music group with 56 members. They are young women aged between 16 and 23, and are selected from the 56 different ethnic groups of China.
First appearing on stage in June of last year, 56 Flowers reportedly aims to be the biggest idol girl group in the world. The director of the group, Chen Guang (陈光), compares them to the popular Japanese group AKB 48. On stage, the uniforms and dancing styles of the singers are indeed not much different from their mainstream Japanese or Korean counterparts – their message, however, is.
Chen Guang said that his goal was to nurture the "purest Chinese girls" and run a popular music group that follows the "main theme" (主旋律) of China's Party and the State. The emblem of 56 Flowers meets Chen's idea; it adopts the red and yellow of China's national flag, and resembles the national emblem of China. Below the group's name the phrase "China's Dream, the Most Beautiful" (中国梦,最美丽) is featured.
56 Flowers: Socialist-Style Pop Group
56 Flowers sings "red songs" – songs that praise the socialist regime, the Communist party, and the Chinese nation in general.
Earlier this year, 56 Flowers appeared in the Pre-New Year Gala of Hunan TV, a local broadcaster famous for its entertainment programs. In the gala, 56 Flowers presented an original song "Don't Know How to Address You" (不知该怎么称呼你). The song referred to Xi Jinping's 2013 visit to ethnic groups in Guangxi Province. All 56 girls, dressed in traditional Miao clothes, sang an ode to the president: "You love the people and the people of the whole nation deeply love you."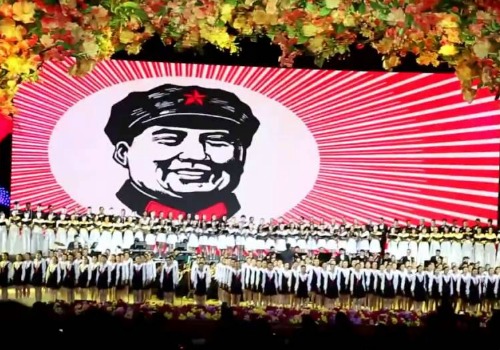 In the most recent performance at the Great Hall of the People, 56 Flowers brought back memories of the Maoist era with the song 'Sailing the Sea Depends on the Helmsman' (大海航行靠舵手). Originally named 'Revolution Depends on Maoist Thoughts' (干革命要靠毛泽东思想), this was a popular song during the Cultural Revolution.
Echoing the lyrics "Maoist thoughts are the sun of China", the performance was accompanied by a big portrait of Mao in the middle of a radiant sun. They also chanted about "socialism is good" and "down with American imperialism."
No to Sexy, No to Glamour, No to Romance
The 56 girls of 56 Flowers were dressed in black and white t-shirts, hair tied up in a pony tail, during first public appearance June 2015. Art director of the group, Liu Yanxi, told South Weekend (南方周末) about his member selection criteria: the girls can absolutely not be sexy, nor glamourous, no blond or dyed hair, and cannot be "street-wise". Another strict rule is that the members of 56 Flowers should not be involved in any romantic relationships. According to the director, the last criterion is to ensure a "pure and innocent" image of the girls.
Once selected, what awaits the girls is tough training. Living in four-person dormitories, they have a tight daily schedule that runs from 6:00 till 17:00, including physical training, figure training, Chinese dancing, and lessons on how to be a pop idol. Evenings are dedicated to patriotic education, literature lectures, and training in eloquency. The singers have one day off each week, and contracted members receive 3000 RMB (460 US$) per month with performance subsidies.
By now, only a few girls of the group are actual contracted members; most singers are temporary members that participate in daily training. Two girls were fired last July for participating in an AKB 48 audition.
Reviving the Cultural Revolution?
Since their first appearance last June, 56 Flowers has been attracting contrasting opinions on Chinese social media.
Supporters say the group sings songs that "encourages people, inspires national solidarity, and expresses much energy", that "realizes the Chinese dream", with songs full of "positive energy".
But some netizens worry that singing "red songs" may revive the Cultural Revolution. "Singing red songs in such a sensitive place as the Great Hall of the People, everyone will associate it to a revival of the Cultural Revolution, a second round of personal worship, a second round of dictatorship!", one Weibo netizen says.
Some netizens also criticize the group for using young girls for political propaganda: "The remains of the Cultural Revolution are used to poison young girls. Those who utilize children and tarnish true art will not die in peace!" Another netizen remarks with annoyance: "Why destroy the children!?"
Politics through Popular Art
Around the world, pop music is often used to convey political and nationalistic messages – in that regard, China's 56 Flowers is no exception.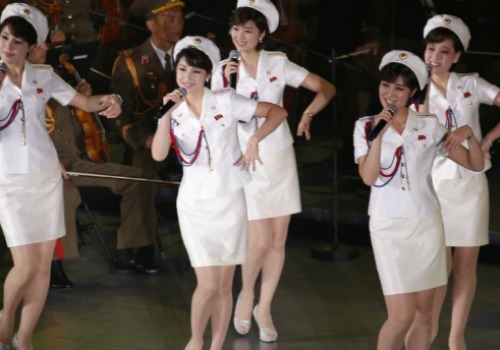 The Moranbong Band of North Korea (see image) is a state-orchestrated all-female music group. Initiated by Kim Jong-Il in 2012 and featuring modern-looking young artists, the objective of the group is to promote revolutionary creativity and advocate the battle for nation and country in a modern fashion. The band has just performed on the closing ceremony of the 7the National Congress of North Korea.
There is also a myriad of international examples of single songs, rather than pop groups, focused on political or nationalistic messages. In the West, UK Independence Party candidate Mandy Boylett released a song Britain's Coming Home in February 2016 to propagate the Brexit campaign. The song sends the explicit message that the EU had "gone too far" and "it's time to get out".
In the Netherlands, the National Inauguration Comittee (NCI) released a King's Song (Koningslied) to celebrate the 2013 inauguration of King Willem Alexander. Asking the public to contribute phrases for the song, the final lyrics ended up with phrases such as "I will shelter you in the storm; I will keep you safe as long as I live", and "I will fight like a lion, to make sure you have all you need."
56 Flowers in Trouble?
It is not just the songs by UKIP and the Dutch NCI that received much public criticism for the aforementioned songs – the music by 56 Flowers has also drawn much controversy. Besides voices that warn against a revival of the Cultural Revolution, 56 Flowers is also criticized for utilizing "red songs" for commercial purposes, and for other things, such as delaying payment for members, or giving false information about the band's background.
There are some signs that the controversies surrounding the pop group are affecting its online presence. The official 56 Flowers website 56hua.cn has recently become inaccessible, and its video album on China's online video platform Tudo.com has been deleted. Other recent news coverage on the group by prominent Chinese news agencies, including reports about the group's controversies, have been removed. This might relate to the fact that its official website previously stated that the group was supported by a committee on the promotion of socialist values, which later turned out to be non-existing.
Where 56 Flowers will go from here remains a question for now. But the media sensation and controversy the group has created shows how tricky it can be to combine political propaganda with popular culture – even when (or especially when?) its message conveys the official Party line.
– By Diandian Guo
Follow @WhatsOnWeibo
©2016 Whatsonweibo. All rights reserved. Do not reproduce our content without permission – you can contact us at info@whatsonweibo.com.
Famous Chinese Nursery Song "One Penny" Inflates to "One Yuan"
One penny becomes one yuan in this children's song. What's next – changing it to QR codes?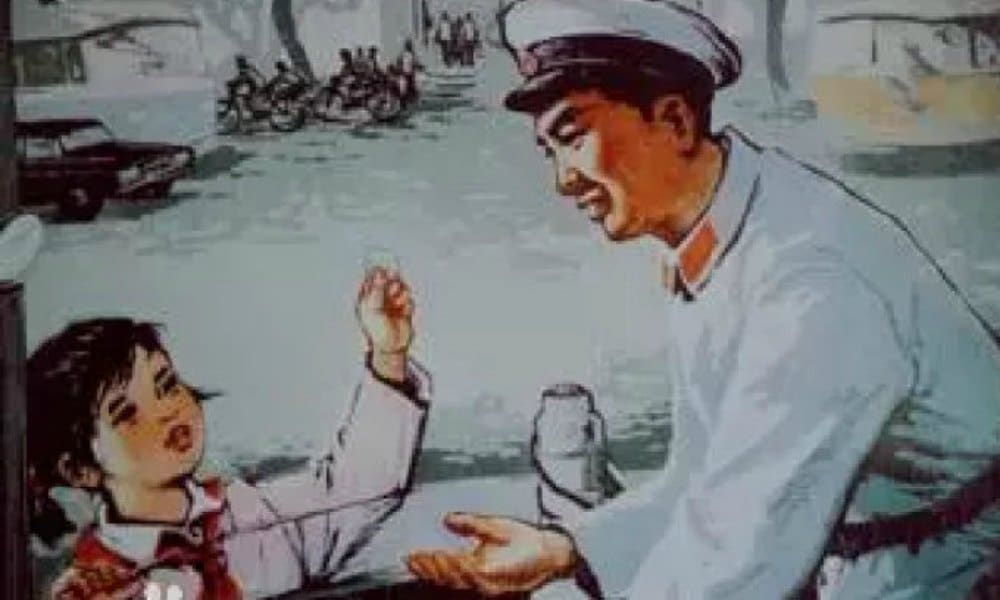 Famous Chinese children's song "One Penny" (一分钱) has changed its penny to a Chinese yuan ($0.15).
The lyrics to the song are now published online and in children's books with the different lyrics, Chinese news platform City Bulletin (@都市快报) reports on Weibo.
The classic song, in translation, says:
"I found a penny on the street,
And handed it over to Uncle Policeman.
The Uncle Policeman took the penny,
And nodded his head at me.
I happily said: "Uncle, goodbye!"
The song, by Chinese composer Pan Zhensheng (潘振声), is known throughout China. It came out in 1963.
Apparently, in present-day China, nobody would go through so much hassle for a penny anymore, and so the text was altered (although it is very doubtful people would go through the trouble for one yuan either).
The penny coin (0.01) in renminbi was first issued in 1957, and is somewhat rare to come across these days. "It's probably even worth more than one yuan now," some netizens argue.
Chinese media report that composer Pan Zhensheng said the song is just an innocent children's song, and that it should not be affected by price inflation. Sina News also quoted the composer in saying that changing the text is "not respectful."
Although some Chinese netizens think the change in the song is just normal modern development, others do not agree at all. In Hangzhou, some say, all you can find on the streets nowadays is QR codes rather than coins. Surely the song should not incorporate those new developments either?
Some commenters on Weibo say the song would never be realistic in China's current cashless society anyway: "Kids nowadays are not finding cash money at all anymore!"
By Manya Koetse
Follow @whatsonweibo
Spotted a mistake or want to add something? Please let us know in comments below or email us. Please note that your comment below will need to be manually approved if you're a first-time poster here.
©2019 Whatsonweibo. All rights reserved. Do not reproduce our content without permission – you can contact us at info@whatsonweibo.com
Controversy over Scene in Anti-Japanese War Drama Featuring Black U.S. Soldier and Chinese Nurse
Some scenes from this anti-Japanese war drama have angered Chinese netizens over 'historical nihilism.'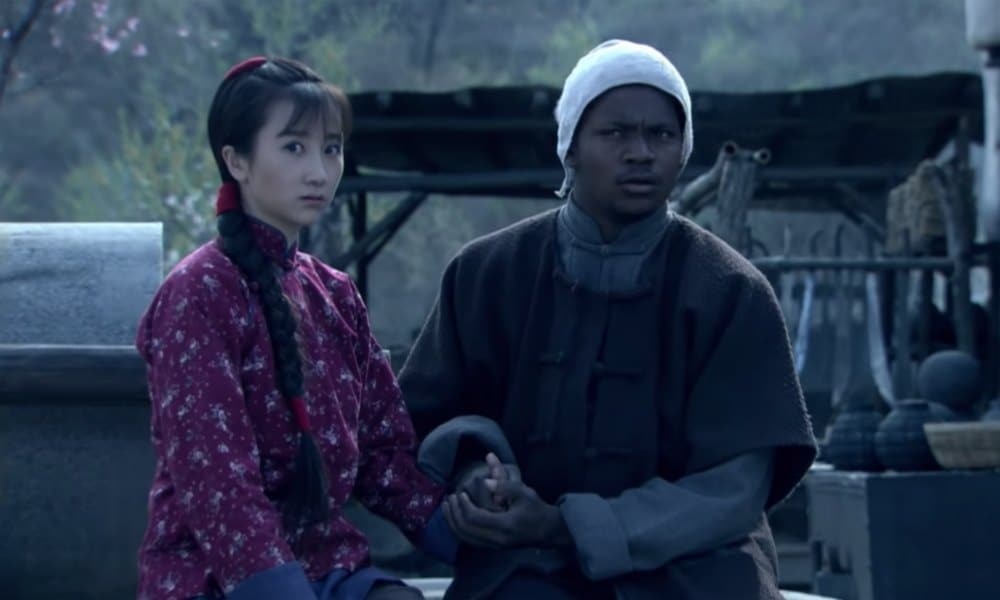 A black soldier comes to China from afar during WWII and falls in love with a Chinese villager who sacrifices her life for him. This war drama is sensationalizing the Sino-Japanese War in the wrong way, many netizens say.
"I love you, I love China," a black man tells a Chinese woman in a clip of an anti-Japanese war drama that has gone viral on Chinese social media over the past few days (watch clip in embedded tweet below).
This scene from a Chinese Anti-Japanese war drama is stirring controversy on Chinese social media this week. "I love you, I love China," the foreigner says. "Love me, love China," the Chinese woman says, before sacrificing her life for him and getting killed by Japanese shooters.

— Manya Koetse (@manyapan) September 5, 2019
The scene is set on a mountain, where the man and woman hold hands when she tells him to flee from the "Japanese devils." She repeats: "Remember: love me, love China."
The love scene takes a dramatic turn when the two get ambushed by the Japanese army. The Chinese woman immediately pushes the man off the mountain to bring him to safety. While she cries out "love me, love China" she is attacked by Japanese soldiers and dies.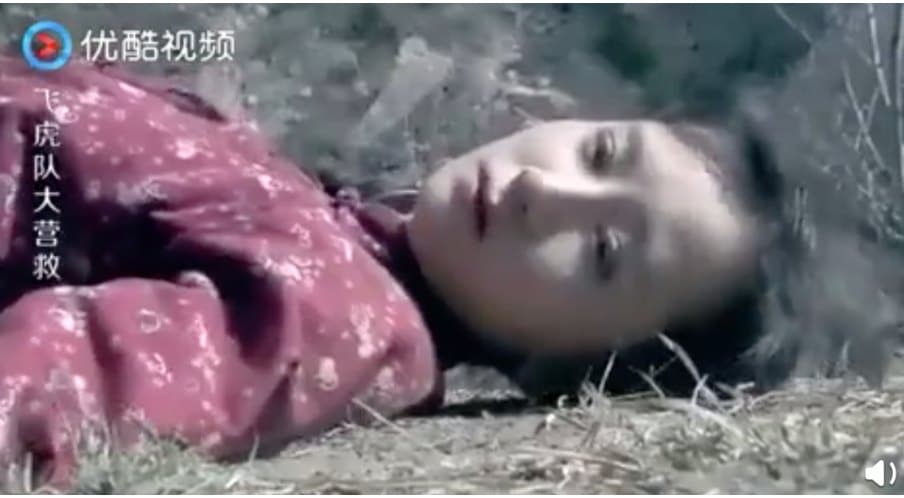 The scene comes from a 2016 TV drama titled The Great Rescue of The Flying Tigers (飞虎队大营救). The drama tells the story of Japanese soldiers chasing surviving members of a Flying Tigers aircraft after they shot it down. Various soldiers and army staff on the Chinese side try to rescue the fighters from the hands of the Japanese.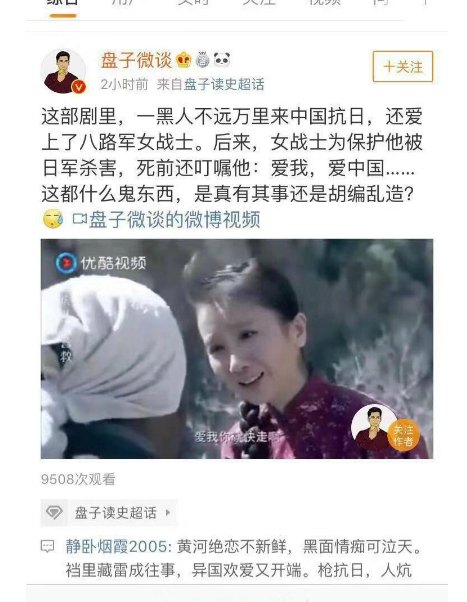 The drama's portrayal of a romance between the foreign soldier and a Chinese woman, on the side of the Communist Eighth Route Army, has stirred controversy on Weibo this week.
"The director is retarded, this is historical nihilism," one Weibo blogger writes.
Hundreds of netizens also criticize the drama's director and screenwriters: "This is not even funny, what kind of scriptwriter comes up with this trash? This should be thoroughly investigated."
The Flying Tigers (飞虎队) were a group of US fighter pilots who went to China during the final three years of the Second Sino-Japanese War to fight the Japanese invaders and defend China.
The people behind the Flying Tigers belonged to the organization of the American Volunteer Group (AVG), who came together in 1941 to strengthen the Chinese Air Force.
In the now controversial TV drama The Great Rescue of The Flying Tigers, the black soldier is 'Carl' (Cedric Beugre), a surviving member of the Flying Tigers aircraft shut down by Japanese forces. The Chinese woman is 'Xinghua,' a female nurse who sacrifices her own life to save Carl.
The dialogues between Carl and Xinghua are pretty simple and at times almost ridiculous. While Xinghua does not speak a word of English and appears clueless, Carl is depicted as a stubborn, crude and somewhat silly character, who also seems to understand very little of what is happening around him and does all he can to be with his Xinghua after a brief meeting in the Chinese base camp (also see this scene or here).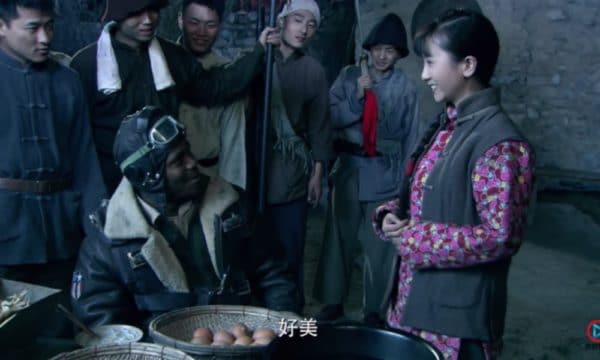 On Chinese social media, the drama is critiqued for being a so-called 'divine Anti-Japanese drama' (抗日神剧): Chinese war dramas that sensationalize the history of the war by making up unrealistic and overly dramatic or funny scenes and storylines.
In 2015, China's State Administration of Press, Publication, Radio, Film, and Television (SAPPRFT) announced a limit on these kinds of TV dramas that sensationalize the history of war, and in doing so 'misrepresent history' and 'disrespect' the Chinese soldiers who fought to defend the nation (read more).
TV series focusing on war are part of China's every day (prime time) TV schedules. These Chinese war dramas are called "Anti-Japanese War Dramas" (抗日电视剧), literally referring to the period of 'resisting Japan' during WWII (in China, the 1937-1945 war is called The War of Resistance against Japanese Aggression 中国抗日战争).
The 40-episode series The Great Rescue of the Flying Tigers was aired by Yunnan City Channel but is also available online. Since there are countless reruns of Anti-Japanese war dramas on Chinese tv, it is possible that some viewers only now viewed the 2016 drama for the first time.
Some netizens call this a "new kind of fantasy war drama", summarizing: "A black man comes from far away to China to fight Japan, falls in love with a Chinese nurse who sacrifices her own life for him and yells 'Love me love China' before she dies."
Many on social media call the script "idiotic," others question if black soldiers ever joined the Flying Tigers in the first place.
There seems to be more to the controversy than sensationalizing history alone though – relationships between foreign men and Chinese women, especially black men and Chinese women, are often met with prejudice and racism on Chinese social media. Mixing such a narrative in a drama about the Second Sino-Japanese war makes it all the more controversial.
Some see the narrative of the love between a foreign soldier and a Chinese woman as a way of 'beautifying' the war and 'adoring everything that's foreign.'
"This is not respecting history at all!", one among hundreds of commenters says.
In the TV drama, the sentence "Love me, Love China" does have some extra meaning in the end. Although Xinghua sacrifices her life for Carl in episode 19, he eventually chooses to fight side by side against the Japanese 'devils' with the Chinese army, keeping his promise to "love China" like he loved Xinghua.
By Manya Koetse , with contributions from Miranda Barnes
Follow @whatsonweibo
Spotted a mistake or want to add something? Please let us know in comments below or email us. Please note that your comment below will need to be manually approved if you're a first-time poster here.
©2019 Whatsonweibo. All rights reserved. Do not reproduce our content without permission – you can contact us at info@whatsonweibo.com