Updated: National Outrage After Woman Is Made to Pay $700 for Hospital Appointment
The video of a woman outraged over being forced to pay 4500 yuan (nearly $700 US) has made the headlines in China, sparking a national debate over patients getting scammed before they can see a doctor.
A video of a woman having to pay nearly $700 to see a doctor went viral on Weibo in the last week of January, prompting outrage on Chinese social media. The news story underlines the obstacles that Chinese citizens face in accessing decent healthcare. But a week after the video went viral, netizens wonder if the woman from the famous video might be a fraud herself. 
The video of a woman outraged over being forced to pay 4500 yuan (nearly $700 US) made the headlines in China, sparking a national debate over patients getting scammed before they can see a doctor. Online commenters called for a reform of China's medical system. Now, a week after the video was posted all over different social media platforms, netizens wonder if the woman in the video is a fraud who actually works for an online medical platform.
It is is a familiar sight at hospitals all over Beijing: rows of people waiting in the long queue for a ticket to see the doctor, some with stools or equipped with duvets. But some of those waiting in line are not ordinary people in need of a hospital appointment. They are ticket scalpers (票贩子), who force average Chinese citizens to pay insanely high prices for the most basic healthcare.
Scammed by hospital scalpers 
To prevent disorder and cutting in line, most patients at Chinese hospitals need to purchase a ticket to decide when they'll be seen for nonemergency treatment. However, this system is frequently abused as scalpers buy tickets and sell them for much higher prices to actual patients.
The problem of scalpers was brought to national attention on January 19th, when the video of the screaming woman, dressed in a white coat, went viral on Sina Weibo. Filmed by a patient at Beijing's Guang'anmen Hospital, the video shows the distressed woman accusing hospital guards of working with scalpers to push up ticket prices. The video became trending on Chinese social media platforms in the last week of January.
Many Chinese people, especially those from the countryside, face the problem of hospital scalpers when seeking medical attention. Under China's current medical system, it is not easy for people from rural areas to gain access to medical facilities in the major cities, as they are not covered there and will have to pay for medical care themselves. The issue is related to China's hukou (household registration) system; the government-subsidised rural medical insurance is often not valid in a different province, which means that villagers who fall seriously ill are not covered when they travel to first-tier cities for medical care.
Scalpers take advantage of the system and people's eagerness to see a doctor by using local identification cards to book appointments, and then selling them to people without the proper documentation.
The woman in the video says that a ticket that originally cost ¥300 (± $46) was now pushed up to a whopping ¥4500 ($684) by scalpers operating in the hospital. She tearfully laments: "My God, ordinary people need to pay so much for a ticket, it's so hard! If I died on my way home, there's no hope in this society. This is Beijing, the capital!" The woman also tells onlookers: "Yesterday all the scalpers arranged us to queue, they put all their hires at the front, we real patients didn't dare say a word! Where were the security guards?"
The woman allegedly traveled hundreds of miles to get an appointment for her paralyzed mother. She rented a basement room in Beijing while waiting for the doctor's appointment, and carried her mother on her back when traveling.
A national problem
Since the video's upload on Weibo, it has been reposted nearly 120,000 times and 'liked' over 187,000 times. Comments relating to the topic received over 10 million views, igniting a national debate over scalpers at hospitals.
The debate was especially noticeable on social media, where netizens reflected on the woman's outcry and talked about their own experience with scalpers. One Weibo commenter writes: "Today I went to the hospital after the news about scalpers. For the most ordinary citizens at the lowest level, with no power or position, seeing a doctor is really not easy." Another netizen says: "Our capital is the Holy Land in the hearts of our people. The ruthless action of those ticket scalpers brings shame to the capital. I believe that the people of Beijing will remove this malignant tumor and reshape their good image."
Faced with masses of social media outcry, Guang'anmen Hospital denied that it condoned the reselling of tickets. It stated that a preliminary investigation found no evidence of security guards colluding with scalpers to resell tickets. Beijing police, however, confirmed on January 28 that 12 people have been arrested in relation to this case.
Marketing for online medical company
On February 2, the woman in the video became trending again, but this time for a different reason. Chinese media report that the woman now receives lifelong free medical care for her mother, offered by medical company Yihu365 . Some people suspect that she is a staff member of this company, that offers medical care at home that can be ordered through an app. The company also has a service for making hospital appointments. Under the hashtag of 'is she a fraud?' (#挂号女是托#), netizens now discuss the possibility of the video being set up as a marketing campaign for Yihu365.
"She is obviously not a fraud," one Weibo user says: "The app just seized the opportunity for their own promotion."
"I don't believe this was staged," one other netizen also comments: "It was probably just a good business opportunity for this company. But even if it was faked, what does it really matter? The hospital scalpers are real. They are everywhere."
Thus far no official media have backed up the online allegations.
Staged or not, the general lack of regulation on hospital scalpers means they will continue to be a real obstacle to patients' access to medical treatment. Having easy access to decent healthcare is a right of citizens throughout the world, but for ordinary people in Beijing, simply stepping their foot in the doctor's office is a painstakingly expensive ordeal.
Some netizens point out to the importance of ordinary citizens standing up injustices in China's health care: "If there are more people willing to speak out against such injustice in society, there will be less unfairness. If there are more people enacting justice, good can trump evil!"
– By Anna Xue & updated by Manya Koetse
Follow @WhatsOnWeibo
©2016 Whatsonweibo. All rights reserved. Do not reproduce our content without permission – you can contact us at info@whatsonweibo.com.
About Lipstick King's Comeback and His 'Mysterious' Disappearance
After Li Jiaqi's return to livestreaming, the 'tank cake incident' has become the elephant in the room on social media.
Earlier this week, the return of China's famous livestreamer Li Jiaqi, also known as the 'Lipstick King', became a hot topic on Chinese social media where his three-month 'disappearance' from the social commerce scene triggered online discussions.
He is known as Austin Li, Lipstick King, or Lipstick Brother, but most of all he is known as one of China's most successful e-commerce livestreaming hosts.
After being offline for over 100 days, Li Jiaqi (李佳琦) finally came back and did a livestreaming session on September 20th, attracting over 60 million viewers and selling over $17 million in products.
The 30-year-old beauty influencer, a former L'Oreal beauty consultant, rose to fame in 2017 after he became a successful livestreamer focusing on lipstick and other beauty products.
Li broke several records during his live streaming career. In 2018, he broke the Guinness World Record for "the most lipstick applications in 30 seconds." He once sold 15000 lipsticks in 5 minutes, and also managed to apply 380 different lipsticks in another seven-hour live stream session. Li made international headlines in 2021 when he sold $1.9 billion in goods during a 12-hour-long promotion livestream for Alibaba's shopping festival.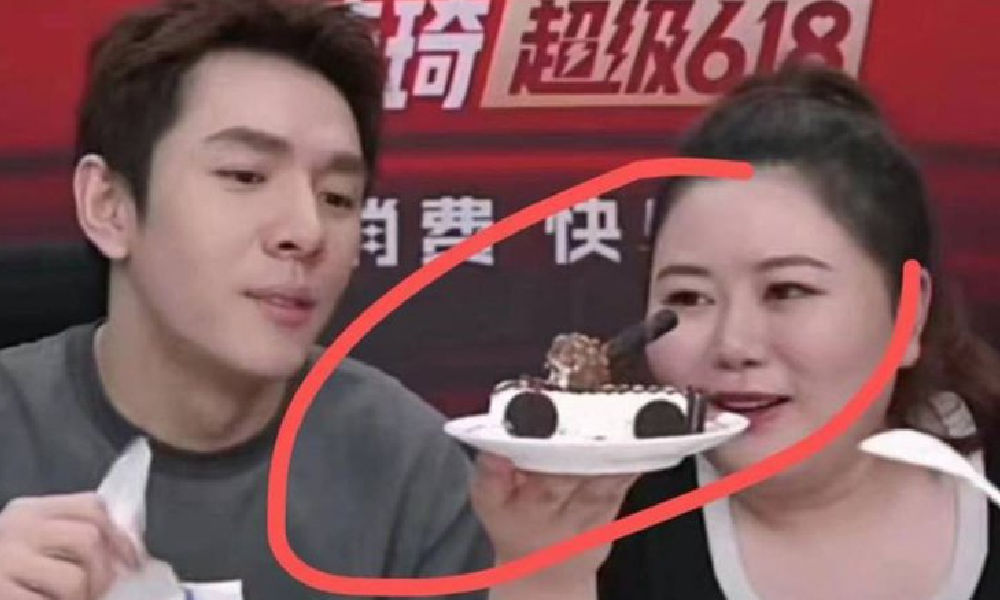 But during a Taobao livestream on June 3rd of this year, something peculiar happened. After Li Jiaqi and his co-host introduced an interestingly shaped chocolate cake – which seemed to resemble a tank, – a male assistant in the back mentioned something about the sound of shooting coming from a tank ("坦克突突").
Although Li Jiaqi and the others laughed about the comment, Li also seemed a bit unsure and the woman next to him then said: "Stay tuned for 23:00 to see if Li Jiaqi and I will still be in this position."
The session then suddenly stopped, and at 23:38 that night Li wrote on Weibo that the channel was experiencing some "technical problems."
But those "technical problems" lasted, and Li did not come back. His June 3rd post about the technical problems would be the last one on his Weibo account for the months to come.
The 'cake tank incident' (坦克蛋糕事件) occurred on the night before June 4, the 33rd anniversary of the violent crackdown of the Tiananmen student demonstrations. The iconic image of the so-called 'tank man' blocking the tanks at Tiananmen has become world famous and is censored on China's internet. The control of information flows is especially strict before and on June 4, making Li's 'tank cake incident' all the more controversial.
But no official media nor the official Li Jiaqi accounts acknowledged the tank cake incident, and his absence remained unexplained. Meanwhile, there was a silent acknowledgment among netizens that the reason Li was not coming online anymore was related to the 'tank cake incident.'
During Li's long hiatus, fans flocked to his Weibo page where they left thousands of messages.
"I'm afraid people have been plotting against you," many commenters wrote, suggesting that the cake was deliberately introduced by someone else during the livestream as a way to commemorate June 4.
Many fans also expressed their appreciation of Li, saying how watching his streams helped them cope with depression or cheered them up during hard times. "What would we do without you?" some wrote. Even after 80 days without Li Jiaqi's livestreams, people still commented: "I am waiting for you every day."
On September 21st, Li Jiaqi finally – and somewhat quietly – returned and some people said they were moved to see their lipstick hero return to the livestream scene.
Although many were overjoyed with Li's return, it also triggered more conversations on why he had disappeared and what happened to him during the 3+ months of absence. "He talked about a sensitive topic," one commenter said when a Weibo user asked about Li's disappearance.
One self-media accountpublished a video titled "Li Jiaqi has returned." The voiceover repeatedly asks why Li would have disappeared and even speculates about what might have caused it, without once mentioning the tank cake.
"This cracks me up," one commenter wrote: "On the outside we all know what's going on, on the inside there's no information whatsoever."
"It's tacit mutual understanding," some wrote. "It's the elephant in the room," others said.
Some people, however, did not care about discussing Li's disappearance at all anymore and just expressed joy about seeing him again: "It's like seeing a good friend after being apart for a long time."
By Manya Koetse 
Elements in the featured image by @karishea and @kaffeebart.
Get the story behind the hashtag. Subscribe to What's on Weibo here to receive our weekly newsletter and get access to our latest articles:
Spotted a mistake or want to add something? Please let us know in comments below or email us. First-time commenters, please be patient – we will have to manually approve your comment before it appears.
©2022 Whatsonweibo. All rights reserved. Do not reproduce our content without permission – you can contact us at info@whatsonweibo.com.
Happiest Lockdown in China: Guests Undergo Mandatory Quarantine at Shanghai Disneyland Hotel
"I wish I could be quarantined at Disney too!" The Shanghai Disney hotel apparently is the happiest place to get locked in.
While many cities across China are experiencing new (partial) lockdowns and millions of people are confined to their homes, there was also a group of people that had to undergo mandatory quarantine at a very special place: the Shanghai Disneyland Hotel.
On September 7, social media posts started surfacing online from people who said they were required to quarantine while they were at the Shanghai Disneyland hotel. Disneyland reportedly had received a notification from the local health authorities that a visitor who previously stayed at the Disneyland hotel was found to be a close contact of a newly confirmed Covid case.
In line with the Center for Disease Control requirements, Disney created a 'closed loop system' by locking in all hotel residents and staff members and doing daily Covid tests. While the Disneyland theme park was open as usual, the hotel became a temporary isolation site where people's health would be monitored for the next few days while all staff members would also be screened.
During their mandatory quarantine, guests stayed at the hotel for free and did not need to pay for their rooms. Room prices at the Shanghai Disneyland hotel start at around 3000 yuan/night ($433).
Some guests shared photos of their Disneyland quarantine stay on social media, showing how Disney staff provided them with free breakfast, lunch, a surprise afternoon tea, delicious dinner, fun snacks, and Disney toys and stickers.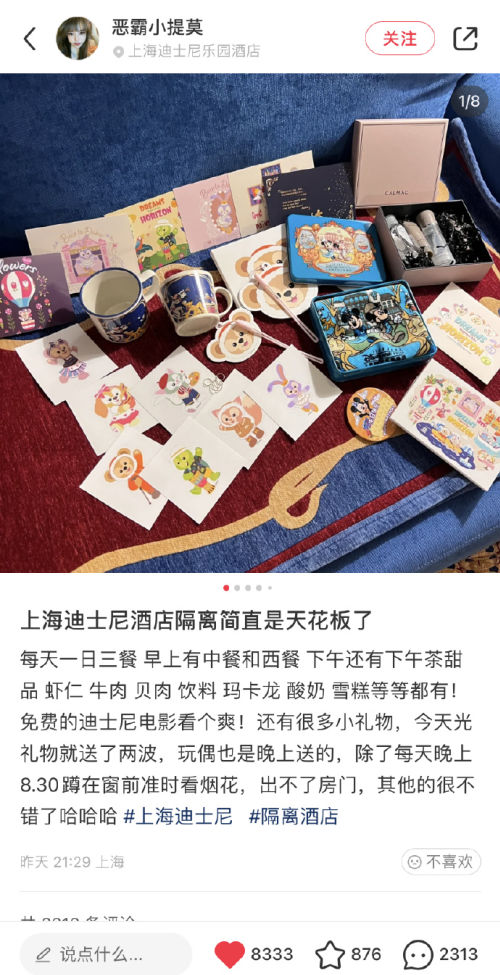 On the Little Red Book (Xiaohongshu) app, one Shanghai Disney visitor (nickname @恶霸小提莫) wrote: "We have three meals a day, there is both Chinese and Western-style breakfast, we also get afternoon tea and desserts, they have shrimp, beef, scallops, drinks, French macarons, yogurt, ice cream, and much more. We watched so many Disney movies for free. We are given so many little gifts, they brought us gifts twice today as they also brought us toy figures at night. We watch the fireworks from our windows every night at 8.30 pm. Although we weren't allowed to go out, we really had a pleasant stay."
Another Disney guest named Zoea (Xiaohongshu ID: yiya0313) also shared many photos of the mandatory quarantine and wrote: "When the staff knocked on the door to tell me they were bringing dinner, I even wondered how it was possible that they brought food again. Afternoon tea during quarantine, can you believe it? And fruit before dinner? And midnight snacks brought to us after dinner? And it was so nice to watch all the Disney movies on tv. Disney really is the most magical place."
"I'm just so happy," another locked-in Disney guest posted on social media, sharing pictures of Mickey Mouse cakes.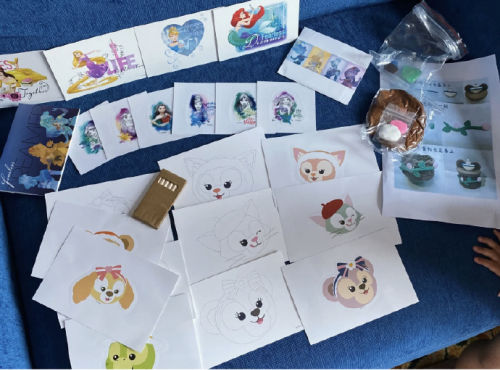 Other guests also posted about their experiences on social media. "They probably feared we would get bored so they brought us glue, stickers, and painting brushes, the kids loved it and so did we!"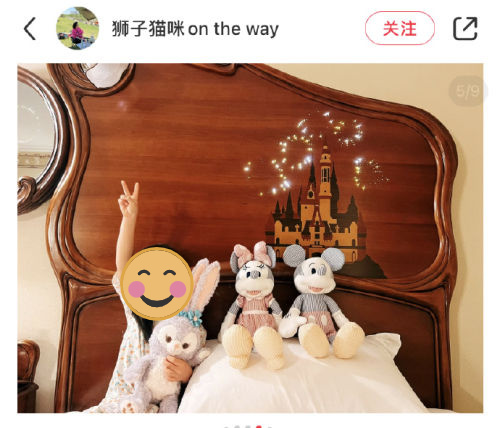 Reading about the happy quarantine at Disney, many Weibo users responded that they envied the guests, writing: "I wish I could be quarantined at Disney too."
"I need to find a way to get in, too," others wrote.
Earlier this year, one Chinese woman shared her story of being quarantined inside a hotpot restaurant for three days. Although many people also envied the woman, who could eat all she wanted during her stay, she later said she felt like she had enough hotpot for the rest of her life.
By Manya Koetse 
Get the story behind the hashtag. Subscribe to What's on Weibo here to receive our weekly newsletter and get access to our latest articles:
Spotted a mistake or want to add something? Please let us know in comments below or email us. First-time commenters, please be patient – we will have to manually approve your comment before it appears.
©2022 Whatsonweibo. All rights reserved. Do not reproduce our content without permission – you can contact us at info@whatsonweibo.com.