Updated: National Outrage After Woman Is Made to Pay $700 for Hospital Appointment
The video of a woman outraged over being forced to pay 4500 yuan (nearly $700 US) has made the headlines in China, sparking a national debate over patients getting scammed before they can see a doctor.
A video of a woman having to pay nearly $700 to see a doctor went viral on Weibo in the last week of January, prompting outrage on Chinese social media. The news story underlines the obstacles that Chinese citizens face in accessing decent healthcare. But a week after the video went viral, netizens wonder if the woman from the famous video might be a fraud herself. 
The video of a woman outraged over being forced to pay 4500 yuan (nearly $700 US) made the headlines in China, sparking a national debate over patients getting scammed before they can see a doctor. Online commenters called for a reform of China's medical system. Now, a week after the video was posted all over different social media platforms, netizens wonder if the woman in the video is a fraud who actually works for an online medical platform.
It is is a familiar sight at hospitals all over Beijing: rows of people waiting in the long queue for a ticket to see the doctor, some with stools or equipped with duvets. But some of those waiting in line are not ordinary people in need of a hospital appointment. They are ticket scalpers (票贩子), who force average Chinese citizens to pay insanely high prices for the most basic healthcare.
Scammed by hospital scalpers 
To prevent disorder and cutting in line, most patients at Chinese hospitals need to purchase a ticket to decide when they'll be seen for nonemergency treatment. However, this system is frequently abused as scalpers buy tickets and sell them for much higher prices to actual patients.
The problem of scalpers was brought to national attention on January 19th, when the video of the screaming woman, dressed in a white coat, went viral on Sina Weibo. Filmed by a patient at Beijing's Guang'anmen Hospital, the video shows the distressed woman accusing hospital guards of working with scalpers to push up ticket prices. The video became trending on Chinese social media platforms in the last week of January.
Many Chinese people, especially those from the countryside, face the problem of hospital scalpers when seeking medical attention. Under China's current medical system, it is not easy for people from rural areas to gain access to medical facilities in the major cities, as they are not covered there and will have to pay for medical care themselves. The issue is related to China's hukou (household registration) system; the government-subsidised rural medical insurance is often not valid in a different province, which means that villagers who fall seriously ill are not covered when they travel to first-tier cities for medical care.
Scalpers take advantage of the system and people's eagerness to see a doctor by using local identification cards to book appointments, and then selling them to people without the proper documentation.
The woman in the video says that a ticket that originally cost ¥300 (± $46) was now pushed up to a whopping ¥4500 ($684) by scalpers operating in the hospital. She tearfully laments: "My God, ordinary people need to pay so much for a ticket, it's so hard! If I died on my way home, there's no hope in this society. This is Beijing, the capital!" The woman also tells onlookers: "Yesterday all the scalpers arranged us to queue, they put all their hires at the front, we real patients didn't dare say a word! Where were the security guards?"
The woman allegedly traveled hundreds of miles to get an appointment for her paralyzed mother. She rented a basement room in Beijing while waiting for the doctor's appointment, and carried her mother on her back when traveling.
A national problem
Since the video's upload on Weibo, it has been reposted nearly 120,000 times and 'liked' over 187,000 times. Comments relating to the topic received over 10 million views, igniting a national debate over scalpers at hospitals.
The debate was especially noticeable on social media, where netizens reflected on the woman's outcry and talked about their own experience with scalpers. One Weibo commenter writes: "Today I went to the hospital after the news about scalpers. For the most ordinary citizens at the lowest level, with no power or position, seeing a doctor is really not easy." Another netizen says: "Our capital is the Holy Land in the hearts of our people. The ruthless action of those ticket scalpers brings shame to the capital. I believe that the people of Beijing will remove this malignant tumor and reshape their good image."
Faced with masses of social media outcry, Guang'anmen Hospital denied that it condoned the reselling of tickets. It stated that a preliminary investigation found no evidence of security guards colluding with scalpers to resell tickets. Beijing police, however, confirmed on January 28 that 12 people have been arrested in relation to this case.
Marketing for online medical company
On February 2, the woman in the video became trending again, but this time for a different reason. Chinese media report that the woman now receives lifelong free medical care for her mother, offered by medical company Yihu365 . Some people suspect that she is a staff member of this company, that offers medical care at home that can be ordered through an app. The company also has a service for making hospital appointments. Under the hashtag of 'is she a fraud?' (#挂号女是托#), netizens now discuss the possibility of the video being set up as a marketing campaign for Yihu365.
"She is obviously not a fraud," one Weibo user says: "The app just seized the opportunity for their own promotion."
"I don't believe this was staged," one other netizen also comments: "It was probably just a good business opportunity for this company. But even if it was faked, what does it really matter? The hospital scalpers are real. They are everywhere."
Thus far no official media have backed up the online allegations.
Staged or not, the general lack of regulation on hospital scalpers means they will continue to be a real obstacle to patients' access to medical treatment. Having easy access to decent healthcare is a right of citizens throughout the world, but for ordinary people in Beijing, simply stepping their foot in the doctor's office is a painstakingly expensive ordeal.
Some netizens point out to the importance of ordinary citizens standing up injustices in China's health care: "If there are more people willing to speak out against such injustice in society, there will be less unfairness. If there are more people enacting justice, good can trump evil!"
– By Anna Xue & updated by Manya Koetse
Follow @WhatsOnWeibo
©2016 Whatsonweibo. All rights reserved. Do not reproduce our content without permission – you can contact us at info@whatsonweibo.com.
40-Year-Old Woman Completes Shanghai Marathon While 8 Months Pregnant
Pregnant marathon runner Lili clashes with Chinese traditional attitudes towards women who are expecting a baby.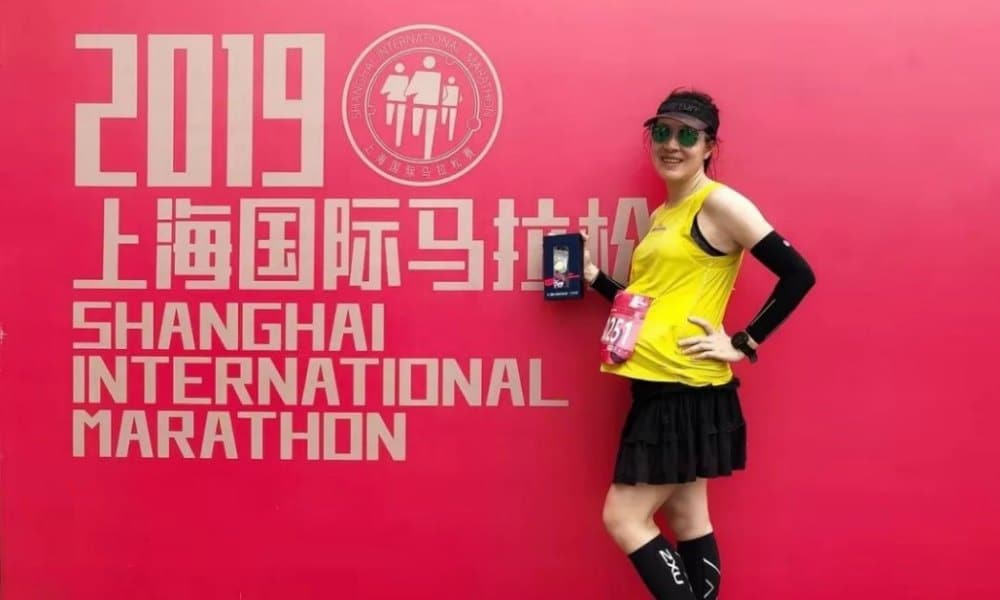 Published
A 40-year-old woman named Li Lili (黎莉莉) became news in China after she ran the Shanghai Marathon last Sunday while 32 weeks pregnant, completing the race in five hours and 17 minutes.
This was the third marathon Li has run during her pregnancy. She ran the first two during week eight (with a time of 3:54:43) and week 22 (with a time of 4:47:58) of her pregnancy.
Lily is an avid runner, having completed 62 marathons during her lifetime. Her story went viral on Weibo under the hashtag "8 Months Pregnant 40-Year-Old Woman Runs Marathon" (#40岁孕妇怀胎8月跑完全马#), which has received over 200 million reads at time of writing.
Her story has ignited debate across Weibo this week regarding the merits and dangers of vigorous exercise during pregnancy. In interviews with the press, however, Li remained defiant in the face of her critics.
"For many people, they are worried about this because they don't understand it," she told video news site Pear Video in an interview.
"Many people have told me it is dangerous. They criticize me, just like they criticized Chen Yihan," she says, referring to Taiwanese actress Ivy Chen (陈意涵) who faced fierce online criticism after posting pictures of herself running while five months pregnant in 2018.
"But most of these critics have never even been pregnant," Li continued: "The fact is, I did this because I have a very deep understanding of my own body. I've run over 60 marathons, I am an extremely good runner. I've run a marathon in 3:28, which is considered an excellent time even for talented athletes, even for men. I have my own training methods, I've been training for a very long time, and have carefully prepared for these marathons."
The reactions to Li's story online have ranged from enthusiastic praise to outright condemnation.
"Wow! I admire how strong she is! It is said that each person knows what is right for them in their own heart. It's none of your business what she does with this unborn hero!" gushes the most popular comment on Pear Video's Weibo post about the story.
But another popular comment argues that marathon running is actually inappropriate for Chinese women in general: "Foreigners running marathons is fine, but this is not for Chinese women. Pregnant Chinese women running marathons is equivalent to them not caring for their children."
The results from a poll put out by Chengdu Economic Daily so far show the majority of readers do not oppose Li's decision to run a marathon, with 54,000 choosing the option "One case cannot represent the whole, it will vary from individual to individual" and 38,000 choosing "Support, if the mother's body is strong enough." Only 17,000 chose the option "Oppose, pregnant women should not engage in vigorous exercise."
Some comments on the poll argued that Li was irresponsible to take part in a marathon, in case something did go wrong: "Problems come up when you least expect them. If it's just you running on your own, that's one thing. But this is a group race. I can't say if it's right or wrong, but it could bring a lot of trouble to other people."
But the majority of popular comments expressed outright support and admiration, or at the very least opposition to Li's critics, telling them to mind their own business.
The support for Li's decision appears to fly in the face of Chinese traditional attitudes towards pregnant women. The list of dos and don'ts for Chinese mothers-to-be is long and complex, ranging from the bizarre (no eating/drinking dark foods so as not to affect the baby's skin color) to the more common (avoiding shellfish).
The belief that pregnant mothers should avoid exertion is high on the list, extending even to the month after birth.
But despite these strong traditions, Li's strength and determination have clearly inspired new support for expectant mothers who wish to continue an active lifestyle while pregnant.
Also read: 'Sitting the Month' – a Gift or Torture?
Also read: Bad Mom To Be? Pregnant Woman Intentionally Trips 4-Year-Old Boy in Baoji
By Jessica Colwell
Follow @whatsonweibo
Spotted a mistake or want to add something? Please let us know in comments below or email us. First-time commenters, please be patient – we will have to manually approve your comment before it appears.
©2019 Whatsonweibo. All rights reserved. Do not reproduce our content without permission – you can contact us at info@whatsonweibo.com.
No Need for Plague Panic? China's Trending Plague Outbreak
After the Year of the Pig brought swine flue, some fear the Year of the Rat will bring the 'rat plague.'
Published
For the past nine days, during which three cases of the plague have been reported in China, the deadly bubonic plague has become a hot topic on Chinese social media.
The topic first made headlines on November 12, when Chinese state media announced that two people, a husband and wife from Inner Mongolia, were transported to Beijing's Chaoyang Hospital for treatment after being diagnosed with the pneumonic plague.
The couple reportedly got sick after eating raw marmot kidney.
A 55-year old hunter from the same region, the Inner Mongolian Xilingol League, was later also diagnosed with bubonic plague after eating wild rabbit meat.
The bubonic plague, also called the 'Black Death,' is an infectious disease that is known to have caused one of the most devastating pandemics in human history, killing millions of people in 14th century Europe.
News of the three cases of bubonic plague reminded many of the 2003 SARS panic; an outbreak of SARS in southern China caused over 8000 cases that year.
The World Health Organisation criticized China at the time for covering up the scale of the problem, with officials conceding in the Spring of 2003 that China's SARs problem was "nearly 10 times worse than had been admitted."
Current online reports on the bubonic plague in China stress that there is no reason for panic, with a hospital spokesperson confirming that the situation is "under control."
42 people who are known to have come into contact with the Chinese patients have all been quarantined and were not found to have any symptoms of catching the disease.
Chinese (state) media channels are spreading social media posts this week that mainly emphasize that the plague "can be prevented, controlled, and managed," and that it can be effectively treated.
"Don't panic over plague outbreak," Sina News headlines, with People's Daily posting on Weibo that, according to the China Center for Disease Control and Prevention, "there is no need to worry."
The bubonic plague primarily affects rodents and other animals, with animals – and incidentally humans – usually contracting the infection through insects such as (rat) fleas. This form of plague is highly contagious – can spread through coughing – and could be fatal within days if left untreated (Benedict 1996, 4).
Mammals such as rabbits or marmots, as eaten by the recent Chinese patients, but also rats, squirrels, gerbils, mice, etc., can all harbor the disease.
Although the disease is increasingly rare, and for many is something from the history books, there were still 3248 cases worldwide between 2010 and 2015, leading to 584 deaths, according to the World Health Organization.
Although Chinese media stress that there is no need to panic over the recent outbreak of the bubonic plague, many netizens still fear an epidemic, making comments such as: "The Year of the Pig brought the [African] swine fever, now the plague is starting just before the Year of the Rat!" (The word for 'plague' in Chinese is 鼠疫 shǔyì, literally meaning 'rat plague' or 'mouse plague').
Others are asking questions such as: "Do we risk the plague more if we have mice in the house?" and "How can we prevent getting it?"
Meanwhile, according to Jiemian News reports, the area in Inner Mongolia where the patients originally contracted the illness is currently under strict control by the Ministries of Health and Agriculture; some roads are closed off, and there's temperature screening for those taking public transport.
The area has seen four cases of plague over the past decades, the most recent one before this month being in 2004.
Last news on the current three patients was from last Saturday, when it was reported that at least one of the patients is now in stable condition.
By Manya Koetse
Follow @whatsonweibo
References
Benedict, Carol Ann. 1996. Bubonic Plague in Nineteenth Plague in Nineteenth Century China. Stanford University Press.
Spotted a mistake or want to add something? Please let us know in comments below or email us. First time commenters, please be patient – we will have to manually approve your comment before it appears.
©2019 Whatsonweibo. All rights reserved. Do not reproduce our content without permission – you can contact us at info@whatsonweibo.com.