Updated: National Outrage After Woman Is Made to Pay $700 for Hospital Appointment
The video of a woman outraged over being forced to pay 4500 yuan (nearly $700 US) has made the headlines in China, sparking a national debate over patients getting scammed before they can see a doctor.
A video of a woman having to pay nearly $700 to see a doctor went viral on Weibo in the last week of January, prompting outrage on Chinese social media. The news story underlines the obstacles that Chinese citizens face in accessing decent healthcare. But a week after the video went viral, netizens wonder if the woman from the famous video might be a fraud herself. 
The video of a woman outraged over being forced to pay 4500 yuan (nearly $700 US) made the headlines in China, sparking a national debate over patients getting scammed before they can see a doctor. Online commenters called for a reform of China's medical system. Now, a week after the video was posted all over different social media platforms, netizens wonder if the woman in the video is a fraud who actually works for an online medical platform.
It is is a familiar sight at hospitals all over Beijing: rows of people waiting in the long queue for a ticket to see the doctor, some with stools or equipped with duvets. But some of those waiting in line are not ordinary people in need of a hospital appointment. They are ticket scalpers (票贩子), who force average Chinese citizens to pay insanely high prices for the most basic healthcare.
Scammed by hospital scalpers 
To prevent disorder and cutting in line, most patients at Chinese hospitals need to purchase a ticket to decide when they'll be seen for nonemergency treatment. However, this system is frequently abused as scalpers buy tickets and sell them for much higher prices to actual patients.
The problem of scalpers was brought to national attention on January 19th, when the video of the screaming woman, dressed in a white coat, went viral on Sina Weibo. Filmed by a patient at Beijing's Guang'anmen Hospital, the video shows the distressed woman accusing hospital guards of working with scalpers to push up ticket prices. The video became trending on Chinese social media platforms in the last week of January.
Many Chinese people, especially those from the countryside, face the problem of hospital scalpers when seeking medical attention. Under China's current medical system, it is not easy for people from rural areas to gain access to medical facilities in the major cities, as they are not covered there and will have to pay for medical care themselves. The issue is related to China's hukou (household registration) system; the government-subsidised rural medical insurance is often not valid in a different province, which means that villagers who fall seriously ill are not covered when they travel to first-tier cities for medical care.
Scalpers take advantage of the system and people's eagerness to see a doctor by using local identification cards to book appointments, and then selling them to people without the proper documentation.
The woman in the video says that a ticket that originally cost ¥300 (± $46) was now pushed up to a whopping ¥4500 ($684) by scalpers operating in the hospital. She tearfully laments: "My God, ordinary people need to pay so much for a ticket, it's so hard! If I died on my way home, there's no hope in this society. This is Beijing, the capital!" The woman also tells onlookers: "Yesterday all the scalpers arranged us to queue, they put all their hires at the front, we real patients didn't dare say a word! Where were the security guards?"
The woman allegedly traveled hundreds of miles to get an appointment for her paralyzed mother. She rented a basement room in Beijing while waiting for the doctor's appointment, and carried her mother on her back when traveling.
A national problem
Since the video's upload on Weibo, it has been reposted nearly 120,000 times and 'liked' over 187,000 times. Comments relating to the topic received over 10 million views, igniting a national debate over scalpers at hospitals.
The debate was especially noticeable on social media, where netizens reflected on the woman's outcry and talked about their own experience with scalpers. One Weibo commenter writes: "Today I went to the hospital after the news about scalpers. For the most ordinary citizens at the lowest level, with no power or position, seeing a doctor is really not easy." Another netizen says: "Our capital is the Holy Land in the hearts of our people. The ruthless action of those ticket scalpers brings shame to the capital. I believe that the people of Beijing will remove this malignant tumor and reshape their good image."
Faced with masses of social media outcry, Guang'anmen Hospital denied that it condoned the reselling of tickets. It stated that a preliminary investigation found no evidence of security guards colluding with scalpers to resell tickets. Beijing police, however, confirmed on January 28 that 12 people have been arrested in relation to this case.
Marketing for online medical company
On February 2, the woman in the video became trending again, but this time for a different reason. Chinese media report that the woman now receives lifelong free medical care for her mother, offered by medical company Yihu365 . Some people suspect that she is a staff member of this company, that offers medical care at home that can be ordered through an app. The company also has a service for making hospital appointments. Under the hashtag of 'is she a fraud?' (#挂号女是托#), netizens now discuss the possibility of the video being set up as a marketing campaign for Yihu365.
"She is obviously not a fraud," one Weibo user says: "The app just seized the opportunity for their own promotion."
"I don't believe this was staged," one other netizen also comments: "It was probably just a good business opportunity for this company. But even if it was faked, what does it really matter? The hospital scalpers are real. They are everywhere."
Thus far no official media have backed up the online allegations.
Staged or not, the general lack of regulation on hospital scalpers means they will continue to be a real obstacle to patients' access to medical treatment. Having easy access to decent healthcare is a right of citizens throughout the world, but for ordinary people in Beijing, simply stepping their foot in the doctor's office is a painstakingly expensive ordeal.
Some netizens point out to the importance of ordinary citizens standing up injustices in China's health care: "If there are more people willing to speak out against such injustice in society, there will be less unfairness. If there are more people enacting justice, good can trump evil!"
– By Anna Xue & updated by Manya Koetse
Follow @WhatsOnWeibo
©2016 Whatsonweibo. All rights reserved. Do not reproduce our content without permission – you can contact us at info@whatsonweibo.com.
Chinese Doctor Knocks Herself Out in Controversial Self-Experiment
Dr. Chen wanted to warn about the dangers of sevoflurane and other drugs.
A female doctor has become a topic of discussion on Chinese social media for her self-experimentation with anesthesia.
Dr. Chen (陈大夫), a Nanjing doctor who works in the Obstetrics and Gynecology department, conducted the experiment in response to an ongoing discussion on whether or not a handkerchief dipped in inhalation anesthetics could cause immediate unconsciousness ("一捂就晕").
The discussion was triggered by news of the death of a 23-year-old woman from Foshan, Guangdong Province, on February 8. The recent college graduate was found in a hotel room and it was later ruled that the cause of death was acute respiratory failure due to sevoflurane toxicity. The victim's company supervisor, a 39-year-old man named Peng, is now suspected of fatally sedating and raping the young woman.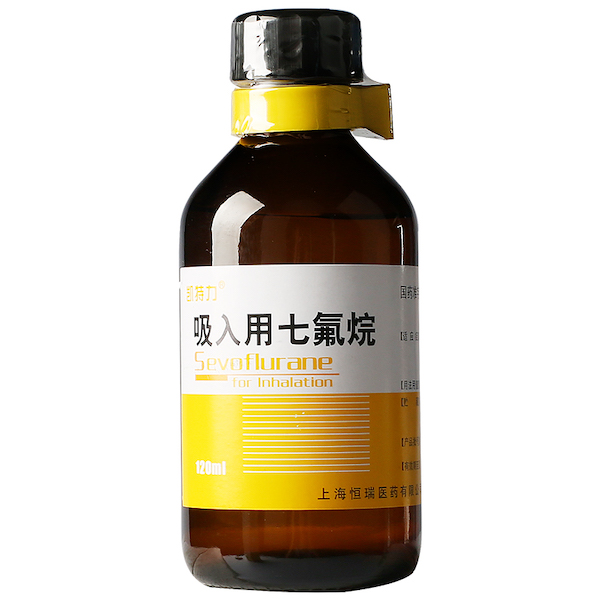 The case led to speculation among netizens whether or not sevoflurane could have knocked out the woman in seconds. There have been ongoing debates on the effects of general anesthetics used to sedate unsuspected victims, with some specialists arguing that it is not so easy to make someone slip into unconsciousness within a matter of seconds – saying it would take much longer than and only if an unusually high dosage is used.
Dr. Chen posted on February 10 that she was certain that it is possible for certain inhalation anesthetics to immediately make someone pass out, but her claim was refuted by others. The popular Weibo blogger Jiangning Popo (@江宁婆婆), a police officer, was one of the persons involved in the discussion claiming Chen was wrong.
Dr. Chen is active on Weibo under the handle @妇产科的陈大夫, and with over two million followers on her account, she is somewhat of a 'celebrity' doctor.
Instead of spending time arguing back and forth on the internet, Dr. Chen decided to put the issue to the test herself with an unopened bottle of sevoflurane that she had previously purchased for the planned sterilization of her dog. The sevoflurane had already passed its expiry date.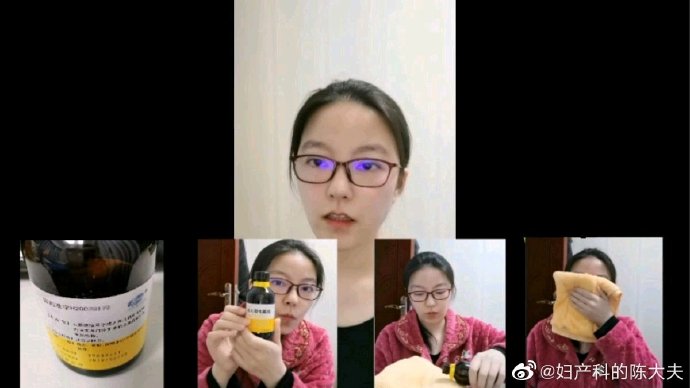 On February 16, Dr. Chen then asked someone else to film her doing the self-experiment and she posted the video on Weibo, in which she inhaled sevoflurane on a cloth. The doctor soon passed out in the video, which has since been deleted.
The experiment in the video lasts 64 seconds, and shows Chen:
– 00:01-00:06 Opening the bottle of sevoflurane
– 00:07-00:12 Preparing a cloth
– 00:13-00:23 Putting the sevoflurane on the cloth
– 00:23-00:26 Closing the cap of the bottle
– 00:27-00:28 Putting the cloth on her mouth and nose
– 00:29-01:33 = the time frame of losing consciousness (with first symptoms starting at 0:44) to going limp and falling on the floor (1:20) and being completely unconscious (1:21-1:33).
Dr. Chen's experiment immediately sparked controversy after she posted the video on social media.
Although sevoflurane is a prescription drug and a controlled substance, it is also sold online as a type of drug. According to The Paper, the number of rape cases in China facilitated by drugs have risen over the past three years, with many 'date rape drugs' being sold and bought over the internet.
With sevoflurane being a controlled substance, Dr. Chen's video triggered discussions on whether or not she was actually involving in a criminal act by doing the self-experiment. She also received criticism from within the medical community that she used this medication outside of the hospital environment.
Dr. Chen soon deleted the video herself and then called the police to personally explain and apologize for the incident, with the news soon going viral (#女医生拿自己做实验后报警并致歉#, 270 million views).
But despite the controversy, the doctor still defends her actions to some extend. Although Chen stated on February 17 that her self-experiment was "not right," dangerous, and should never be imitated by anyone, she later also explained on her Weibo page that she thinks sevoflurane as a prescription drug is too easy to get your hands on and that the existing laws to prevent people from buying it are too weak.
The doctor has succeeded in raising public awareness on the dangers of these kinds of drugs. She also reminds both women and men never to leave their drink unattended, as the dangers of someone slipping something in your drink are real and the consequences can be grave.
As the incident has gone trending on Chinese social media, many commenters praise Dr. Chen for her experiment, while others also praise her for being transparent and admitting her mistakes.

By Manya Koetse
with contributions by Miranda Barnes
Follow @whatsonweibo
Spotted a mistake or want to add something? Please let us know in comments below or email us. First-time commenters, please be patient – we will have to manually approve your comment before it appears.
©2021 Whatsonweibo. All rights reserved. Do not reproduce our content without permission – you can contact us at info@whatsonweibo.com.
Applying China's New Civil Code, Shanghai Court Annuls Marriage after Husband Hides HIV-positive Status from Wife
The court case triggered discussions on the need for premarital health checks.
Jiang is HIV-positive but did not mention his status to his partner before getting married. Under China's new civil code, the marriage is now annulled.
On January 4, a Shanghai court applied the new rules of China's Civil Code for the first time to annul a marriage.
The Civil Code of the People's Republic of China was adopted by the third session of the 13th National People's Congress in May of last year and is effective since January 1st 2021. Some experts within China call the law a "milestone legislation" that will better protect people's civil rights.
On Monday, January 4, a landmark court case in which the new civil code was applied for the first time in Shanghai went trending on Chinese social media.
The case involves a married couple of which the husband had failed to inform his wife that he was HIV positive before getting married.
In June of 2020, Mr. Jiang and Ms. Li got married after Li became pregnant. Afterward, Jiang confessed that he had been HIV-positive for multiple years, and was taking medication to control his disease.
Jiang alleged that, due to his medication, there was effectively no risk of transmitting HIV to his partner. But Li, who did not contract HIV, could not accept the situation and decided to terminate her pregnancy and applied for a marriage annulment.
Under the new civil code, annulment of marriage is possible when a partner who is "seriously ill" – which now includes HIV/AIDS – fails to inform their fiance of their condition before getting married.
Since Jiang had not informed his wife of his condition before tying the knot, the Shanghai Minhang Court ruled in Li's favor and annulled the marriage.
On Weibo, the case has attracted a lot of attention, with one hashtag about the case (#男方婚前患艾滋未告知婚姻关系被撤销#) attracting 690 million views on Monday.
The news item also led to another hashtag gaining many views: "The Need for Premarital Medical Examination" (#婚前体检的必要性#) had 200 million views on its hashtag page on Monday.
One popular relationship blogger (@感情感分析异地恋) argues that the Shanghai court case shows the importance of couples getting a medical examination before getting married: "It's not to discriminate against those who are HIV positive or who are suffering from other illnesses, but it's about informing your partner about these things before getting married."
Premarital health checks were previously compulsory in China, but these examinations are no longer required since 2003. Many couples do still go for premarital health checkups. According to Xinhua, over 61% of Chinese couples had a medical examination before getting married in 2018.
Although the application of China's new civil code is generally praised by Weibo users in this case, it has previously also received a lot of negative attention. The new law also introduced a mandatory 30-day "cooling off" period for couples seeking divorce.
This "cooling off" period is seen as harmful to those who are suffering abuse within marriage and already have difficulties in leaving their abusive partner. The case of Lamu, a Tibetan vlogger who died after her husband set her on fire, also led to more online discussions of the "cooling off" period and how it makes women more vulnerable within their marriage.
By Manya Koetse
Follow @WhatsOnWeibo
Spotted a mistake or want to add something? Please let us know in comments below or email us. First-time commenters, please be patient – we will have to manually approve your comment before it appears.
©2021 Whatsonweibo. All rights reserved. Do not reproduce our content without permission – you can contact us at info@whatsonweibo.com.