Updated: National Outrage After Woman Is Made to Pay $700 for Hospital Appointment
The video of a woman outraged over being forced to pay 4500 yuan (nearly $700 US) has made the headlines in China, sparking a national debate over patients getting scammed before they can see a doctor.
A video of a woman having to pay nearly $700 to see a doctor went viral on Weibo in the last week of January, prompting outrage on Chinese social media. The news story underlines the obstacles that Chinese citizens face in accessing decent healthcare. But a week after the video went viral, netizens wonder if the woman from the famous video might be a fraud herself. 
The video of a woman outraged over being forced to pay 4500 yuan (nearly $700 US) made the headlines in China, sparking a national debate over patients getting scammed before they can see a doctor. Online commenters called for a reform of China's medical system. Now, a week after the video was posted all over different social media platforms, netizens wonder if the woman in the video is a fraud who actually works for an online medical platform.
It is is a familiar sight at hospitals all over Beijing: rows of people waiting in the long queue for a ticket to see the doctor, some with stools or equipped with duvets. But some of those waiting in line are not ordinary people in need of a hospital appointment. They are ticket scalpers (票贩子), who force average Chinese citizens to pay insanely high prices for the most basic healthcare.
Scammed by hospital scalpers 
To prevent disorder and cutting in line, most patients at Chinese hospitals need to purchase a ticket to decide when they'll be seen for nonemergency treatment. However, this system is frequently abused as scalpers buy tickets and sell them for much higher prices to actual patients.
The problem of scalpers was brought to national attention on January 19th, when the video of the screaming woman, dressed in a white coat, went viral on Sina Weibo. Filmed by a patient at Beijing's Guang'anmen Hospital, the video shows the distressed woman accusing hospital guards of working with scalpers to push up ticket prices. The video became trending on Chinese social media platforms in the last week of January.
Many Chinese people, especially those from the countryside, face the problem of hospital scalpers when seeking medical attention. Under China's current medical system, it is not easy for people from rural areas to gain access to medical facilities in the major cities, as they are not covered there and will have to pay for medical care themselves. The issue is related to China's hukou (household registration) system; the government-subsidised rural medical insurance is often not valid in a different province, which means that villagers who fall seriously ill are not covered when they travel to first-tier cities for medical care.
Scalpers take advantage of the system and people's eagerness to see a doctor by using local identification cards to book appointments, and then selling them to people without the proper documentation.
The woman in the video says that a ticket that originally cost ¥300 (± $46) was now pushed up to a whopping ¥4500 ($684) by scalpers operating in the hospital. She tearfully laments: "My God, ordinary people need to pay so much for a ticket, it's so hard! If I died on my way home, there's no hope in this society. This is Beijing, the capital!" The woman also tells onlookers: "Yesterday all the scalpers arranged us to queue, they put all their hires at the front, we real patients didn't dare say a word! Where were the security guards?"
The woman allegedly traveled hundreds of miles to get an appointment for her paralyzed mother. She rented a basement room in Beijing while waiting for the doctor's appointment, and carried her mother on her back when traveling.
A national problem
Since the video's upload on Weibo, it has been reposted nearly 120,000 times and 'liked' over 187,000 times. Comments relating to the topic received over 10 million views, igniting a national debate over scalpers at hospitals.
The debate was especially noticeable on social media, where netizens reflected on the woman's outcry and talked about their own experience with scalpers. One Weibo commenter writes: "Today I went to the hospital after the news about scalpers. For the most ordinary citizens at the lowest level, with no power or position, seeing a doctor is really not easy." Another netizen says: "Our capital is the Holy Land in the hearts of our people. The ruthless action of those ticket scalpers brings shame to the capital. I believe that the people of Beijing will remove this malignant tumor and reshape their good image."
Faced with masses of social media outcry, Guang'anmen Hospital denied that it condoned the reselling of tickets. It stated that a preliminary investigation found no evidence of security guards colluding with scalpers to resell tickets. Beijing police, however, confirmed on January 28 that 12 people have been arrested in relation to this case.
Marketing for online medical company
On February 2, the woman in the video became trending again, but this time for a different reason. Chinese media report that the woman now receives lifelong free medical care for her mother, offered by medical company Yihu365 . Some people suspect that she is a staff member of this company, that offers medical care at home that can be ordered through an app. The company also has a service for making hospital appointments. Under the hashtag of 'is she a fraud?' (#挂号女是托#), netizens now discuss the possibility of the video being set up as a marketing campaign for Yihu365.
"She is obviously not a fraud," one Weibo user says: "The app just seized the opportunity for their own promotion."
"I don't believe this was staged," one other netizen also comments: "It was probably just a good business opportunity for this company. But even if it was faked, what does it really matter? The hospital scalpers are real. They are everywhere."
Thus far no official media have backed up the online allegations.
Staged or not, the general lack of regulation on hospital scalpers means they will continue to be a real obstacle to patients' access to medical treatment. Having easy access to decent healthcare is a right of citizens throughout the world, but for ordinary people in Beijing, simply stepping their foot in the doctor's office is a painstakingly expensive ordeal.
Some netizens point out to the importance of ordinary citizens standing up injustices in China's health care: "If there are more people willing to speak out against such injustice in society, there will be less unfairness. If there are more people enacting justice, good can trump evil!"
– By Anna Xue & updated by Manya Koetse
Follow @WhatsOnWeibo
©2016 Whatsonweibo. All rights reserved. Do not reproduce our content without permission – you can contact us at info@whatsonweibo.com.
Applying China's New Civil Code, Shanghai Court Annuls Marriage after Husband Hides HIV-positive Status from Wife
The court case triggered discussions on the need for premarital health checks.
Jiang is HIV-positive but did not mention his status to his partner before getting married. Under China's new civil code, the marriage is now annulled.
On January 4, a Shanghai court applied the new rules of China's Civil Code for the first time to annul a marriage.
The Civil Code of the People's Republic of China was adopted by the third session of the 13th National People's Congress in May of last year and is effective since January 1st 2021. Some experts within China call the law a "milestone legislation" that will better protect people's civil rights.
On Monday, January 4, a landmark court case in which the new civil code was applied for the first time in Shanghai went trending on Chinese social media.
The case involves a married couple of which the husband had failed to inform his wife that he was HIV positive before getting married.
In June of 2020, Mr. Jiang and Ms. Li got married after Li became pregnant. Afterward, Jiang confessed that he had been HIV-positive for multiple years, and was taking medication to control his disease.
Jiang alleged that, due to his medication, there was effectively no risk of transmitting HIV to his partner. But Li, who did not contract HIV, could not accept the situation and decided to terminate her pregnancy and applied for a marriage annulment.
Under the new civil code, annulment of marriage is possible when a partner who is "seriously ill" – which now includes HIV/AIDS – fails to inform their fiance of their condition before getting married.
Since Jiang had not informed his wife of his condition before tying the knot, the Shanghai Minhang Court ruled in Li's favor and annulled the marriage.
On Weibo, the case has attracted a lot of attention, with one hashtag about the case (#男方婚前患艾滋未告知婚姻关系被撤销#) attracting 690 million views on Monday.
The news item also led to another hashtag gaining many views: "The Need for Premarital Medical Examination" (#婚前体检的必要性#) had 200 million views on its hashtag page on Monday.
One popular relationship blogger (@感情感分析异地恋) argues that the Shanghai court case shows the importance of couples getting a medical examination before getting married: "It's not to discriminate against those who are HIV positive or who are suffering from other illnesses, but it's about informing your partner about these things before getting married."
Premarital health checks were previously compulsory in China, but these examinations are no longer required since 2003. Many couples do still go for premarital health checkups. According to Xinhua, over 61% of Chinese couples had a medical examination before getting married in 2018.
Although the application of China's new civil code is generally praised by Weibo users in this case, it has previously also received a lot of negative attention. The new law also introduced a mandatory 30-day "cooling off" period for couples seeking divorce.
This "cooling off" period is seen as harmful to those who are suffering abuse within marriage and already have difficulties in leaving their abusive partner. The case of Lamu, a Tibetan vlogger who died after her husband set her on fire, also led to more online discussions of the "cooling off" period and how it makes women more vulnerable within their marriage.
By Manya Koetse
Follow @WhatsOnWeibo
Spotted a mistake or want to add something? Please let us know in comments below or email us. First-time commenters, please be patient – we will have to manually approve your comment before it appears.
©2021 Whatsonweibo. All rights reserved. Do not reproduce our content without permission – you can contact us at info@whatsonweibo.com.
Annual List of China's Best Hospitals: Ranking the Top 10 Hospitals of the Year
These are China's best hospitals according to the Fudan University annual ranking list.
A new list with the 50 highest rated hospitals in China of the year 2019 has been released earlier this month.
A hospital list, ranking the best hospitals in China, was released earlier this month. The list is independently issued annually since 2010 by the Hospital Management Institute of Shanghai's Fudan University. It ranks the top 100 hospitals in China and the top 10 hospitals over various clinical specialties. In doing so, it has become one of the most important hospital rankings in China.
The topic became trending on Weibo with over 110 million views (#复旦版中国医院排行榜#). Although there is a major interest in this topic, there are also those questioning what makes a hospital the 'best' hospital. This list, among other things, is based on the hospital's reputation and its capacity to conduct scientific research.
"What is fame and reputation? What I care about when seeing a doctor is their success rate in curing patients," one social media user wrote – a sentiment shared by many. Others also say it is best to look for the right hospital depending on the patient's personal needs.
Although it is true that these rankings do not include any rates on treatment results, they are relevant to patients for their reputation and size nonetheless.
China currently has a significant shortage of doctors, and the most qualified doctors are more prone to go to the hospitals with the best reputation. It is an ongoing cycle that has left many of the more rural and smaller hospitals lacking qualified staff. (For more about the problems facing China's healthcare system, also see this article.)
We will list the top 10 of China's best hospitals according to the report here, including some basic info.
#1 Peking Union Medical College Hospital
中国医学科学院北京协和医院
Peking Union Medical College Hospital (PUMCH) has topped these rankings consecutively for 11 years. The hospital was founded in 1921 by Rockefeller Foundation and is affiliated to both Peking Union Medical College (PUMC) and the Chinese Academy of Medical Sciences (CAMS).
PUMCH offers 2000 beds, has more than 4000 employees, and 57 clinical and medical departments. The hospital recently also launched its online services, including consultation, prescribing medicine, and electronic medical recording, which reportedly will expand to all clinical sections of the hospital.
Weibo: @北京协和医院 (960906 followers)
Website: link
Address: #9 Dongdan 3rd Alley, Dongcheng, Beijing, China
#2 West China Hospital Sichuan University
四川大学华西医院
Founded in 1872, the West China Medical Center is China's biggest hospital in terms of size, and also ranks number two in the list of the world's largest hospitals (no 1 being the Chang Gung Memorial Hospital in Taiwan). The hospital has a capacity of 4300 beds and there are 46 clinical departments.
West China Hospital has recently been in the news a lot due to the development of its own experimental COVID19 vaccine.
Weibo: @四川大学华西医院 (483829 followers)
Website: link
Address: #37 Guoxue Alley, Wuhou District, Chengdu, Sichuan Province
#3 People's Liberation Army General Hospital / 301 Hospital
中国人民解放军总医院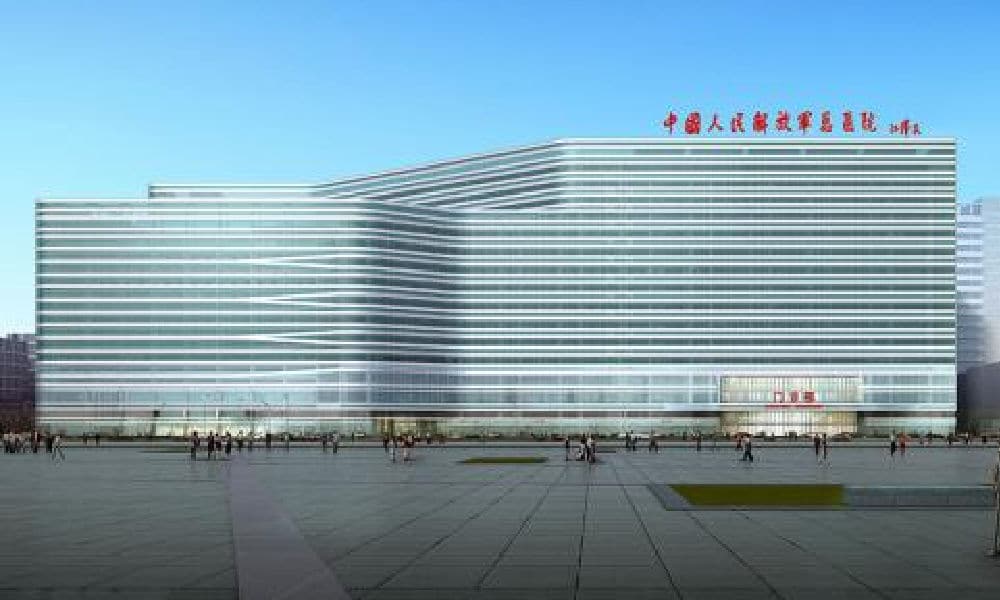 The General Hospital of the People's Liberation Army (PLAGH), also known as 301 Hospital or PLA General Hospital, is the largest general hospital under the auspices of the People's Liberation Army. The military hospital, used by the top leadership, was founded in 1953 and has a capacity of 4000 beds.
Earlier this year, the hospital made headlines for being the first center in Asia to provide newly advanced (ZAP) non-invasive technologies to treat brain tumors.
Website: link
Address: No. 28 Fuxing Road, Haidian District, Beijing
#4 Ruijin Hospital
上海交通大学医学院附属瑞金医院
Ruijin Hospital, formally known as Guangci Hospital, was founded in 1907. The hospital has 34 clinical departments, with a capacity of 1774 beds and a staff of over 3300.
The hospital is known for the rescue of burn victim Qiu Caikang, an iron worker of Shanghai Steel Factory who was burnt by molten steel in 1958. Although he suffered extensive burns to 89% of his body – and was thought unlikely to survive -, the staff at the hospital were able to successfully treat him. The hospital's technologies in treatment of deep burns has since been renowned throughout the country.
Website: link
Address: 197, Rui Jin Er Road,Shanghai 
#5 Zhongshan Hospital Fudan University
复旦大学附属中山医院
This Shanghai hospital, which opened in 1937, is a major teaching hospital affiliated with the Shanghai Medical College of Fudan University. It was the first large-scale general hospital managed by Chinese people at its time of opening.
Zhongshan Hospital is leading in China when it comes to the treatment of heart, kidney, and diseases, and liver cancer. The hospital has over 1900 beds and more than 4000 hospital staff.
Website: link
Address: 180 Fenglin Road, Shanghai
#6 The First Affiliated Hospital, Sun Yat-sen University
中山大学附属第一医院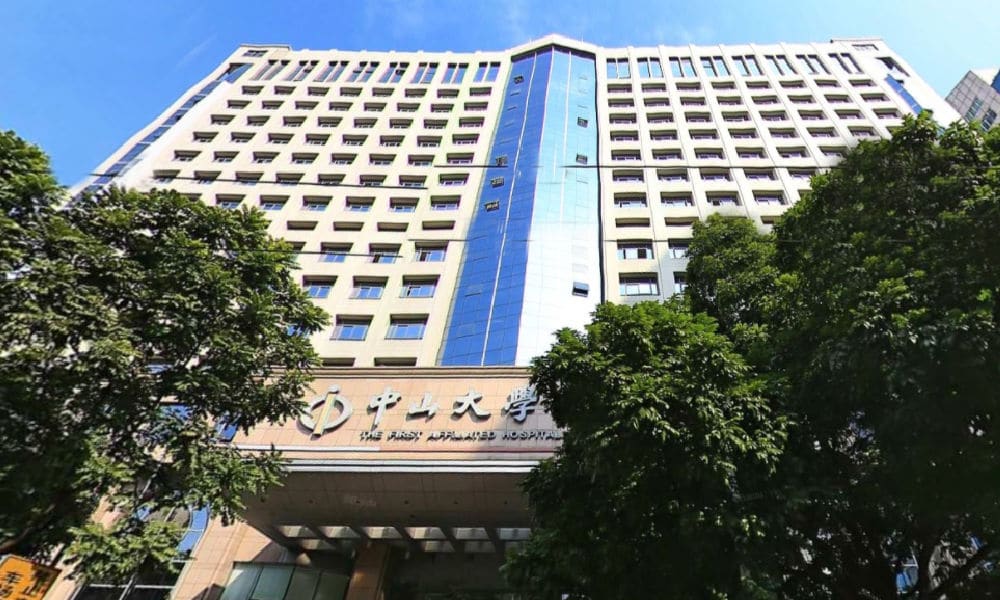 The First Affiliated Hospital of Sun Yat-Sen University is celebrating its 110th anniversary this year. Founded in 1910, the hospital was initially called the Affiliated Hospital of Guangdong Public Institution of Medicine. It is one of the largest hospitals in China.
The hospital is renowned for various medical specialties, including liver and kidney transplantion. The hospital has 72 clinical departments, 3523 beds, and over 6000 staff.
Website: link
Address: 58 Zhongshan 2nd Rd, Yuexiu District, Guangzhou, Guangdong Province
#7 Tongji Hospital, Huazhong University of Science and Technology
华中科技大学同济医学院附属同济医院
Tongji Hospital was officially founded by German doctor Erich Paulun in 1900, located in Shanghai, and did not move the Medical College to Wuhan until 1950. The hospital, which now has some 4000 beds and 7000 staff members, has 52 clinical and paramedical departments.
During the new coronavirus outbreak in Wuhan, the hospital provided 800 beds for severe cases.
Website: link
Address: No.1095 Jie Fang Avenue, Hankou, Wuhan
#8 Xijing Hospital
空军军医大学西京医院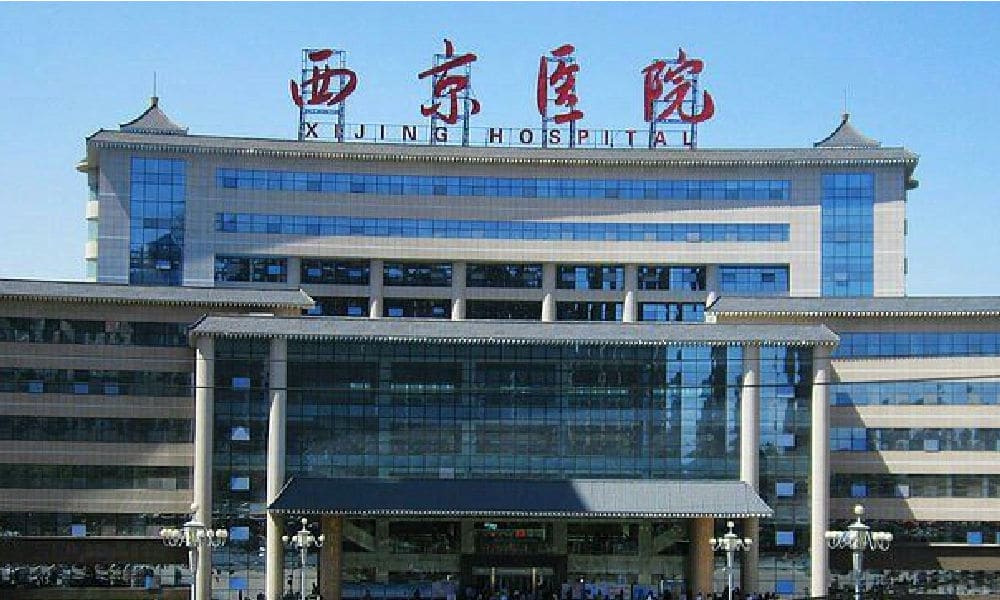 Xijing Hospital was founded in 1939 and has since been a hospital of several 'world's firsts', including being world's first hospital to recreate a '4D'-printed breast for a cancer patient who underwent a mastectomy. The hospital also saw China's first baby born from a transplanted womb.
Xijing Hospital houses 3218 beds.
Website: link
Adress: No. 127 Changle West Road, Xincheng District, Xi'an
#9 Huashan Hospital
复旦大学附属华山医院
Huashan Hospital's main branch is located in the city center of Shanghai, in the former French Concession. The hospital was founded in 1907 as the Chinese Red Cross General Hospital by Governor Shen Dunhe, the founder of the Red Cross Society of China. The hospital opened for business in 1909.
Besides being a general hospital with around 3000 staff members and over 1215 beds at the main branch, it is also Fudan University's major and renowned teaching hospital. Huashan is one of the best-known hospitals in China.
Website: link
Address: 12 Wulumuqi Middle Rd, Jing'an District, Shanghai
#10 Wuhan Union Hospital
华中科技大学同济医学院附属协和医院
Wuhan Union Hospital has a long history; it was founded in 1866 by Griffith John, a Welsh Christian missionary and translator in China. The hospital is an active general hospital, as well as focusing on teaching and scientific research.
The hospital has a total of 5000 beds and more than 8000 staff members. In 2020, the hospital became one of the designated hospitals to treat patients from the COVID-19 pandemic.
Website: link
Address: 1277 Jiefang Avenue, Wuhan, Hubei Province
By Manya Koetse
Follow @WhatsOnWeibo
Original photo used in featured image by Adhy Savala
Spotted a mistake or want to add something? Please let us know in comments below or email us. First-time commenters, please be patient – we will have to manually approve your comment before it appears.
©2020 Whatsonweibo. All rights reserved. Do not reproduce our content without permission – you can contact us at info@whatsonweibo.com.