Anti-Japanese Sentiments on Weibo after News of Shinzo Abe Getting Shot in Nara
On Weibo, some are gloating over the shooting of Shinzo Abe, who has been called the "'chief' anti-China politician in Japan."
The shocking news that Shinzo Abe was shot twice during a campaign speech in the city of Nara on Friday morning has become top trending on Weibo, where many commenters show little sympathy for Japan's former Prime Minister.
In the morning of July 8, 2022, Japan's former Prime Minister Shinzo Abe (安倍 晋三) was shot twice during a speech for an election campaign event in the city of Nara. According to the latest reports, the 67-year-old Abe has been rushed to hospital. Update: just before 18:00 local time, news came out that Shinzo Abe died after being shot.
The shooting incident happened around 11:30 when Abe was giving an Upper House election campaign speech in front of Yamato-Saidaiji Station of the Kintetsu Line.
Ex-Tokyo governor Yoichi Masuzoe (舛添要一), who was also at the event in Nara, tweeted that the former President was suffering "cardiopulmonary arrest" (心肺停止状態), meaning he is showing no vital signs.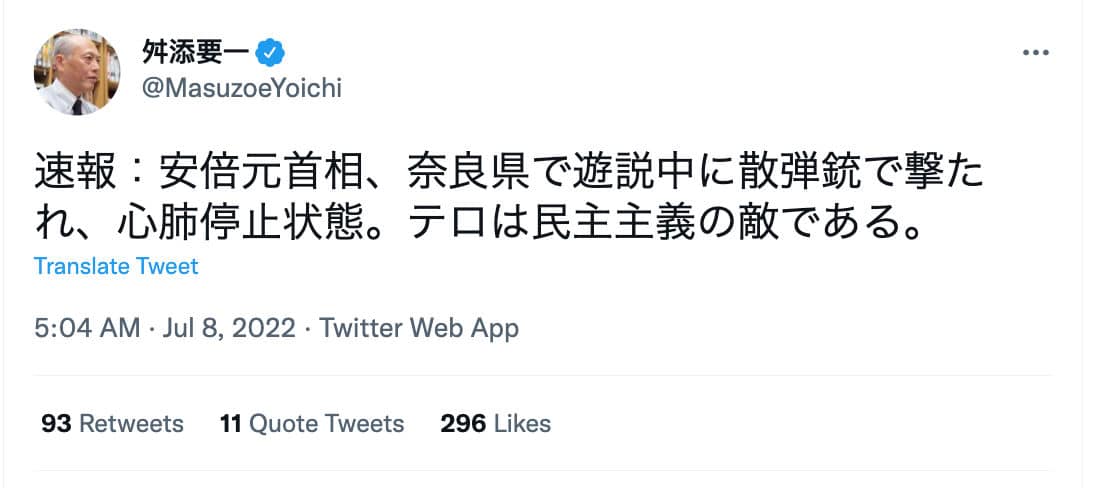 According to the Asahi newspaper, a 41-year-old man by the name of Tetsuya Yamagami has been arrested on suspicion of attempted murder and the weapon was seized.
On Chinese social media, the incident immediately became a trending news topic and various images were shared showing the alleged suspect. Other photos showed the former Prime Minister laying on the ground surrounded by medical staff. The hashtag "Abe Shows No Vital Signs" (#安倍已无生命体征#) received over a billion views on Friday.
One Weibo news post about the shooting by CCTV received over 1,6 million likes. The top comment said: "Exam candidates, remember this for extra points: July 7 is the day of the 1937 Marco Polo Bridge Incident that started China's War of Resistance against Japan; July 8 the day when Japanese Prime Minister Shinzo Abe was shot and killed." The comment received nearly 100,000 likes.
Influential media blogger Zhang Xiaolei (@张晓磊) posted: "Walking alone down a dark alley*, this man will go down in the history of Japan," referring to the gunman.
Some of the comments called the shooter a 'hero', saying he would not just go into Japanese history, but also would be remembered in Chinese history books. The comment that "this is a historical day" is a recurring one on Weibo today.
Former Prime Minister Abe was President of Japan's Liberal Democratic Party (LDP), and he was the longest-serving prime minister in Japanese history from 2006 to 2007 and then again from 2012 to 2020. He retired as Prime Minister in 2020 due to health reasons.
"An old man gets shot and falls to the ground yet you are gloating over it. Where is the morality? Where is your bottom line?"
In China, Abe has never been popular. After his 2020 retirement, he visited the controversial Yasukuni Shrine war memorial just days after stepping down. An 2021 editorial in the Chinese state media outlet Global Times called the former Prime Minister the "chief anti-China politician in Japan." In a 2021 Security Dialogue on Taiwan-US-Japan, Abe said that "Taiwan must be a leader among democracies." Some weeks earlier, he had also stated that "a Taiwan emergency is a Japanese emergency," urging China not to provoke its neighbors or seek territorial expansion.
In 2017, a video of a Japanese kindergarten recital saying that the disputed Senkaku/Diaoyu islands belong to Japan and that China should not "spread lies" about Japan went viral and sparked controversy on Chinese social media. That incident also put Shinzo Abe in a bad light as his wife previously visited the school, and he had reportedly once said that the ideology of the school's chairman was similar to his.
Anti-Japanese sentiments often surface on Chinese social media, where the history of the Second Sino-Japanese War (1937-1945) is still actively remembered (read more here).
"Shinzo Abe needs to let go of his hatred, excuse the gunman, and erase this part from history," another popular Weibo comment said, sarcastically referring to previous Japanese history textbook controversies regarding the silencing of Japan's war crimes.
But there are also those who are condemning those who apparently delight in the fact that the former Prime Minister was shot. One popular Weibo comment criticized these Weibo users, writing: "An old man gets shot and falls to the ground yet you are gloating over it. Where is the morality? Where is your bottom line?"
Chinese Foreign Ministry spokesperson Zhao Lijian (赵立坚) commented on the attack on Shinzo Abe during a regular press briefing on July 8, expressing shock and concern, adding: "We hope that former Prime minister Abe will be out of danger and recover soon."
Some could not resist making a sarcasting comment in the post reply section, writing: "There is still the danger that he might live?"
Despite all the reactions expressing a negative stance toward Abe and Japan, some Weibo users are posting a candle emoticon for the former Prime Minister, writing: "Sending prayers for Shinzo Abe."
Update: On Friday late afternoon, local media reported that Shinzo Abe died after the attack. Soon after, before 18:00 CST, the hashtag "Shinzo Abe Passed Away" (#安倍晋三身亡#) became the number one topic on Chinese social media platform Weibo, with the hashtag page receiving over 280 million views within thirty minutes.
Also read: Chinese Reporter Cries during Live Broadcast on Shinzo Abe Attack
To get more insights on Shinzo Abe, we can recommend The Iconoclast: Shinzo Abe and the New Japan by Tobias Harris (2020).
By Manya Koetse
* "孤身走暗巷", "walking alone in a dark alley", comes from a song titled "Lonely Warrior" (孤勇者) by Eason Chen.

Get the story behind the hashtag. Subscribe to What's on Weibo here to receive our weekly newsletter and get access to our latest articles:
Spotted a mistake or want to add something? Please let us know in comments below or email us. First-time commenters, please be patient – we will have to manually approve your comment before it appears.
©2022 Whatsonweibo. All rights reserved. Do not reproduce our content without permission – you can contact us at info@whatsonweibo.com.
Gu's Year: How Eileen Gu Became a Beloved Icon and Controversial Role Model in China
Patriotic, privileged, perfect? A year after Eileen Gu became an online sensation in China, she is still generating discussions.
Eileen Gu, the American-born freestyle skier and gold medallist who represented China in the 2022 Beijing Olympics, has made headlines again for her excellent halfpipe World Cup performance during the Chinese New Year. One year after Gu first became an internet sensation, she is, once again, receiving praise and triggering discussions on Chinese social media.
This Chinese Lunar New Year, the three Chinese Winter Olympic athletes Wu Dajing, Xu Mengtao, and Gao Tingyu, were widely discussed on Chinese social media after their debut at the CGM Spring Festival Gala.
Over 8000 kilometers away, another Winter Olympic athlete, Eileen Gu – better known as Gu Ailing 谷爱凌 in China, – also garnered huge attention for her excellent performance at the Calgary halfpipe World Cup. Just as people were celebrating the Chinese New Year, Eileen Gu claimed her second gold medal at the FIS Freeski World Cup.
It has almost been a year since the then-18-year-old Chinese-American freestyle skier grabbed gold at the Olympics and became front-page news in China.
Although Gu already garnered attention online when she announced in June of 2019 that she would switch national affiliation and compete for China, it wasn't until the Olympics that she appeared all over social media, was featured in dozens of ad campaigns, and practically became a household name in China.
Now, in light of the FIS Snowboard World Cup and the X Games in Aspen, Gu is back in the limelight.
On January 21st, the first day of the Year of the Rabbit, Chinese state broadcaster CCTV celebrated Gu's victory on social media using the hashtag "Eileen Gu Claims Two Golds within Three Days during the New Year Celebrations" (#谷爱凌过年3天2金#), with a two- minute video clip recording the highlights of her recent race. The hashtag has since received over 180 million views.
Gu herself also shared her victory on Weibo and wished people a prosperous New Year. That post attracted over 110,000 likes.
Many Chinese people celebrated Gu's new achievements with words of admiration, praising her capabilities and determination. One Weibo user commented: "I have to say, Gu Ailing is truly excellent. Three days, two medals. She has an indisputable talent."
Another user posted a video of Gu practicing while waiting for her flight and commented: "A healthy, energetic, diligent, excellent Gu Ailing who even continues training while waiting for boarding. Success doesn't come overnight."
Others also view Gu as a national icon for her gold medal wins for China. The phrase "wèi guó zhēngguāng" ("为国争光"), "winning glory for the country," appeared in many posts under the hashtag related to Gu's win.
But over the past year, since Gu's Olympic success, she has not always merely been viewed as a patriotic hero. Despite her popularity, Gu also triggered controversy and sometimes came under fire, with some wondering if she truly was patriotic and others blaming her for being privileged.
PATRIOTIC
"Everybody knows Eileen Gu is Chinese"
During the 2022 Winter Olympics in Beijing, the fact that Gu had switched her international allegiance and represented China instead of the US instilled pride among many Chinese. Chinese media flooded with stories on Gu that focused on the narrative of the multi-talented "mixed kid" who gave up her United States citizenship to represent the People's Republic of China.
However, when being asked about her citizenship in interviews, Gu's replies left many people wondering about the facts of the matter; they wanted to know whether or not Gu actually gave up her American passport, as China does not recognize dual nationality. Gu's response "I'm American when in the US and Chinese when in China" triggered dissatisfaction among Chinese audiences.
"I have stopped liking her since she said that," one Weibo user reflected in December 2022, and the post received 35,000 likes. To this day, there are many social media comments bringing up Gu's comment: "You're in America, so now you're American, right?"
Others also attacked Gu after Forbes listed her as the third highest-paid female athlete in the world in 2022 (#谷爱凌年收入1.4亿#). Some commenters argued that she had earned her money in China and was spending it in the US, and that she was unpatriotic for doing so.
However, some netizens defended Gu by stressing what she had done for China. In Weibo posts and comment threads, users supporting Gu wrote: "She won two gold medals and more for China, what did your patriotism contribute to China?" Others also said Gu had shown her love for China through her performances, and that it would be impossible to expect her to distance herself from the country she grew up in.
Meanwhile, Western media outlets described how the bi-lingual Gu had been "dodging" explicit questions about her US citizenship status. This also led to Gu getting attacked by Americans. When Gu returned to the US and enrolled in Stanford University, there was even an online petition about getting Gu's admittance to Stanford revoked due to Gu's supposed "lack of integrity about her nationality" and indifference to "the human rights violations" in China.
Among Chinese netizens, questions also rose about whether Gu had only represented China during the Olympics and if her return to the US might mean that she would give up her Chinese nationality and play for the US team instead.
But with Gu's debut at the FIS Freeski World Cup in the Year of the Rabbit, Chinese bloggers pointed out that Gu's nationality was still listed as Chinese.
"No matter where she is, Gu Ailing still has the Chinese nationality," one Weibo blogger wrote, with others also saying: "She is still representing China, we should all support her! The rumors about her changing nationalities are false!"
"Everybody knows Eileen Gu is Chinese," another social media user wrote.
But not everybody is convinced: "Don't fool yourself. I'm happy she helped China win gold, but dual citizenship is dual citizenship, there's no point in covering it up."
PRIVILEGED
"Gu's success is unrelated to normal people"
Another discussion that has flared up during Eileen Gu's past year of success is focused on her alleged privileged status, especially within the context of her being praised as a role model for Chinese (female) younger generations.
In February of 2022, an Instagram comment made by Gu regarding the use of VPNs in China caused some controversy. At the time, one person asked Gu about "internet freedom" in China and how it was possible for her to use Instagram while she was in China, where the platform is blocked. Gu then replied: "Anyone can download a vpn its literally free on the App Store [thumbs up]"
A screenshot of the exchange then circulated on Weibo, where many netizens were surprised about Gu's statement. VPNs are generally not available on app stores in mainland China, as there are numerous restrictions on virtual private networks (VPNs) which are commonly used to browse websites or apps that are otherwise blocked in China.
Gu was then criticized over the fact that she seemed unaware of the restrictions on VPNs along with her suggestion that 'internet freedom' only referred to the accessibility of foreign platforms, allegedly showing her privileged position.
After Gu enrolled in Stanford University and posted her all-A transcript of the first semester at the end of 2022, many praised her hard work but there was also criticism about her "showing off" and strategically choosing a supposedly easier curriculum.
"She posted it to impress Chinese people who do not understand the system," one person commented, with others replying that an "S" grade does not equal full points and that she had no A+ grades. Others claimed that Gu probably received help with her schoolwork.
As online discussions intensified (#谷爱凌斯坦福所有课程全部满分#), Gu herself responded to online criticism, stressing that she – without anybody's help – had worked hard for her grades and that only 5% of students can get an A at Stanford.
The idea that Gu comes from a very privileged background and that it is not just her diligence that brought her success is a recurring one on social media.
Gu was raised by her Chinese mother, a molecular biology graduate who studied at Peking University and Stanford University and who used to be a speed skating athlete as well as a part-time coach at Peking University. She allegedly worked at Wall Street and later became a CEO of a risk investment company. Her grandmother, a former official at China's Ministry of Transport, was a university basketball player, while her grandfather was a soccer player at school who was also good at swimming, skiing, and skating. Her family members' background is exceptional. University students were rare among Gu's grandparents' generation, and studying abroad was also uncommon for her mother's generation.
As people believe that this family background has largely contributed to Gu's success, Gu's position as a "role model" is questioned.
"Gu's success is unrelated to normal people," one Weibo user wrote. "What is the meaning of having this kind of role model? I have no parents from the Ivy League, no pretty face of mixed race, no elite education from the mix of Chinese and American cultures, no exceptional family background, and even no talent," one Zhihu user wrote.
"Gu started skiing at three years old, and practiced running, basketball, piano, and ballet soon after; I started playing in the mud at three years old and I can still only play in the mud," another user wrote. "Gu's mother meticulously planned Gu's life, but my mother could hardly spare any time for me while she was working."
PERFECT
"Congratulations, Little Gu, you're the greatest!"
Amid all the online discussions surrounding Eileen Gu, there is the view that people have not necessarily grown tired of Gu herself but of the (online) media narratives surrounding her which present her as the perfect daughter, the perfect athlete, or the perfect role model.
Some people admit that they feel jealous or say that they feel it is unfair because they feel they could never reach that standard.
One article published by The Paper in 2022 reiterated the popular view that Gu's success "has nothing to do with ordinary people" ("谷爱凌的成功与普通人没啥关系"), but argued that people should draw inspiration from her story rather than focusing on all the aspects of her life that are unattainable to them.
A commentary by PLA Daily also argued that Olympic athletes should not be turned into "gods" for their overnight success; neither should they be vilified because of their shortcomings. It's not about the pursuit of perfection, the author wrote, but about facing up to one's own shortcomings.
There are also those who remind others that Gu is still a teenager. Not only have some of the controversies over the past year shown that Gu is not "perfect," they also showed that fame is a double-edged sword.
As one netizen put it: "Success can be magnified to an extreme, and mistakes can be enlarged without boundaries (..) She'll be carefully walking on the sharp edge of the sword because if she does something that does not conform to what people expect of her, the same people who praise you today will step on you tomorrow."
Meanwhile, many Chinese fans of Eileen Gu have had it with those leaving "sour comments." "She is representing China, she snatched gold, your empty 'patriotism' is contributing nothing!"
"Congratulations, Little Gu, you're the greatest!" some say: "You did a good job, and we're proud of you."
By Zilan Qian and Manya Koetse
Follow @WhatsOnWeibo
Get the story behind the hashtag. Subscribe to What's on Weibo here to receive our newsletter and get unlimited access to all of our articles:
Spotted a mistake or want to add something? Please let us know in comments below or email us. First-time commenters, please be patient – we will have to manually approve your comment before it appears.
©2023 Whatsonweibo. All rights reserved. Do not reproduce our content without permission – you can contact us at info@whatsonweibo.com.
About That Moment When Xi Jinping and Justin Trudeau Briefly Talked at G20
China-Canadian relations haven't exactly been warm and friendly recently. This short Xi-Trudeau encounter made it all the more clear.
On November 16, a video showing a noteworthy exchange at the closing sessions of the G20 in Bali between Chinese leader Xi Jinping and Canadian Prime Minister Justin Trudeau went viral on Twitter.
Annie Bergeron-Oliver, @AnnieClaireBO, a reporter at the Canadian news outlet CTV National News, posted the video on Twitter at 15:40 China central time on Wednesday. It has since received 8.7 million views.
As person filming walks closer, the conversation caught on video is as follows:
Xi: "报纸上去,不合适啊 [Bàozhǐ shàngqù, bù héshì a]." ("It's not appropriate to go to the newspaper.")
Translator: "Everything we discussed has been leaked to the paper, that is not appropriate."
Xi: "而且我们也不是那样进行的, 对吧 [Érqiě wǒmen yě bùshì nàyàng jìnxíng de, duì ba]." ("And that's not how we conducted it, is it?")
Translator: "That's not the way the conversation was conducted."
Xi: "如果有诚心,咱们就应互相尊重的态度来进行谈话。否则这个结果就不好说了 [Rúguǒ yǒu chéngxīn, zánmen jiù yīng hùxiāng zūnzhòng de tàidù lái jìnxíng tánhuà. Fǒuzé zhège jiéguǒ jiù bù hǎoshuōle]." ("If you're sincere, then we should conduct talks with mutual respect, otherwise the outcome is unsure [not easy to say].")
[Xi Jinping seems to want to start to walk away, body language indicates he is done with this conversation.]
Translator: "If there is sincerity on your part…"
[Trudeau interrupts the translator and starts speaking.]
Trudeau: "In Canada, we believe in free and open and frank dialogue and that is what we will continue to have. I continue to look to work constructively together but there will be things we disagree on, we will have to.."
[Xi Jinping interrupts both Trudeau and the translator.]
Xi: "创造条件. 创造条件 [Chuàngzào tiáojiàn, chuàngzào tiáojiàn]." ("Create the conditions. Create the conditions.")
Translator: "Let's create the conditions first."
Xi: "好 [Hǎo]." ("All right then").
[Xi shakes Trudeau's hand and walks off.]
As pointed out by Twitter user @Maoviews, Xi Jinping seems to be saying "很天真 [Hěn tiānzhēn]" when he walks off, meaning "so naive."
Rewatching this, now realizing at 25 sec, Trudeau didn't even need to listen to translation because he understood the message all too well without.. https://t.co/UAhW2GpmAS

— Manya Koetse (@manyapan) November 16, 2022
The exchange between Trudeau and Xi is likely related to an earlier informal exchange the leaders had at the sidelines of the G20 on Tuesday, November 15. Although English-language media reported about the informal meeting in a crowded room on Tuesday, mainland Chinese media did not.
Western media outlets reported that in the informal conversation, Trudeau supposedly:
– raised concerns over suspected domestic interference by China in Canadian federal elections
– discussed Russia's invasion of Ukraine with Xi
– spoke about North Korea
– highlighted the importance of the upcoming summit in Montreal regarding climate change
– talked with Xi on the importance of continued dialogue
…and all that within a mere ten minutes!
Relations between Canada and China have not exactly been warm and friendly recently. Last month, Canada's industry minister François-Philippe Champagne suggested that Canada and the U.S. should want a "decoupling" from 'rivals' such as China and other countries that do not share "similar values."
Earlier this month, the Canadian government ordered several Chinese companies to sell their stakes in three small Canadian lithium miners, arguing that the investments "pose a threat to national security."
China's Ministry of Foreign affairs called the move an "unreasonable suppression of Chinese companies" (#外交部回应加方无理打压中国企业#), fuelling more online discussions on Weibo and beyond about Canadian authorities holding on to "anti-Chinese" narratives.
On November 8, China's Ministry of Foreign Affairs also responded to allegations of China meddling in Canadian elections. "The Chinese side has no interest in Canadian internal politics," spokesperson Zhao Lijian (赵立坚) said firmly (#外交部回应特鲁多称中方干涉加拿大选举#).
Some on Twitter, including Shanghai Daily reporter Andy Boreham, also linked the brief exchange between Xi and Trudeau to China-Canadian bilateral conversations held regarding Huawei's Meng Wanzhou.
A story published by the Wall Street Journal on October 27 of this year focused on the "top-secret negotiations" that surrounded the imprisonment of two Canadian citizens in China, Michael Kovrig and Michael Spavor, at a time when Huawei's CFO and founder's daughter Meng Wanzhou was arrested in Canada on December 1st of 2018 on suspicion of bank fraud. Meng was accused of helping to disguise Huawei's business dealings in Iran and violating U.S. sanctions on Iran.
But Chinese officials saw her arrest in Canada and possible extradition to the U.S. as an unjust move and Washington power play. The two Canadians arrested in China – just days after Meng's detainment – were accused of threatening national security and espionage.
The article, titled "Inside the Secret Prisoner Swap that Splintered the U.S. and China," describes in detail the negotiations between Canada, the U.S., and China, which eventually led to Meng's return to China and the 2021 release of the two Canadians. The newspaper calls it a major "prisoner swap."
On Chinese social media platforms Weibo and Douyin (TikTok), the video of the brief talk between Xi and Trudeau was nowhere to be found, but the Douyin autocomplete feature in the search bar clearly showed there is a general interest in the topic: upon filling in "Trudeau" (特鲁多) it suggested: "Trudeau Xi", "Trudeau not appropriate", "Trudeau scolded video."
On Chinese search engine Baidu, there were zero search results for Xi meeting Trudeau over the past week.
Meanwhile, various Chinese media accounts did post videos of Trudeau and his informal encounter with UK Prime Minister Sunak. The 'Weibo World' (微博天下) account wrote: "They only just arrived and already started drinking" ("刚到刚G20就喝上了")。
The English-language state media platform Global Times did mention the brief encounter between Trudeau and Xi, writing: "During the welcoming ceremony of the G20 Leaders' Summit, Canadian Prime Minister Justin Trudeau took the initiative to approach Chinese President Xi Jinping to chat, the Global Times learned on Wednesday from a source at the scene. But the conversation between the two leaders was very short, the source added."
Global Times also reported that Trudeau had expressed the hope to have the opportunity to talk with Chinese leader Xi Jinping "about the Korean Peninsula, Ukraine, Canada-China relations, biodiversity and other issues," and that Xi's response was that "the key requirement for China-Canada relations is finding a common ground while managing the difference."
By Manya Koetse 
Get the story behind the hashtag. Subscribe to What's on Weibo here to receive our newsletter and get access to our latest articles:
Spotted a mistake or want to add something? Please let us know in comments below or email us. First-time commenters, please be patient – we will have to manually approve your comment before it appears.
©2022 Whatsonweibo. All rights reserved. Do not reproduce our content without permission – you can contact us at info@whatsonweibo.com.