Trump Versus Biden –The Sentiments on Chinese Social Media
Is Biden the preferred candidate for most Chinese, as is often claimed? An overview of discussions on Trump vs Biden on Weibo.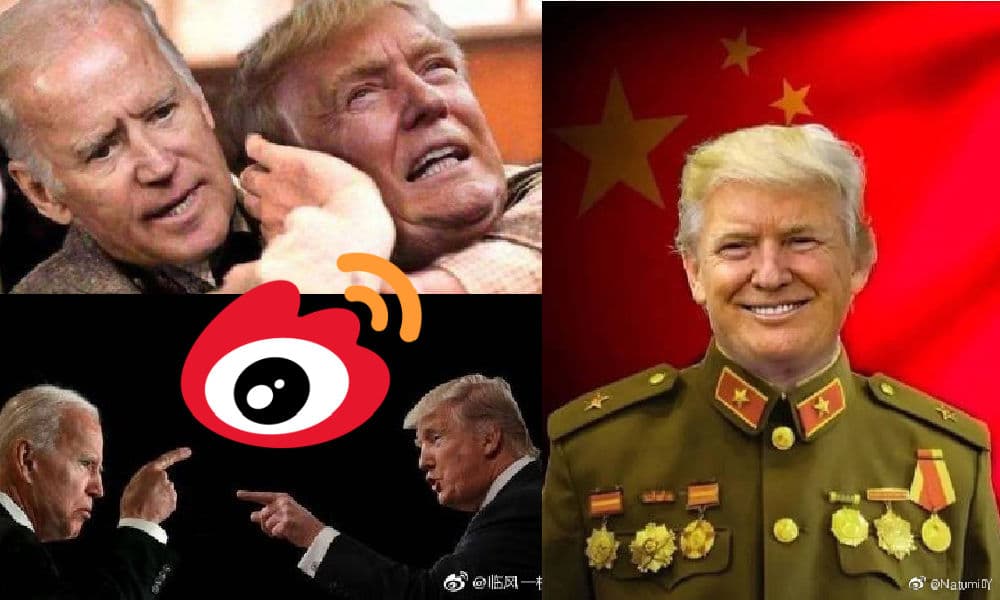 With nearly three billion views on the hashtag page, the 'American elections' are top trending on Weibo (#美国大选#). What are the current Chinese online sentiments towards Trump versus Biden?

This is the "WE…WEI…WHAT?" column by Manya Koetse, original publication in German by Goethe Institut China, see Goethe.de: WE…WEI…WHAT? Manya Koetse erklärt das chinesische Internet.

"Congratulations, it's a boy!", many social media users in China joked when Donald Trump was elected in November of 2016.
At the time, What's on Weibo was closely following how Chinese web users were responding to the news of Trump's election, and found that many were quite positive.
It was Trump's "war on political correctness" and his new, pragmatic way of approaching politics that many said they appreciated. "A new broom sweeps clean," was a recurring comment at the time. There was a sense of excitement about this new American president, this "funny businessman," stirring up turmoil on the world's political stage.
There were also those saying that Trump was not the ideal candidate, but just that Hillary Clinton was much worse. With her focus on human rights, the feminist movement, and internet freedom, many thought of her as the most 'anti-China' candidate, and for that reason alone, were happy that Trump was elected instead of her.
But in 2020, Chinese sentiments towards Trump – and the US in general – have shifted. As people all over the world are watching the developments surrounding the American elections with great interest, let's go over some of the main views that surface in China's social media sphere regarding 'Trump versus Biden.'
Shifting Views on Trump
Although it seemed that people on Chinese social media, and even official media, showed a somewhat favorable stance towards Trump in the early days after the 2016 election, this generally positive view shifted to a more negative one after the president's controversial phone call with Taiwanese president Tsai Ing-wen and the 2016 Fox interview in which Trump challenged the One China Policy. Many Weibo users called Trump an "idiot" and said he had "zero understanding of how diplomacy works."
In 2017, Trump's then 5-year-old granddaughter Arabella, who had been learning to speak Mandarin, seemed to be part of America's diplomatic 'charm offensive' in China. The little girl, daughter of Ivanka Trump and her husband Jared Kushner, featured in a short video that was shown to President Xi Jinping and 'Chinese First Lady' Peng Liyuan during an informal tea with Trump at the Forbidden City. Arabella, dressed in a Chinese-style dress, sung songs in Mandarin and recited some poetry.
The video received millions of views on Chinese social media and was widely shared by netizens and Chinese official media outlets such as Xinhua, People's Daily and CCTV. Many viewed the video and Arabella's efforts to learn Chinese as a sign of better China-US friendship in the future, calling it "the best present" Trump could bring during his Beijing visit.
But over the past two years, views on Trump have soured along with the deteriorating US-China (trade) relations.
When the U.S. Justice Department officially filed charges against Chinese smartphone maker Huawei in 2019 for allegedly stealing trade secrets, seeking the extradition of chief financial officer Meng Wanzhou (the daughter of the company's founder), the online narrative – reiterated by Chinese state media – was that the United States was using the judicial system for a battle that was actually politically motivated; it was not about Huawei, but all about China's rise as a competing technological power.
That same idea was spread by officials, media, and netizens, when Trump issued an American ban on Chinese apps TikTok and WeChat earlier this year. Many deemed that it was not about national security at all, but rather a fight over technological leadership.
What also made Donald Trump more unpopular among Chinese was the fact that he pointed the finger at China after the outbreak of the new coronavirus pandemic, repeatedly calling it the "Chinese virus."
When news came out in October this year that President Trump and his wife Melania tested positive for COVID-19, it immediately became top trending all over Chinese social media.
The news came right after China's National Day, during the Golden Week holiday, and some jokingly said that the positive COVID-19 test was "Trump's way of congratulating China during the national holiday." Because the American president previously downplayed the severity of the COVID-19 crisis and continuously shifted the blame on China, the popular view on Trump getting infected was a simple 'what goes around, comes around.'
Donald Trump is often nicknamed Chuān Jiànguó (川建国) on Chinese social media, which basically means "Build the Country Trump." The name is just one among many existing memes and jokes about the U.S. president on the Chinese internet. A reason to call him Chuān Jiànguó is to make fun of Trump's words and actions, suggesting that his leadership only brings America down and in doing so, also further accelerates the rise of China. In doing so, Trump is sarcastically called "America's gift to China."
'Pupu' versus 'Dengdeng'
As the second and final presidential debate of the election campaign has finished and Election Day is nearing, the 'Trump versus Biden' topic is much discussed on Weibo, WeChat, and also on other Chinese social media platforms, such as the Chinese question-and-answer website Zhihu. In these online discussions, the two men are sometimes also jokingly referred to as 'Pupu' (普普) and 'Dengdeng' (登登), cute abbreviations for their Chinese names 'Chuanpu' (川普) and 'Baideng' (拜登).
Although it has been reported by various international media that Beijing allegedly would prefer Democratic candidate Joe Biden over President Donald Trump, this supposed official stance is not necessarily reflected in social media discussions in mainland China.
Western critics are also divided over whether or not Biden is the preferred candidate for the Chinese leadership. Some argue that Trump, who has weakened America's traditional international alliances and has seemingly not been too concerned with human rights issues, is actually favored over Biden for basically strengthening China's position in international society.
Despite the fact that views on Trump have shifted throughout the years, the discussions on Weibo and other platforms are still multifaceted when it comes to the American president. Many are not impressed by Biden's performances either. The Democratic presidential nominee is praised by some for being "mild," "scholarly" and "refined", but others criticize him for using a lot of "empty words" and "talking in cliches."
Some netizens support Biden merely for being "the enemy of an enemy."
"Trump's pragmatic and business-like style is very convincing," one blogger from Beijing wrote about the second presidential debate: "I think he did better than Joe Biden, who is all about talk and no action (..) I hope Trump wins."
In a recent lengthy WeChat blog about the US elections posted by state tabloid account Global Times, the author claims that when it comes to China, it actually does not really matter who wins the elections: "Regardless if it's the Democrats or the Republicans, both hold a negative stance when it comes to the China issue. (..) No matter who comes to power in the future, there is a high probability that they will continue to suppress China."
The author further suggests that there might be "a difference in style" between Trump and Biden regarding China policies: "If Trump wins, we'll see more of what we have already been seeing now, without much international support. If Biden wins, he will be more likely to seek international consensus to target China and make use of international organizations to put pressure on Beijing. Also, Biden is probably more concerned about human rights and democratic values than Trump is."
There are many Chinese web users who, for this reason alone, would rather see Trump win than Biden – it's the 'Build the Country Trump' kind of reasoning. As one Weibo blogger from Dalian writes: "I hope Trump gets re-elected. It would just be better for China."
An online poll that was held by a popular Weibo blogger earlier this year asked people if they would like to see Trump be reelected. Of the 8736 people participating, 74% said they hoped Donald Trump gets elected again. Only 5% said they hoped he would not be reelected. Another 21% said they felt indifferent about the American elections, as it would not make much difference for China anyway.
Although many people do care about the American elections, mostly because of how the outcome would affect China, others just enjoy watching the spectacle of U.S. politics. "I love how confident and unruly Trump is," one commenter writes: "He is legendary. If Biden comes to power, the coming four years are going to be much more boring."
"Without Trump, the world's just gonna be a lot less fun," another person agrees.
But there are also those who do not care for any more Trump memes, jokes, and spectacle. "Everyday I check my phone, it's all about Trump," popular U.S.-based Weibo blogger Zheng Jun writes: "I really hope that once the elections are over, I don't need to look at any more Trump news."
By Manya Koetse
Follow @whatsonweibo

This text was written for Goethe-Institut China under a CC-BY-NC-ND-4.0-DE license (Creative Commons) as part of a monthly column in collaboration with What's On Weibo.

Spotted a mistake or want to add something? Please let us know in comments below or email us. First-time commenters, please be patient – we will have to manually approve your comment before it appears.
Fangcang Forever: China's Temporary Covid19 Makeshift Hospitals To Become Permanent
China's temporary 'Fangcang' shelter hospitals are here to stay.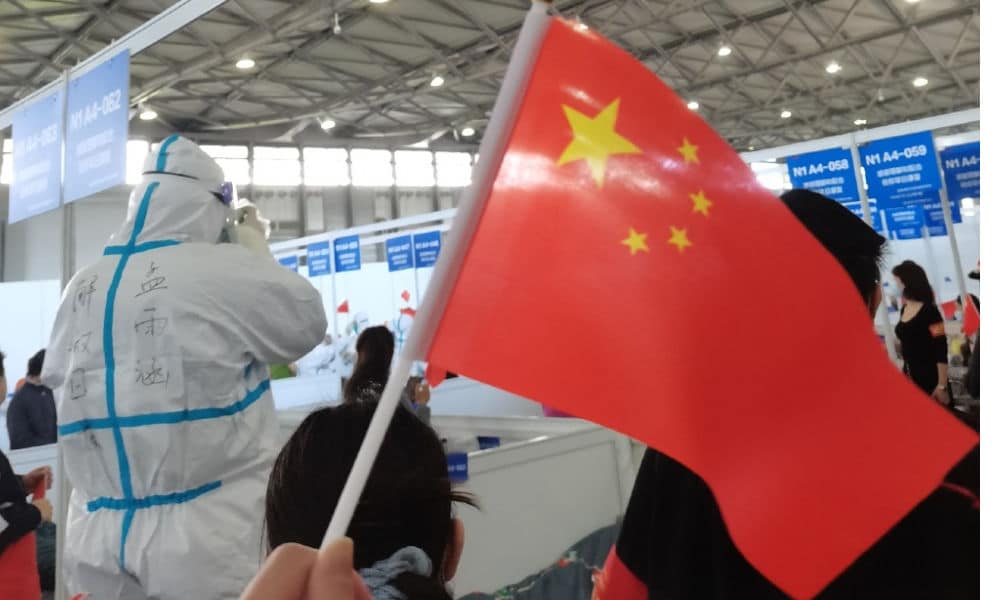 A new term has been added to China's pandemic lexicon today: Permanent Fangcang Hospital. Although China's 'Fangcang' shelter hospitals are, by definition, temporary, these healthcare facilities to isolate and treat Covid patients are now becoming a permanent feature of China's Zero-Covid approach.
Over the past few days, Chinese authorities have emphasized the need for China's bigger cities to build or renovate existing makeshift Covid hospitals, and turn them into permanent sites.
So-called 'Fangcang hospitals' (方舱医院, square cabin hospitals) are large, temporary makeshift shelter hospitals to isolate and treat Covid-19 patients. Fangcang shelter hospitals were first established in China during the Wuhan outbreak as a countermeasure to stop the spread of the virus.
They have since become an important part of China's management of the pandemic and the country's Zero-Covid policy as a place to isolate and treat people who have tested positive for Covid-19, both asymptomatic and mild-to-moderate symptomatic cases. In this way, the Fangcang hospitals alleviate the pressure on (designated) hospitals, so that they have more beds for patients with serious or severe symptoms.
On May 5th, Chinese state media reported about an important top leadership meeting regarding China's Covid-19 situation. In this meeting, the Politburo Standing Committee stressed that China would "unswervingly adhere to the general Zero-Covid policy" and that victory over the virus would come with persistence. At the meeting, chaired by Xi Jinping, the seven-member Politburo Standing Committee also declared that China would fight against any words or acts that "distort, doubt, or deny" the country's dynamic Zero-Covid policy.
Following the meeting, there have been multiple official reports and statements that provide a peek into China's 'zero Covid' future.
On May 13, China's National Health Commission called on all provinces to build or renovate city-level Fangcang hospitals, and to make sure they are equipped with electricity, ventilation systems, medical appliances, toilets, and washing facilities (Weibo hashtag ##以地级市为单位建设或者改造方舱医院#).
On May 16, the term 'Permanent Fangcang Hospital' (Weibo hashtag #永久性方舱医院) became a trending topic on Weibo after Ma Xiaowei (马晓伟), Minister of China's National Health Commission, introduced the term in Qiushi (求是), the leading official theoretical journal of the Chinese Communist Party.
The term is new and is somewhat contradictory as a concept, since 'Fangcang hospitals' are actually defined by their temporary nature.
Ma Xiaowei stressed the need for Chinese bigger cities to be ready for the next stage of China's Covid control. This also includes the need for some central 'Fangcang' makeshift hospitals to become permanent ones.
In order to 'normalize' the control and monitoring that comes with living in Zero-Covid society, Chinese provincial capitals and bigger cities (more than ten million inhabitants) should do more to improve Covid testing capacities and procedures. Ma proposes that there should be nucleic acid sample collection points across the city within a 15-minute walking distance radius, and testing frequency should be increased to maximize efficient control and prevention.
Cities should be prepared to take in patients for isolation and/or treatment at designated hospitals, centralized isolation sites, and the permanent Fangcang hospitals. The recent Covid outbreak in Shanghai showed that local authorities were unprepared to deal with the outbreak, and sites that were used as Fangcang hospitals often lacked proper facilities, leading to chaotic scenes.
The hashtag "Permanent Fangcang Hospitals" received over 140 million views on Weibo on Monday.
One of the Weibo threads by state media reporting on the Permanent Fangcang hospitals and the publication by Ma Xiaowei received nearly 2000 comments, yet the comment section only displayed three comments praising the newly announced measures, leaving out the other 1987 comments.
Elsewhere on Weibo, people shared their views on the Permanent Fangcang Hospitals, and most were not very positive – most commenters shared their worries about China's Covid situation about the stringent measures being a never-ending story.
"We're normalizing nucleic acid test, we're introducing permanent fangcang hospitals, [but] why isn't the third Covid vaccination coming through?" one person wondered.
"If there was still a little bit of passion inside me, it was just killed by reading these words 'Permanent Fangcang Hospital,'" another commenter writes, with one Weibo user adding: "I feel desperate hearing the words 'Permanent Fangcang Hospital.'"
"Building permanent Fangcang? Why? Why don't you use the resources you're now spending on normalizing testing to create more hospital beds, more medical staff and more medications?"
Another commenter wrote: "China itself is one giant permanent Fangcang hospital."
"The forever Fangcang are being built," one Weibo user from Guangdong writes: "This will never end. We'll be locked up like birds in a cage for our entire life."
For more articles on the Covid-19 topics on Chinese social media, check here.
By Manya Koetse, with contributions by Miranda Barnes
Get the story behind the hashtag. Subscribe to What's on Weibo here to receive our weekly newsletter and get access to our latest articles:
Featured image via user tongtong [nickname] Weibo.com.
Spotted a mistake or want to add something? Please let us know in comments below or email us. First-time commenters, please be patient – we will have to manually approve your comment before it appears.
©2022 Whatsonweibo. All rights reserved. Do not reproduce our content without permission – you can contact us at info@whatsonweibo.com.
'Hard Isolation' is Shanghai's New Word of the Day
In line with a new 'hard isolation' measure, the entrances of some Shanghai residential buildings were fenced up.
While some Shanghai households have already endured weeks of isolation, a new word was added to their epidemic vocabulary today: 'hard isolation' or 'strong quarantine' (yìng gélí 硬隔离)
The word popped up on Chinese social media on April 23rd after some Shanghai netizens posted photos of fences being set up around their community building to keep residents from walking out.
"New word: hard isolation. Shanghai is rotten to the core," one commenter wrote.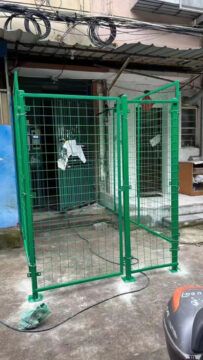 The word soon turned into a hashtag page where people started commenting on the issue of fences being placed around residential buildings, voicing concerns on what a fence around buildings would mean for fire safety, especially after online rumors suggested that there had been a fire at one community in Pudong on Saturday night.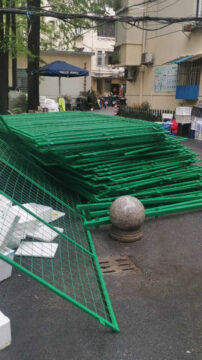 An official document regarding the 'hard isolation' measure was also shared online on Saturday. It is dated April 23, 2022, and its source is the Pudong New Area Office for Epidemic Control.
The document states that in line with the guidelines for the city's epidemic prevention and control, the division between areas or zones that are in certain risk categories should be 'optimized,' with those in the high-risk category requiring a 'hard isolation.' Security guards should also be on duty 24 hours a day at the entrance of the buildings.
Earlier this month, Shanghai adopted "3-level control measures" after its initial phased lockdown. It means that local areas will be classified as "locked-down," "controlled" or "precautionary," based on their Covid19 risk.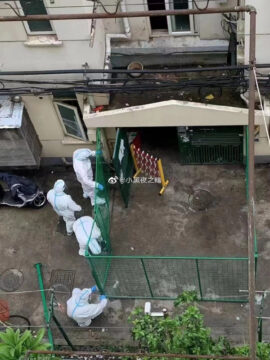 "Could we also put fences around the homes of Shanghai leaders?", one person suggested, while others posted images from the Walking Dead to mock the situation.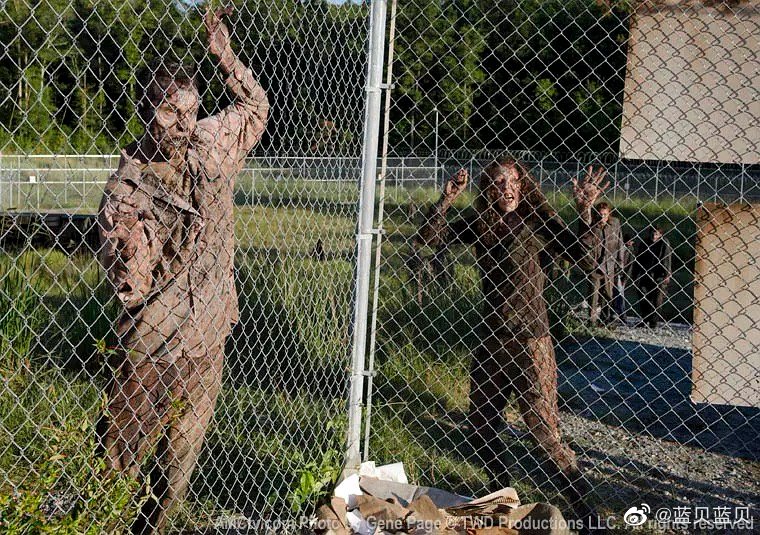 In the hope of Shanghai soon tackling the Covid situation, not everybody disagreed with the decision to fence some buildings or communities in the Pudong area: "I don't disagree with it, as long as there is always someone there to open the fence in case of fire," one person stated.
Although having a fence around their building is currently not a reality for most in Shanghai, the online photos of some communities seeing their buildings being fenced up is a reason to worry for some: "It's been 40 days, and now they start hard isolation? This actually scares me. Before we know it, it's June."
One Weibo user asked: "Why is it possible to implement this hard isolation now? Was this created by the same persons who also implemented the rule to separate children from parents at isolation sites?"
"I truly can't imagine why some people thought this is a good idea," others wrote.
For more articles on the Covid-19 topics on Chinese social media, check here.
By Manya Koetse
Get the story behind the hashtag. Subscribe to What's on Weibo here to receive our weekly newsletter and get access to our latest articles:
Spotted a mistake or want to add something? Please let us know in comments below or email us. First-time commenters, please be patient – we will have to manually approve your comment before it appears.
©2022 Whatsonweibo. All rights reserved. Do not reproduce our content without permission – you can contact us at info@whatsonweibo.com.