Beijing Medical Graduates Open BBQ Diner, Offer Discount for Every Academic Publication
These Ivy League medical graduate students from Beijing love the academic world and barbecued meat. They will give you a discount if you're the author of a recent scientific publication.
Top medical students from Beijing's Ivy League universities have started their own BBQ restaurant. To 'encourage research,' they offer customers a discount if they can show they have recently been published in a scientific journal.
Wang Jian (王建) and Cheng Si (程丝), top medical graduate students from Beijing's most prestigious universities Beida and Tsinghua, have operated hand in hand with sixteen other former classmates in opening up their own barbecue joint in the capital's city center.
The restaurant, "The Lancet BBQ" (柳叶刀烧烤), named after one of the world's oldest and best known general medical journals, is located near Xizhimen and Beijing Jiaotong University and was opened in April of 2017.
On October 10, the 'Lancet BBQ' became a top trending topic on Chinese social media after a WeChat article by the restaurant's owners received much attention by Chinese media and was read 100,000 times within an hour.
On Weibo, the hashtag 'Top Students from Beida & Tsinghua Open BBQ Place' (#北大清华学霸合伙开烧烤店#) received 840,000 views on Tuesday.
The post says:
"Since three months ago, we started with a promotion at our restaurant. (..) It is meant to encourage everyone's research and is also meant for those people who have had their academic paper published and want to celebrate it at our restaurant."
"Every person who is the author of a publication in an academic journal listed in the SCI, SSCI, or CSSI within the past five years, can come to the restaurant, show us the proof, and obtain a discount."
The restaurant owners have a special way of calculating academics' discounts, namely: "Total Bill – Impact Factor * 10 = Discounted Price" ("总费用-影响因子*10=优惠价格). The impact factor is a measure of the frequency with which a scientific journal has been cited.
To give an example, a recent publication in the Cancer Research journal will give you ten points for impact factor, meaning a 200 RMB (30 US$) restaurant bill will get a 100 RMB (15$) discount.
If your publication was published in the Journal of Clinical Oncology, it will give you a 20-points impact factor. If the total costs at the restaurant are 200 RMB (30 US$) you will then get the entire bill for free (200 – (10 * 10) = 0).
For a publication in the Lancet, that has a journal impact factor of 47, you could get the biggest discount.*
From performing surgery to roasting meat
The idea to start the barbecue restaurant came from Wang Jian. The young doctor and fresh graduate found himself short of money in 2016 and decided he needed a side job. His love for Xuzhou cuisine led him to the idea of starting a Xuzhou barbecue diner.
China Youth Daily writes that it took Wang Jian some time to convince his partner Cheng Si, also a young doctor, to open up the restaurant together. But within a time frame of six months, Wang turned himself into an expert on the restaurant business and was able to gather a group of fellow graduates to raise the capital and start up the restaurant.
Although the 12-table restaurant might seem like any other barbecue place, the medical background of its owners does seep through. Cheng Si will sometimes say: "There are two new patients at the door," when the restaurant has two new customers.
Besides serving healthy foods, the restaurant reportedly also upholds the best hygiene standards.
Despite the recent attention for the restaurant on Weibo and in Chinese media, some netizens are critical about the owners' double job. "You're already doing the brainy jobs, let the common people do work like this," some say.
"How is being a doctor not enough to provide for your income?", many wonder.
According to China Medical News, a typical doctor at a large tertiary level hospital in Beijing will officially earn about 46,000 yuan (US$7500) a year. But in reality, they note, doctors earn more than three times that – about 180,000 yuan ($29,000) a year – due to, among others, bonuses and commissions.
But some people do not seem to mind much, saying they would prefer to have a doctor who also happens to be a BBQ cook, than a BBQ cook who also happens to be a doctor.
By Manya Koetse
Follow @whatsonweibo
* The discount explanation on WeChat is as set out here, but in an interview with China Youth Daily the owners say the discount can be up to 30% of the total meal bill, and that this discount can be shared with everyone at the table.
Spotted a mistake or want to add something? Please let us know in comments below or email us.
©2017 Whatsonweibo. All rights reserved. Do not reproduce our content without permission – you can contact us at info@whatsonweibo.com.
Young Chinese Woman Dies at Haidilao Hotpot Restaurant
The woman allegedly choked while having beef tripe.
On September 8, a woman from Putian in Fujian Province unexpectedly passed away while having hotpot at a Haidilao restaurant in a local mall.
The incident went trending on Chinese social media on Thursday, with the hashtags "Woman Suddenly Passes Away While Having Haidilao Hotpot" (#女孩海底捞吃火锅意外身亡#) and "Haidilao Responds to Female Customer Passing Away During Dinner" (#海底捞回应女顾客就餐时身亡#) receiving 50 million and 300 million views respectively.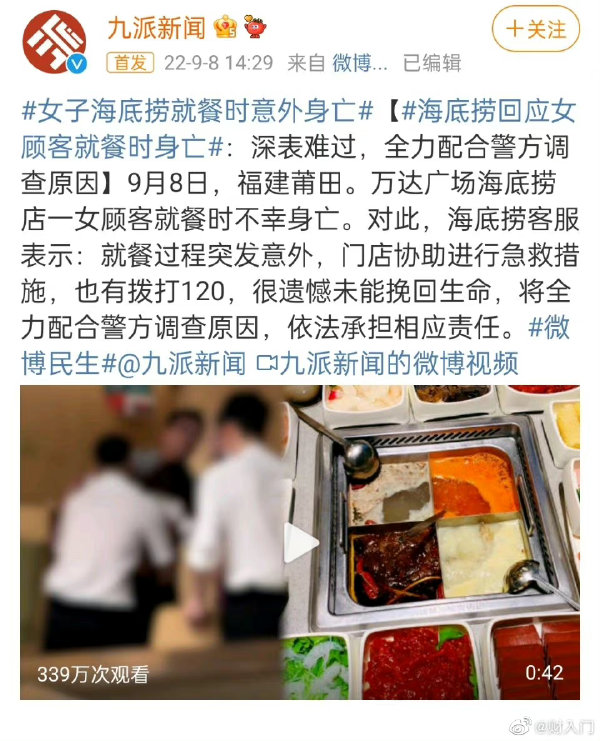 According to various Chinese news reports, the 21-year-old woman had just finished eating beef tripe, the edible lining from the cow stomach, and drank some water after which she suddenly became unwell.
Footage circulating on Chinese social media shows how restaurant staff gave first aid to the woman by performing the Heimlich maneuver while emergency workers were underway.
Although it is rumored the young woman choked on the tripe, this has not yet been confirmed as an investigation into the cause of death is ongoing. The Haidilao restaurant where the incident happened is currently closed, and Haidilao responded that they are deeply saddened and will do all they can to fully cooperate with the police to investigate the case.
Haidilao (海底捞) is one of China's most popular restaurant chains serving authentic Sichuan hotpot, a dining style where fresh meat and vegetables are dipped in simmering broth. Besides its tasty hotpot and wide selection of ingredients and drinks, Haidilao is known for its high-quality service. The staff is thoroughly trained in providing the best customer service, and Haidilao has introduced new concepts throughout the years to enhance the customer experience.
Haidilao is a very reputable company and is known to respond quickly to avert social media crises (example here and here).
As the story goes trending, many Chinese netizens point out the choking hazard of beef tripe. One lung doctor (@呼吸科大夫胡洋) also responded to the incident, suggesting that the Heimlich maneuver might not have been life-saving in this case since beef tripe is long and soft and could block the respiratory tract if the Heimlich maneuver is performed while the person is standing up, since it could potentially cause the tripe to go deeper instead of being pushed out.
The doctor recommends in these kind of emergency situations that if possible, for a chance of survival, the person could then be placed into an upside down, upper body down position for the Heimlich maneuver.
Other doctors on Weibo also use this moment to provide more information about how to perform the Heimlich maneuver.
Many online commenters think Haidilao is not necessarily to blame for what happened. "Judging from the video, the staff was quick and correct in their response. As for why the woman could not have been rescued, we'll have to wait for the final reports."
By Manya Koetse 
Get the story behind the hashtag. Subscribe to What's on Weibo here to receive our weekly newsletter and get access to our latest articles:
Spotted a mistake or want to add something? Please let us know in comments below or email us. First-time commenters, please be patient – we will have to manually approve your comment before it appears.
©2022 Whatsonweibo. All rights reserved. Do not reproduce our content without permission – you can contact us at info@whatsonweibo.com.
Bubble Tea Madness: 'Modern China Tea Shop' Opening Creates Chaos in Nanjing
This bubble tea shop's Nanjing opening got so crazy that police had to intervene and scalpers were reselling tea for 200 yuan ($30) per cup.
Despite the blistering heat, Chinese bubble tea lovers lined up for the opening of a new Nanjing milk tea shop as early as 4 am. By 11 am, police discouraged people from coming to the area and the shop had to close its doors. The hype surrounding the opening shows the popularity of bubble tea and domestic brands in China.
The opening of a Modern China Tea Shop branch in Nanjing was much-anticipated, but it only lasted for about thirty minutes. So many people had come to the bubble tea shop's opening at the Jingfeng Center (景枫中心) that the situation was out of control and the shop had to close its doors again.
The Modern China Tea Shop, known as Chayan Yuese (茶颜悦色) in China, was established in 2013 and is headquartered in Changsha. They call themselves a "creative milk tea store," meaning they mostly sell desserts and milk tea or bubble tea, which has become very popular among mainland Chinese consumers over the past few years.
Pearl milk tea or bubble tea was first invented in Taiwan in 1988. Most pearl milk tea products contain an iced tea base and milk, with chewy tapioca pearls and sugar. Although this is a standard recipe, China's many bubble milk tea shops and chains now also have a growing selection of fruit-flavored bubble tea or chocolate-flavored bubble tea. Since milk tea came to the mainland market in 1996, it has beaten coffee as a drink in terms of popularity (read more here).
Through its logo and marketing style, Chayan Yuese or Modern China Tea Shop positions itself as an authentic mainland Chinese business, stressing Chinese traditional style and history. In an era of 'China Chic', this clearly resonates with consumers.
Earlier this week, the popular Modern China Tea Shop announced its upcoming Nanjing debut on social media. Many people already came to the mall in the early morning hours, starting at 4 am, to be among the first customers waiting in front of the shop, but the line got so out of hand that the entire area inside and outside the mall became blocked.
Chinese media outlet The Paper writes that local police issued a notice on Thursday morning to discourage more people from coming to the area since there were already too many people at the scene.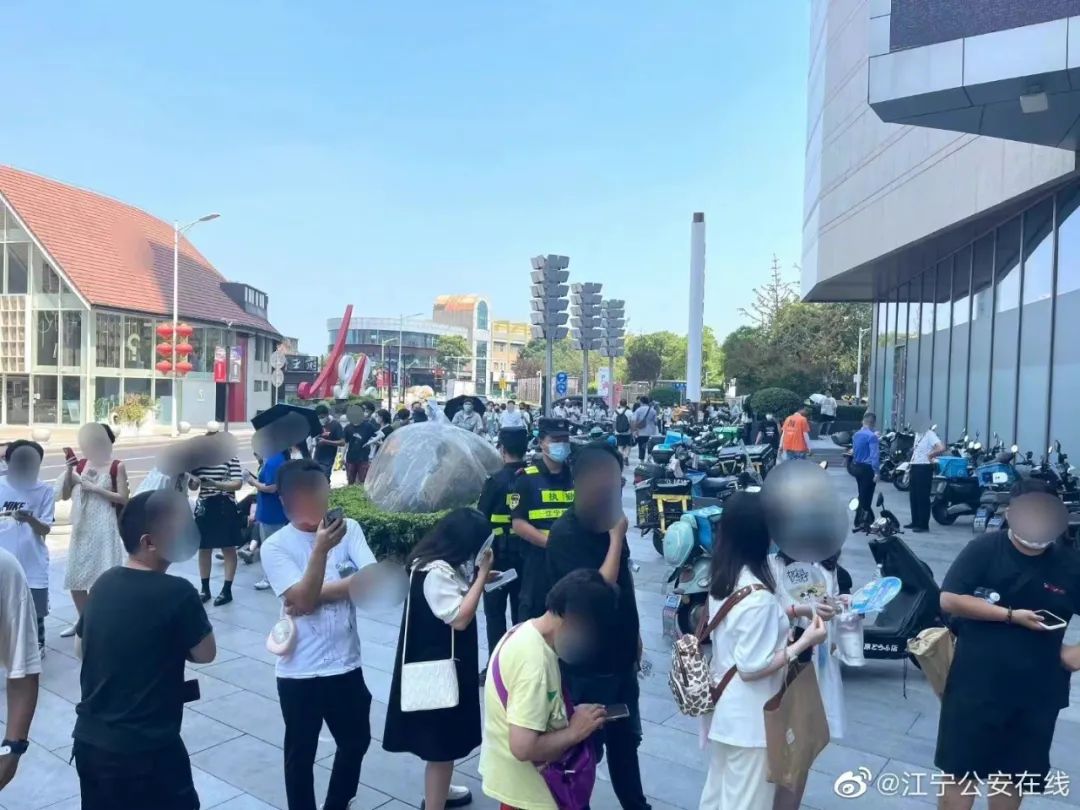 Due to the crowds and the blistering heat, Nanjing police sent out a team of officers to the tea shop to maintain order.
Meanwhile, some sellers were offering their services on WeChat or platforms such as Xianyu to stand in line and buy milk tea for others. The hype was so big that they could charge 200 yuan (nearly $30) to get their customers one cup of tea. Modern China Tea Shop later said they did not support such practices.
The shop was officially scheduled to be open from 9 am to 10 pm, but at 9.30 am, the doors had closed again, with a notice saying the store was "sold out" and would be closed for the day.
On social media, some commenters were confused about the long queues. "The only way I'd queue up like this is to get my nucleic acid test," one commenter wrote, while others also wondered why people would be willing to gather in crowds like this in the Covid era. "Don't you have to work?" some wrote.
Ah, another ridiculously long nucleic acid test line? No! It's the Nanjing opening of a new bubble tea shop that had people lining up as early as 4 am! pic.twitter.com/6LeYU4pxCh

— Manya Koetse (@manyapan) August 20, 2022
The unusual situation also raised suspicions about Chayan Yuese hiring people to stand in line to increase the hype surrounding their opening, with some sources alleging that the store did in fact recruit people to stand in line for a payment of $10.
"I would only stand in line for a drink at 4 am if it's an elixir of immortality," one Weibo user wrote.
By Manya Koetse and Miranda Barnes
Get the story behind the hashtag. Subscribe to What's on Weibo here to receive our weekly newsletter and get access to our latest articles:
Spotted a mistake or want to add something? Please let us know in comments below or email us. First-time commenters, please be patient – we will have to manually approve your comment before it appears.
©2022 Whatsonweibo. All rights reserved. Do not reproduce our content without permission – you can contact us at info@whatsonweibo.com.