Old Teacher-Student Traditions in Modern Times: The Fight Between Guo Degang & Cao Yunjin
The recent public falling-out between famous Chinese comic dialogue actors Guo Degang and his pupil Cao Yunjin has got Chinese netizens talking about traditional teacher-student relations in modern-day China.
Recently, the argument between two famous comic dialogue (xiangsheng) actors Guo Degang (@郭德纲) and his student Cao Yunjin (@曹云金) has drawn much attention on Chinese social media. The 30-year-old Cao accused his 43-year-old teacher of exploiting him while serving an apprenticeship.
Cao Yunjin and his teacher Guo Degang.
Guo Degang is one of China's richest celebrities and biggest 'crosstalk' star. Xiangsheng (相声) or crosstalk is a traditional Chinese comedic performance that involves a dialogue between two performers, using rich language and many puns.
On August 31, Guo accused two of his students, Cao Yunjin and He Yunwei, of disobeying and betraying him as their teacher. Guo also announced that he would "cleanse his courtyard" and expel the two "astonishingly shameless students" from his xiangsheng school. He even accused Cao of "betraying his teacher for gold".
"Students were hindered in personal growth because of the devoutness and loyalty that was expected of them."
Five days after Guo's announcement, his former student Cao Yunjin responded that Guo should not "morally kidnap" his students, but instead give them more freedom to pursue their personal careers. It soon became clear that teacher Guo had a very different perspective on his student's future than the students themselves.
In an article published on Sina Weibo, Cao writes that as a student of Guo, he was paid only a small portion of his performing income. He also accused him of unfair demands in doing housework and sharing the rent.
He further claimed that his personal further development was hindered by his teacher. Although he also expressed his respect and gratitude to Guo, he said that students were hindered in personal growth because of the devoutness and loyalty that was expected of them.
On Sina Weibo, the hashtag "#Guo Degang Cleans Out His Courtyard" (#郭德纲清理门户) attracted 490 million views within a few days.
"Who is a master one day, will be a father for always."
Apart from Guo and Cao's popularity as Xiangsheng actors, the breach between the two mainly drew wide attention because it brings traditional ideas about the teacher-student relationship in modern society up for discussion.
Similar to apprenticeship in Europe, many trades in China are transmitted to younger generations through individual or small scale teaching. In China, this holds especially true for the business of art and entertainment. Famous Peking Opera actor Mei Lanfang (梅兰芳), for example, had many students under his own opera "Mei School" (梅派).
Opera actor Mei Lanfang was both a performer and a teacher.
One Chinese expression says that "who is a master one day, will be a father for always," (一日为师,终身为父) – it is emblematic for how Chinese teacher-student were traditionally perceived to also involve some sort of filial piety.
Not only is a student often considered a part of the family, his role also entails moral obligations towards the teacher; respect him, obey him, and fulfil a son's duty towards him. Traditionally, honoring the teacher was seen as a dominant aspect within apprenticeship.
"Even your own son will rebel if you control and supress him too much."
It is within the context of this kind of traditional intimate teacher-student relationship that Guo accused his student of failing moral obligations. But for Cao Yunjin, who was born in the post-1980s, his relation with Guo was more professional, and simply entailed learning a trade to establish a future career.
In his blog, Cao mentioned that one of the reasons for the conflict between him and his teacher was that he was trying to find a middle ground with Guo, as he made him act in of two of his films with little or no payment. "Honestly," Cao writes: "I don't even know how I can survive if I don't have income."
He also said he wanted to develop his own career "and give a better life to my mother", but claimed this was seen as "betrayal" by Guo.
On Weibo, many netizens support Cao. In a survey under the hashtag #郭德纲清理门户, 52.3% of the 230,000 participants sympathise with Cao. These netizens argue that teacher-student relations should adjust to modern society, and place more emphasis on individual interests and encouraging independence.
"It is true that a one-day teacher is a lifetime father", writes one netizen, "but even your own son will rebel if you control and suppress him too much".
"Kidnapping people with morality is immoral in itself", another netizen writes: "And don't forget that Cao did pay tuition. Guo is just a teacher, nothing more".
"A country has its laws and a family has its rules."
But there are also people who defend the traditional teacher-student relationship. Many argue that Cao owes his career completely to Guo, and that he should be grateful for that: "A country has its laws and a family has its rules", says one netizen, "These rules may be outdated, but you should obey them all the same since you joined the trade on your own will."
No matter who gets more support, Guo and Cao's split brings forward a dilemma of China's modern-day xiangsheng industry: teachers may want to preserve the traditional filial responsibilities of students; but the students, often from a younger generation, expect a business-like contract with their teacher.
The Guo-Cao affair might be an indication that in a rapidly modernising China, it is only a matter of time before more cracks will start appearing in the performing art's old tradition of honoring the teacher as the dominant factor in education.
-By Diandian Guo, edited by Manya Koetse
Follow @WhatsOnWeibo
©2016 Whatsonweibo. All rights reserved. Do not reproduce our content without permission – you can contact us at info@whatsonweibo.com.
[showad block=1]
China's Top Mobile Gaming Apps
In a booming online gaming market, these are some of the apps most appreciated by Chinese online gamers today.
China has the largest mobile gaming market in the world. It's an exciting market not just for game-lovers, but also for those into marketing and advertising.
One of the key drivers behind this online gaming environment is the fact that China is a mobile-first country. China's average mobile user owns a relatively cheap but high-performance mobile phone, which enables them to play mobile games. As the quality of China's smartphones keeps on rising, so are the possibilities and developments within China's mobile gaming market.
The Chinese gaming industry is flourishing, but also highly controlled. Online games are allowed to be imported, but have to pass the content censorship procedures and must be 'ideologically compatible' for the Chinese market. Many games, such as this year's Resident Evil 2, are not allowed into mainland China.
To gain more insights in this enormous market, we list five of the mobile apps that currently play an important role in the mobile gaming industry. We made our selection based on the data from the Android app stores Tencent, Baidu, Huawei, and Zhushou360. We tried our best to give you a representative overview of a variety of apps that are currently most used in China, but want to remind you that these lists are by no official "top 5" charts.
This article is part of a series of five articles, listing popular Chinese apps in the categories of short video & live streaming, news, health & sports, and knowledge & education. We'll list the other categories for you below this article, but let's move over to review these popular mobile gaming apps now.
#1 PlayerUnknown's Battlegrounds 绝地求生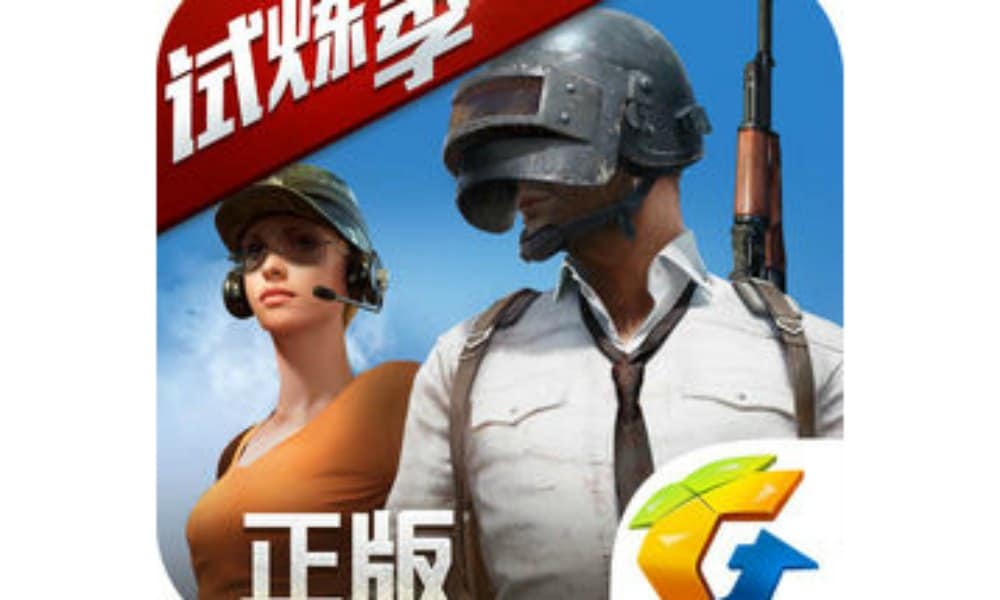 PlayersUnknown's Battleground (PUGB) is a so-called 'sandbox style' survival game, which basically means that gamers are allowed to freely roam and change the game, that does not have a set storyline, and that they are required to do all they can to survive as long as possible by eliminating its competitors.
In this online multiplayer game, that is called a Fortnite rival, players are placed together with up to 100 other players on an island. As the game proceeds, the battlefield gradually shrinks, putting more pressure on its players. The users have to assemble weapons and other necessities, and in doing so, need to kill their competitors and take their possessions. The last person left is the winner.
PUBG, which is currently the most popular mobile phone game app in China, was created by the South Korean Bluehole. In 2017, Chinese gaming giant Tencent launched the mobile app version of the game. The Chinese version is not entirely the same: it has been adapted to make sure it aligns with 'socialist values.'
At the moment, there are two versions of PUGB games: Exciting Battlefield (刺激战场) and Full Ahead (全军出击). The games Exciting Battlefield and Full Ahead subsequently ranked most and third most popular game app in the Chinese Apple stores in 2018, with Exciting Battlefield reaching 14,9 million daily active users at the end of 2018. Currently, Exciting Battlefield still ranks the most popular game app in both the Tencent and Zhushou360 app stores.
#2 Honor of Kings or Kings of Glory 王者荣耀
Honor of Kings is a game developed and published by Tencent which was first launched in 2015. The game is a multiplayer online battle arena game, where players have to team up for a five-to-five battle.
Every user can personally assemble their hero and equip it with certain features such as appearance, powers, etc. The goal of the game is to destroy the opponent's base.
In 2018, Honor of Kings was the second most popular game app in the Chinese Apple store with 53,8 million daily active users in the last quarter. This year, the game especially rose in popularity during the Chinese Lunar New Year: in the week from 4-10 February, Honor of Kings reached 92 million daily active users.
But the game's popularity isn't limited to China. In 2017, Tencent launched an international adaption of the game called Arena of Valor. The game was adopted as one of the games at the eSport Demonstration Event at the 2018 Asian Games, where the Chinese team won the gold medal.
#3 Speed QQ / QQ飞车
Speed QQ is a 3D game that combines both casual and competitive racing. The game has three kingdoms: wind, fire, and fantasy.
In each kingdom, there are different kinds of races, and players can move up levels if they beat other players. In the end, the strongest player of all will be crowned 'king.' To prove their skills, the best players of each kingdom can also race against each other in races played on racetracks on the border of the several kingdoms.
The game can be played by either a single player or multiplayer, with a maximum of six players.
Speed QQ, just as Honor of Kings and PUBG, is a game by Tencent  – it is the world's largest game distributor by revenue. Speed QQ was first launched in January 2008 as a PC version, and it was not until 2017 that the mobile app version was released.
In 2018, it became the fourth most popular game app in Chinese Apple stores, with nearly 25 million downloads in that same year.
#4 Identity V 第5人格  
Identity V is a so-called asymmetric warfare game, meaning that the game is a wargame between individuals or a group of players and their hostile opponent.
The horror game, designed in gothic art style, is a one-versus-four multiplayer game. Later in the game, players can decide whether they want to play either the hunter or one of the four survivors.
However, the game is mainly a survivor-based game. The player first enters the game as a detective who receives a mysterious letter inviting the player to investigate an abandoned estate and search for a missing girl. As the player is searching for clues about the missing girl, a hunter will try to catch the player and strap it to a rocket ready for blast off. This is where the three other survivors come in; those are the ones who can free their fellow-survivor from the racket. But if they are too late, the player will be fired off and lose.
Identity V is the newest game app in our selection as it was launched in April of last year by NetEase. Despite its short period on the market, the game gained significant success. The app was the fifth most popular game app in Chinese Apple stores in 2018, with over 26 million downloads.
#5 Mini World 迷你世界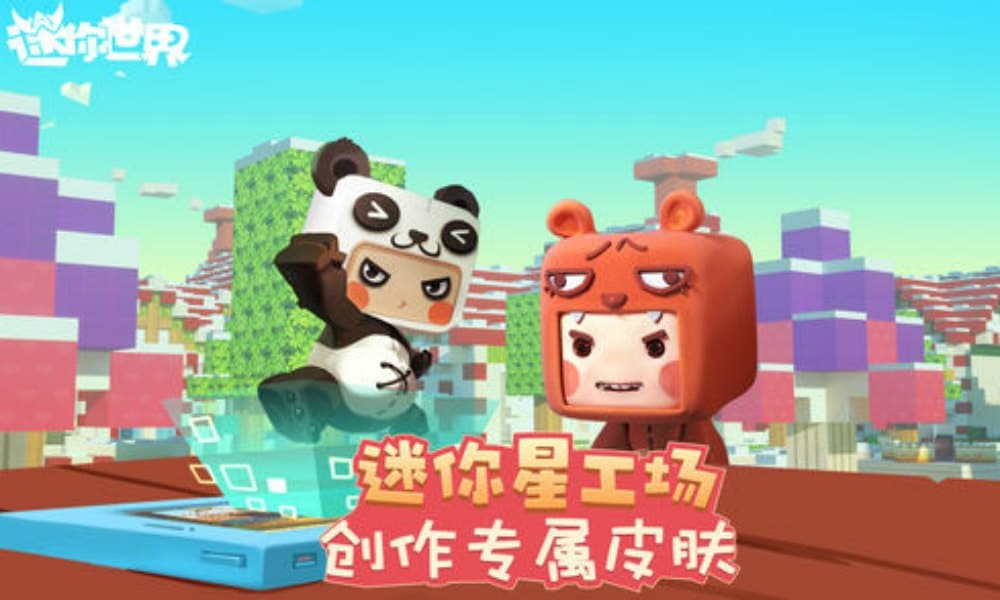 Mini World is a 3D sandbox style game, allowing its users to roam around in the virtual world of the game.
Mini World, also called a block art game, allows its players to build their world by moving around blocks and placing other elements. They can do this alone, but they can also invite friends and create a dream world together. The game closely resembles the Swedish game Minecraft (我的世界), which is also available in China.
Mini World was first launched in December 2015 by a Shenzhen based company. A couple of years later, the game was available in both Android and Apple stores. In 2018, Mini World became the fourth most popular game app in China with 3.7 million daily active users in the third quarter.
At the beginning of this year, Mini World released a new version of its game, which brings it back in the top ten most popular apps in both the Zhushou360 Appstore and Baidu Appstore.
Also see:
By Gabi Verberg, edited by Manya Koetse
Spotted a mistake or want to add something? Please let us know in comments below or email us.
©2019 Whatsonweibo. All rights reserved. Do not reproduce our content without permission – you can contact us at info@whatsonweibo.com
Here Comes Trump the Chinese Opera, Starring Mao Zedong and Kim Jong-un
In "Trump the Opera", Trump sings and plays ping pong.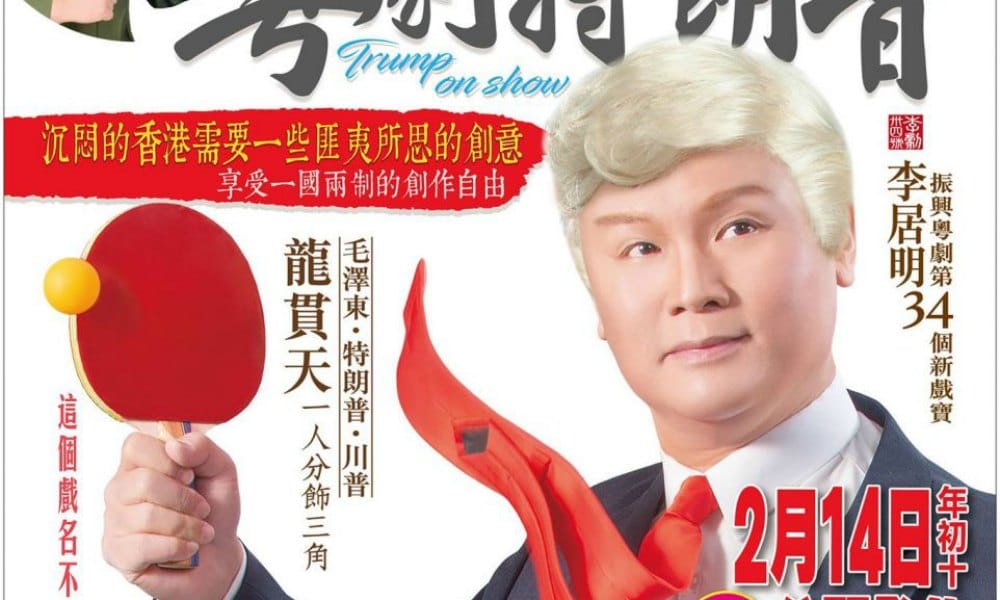 First published
Hong Kong playwright Li Kuiming is not afraid to take on sensitive topics in his productions. After an opera about Mao Zedong, this upcoming Cantonese opera focuses on US President Trump and explores China-US relations.
"Enjoy this 'one country, two systems' creative freedom," is one of the slogans promoting a new Hong Kong opera production that features US President Trump – played by the same actor who also played Mao Zedong – and North-Korean leader Kim Jong-un, presenting a story revolving around the modern history and current situation of China-US relations and international politics in the form of traditional Chinese art.
The opera, titled "Cantonese Opera Trump" (粵劇特朗普) was written by Fengshui master and playwright Li Kuiming (李居明), who likes to mix up traditional opera with creative new storylines. In this production, 'Trump' allegedly will not just be singing; he'll be playing ping-pong, too.
Promotion posters for the show have attracted the attention of some Weibo netizens, with some calling it "unimaginable."
This opera is the 34th production made by Li Kuiming, who has some 1,4 million fans on Weibo. Three years ago, Li made headlines for his controversial Chairman Mao opera that explored the private life of Mao Zedong and also featured a scene in which Mao comes back from the dead to talk to Chiang Kai-shek.
The current opera is a sequel to the 2016 production, featuring the same actor, Long Guantian (龍貫天), as President Trump. The role of Kim Jong-un will be performed by Chen Hongjin (陳鴻進).
The press conference for the new opera took place on March 1st, just after the Trump-Kim summit in Hanoi ended without a deal. The actors taking on the roles of Trump and Kim, however, posed together shaking hands.
Despite the somewhat controversial theme of the opera, the Singtao Daily writes that Li Kuiming's production "avoids politically sensitive topics as much as possible."
"Through this opera, I want to analyze China-USA relations," Li told reporters: "China and the US have had very good relations for a long time (..), Nixon's [1972] visit to China marked the friendship between the two countries. At present, the China-US friendship has turned into a struggle."
Li called it "a gift from heaven" that he was able to get performer Long Guantian to play Mao Zedong previously, praising his "enormous flexibility" in the roles he is able to take on. "For [his] role of Trump, I've read many books and thoroughly researched the life and thinking of Trump."
One reason for the opera to stir some discussions on Chinese social media, is the fact that its promotional poster states that the "three roles" of "Trump, Trump, and Mao Zedong" are all performed by the same actor (Long Guantian).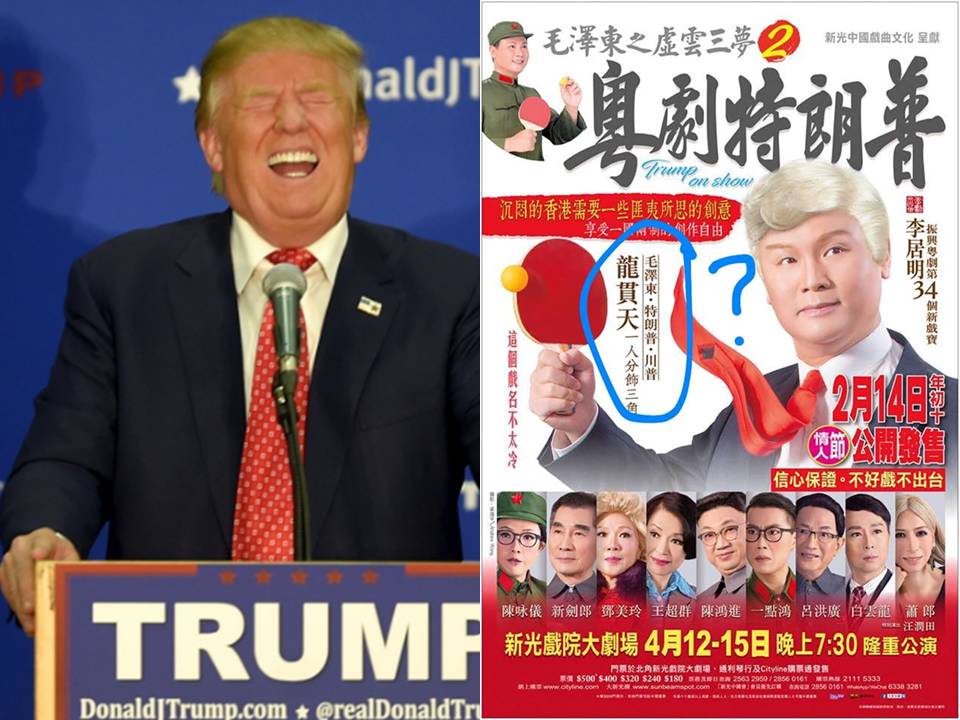 The name of 'Trump' is written in two different ways on the poster, causing much confusion among netizens, who write: "I thought there was only one Trump?!" (To understand more about the two Chinese names of Trump, check this article).  It is not clear if there will indeed be two 'Trumps' starring in the production or why the poster mentions the name of Trump two times.
The Mingpao newspaper reported that Li has high hopes for this production, quoting: "I have a friend who knows Trump, and who suggested bringing this opera to the White House so that Trump can enjoy it. We could translate it. If I'd ever be invited, of course, I wouldn't say no." He also added that he "wouldn't have the courage" to perform the opera in North Korea.
The opera will be performed at the Hong Kong Sunbeam Theatre from April 12 to April 15. "I guarantee it will be good," Li says: "If it wouldn't be good, I wouldn't put it on stage."
By Manya Koetse 
Spotted a mistake or want to add something? Please email us.
©2019 Whatsonweibo. All rights reserved. Do not reproduce our content without permission – you can contact us at info@whatsonweibo.com.