Packed Like Sardines – Hangzhou Sees Huge Wave of Tourism After G20
After the end of the G20, China's hosting city of Hangzhou has seen a sharp increase in popularity. Now that world leaders have left town, the tourists are streaming in – but not everyone is happy with the crowded scenes.
After the end of the G20, China's hosting city of Hangzhou has seen a sharp increase in popularity. Now that world leaders have left town, the tourists are streaming in – but not everyone is happy with the crowded scenes.
On September 4 & 5, world leaders convened in the city of Hangzhou for the annual G20 summit. It marked China's first time as host of the international forum. Some highlights of the summit included the adoption of the Hangzhou Consensus and plans for implementing the UN 2030 Sustainable Development Goals, as well as the Paris Agreement.
Since its conclusion, the summit has generally been regarded a success, especially for China. Being the G20's hosting country, the summit gave China an opportunity to open its doors and not only present its ideas and viewpoints to the world, but also show its cities and landscapes from their best side – especially the city of Hangzhou has seen a boom in tourism after the summit.
Marketing the City
Before and during the G20, China has made ample efforts to put a spotlight on Hangzhou, one of China's seven ancient capitals and one of the country's most important tourist cities. In various Hangzhou G20 promo campaigns, the city has presented itself as a place full of cultural heritage, folk arts, and scenic views.
Besides the various videos showcasing what Hangzhou has to offer, there was also the the G20 concert titled "Hangzhou, A Living Poem", which featured a symphony concert and gala on water directed by Zhang Yimou, who also produced the 2008 Olympic opening ceremony. The hour-long performance was held on a stage at Hangzou's famous West Lake, highlighting its stunning scenery.
Chinese netizens on Sina Weibo praised Zhang's work. One netizen (@茶之风) said: "A moonlit night on the spring river, the Impression of West Lake is as good as the Beijing Olympic ceremony."
According to a poll by the South China Morning Post, 52% of participants deemed the West Lake is the most unmissable experience for G20 visitors to Hangzhou.
Hometown of Alibaba
Jack Ma, founder of e-commerce giant Alibaba, also further promoted the city in a 5-minute video that discusses the important role Hangzhou plays as a China's tech and entrepreneurship hub. Jack Ma is a native of Hangzhou, where the Alibaba Headquarters are also based. Ma says in the video: "I feel so proud of this city. No matter where in the world I go I always miss it. Every 10 or 15 days I wanna be back."
Hangzhou's image as the hometown of Alibaba was further emphasized when the prime ministers of Canada and Italy also took some time to visit the headquarters.
Tourist Boom
Since the end of the G20 summit, Hangzhou has seen a sharp increase in tourism, especially during the weekend of 10/11 September directly following the end of the summit. Apart from all promo videos and Zhang's concert, the various pictures of world leaders roaming around the city to visit scenic spots and eat local food allegedly also played an important role in the tourism boom.
Argentine President Mauricio Macri, for example, was photographed biking around Hangzhou with his wife Juliana Awad. Brazilian president Michel Temer was spotted shopping around the city and buying leather shoes.
The post-summit bustling Hangzhou forms a stark contrast to the pre-G20 urban scenery; the city was then even described as a "ghost town" as factories were shut down and one third of the city's population was 'convinced' to leave town in preparation of the summit.
The Downside of Popularity
Currently, Hangzhou is anything but a "ghost town". According to one travel agency in China, the number of tickets booked to Hangzhou have now increased dramatically – twice as many as those sold last year around the same time. The trend is expected to continue as Chinese national holidays come up later in September and October.
Although the tourism boom is a post-summit "bonus" for the city of Hangzhou, there are also some worries about the stream of visitors. Some netizens expose the mess they leave around town; noodle cups, pet bottles, and paper cups are left behind all around the city's scenic spots by negligent visitors.
One sanitation worker told local media that as much as 14 ton of garbage was collected in the city within one day recently – about five time more than previous periods.
There are also reports of people using local parks as public toilets.
Some spots were reportedly so crowded that people felt unwell and needed medical assistance.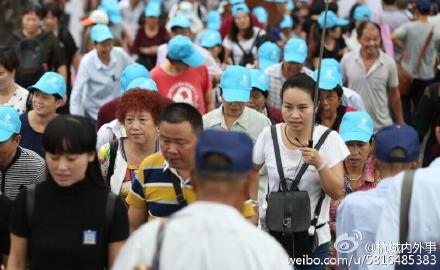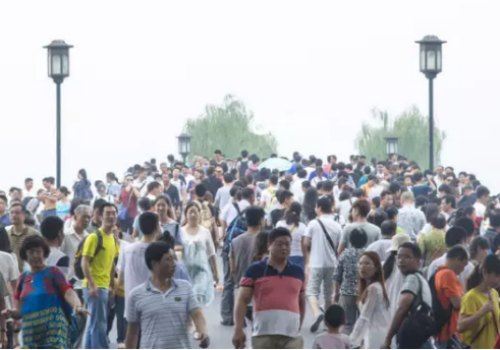 Not just the locals, but also the tourists are suffering from Hangzhou's current "tourist problem". Many netizens complain that they could hardly get through and that several places in Hangzhou were just so overcrowded with tour groups that it was no use going there.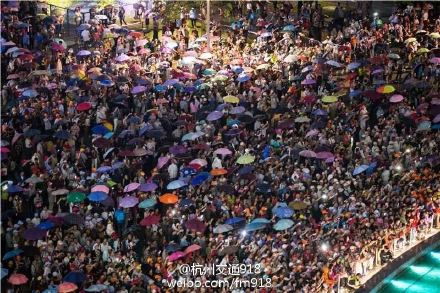 Some netizens even wonder if Hangzhou will ever be the same: "The city of Hangzhou has changed the G20, but has the G20 now also changed the city of Hangzhou?"
It will undoubtedly still take some time before Hangzhou will regain some of its pre-G20 tranquility. Until that time, some netizens advise people not to visit the city, that is simply "packed like sardines".
– By Yanling Xu and Manya Koetse
Follow @WhatsOnWeibo
©2016 Whatsonweibo. All rights reserved. Do not reproduce our content without permission – you can contact us at info@whatsonweibo.com.
Chinese Fashion Brand Peacebird Accused of Plagiarism (Again!)
The Chinese fashion brand Peacebird turns out to be a copycat.
The Chinese fashion brand Peacebird (太平鸟) is trending on Chinese social media this week for its alleged involvement in various cases of plagiarism. The brand is accused of producing exact copies of garments designed by other labels. Hashtag "Peacebird Repeatedly Accused of Plagiarism" (#太平鸟多次被控抄袭#) drew in over 230 million views on Weibo.
In late October of this year, fashion blogger and small fashion brand @SOS_SEAMSTRESS called out Peacebird on Weibo for plagiarizing one of their designs.
Besides changing the material used for the garment, the Peacebird outfit is an exact copy of the design by SOS Seamstress – even the buttons and pockets and other details are exactly the same. The price, however, is five times higher.
SOS Seamstress condemned Peacebird for claiming to have their own original fashion designs, produced by their in-house design team, while actually stealing from others and completely disregarding the rights of domestic local designers.
It is the fifth time this year that the fashion house is accused of plagiarism. Beijing Business News reported that other brands, including Mostwantedlab and Annomundi, previously also accused Peacebird of stealing their designs. In February of this year, the artist @LOONY_FACE also publicly exposed Peacebird for using his designs without his permission.
Chinese netizens have further researched other clothing brands that Peacebird allegedly plagiarized, including UNALLOYED, Moussy, Off-White, FREI, Maje, and other domestic and international brands.
Various Chinese media outlets, including Beijing Business News, call it noteworthy that Peacebird's response to these plagiarism accusations is not an apology but a simple statement that "original brands can go through legal channels." Meanwhile, the company has allegedly also taken down the designs that have been pointed out as copies.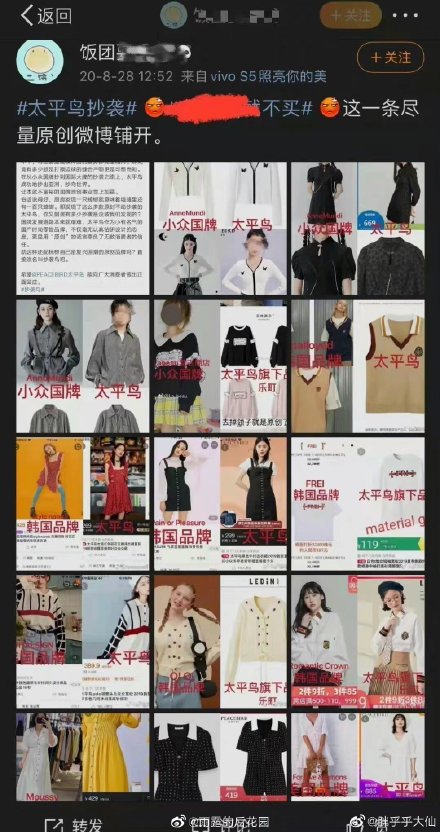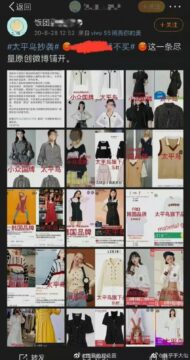 Peacebrand is a fashion retail brand established in Ningbo in 1996. The company also holds various smaller brands such as LEDIN (乐町) and Material Girl. The fashion company claims to have approximately 12,000 employees in its stores, headquarters and factories. In 2018, it made its first debut at New York Fashion Week.
Among all the people commenting on this issue, there are many who think that although 'borrowing' popular designs has always been a part of the fashion industry, doing an exact copy is uncommon and unacceptable – especially for such a large company as Peacebird. "Shameless!", multiple commenters say.
"I once bought an embroidered garment at Peacebird's, and then later saw the same design from a brand I didn't know. I thought it was copied from Peacebird, but now I think it might've been the other way around," one person writes.
"I'm shocked that the national brand Peacebird would plagiarize while waving the flag of originality," another commenter says.
"Plagiarizing one time, ok, but plagiarizing so many times and then even doing one on one copies, how can they run a business?!"
There are also those who hope that the current focus on Peacebird's alleged plagiarism will lead to more attention for smaller, original brands in China.
To read more about the recent surge in popularity of domestic brands in China, see: "Chinese Fashion First: Consumer Nationalism and 'China Chic'."
By Manya Koetse
Spotted a mistake or want to add something? Please let us know in comments below or email us. First-time commenters, please be patient – we will have to manually approve your comment before it appears.
©2021 Whatsonweibo. All rights reserved. Do not reproduce our content without permission – you can contact us at info@whatsonweibo.com.
Hotpot Chain Haidilao Is Shutting Down Over 300 Restaurants
After adding 544 stores in 2020, Haidilao will close 300 locations this year.
News that China's most popular hotpot chain is closing down over 300 restaurants became a top trending topic on Chinese social media site Weibo on Friday.
Haidilao (海底捞) made the announcement on Friday evening through a social media post, saying the company will gradually shut down about 300 of its stores. The restaurants that are to be closed are those with relatively low customer traffic and lower-than-expected business performance.
Although the stores will be shut down before December 31 of this year, some of them will potentially reopen at a later date after reorganization. The company also said it would not lay off its staff for now.
Haidilao has approximately 1600 restaurants, of which many were opened in 2020, when the chain added an astonishing 544 new restaurants. In the summer of 2021, Haidilao had a total of 131,084 employees.
It has been over 25 years since Zhang Yong, the owner of Haidilao, set up his first hot pot restaurant in Jianyang, Sichuan, with a mere investment of 10,000 yuan ($1470). It later became the dominant hot pot chain in the country.
Hot pot restaurants, where fresh meat and vegetables are cooked at the table in the simmering broth, are extremely common across China. But Zhang Yong chose to market Haidilao and its authentic Sichuan hot pot with an innovative strategy: high-service, high-tech, and high-quality.
The restaurant is known for giving its customers a free manicure along with snacks and drinks while waiting for a table. The staff is thoroughly trained in providing the best customer service, and Haidilao has introduced new concepts throughout the years to enhance customer experience. People who dine alone, for example, will get a teddy bear to join them. The restaurant also introduced robot waiters and is known for its noodle dancers and staff singing birthday songs whenever there is a birthday celebration.
Over the past two years, however, Haidilao's table turnover rate shrunk dramatically. The average table turnover rate in 2019 was 4.8 per day, but that number fell to 3 times per day in 2021, with some restaurants only doing 2.3 per day, leading to significant losses for the company's net profit.
Due to the Covid19 crisis and lockdowns, Haidilao closed its doors in late January of 2020. By mid-March, it started to gradually reopen some of its locations, although they initially offered fewer seats and introduced an increased distance between dining table, that were allowed to have no more than three guests.
Due to the restaurant's limited tables and increased labor costs, its menu prices went up, much to the dismay of many netizens, who already thought the prices at Haidilao were steep before the pandemic.
In October of this year, the story of a Haidilao customer in Zhengzhou discovering that the 200 grams of tripe he ordered for 72rmb ($11) was actually only 138 grams also went viral on Weibo, stirring discussions on the Haidilao menu prices.
Headlines that matter. "Next time I'm bringing my scale to Haidilao": 260 million views (!) on Weibo today for the hashtag about a customer at hotpot chain Haidilao in Zhengzhou discovering that the 200gr of tripe he ordered for 72rmb ($11) was actually only 138gr. 😂🤯 pic.twitter.com/Yl0Y8qPzIE

— Manya Koetse (@manyapan) October 19, 2021
While news about Haidilao closing so many of its stores attracted over 260 million views by Friday night, many commenters agreed that the company should scale down. "The more stores you open, the less you focus on service, the surroundings of the newly opened stores are not up to par, while prices are only rising," one person wrote on Weibo.
"They're not making enough money, while their prices were already being pressed down, and still I can't afford to eat there," another commenter wrote.
Others also wondered how Haidilao could claim they would not sack their staff while closing down so many stores. "Does that basically mean they'll wait for them to leave for themselves?"
"When there's a pandemic, there's bound to be bad luck [in business]," another commenter writes: "There's really not much to do about it."
By Manya Koetse
Spotted a mistake or want to add something? Please let us know in comments below or email us. First-time commenters, please be patient – we will have to manually approve your comment before it appears.
©2021 Whatsonweibo. All rights reserved. Do not reproduce our content without permission – you can contact us at info@whatsonweibo.com.