China's Most Expensive Haircut
A hair salon in Changsha, China, has taken its prices sky-high. One woman paid a staggering 38880 RMB (6120US$) for a 15 minute haircut.
A hair salon in Changsha, China, has taken its prices sky-high. One woman paid a staggering 38880 RMB (6120 US$) for a 15 minute haircut.
It was the first time she visited the hair salon called Mr. Rope in Changsha. Mrs. Zeng talks to Hunan News about her recent hair cut, that left her with a staggering bill.
"They had a famous hairdresser from Beijing who had come over to promote their business," Mrs. Zeng says: "He spend about fifteen minutes on my hair. Afterwards they asked for my card, and I was not clear about how much it would be." Little did she know that her card would later be charged with 38880 RMB (6120 US$).
According to the hairdresser, it was considered "very normal" in Beijing to spend over 10,000 RMB (1570 US$) up to 100,000 RMB (15,750 US$) on a haircut.
A Hunan News journalist later went undercover and secretly filmed her visit to the hair salon. "Many famous stars get their hair cut by me," the supposedly famous hairdresser tells her: "Don't you know my TV show? I have over twenty years of experience in Beijing." "But you look not much older than twenty!" the journalist says.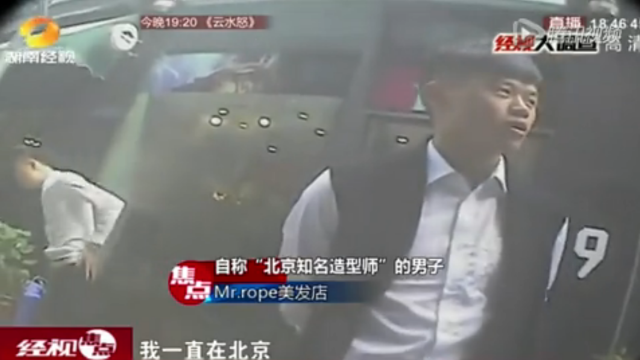 The journalist later pretends to apply for a job at the hair salon, where they tell her to lure customers into their shop. "You will know when they are rich," the manager says: "Especially if they are over thirty and wear a Cartier watch."
Many Weibo netizens find the news funny. "Hey, we are way too cheap!", one Beijing hairdresser comments. Some are worried: "Scams like this are getting more and more common in China."
For more info on scams, check out our article on ten scams in China to watch out for.
By Manya Koetse
Follow @WhatsOnWeibo
©2015 Whatsonweibo. All rights reserved. Do not reproduce our content without permission – you can contact us at info@whatsonweibo.com.
Adapted to the Desert: This Yurt-Style KFC Opened in Inner Mongolia
Special KFC in Inner-Mongolia: "Is home delivery done by camelback?"
A KFC restaurant that has opened up in Ordos Prefecture, Inner-Mongolia, is attracting online attention in China for its yurt-style building.
The KFC restaurant is located in Xiangshawan, also known as Whistling Dune Bay, a tourist area – China's first desert-themed tourism resort – in the Kubuqi Desert.
Some web users praise the fast-food giant for "following local customs" ("入乡随俗"). Others jokingly wonder if their home delivery services are also done by camelback.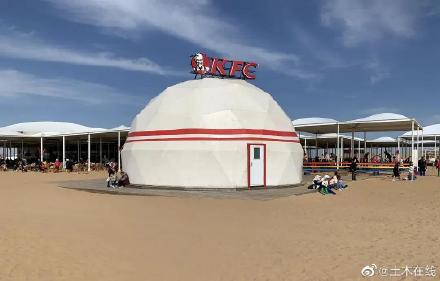 Although KFC is not China's first fast-food restaurant, it is one of the most popular ones. Nowhere else outside of the US has KFC expanded so quickly as in China. Since the first KFC opened in Beijing in 1987, the chain had an average of 50% growth per year.
With thousands of locations across the country, KFC often adapts its restaurants' style to the local environment. On Weibo, web users share various examples of local KFCs.
One Weibo user (@阳山花非花) points out that KFC is not the only chain to adapt to the local environment in Ordos. Chinese fast-food chain Dicos (德克士) apparently also has a special restaurant in the area.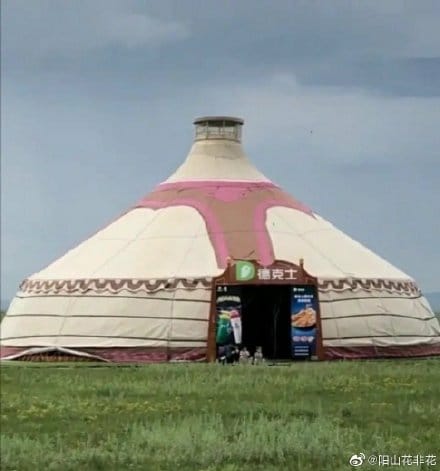 Besides adapting its buildings, KFC is also known to be quite localized in its product offerings. KFC China offers products such as Chinese-style porridge, Beijing chicken roll, and youtiao (deep-fried strip of dough commonly eaten for breakfast).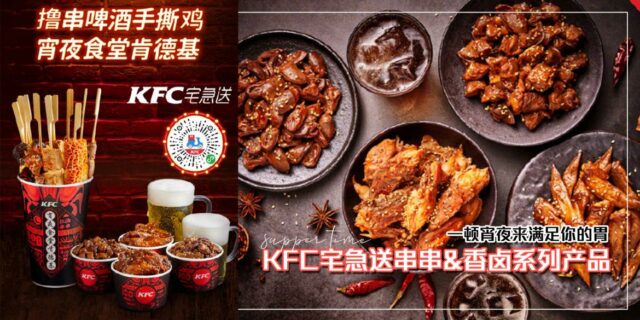 In 2019, KFC also made headlines in China for adding, among other things, hot and spicy skewers (麻辣串串) to its menu.
For now, the KFC yurt-style location is bound to gain more visitors who are coming to check it out. Already, various Weibo users are sharing their own pics of their KFC visit.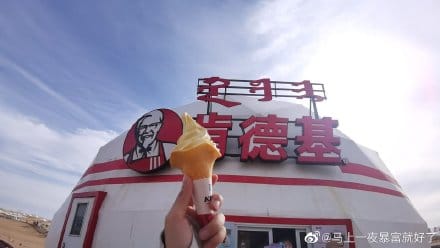 You might also like to read:
By Manya Koetse (@manyapan)
With contributions by Miranda Barnes
Spotted a mistake or want to add something? Please let us know in comments below or email us. First-time commenters, please be patient – we will have to manually approve your comment before it appears.
©2021 Whatsonweibo. All rights reserved. Do not reproduce our content without permission – you can contact us at info@whatsonweibo.com.
Chinese Fashion First: Consumer Nationalism and 'China Chic'
Consumer sentiments on Western brands and made-in-China fashion are changing.
At a time when Chinese media, celebrities, and consumers are condemning and boycotting Western brands, Chinese fashion and luxury brands are flourishing in a new era of "proudly made in China."

This is the "WE…WEI…WHAT?" column by Manya Koetse, original publication in German by Goethe Institut China, see Goethe.de: WE…WEI…WHAT? Manya Koetse erklärt das chinesische Internet.

"The first thing Chinese fashion magazines should do is support the Chinese fashion industry, Chinese domestic brands, and Chinese designers!" In a video that went viral on social media, Hung Huang (洪晃), the famous American-Chinese television host and publisher of fashion magazine iLook, called out for a healthy development of China's fashion industry that does not rely on Western brands to continue growing.
Hung Huang's remarks were made in late March of 2021, around the time when a social media storm broke out in China over the Better Cotton Initiative (BCI) and its brand members – including H&M, Nike, and Adidas – for no longer sourcing cotton from China's Xinjiang region. This boycott generated a huge backlash in mainland China. The online anger was mainly directed at H&M, since the Swedish retailer is a top member of the BCI and had previously released a statement on its site in which the company said it was "deeply concerned" over reports of alleged forced labor in the production of cotton in Xinjiang.
The news developments were followed by a wave of social media boycott campaigns and Chinese brand ambassadors cutting ties with international brands. It also ignited a social media movement in support of domestic brands, 'made in China,' and Xinjiang as China's largest cotton-growing area.
The hashtag "I support Xinjiang cotton" (#我支持新疆棉花#) received a staggering 7.9 billion views on Weibo within a few weeks time. Simultaneously, a rising confidence in national brands became increasingly visible on social media, where the calls for supporting domestic brands are growing louder.
A recent survey by state media outlet Global Times suggests that most Chinese consumers believe that Western brands could be replaced by Chinese ones. The article claims that 75 percent of its survey respondents agree that "national products could fully or partially replace Western products."

Proudly Made in China

Recent years have not just seen a rise in Chinese fashion brands, but also the emergence of a fashion scene where traditional Chinese elements play a major role. The Hanfu movement, for example, seeks to revitalize the wearing of Han Chinese ethnic clothing. But beyond that, brands are also weaving more Chinese themes into everyday fashion items such as sneakers and t-shirts.
The rise in popularity of Chinese fashion brands and styles was dubbed the "China Chic" trend by CGTN in 2020. "China Chic" is a translation of "guócháo" (国潮), which literally means "national tide," referring to the rise of domestic brands, with their designs often incorporating culturally Chinese elements into the latest trends. In 2021, for the first time ever, the Spring Festival Gala (Chinese state media's biggest live televised event) also included a fashion show to show the beauty of Chinese costumes to "demonstrate cultural confidence."
With celebrity endorsements being one of the most important strategies for social media marketing, Chinese celebrities play a crucial role in this trend as guócháo ambassadors. Chinese actor and singer Xiao Zhan (肖战) was praised on social media for becoming the new brand ambassador of the Chinese sportswear brand Lining. When celebrity Wang Yibo became the spokesperson for the domestic brand Anta Sports, one Weibo hashtag page on the topic received over one billion views (#王一博代言安踏#) in late April of 2021. The promotional poster featuring Wang Yibo shows him wearing a t-shirt with "China" on it, including the national flag – profiling Anta as a nation-loving brand.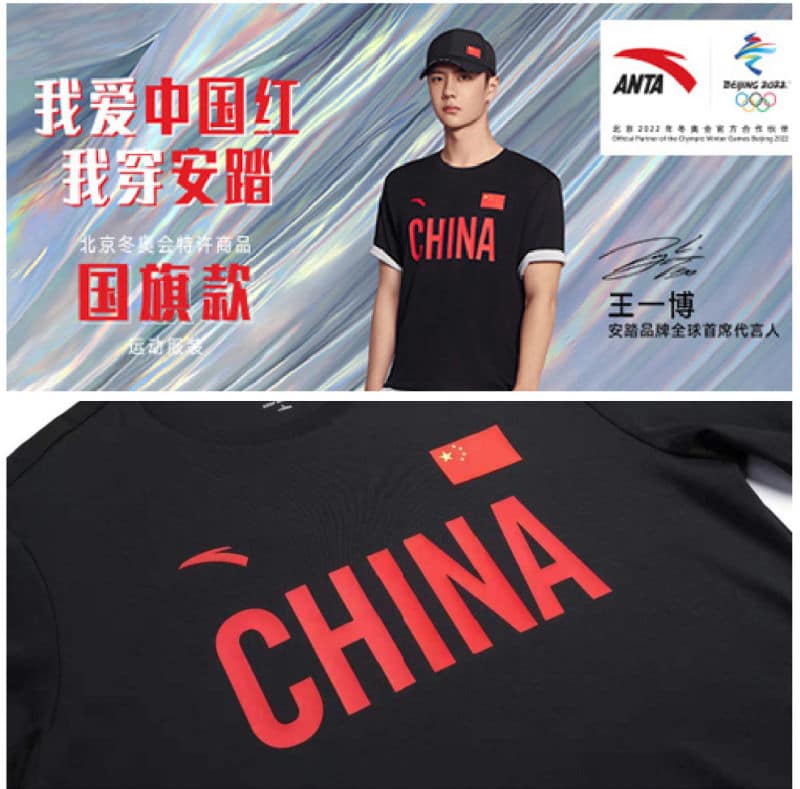 The rising popularity of 'made in China' fashion is noteworthy in a consumer culture where Western brands are often viewed as being of higher quality than domestically produced fashion. The very fact that these foreign brands succeeded in gaining access to China's market is, in the eyes of many consumers, a reason to believe they must be of higher quality.[1] Those sentiments now seem to be shifting.
A recent Chinese short documentary produced by Tmall titled "Proudly Made in China" (爆款中国) discusses how Western brands have dominated the Chinese fashion and luxury market for years, making it more difficult for Chinese brands to become big players in their own field.
"Why are Chinese brands not as highly accepted by Chinese consumers?", asks Li Jiaqi (李佳琦), an influencer and new brand recruiter for Tmall who is featured in the short film: "Why do Chinese consumers seem to have a preconceived and biased view that Chinese products are of poor quality?"
In the short film, Li explains that Chinese consumers have since long had worries about buying Chinese brands, and that one slight problem with a product will automatically negatively reflect on the entire brand.
Existing consumer preferences for Western brands have even created the idea that Chinese brands should register abroad and pose as a foreign brand to enlarge their chances to succeed in the Chinese market.
China's flourishing live-streaming market and domestic e-commerce platforms have provided new opportunities for Chinese brands to shine once their products gain consumer recognition. Especially younger consumers, those born after 1995 or 2000, show more confidence in Chinese brands than the generations before them.
In the "Proudly Made in China" film, this growing trust in domestic brands among Chinese younger generations is linked to a striking confidence and pride in China, its national identity, and its culture. On Weibo, some commenters replied: "This is the era of domestic brands!"

Western Brand Controversies

Although the influence of national pride on China's young consumers might already have been strong before, there are also changing dynamics in the relation between Chinese consumers and Western brands which seem to have boosted the 'guócháo' and domestic brand trend; Chinese brands have been cast in a more positive light over the past few years due to the controversies involving Western brands.
In 2018, Italian fashion house Dolce & Gabbana (D&G) faced consumer outrage in China for publishing a culturally insensitive advertising campaign that showed a Chinese model clumsily using chopsticks to eat Italian dishes such as pizza, cannoli, and spaghetti. The campaign, which was titled "D&G Loves China," completely backfired with many finding it racist and sexist and vowing to boycott the brand. The controversy became so big that a big D&G fashion show in Shanghai was canceled and the company saw a slump in its business on the mainland.
In 2019, many different international fashion brands, including Versace, Coach, Calvin Klein, Givenchy, and ASICS, were condemned by Chinese netizens for listing Hong Kong, Macau, and Taiwan as separate countries or regions – not part of China – on their official websites or brand T-shirts. Chinese celebrities cut their collaborations with many of these brands.
When in 2020 the aforementioned Better Cotton Initiative (BCI) announced that it was ceasing all operations in northwest China's Xinjiang Uygur Autonomous Region amid accusations of "forced labor" there, backlash in China further grew against the organization and the brands affiliated to it. As reported by CGTN, BCI has recently removed its statement on Xinjiang cotton from its website (allegedly this was related to a cyber attack), but the discussions on the position of Western brands in China continue, with both state media and netizens sending out the message that "foreign companies that slander China" are not welcome in the country.

The Future of Fashion Brands in China

"Boycott Nike? Support domestic brands? What are we supposed to do now?" It is a question posed by the Chinese 'Sneakersbar' vlogger Fang (@鞋吧Sneakersbar), a sportswear-focused self-media account with over 3,5 million followers on Weibo. The question resonates with many consumers, who are caught between politics, patriotism, and personal preferences for certain brands.
In their latest video, Sneakersbar makes up the balance on where Western brands, especially those affiliated with BCI, stand in the Chinese market today. On the one hand, Fang argues, many foreign brands, including Adidas, Nike, H&M, Uniqlo, and others, have already become part of China's commercial fashion landscape and many consumers love these brands and their products. On the other hand, these foreign brands are also making political choices that Chinese consumers cannot ignore. But does this mean they should be boycotted forever? Does it mean that you should look down on others buying these products?
The answer is that consumers should stay rational in their choices, Fang argues. This means that choosing Chinese brands out of a form of "rational patriotism" is fine, but people should not attack others merely because they wear foreign brands or work in their shops. The same goes for those consumers who only want to buy foreign brands just because they are foreign; they could also consider Chinese products to support domestic brands – especially those brands which refrain from copying foreign ones and have developed their own unique designs and styles.
Many commenters on Weibo support Fang's message of "reasonable patriotism without blind worship" ("理性爱国,也不盲目崇拜"), supporting the idea that Western and Chinese brands can co-exist and that they can be competitors in a market where Chinese fashion labels are getting more room to grow.
"Nationalism and patriotism offer opportunities for Chinese brands," one Weibo user writes: "China Chic and China fashion trends are putting more pressure on foreign brands. Because of the speedy rise of Chinese domestic brands, which are producing high-quality products and are applying smart marketing methods, more and more patriotic young people are buying their products."
It is clear that many consumers in China support domestic brands and hope that Chinese fashion can flourish within its own market. But there are also those voices stressing the importance of consumers' freedom to buy the brands that suit them, wherever they are from and regardless of politics. One person commented: "Western or Chinese brand, I just want to wear the shoes that are most comfortable for me to walk in."
By Manya Koetse
Follow @whatsonweibo

[1] Tian, Kelly and Lily Dong. 2011. Consumer-Citizens of China: The Role of Foreign Brands in the Imagined Future of China. London & New York: Routledge. Page 7.

This text was written for Goethe-Institut China under a CC-BY-NC-ND-4.0-DE license (Creative Commons) as part of a monthly column in collaboration with What's On Weibo.
Spotted a mistake or want to add something? Please let us know in comments below or email us. First-time commenters, please be patient – we will have to manually approve your comment before it appears.