Beware: 10 Scams in China To Watch Out For
What's on Weibo has compiled a list of 10 scams in China that are recently trending on social media or in China's newspapers, victimising hundreds of people every day.
As times change, so do scams. In an age of smartphones and social media, Chinese scammers are more prone to abandon old tricks and use new technology for their swindling business. But apart from new media and online fraud, there are still scammers who use people's inexperience and desperation to earn money by simply fooling them on the streets. What's on Weibo has compiled a list of 10 scams that are recently trending on social media or in China's newspapers, victimising hundreds or thousands of people (including tourists) every day. 
Also see our 2018 Top 8 Scams in China list!
PAYING A HIGH PRICE FOR UNIVERSITY
1. College Entrance Scam
Recently, Weibo netizens and Chinese media have been reporting on College Entrance Enrollment Scams (高考招生骗局): "Mr. Lu from Anhui always hoped his son would attend a good university," Anhui Daily writes: "but his grades were not ideal. This is when Mr. Zhou appeared, who introduced himself as an official from an academic institution with the right means to make sure Mr. Lu's son would be admitted to Hefei University of Technology, but he needed money for it."
Worried about his son's future, and fully trusting, Mr. Lu invested 125.000 RMB (over 20.000 US dollar) to get his son enrolled. Because his son initially received a (fake) admission letter from the university, the Lu family did not immediately discover they were scammed. When they did, their money was gone, and the son was not registered at any university at all.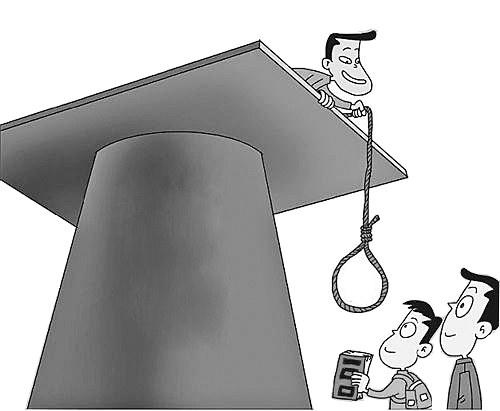 The Lu family is not the only one to get victimised by this scam. Around this time of year, the results of the annual College Entrance Exams are released. Prospective students and their family feverishly look to get admitted to a good university. But because it is all about the grades, the prospects look grim for those who did not get a good score on their exam. This makes them vulnerable victims for these kinds of scams. "This time of year is the peek of all kinds of criminal activities related to the College Entrance Exams," Anhui Daily writes: "Students and their parents should not be fooled."
BLINDED BY JEALOUSY
2. "I Am Your Husband's Mistress" Scam
An incoming message on your phone says: "Hi, I am your husband's mistress. I love him and want to marry him. You can see our picture for yourself, if you don't believe me."
The message is a shock to many women, who do not hesitate to immediately click the link provided in the text message. Unknowingly, by clicking the link, their phone gets infected with a trojan horse virus. Many Chinese have installed apps on their phone such as Alipay (Chinese equivalent to Paypal). The virus enables scammers to access private information, and transfer money from their victim's accounts.
So how do scammers know the person they send a message to is a married woman? Actually, they don't. By sending the same message to as many people as possible, they enhance their chances of sending it to those that are female and married – vulnerable to clicking the link in the text.
Similarly, scammers also send out messages telling people that their daughter is a prostitute, providing them with a link for pictures as (non-existent) proof [one of our female Harbin friends was called by her father in the middle of the night, worried sick about his daughter].
Another version of this scam is the message from the school administration, telling parents to click the link to see their child's latest report card. Scammers will even say they are their children's English or maths teacher, boosting the chances of parents clicking the link provided.
The only way to handle these messages is to immediately delete them, without clicking the link attached. If in doubt, call school/daughter/husband to verify (although in some odd cases, the latter may happily say it is a scam when it is actually not..).
NOT MY CUP OF TEA
3. The Tea Ceremony Scam
The tea ceremony scam has been a common scam in China for years. It is aimed at tourists who are new to China, and are eager to experience something typically 'Chinese'. Although the tea scammers are also active in Beijing (report), they famously operate around Shanghai's People's Park.
The scam usually involves two or three nice-looking young ladies who present themselves as "students" when approaching western tourists. What starts as small talk, soon leads to the girls inviting the tourist(s) to a traditional Chinese tea ceremony, where they will taste about eight different teas within fifteen minutes or so in a closed room in a backend alley teahouse. The tourists are led to believe that the tea that is served is inexpensive, but will later be presented with a bill of 650-2000 RMB (100-330 US dollar) or even more.
Tourists often do not even realise they have been scammed until the very end. Even a booking.com manager from New Zealand, though an experienced traveler, recently was scammed by the tea ceremony.
HANGING WITH THE WRONG CROWD
4. The WeChat Group Scam
WeChat (in Chinese: Weixin) is the most popular app in China. It is not just a way to connect to friends individually or by group chat, it is also an app that is used for making phone calls, ordering taxi's, and doing money transactions. (For more on Weixin, read: China's Weixin Revolution.) For many Chinese, the app has become an essential tool for everyday communication.
Recently, it has become more and more common for people to be asked to join a group of friends they do not know on Weixin, People's Daily writes. Because these groups have names such as 'finances', or 'entertainment', many people agree to add themselves to the group, as it is quite normal to 'follow' various groups on Weixin. After doing so, they learn the group consists of hundreds of people posting spam, emoticons and vile words. When asking to exit the group, they soon discover they cannot withdraw.
The group also cannot be set to 'do not disturb' mode, making every message that pops up visible on your phone screen. Somebody in the group will then send you a message asking if you want to be removed from the group. If so, you will have to give him a so-called 'red envelope' (红包): a payment worth 8,88 RMB (1,5 US dollars). After paying, you will be removed from the groups within a couple of minutes.
Although victims of this scam will only lose a little bit of cash, this is now happening on such a large scale that these scammers are making large amounts of money. Tencent, the creator of WeChat, has responded that this specific scam is only happening to IOS users due to a software incompatibility. Users of iOs and WeChat are advised to update both their WeChat and their iOS version.
KEEPING THE DOCTOR AWAY
5. Beijing's Hospital Scalpers
So-called hospital scalpers have been a problem in China for a long time. Hospital scalpers (医托) are people who earn their money by enticing people to obtain medical care at a certain hospital or clinic. As described by medical journalist Michael Woodhead from China Medical News (2014):
"The scalper is friendly and solicitous initially, advising the patients and family members that the official clinic is expensive and extremely busy and the service is poor. Sometimes they say the doctor on duty has a poor reputation or that the clinic is dirty and has poor hygiene. They then tell the victim that there is a better clinic nearby where they have connections and can get a quick appointment.The scalper then personally escorts the victim to the nearby clinic, where the 'doctor' and staff do many unnecessary expensive tests and prescribes some very common and cheap medicine but charges a high price."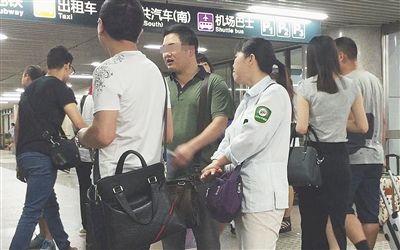 A hospital scalper in action at Beijing West Station (Sina 2015).
Earlier this month, Sina News reported about hundreds of people being victimised by one group of scalpers that mainly operate in and around Beijing's West Station, Jishuitan Hospital, Fu Wai Hospital, Peking Union Medical Hospital Clinic and the 301 Hospital. The group, consisting of around sixty scammers, are active every day from early morning 'til afternoon, looking for inexperienced patients who come to Beijing to see a doctor, and are either just arriving, or are waiting in one of the long lines at the hospital.
The scammers wear costumes and look like professional staff members, asking people about their health problems and then referring them to the centrally located Baidetang Clinic near Beijing's Pinganli Subway (Yude hutong).
According to the article, one patient, coming from Xi'an, was waiting at the Union Medical Hospital when she was approached by a woman who informed about her medical problems. When the patient told the woman that she suffered from menstrual problems, the scammer told her that the specialist she needed was currently available at the qualified Baidetang Clinic. The patient, like many others who were victimised, ended up getting a short consult and some expensive medicine, spending 10.000 RMB (1630 US dollars). According to an undercover journalist, hospital scalpers receive 70% of the amount a patient spends at the clinic.
The Baidetang Clinic near Beijing's Pinganli Subway Station (Sina 2015). 
MONEY FLIES
6. "Canceled Flight" Message
This year, multiple Chinese media and netizens reported about the "canceled flight scam" (航班取消骗局). After booking a flight, passengers receive a text message from a 400-number saying that there has been a change in their flight, or that the flight has been canceled. In order to get their money back, passengers have to provide their name, ID information and bank account number.
Later on, passengers will discover that money is taken from their bank account, and that the text message they received was fake.
Anqing News Centre advises passengers to be careful with 400-numbers. After receiving similar messages, people should always first check with the official customer information number of their airline.
HIGH INTERESTS
7. Major Bank Scam
Over the last year, several large-scale bank scams made the headlines in China. Although putting money in the bank is generally considered the safest option to protect one's money, many Chinese netizens say that they are losing trust in China's banking system because large amounts of people's savings that were kept in state-owned banks have gone missing.
The scammers involved are people who work at the bank. They attract depositors by offering them high interests. Instead of annual interest rates of 2–5%, these employees will tell depositors that they can give them interests of 10%, up to 20% or even higher. In such scams, the depositors often have to sign the terms of service, which include that they have to refrain from checking the account. After the swindle is exposed, the bank usually states that it is the client's responsibility for believing such high interests; even if the scam took place within the bank itself and clients assumed they were dealing with an honest employee.
Many netizens have expressed their astonishment over this scam. One Weibo netizen said: "If we keep money in the bank, the bank should be responsible for our savings. Since the scammer is an employee of the bank, the bank should take the responsibility for his behavior."
The only way to avoid this scam: if it is too good to be true, it usually is. Double check with other bank staff, and properly read the terms of service. A bank can never make a client refrain from checking their own accounts.
DOUBLE RENT
8. Landlord Message Scam
A common scam, similar to the 'mistress' text message and the 'canceled flight' one, is a message from your landlord, who says that he has changed phone numbers, and that this month's rent needs to be transferred to the account of his wife or another bank number.
In the end, it turns out that this message is fake – but meanwhile, many people already transferred the money to the wrong account. They discover they're duped when they receive a message from their actual landlord who has not received the month's rent.
These kind of text messages are sent out randomly. Because the message is send out to many people, there are always those who actually need to pay their rent and are used to communicating with their landlord in this way.
NO HAPPY END
9. Massage Parlor Scam
Like with the Tea Ceremony scam, Massage Parlor scammers are focused on western tourists – men in specific. Basically, the scam involves somebody talking you into a massage on the streets. The 'normal' massage soon turns out to be a bit more erotic, and before you know it, the massage parlor big boss arrives, the door closes, and you have to pay up a large sum of money. As this tourist describes on Tripadvisor:
"I was offered a foot massage in Shanghai then was taken to a building where a different type of massage was offered on the body. I was forced to pick a girl then it took 10 minutes before we were done. Before the massage they told me about 300 RMB ($40.00) but after the massage a big guy walked in the room with 2 other guys and gave me a bill for $4200.00 which included room rent. I was shocked. They also knew which hotel I stayed."
A host of a Dutch undercover show gets scammed in Shanghai (SBS6).
It is a common scam, especially in Shanghai city centre, that could end up becoming very costly.
Similarly, there is the KTV scam where people will lure tourists into nightclubs or karaoke and overcharge them on drinks. Avoiding these scams is simple: just do not trust anyone who approaches you on the street to take you to a club or salon.
NONE OF YOUR BUSINESS
10. China's Pyramid Schemes (chuanxiao)
China's 'chuanxiao' scheme arguably is the most large-scale and psychological scam of this list. So-called 'multi-level marketing' (传销) or 'pyramid schemes' are quite commonplace in China, especially in certain provinces (Anhui, Hunan). New members are always is introduced to these schemes through old friends, former classmates, or relatives.
Chuanxiao are almost like cults, where people get trained in how to trick their Chinese friends into joining them. As explained in this blog by Nao, chuanxiao schemes are not about selling products, but about getting more people to join. The money people spend to join the group goes to the person above them, and the people above them. People are convinced (brainwashed?) they will eventually become millionaires if they stick to the group long enough.
People in chuanxiao live as a community, and collaborate on how to bond with new people and get them to join – and get their money into the system. Friends are usually invited to come over from other provinces for a business opportunity, or as a holiday, and are then taken into the group. Chuanxiao are psychological games, where people often only realise they have been scammed when it is already too late.
Know more scams you would like to share? Please leave your comment in the comment section below, or email us.
By Manya Koetse
Follow @WhatsOnWeibo
©2015 Whatsonweibo. All rights reserved. Do not reproduce our content without permission – you can contact us at info@whatsonweibo.com.
How Chinese Kuaishou Rebel 'Pangzai' Became a Twitter King
He's been called a 'Twitter king', but how did the unexpected online fame of this 'Hebei Pangzai' start?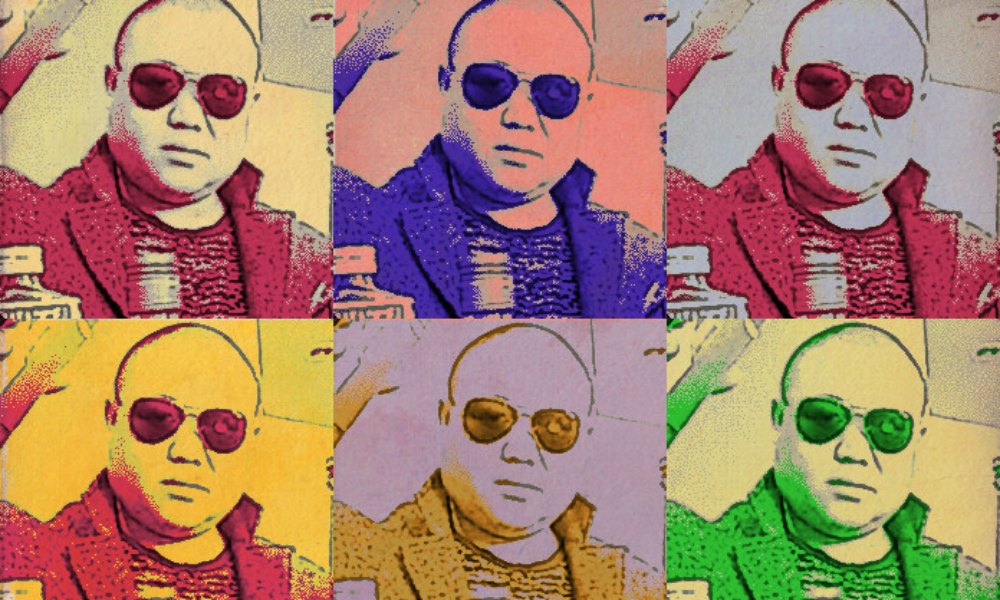 Twitter has fallen in love with a Chinese farmer after his drinking videos on Kuaishou were cross-posted abroad and went viral. He has embraced his new fans and Western social media, arguably becoming one of China's most successful cultural ambassadors of the year.
He describes himself as the "inventor of tornado beer drinking style" and as an "ordinary peasant from China." 'Hebei Pangzai' only joined Twitter in August of 2019, but he already has a Twitter following of more than 111.6K.
Although his account is temporarily restricted by Twitter at time of writing ("due to suspicious activity"), his popularity is only growing. Some Twitterers, such as the China twitterer Carl Zha (@CarlZha), are even initiating a "#FreePangzai campaign" to restore the account of the "one true King."

But where and when did the online fame of 'Hebei Pangzai' start?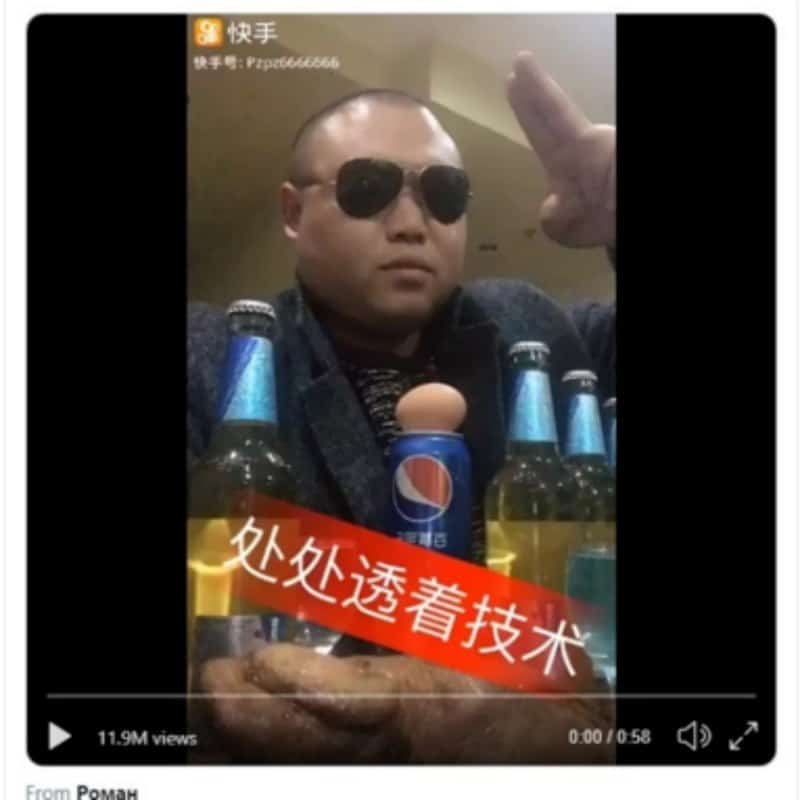 Let's begin our introduction to Pangzai with one tweet from March of this year, when Twitter user 'Hunnaban Trenchboss' posted a video from Chinese short video app Kuaishou (快手) showing a man – 'Pangzai' – wearing sunglasses and smoking a cigarette while preparing an incredible mixed drink.
The man in the video smoothly pops the cap off a bottle of beer with a chopstick, pours some in a large jar, then twirls the bottle and propels the rest of the beer in a tornado of force down his throat.
He follows that up by pouring in more beer, some blue liquor, an egg, some Pepsi, and a hefty glass of baijiu – which he dumps in only after lighting it on fire, igniting his finger, and coolly lighting his cigarette. He then chugs the entire concoction in a matter of seconds.
"How do I become as cool as this guy, The Coolest Guy?", the tweet said.
The same video was shared again in August by a few Russian accounts, was retweeted by an American account, and then went completely viral, racking up millions of views and tens of thousands of retweets.
That video has now been viewed almost 12 million times on Twitter, and has inspired tens of thousands of fans who herald him as 'king.'
The man in the video referred to as 'Pangzai' (胖仔, 'chubby dude') is Liu Shichao (刘世超), a 33-year-old farmer and small-time Chinese internet celebrity from a city called Xingtai in Hebei Province.
According to an interview with Technode, he found out about the video on Twitter when some of his new foreign fans opened Chinese social media accounts to find him and tell him about his overnight online fame.
"One message told me that I was a celebrity now in America," he told Technode: "So I chatted with the person [who sent the message] for a whole day, with the help of translation software."
Within two days of his video going viral, Pangzai had figured out how to use a VPN, opened his own Twitter account and started uploading videos.
He even posted a reply on the original viral video to alert everybody to his account.
Since then, Liu 'Pangzai' has amassed over 111,000 followers and has posted many more videos of everything from drinking, to cooking, to exploring his countryside hometown.
But it was the drinking videos specifically that earned him his following, both abroad and in China.
IT STARTED ON KUAISHOU
"Pangzai epitomizes the typical Kuaishou account."
Liu began his internet career three years ago on Kuaishou, a Chinese short video app massively popular among China's lower-tier cities and countryside.
In contrast to the polished, celeb-heavy platform Douyin, which is most popular among urban youths, Kuaishou is a platform for the masses. Its users are known for their crazy antics and general disregard for personal safety.
Pangzai epitomizes the typical Kuaishou account. Posting under the handle "Chubby Dude from Hebei" (@河北胖仔), he uploads videos of himself eating and drinking in eye-popping combinations, or sometimes smashing things – from bricks to unopened water bottles – with his bare hands.
Liu also gained notoriety, and a couple hundred thousand followers, from his mastery of the so-called 'beer tornado technique' (小旋风 xiǎo xuànfēng).
According to an interview with the BBC, he peaked at 470,000 followers on Kuaishou and was monetizing his online fame with some 10,000 RMB ($1420) per month.
Unfortunately for Liu, China's Cyberspace Administration announced a crackdown on vulgar and illegal content across multiple social media platforms in spring of 2018, with a focus on Douyin, Kuaishou, and its sister news company Jinri Toutiao. Kuaishou was pulled from app stores until it cleaned up its act.
It is unclear just how many videos and accounts have been removed as a result of the cleanup. We can get a rough idea from an announcement by Kuaishou earlier this year that in March of 2019 alone, it removed an average of over 11,000 videos and blocked almost 1,000 accounts every day.
The result for Liu was that his account was suspended for four months and the majority of his most popular videos, including the one that went viral abroad, were removed for promoting 'unhealthy drinking habits.'
When you look at his Kuaishou account today, you won't see many videos focused solely on baijiu and beer chugging.
The videos that remain on his account do include drinking (and his signature tornado move) but it is always accompanied by eating food or some other activity (such as sitting deep in a field of corn, munching on roast duck and dribbling baijiu down a corn leaf into a glass.)
Liu still has 354,000 followers on Kuaishou. His Chinese fans, like his foreign ones, marvel at his cool and collected manner as he eats and drinks all sorts of disgusting things.
Canned herring features heavily in his most popular recent videos, where he can be seen sipping the juice directly from the can.
"This has to be the most unaffected anyone has ever been by eating canned herring," says one fan. "The flavor is disgusting! 99.9% of people who try this would vomit," another online commenter replies.
AN UNEXPECTED TWITTER KING
"Liu is like many young men from the countryside of Northern China: open, friendly, humble, and genuinely excited to share his life."
This year, Liu seems to have embraced his newfound international stardom with grace and savvy.
He uses Twitter's in-app translation to help him communicate with fans and has been highly interactive on the platform.
Liu 'Pangzai' was also quick to open up a Paypal account and share it with followers, and has recently made YouTube and Instagram accounts to prevent scams pretending to be him. He has also collaborated with a Twitter fan to sell T-shirts online in America.
Many online fans have dubbed him 'king', perhaps the highest praise one can receive on the internet today.
But in contrast to the sunglasses and chill demeanor of his videos, Liu does not appear to be an internet celebrity overly obsessed with being cool.
Instead, he is like many young men from the countryside of Northern China: open, friendly, humble, and genuinely excited to share his life (and drinking habits) with the rest of the world.
After reposting all of his old drinking videos from Kuaishou, Liu started asking Twitter fans what they would like to see from him. Many responded that they wanted more about his life in rural China.
He has since followed up with videos showing him fixing a pipe with his friends, exploring his local market, cooking sweet potatoes, and, of course, a tutorial on how to master the 'tornado beer' technique.
Many have expressed concern for his health in light of his drinking habits, but he has assured everybody that everything he does is "within his ability" and that he doesn't drink like that very often.
Liu is grateful for all the support and praise he has received from abroad. "It's crazy to have all of these foreign friends all of a sudden," he recently said in an interview with Deadspin: "I really have to thank them a lot. If I have a chance I will find them and we can drink together."
Seemingly to that end, Liu has recently organized a party to be held near his hometown in China, exciting fans all over the world and spurring many to apply for passports and visas.
The date is set for December 14, 2019 in Zhuamadian City, Hebei Province; too soon for many to make it, but he promises another party in the spring. There is talk also of organizing a visit for Liu 'Pangzai' to go to America.
WINDOW INTO CHINESE SOCIAL MEDIA
"Liu's growing notoriety abroad seems to have flown completely under the radar of the Chinese internet."
Although there are many vloggers like Pangzai in China, he stands out on Twitter as some sort of window into Chinese social media, especially because this online world is usually so separate from the Western realms of social media.
The recent explosive growth of Chinese social media apps such as TikTok has not done much to facilitate this kind of cultural interaction between China and the West.
Although Tiktok is, in fact, a Chinese app (called Douyin 抖音 in China), there are actually two different versions of the same app in mainland China and abroad, meaning that the other 'Pangzais' of the Chinese internet still remain within the social media spheres of the PRC, rarely gaining fame outside of the Great Firewall.
In China, aside from his fans on Kuaishou, Liu's growing notoriety abroad seems to have flown completely under the radar of the Chinese internet. He is mentioned only one or two times across Weibo, and searches for his name and handle on WeChat, Baidu, and various Chinese tech news sites bring up nothing.
Liu is a rare example of genuine soft power coming out of China. A pure, grassroots man of the people with strong cultural appeal who sincerely enjoys sharing his life and his culture with the rest of the world. His tweets are full of affection and appreciation for his fans, as well as frequent prompts for followers to share their own lives and customs of their home countries.
To watch his introduction to Twitter and rise to fame is to see the best of the internet: cultural interaction, genuinely shared delight, and mutual admiration inspired by hilarious antics caught on camera.
His Twitter fans express their hope that Twitter Support will soon lift the temporary ban on their 'Twitter king.' To them, it's perfectly clear: this online king is nowhere near dead, long live Pangzai!
Follow the #FreePangzai hashtag on Twitter.
Update: Panghaizi is out of Twitter jail!

Want to read more about unexpected online celebrities from China? Also see:
The Story of Two Farmers Who Became Internet Celebrities;
The "Vagrant Shanghai Professor";
From Farmgirl to Fashionista: Weibo Celebrity Fairy Wang.

By Jessica Colwell
Follow @whatsonweibo
It's almost Black Friday! We've already listed the best VPN deal for you here.
Spotted a mistake or want to add something? Please let us know in comments below or email us. First-time commenters, please be patient – we will have to manually approve your comment before it appears.
©2019 Whatsonweibo. All rights reserved. Do not reproduce our content without permission – you can contact us at info@whatsonweibo.com.
These Are the Foreign Brands Apologizing to China amid Hong Kong Tensions
Who's apologizing and why? An A-Z list of the foreign companies caught up in China's online brand hunt.
First published
Foreign luxury brands hoping to appease the Chinese market are walking on eggshells as the political crisis in Hong Kong is deepening. Chinese netizens and state media recently condemned foreign brands for showing any signs of disregarding the One-China Policy. An online witch hunt has begun: this is the list of brands.
While the political crisis in Hong Kong is deepening, the propaganda machine in mainland China is running at full speed to condemn anti-Beijing 'rioters' and promote the one-China principle.
As state media has been intensifying its news coverage on the situation in Hong Kong, with virtually all outlets using similar narratives, Chinese web users started to focus on foreign (luxury) brands and whether or not they list Hong Kong, Macau, or Taiwan as being part of China.
Starting on August 8, Chinese social media platform Weibo has seen dozens of hashtags taking over Chinese social media in relation to the big brand scandal; one foreign brand after the other was exposed as 'ignoring' China's one-China principle on their website or products.
By the beginning of this week, the online brand hunt had almost become like an online contest, with thousands of netizens suggesting new brands that are allegedly not respecting China's sovereignty.
Although the trend initially began with Chinese web users condemning brands -starting with Versace-, Chinese state media soon also reported about the online controversies and intensified the movement.
Communist Party newspaper People's Daily wrote that Western brands are quick to apologize, but should also "learn from their mistakes" in the long run, and cannot disregard the One-China Policy if they want to do business in China.
State media outlet Global Times also published an illustration online, writing the slogan "China can't be one bit less" ("中国一点都不能少") that has been used by state media to emphasize China's one-China principle since the 2016 South China Sea dispute.
In response to the controversies, it has been raining apologies from foreign brands on Chinese social media the past days.
Who is mainly responsible for this online witch hunt? Although it first started with Chinese web users sharing images and screenshots of foreign brands and their 'erroneous representation' of China, state media and celebrities soon also started to play a major role in this issue and have contributed to the enormous snowball effect of the trend.
What's the 'correct' way to list Hong Kong or Taiwan according to the one-China principle? Below is an image of the (adjusted) website of Valentino where it lists countries and lists Hong Kong and Taiwan as being part of China.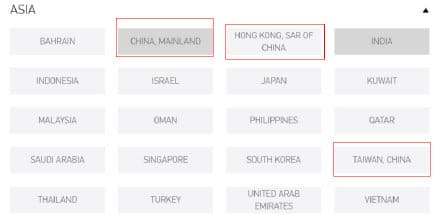 Here's a list of the global brands have become tied up in controversy on the mainland this week (this list might still be updated):
● ASICS 亚瑟士
Japanese footwear brand
Brand Weibo account:
https://www.weibo.com/asicsofficial (240,000+ fans)
Hashtag:
"ASICS lists HK & Taiwan as Separate Countries" (#亚瑟士将香港与台湾列为国家#): 110 million views.
What's the problem?
The ASICS website listed Hong Kong and Taiwan as countries.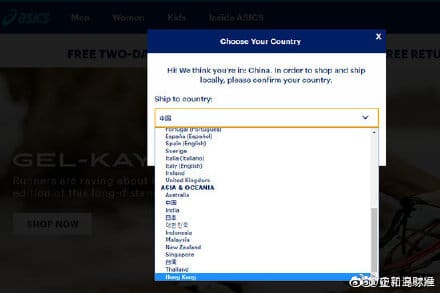 Apology?
Yes, statement on August 12, followed by "ASICS apologizes" hashtag (#亚瑟士致歉#), 6,5 million views on Weibo. The footwear brand emphasized that it abides by the one-China policy and that it will correct its "mistakes."
Consequences:
Besides some netizens who vow not to buy any of the brands in this list disregarding the PRC's one-China policy, there are no indications as of now that the brand is affected by the issue.
● CALVIN KLEIN
American fashion brand
Brand Weibo account:
https://weibo.com/calvinklein (303,000 fans)
Hashtag:
"CK Exposed for Insulting China" (##CK被曝辱华##): 1,5 million views.
What's the problem?:
Calvin Klein faced criticism for listing Taiwan and Hong Kong as separate countries or regions on its website.
Apology?
Yes, statement on August 13, followed by "CK apologizes" hashtag (#ck道歉#), 15 million views on Weibo.
Consequence:
Chinese actress Jelly Lin, Calvin Klein's brand ambassador for the Asia-Pacific region, announced an immediate termination of collaboration with the American fashion house. The hashtag for this event (#林允终止与CK合作#) received no less than 510 million views. Zhang Yixing (Lay Zhang), a Chinese member of K-pop group Exo and a Calvin Klein model, warned the US clothing company to respect Beijing's "one China" policy but did not stop working the brand (he did terminate collaborations with Samsung, also in this list).
● COACH 蔻驰
American luxury accessories company 
Brand Weibo account:
https://www.weibo.com/coachchina (4+ million fans)
Hashtag:
"Coach Lists HK, Macau, Taiwan as Countries" (#蔻驰将港澳台列为国家#): 6 million views.
What's the problem?:
Less than 24 hours after Versace's apology, Coach was among the second batch of brands, along with Givenchy, ASICS, and Fresh, to be exposed online for erroneous geographic listings. Coach got in trouble for a t-shirt displaying 'Hong Kong' as an independent region and listing 'Taipei' as belonging to 'Taiwan,' while Shanghai and Beijing are listed under China.
The brand was also found to have listed Hong Kong and Taiwan as independent countries under its website's  "search country" option.
Apology?:
Yes, statement on August 12, followed by "Coach apologizes" hashtag (#蔻驰道歉#), 300 million views on Weibo.
Consequences:
Coach's China ambassador, supermodel Liu Wen, said on Weibo on Monday that she had cut off her endorsement deal with the fashion label (#刘雯终止与蔻驰合作#, 6 million views) as the brand "seriously impacted the national sentiment of the Chinese people." State media outlet Global Times suggested the brand faced "potential boycott in China."
● FRESH 馥蕾诗
American beauty brand 
Brand Weibo account:
https://www.weibo.com/freshbeauty (339,500 milion fans)
Hashtag:
No separate hashtag for this incident.
What's the problem?:
Fresh faced backlash for listing 'Hong Kong' as a separate region on its official (English) website.
Apology?:
Yes, statement on August 12, followed by "Fresh apologizes" hashtag (#fresh道歉#,) 8 million views on Weibo.
Consequence:
No known direct consequences.
● GIVENCHY 纪梵希
French luxury fashion and perfume house
Brand Weibo account:
https://weibo.com/officialgivenchy (1.5 milion fans)
Hashtag:
The topic 'Givenchy T-Shirt' (#纪梵希t恤#) became big on Weibo. The hashtag page has over 500 million views.
What's the problem?:
Like Coach, Givenchy also got in trouble for a t-shirt displaying 'Hong Kong' as an independent region and listing 'Taipei' as belonging to 'Taiwan.'
Apology?:
Yes, statement on August 12, followed by "Givenchy apologizes" hashtag (#纪梵希道歉#,) 290 million views on Weibo.
Consequence:
Chinese singer Jackson Yee terminated his brand partnerships with Givenchy (#易烊千玺与纪梵希解约# 680 million views).
● POCARI SWEAT 宝矿力水特
Japanese sport's drink
Brand Weibo account:
https://www.weibo.com/pocarisweat (15400 fans)
Hashtag:
"Pocari Sweat Get Out of China"(#宝矿力水特滚出中国#) is one of the early hashtags associated with the Pocari controversy. With just over 300,000 views, it did not gain huge traction on Weibo.
What's the problem?
Pocari Sweat is among the earliest brands – if not the earliest- to be caught up in the brand controversy relating to the protests in Hong Kong. As described by Japan Times, pro-democracy demonstrators praised Pocari after it pulled advertising from Hong Kong television station TVB, which protesters accuse of pro-Beijing coverage. Pocari became a popular drink among Hong Kong protesters.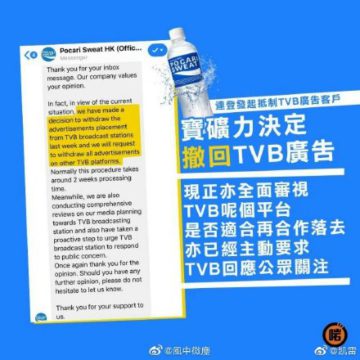 Apology?:
The mainland China office of the brand issued two apology statements on July 11 and 21 in which it emphasized that it operates separately from the Hong Kong division and that it respects China's "one country, two systems" policy.
Consequence:
Pocari Sweat was condemned by Chinese state media, but it is not clear if people in mainland China are drinking less Pocari because of the issue.
● VALENTINO 
Italian fashion house
Brand Weibo account:
www.weibo.com/valentinoofficial (413,000+ fans)
Hashtag:
No particular hashtag.
What's the problem?:
Valentino listed Hong Kong and Taiwan as separate countries in the region/language menu on its foreign website.
Apology?:
Yes, statement on August 13, in which Valentino apologizes for making "a mistake" on its website. The website has since been changed.
Consequence:
No known consequences, the website seemed to be quickly adjusted, and many netizens expressed their praise for that and for the fact that the recent trend seems to make foreign brands more aware of the importance of respecting the One-China Policy.
● VERSACE 范思哲 
Italian fashion house
Brand Weibo account:
https://www.weibo.com/versacechina (850,000+ fans)
Hashtag:
"Versace Suspected of [Supporting] Hong Kong and Macau Independence" (#范思哲涉嫌港独澳独#): 3.2 million views.
What's the problem?:
Versace is the first brand to be targeted in this week's brand-hunting trend. An image of a T-shirt that listed Hong Kong and Macau as independent countries was first posted on Weibo by a female netizen on August 8, who wrote: "I discovered this recently, and wondered if the design of this t-shirt means that Versace is supporting Hong Kong independence?" Three days later, the image had circulated so much that it became a trending topic. Commenters called out the brand for being "two-faced" and for profiting from Chinese money while disregarding Chinese sovereignty.
Apology?:
Yes, statement on August 11, followed by "Versace apologizes" hashtag (#范思哲道歉#,) 860 million views on Weibo. In its statement, Versace stated that the t-shirts had already been recalled and destroyed in late July, and that the fashion house "deeply apologized for the controversy" that was caused by an "error in its t-shirt design." Versace further stated that the brand "loves China" and "resolutely respects China's territorial sovereignty."
Donatella Versace, the designer and chief creative officer of Versace, also issued a personal apology through Instagram, writing: "Never have I wanted to disrespect China's National Sovereignty and this is why I wanted to personally apologize for such inaccuracy and for any distress that it may have caused."
Consequence:
Chinese celebrity Yang Mi ended her relationship with Versace. The announcement received a lot of attention on Chinese social media (#杨幂终止与Versace合作# 1.1 billion views).
● SWAROVSKI 施华洛世奇
Austrian jewelry company
Brand Weibo account:
https://www.weibo.com/swarovskicom (500,00+ fans)
Hashtag:
Swarovski, together with Calvin Klein, was one of the brands that popped up in the general 'luxury brand scandal' after the Versace controversy had snowballed and had moved to Coach, Givenchy, ASICS, and Fresh. The Swarovski issue was exposed just a bit later and had no separate hashtag on Weibo.
What's the problem?
Swarovski went trending on Chinese social media for classifying Hong Kong as a country on its website.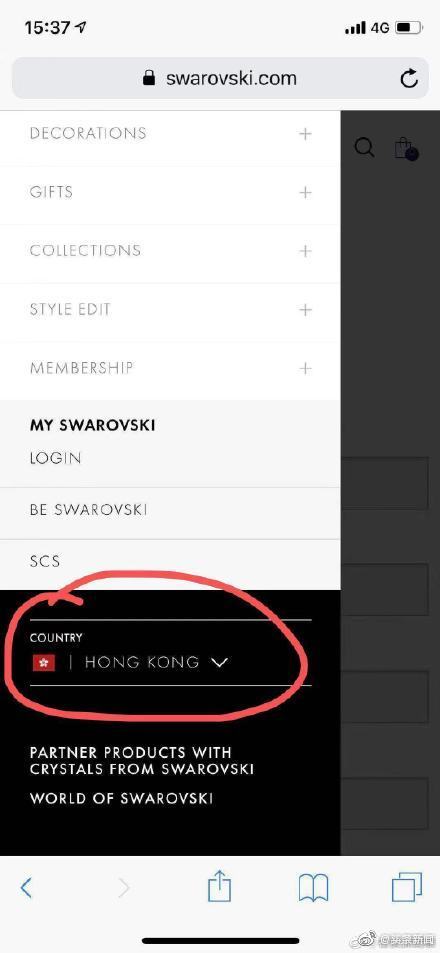 Apology?
Swarovski issued an apology statement on August 13. The hashtag "Swarovski Apologizes" received over 750 million views on Weibo (#施华洛世奇道歉#).
Consequence:
Chinese actress Jiang Shuying, also known as Maggie Jiang, announced on Tuesday (August 13) that she would be ending her cooperation with Swarovski (#江疏影与施华洛世奇解约#, 410 million views).
CURRENTLY UNDER SCRUTINY BUT NO APOLOGIES:
● AMAZON 亚马逊
American e-commerce company
Brand Weibo account:
https://www.weibo.com/amazonchina (4.4 million fans)
Hashtag:
"Amazon T-shirts" (#亚马逊t恤#), 140 million views; "Amazon Sells Hong Kong Independence Shirts" (#亚马逊售卖港独T恤#), 18 million views.
What's the problem?
Amazon is one of the latest brands to be added to the virtual PRC wall of shame of international brands going against Beijing's "One China" principle. On August 14, screenshots of the Amazon e-commerce platform selling t-shirts promoting an independent Hong Kong and displaying anti-China slogans went viral on Weibo.
Reaction
Amazon did not apologize for the merchandise sold on its platforms, but the company did respond to ChinaNews (#亚马逊回应T恤事件#), emphasizing that Amazon always has and will respect China's one-China principle, and abide by local laws of the countries Amazon is active in. There were also netizens on Weibo saying they understood that Amazon cannot be responsible for all the merchandise sold by its online shops around the world.
● SAMSUNG 三星 
South Korean Tech Company
Brand Weibo account:
https://www.weibo.com/samsung (2.8+ million fans)
Hashtag:
No separate hashtag for this issue, although the announcement that Zhang Yixing would terminate his contract with Samsung did receive over 980 million views, making it one of the bigger hashtags in this brand scandal.
What's the problem?:
Samsung faced criticism on August 14 for damaging China's "territorial integrity" by displaying choices Hong Kong, China, and Taiwan as "countries" on its website.
Consequence:
Chinese celebrity and K-Pop star Zhang Yixing (Lay Zhang) announced on August 13 that he would no longer work together with Samsung as a brand ambassador for "hurting the national feelings of Chinese compatriots" (#张艺兴与三星解约#, 980 million views!).
By Manya Koetse
Follow @whatsonweibo
Spotted a mistake or want to add something? Please let us know in comments below or email us. Please note that your comment below will need to be manually approved if you're a first-time poster here.
©2019 Whatsonweibo. All rights reserved. Do not reproduce our content without permission – you can contact us at info@whatsonweibo.com