Beware: 10 Scams in China To Watch Out For
What's on Weibo has compiled a list of 10 scams in China that are recently trending on social media or in China's newspapers, victimising hundreds of people every day.
As times change, so do scams. In an age of smartphones and social media, Chinese scammers are more prone to abandon old tricks and use new technology for their swindling business. But apart from new media and online fraud, there are still scammers who use people's inexperience and desperation to earn money by simply fooling them on the streets. What's on Weibo has compiled a list of 10 scams that are recently trending on social media or in China's newspapers, victimising hundreds or thousands of people (including tourists) every day. 
PAYING A HIGH PRICE FOR UNIVERSITY
1. College Entrance Scam
Recently, Weibo netizens and Chinese media have been reporting on College Entrance Enrollment Scams (高考招生骗局): "Mr. Lu from Anhui always hoped his son would attend a good university," Anhui Daily writes: "but his grades were not ideal. This is when Mr. Zhou appeared, who introduced himself as an official from an academic institution with the right means to make sure Mr. Lu's son would be admitted to Hefei University of Technology, but he needed money for it."
Worried about his son's future, and fully trusting, Mr. Lu invested 125.000 RMB (over 20.000 US dollar) to get his son enrolled. Because his son initially received a (fake) admission letter from the university, the Lu family did not immediately discover they were scammed. When they did, their money was gone, and the son was not registered at any university at all.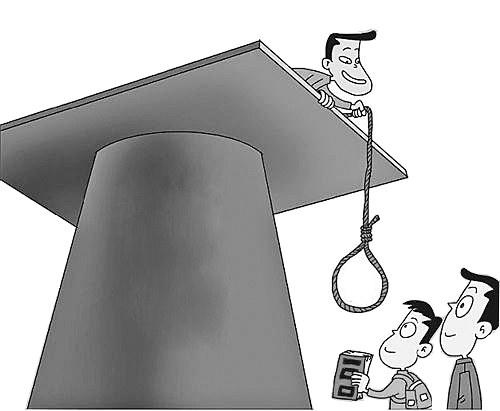 The Lu family is not the only one to get victimised by this scam. Around this time of year, the results of the annual College Entrance Exams are released. Prospective students and their family feverishly look to get admitted to a good university. But because it is all about the grades, the prospects look grim for those who did not get a good score on their exam. This makes them vulnerable victims for these kinds of scams. "This time of year is the peek of all kinds of criminal activities related to the College Entrance Exams," Anhui Daily writes: "Students and their parents should not be fooled."
BLINDED BY JEALOUSY
2. "I Am Your Husband's Mistress" Scam
An incoming message on your phone says: "Hi, I am your husband's mistress. I love him and want to marry him. You can see our picture for yourself, if you don't believe me."
The message is a shock to many women, who do not hesitate to immediately click the link provided in the text message. Unknowingly, by clicking the link, their phone gets infected with a trojan horse virus. Many Chinese have installed apps on their phone such as Alipay (Chinese equivalent to Paypal). The virus enables scammers to access private information, and transfer money from their victim's accounts.
So how do scammers know the person they send a message to is a married woman? Actually, they don't. By sending the same message to as many people as possible, they enhance their chances of sending it to those that are female and married – vulnerable to clicking the link in the text.
Similarly, scammers also send out messages telling people that their daughter is a prostitute, providing them with a link for pictures as (non-existent) proof [one of our female Harbin friends was called by her father in the middle of the night, worried sick about his daughter].
Another version of this scam is the message from the school administration, telling parents to click the link to see their child's latest report card. Scammers will even say they are their children's English or maths teacher, boosting the chances of parents clicking the link provided.
The only way to handle these messages is to immediately delete them, without clicking the link attached. If in doubt, call school/daughter/husband to verify (although in some odd cases, the latter may happily say it is a scam when it is actually not..).
NOT MY CUP OF TEA
3. The Tea Ceremony Scam
The tea ceremony scam has been a common scam in China for years. It is aimed at tourists who are new to China, and are eager to experience something typically 'Chinese'. Although the tea scammers are also active in Beijing (report), they famously operate around Shanghai's People's Park.
The scam usually involves two or three nice-looking young ladies who present themselves as "students" when approaching western tourists. What starts as small talk, soon leads to the girls inviting the tourist(s) to a traditional Chinese tea ceremony, where they will taste about eight different teas within fifteen minutes or so in a closed room in a backend alley teahouse. The tourists are led to believe that the tea that is served is inexpensive, but will later be presented with a bill of 650-2000 RMB (100-330 US dollar) or even more.
Tourists often do not even realise they have been scammed until the very end. Even a booking.com manager from New Zealand, though an experienced traveler, recently was scammed by the tea ceremony.
HANGING WITH THE WRONG CROWD
4. The WeChat Group Scam
WeChat (in Chinese: Weixin) is the most popular app in China. It is not just a way to connect to friends individually or by group chat, it is also an app that is used for making phone calls, ordering taxi's, and doing money transactions. (For more on Weixin, read: China's Weixin Revolution.) For many Chinese, the app has become an essential tool for everyday communication.
Recently, it has become more and more common for people to be asked to join a group of friends they do not know on Weixin, People's Daily writes. Because these groups have names such as 'finances', or 'entertainment', many people agree to add themselves to the group, as it is quite normal to 'follow' various groups on Weixin. After doing so, they learn the group consists of hundreds of people posting spam, emoticons and vile words. When asking to exit the group, they soon discover they cannot withdraw.
The group also cannot be set to 'do not disturb' mode, making every message that pops up visible on your phone screen. Somebody in the group will then send you a message asking if you want to be removed from the group. If so, you will have to give him a so-called 'red envelope' (红包): a payment worth 8,88 RMB (1,5 US dollars). After paying, you will be removed from the groups within a couple of minutes.
Although victims of this scam will only lose a little bit of cash, this is now happening on such a large scale that these scammers are making large amounts of money. Tencent, the creator of WeChat, has responded that this specific scam is only happening to IOS users due to a software incompatibility. Users of iOs and WeChat are advised to update both their WeChat and their iOS version.
KEEPING THE DOCTOR AWAY
5. Beijing's Hospital Scalpers
So-called hospital scalpers have been a problem in China for a long time. Hospital scalpers (医托) are people who earn their money by enticing people to obtain medical care at a certain hospital or clinic. As described by medical journalist Michael Woodhead from China Medical News (2014):
"The scalper is friendly and solicitous initially, advising the patients and family members that the official clinic is expensive and extremely busy and the service is poor. Sometimes they say the doctor on duty has a poor reputation or that the clinic is dirty and has poor hygiene. They then tell the victim that there is a better clinic nearby where they have connections and can get a quick appointment.The scalper then personally escorts the victim to the nearby clinic, where the 'doctor' and staff do many unnecessary expensive tests and prescribes some very common and cheap medicine but charges a high price."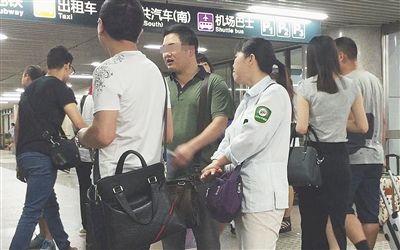 A hospital scalper in action at Beijing West Station (Sina 2015).
Earlier this month, Sina News reported about hundreds of people being victimised by one group of scalpers that mainly operate in and around Beijing's West Station, Jishuitan Hospital, Fu Wai Hospital, Peking Union Medical Hospital Clinic and the 301 Hospital. The group, consisting of around sixty scammers, are active every day from early morning 'til afternoon, looking for inexperienced patients who come to Beijing to see a doctor, and are either just arriving, or are waiting in one of the long lines at the hospital.
The scammers wear costumes and look like professional staff members, asking people about their health problems and then referring them to the centrally located Baidetang Clinic near Beijing's Pinganli Subway (Yude hutong).
According to the article, one patient, coming from Xi'an, was waiting at the Union Medical Hospital when she was approached by a woman who informed about her medical problems. When the patient told the woman that she suffered from menstrual problems, the scammer told her that the specialist she needed was currently available at the qualified Baidetang Clinic. The patient, like many others who were victimised, ended up getting a short consult and some expensive medicine, spending 10.000 RMB (1630 US dollars). According to an undercover journalist, hospital scalpers receive 70% of the amount a patient spends at the clinic.
The Baidetang Clinic near Beijing's Pinganli Subway Station (Sina 2015). 
MONEY FLIES
6. "Canceled Flight" Message
This year, multiple Chinese media and netizens reported about the "canceled flight scam" (航班取消骗局). After booking a flight, passengers receive a text message from a 400-number saying that there has been a change in their flight, or that the flight has been canceled. In order to get their money back, passengers have to provide their name, ID information and bank account number.
Later on, passengers will discover that money is taken from their bank account, and that the text message they received was fake.
Anqing News Centre advises passengers to be careful with 400-numbers. After receiving similar messages, people should always first check with the official customer information number of their airline.
HIGH INTERESTS
7. Major Bank Scam
Over the last year, several large-scale bank scams made the headlines in China. Although putting money in the bank is generally considered the safest option to protect one's money, many Chinese netizens say that they are losing trust in China's banking system because large amounts of people's savings that were kept in state-owned banks have gone missing.
The scammers involved are people who work at the bank. They attract depositors by offering them high interests. Instead of annual interest rates of 2–5%, these employees will tell depositors that they can give them interests of 10%, up to 20% or even higher. In such scams, the depositors often have to sign the terms of service, which include that they have to refrain from checking the account. After the swindle is exposed, the bank usually states that it is the client's responsibility for believing such high interests; even if the scam took place within the bank itself and clients assumed they were dealing with an honest employee.
Many netizens have expressed their astonishment over this scam. One Weibo netizen said: "If we keep money in the bank, the bank should be responsible for our savings. Since the scammer is an employee of the bank, the bank should take the responsibility for his behavior."
The only way to avoid this scam: if it is too good to be true, it usually is. Double check with other bank staff, and properly read the terms of service. A bank can never make a client refrain from checking their own accounts.
DOUBLE RENT
8. Landlord Message Scam
A common scam, similar to the 'mistress' text message and the 'canceled flight' one, is a message from your landlord, who says that he has changed phone numbers, and that this month's rent needs to be transferred to the account of his wife or another bank number.
In the end, it turns out that this message is fake – but meanwhile, many people already transferred the money to the wrong account. They discover they're duped when they receive a message from their actual landlord who has not received the month's rent.
These kind of text messages are sent out randomly. Because the message is send out to many people, there are always those who actually need to pay their rent and are used to communicating with their landlord in this way.
NO HAPPY END
9. Massage Parlor Scam
Like with the Tea Ceremony scam, Massage Parlor scammers are focused on western tourists – men in specific. Basically, the scam involves somebody talking you into a massage on the streets. The 'normal' massage soon turns out to be a bit more erotic, and before you know it, the massage parlor big boss arrives, the door closes, and you have to pay up a large sum of money. As this tourist describes on Tripadvisor:
"I was offered a foot massage in Shanghai then was taken to a building where a different type of massage was offered on the body. I was forced to pick a girl then it took 10 minutes before we were done. Before the massage they told me about 300 RMB ($40.00) but after the massage a big guy walked in the room with 2 other guys and gave me a bill for $4200.00 which included room rent. I was shocked. They also knew which hotel I stayed."
A host of a Dutch undercover show gets scammed in Shanghai (SBS6).
It is a common scam, especially in Shanghai city centre, that could end up becoming very costly.
Similarly, there is the KTV scam where people will lure tourists into nightclubs or karaoke and overcharge them on drinks. Avoiding these scams is simple: just do not trust anyone who approaches you on the street to take you to a club or salon.
NONE OF YOUR BUSINESS
10. China's Pyramid Schemes (chuanxiao)
China's 'chuanxiao' scheme arguably is the most large-scale and psychological scam of this list. So-called 'multi-level marketing' (传销) or 'pyramid schemes' are quite commonplace in China, especially in certain provinces (Anhui, Hunan). New members are always is introduced to these schemes through old friends, former classmates, or relatives.
Chuanxiao are almost like cults, where people get trained in how to trick their Chinese friends into joining them. As explained in this blog by Nao, chuanxiao schemes are not about selling products, but about getting more people to join. The money people spend to join the group goes to the person above them, and the people above them. People are convinced (brainwashed?) they will eventually become millionaires if they stick to the group long enough.
People in chuanxiao live as a community, and collaborate on how to bond with new people and get them to join – and get their money into the system. Friends are usually invited to come over from other provinces for a business opportunity, or as a holiday, and are then taken into the group. Chuanxiao are psychological games, where people often only realise they have been scammed when it is already too late.
Know more scams you would like to share? Please leave your comment in the comment section below, or email us.
By Manya Koetse
Follow @WhatsOnWeibo
©2015 Whatsonweibo. All rights reserved. Do not reproduce our content without permission – you can contact us at info@whatsonweibo.com.
Netizens or Not? About Chinese Online Communities & Use of the Term 'Netizen'
The term 'netizens', referring to Chinese internet users, is both loved and hated.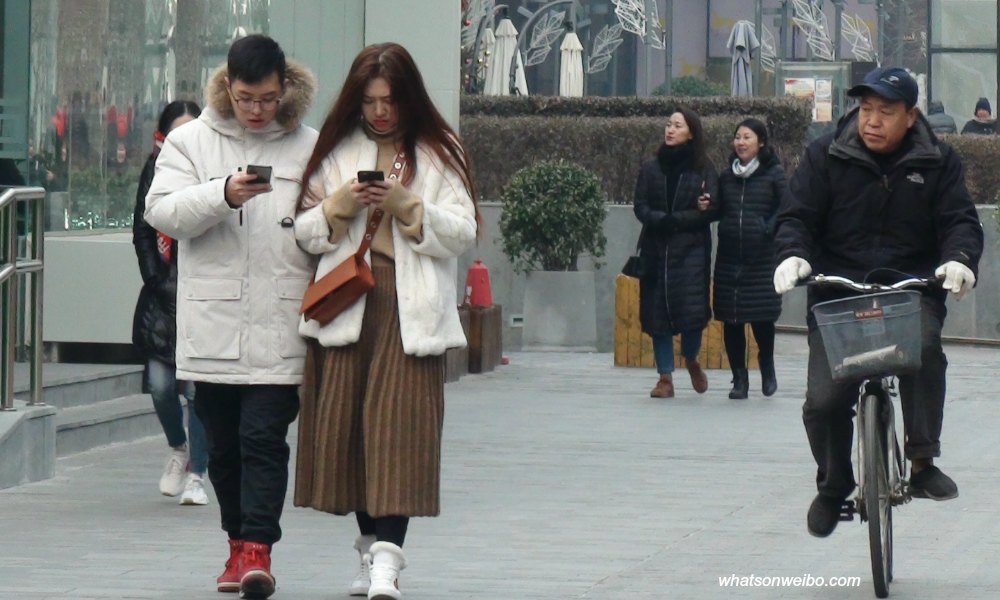 Chinese internet users are often referred to as 'netizens', but some people say the term is outdated and inappropriate. Should something change? What's on Weibo explores the term and its use in different contexts.
It has been an issue of debate for years; the use of the word 'netizen' in English-language media – especially when referring to Chinese internet users.
At What's on Weibo, it is a word we use in pretty much every article we post. Online media in China is our focus, and how 'netizens' deal with social media and trending topics is at the heart of this website.
But many people have had enough of the word 'netizen.' Already in 2013, Matt Schiavenza at The Atlantic wrote that the term was "once useful as a way to describe China's internet users," but that it is now "meaningless, inaccurate, and misleading."
Schiavenza argues that "netizens" is mainly used for Chinese internet users who are politically active or outspoken, while there is a huge number of Chinese people who are non-political in their online behavior.
The term has also been discussed among people on Reddit, where some call it a "stupid journalism" term.
At the conclusion of the recent Chinese Internet Research Conference at Leiden University, the term was also briefly discussed in the context of 'online communities,' with some scholars deeming the word inappropriate to refer to Chinese internet users – also suggesting that speaking of Chinese "online communities" in itself was problematic to begin with.
One discussion participant suggested that words such as 'community' or 'netizen' are labels used by outsiders in the academic world or in foreign media, rather than Chinese describing themselves that way – saying it is problematic because it is "our label, not theirs."
Is this really true? What's behind the term 'netizens'? Should Chinese internet users be described with other terms than 'netizens'? For what reasons?
Behind the Word 'Netizen'
The word 'netizen' was first coined in 1984 and popularized with the spread of the internet during the 1990s. The word is a blend of the words 'internet' and 'citizen,' and is (or was) generally used to either refer to people who use the internet, or more specifically, to refer to people who participate in online discussions or belong to 'online communities' (Johnson 2013).
The term is also often attributed to net theoretician Michael Hauben, who used it in his 1997 work to define people who "actively contribute toward the development of the Internet" and for a "citizen who used the Internet as a way of participating in political society."
Already in 2012,Time Magazine elected the term as one of the words that should be banished, suggesting it had become archaic since its launch in the 1980s.
But when looking at the more recent use of the word 'netizens' in academia and foreign media, the term is anything but dead. It does seem to be applied far more often to Asian online contexts, e.g. Chinese or Korean online users, than it is used to describe internet users in Europe or America.
It is often used, for example, to talk about online fans of the K-pop industry or users of the Sina Weibo platform – suggesting that there has been a shift in the use of 'netizens' from the 1980s or 1990s to describe any internet user, to more specifically describing those (often Chinese) internet users that are part of a specific online circle.
From Netizen to Wangmin
One reason why 'netizen' is used in the Chinese case specifically, is because Chinese media and social media users use the word 'wǎngmín' (网民) very frequently.
Wangmin (网民) literally means 'net-people' or 'net-citizens' (thus literally: 'netizens'), and is the generally accepted term to designate internet users in China. The term was described by the China Internet Network Information Center (CNNIC) in 2013 as "Chinese residents who are six or older and have used the Internet at least once in the past six months" (Shen 2013).
The CNNIC has used the term wangmin officially since 1997, the year of its founding, when its first 'China Wangmin Survey' (中国网民调查) came out – the same year that Michael Hauben theorized and politicized the word.
The Chinese term wangmin seems to lack the more political implications of the term 'netizen' in English in Western countries, which has come to imply that an internet user is politically involved in online issues. Chinese fans of certain music genres or TV series are hardly politically involved in online causes, yet they are still wangmin.
There are (political) implications to the term wangmin on another level, though; in Chinese media, the term is mostly connected to nations. For example; one can speak of 'American netizens' (全美网民), 'Canadian netizens' (加拿大网民) or 'Chinese netizens' (中国网民,国内网民).
There are also instances in which the term is applied to platforms rather than nations. Some Chinese media have used the term 'Sina Weibo netizens' (新浪微博网民), for example.
Netizens versus Netizens
So what does this all mean? Firstly, it means that the use of 'wangmin' or 'netizens' in the Chinese context is not the same as the way the term 'netizens' has come to be used in the English-language Western context.
It also means that the term is not archaic at all. After all, who can claim a word is 'outdated' or 'old-fashioned' when it is practically being used at all hours of the day on Chinese internet and in Chinese media today? Even though it has been used since 1997, it has proved to be anything but a word trend: wangmin has become a part of normal Chinese vocabulary.
Third, claiming that it is a "stupid journalist term" or "our label, not theirs" also does not do just to the word; in the Chinese context, the term is used far beyond journalism, and more importantly; it is used by Chinese organizations and individuals to describe Chinese internet users, meaning it is not merely a term that is used by non-Chinese to describe Chinese online populations.
Online Communities
One thing that stands out when talking about 'netizens', no matter in what context, is that it is tied to the idea of an 'online community.' Much has been researched and said about what constitutes an online community, but for the scope of this article, we could say that it minimally requires some sense of a shared collective identity or some pursue of a shared purpose (Massa 2017, 961).
In the case of China's online environment, online communities are built in two ways.
In one way, it is constructed at the state level to "define wangmin within the nation-state boundary," as Yiping Shen (2015) writes in Public Discourses of Contemporary China.
This is, amongst others, very visible in state reports or state media that define "Chinese netizens" (中国网民) in the same way in which citizens are legally recognized subjects of a nation or state, meaning citizens of the PRC. In this way, all of China's 772 + million internet users are part of this group of 'netizens' and have to follow to guidelines the government lays out for Chinese netizens.
In another way, it is used among Chinese companies and internet users to define themselves, either in the way the state has intended it, or at a smaller online community level. And these communities exist everywhere, from small-scale to large-scale, some existing for a long time, some being short-lived; from the long-standing Rage Comics community to temporary groups and Human Flesh Search Engines, to flourishing BBS or WeChat groups.
A platform such as Sina Weibo also clearly defines itself as a 'community' (社区), with its 'Weibo Community Management' (新浪微博社区管理) being an important part of the site in setting out guidelines for its members.
Wangyou: Chinese Online Friends
So what options are there for future references to Chinese internet users? Should we just stick to 'netizens'? Would it more appropriate to use the original Chinese term 'wangmin,' or should we perhaps use another widespread term, namely that of 'wǎngyǒu'?
Besides Chinese internet users defining themselves as wangmin, the word wangyou (网友), literally 'web friend', is also often used among netizens to define the members of their online 'community' (e.g. Weibo) or Chinese internet users at large.
Jessica Sun (孙慧), linguist and co-founder of the Dutch website Chinatalk, explains that 'wangyou' or 'webfriends' initially was meant to define those people one knew from cyberspace, when internet just gained traction in China.
Once China's online population grew bigger, the idea of wangyou also grew to include more people. "It could also refer to a larger group of people who share the same interests or attitudes, instead of just friends," Sun explains.
Sun compares the use of wangyou to the Chinese word for 'friend', pengyou (朋友), which is often used to sound more intimate, although the person addressed is not necessarily really considered a 'friend.'
According to Sun's analysis, wangmin (netizen) and wangyou (webfriend) are generally interchangeable, although there are some subtle differences. Sun has some remarks explaining the difference between the two terms:
1. In many cases, wangmin could also be a wangyou, but not the other way around. Wangyou can be used to show a more emotional attachment or personal relation, as in 'my webfriends' (我的网友). One can not say 'my netizens' (我的网民).
2. While wangyou is more intimate, wangmin is more neutral, and is therefore mainly used by news outlets.
3. The use of the term wangmin or wangyou depends on the attitude of the person who uses it towards a specific person/event, depending on the 'community' they are in or the stance they have towards a particular incident.
For example, when Chinese media report about wangyou doing something or being angered about something, it often means this author/publication is siding with these 'webfriends'.
The headline featured above ("As policeman bravely sacrifices his life, [some] webfriends are angered about these details") is a story about a policeman who died on duty while trying to protect pedestrians from an out-of-control car. When some online commenters said that it was the policeman's job to protect the people, suggesting his death was part of his duty, many other commenters were angered with these comments. By featuring the 'webfriends' term in this headline, the publication shows it sides with those 'webfriends' who mourn the policeman's death and who are angered about insensitive comments relating to his death.
Another story, headline above ("Shenyang policeman dies on duty, two netizens detained over insulting comments"), is about another policeman dying on duty due to an attack by a suspect, with two web users commenting that the person attacking the police was a "hero" for doing so. The headline states that "two netizens insulting [police] have been detained" – in such a case, the media report shows a distance towards the commenters – 'webfriends' would surely not be used to refer to them.
All in all, it is clear that words such as netizen or wangyou, although they might sound outdated in an English-language context, are anything but outdated in the Chinese context.
Nearly five years after The Atlantic posted its anti-'netizen' article, claiming the word "meaningless, inaccurate, and misleading," recent uses of the term and its ubiquity in (Chinese) media show that it was perhaps the author's perspective that was flawed, rather than the term itself.
For the time to come, Chinese 'netizens' are here to stay.
We'd like to hear your stance! How do you feel about 'netizens,' or would you rather see a more frequent use of the original wangmin term? Fill out the poll below:
By Manya Koetse
Follow @whatsonweibo
With contribution from Jessica Sun at Chinatalk.
References
Hauben, Michael and Ronda Hauben. 1997. Netizens: On the History and Impact of Usenet and the Internet. Computer Society Press: Los Alamitos, CA.
Jones, Paul Anthony. 2013. Haggard Hawks and Paltry Poltroons: The Origins of English in Ten Words.
Massa, Felipe G. 2017. "Guardians of the Internet: Building and Sustaining the Anonymous Online Community."Organization Studies 38 (7): 959 –988.
Shen, Yiping. 2015. "Netizens, Counter-Memories, and Internet Literature into the New Millennium." In: Public Discourses of Contemporary China. Chinese Literature and Culture in the World, Chapter 4. Palgrave Macmillan: New York.
Directly support Manya Koetse. By supporting this author you make future articles possible and help the maintenance and independence of this site. Donate directly through Paypal here. Also check out the What's on Weibo donations page for donations through creditcard & WeChat and for more information.
Spotted a mistake or want to add something? Please let us know in comments below or email us.
©2018 Whatsonweibo. All rights reserved. Do not reproduce our content without permission – you can contact us at info@whatsonweibo.com.
Baihang and the Eight Personal Credit Programmes: A Credit Leap Forward
"The personal credit era has arrived," some netizens say.
Baihang Credit has received ample coverage in Chinese press recently as it was launched as "the first unified personal-credit information firm" of the PRC. It joins forces with Alibaba, Tencent, and six other big companies in further building on China's credit-based society. What's on Weibo provides an overview of the developments that have led to the formation of this powerful credit platform.
Three years after eight commercial firms were granted permission by the People's Bank of China (PBOC) to start their pilot programmes in operating personal credit systems in 2015, none of them have received a license.
Instead, they've now become shareholders and active contributors to a new unified platform that has access to an enormous number of personal credit data. At the so-called 'trust alliance' (信联) Baihang Credit (百行征信), state level and commercial organizations join forces in further developing China's credit systems.
How they can share data without harming Chinese recent laws on privacy, however, remains vague.
Some background
An important moment within this development started over twelve years ago (to be precise: on March 20 of 2006), when the People's Bank of China (PBOC) began operating its own independent Credit Reference Center. The goal of the brand-new center was to set up the reliable credit checking platform which China was still lacking at the time.
At its core, it was tasked with managing a national commercial and consumer credit reporting system, to enable financial institutions to assess borrowers' creditworthiness.
In November of 2013, during the Third Plenary Session of the 18th CPC Congress, new plans were adopted to also "establish and improve a social credit system to commend honesty and punish dishonesty" (USC 2013), putting more pressure on the formation of a solid credit checking system in China.
Months later, in 2014, the Chinese State Council issued an official notice concerning the construction of a nationwide Social Credit System that was to be rolled out by 2020 (Creemers 2014).
Three Years of the "Credit Leap Forward"
It is perhaps no coincidence that not too long after the formal announcement of these plans, that would lead to a more credit-based Chinese society, the PBOC Credit Center opened its doors to eight Chinese companies to work on trial programmes to prepare for operating their own personal credit information businesses.
At the time, in 2015, the PBOC's Credit Center had been around for nearly a decade, yet still 'only' covered 25% of the Chinese population, leaving ample risks in the control process of Chinese financial services (Yang 2017).
You could say that 2015 was an important year in which competition for China's multi-billion personal credit investigation market really began, along with the flourishing of China's Internet population and the growing demand for personal online data information (Jun 2015). A recent Caixin column by Xinhai Liu (刘新海), associate researcher at the Credit Reference Center, even calls the 2015-2018 period the "Credit Great Leap Forward" ("征信大跃进的三年").
Besides that new personal credit rating tech firms started to pop up, the year 2015 was also the year when misconceptions arose in foreign media regarding these existing credit systems.* ACLU called it "nightmarish," falsely claiming that all Chinese would be "measured by a score between 350 and 950, which is linked to their national identity card" and that "the government has announced that it will be mandatory by 2020."
As explained in our recent article about this issue, these discussions – that continue in foreign media to this day – often blur the lines between the national Social Credit system and a number of private programs. (To understand more about the difference between the government's Social Credit system and the commercial ones, please read the previous article we featured on this topic.)
These misunderstandings partly come from the fact that both the government's plans on introducing their 'Social Credit System' (社会信用体系) and the Central Bank's endeavors to build a stronger personal credit industry (个人征信行业) were major developments in the period from 2013-2015 up to the present.
The Eight Programmes
With such a strong demand for solid credit rating systems, why have none of the eight approved tech firms received their license, over three years after starting pilot operations?
One of the main problems with commercial services such as the well-known 'Sesame Credit' is, according to PBOC spokesperson Wan Cunzhi, that they are all "isolated islands" ("信息孤岛") of non-shared data, that they are lacking in independence, and that their data management is not strong enough (Yang 2017).
The coming-together of these "islands" solves this problem and forms one solid platform under the 'Baihang' label. Which eight companies does this concern? An overview:
1. Sesame Credit (芝麻信用)
This is the best-known commercial personal credit score programme, implemented by Alibaba's Ant Financial. Sesame Credit already had 520 million users as of 2017.
Sesame Credit was launched in 2015. Because it is part of the Alibaba family, Sesame Credit has an enormous amount of data at its disposal, from e-commerce sites to finance products (Taobao, Tianmao, Alipay, etc), through which it compiles users' own scores, going from 350-950, for those who have opted into the program. The scores are based on a number of things, including people's payment history, their contacts and network, and online behavior.
2. Tencent Credit (腾讯征信)
Since the Tencent company currently hosts 55% of China's mobile internet usage on its platforms (Marr 2018), it has also an enormous amount of data at its disposal. Similar to Sesame Credit, Tencent Credit works with a 300-850 score system. It officially launched a trial of its score programme in January of 2018, but then took it down shortly after.
3. Kaola Credit (考拉征信)
Koala Credit is an independent third-party credit company established by the Shenzhen-based Lakara (拉卡拉) financial services company. Koala Credit was launched in May of 2015, around the same time as Sesame Credit launched its program. Lakara has strategic and powerful partnerships with China Unionpay, five major banks, and hundreds of other financial institutions. Lakara and Koala Credit jointly founded a pioneering lab in China that focuses on big data models. The University of the Chinese Academy of Sciences is involved in this project (Zhuo et al 2016, 299).
4. Pengyuan Credit (鹏元征信)
Established in 2005, Pengyuan Credit is amongst the oldest personal credit investigation firms of the eight selected by the PBOC. The company states on its website that its main goal since 2005 has been to "create a credit reporting ecosphere on the Internet," shifting from traditional credit rating systems to online credit rating methods.
5. Sinoway Credit (华道征信)
The Beijing Sinoway Credit was established in 2013 by four large financial companies. As explained by BJReview (2016), Sinoway is among those companies (such as Zhima and Tencent) that accumulate data from their business rather than using traditional algorithms to collect financial and public data. They have exclusive access to enterprise data (Zhuo et al 2016, 299).
6. Qianhai Credit Service (深圳前海征信)
Another company established in 2013, Qianhai Credit is based in Shenzhen. It was launched by financial giant Pingan. The current CEO is the female big data specialist Qiu Han (邱寒).
7. China Chengxin Credit (中诚信征信)
The Beijing-based China Chengxin Credit company was founded in 2005, established by the China Chengxin Credit Management group. The firm provides personal credit information and companies and market research services. As described by the China Money Network, its database is connected to local administrations for industry and commerce, police, courts, telecom service providers to provide comprehensive credit information.
8. Intellicredit (中智诚征信)
Intellicredit is a Beijing-based independent, third-party credit registry. CEO Li Xuan (李萱) has previously expressed the company's goal to handle any loopholes that let scammers get away with fraud in China's online financial environment. The company is experienced in credit industries both in China and abroad, and its team has also worked on the establishment of the credit reporting system of the PBOC (Zhuo et al 2016, 299).
Baihang & Allies: An Abundance of Personal Data
The formal launch of Baihang Credit (百行征信), the "first unified personal credit information firm" of China, has become big news in Chinese media, with some calling it a personal credit industry game changer.
Baihang Credit is a joint establishment of the aforementioned eight and the China Internet Finance Association.* It received its license in February of this year. The firm officially opened for business on May 23rd of 2018.
While the China Internet Finance association reportedly holds 36% of the Baihang firm, the other eight shareholders each hold 8% (Zhang & Liu 2018).
The eight companies are not just financial investors, but also active contributors and sharers of technology, resources, and data for the Baihang firm. The launch of this joint establishment means that both state-level institutions and commercial enterprises combine their efforts in building a strong personal credit investigation and service platform; the new system now links data collected by these powerful firms such as Tencent to the state-level China Internet Finance Association, which in itself is an initiative by the People's Bank of China.
Besides basic data including personal information, education level, salaries or employer, companies such as Sesame Credit or Tencent also have access to a rich collection of consumer data, ranging from social media, e-commerce purchases, online travel data, to location, phone records and even social connections.
The eight firms will also play an important role in Baihang's management. Sesame Credit, Tencent Credit, Qianhai Credit, Sinoway and Koala Credit have all entered the company's board of directors. The other three companies will join the board of supervisors (Sina Finance 2018). The 57-year-old Zhu Huanqi (朱焕启) will be Baihang's CEO and president; he previously worked at Huida Asset Management.
The PBOC told Caixin Global that all parts of the eight companies that previously dealt with personal credit ratings will now be incorporated into Baihang. The other parts can continue to operate as data service providers. In the future, Sesame Credit, for example, will continue to research commercial credit services.
Many Questions Linger
While the recent alliance has received ample attention in Chinese media as an important moment in China's transforming alleged 'credit-based' society, many questions still linger.
One Nanjing research institute writes on Weibo: "The joining of these companies means they can share big data. This also means that if a person is behind [in payments] on one platform, they will also have no access to loans on any of the others."
But is it all about sharing personal financial credit information, or is this about the sharing of other data as well? What are the legal implications of Baihang operations? And to what extent, if at all, will the system link to the upcoming nationwide Social Credit System?
Caixin Global noted that Baihang Credit will face challenges regarding Chinese Cybersecurity Law, which imposes strict limits on 'secondary uses' of data beyond its original purpose, and requires individual authorization when personal data is transferred from one institution to another (Sacks 2018; Zhang & Liu 2018).
In this Caixin article, the PBOC's spokesperson would not elaborate on how Baihang will collect and use personal data. He was only quoted in saying only that contributions to Baihang will be handled "according to market rules."
"Personal Credit Era has Arrived"
Despite the many articles about Baihang in Chinese media, it has not become a much-discussed topic on social media; netizens discussing Chinese credit systems seem more concerned with the height of their Sesame Credit score.
One Weibo user, however, did write about the Baihang alliance, commenting: "The personal credit era has arrived" ("个人信用时代到来").
Other people worry about the impact of this alliance, saying: "You'll see that if you have a negative balance on your bank account, you won't be able to use the public bathroom anymore." (Recently, various cities in China are upgrading their public toilets, integrating AI features such as facial recognition for people to receive free toilet paper.)
Some commenters simply call the companies that have joined under Baihang "a pile of trash."
Although Sesame Credit will not receive a license to operate its personal credit investigation business, it is highly probable that users of their credit programme will still be able to enjoy the perks of, among many other things, entering libraries for free or riding rental bikes without deposit with a high score.
"I've just arrived in Hangzhou and can do many things for free," one person wrote: "I feel like my Credit Score is omnipotent."
Baihang's recent alliance is about to make Chinese personal credit scores even more omnipotent – the 'Credit Leap Forward' is well underway.
By Manya Koetse
Follow @whatsonweibo
Directly support Manya Koetse. By supporting this author you make future articles possible and help the maintenance and independence of this site. Donate directly through Paypal here. Also check out the What's on Weibo donations page for donations through creditcard & WeChat and for more information.
* In an article from December of 2015, for example, The Independent suggested that "China has created a social tool which gives people a score for how good a citizen they are," describing how "China" had put forward "a concept straight out of a cyberpunk dystopia" named Sesame Credit.
* The Chinese Internet Finance Association, also known as the NIFA (National Internet Finance Association) was established in March of 2015 upon approval by the Chinese State Council and Ministry of Civil Affairs. It is a state-level organization.
References (others linked directly within text)
Creemers, Rogier. 2014. "Planning Outline for the Construction of a Social Credit System (2014-2020)." China Copyright and Media, 14 June China https://chinacopyrightandmedia.wordpress.com/2014/06/14/planning-outline-for-the-construction-of-a-social-credit-system-2014-2020/ [10.6.18].
Creditchina. 2018. "百行征信入场,8家股东剥离个人征信业务." CreditChina.gov, 4 June http://www.creditchina.gov.cn/gerenxinyong/gerenxinyongliebiao/201806/t20180604_117132.html [10.6.18].
Huang, Zhiling. 2016. "Six Obstacles to Producing Reliable Big-Data Credit Reports." BJ Review, 15 December http://www.bjreview.com/Business/201612/t20161212_800074419.html [9.6.18].
Jun, Wang. 2015. "Road to Credit." Beijing Review, 3 August http://www.bjreview.com.cn/business/txt/2015-08/03/content_698269.htm [9.6.18].
Marr, Bernard. 2018. "Artificial Intelligence (AI) In China: The Amazing Ways Tencent Is Driving It's Adoption." Forbes, 4 June https://www.forbes.com/sites/bernardmarr/2018/06/04/artificial-intelligence-ai-in-china-the-amazing-ways-tencent-is-driving-its-adoption/#5130d54b479a [10.6.18].
Sacks, Samm. 2018. "New China Data Privacy Standard Looks More Far-Reaching than GDPR" CSIS, 29 January https://www.csis.org/analysis/new-china-data-privacy-standard-looks-more-far-reaching-gdpr [9.6.18].
Sina Finance. 2018. "百行征信揭开面纱 芝麻信用腾讯征信等五家入董事会." sina Finance, 4 January http://finance.sina.com.cn/money/bank/bank_yhfg/2018-01-05/doc-ifyqinzs8775295.shtml [10.6.18].
USC. 2013. "Decision Of The Central Committee Of The Communist Party Of China On Some Major Issues Concerning Comprehensively Deepening The Reform, November 12, 2013." USC, 12 November https://china.usc.edu/decision-central-committee-communist-party-china-some-major-issues-concerning-comprehensively [10.9.18].
Yang, Felix. 2017. "Is Xinlian the answer to the Individual Credit Checking System in China?" Kapronasia, 25 Aug https://www.kapronasia.com/china-banking-research-category/item/886-is-xinlian-the-answer-to-the-individual-credit-checking-system-in-china.html [10.6.18].
Zhang, Yuzhe, and Liu Xiao. 2018. "Launch of Unified Platform Boots Private Firms From Personal Credit Business." Caixin Global, May 28 https://www.caixinglobal.com/2018-05-28/launch-of-unified-platform-boots-private-firms-from-personal-credit-business-101258187.html [10.6.18].
Zhuo Huang, Yang Lei & Shihan Shen. 2016. "China's personal c>edit reporting system in the internet finance era: challenges and opportunities." China Economic Journal (9:3): 288-303.
Spotted a mistake or want to add something? Please let us know in comments below or email us.
©2018 Whatsonweibo. All rights reserved. Do not reproduce our content without permission – you can contact us at info@whatsonweibo.com.